Enjoy!
Flight No: RE 683
Route: Leeds/Bradford-Cork
Aircraft Type: ATR 42-300
Aircraft Registration: EI-CBK
STD: 1255 ATD: ON TIME
STA: 1425 ATA: 1420
I took this flight to get home for Christmas. I like to fly from LBA to ORK directly, but as the flight is so early in the morning, I usually have lectures, so taking the flight is not usually possible. However, on a Saturday the only thing stopping me taking the flight is the possibility of a hangover
The service has competition from EI and WW to MAN, however the flight has been upgraded to daily since its introduction as a 4x Weekly service at the winter schedule on 2006/2007. GWY services were also introduces at the same time. They have since been discontinued, probably because of the new SNN-LBA FR service.
Departure Airport:
Leeds/Bradford is relatively easy to access by bus. It has two services an hour to the airport, typically the journey from Leeds City Centre takes 35-40 minutes. Today the journey was slightly less than that due to light traffic levels, but I was slightly concerned about the levels of fog at LBA this morning. RE donĆ"ĀÄā€šĀ¬Äā€˛Ā¢t have a great history in foggy operations, seemingly because a lot of crew/aircraft combinations are not CATII approved. Both ORK and LBA are fog prone!
LBA has quite an odd layout, due to various extensions/additions over time. However it is relatively functional, and most gates are on the ground floor level. There are two check-in halls Ć"ĀÄā€šĀ¬Ä€ĀœHall AĆ"ĀÄā€šĀ¬Ä€Ć†, where most airlines are housed, including BD, FR, RE, while Ć"ĀÄā€šĀ¬Ä€ĀœHall BĆ"ĀÄā€šĀ¬Ä€Ć† caters for LS and BY only.
Check-In
Today my flight was to be checked-in at desk 10. My bag was weighed (16KG) and my boarding card was issued, today I was in 9F. RE still offers the Ć"ĀÄā€šĀ¬Ä€ĀœfrillĆ"ĀÄā€šĀ¬Ä€Ć† of an inclusive baggage allowance, in this case a relatively generous 20KG, so I did not have to fork out, my fare was 47GBP, so all-in-all RE from LBA is more Ć"ĀÄā€šĀ¬Ä€Āœlow-costĆ"ĀÄā€šĀ¬Ä€Ć† than taking EI or WW from MAN due to transport and baggage costs. I passed security quickly, despite the number of charters to Chanberry this morning security took less than 5 minutes.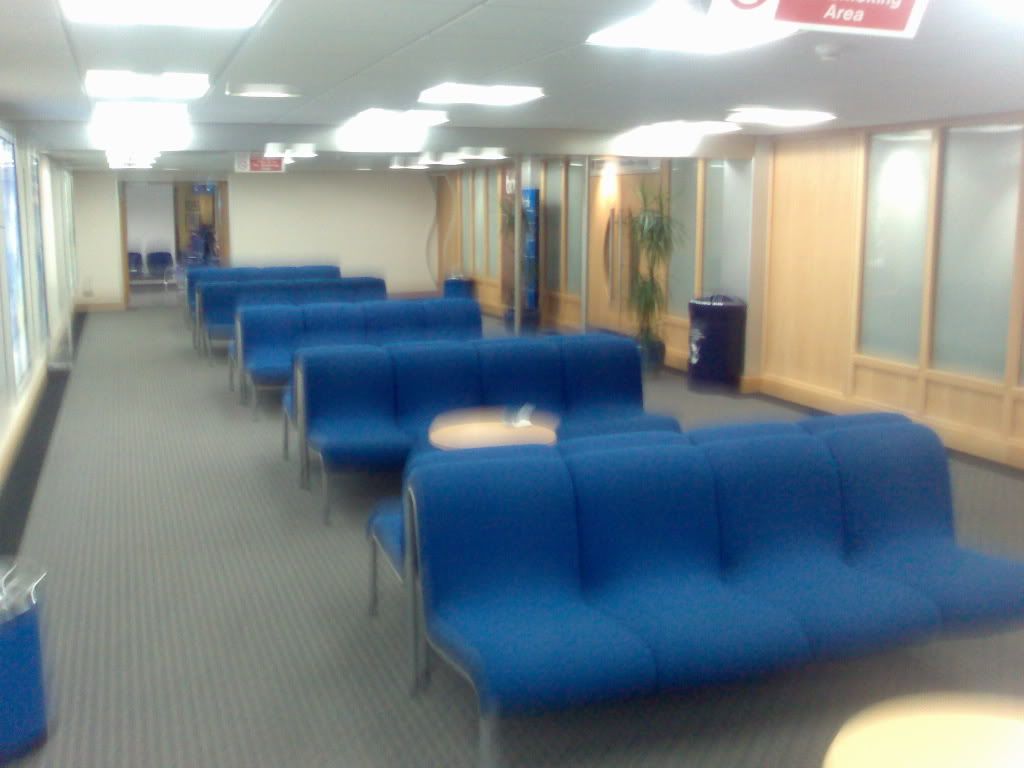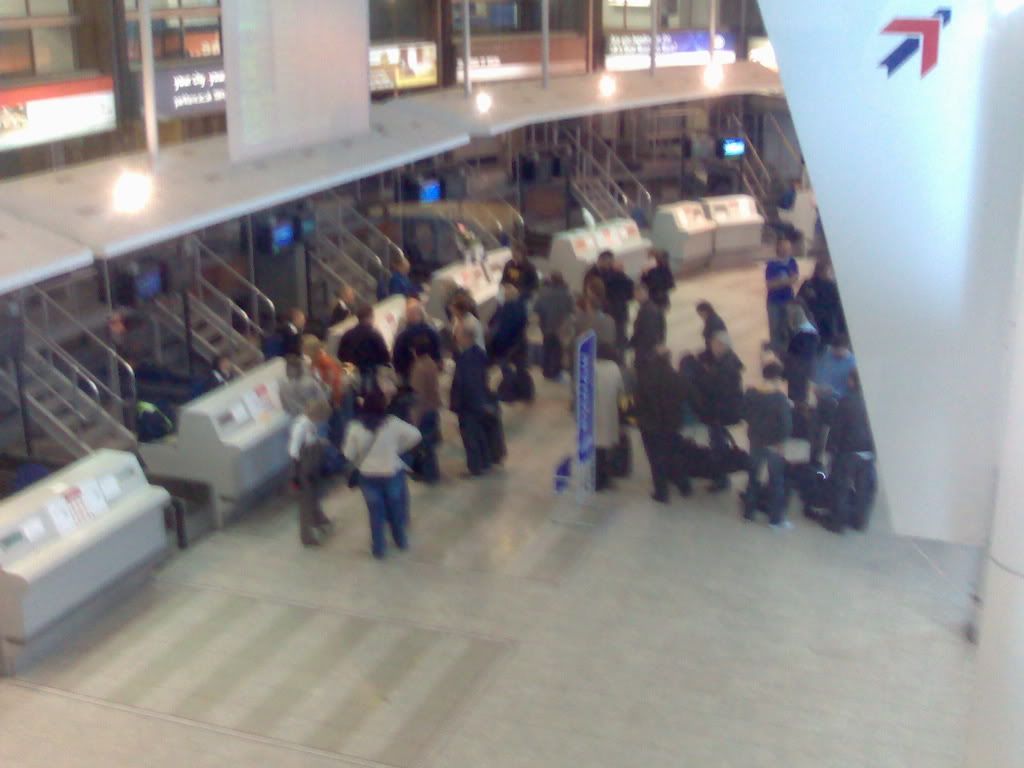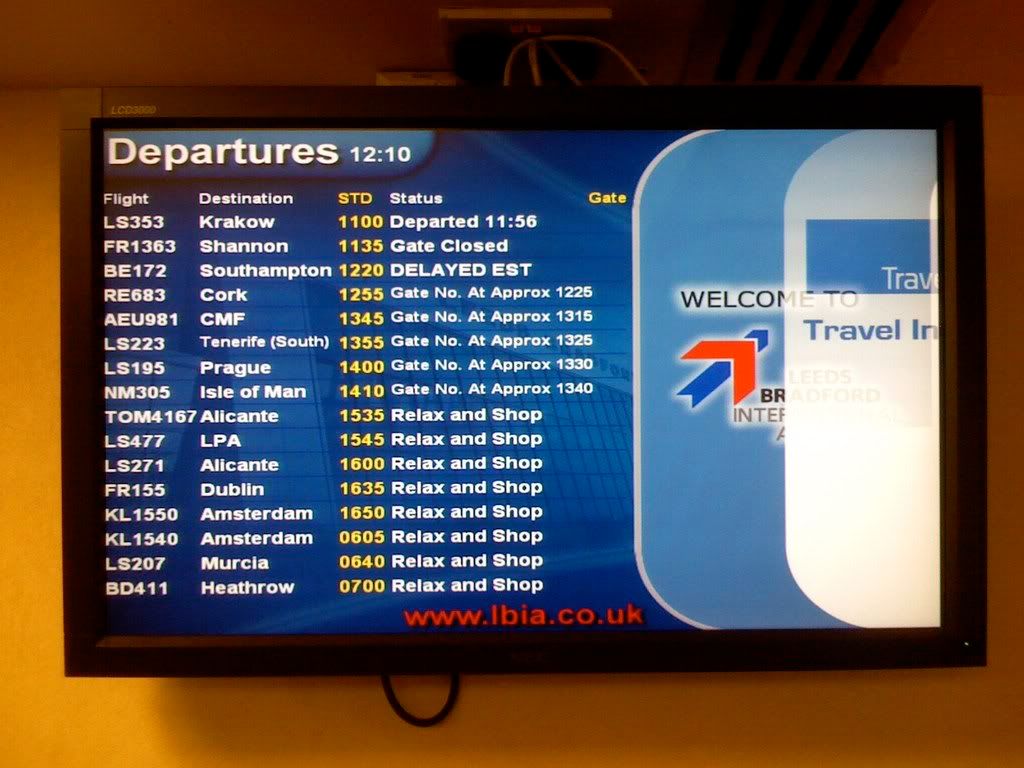 Flight
Today the flight was operated by ATR-42 EI-CBK.
The interior looked like this: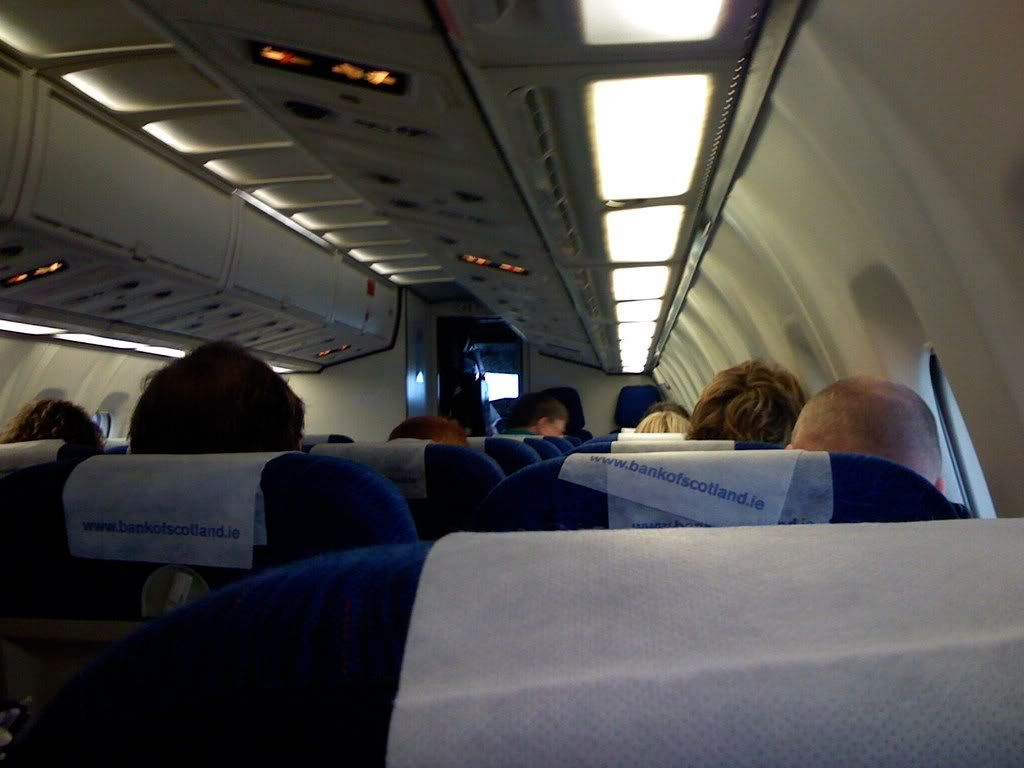 My boarding card: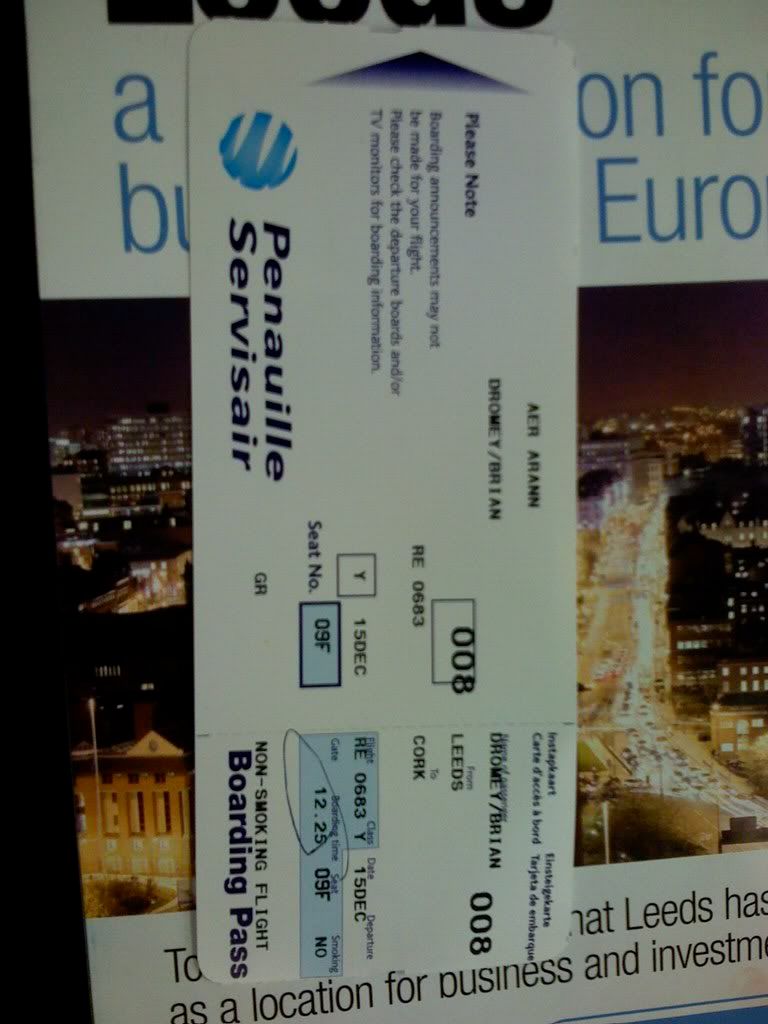 The aircraft arrived from ORK on-time, and we closed the door and pushed back ahead of schedule. The cabin was very claen with no rubbish or grime visible and each seat has its own individual headrest. Once airborne, the flight itself was very pleasant, staffed by one cabin attendant. She was very friendly, and handed out a newspaper to each passenger prior to take off, once the safety briefing had been completed. There is a BIB programme, with Beer, Wine, soft drinks and light snacks. All announcements from the flight-deck and the cabin crew were clear and to the point. Welcome and good-bye were given in Irish as well as English.
Arrival
We arrived 5 minutes ahead of schedule at ORK. By the time I had sauntered to baggage claim my bag was already on the conveyor. No complaints there.
Overall
RE offer a good regional produce, with Newspapers and Baggage allowances included. The cabin staff are great, and the ground crews are outsourced, so they are typically hit-or-miss. I suppose the ATR fleet could be a little more luxurious, but they perform their function very well.
I hope you have enjoyed this TR, all comments are appreciated!
Brian,