Singapore Changi Airport Budget Terminal – Hanoi Noi Bai International Airport
Tiger Airways
TR 308
1735H – 2040H
Airbus A320-200 (9V-TAC)
I was last in Vietnam not too long ago, in February this year during the Chinese Lunar New Year holidays. The trip report on the flights between SIN-SGN-SIN was rather thoroughly covered. I was very awed by what I experienced during that few days in Saigon that I was very inspired on my return to find out more about this amazing country and to delve into the history that has made Vietnam what it is today.
The more I read, the more I wanted to return to find out more. Being the history buff that I am, I was surprised to find out how far back the existence of Vietnam stretched, and that this land was very fiercely fought for over and over again – stretching thousands of years, by colonial powers to be, from the Chinese, to the French, and finally escalating into the disastrous "Vietnamization" by United States of America. The inefficient South Vietnam government and a lack of understanding of local cultures on the American's part finally led to the fall of Saigon in 1975. Looks like America has learnt very little from that war as history has a very sickening way of repeating itself.
I decided to include Hanoi in this trip because this was really why the last Vietnam War started. This would be the best place to soak in the old world charm and to experience first hand the smells and the noise that make this pivotal capital city tick.
One of the highlights of this trip (history aside), was also a segment of domestic flight from HAN – SGN on Pacific Airlines which would be covered in Part 2.
9 December 2007
My partner and I have been looking forward to this trip, which initially just included the 2 of us. As time went along, the group got larger and by departure day, it also included my parents and 4 other friends bringing the total number of pax to 8 – with the both of us as official organizers. We had to close the application for this trip as more people wanted to come along with us!
I had a bad experience on my last flight with Tiger so I really wasn't expecting much on this flight. The school holiday crowd was evident with the check in area heaving with activity, even though there weren't many flights departing in that time frame.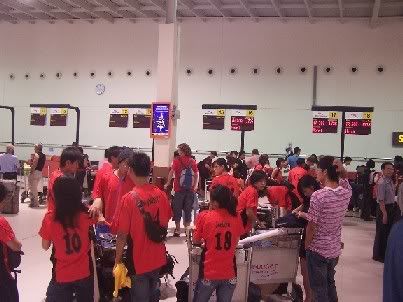 The check in line was long and tedious, taking a total of 30 mins before we were served. Since we paid an extra SGD 5.00 for our seats to be assigned, there was no worry about a rush for window seats later during boarding.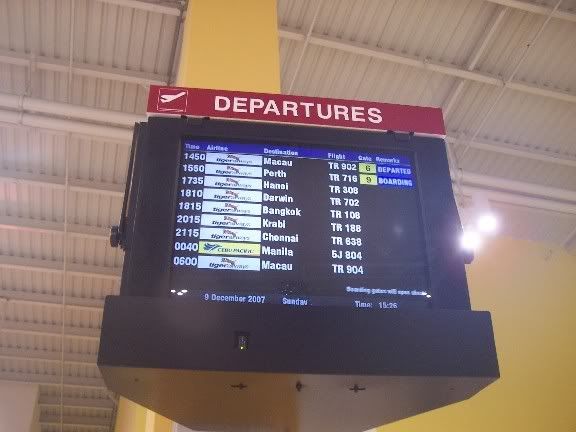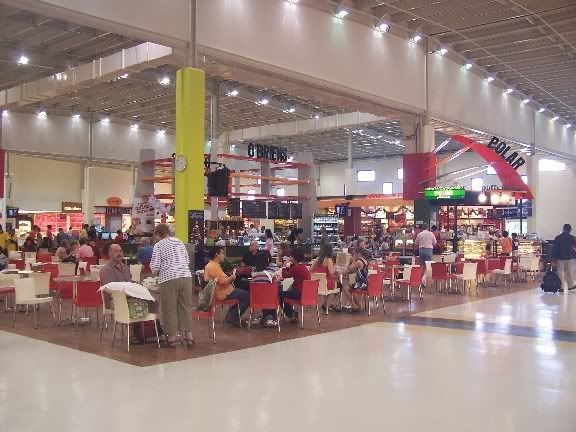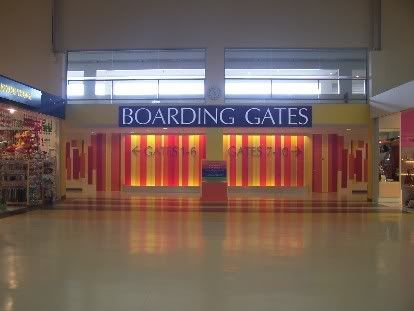 As we milled about airside afterwards, I noticed that the gate area was devoid of any aircraft so our flight was obviously delayed. The Budget Terminal has ropes to ensure a queue is formed prior to boarding. This led to a very organized boarding which really made the whole process very quick.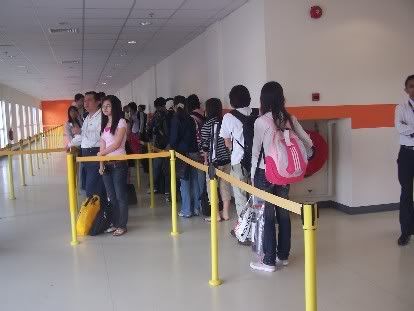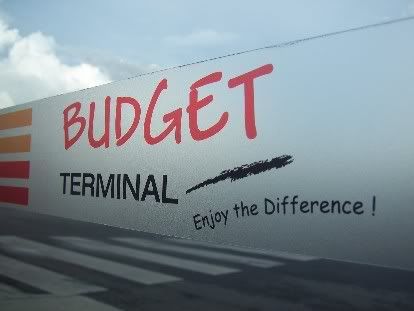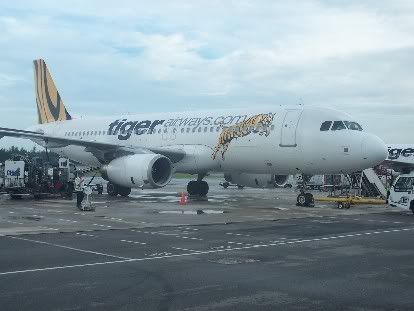 Our aircraft, 9V-TAC, finally pulls in at 1710H.
1745H: General Boarding Call
There was no way we would be departing on time now as our aircraft only inched into the parking area 20 mins before hand.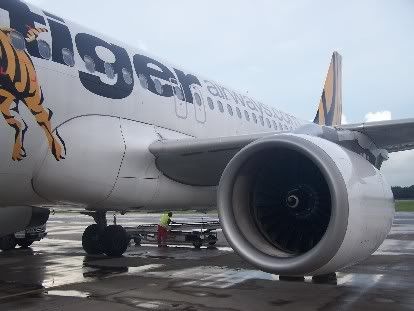 It was awesome to be walking out into the open and climbing up the stairs. No sooner had I stopped fiddling with my camera was I hit very hard on my arm by a ground crew on a power trip "Oi! Cannot take!"
This prick continued to stare at me all the way up the stairs so to annoy him some more, I took one last shot of the fuselage before stepping into the cabin. The aircraft filled up really quickly. I also observed that everyone had an assigned seat which led me to wonder if Tiger has done away with free seating altogether.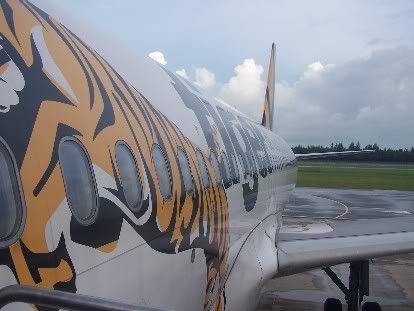 My last shot outside the aircraft to spite that power ranger of a ground crew…
Something new which I also eyed on was the inclusion of male cabin crew. Great, now we have Tiger Boys on the prowl!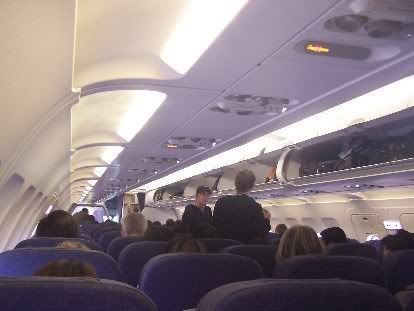 1800H: Doors armed, crossed checked and pushback. Cockpit came on to profusely apologize for the delay due to the late inbound of aircraft, and that they would try their damnest to make up for the delay once in the air. How? By over speeding?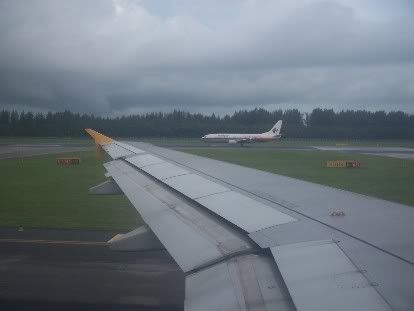 10 mins later, we were taxiing at amazing speeds behind a MAS 737-400 destined for a northerly departure on Runway 20C.
1815H: In the presence of rolling stormy clouds, we thundered down the active and headed straight into the rainy and turbulent skies.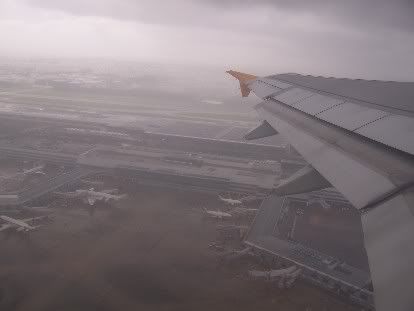 I briefly saw the A380 docked at F31.
This northerly flight was destined for a route that roughly covered Saigon – Da Nang – Hanoi.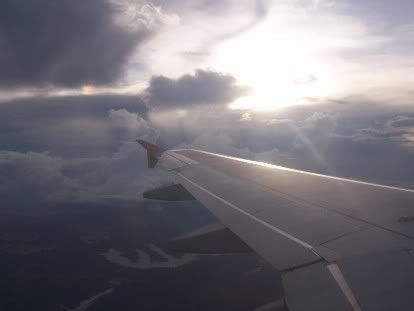 Ahhh…. This is the reason why I love flying so much.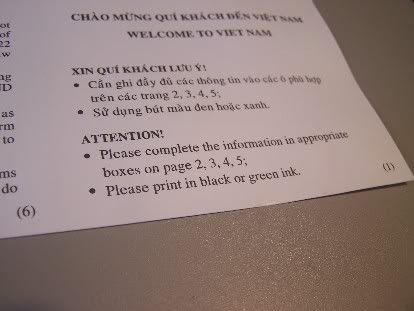 Immigration forms were handed out in-flight and this caught my eye. Who the hell writes in GREEN INK?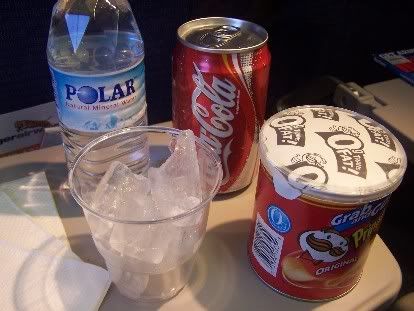 SGD 9.00 for this bunch of junk.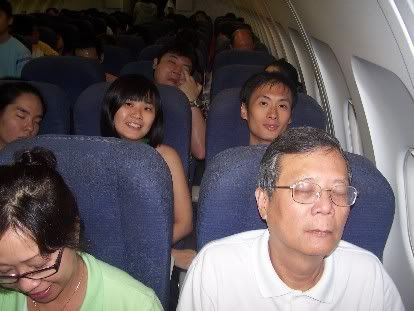 Happy gang on a holiday. My dad chooses to look sleepy while Jen gives me the finger. How nice of him!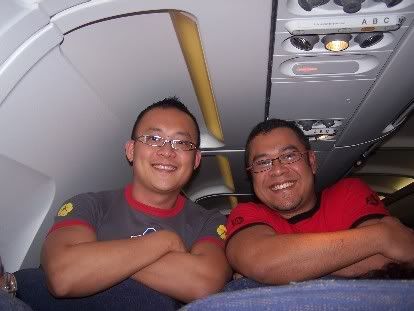 Yours truly me, and my partner.
As soon as we punched through the overcast skies, the flight stabilized somewhat and we eventually cruised at FL350. After the seatbelt sign pinged off, the carts made an appearance and thus, began the in-flight purchase of food and drinks. The uptake was surprisingly high and this caused the cart to move through the cabin from aft to fore in a snail-like pace. I paid SGD 9.00 for 2 drinks and a small can of Pringles. What a rip off eh? But people, including me, were paying for it nonetheless.
1915H: Cabin lights are dimmed.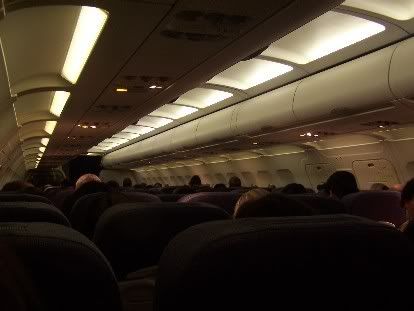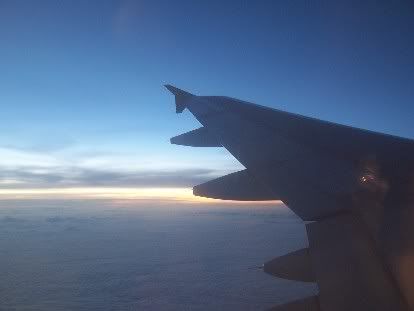 The rest of the flight continues in darkness after the sun sets.
One thing good I have to say about this batch of cabin crew, they worked hard throughout. They were constantly seen walking about the cabin to clear rubbish and answering to crew-calls in seconds. Never once did their smiles falter.
However, on the downside was the boredom that soon set in after I finished munching on my Pringles. In a flight this long, I grew restless very quickly and was soon squirming very uncomfortably in my seat like a fat grub in a hole of a tree trunk. The tight pitch didn't help one bit. No PTV, no airshow or audio to keep me entertained.
"Eeeeks… I cannot imagine flying on this claustrophobic clutter all the way to Perth, and then connecting to Melbourne. I'd rather slit my wrists."
I had no choice but to get out of my seat and hang around the aisles just to take a breather. Not that there was anything outside the window this being an evening flight, the beautiful sunset was the last thing worth looking at.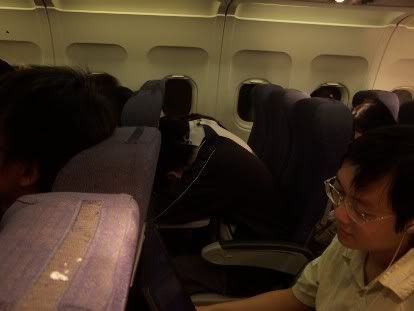 Since I got bored, I started taking photos around the cabin and this is what I saw. Are these 3 bracing for something I do not know about?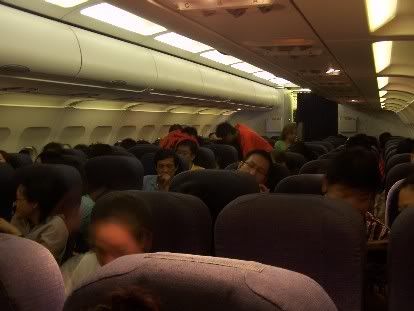 My fellow passengers were starting to nod off one by one as if deprived of oxygen. How the hell can people sleep on planes? And why can't I?
2020H: The lights came back on and the cabin crew appeared fresh faced for a second attack at our wallets with the meal carts. This time, they also included the duty free cart afterwards. I did see some people reaching out for duty free items and I thought to myself, "Geez, cannot wait to shop? We will land soon!"
The Tiger girl and boy on their 2nd prowl with the cart.
That being said, the flight seemed to stretch on forever with no indication of our distance from Hanoi.
2055H: The flight deck finally comes on the PA and informed us about out imminent arrival into Noi Bai International Airport. FINALLY! My butt was becoming numb from inaction. As soon as the announcement was done, the nose of the aircraft pitched downwards and the engines spooled back audibly.
The cabin crew went about the cabin to clear the remaining items left behind from the F&B service while getting some stubborn mules to keep their seats upright. PING! Seatbelt sign came on and I was excited about the arrival, while I was trying to massage my butt back to life.
2110H: Cabin crew, landing stations!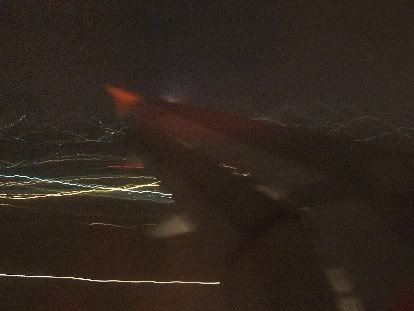 The approach was for Runway 11R. The aircraft descended in pure darkness, underlining the rural surroundings of Noi Bai. Cabin lights went off and even after that, there was nothing much to see outside other that small pockets of ground lights.
2115H: Touchdown.
A silent reverse thrust welcomed us to the capital of Vietnam. In the wintry environment, it was a very misty 21 deg Celsius. The quiet airport was host to a TG A300-600, a Nok Air 737-400 docked at the international terminal, and 2 Vietnam Airlines 777-200s at the domestic side.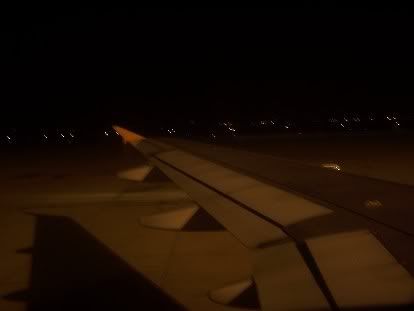 2125H: The aircraft came to a stop, 45 mins behind schedule. Local time is now 2025H.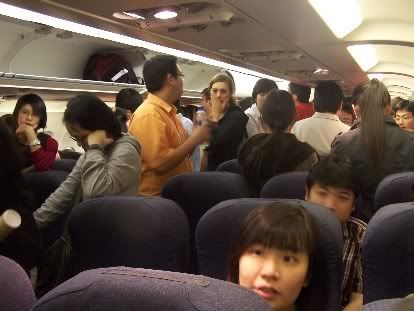 Since there weren't many arrivals at that given hour, our bags were out in no time and our guide met us outside for the hotel transfer.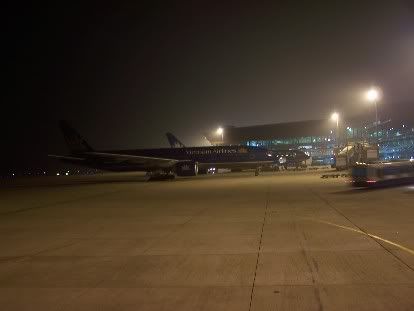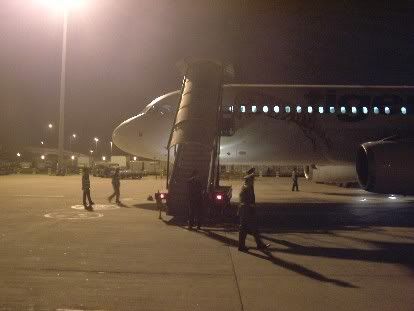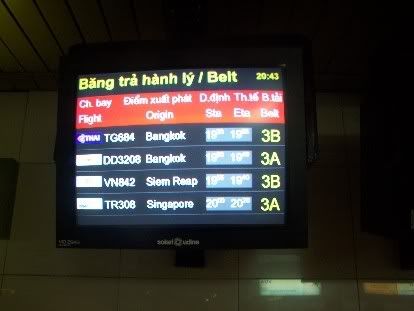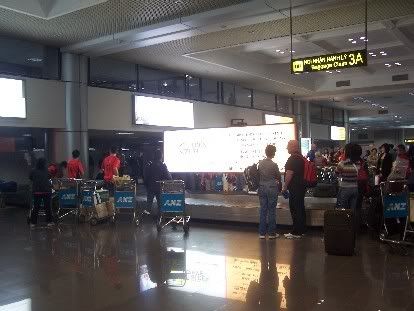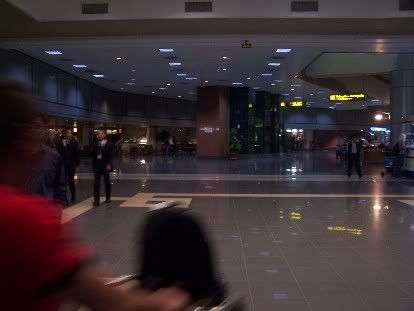 Check-in: 5/10…
Despite having 2 counters open, check in was a slow a painstaking process.
Boarding: 8/10…
Boarding in Singapore, Budget Terminal or otherwise is always an efficient process.
In-flight service: 9/10…
After my last few horrible flights with Tiger, I am inclined to give this one a high score. The crew was all very relaxed, cheerful and eager to please. A good point for the cockpit crew to apologize for the delay as well.
Arrival: 9/10…
Noi Bai Airport might not be the best looking airport but it fulfills the job well. It is compact and easy to navigate. Bags were out in a short time and we experienced no problem with the customs. Pre-arranged transfer was also out there waiting for our arrival.
Overall: 77.5%...
I was overall very please with this part of the journey despite having the long check in and delayed flight. As much as I want to complain about the boredom for this 3-hour flight, this is, after all, a budget flight so I got what I paid for and I cannot really fault Tiger for not providing anything else.
Please do stay tuned for Part 2…