The Christmas holidays were getting closer so I thought it would nice to fly home to Ireland for a few days. I was looking for flights to Cork on the 16th of December and returning to London on the 19th so I checked Ryanair from LGW and the fare was over £130, Aer Arann was similar for LTN-WAT. I finally checked Aer Lingus and was expecting an even higher fare but was pleased to see that it was £70 including all taxes and charges so I booked the flights with Aer Lingus, IMO the perfect way to go to Ireland for Christmas.
FLIGHT : EI 711
ROUTE : LHR-ORK
DATE: 16/DEC/07
A/C: A321-211
REG: EI-CPG "Saint Aidan"
SEAT: 5F

I got to Heathrow Terminal One early so it was quiet with very few people around. I checked in with one of the Aer Lingus FastPass machines. It was very easy to check in and took about 30 seconds. I walked around the terminal for a while, there were a few posters saying "Heathrow, an airport in transformation" and they had images of T5 and Heathrow East. A friend of mine from college was flying out to CAI with her family and it was first flight with BD. I walked up to Costa Coffee and sat by the window looking down on the BA check in area. It didn't take long for the terminal to get busy and for the ques to start forming.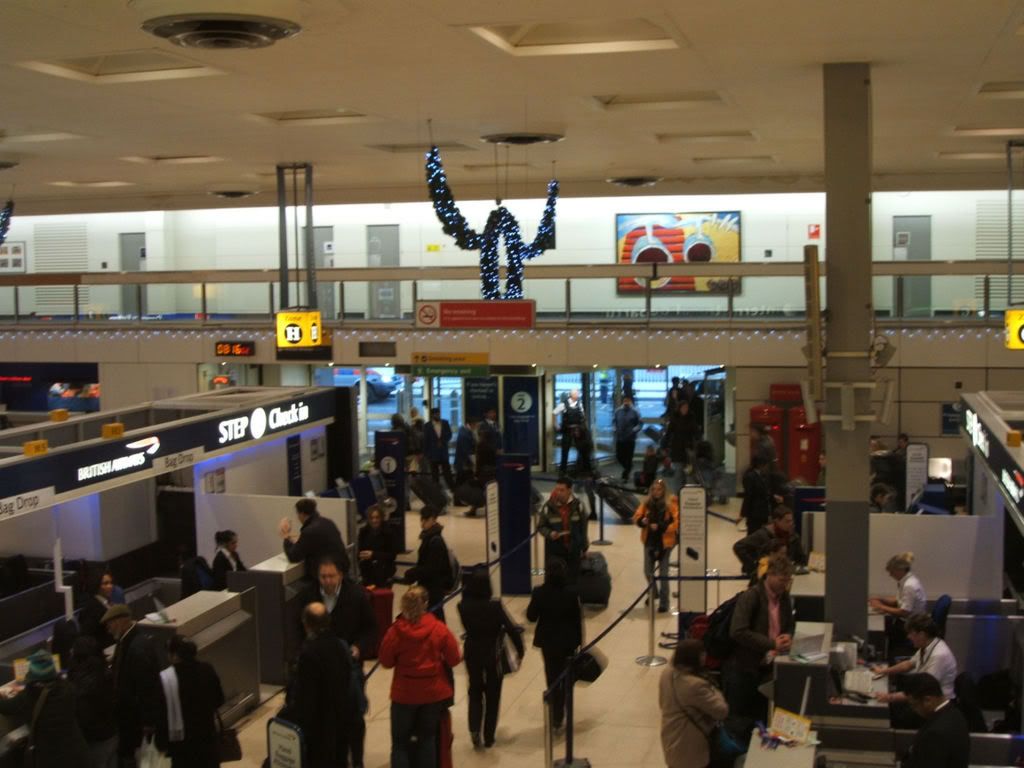 Just before security there was quite a few people trying to bring on more than one piece of hand luggage and the member of staff telling them they couldn't was quite rude and this didn't make the situation any better. I think it could have been people hearing the news that the one bag rule was to be lifted in January and getting confused. The small group was taken aside so the rest of us could carry on through to security. I noticed that the Aer Lingus advert with the taxi A320s had gone which was disappointing. Once I got to security it was very quick and efficient which isnt always something associated with LHR but I think they did well and there were no problems. As I walked towards the duty free area I was greeted by four Aer Lingus adverts, three adverts with the Aer Lingus A320s lined up like taxis and one with the Aer Lingus A320 merging into the Heathrow Express which said "The Ireland Express. No other airline flies 22 times a day from Heathrow to Ireland" It was too big to get a full photo of it but I got the interesting part.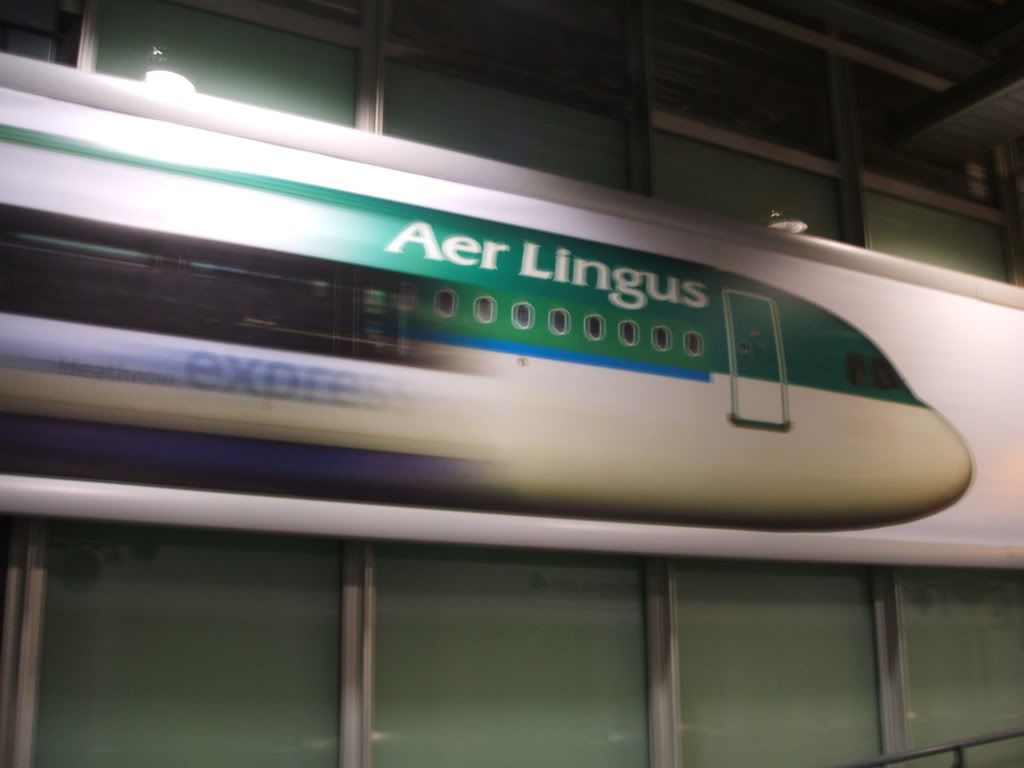 Just as I took the photo a man ran past and dropped his boarding card for a Bmi flight, I picked it up and went to hand it to him but he had gone. I just went in the same direction he was running and handed it to the first Bmi gate agent I saw. As I walked back to my own gate an announcement was made and he ran past me in the opposite direction to the gate and collected his boarding card.
I got to my gate and the only Aer Lingus aircraft I could see was EI-CVA, an A320 going to Dublin. It wasn't long before more Aer Lingus aircraft appeared but it was quite hard to get many photos because almost every seat was taken. I think a Bmi flight to Dublin had been delayed there were quite a few apologies and the Aer Lingus flight to Dublin was also delayed slightly.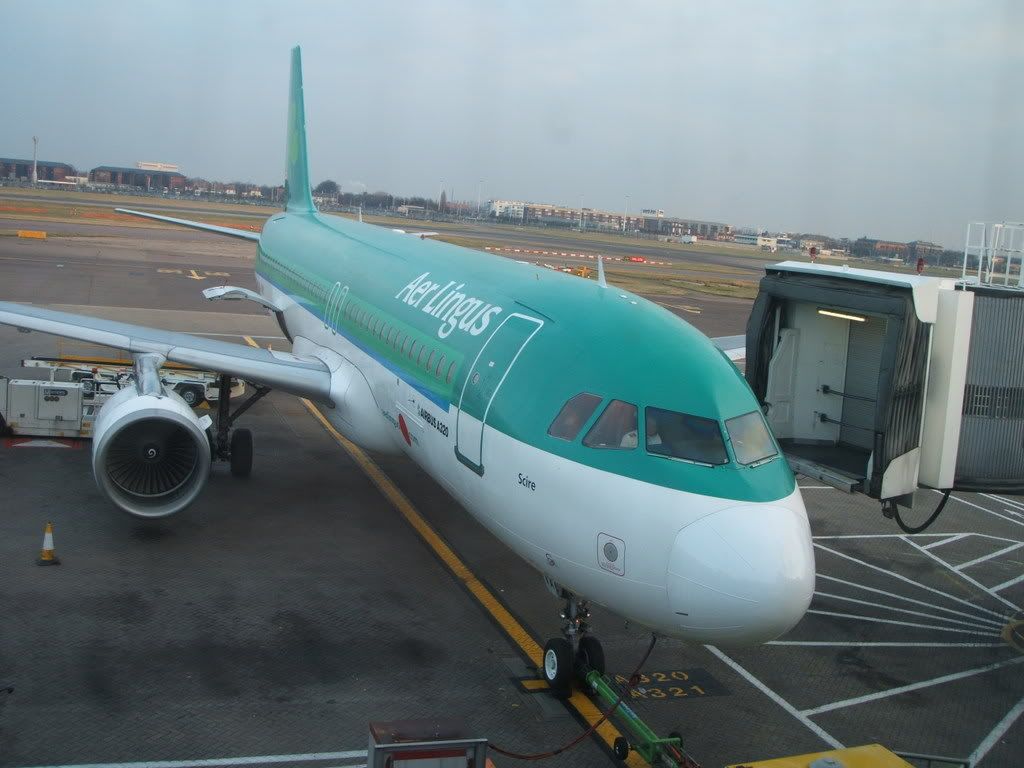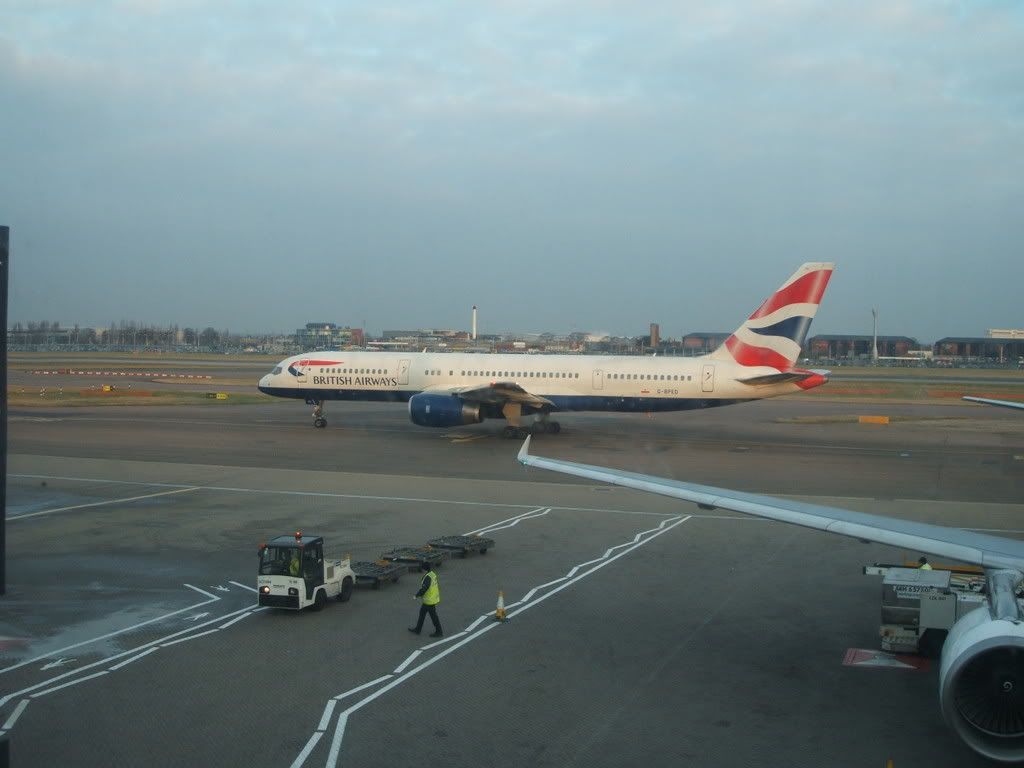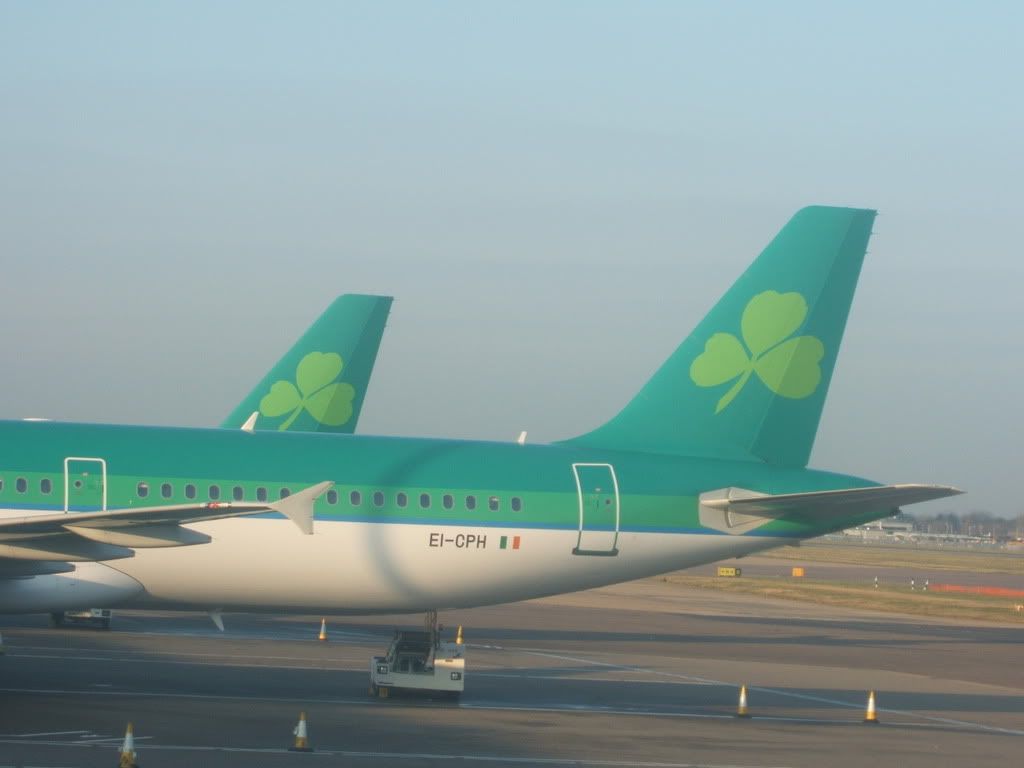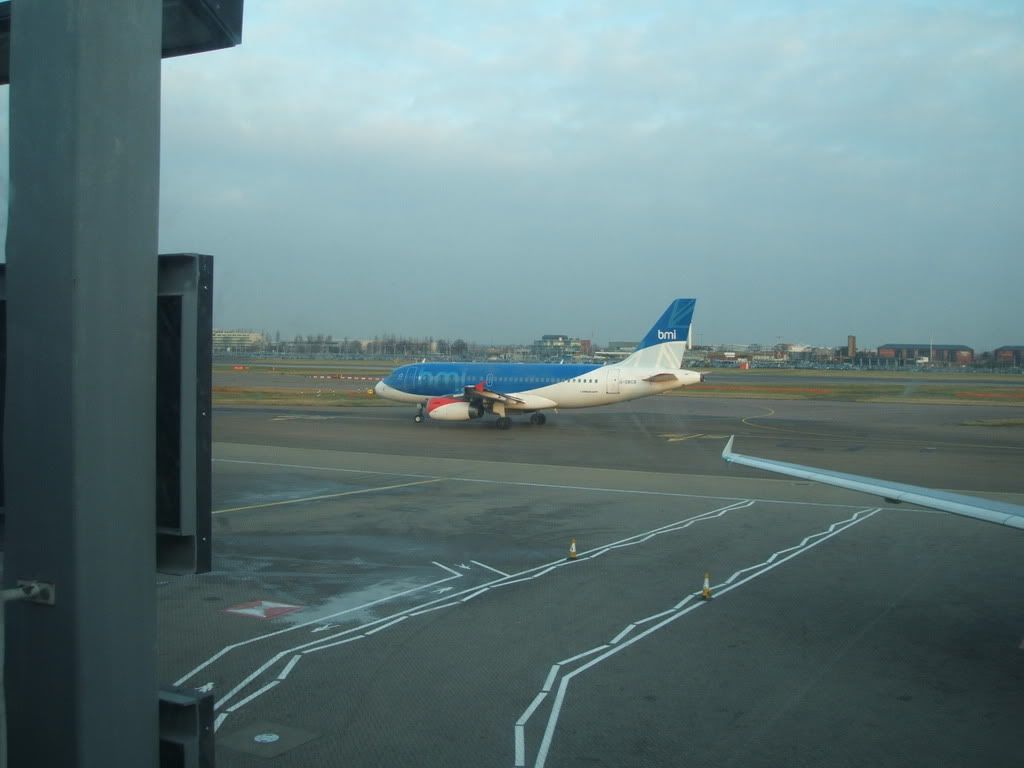 I sat down and waited for the flight to be called but as it closer to the scheduled boarding time there was no sign of our flight being called. There was a woman sitting opposite me with her three children, they had arrived earlier from SIN and she was obviously tired. As more people arrived for different flights, quite a few us started chatting and every few minutes one of her boys would come over and say "lets get on the plane mammy, look it's waiting" he was driving her mad but then the announcement finally came for passengers with young children or special needs to make their way to gate 84. Soon after everyone else was called but as we lined up and got our photo identification ready someone started picking people out of the line and searching them, even people who were about to hand over their boarding cards and ID were picked and searched which did not go down well. This meant the passenger then lost their place and had to walk to the back which made people even more agitated and comments were made. I have never seen people being searched at the moment of boarding, I'm sure it was new to the other passengers as they seemed very surprised. It delayed boarding by a few minutes as we waited for the final passengers get on.
There was Christmas music being played in the cabin and we were welcomed by two very nice cabin crew, both from Cork. There were about three welcome announcements as we boarded in both English and Irish, I was quite pleased to hear the amount of Irish because there had been very little on my previous EI flights this year. The cabin was clean and there was plenty of room in the overhead lockers and the aircraft was about 80% full with most of the empty seats being towards the front. We pushed back about five minutes late and started out taxi to runway 09R.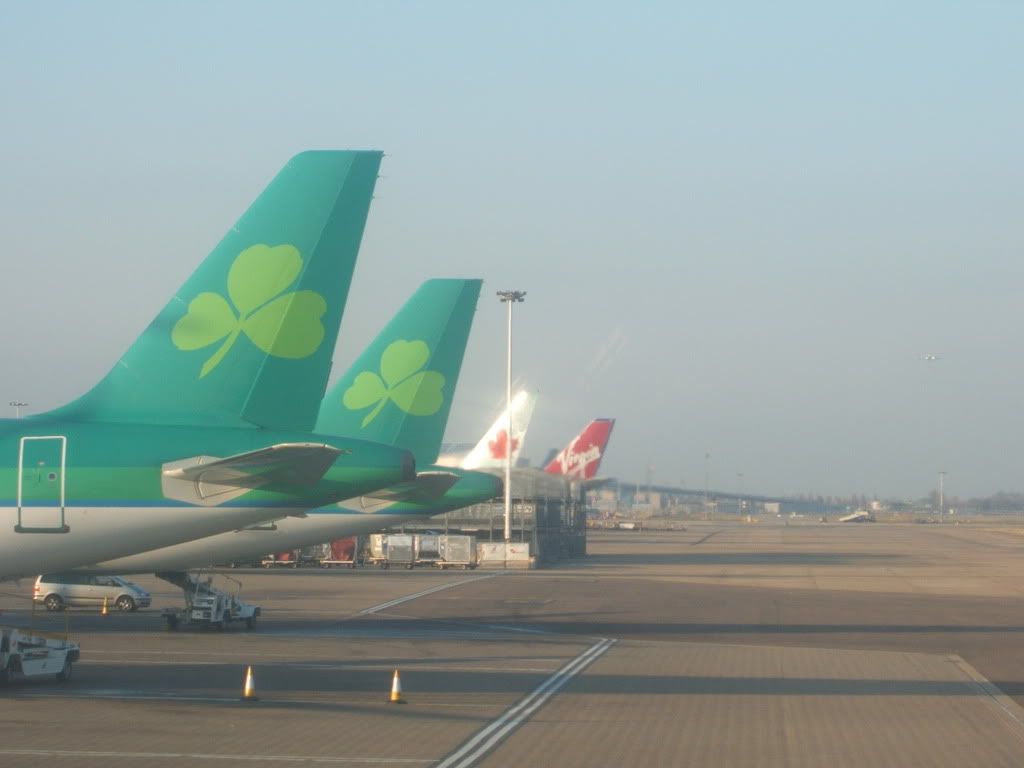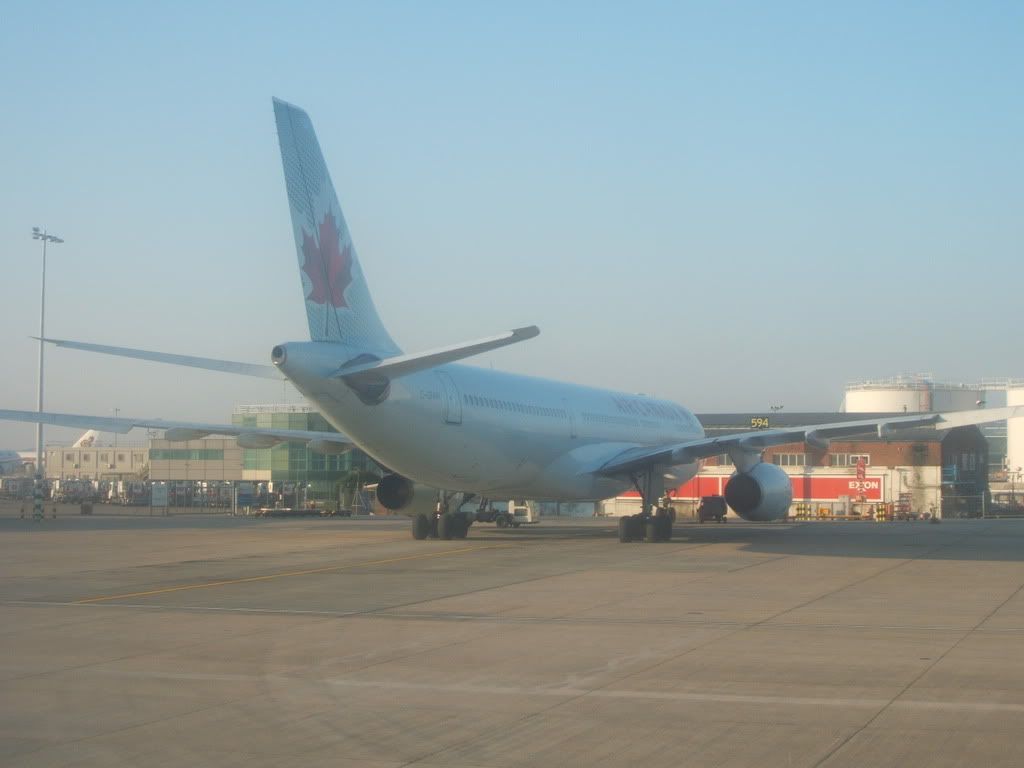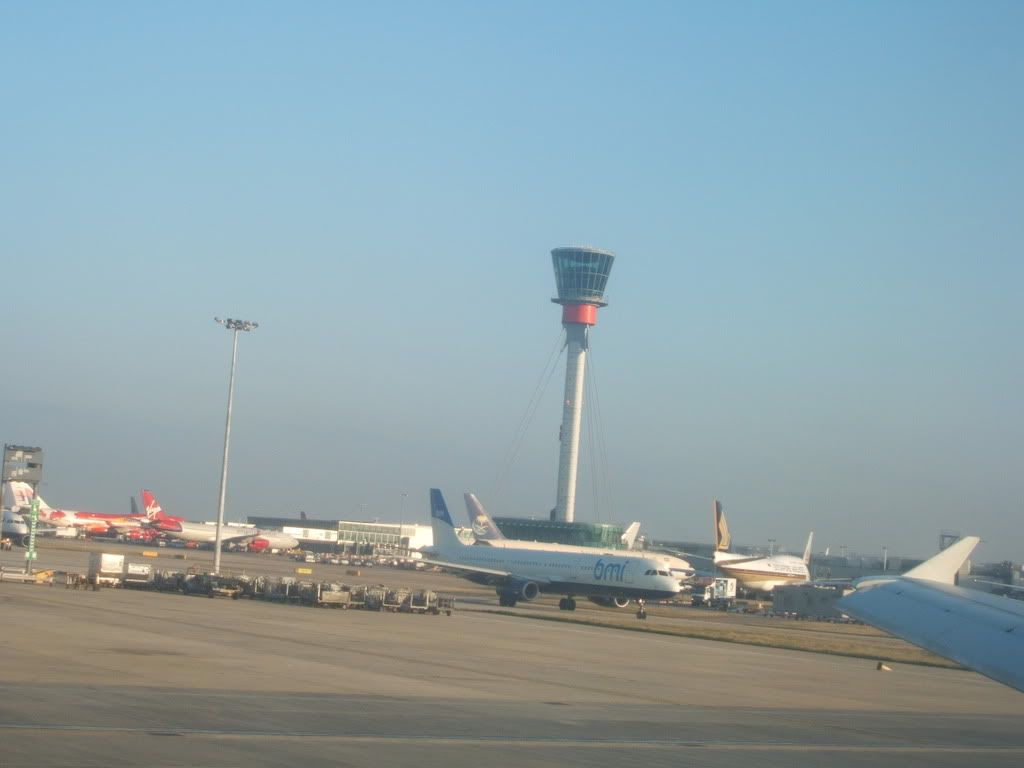 Take Off:
We continued to climb and as we did so we past a few aircraft, mainly BA A320s that were on approach to Heathrow runway 09L. The two women sitting next to me were laughing about the noise of engines, one of them said "what a noisy old bird" and because I was taking photos, they asked me if the noise was always like that and I told them it would get quieter after a few minutes which it did.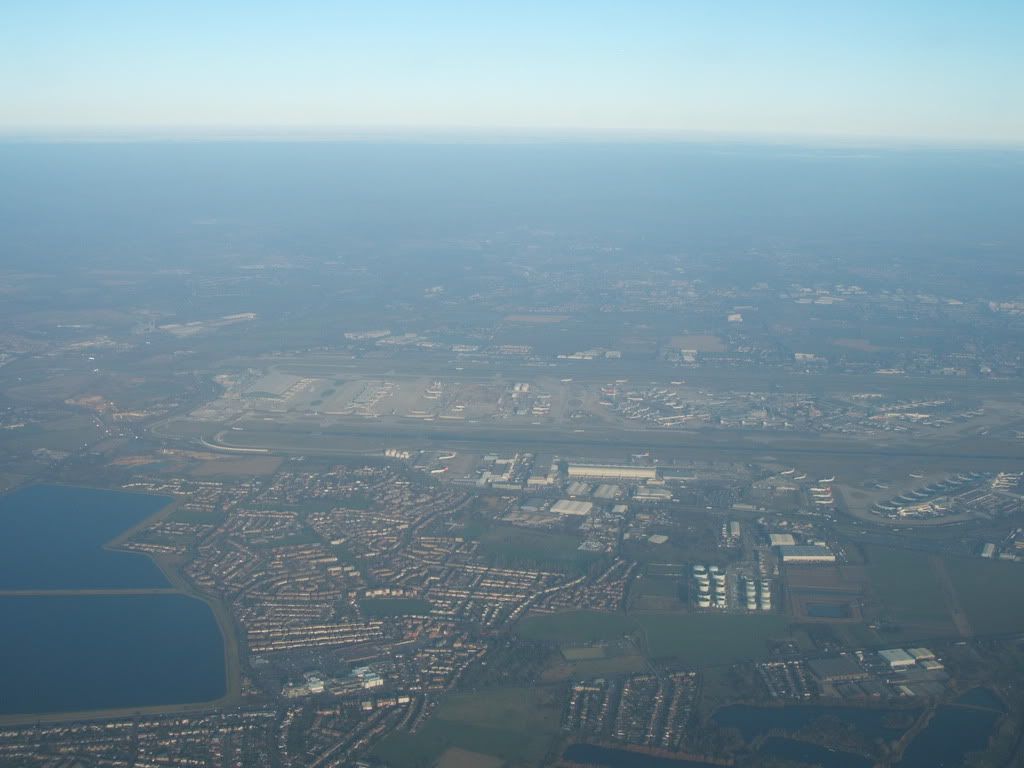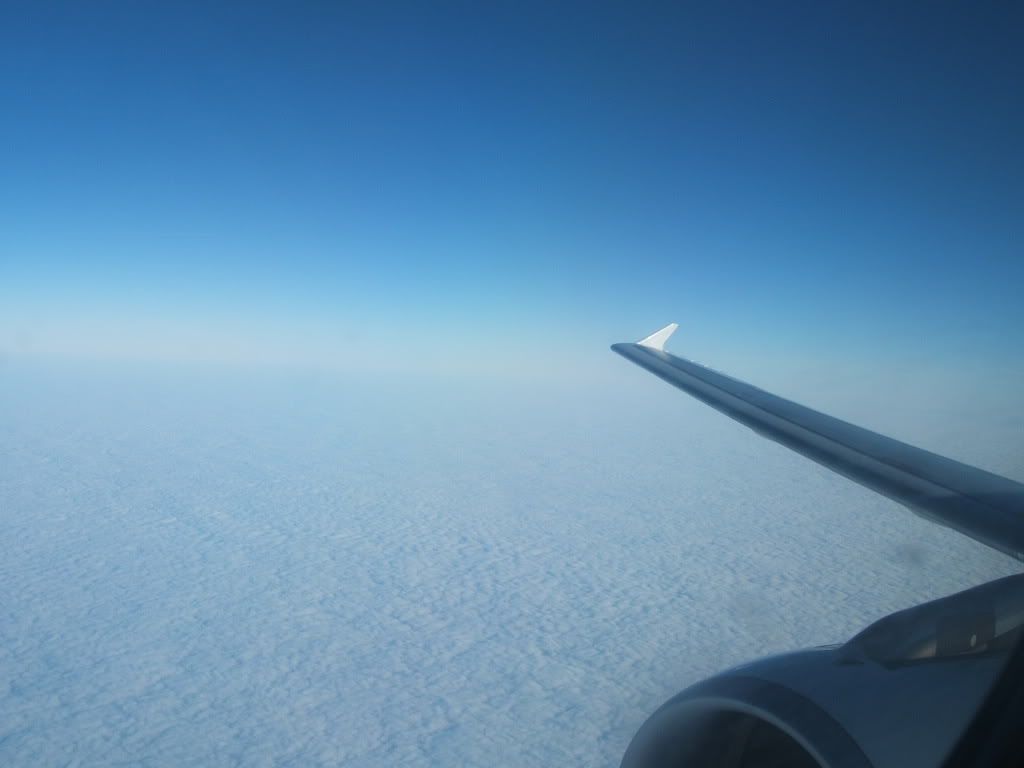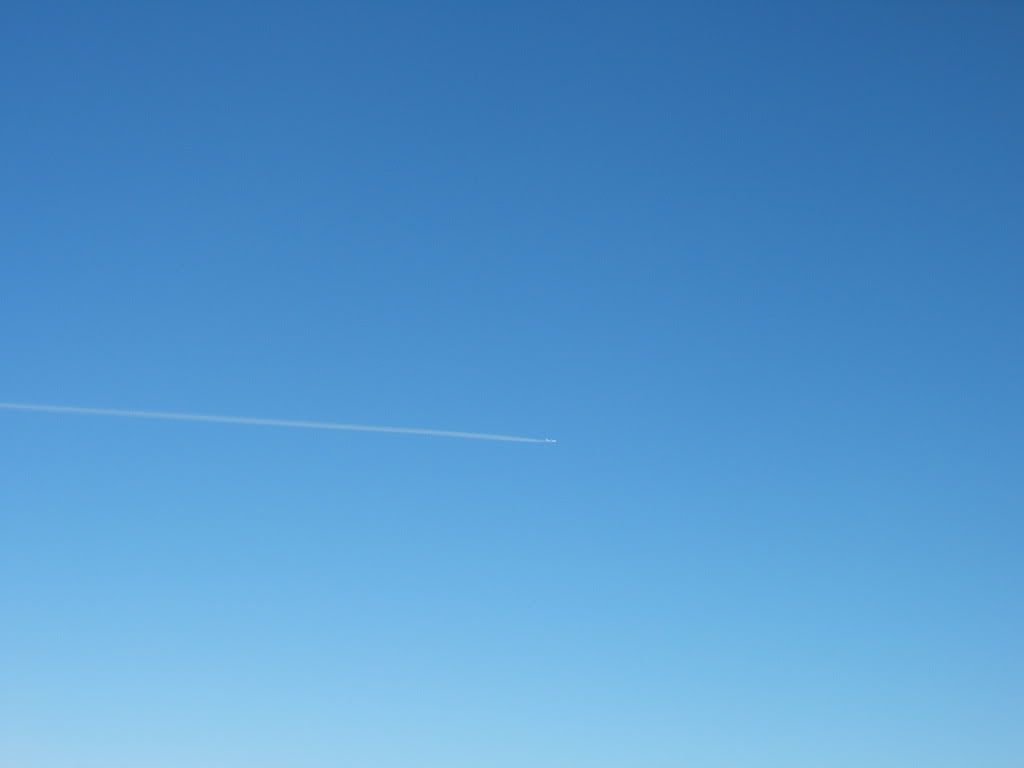 The Sky Cafe service commenced, I didn't want anything but most passengers purchased snacks and I saw about three Irish breakfasts being handed out, the service was fast and with a smile. Soon after the Sky Cafe service finished, Sky Shopping started and the two women sitting next to me started off just looking through the magazine but then started buying and before I knew it they had three FAs around them all discussing what was best and how much they were going to spend. In the end they spent about £120 on Sky Shopping, the cabin crew were really helpful and it was like they were all out on a shopping trip.
The captain informed us of our route about 20 minutes before our arrival into Cork and he told us about the weather in Cork which was going to be cold and cloudy. I watched out shadow get closer to the clouds before we disappeared into a grey darkness.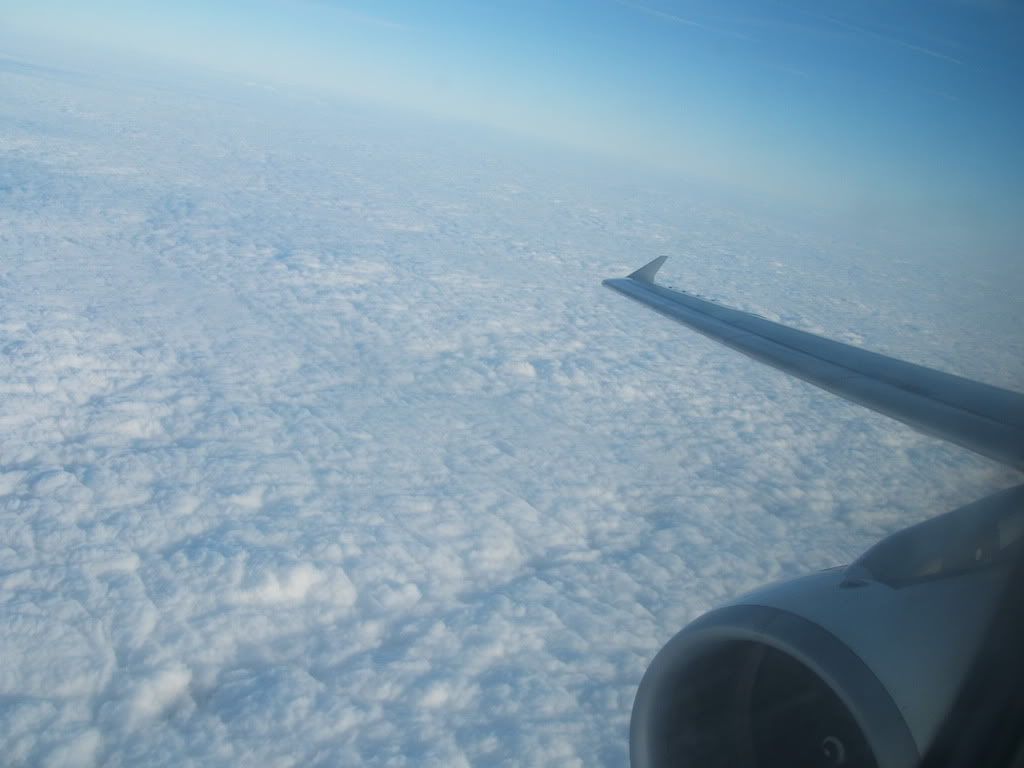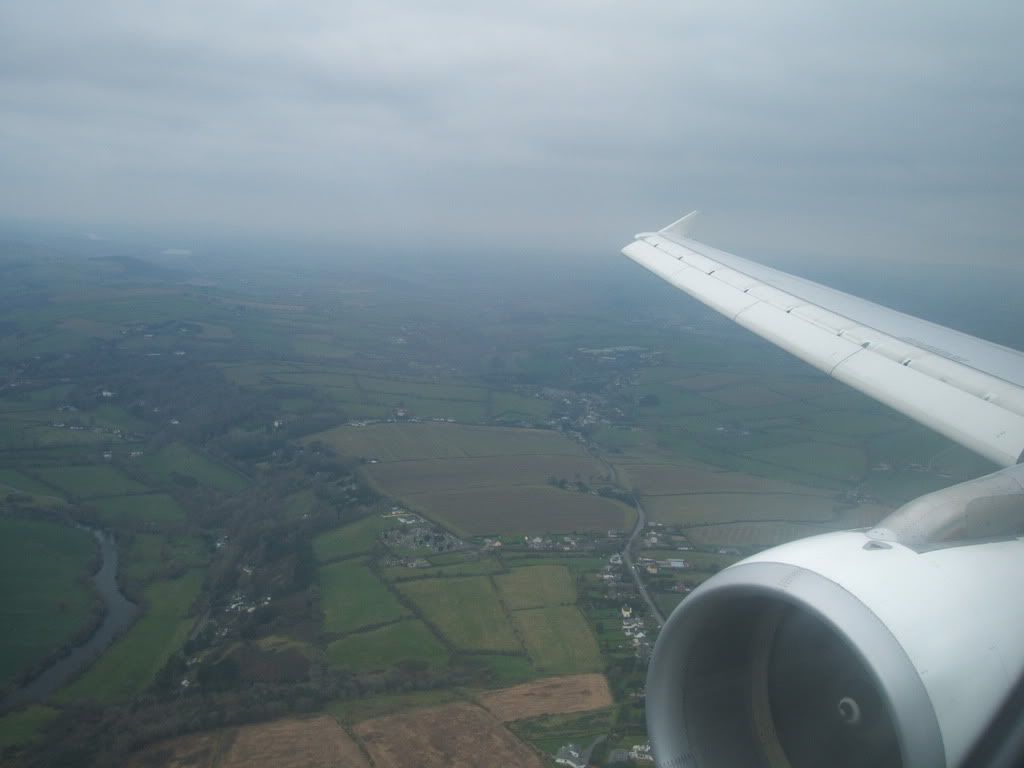 It was a bumpy approach and the lights were dimmed for landing, the flaps were set and the gear was lowered. We landed smoothly on runway 17 in a gloomy Cork, the woman next to me was watching it on my camera as I filmed it and as we slowed down and started to turn at the top of the runway the aircraft shuddered and stopped suddenly. The engines whined slightly and we started moving again, we were welcomed by the crew and the Christmas music was played as we taxied to the Gate 5.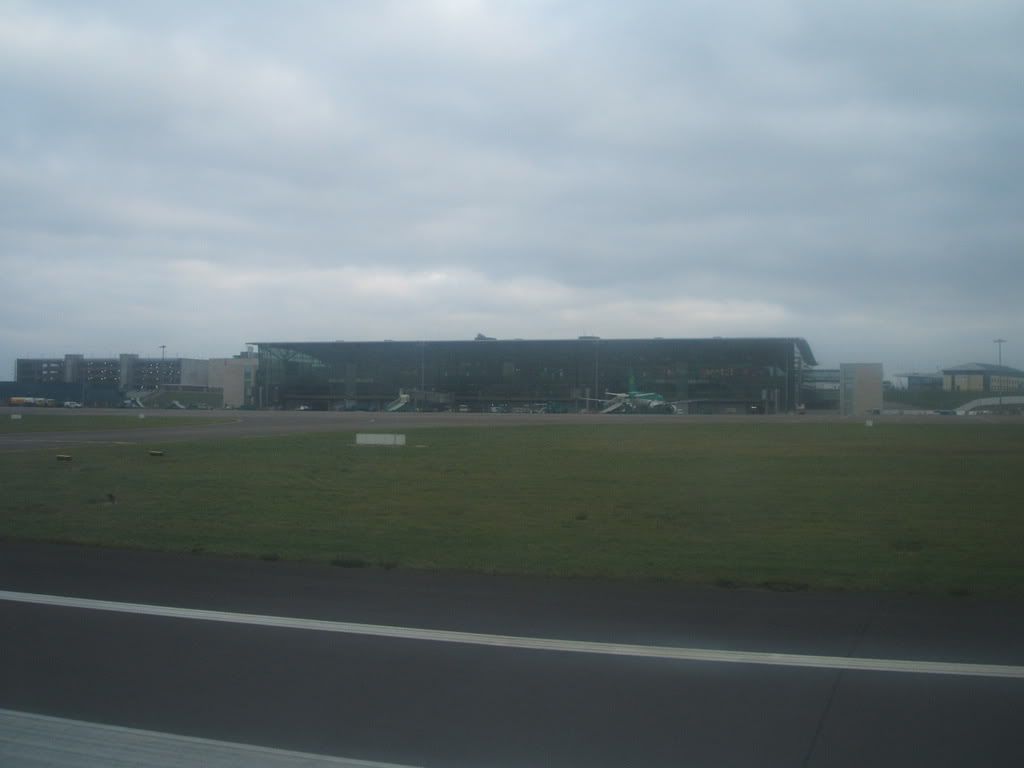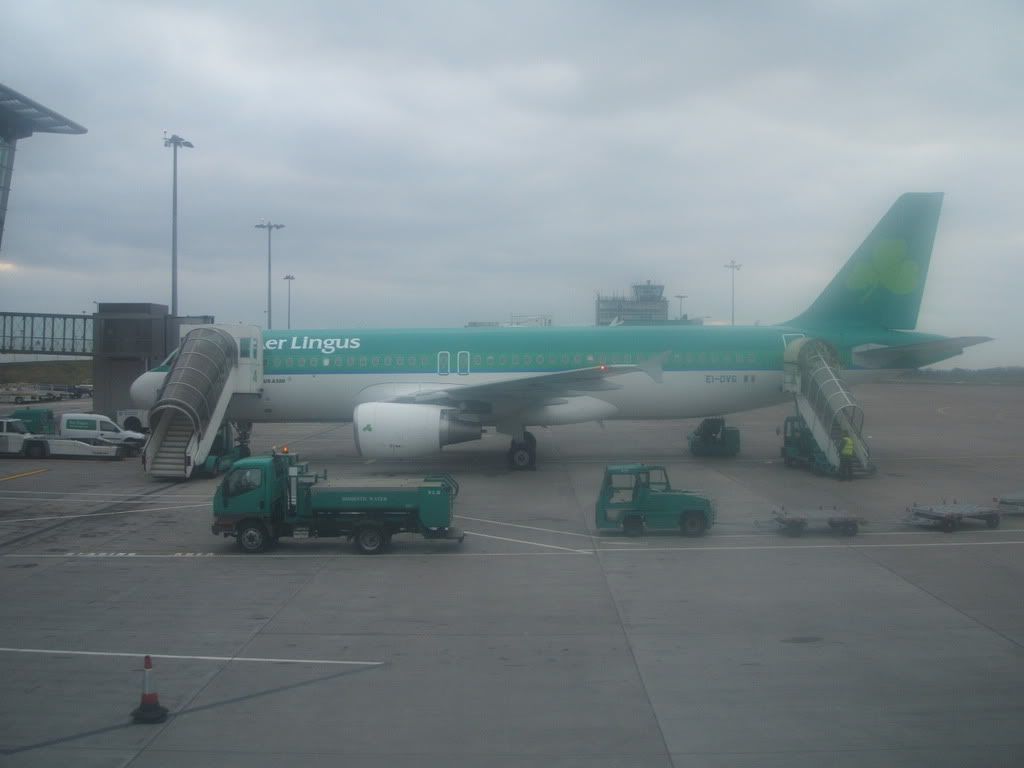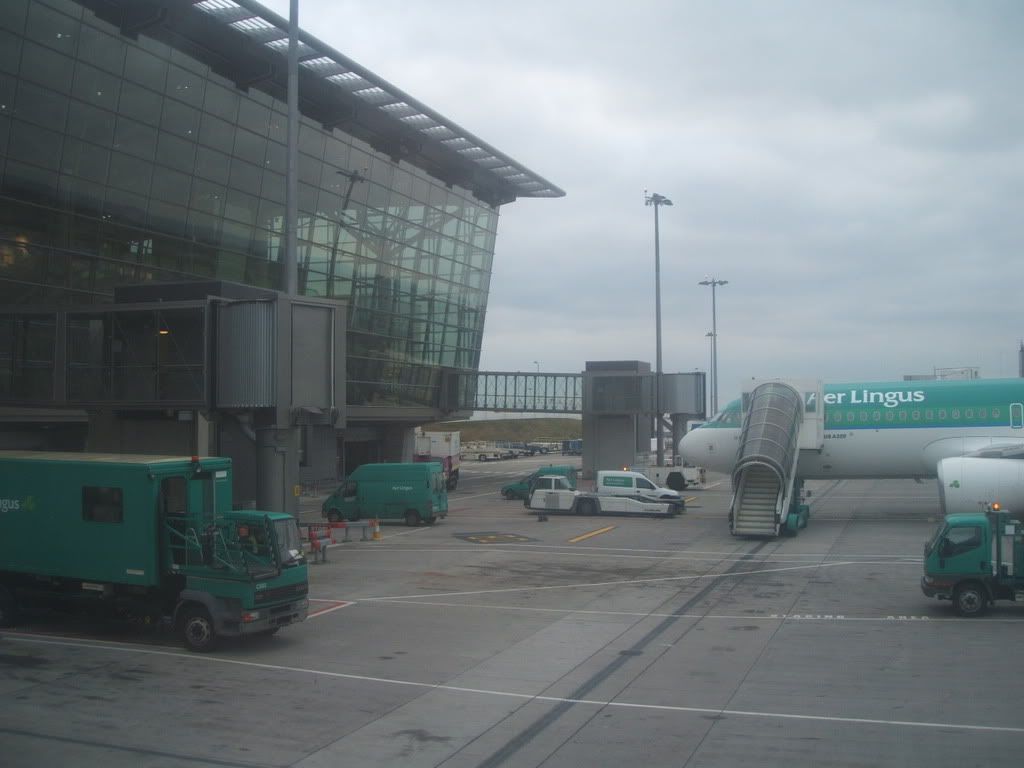 The aircraft was connected to the only air bridge at Cork and the cabin crew said goodbye and wished us a merry Christmas. Cork Airport was very festive, much more so than Heathrow. There was Christmas music playing and decorations.
Overall I think Aer Lingus did a good job as usual and I did "enjoy my flight". Heathrow wasn't bad and I hate all the bad press it gets but I'm looking forward to seeing T5 and Heathrow East. Cork is a nice airport, the new terminal lacked character when it first opened but I think I'm getting used to it now and it's definately my favourite airport in Ireland.
Thanks for reading!