In late September I started checking out possible ways to re-deem some miles for a Christmas break in Mumbai. Much to my dismay, there were no seats available in Business Class for my preferred dates on either Northwest or Air France. I started looking for alternatives in the shape of other Indian cities, Dubai and even Bangkok. Soon the choice was narrowed down to two options. I could either fly Air France from Washington Dulles to Chennai or KLM from Atlanta to Hyderabad. In my opinion, there was not even a choice, KLM it was!
KLM 622
Atlanta – Amsterdam
Airbus A330-203 (PH-AOH) (Temporary - City of Muscat) (Senaatintori - Helsinki)
Seat: 2A
Scheduled Departure Time: 17:20
Actual Departure Time: 17:12
Scheduled Arrival Time: 07:40
Actual Arrival Time: 7:22
Check In:
After flying up from Florida, I took a leisurely stroll from the crowded Delta baggage claim area to the KLM check in desks. I approached the counters around 12:45 and stood in line while the single agent helped out a family traveling to Africa. This process turned out to be lengthy as there were six people in the family and they were checking in eight bags along with two boxes. At 1pm, another agent came by and gestured towards me saying "Business Class?" After the standard paperwork was exchanged, the agent apologized for the wait and asked if 2A was my desired seat all the way through to Hyderabad adding:
"As a business class passenger, you have access to the Delta Business lounge located in Terminal E. Your gate number will be E26 and boarding begins at 4:20, have a good trip."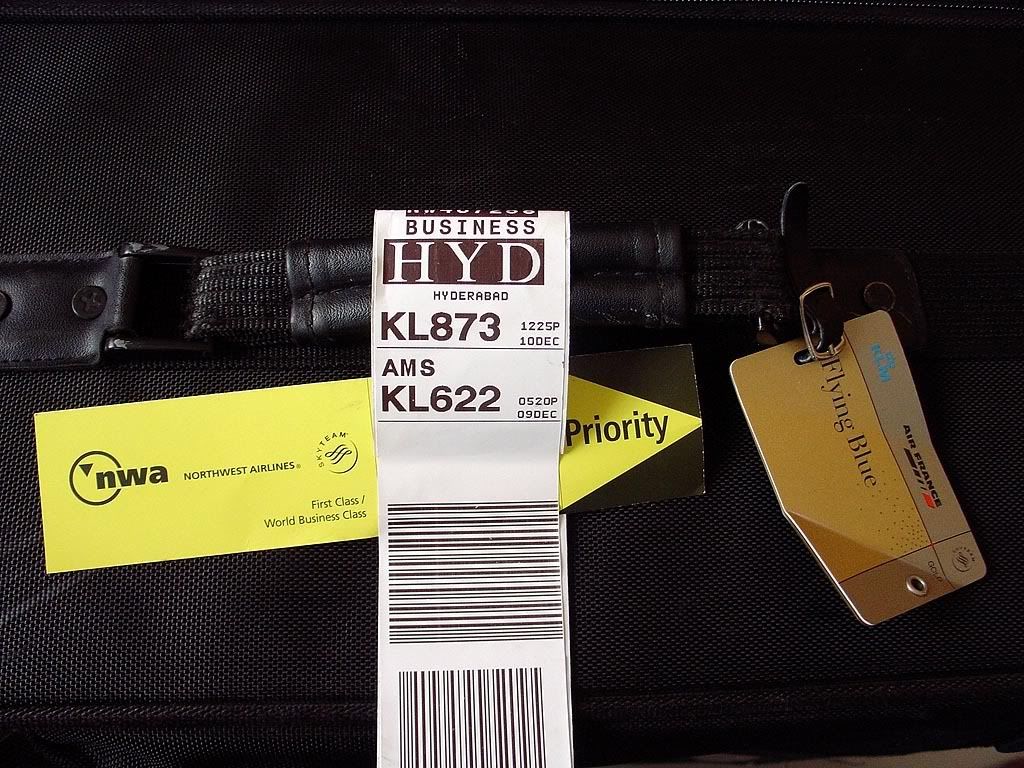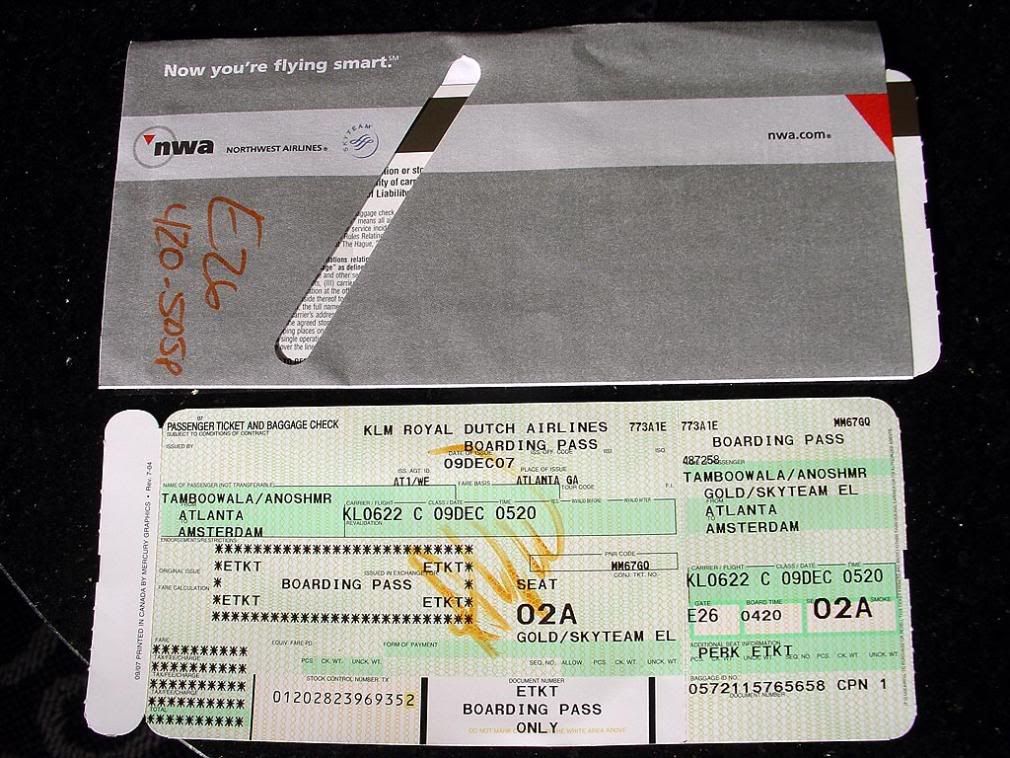 Boarding pass in hand, I headed to security which was not busy at this time. After clearing, I decided my first stop would be the Continentals President's Club in Terminal D. I hopped on the train and proceeded towards a terminal that I rarely get to see when I fly through Atlanta.
I was greeted by the agent though she seemed a bit confused as to why I was in the lounge. Nonetheless, she ushered me in with a "have a great day." The lounge offerings were very basic with few packs of chips and drinks. Though poorly appointed, the lounge was quite busy with a large number of passengers enjoying it. Thanks to the free wi-fi, I checked my e-mail while sipping a cup of hot tea from the self service bar. 30 minutes later, I decided to head to Terminal E.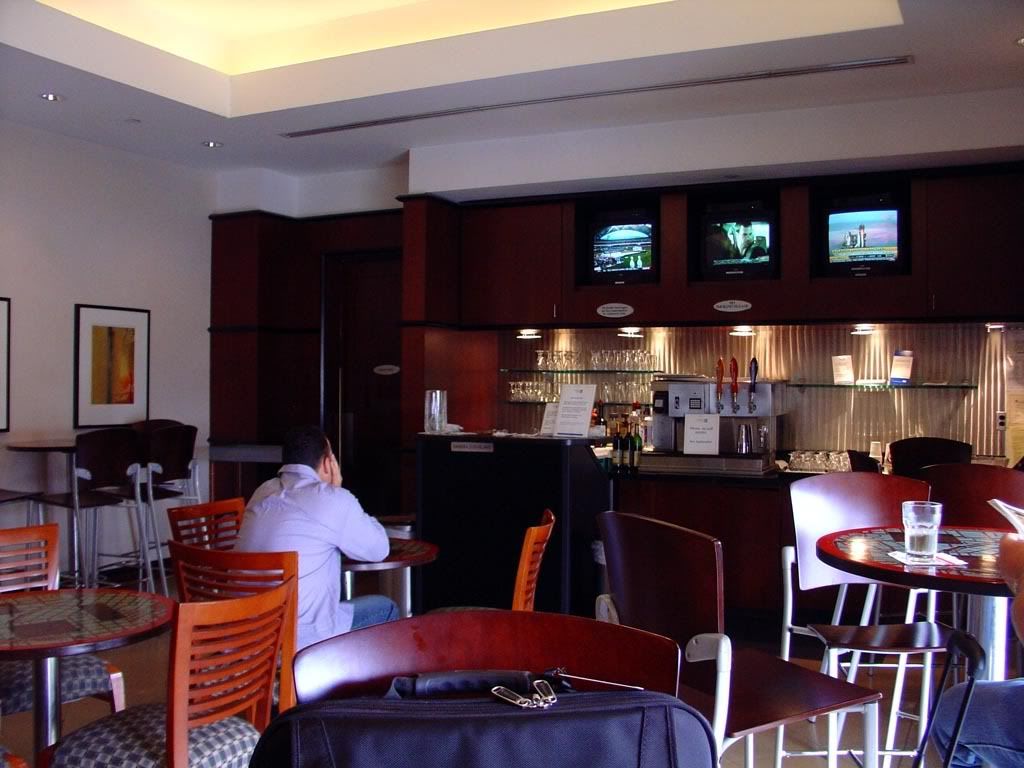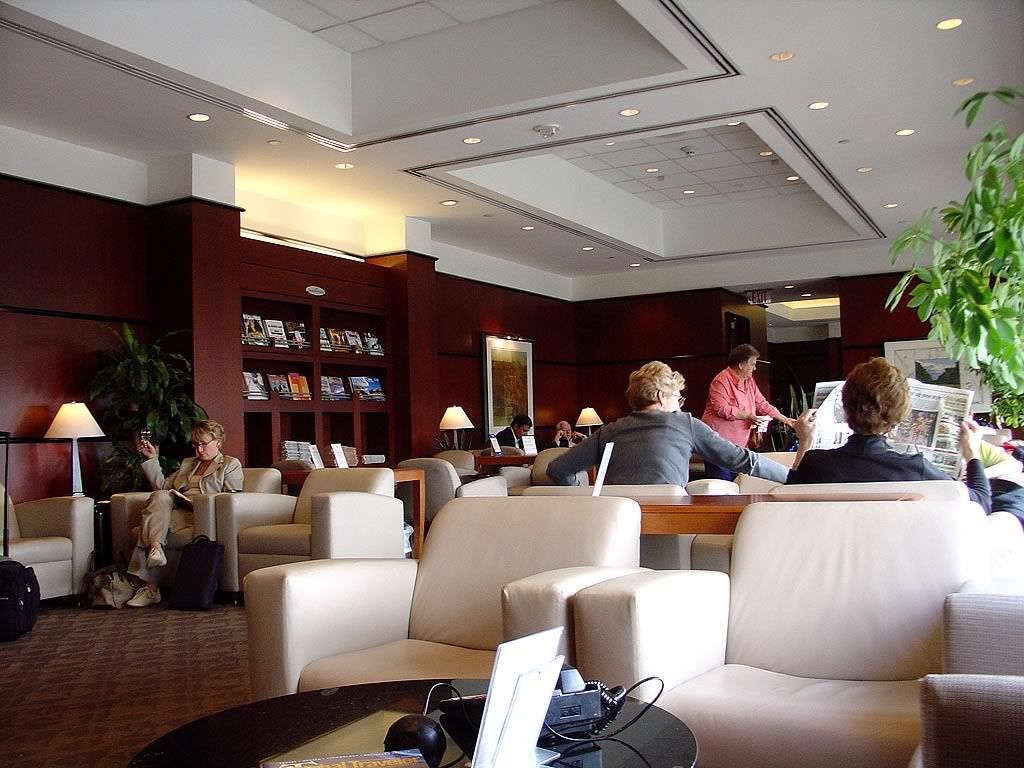 After another quick train ride I headed up the long escalator towards the main hall of Terminal E. The BusinessElite lounge is located near E14 which was past the rather crowded food court.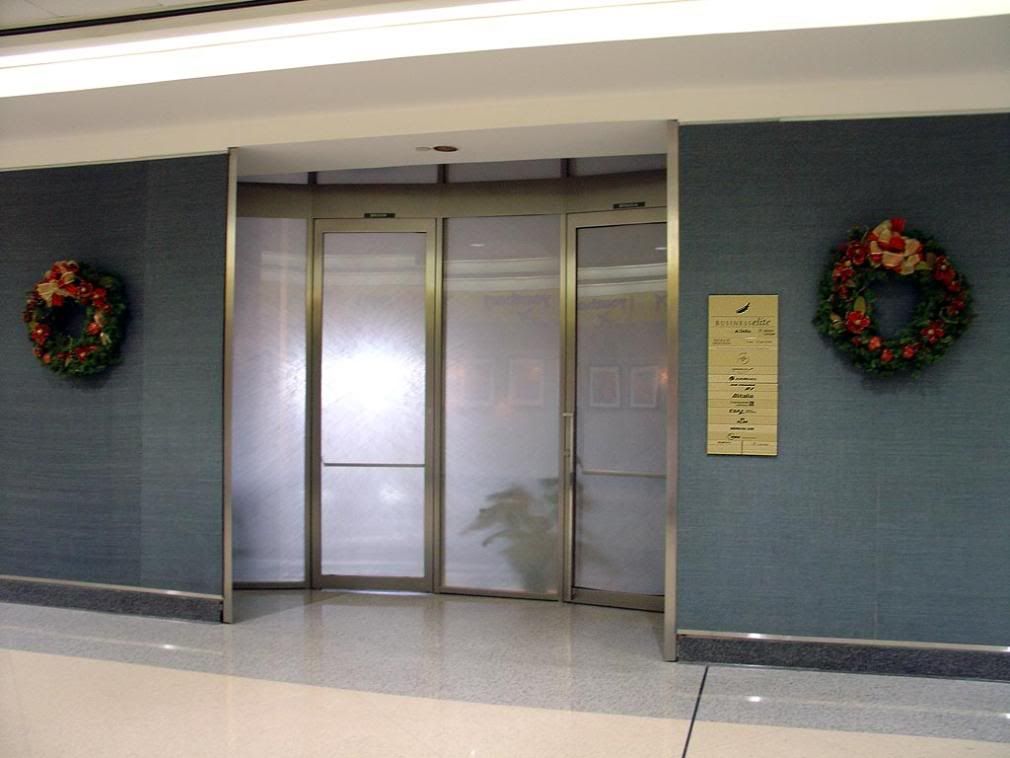 Delta BusinessElite Lounge:
I presented my boarding pass to a friendly Delta agent who reminded me that boarding would begin at 4:20. I found myself a quiet corner with a view and began the relaxation process.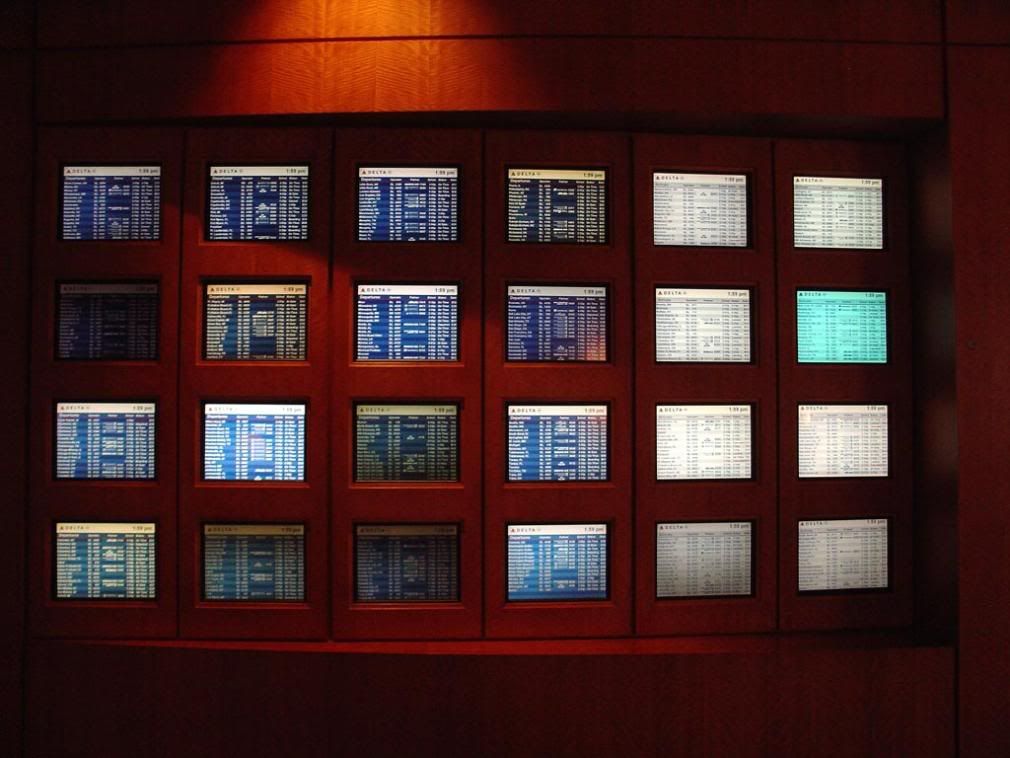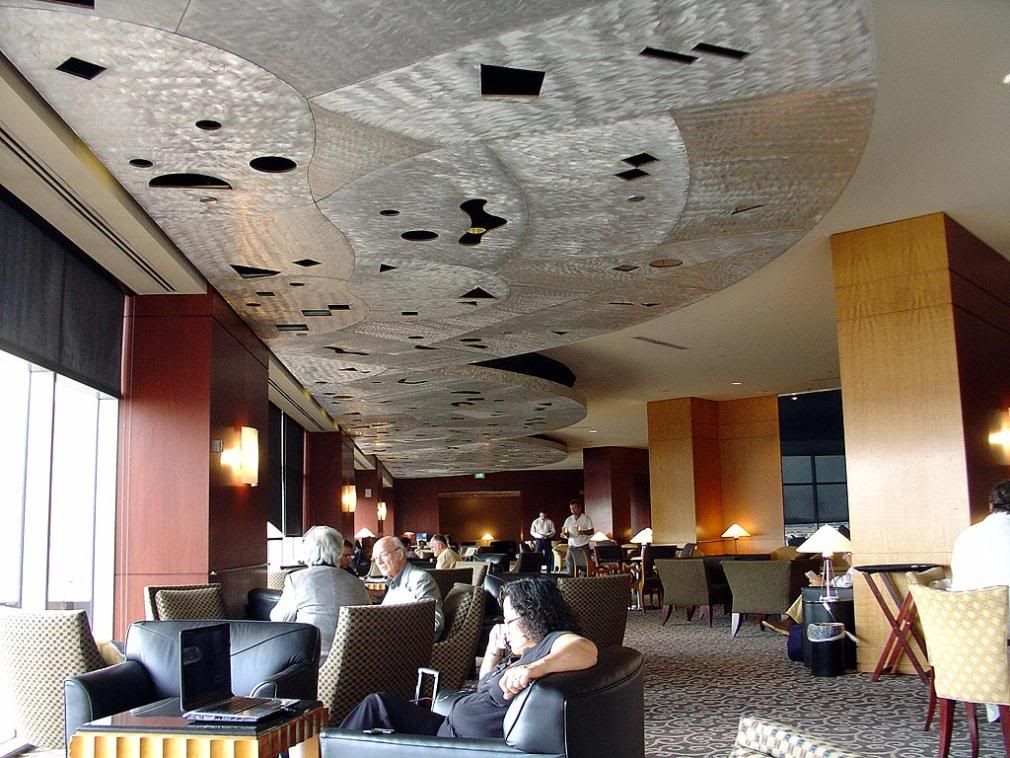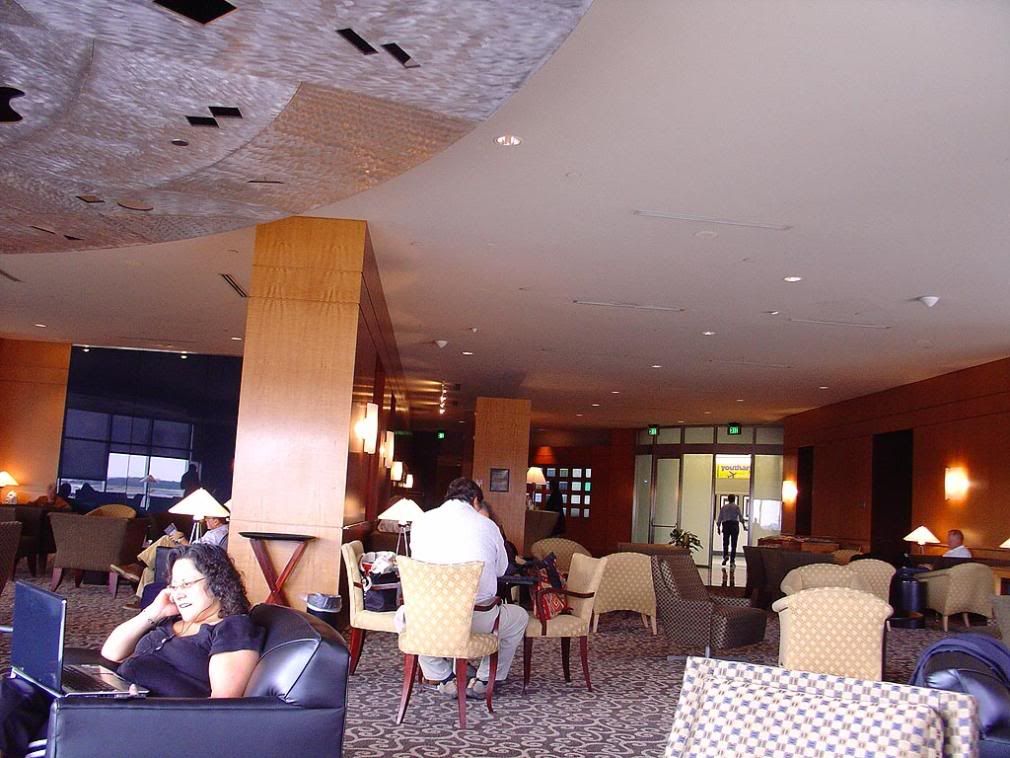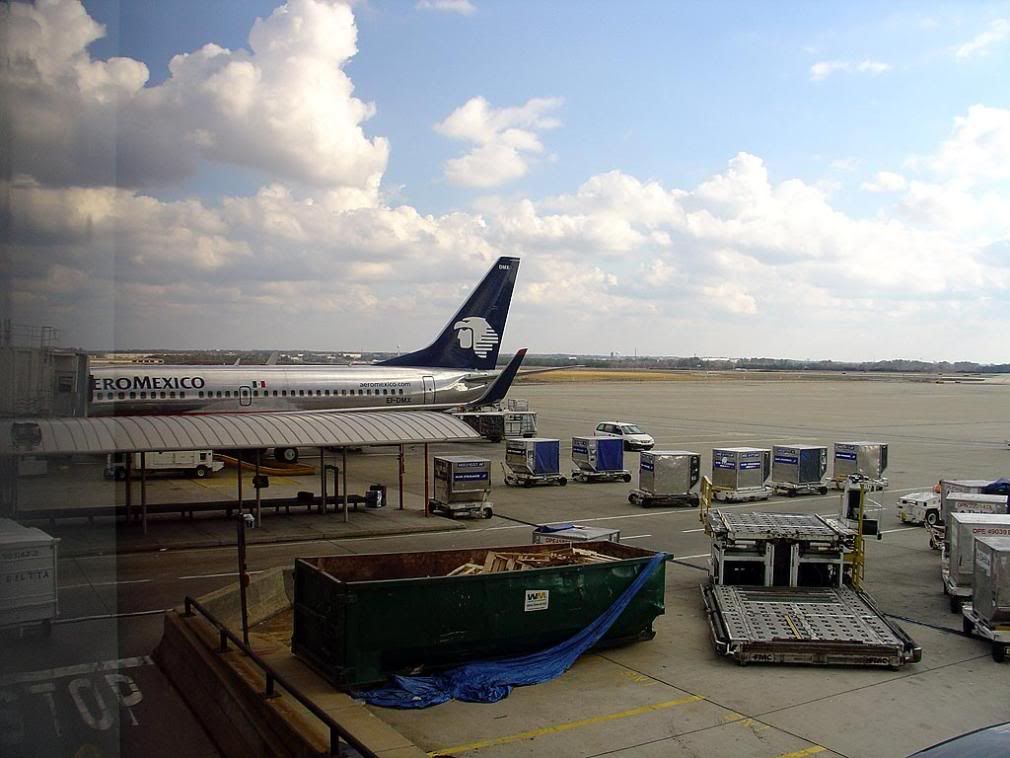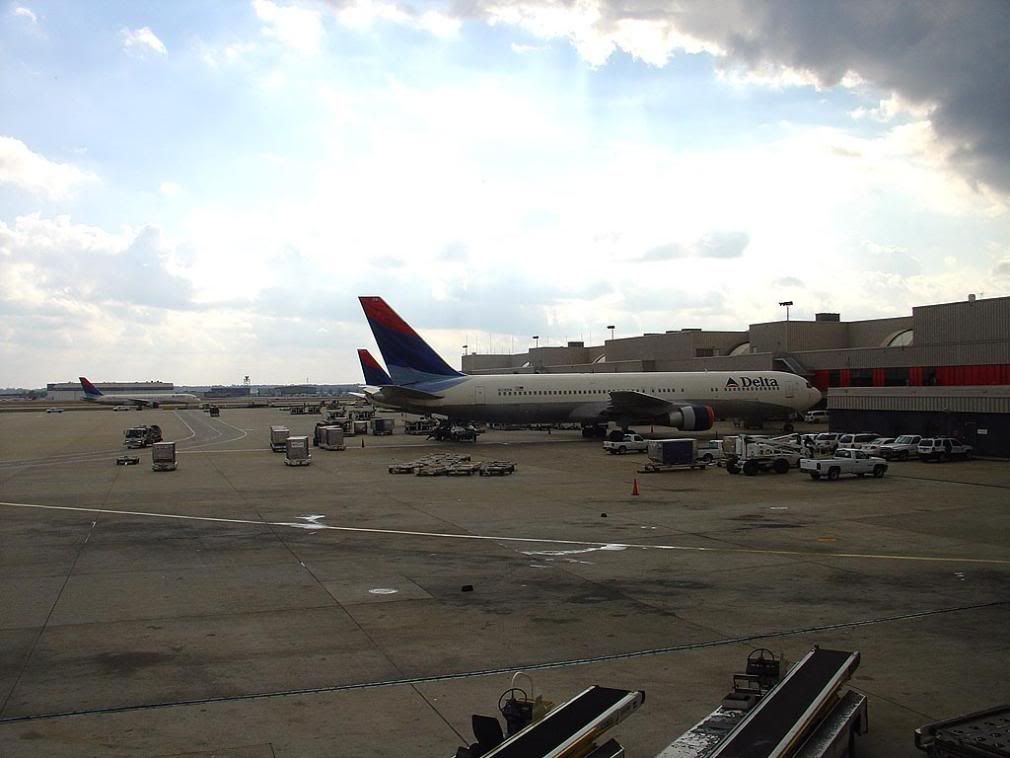 Around 3pm, the smell of food entered my nostrils so I decided to go explore. To my surprise, Delta had laid out a buffet for us mere mortals to enjoy! Among the offerings were a number of canapés, chicken stuffed with broccoli, and beef satay.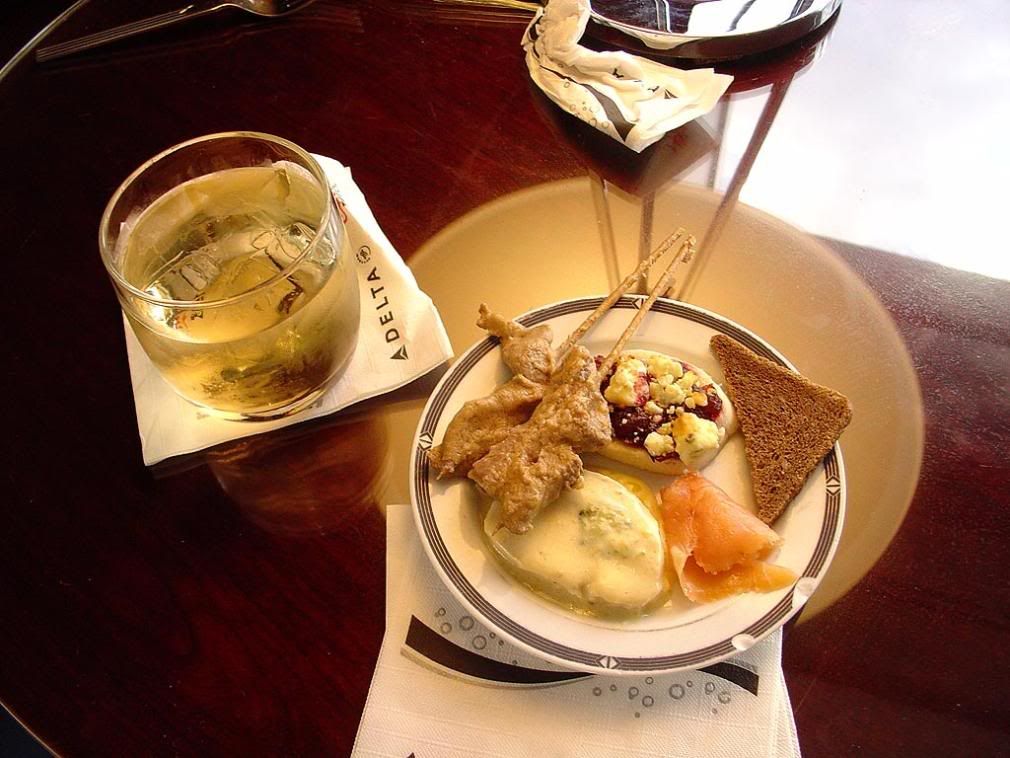 The food was a welcome addition and I won't lie, Delta scored a few extra points with this little touch. Next I swung by the bar which had a few dessert cups laid out.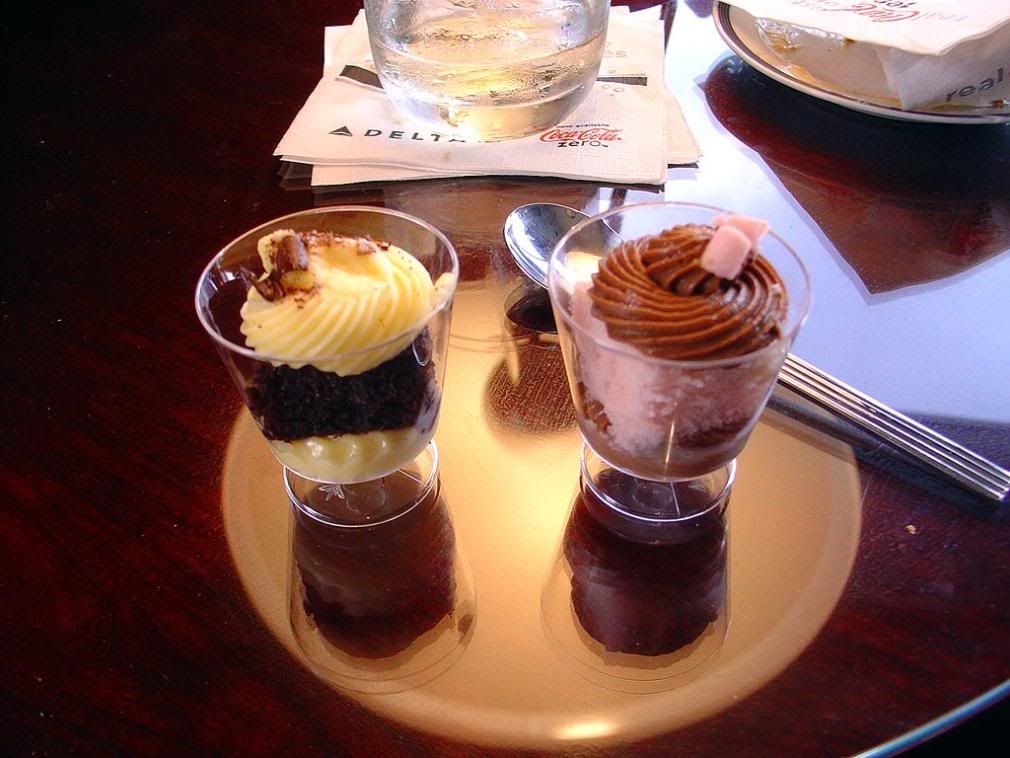 While it was merely simple cake and Jello, the thought was very much appreciated and definitely satisfied my sweet tooth. 4:15 came too soon and I decided to head out to the gate where I caught a glimpse of PH-AOH. The two toned blue Airbus A330 was breathtaking, truly one of the best looking aircrafts anywhere in the world.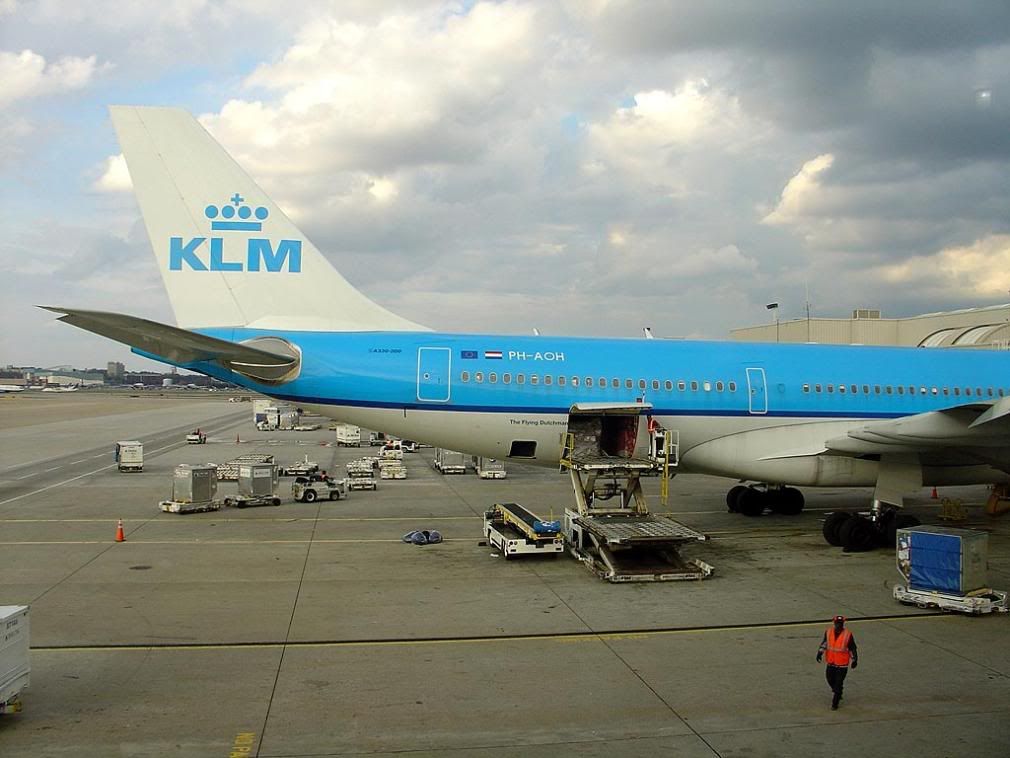 On closer inspection I noticed the aircraft had a temporary sticker reading "City of Muscat" placed on the nose instead of the normal "Senaatintori Helsinki." This must have been the aircraft that did the inaugural Amsterdam-Kuwait-Muscat flight not too long ago.
Boarding:
At exactly 4:20pm, boarding began with passengers needing assistance and traveling with small children. A mere two minutes later it was time for us business class passengers to board. The friendly Northwest agent scanned my boarding pass and handed it back to me with a "have a great flight."
At the door I was greeted by a smiling flight attendant in the light blue uniform that I have become so accustomed to over the years. I stowed my bags in the over head bin and sat down.
The seat was exactly the way I remembered it with once exception, KLM no longer provides the standard rectangular pillow, but rather a cylindrical beanie bag style pillow. The cabin filled up completely in the next two minutes and a young blonde flight attendant came around with a tray of water, orange juice, and champagne.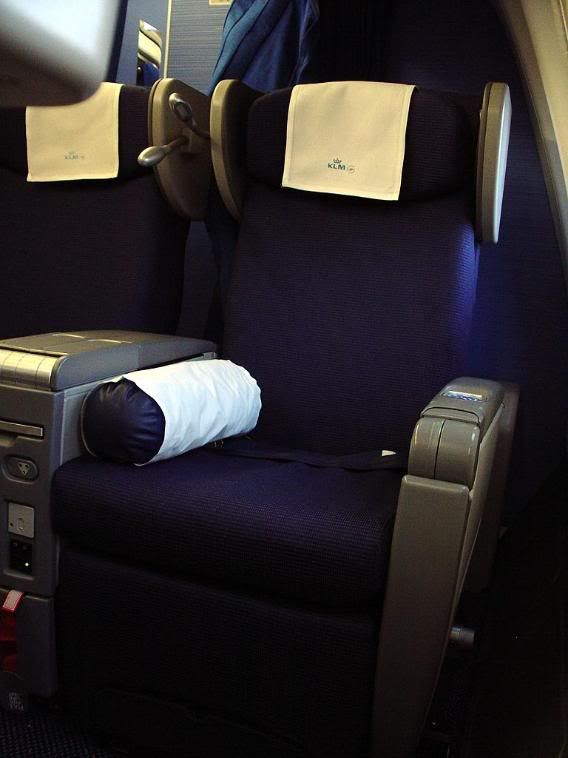 A short while later, the same flight attendant came around to each passenger individually and handed us a menu, amenity kit and a pair of headphones.
"The breakfast card is in the menu; please fill it out so we can collect it after dinner, thank you."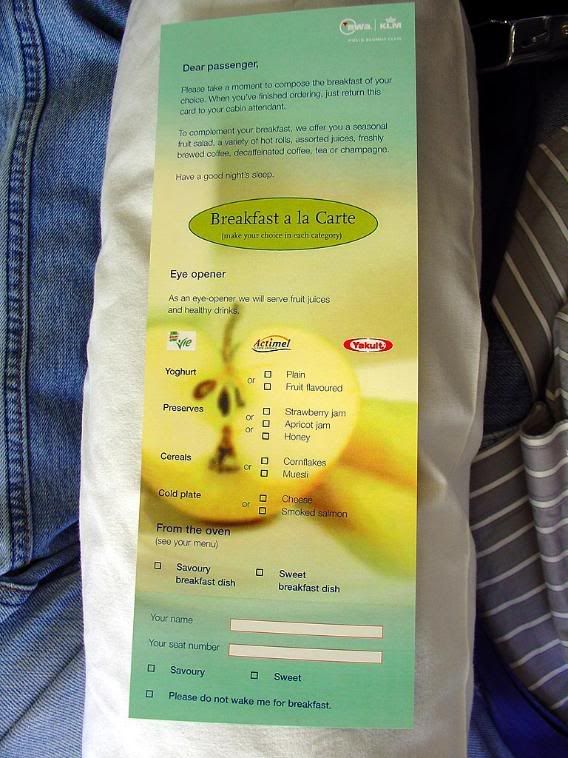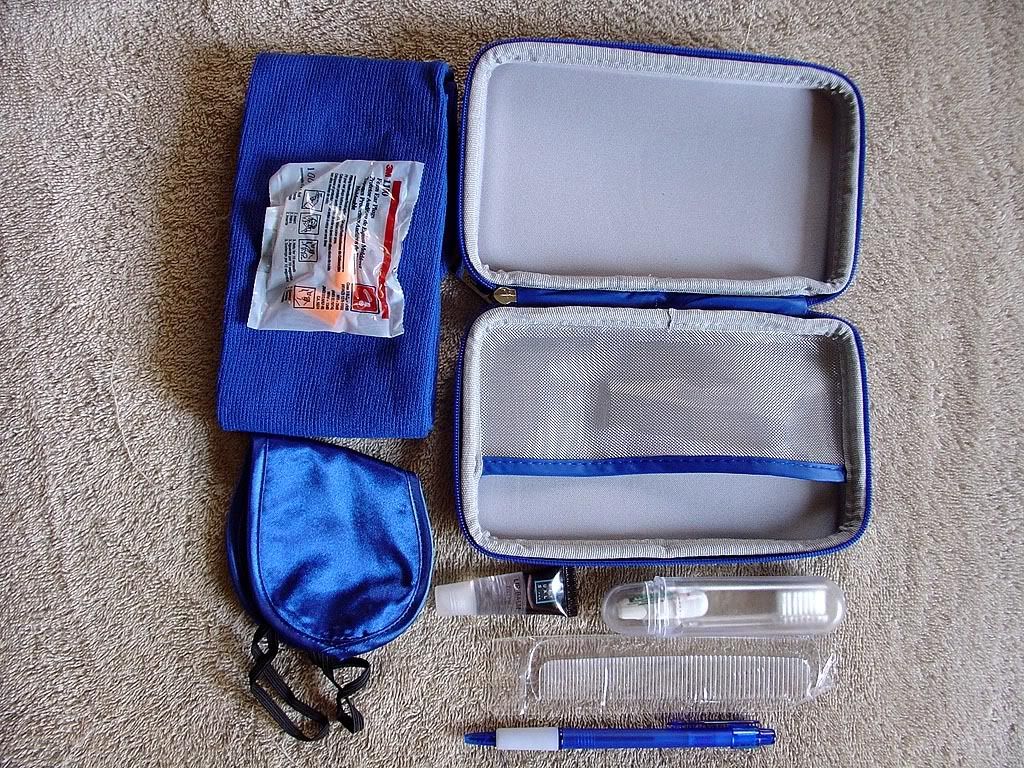 Boarding was completed around 5:00 and the cabin door was closed while a welcome onboard speech was delivered by the Dutch captain who informed us that our flying time would be just shy of eight hours. Pushback commenced a few minutes before a quarter past the hour. We taxied past a plethora of Delta Boeing 767s in various liveries before queuing up for take off. At exactly 5:35, our GE engines roared to life and the A330 began its graceful take off roll down runway 16L.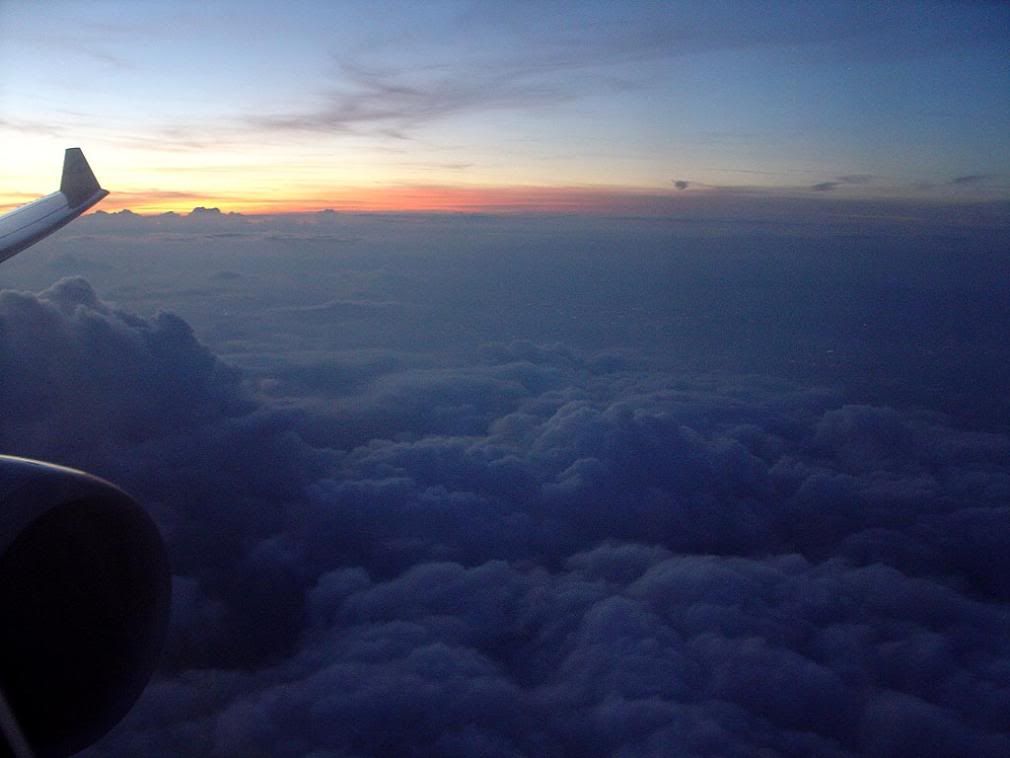 The Flight:
With the sky turning orange from the sunset, our A330 leveled off at 36,000 feet heading towards the Northeast. First a steaming hot towel was handed out by a brunette flight attendant followed by a very unique two minute video that I have never seen before. The brunette flight attendant that had just handed me the towel was on our TV screens introducing herself as the purser of this flight. The video went on to show us all the features KLM would be offering on the flight today and then ended with the purser wishing us a pleasant flight and to contact one of the crew members if we had any questions or concerns. I thought this was a nice little touch and provided a face for all the passengers to see as to who was in charge on this flight. The purser appeared by my side a short while later,
"Mr. Tamboowala, have you made a choice for dinner yet?"
"I have, the steak please."
"Yes Mr. Tamboowala."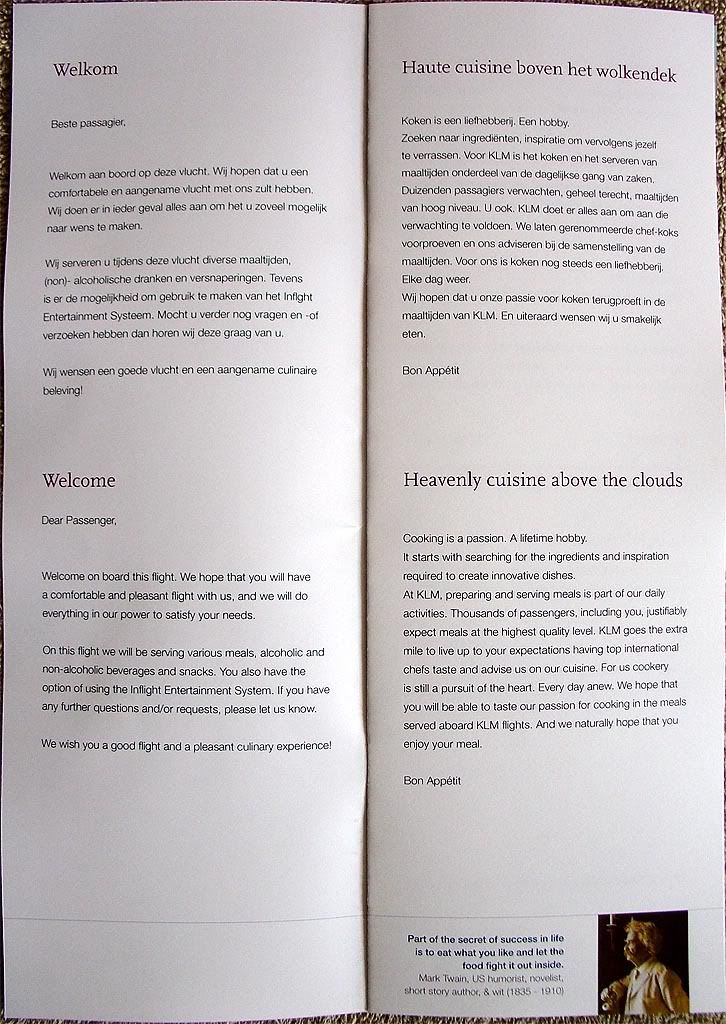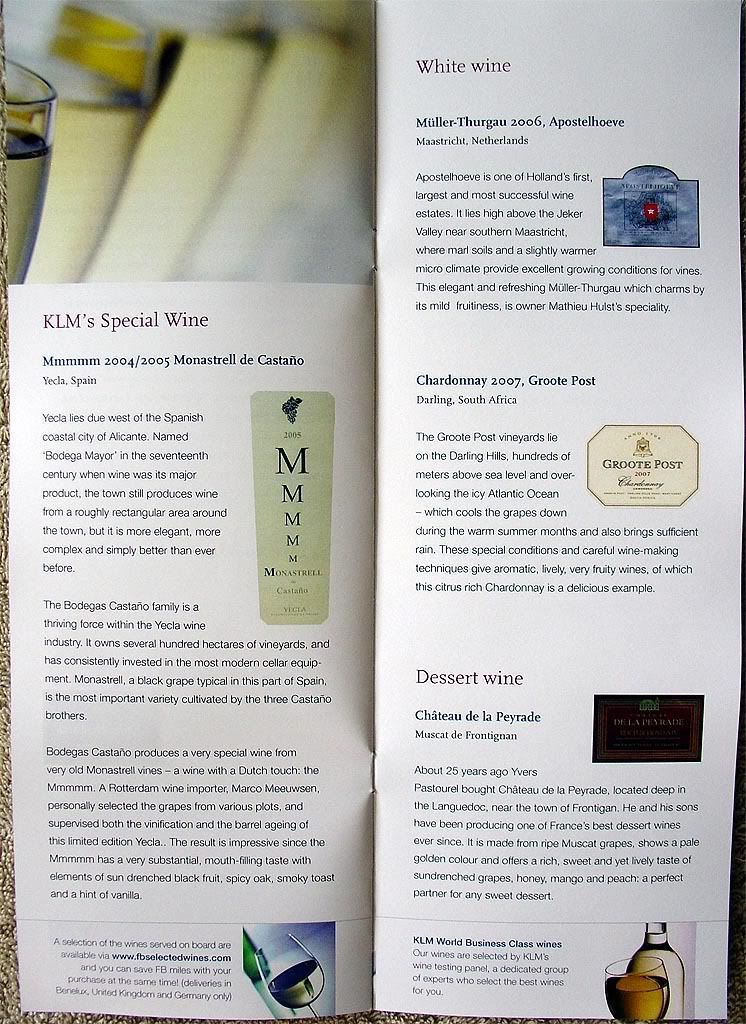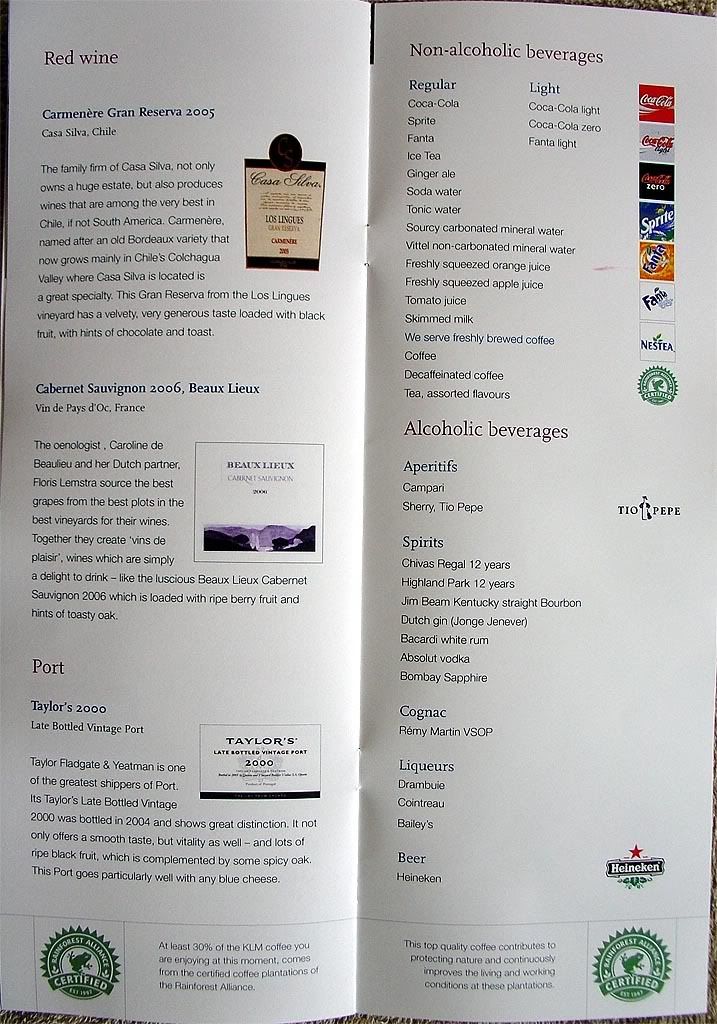 I pulled out my large PTV and looked through the huge variety of movies that were on offer this month. My choice was pretty easy when I saw "300," a movie a number of my friends could not stop raving about.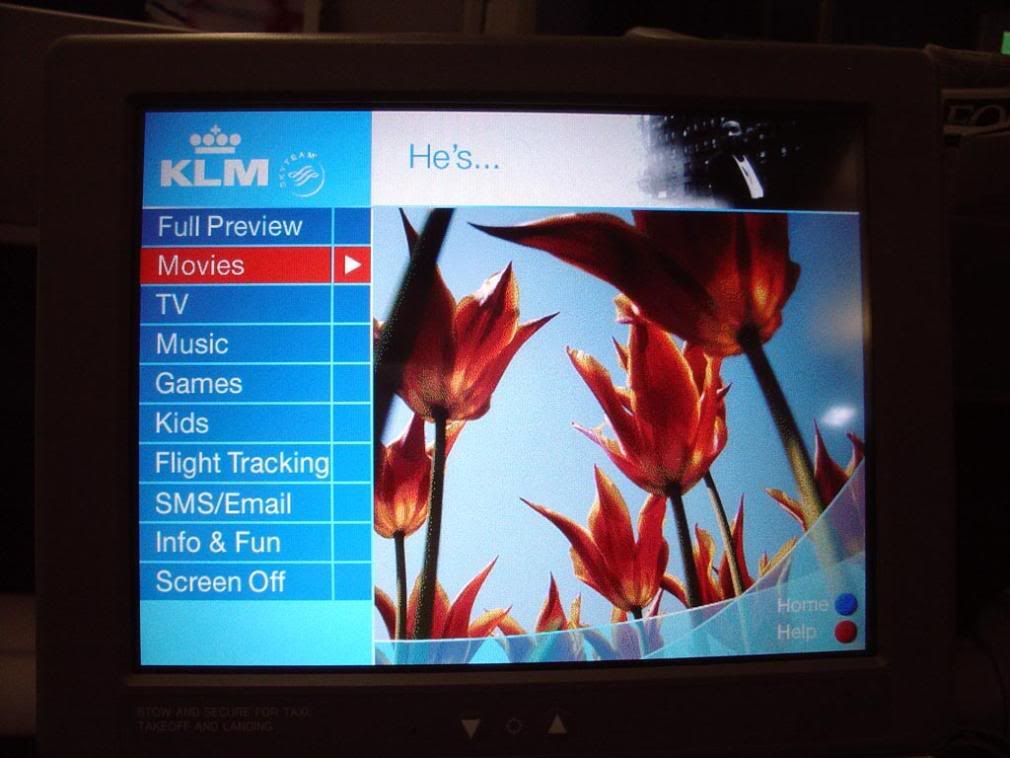 A cart was rolled down the aisle a few minutes later by the purser and bowl of nuts was placed on my armrest with a
"Would you like something to drink Mr. Tamboowala?"
"Could I have some of the Spanish red wine please?"
"Absolutely, how about some water with that?"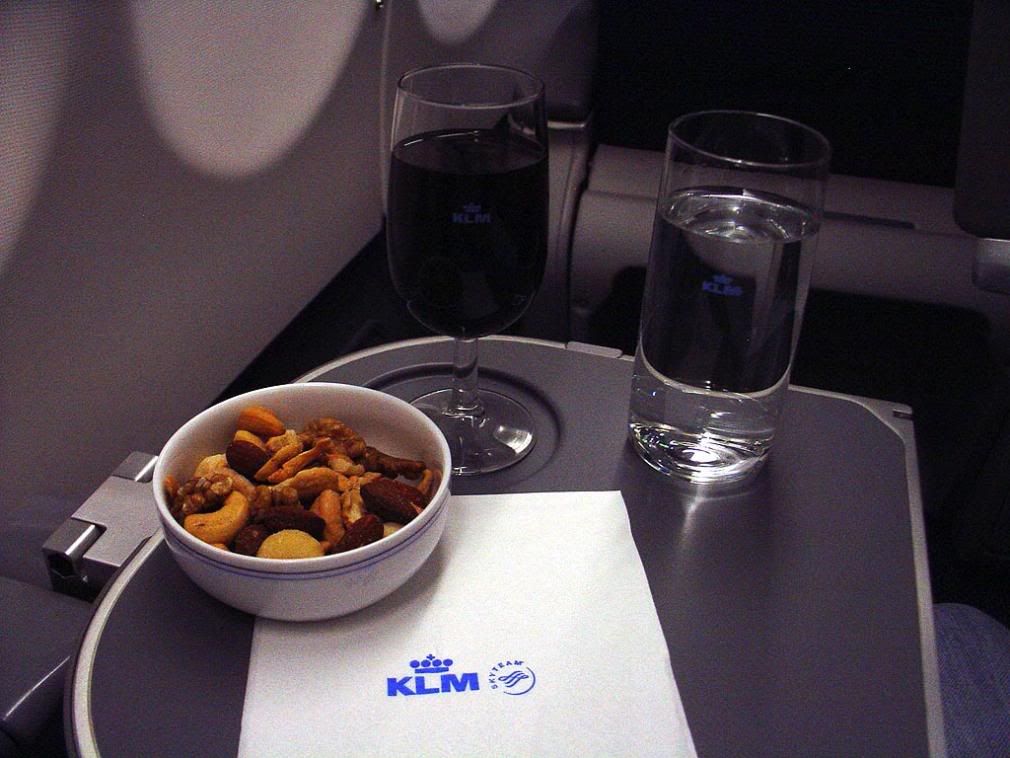 The salted mixed nuts were the standard fare that I have been having on KLM for years. The meal took quite some time to come out, though the crew did come by with the drink cart once more before dinner to top off everyone's glasses. As we passed Washington DC, table cloths were laid out and a tray was placed in front of us. A bread basket was then offered along with a refill of my wine glass.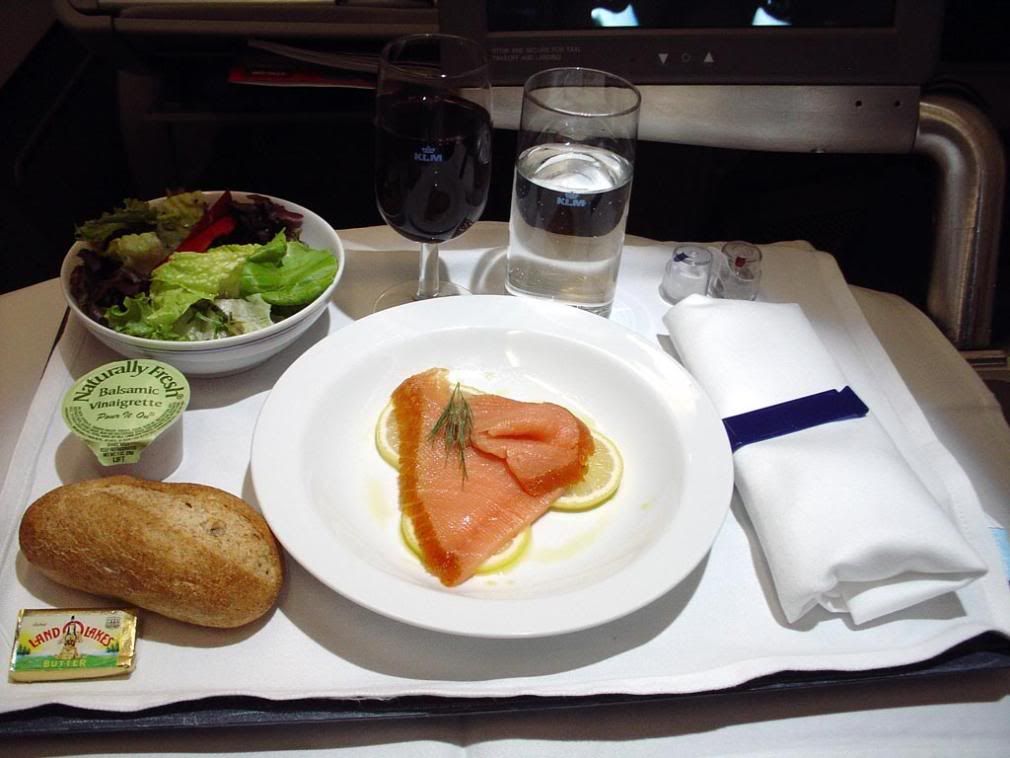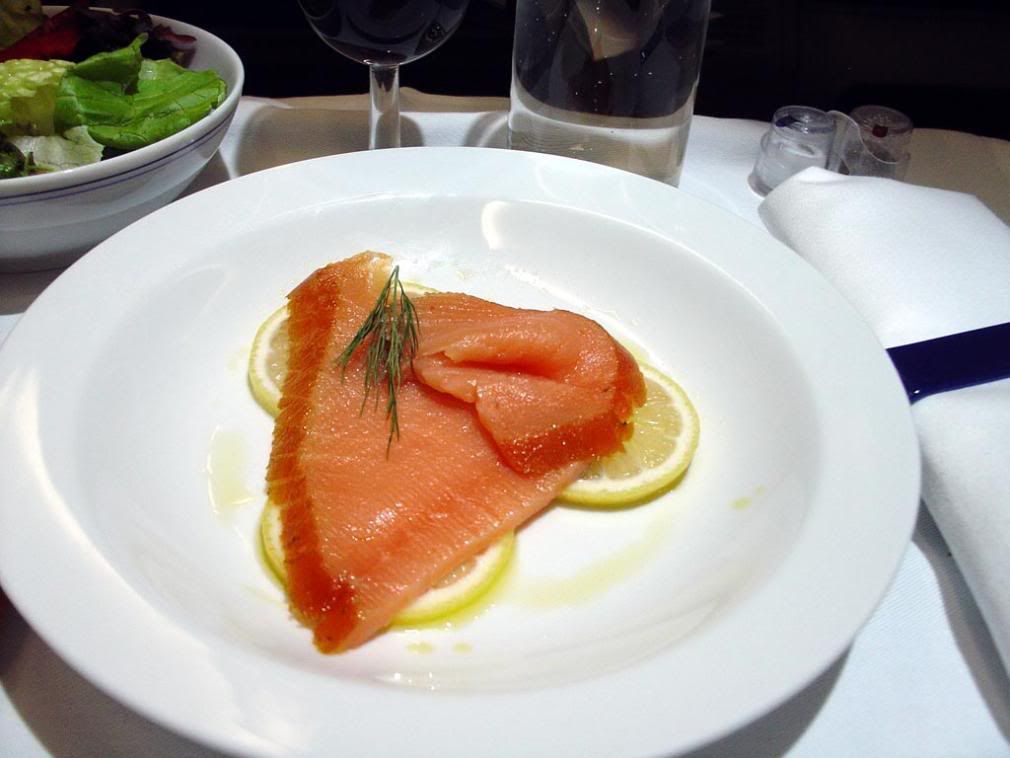 Smoked salmon is one of my all time favorite appetizers so I was very pleased with this starter. The lemon went superbly with the salmon; I just wished there had been more than one slice. The salad featured a couple different green leaves with my favorite dressing, balsamic vinaigrette. The bread was warm and went down perfectly fine with the Land-O-Lakes butter. However, as I said in my 2003 Northwest A330 report, put the butter in a dish!
Our empty plates were collected and the main courses were handed to us shortly thereafter along with another warm bread basket. Over the years, I have tried numerous steak dishes on KLM, and they have all been overcooked with some sort of crusty topping. This was no exception, while the steak was not chewy or leathery, the center was not red or even pink which made it overdone. Air France seems to do very well in this area and keeps their steaks on the pink side. Nonetheless, the garlic mushroom toping was very nice and added flavor to the steak. The potatoes were soft and nice while the carrots and parsnips were slightly undercooked. My mostly eaten plate was collected by the purser who just could not stop smiling as she attended to us.
Once everyone had finished their main courses, another cart was rolled down the aisle by the brunette purser.
"Mr. Tamboowala, would you like some dessert? We have some pie, fruits and cheese."
"What kind of pie is it?"
"It's some kind of apple pie. Whatever it is, it looks good!"
"Haha, then I will go with your suggestion."
"Excellent, would you like anything to drink?"
"Yes, could I get a glass of the port along with a cup of tea please?"
"Certainly Mr. Tamboowala. Have you by chance filled in your breakfast menu option?"
"I have, its right there in my seat pocket sticking out of my menu."
"Oh excellent, let me get that Mr. Tamboowala. Thank you."
The pie was excellent and reminded me of something I used to eat a lot of when I lived in Germany called "apfelkuchen." The port wine was excellent and the hot cup of tea was the perfect ending to the meal. The lights were dimmed in the cabin as I finished watching "300." The movie finally finished somewhere over Nova Scotia, so I put my seat in the "cradle" position rather than the flat position. I guess all those glasses of wine with dinner worked as I was out like a light.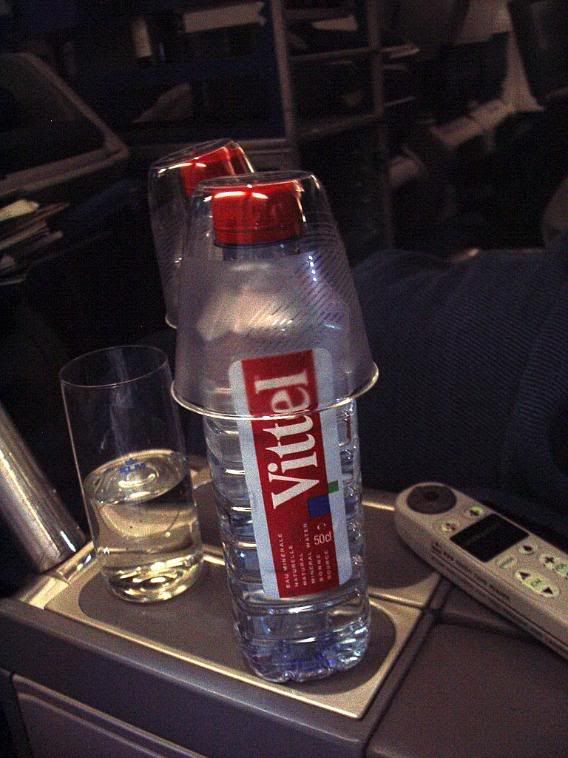 Somewhere close to Ireland my eyes opened and within a minute I found the young blonde flight attendant next to me with a hot towel followed by the brunette purser. She was holding a tray of orange juice, water, Yakult, and Actimel for me to pick from. I slowly sipped my pulpy orange juice as I turned on my PTV and selected another movie, this time "No Reservations."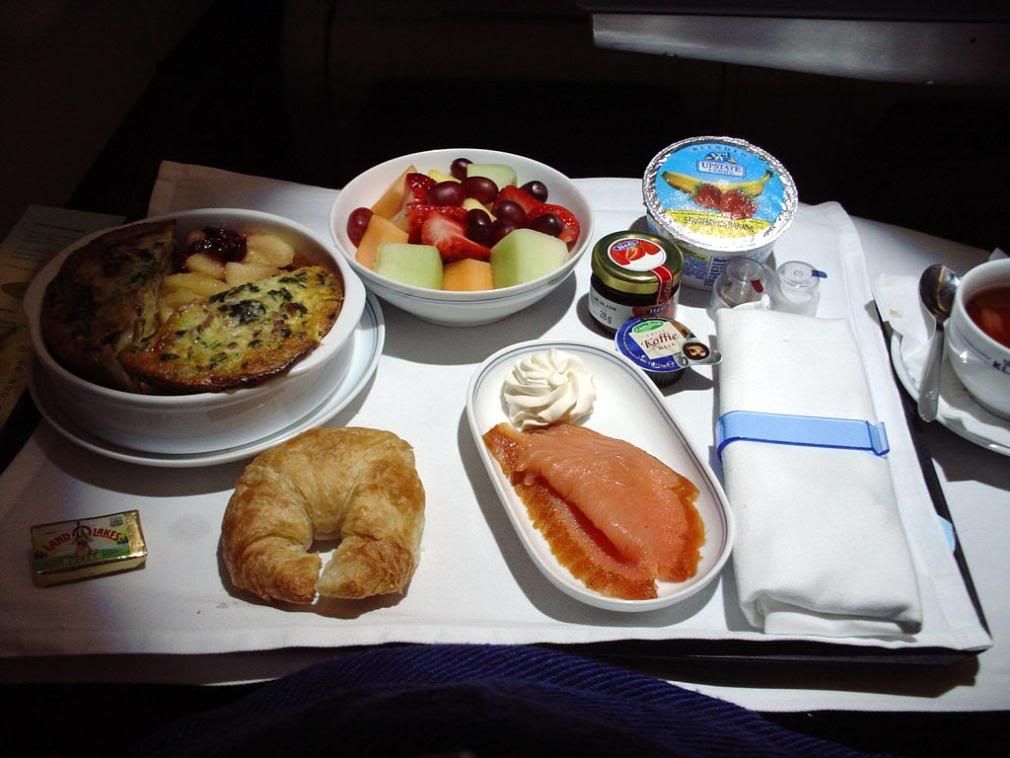 About ten minutes into the movie, the cabin lights were turned on and the ubiquitous white table cloth appeared in front of me with the purser. Everything I had requested was on the tray table and in hindsight I probably ordered too much as I was still rather stuffed from dinner. I was also offered a bread basket with a few rolls, I selected a single croissant which was nice and warm. The fruit bowl was pleasantly fresh while the smoked salmon was just as good as it was during dinner. The main course however was excellent; sadly I could not muster enough space in my stomach to finish more than half of the bake. The bacon and pork sausage filling was excellent! The apple compote had a unique taste to it which was not to my liking so I left it alone. Overall, it was a very filling breakfast and I now know to skip the yogurt and smoked salmon.
The brunette purser walked by my seat and saw I was having a hard time finishing up my breakfast.
"Mr. Tamboowala, is everything all right?"
"Oh yes, I am still full from dinner though."
"Ah yes, would you like more time or should I go ahead and pick up the tray?"
"I'll attempt to work on it a bit more."
"No problem, take your time. I'll bring you some more tea."
In the end, my cup of tea was refilled three times by the time the tray was collected. To say this set of crew were attentive would be an understatement! This is one of the reasons I believe in KLM, they have some of the best cabin crew anywhere in the world. While they may not be up to challenge of most Far Eastern carriers, they certainly outshine any US or European competitor. I quickly went to the lavatory to brush my teeth which had a nice set of various toiletries placed in there.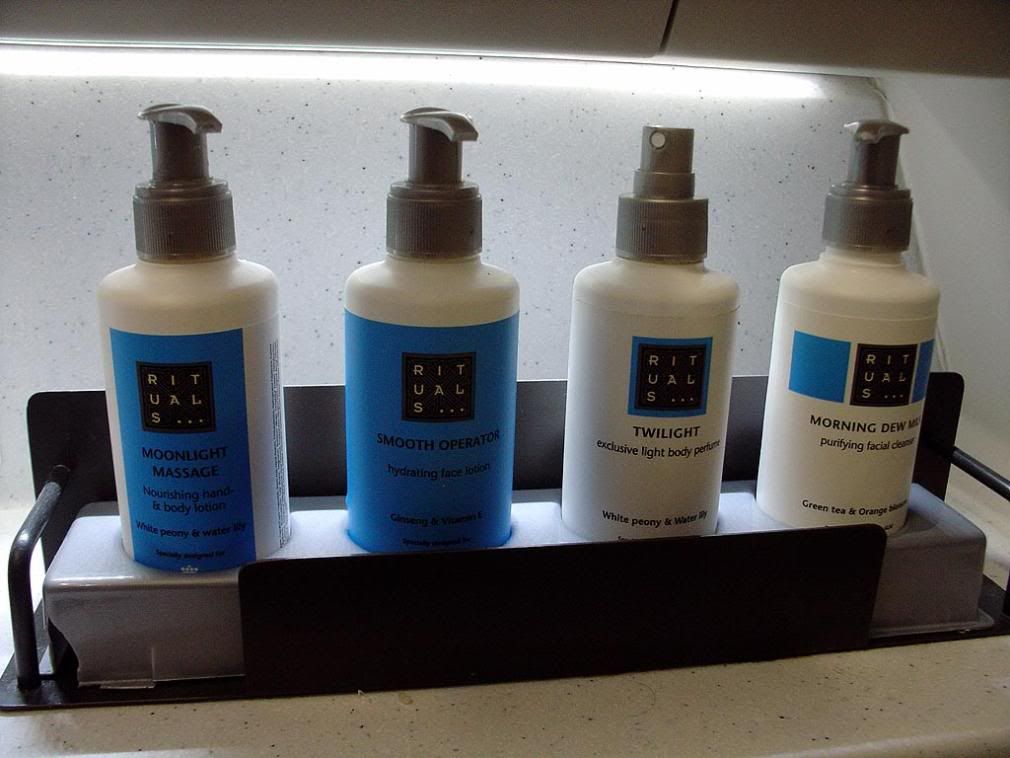 Once back in my seat, I finished up the movie and the crew came around again with a tray of Delft Blue houses. This is a tradition that sets KLM apart from many other airlines; they still offer a gift to their business class passengers as a thank you for flying with them. This is something that has been long forgotten by even the Singapore and Cathay's of the world. Thanks to all my KLM flying, my mom has a shelf full of these little gems in the house. Due to the issue of carrying liquids in hand bags, KLM now provides a sealable plastic bag for these miniature houses. It's the small touches such as this that make me respect KLM and one of the reasons I keep coming back to the airline.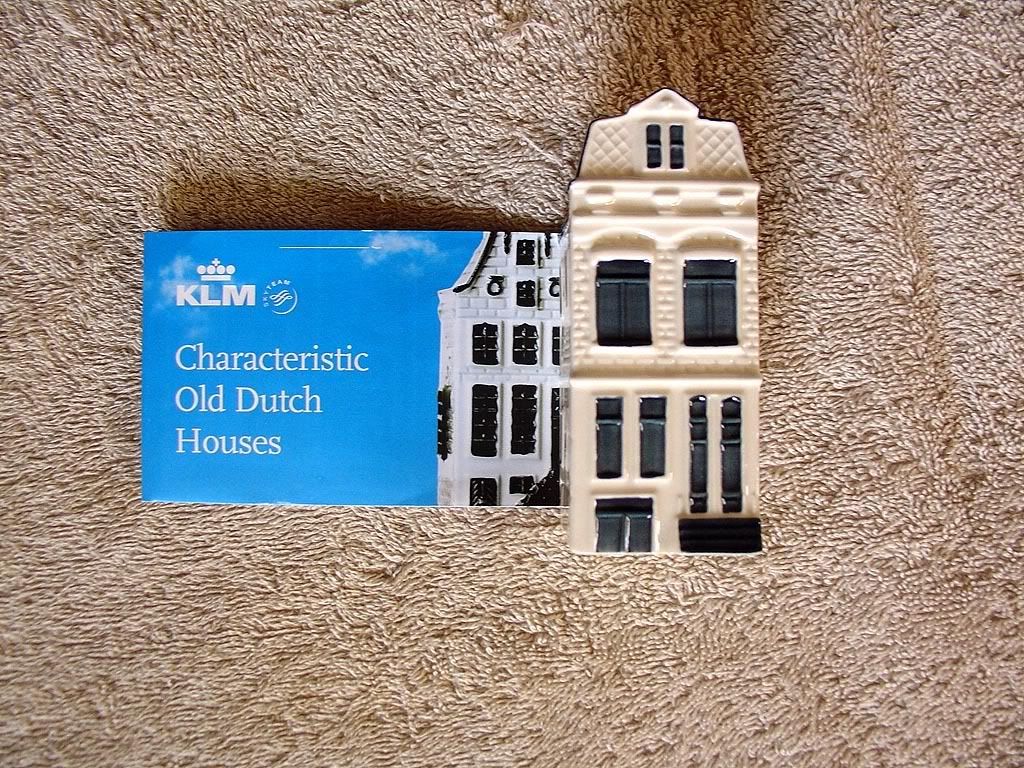 After passing north of London, the aircraft nose dipped slightly which meant we had initiated our decent into Amsterdam. The captain announced our arrival information a short time later and the cabin crew prepared the cabin for arrival.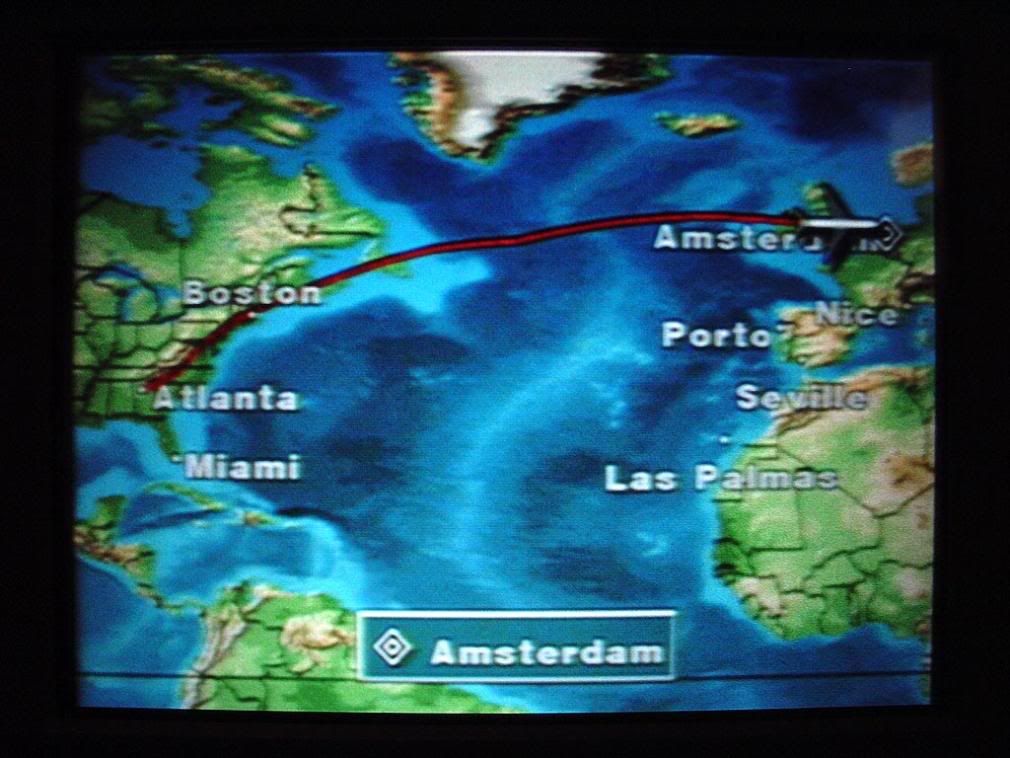 Arrival:
With the low clouds around Amsterdam this morning, there was not much of a view till a few seconds before touchdown. The Airbus A330 gently kissed the concrete around 7:15am local time, almost 30 minutes early. I was happy to see for once that we did not land on Polderbaan which meant a very quick taxi to our gate, D3.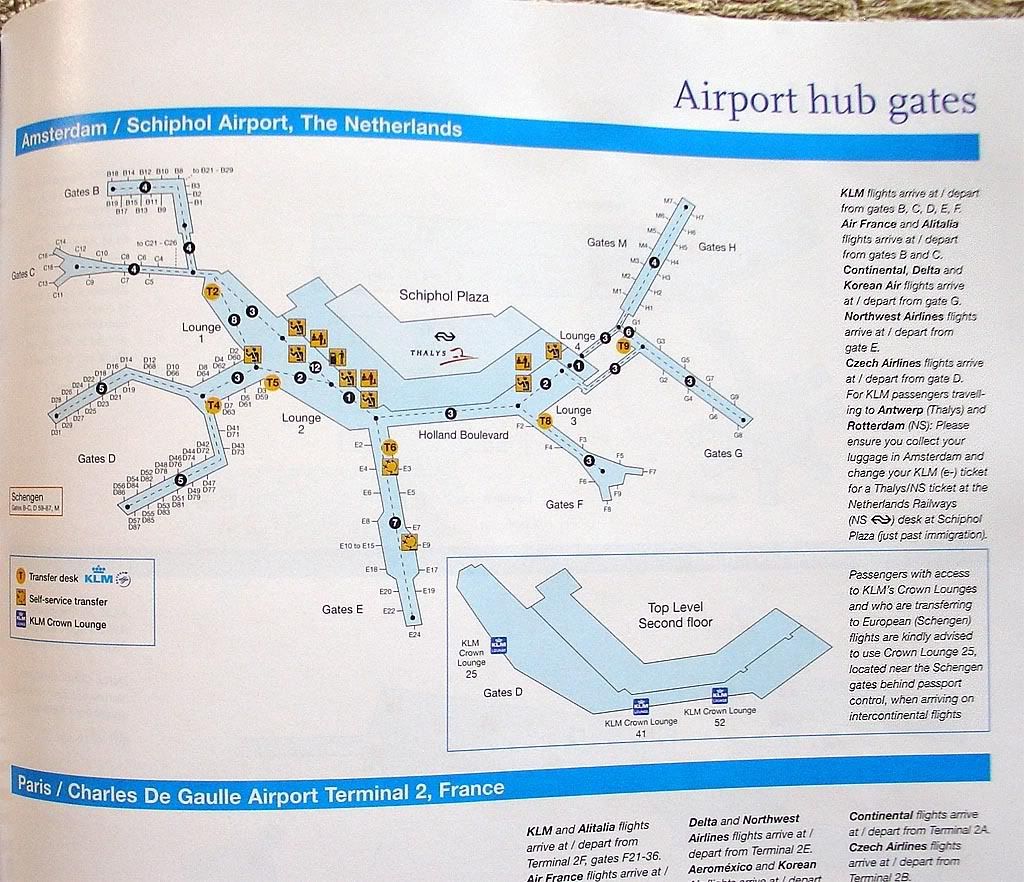 At the gate, business class passengers were allowed to disembark first. As I walked past the brunette purser I commented about how great the flight was to which she replied,
"It is always my pleasure Mr. Tamboowala. Have a great connecting flight to India."
With that and a smile I entered the cold jetway and walked into one of my all time favorite airports. I quickly glanced back at the gate to see where this beautiful A330 was heading. I could help but laugh when I saw
"10:30 to Muscat via Kuwait."
To think of all the time I spent waiting at this airport in the past for my 4pm flights to Kuwait, KLM finally changed the flight to a reasonable time.
KLM Crown Lounge:
I leisurely walked all the way up to the Crown Lounge that was located closest to Terminal F. I was greeted by a very nice and cheery young agent who welcomed me into the lounge and informed me boarding would begin at 11:25. I sat down at one of the tables with one of my favorite Douwe Egberts cappuccinos. As the sun was still rising the apron was rather dark and did not provide much of a view.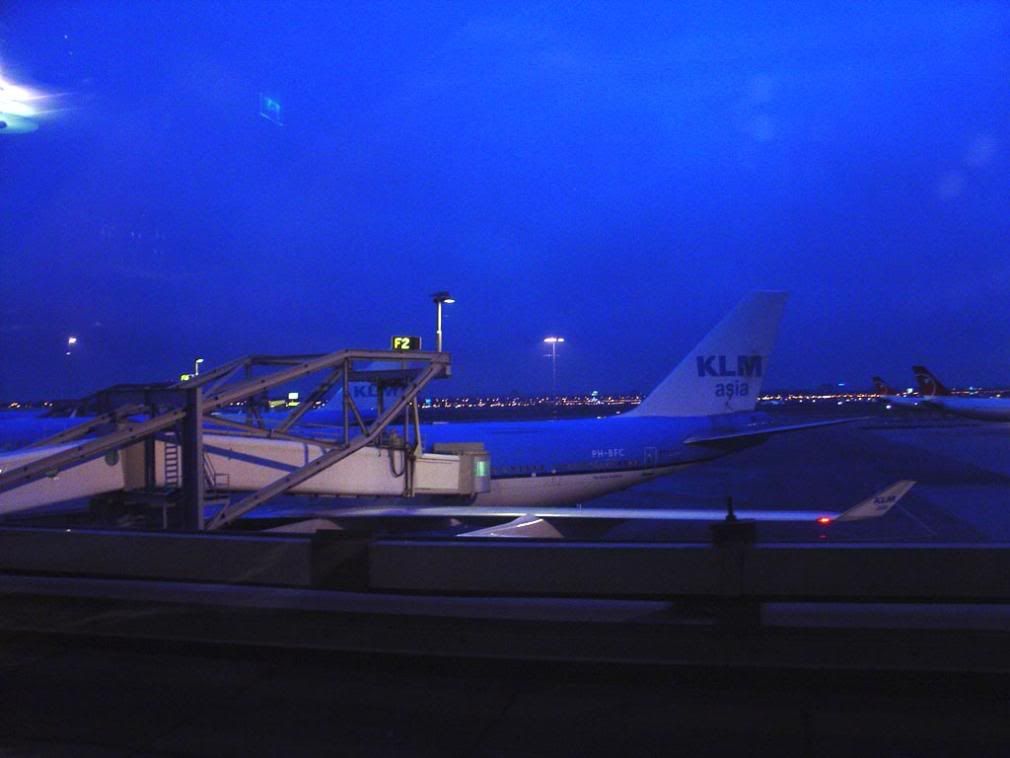 Around 8:20, my old roommate (744BFA) who now lives in Atlanta appeared at the counter and I proceeded to bring him into the lounge as a companion with my Gold status. We sat down and had a few drinks before leaving at 9am so he could get some last minute shopping done before his flight. The lounge was bursting at the seams at this point in time. There were almost no seats left with barely any standing room, let alone walking room. KLM really needs to create a bigger lounge, while it may only happen at certain times of the day, its ridiculous to think they can not try and fix the problem. My suggestion would be to send all non KL and NW passengers to possibly another partner lounge during peak hours.
After a quick shopping spree, both of us walked towards Terminal G for his 10:30 Delta flight to Atlanta. We chatted a bit more outside G6 until the security line eased up for his flight, we said our goodbyes and I headed back to the lounge for some quiet relaxation before my flight.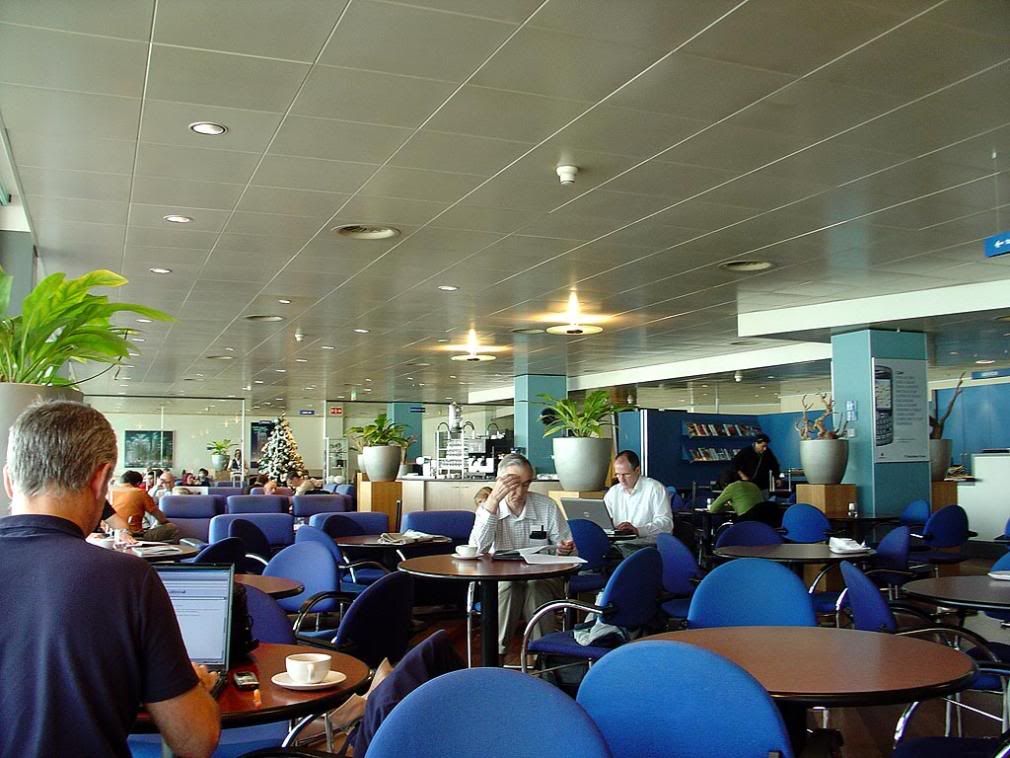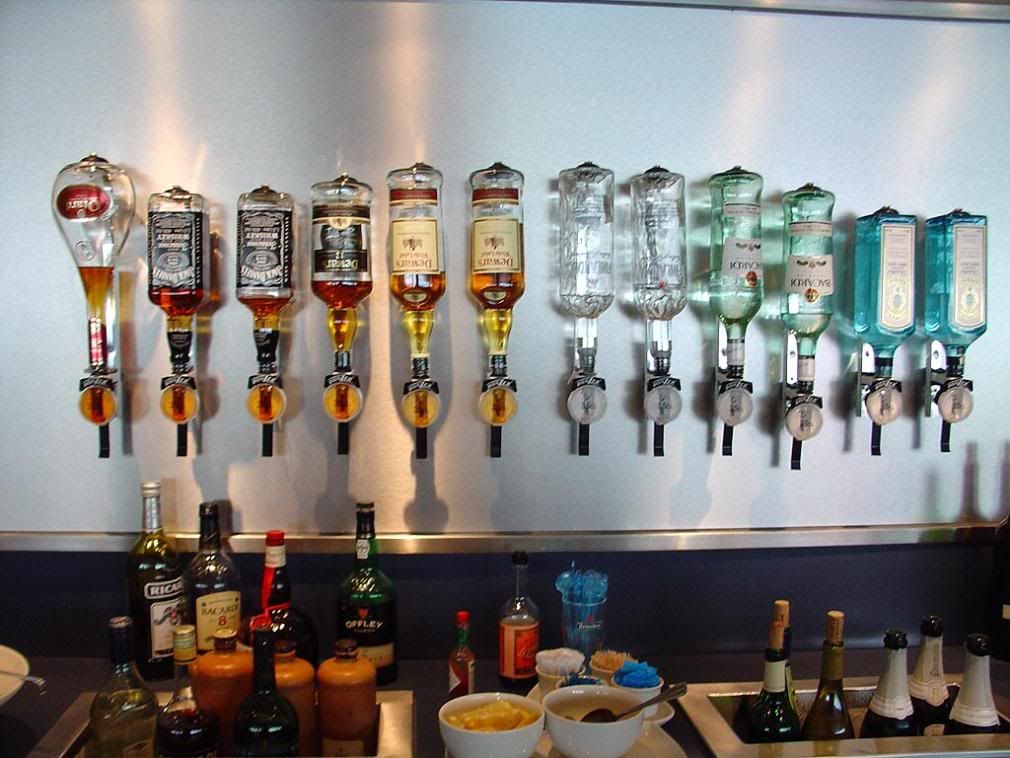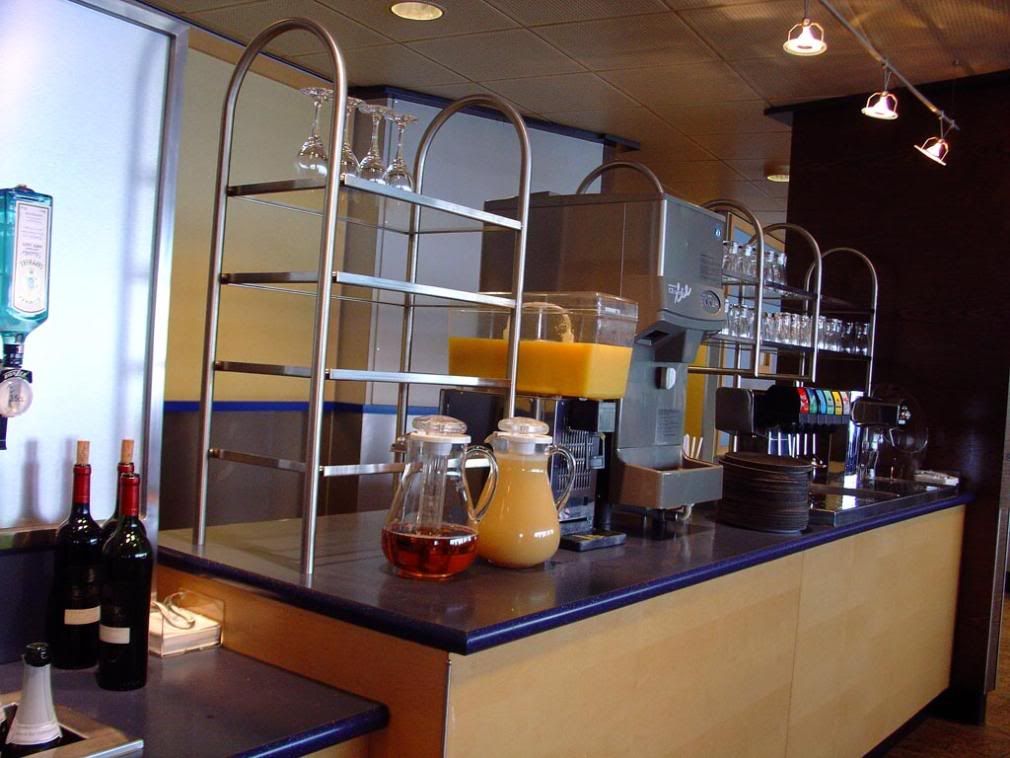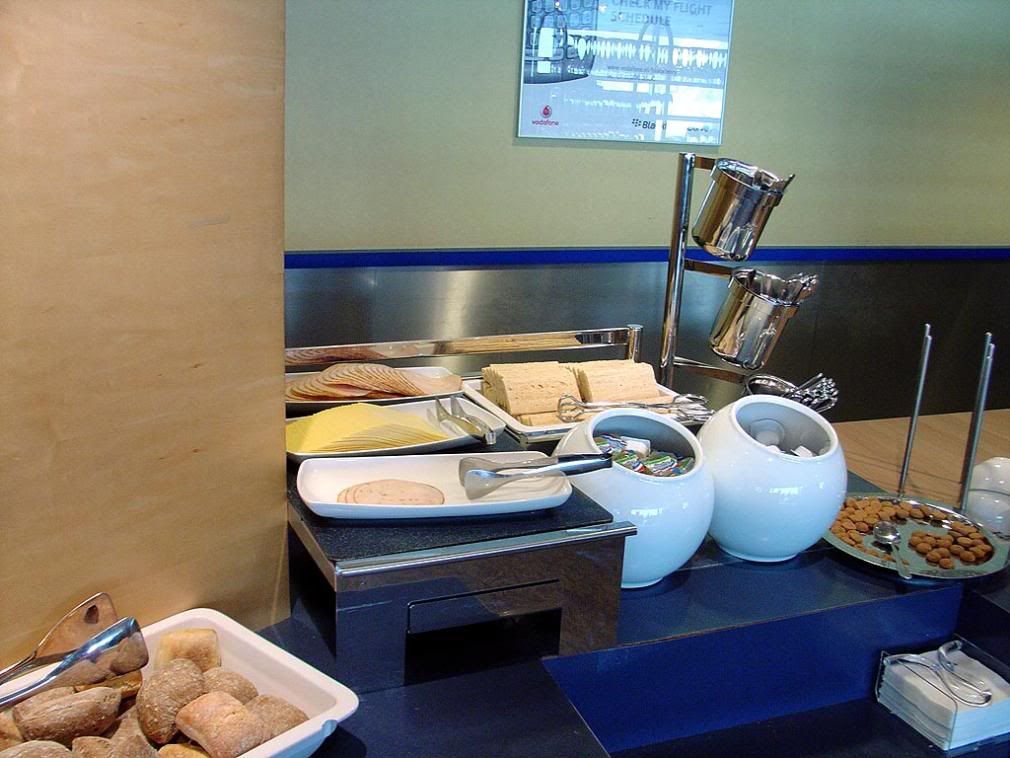 At this point in time the lounge was much less crowded. I grabbed a small glass of bitter lemon and took a look at what was on offer to eat. They were in the process of switching from the breakfast cold cuts and cereal to some more substantial lunch items like pasta and soup. I chose to stick with just the bitter lemon and enjoy the view of various aircraft out the window.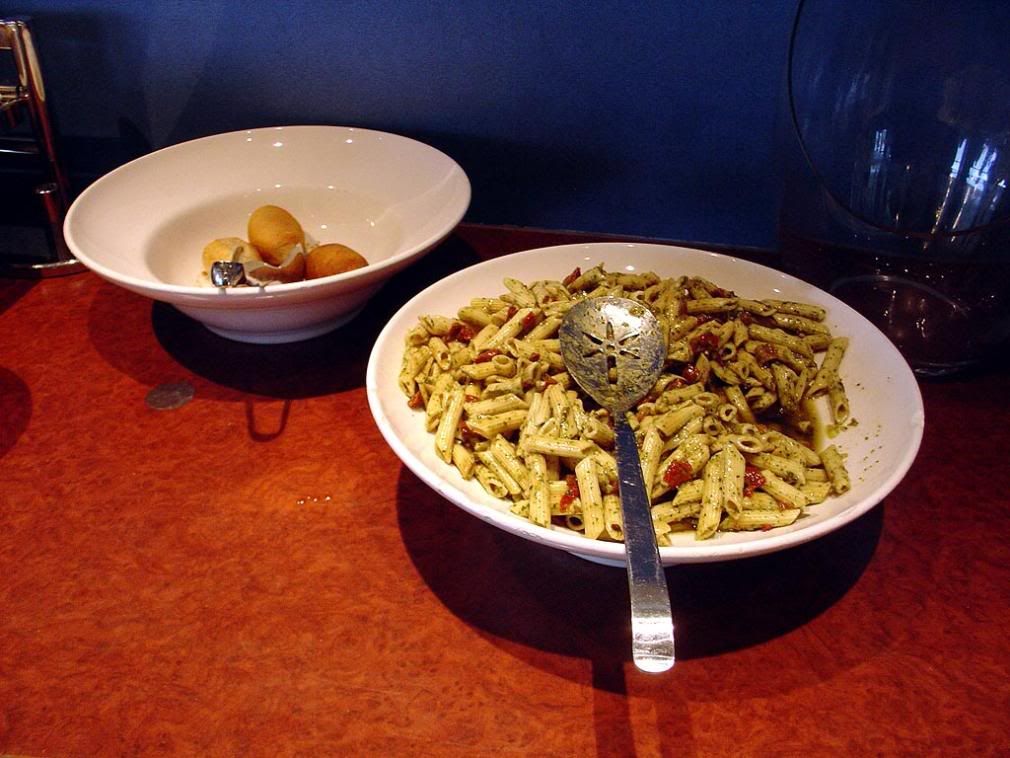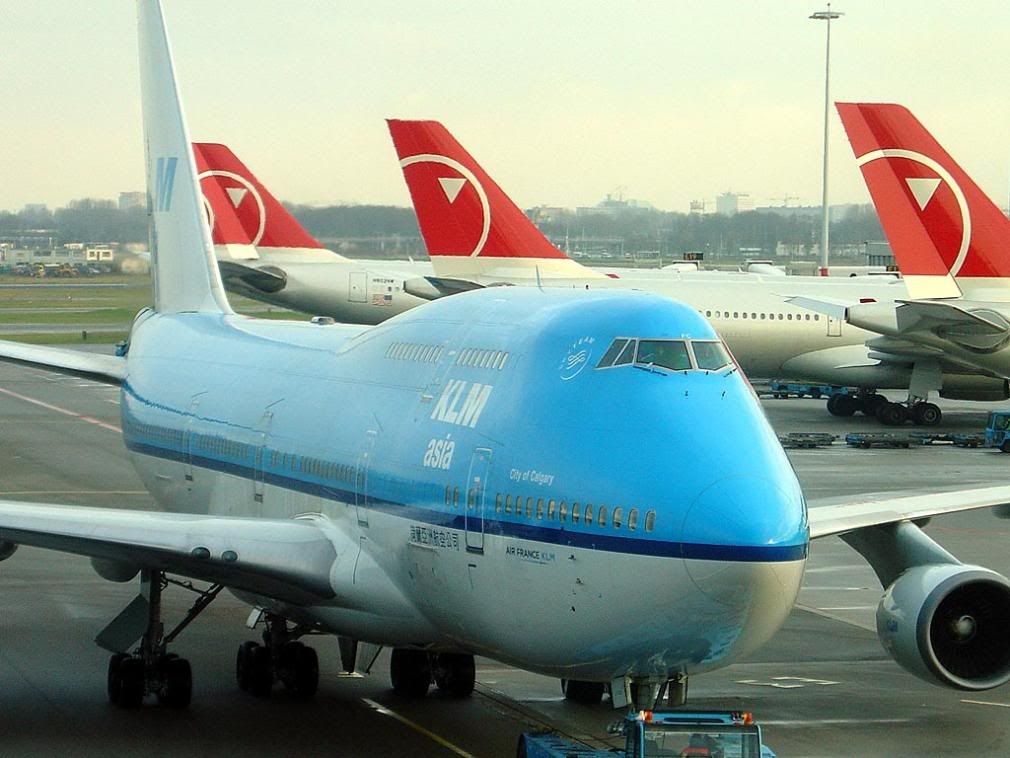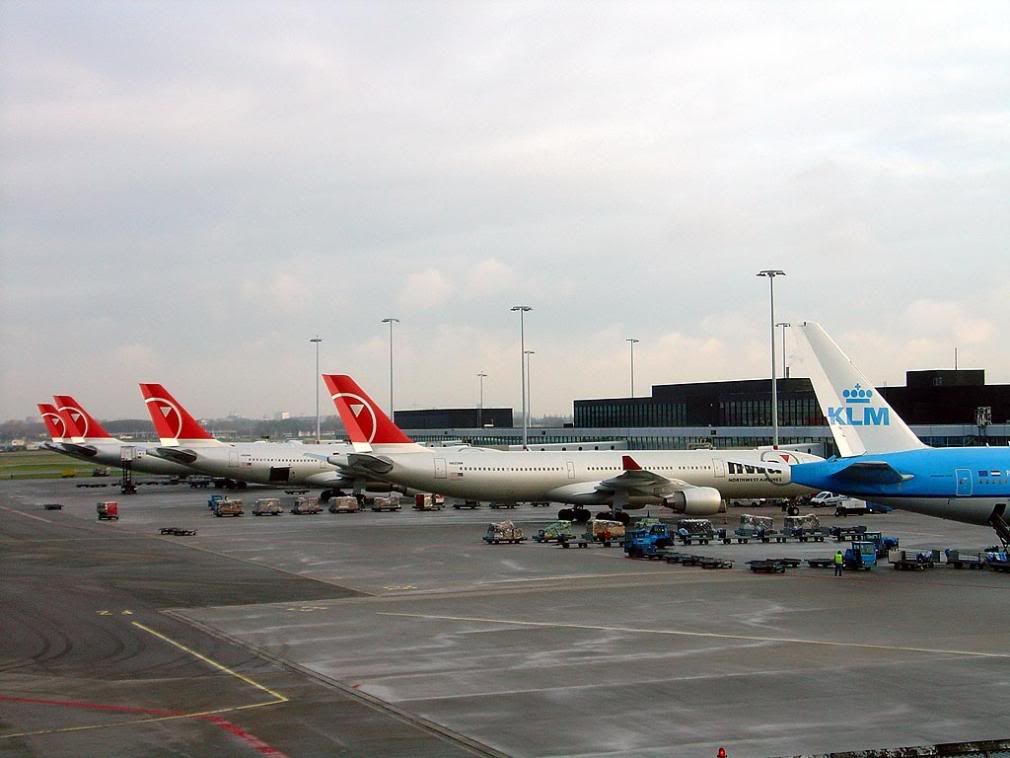 I swear, if it were not for the single KLM tail protruding among all the red tails, I would seriously question whether I was in Amsterdam or Detroit. It was nice to finally see a NW 757 in Europe; I am delighted to see NW expanding services with the narrow-body twin.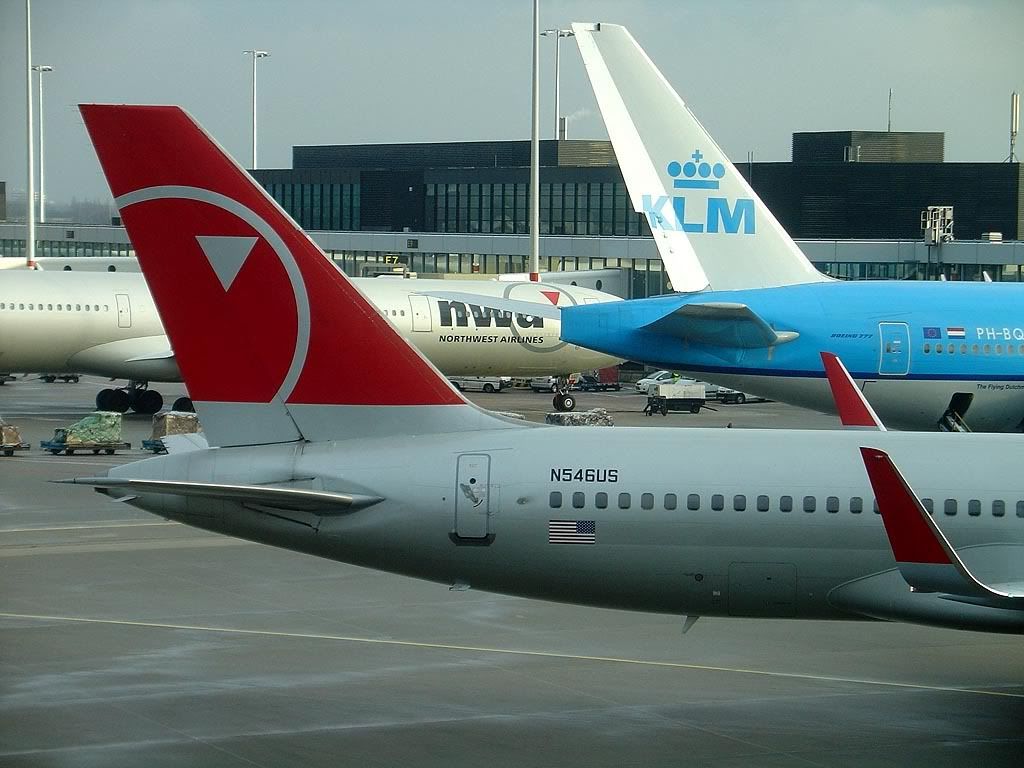 Part 2 Continued Below
[Edited 2007-12-22 08:47:39]