Feedback always appreciated.
Trip Report: 033
Flight Category: J-ILR (See Report End)
Date: 05-Sep-07
SDT/SAT/Delay: 1710/0030/05:50 hrs
Flight:
Aeroflot SU 535
, 2713 miles
Routing: SVO-DEL
Aircraft: IL9
Seat: Business Class, 2I
I > Background:
Ok, I am back! After taking a sabbatical from trip reports for 5 months, here is the first installation from a series of trip reports. Mid-August to mid-November 2007 saw the craziest of my travel plans. 69 flights totalling 175,028 kms on 35 airlines, visiting 49 airports in 34 countries in all 6 continents. And, here is the best part … all of them were part of a 4month break from life … pure vacation, and pure food for the mind, body, and soul. Together, they mounted to 21/2 round-the-worlds that was truly insane. As usual, all long haul flights were on Business or First Class; short haul was on Economy Class.
The reason for this trip was simple. I had never flown the IL9 so instead of flying AMS-DEL, I routed myself AMS-MOW-DEL.
II > Pre-Flight:
a) Before Airport:
Booking for the KL/SU combo was done using a reliable travel agent here in Caracas. They found a pretty neat deal for AMS-MOW-DEL with the KL segments in Y. To chose my seat assignment, I called SU and was promptly assigned the requested seat of 2I. I don't think I have ever sat in a "I" part of a row before. I was not impressed by the fact that this could not be done on Aeroflot website at
www.aeroflot.com
; and, from other experiences one cannot do this even if it's an e-ticket bought from the SU site itself. However, to its credit, Aeroflot has improved its website tremendously!
b) At Airport:
Given that I was on transit from AMS, I did not get the full SVO experience. There were only 2 passengers connecting onwards from the KL flight (interestingly, he was also going to DEL). The entire experience was VERY Soviet Union. After arrival, you go to this one young girl who was waiting by a locked door. She saw the first man's boarding pass, opens the locked door, and lets him out. She then scans my ticket and my Indian visa, and without saying a word asks me to follow her. After she opens the locked door, I follow her through the SVO terminal to a room that looks like a bus terminal. Here a surly looking maitre d' (sort of what your stereotype of an older Russian woman is) tries to print out my boarding pass but fails. The young girl screams in Russian to the old woman … the only thing I recognize is "First Class … First Class." Of course, travelling in First Class has privileges such as totally ignoring the queue of 20-30 people who had been waiting to talk to the maitre d'. I would NOT want to be in Economy and have to deal with this woman for a missed flight! Anyways, boarding pass and lounge invitation in hand, I head to check the abysmally small terminal. Since NBO, I have never seen such narrow hallways and a motley crew of economic migrant workers travelling around the world … with lot of traffic to the "Stans". On the 2nd floor is the First Class lounge which has an array of snacks and a very well stocked bar and free internet. While not luxurious by any standards, I still prefer such cozy lounges to the spacious ones found in other countries sans amenities. As I people-watch (most fascinating), I downed a few Gin & Tonic before deciding to head to the gate. I was the last to board and missed any drama that may have happened. Upon finally boarding, I was greeted by another surly older FA who could not have been from anywhere but Russia
. One of them offered me a choice of drink (I chose water), and brought me a nice cold towel served in attractive white china. The Iluyshin IL-96 was a BLAST and I knew I was going to enjoy this flight! It is such a departure from the cabins I am used to flying. Every little thing is different and I had to document many of those. Aeroflot used to have a 3 cabin layout – F/J/Y – now its sort of J/Y+/Y, with the Y+ cabin being reserved usually for family, friends, and some elites. Load in J was around 60%; Y load was around 20%. Very poor.
Airport - External:
NONE
Check-In:
(Infamous check-in desk at Sheremetyevo II)
Airport - Internal:
(Notice the narrow corridor)
(Departure board. Right above it was a security camera. Wonder what they thought of me)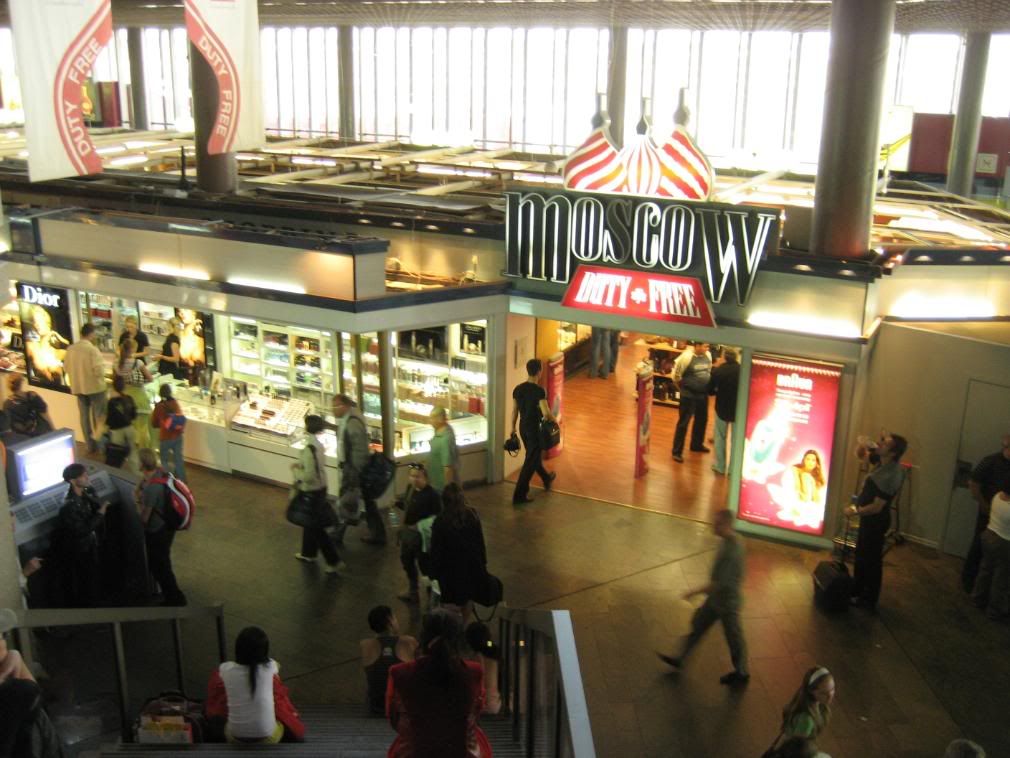 Scenes of the tarmac:
NONE
Lounge
(Lounge Invite + Boarding Pass)
(Macro overview)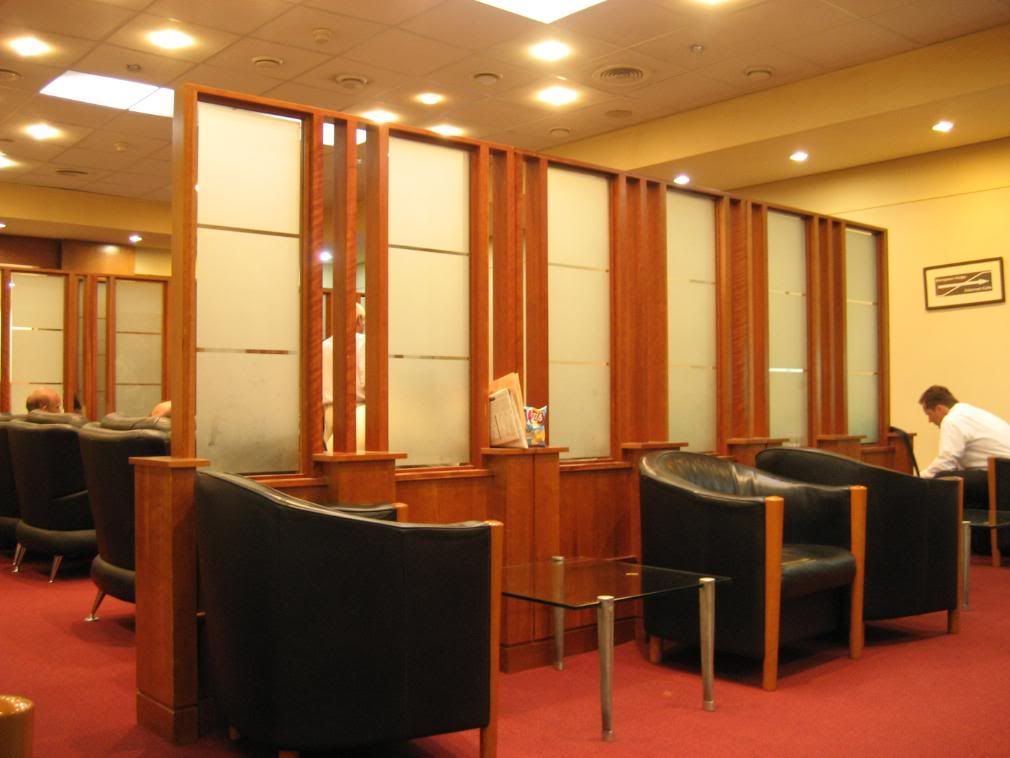 (Food Options)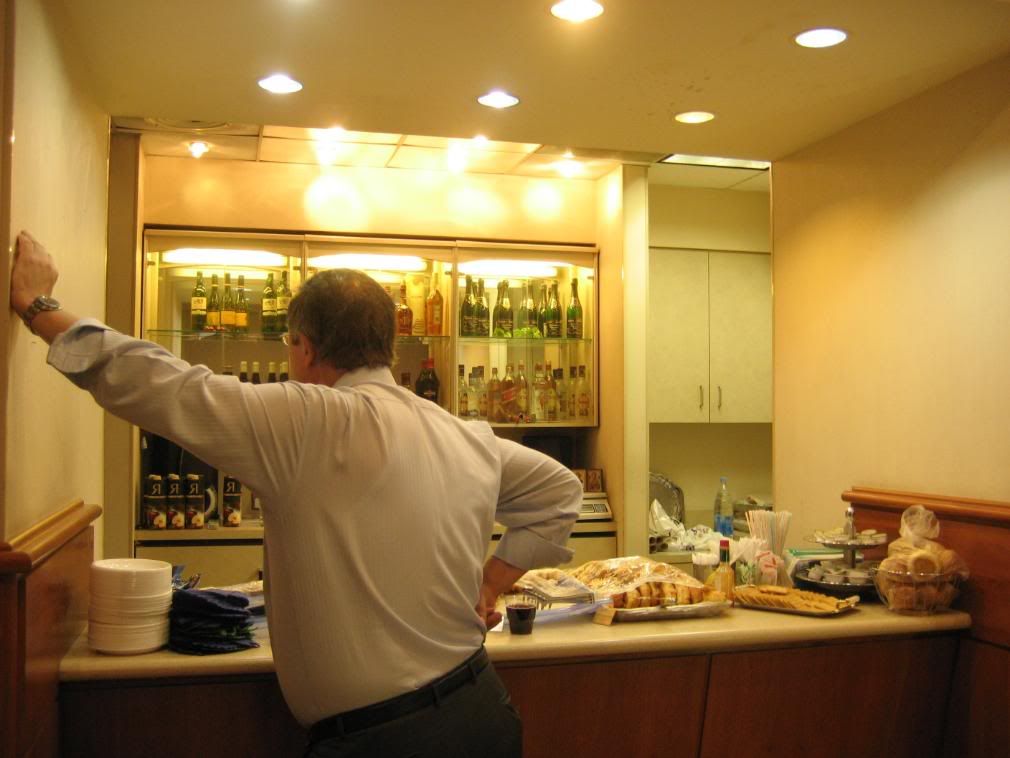 (My choice)
Boarding:
NONE
III> In-Flight:
a) Service Schedule + Impressions:
I was genuinely impressed by the service schedule. Welcome drink choice of champagne, orange juice, and water was accompanied by a cold refreshing towel. Amenity kits were also distributed prior to take-off. Service commenced immediately after takeoff with hot towels and an appetizer service, followed by dinner. Soon thereafter, individual DVD players were distributed. Through the flight, crew would come about asking if one needed anything.
b) Aircraft + Seats:
The IL9 is an interesting aircraft. Not having the centre overhead storage spaces gives it a super spacious feel. So much of it feels like a luxury overnight train – well, when you see some of the pictures, you will get an idea of what I am saying. Much of it lacks finesse, but it is definitely a comfortable ride nevertheless. The F seats are VERY plush and I am sure adds to the overall weight of the aircraft. They are super comfortable irrespective of the fact that recline is dismal, and leg room mirrors domestic First in the U.S.A. What is interesting is that all the controls are so different – air vent in front of you, call button on the side, no buttons on top, and a weird awkward reading light that is "SO train ride" rather than a plane. I mean, the finishing on the thing is so metallic! I felt like I was on a sleeper car in Russia/China/India rather than the First cabin of an alliance airline. Very cool
. Oh, and without automatic seat controls, it took all my strength to actually recline the seat. Sort of a car without power steering.
I fly enough, and I can tell you that both take-off and landing was scary. The ENTIRE aircraft rattled and shook violently during both times. It might have been my imagination, but I felt the IL9 is far above ground than its cohorts. I taped a video – my first on a TR to demonstrate how intense the take off vibrations and roll were. Landing was the same way. The entire aircraft shook and rattled and made loud noises. An experience nevertheless.
Aircraft: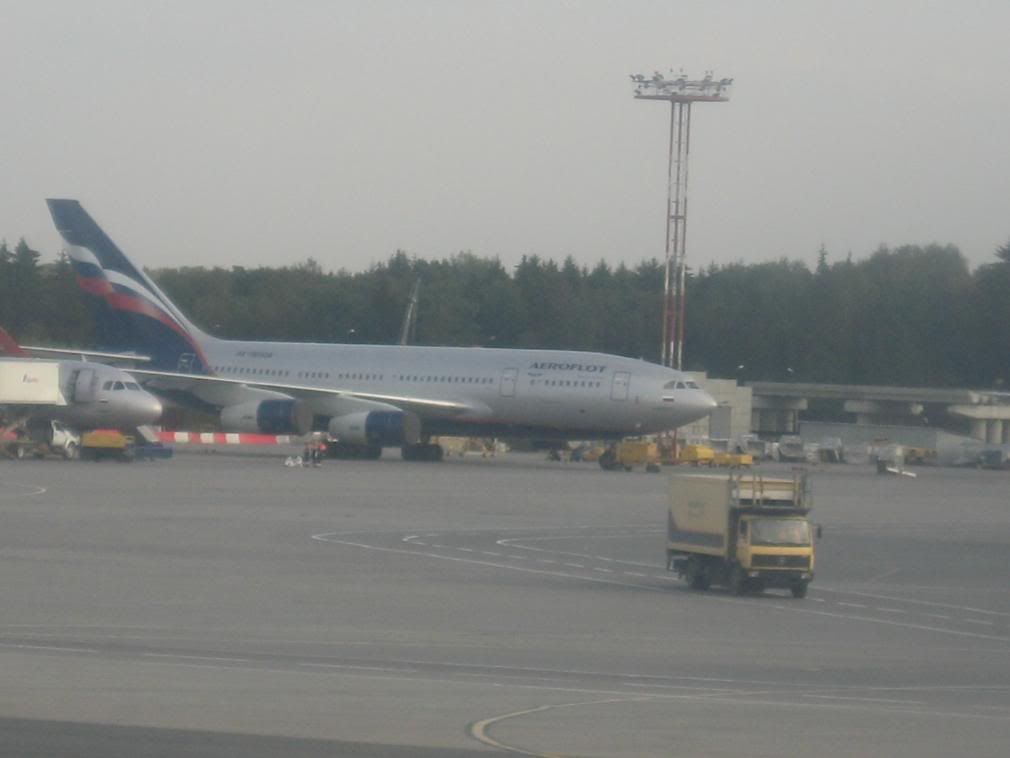 Views from Aircraft:
(Beautiful Aviadvigatel PS-90 engines and a TU-154B)
(Huge windows)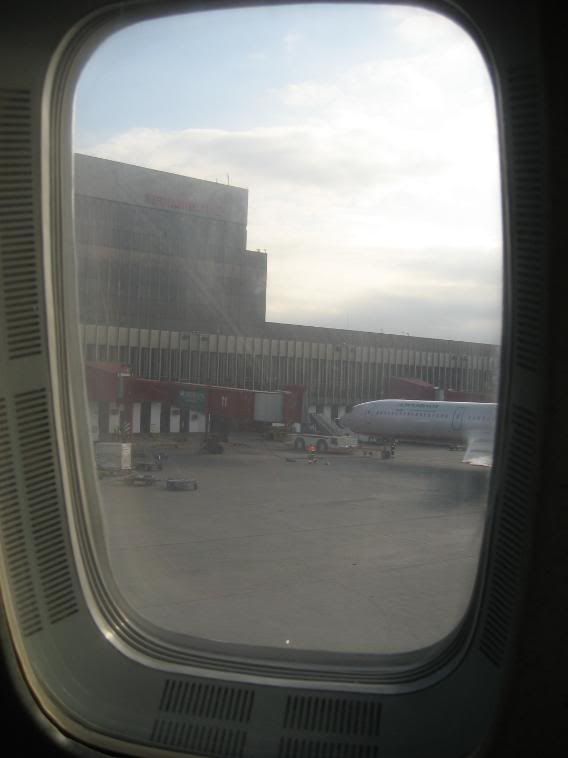 (SVO 2)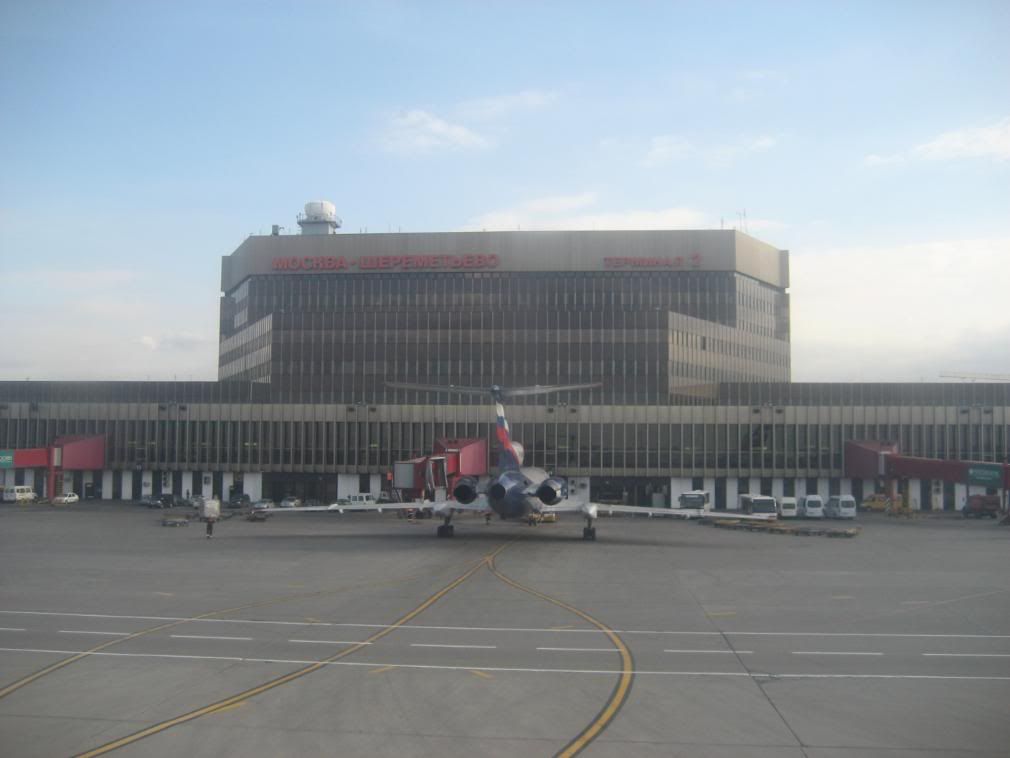 (Aircraft Movements)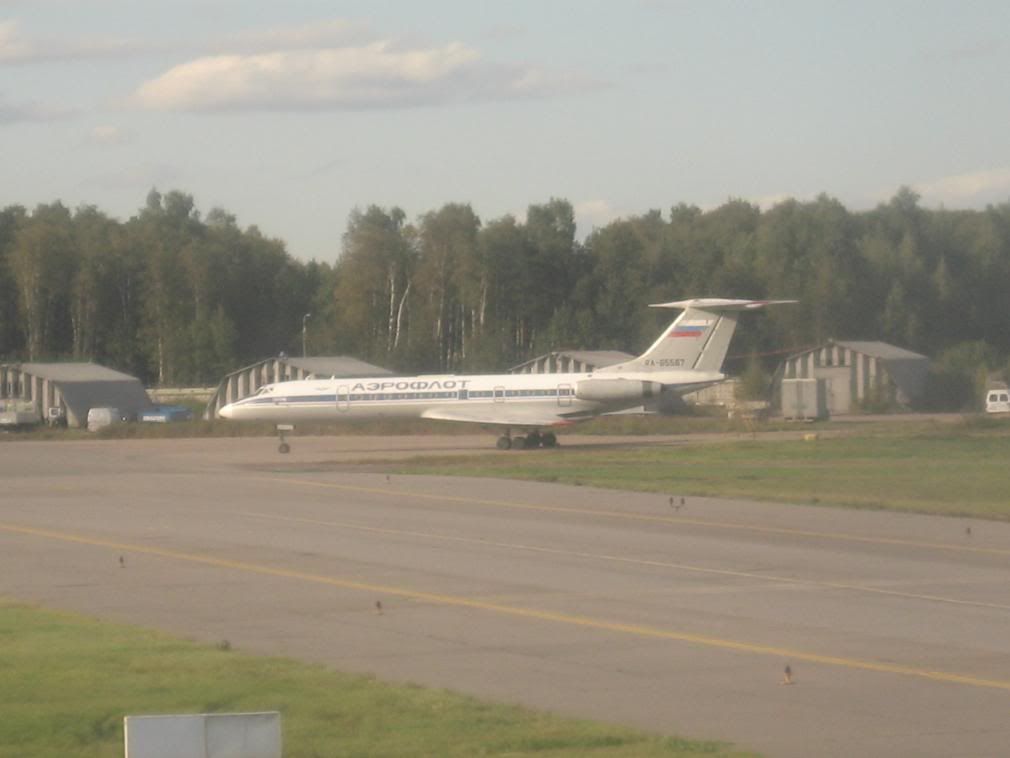 (IL 62)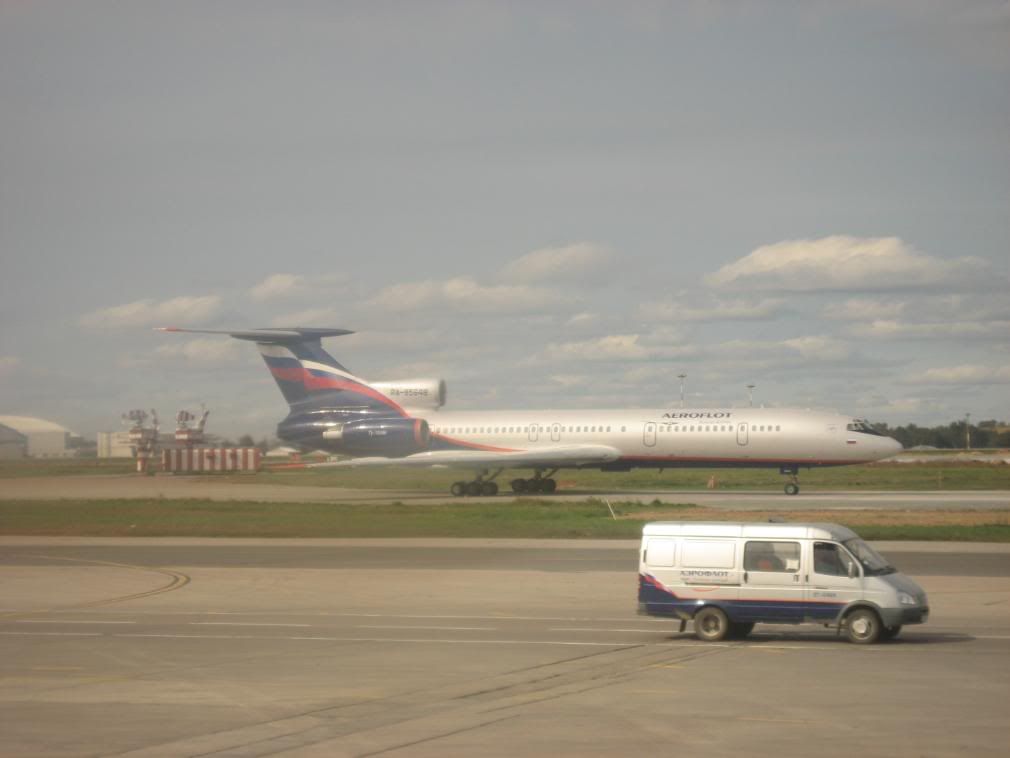 (IL-86)
(SVO 3 in construction)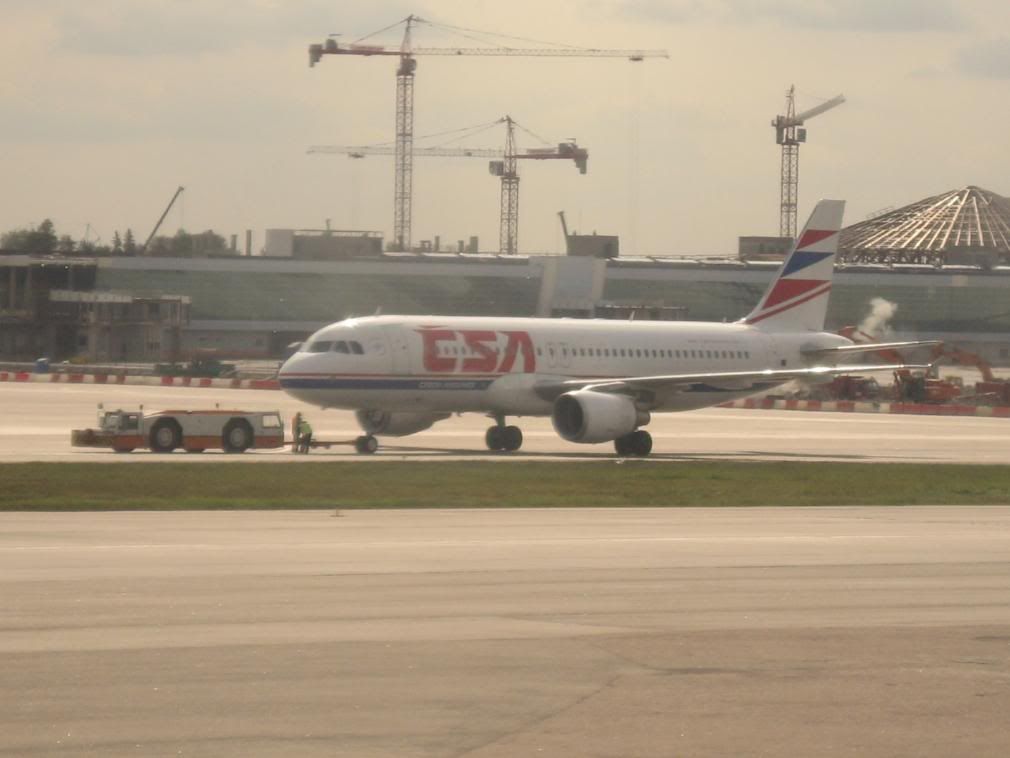 Seat Leg-Room:
(Notice the very classy metal rods holding the seats down)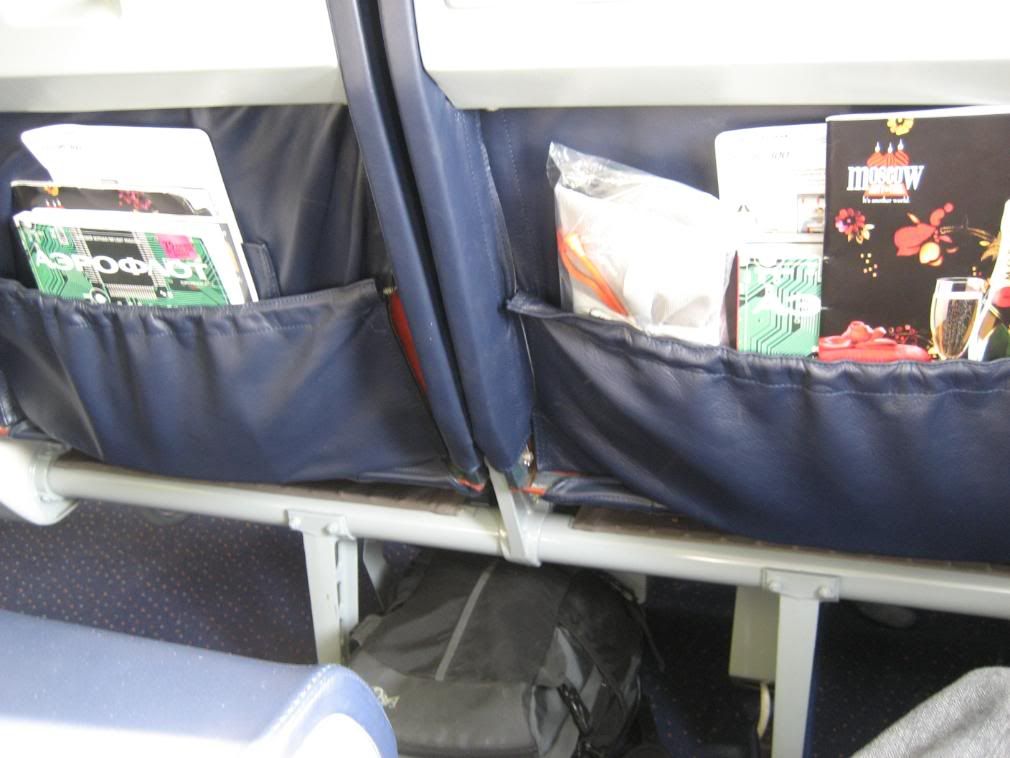 Seat Recline + Angle View: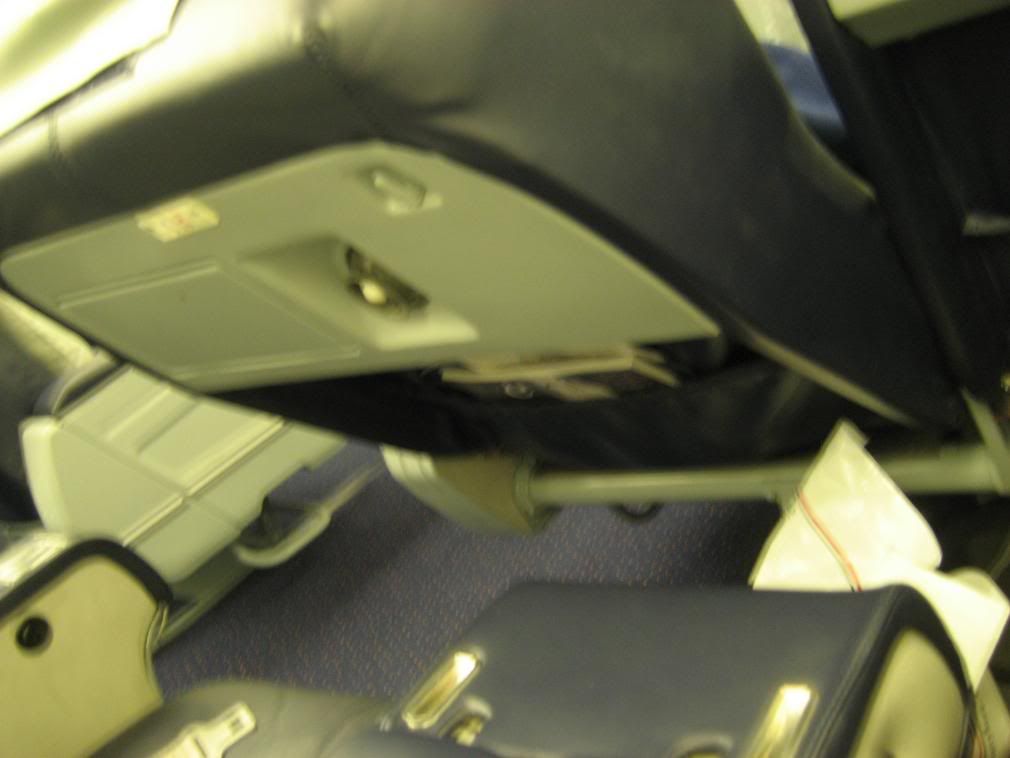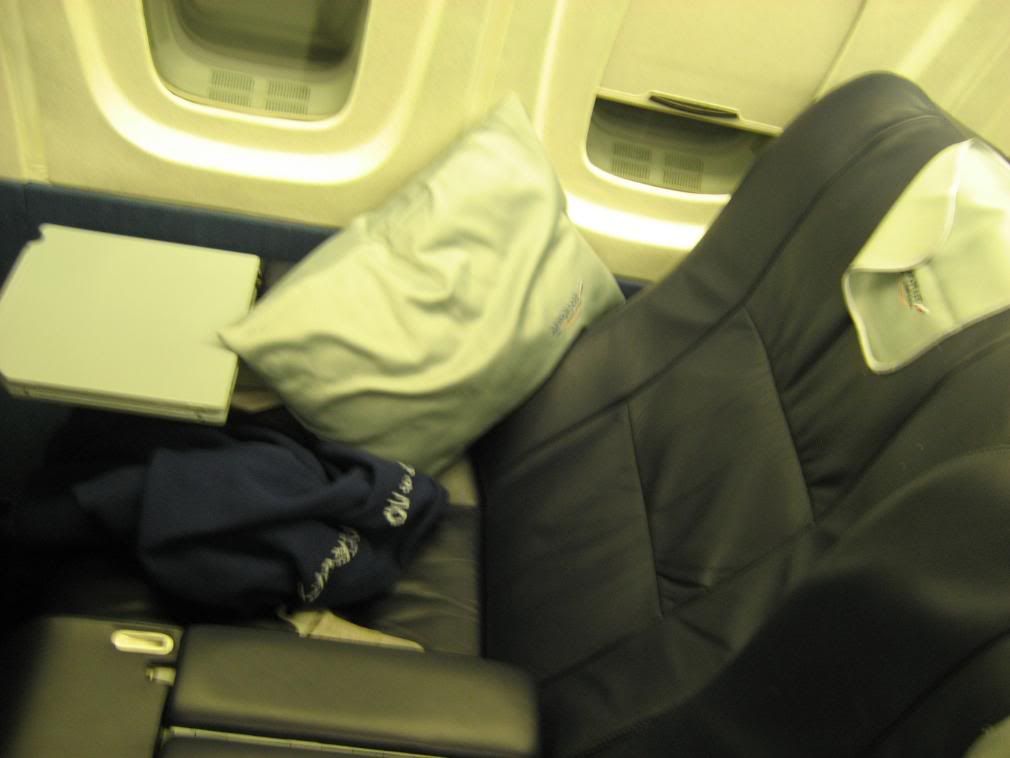 Cabin:
(Seat back with fan)
(Non power recline button)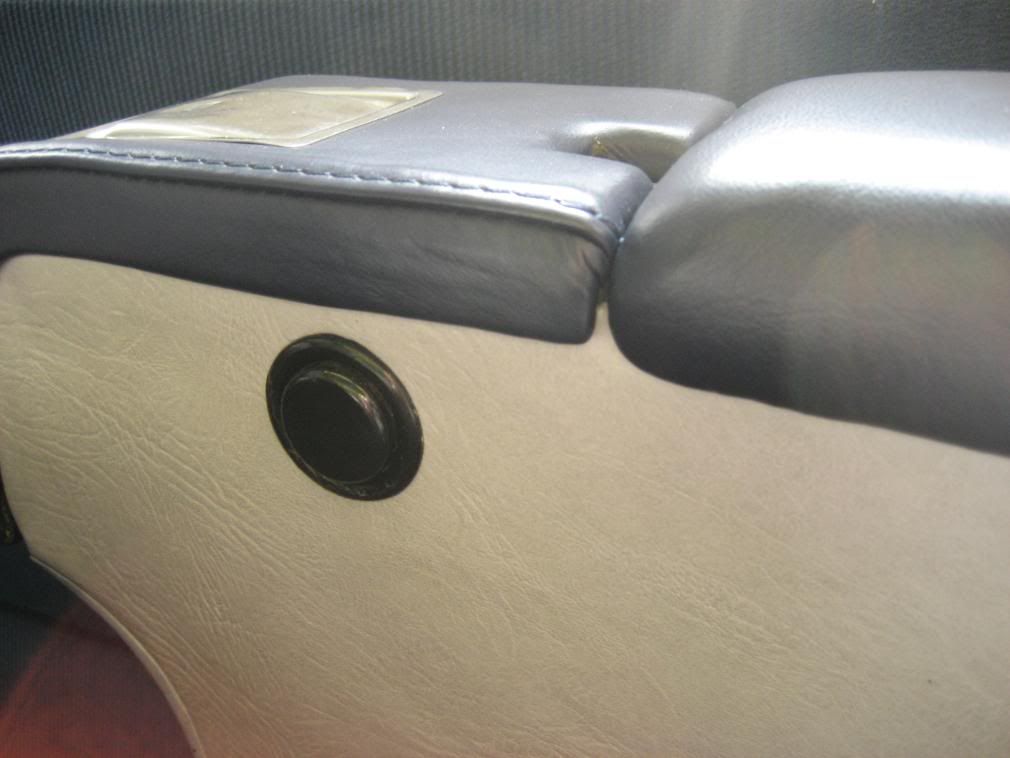 (Attendant Call)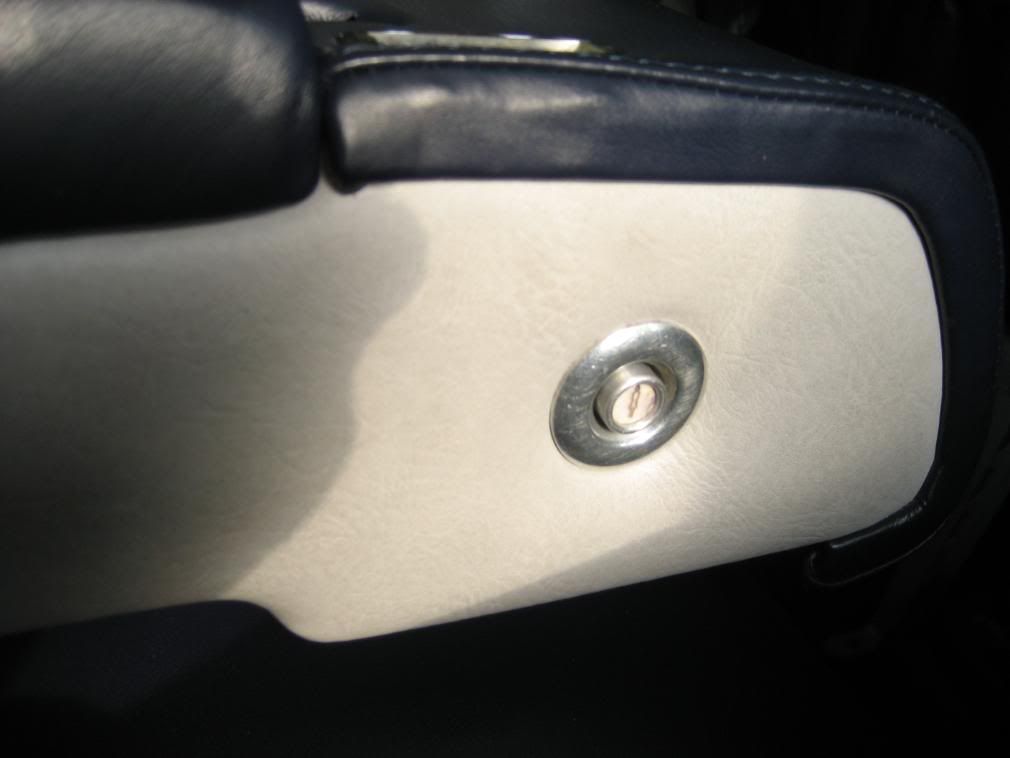 (The reading lamp – VERY railway)
(Spacious cabin with no middle overhead storage bins)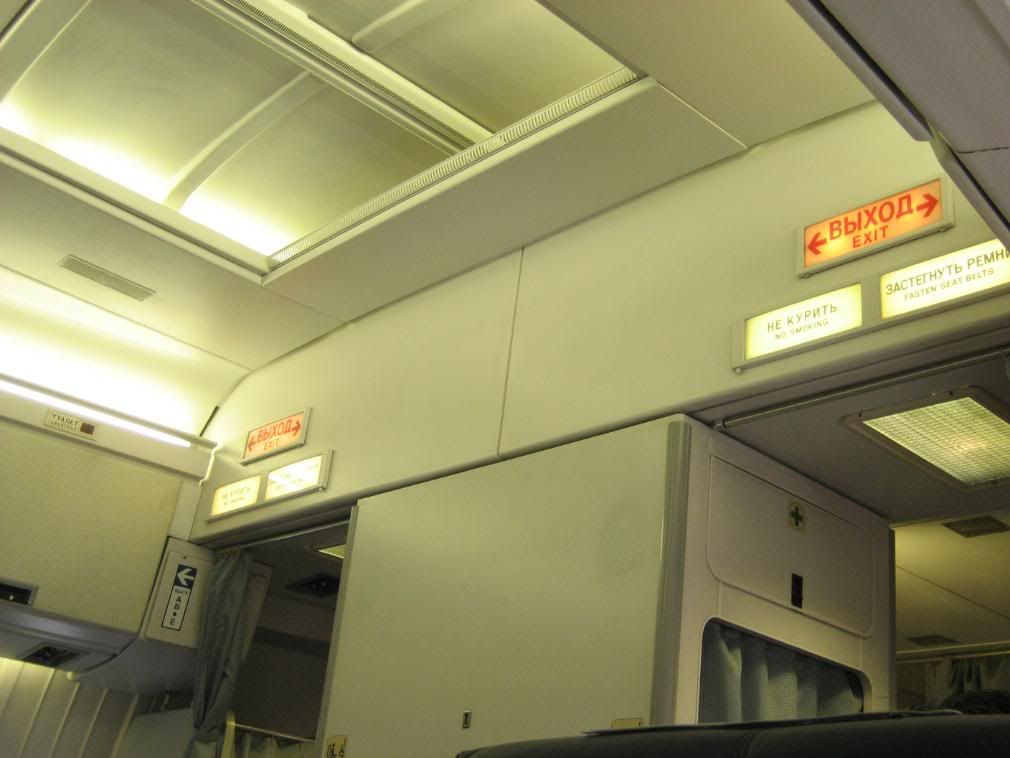 (Look Mommy … all the buttons are missing)
(J Lav)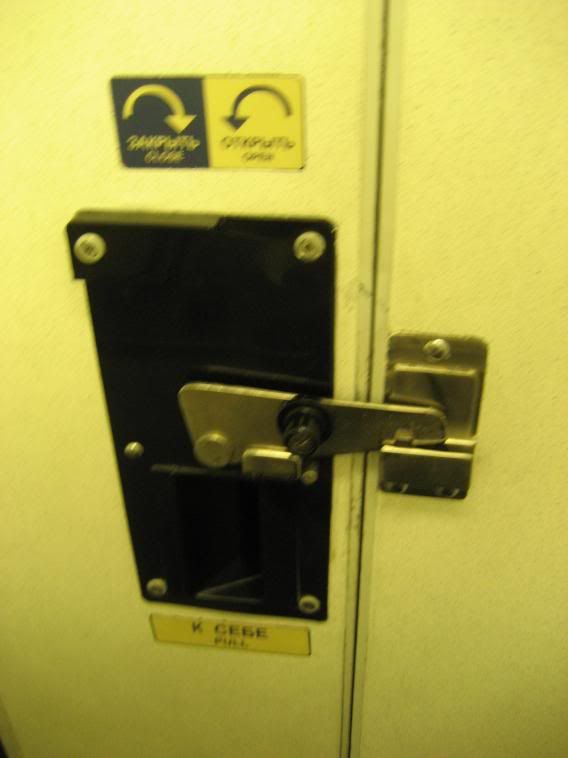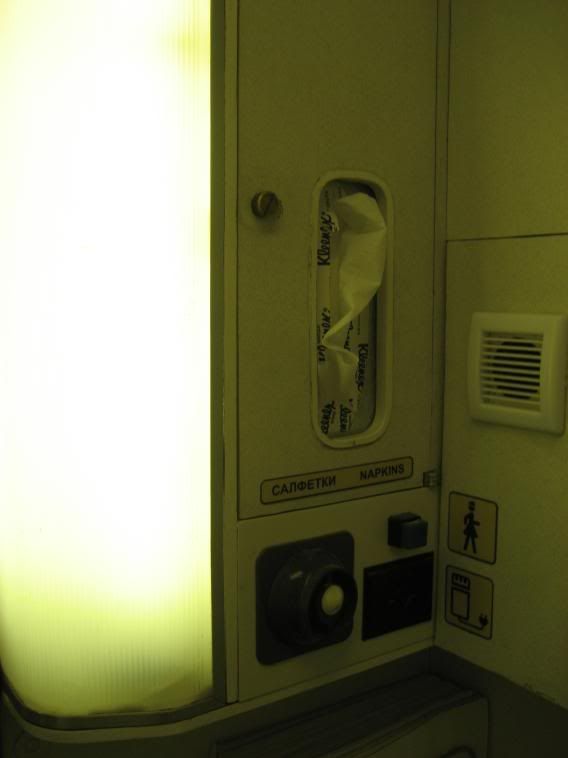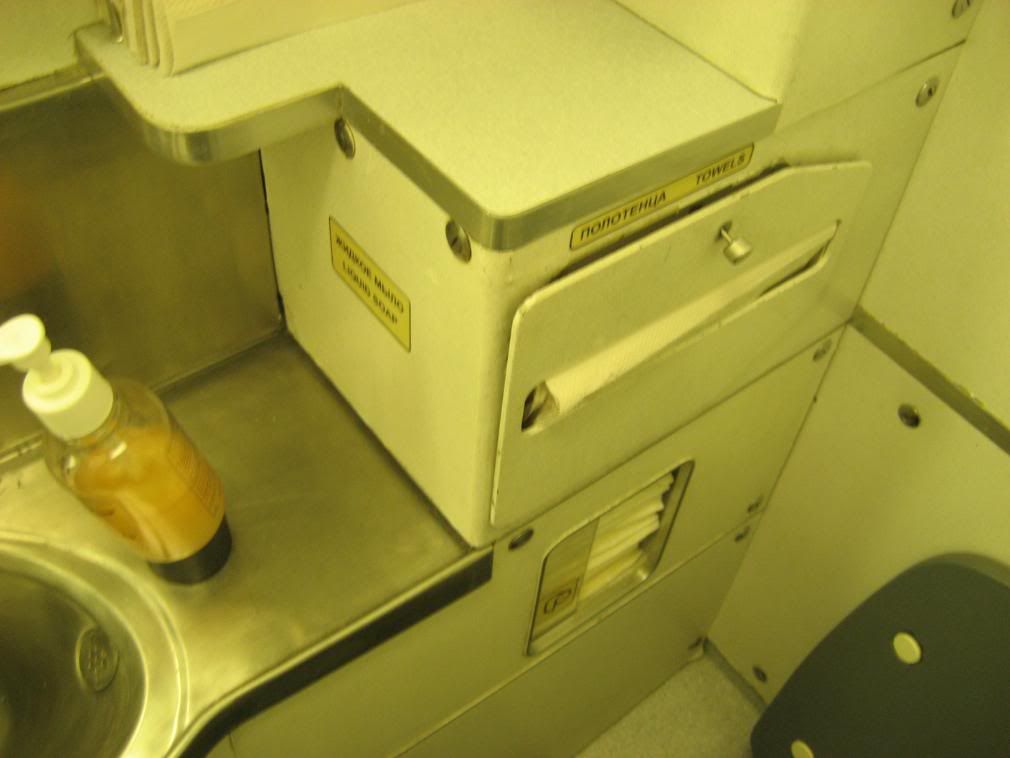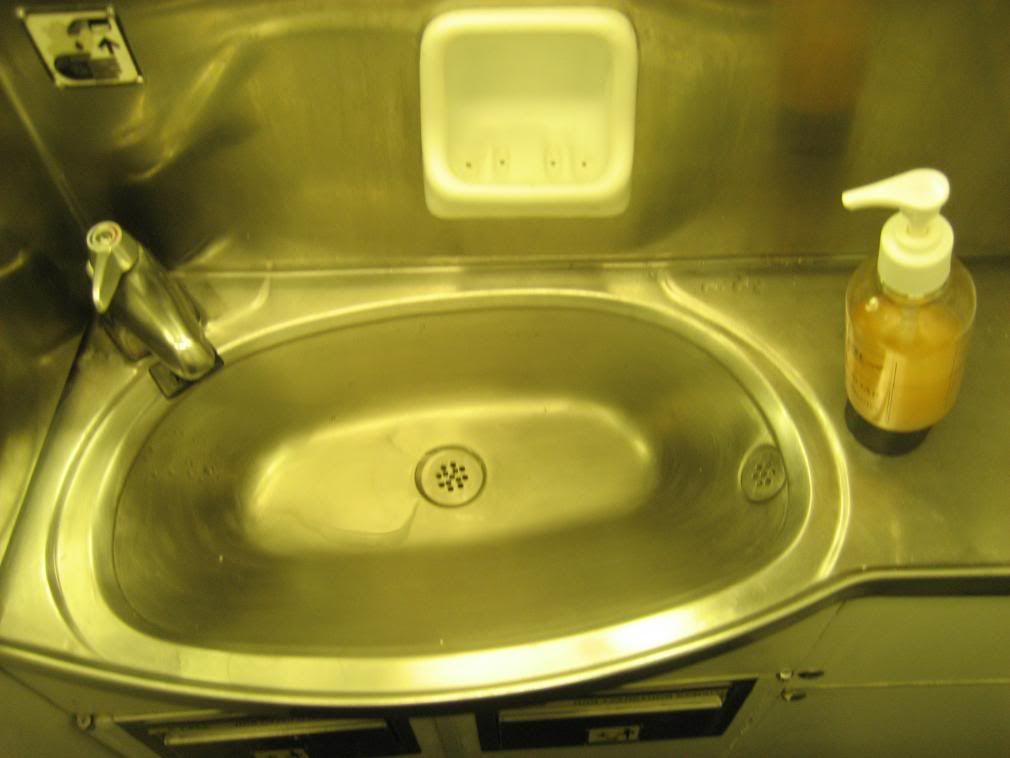 (Gotta love the signs)
(Y Class lavs. Wish more aircrafts had ample lavs like this)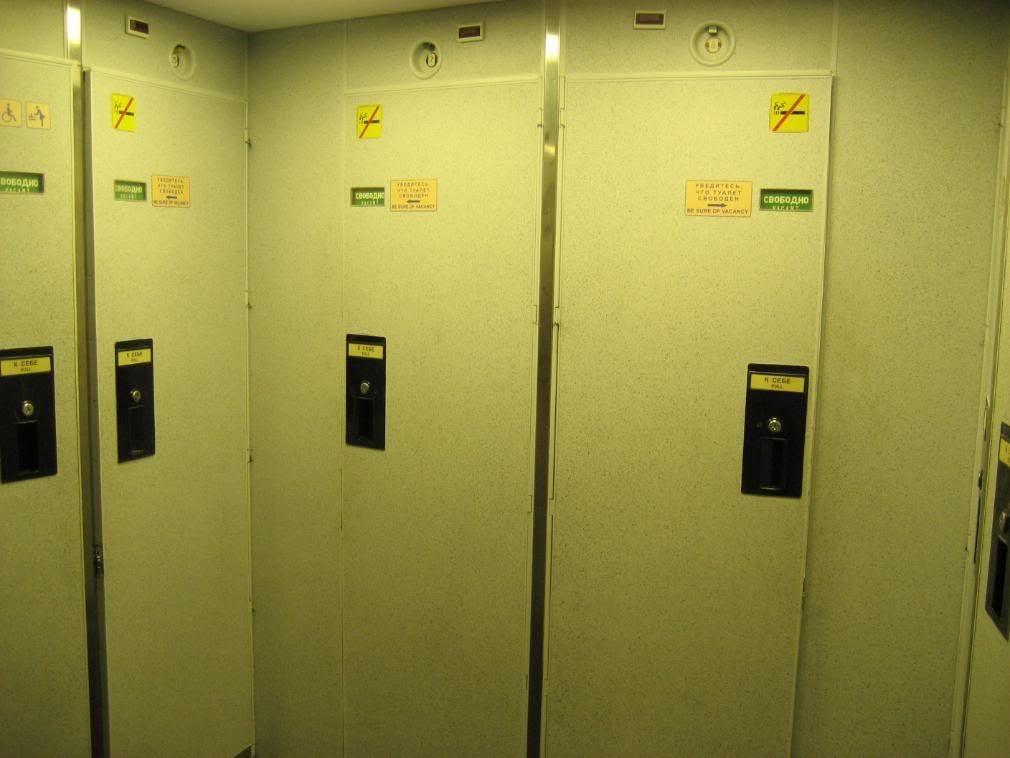 (Y Class Cabin – look at the empty load)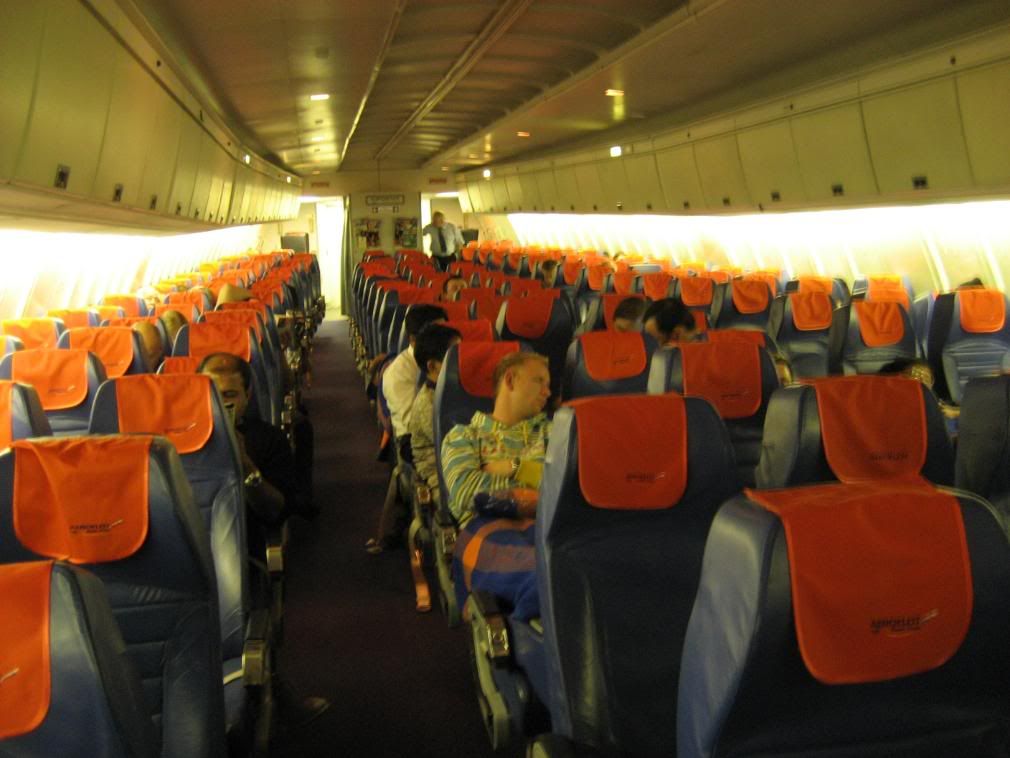 c) Meal + Beverage:
Who would have thought that one of my best recent overall dining experience would have been on Aeroflot?! The meal service rocked. It started with a towel service, and then "my" attendant came and set the table. First off, was excellent "hot savouries" of prawn tempura and brie cheese dumpling accompanied by a Bloody Mary. I don't think the crew knew how to make them so initially I got one virgin. When I pointed this out, she blushed immediately and went and brought 2 whole bottles of vodka and told me to keep them. Jajaja. Anyways, next came the really good appetizer which contained a Proscuitto di Parma, various bread, and a vegetable mix. Course 3 was lettuce leaves based salad. Course 4 was a traditional Russian fish soup called "SOLYANKA". Now in a nice touch, the attendant stuck around and asked me what I thought of it. She then went on to explain the origination of "SOLYANKA" and that not many Russian actually eat it daily. How awesome! Course 5 (main course) was a choice between traditional Russian cake with salmon, shrimp, and potatoes; Buhna Gosht Lamb and Capsicum Alu Masala served with rice; or a Capelleti con Pesto. As I was going to India, I chose the Lamb, and WOW. It was SOOO good. Not Air India catering, but I was impressed! Course 6 (dessert) was a choice between an orange cake, a vanilla ice-cream with wild berries, or bitter chocolate. I chose the ice-cream and was not disappointed. Throughout the meal service, my FA would bring in a bread basket and check and see if we needed more drinks. Service was from the galley and I never spent over 2 minutes between courses. Their was an Indian couple in front of me and their vegetarian meal had not been loaded. The attendant went out of her way to pro-actively create an ensemble of food from Y. Even for me, she came by several times to check up and see if I needed anything. I had to pinch and remind myself I was on Aeroflot.
Although the wine and champagne selection was nothing to write home about, there was an excellent selection of alcohol and this being SU, they were super generous. I must have had over 10 stiff drinks
. Additionally, there was a full stocked mini-bar at the back of the cabin with water, juice, nuts, etc.
(Menu)
(Pre-take off drink)
(Pre-dinner cleaning)
(Excellent 6+ course dinner)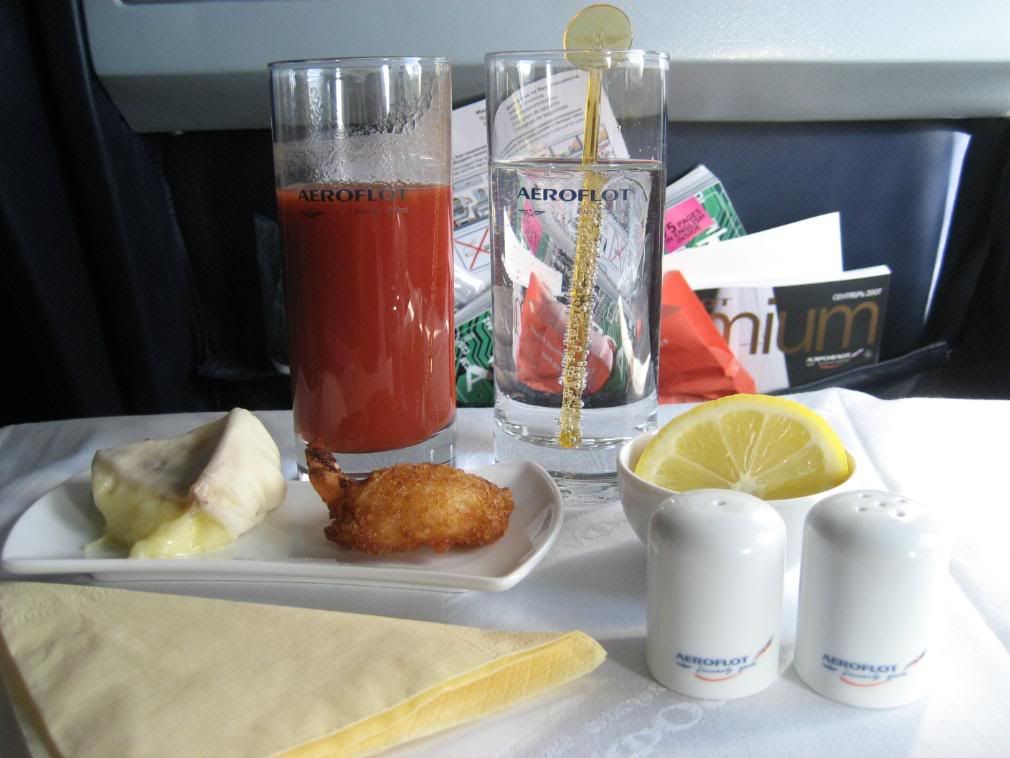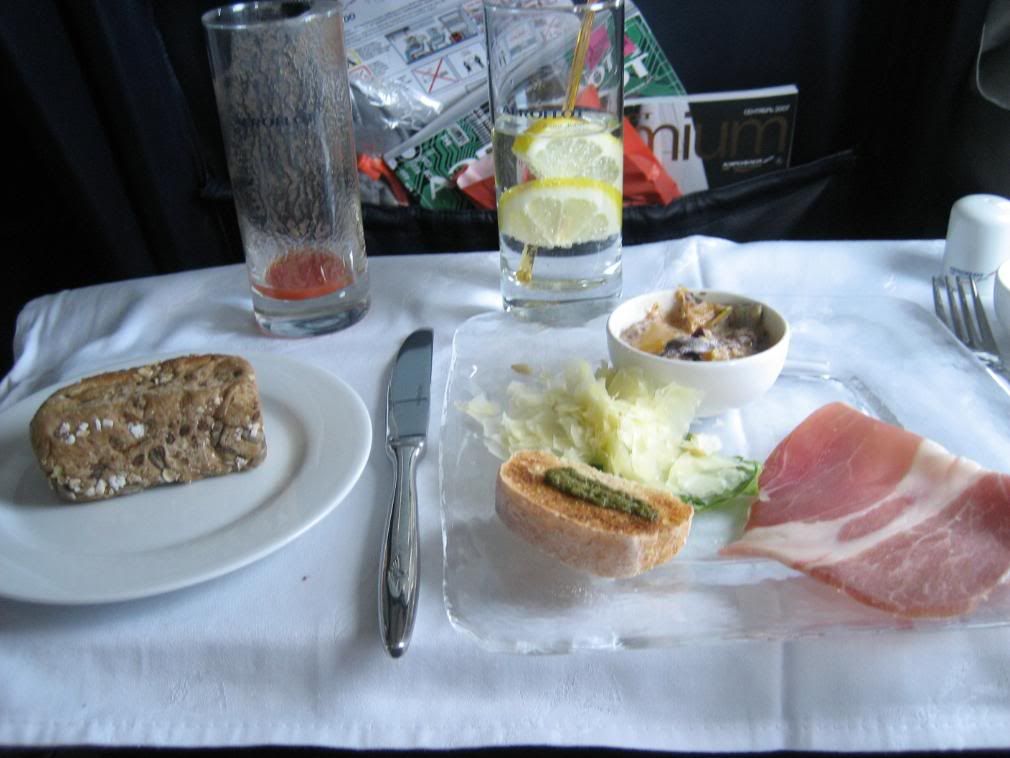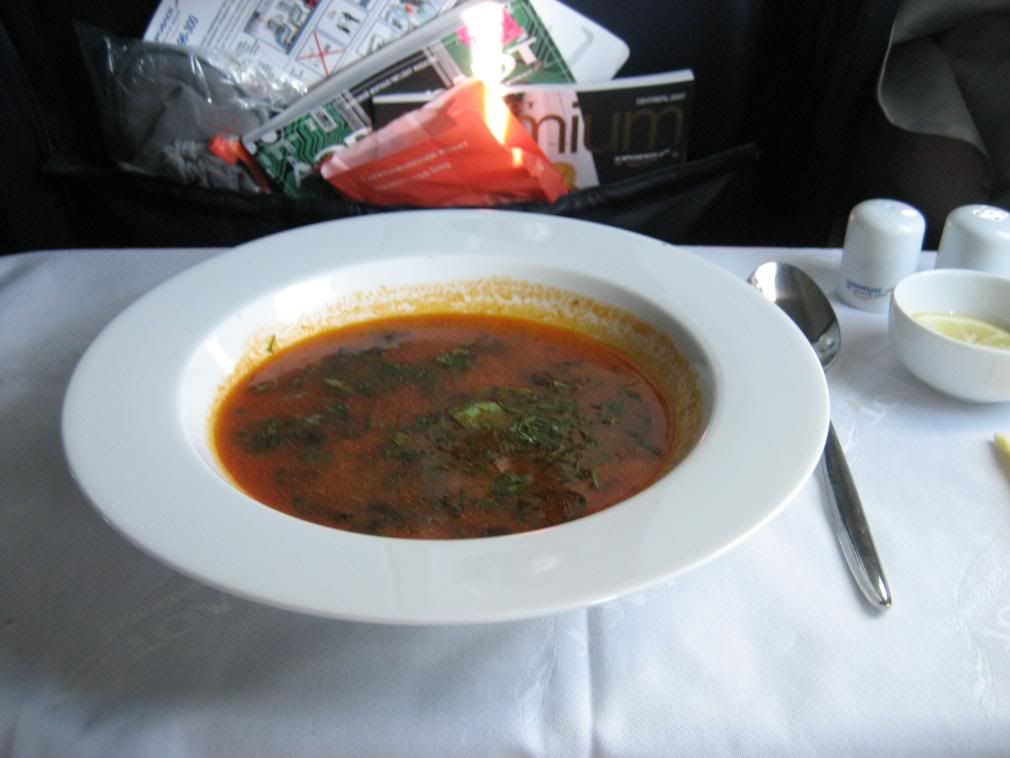 (Any time mini-bar)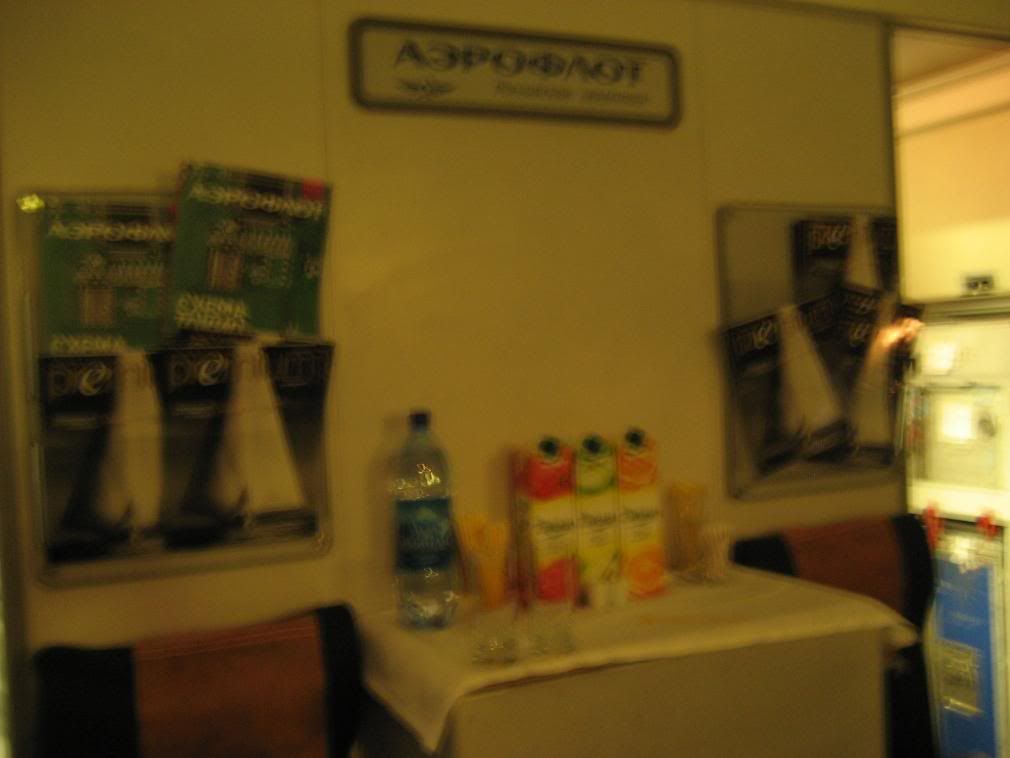 d) Inflight Entertainment:
The IL 96 was not made in a world of IFEs. Aeroflot has come up with a good interim solution of DVD players filled with movies and music. While not state-of-the-art, it was loaded with around 20 on-demand movies … though, the selection left much to be desired. Additionally, there were several glossy magazines and a rather "Vogue"-ish edition of its in-flight magazine.
(In-flight magazines, Boarding Passes, etc.)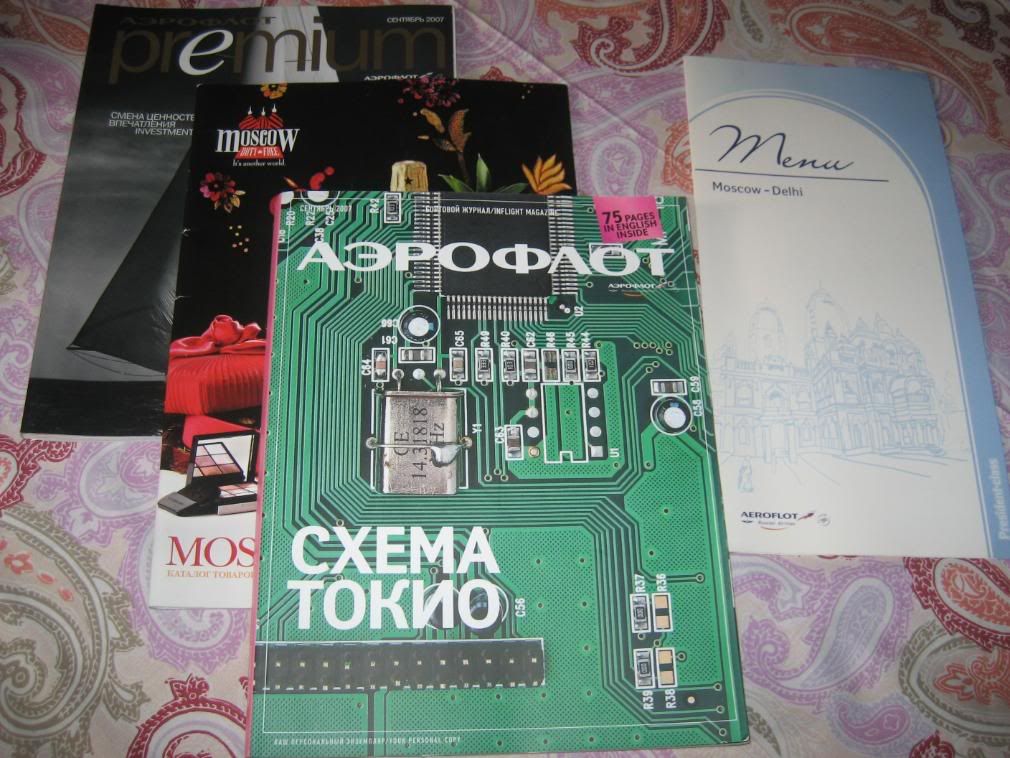 (SU DVD Unit with Noise Canceling Headsets)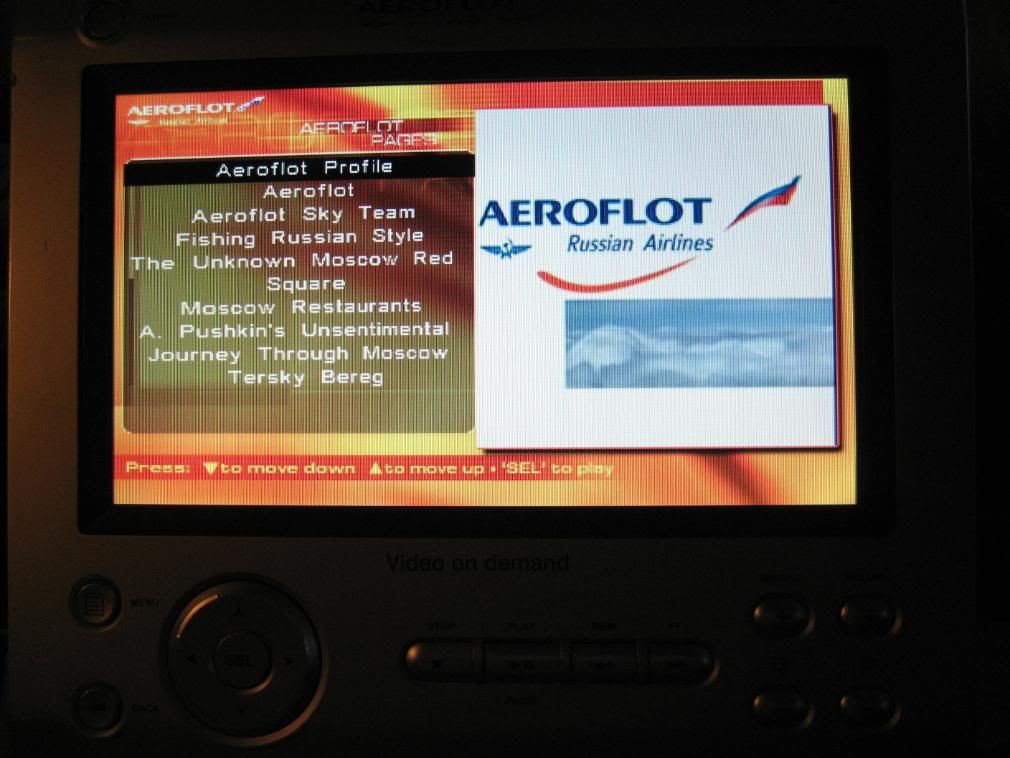 (That cheesy SU commercial)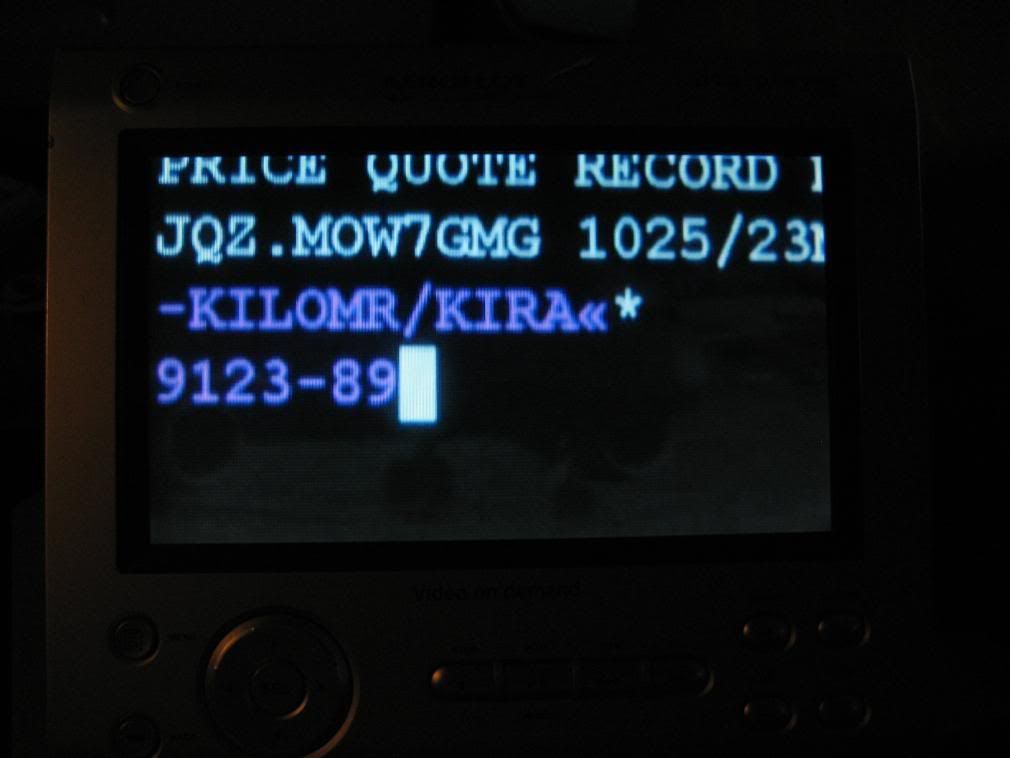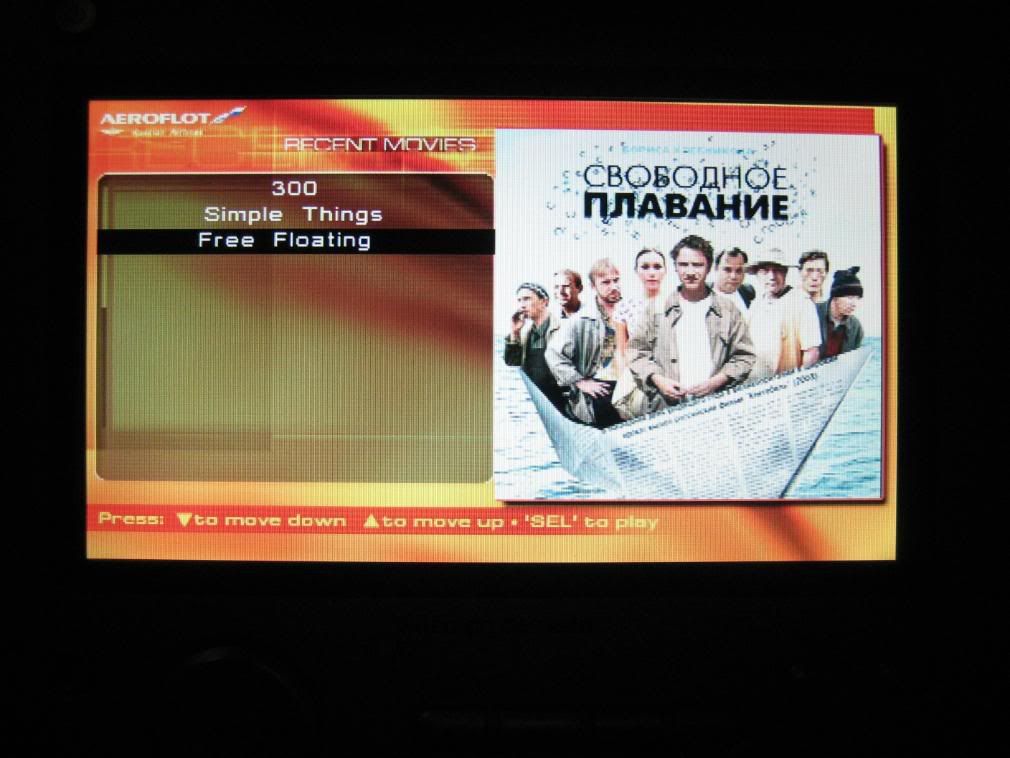 e) Crew:
Take every notion you have of Aeroflot crew and throw it out of the window. This Aeroflot crew was absolutely fantastic. I am convinced that a lot of people have a negative stereotype of Russia. While some of it is true, I was absolutely blown away by the genuine hospitality of the crew on SU 535. I have never seen a crew work so hard in doing rounds of water or drinks, and asking passengers if they needed anything. The way my attendant explained the meal option, and pro-actively went to find a meal choice for the Indian couple, are real moments when I remind myself why I love to fly. To be fair, my attendant and the others did not have polish. They appeared awkward at times and did not know the "finishing school" way of doing things. But seriously, who cares? They were just fantastic. It was service from the heart. It was like being at my grand-mothers house and being taken care. Absolutely awesome!
During the flight, I went back to the Y cabin to take some pictures. One of the pretty young cabin attendants asked if I wanted a picture with the cabin. We started a conversation on SU and the changes it has gone through. I was blown away by her knowledge of the industry, and of her airline. She lamented that "political reasons" had made SU abandon Russian aircrafts and gave me her email address promising that the next time I am in Russia, she would personally create an itinerary with which I can fly on all Russian aircrafts! WOW! WOW! WOW!
IV> Post-Flight:
As always, I dread landing in DEL during the evening rush-hour. I had not been to Delhi international in an year and was concerned at how long I would spend at immigration. WOW. I was pleasantly surprised. It took around 5 minutes to clear immigration, and another 15 minutes for the bags to appear. Signage has definitely improved. Along with development, have come pretentious duty free stores with inflated prices. Bring back those AAI run duty free stores where alcohol was cheaper than water!
(Delhi at night)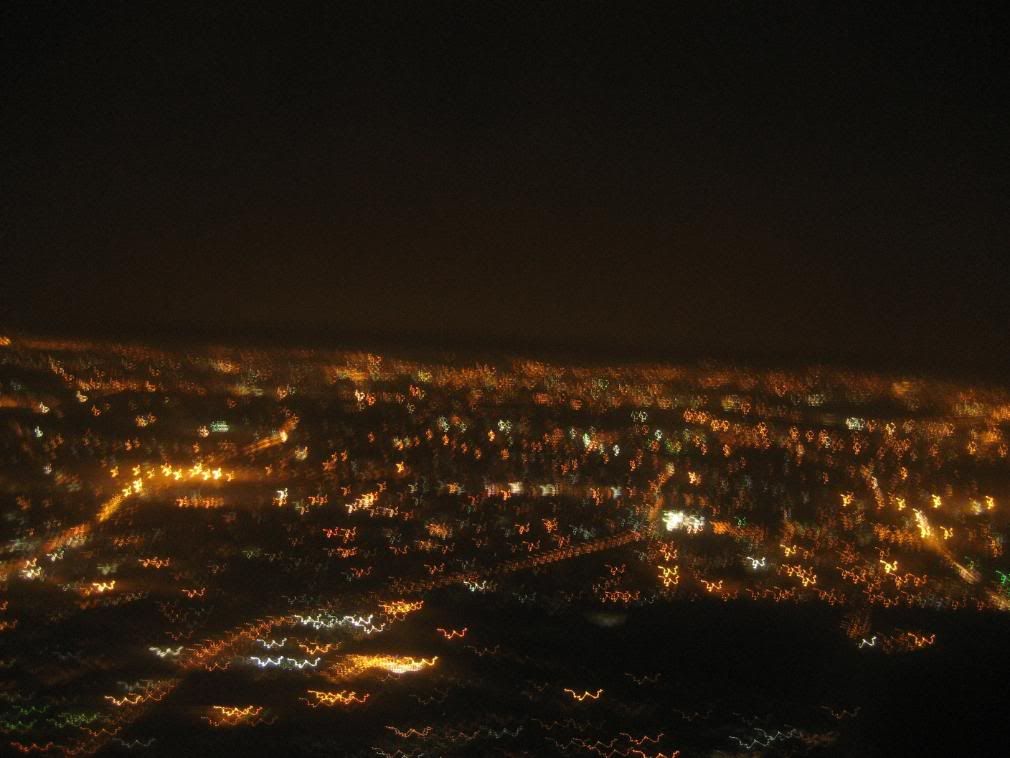 (IGIA Tarmac)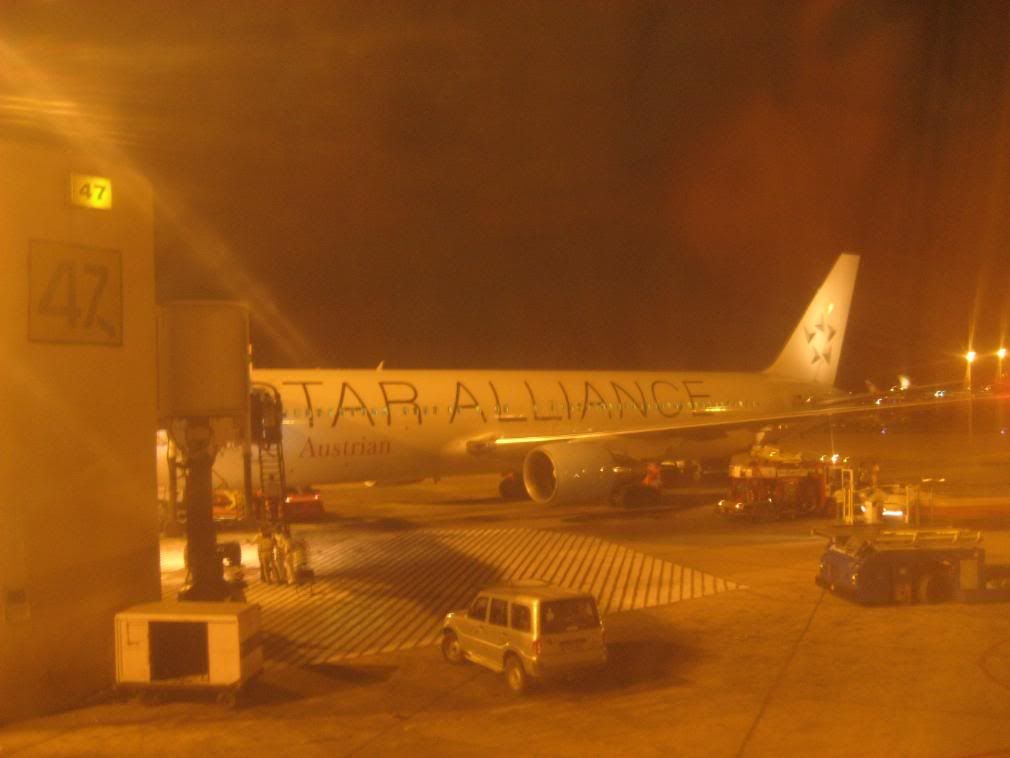 (IGIA Arrivals)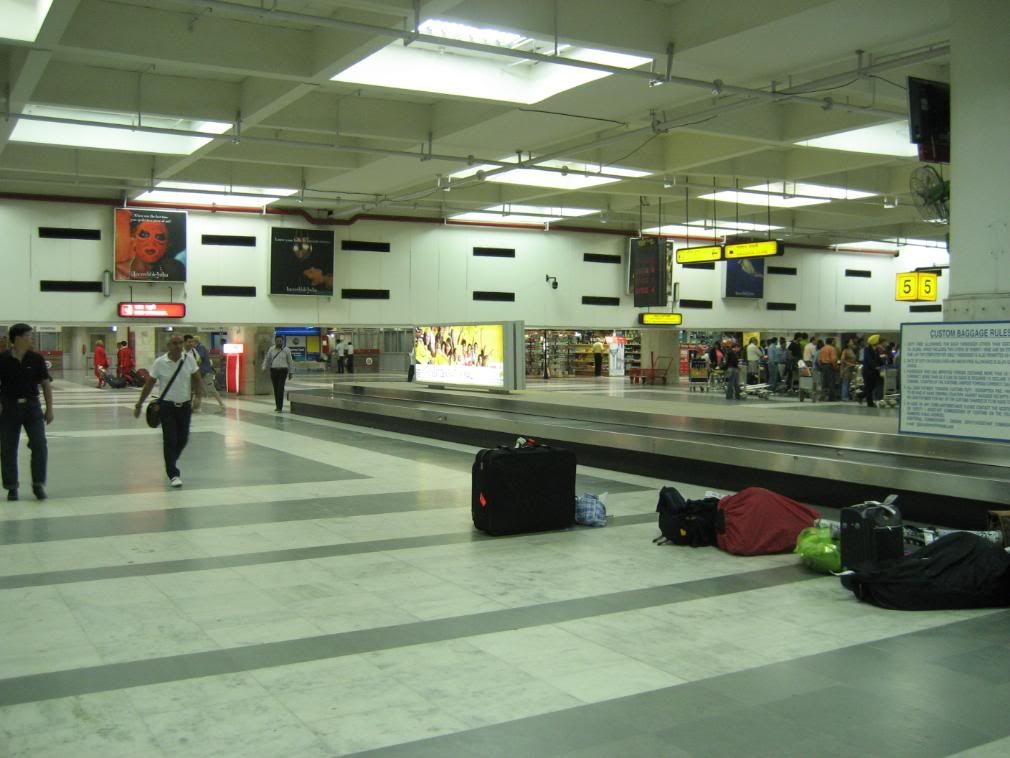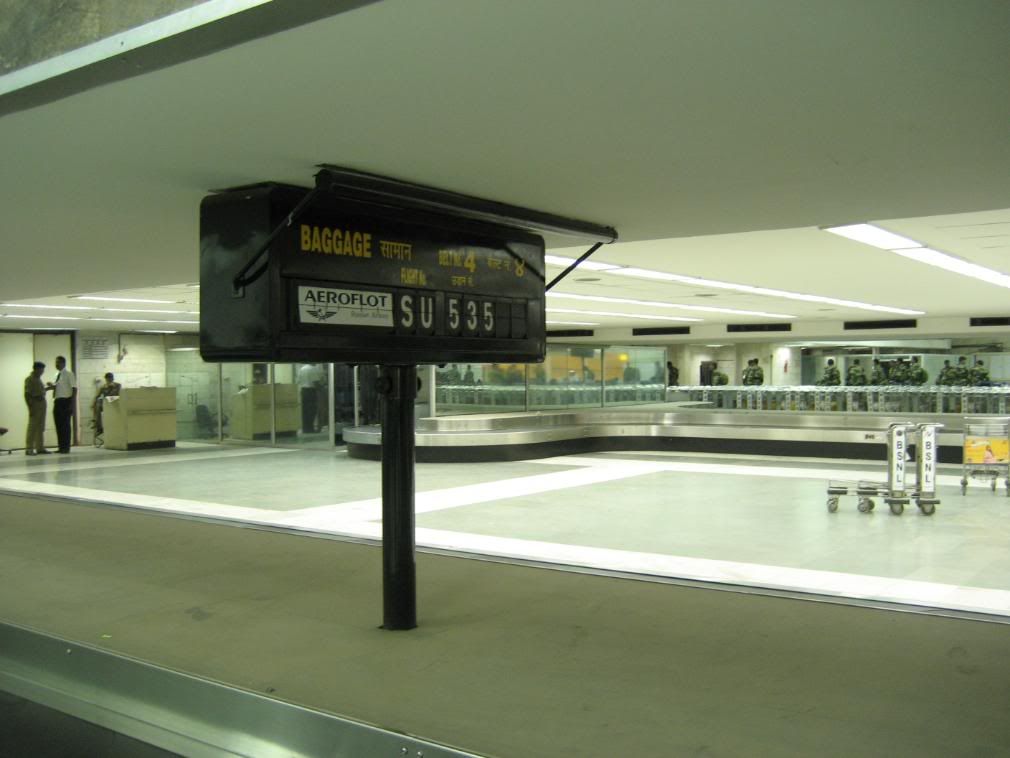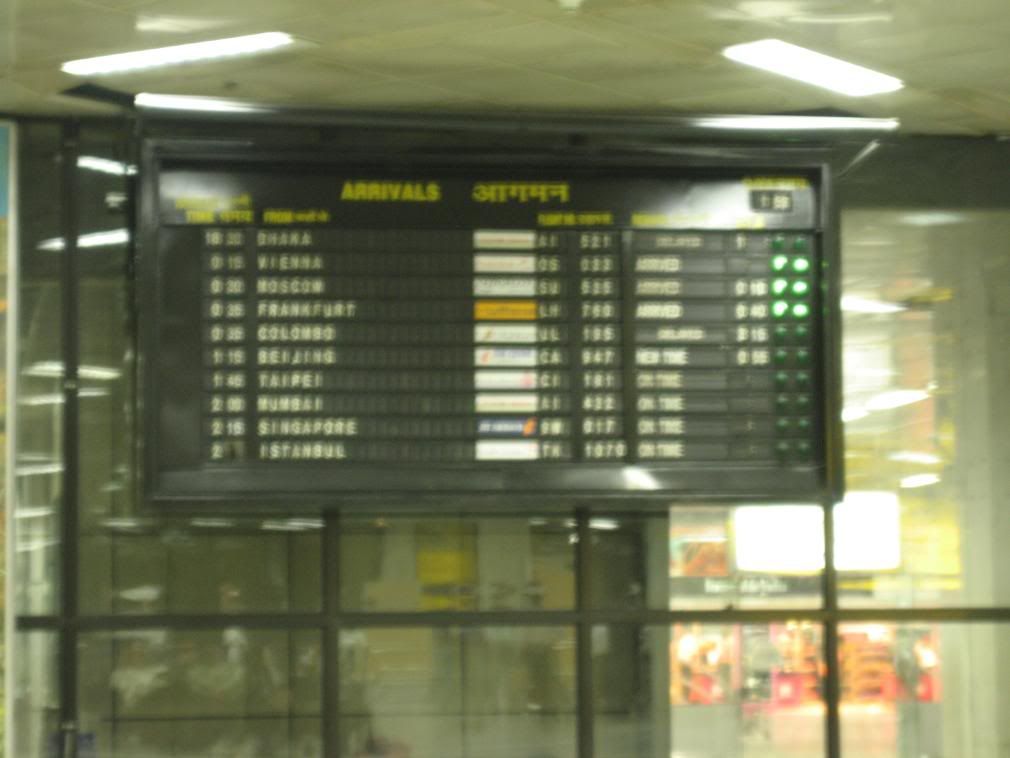 (IGIA Bathrooms now have showers?!)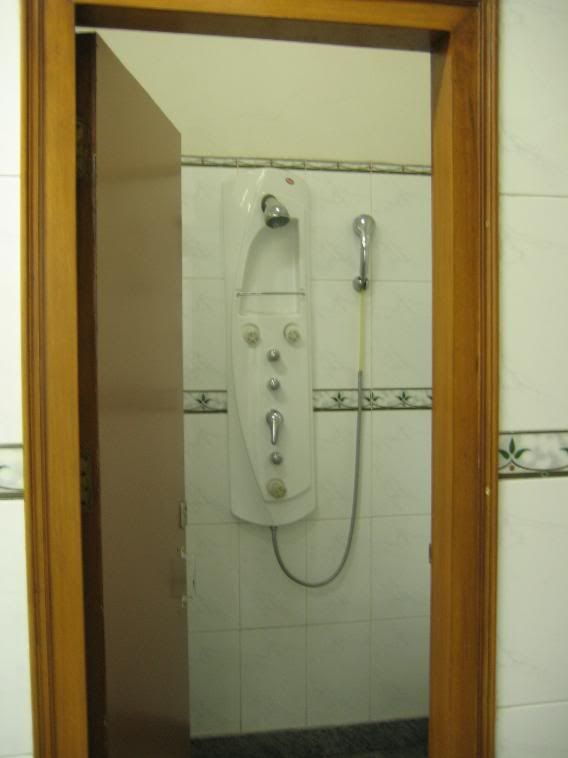 V> Impressions + Scores:
This is NOT your grand-parents Aeroflot. The airline has come a long way and is definitely a good flag bearer for the new Russia. While the legroom recline in the old seats were disappointing, the plush leather was extremely comfortable – like being in a leather couch at home. Food was just absolutely awesome … and here is the surprise … the crew just rocked. I mean, they did everything right … and with warmth! I absolutely recommend flying Aeroflot in J. Who would have thought that this would become one of my favourite Skyteam airlines?!!
Reservation: 6.0
Check-In: 7.0
Lounge: 7.0
Boarding: 9.0
Seat: 7.0
Aircraft Overall Ambience: 8.0
IFE: 8.0
Crew Service: 9.5
Food: 10.0 (First 10.0)
Beverages: 8.0
Amenity Kits + Others Freebies: 7.0
Disembarkation: 8.0
On-Time Record: 10.0
OVERALL IMPRESSION: 7.96 – new high for premium cabin
(Pre-flight average of all-reviews: 6.29)
(Scores are based on comparison with other airlines in THAT class of service – No comparison of Y vs. F for example)
VI> Other Trip Reports:
Please let me know if you like this new way of presenting the older trip reports.
(Note on Codes: Y – Economy, J – Business, F – First :: I/D – International/Domestic :: SR/MR/LR – Short/Medium/Long Haul :: I have designed these codes so people don't believe my scores are comparing apples with oranges)
PREMIUM:
7.96: Aeroflot Russian Airlines (33): MOW-DEL: 09/2007
7.85:
Delta Airlines (24): JFK-CDG: 08/2007
7.81:
Singapore Airlines (06): EWR-SIN: 09/2006
7.17:
Delta Airlines (18): SEA-JFK: 11/2006
7.15:
KLM: EBB-AMS: 08/2007
7.13:
Air Canada (17): ICN-YYZ: 10/2006
5.88:
Singapore Airlines (16): CCU-SIN: 10/2006
5.33:
Air France: CDG-JNB (25): 08/2007
ECONOMY: Long + Medium:
7.09:
Avianca (01): BOG-LIM: 07/2006
5.96:
USA 3000 (19): PUJ-BDL: 01/2007
5.96:
Jet Blue (21): CUN-JFK: 02/2007
5.92:
Air Canada (04): YYZ-YVR: 09/2006
5.46:
TAP Air Portugal (23): OSL-LIS: 05/2007
ECONOMY: Short
8.21:
Kingfisher (14): IXA-GAU: 10/2006
7.54:
Alliance Air (13): CCU-IXA: 10/2006
7.25:
Indian Airlines (10): DEL-CCU: 09/2006
7.14:
West Jet (03): YYC-YVR: 09/2006
6.73:
Air Tran (02): EWR-MDW: 08/2006
6.67:
Spice Jet (09): CCU-DEL: 09/2006
6.54:
Indigo (15): GAU-CCU: 10/2006
6.17:
Air Link Swazi (28): MTS-JNB: 08/2007
6.17:
Kenya Airways (29): NBO-BJM: 08/2007
6.08:
Transairways (27): INH-MPM: 08/2007
6.04:
Adam Air (07): SIN-CGK: 09/2006
5.96:
Rwanda Air Exp (30): KGL-NBO: 08/2007
5.88:
Air Canada (05): ALB-YYZ: 09/2006
5.75:
Air Deccan (12): IXZ-CCU: 10/2006
5.75:
SAS Norge (22): OSL-AES: 05/2007
5.67:
LAM Mozambique (26): JNB-MPM: 08/2007
5.04:
Valuair (08): CGK-SIN: 09/2006
4.83:
Fly 540 (31): MYD-LAU: 08/2007
4.58:
Viva Aerobus (20): ELP-MTY: 02/2007
4.42:
Air Sahara (11): CCU-BOM: 09/2006
VII> Other Pictures:
Some other related aviation pictures. Hope everyone enjoys!
(Amenity kit)
(Climbing over MOW)
(Those beautiful engines at work somewhere over a "Sthan")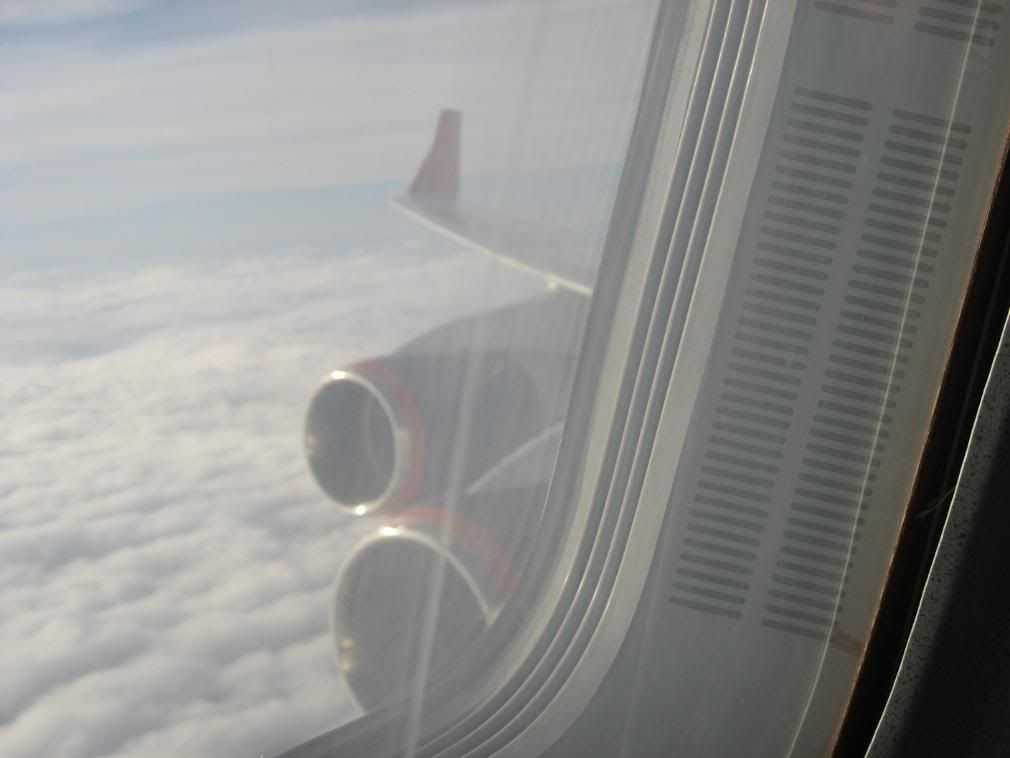 (Take off video)