Pilots View: OMSJ-VECC-VHHH-UAAA-EDDF
You guys maybe have read the report from OERK to OMSJ, here now the 2nd part of the trip back home to FRA...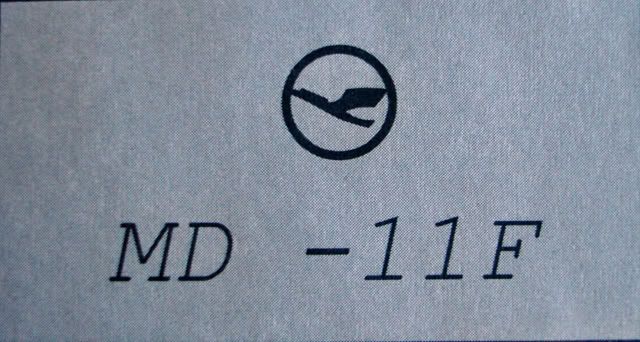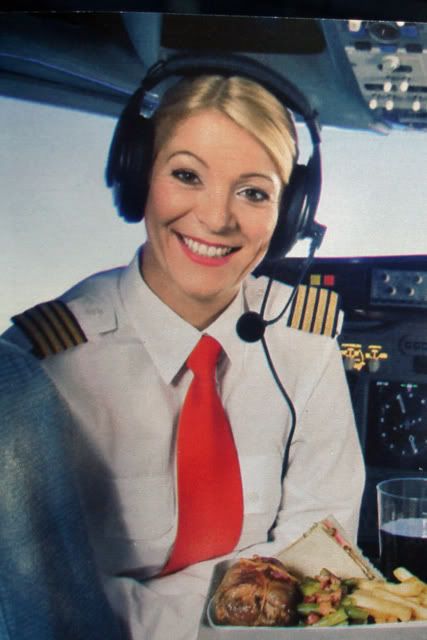 This was the captain on this trip!
no, just kidding! I saw that pic in a newspaper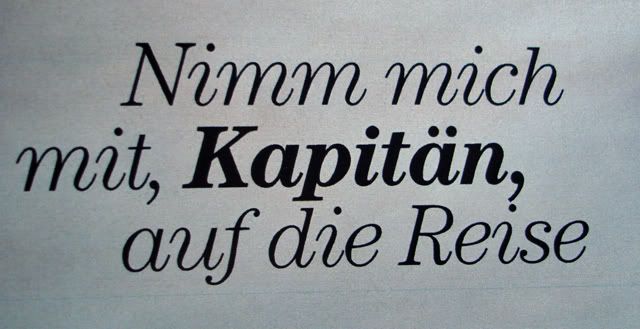 And I saw this as well on a newspaper! its german and means: Take me with you on this trip, Captain!
Ok, here we go:
It was 11am in the morning and the I prepared myself for another trip and a pretty long day with 2 (!!!!) flights on one day. SHJ to CCU and then off to HKG...
We were taken to the airport and went through passport control and security and been taken to the aircraft. But it wasnt there yet... DELAY! I hate that
So we went into the LH Cargo office and checked the papers. Flight time 3hrs38mins... So not too long to CCU. Weather was fine, warm, slow winds, just perfect for a lovely flying day...
Finally the bitchy MD11F arrived on the parking stand and we walked towards her. Engines shut down, and the stairs approached the aircraft. Doors were openend and offloading started.
We went up to the incoming crew and had a small chat about if the aircraft was fine (and she was), and if something special to observe. Nope, everything was fine! Seemed to be a nice day today...
The imcoming crew left the cockpit and I started with my preparation, fueling started. We expected a load of 81 tons (which is pretty much). Fuel ordered was 55tons of fine Jet A1
Runway in use was 30, wind 270 @ 5 knots, temperature 25 degrees Celsius. Lovely, isnt it? Best flying weather!
The loading took quite a bit, 81 tons need to be loaded... But the guys in SHJ do a good job and they were ready in time. So, doors closed, loadsheet showed indeed 81 tons load... Take off weight of 250tons (286max). So not too light but not too heavy...
Requested start up and push back. A ground controller answered in perfect english: push and start approved... So, we started the pushback but had to wait for a bit until we are allowed to start up with the engines. The controller came back to us and said: cancel start up clearance, there is some trouble on the runway and only parts of the runway is available. Only from taxiway D, which gave us 2800m of runway.... I told him to standby and that we will recalculate if we can accept taxiway D to avoid a delay of more than 25minutes... And YES, the computer said: taxiway D is possible! I told the controller at once that we are able taxiway D and he was happy as well and we finally could start the engines...Once engines were running I called in for taxi... So we taxied to runway 30, intercection D.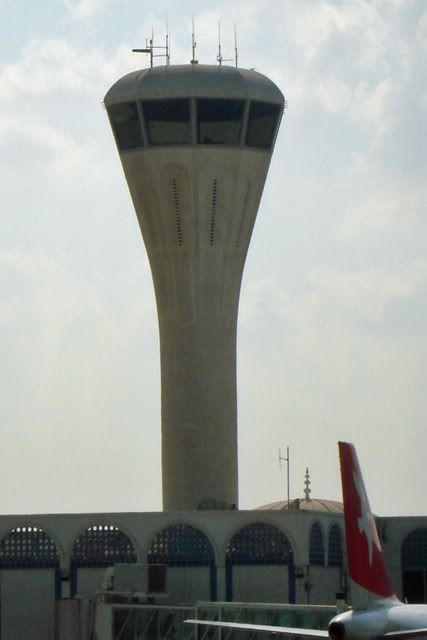 SHJ Tower
We were number two behind an A320.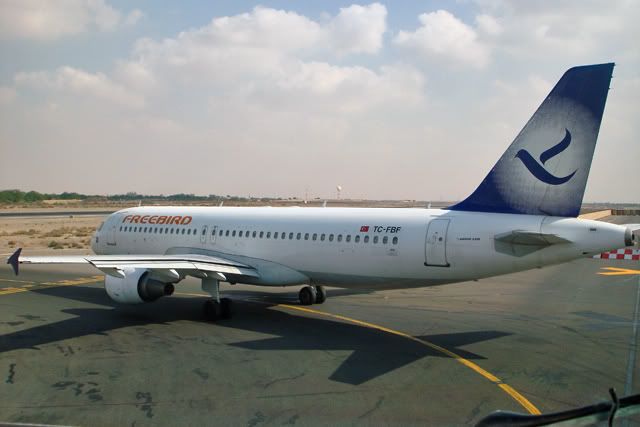 He got the line up clearance and backtrack clearance. Yes, the 320 needed at least 3460m of runway?! So while the 320 was backtracking, we were allowed to line up via Taxiway D and got the take off clearance out of taxiway D!!
It was a VERY powerful take off, because of the rather short runway, but it wasnt a full power take off! Still a thrust reduction was possible!! Quite impressive! I was pilot flying, so the captain hit the throttles and T/O power was set and the MD11F accelerated VERY fast to 160knots, which was our Vr! So I smoothly pulled and up we go!
GEAR UP! And then we climbed impressively into the sky... We got a shortcut during the departure route to save up a little more time... We climbed to FL330 only. We couldnt get a lot higher due to the weight. FL330 was our optimum altitude...
The sun was shining and we enjoyed the flight... After some time we climbed to FL350 which was our final cruising level...
After about 3 hours of flight time we were talking to CCU control already and requested descent. The Descent was uneventful, just slightly high, so I had to use the speedbrake, but bringing 220tons down isnt the easiest thing
We were cleared for the ILS approach 19L. Slats, flaps and gear was down and it was dark outside already... Runway came in sight early and I flew manually from 5000' all the way to touchdown... Touchdown was smooth, but the runway conditions there are pretty bad, so it started shaking! But who cares, so FULL reverse thrust to bring the speed down from 163knots to taxi speed... We vacated the runway and found the way to our parking stand...
We arrived there about 20 minutes early which gave the CCU guys a little more time to offload the cargo.
But this wasnt all... Next flight: CCU to HKG! We received the papers and it showed only 7 tons of cargo! Yes, only 7 tons! Not a lot eh? Well, I cant remember how much fuel we ordered, but it was not a lot, and it gave us a take off weight of about 150 tons! 100 tons lighter than out of SHJ!!
The guys in CCU were pretty fast with the offloading so that we could leave 15 minutes early for thr about 3 hour flight to HKG.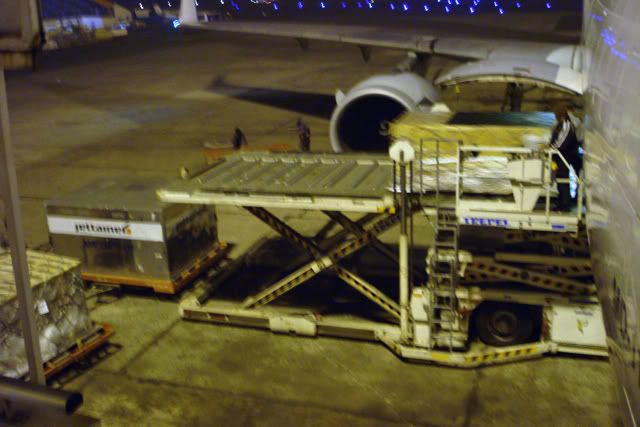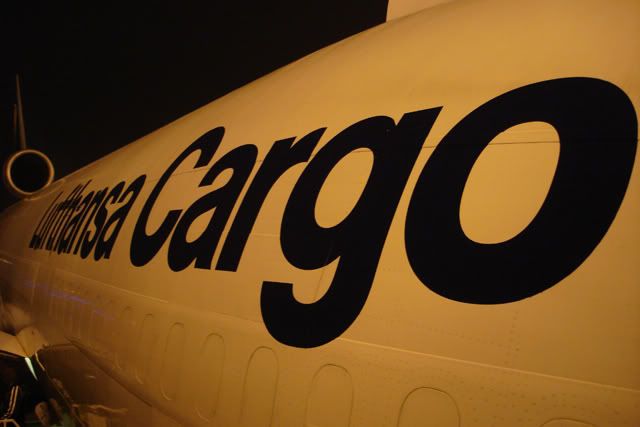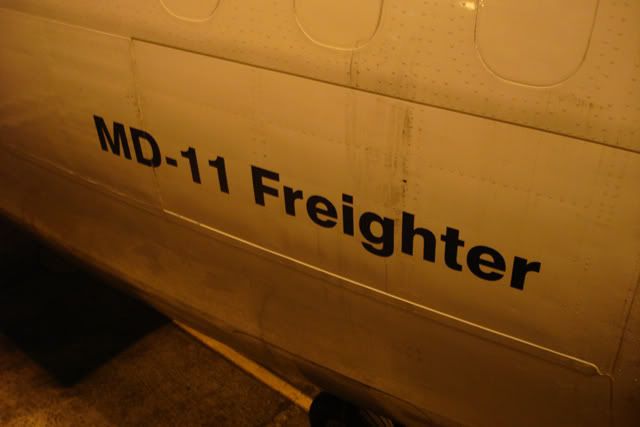 Runway 19L for take off! And even if we had maximum thrust reduction the take off was powerfull again! We just set the take off power and reached 80 knots already and shortly after it 131 which was Vr this time... I was pilot flying again and we climbed like rocket as you can see on the picture! Not 7000ft/min this time but nearly 6000ft/min is pretty impressive as well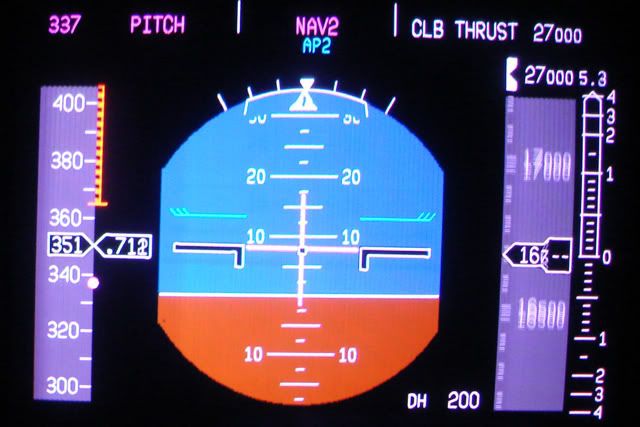 From now on, life got a bit more complicater. Shortly after take off you have to call Dhaka Control to get the permission to fly through their airspace. CCU only cleared us to climb to FL270 unless we requested FL410!!! So we leveled off at FL270 and contacted Dhaka. NOBODY could give us a further climb clearance... Dhaka doesnt have the permission from Yangoon and CCU said: its not my airspace anymore, check with Dhaka... So we were stucked at FL270! We tried to contact Yangoon ourself, but at FL270 your radio doesnt have a huge range, so we tried to get someone to relay for us! An EK flight helped us out, and talked to yangoon for us, but same result: maintain FL270! We told them again: if we have to fly to HKG at FL270 we wont make it because of fuel shortage! We reduced the speed to save as much fuel as we could! At FL270 245knots... Pretty slow eh? But it saved us fuel which was our first priority! But no chance... Nobody let us climb to any higher level... After 1.5 hours we finally reached China (Kunming) and they gave us climb to 12600m which is FL411!!! Finally! But our remaining fuel for HKG wasnt too much anymore, but still enough to make it and have enough for a possible diversion! So we now could relax and enjoy the last bit of the flight...
Rest of flight was pretty uneventful! But you never know how short the approach will be in HKG. And as usual: we came in too high
But the MD11F is good in descending, when so light! If she wouldve been heavy like in CCU it wouldve been a close call... We contacted tower, still slightly too high and the controller said: you appear slightly high, you sure you can make it? We just said: sure! And continued to descent within all approved and safe limits!! Slats, Flaps and Gear, everything was down and then finally we were perfectly on the localizer and glideslope... And still 1500 feet to descent to touchdown... Well, the MD11F is a bit bitchy with that light weight and the touchdown was not really smooth, I like to call it positive
not too hard, but not smooth either, but ah well! Shit happends! We vacated the runway and made our way to the parking stand... we arrived 30 minutes early! It was now 2am in the morning,
Next day I slept until 3pm Hong Kong time... Then I met with the captain for diner and then we headed back to our rooms, we were both pretty exhausted from the day before, it was a long and exhausting day...
A new day started and we got picked up at 7am in Hong Kong and been taken to the terminal and to the aircraft! So many aircrafts were parked there, the new 777ER of CX and the lovely 744s...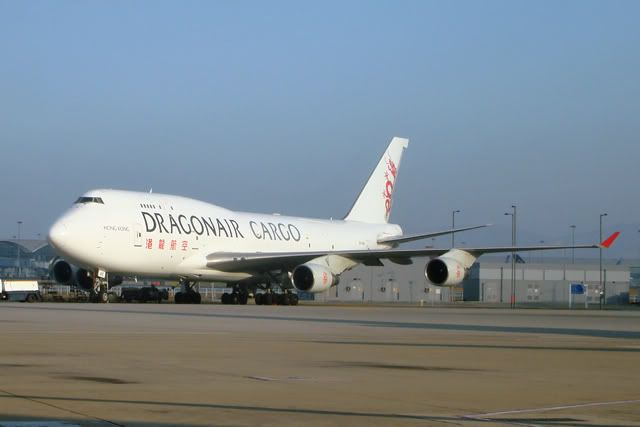 But we were taken to the cargo apron of course where our nice MD11F was waiting for us to take her to ALA.
We checked the papers again and we had to expect nearly 91 tons of cargo!! nearly the maximum!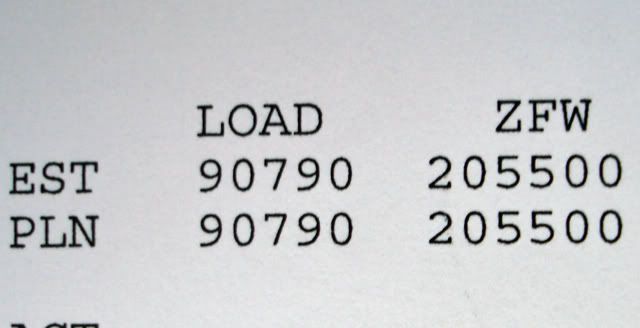 We ordered 67tons of fuel, which gave us a take off weight of roughly 271 tons... So pretty heavy! But still no full take off thrust, still thrust reduction! Not a lot, but still a bit!
Loading was finished pretty fast but the guys couldnt bring the loadsheet on time! So we left our parking position 5 minutes late. But with the calculated flight time we will make it on time to ALA, so we thought
We taxied out to runway 07R although the ATIS said it is closed but for some reason aircrafts took off from that... There was a Malaysia A330 on the runway which just recieved the clearance to take off and it left slowly! Typical Airbus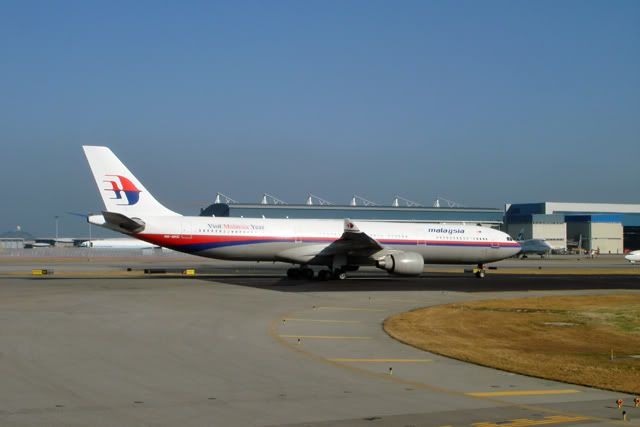 Just kidding! We were next and we entered the runway... Everything was set and done and I looked down the runway, captain was pilot flying again.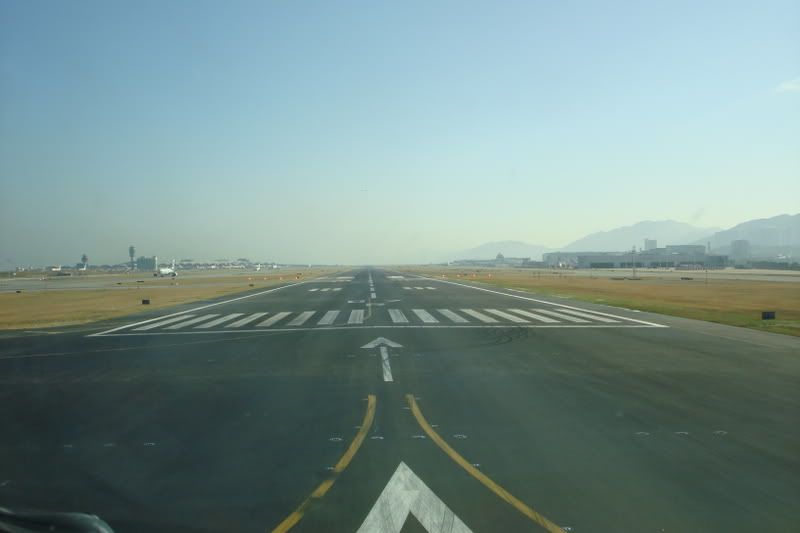 07R in HKG
CLEARED FOR TAKE OFF! The captain advanced the throttles and slowly we accelerated... 80 knots, at 161 V1, 174 Vr ROTATE and nose came up, but we didnt lift off! The wind dropped to zero and We houvered at about 3 feet in the air until our fat lady started her climb! I just thought: COME on bitch, CLIMB!!!! The end of the runway was reached and we finally climbed with at least 2000ft/min away from HKG. The departure route took us over HKG island with a nice view and as well the old airport Kai Tak as you can see on the pictures...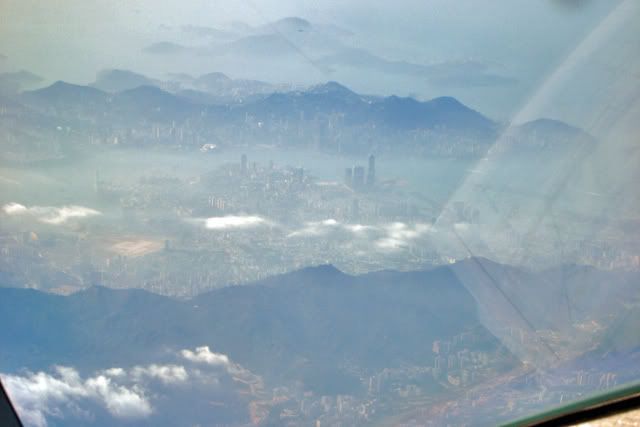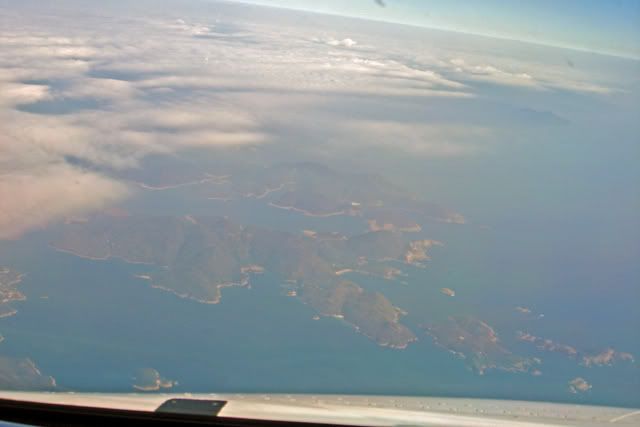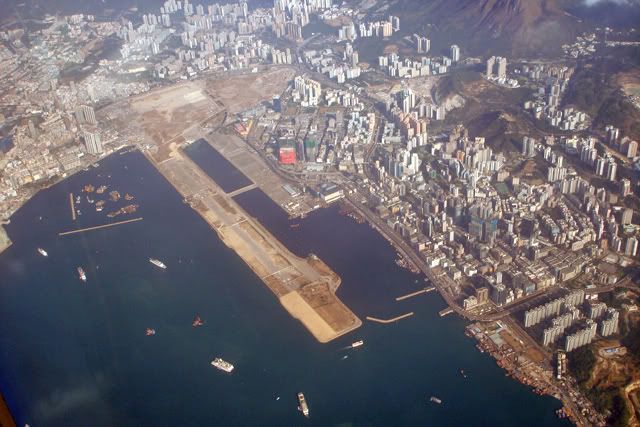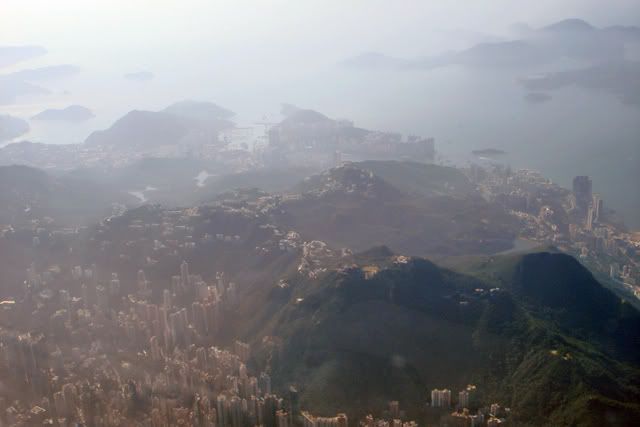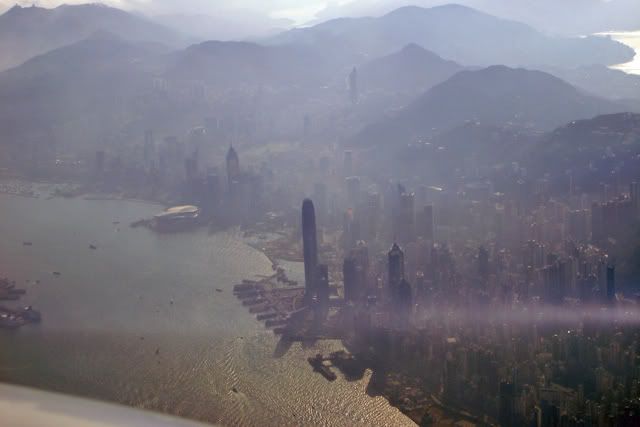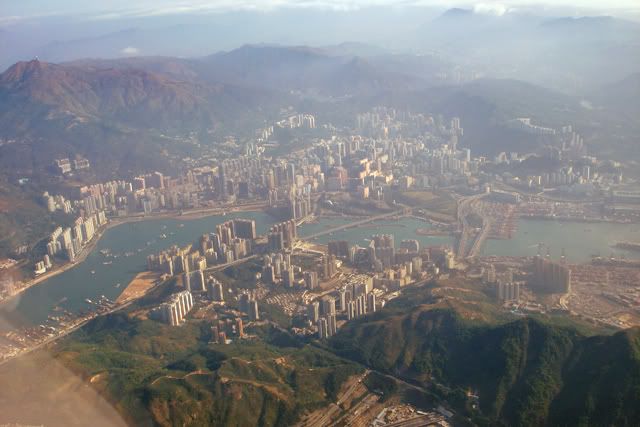 We climbed to 8400m (FL276) only! Couldnt get much higher at that point! Later during that flight we climbed to 9800m (FL321) which we maintained until ALA...
Here a few pics of the mountains you pass when approaching ALA from the east: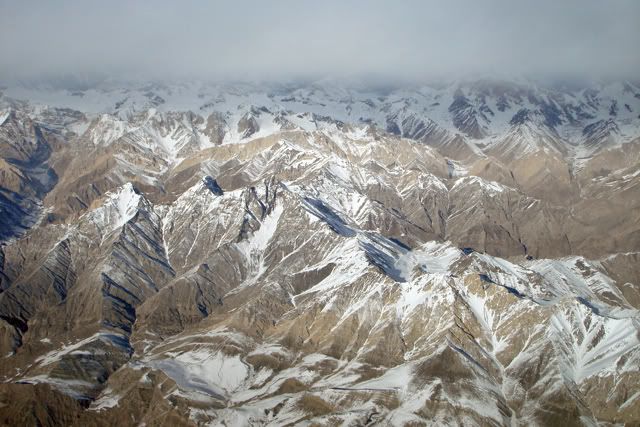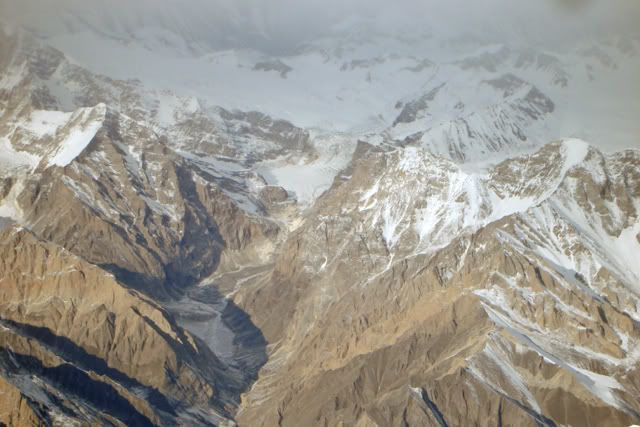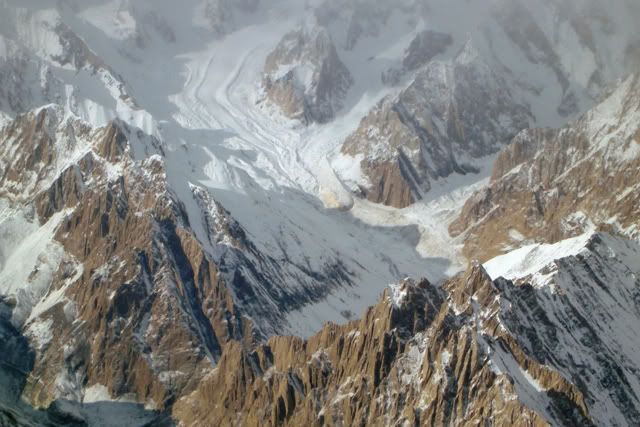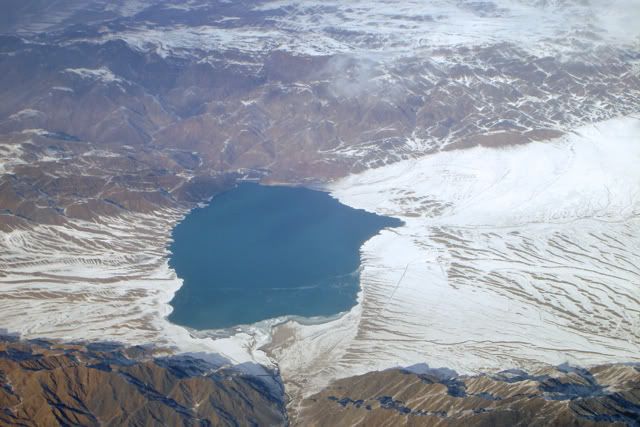 We were expecting runway 23 in ALA, because the wind was 230 at 3 meters per second (yes, they dont use knots there), but 3 MPS are 6 knots. Sounded good to us, a bit headwind on final. We had to contact ALA approach and they said: expect runway 05!!! We were like: WTF?! Ok, so we changed the FMS to runway 05... So slight tailwind on final.... Not good because we were near MLAW of 222.9 tons... So no need to have additional tailwind... Another 3 minutes later we got the change to runway 23 again, so we were happy again... And another 3 minutes later change back to 05!!! We requested runway 23 and said that we dont like the expected tailwind on runway 05. They just told us: due to traffic expect 05... Well, we said: we check it out and if its too much we fly a go around and then we want runway 23... The descent was normal again and we were cleared for the approach runway 05... 25 knots tailwind!!!! Lovely! Thats FOR SURE too much to land! (10 is max allowed), but with a heavy aircraft you try to avoid that. So, we continued for now... Slats, Flaps and gear was down. Captain was flying manually and I checked the wind all the time... We had everything between 12 and 19 knots tailwind... 100 feet above ground we still had 18 knots tailwind... in 50 feet still 15- 17 knots and captain said: GO AROUND!!!! And then all three powerful engines spooled up to 110% N1 and it got LOUD and we climbed smoothly but with a high climb rate away from runway 05!!! I called tower and said to her that we are on the missed approach runway 05 and the asked us for the reason and I just said: well, as expected: too much tailwind on final!! she didnt say anything and just instructed us to contact approach again! I just told him: requesting runway 23 NOW!! He didnt reply and I asked him: did you copy? Finally he woke up and gave us radar vectors back to runway 23... This approach was normal and uneventful and with nice 15 knots headwind
We were not amused because we asked them seveal times about the wind and changing the runway! Because of the go around we wasted about 2.5 tons of fuel and time as well! So, finally we reached our parking stand 5 minutes delayed... Great...
Then we were taken to the hotel all the way through Almaty... And here we had 48 hours off! A lot more than expected, but for some unknown reason it has increased from 12 to 48 hours! So, 2 days later back home! Thats part of a pilots life as well!
After this long time off in ALA we were picked up around 1pm in the afternoon and been taken to the airport again! Not so easy to get to the aircraft there, pretty complicated way for us... but we made it
And finally the last flight back home to FRA... Aircraft arrived in ALA and we were waiting for them. Load wasnt too high, only 68tons. But flight time was pretty long because we were planned on a route to avoid the russion airspace... Guess why?
Flight time was calculated with 7hrs25mins. With a cruise speed of mach 0.85... Pretty fast and still pretty long.
No loading had to be done in ALA, only fuel had to be filled into the tanks. We ordered 58tons... Of course we left our parking stand on time... No wait, 48 hours delayed
We taxied out to runway 05 and we planned for a full thrust take off (108.4% N1) due to the snowy weather in ALA. So we entered the runway and accelerated! It was amazing how fast 250 tons can be accelerated to 160 knots
And off we go! Lift off, GEAR UP and climbed to 9600m...
on this flight not much to say, because it was a very unenventful flight...
The weather in FRA wasnt the best, low clouds, poor visibility and -4 degrees C... Lovely eh? I was pilot flying and we planned for a flaps 50 landing. Descent and approach was pretty much normal. Cleared for the ILS 25R and slats, flaps and gear was down and we were both looking out for the runway. 250 feet above the ground I finally saw the approach lights and we were able to continue... Smooth touchdown, FULL REVERSE again and we left runway 25R at taxiway hotel... We taxied to our parking stand, engine shut down and thats it! 6.5 day trip over...
Well, thats it! A total trip from FRA to FRA of 11005 NM or 12664 miles or 20381 km....
I hope you liked this TR as well and as well some pics...
WILCO737 (MD11F)