Hi All!
Ok, so this is my first trip report... I don't have all the details, but I hope this will be a refreshing trip report as we don't see many US-Mexico flights posted on here... so here goes...
This was a last minute weekend trip back to my hometown of Mexico City just before the holidays, it came together rather quickly and I was able to get me a standby pass on MX (thanks to some connections) so I was all happy-go-lucky that I was going to MEX just for the weekend.
Pre-Departure
So this weekend trip would take my friend (co-worker) and I down to Mexico City for some weekend fun. We left on Friday Evening to return Sunday Night. We had a hurried escape from our office (around 5:00 pm) and the flight was to depart at 6:35 pm, so we were cutting it really close! Traffic in Vegas was of course horrible on a Friday night and we prayed the whole way down to the airport that we would make it. Thankfully we did due to the fact that the flight was delayed about 20 mins. We arrived at the airport around 5:45 pm, check in was already closed, but thank to our connections (we both used to work for MX at one point) the ticket counter had already checked us in and we were ready to go in no time. We stopped by the mediocre Duty Free at T2 to buy some vodka and cigarrettes for Mexico and off we went to the usual Gate 1 in LAS T2.
It turns out we were about 35 mins delayed, and I was suffering because I knew I was going to have less time of being in MEX the later we got!!! However, we recieved a nice surprise just before boarding when we were informed we had recieved some complientary "Clase Ejecutiva" upgrades!!! YAY!!!
Boarding began sooner than later and we waited till everyone had borded before we went on board. I didn't take any notes on MX 999, but I can tell you the aircraft was an A320 and I was a little dissapointed at first as I know most of MX's 320's do not have IFE, so I knew I'd have to rely on the iPod the whole way down... no big... but still, I like to catch up on movies sometimes when I'm on flights. In any case, we had been assigned 3A and 3F as "Clase Ejecutiva" was about 80% full when we recieved our upgrades, however, as soon as we boarded the two gentlemen on 3C and 3D were travelling together so they offered to switch seats so that we could seat together (Nice), and off we went on 3A and 3C.
Eventhough we were the last ones to board, we still waited a few more minutes at the gate before the jetway was removed. The flight attendants were very nice and we were quickly offered the usual "Welcome Aboard" drink, I chose Vodka Orange and my friend chose Tequila Orange. We were about half-way done with our drinks when we finally started push-back. Taxi was unusually quick, if you've travelled to Vegas, you know that you always have to depart from the furthest runway (the one closest to Eastern Avenue) however, this time we took off from the runway closest to the strip (Please forgive me for not knowing the Runway numbers). I've take off from this runway before, but it has been the usual North to South take off, however, this time we took off the opposite way, South to North, so it was quite a suprise... too bad I had give up my window seat to my friend.... oh well...
So off we went into the skies, and the A320 was powering on to MEX. As I had mentioned before, I was dissapointed because I knew our A320 wasn't going to have any IFE on board, so I quickly readied my iPod for the 3 1/2 hour flight down to MEX. However, shortly after take off, we were offered personal TV stations. I had read about these, and I had travelled in MX's C Class quite often, however, this was the very first time I was actually going to get to try one. I was actually very surpised at the size of the PTV once it had been handed to me, I was also surpised by the weight, this isn't a light instrument folks! In anyway, I had been reading the in-flight magazine (Vuelo) just prior to departure, and I had seen the selection of about 3 movies to watch on the PTV (Amongst other programming like short programs and music) however, I was pleasantly surpised that the PTV had more programming than the one advertised on the magazine, so I settled in and I decided to watch "Transformers", which by the way, was not advertised as one of the available moves so it was nice that I was going to get to watch something I hadn't seen before.
Here's a pic of the PTV....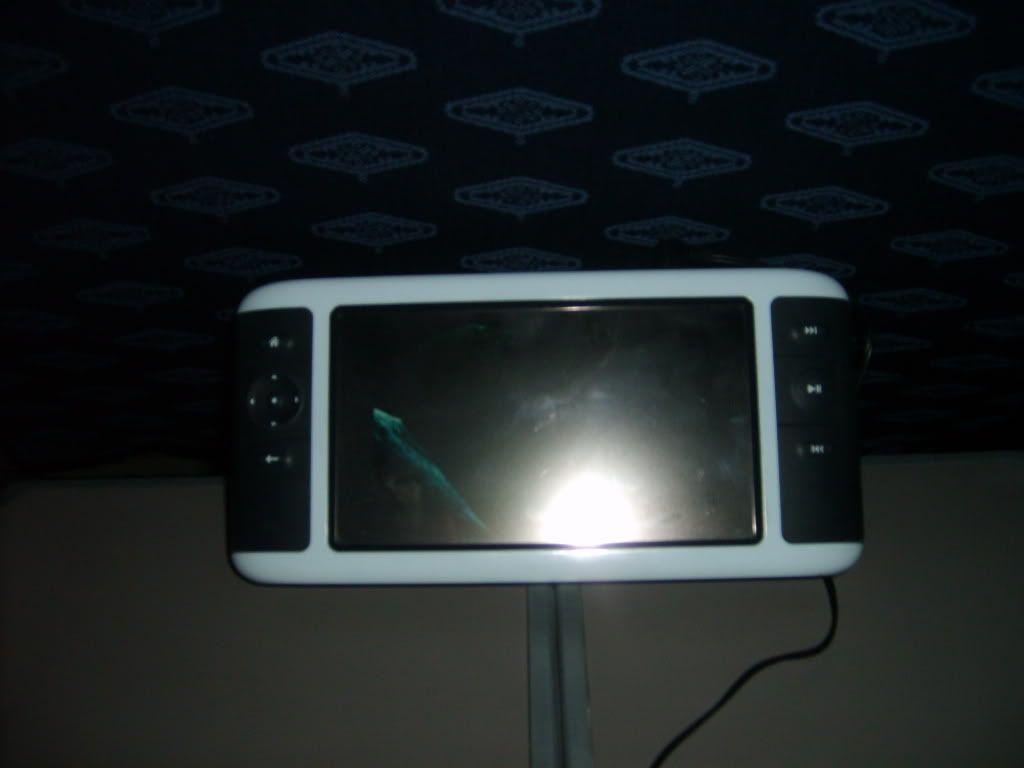 After a while of having been watching the movie, I felt that it had been a long time and dinner hadn't been offered, however, an announcement came on and they said that we should be recieving our meals shortly. I was once again surprised at how much MX's C class has gotten due to the fact that we were handed out menus for dinner (I hadn't had a menu on MX's C in like 2 years!!!) Sorry I didn't take a pic of the menu, but it was rather quickly that we were handed the menus when the FA came around asking what our choices were.
Now the menu is simple, don't get me wrong, but it's just not what you would find on some of the bigger carriers around, but it certainly is nice to have a menu on a Latin American carrier. The menu pretty much consisted of 1 appetizer (Salad), 2 entree choices (Fish or Chicken), Dessert (which was "Dessert of the Day") and Bread from the bakery. I of course had no choice on the Salad or Dessert, but I chose the Fish, which was a Glazed Salmon served on a Rice Pilaf with a touch of citrus. I was surprised at the quality and taste of all of the dishes! VERY GOOD MX!!!
Appetizer:
Glazed Salmon over Rice (Sorry I took a small bite before taking the picture!!!)
By the way, the dessert was served right along with the entree (which I thought was a drop in service from before) as the dessert used to be served separately from the main entree, and the dessert menu usually featured ice cream, which I was hoping for, but Oh well....
The Bread was served warm, and we were offered something from the tray once during the appetizer and twice during dinner. Also, every item on the menu is paired with a recomended wine from MX's "Tierra de Vinos" Program, which is nice, however I did not choose to have wine, instead I had Chilled Apple Juice and another Vodka Orange...
Dinner was served, as usual, with the white tablecloth and cloth napkin placed on your lap by the friendly FA, as well as with actual SILVERWEAR!!!! WOW!!! The only thing that I found odd was that the spoon was plastic while everything else (including the knife) were metal... hmmmm..... In any case... dinner was awesome except for the fact that there wasn't enough room for the PTV and the dinner plates on the tray table, and more importantly, for the fact that the woman sitting in 2C was leaning so far back (even beyond the natural recline of the C Class seat) that she limited my personal space very, very much!!!
Here's a pic of the cabin with my "co-passenger" almost laying on my lap!!! GRRRR!!!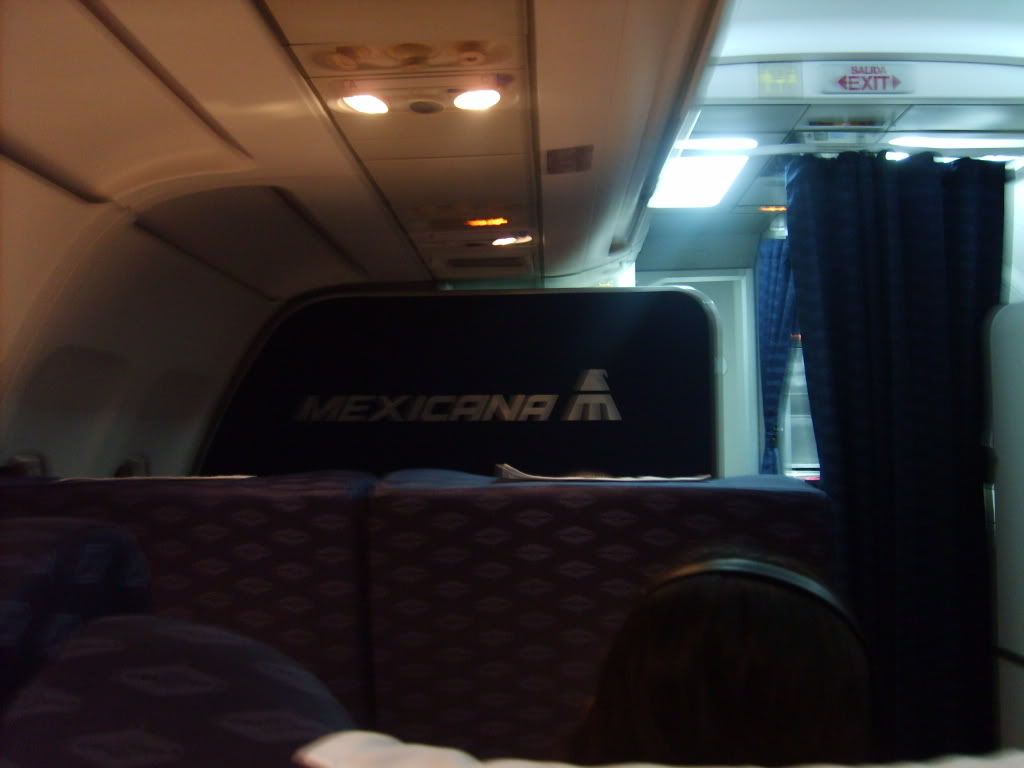 After dinner the rest of the flight went quite smoothly, hardly any bumps, and I continued to watch "Transformers" after the dinner service was removed. The usual "Duty-Free Shopping" ensued after dinner, and then the flight attendants dissapeard into the front galley. By that time I had already had 3 Vodka Orange's, so I was ok with no more service, however, I felt that the overall experience of being in First Class was reduced by the fact that after the service the flight attendants were nowhere to be seen, but oh well... they did a good job anyway....
So the flight progressed as usual and I was lost in the movie when all of a sudden a FA appears requesting the TV's back... the plane felt no where near "approach" but nonetheless the FA seemed frantic to want to clear all of our trash and take our TV's... by this time my friend had been sleeping for about an hour so she didn't mind, however I wasn't done with "Transformers" so I was kind of upset that I wasn't going to get to finish the movie, specially since I didn't think the airplane was descending.... in any case... about 2 minutes after the FA had picked up the TV's, we began a rather frantic descent into MEX. I did not have the privilege of the window this time, so I really cannot tell which way we descended, but I can sure tell you it was THE FASTEST descent into MEX I have ever had!!! About 15 mins after the FA had picked up the TV's we were wheels down in MEX... it was unbelievable... we didn't even get a "we are now starting our initial decent into MEX" announcement... it was just a "Fasten Your Seatbealts... Here we Go!" kind of deal! WHOA MX!!!
In any way, I was happy that by the time we had landed, we had made up most of our delay, however, MX's immigration procedures and baggage claim were still to follow, so I wasn't too optimistic for a quick departure. Of course, everyone in the main cabin was up and about before we arrived at Gate 25 in MEX, there were a couple announcements on board before we got to the gate reminding everyone to stay in their seats... I sort of figured that everyone was standing up, so I seriously pulled out my camera and took a pic while sitting down to the aisle behind us... Here's the Result: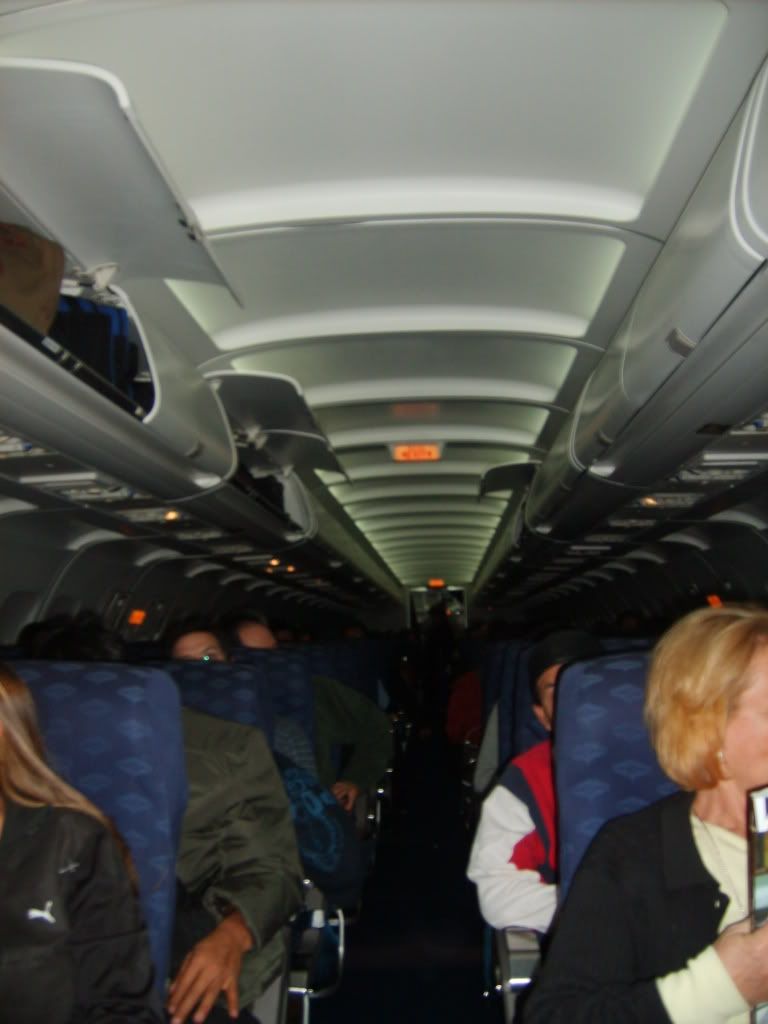 Already some bins were open, but at least most everyone obeyed and they were sitting down... NICE!
We got off the plane rather quickly but we still took about 45 mins to go through all the ground procedures in MEX before we were out of Hall F1. Not too bad, but the bags still took FOREVER!!!
All in all, the flight down was pretty good and really fast, so I was very content with MX's service, except may be for the time it took to deliver the bags... but Oh well... it's MEX, whatcha gonna do?????
_____________
After a quick couple of days in MEX, it was time to go back to Vegas, and we were sure to leave early from the Coyoacan Area of Mexico City to make sure we got to MEX at least 2 hours early. We ended up making it around 7:00 pm (for an 8:50 pm departure) and thankfully we found the usual "Sunday Night Empty" counters at MX's Hall F2. The ticket agents were friendly (if not a little slow) but nonetheless great. Eventhough I was travelling stand-by I recieved a seat right away and we were given the Emergency exit (Row 10 D-F) on our A319 that would take us back to Vegas.
After wandering around the food court for a while and buying some magazines and water at one of the shops and exchanging our remaining MXN Pesos back to Dollars, we were off to security. It was quick and painless and we were off to the Duty-Free Filled MEX terminal. I bought more cigarretes and some tequila for the way back and we made our way to the little hall before getting to Gate 19. For those of you that know, it's that little hall where the elevator is to get to AA's Admiral Club and CO's Lounge, that place where you can smoke... I love that area... but I knew I didn't want to miss my flight (like last time I had been in MEX) so we made it to Gate 19 after only 1 cigarette. We still had to wait another 20 mins before knowing the gate that our flight was going to be at (Gate 28) and after finding out we would be late about 30 mins... YUCK!
Once we got to Gate 28, it only took about 15 minutes before we were ready to board, since the flight was rather empty, the boarding process took less than 5 minutes and we boarded towards the end. we decided not to take our assigned seats and instead went to the back, to row 20, in order for us to get 3 seats apiece. It turned out to be a rather nice choice as everyone seemed to gather on rows 5 - 15.
Here's a pic of the plane before push back: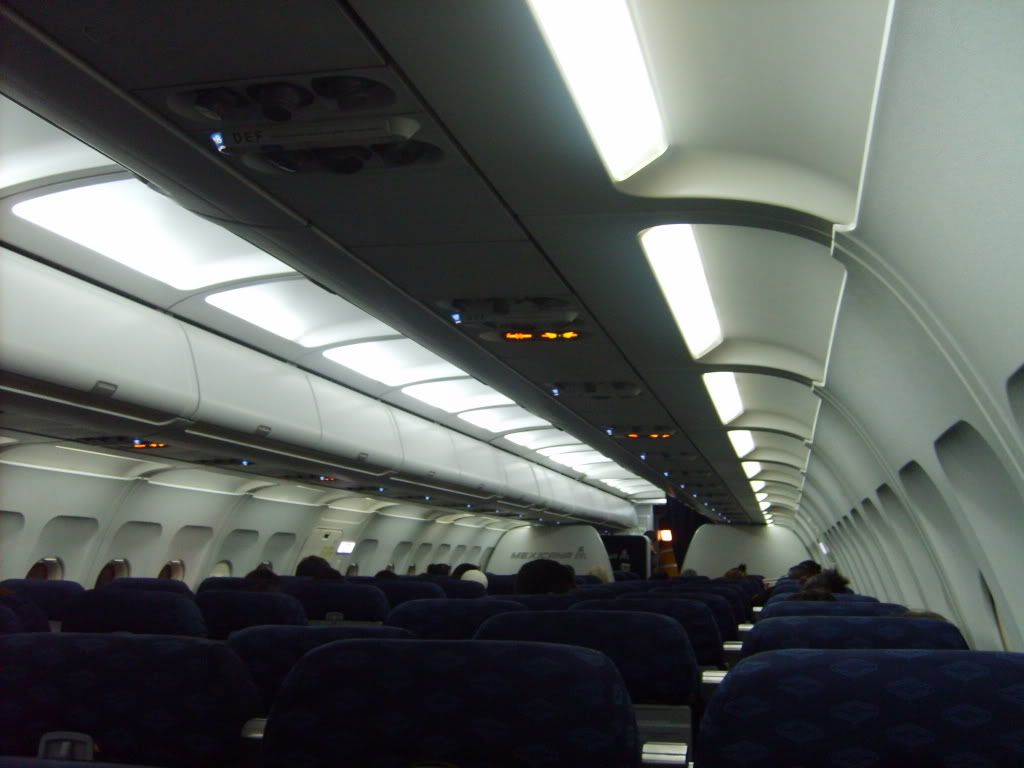 Push-Back once again took a while after the door had closed, but soon we were on our way to Vegas. I took a few picks of MEX's ramp, but none of them came out good enough so I unfortunately had to delete them...
Picture of MX's Coach Leg Room:
Shortly after take off, dinner was served... this time we had a choice of the usual open bar, and chicken or pasta. I originally chose the Chicken, however, this one seemed to be in some sort of salsa, and even though I'm obviously Mexican, I do not eat spicy food, so I wanted to send the chicken back, however I didn't dare to do it, but the FA was very kind and she noticed that I was unhappy with my selection, so she gladly took my chicken back and handed me the pasta. Sorry I didn't take a pic of the chicken, but here's the pasta: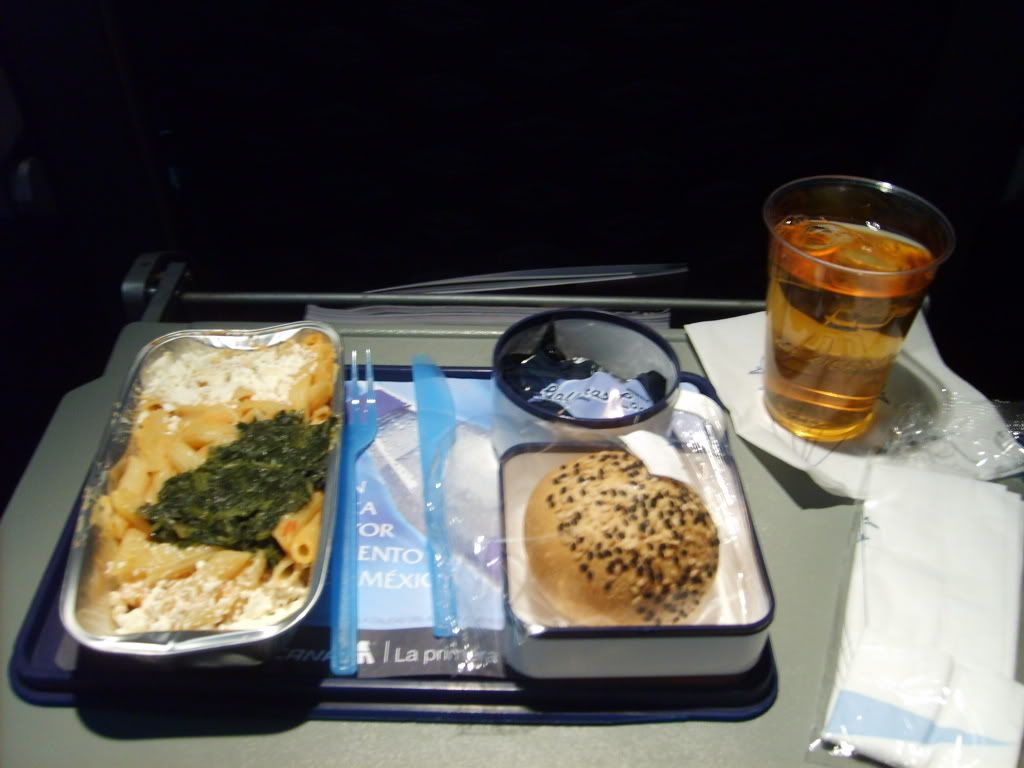 Again, I accompanied the pasta with chilled apple juice and all in all the meal was quite good, if not rather small. However, in the current world we live in, getting a warm meal and open bar is always good. The pasta ended up being quite good... it was accompanied by a roll (room temperature) and some cookies for dessert. It was obviously not the classy First class meal we had recieved on the way down, but like I just said, it was sufficient, tasty, and filling... so it didn't matter.
As we were on an A319, I was actually looking forward to the In-Flight movie, however our A319 was not equipped with Video, so this time I did have to settle for the iPod, which was more than sufficient, but I really wish that MX would get all of the fleet retrofitted with Video Eq. so that we can enjoy a movie. The flight seemed very long, but I know it was in part because I didn't feel like coming back to Vegas, however the crew were attentive and they passed out coffee and water freely throughout the flight, so I none of us felt neglected. The only negative point was this one kid that kept running up and down the aisles and wouldn't let us sleep!!! And he was like 13 or 14 too... but anyway...
Once we got to Vegas, Immigration was as usually very quickly (for returning citizens) and the bags came rather quickly too... so after 15 minutes we were on our way to the parking lot and back to reality....
So all in all... all I have to say is that MX continues to be my favorite airline and I hope I have many more flights on them and I feel that their product (at least in "C") keeps improving and their "Y" product seems more than sufficeint compared to their American counterparts... so MX keeps being the better choice to fly to Mexico....
LA PRIMERA... SIEMPRE SERA LA PRIMERA!!!
Thanks For Reading!!!
MX 77W