Here is my annual x-mas TR which takes me to SEA from New York. You can read the one from last year here:
Xmas In SEA, SEA-EWR On AS First (Pics, Vid)
(by
TK787
Dec 28 2006 in Trip Reports)
Since I like to upgrade to First class on these transcons during the busy holiday season, I bought my ticket well in advance. How advance? Well, how about July? It is kind of crazy to buy x-mas tix when it is 100 degrees in NYC but I get a choice of fares and seats. This year I wanted to get rid of all my AA miles, since AA-TK partnership is coming to an end, and since I started UA Mileage miles thinking about the upcoming TK-Star Alliance full membership later this year. Even in July, RT SEA-JFK cost me close to $500 plus 30,000 miles. It is well worth it, and I was the first one to get seat assignments on the plane. I think later, around November I got an email letting me know that there was a slight time change on my flight, very nice.
Also just a bit more background on the trip, I got a very good deal on my hotel. For the first time I used priceline.com and was able to get a nice room at downtown Sheraton for $90 a night during xmas. For those of you that are not familiar with the site; you choose what area you want to stay, what class of hotel you want, and what are you willing to pay and enter your Credit Card info, and click, Send. In five seconds my room was reserved and the amount charged to my CC. Next year I might even bid lower, see what happens. OK on with the TR.
Seattle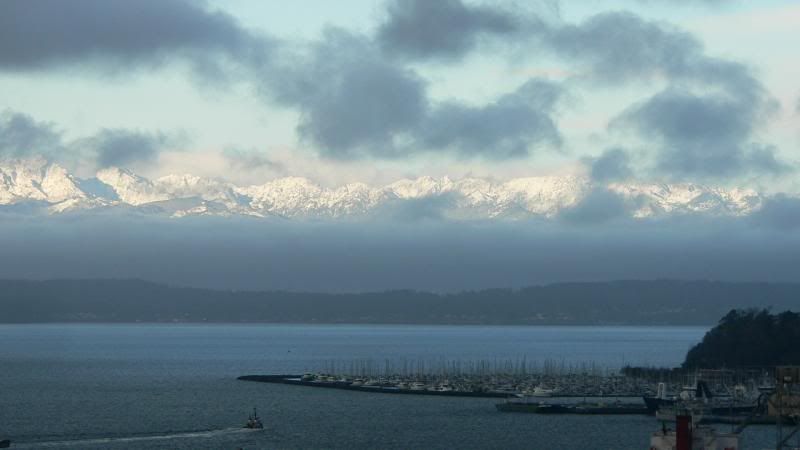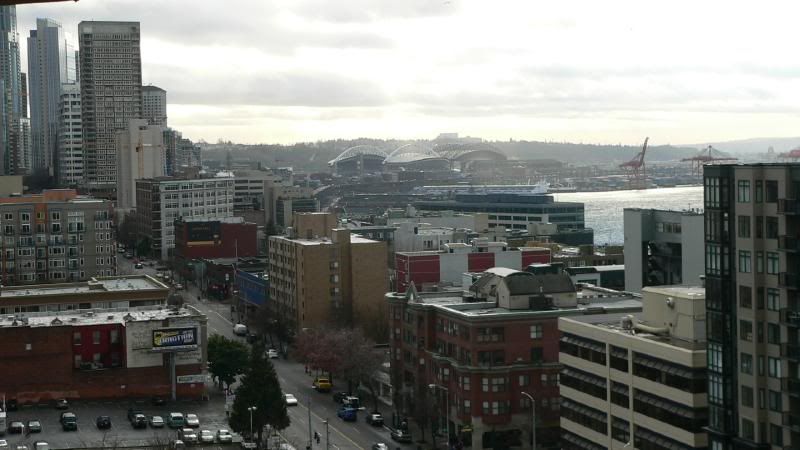 I got up early and checked the turbulence forecast and the weather and the news online, cleaned up and went down to get a cab. I left the hotel at 7am and I was at the gate at 7:30 am. Early Sunday morning, there were no traffic on the roads and the cab fare is about $30, nice..
Check in was a breeze at the First Class counter. I made sure all the miles from this trip go towards my Alaska Airlines Mileage Program. Security lines were not that bad, and in no time I was at my gate.
SEA pics:
Dec 30th, 2007 Sunday SEA-JFK
Seat: 2F
Load: 100%, 22F/ 157Y
757-200 N663AM
Duration: 4hrs 37min
Altitude: 33,000
My ride: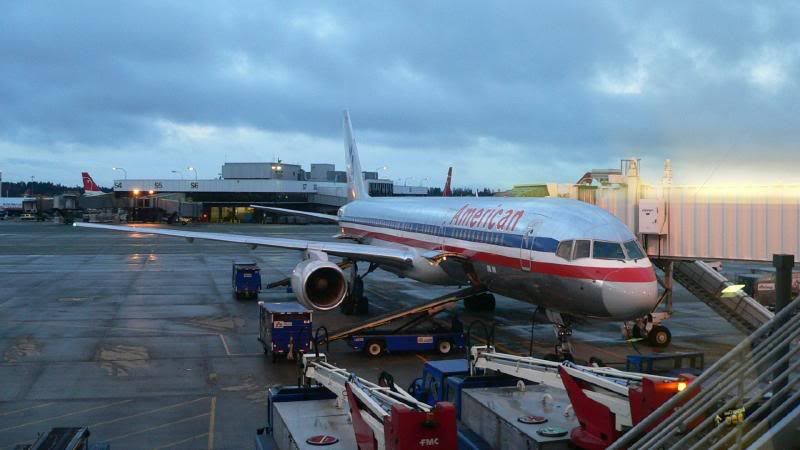 8am we started boarding, and as I sat down, my coat was taken promptly and I was offered OJ or water. On the seat waiting for me was a red blanket and a very cheap set of headphones. I always bring mine on board. Also I was given a brunch menu.
Seats: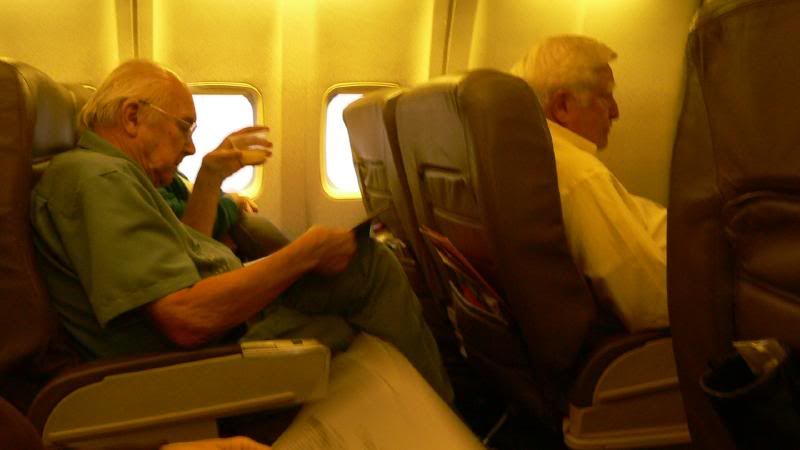 8:30am we started our pushback, and it was nice to see some other planes on the tarmac, like the Hawaiian 767, United 777, AS Eskimo's getting the Hawaiian Lei, Aero Mexico.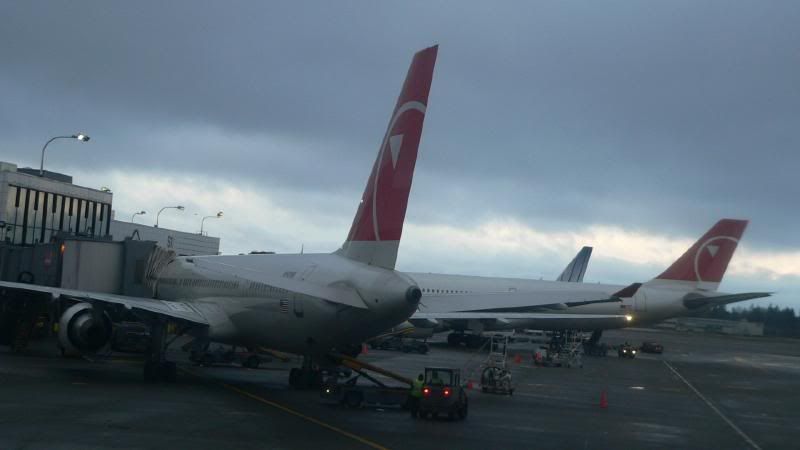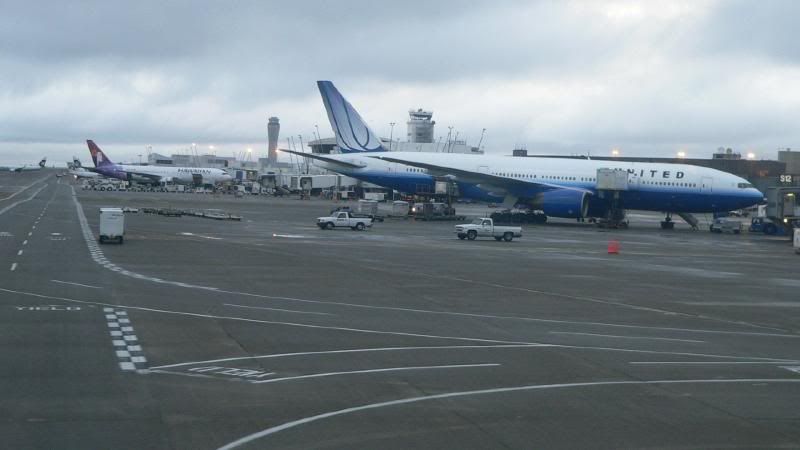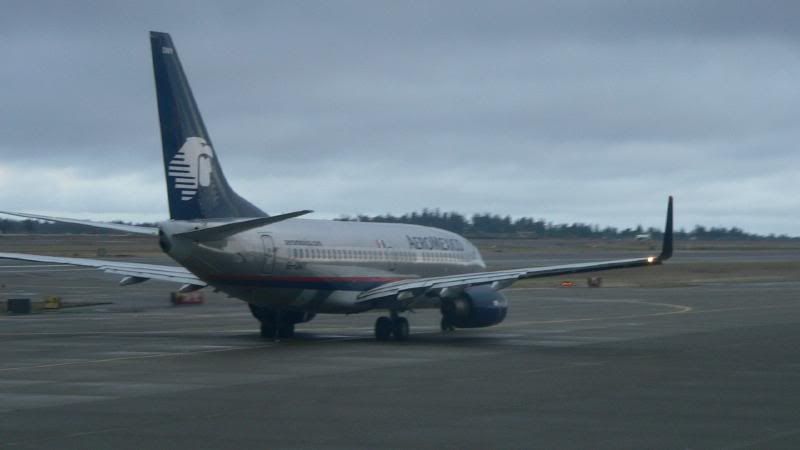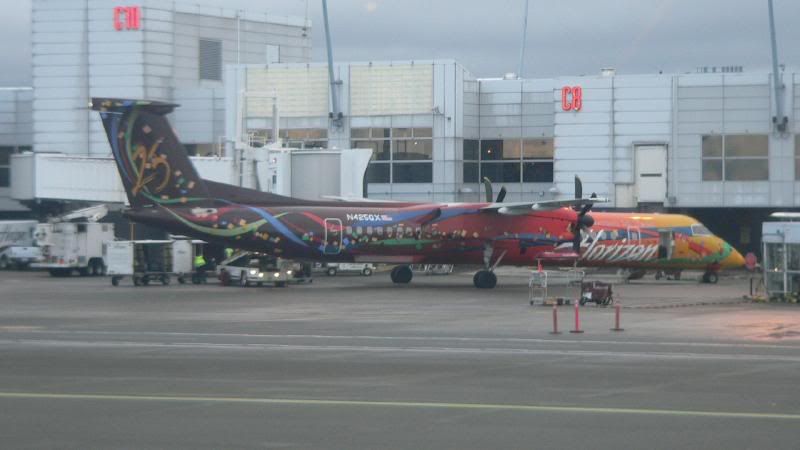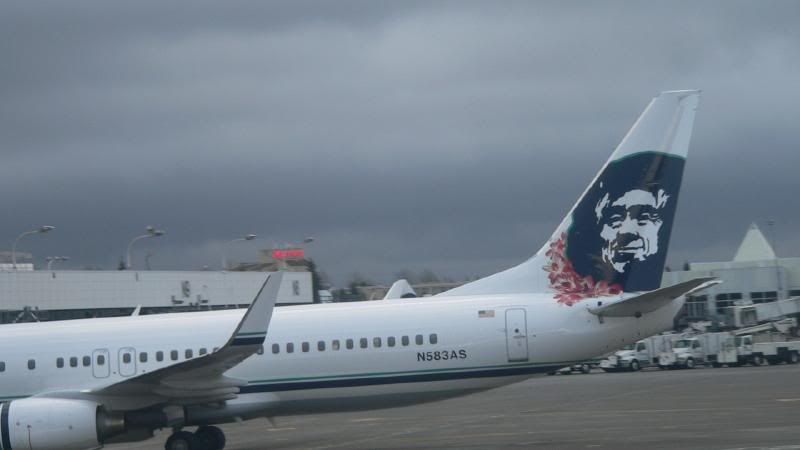 We took of almost on time 8:45pm due South.
The Cascades were supposed to get 30" new snow so it was cloudy until we were over Eastern WA. The view of Winter wonderland down below was a treat. I turned on my Ipod, and chose, April March-Chrominance Decoder, to accompany the visuals.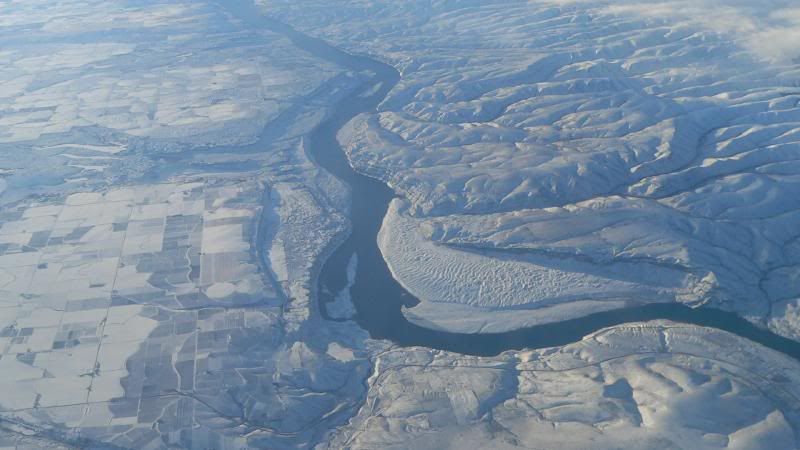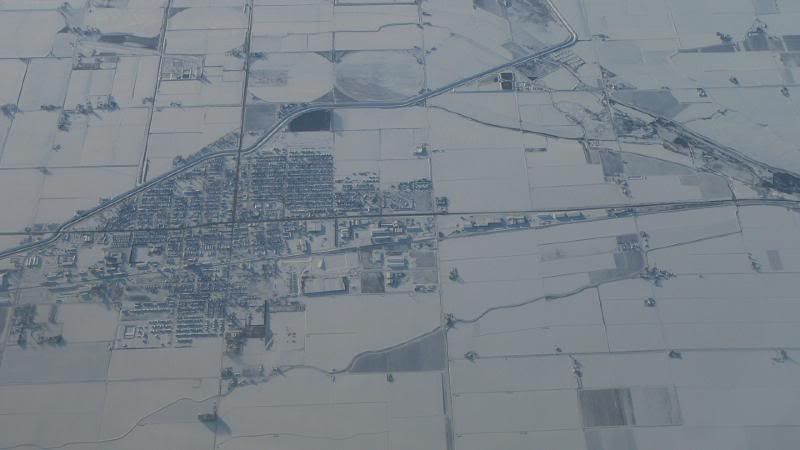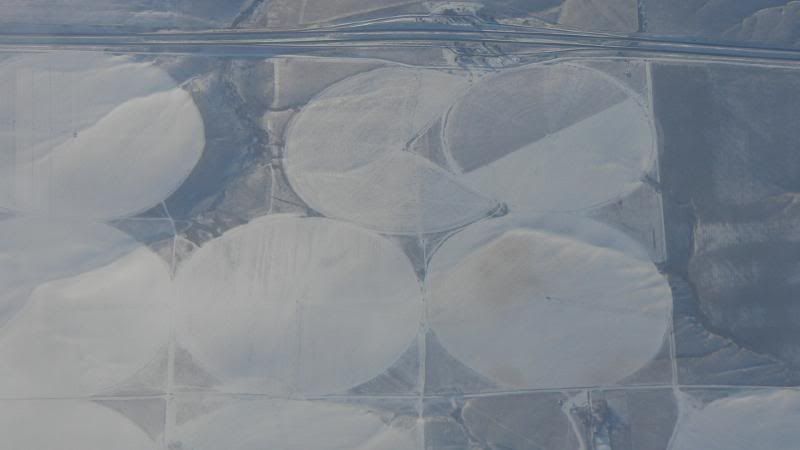 This last one looks like Pacman
Shortly after the in-flight movie started; Ratatouille. As you might imagine AA 757s still have the tube TVs in the middle.
9:15 am, at flight level, the beverage service started. I opted for a nice glass of Bloody Mary and kept the holiday season going. It was a generous size and tasted good with a slice of lime in it.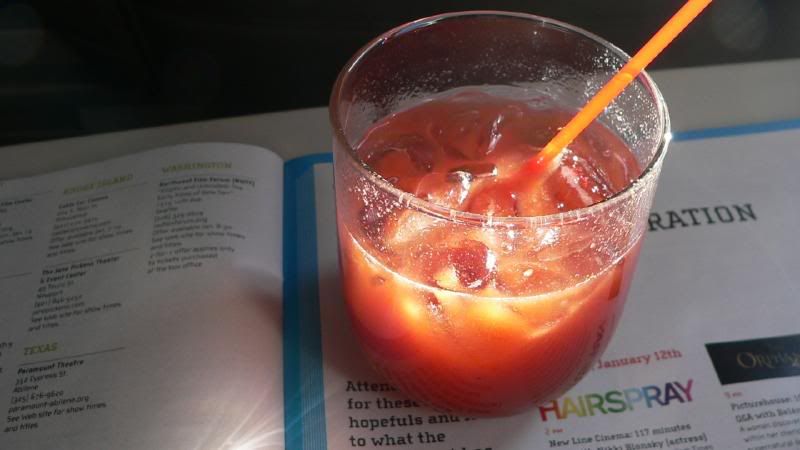 Shortly after, the brunch was served. Instead of Cereal and fruit with yogurt I got the Three Cheese Omelette; enhanced by a Poblano Cream Sauce served with Basil Pesto Potatoes and fire roasted Turkey Sausage, garnished with roasted Tomatoes. It was served with Seasonal Fruit Appetizer and an assortment of warm Breads with honey, butter and jam.
Here is something I have seen on an international flight many years ago and adapted immediately. I cover my dirty tray with a napkin after I am done.
Later, everyone is given a bottle of water, nice again.
3 hours into the flight I woke up to the smell of freshly baked cookies. We were flying over the Midwest. I was offered chocolate chip cookies with a choice of glass of milk or water. I asked for some black coffee, which I got shortly after. I was bummed that I didn't get oatmeal raisin cookies. Our FA told me that sometimes they are only given one type of cookie, oh well..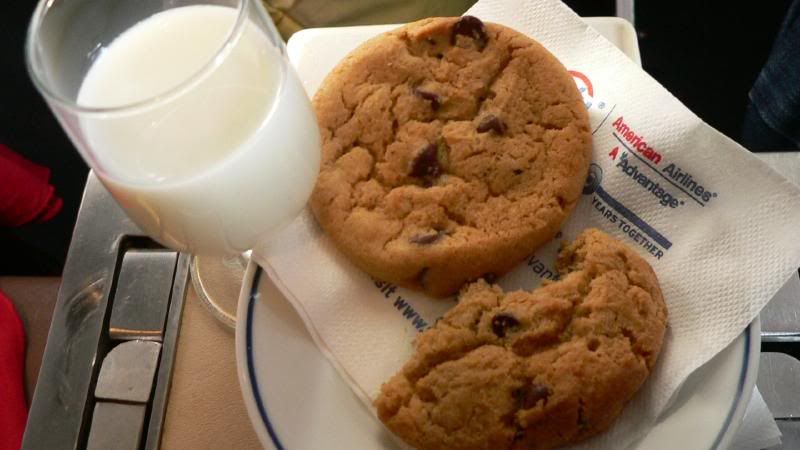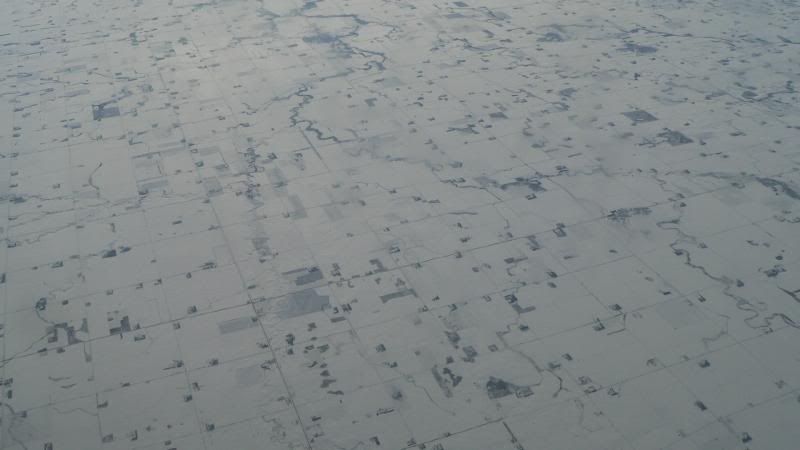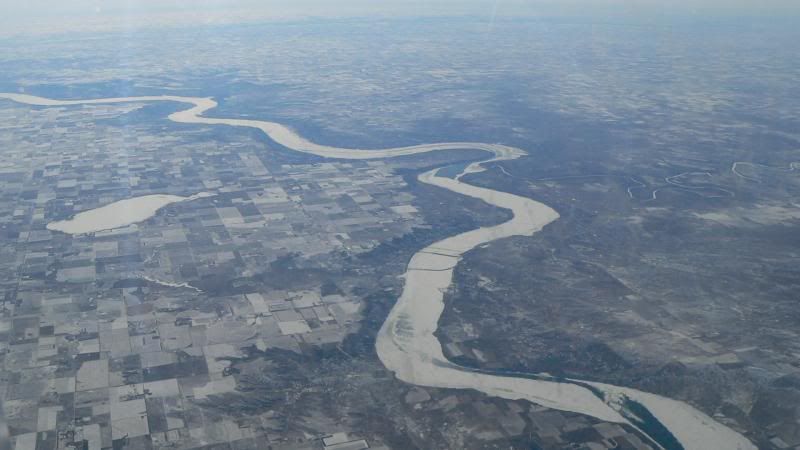 Shortly after the cookie service we entered a milky cloud, for the duration of the flight and it got bumpier, nothing too bad though.
When we eventually came out of the clouds it was nice to see that we were over Long Island.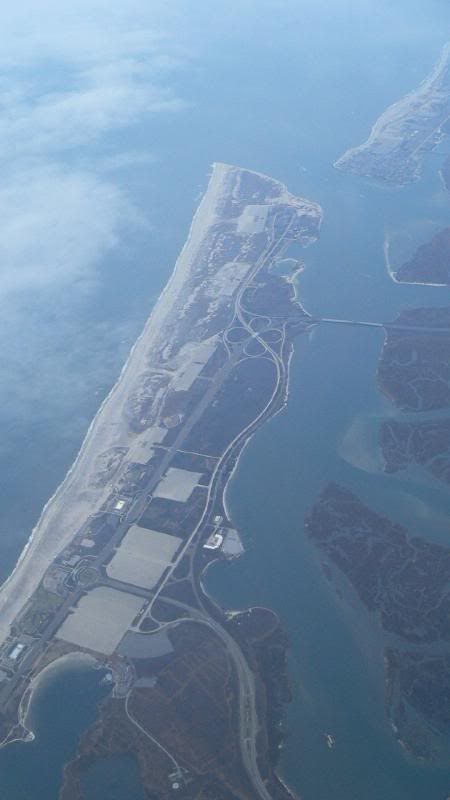 We did a big circle going over to NJ and flew over Sandy Hook and landed smoothly at JFK at around 4:30pm almost on schedule.
By 4:45 I was at the Baggage carousel. Just a reminder to everyone, some of these bridges at Terminal 8 are very long. It is quiet a hike to get to the gate once you leave the plane, especially for older folks.
I guess no need to rush to get to Baggage Claim, since there was a mishap and I had to wait an hour to get my luggage. By then, the taxi lines were crazy outside. Good thing there was a gypsy, black car, I got a $65 ride to Manhattan. For all those that are not familiar with this, if someone comes up to you and offers you a cab service to Manhattan, make sure you agree on the fare including tolls and tips before going ahead with it. Recently I met an older Canadian couple who paid close to $150. Ouch!
How would I rate this trip?
Reservations: 10
Check-in: 10
IFE: 3
Cosmetic Condition of the Plane: 7
Quality of the seats: 6
Meals: 9
Service: 10
Overall Value: 7
AA has a lot of competition on this route. Nice to see that it was a full load, but it is time to upgrade the interiors. Nice to be on a 757 on this flight as opposed to Jetblue's 320s or AS 737s.
One last thing; on the first leg of this trip while going through the security check at Terminal 8 at JFK, a detail on the giant mural inside got my attention. If I am not mistaken it is St. Sophia (Ayasofya) in Istanbul, but missing 3 of its minarets. This building was used as a church for 916 years, as a mosque for 481 years and since 1935 it is a museum. I am curious why the 553 yrs. old minarets not included in the drawing?

As always, thanks for reading. Looking forward to your comments and questions.
Edited for: Sorry I had to take the videos out, not happy with quality.
[Edited 2008-01-01 13:59:03]
[Edited 2008-01-01 14:02:43]