Feedback always appreciated.
Trip Report: 036
Flight Category: Y-DSR (See Report End)
Date: 24-Sep-07
SDT/SAT/Delay: 0415/0530/01:15 hrs
Flight:
Air India/NACIL: op. by Air India AI 601
, 385 miles
Routing: HYD-BOM
Aircraft: 310
Seat: Economy Class, 19A
I > Background:
Ok, I am back! After taking a sabbatical from trip reports for 5 months, here is the first installation from a series of trip reports. Mid-August to mid-November 2007 saw the craziest of my travel plans. 69 flights totalling 175,028 kms on 35 airlines, visiting 49 airports in 34 countries in all 6 continents. And, here is the best part … all of them were part of a 4 month break from life … pure vacation, and pure food for the mind, body, and soul. Together, they mounted to 21/2 round-the-worlds that was truly insane. As usual, all long haul flights were on Business or First Class; short haul was on Economy Class.
I believe this will be the first TR on a AI domestic flight, and perhaps the first for HYD-BOM. Preliminary A.Net searches indicate the same. Reason for flying was that I had never flown Air India internally in India, and thought it would be a good time to fly the airline before it undergoes "radical" transformation as one NACIL entity. Moreover, I wanted to fly the A313 one last time with AI. These aircrafts had formed the backbone of AI's fleet for a long time, and I am afraid that they will soon be retired as more 320's and 738's of the merged entity comes in.
II > Pre-Flight:
a) Before Airport:
I could have booked online using Air India's booking system at
www.airindia.in
. However, I really wanted paper tickets
… so after calling the toll-free number and making the reservation, I went to the AI-WHQ in Bombay and picked up my paper ticket. I am
SO
going to miss paper tickets. The woman wanted to issue me an e-ticket and was super confused when I insisted on a paper ticket. LOL. One thing that annoyed me is that you cannot pre-assign seats on domestic flights through counter, phone, or internet. Why?
b) At Airport:
India is the only country in the world where domestic terminals are markedly better than international ones. Perhaps it's noble pursuits and democratic pressures to look after local populace over creating an impression for the foreigner … who knows … but the difference between the domestic and international terminals at Hyderabad is heaven and hell. Ok, maybe not heaven … but definitely better than hell. This difference between domestic and international is also true at CCU, DEL, BOM, MAA, etc. Anyway, HYD domestic is calm and collected … however, as I was flying AI, I had to make way to the international wing at HYD and pure chaos. Seriously, I would like to consider myself well travelled in India, but HYD took the cake … and there was only ONE other international flight at that point. EK to DXB.
So after pushing my way through the crowds of well-wishers, my ticket was checked by the security agent at the entrance, and I made it to the AI counter. Check-in was surprisingly smooth and all the Indian men giggled as they thought it was funny that this Gringo was flying AI domestically. I was told by the agent that I was the "only one today not flying internationally" as he enthusiastically put my LH M&M number into the reservation … and voila, it was on the boarding pass. After check-in, I explored the "terminal" and met this Singaporean guy (Mr. Chu) at this snack counter. I made the mistake of responding to his small talk … and God was he obnoxious. He went on this 10 minute tirade on how "Hyderabad is unlike Singapore" (DUH) and how everything is "so much better" and "so much more efficient." I mean seriously A.Netters. People like this need to not travel … oh, and this was his 4th business trip to India?! Anyway, so on the 14th minute of the conversation, he said for the 4th time (yes, I counted) how "India is so different than Singapore". In my most dead-pan face, I said, "Ya. It is a democracy. Singapore isn't." LOL. I felt mean … but it totally shut him up. Thank God most Singaporeans are unlike Mr. Chu. Anyway, after bidding adieu to Mr. Chu, my boarding pass was checked and I went to the immigration line … but I wondered why I should be on this line … so I kinda just ignored the immigration counters and proceeded to security. The Immigration officer didn't even bother looking … now, at the Security I was told that I had to wait for this one dude who would come and do a "Customs Clearance" where I had to declare any large sum of money. As much as I absolutely adore India, some things make no sense … but make me laugh. So since I was the only passenger, I waited for like 45minutes before this AAI "babu" came and asked me all these customs questions, stamped my boarding pass, and then let me go. One thing to keep in mind … all the security agents were super nice to me … and one felt sorry and offered to buy me tea
. YAY. This is why I love the place.
So after clearing security, I went to the boarding area where both AI and EK flights were called at the same time from a tiny door. Uugh. There was much pushing and shoving in keeping with the spirit of ILBST. Actually, this was on the bad side … compounded by a super aggressive EK agent who was keep on ensuring his flight took on time. Uugh again. Anyway, after all the crap, I walked onto the 310 and back to mid 1980s. As I made my way to my seat, I was awestruck by the interiors and the overall retro feel. Load in J was 20%, and Y load must have been around 60%.
Airport - External:
(HYD Domestic – looks decent)
(HYD International – super "IADS")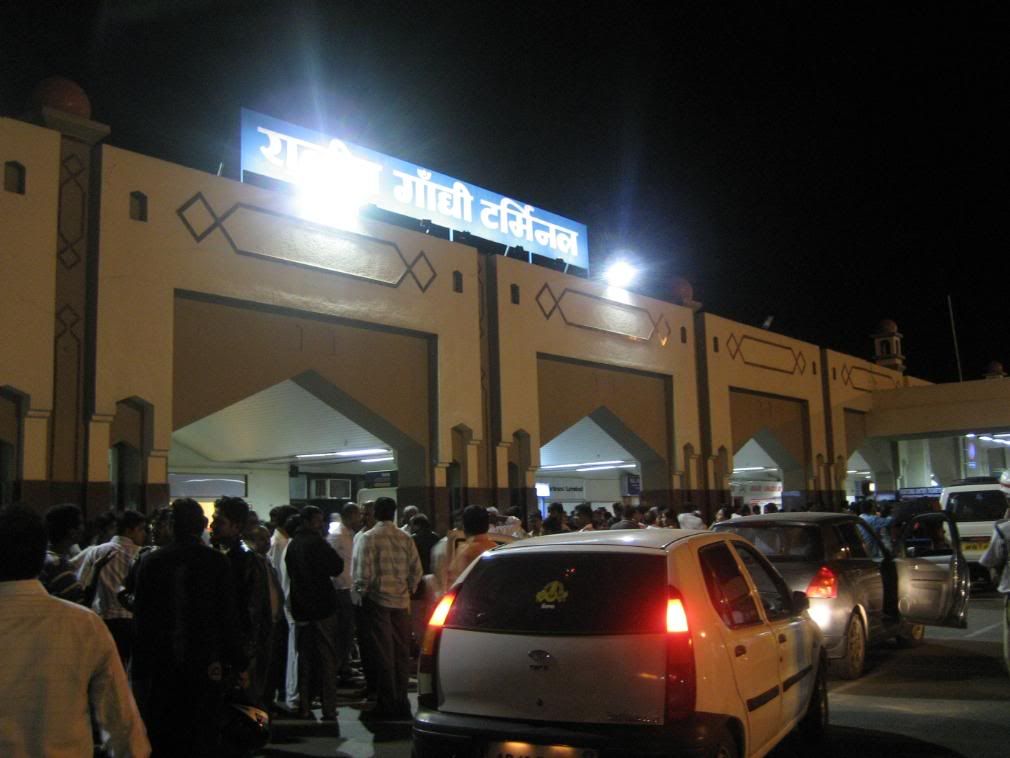 (Very Indian external departure board)
(Ok, people … go home … nothing to see here)
Check-in:
Airport - Internal:
Scenes of the tarmac:
NONE
Lounge
NONE
Boarding:
(Boarding area lounge)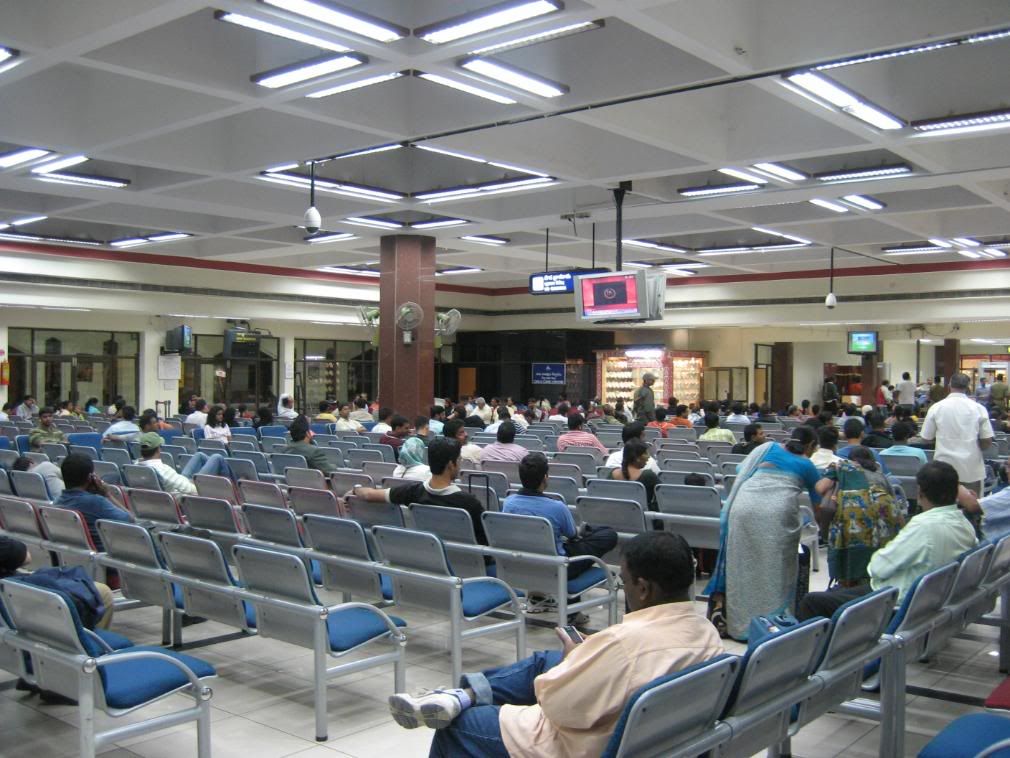 (Mad ILBST – people, how do you have this energy at 4am?!)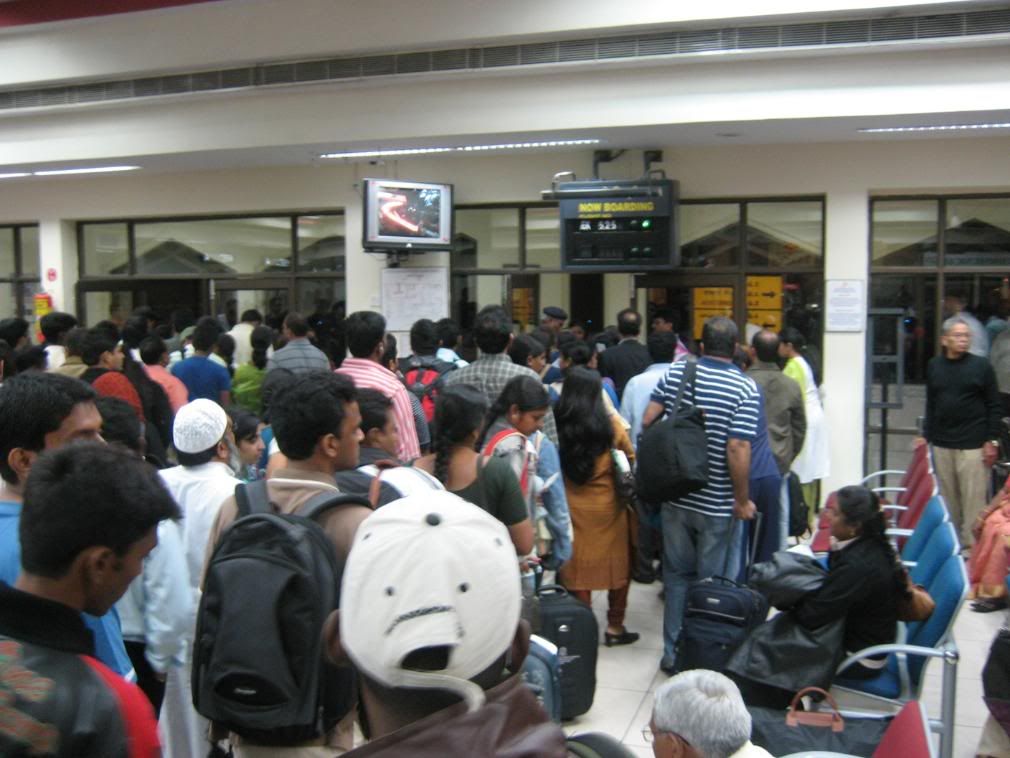 III> In-Flight:
a) Service Schedule + Impressions:
Juice service prior to take-off. Snack service soon after take-off.
b) Aircraft + Seats:
This particular 310 came from SQ. As always, the best place to check lineage is the lavatory, and this aircraft was no different. The entire aircraft felt old with some non-essential pieces literally being duck-taped! The seats were old, worn, and certainly needing replacement. Moreover, the blanket (though in a sealed pouch) had the nastiest smell EVER! Gross. Thankfully, the lavs and the overall aircraft was clean and the aircraft did not rattle too much … which was surprising … but then again, the A310 is a very well made aircraft and I will miss them (with their distinct flap fairings and "chubby" fuselage) as they start being retired.
While worn out, the seats were comfortable and had had generous pitch, and slightly above average legroom. As most people slept, I began to have much random thoughts … like imagining all the people who possibly could have sat at the exact seat during the life of the aircraft. Ok, I digress.
Aircraft:
(Taken at BOM – I really am a fan of the now erstwhile AI logo. Simple and classic.)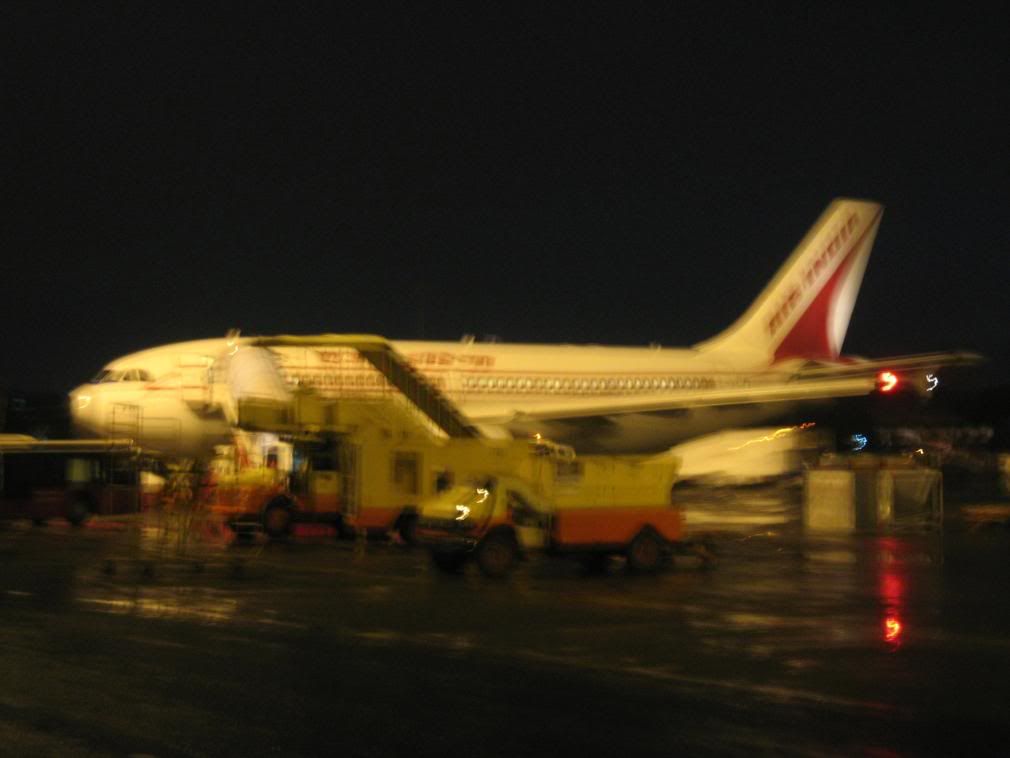 Views from Aircraft:
NONE
Seat Leg-Room:
Seat Recline + Angle View:
Cabin: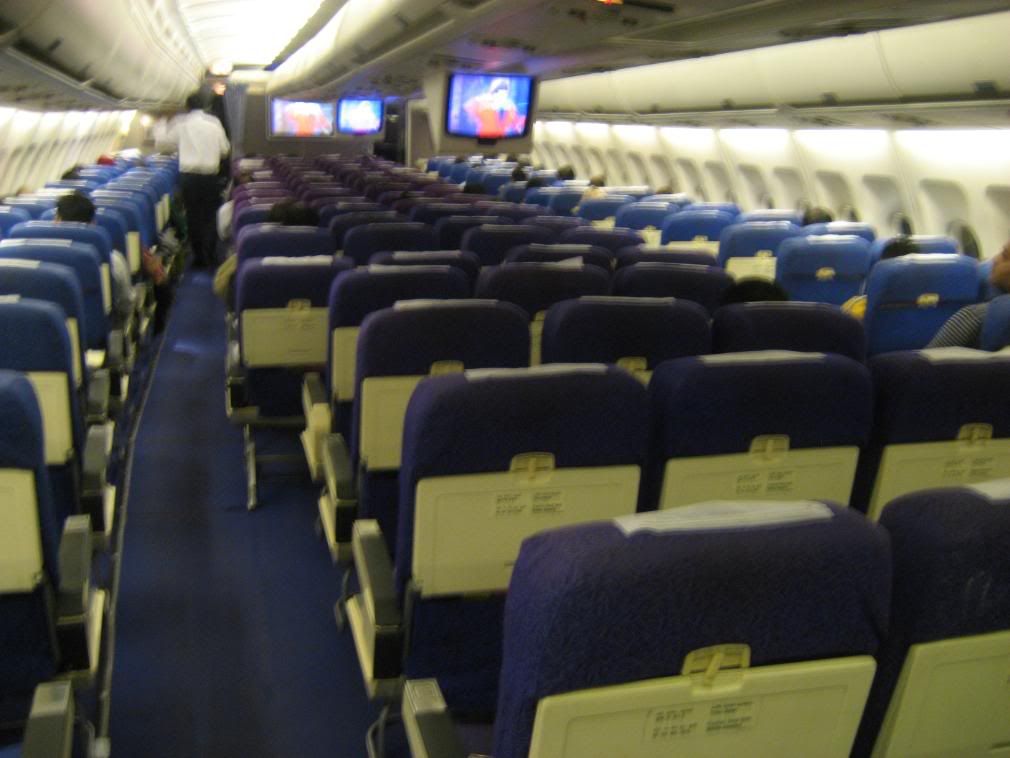 (Look at those bulk-head buttons)
(I love how LAVS give away lineage and pedigree
)
c) Meal + Beverage:
Upon embarkation, crew did a run of either water or packaged fruit juice. After take-off, was a pre-packaged meal sandwich which comprised of a cheese sandwich, a vegetable sandwich, and a weird dessert. While I appreciated the gestures at the ungodly 0415am departure, the food itself was absolutely horrible. The sandwiches were barely edible, and the dessert was just horrible. I had no idea what it was – it was hard and sweet. Yuck.
(Pre-takeoff drink)
(4,30am sandwich + more … nasty though)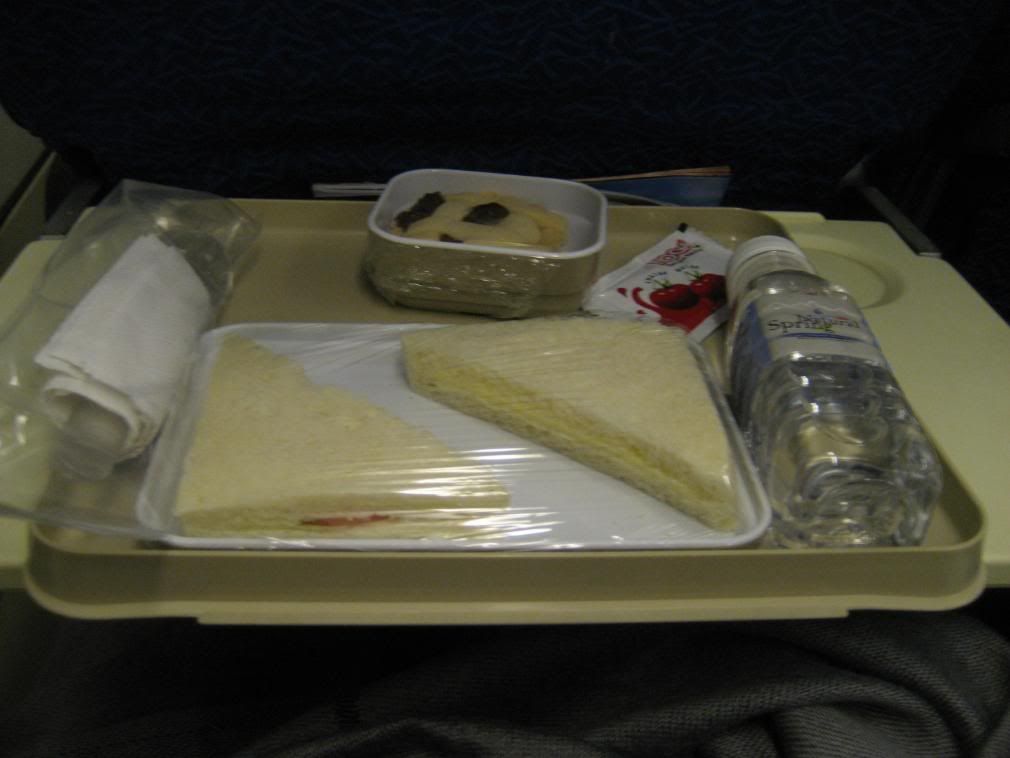 d) Inflight Entertainment:
IFE using old antiquated overhead system comprised of the "Just For Laughs" serious … which I am convinced is Canada's single greatest contribution to aviation. In-flight magazine was of good quality.
(IFE)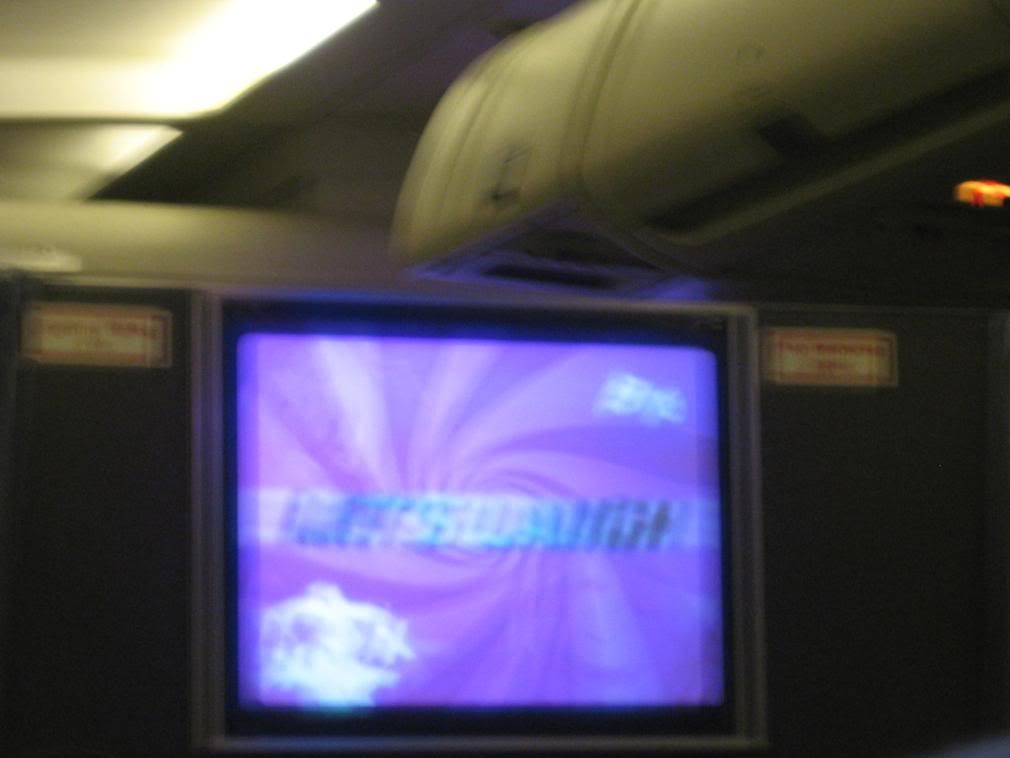 (IFE Controls – falling apart?)
(Headphones + super dirty and smelly blanket)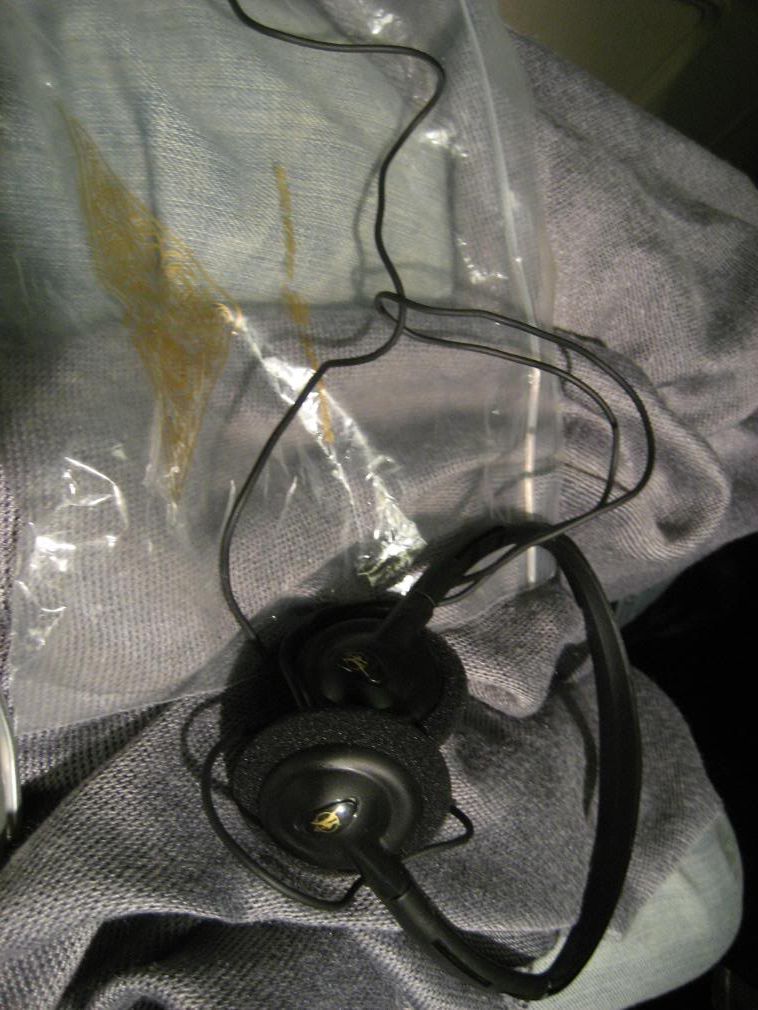 (In-flight magazines, Boarding Passes, etc. – I LOVE the dot matrix boarding passes!)
e) Crew:
Ok. While I absolutely adore IC crew, I found their counterpart AI crew to be lacking charm and smiles. I understand it was an early morning departure, but the crew was missing for most of the flight. Is this India? Or is this an Air France flight?! They were nowhere to be seen during passenger embarkation, and nowhere during disembarkation. The meal service was done devoid of anything human. I went back to express my interest about the 310 to be met by blank stares and a non-verbal request to be left alone. There was one guy who came by later to say … "let me know if you need anything" … "except alcohol unfortunately. It is domestic after all". LOL. Not good overall impression at all.
IV> Post-Flight:
All passengers except me were connecting internationally, so I made my way through lonely corridors to the exit. At immigration, there was another small arrow telling me to bypass the counter. Of course, my boarding card was checked at exit.
(Aircraft next to us at BOM)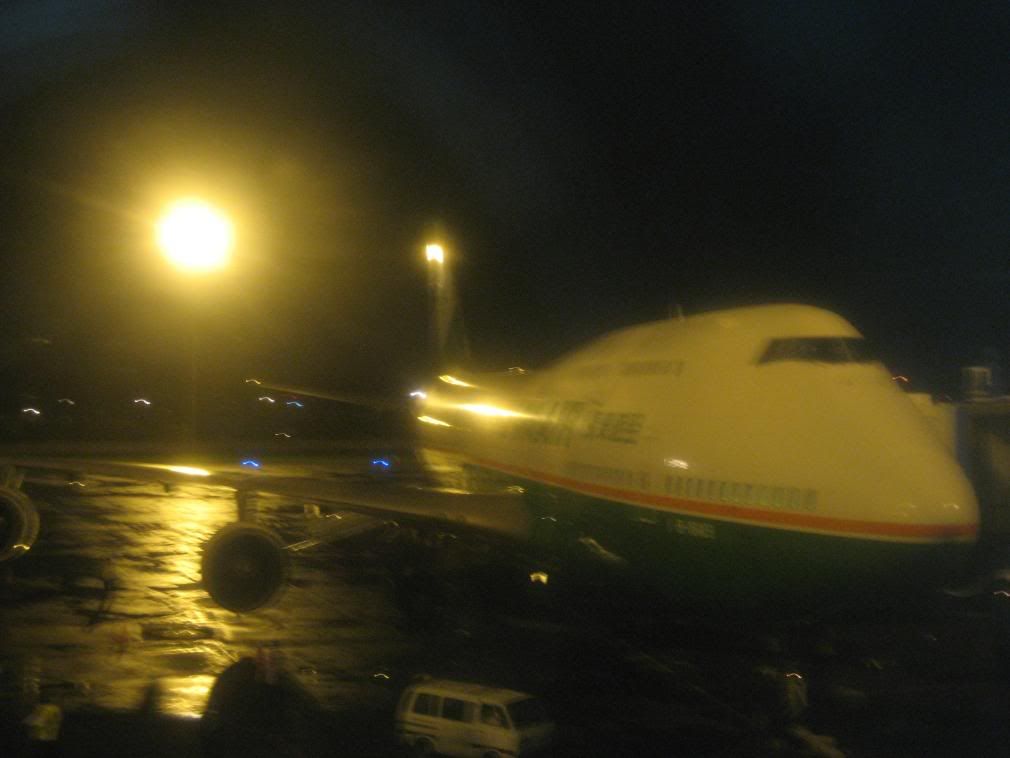 (CSIA Arrivals – along the long walk to the exit)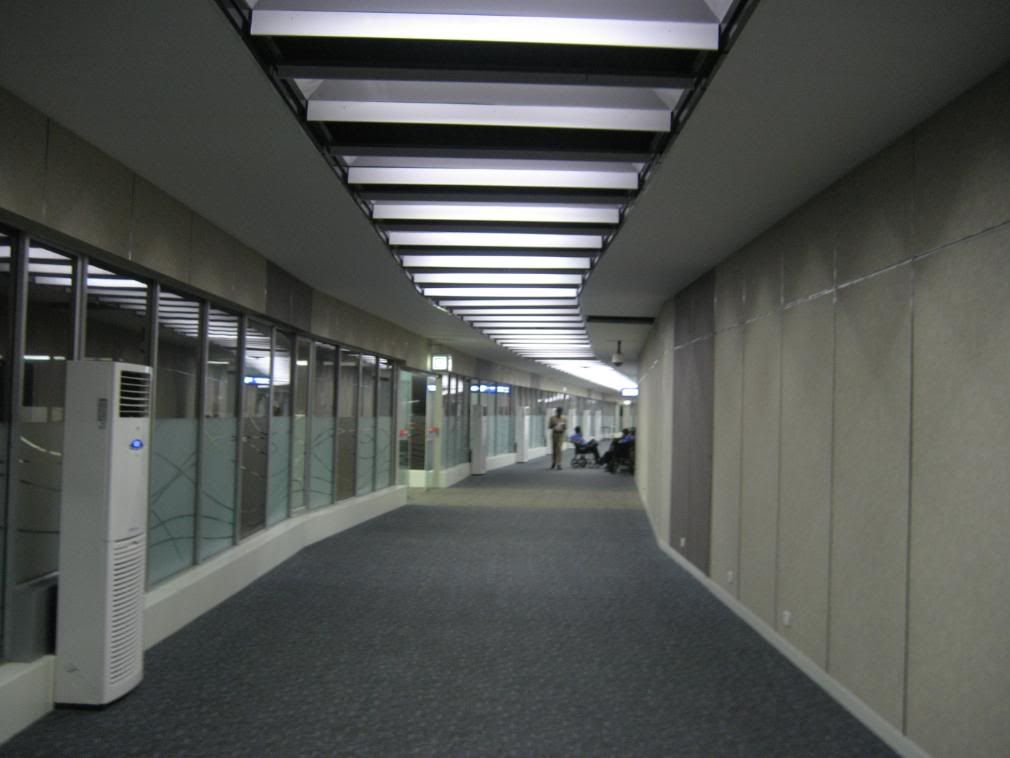 V> Impressions + Scores:
While AI might have got a fantastic new livery, and their 777's do indeed rock, I found them to be many notches below IC on domestic India flights. IC crews seem to care much more about their jobs. Perhaps because it was a domestic segment, the AI crew seem to not care. I was disappointed at the dirty state of the blankets and the poor IFE as well. Given India's super competitive airline industry, I cannot enthusiastically endorse AI as the first choice.
1.0 > RESERVATION: 6.5
2.0 > CHECK-IN: 9.0
0.5 > LOUNGE: N/A
0.5 > BOARDING: 2.0
2.0 > SEAT: 7.5
0.5 > AIRCRAFT OVERALL AMBIENCE: 3.0
1.0 > IFE: 5.5
2.0 > CREW: 4.0
2.0 > FOOD: 5.0
0.5 > BEVERAGES: 6.0
0.5 > A.KITS + OTHER FREEBIES: 5.0
0.5 > DISEMBARKATION: 8.0
1.0 > ON-TIME RECORD: 9.0
WEIGHTED OVERALL IMPRESSION (WOI): 6.22
(Pre-flight WOI of all reviews: 6.31)
* Weighted Overall Impression (WOI) aligns scores with what matters most. Weights are indicated alongside each category.
(Scores are based on comparison with other airlines in THAT class of service – No comparison of Y vs. F for example)
VI> Other Trip Reports:
PREMIUM:
8.11:
Aeroflot (33): MOW-DEL: 09/2007
8.02:
Delta Airlines (24): JFK-CDG: 08/2007
7.82:
Singapore Airlines (06): EWR-SIN: 09/2006
6.93:
Delta Airlines (18): SEA-JFK: 11/2006
6.81:
Air Canada (17): ICN-YYZ: 10/2006
6.70:
KLM: EBB-AMS: 08/2007
5.75:
Singapore Airlines (16): CCU-SIN: 10/2006
4.42:
Air France: CDG-JNB (25): 08/2007
ECONOMY: Long + Medium:
7.38:
Avianca (01): BOG-LIM: 07/2006
6.26:
Jet Blue (21): CUN-JFK: 02/2007
6.06:
Air Canada (04): YYZ-YVR: 09/2006
5.89:
USA 3000 (19): PUJ-BDL: 01/2007
5.46:
TAP Air Portugal (23): OSL-LIS: 05/2007
ECONOMY: Short
8.24:
Kingfisher (14): IXA-GAU: 10/2006
7.87:
Indian (34): BOM-MAA: 09/2007
7.72:
Alliance Air (13): CCU-IXA: 10/2006
7.57:
Indian Airlines (10): DEL-CCU: 09/2006
7.23:
West Jet (03): YYC-YVR: 09/2006
6.70:
Spice Jet (09): CCU-DEL: 09/2006
6.58:
Air Tran (02): EWR-MDW: 08/2006
6.33:
Kenya Airways (29): NBO-BJM: 08/2007
6.31:
Indigo (15): GAU-CCU: 10/2006
6.22:
Air Link Swazi (28): MTS-JNB: 08/2007
6.22: Air India (36): HYD-BOM: 09/2007
6.13:
Adam Air (07): SIN-CGK: 09/2006
6.00:
Transairways (27): INH-MPM: 08/2007
5.95:
Air Canada (05): ALB-YYZ: 09/2006
5.85:
SAS Norge (22): OSL-AES: 05/2007
5.81:
LAM Mozambique (26): JNB-MPM: 08/2007
5.69:
Air Deccan (12): IXZ-CCU: 10/2006
5.67:
Rwanda Air Exp (30): KGL-NBO: 08/2007
5.07:
Go Air (35): MAA-HYD: 09/2007
4.96:
Valuair (08): CGK-SIN: 09/2006
4.74:
Fly 540 (31): MYD-LAU: 08/2007
4.33:
Viva Aerobus (20): ELP-MTY: 02/2007
4.11:
Air Sahara (11): CCU-BOM: 09/2006
(Note on Codes: Y – Economy, J – Business, F – First :: I/D – International/Domestic :: SR/MR/LR – Short/Medium/Long Haul)
VII> Other Pictures:
NONE