After scouring the internet for interesting holiday ideas, combined with a decent value flight, I came up with the idea of going to Albania and Macedonia, in South-western Eastern Europe, just on the Adriatic coast (east of Italy, north of Greece). On expedia.co.uk I found a good fare flying into Tirana in Albania, and out of Skopje in Macedonia on a combination of Austrian Airlines on the way out (via Vienna), and Macedonian Airlines and Swiss on the way back via Zurich. My little sister decided to come along after I booked my flights, but she took Alitalia via Rome, then Milan (MXP) respectively as my flights were full when she came to book them.
Itinerary (LHR-VIE-TIA, SKP-ZRH-LCY)
LHR-VIE
OS 458
0615-0930 (Actual 0630-0920)
A321 OE-LBC "Sudtirol"
3rd July 2007
Seat 12F
I was originally booked to fly out on the 28th June, but I was feeling really rough the night before so decided to give the trip a miss. The next morning I was feeling much better and decided that I'd try and see if I could get the trip rescheduled, though I wasn't very optimistic as the original flight had already left, and I was on a non-refundable ticket. Amazingly the agent I spoke to didn't seem at all concerned that the flight had already gone and I hadn't cancelled my seat (possibly because the flight was overbooked), and just asked me what date I wanted to go. I picked the 3rd July so I could have the weekend to get sorted properly. The change fee was only £35, and I was told I only had to pay when I got to the airport. As I was expecting the ticket to not be changeable, I was very pleased with the service I got.
As our flights was so early out of Heathrow, we caught the tube the night before at midnight (an hour from Russell Square direct on the Piccadilly Line), then went to find somewhere to crashout before the 0430 check in. We found an empty, though rather noisy spot next to the Pizza Express on the top floor that I spent 4 hours in in December when my flights to Armenia via Vienna were cancelled due to the fog. At 0420 we went down to the checkin area which was swarming with people. I nipped into the Business class line and was checked in immediately, then went with my sister to the Alitalia line which was enormous. She didn't have her credit card with her so couldn't use the self-service check in, and there were only 4 desks open for three flights (0600 to Milan, 0650 to Rome and 0750 (?) to Milan. I had to leave her in the queue to go and catch my flight.
I stopped by the Lufthansa lounge to get some cereal and a paper, and then dashed down to the gate where boarding was nearly finished. My seat in row 12 had a decent amount of leg room, and the seat next to me was free, so I had plenty of space to stretch out. There was a bit of a queue for takeoff, but there was plenty to see on the arrivals side:
BA B744
SV B777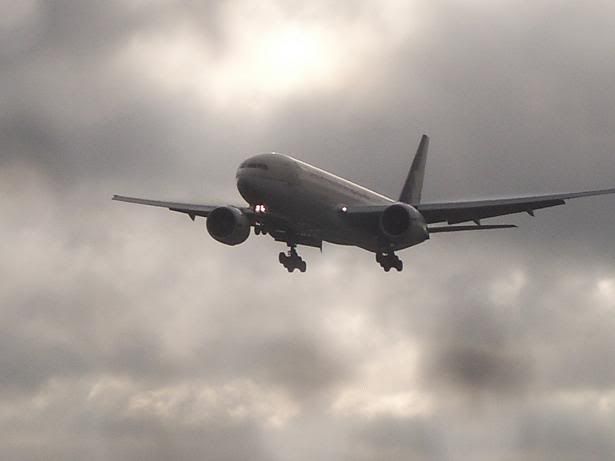 Breakfast was a full English breakfast, which was appreciated. The FAs were friendly, though they had a reasonably easy job as the majority of the passengers were fast asleep. We landed ten minutes early into a very sunny Vienna airport. After an hour in the lounge, I headed over to the gate.
VIE Airport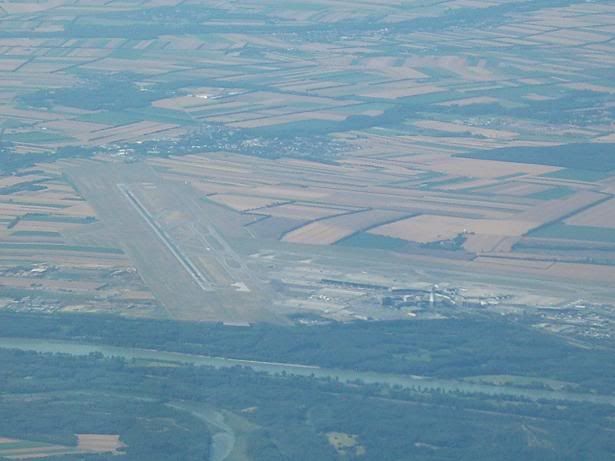 VIE-TIA
OS 847
1055-1235 (Actual 1127-1349)
A319 OE-LDB "Bucharest"
3rd July 2007
Seat 17A
This flight was fully booked, with what seemed like mostly Albanians returning home after working in Western Europe. Boarding was very rushed, with 90% of the passengers running to the gate when pre-boarding was called, resulting in an enormous clog of people on the airbridge. Once most people had boarded, and the gate was relatively clear, I boarded.
My seat, 17A, was behind the wing, and gave pretty good views. The Viennese sun was still blazing, though for some reason or other (none were announced), we were a little delayed taking off. We were served a hot meal (can't remember what it was though, sorry), along with a choice of drinks. The drop down screens showed the moving map for a bit, then 'Just for laughs'.
We didn't make up any time enroute, and so landed over an hour late into the tiny Tirana Rinas Airport. The Albanian scenery wasn't entirely what I expected. It was greener, and much more mountainous.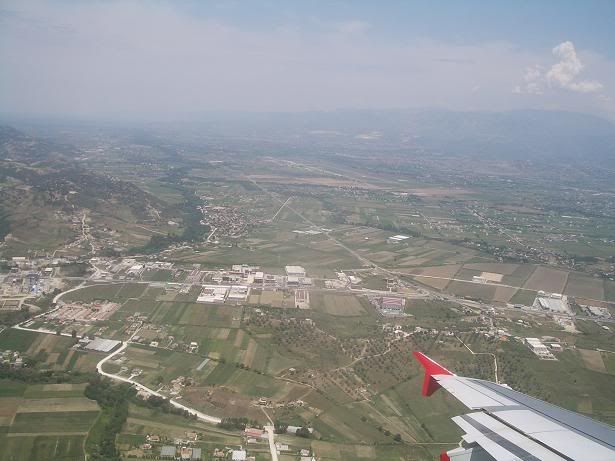 On the tarmac, there was an AZ A321, which looked like it was having some engine difficulties. Other than that, there were no over commercial airlines around, just a few bizjets.
OE-LDB
We were unloaded into a couple of coaches, and driven a couple of hundred metres to the arrivals area of the sparkling new airport. Rinas airport's new terminal was only opened in March this year, so is still nice and clean.
Rinas Airport Departures Area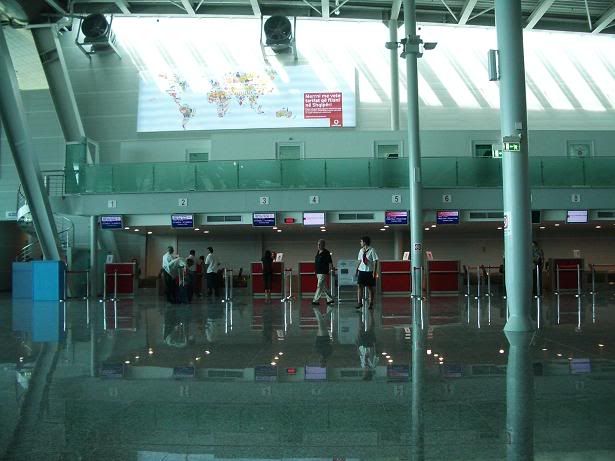 All foreigners have to pay 10 Euro arrival tax (in cash), before you can go through to baggage claim, which was in a complete mess. Despite picking the slowest queue for passport control (which took over twenty minutes), most of the bags still weren't on the conveyer belt. When bags did eventually start coming out, a lot of the bags fell off the belt because it was so narrow, and there were no barriers on it – very poorly designed. Anyway, my bags were out soon after I got there, and then went to wait for my sister's flight to arrive from Rome. Her flight was also delayed, but nicely for her, she got an upgrade, which I think she enjoyed (it was her first one).
After 10 days in which we visited Tirana, Berat, Durres, Progradec, Ohrid, Bitola and Skopje, it was time to return to the UK. Swiss codeshares with Macedonian Airlines on the Skopje-Zurich route, and that's what I was booked on. The flight continues to Paris CDG from Zurich, though without the codeshare. Skopje airport is tiny, and rather run down. In the check in area, there was only one shop and a café, and in the departures area, the same again – not very prepossessing. My sister's flight to Milan was due to leave a couple of hours after mine, so I left her reading a book near the check in desks when my flight was called.
SKP-ZRH
IN 224
1335-1545 (Actual 1350-1545)
Canadair 900 Z3-AAG
13th July 2007
Seat 5F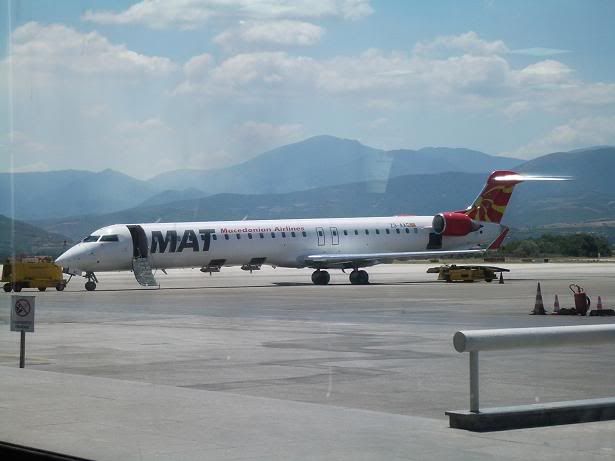 The flight was reasonably full, but the seat next to me was empty, so I had a bit of extra room, which was nice. This aircraft hadn't been in the Macedonian Airlines fleet for long, and still very clean, and obviously well cared for. There were two cabin crew, and two off duty crew whom I imagine were to operate the flight back from Paris. There was no other traffic at Skopje Airport, so were taxied straight onto the runway, and off we went. There were some really good views over the city just after takeoff, but soon the views were enveloped by clouds.
Skopje from the air
When I booked on expedia, they said that there was buy-on-board. I tried to find out if this was correct, and maybe see a menu beforehand, but I couldn't find any information about it on the internet. However, everyone in economy was given a free vegetable sandwich, and drink, which was fine by me and quite tasty even.
CR9 Cabin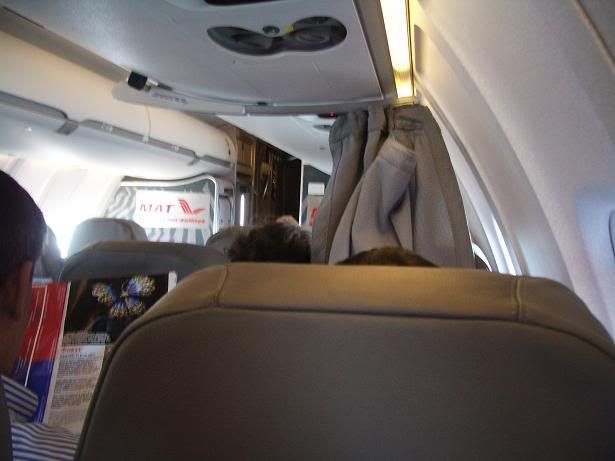 Disembarkation in Zurich
Landing into Zurich was bang on time, and we taxied to a remote gate, then were bussed to the terminal. It'd been a few years since I was last in Zurich, and I must say I was very impressed.
Zurich Airport
The terminal was very spacious, airy and light. As I had such a long layover, I went to try the Lufthansa lounge, then the Swiss one. The Lufthansa one wasn't very impressive, which barely any drinks or snacks on offer, though there were some good views onto the tarmac. The Swiss lounge was very busy, but the crowds thinned a bit at the bar on the top floor, which is where I spent most of the afternoon.
The Bar in the Swiss Lounge
At 1920, I left the lounge, and tottered down to the gate. The onward flight to London City was packed, and the remote boarding area was too.
ZRH-LCY
LX 462
2005-2050 (Actual 2023-2044)
BAe 146 HB-IXU
13th July 2007
Seat 20A
Like the other sectors, nothing much happened. It was your run-of-the-mill Friday evening commuter flight. A sandwich was served, along with a drink, then the famous Swiss chocolates. Landing was from the East, over M25 bridge, and past the Docklands.
Takeoff from Zurich
Flying over the English Channel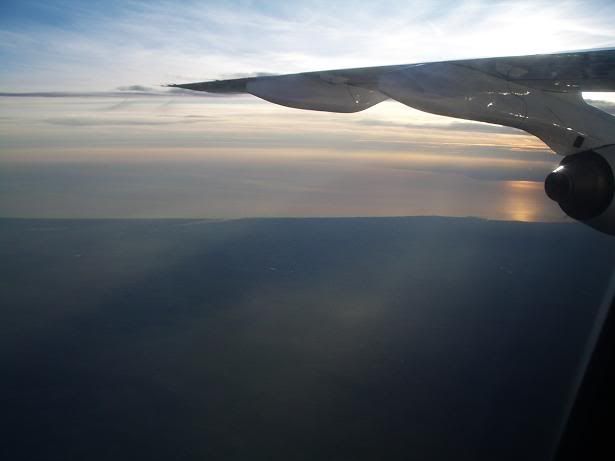 The efficient LCY ground crew
London City was fairly empty, and we seemed to be only arrival. Thankfully, disembarkation was through the rear doors (I was in the penultimate row), so was one of the first off. Now, the joy of using LCY is that it is so small compared to Heathrow and Gatwick. It took me five minutes to walk from the plane, through immigration, to the luggage belt (where my bags were already going around), through arrivals and onto the waiting DLR train. Perfect! The trip back to Russell Square isn't so easy as it involves two changes (Heathrow is a direct line), bit it still works out slightly faster.
The Millennium Dome as seen from the DLR (Docklands Light Railway)
I can heartily recommend a trip to Albania (and Skojpe). I thought that Tirana was one of the nicest cities I have been to in Eastern Europe (just behind Sarajevo and Mostar). The people were friendly, and the atmosphere was really energised, though there isn't an awful lot to do. Macedonia was also nice, though I thought that the people, especially those in Ohrid, were rather pretentious.
Austrian Airlines, as always, worked well, and the quality Do&Co catering was great. Macedonian Airlines was also fine, and their new CR9 is very comfy. Swiss too worked very well. I'll be flying with them again this month (LHR-ZRH-DUB), and hopefully they'll be just as efficient.
Thanks for taking the time to read this report, and all comments are welcome