Once again it was time to take my obligatory end of year trip to visit friends and family in New Zealand. With NZ occasionally scheduling the 772 on the AKL-SYD-AKL sector I was hoping that I could find some special deal. Unfortunately this was not the case, instead I found a deal with 2 of the more exotic carriers which service this route in LAN Chile in Y and Aerolineas Argentinas in J for a bargain considering it was during peak travel period. It would also give me the chance to fly on 2 new aircraft types in the A340-300 and A340-200 and 2 new airlines.
Date: 30/12/2007
Flight: LA 800
Origin: SYD
Destination: AKL
Aircraft: CC-CQF Airbus A340-313X
Scheduled departure time: 1055
Actual departure time: 1120
Scheduled arrival time: 1555
Actual arrival time: 1610
Seat: 33L
I arrived at the airport 2.5hrs prior to departure and was only confronted with small queue with quite few passengers coming from Brisbane and Melbourne. As you would expect the process was relatively painless.
The check-in area.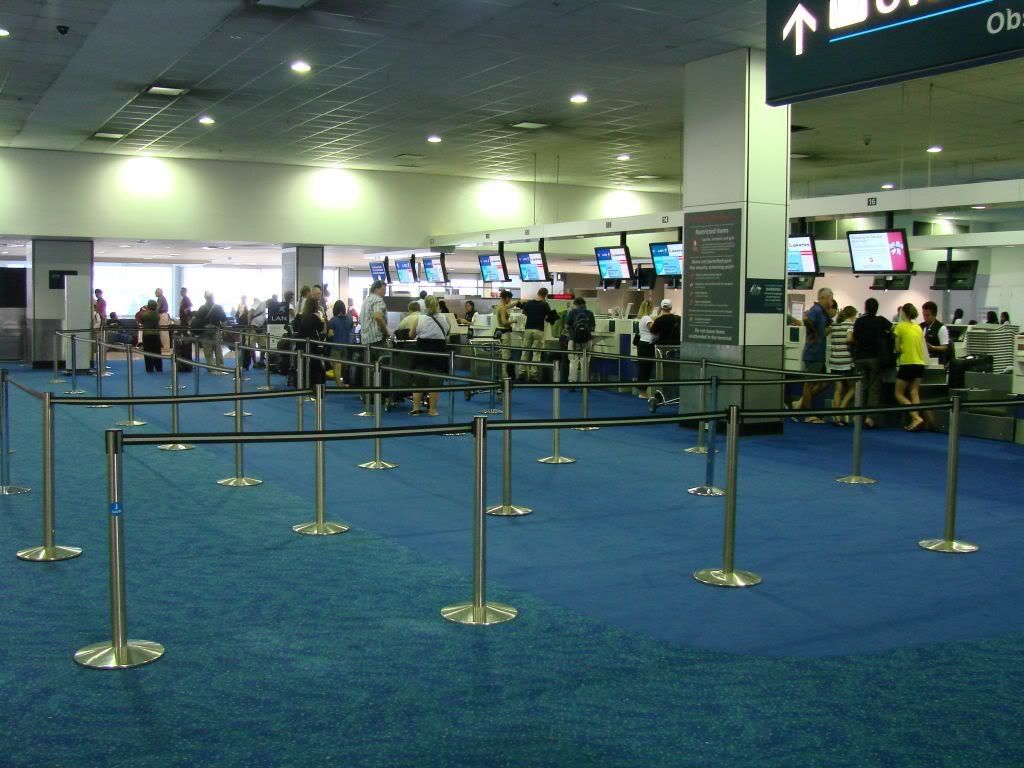 Spotting at Sydney
HL7486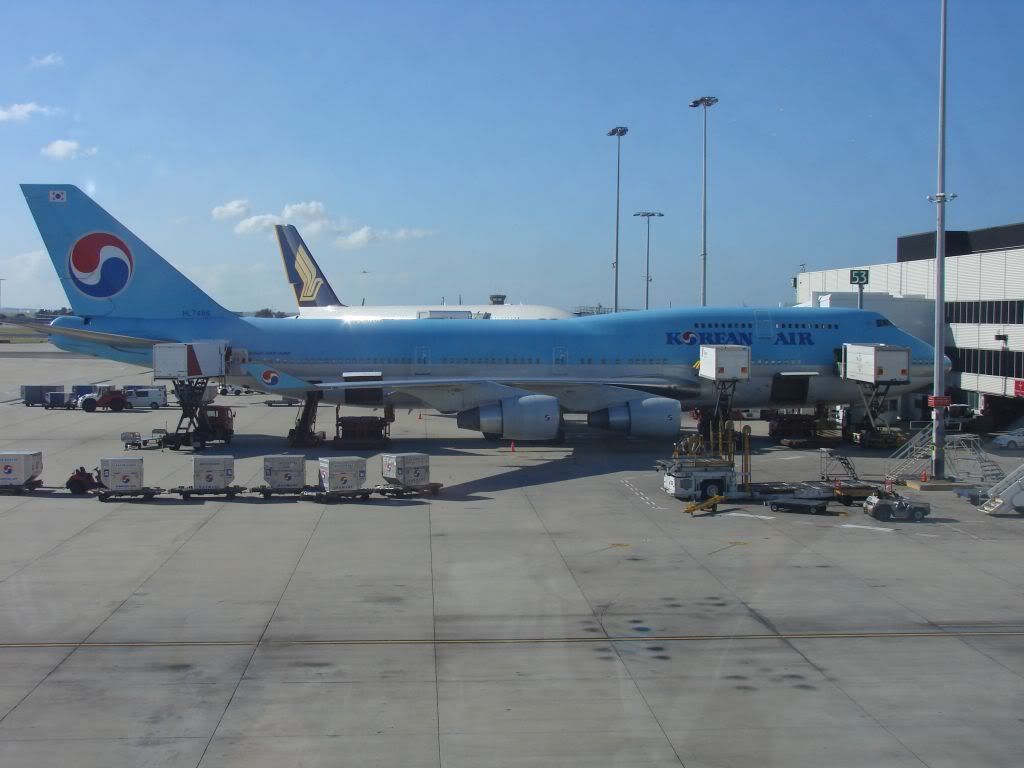 One World Carriers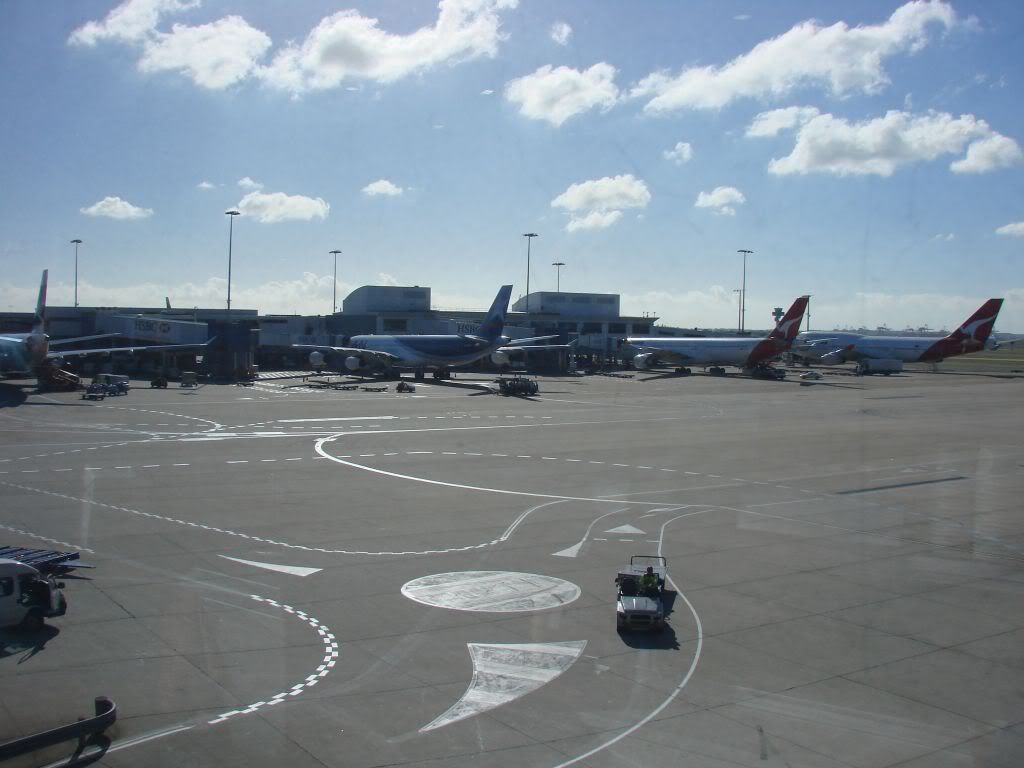 QF A333 and B744.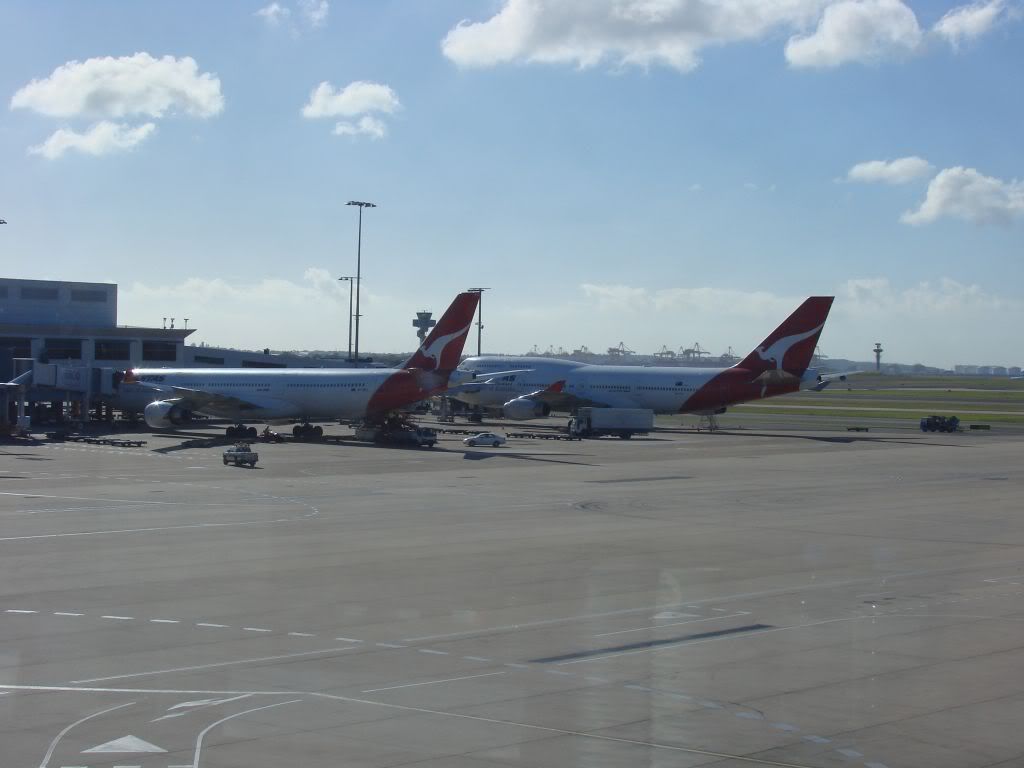 N198UA arriving from LAX as UA839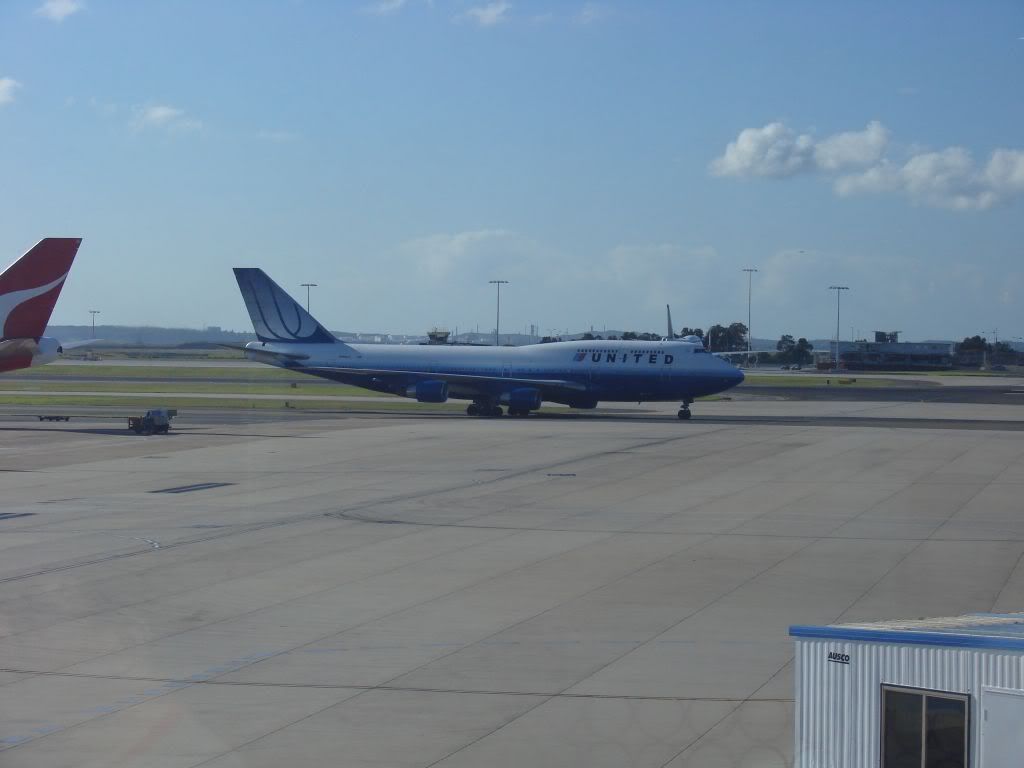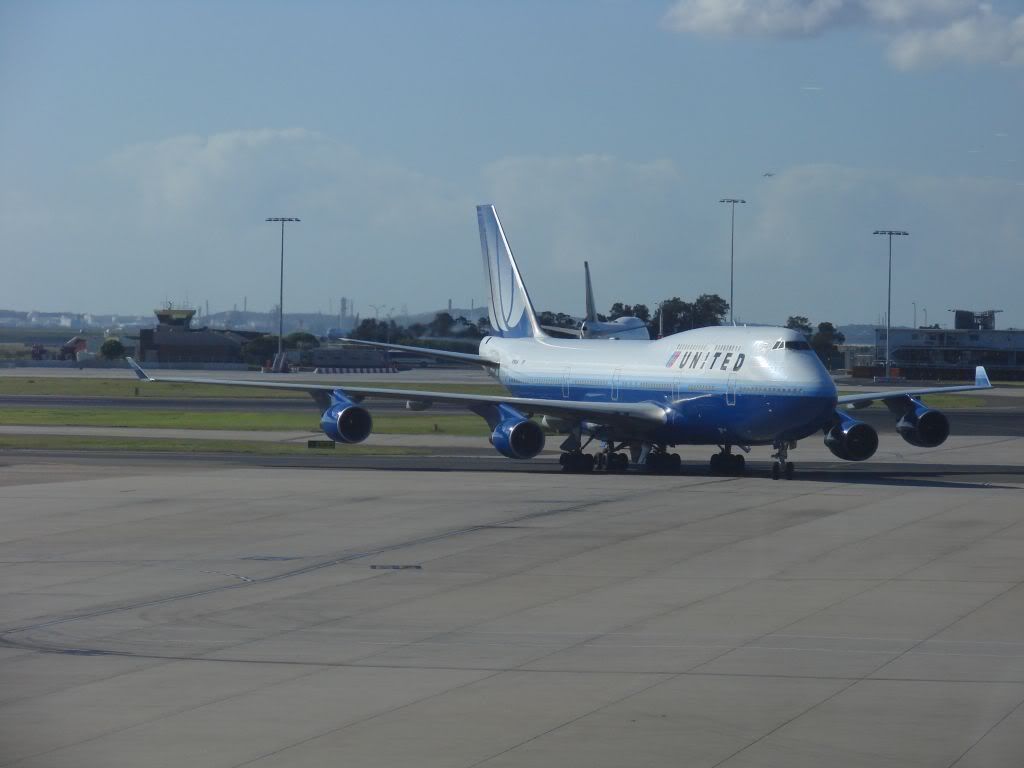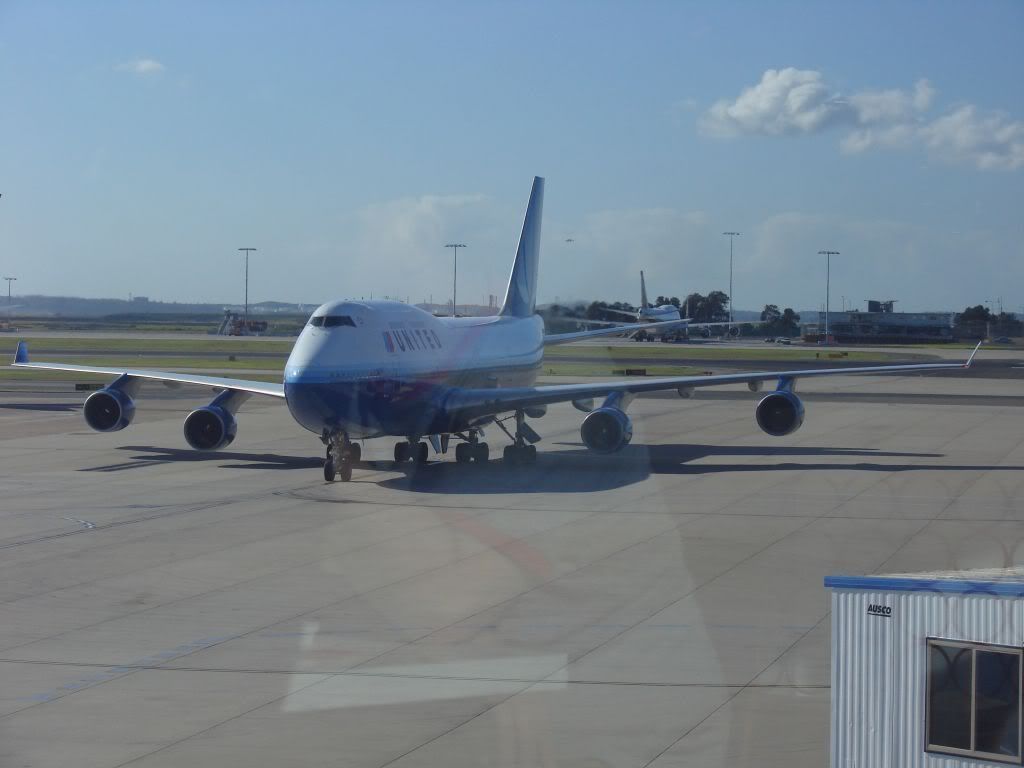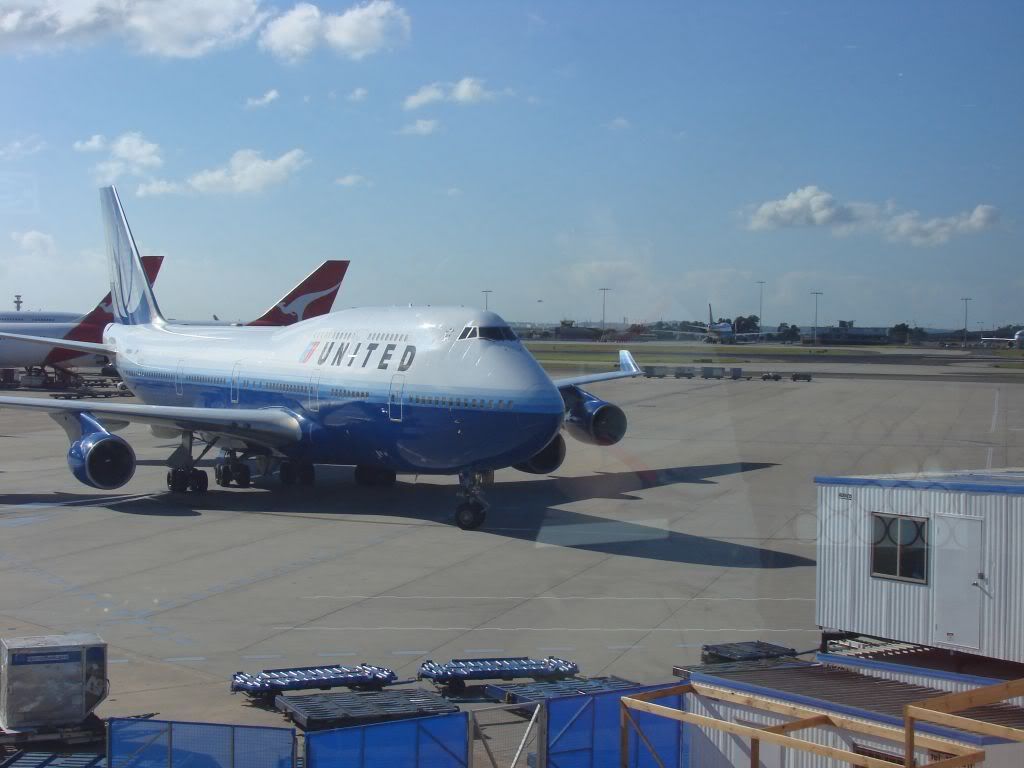 My ride to AKL CC-CQF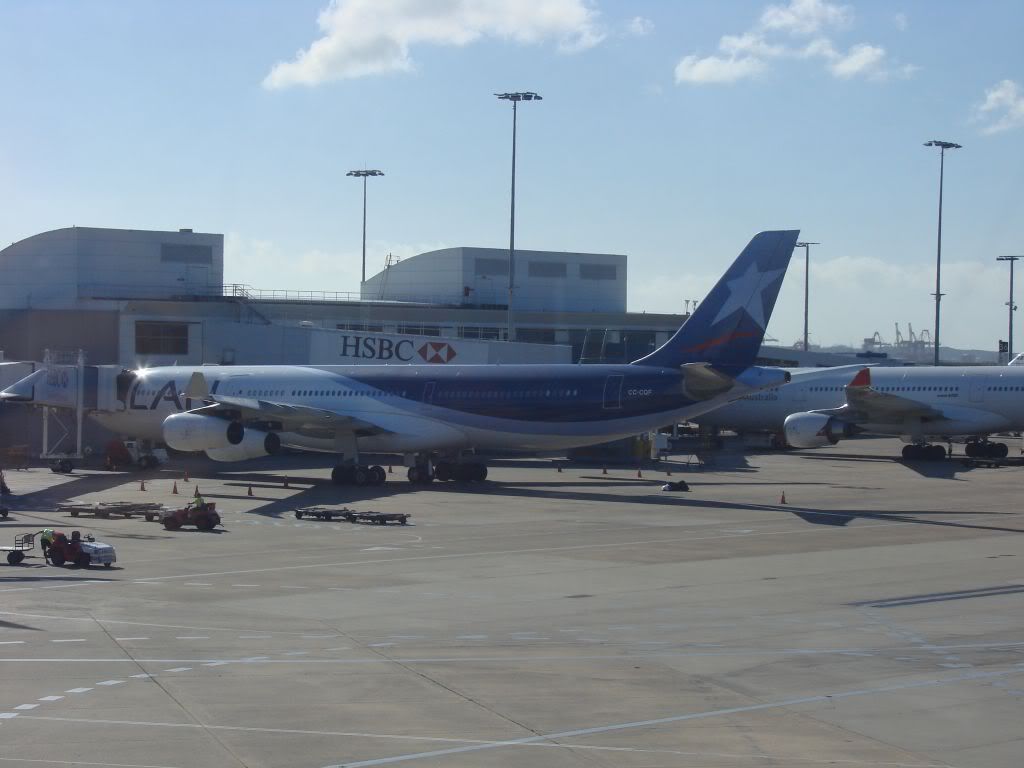 CX A333
I believe this will become another area for an A380 capable gate
G-VMEG taxiing to the cargo stand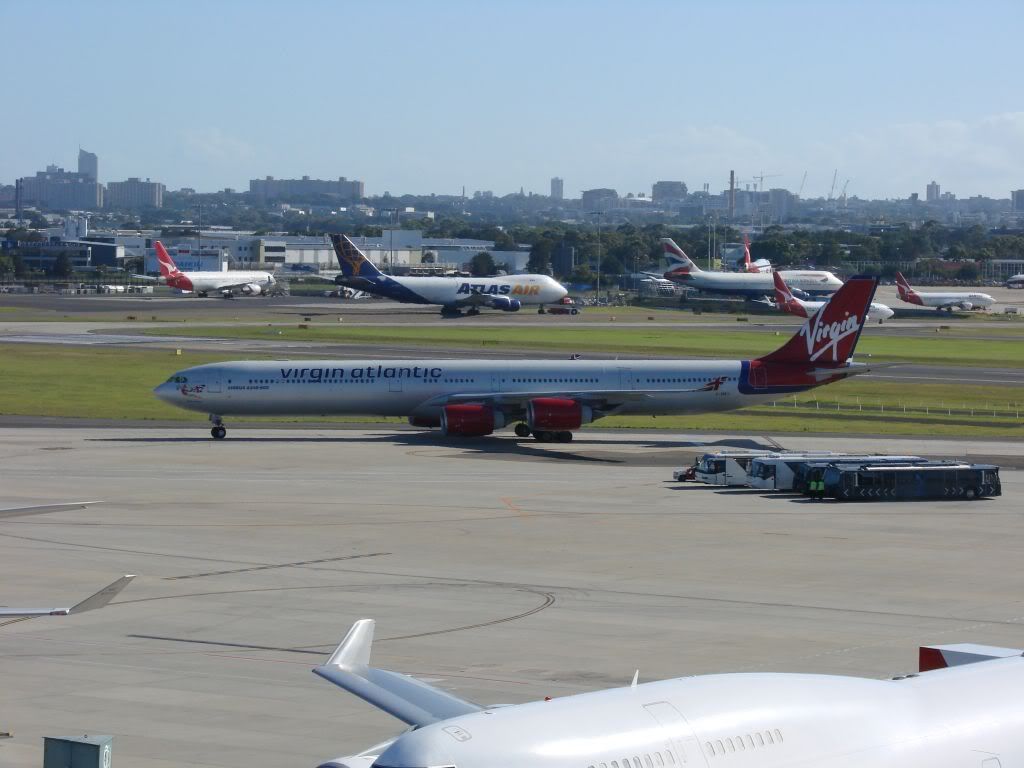 EY A345 and VS A346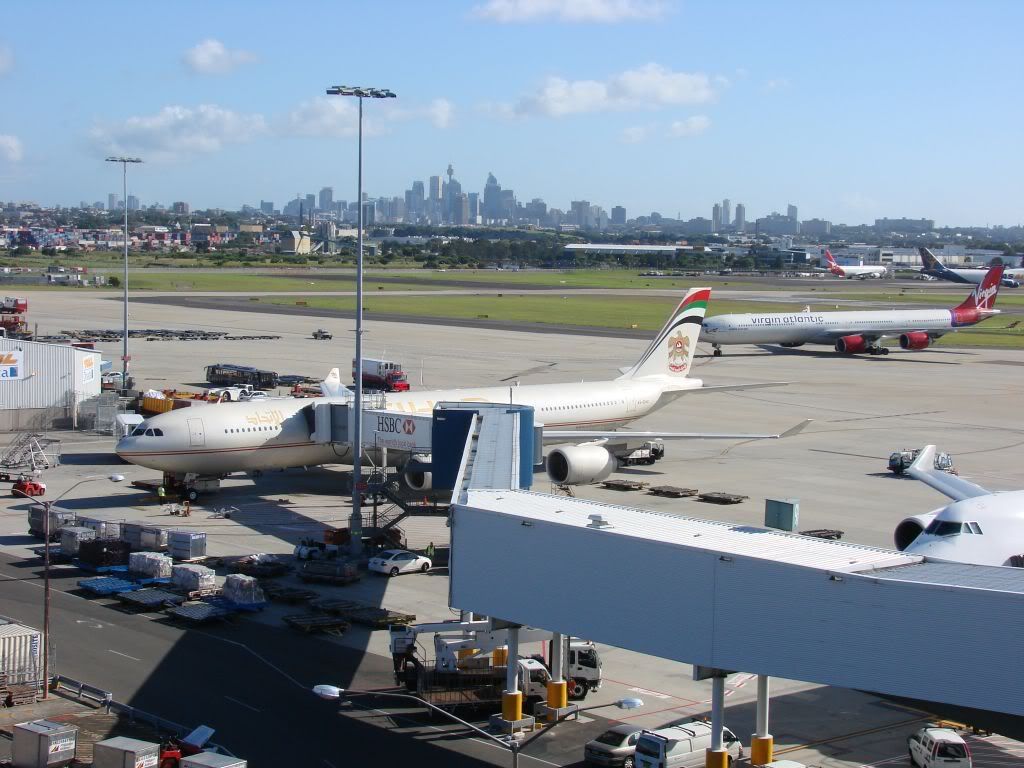 VH-OJM sitting at the cargo bay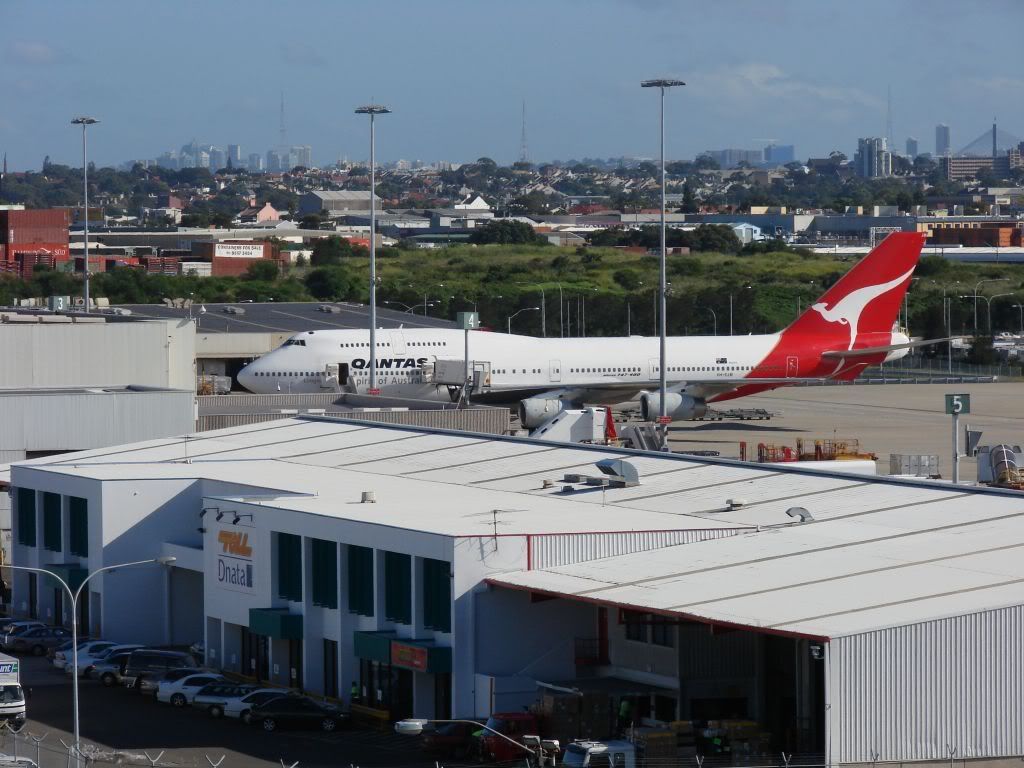 VH-OGA to Noumea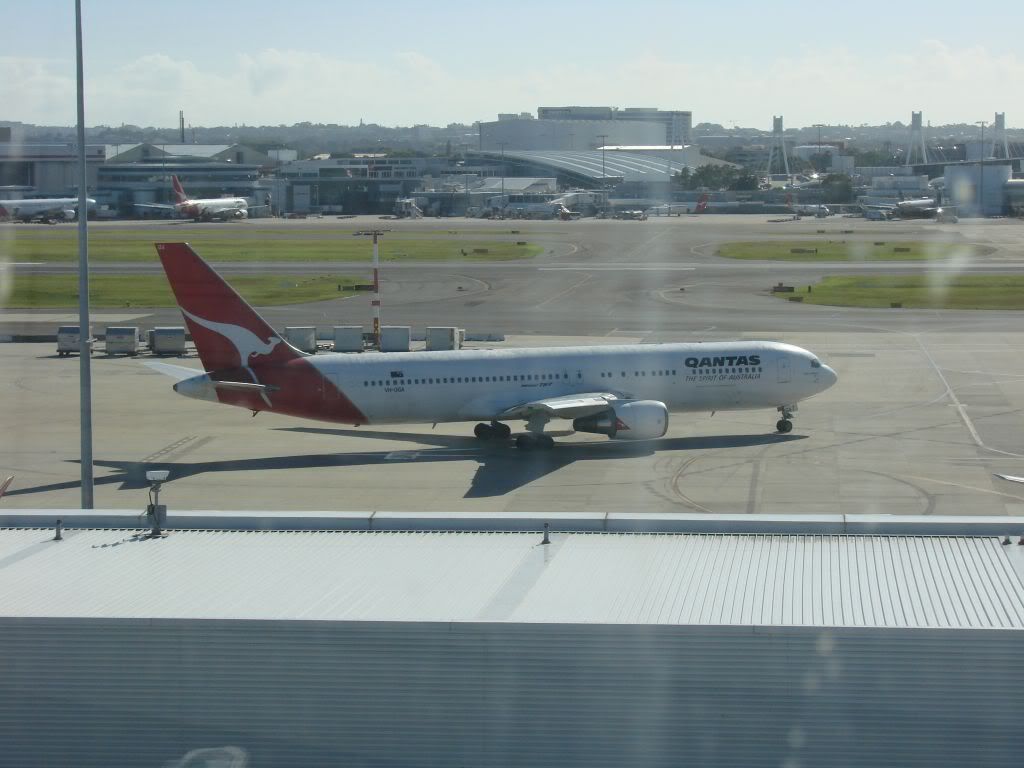 Heading to the departure gates. The "Qantas Pier"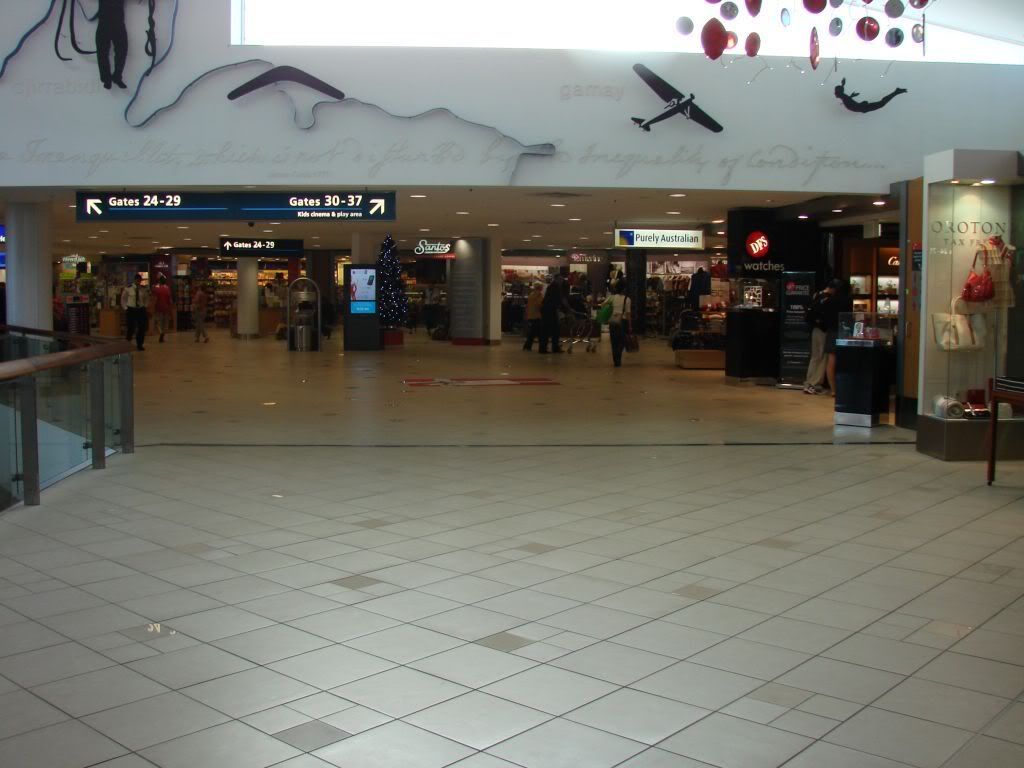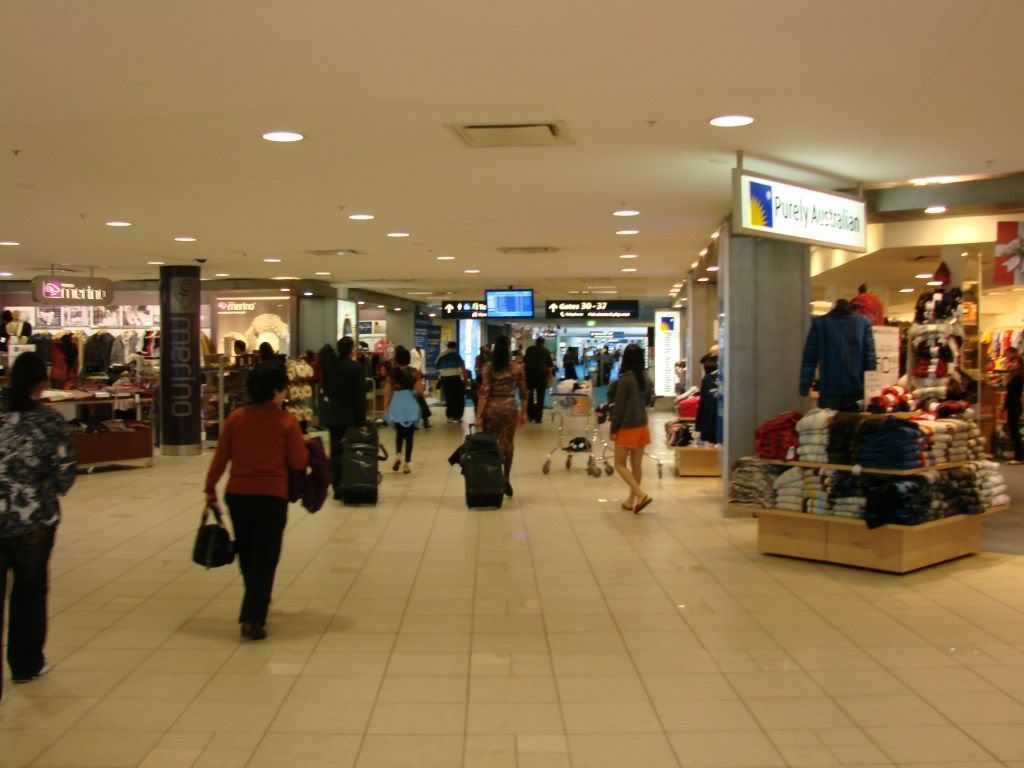 Another A380 Capable gate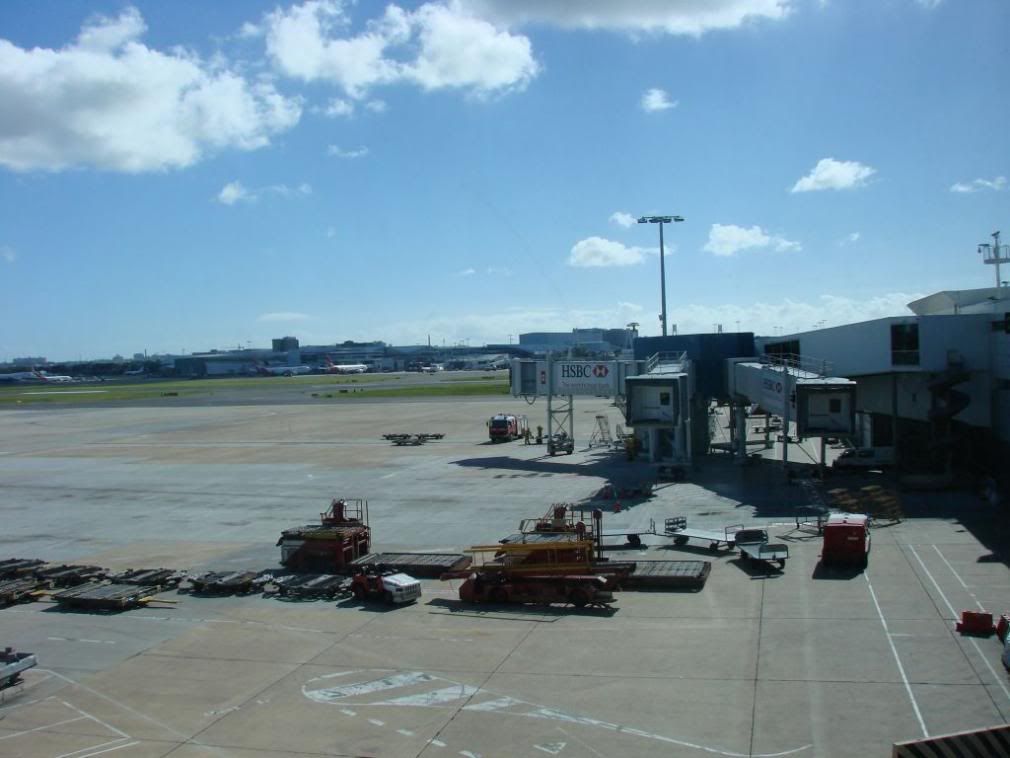 Spotting airside
9V-SKA and HL7486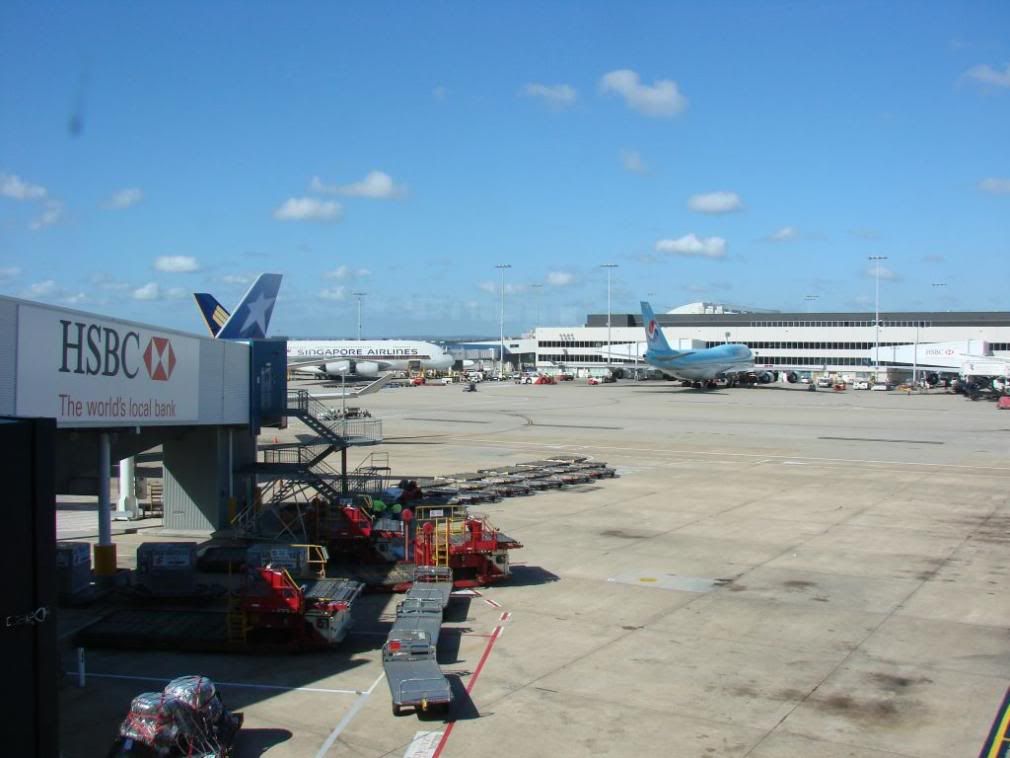 HS-TJR heading to BKK as TG 994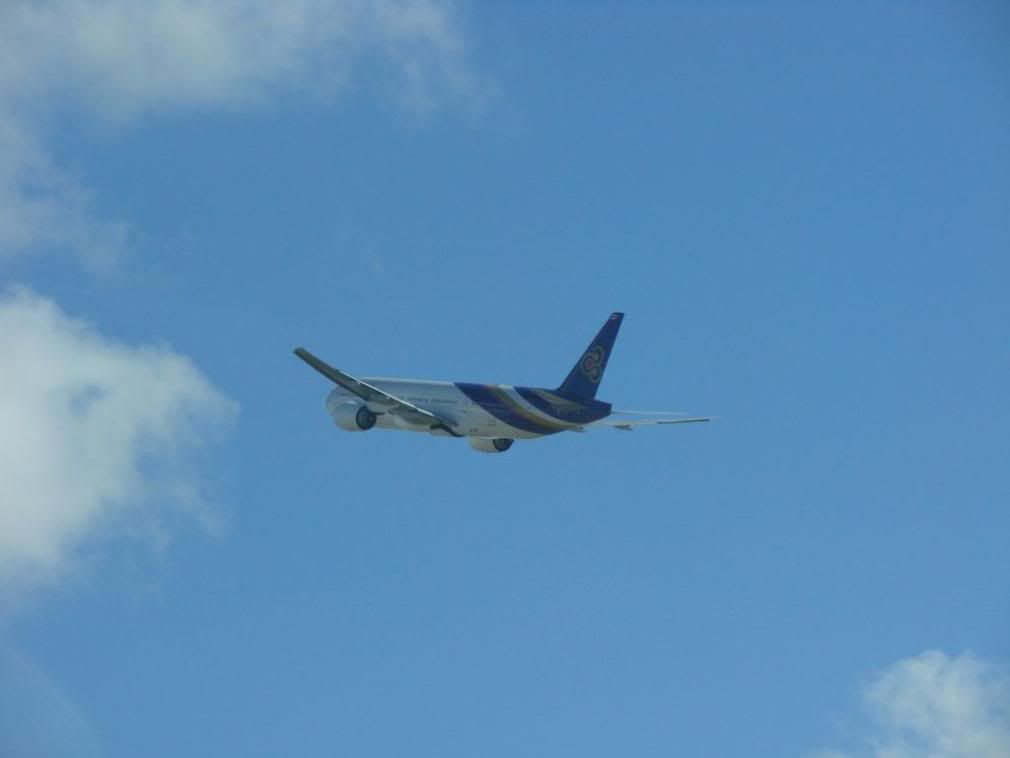 HL7500 - operating the late running service to ICN as OZ 602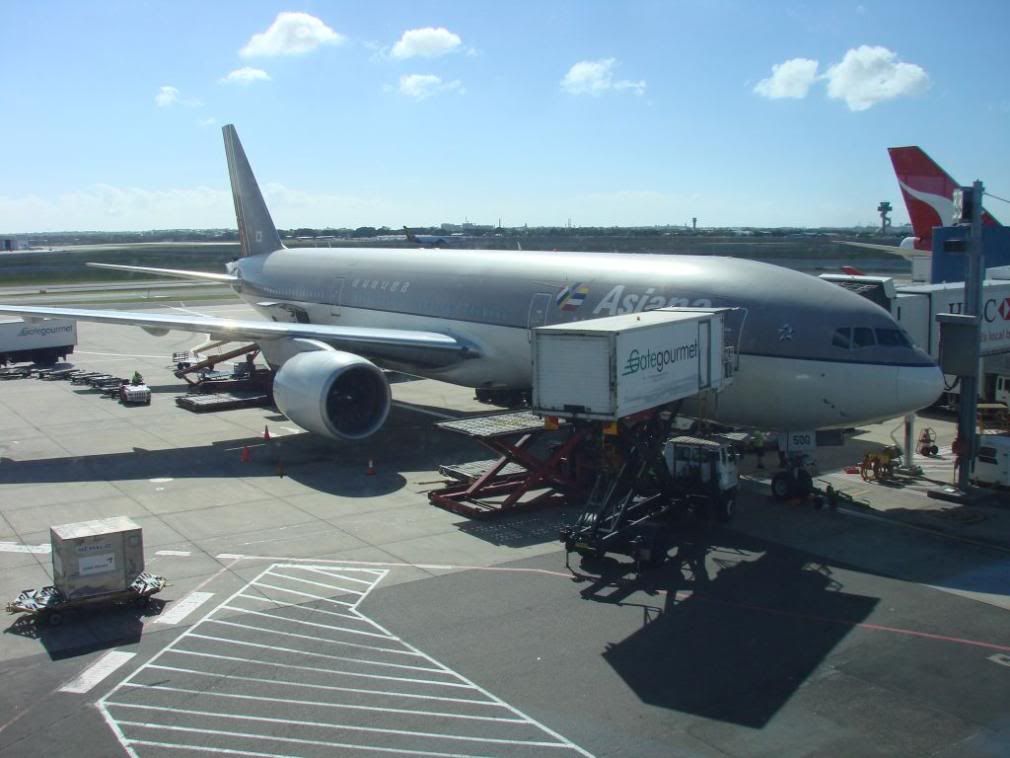 Buzzing with aircraft - CC-CQF - LAN 800 to SCL via AKL, VH-QPJ - QF 123 to BOM via DRW, 9V-SKA - SQ 220 to SIN and A6-EBG arrival from DXB via BKK as EK 418
A6-EBG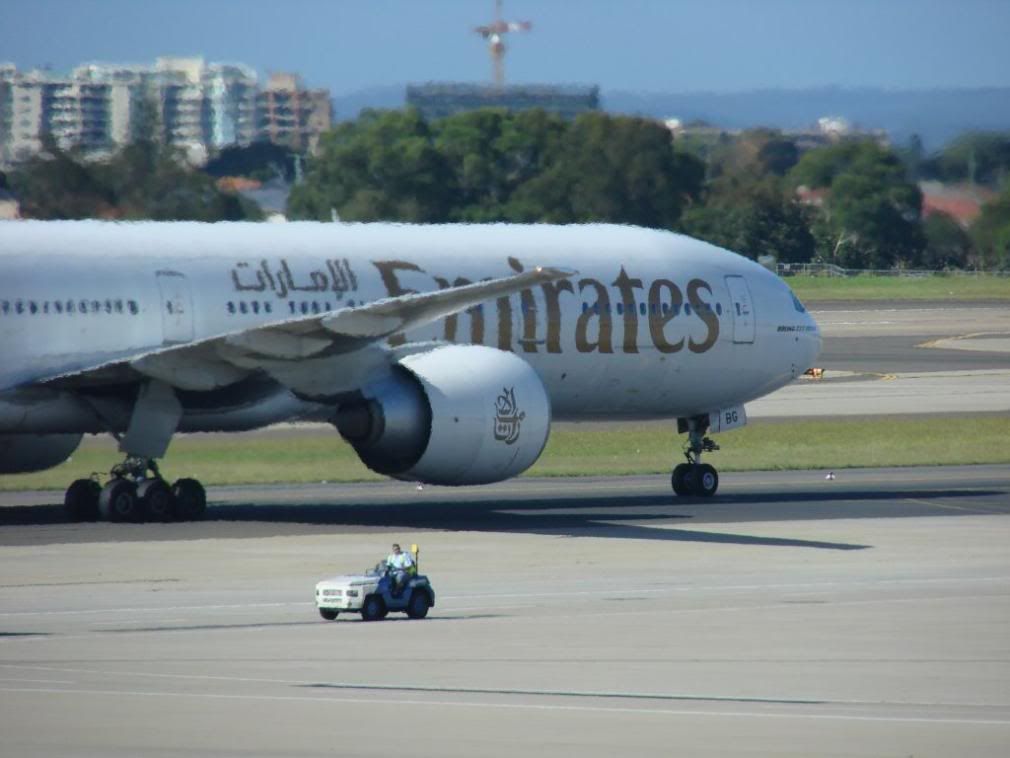 9V-SKA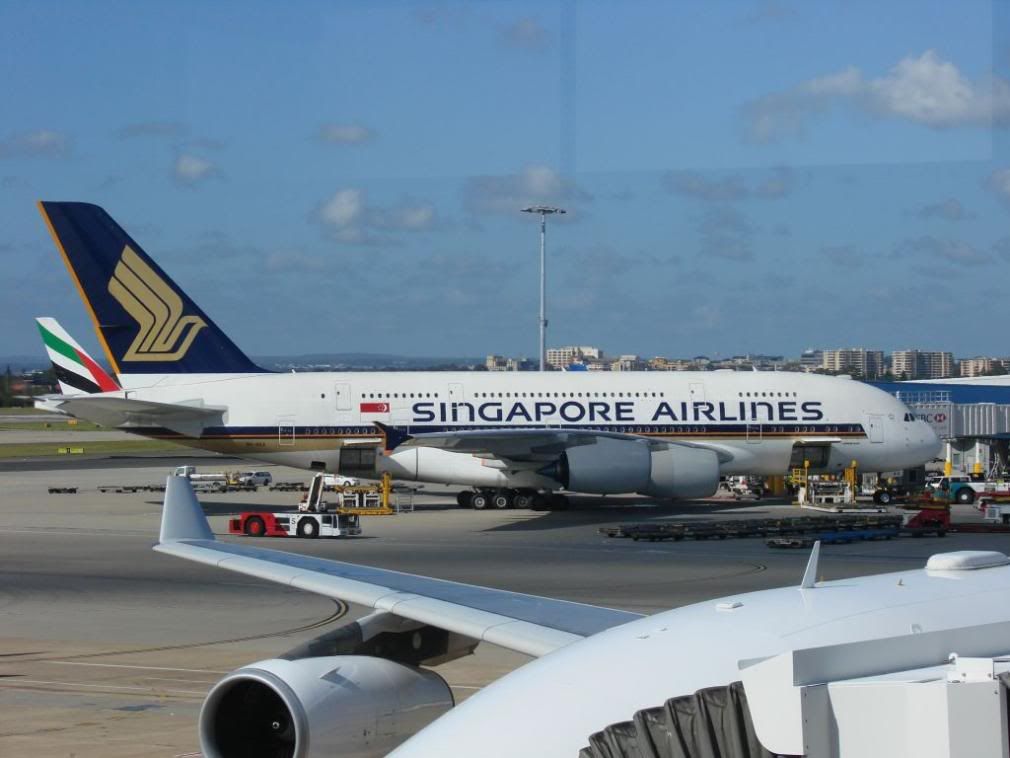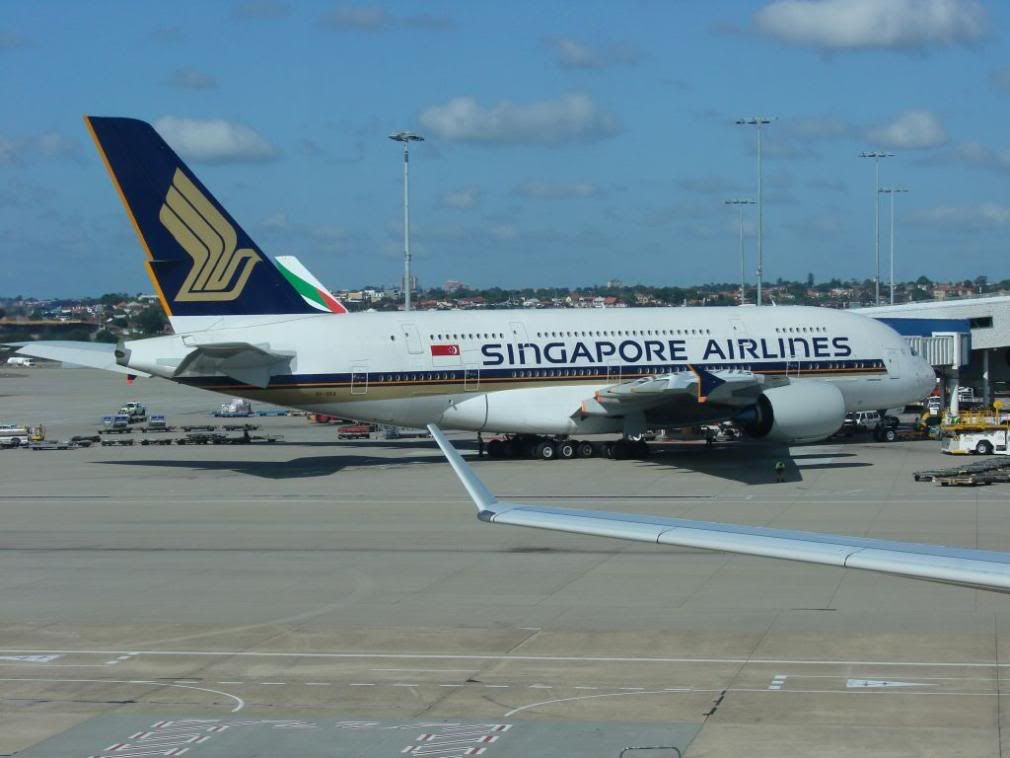 VH-OJP - QF 63 to JNB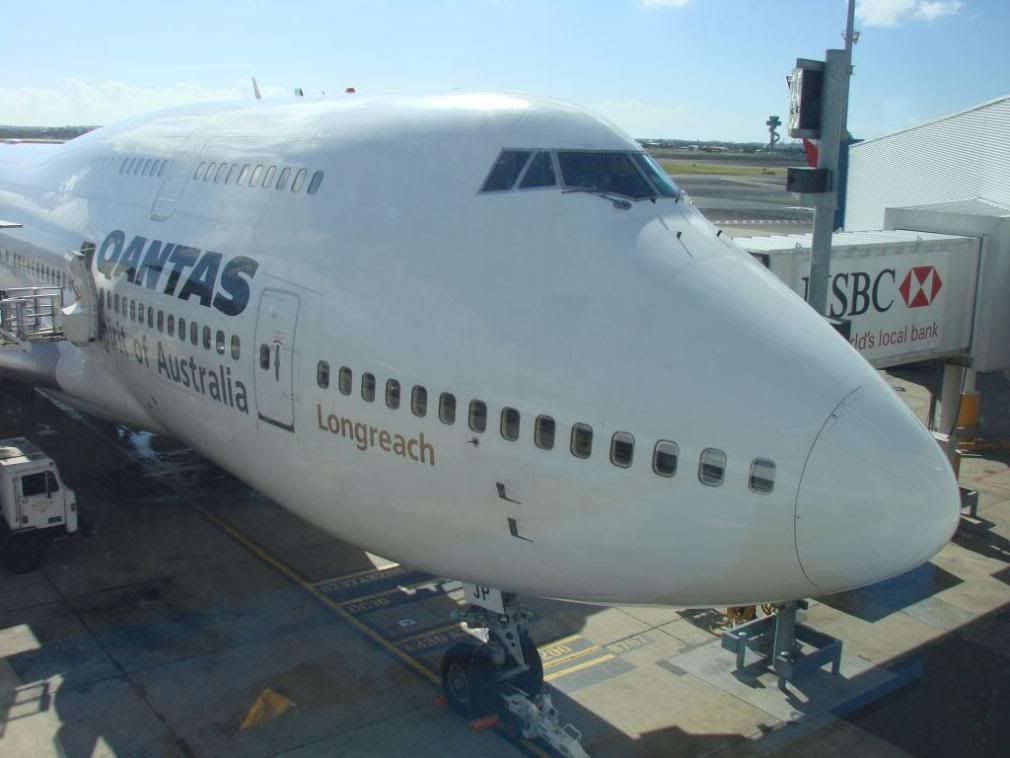 VH-OJI - QF 74 to MEL
ZK-OJF - NZ 742 to WLG
B-6092 - Air China arrival from PEK via PVG.
9M-MPN - arrival from KUL. As you can see the 2007 titles have been removed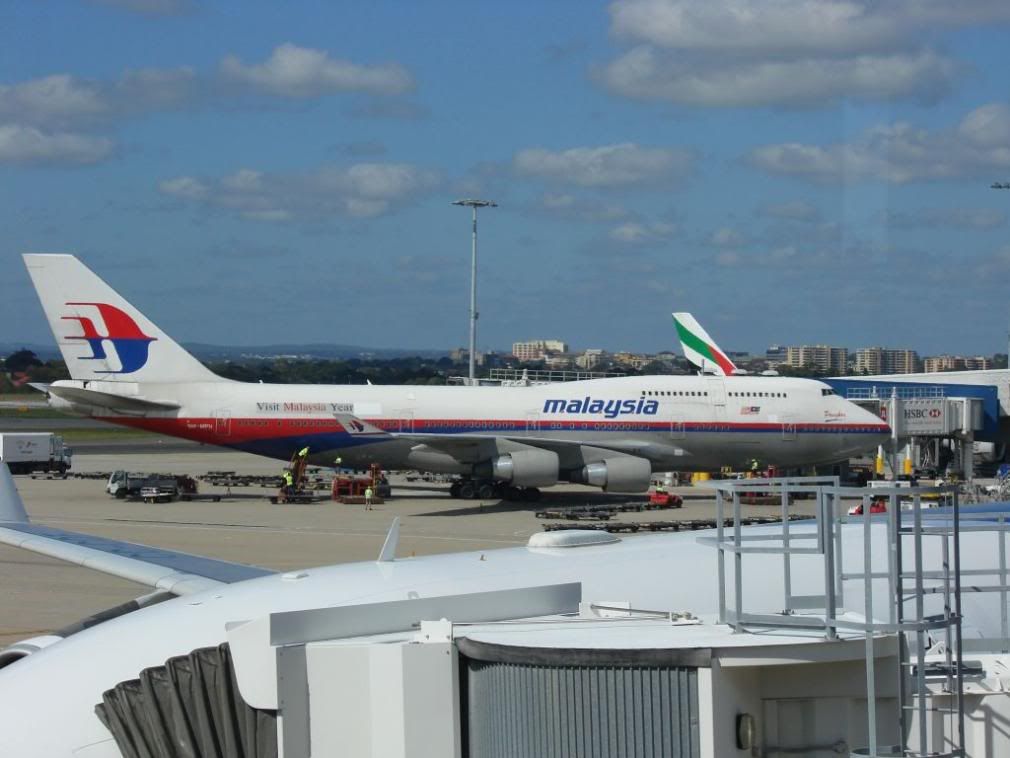 Both UA and QF off to MEL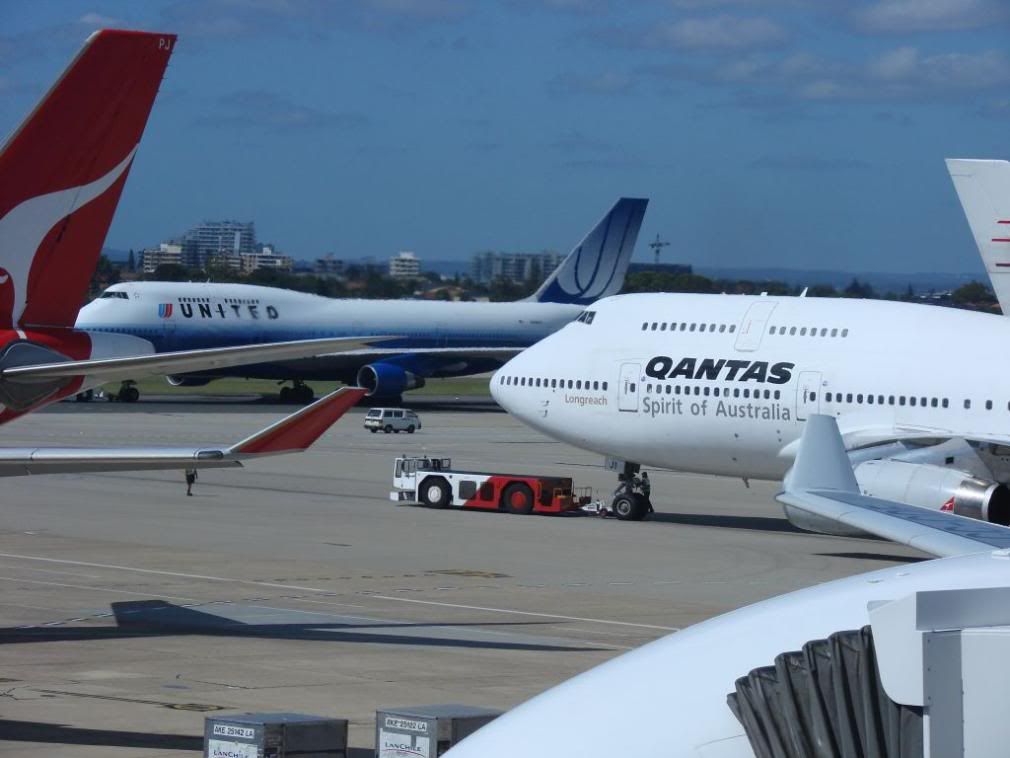 B-2056 - arrival from Guangzhou
Gate 32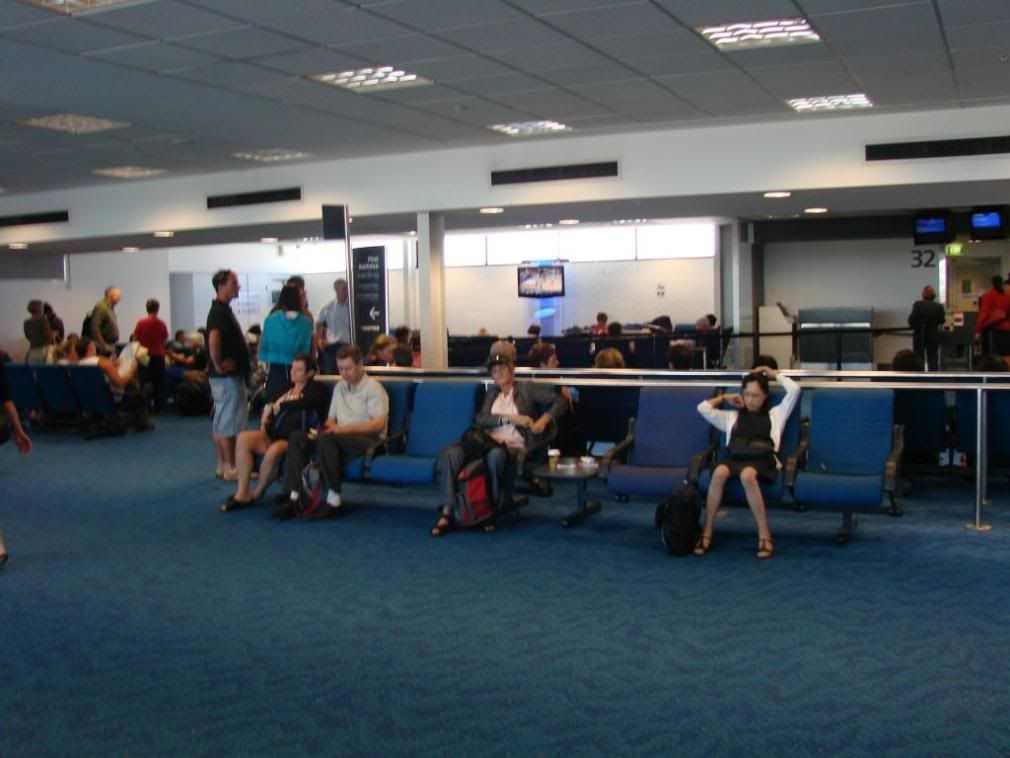 Boarding was delayed for 20 minute for some unknown reason. Oneworld Elite, business and first class passengers were given priority eventually followed by economy class passengers.
Sitting at the gate for roughly 20 minutes because of "high traffic". In other words several other aircraft pushing back for departure at the same time.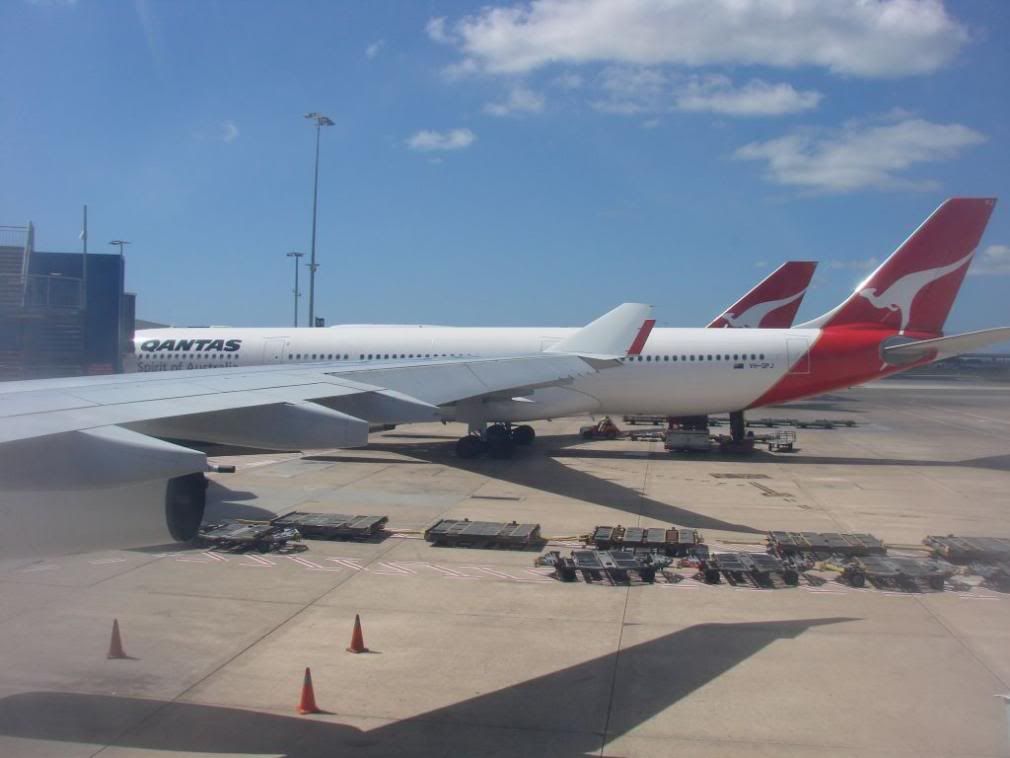 PTV - Not the crash hot system you would find EK, SQ, MH, NZ and others as their is a limited selection available to sample but it gets the job done.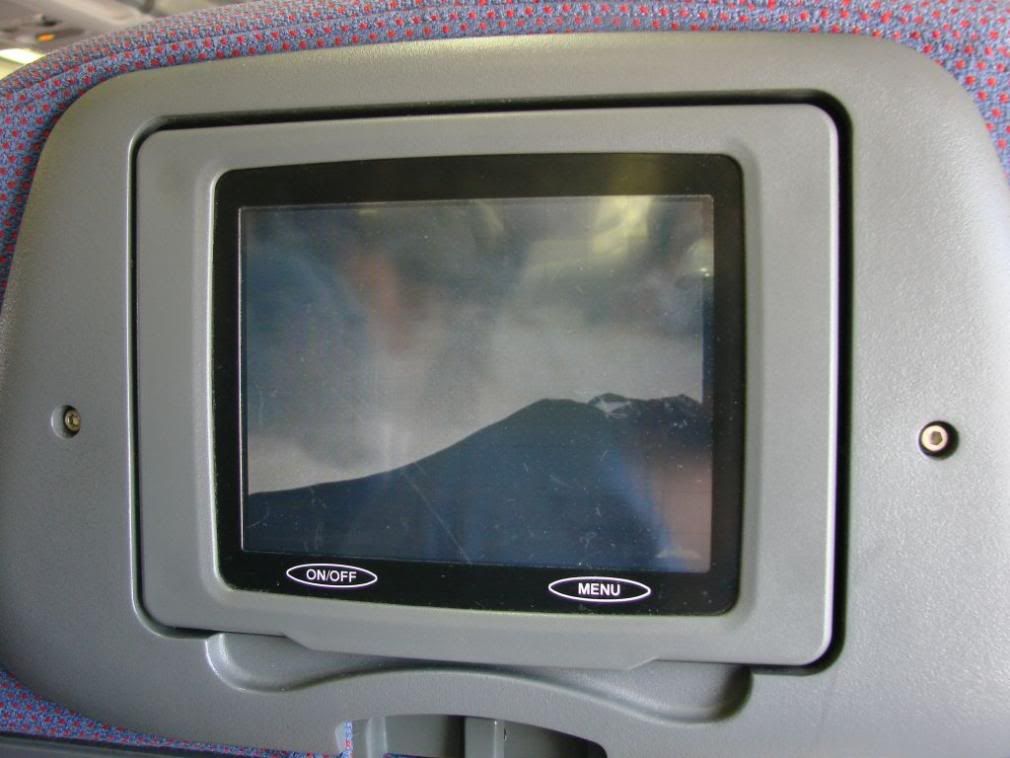 PTV Controls
Telephone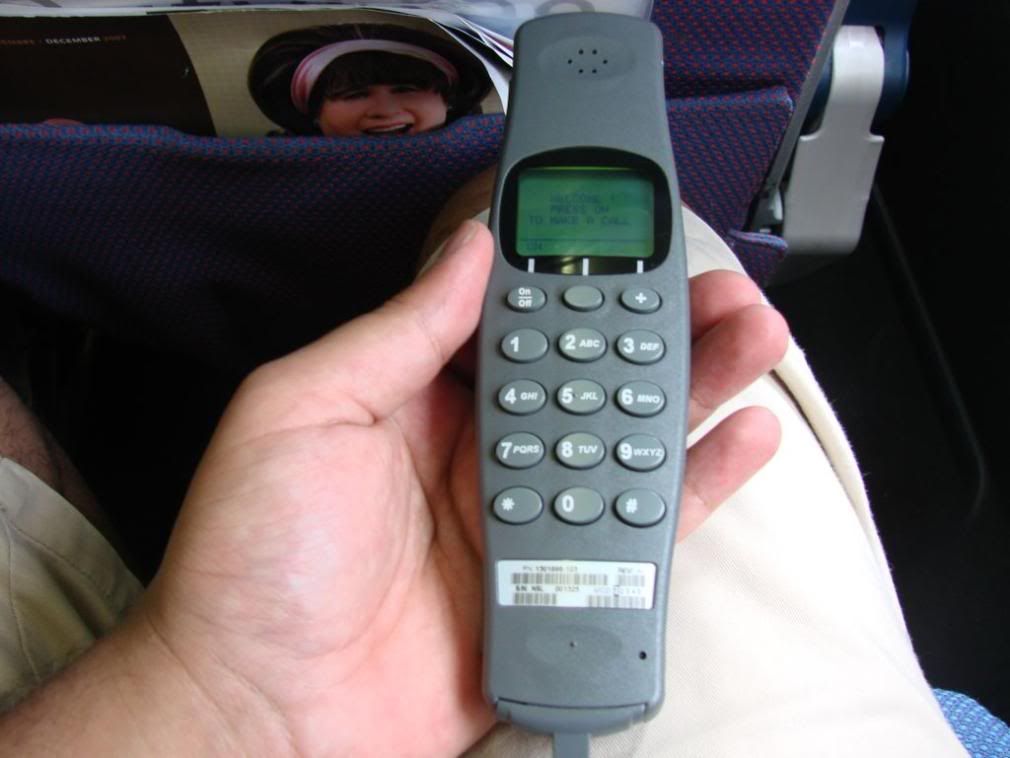 Oh my QF 763s out of their place. You certainly don't see this everyday, a QF (VH-OGE) sitting on the "Other Side" of the international terminal. OGE would later depart to AKL as QF 43. Clearly shows there are shortage of gates at certain times of the day.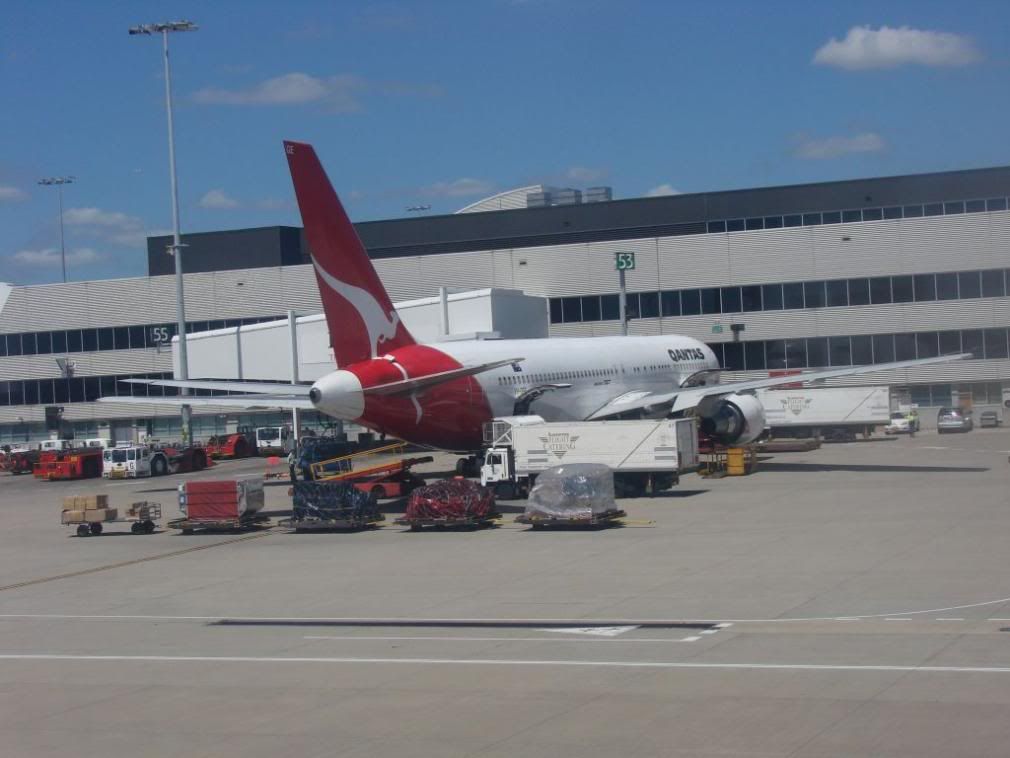 Air Canada 773ER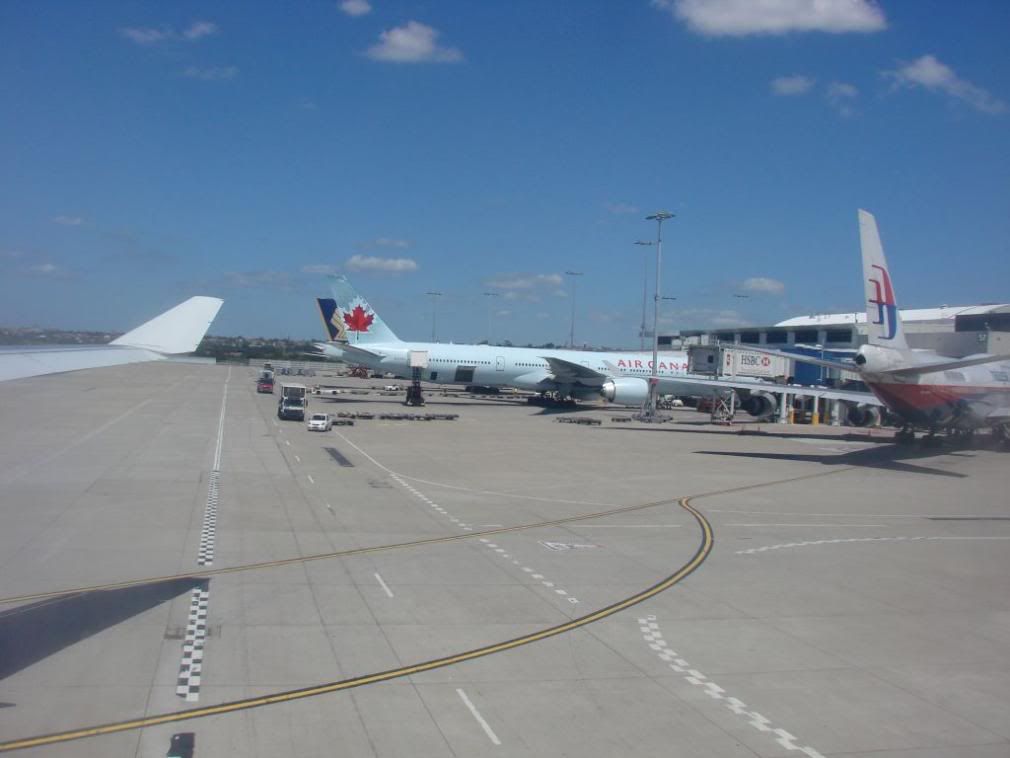 BA 772ER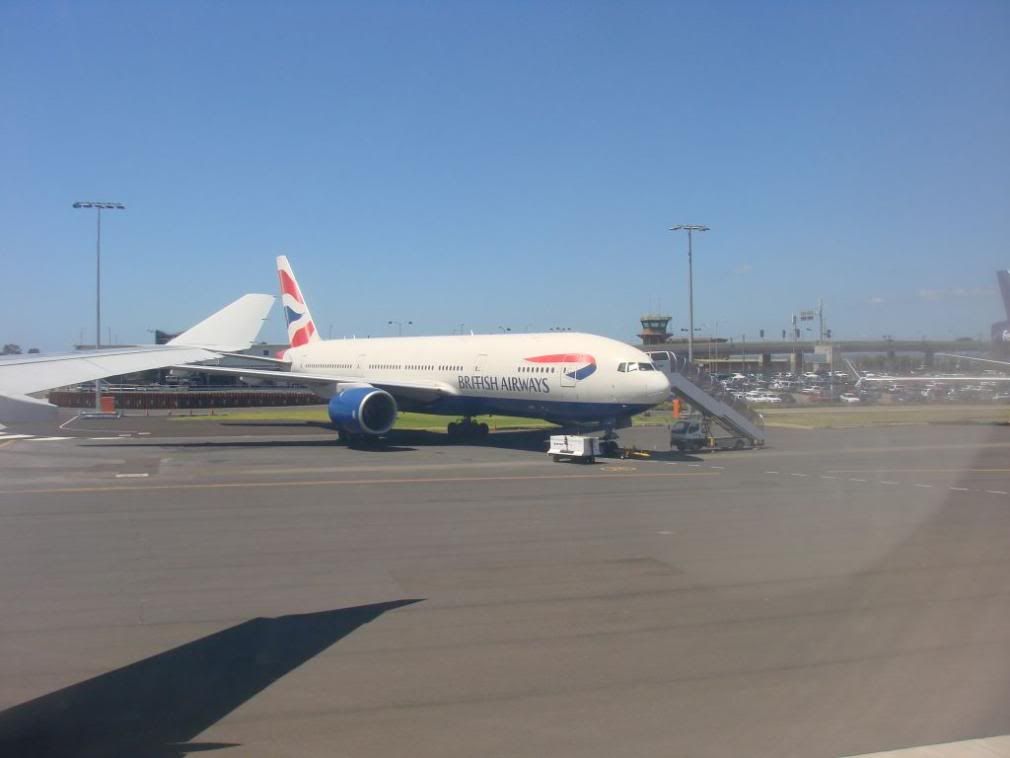 N120UA - Will head back to the international terminal for its return flight to SFO.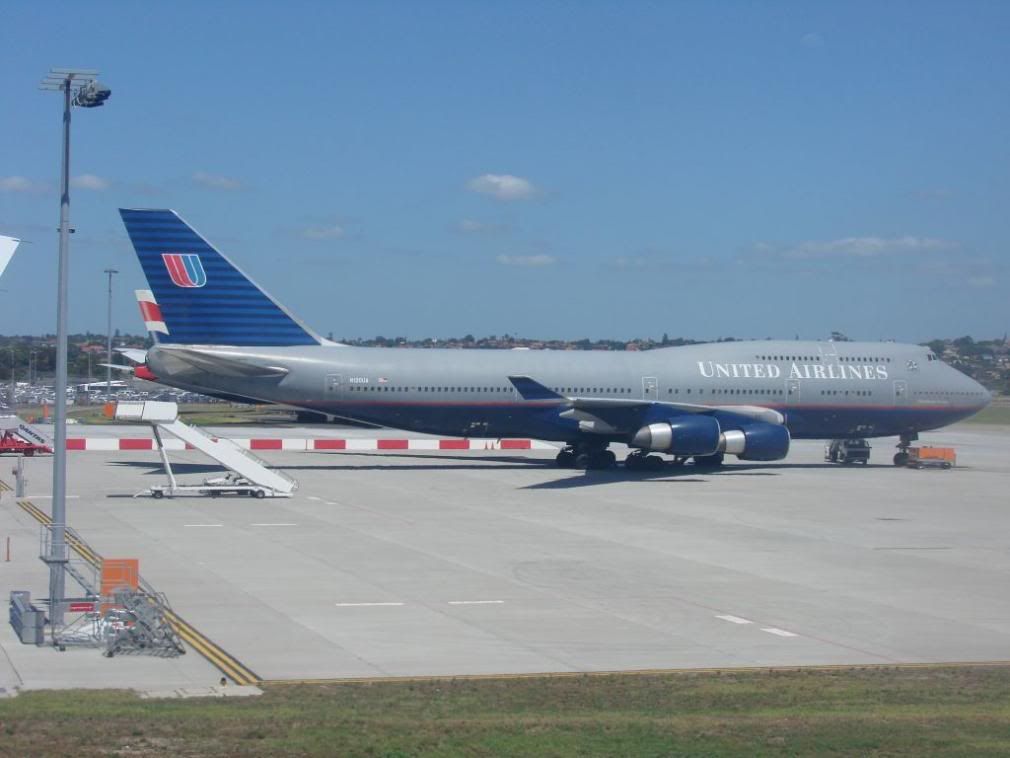 General Holmes Drive
Flying over Northern Sydney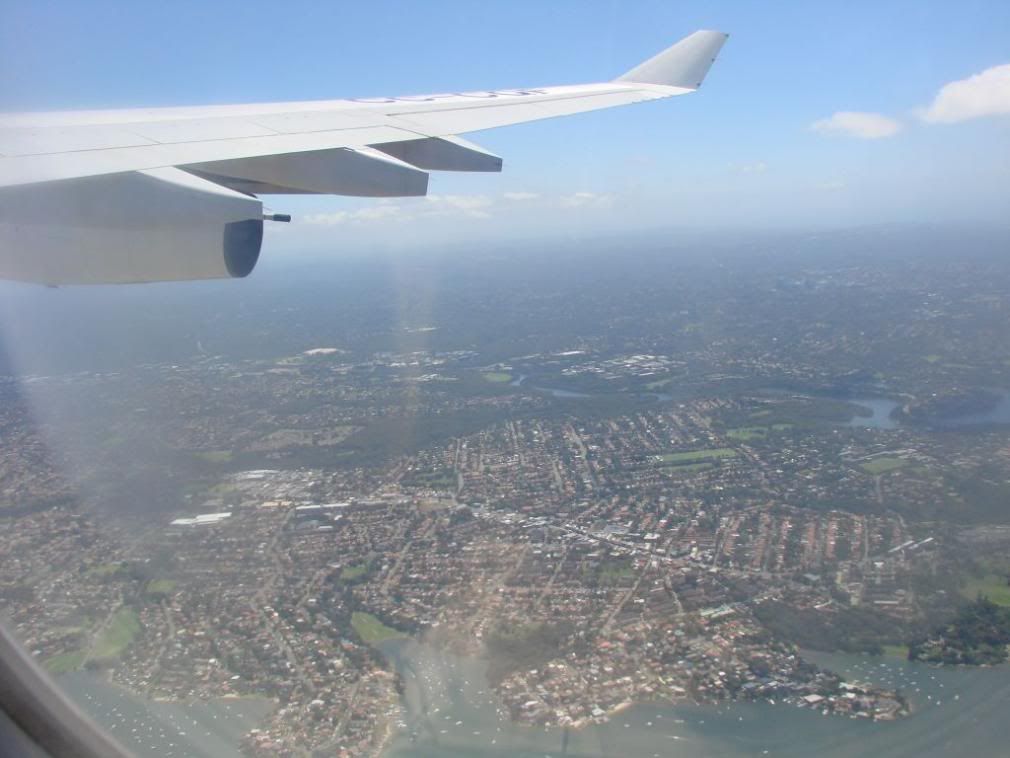 Over the North Shore and CBD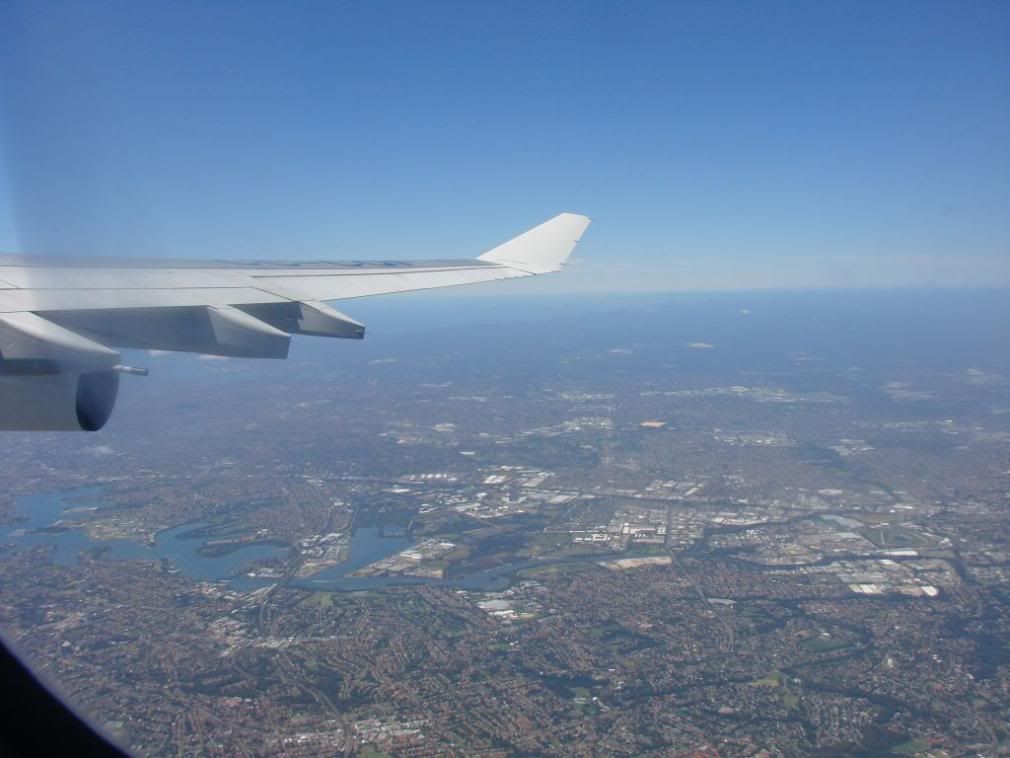 The CBD & the harbour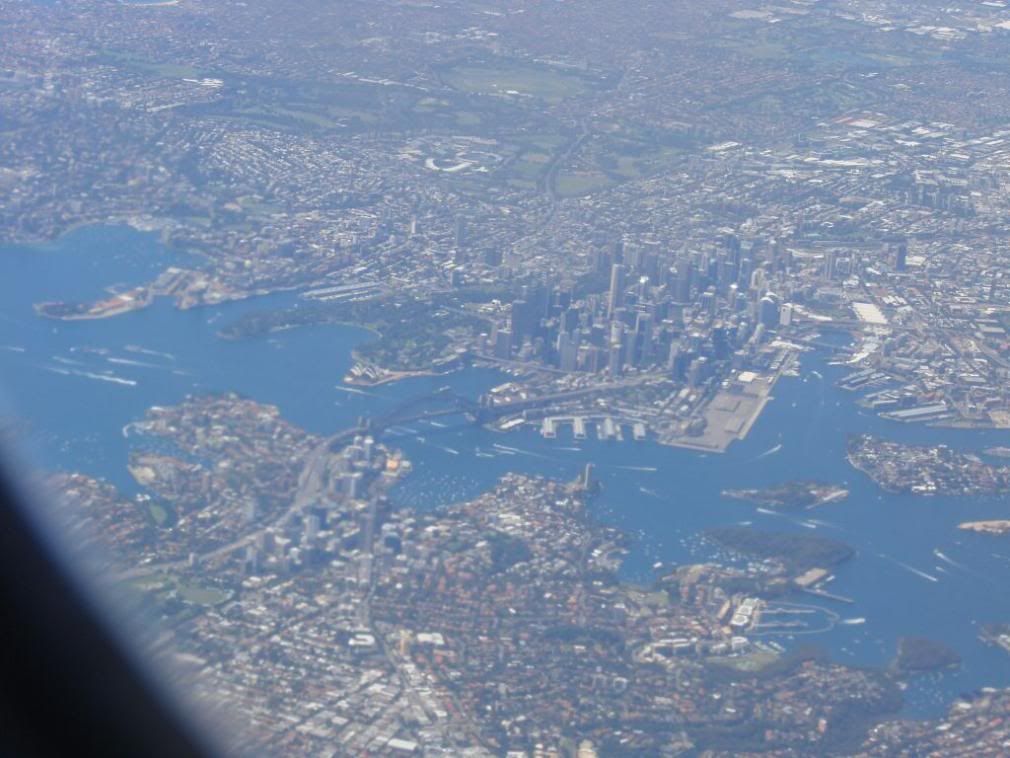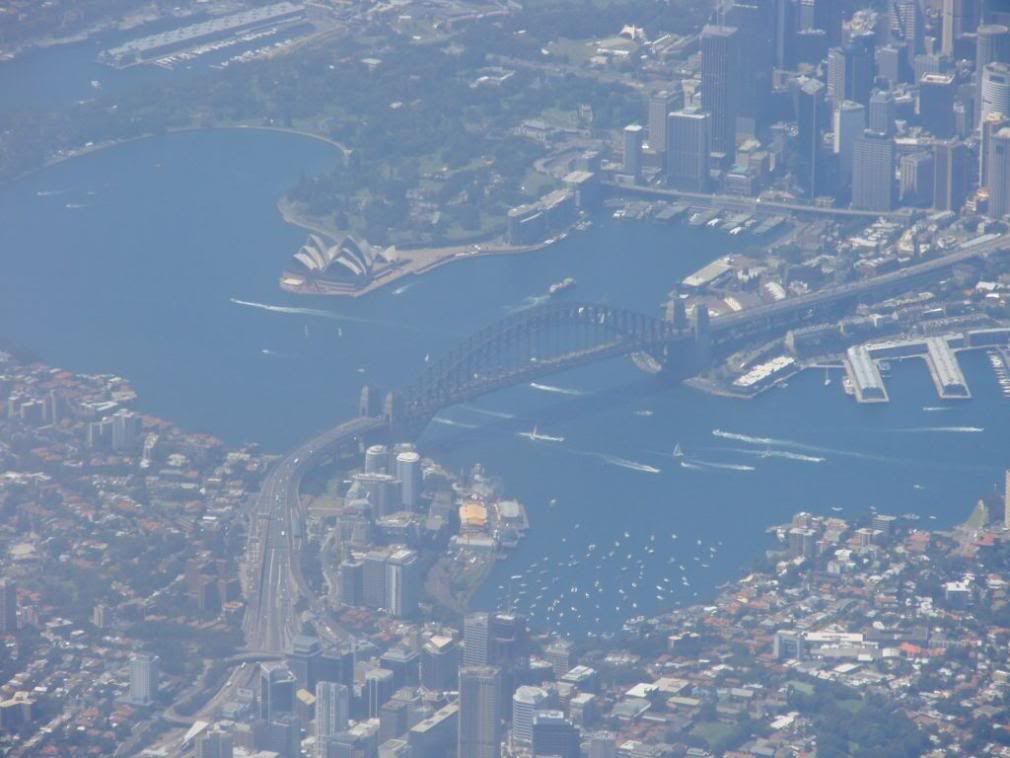 SYD in the distance - with the international terminal on the right and domestic terminal on the left.
Heading to New Zealand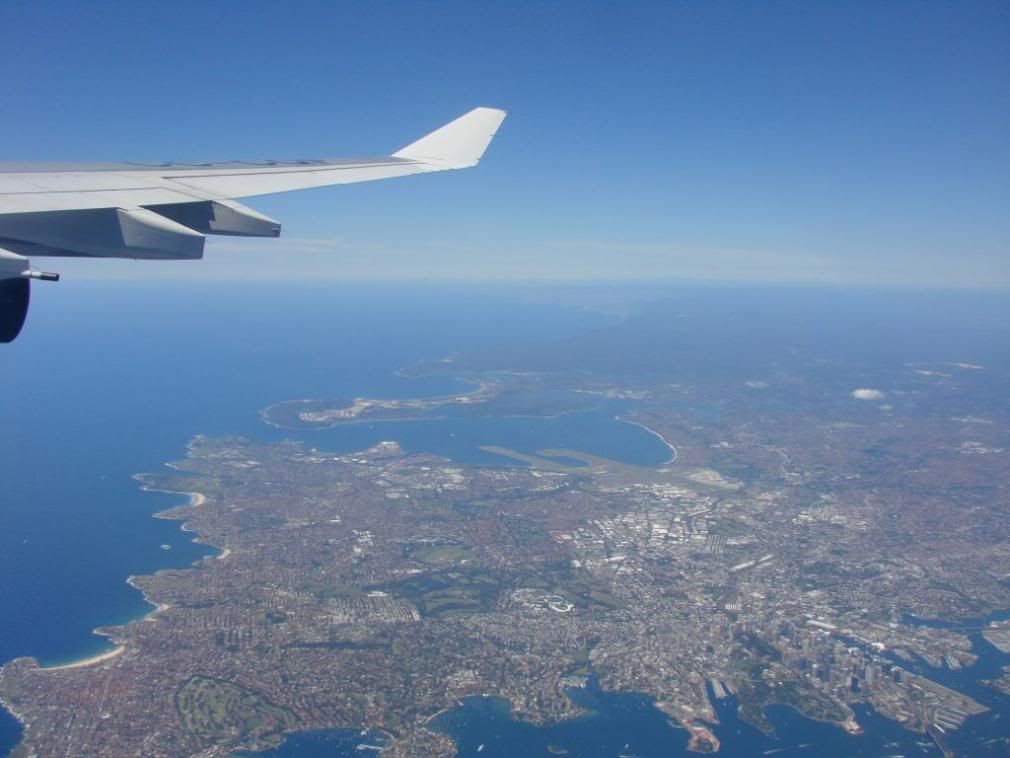 Shortly after takeoff F/As distribute headsets and started the meal/snack service. Unlike NZ, QF and EK LAN offers only one choice for meal along with fruit salad or dessert. So for those who have strict dietary requirements do chose your meal in advance when travelling both LAN and AR.
Meal Service consisted of some warm ham and cheese sandwich and fruit salad and along with beer, wine, fresh juice and water. I didn't bother with the sandwich and just handed it over to my seat mate. As you can see catering is not so flash compared to the locals and EK though one thing I did notice was there was no plastic knife, all stainless steel cutlery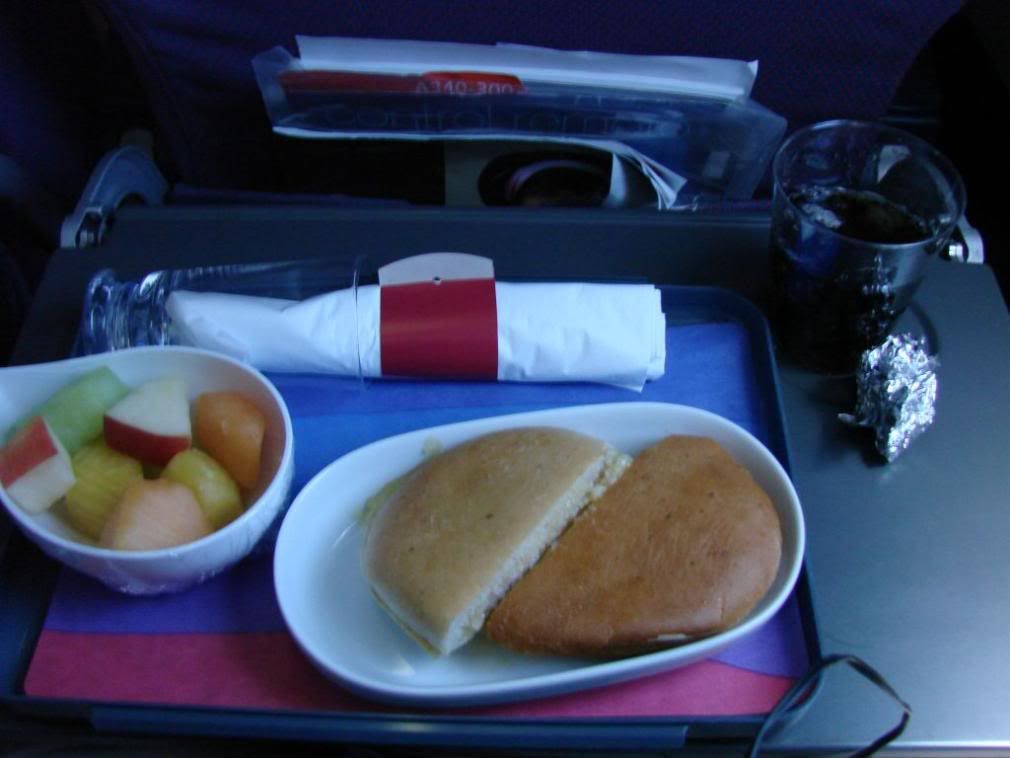 Inflight magazine and duty free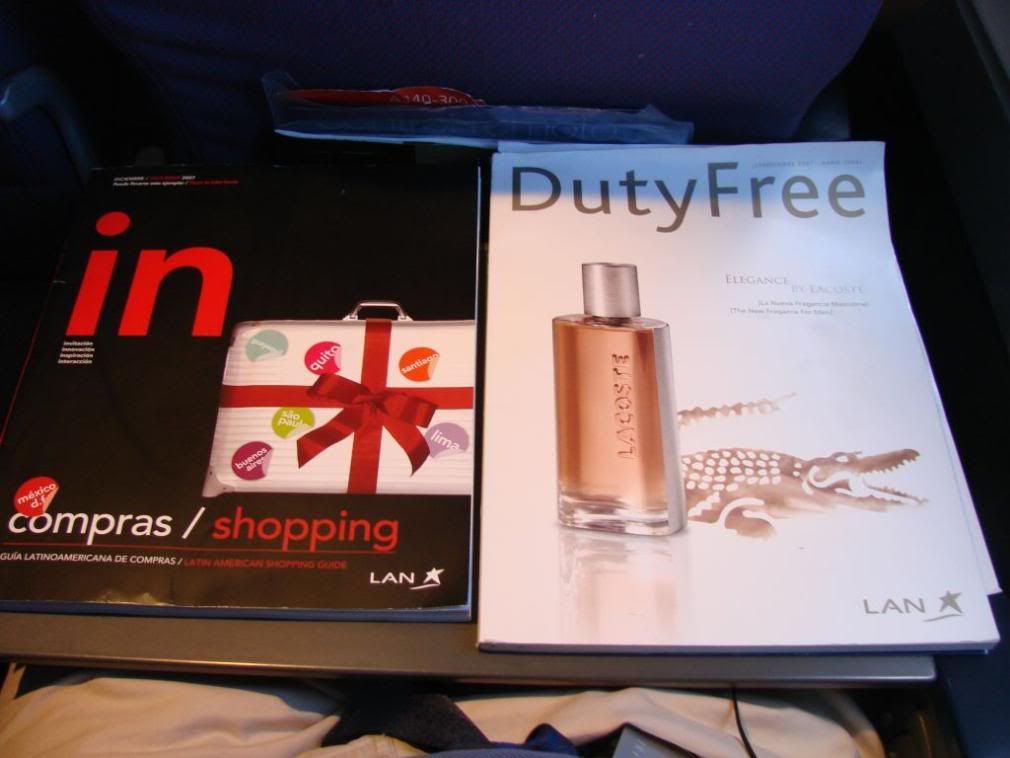 IFE guide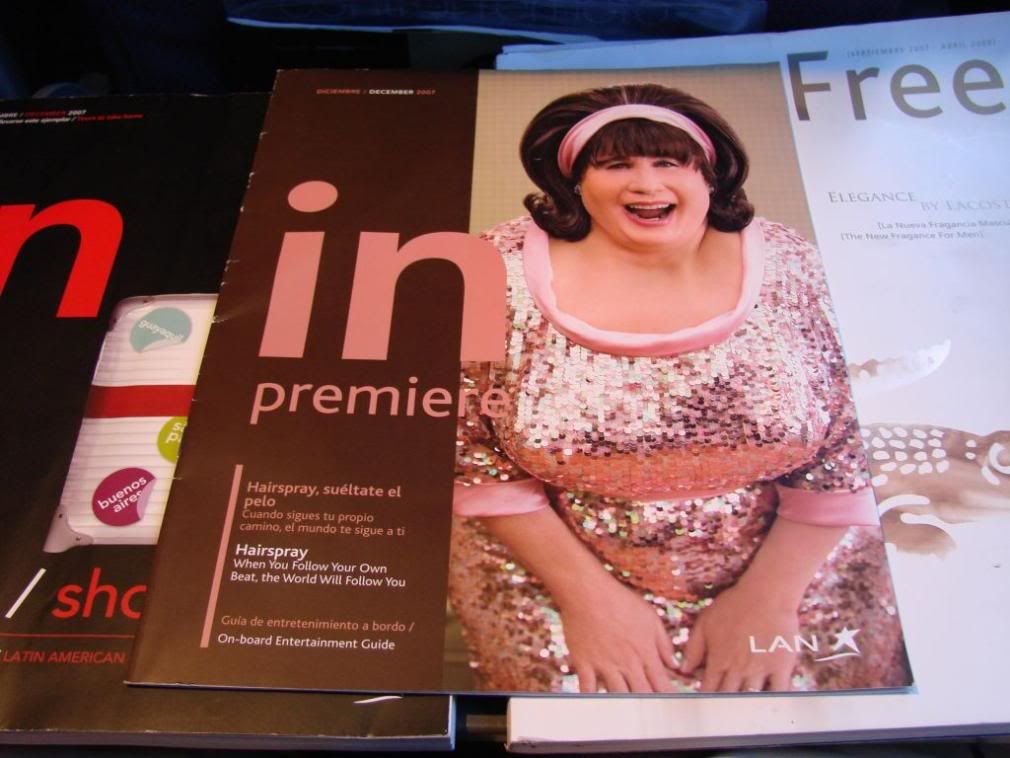 IFE - Limited choice in movies/TV but plenty of music to listen to and games play. Also has fleet information and neat little survey which you can complete about your experience with LAN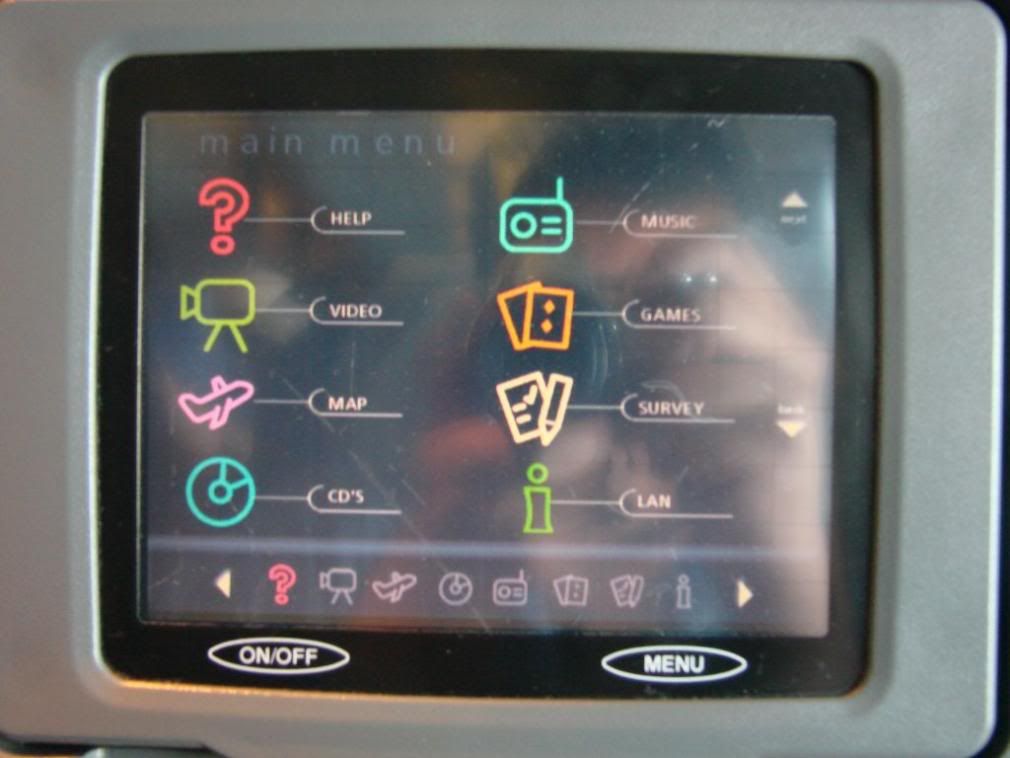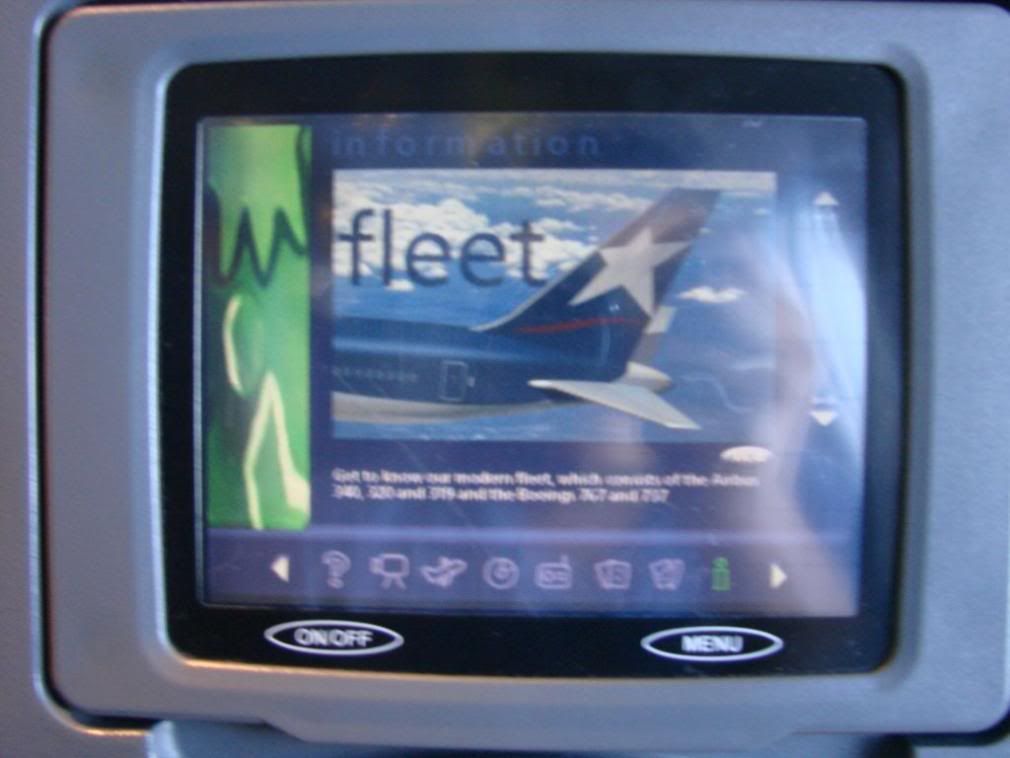 Cabin Shot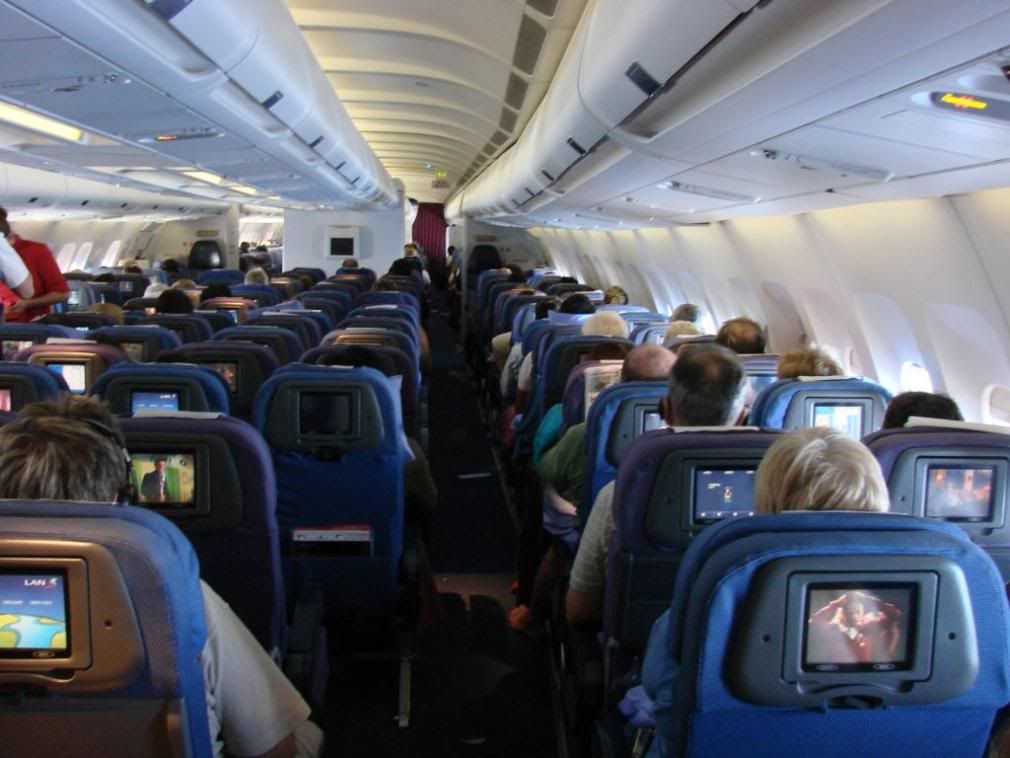 Duty free anyone?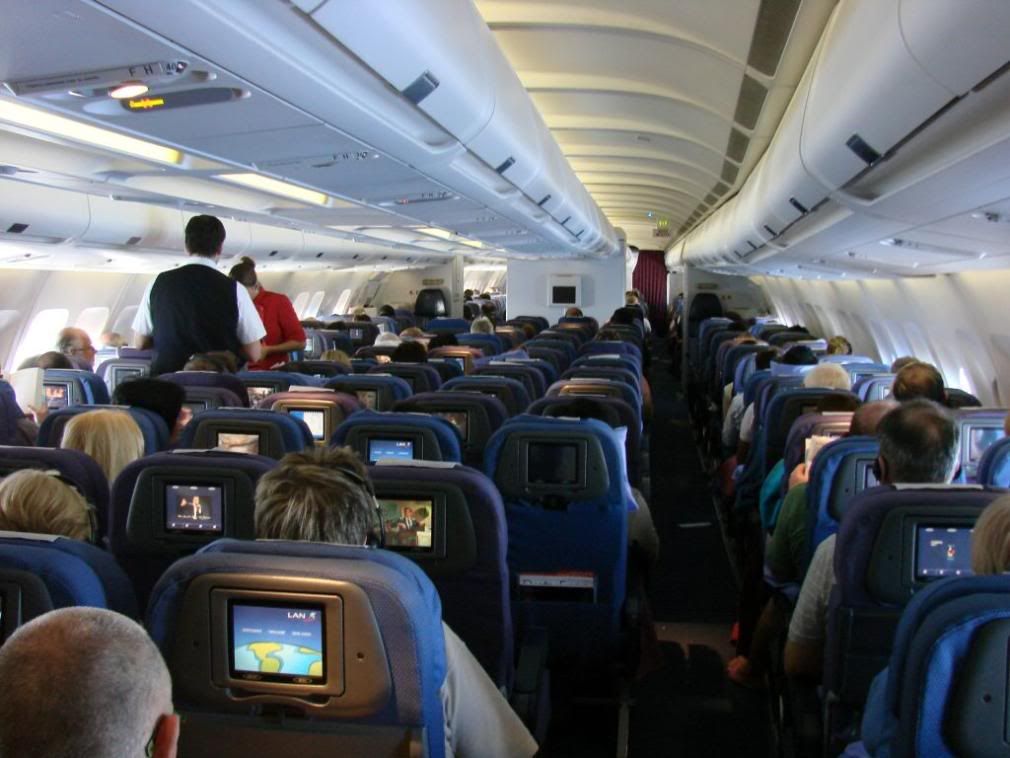 Airshow - approaching AKL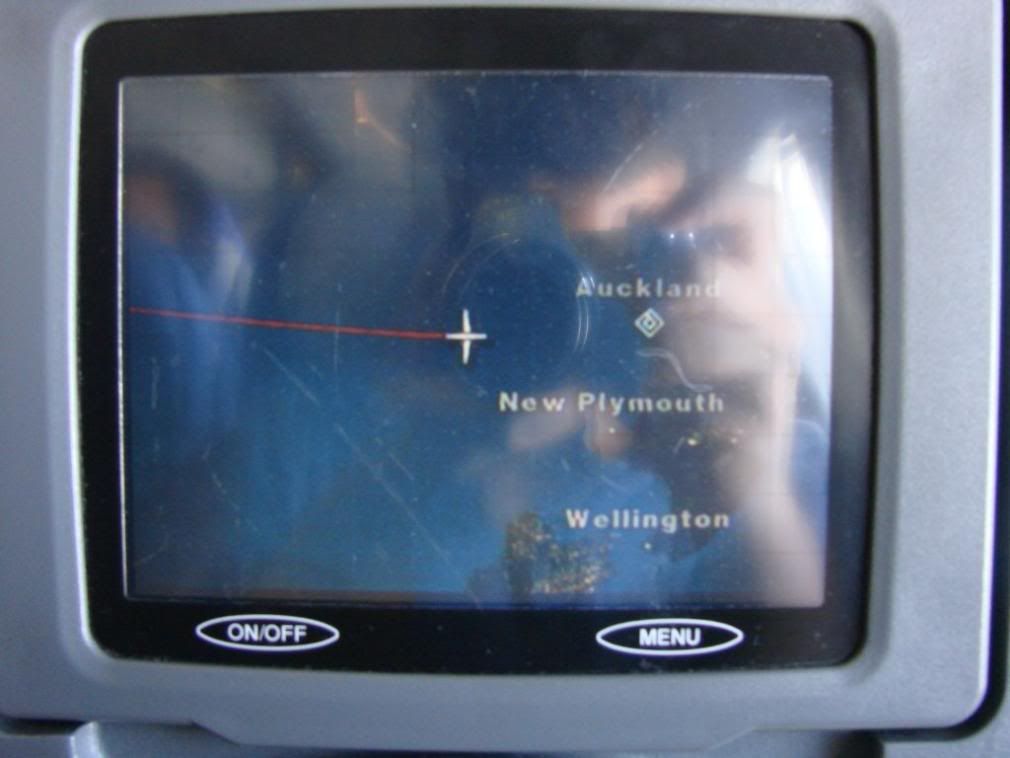 Land in sight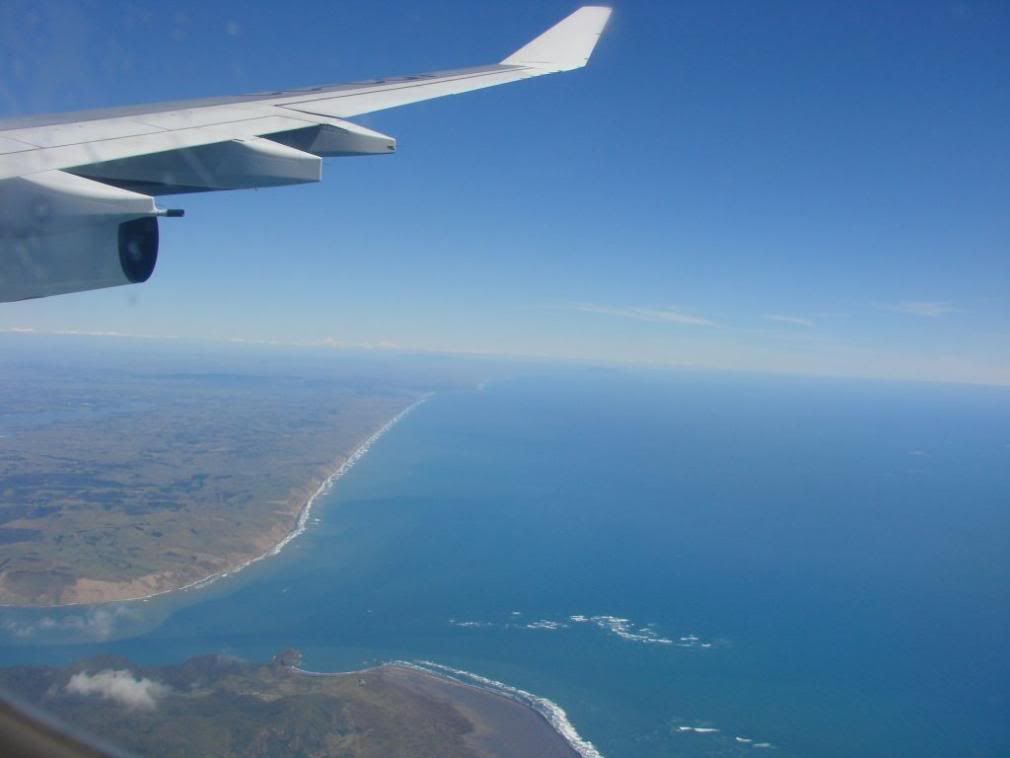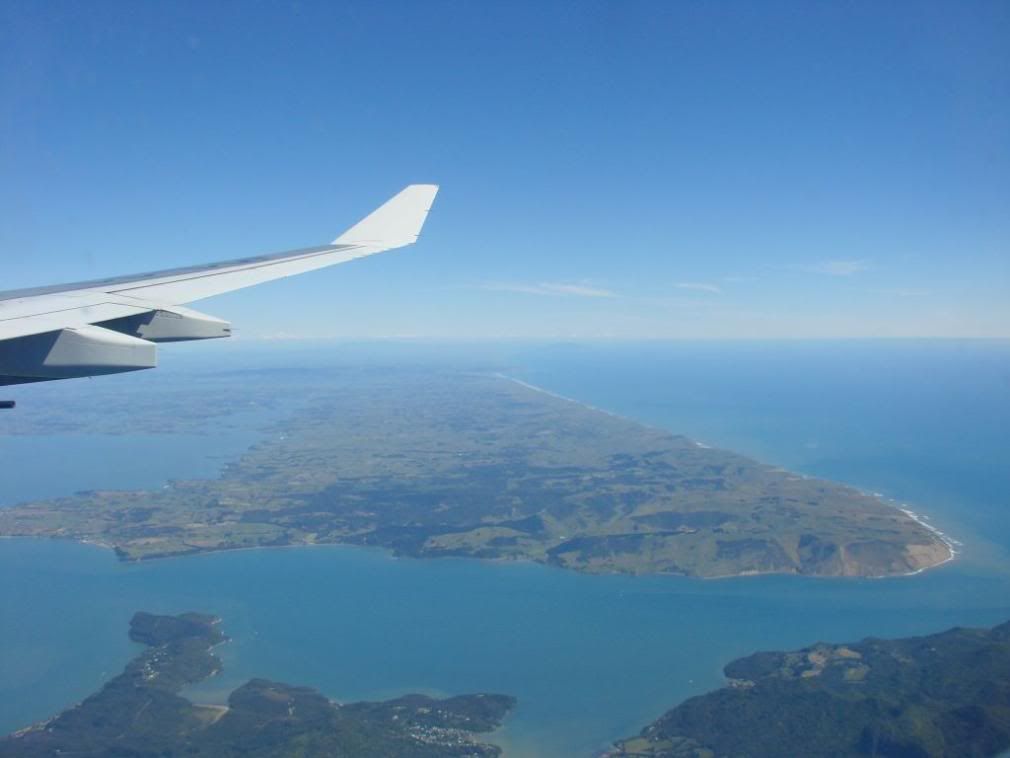 Airport in sight. Head past it make a few right turns and touchdown
passing a Pacific Blue 737 whilst taxiing to the gate.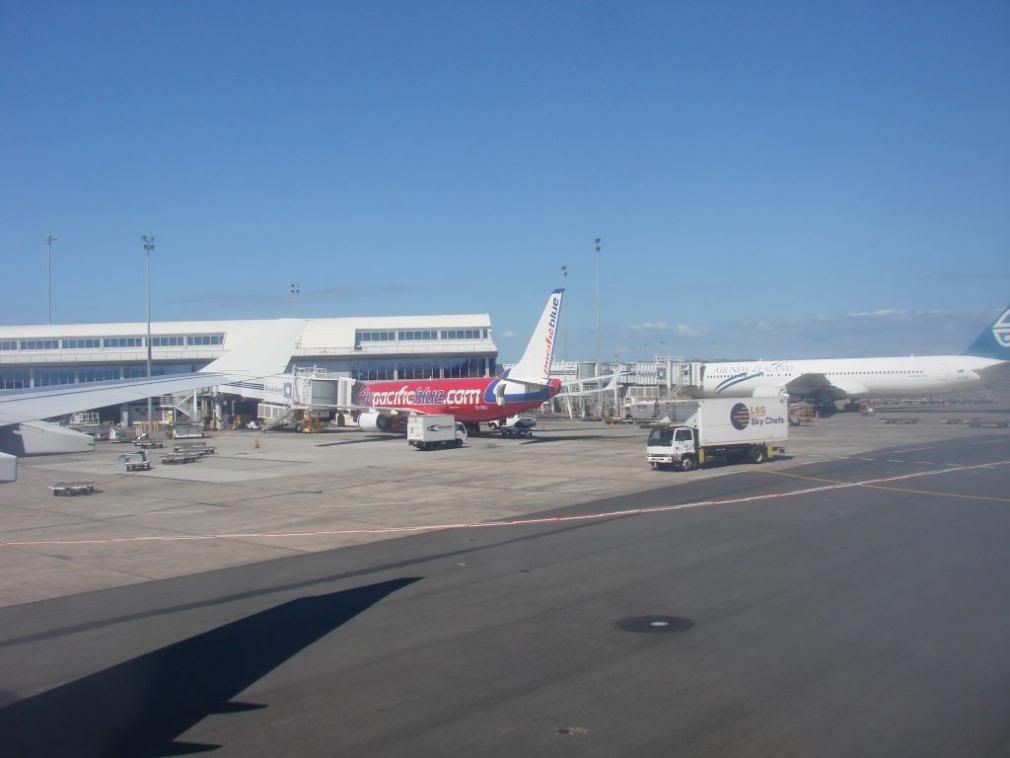 deplaning was quick with many passengers continuing their journey to Santiago which meant no queues at Customs and MAF. Overall the experience with LAN was a pleasant one
Date: 03/01/2008
Flight: AR 1182
Origin: AKL
Destination: SYD
Aircraft: LV-ZRA Airbus A340-211
Scheduled departure time: 0911
Actual departure time: 1010
Scheduled arrival time: 1111
Actual arrival time: 1120
Seat: 7D
I arrived at check-in 90 minutes prior to the scheduled departure and used the dedicated check-in queue for business class passengers. NZ carries out all check-in procedures for AR passengers. I was told by the cheerful check-in agent that flight was running late this morning and that I could make use the NZ lounge. After check-in headed to the Travelex to pay the mandatory $25 departure fee. Hopefully this will change sometime in the future and $25 is included in the ticket price.
Departure hall - plenty of duty free shops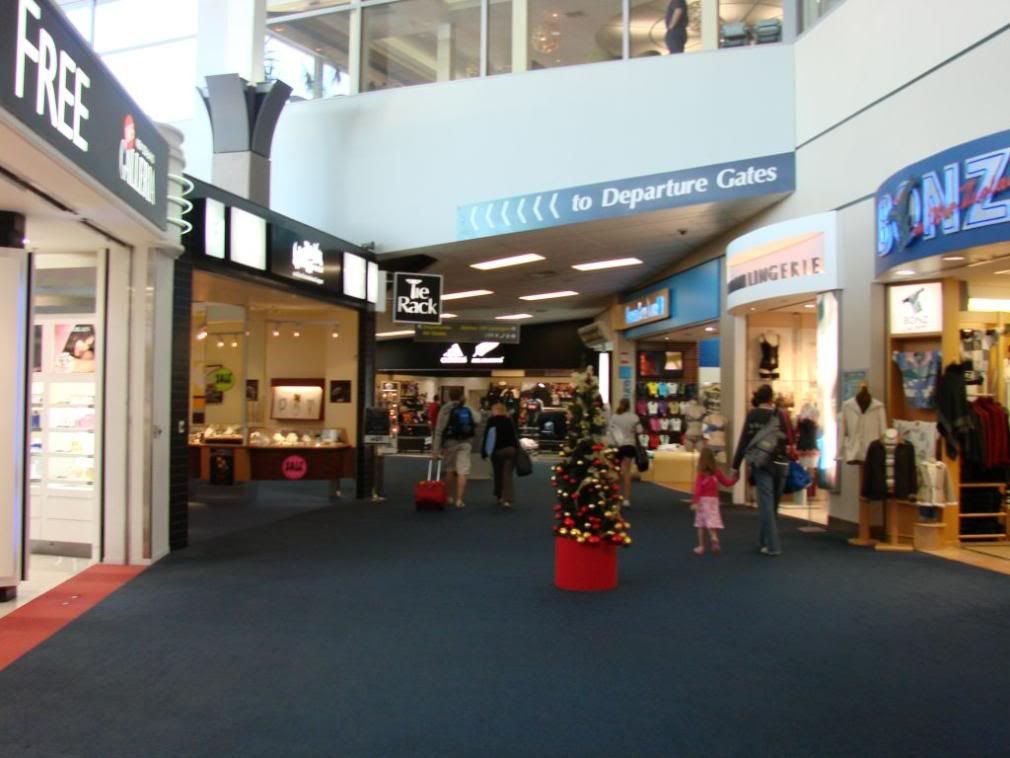 Observation deck
ZK-NBS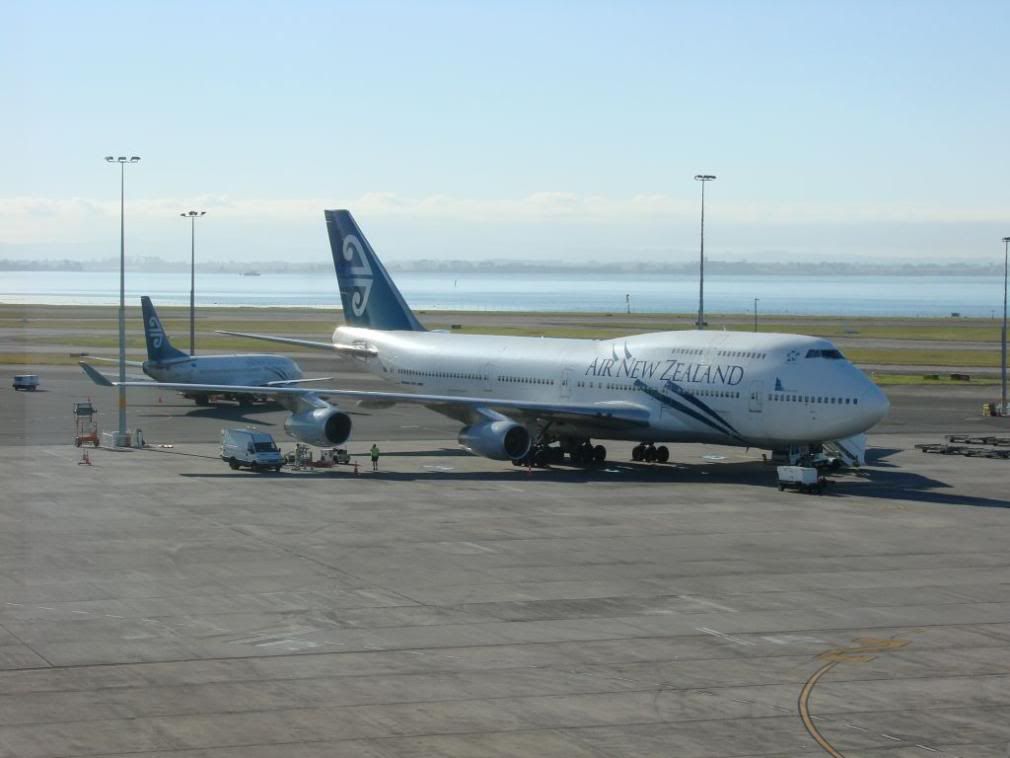 B-HXG and ZK-OJG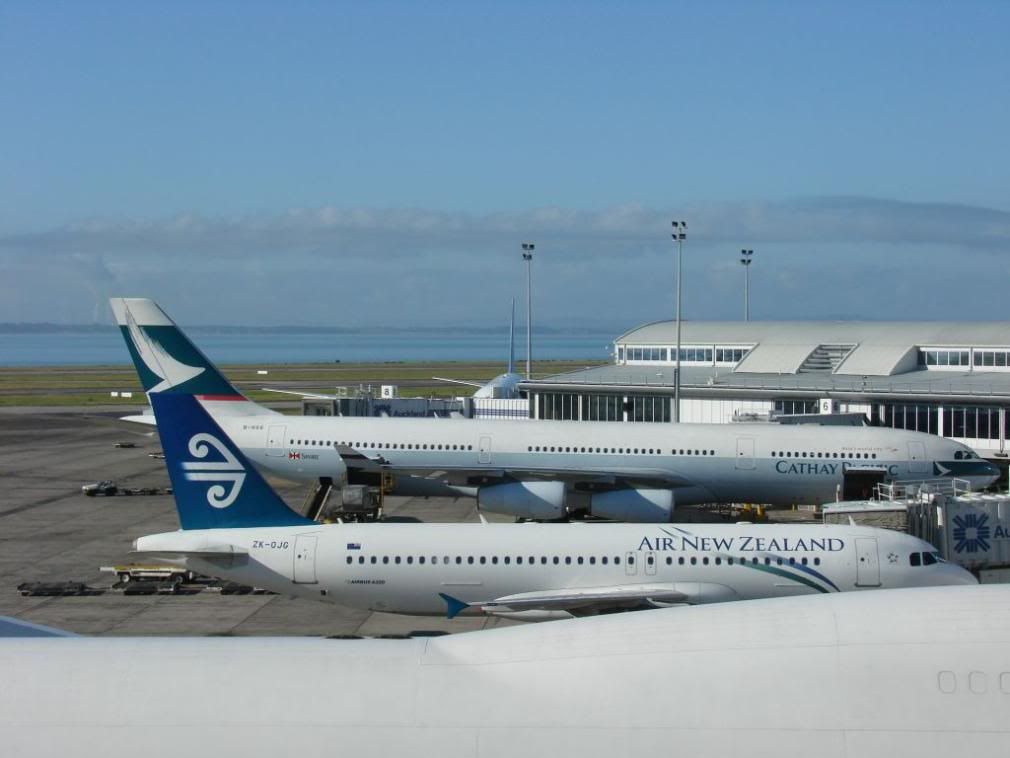 ZK-MCC
VH-OJI - saw her in SYD on the day I departed.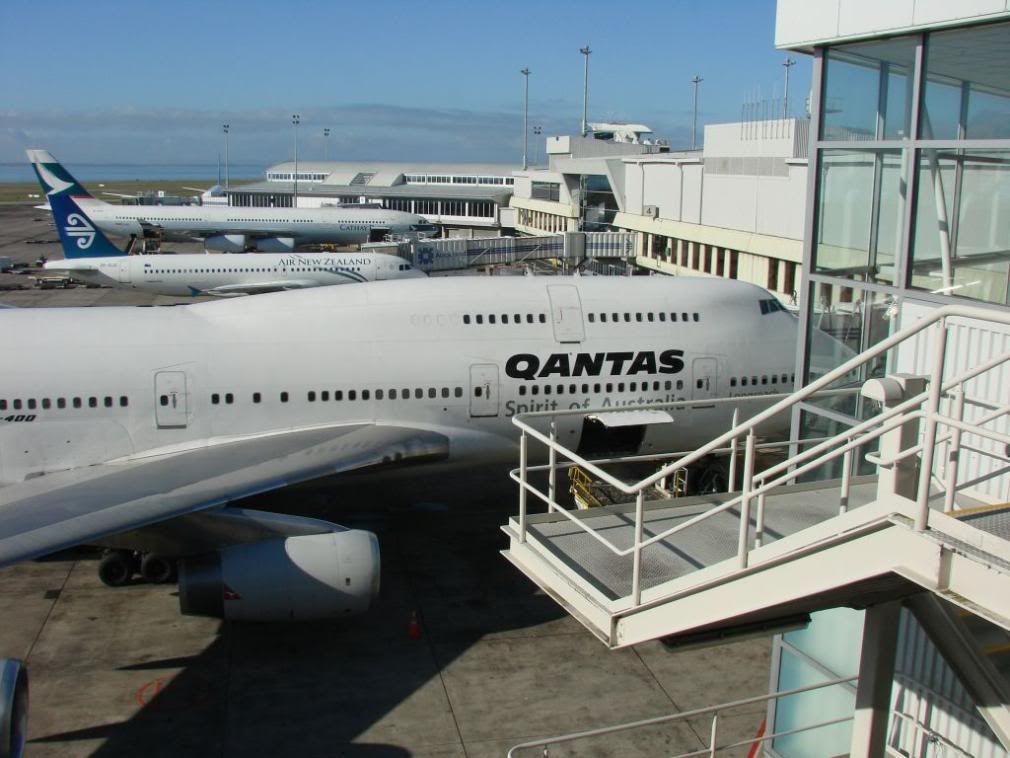 Emirates Lounge - will be buzzing with activity come 3pm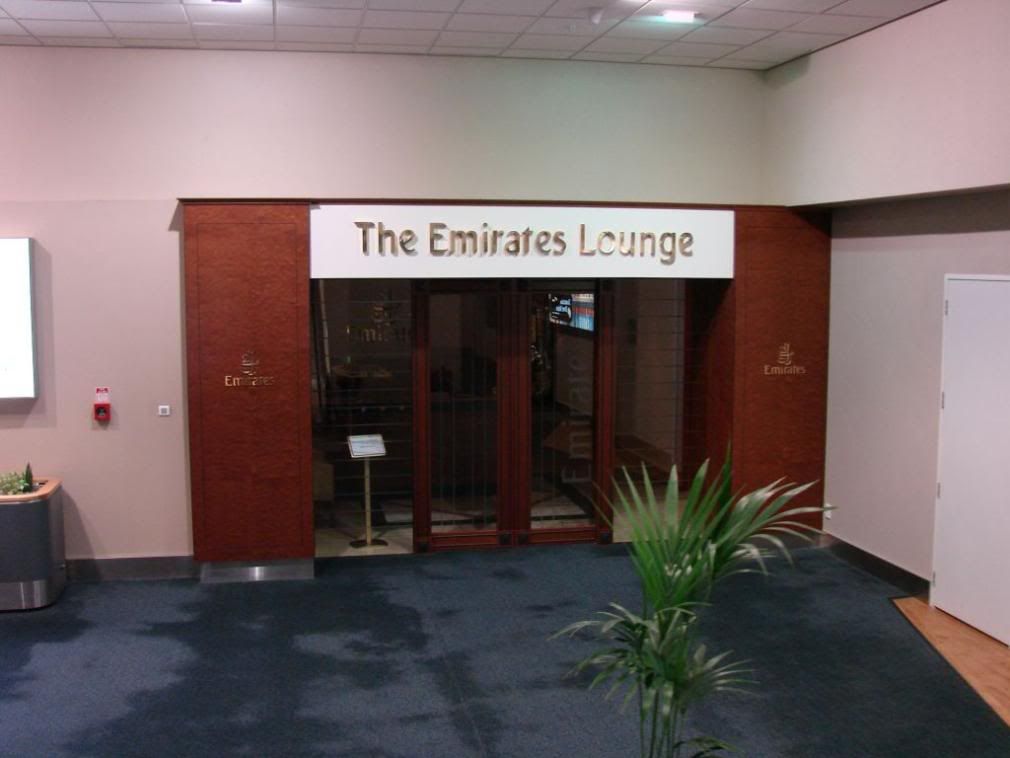 NZ Koru Lounge - A spacious lounge with all the facilities you would expect to be available from Newspapers and magazines, to PCs with internet access , PSP for the kids and a nice selection of food and drinks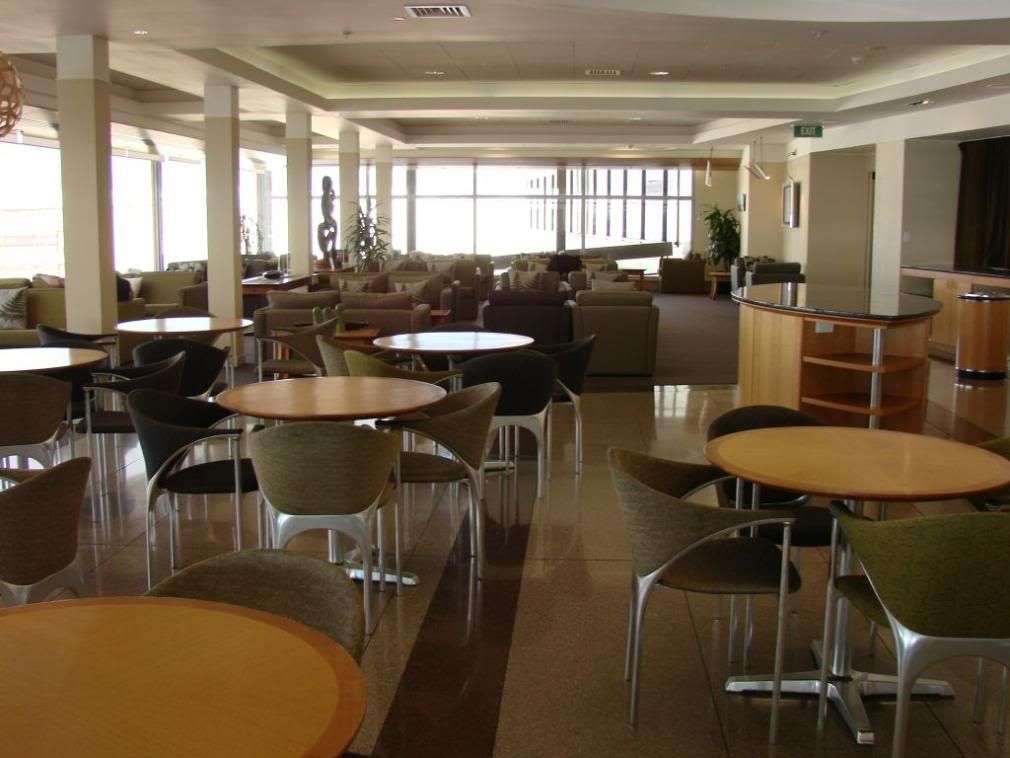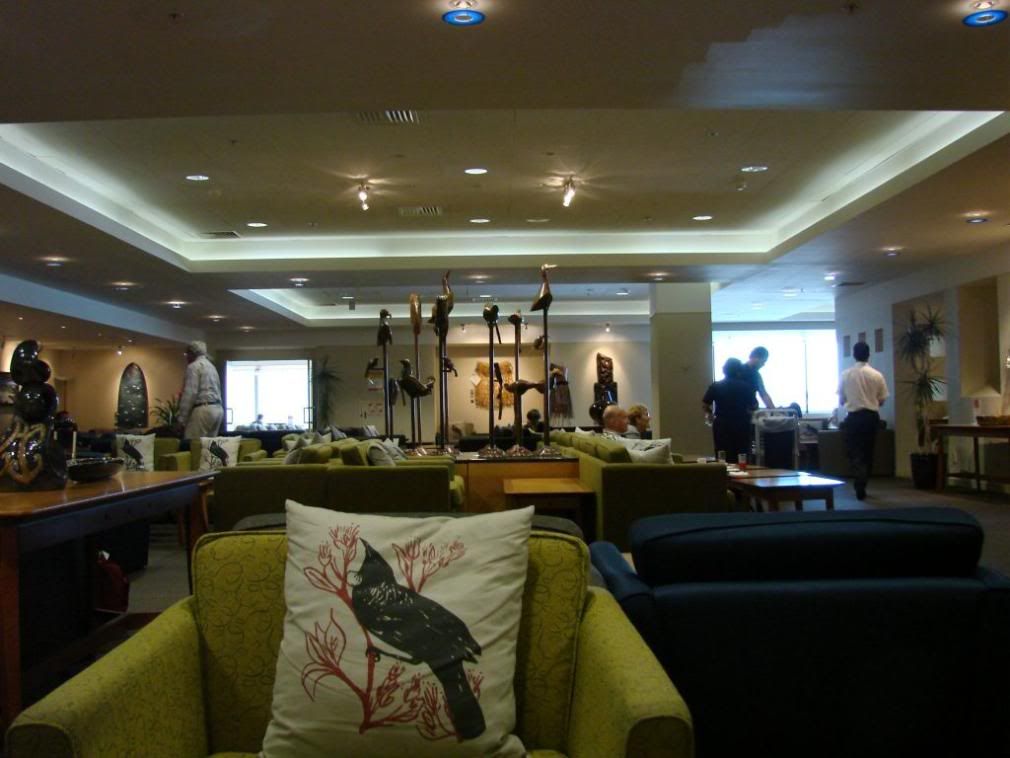 hmm breakfast.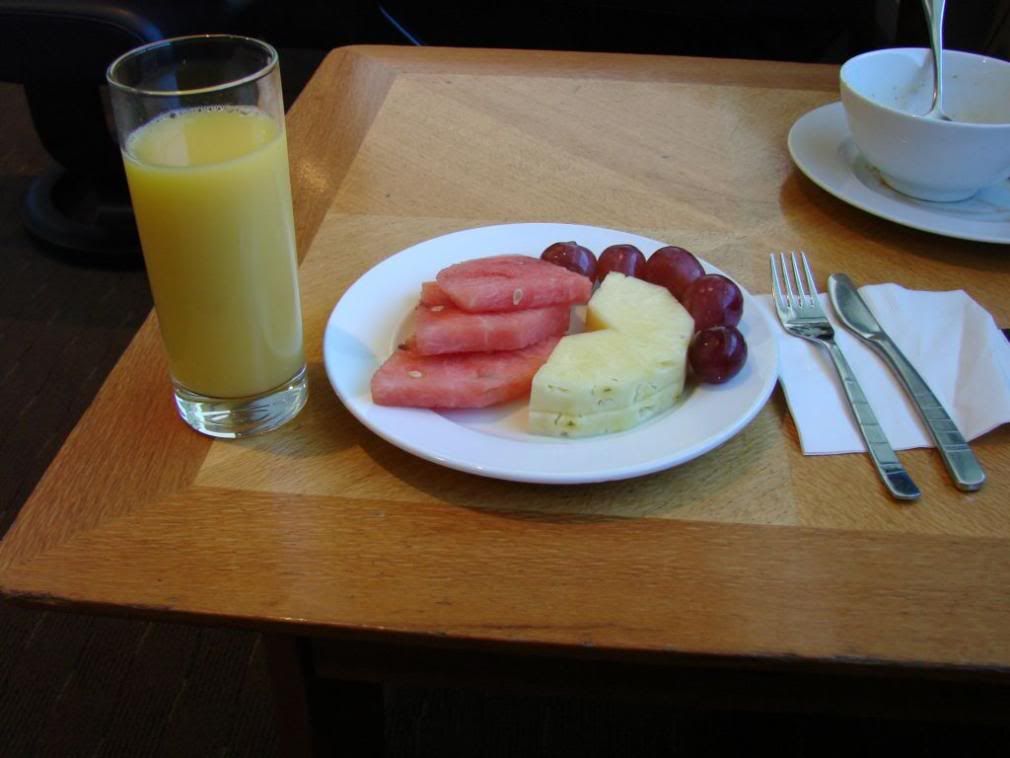 AKL - Departure gates.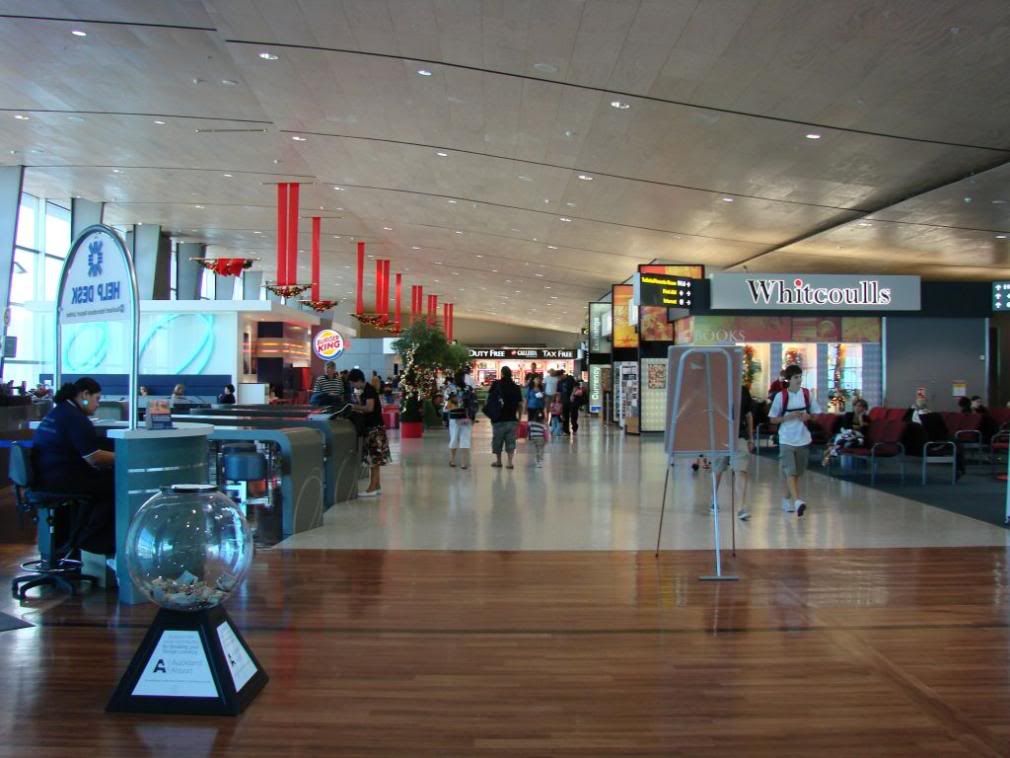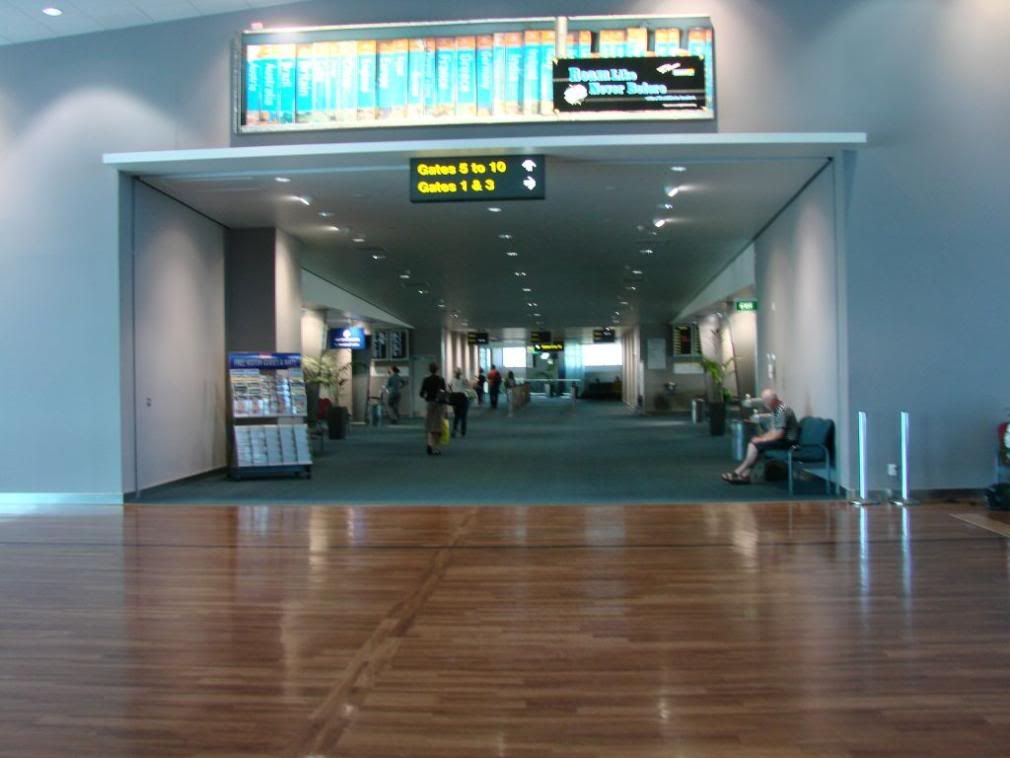 Shots taken from gate 8
Taking me to SYD - LV-ZRA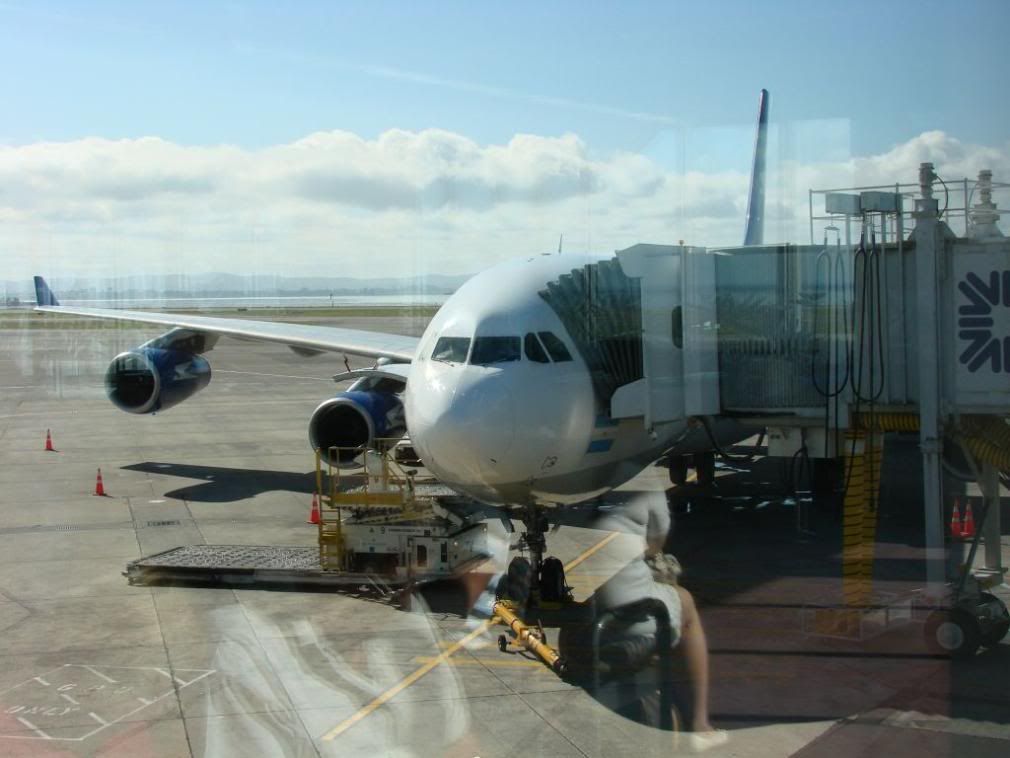 ZK-OKB - Saw this one in SYD as well on the day I departed. I believe she was heading to NRT Koruman's favourite destination on the NZ network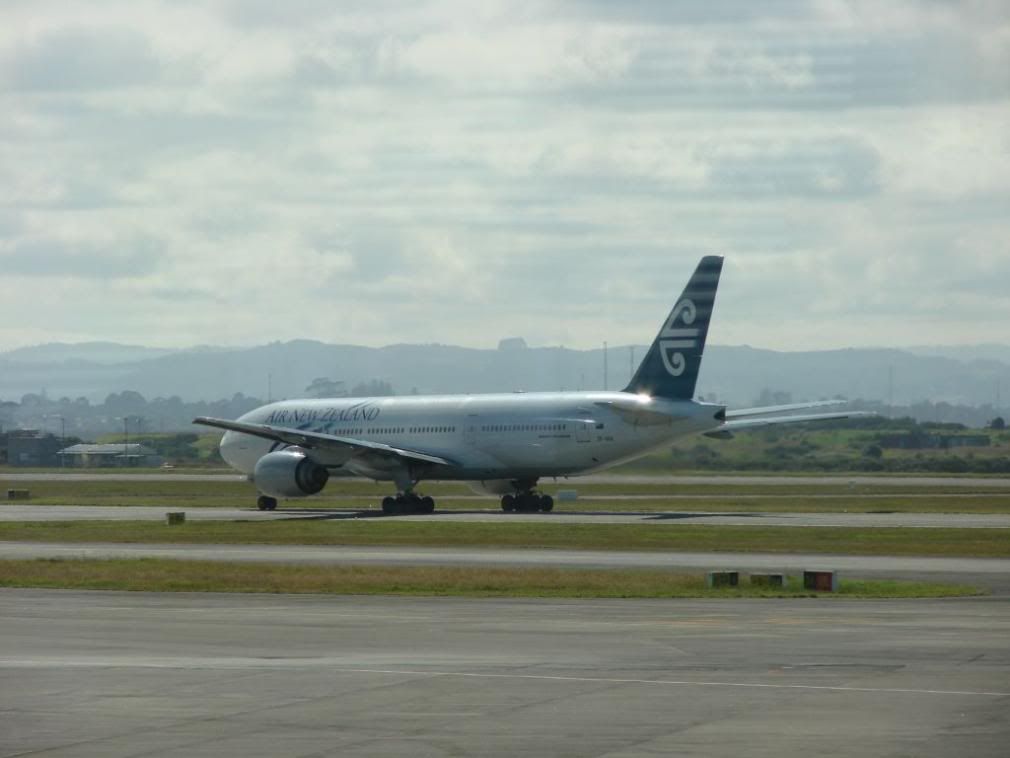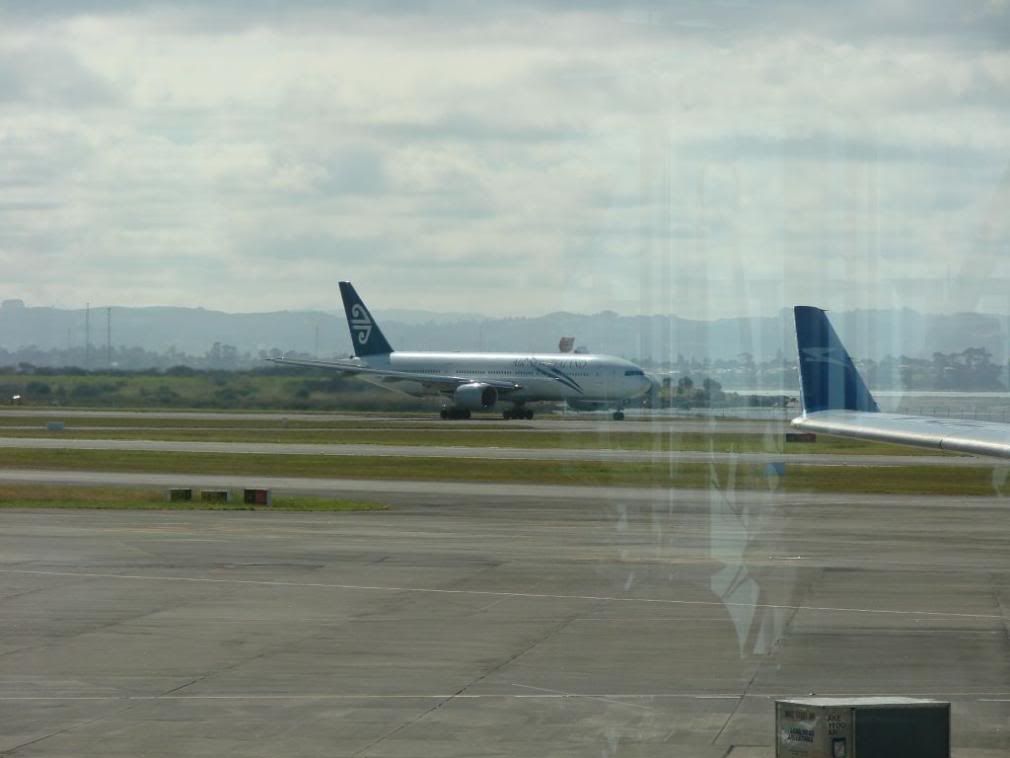 I don't know where this one was heading. Possibly MEL or BNE??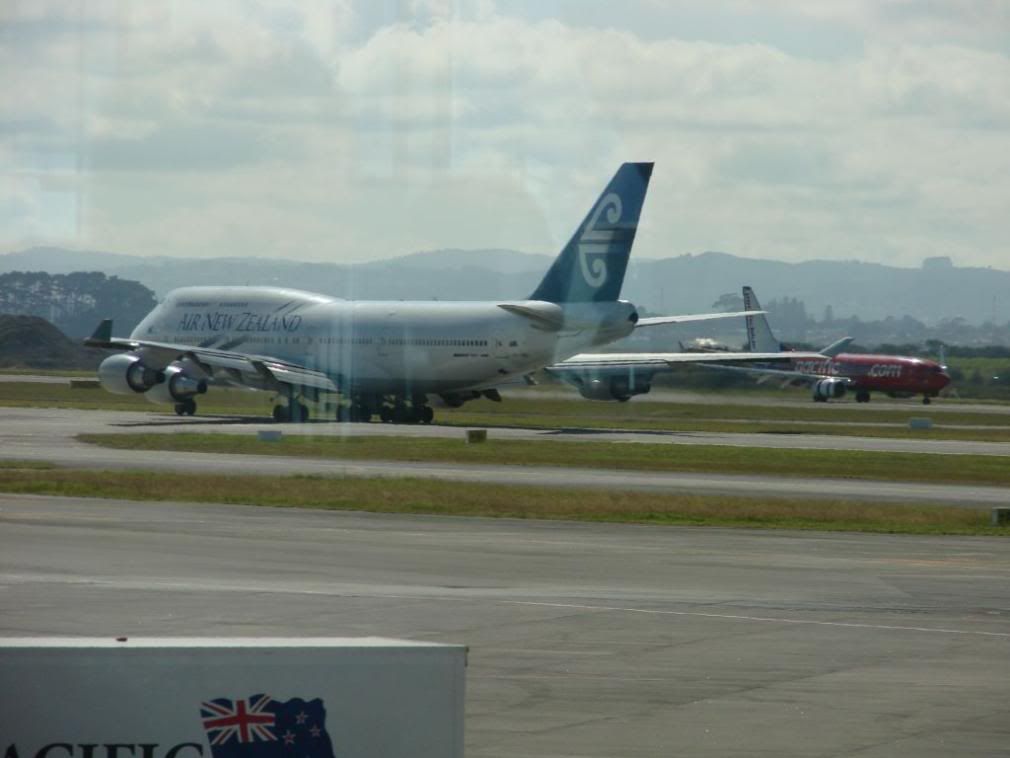 Boarding announcement was made with business class and passengers with children given priority followed by economy class passengers. Boarding was separated from transit passengers and AKL originating passengers. I was welcomed by the purser who kindly directed me to my seat.
Pre-take off drink was offered once the doors were closed. Champagne or Orange Juice
Shortly after take-off the meal service began. Once again only one option was given. 2 sandwiches and spinach/vegetable patty and lamb skewer along with piece of cake, dried crackers, warm bread roll with South American wines, beer, fruit juice and water. After breakfast tea and coffee was offered as well as another drinks round.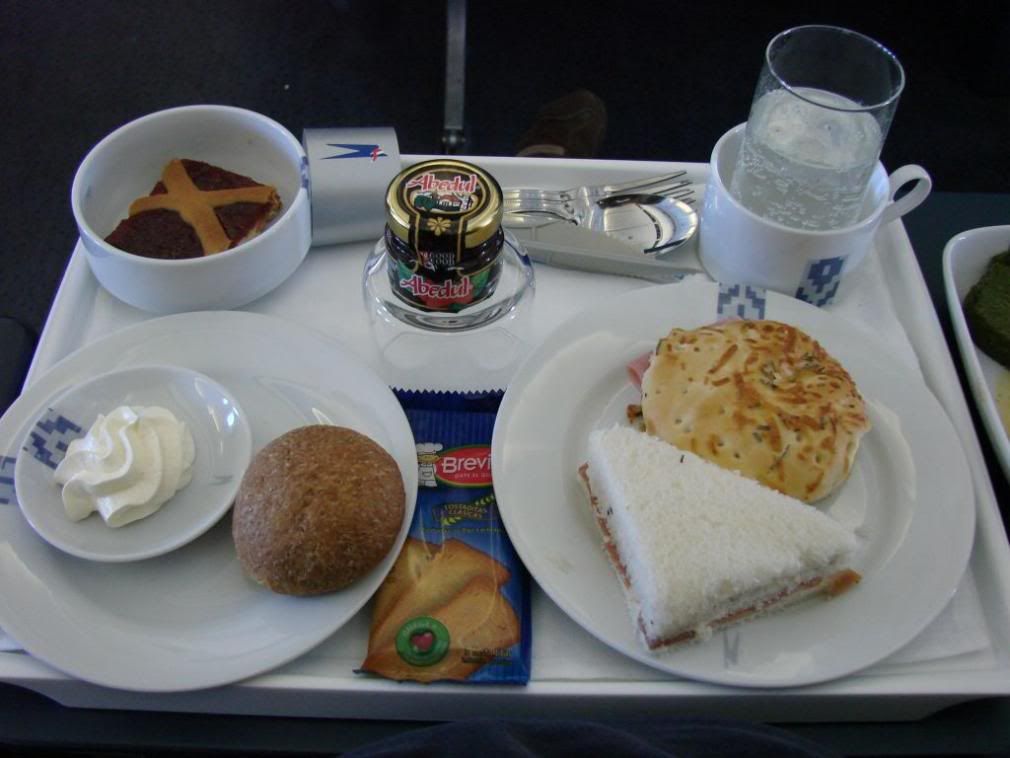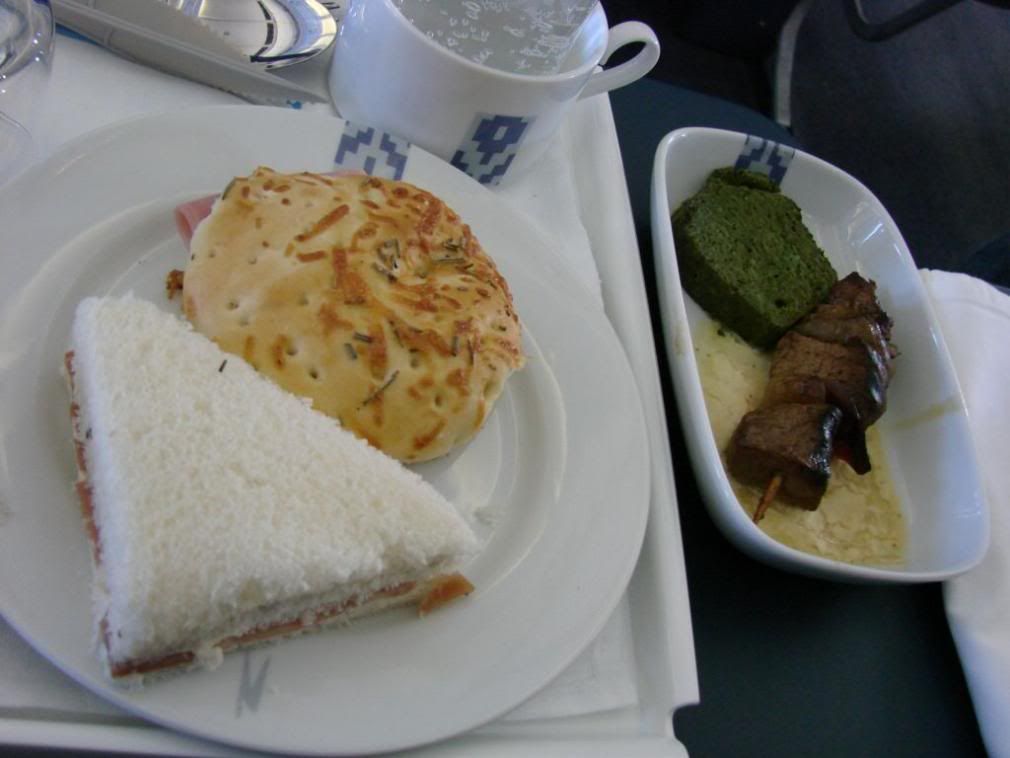 Flying over the Tasman.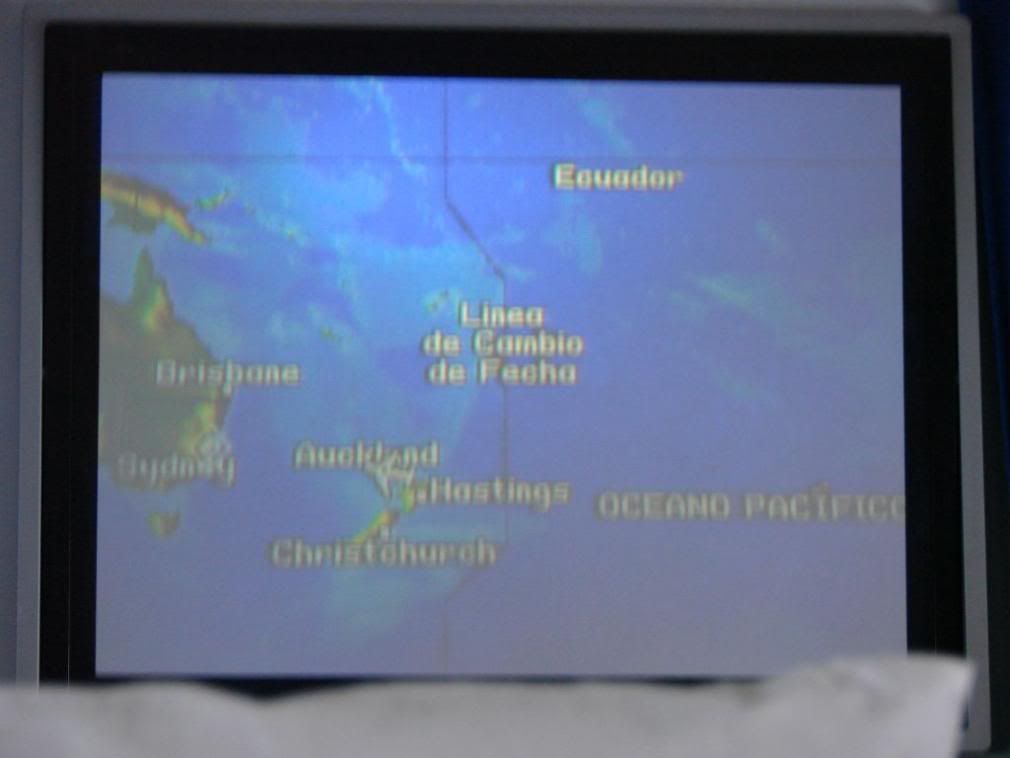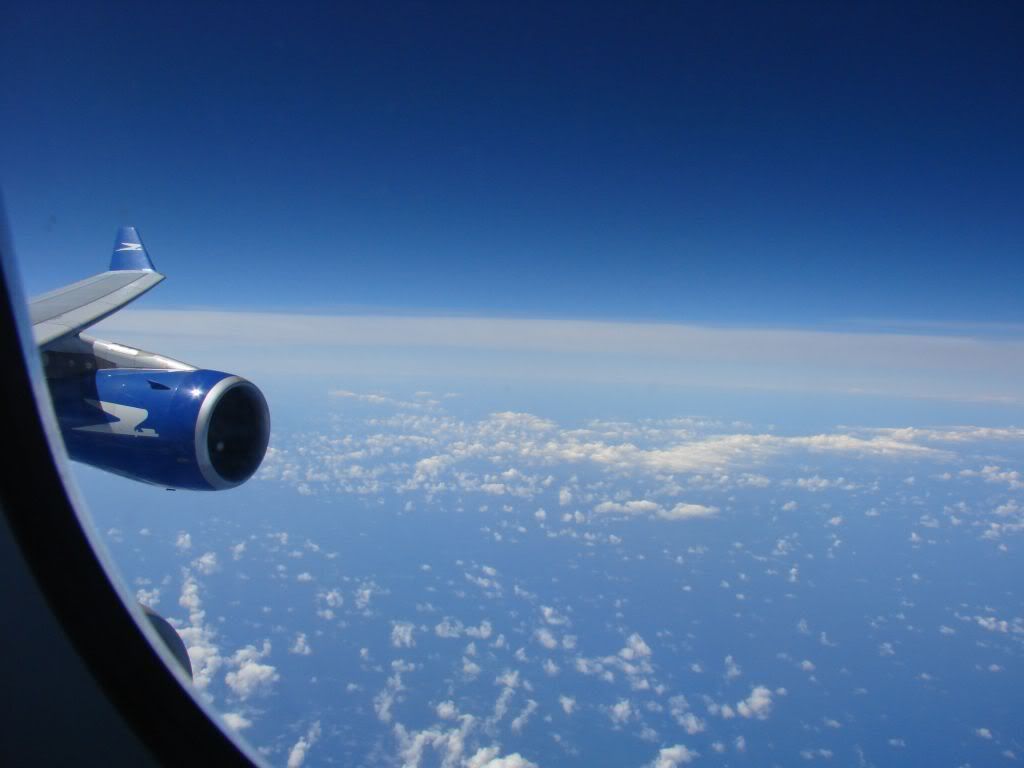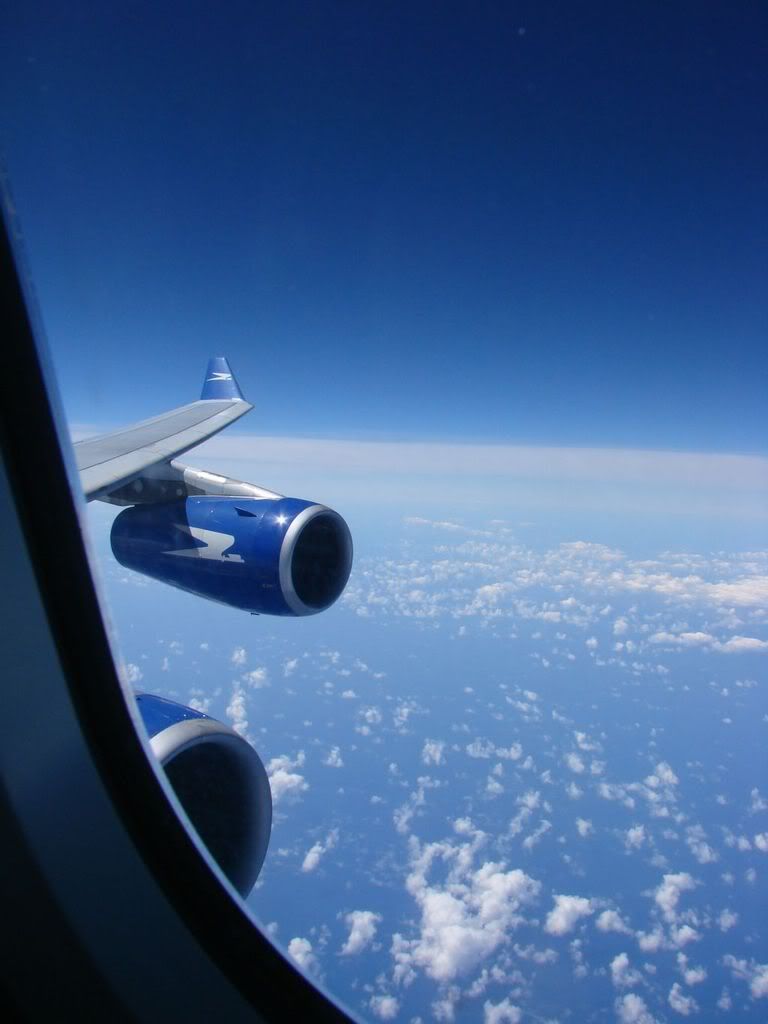 Some cabin shots.
Business Class - Notice there is no middle overhead because of the projector.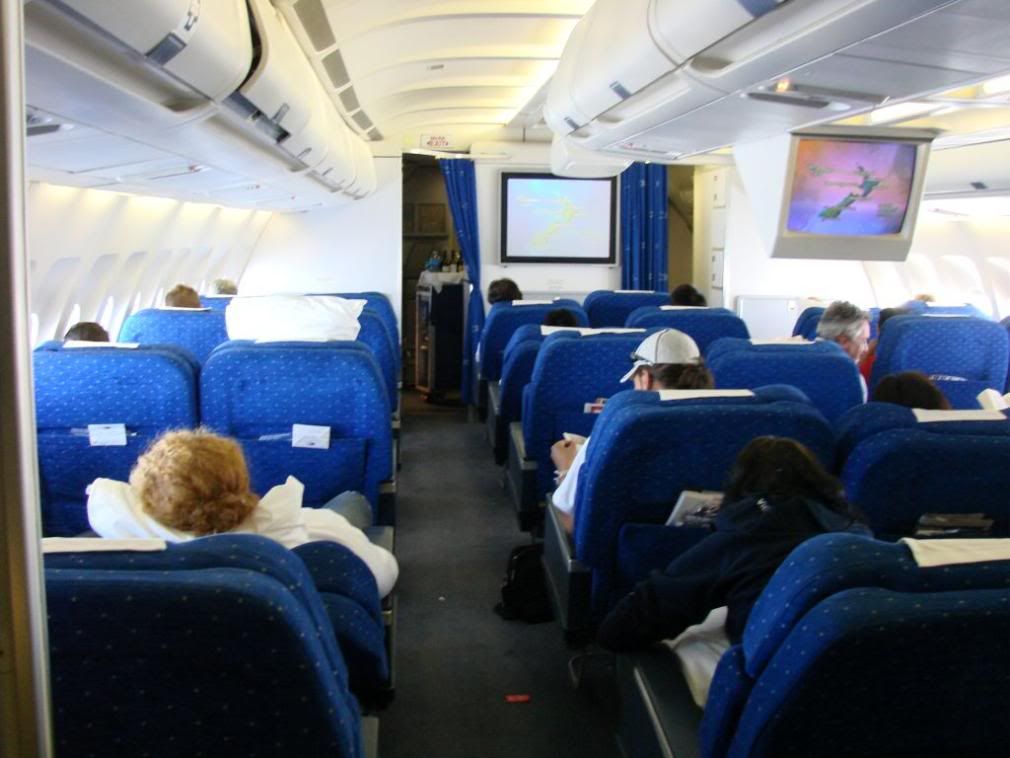 Economy Class - full of Brazilian school students on an overseas study program.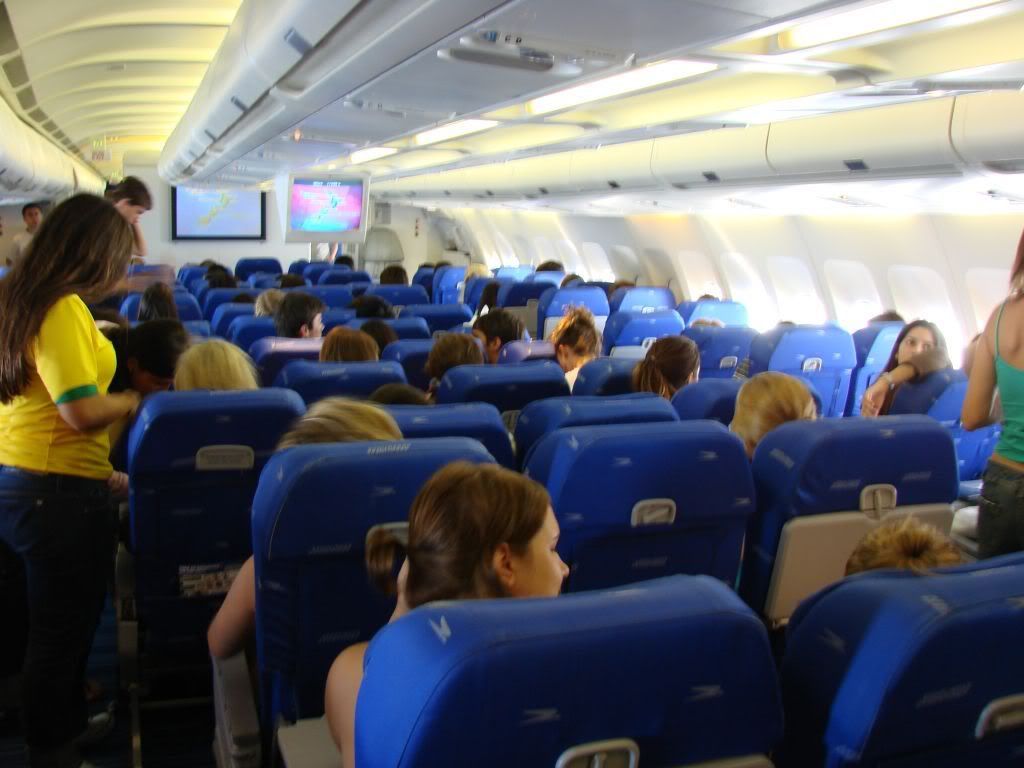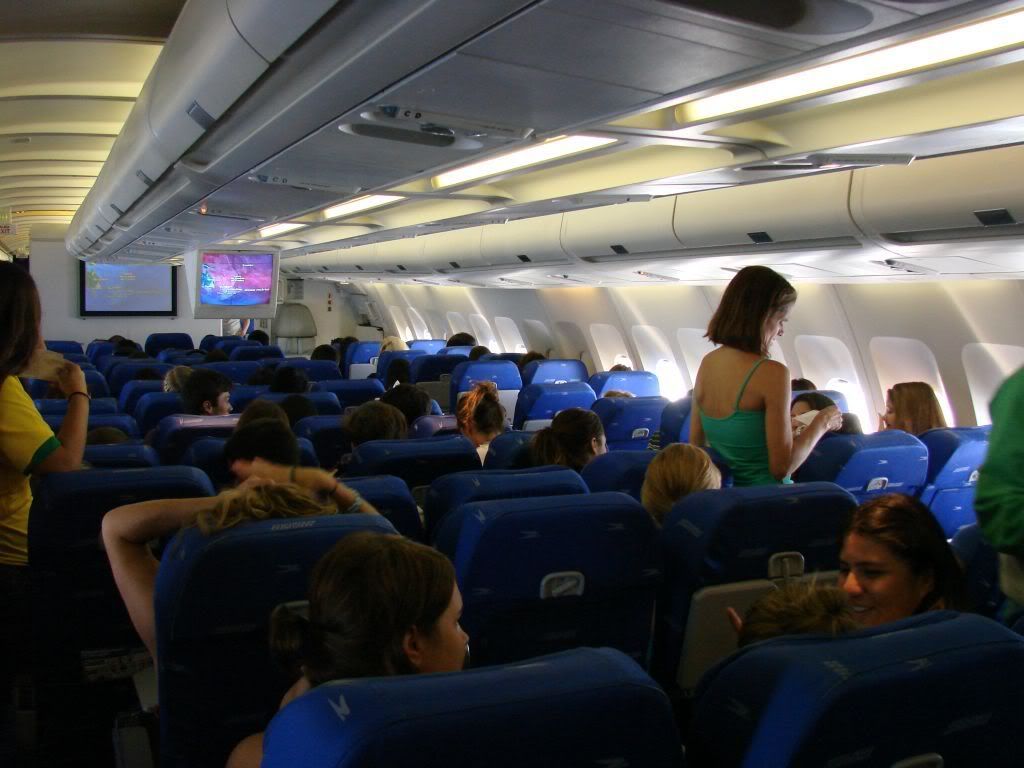 Once again the experience with Aerolineas was pleasant one and well worth the price.
My next trip across the Tasman I'll be sure to get NZs 772 as well as QFs new 332s
Any questions, comments and criticism welcome.
Previous Reports
SYD-MEL On Qantas With Pics & Videos
(by
VHVXB
Dec 3 2006 in Trip Reports)
SYD-CHC-SYD & Sights (Many Pics)
(by
VHVXB
May 2 2007 in Trip Reports)
SYD-BNE-SIN-KUL-SIN-BNE-SYD With Etihad Many Pics
(by
VHVXB
Oct 18 2007 in Trip Reports)