Qatar Airways Beijing-DOH-London Heathrow
This is just a quick report about four flights I just took with Qatar Airways flying Beijing to London via Doha return to go home for Christmas. The flights were only booked a few weeks before Christmas, but there seemed to be lots availability on all airlines, and the fares were reasonably low. Qatar Airways was the cheapest airline that I could earn Lufthansa miles with (except Air China, but I didn't want to fly with them).
I arrived at the airport fairly early as I was meeting a friend arriving from Fukuoka (via Qingdao). His flight was delayed by three hours due to bad fog somewhere, so I hung around as long as I could in the bar overlooking departures with him before going though to checkin at 2250. The check in desks in Beijing are in a passenger only area, so I couldn't have checked in, then gone back to see my friend which is annoying.
QR A330 in a very foggy Beijing
21st December 2007
Beijing Capital PEK – Doha DOH
QR 899
Scheduled: 2355-0440 Actual: 0012-0439
Aircraft: A332, A7-ACK Seat: 35K
When I arrived at the checkin desk, there was no one else checking in, so I was seen to straight away. The Air China staff there didn't seem particularly interested, but got the job done. From there I went through immigration (no queue), and security (small queue of Chinese speaking Sudanese children who hadn't got a clue what to do). There wasn't much happening in the terminal that night (SQ and CA to SIN, TK to IST, EK to DXB, Air Astana to ALA and QR to DOH), so after a quick perusal of the duty free, I headed down to the gate, where there was a big crowd of Chinese passengers, and an even larger group of rowdy Sudanese children.
Boarding was reasonably calm and efficient, and before long, everyone was seated. Thankfully, despite the flight being quite full, I had an empty seat next to me (something that would happen on all four sectors). After being de-iced, we taxied to the active runway, and took off to the North, following the Turkish Airlines flight to Istanbul. Before take off, the cabin crew (who were always immaculately turned out), came around with amenity packs (socks, eyeshades, headphones etc), menus, pre-packaged moist towels and boiled sweets. This offering of goodies was repeated on all four legs, except for the DOH-LHR daylight flight, where they didn't give out an amenity kit.
Shortly after take off, the cabin crew came round taking drinks and meals orders (a choice of sweet and sour fish or herb grilled chicken).
The Herb Grilled Chicken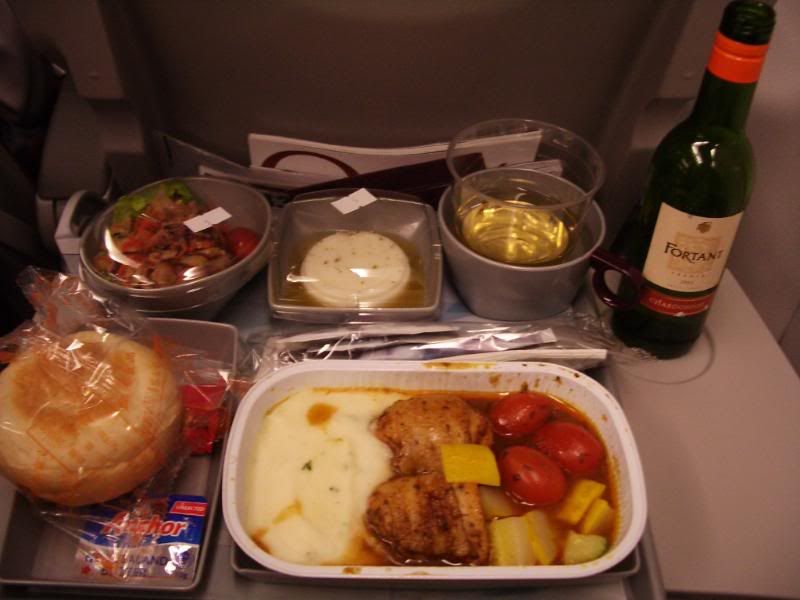 Rather bizarrely, the crew seemed to ask what you wanted to eat, then go back to the galley and carry it back for each passenger individually. It can't be a very efficient way of doing things, but they seemed to do it for every meal service. It did seem like a lot more effort for the crew – I assume its part of the 5 star cabin crew rating. I'm not sure if I like this method – it seems a bit business classesque, but in economy class, late at night, you just want your meal ASAP. The food was good, and the drinks were plentiful.
I managed to get nearly six hours of sleep on this leg, which really surprised me, as normally I can't sleep on planes. Qatar Airways blankets are particularly good, though the pillows are covered in a paper-like material – not so good. The crew turned on the cabin lights two hours before landing, which I thought was a bit early given the local time.
Not far from Qatar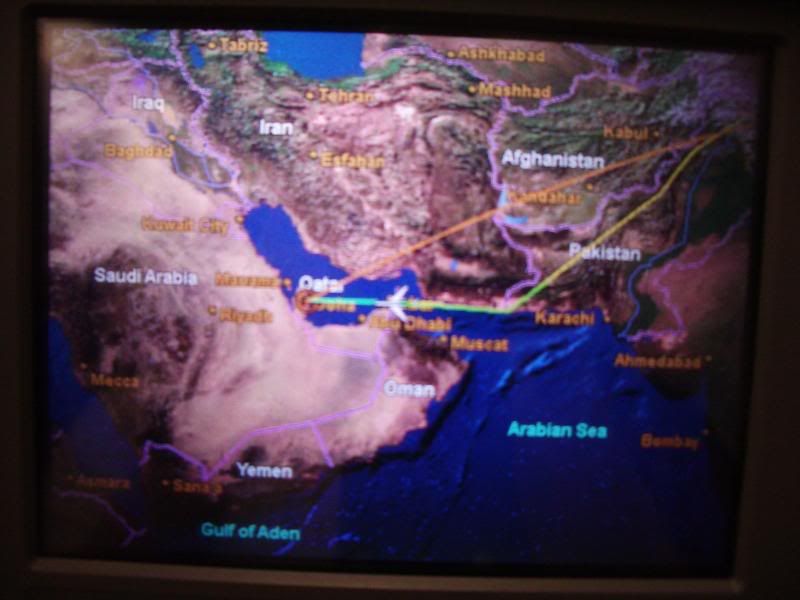 Breakfast was a choice of spring onion omelette or chicken and mushroom ramen, not an overly inspiring choice.
Mood Lighting during breakfast
Early morning in Doha
We landed a few minutes early into a deserted Doha airport. We were bussed from the plane (there are no airbridges in Doha) to the arrivals area, where I was met by someone from the Al-Maha arrivals service. I had prebooked a lounge stay for 90 Qatari Riyals (about $25), as originally I thought I'd have a long layover. The lounge was ok, clean and comfortable, with a limited range non-alcoholic of drinks and snacks. The whole airport has free wi-fi. The lounge was deserted at this time in the morning. When I entered the lounge, the guy at the desk asked if I wanted to move from my original flight (QR 1, leaving at 1245 on an A346) to one of the two earlier flights. As I had arranged someone to meet me at LHR, I said no. However, after an hour, I decided that maybe I should get an earlier one. The guy that was at the desk earlier had now gone, and the person now there said I had to go to the QR transit desk to change flights. I went down to the transit desk. The people there were rude and uncommunicative. After half an hour of waiting, I was told to go to gate 10, where my new boarding pass would be. I trudged up to gate 10, and they were very surprised that I had been told this. Nevertheless, they printed me out a new boarding pass, and I went back to the lounge.
After a further hour in the lounge, it was time to head to the gate. For some reason, on Saturday mornings, QR have two flights to Heathrow within an hour. I was booked on the second one, which was lucky, as the first one was nearly full, but the second only had 43 passengers in Economy. As usual, we were bussed out to the plane.
22nd December 2007
Doha DOH – London Heathrow LHR
QR 11
Scheduled: 0815-1225 Actual: 0825-1240
Aircraft: A332, A7-AEB Seat: 40K
As there were so few of us, boarding was fast and efficient. Most people were seated in the first half of the cabin, so the second half was almost empty.
Bus transfer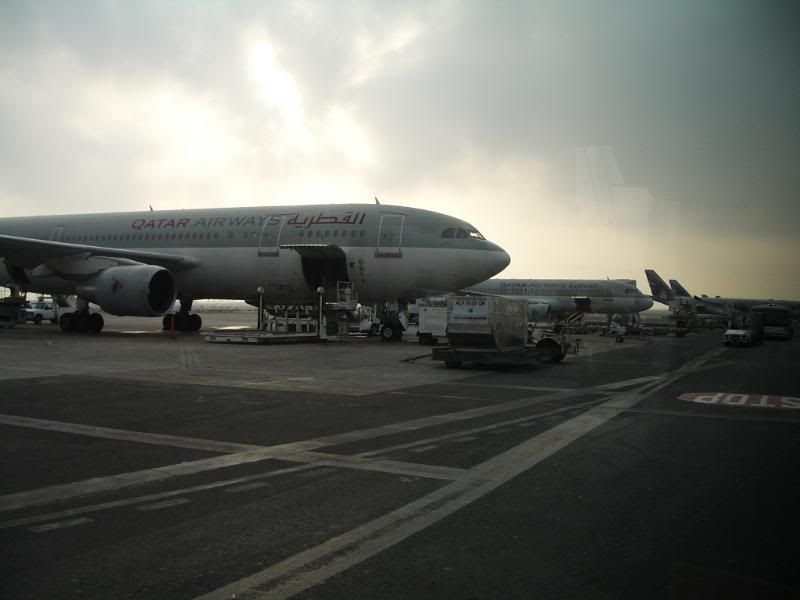 A7-ACK, the aircraft I had just got off from Beijing
Take off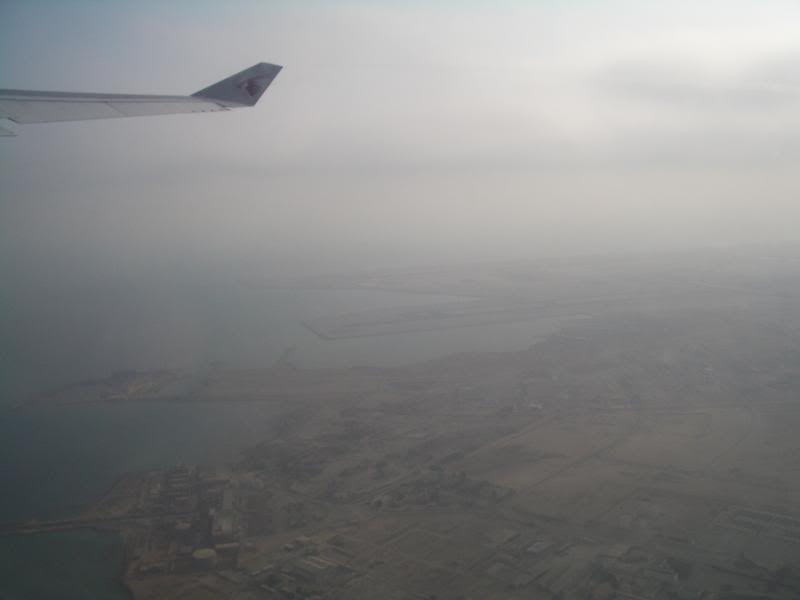 After take off, the crew served breakfast (cheese and mushroom omelette or scrambled egg with cheese). Not a good selection if you don't like cheese and egg. As I'd already been up for six or so hours, I decided to have a vodka and coke with my second breakfast which surprised the crew a bit I think.
After the meal service, most people (including myself) shut the window shades, and went back to sleep. As you can see, the flight was virtually empty at the back. I slept over the four central seats.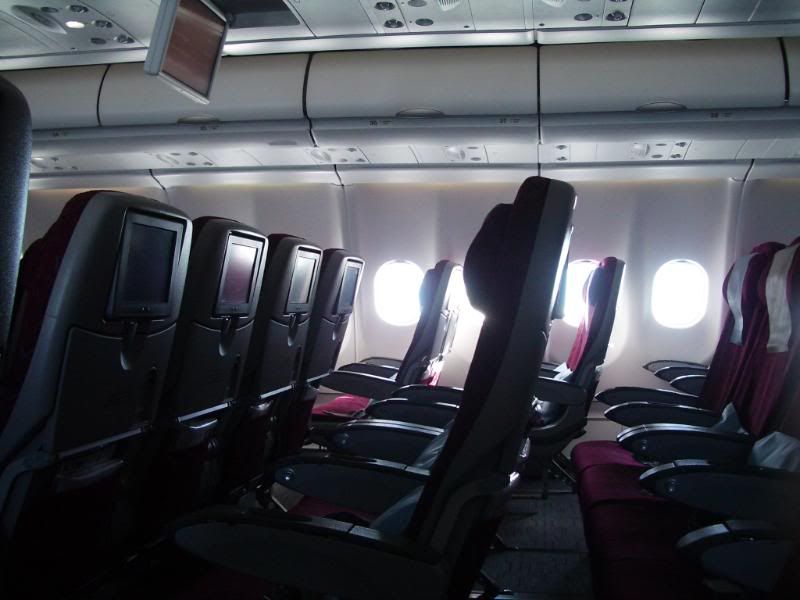 Before landing, a snack was served (chicken sandwich).
London was a bit foggy, and we had to hold for half an hour over northern London before landing a bit behind schedule from the east.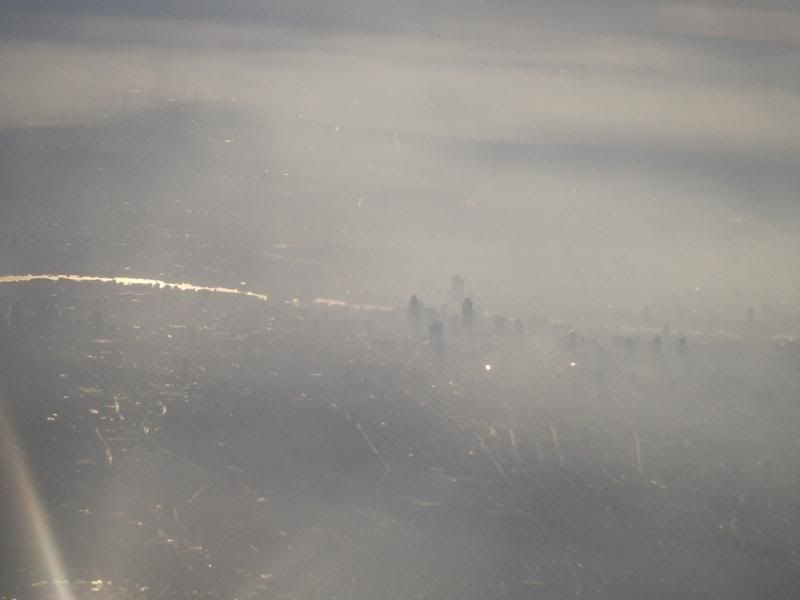 London City Airport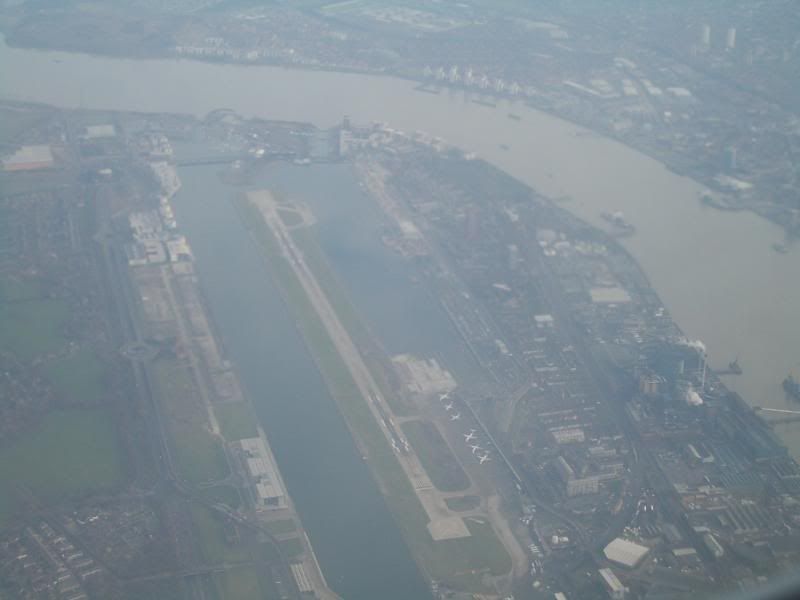 Parked at Gate 1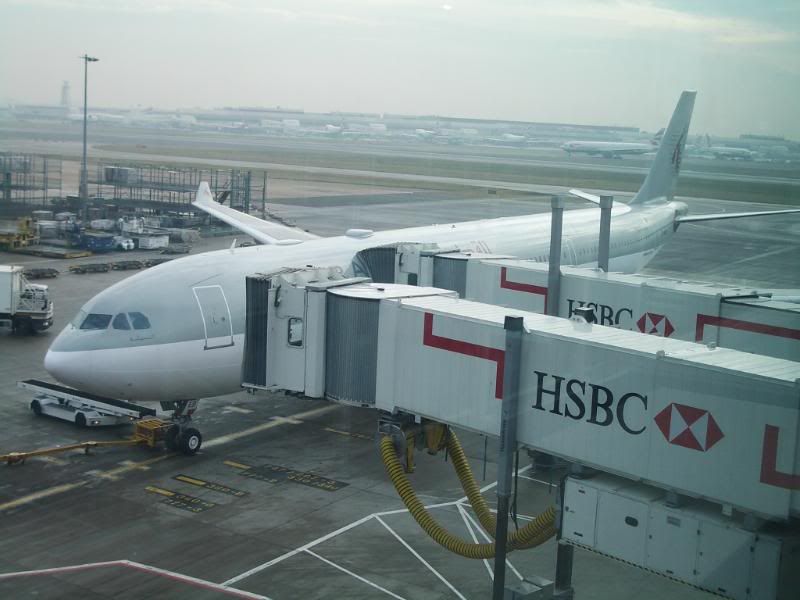 I spent the next week visiting family and friends, which was very nice.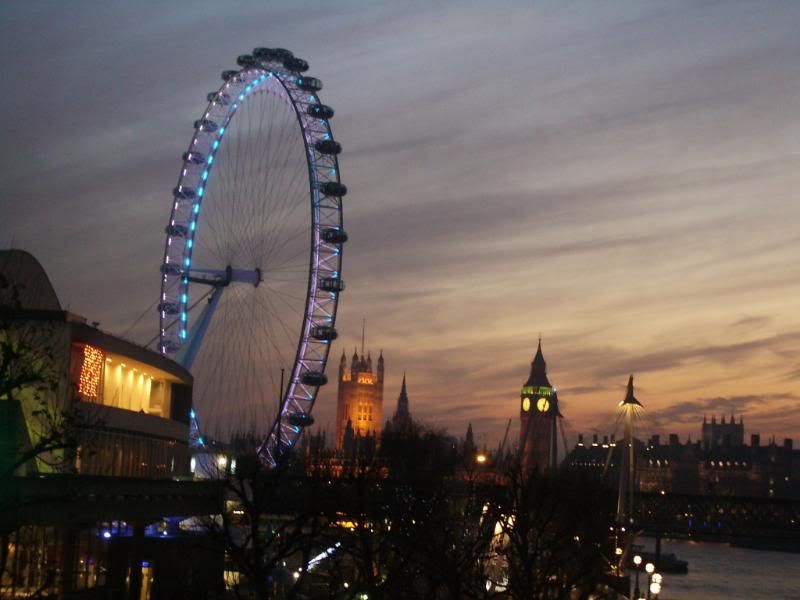 A bit of China in London
Before I knew it, it was time to head back to China in time for New Year. I caught the Piccadilly Line back to Heathrow, arriving at 7pm for my 8.30 departure. There was no queue for the QR check in, quite unlike all the other airlines that seemed to have queues going around the block. The guy checking me in asked me for my mobile number in case I got caught in security when boarding started. Security always seems to take longer than it actually does, and I was through the massive crowd and into another queue at WHSmiths just 15 minutes since arriving at the check in desk. Not bad. After buying a few magazines, I headed for the gate as the screens said it was boarding, even though it was only 7.30. Lo and behold, when I finally arrived at the gate, they were actually boarding.
29th December 2007
London Heathrow LHR - Doha DOH
QR 2
Scheduled: 2030-0610 Actual: 2054-0550
Aircraft: A346, A7-AGC Seat: 44K
Despite the Airbus 340-600 being the longest aircraft in the world, but I didn't notice it feeling particularly long when I boarded. Initially there was someone sitting next to me, but once boarding was completed, there were quite a few empty rows at the very back, so everyone moved around a bit, and I ended up in a two in the penultimate row. Despite boarding very early, we pushed back late (they were still loading cargo I think). There wasn't much of a queue for the runway.
Dinner was a choice of beef and mushroom pie, stirfried noodles or shahi paneer. One thing I found on all the flights was that they never ran out of food choices, even though most of the flights were heavily booked, and I was at the back for most of the sectors – does QR load a lot of extra meals? Once they turned the mood lighting off after the meal service, the temperature plummeted. I have never been so cold on a plane. I had three blankets, and towards the end of the flight I had to put my ski jacket on. I asked the crew if they could turn up the temperature, and they said that they would, but nothing ever happened. Strangely enough, as soon as the lights came on for breakfast, the temperature rose almost immediately. Breakfast was just a small snack.
Routing to Doha
We landed in Doha just before dawn, and were once again bussed to the terminal. For a reason best known to themselves, Al-Maha once again met me in the arrivals hall, even though I had only booked to use the lounge before my evening flight. Once I explained this, they took me to their arrivals lounge, and asked me to wait, so I managed to get their arrivals service for free. They helped me to process the 100 Ryial Visa on arrival fee, then walked me through immigration, skipping the queue in the process. Luckily, the lady accompanying me was from China, so she became quite chatty once she knew I spoke Chinese. She helped me find a taxi, and helped to negotiate the fare for the cheap, city centre hotel for the day.
After finding a hotel for the day to leave my stuff, I spent the day wondering around Doha city.
I went to the Corniche, then took a bus to the City Centre Mall where I had lunch and went to the cinema.
Ice-skating in the Middle East
After the Mall, I went to the beach (a little beach wedged in between two big hotels). No one else was there, so I had a private beach. I managed to find some unsecured wifi from somewhere, and so spent a nice hour in the sun online on the beach.
Flights were taking off nearly directly over me, so I logged into flightstats.com to see what was up next. Mid afternoon is rather quiet in Doha, but I did manage to see the new B773 enroute to Dubai.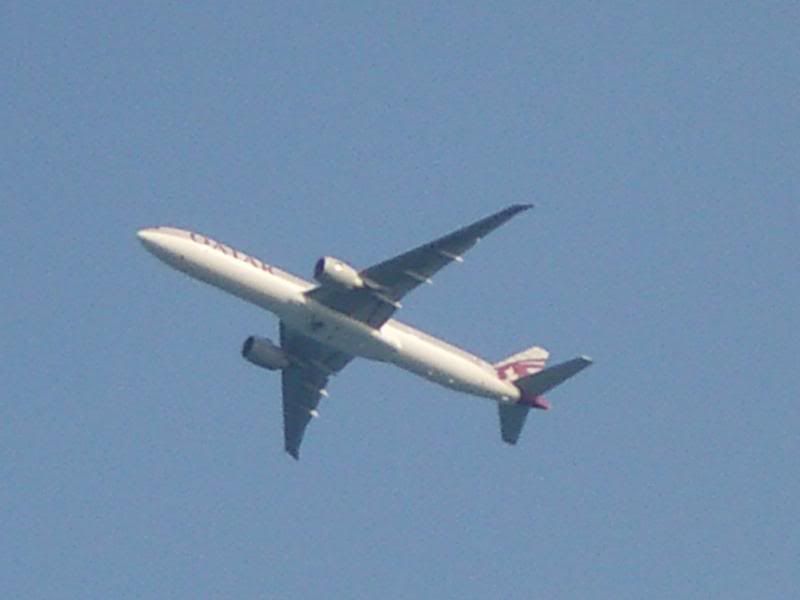 In the evening, I strolled around the Gold souq which wasn't as impressive as the one in Bahrain.
Qatar is making their own version of Dubai's 'Palm'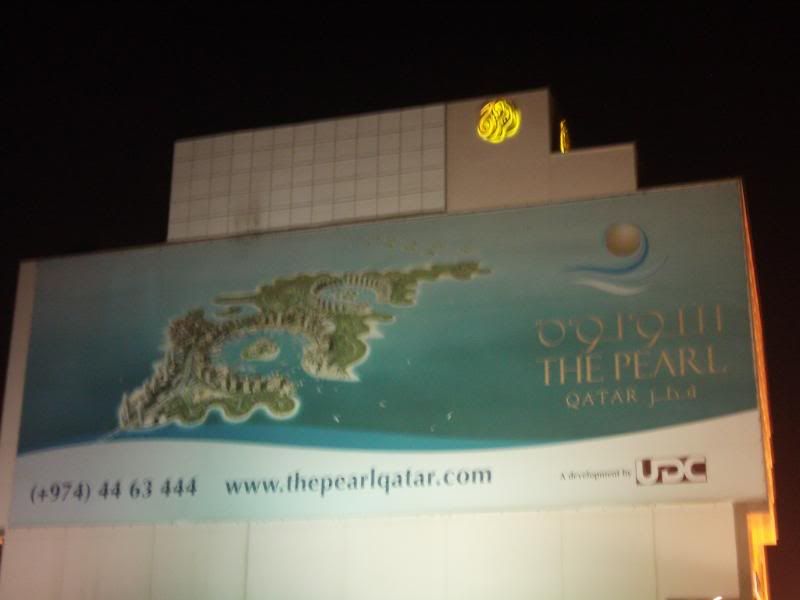 I headed back to the airport at around 8pm (it was a nightmare finding a taxi). Outside the terminal I was confronted with an enormous queue of people waiting to checkin, with everyone pushing massive trolleys piled high with bags. I went to the front and asked if I cold skip the queue as I had already checked in, and the queue manager guy said yes, which was a relief. The queue was moving really slowly – I think it would have taken at least an hour, and that was just to get your bags x-rayed. The queue for immigration was only a few minutes, then I was through into the departures area, and headed straight for the lounge. The airport was much busier now than it had been when I was last there, and the guy at the lounge reception said that it was currently full, and that I'd have to come back in 30 minutes, which was annoying. So after a wait in the main departures area, I went to the lounge, and settled in with a few drinks.
31st December 2007
Doha DOH - Beijing Capital PEK
QR 898
Scheduled: 0110-1415 Actual: 0124-1411
Aircraft: A332, A7-ACE Seat: 38K
Boarding started at about half past midnight. We were bussed out to the plane, then sat on the tarmac for twenty minutes – not sure why – probably the crew weren't ready for us. We then boarded up the back stairs.
QR safety video
I had someone seated next to me for this sector as well, but he moved to the back row just before takeoff, which was nice. Dinner was a choice of chicken teriyaki or beef goulash. Due to not having slept much the night before, and having spent the day walking around Doha, I managed to sleep fairly well on this sector, and only awoke just before they started to serve breakfast (cheese and chive omelette, stir fried chicken and vegetable or beef Stroganoff).
Chinese passengers sleeping with their feet on the table
Despite the late departure from Doha, we were making excellent progress to Beijing until about half an hour before landing, when the captain informed us that we were in a holding position. Having flown into Beijing many times before, this was the first time I've ever had to hold. We ended up holding to the north (flying over the Great Wall) for nearly an hour before finally beginning our approach. The holding may have been due to our early arrival, or the high winds. I have never experienced such strong winds before – the plane was been thrown about all over the place, and the guy over the aisle was sick into a bag. It was even choppier than when I flew into Wellington (WLG) in a Beech 1900D during a storm. Despite the wind, the visibility was perfect, with the sun shining.
Approach to Beijing
In the background, you can see the new terminal, which should open in March ahead of the August Olympic Games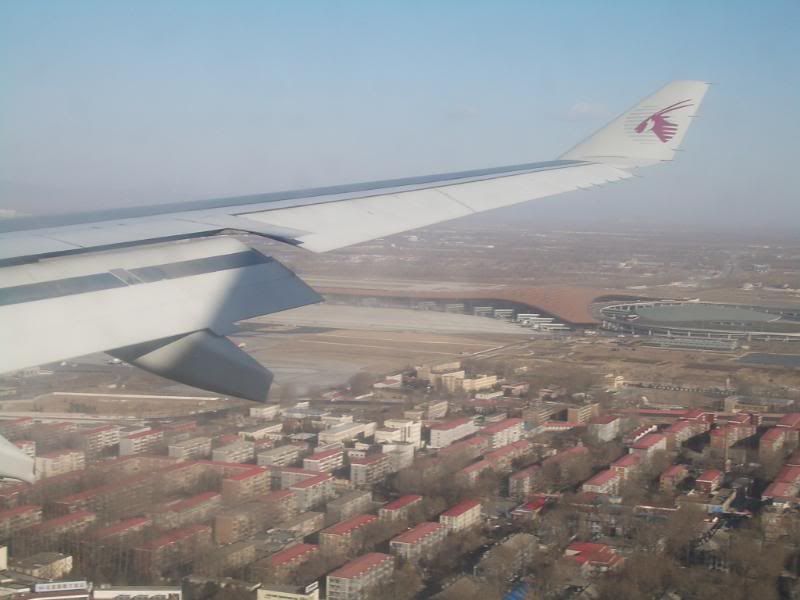 The pilot landed perfectly, and very slowly, but it took us 20 minutes to taxi around to the international terminal – not sure what the hold up was. Eventually, we arrived at the gate about ten minutes behind schedule. My bags were amongst the last off, which was a bit annoying, but at least they arrived in the end. From looking at the tags of my fellow passengers, it looked like most of them had arrived from Tripoli (TIP), or elsewhere in Africa.
On the Chinese sectors, there were never any announcements (even recorded ones) in Chinese, which I thought was very strange given that around 80% of the passengers were Chinese. There was one (at least) Chinese speaking FA on the last sector, who only made one announcement in Chinese after we landed, telling everyone to sit down (we stopped mid-taxi, so most people stood up). I actually heard two people in the row behind saying in Chinese "What? There was a Chinese FA onboard!". It seems very strange that she wasn't used to make any in-flight announcements. The menus, however, were in English, Arabic and Chinese, so at least they could order meals (drinks on the other hand, were slightly more confusing).
Qatar Airways were very good in general (as long as you speak English). The seats were quite comfy (blankets too), and they never ran out of meal choices. Each seat had an individual aircon control, which I haven't seen in a while on other long range aircraft. There were lots of little extras (like the sweet and towel run done before takeoff). Hot towels also came around before every meal. Doha Airport was nice for transiting, as there are no air bridges, the terminal, physically, is really small, so there are no long distances to walk, which is nice. Also, boarding via the stairs is quite nice, especially in the warm Middle Eastern winter – I imagine in high summer it is pretty unpleasant though. Al-Maha services are well worth it if you have a reasonably long layover.