Dear reader
First of all happy New Year to all of you.
As I wanted to spend New Year with my loved one in Russia I did so and searched on internet for fares. St. Petersburg is a well demanded destination around this time of the year so early planning is recommended to get an acceptable fare. I ended up booking flights on expedia on Austrian Airlines Basel-Vienna-St. Petersburg-Vienna-Basel for 492.80 USD.
I already made a very nice experience on Austrian earlier in 2007 so I looked forward to start my trip which started on December 29.
Austrian Airlines OS476
Basel-Vienna
6:25-7:55
load factor: 95%
CRJ-200 "City of Düsseldorf"
operated by Tyrolean Airways
View Large
View Medium


Photo © Emmanuel Perez - LUX Plane Pictures
My dad dropped me off at the airport. Many people on the airport already in early morning, seems to be a popular day for travelling. Met (again!) a friend who was travelling to Hamburg on easyJet and after the chat it was time to board my flight. A good load on this flight, many people heading home towards the East of Europe to visit relatives. Welcomed by a friendly flight attendant and already infos from the cockpit about route, weather etc. Newspapers were handed out to all passengers. Push-back on time and takeoff on rwy16 with a wonderful view of Basel and the region. Our route was towards Zurich to Austria with wonderful views of the mountains.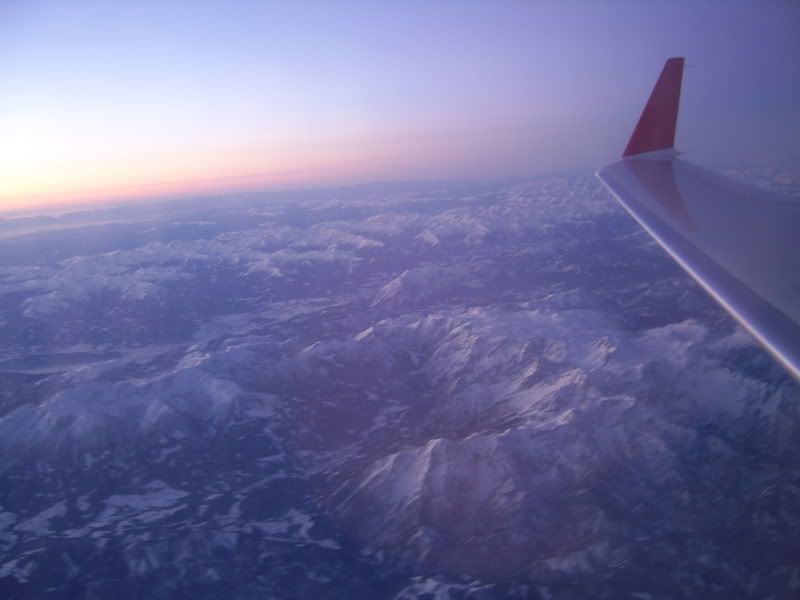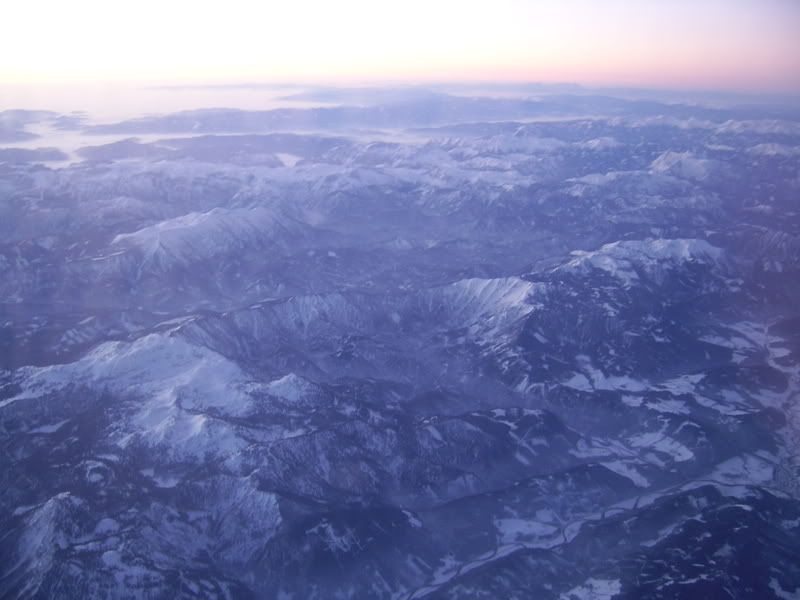 A breakfast was served (ham, cheese, butter, bread) together with drinks. Nice presentation, unfortunately missed to make a picture. Anyway, a nice start into the day, a big plus on Austrian as many European carriers serve not more than a muffin for breakfast. Also there was a nice sunrise to be seen before we dropped into the fog soup of Vienna with an ontime landing.
Vienna is convenient to transfer, not far to walk usually and nice atmosphere in general.
Austrian Airlines OS611
Vienna-St. Petersburg
10:15-15:00
load factor: 100%
A-319 (sorry, couldn't get the reg.)
View Large
View Medium


Photo © Igor Dvurekov
Boarding again on time. One thing I noticed that the flights are packed with tourists during the summer but with different people during this time of the year, mostly families who live in Western Europe and go home for celebrations. Also, usually the LED flights are operated by Fokker-100s but with larger A-319s during the Russian holidays. Again a friendly welcome by the crew and an on-time departure.
Still in Vienna:
Good thing compared to the Fokkers is that the A-319 have TVs so we could watch "Ratatouille" during the flight. Our routing was Vienna-Bratislava-Poland-Baltic States to St. Petersburg. I made a picture inflight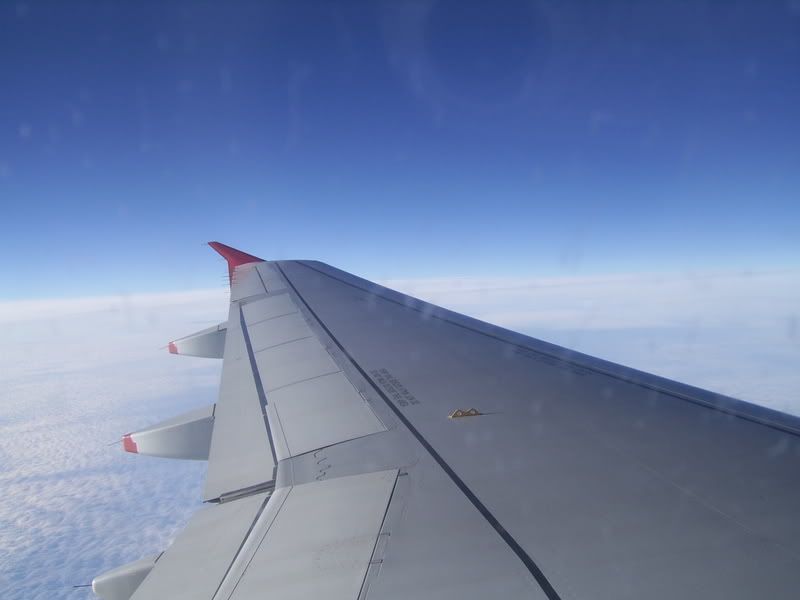 as well as a picture of the meal (chicken with rice and vegetables). Note the real forks and knives as well as the real plate!
During the flight several drinks were served and even after the service the crew brought additional drinks to the passengers who wished so. I had my tomato juice as well as a cup of coffee.
Foggy weather in LED too so no pictures during approach but one after landing: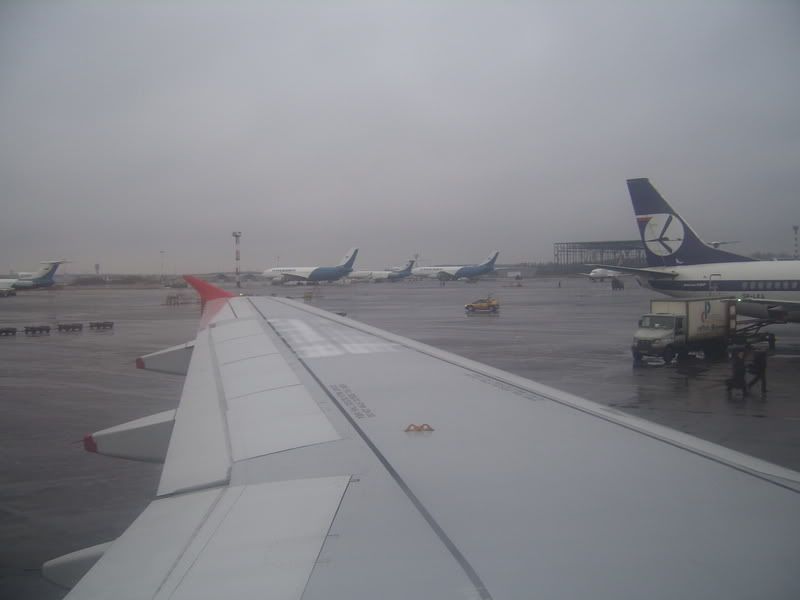 Immigration with no problems. My gf and her father waited for me and we drove with an old LADA car to the apartment of my gf. As I saw already most of the wonderful city of St. Petersurg, I decided to help my gf with renovating the apartment. She owns a nice apartment in the Nevskii district and the view from apartment is as followed: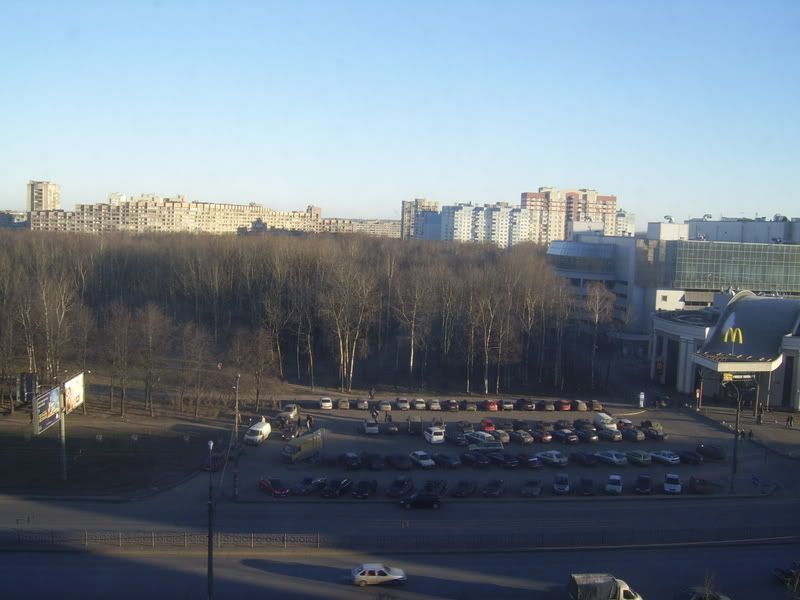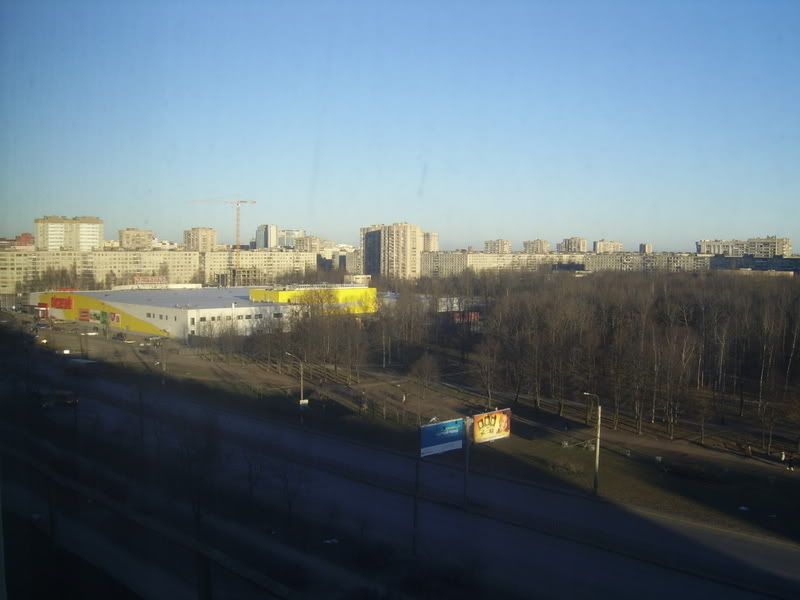 If you are interested in pictures about St. Petersburg please visit my earlier reports on this website!
Again I fully enjoyed my time there and too fast it was time to head back to Basel on January 7. As it was christmas time (Russian christmas on January 6 and 7) not many cars were on the road and we made our way to Pulkovo airport without stress. Only we worried a bit about the car as we had temperatures of -15 C (day) to -20 C (night) but all went well and we could start the car (quite warm on January 7 with -7 C
). Not much traffic on Pulkovo so again no problems. I went for a nice Baltika beer prior to departure and waited for my flight which was delayed by 15 minutes. Flight time to Vienna today 2 hours and 40 minutes.
Austrian Airlines OS612
St. Petersburg-Vienna
15:45-16:35
load factor: 90%
operated by Tyrolean Airways
Fokker 100 "City of Krasnodar"
View Large
View Medium


Photo © Hans Domjan
Again a very friendly crew on this flight with perfect service, a lot of informations from cockpit including information about connection flights.
Still on ground:
Norwegian Air Shuttle and Rossiya Tupolev-154
I love these Fokkers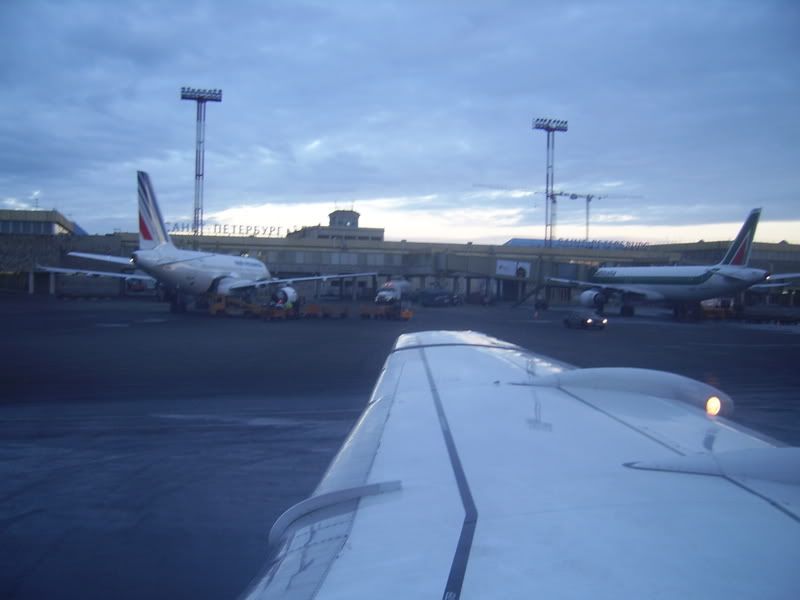 A bit blurry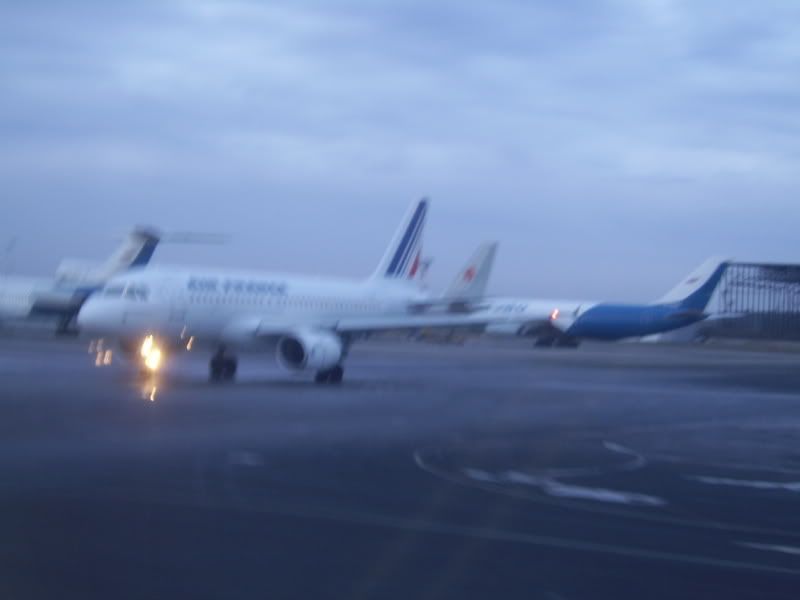 Take-off: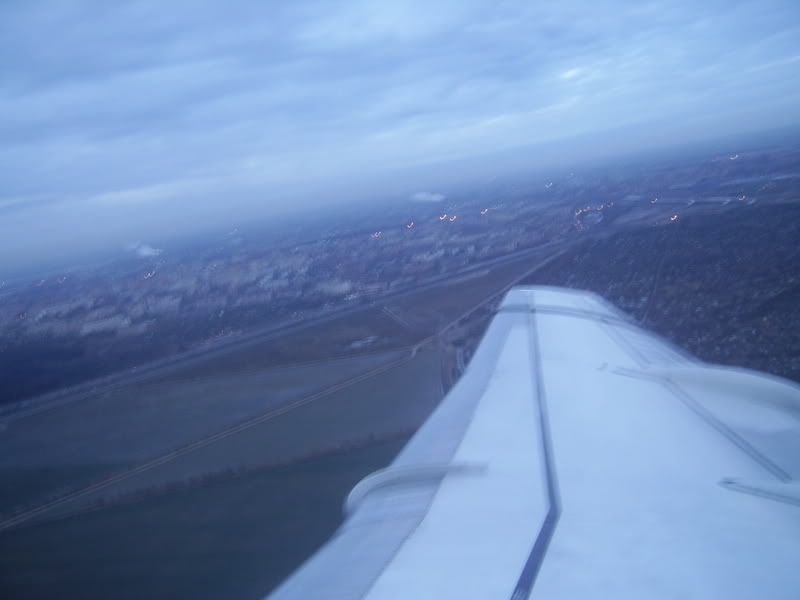 Finnish Bay (looks cold):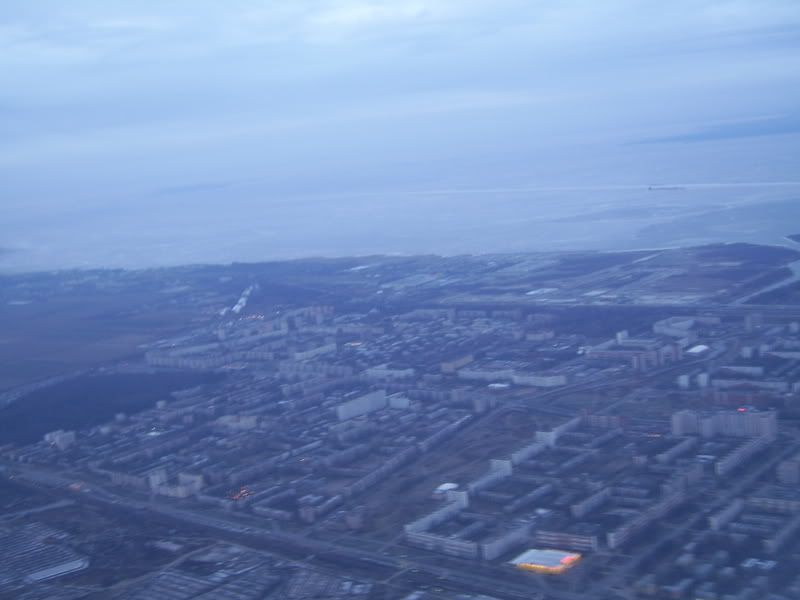 Inflight: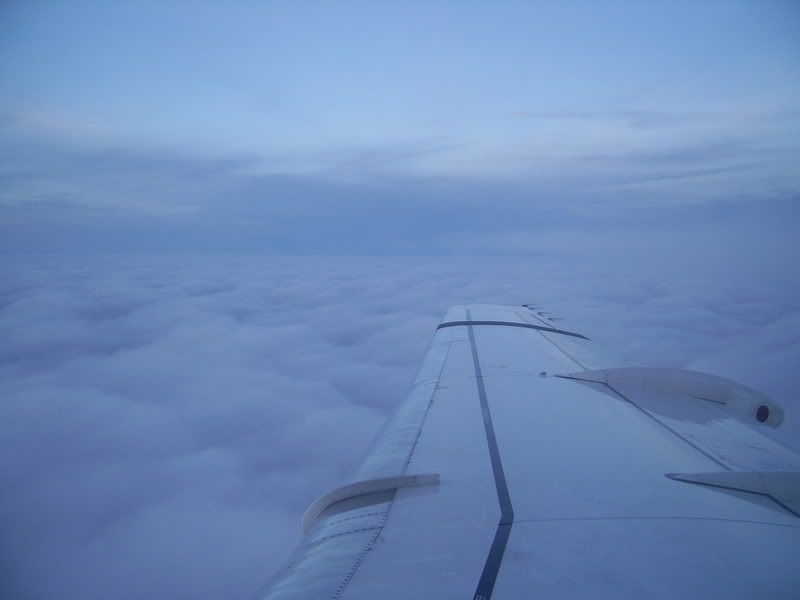 Soon we refceived the menu...today's meal will be chicken with vegetables and potatoes.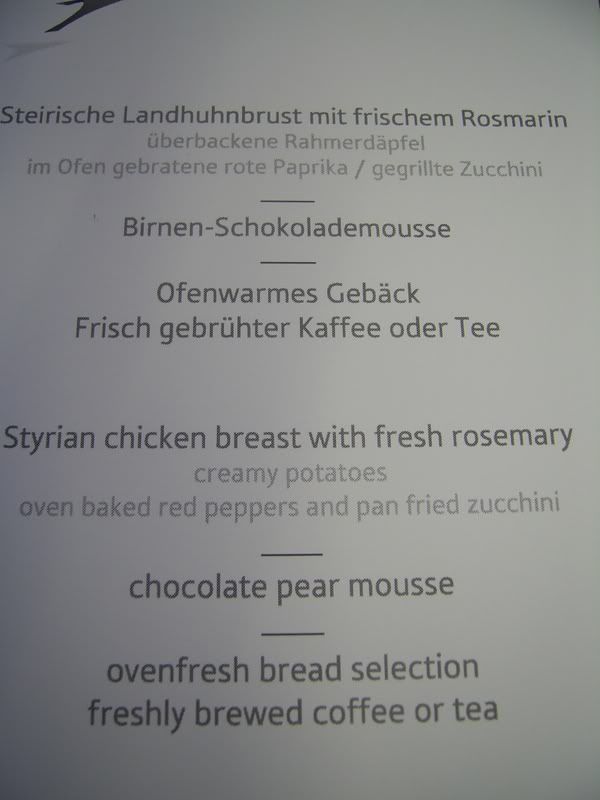 Again a perfect service from Austrian. They brought bread several times, gave coffee and tea two times and other drinks always during the flight!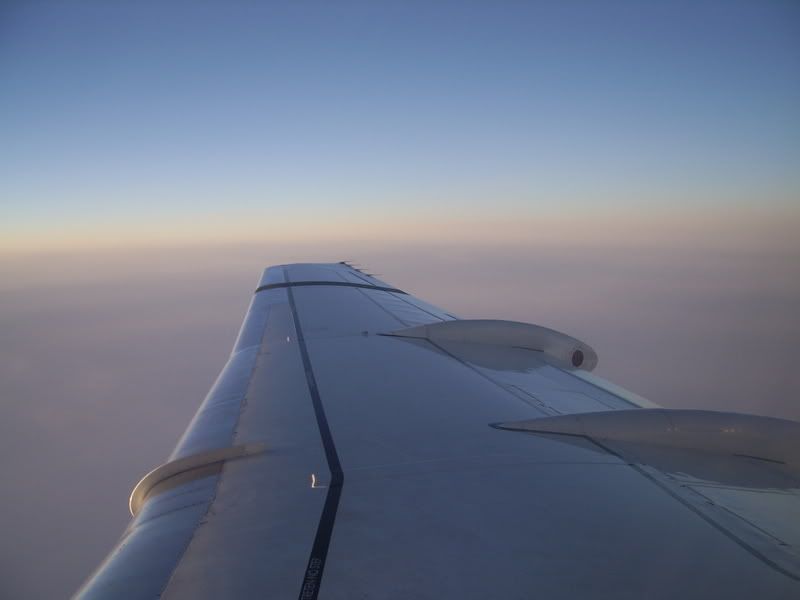 Unfortunately it was already dark in Vienna so this is my last picture from this flight: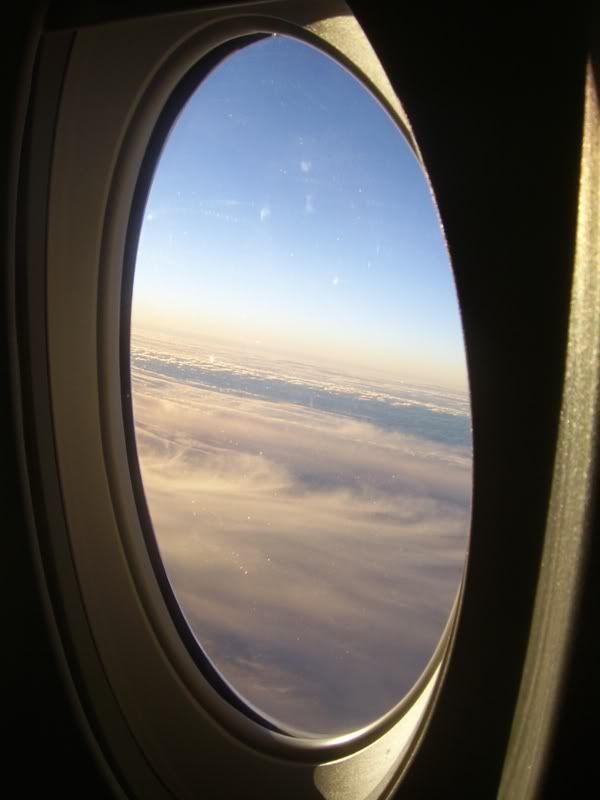 In Vienna I had a short connection but made it after walking very fast. Not nice thought to go through two full security checks (belt off, shoes off, watch off etc.) after i went through two checks already in LED.
Austrian Airlines OS473
Vienna-Basel
17:20-18:55
load factor: 80%
operated by Tyrolean Airways
CRJ-200 "City of Bremen"
View Large
View Medium


Photo © Michael Priesch - Spotterteam Graz
After boarding again newspapers were distributed to passengers. Soon we took off and in general this was an uneventful flight. I mainly talked to the women next to me who is travelling with her husband from Vienna to Basel with a connecting flight on Swiss to London City. Again Austrian offered a meal, chicken salad, cake and bread together with drinks and after a "Wiener Zuckarl" (candy).
Landing in Basel was on rwy 16, my bag arrived so this trip was without problems and only good impressions (again) of Austrian Airlines. They offer high quality and friendly service. Also I think they have some of the best catering in Europe.
Dear reader I hope you liked this trips report. Comments and remarks as usual most welcomed!
Take care, best regards
Thomas