Feedback always appreciated.
Trip Report: 037
Flight Category: Y-DSR (See Report End)
Date: 24-Sep-07
SDT/SAT/Delay: 1205/1305/01:00 hrs
Flight:
JetLite S2 202
, 263 miles
Routing: BOM-GOI
Aircraft: 310
Seat: Economy Class, 15A
I > Background:
Ok, I am back! After taking a sabbatical from trip reports for 5 months, here is the first installation from a series of trip reports. Mid-August to mid-November 2007 saw the craziest of my travel plans. 69 flights totalling 175,028 kms on 35 airlines, visiting 49 airports in 34 countries in all 6 continents. And, here is the best part … all of them were part of a 4 month break from life … pure vacation, and pure food for the mind, body, and soul. Together, they mounted to 21/2 round-the-worlds that was truly insane. As usual, all long haul flights were on Business or First Class; short haul was on Economy Class.
I believe this will be the first TR on the new JetlLite, and perhaps the first for BOM-GOI. Preliminary A.Net searches indicate the same. Reason for flying was that I had never flown JetLite, and thought it would be a good time to fly the airline before as it transitions out of the Air Sahara identity. Moreover, I wanted to see if the S2 identifier could better its reputation as being the lowest scored flight by me on A.Net
.
II > Pre-Flight:
a) Before Airport:
Booking was done through the rather finicky Jet Lite website at
www.jetlite.com
. The e-ticket was displayed on the screen as well as emailed to me. While I did appreciate the ability to view and modify my reservation online, I was disappointed that the site did not have any functionality to choose seats. This could only be done by calling the JetLite toll-free number.
b) At Airport:
JetLite uses terminal 1B at CSIA Mumbai. I had to pinch and remind myself that I was indeed in India. 1B is
like no other airport building
in India. Its sleek, modern, and has a great amount of glass that gives it an open airy feel. Of course, it's just the redesigned 1B, and space is limited, but the terminal is a great sign of things to come. Of course, a part of me will always miss airports subscribing to IADS
.
So after the usual ID check, I entered the spacious terminal and was promptly checked in by the S2 agent. Unlike 1A and many other airports in India, check-in was done through common airline counters and not separated by flight destination. The agent was super polite, and promptly assigned me to the exit row. I had some time to kill so explored many of the retail and food options, including Café Coffee Day, which is like an Indian Starbucks. Oh, they also have a fantastic book shop inside the terminal, and I bought way too many unnecessary things. After browsing the terminal, I cleared security and made it to the departure lounge. One thing I did appreciate was the free newspapers from many major dailies being made available in the departure lounge. Boarding was called 30 minutes prior to departure. Like my experience during IC's BOM-MAA run, people actually lined up! What the hell is wrong with people in Mumbai? Where is the ILBST? This is our (Indians and Latins) shared cultural heritage being lost here people!
Anyway, we were bussed to out S2 737 and was greeted by 2 smiling attendants. Load in Y was around 60%.
Airport - External:
(CSIA T1B)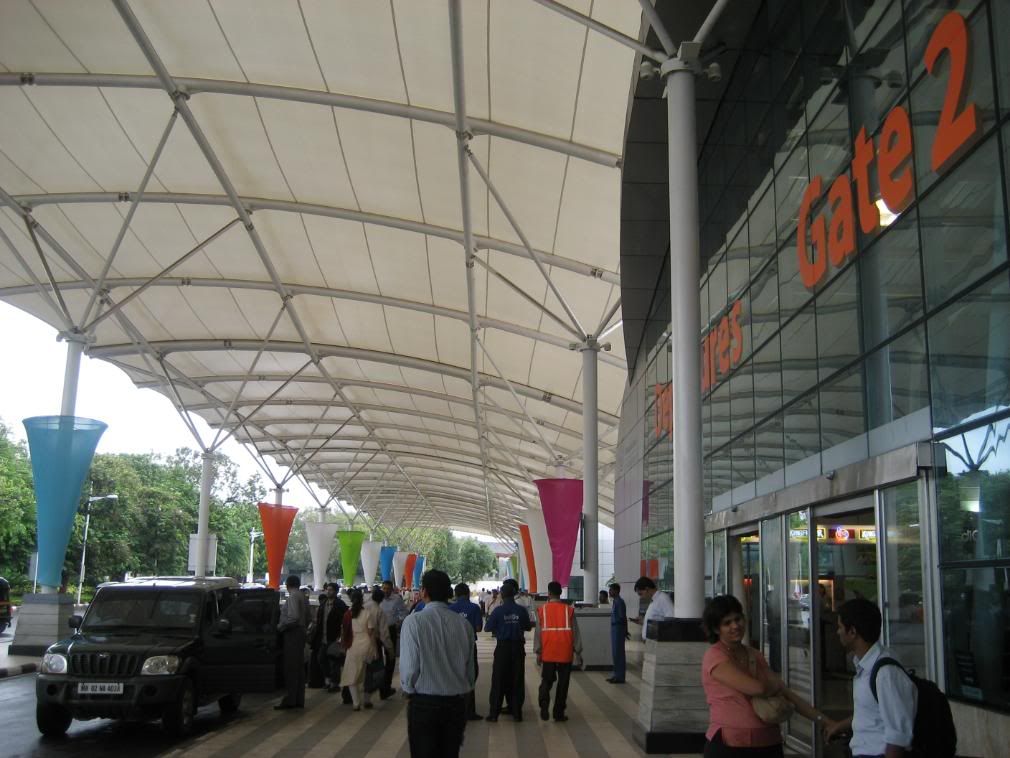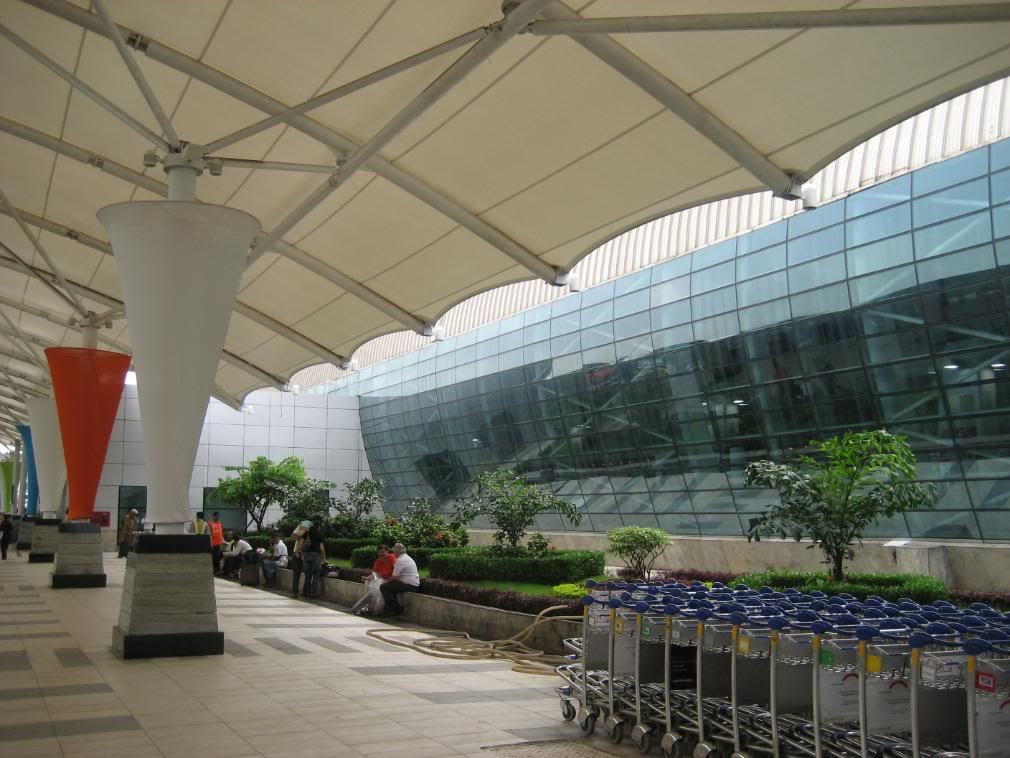 (I took this the night before – looks pretty sharp)
Check-in:
Airport - Internal: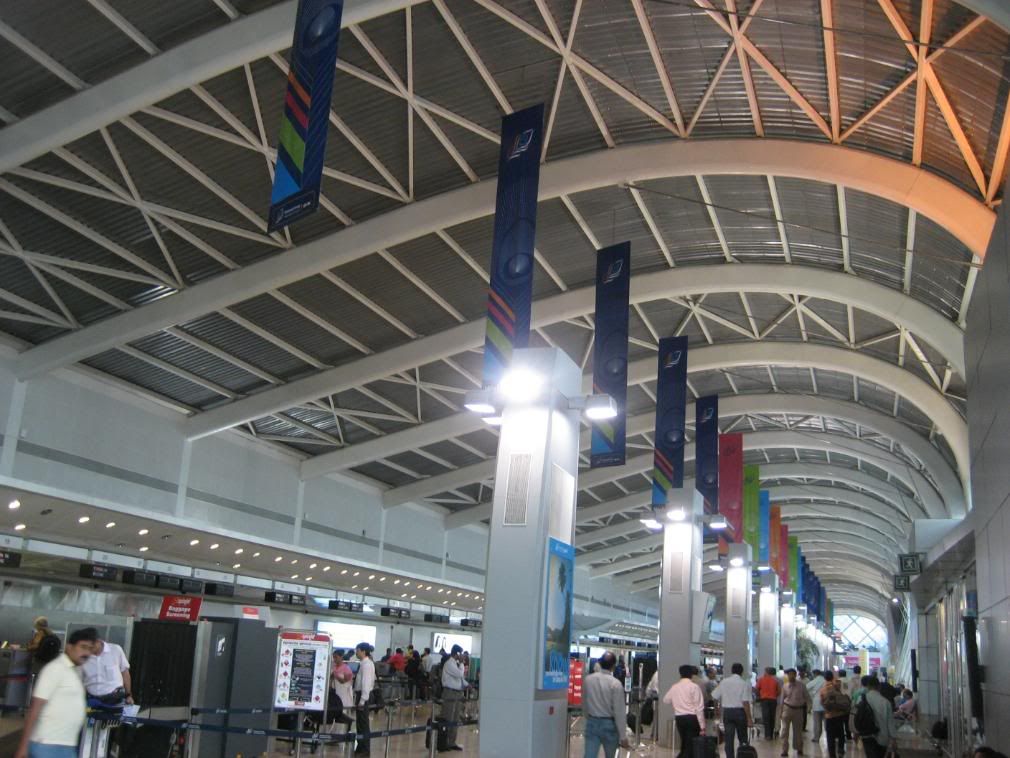 (9W Counters)
(OMG, a completely working board in Indian domestic terminal! Though, wouldn't they have been better served by a larger board? Flight display can be done for flights only a little over an hour out)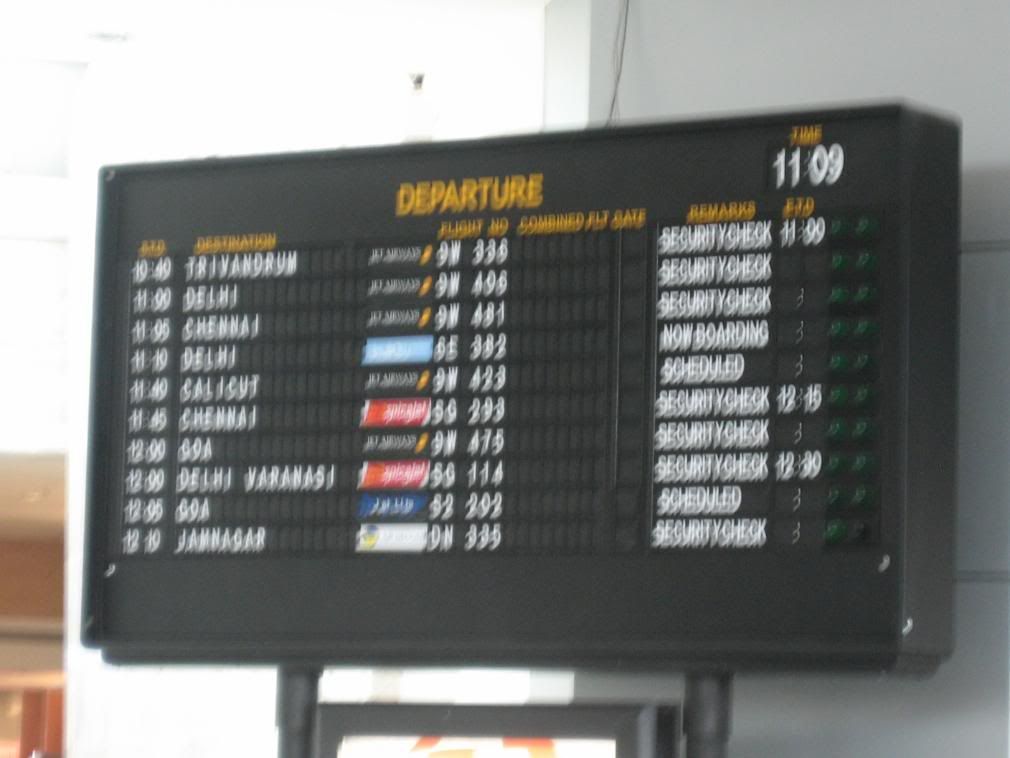 Scenes of the tarmac:
(DN, G8)
(Orange G8)
Lounge
NONE
Boarding:
(Boarding area lounge)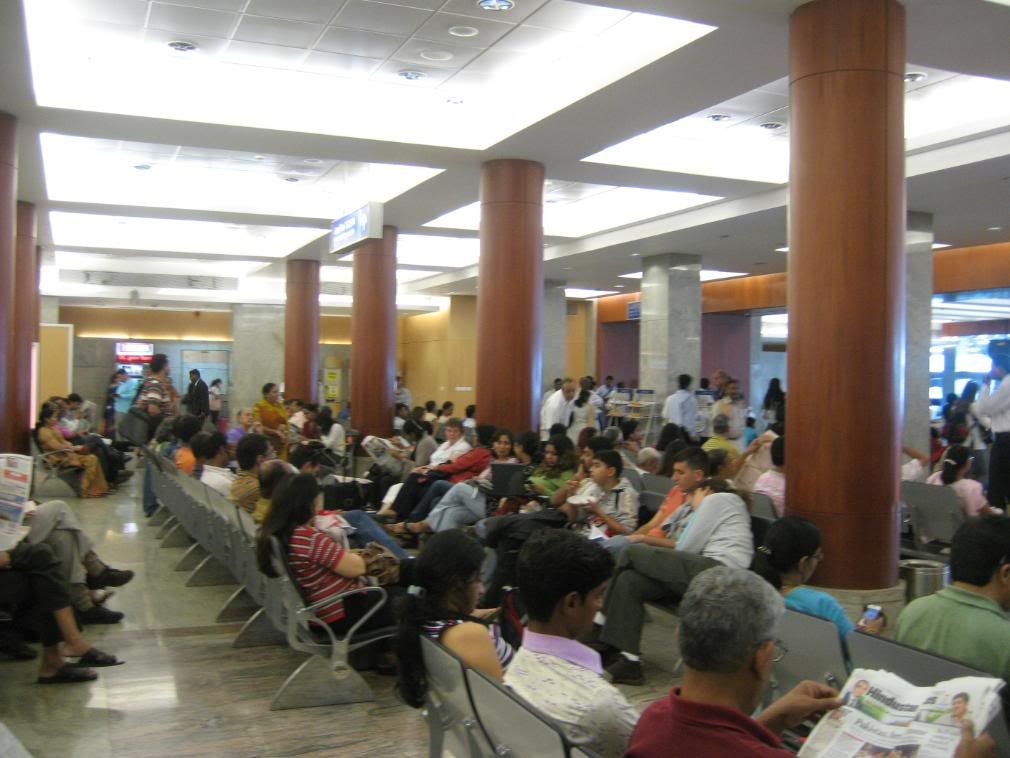 (Too calm for India)
III> In-Flight:
a) Service Schedule + Impressions:
For an hour flight, an impressive list of services included pre-take off drinks and moist towel. Immediately after take-off, a complete lunch!
b) Aircraft + Seats:
The seats were average in composition, comfort, and recline. Setting aside the generous exit room legroom, the entire cabin had a 32 inch legroom which is definitely generous for a short haul domestic airliner. Cabin and bathrooms were clean … though, some seat handles were showing their age.
Aircraft:
(Taken at GOI)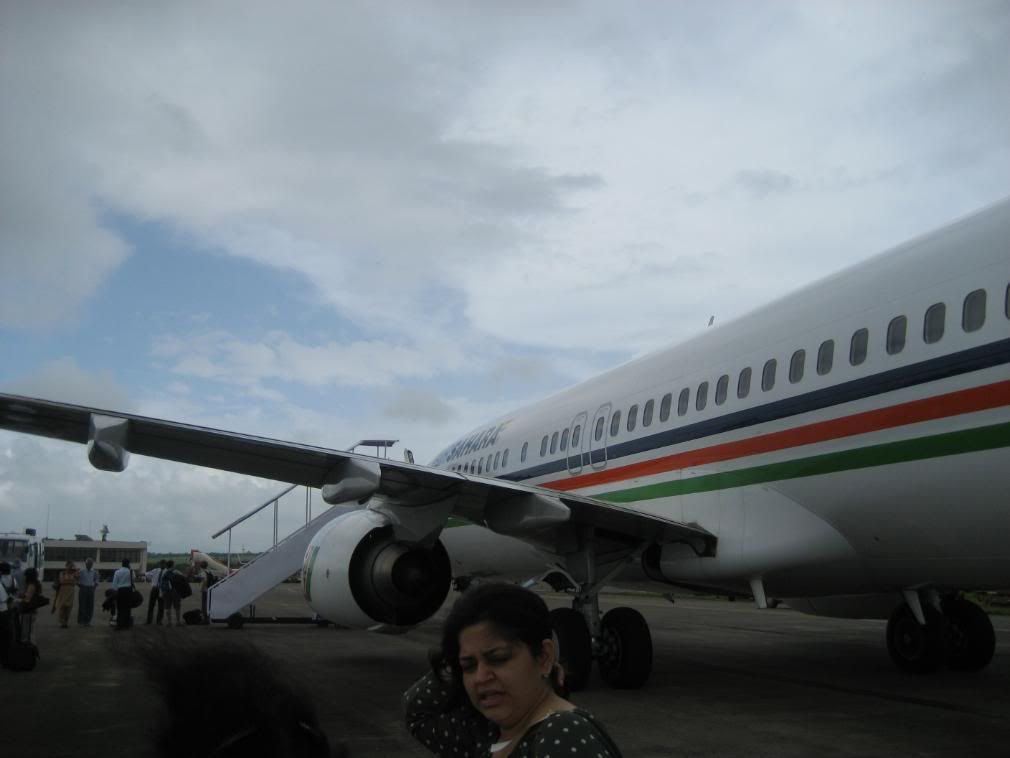 Views from Aircraft:
Seat Leg-Room: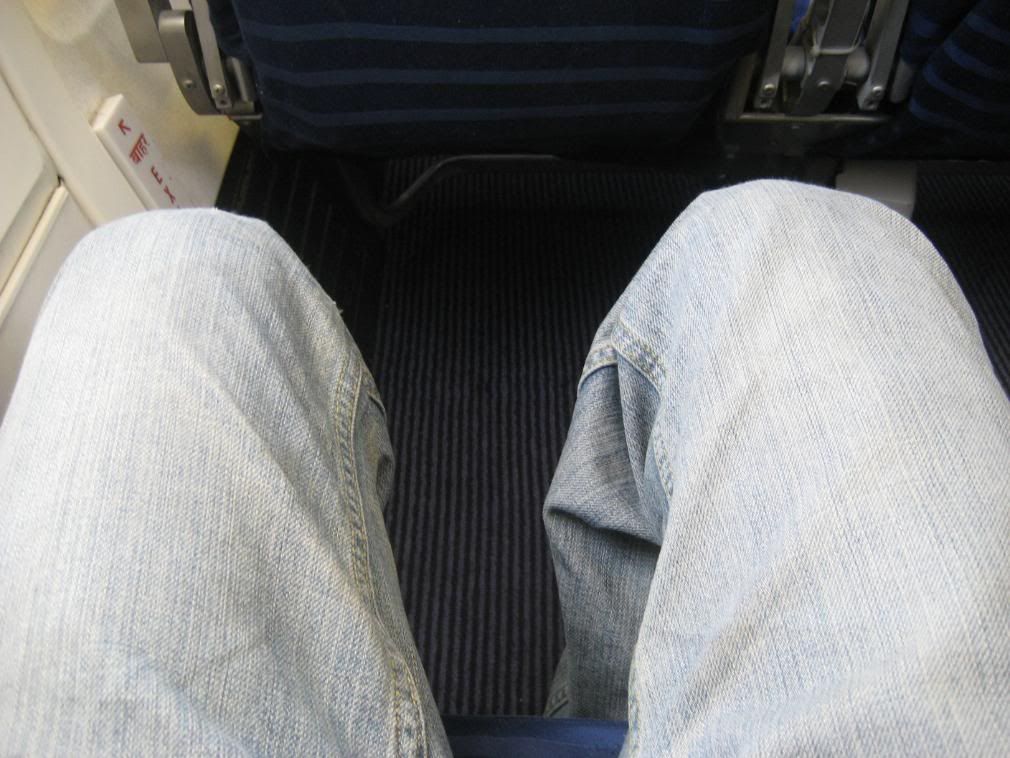 Seat Recline + Angle View:
Cabin:
(Look at those bulk-head buttons)
c) Meal + Beverage:
Upon embarkation, crew did a run of either water or packaged fruit juice. After take-off, I was surprised (more like shocked) to receive a full lunch service. I chose "Non-Veg" from the standard Indian option of "Veg" or "Non-Veg". The Indian lentil soup ("DAL"), and chicken curry were absolutely fantastic, and the dessert (something Indian; no idea on name) was just out of this world. Food was hot and complimented by beverages and café or tea. Now, let me remind everyone that this is a 263 mile flight on a supposed low cost airline! Absolutely amazing. To put that in perspective … on a 700 mile United Airlines flight, you get NOTHING. I am serious when I say this … have been to over 100 countries in the world, and overall Indian airline catering has to be the best.
(Pre-takeoff towel and drink)
(Meal on a 263 mile flight. Can I sent this to the next United crew who fails to even have beverage service on a 700 mile flight saying, "its too short".)
d) Inflight Entertainment:
No IFE. Decent magazine.
(In-flight magazines, Boarding Passes, etc. – I LOVE the dot matrix boarding passes!)
e) Crew:
Perhaps I had a bad experience during my CCU-BOM run in 2006 (Link:
here
), I was convinced that the S2 crew would again turnout to be a nightmare. However, I was pleasantly surprised. While they would not win any accolades and MH need not be worried, the crew were competent and did their job with smiles. During boarding and disembarkation, they were helpful and during both times greeted passengers on and off the plane. What more can you really ask for?
IV> Post-Flight:
Goa is a small little airport. Disembarkation happened through both front and back of the plane, and within little time I was on my way to enjoy some time by the sea.
V> Impressions + Scores:
I was hesitant to be on S2 as they had done everything wrong the last time around. This time, I was super impressed by them. An excellent meal service, decent crew, clean aircrafts, and an on-time performance … what more can one expect for a 270 odd mile flight? Of course, terminal 1B added to the pleasure of flying them as well. Based on this flight itself, I would strongly recommend flying S2 and not have any problems having them as a top pick. However, given my past negative experience, I would shop around and choose S2 based on how much their fare is lower than my preferred carriers in India … IC, IT, and 9W.
1.0 > RESERVATION: 7.0
2.0 > CHECK-IN: 8.0
0.5 > LOUNGE: N/A
0.5 > BOARDING: 8.0
2.0 > SEAT: 6.0
0.5 > AIRCRAFT OVERALL AMBIENCE: 6.0
1.0 > IFE: 5.0
2.0 > CREW: 7.0
2.0 > FOOD: 8.5
0.5 > BEVERAGES: 6.0
0.5 > A.KITS + OTHER FREEBIES: 5.0
0.5 > DISEMBARKATION: 8.0
1.0 > ON-TIME RECORD: 9.0
WEIGHTED OVERALL IMPRESSION (WOI): 7.15
(Pre-flight WOI of all reviews: 6.30)
* Weighted Overall Impression (WOI) aligns scores with what matters most. Weights are indicated alongside each category.
(Scores are based on comparison with other airlines in THAT class of service – No comparison of Y vs. F for example)
VI> Other Trip Reports:
PREMIUM:
8.11:
Aeroflot (33): MOW-DEL: 09/2007
8.02:
Delta Airlines (24): JFK-CDG: 08/2007
7.82:
Singapore Airlines (06): EWR-SIN: 09/2006
6.93:
Delta Airlines (18): SEA-JFK: 11/2006
6.81:
Air Canada (17): ICN-YYZ: 10/2006
6.70:
KLM: EBB-AMS: 08/2007
5.75:
Singapore Airlines (16): CCU-SIN: 10/2006
4.42:
Air France: CDG-JNB (25): 08/2007
ECONOMY: Long + Medium:
7.38:
Avianca (01): BOG-LIM: 07/2006
6.26:
Jet Blue (21): CUN-JFK: 02/2007
6.06:
Air Canada (04): YYZ-YVR: 09/2006
5.89:
USA 3000 (19): PUJ-BDL: 01/2007
5.46:
TAP Air Portugal (23): OSL-LIS: 05/2007
ECONOMY: Short
8.24:
Kingfisher (14): IXA-GAU: 10/2006
7.87:
Indian (34): BOM-MAA: 09/2007
7.72:
Alliance Air (13): CCU-IXA: 10/2006
7.57:
Indian Airlines (10): DEL-CCU: 09/2006
7.23:
West Jet (03): YYC-YVR: 09/2006
7.15: JetLite (37): BOM-GOI: 09/2007
6.70:
Spice Jet (09): CCU-DEL: 09/2006
6.58:
Air Tran (02): EWR-MDW: 08/2006
6.33:
Kenya Airways (29): NBO-BJM: 08/2007
6.31:
Indigo (15): GAU-CCU: 10/2006
6.22:
Air Link Swazi (28): MTS-JNB: 08/2007
6.22:
Air India (36): HYD-BOM: 09/2007
6.13:
Adam Air (07): SIN-CGK: 09/2006
6.00:
Transairways (27): INH-MPM: 08/2007
5.95:
Air Canada (05): ALB-YYZ: 09/2006
5.85:
SAS Norge (22): OSL-AES: 05/2007
5.81:
LAM Mozambique (26): JNB-MPM: 08/2007
5.69:
Air Deccan (12): IXZ-CCU: 10/2006
5.67:
Rwanda Air Exp (30): KGL-NBO: 08/2007
5.07:
Go Air (35): MAA-HYD: 09/2007
4.96:
Valuair (08): CGK-SIN: 09/2006
4.74:
Fly 540 (31): MYD-LAU: 08/2007
4.33:
Viva Aerobus (20): ELP-MTY: 02/2007
4.11:
Air Sahara (11): CCU-BOM: 09/2006
(Note on Codes: Y – Economy, J – Business, F – First :: I/D – International/Domestic :: SR/MR/LR – Short/Medium/Long Haul)
VII> Other Pictures:
NONE