Feedback always appreciated.
Trip Report: 038
Flight Category: J-DSR (See Report End)
Date: 25-Sep-07
SDT/SAT/Delay: 1825/1905/00:40 hrs (Delayed 00:45 hrs)
Flight:
Paramount Airways I7 446
, 169 miles
Routing: BLR-MAA
Aircraft: E70
Seat: Elite Business Class, 5F
I > Background:
Ok, I am back! After taking a sabbatical from trip reports for 5 months, here is the first installation from a series of trip reports. Mid-August to mid-November 2007 saw the craziest of my travel plans. 69 flights totalling 175,028 kms on 35 airlines, visiting 49 airports in 34 countries in all 6 continents. And, here is the best part … all of them were part of a 4 month break from life … pure vacation, and pure food for the mind, body, and soul. Together, they mounted to 21/2 round-the-worlds that was truly insane. As usual, all long haul flights were on Business or First Class; short haul was on Economy Class.
I believe this will be the first TR on Paramount Airways. Reason for flying was that I had never flown on them.
II > Pre-Flight:
a) Before Airport:
Paramount Airways is a regional Indian airline based out of the Southern Indian city of Chennai. Most of its flights are in the region, and it touts itself as an all-business airline with First and Business Class using a brand new fleet of Embraer E-Jets . Take this with a grain of salt as it loosely really translates to Business and Economy.
Booking was done through the excellent Paramount website at
http://www.paramountairways.com/
. The e-ticket was displayed on the screen as well as emailed to me. I tremendously appreciated the opportunity to chose my seat, and the subsequent opportunity to modify both reservation and seat assignment.
b) At Airport:
Bangalore airport is true to the "IADS"; however, the recent boom definitely has led it to get some "lip stick". I am glad I got to see the old BLR before action shifts in 2008.
The Paramount experience started at the entrance to the airport itself. There was a Paramount representative hanging out just beyond security with eyes peeled at passenger e-tickets. The moment I brandished mine for the security agent, the conversation went like this:
Paramount Concierge Man (PCM): "Sir, are you a Paramount passenger today?"
Me: (slightly taken aback): "Yes."
PCM: "Sir, please let me take your luggage. Please follow me."
Me: "Ok"
So he takes me to the Paramount check-in, where the agent greets me with:
"Hello. Mr. AM. Thank you for flying with us today. Since you are running late, I took the liberty to print your boarding pass. Our agent will escort you through the security queue so you don't miss the flight. Load is light today. I am sure you will have plenty of opportunity to find your favourite seat."
I was stunned. Since I really did have very little time, I immediately followed PCM as he jumped the line so that I could make my flight. Though, he was confused on my interest to take some pictures of BLR interiors than make my flight  
.
Anyway, boarding had already finished by the time I reached the gate, so PCM excitedly said something on the radio … and within minutes a car was pulled out to take me to the aircraft. My conversation with PCM ended as follows:
PCM: "I am sorry sir that you could not use our lounge this time around. Perhaps next time?"
(Apparently, Paramount offers a lounge service to its passengers)
ME: "Next time for sure" … then I proceeded to give him a tip … PCM became very embarrassed.
PCM: "No Sir. Thank you for your kindness. But it is my duty to make our guests feel welcome"
What the hell was going on here? Anyway, I thanked PCM and smiled at the experience so far. I was driven to the remotely parked E-Jet which looked really splendid in I7's livery. 2 attendants – one male, one female greeted me. The lead attendant said, "Mr. AM, you made it after all  
". I was blown away by addressing me with my name yet again!
Anyway, I took the bulk-head seat as I had 55 minutes in MAA for an onward flight to CCU on DN. In that 55 minute, I would have to arrive at MAA, check-in to DN, and make my flight. Load factor in an all "J" configuration was a very light 30%.
Here is where the fun really began. The pilot made an announcement that they were having mechanical problems with the jet. I started getting nervous pretty much immediately, and I voiced the same to the lead Paramount FA ("PFA"). He informed the captain and started going way beyond the call of duty. Every 5-10 minutes, he would go talk to the captain and give me a live update on the delay situation. While he was doing all this, I could also see him having an excited conversation with some ground agent … he came back with a copy of "Indian Airline Timetable" which lists all the domestic flights in India. Our conversation went like this:
PFA: "Mr. AM, I am personally so sorry for this delay. I have let our ground staff know and they are contacting management to determine if we can get you a ticket on Kingfisher's flight to BOM, with an onward connection to CCU on Jet Airways. I understand this is circuitous, but at this time, there is no other way. Would you like me to look into this?"
WOW! WOW! WOW! I had not even asked and this man was working out how I could get to CCU. Note here that I7 does not share interline with any airline, and my ticket on DN from MAA to CCU was TOTALLY separate from I7!
Me: "Lets wait a little while."
I guess more than reaching CCU, I really wanted to see how better my I7 experience could get. So as the delay started getting past 30 minutes, I was contemplating what to do. My contemplative times interrupted only by PFA coming to brief me on the situation and apologize profusely. At the 40th minute, the pilot came by personally to say they had fixed the problem with one of the ground lights, and we would push back in 5 minutes. WOW! The captain! I was feeling like some super celebrity!
45 minutes behind schedule, the I7 flight took off with me contemplating on what to do in MAA as I had only 15 minutes to catch DN. Note here that DN closes check-in 30 minutes prior, and there have been near riots on this enforcement in Indian airports.
Airport - External:
(Bangalore Airport – looks decent enough)
Check-in:
(Look at the wall. This is what I mean by "lip stick")
Airport - Internal:
Scenes of the tarmac:
NONE
Lounge
NONE
Boarding:
(Boarding area lounge)
III> In-Flight:
a) Service Schedule + Impressions:
Cold towel service pre-take off. Water and candy pre-take off. "Appetizer" service after take-off.
b) Aircraft + Seats:
I find the E-Jets to be extremely spacious, and this was no exception. The padded leather seats were super comfortable, and legroom all throughout was generous. Recline was industry average. The entire cabin and bathrooms were spotless.
Aircraft:
(Taken at MAA – sorry for the blur – I was trying to catch a flight)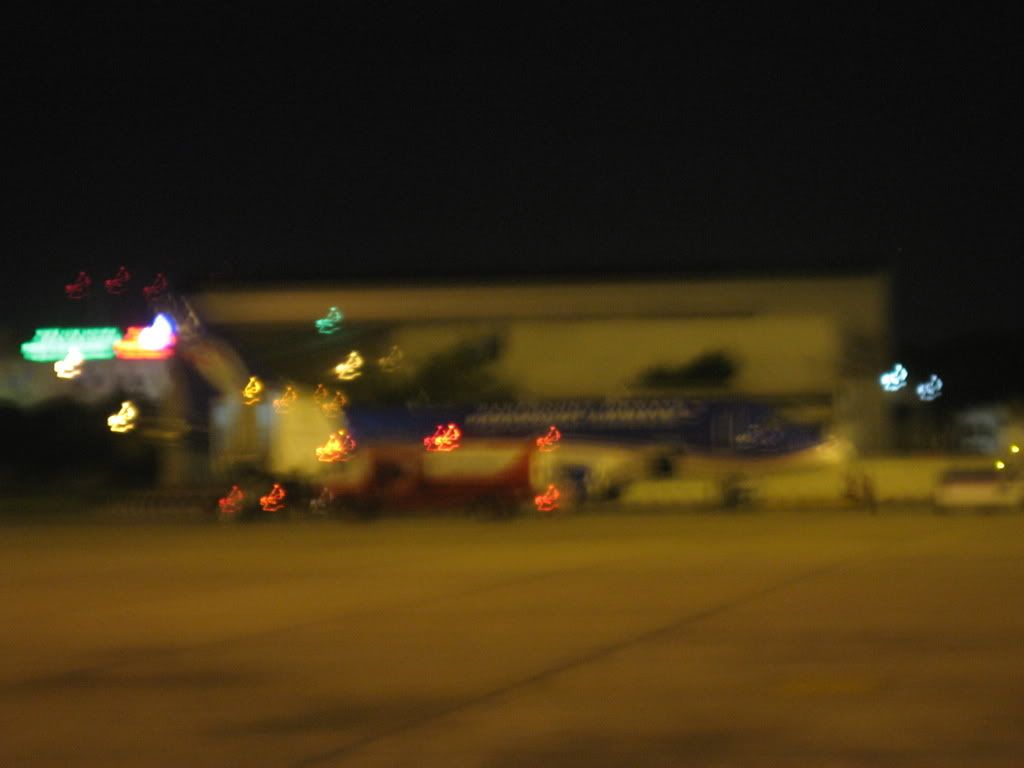 Views from Aircraft:
Seat Leg-Room: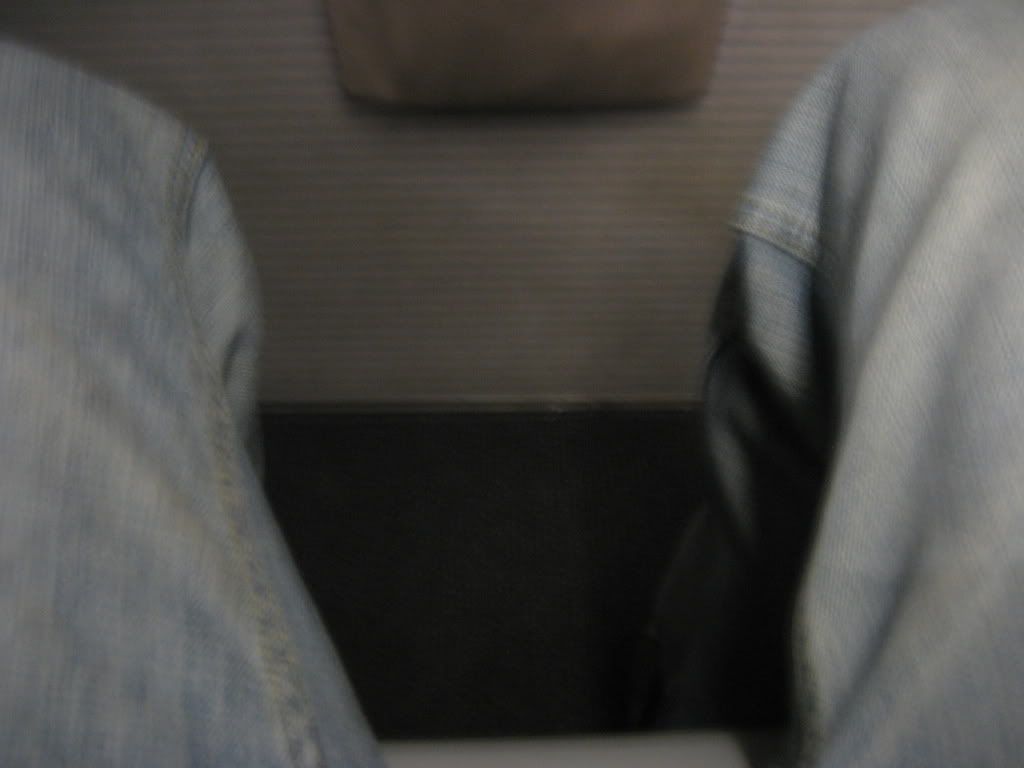 Seat Recline + Angle View:
Cabin: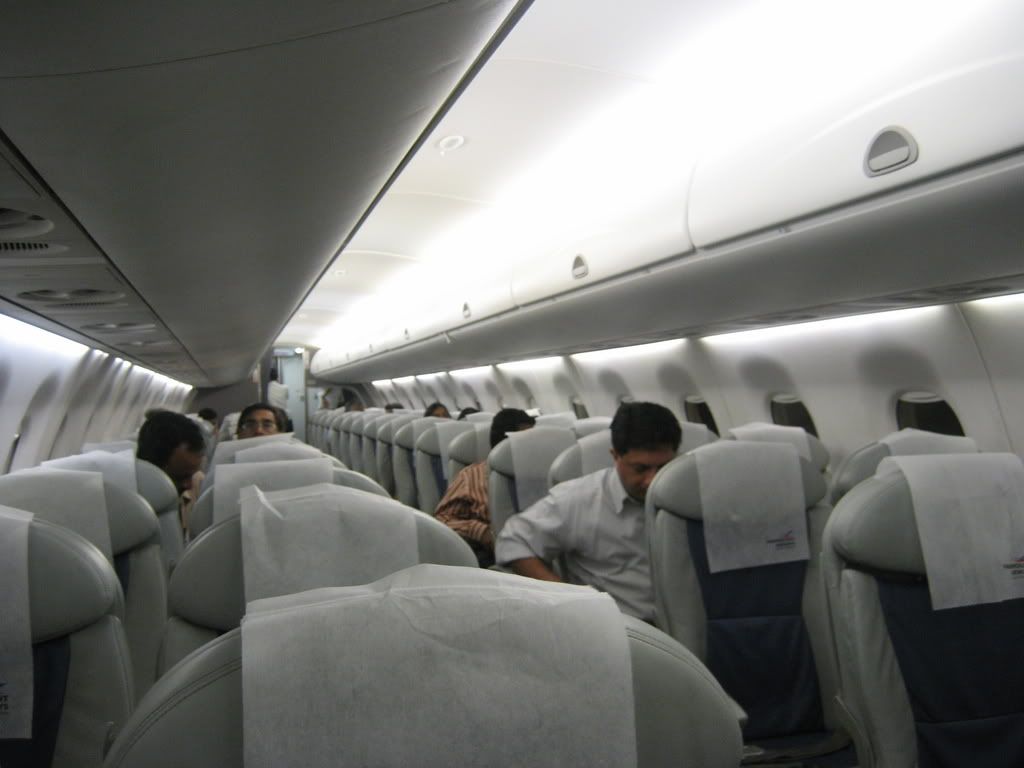 c) Meal + Beverage:
Upon embarkation, crew did a run of either water or packaged fruit juice, followed by sweets. After take-off, I was surprised (more like shocked) to receive an "appetizer service". Now, I was expecting an "appetizer" to be like a salad or sandwich. After all, this was a 169 mile flight. Oh no, I had the option between 2 "Non-Veg" and 1 "Veg" option. I chose the succulent Tandoori Chicken served with Indian croissant type bed, a stuffed bean thing (no idea what it's called), dessert, candy, and tea-coffee-beverage. The food was EXCELLENT! I could not help thinking how amazing the whole thing was. I mean, the flight was just 169 miles!
(Blurry pre-take off candy)
(Meal on a 169 mile flight!!! – of course, served with proper cutlery)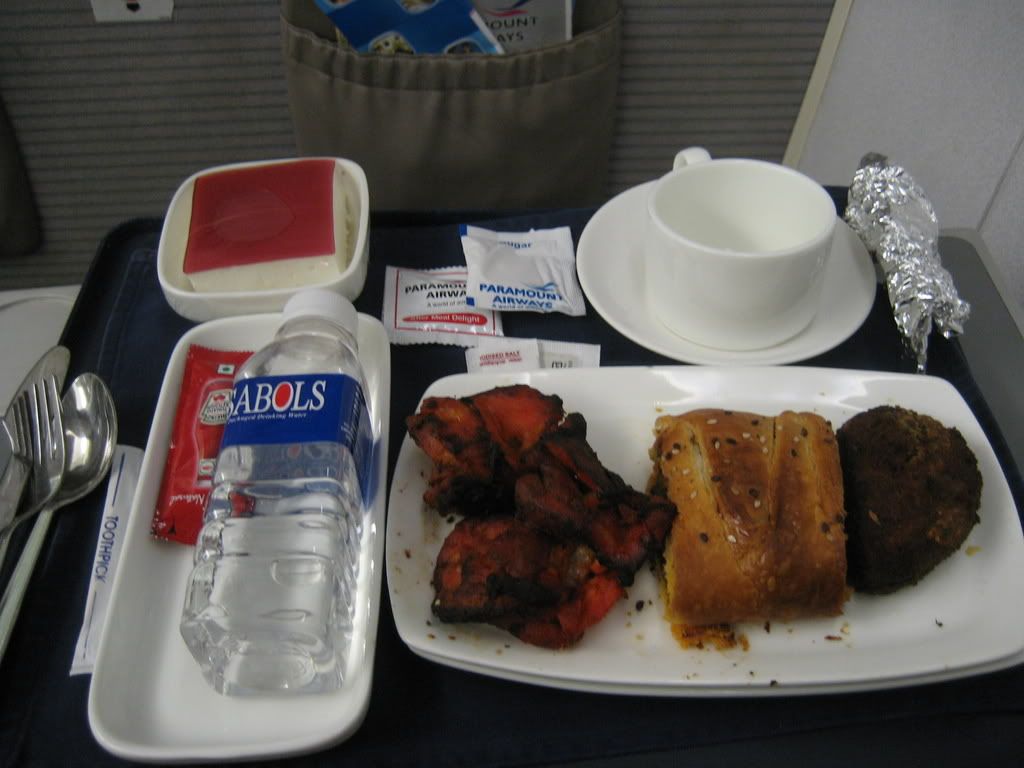 d) Inflight Entertainment:
No IFE. Decent magazine.
(In-flight magazines, Boarding Passes, etc.)
e) Crew:
Do I have to say anything more about the crew? Absolutely fantastic. Besides the awesome boarding process, they served passengers with a smile and with pride. They were the most pro-active bunch of people I had ever seen. Water runs throughout, and immediate response to call buttons. Oh, the best part was yet to come …
IV> Post-Flight:
As my I7 jet pulled into MAA 45 minutes behind schedule, I had given up any hope of making my DN connection. As the flight was taxiing to the remote stand, PFA came and sat next to me:
PFA: "Mr. AM. I am again personally sorry for this delay. I have contacted ground staff and they will escort you to DN check-in. Our station manager has contacted DN and took the liberty to have them check you in for your flight. I hope this is ok. I am so sorry for everything."
Me: "PFA. Let me tell you something. I am going to write the strongest letter of recommendation. Thank you."
PFA: "Thank you sir. I am just doing my job."
As soon as the gate opened, PFA let me disembark first with a "Sorry, and thank you for flying I7." I was met with a ground agent who walked me to the cargo hold area and requested me to identify my bag. Thankfully it was loaded last (and load was low), so it was easy to spot. He said, "Sorry sir. Since this is sterile area. You cannot touch it. Now, lets run". So we began running past arrivals, to the domestic section, and then to DN check-in counter (7 minutes). My boarding pass was waiting. I7 agent then took me through security to an I7 car which took me to the DN plane (8 minutes). Throughout, he would talk on the radio requesting to have DN hold the aircraft. I made the flight 1 minute behind after profusely thanking the agent.
V> Impressions + Scores:
The mark of a great airline is how it handles irregular and adverse situations. Paramount and its staff went way beyond anything I would have ever expected from an airline. I am discerning traveler and I have seen the world … but I have NEVER encountered such flawless service. From the ground staff at BLR, check-in agent at BLR, and the angel ground staff at MAA without whom I could not have made my DN flight, to the
best flight attendant I have had thus far in over 2,000 flights
, Paramount showed me what service is all about.
It wasn't a huge delay (45 minutes) … but what they did just blew me away. I recognize I7 has had operational issues of late, but seriously people, this flight experience was completely flawless. I would recommend I7 in a heartbeat as it joins my list of favorite airlines. 2 thumbs way up!
1.0 > RESERVATION: 10.0
2.0 > CHECK-IN: 10.0 (FIRST 10.0)
0.5 > LOUNGE: N/A
0.5 > BOARDING: 9.5
2.0 > SEAT: 7.5
0.5 > AIRCRAFT OVERALL AMBIENCE: 7.5
1.0 > IFE: 5.0
2.0 > CREW: 10.0 (SECOND 10.0)
2.0 > FOOD: 9.5
0.5 > BEVERAGES: 7.0
0.5 > A.KITS + OTHER FREEBIES: 5.0
0.5 > DISEMBARKATION: 10.0 (FIRST 10.0)
1.0 > ON-TIME RECORD: 7.0
WEIGHTED OVERALL IMPRESSION (WOI): 8.56 – HIGHEST SCORE YET – more significant as achieved on a 169 mile flight – most 10's in any TR
(Pre-flight WOI of all reviews: 6.33)
* Weighted Overall Impression (WOI) aligns scores with what matters most. Weights are indicated alongside each category.
(Scores are based on comparison with other airlines in THAT class of service – No comparison of Y vs. F for example)
VI> Other Trip Reports:
PREMIUM:
8.56: Paramount Airways (38): BLR-MAA: 09/2007
8.11:
Aeroflot (33): MOW-DEL: 09/2007
8.02:
Delta Airlines (24): JFK-CDG: 08/2007
7.82:
Singapore Airlines (06): EWR-SIN: 09/2006
6.93:
Delta Airlines (18): SEA-JFK: 11/2006
6.81:
Air Canada (17): ICN-YYZ: 10/2006
6.70:
KLM: EBB-AMS: 08/2007
5.75:
Singapore Airlines (16): CCU-SIN: 10/2006
4.42:
Air France: CDG-JNB (25): 08/2007
ECONOMY: Long + Medium:
7.38:
Avianca (01): BOG-LIM: 07/2006
6.26:
Jet Blue (21): CUN-JFK: 02/2007
6.06:
Air Canada (04): YYZ-YVR: 09/2006
5.89:
USA 3000 (19): PUJ-BDL: 01/2007
5.46:
TAP Air Portugal (23): OSL-LIS: 05/2007
ECONOMY: Short
8.24:
Kingfisher (14): IXA-GAU: 10/2006
7.87:
Indian (34): BOM-MAA: 09/2007
7.72:
Alliance Air (13): CCU-IXA: 10/2006
7.57:
Indian Airlines (10): DEL-CCU: 09/2006
7.23:
West Jet (03): YYC-YVR: 09/2006
7.15:
JetLite (37): BOM-GOI: 09/2007
6.70:
Spice Jet (09): CCU-DEL: 09/2006
6.58:
Air Tran (02): EWR-MDW: 08/2006
6.33:
Kenya Airways (29): NBO-BJM: 08/2007
6.31:
Indigo (15): GAU-CCU: 10/2006
6.22:
Air Link Swazi (28): MTS-JNB: 08/2007
6.22:
Air India (36): HYD-BOM: 09/2007
6.13:
Adam Air (07): SIN-CGK: 09/2006
6.00:
Transairways (27): INH-MPM: 08/2007
5.95:
Air Canada (05): ALB-YYZ: 09/2006
5.85:
SAS Norge (22): OSL-AES: 05/2007
5.81:
LAM Mozambique (26): JNB-MPM: 08/2007
5.69:
Air Deccan (12): IXZ-CCU: 10/2006
5.67:
Rwanda Air Exp (30): KGL-NBO: 08/2007
5.07:
Go Air (35): MAA-HYD: 09/2007
4.96:
Valuair (08): CGK-SIN: 09/2006
4.74:
Fly 540 (31): MYD-LAU: 08/2007
4.33:
Viva Aerobus (20): ELP-MTY: 02/2007
4.11:
Air Sahara (11): CCU-BOM: 09/2006
(Note on Codes: Y – Economy, J – Business, F – First :: I/D – International/Domestic :: SR/MR/LR – Short/Medium/Long Haul)
VII> Other Pictures:
NONE
[Edited 2008-01-09 22:34:07]