So after spending a week in CVG for training, I decided to reward myself and go see a friend (
) for the night and fly back the next day.
Let me start out by saying that CVG ain't what it used to be. Two years ago, CVG was so busy that the A concourse only had room for four actual gates (two boarding doors) for ASA and the rest of the gates were mainline. All of terminal 3 was strictly Delta and the connection carriers. Now the A concourse has not only connection flights out of the A concourse, along with empty gates, NW and Continental use the A concourse as well. It truly is a shame at how much Delta cut CVG back. I was talking with a gentleman who works the gates in CVG and he was telling me that they used to have upwards of 200 flights a day (mainline) out of CVG. Now it is down to 52. I believe that number to be mainly accurate because B27 and B28 were not used once the whole time we were there.
Now just a quick heads up, all of my pics were taken by a cell phone. So
please bear with the quality of the pictures.
Here are a few shots of how empty the terminal looks at CVG (all taken in the B concourse):
Chris and I. The only two on that side of the concourse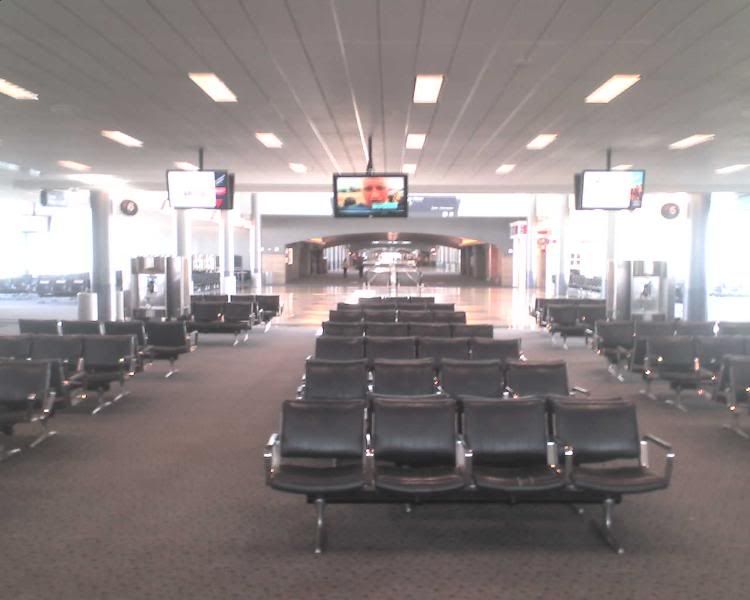 the two people up towards the top, near the moving walkways, were classmates of ours
walking back toward the other end of the concourse...sorry for the poor quality
and even further down..again sorry for poor quality
what hub do you know that keeps a gate for more than 4 hours with no flights in and out of it?
Last one on CVG for the moment. I promise!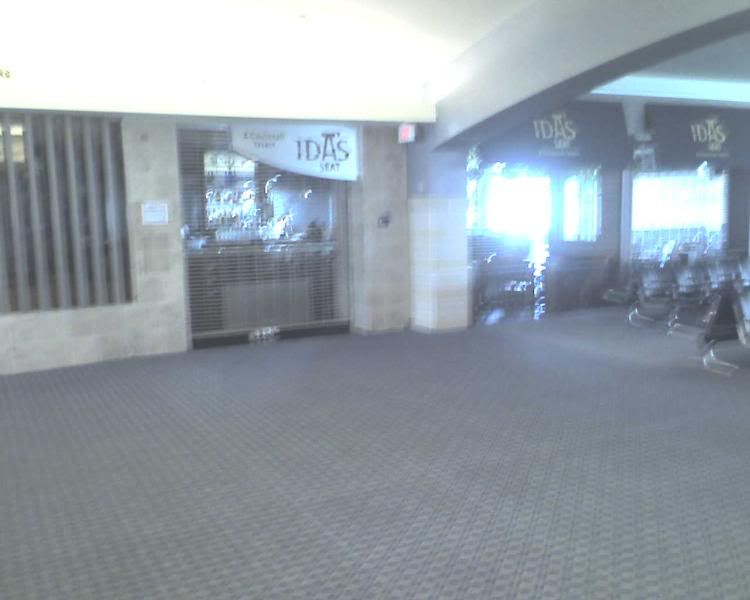 Ida's Seat....i never saw this place open the entire week.
-----------------------------------
I did end up having to fly to DTW and renting a car down.
DL5296
Friday, November 9th
Scheduled (actual) departure: 13:20 (13:17)
Scheduled (actual) arrival: 14:35 (14:37)
Equipment: CR2
Load: 16/50
The sole picture that I bothered to take was out the window of the Avis bus:
Look at the cute little DC-9
Nothing much to comment on. It is a 44 minute flight from CVG-DTW. The flight attendant was very nice and she walked thru the cabin with a tray of snacks and got our drink orders.
One thing that kind of bothers me is the quality of the cabin on the inside. I absolutely love the seat coverings on ASA, they always look nice and fresh. On OH, its been the same style seating (old, drab look to the cabin) and the seats look very well used.
------------------------------------------
So after visiting my friend danielle for the just under 24 hours that I was in Toledo, it was time to head back to DAB.
After I dropped my one way rental car off at the Avis desk, I headed over to the Delta Connection check in desk. I used the kiosk to check myself in and check my bag through to Daytona. This would come back to haunt me for checking the bag. But more on that later.
DL6295
Friday, November 10th
Scheduled (actual) departure: 14:50 (14:40)
Scheduled (actual) arrival: 15:52 (15:37)
Equipment: ER3
Load: 16/37
Seat: 1A
I will start by ranting about the TSA. I know I am beating a very dead horse when I say this, but TSA really needs to talk to other stations. I went thru DAB, ATL, CVG (twice) and they did not take my toothpaste when it was full. I was leaving today from TOL and they took my toothpaste and not only was it pretty much empty, but it was right at 3.5 ounces. But as I said, no beating a dead horse.
I walk down to the gate and saw my favorite TOL OH employee from the afternoon shift working the gate. We chatted for a second and then it was on up to the plane to take my seat. I love the ERJs for one simple reason. Even though the cabin is tinier than the CR1/2 the seats seem to have more room. Plus you can actually look out the windows on the ERJ.
Love the room of 1A especially for me and my ridiculous height. I think what gets me is the various bases these crews come from. The last time i was on a Chautauqua plane, the Captain was Indianapolis based, the F/O was Dayton based and the flight attendant was Columbus based. I think this crew was just Dayton and Columbus based, but its still funny to see them spread apart like that.
I snapped a few pics of this flight so here goes: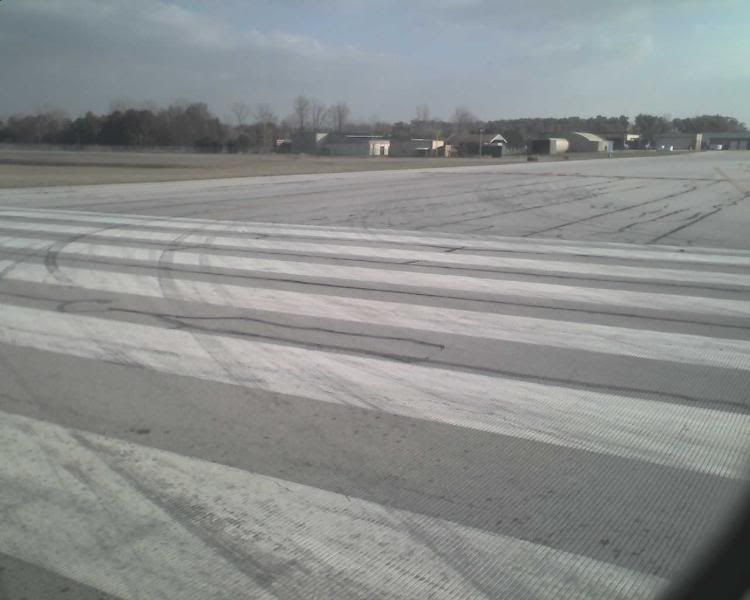 Rolling onto Runway 25
Still rolling. Just passed the ANG 81st fighter wing. Cool thing to see are the -16s taking off. You can feel it in your gut lol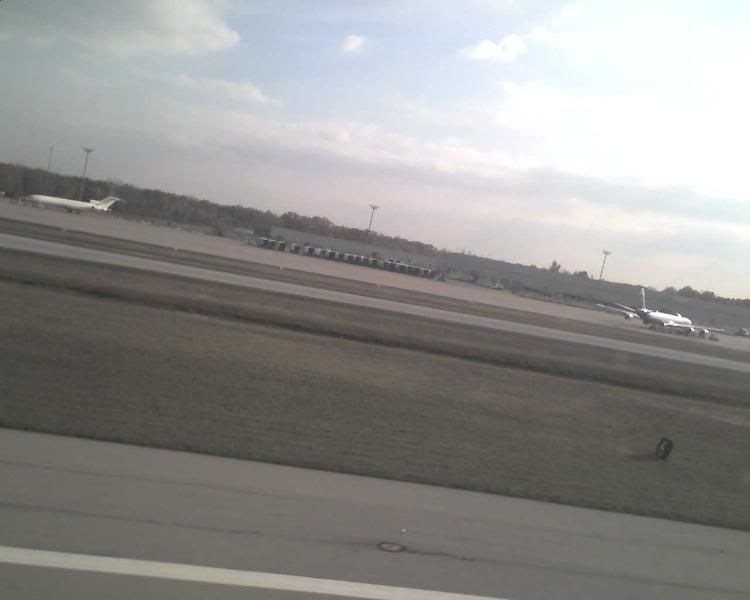 Rotate!
climbing thru the cloud deck
about 20 minutes out from landing
Continuing the approach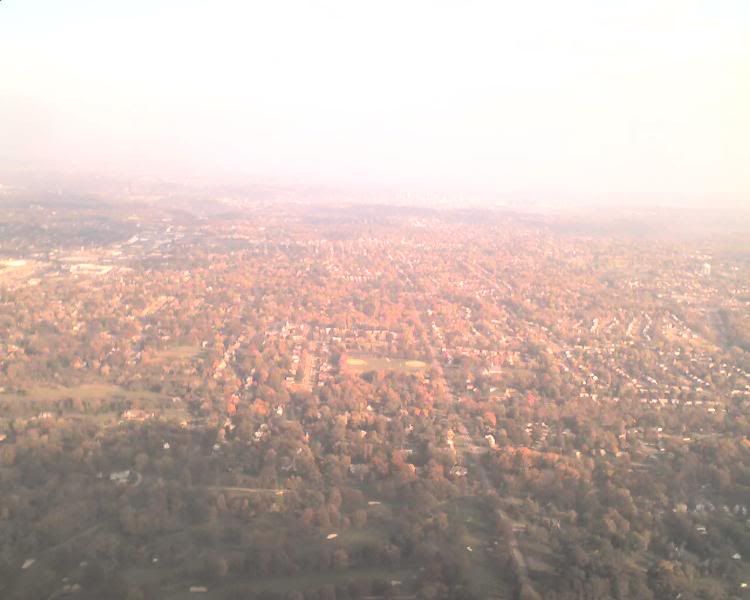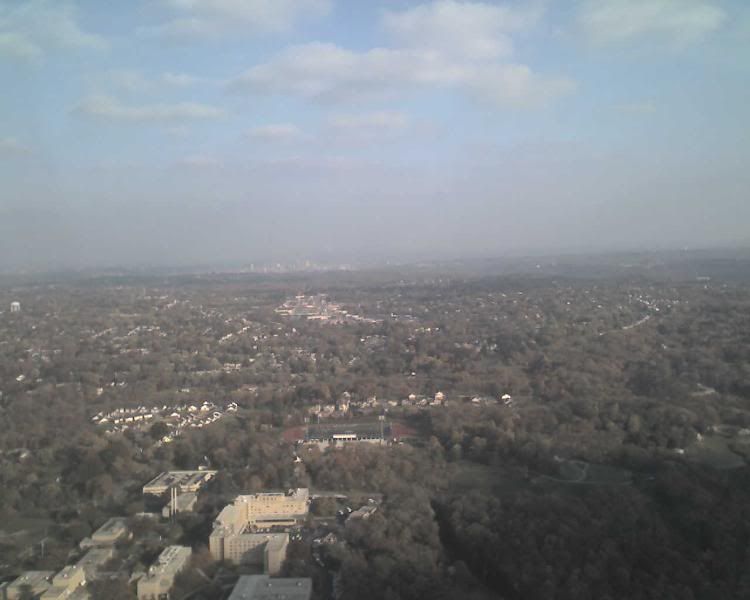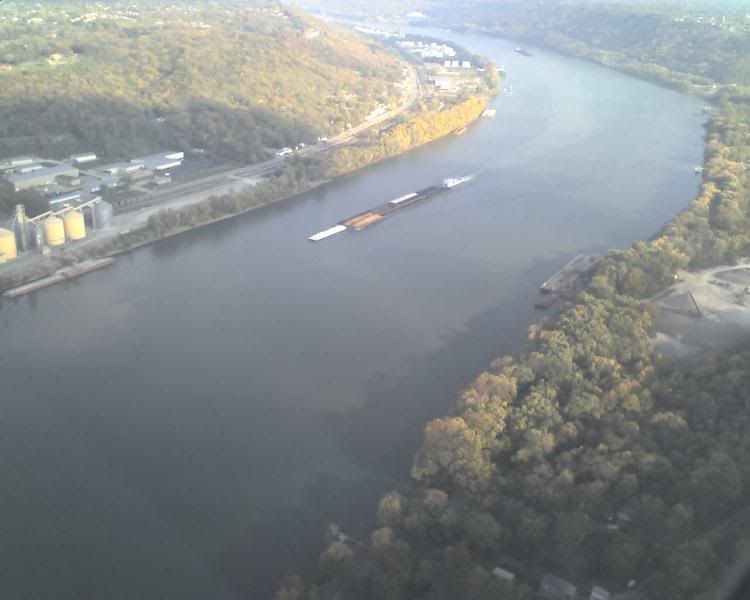 '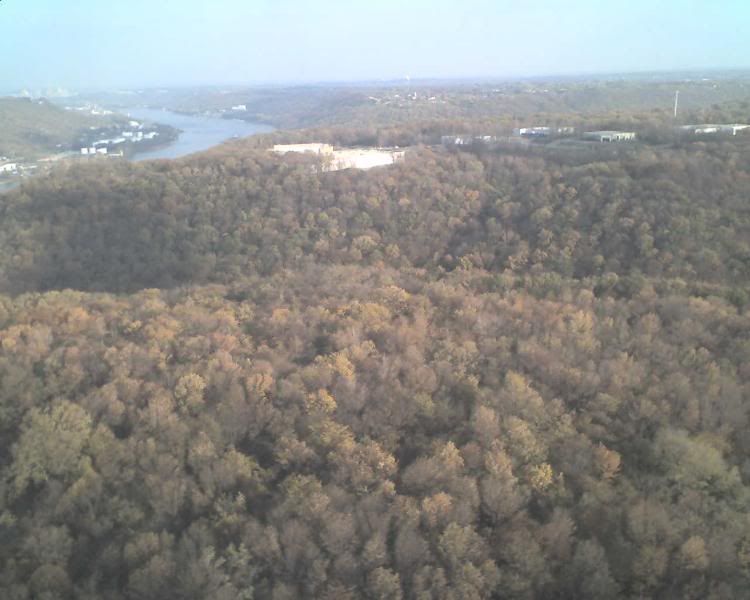 touchdown!

Overall flight experience...not bad. The flight attendant was nice and the crew kept us informed as much as they could on a 31 minute flight.


XJR