This is Part 1 of 3 Trip Report on my visit to Munich, Salzburg, and Berlin back in march 07. Comments and clarification definitely welcome! If you have ever been on Berlin's U-bahn, then you'll hear the announcement "Einsteigen Bitte". Enjoy!
Willkommen!
Back in December 2006, my friend Joe and I were deciding where to plan our next trip, especially since we each had a $500 travel voucher on CO because we volunteered to give up our seats during the holiday season. We were to have flown IAH-OAK on 27Dec05 and celebrate New Years with our friends who live 5min away from SJC. We looked at going to SJC, but at the time, they wanted $100 more than going to OAK, so we were going to OAK instead. When we were sitting at the gate (E24), we heard an announcement that the flight was oversold and they were looking for volunteers who would be willing to be put on a first class flight to SJC either later that night or early the next morning. Joe and I decided to go up and put out names, being #'s 3 and 4; the flight had been oversold by 10 and only 6 volunteered.
Instead of leaving that night, we took the first flight out the next morning in F. If you read my previous report to EZE, you know I love the cinnamon rolls provided by Chelsea Catering. This was a morning flight with meal service, and we were in first class, so I a got $500 travel voucher, F seat to SJC, and at least 3 cinnamon rolls, I had no means at all to complain and just enjoy the flight!
Our return back was OAK-IAH. The flight was also oversold by 4 and they were looking for volunteers, so Joe and I immediately jumped. They had initially offered the red eye flight from SFO and $500. However, by time of boarding, there were 6 no-shows, so they didn't need us.
So back to the trip planning! Since we had gotten our vouchers on 27Dec05, they were to expire on midnight 28Dec06, so we needed to act fast! We splurged a bit in EZE, so this time we were being a bit more frugal this trip. I work at a university and the best time for a vacation would be Spring Break 2007! YEAH! We had narrowed our choice to HNL, ARN, CPH, LGW, and TXL mainly due to price and having never been to those cities. I had been to London back in 1994, but a lot has changed since then. Also, I had been to HNL, but mainly to connect on IAH-HNL-GUM-MNL-GUM-HNL-IAH a few times and never out of the airport. HNL was tempting, but I wanted another stamp in my passport. We eliminated ARN, CPH, and LGW mainly because visiting would be very expensive despite rather cheap fares. So TXL remained. We had initially planned a 5-day trip to TXL priced out at around $700, but if we extended it to 8-days, the fare dropped to $565, taxes included. That was a no-brainer and we both had the chance to take a longer break; all we paid for our airfare was $65 each. Also, CO was offering a 2500mi bonus for the new TXL to OnePass members who registered and flew on this flight before 31Mar07. NOT BAD! We would have almost a 2hour connection at EWR before our TXL flight, while our original return had a 7hr connection, plenty of time to run into the city before heading back to IAH.
Now that we got our TXL ticket and staying a bit longer, I proposed that we visit another city while we were in the area. PRG immediately popped into the plans, but we weren't sure, so we made that city an option. My parents had suggested that we consider VIE, MUC, and PRG. I had always wanted to go to VIE and see how majestic the city is. My parents loved VIE, but after talking to them they regaled stories mainly during their stay in MUC. I had also been to Munich as part of a tour that included London back in 1994. Actually, I remember the airport had recently opened in either '93 or '94 and during our stay in Munich, we stayed at a hotel not too far from MUC, which at the time served as an airline hotel for various airline crews. MUC had been one of the airports I had wanted to see. Also, I love drinking beer, so who wouldn't love to go Munich (despite it wasn't for Oktoberfest) and enjoy 1L of beer, during the day in the park on a Sunday!!! So I persuaded Joe to include Munich to our trip with a possible daytrip to Salzburg just to say we had been to Austria!
Now that MUC was settled, though PRG was still lingering around, it was time to figure out how to do TXL-MUC-TXL. As a CO OnePass elite member, I immediately searched for Skyteam connection and pricing, no matter how odd. KL via AMS was pricing a business class ticket at $3000 , so that was quickly eliminated. Yet, TXL-AMS-BCN was pricing out at $250 roundtrip with taxes. OK via PRG was much less at $400, but connection times were a bit insane, mainly giving us 8hrs to go around Prague. Tempting, but no go. AZ via MXP/FCO combination was not bad at $300 roundtrip with taxes, tempting especially with full status miles on CO. However, it boiled down to taking the nonstop TXL-MUC-TXL on LH. The fare was only $197 with taxes roundtrip per person, so we booked it and got an eticket confirmation. With tickets and dates confirmed, we monitored hotel prices until we decided on a few good deals. Once settled, all we had to do was pack and wait for our date of departure!
February and March 2007 had brought bad weather and storms blanketing the Northeast with snow.
I had kept a watchful eye on weather delays at EWR and also the TXL flight. Many of the 752 flights from Europe were taking scheduled stops at either Gander or Halifax before continuing onto EWR. Thankfully, the weather was clearing up towards our day of departure. Also, the TXL flight looked rather open and hoped that a few of the additional Elite seats would open up, particularly at the overwing exits.
CO 152 IAH-EWR
08 Marz 2007
737-800 (738) w/mid-cabin lav
Boarding Time: 11:10
Departure: 11:45
Arrival: 16:45
Seat: 5F
Departure Gate: E5
Arrival Gate: C92
Joe had picked me up at my place at 08:30 so that we would get to IAH with plenty of time to check in. With the car parked at an offsite lot, we were dropped off at Terminal E, which primarily handles international check in for all CO flights. As a CO OnePass Silver Elite, we were able to check in at the EliteAccess/BusinessFirst check in counters. We approached the kiosks and checked in ourselves with a bag each at first all the way to TXL. While an actual CO agent was about to put our tags on our bags, I asked him if he would be able to tags our bags all the way to MUC since we were connecting at TXL onto LH on a different ticket. He said it wouldn't be a problem, but it took him a while as he was typing away on the computer. When he got the appropriate screen up, I handed over our LH e-ticket information. Finally he was able to print them out with priority tags and with MUC as our final destination. As he was giving back the ticket jacket with the baggage tag receipt, I noticed a mistake. Our final destination to MUC was correct, but he put the wrong LH flight number. Right as I was turning around to go back to the agent, I had watched our bags go behind the wall on the belt. I had informed the agent that he had put the wrong flight number, and he was very sorry for the mix up. He took back our tickets and double checked our LH information and printed out new baggage tags along with priority tags. He said he would go downstairs to change out the tags and that we should have the correct tags with the correct connecting flight information. This worried Joe since he wasn't sure if our bags would actually make it. I, on the other hand, didn't worry. My only worry was the possibility of having to pick up our bags at TXL to clear EU/German customs and then having to recheck them, but under different check in baggage rules.
I should mention my backpack. Since 2000, I had bought this rather roomy laptop bag from Gap at a steal of $9.99. It was one of the first laptop bags to come out in the market. I got 2, a blue/black one and a green/yellow one. Around this time, my parents and I started doing more international travel after an unfortunate event in Manila allowed us to become first-time OnePass elite members and international was much cheaper and the dollar was rather strong. The first international trip I took with my blue/black backpack was to a trip to MNL with CO on IAH-HNL-GUM-MNL-GUM-HNL-IAH with a short QF trip MNL-SYD-MNL. Basically before the return flight, I removed the MNL-SYD tags and put it on my backpack with no qualms from security of whomever because I kept on saying I'm not checking this bag in. From that trip on, I took the tags going to the international destinations and placing them on my backpack. Among the tags are destinations to SYD, MNL (x2), HKG, FCO (x2), ZRH, AMS (x3), EZE, TXL, MUC, and finally ATH, 97% flights on CO. When I go through security, agents looked perplexed but I say it's my carryon. I get a bit sensitive when people want to cut them off, and people tend to back off especially when I give them a look that might otherwise get me banned from the flight. It does get start some interesting conversation with various CO personnel who recognize the CO tags and all the international destinations.
So by 09:30, we were checked in and thru security at Terminal E, what to do now? We had choices and started to narrow them down as we were walking to the main corridor towards elliptical installation of TVs, aka "Video Ring". I liked it at first back when TermE opened, but now, it's rather annoying and I feel I might develop a seizure or something. First option was the President's Club. It was tempting, but we were travelling in Y and weren't in the mood to pay for the entrance fee ($45) for the day, despite being able to go to both IAH and EWR. Yet, we wanted to save as much money as we could before we got to Europe. We were a bit hungry, and Famous Famiglia was still offering breakfast as they were preparing pizzas and pastas for lunch. With some yummy scrambled eggs and bacon in our stomachs, it was off to wonder around TermE. First off, we stopped by the Nestle Toll House Cafe and bought half-a-dozen of their Lil 'O Bit of Trouble, these small chocolate chip cookie sandwiches with white frosting in the middle. Good, but fattening, but figured we would need it during our TXL flight. Afterwards, it was across the hall to the L'Occitane and the Borders Express, which were both opening up at that time. We saw families and groups of people all decked out in Hawaiian gear, flip flops, shorts, and Hawaiian shirts getting ready for their HNL trip. Though people are excited and anxious to start their holidays once they arrive at the airport, I wish people would dress a bit classier when traveling than looking like trash!
By 11:00, we decided to head towards the gate since boarding was to commence shortly. On the way, I stopped by the Customer Service Center and kindly asked if they could reprint my boarding pass on cardstock. I had given the agent my computer-printed boarding pass in exchange for the cardstock one. Afterwards, we went to the big lounge area for gates E4, E5, E6, and E7. It's a nice area to sit and watch planes due to their floor-to-ceiling high windows. While we were waiting, I was watching HNL passengers on CO 73 boarding at E7, E6 was to MTJ (Montrose), our flight to EWR was at E5, and E4 was a delayed flight to NRT. I was enjoying listening to the Japanese announcements for final boarding to NRT, while Joe was laughing at the flight to Montrose since it shares the same name as a neighborhood in Houston.
Our plane to EWR boarding at E5B.
By 11:20, preboarding was called for our flight to EWR. After F had checked in full, EliteAccess pre-boarding was called. We jumped into the queue and boarded via the blue carpet. We were seated at 5EF, bulkhead on the 738, with the mid-cabin lav across the aisle from us. With our backpacks stowed in the overhead bins, we sat and watched the rest of the Y cabin fill up. I tried to take a few pics during boarding.
As we were pushing back from E5, CO 73 to HNL awaiting for some last minute passengers.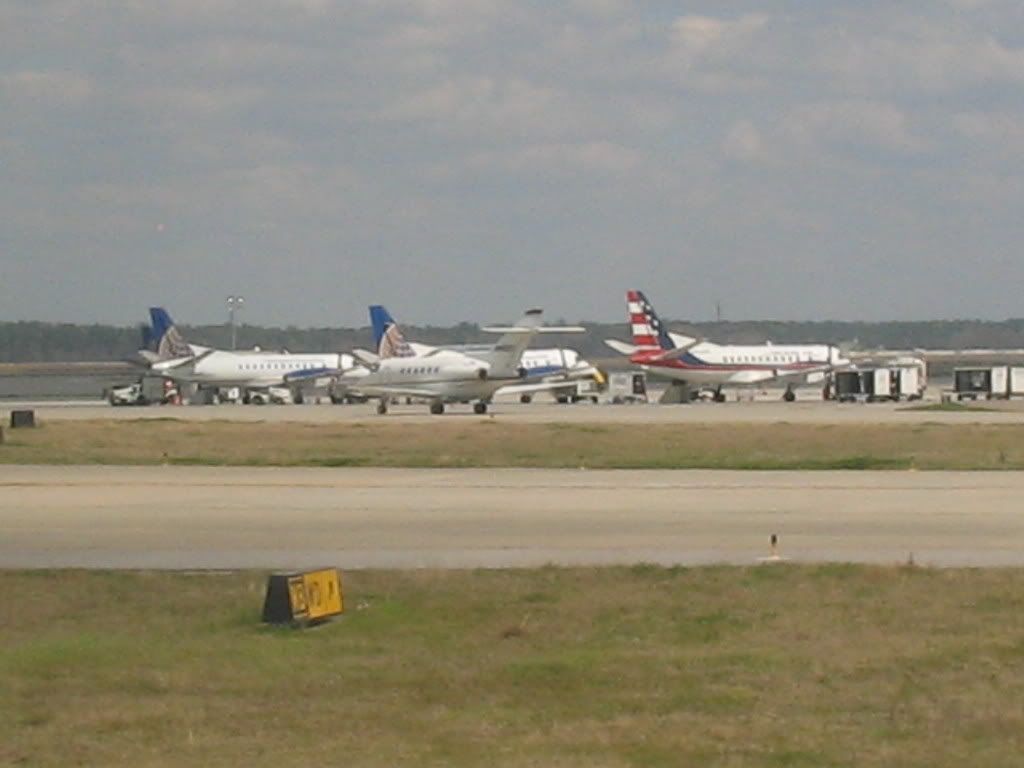 CO/COEx Turboprops sitting at the Terminal A tarmac.
We pushed back relatively on-time since the crew wanted to maintain a sense of on-time scheduling and minimize delays. Once airborne, the lead FA welcomed us onboard and gave a warm welcome to OnePass members who would be earning valuable miles on this flight to EWR. A movie was offered, but not sure what was shown. I have tons of headsets back in the day when the free headset coupon was printed along with your boarding pass after checking in online, in addition various upgrades I had been on in previous trips. I packed a few in the backpack so Joe could have one, while I used my iPod headsets.
We lucked out and a meal was served on this flight! To start service, FAs did a first round of drinks. I got my usual orange juice and water along with some honey-roasted peanuts. I noticed two carts were started with the lead FA serving the front-half of Y cabin and another serving the other half. After they let passengers quench their thirst and enjoy the small packet of nuts, trash was collected and it was time for today's meal: cheese pizza.
For a meal on domestic Y, these aren't bad at all! Much better than the "cheeseburger" and miles away from that nasty Philly cheesesteak pizza
.
When we were somewhere over Kentucky or Tennessee, trays and cups were collected for recycling while lines were forming for the lavs, particularly the little kids. I watched one of the FAs in F help the kids find the mid-cabin lav and said the one in F was for the mommies and daddies sitting up front. It was nice of the crew towards the end of the flight where the same FA hand out wings to each of the kids. I would have asked for one after the flight, but they're the sticky kind; I miss the days where wings had actual pins on them!
With the movie over, boring clips being show, and people opening their shades, I opened mine to figure out where we were.
PHL from above. It doesn't seem to be the nightmare some make it out to be.
Arrival into EWR was rather smooth and taxing to C90 was rather short. You can tell snow was shoveled into various nooks and crannies of EWR which would not interfere with every day operations. We arrived more or less on time, with enough time to run to my favorite place to eat at EWR, Au Bon Pain! Each time I visit, I usually buy 2 roast beef sandwiches on croissant with lettuce, tomato, cucumber, and mozzarella cheese. Good eats there! With Joe, I bought 4, his 2 with Dijon mustard.
With those sandwiches and 2 bottles of water packed inside my backpack, we walked around C1 for a bit waiting for our TXL to board out of C71. We took a peak at the dinky duty free shop at C1, but nothing worth buying.
Since this was an international flight, we knew to head to the podium and have our passports verified to ease the boarding process. Since I was hoping the exit row had opened up, I asked how open the flight to TXL was going to be that night. When we checked in 24-hr before up to the time Joe picked me up at my place, the TXL flight seemed to only be 40% full with plenty of seats open. Yet, I was surprised to find out that the flight was completely sold out, slightly overbooked, but a few people seemed to have rescheduled their flights so pretty much everyone was to board the flight. Another surprise, the gate agent was very nice, with a calm tone to her voice. Very polite and profession, compared to the gate agent boarding a flight to FLL out of C73.
Granted, the customer seemed to be a
from what I could tell and she wasn't going to have any of it.
LH and BA at Terminal B taken from C71. SQ showed up right as we were leaving the gate.
Our plane that would take us to TXL. Notice bits of snow on the ground. We were also next to the US Helicopter gate that would take people to either Wall Street or Midtown Manhattan.
CO 96 EWR-TXL
08 Marz 2007
757-200
Boarding Time: 17:30
Departure: 18:15
Arrival: 08:10
Seat: 9C
Departure Gate: C71
Arrival Gate: 00
Pre-boarding for BusinessFirst passengers because right at 17:30. About 5min later, EliteAccess boarding were allowed to board along the blue carpet. With our boarding passes scanned and a full card in my hand, I was excited to board my very first narrowbody flight across the Atlantic. We were greeted at L2 by one of the German interpreters (Britta or Brigitta) for the flight. We were among the first group to board along with a number of Flying Blue elite members. As Y began to fill up, the ISC Jennifer played the automated announcement in both English and German. At about 18:00, boarding was complete with 100% load factor in both J and Y. Another surprise, there seemed to be more German passengers than American ones. I noticed a mother and daughter who had boarding passes from the EWR-HNL flight that day. Prior to doors closing, the captain addressed the passengers and tried his best to do his message in German. Brigitta repeated the captain's message afterwards. Many Germans were surprised with the captain's attempt at German and clapped at the end of his announcement. I asked the couple next to me why, and they said that it was nice an American pilot spoke German. I smiled at that comment. With doors closed, Jennifer welcomed everyone onboard and reminded that cellular phones had to be turned off for the duration of the flight. After Brigitta's translation, Jennifer called for the FA prepare for depature, cross check, and await oncall. After oncall, they took their places as Larry Kelner did his welcome speech for inflight safety video.
At the conclusion of the safety video, the FAs walked up and down the aisle to make sure bags were securely stowed and seatbacks and tray tables were in the upright and locked position with seat belts securely fastened. Once we left the gate, it took almost an hour before we were airborne since this was a prime time for arrivals and departures at EWR. In the distance I noticed an LY 777 in the distance, an AI 744 and SQ A345 at the gate, SK A340 and BA 777 being pushed back from the gates along with various CO planes. I was dozing off a bit while we were waiting and then woke up when the pilots played the automated announcement "flight attendants, please be seated for departure".
With our flight under way, I reclined my seat as far as it could go and relaxed a bit before the usual welcome announcements were made. After Jennifer did her announcements, the male interpreter who worked in BF did the welcome. Again, a special welcome was made to OnePass members and SkyTeam partners. Prior to boarding, each seat had a plastic-wrapped package containing a pillow, blanket, and headphones. I collected the headsets since I was using my iPod ones and Joe had his from the previous flight in his pocket. Two movies were to be shown, but again I don't remember which ones, and I cannot find my copy of the Continental magazine for March 07. What I wish they would do instead of run continuous clips on Continental Vision was to break the programming up and show the inflight map. These maps seemed to have disappeared on 737 and 757 flights that have IFE on them.
With the first movie started, service began at Y starting with the first round of drinks. Jennifer and Brigitta served the front half of Y while Nick and Stephanie served the other half, and Jamie working in the galley. With my orange juice, water, and pretzels, I was also tempted to eat one of my sandwiches, yet I was curious what tonight%u2019s dinner selection was.
I chose the beef lasagna.
Joe chose the grilled chicken with rice and vegetables.
We had a young college-aged American gal sitting next to us who barely made it onto the flight with her mother and brother. She laughed why I was taking pictures of the food and then I told her about a.net and airlinemeals.net. (Side note, I might do a different trip report which includes various meals eaten on different flights along with tidbits I remember of that flight, so stay tuned!)
After dinner was finished, Jennifer came through picking up trays and placing them back in the carts, while Brigitta was behind her offering anyone coffee, hot tea, or water. Those wanting other drinks would be served right after. Coffee and tea seemed to be the choice for most as Brigitta had to call Jamie to bring more coffee and tea. Stephanie walked down the aisles with a waste bag to those who wanted to throw cups or newspapers away. As the first movie ended, the second round of drinks and pretzels were offered, this time with Nick and Brigitta. It seemed to go fast as many were content though there were some drinking beer like there was no tomorrow. Prior to the second feature, a few shows were shown. At this time we were just leaving Canadian airspace, since the J monitors were showing the route maps on the overhead monitors. Also, the FAs started duty free service; cigarettes seemed to be the big seller tonight!
I do recommend if you don't have an outlet converter when traveling overseas and are traveling on CO, the one in the duty free magazine is a pretty good one, and reasonably cheaper than at other places I have seen.
Now here's my opinion of the 752 across the Atlantic. Overall, it's a fine aircraft, and if it gets me to where I want to go, with a good crew, then I'm not going to complain. I can understand the complaints many have flying a narrowbody across the ocean as opposed to a widebody. One can feel cramped in the 752. Its worse when it comes to waiting in line for the lavs. After dinner and end of the first movie, the line to the front lav went up to row 20. I could see a smaller line towards the back of the cabin for the lavs there. Though at one point, I decided to go to the lavs towards the back and was able to go sooner than those waiting in the front. When a few noticed me going back, I think they decided to go back. Going back there, too, allowed me to walk a bit which I like to do. While the line for the lavs would shrink, people would still tend to congregate around L2, mainly the German travelers who had nothing to do and friends sitting in other parts of the cabin. I think when PTVs with AVOD are installed throughout the cabin, this will greatly improve the passenger experience, but for now, I'm just glad CO isn't going to plan a flight longer than the TXL one.
Prior to the start of the second movie, the FAs were handing out hard, yet, yummy ice cream sandwiches!!! This followed a quick beverage service. I remember falling asleep after I had finished my ice cream sandwich. Sorry I didn't take a picture of it this time. My camera was already back in my bag and didn't want to fish it out until it was time for breakfast. About 1.5hr away from TXL, I woke up and headed to the lav. I noticed through the BF curtains that we were over the UK. I did the usual stuff and washed my face. As I walked out, the FAs turned on the cabin lights to wake passengers up for breakfast service.
Typical CO breakfast in Y to Europe.
They started with a drinks service followed by breakfast. I had to laugh at the crew. I think overall this crew had the most fun together than any of the bigger crews. They would seem to joke and laugh at one another, and it made the experience much more enjoyable. On this occasion, I remember Brigitta calling Jamie to bring his hot, warm buns to the front of the cabin! All I can say about Jamie ... NICE!
Once breakfast service was complete, I believe we were somewhere over the Netherlands and starting our initial descent into TXL about 30min ahead of schedule. A small film was shown about the short arrivals process at TXL and then of Berlin and the surrounding region. I was getting excited because this would be a new city with a new stamp in my passport! After the film, the pilot informed everyone that we would be arriving TXL ahead of schedule and thanked us for joining him on this flight today. Afterwards, he repeated it in German with no additional translations by either of the interpreters. At this time, the crew went through the cabin to pick up any last minute service items and prepare the cabin for arrival. By the time of final descent, each FA went down the aisle to make sure seatbacks and tray tables were up, carryon items secured and seatbelts fastened. Then on Jennifer's final inspection, she thanked each customer, followed by Brigitta. I had not seen this for a while, mainly on domestic flights, but I guess it was easier since it was a single aisle and not having to do the "U" pattern on widebody. Afterwards, we heard the automated announcement "flight attendants, please be seated for arrival."
Touchdown was nice and smooth. We were now in Berlin, Germany, at least for a few hours while Joe and I waited for our LH flight to MUC. Now for those who have never been to TXL before, let me say it's very interesting, and I actually like this arrangement, though it's rather different. Reading reviews and then asking questions on flyertalk.com, I was still confused about the layout of TXL. The main terminal is hexagonal in shape with about 15 gates. We were arriving at gate 00, which is one of two gates for intercontinental flights. When you arrive, immediately at the end of the jetway you hit two immigration desks. It's separated from EU and non-EU, but the lines back up and the service agents for CO direct you to either line no matter what passport you hold. After you get the standardized EU stamp, you go behind the desk and the baggage belt is right there. While we were waiting for our passports to get stamped, I showed one of the service agents my baggage claim ticket and ask him if we needed to pick up our bags for our connecting flight to LH. He said no, just go to the LH check in desk and tell them we had baggage coming from CO that should be on that flight. With that being the correct answer, we did watch to see if our bags did show up on the carousel since it appeared that all priority bags were offloaded first followed by the rest. We still had plenty of time, so we waited a little bit longer. When the unloading belt stopped and we did not see ours, we decided to leave the area. So we proceeded the few steps from the belt to customs where there was NO ONE watching us leave and it was immediately out into the crowded mayhem of TXL. I think if you time it perfectly and had checked baggage, with formalities, you could go from plane to curb in 10min, very fast and efficient; 3min if you didn't have checked baggage.
Next report: Intra-Germany flights.