Here's the next part of my Asian Adventures 2007, covering some Bali hotels as well as DPS-KUL-BKK on Air Asia.
Previous parts can be found here:
Farewell Bangkok: BKK-MNL-OZC On 5J/2P (47 Pics)
(by
Lufthansa747
Sep 24 2007 in Trip Reports)
Philippine Island Hopping: CEB-DVO-CEB 2P 737-200
(by
Lufthansa747
Sep 25 2007 in Trip Reports)
The Great Asian Adventure 2007: Part 1 PAL J Class
(by
Lufthansa747
Nov 28 2007 in Trip Reports)
The Great Asian Adventure 2007: #2 CEB-KLO-MNL-CGK
(by
Lufthansa747
Nov 29 2007 in Trip Reports)
The Great Asian Adventure 2007: #3 KI/XN To UPG
(by
Lufthansa747
Dec 5 2007 in Trip Reports)
The Great Asian Adventure 2007:#4 SJ+Real Adam Air
(by
Lufthansa747
Dec 23 2007 in Trip Reports)
The Great Asian Adventure 2007: #5 MZ831 C SUB-AMI
(by
Lufthansa747
Dec 25 2007 in Trip Reports)
The Great Asian Adventure 2007:#6 MZ6621 Y AMI-DPS
(by
Lufthansa747
Jan 5 2008 in Trip Reports)
WARNING: Many hotel photos in this report.
In order to boost my SPG stay count, I decided to stay at The Westin and The Laguna in Nusa Dua. Later picked up a PC PointBreaks night at the Intercontinental Bali.
The Westin Resort, Nusa Dua, Bali
We were escorted to a separate area for check in, reserved for SPG Platinums only. However, they hadn't even bothered to read the comments in my reservation and tried to give us a twin room. Didn't accept it and asked for a king which magically appeared despite the guy claiming everything was full. No suite upgrade, unacceptable considering the property was filled with locals booking cheapo local market rates that ususlly don't include suites. Rooms don't match nicer Westins after the half-hearted refurb from Sheraton Nusa Indah a few years ago. Bathroom is poor with only a shower stall , no bathtub. Too many low end package tourists here.
Nice Platinum benefits though, 1 hour of free cocktails in lobby bar, 1 hour of internet, free breakfast.
Heavenly bed
Standard room
The Laguna Nusa Dua, Starwood Luxury Collection
What a difference despite the rate being not much higher than at the Westin… Executive Suite was pre-blocked the night before as Platinum upgrade, and it was superb. A much more upmarket clientele compared to the Westin. Room service with a lot of choices, and it was cheaper than at the Westin that had probably just changed the menus to rip off guests during the peak season after Ramadan. Will return here on our next trip.
No lounge, no breakfast, no drinks for Platinums, so Westin is better in that sense if the significantly worse rooms are acceptable.
Living room
Living room flat tv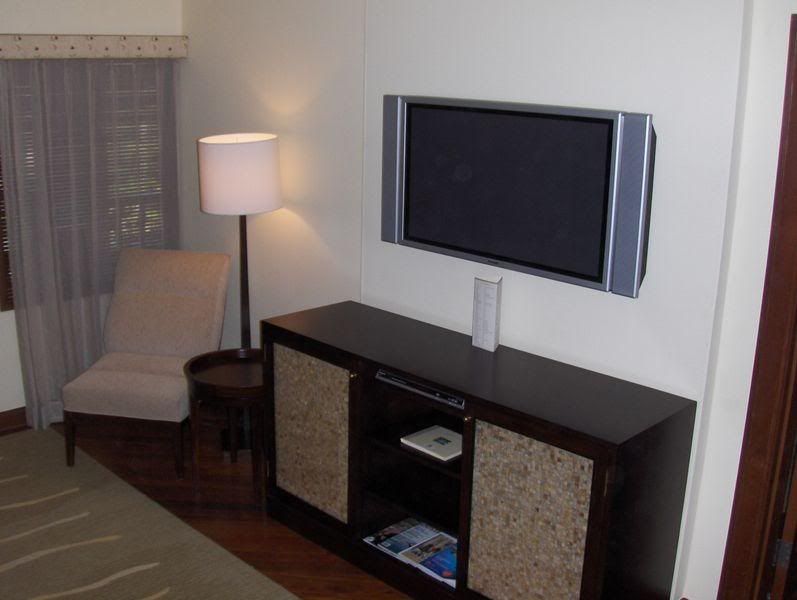 Bed
Working desk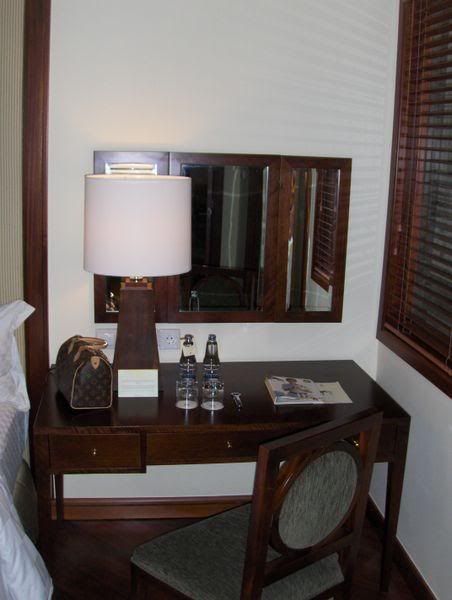 Bedroom TV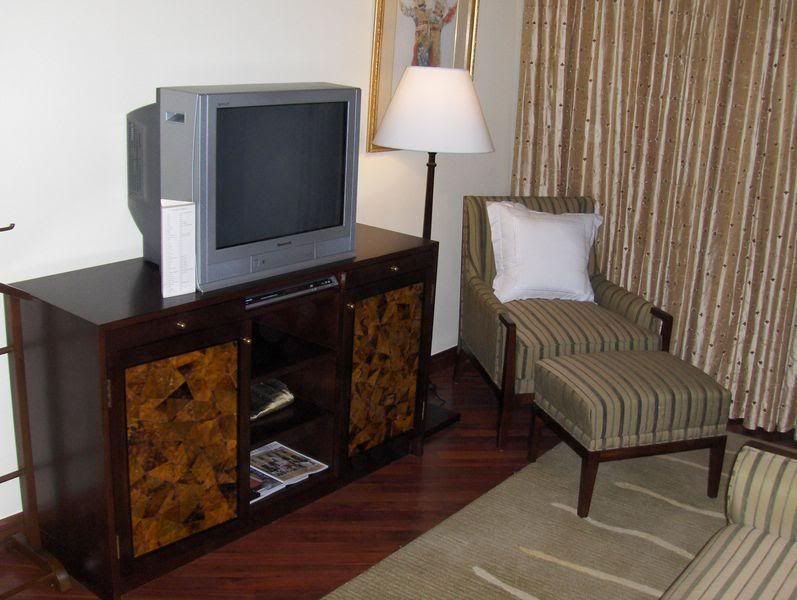 Another working desk
Bathroom entrance and window from bathtub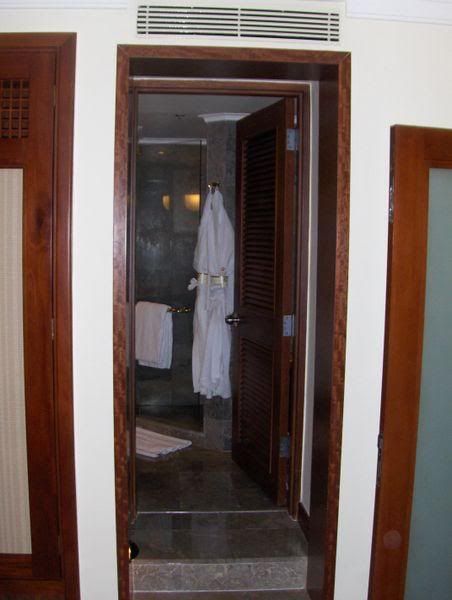 Bathroom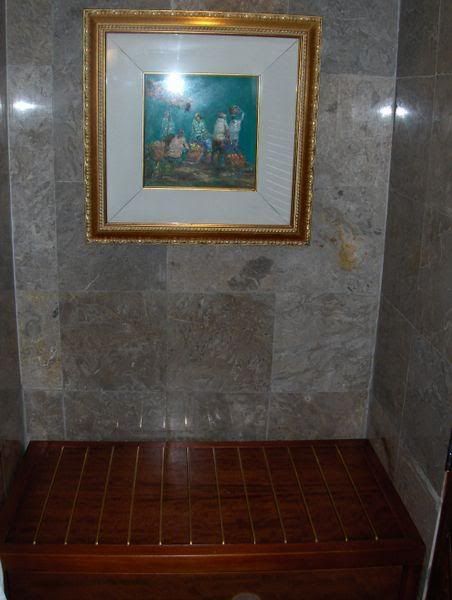 Bathroom amenities
Dining area
Minibar etc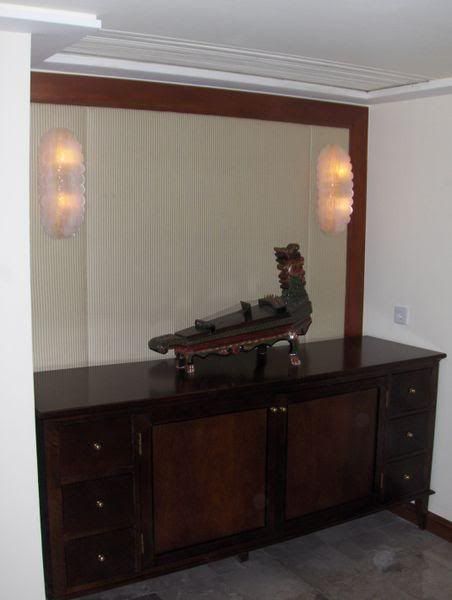 Room service food was great (Classic Surf and Turf)
18 October 2007
Denpasar Ngurah Rai (DPS/WADD) – Kuala Lumpur International (KUL/WMKK)
Air Asia AK/AXM 905
Airbus A320-216
9M-AFH
2010-2310 – On Time
Economy Class, Seat 28A




Fare: EUR 44.70
46th A320-200 flight, 1st on 9M-AFH
We arrived at Ngurah Rai at around 6.30pm via Intercontinental Bali's car service which was cheap. Idiotic security screening at the terminal entrance, had to remove belt, shoes etc. At other Indonesian airports this particular screening is a joke.
Air Asia desks were flooded with the low end crowd, definitely not folks from the hotels we stayed at when in Bali. Everybody was repacking their backpacks instead of paying the overweight fees, it really got on my nerves after a few minutes. Throw these people off the check-in desk to repack so others can check-in! After about 15 minutes, we had boarding passes in hand.
These people spent 10 minutes repacking their crap in front of the check-in counters
Supermarket style receipts (incl the KUL-BKK one the next day)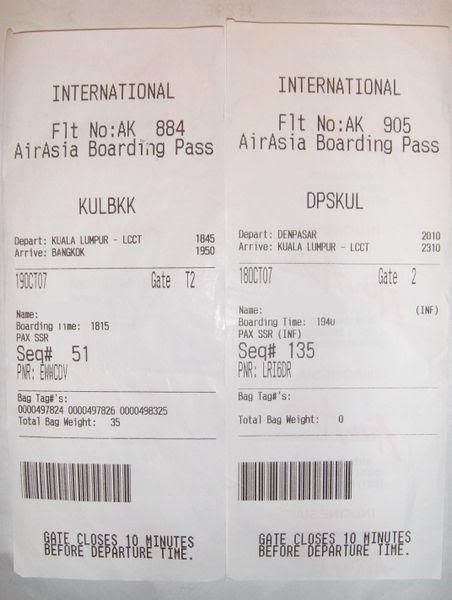 Baggage tag
We needed some food before going through immigration, so headed out to the McDonald's just outside the terminal. The security guard tried to stop us and there was a sign you aren't allowed to leave after check-in. I said "we need to eat" and walked out – no further questions. Dining options at Indonesian airports are poor to say the least, Mc Donald's might be your best bet… Still can't get over the half-cooked overpriced chicken that I had at JOG a few months ago…
I noticed at this point that the Mrs had packed some of her shampoo etc in the carry-on instead of checked bag, so tried to check those in. They weighed 2kg and I had abother small bag inside the roller bag so I thought no problem. But of course, the AK idiots refused to check them in without paying excess baggage charges for 2kg. Never mind…
We then went upstairs and through passport control to departures. Security check at the gate and sure enough nobody picked up the liquids that remained in the carry on, or anything else. The guy behind the screening machine wasn't looking at his screen but chatting with his colleague… Gotta love Indonesia.
Gate
A horrible queue formed as soon as the A320 arrived. We simply walked to the front and I pushed my way through with the baby stroller as soon as boarding started. Rudeness is your best friend when flying with these uncivilized cattle carriers.
Boarding line 30 minutes before boarding itself started
Boarding underway, a new A320 with the black leather seats since AK no longer operates B737s.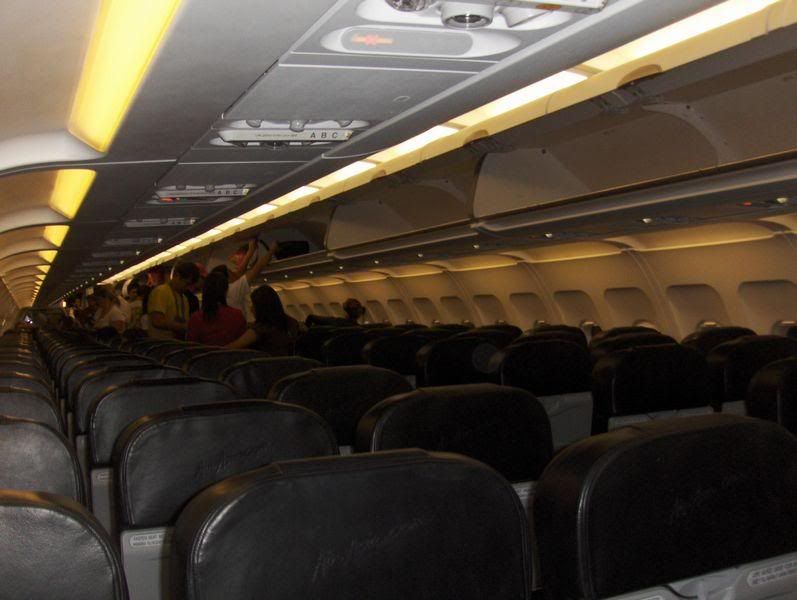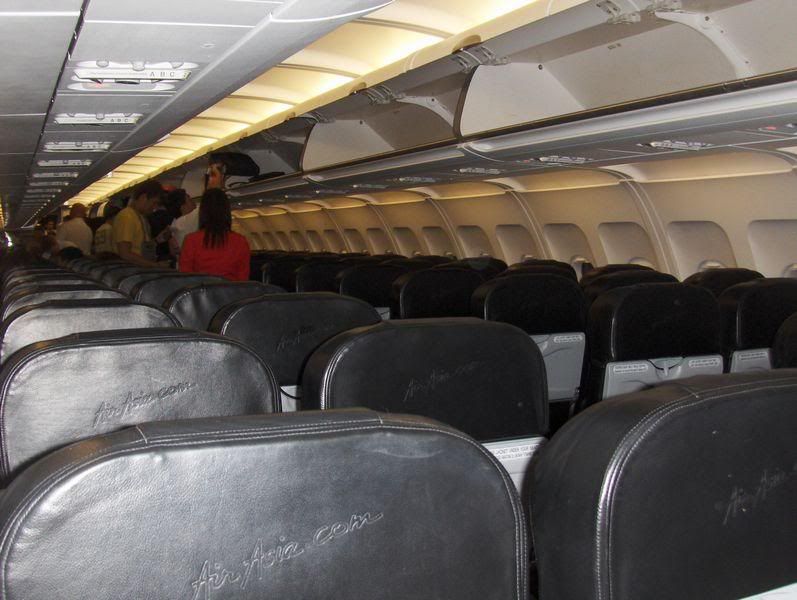 Safety card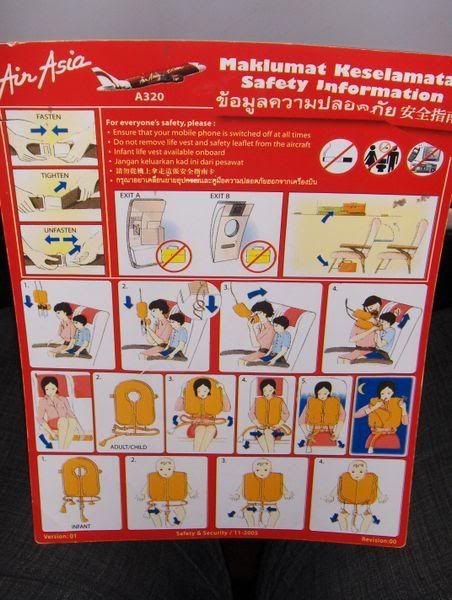 Onboard menu, AK only. FD and QZ have their own menus.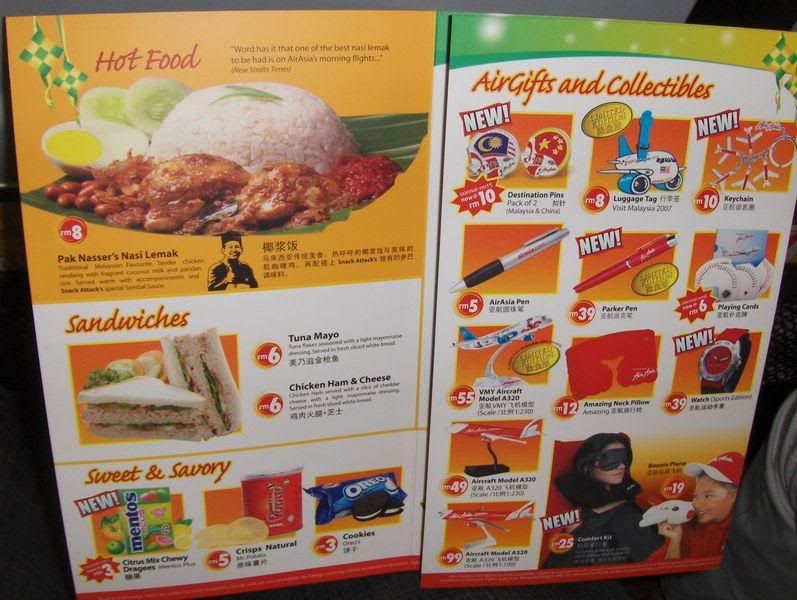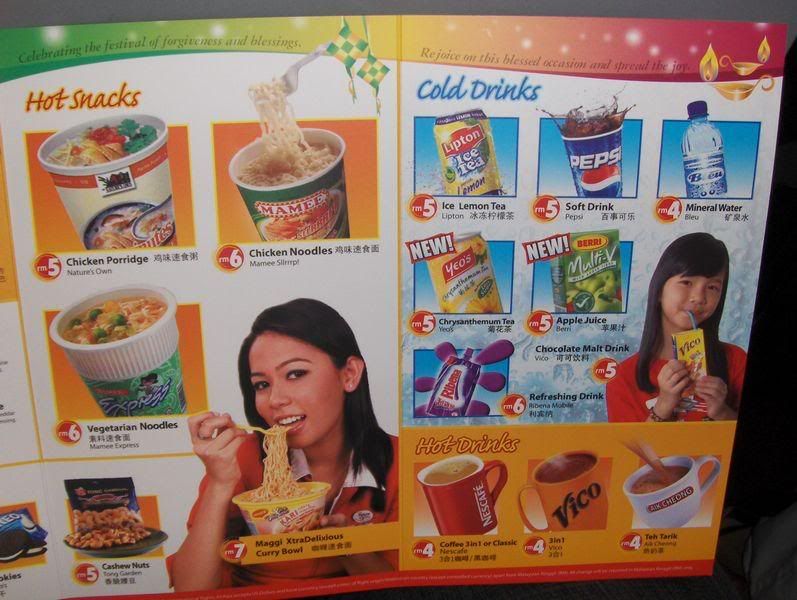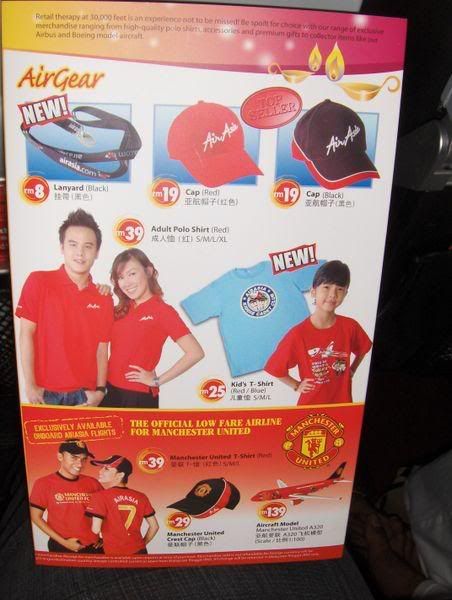 Horrible legroom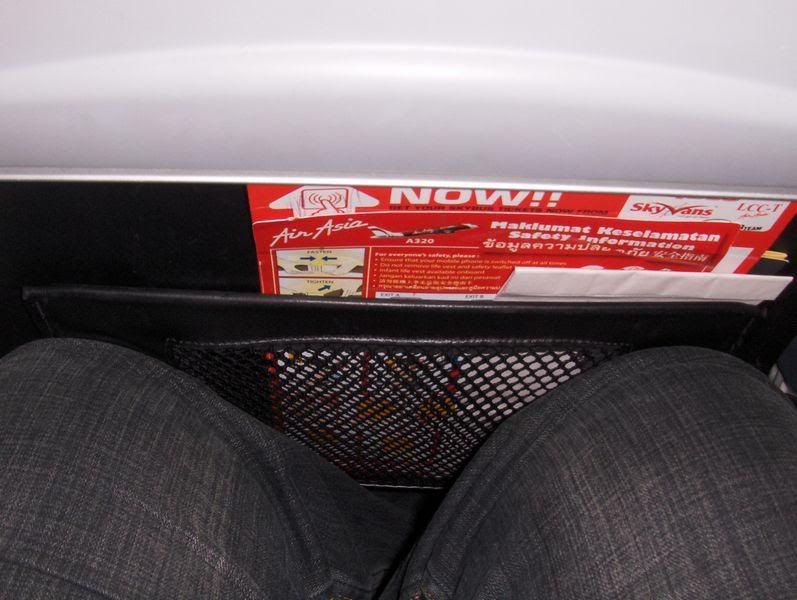 We were pushed back on time, one good thing about this airline I guess. Takeoff followed moments later, and we were on our way to Kuala Lumpur. Flying time 3 hours. An extremely boring and uncomfortable flight, didn't buy anything either. The prices are not bad, but please replace that junk with something edible like Subway style sandwiches, nice salads etc.
It was very noisy all the way as people seemed to be overly excited even on their return flight from a holiday. I guess this is the atmosphere on European charters to say Tenerife or Las Palmas…
A bunch of pax playing cards, standing in the aisle! (the one further away)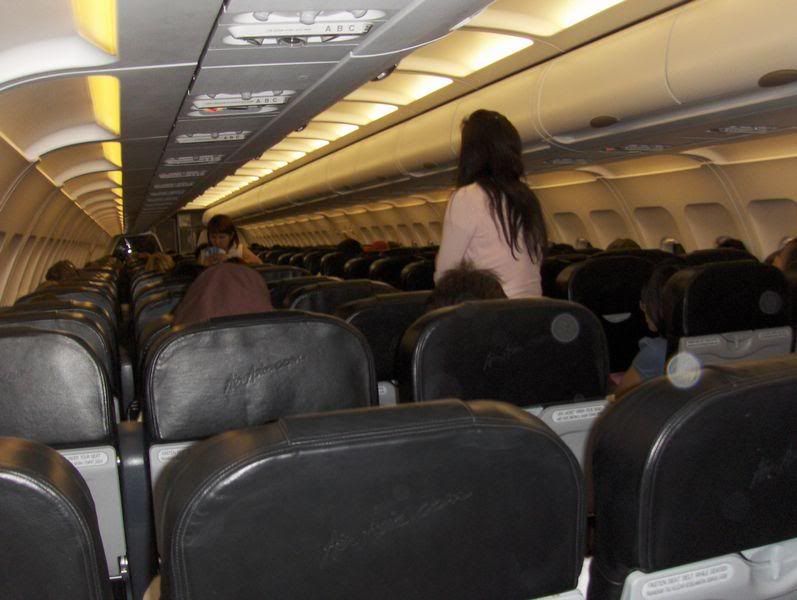 Nice view of Kuala Lumpur on approach, but sadly no pictures as they didn't turn out any good. We landed around 10 minutes early, something the crew made sure to mention in their announcements, never mind the utterly long taxi to the self flying cargo offloading station known as LCCT.
Immigration was a breeze as Malaysian officials have always escorted us past any lines when travelling with our son. Excellent service. Baggage arrived quickly and we took a coupon taxi to the Le Meridien Kuala Lumpur.
Le Meridien Kuala Lumpur
Excellent Platinum recognition here, upgrade to a Royal Club suite with lounge access and free internet. Got it on every subsequent stay as well. The property is pretty nice, although not as nice as the Hilton next door.
Living room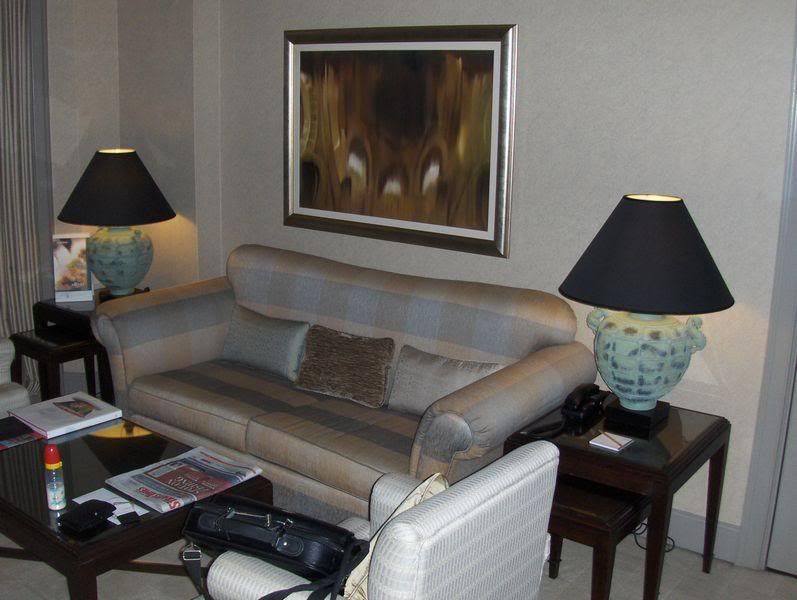 Bedroom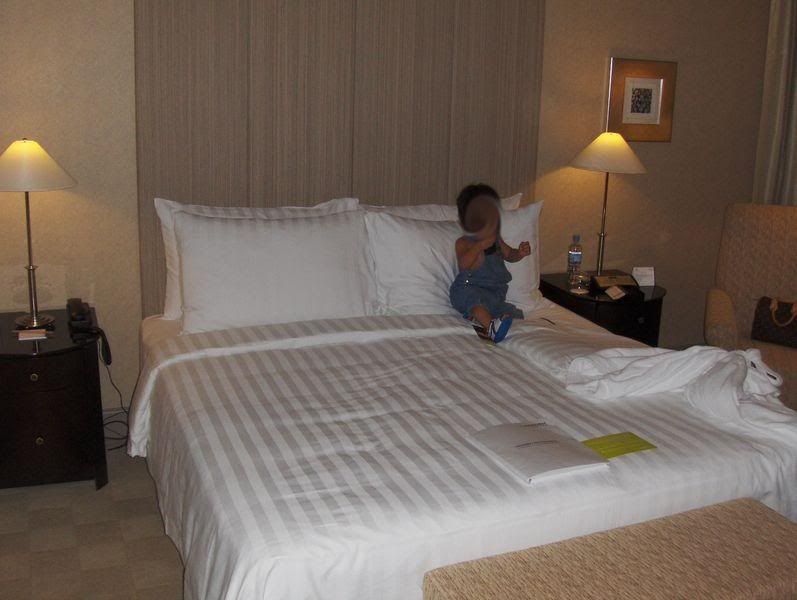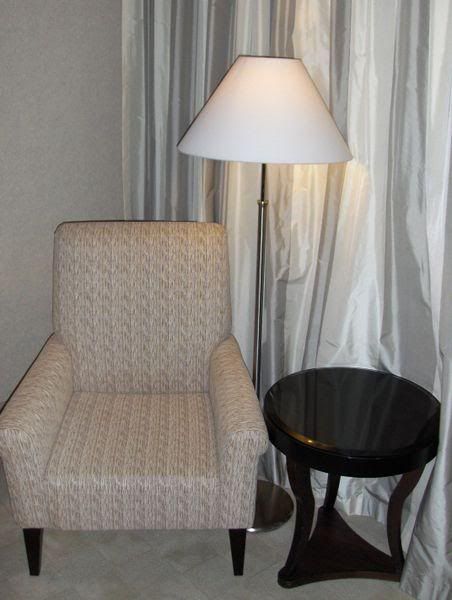 Bathroom, special mention for great L'Occitane toiletries.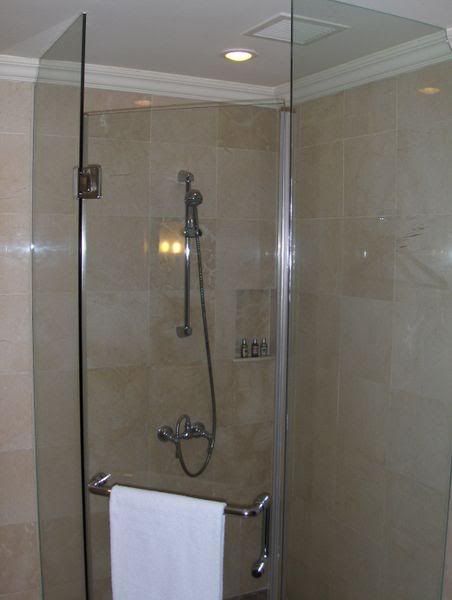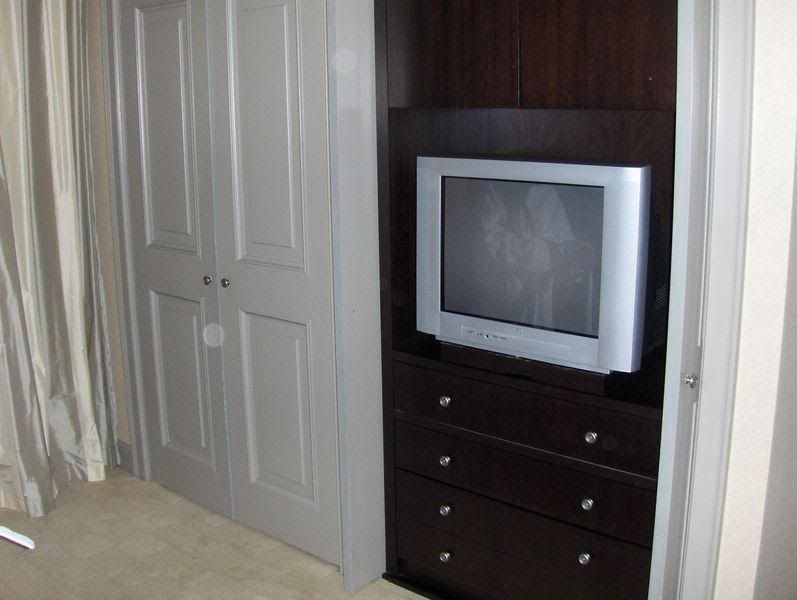 Bathroom #2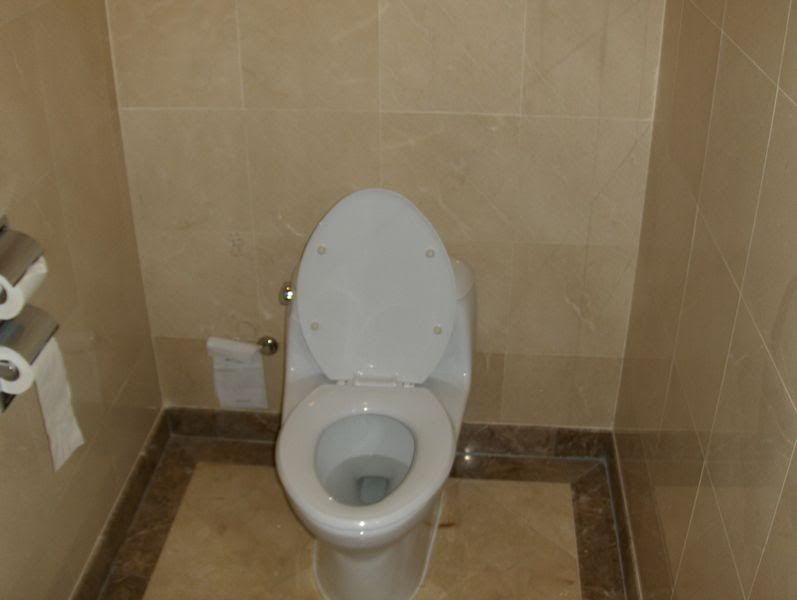 19 October 2007
Kuala Lumpur International (KUL/WMKK) – Bangkok Suvarnabhumi (BKK/VTBS)
Air Asia AK/AXM 884
Airbus A320-216
9M-AFO
1845-1950 – On Time
Economy Class, Seat 28A




Fare: EUR 35.50
47th A320-200 flight, 1st on 9M-AFO
We took an overpriced taxi from the LM to the airport, should have walked down to Sentral and taken a coupon taxi from there. I truly hate the taxi drivers in KUL, most of them complete rip-off artists. Coupon taxi is the way to go if possible. A long drive to the LCCT, KLIA Ekspres is really the only way to travel to this airport absurdly far away from the city.
Check-in took about 5 minutes, not much of a line there. Again, needed to get something to eat from the trusty Golden Arches since there are no food outlets after immigration/security. Learned of another disadvantage of this horrible LCC terminal after that – the AK guy refused to let us through with 1 real carry on, small bag for our baby, small backpack and a laptop. These would have easily fit into 2 roller bags and were not heavy. Entirely unreasonable for three people I guess… Probably half of the airport was wondering what I was cursing at as I made my way to the check-in desks again. Around 20 EUR poorer, the moron let us through.
Baggage tag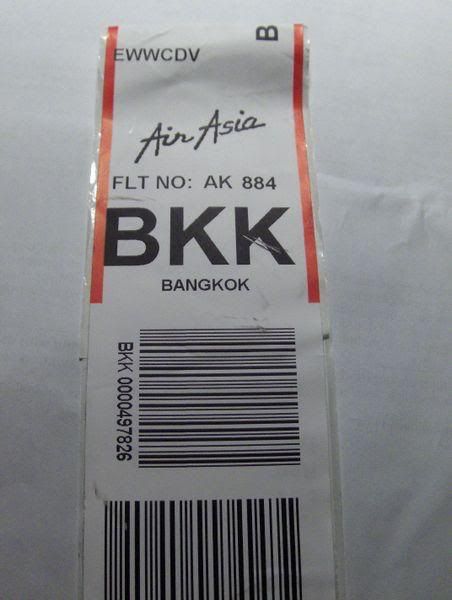 An absurd line had already formed, I can't put into words how much I hate free seating. Decided not to bother with it, and as boarding started, we boarded via the rear stairs and took 28ABC again. The only good thing with free seating is that you can pretend your baby has a seat, ending up with a row of 3 with only 2 paid seats.
Same interior, same menu, didn't buy anything, indifferent crew, on time takeoff and landing. Uneventful, unmemorable flight. But the crowd was decent, no different from TG on the route, unlike the holiday crowd on DPS-KUL. Didn't take any photos since it was dark all the way.
I had some exams to attend to in BKK, next part will cover USM/HKT most likely.
Hope it was enjoyable.
Lufthansa747