Well, I figured it was time for an AA mileage run of some sort. And also, I really needed to get away for a day to clear my mind. There's nothing like the sound of JT8D's to do that for me.
My original (and booked) plan was to fly ATL-ORD, then take Amtrak's Texas Eagle from ORD to DFW, and then fly back to ATL from there. Those plans fell through, however, so I changed my ticket for a one day roundtrip ATL-STL-SAN. It was going to be my longest MD-80 segment, as well as my first time flying into SAN. I have been there once before (via Amtrak's Pacific Surliner from L.A), but I have always wanted to experience the famous SAN approach. I was not disappointed.
American Connection
AA 5526
ATL-STL
Embraer ERJ-145
Dep: 0700 (0715)
Arr: 0755 (0800)
Load: 90%
I took this flight a few months ago on my trip to DAY and, much like that last time, it was mostly full. Still, I can see why AA doesn't run mainline on it. Boarding commenced at 6:35am through gate T-12. To board AA ERJ's in ATL one must walk down the jetway stairs to the ramp, then walk in between a parked CR7 and 738 before finally reaching the ERJ, which is actually parked right behind the CR7.I only had a small carry on with me so there was no need for me to gate check the bag. I walked up the stairs into the warm cabin and took my seat, 8A. It's a great seat right in front of the wing and, of course, no one next to you. After getting deiced a little, we pushed back at 0715, fifteen minutes late, and quickly taxied to the runway for departure. We were #2 behind an AirTran 73G, and after a 25 second takeoff roll, we were up up and away. Once we reached our cruise altitude the lone F/A offered a beverage service. You could buy a pack of trail mix or a bag of cashews for $3 if you were so inclined, but I was not. I just had my cup of OJ and enjoyed the view. We cruised for 1h05m before starting our descent into STL. Smooth approach and landing. We parked at gate C-25 only five minutes behind schedule. Here is my lone picture from AA5526: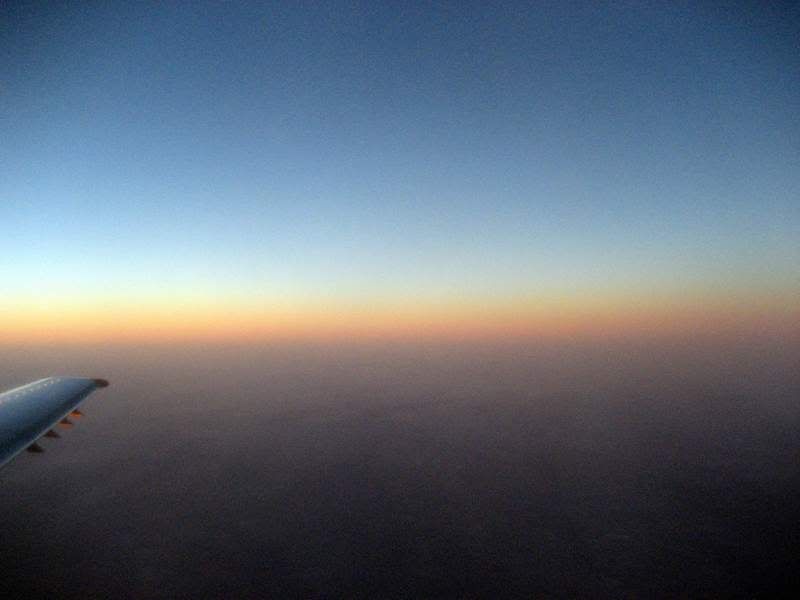 ** Connection in STL**
Well, I didn't have very far to go for my connection. We arrived at C-25 and my flight to SAN left from C-18. I didn't really have time to do much of anything since boarding would start in ten minutes. It was a busy morning in STL with mostly full gates and a HUGE line at Starbucks. I decided not to brave the line and instead would just go for some coffee on board...and maybe a BOB sandwich. Connecting with AA in STL is a breeze.
American Airlines
AA 387
STL-SAN
McDonnell Douglas MD-83
Dep: 0840 (0840)
Arr: 1040 (1020)
Load: 90%
Boarding started promptly at 0810 for this mostly full flight to San Diego. I had seat 23A so as soon as I heard the call for "Group 3", I proceeded to head down the jetway and into the MD-80. As soon as I saw the cabin, I could tell this was an ex-TWA bird by the style of the seats. The seat itself was OK...not as comfortable as the newer AA seats with the headrests, but they were tolerable. What wasn't that great, however, was the seat belt. It was noticeably tighter on this plane. Now I am by no means a thin person, but I never have trouble fastening a seat belt on a plane. It was quite a squeeze this time around. I almost asked for a belt extension, but thought the better of it. It was just weird how the belt was so small on this plane. Also, compared to the regular AA M80's I have been on, the windows on this plane were tougher to look out of. They seemed a little lower than usual...perhaps the seats were a tad higher? I don't know. Anyway, we pushed on time, and were airborne by 0845. Flight time was announced at 3h25m at 34,000ft. About 40min after takeoff the cabin crew came around with a beverage service (full cans offered) and sold snacks for $3 (full can of chips, cookies, candy bars, etc.) and a Turkey and cheese bagel sandwich for $5. I got the bagel, and it was actually good. It was fairly filling and tasted fresh. After I finished the food, I leaned back my seat (only because the guy in front of me did leaving me with little room at all), put my iPhone to the iPod mode and listened to some Arlo Guthrie, and enjoyed the ride. I did manage to take some pictures on the way, but they didn't;t come out all that great thanks to the glaring reflection of the Sun on the wing of the plane....but, you'll see them below anyway. A second drink service was offered one hour prior to arrival. After cruising for 2h55m, we began our descent into SAN. It was a little choppy coming in over the mountains before calming down as we approached the coast. I couldn't have asked for a better day to experience a SAN arrival for the first time...barely a cloud in the sky and nearly unlimited visibility. I spotted a lot of Navy ships on final approach and immediately recalled my grandfather telling me how they sent him out of New Orleans on the train to Port Wainimi (near San Diego I think he said) before being shipped out to Okinawa in World War 2. My friend Ryan told me to make sure I got an A seat for the approach, and his advise was correct. It was really cool seeing the skyscrapers buzz past the window, seemingly so close that you could reach out and touch them. The landing was smooth but very firm, and shortly thereafter, we parked at gate 25 in Terminal 2 about twenty minutes early, thus concluding my longest MD-80 flight to date. Here are the pictures (and a landing video) from this flight...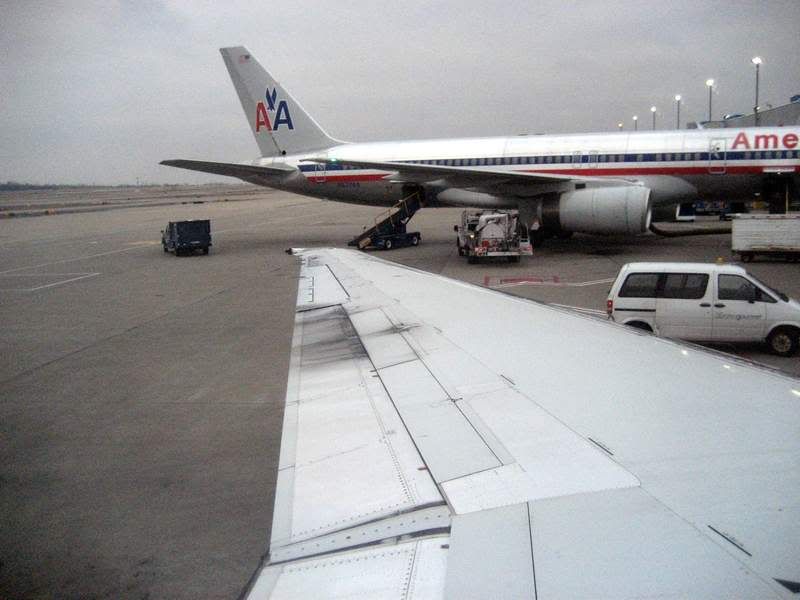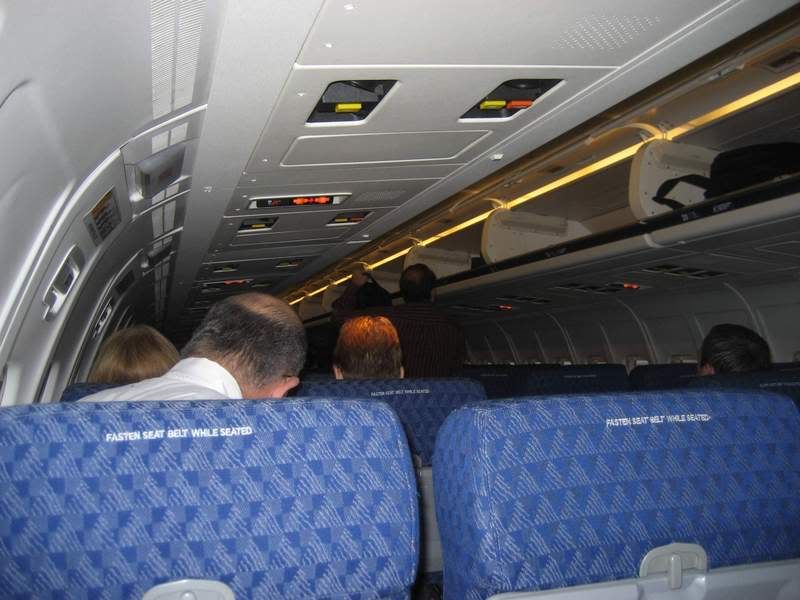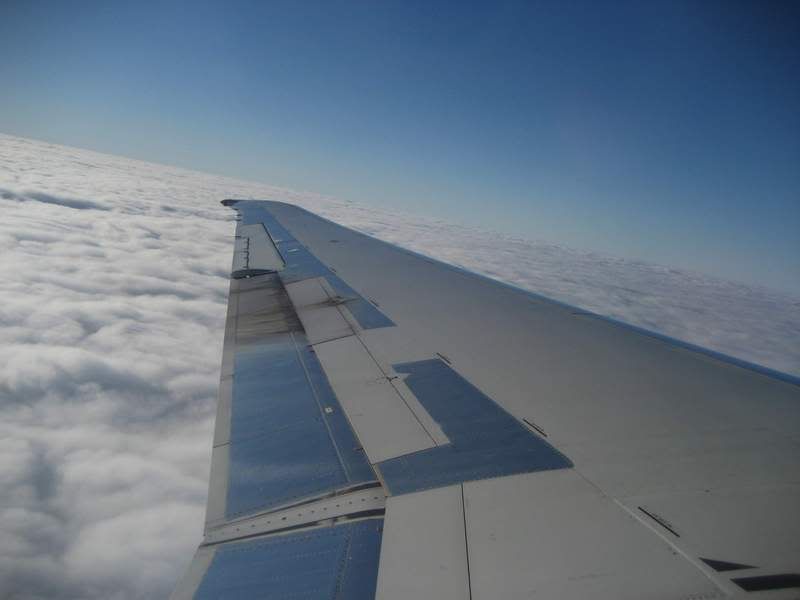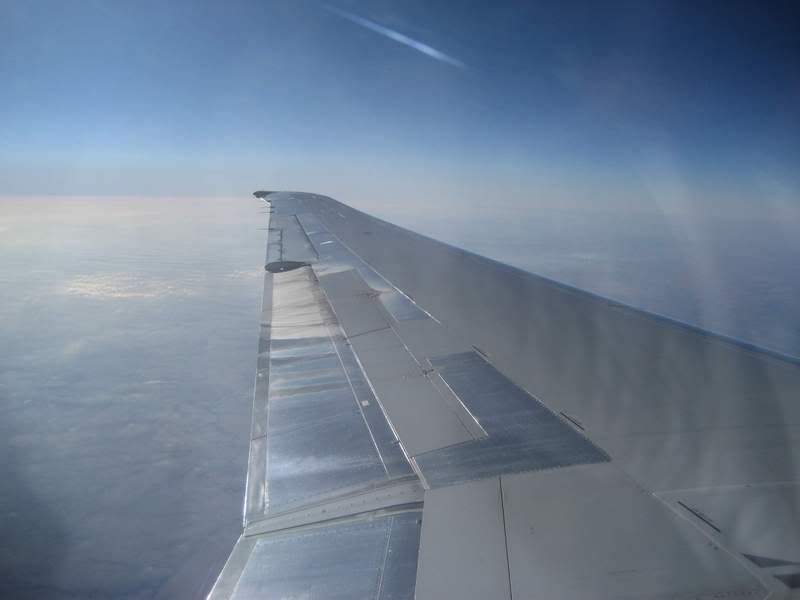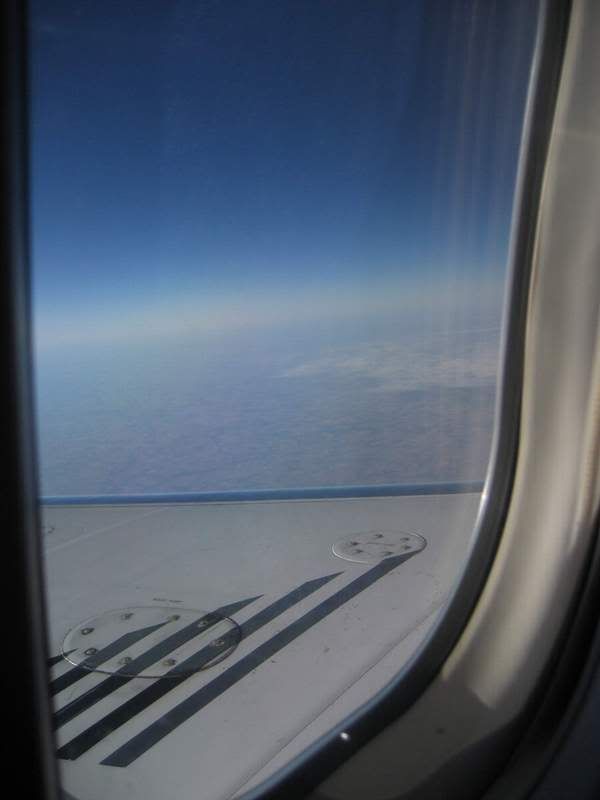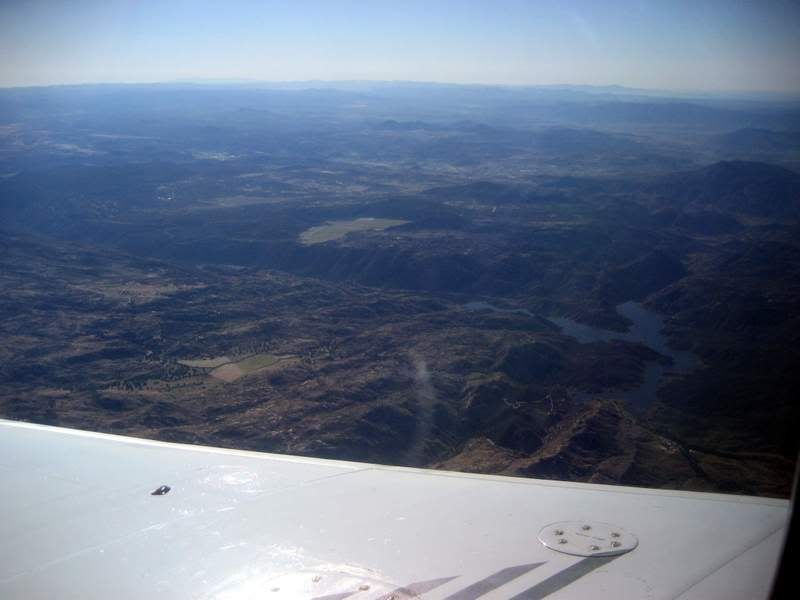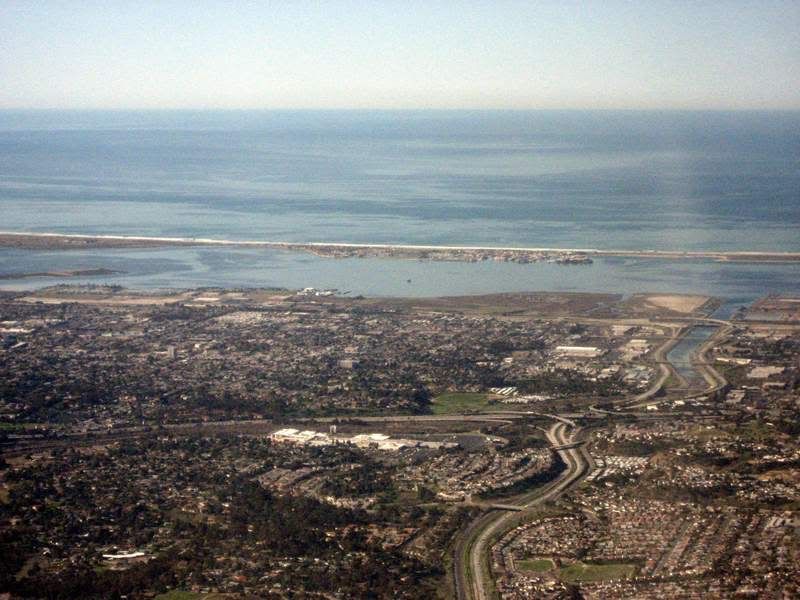 McDonnell Douglas MD-80 landing in San Diego
MD-80 landing in San Diego">Add to My Profile
|
More Videos
** Layover in SAN**
As soon as I got off the plane, I decided to get my bearings, as this was my first SAN visit. I walked around Terminal 2 for a bit and then walked over to Terminal 1. The weather was really nice outside and I just had to get me some of that amazing California air. Besides telling me about getting an A seat, Ryan also told me that I had no choice: I had to get a burrito from Rubio's in Terminal 1. So, I did, and it was damn good. Ryan was 2 for 2 for advice on this trip. It must come naturally for him. I guess I owe him a drink next time I'm in New Orleans. After I finished the burrito, I was effectively stuffed to the gills. It was 11:00am then, and my return flight to STL departed at 12:45pm...so, I explored a little more before heading back to T2 for 11:15am. Before I got back in the security line I saw the Skybus counter with three tee shirt wearing CSA's behind it...and no customers. It was a pretty small counter...but hey, at least they got space in the main terminal and not in an outhouse somewhere, right? The security line was pretty long but I was through in 20 minutes. Before taking a seat at the same gate which I landed in...25...I took a couple of pictures. Boarding for the flight back started at 1215, just as advertised. My overall verdict of SAN? Fun airport to fly in, and the city looks like a place where I will have to spend some more time in in the future. I am generally a fan of cities located on a body of water of some sort...and nice weather, palm trees, good burritos, frequent Amtrak service, and a ton of airlines just happen to be bonuses.
Here are three of my previous airline employers in one shot. The other one, Vanguard, sadly couldn't make it.
DL 757 new colors and no winglets (AVOD equipped, however)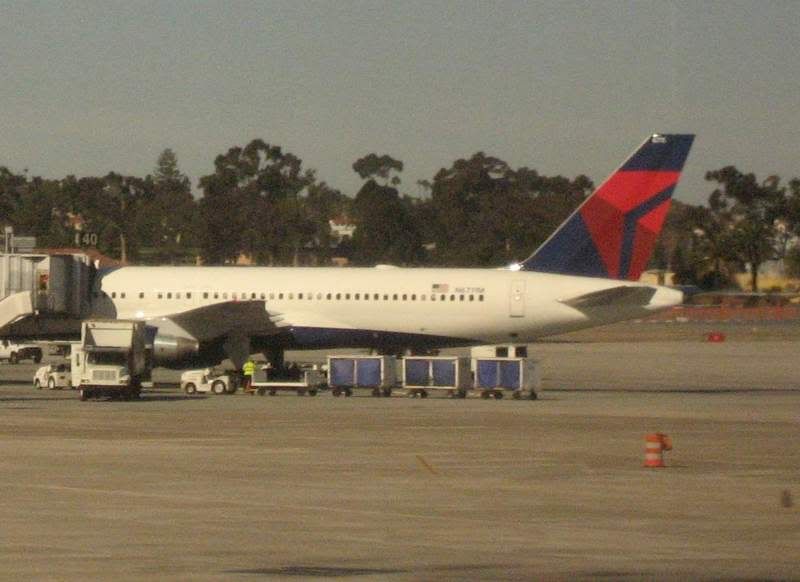 I dedicate this one to Mary in CMH / FLL / formerly SXM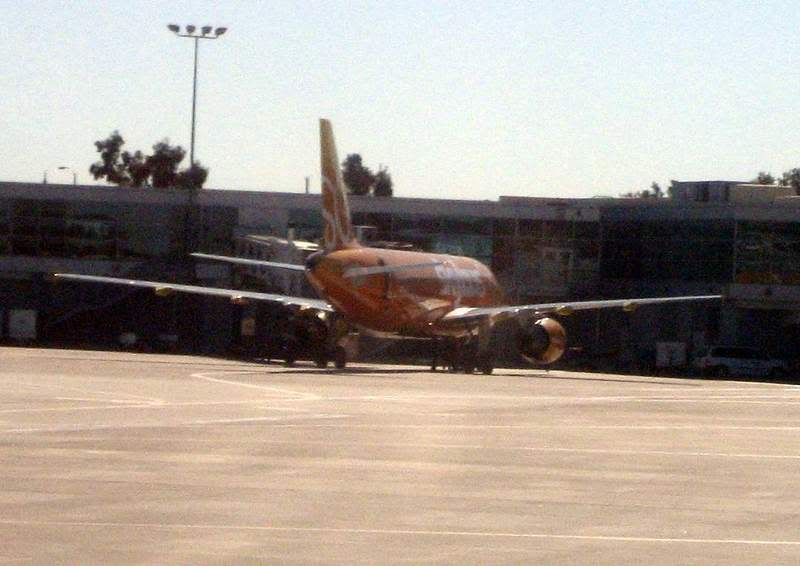 American Airlines
AA 1060
SAN-STL
McDonnell Douglas MD-82
Dep: 1245 (1245)
Arr: 1815 (1820)
Load: 95%
I had seat 17F on this one, and mercifully, the middle seat was open. Also, this MD-82 was an AA bird, which means it had the seats that I like. Those headrests are a god send sometimes. We pushed right on time at 1245 and taxied for just about ten minutes. I spotted my first Skybus plane, and I got a picture of it, although it was too far away to get a real clear shot. We were airborne after waiting for an Alaska 734 to land. Flight time was announced at 3h22m at an altitude of 33,000ft, depending on how bumpy the ride was. It was a very scenic takeoff as our MD "Super" 80 headed out over the mighty Pacific Ocean for a few miles before making a 180 and heading back to the mainland. Again, just about 40 min after takeoff, the in flight service began. I had a Ginger Ale...again, full can offered...but I politely declined the Turkey Ciabatta sandwich for $5 since the burrito did its job well. My seatmate in 17D bought it though and it looked pretty good. Our route of flight took us right over PHX, just South of ABQ, and then routing over ICT before heading in to the STL area. We stayed at 29,000ft for most of the flight since we were experiencing steady light to moderate chop at higher altitudes for most of the way. Overall it was a pretty scenic flight. Unlike the previous one, however, there was only one drink service. Maybe this was because our block time was less than four hours? I don't know, just a guess. We started our descent after flying for about 2h55m. It was a smooth approach into STL and the landing was a real grease job. We parked at gate C2 which gave me a nice photo op. You'll see it below. This was a more comfortable flight than the outbound, and 17F is my new favorite Y seat on the AA MD-80...excellent window position, unobstructed view while sitting back, and yet the wing can be seen easily if you move forward just a little. Here are the pictures from AA 1060. I have a takeoff video and I'll upload it later...it's giving me problems right now.
Turning back towards land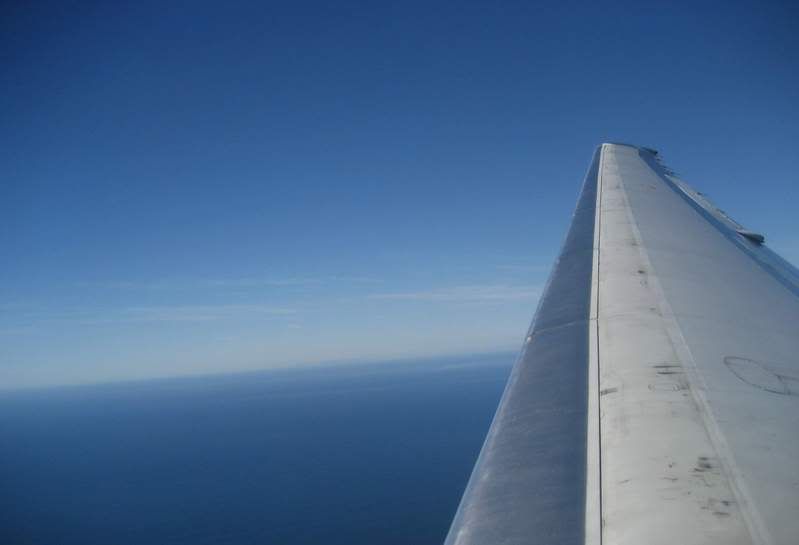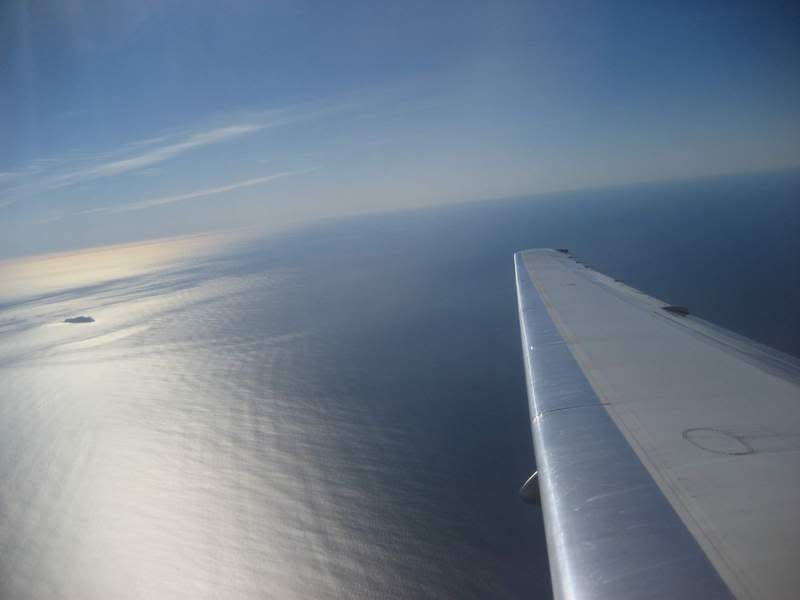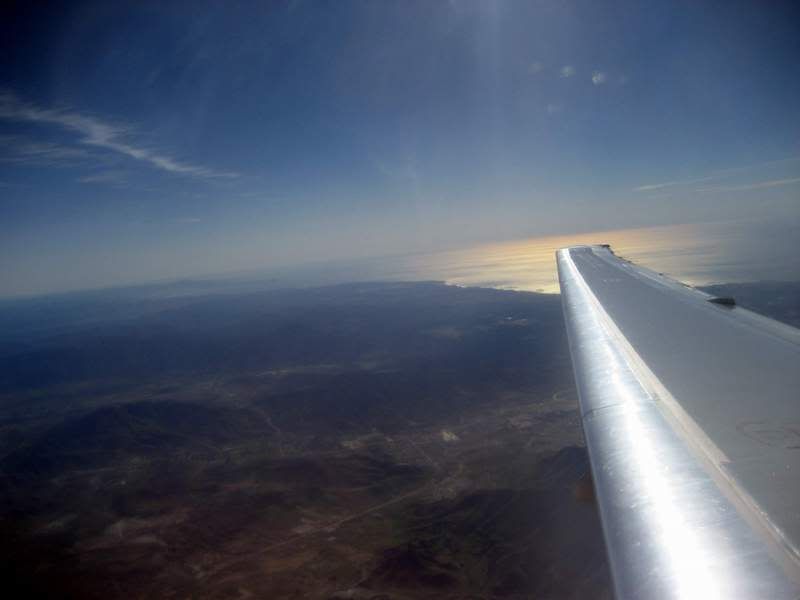 The mountains gave way to the desert...
And the desert gave way to farmland...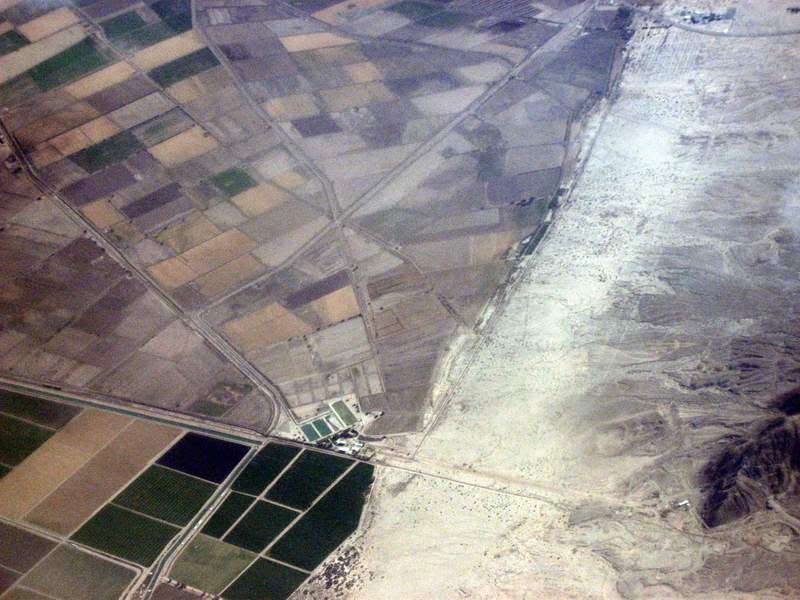 Guess the airport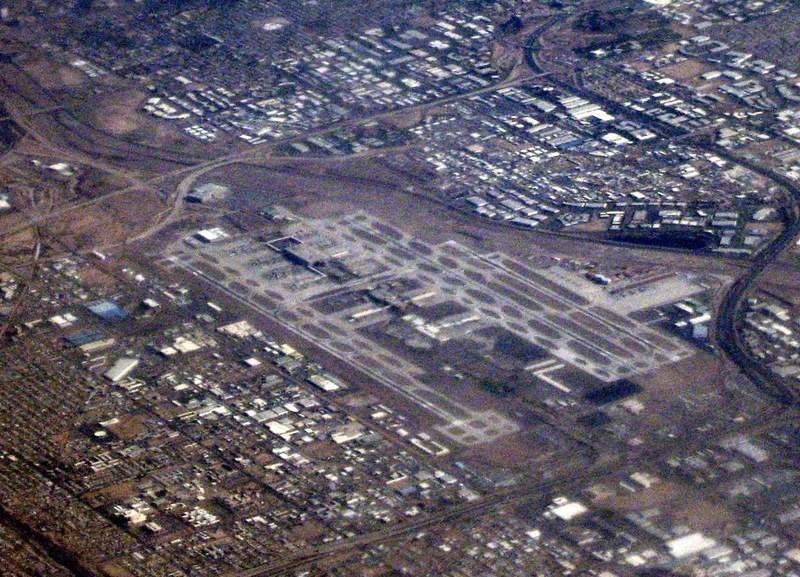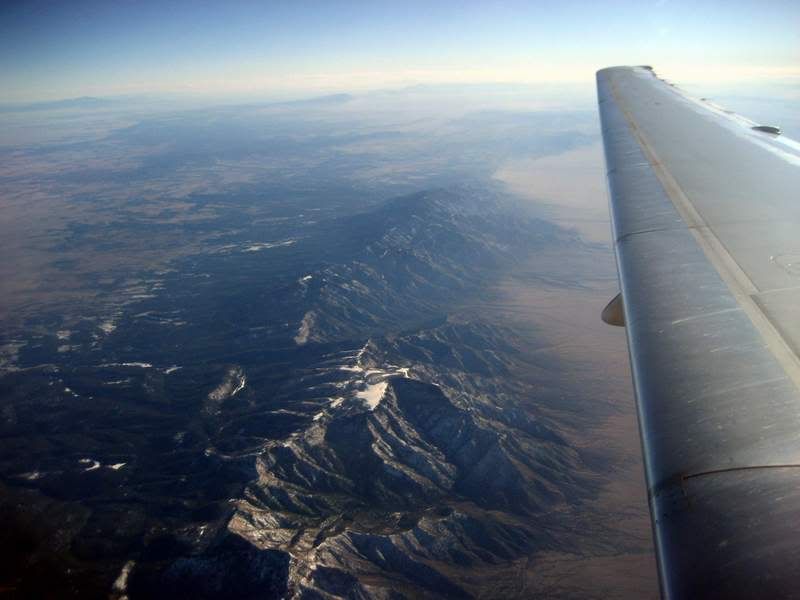 I do love sunsets at 30,000ft.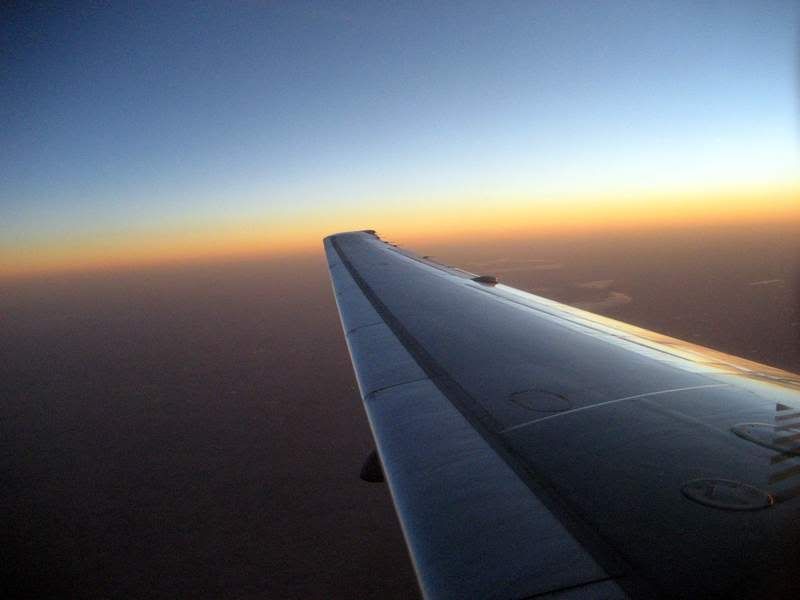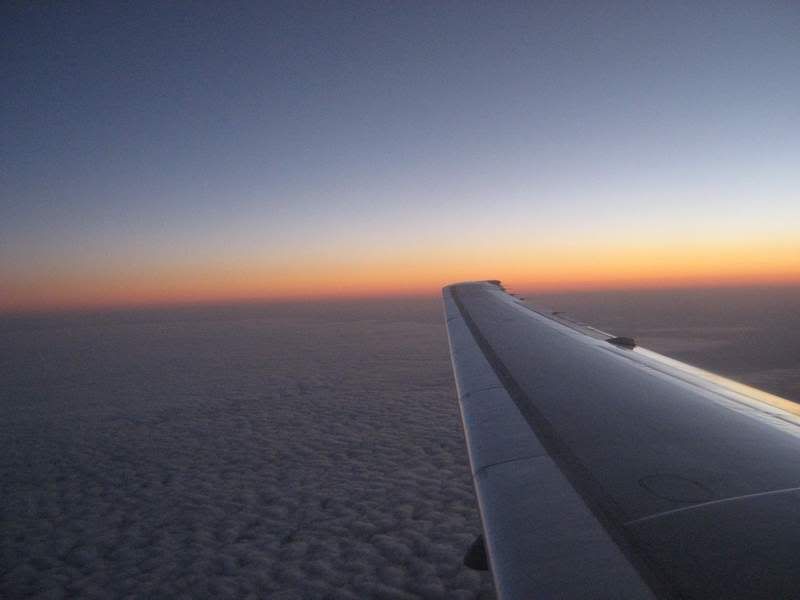 STL gate C2
** Connection in STL (again) **
I had more time to kill this time around, just about two hours before I boarded my last flight of the day back to ATL. My first stop was to check out the Frontier gate on the D concourse. As I walked to the gate I noticed that the Cheers restaurant was open and serving...but they only had four customers in the whole place. I'm sure it was very busy and popular when TWA used D as well as C. Also, past the F9 gate there were some closed storefronts....reminders of a much happier time in commercial aviation for a proud and historic airport such as STL. I then made my way to the food court (this place was a little more busy...about ten people) for a soft drink before walking down to C-5 (my eventual departure gate) and taking a seat. I killed the rest of the time by watching ERJ's depart for BWI and MSP (none very full...about 15 passengers on each) and listening to Ryan Adams. Needless to say STL at night was a stark contrast from STL during the morning. It was a ghost town.
American Connection
AA 5525
STL-ATL
Embraer ERJ-145
Dep: 2100 (2055)
Arr: 2350 (2325)
Load:26%
OK kids, let's play "guess the passenger count on this flight" game. Any takers? 20? 30? 40? 50? Nope, try 13. I had seat 5A on this one, We pushed five minutes early and the Captain told us it would be a quick 1h05min over to ATL. I was expecting a quick takeoff roll and I got one...only 18 seconds, and we were off like a rocket ship. The flight itself was very uneventful. One drink service was offered, although it was sort of annoying how the F/A didn't turn off all the lights in the cabin. She kept the ceiling lights on dim, which I don't like so much on night flights. Anyway, it was so short, there was barely enough time to sleep. Our approach into ATL was very nice...not a cloud in the sky as we flew directly over downtown, which looks a lot nicer at night all lit up and pretty than it does during the day. The final approach was very smooth but the landing...not so much. We exited the runway and headed over for the T gates. I spotted our wing walkers so I knew my trip was just about over....but, for some reason, our plane just continued on PAST the AA gate area...even though the wing walkers were flagging the plane down. I thought that was sort of odd. We turned around at the opposite end of the alley and headed back. Once again, there were the wing walkers, waving us in. But our plane was hesitant to park...maybe it was because of the unique parking situation like I explained earlier...the ERJ parks right behind the tail of the CR7 on an angle, and not all that far away from the 738. It literally took about four minutes before the plane finally moved and parked where it was supposed to. I guess the flight crew was unfamiliar with the gate situation in ATL. Anyway, it was an interesting way to conclude the trip.
That's all for now. Thanks for reading.