On this Tuesday I was trying to get from LA to Saint Louis non-rev. Instead of taking AA from LAX to STL, I decided to get a little creative and go from BUR to CMH on Skybus, then connect to STL. I have been wanting to fly Skybus since they started ops in Bur but never had the chance before. I was excited.
Showed up about 45 min before departure checked in with the contract employee who worked both the counter and the gate, very friendly and efficient lady. I got the approval to jumpseat and headed for the gate. After a quick trip to the magazine stand for some reading material for the 4 hour flight, walked up to the gate and found the brand new A319 just arrived and pax were already in line waiting to board. I have to say that this was the only negative thing I have to say about Skybus, their boarding process, it's kind of like Southwests but less organized, I think it's fine now since they don't have that much traffic/flights but as they grow they will have to fix the way their boarding process.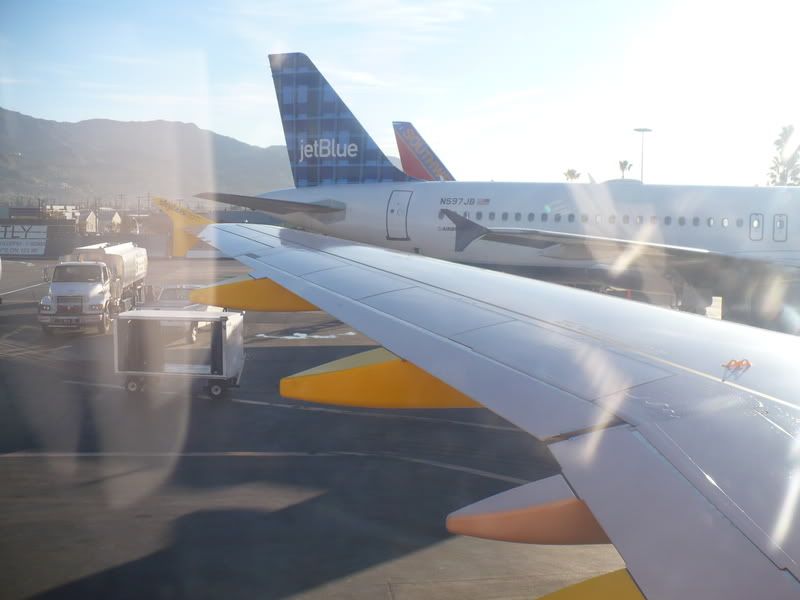 Got up to the airplane and was greeted by very friendly and happy flight attendants, the cabin was very nice, airy and very spacious. The leather seats were very nice looking and from what I saw they were designer airline seats, very comfortable and space efficient. Load factor seemed about 70%, most rows were taken but not completely. Many families not that many business travelers. Capt came on gave some usueful info about the flight everybody got ready they buttoned up the airplane and we were on our way about 5 min late.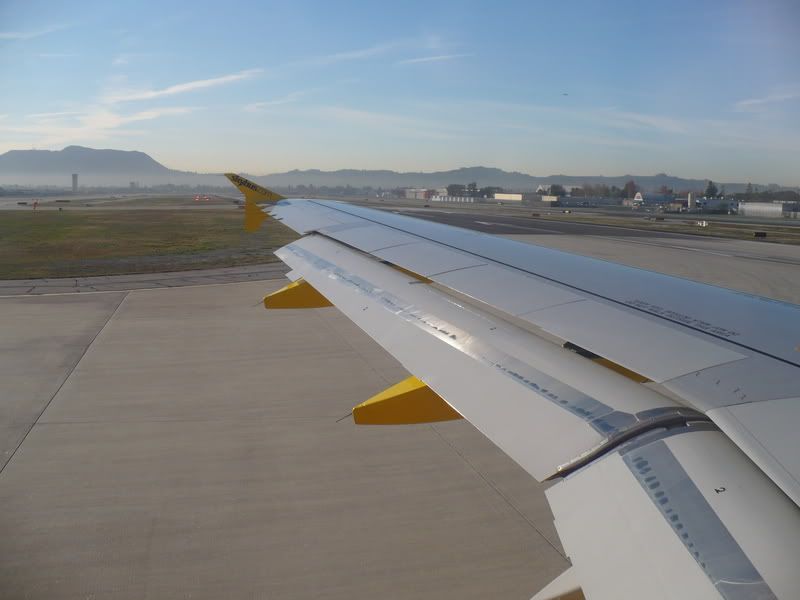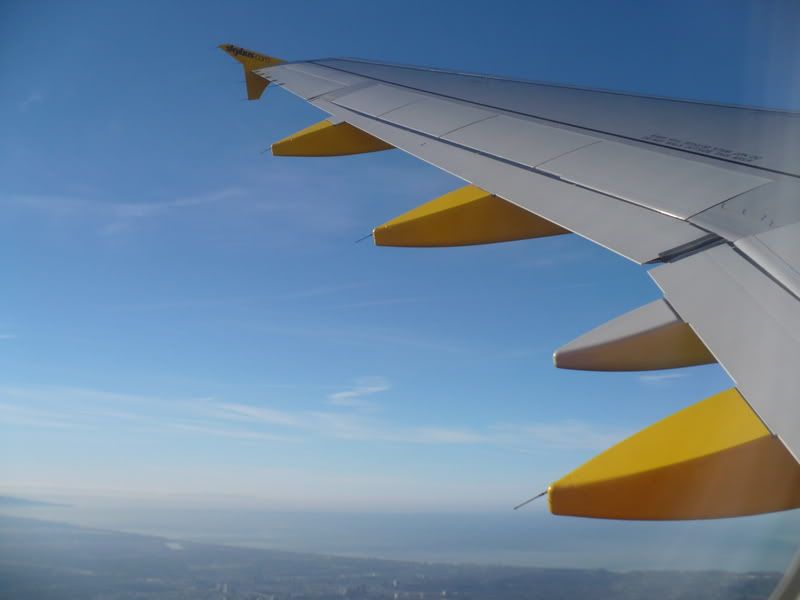 Lax at the bottom left corner.
After a very smooth departure and the big arching U turn to avoid the busy Los Angeles airspace we were on our way toward the desert and then East towards Ohio. At about 10K feet the flight attendant came on and started to explain what we would be experiencing as far as service and what Skybus offered. Basically they offer a menu, drinks, and a shopping experience. They also mentioned that tips would be appreciated. As I was flying for free I decided to support skybus so I grabbed the menu/shopping guide in the seatback pocket and ordered a Deli Sandwich and a Sierra Mist. Service was very very friendly I guess working under commission motivates people. The sandwich looked bad but it was really good and tasty, so was the cookie. Around this time we were flying just south of Las Vegas.
So after the dining experience and with nice and comfortable flight, I decided to read my popular science. Interesting article on there about the effect on global warming and air travel. Time flew by. Before I we knew it we were over Norther Kansas as the pilot pointed out. At that time the FA made and annoucement that they were going to begin the selling of items. They also asked the cabin who had the 10 dollar tickets 50 and 100, that was pretty fun. I was pleasantly surprised that Skybus flight attendants do not bother pax about buying items. I've read from past reports that FAs come by very often selling things but this was not what I experienced at all. They were very polight and came by with the cart only two times.
Just to talk a little about the cabin, it's an A319 that is stuffed full of seats, I believe that they have 149 seats. However their designer seats made the 31" seat pitch less noticeable it was actually quite comfortable. Also the overhead panel with the vents and the light was totally of a new design and very cool looking. For example the lights kind of looked like the xeon lights you'd see on Luxury cars and they fade on and off which was pleasing to the eyes. Overall was very impressed with the airplane. As I was nearing the end of my magazine so was our journey to Columbus we started our descent from 39000 into an overcast CMH. The four flight attendants did their last minute announcements and got the cabin ready for an on time arrival. As soon as we got underneath the overcast layer and we were treated to snow covered Colombus, I heard a couple of people saying they'd wish the CA would make a U turn back for the sunny LA.
Overall I was really impressed and this trip kind of validated my view on Skybus as a real and legitimate operation that deserve some credit. They are trying something different that no other airline has tried. And with the price of oil, this way may be the only way upstarts can survive. Still they still have to solve their little quirks mainly on the ground. I was worried that this was literally going to turn into a 4 hour bus ride but I was really intrigued and even entertained by the FAs and the whole Skybus operation. It's worth flying them in the future.