Since KLM was handing out tickets from Helsinki to Asia for next to nothing last weekend, let's celebrate the 6 tickets I secured for 55-67 EUR+tax with this brief KLM WBC trip report.
I had long planned to try the KLM flight from Kuala Lumpur to Jakarta, and finally booked it in May after arriving from another Jakarta trip on CX/EK/FD. Used Thai Airways to get to Kuala Lumpur from Bangkok, those flights involved so much incompetence from TG yet again that they'd really deserve their own report.
08 June 2007
Kuala Lumpur International (KUL/WMKK) – Jakarta Soekarno Hatta (CGK/WIII)
KLM Royal Dutch Airlines KL/KLM 809
Boeing 747-406 Mixed Configuration
PH-BFT "Tokyo"
1555-1655 – On Time
World Business Class, Seat 77A (Exit Row)




Fare: EUR 227.50 (round trip)
128th Boeing 747 flight, 7th on 747-400M, 1st on PH-BFT
After arriving in KUL, I checked with the transfer desk and they confirmed that my online check-in boarding pass was all I needed for the lounge and boarding. KLM uses the Plaza Premium Lounge at KUL – there is a decent selection of food but it feels like it has sat there all day, so I didn't eat much. Very poor selection of alcoholic drinks – Carlsberg on tap and mystery whisky/vodka/gin in bottles without labels. Decent view of the tarmac and a few computers available.
Boarding pass, note that it says "Europe Select" instead of WBC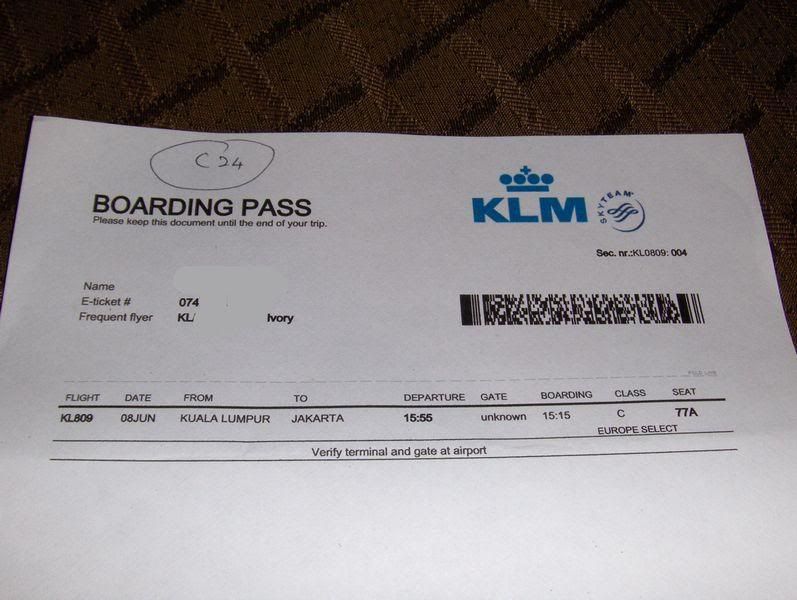 The flight was thankfully on time, and I made my way to gate C24 around half an hour before departure.
Gate C24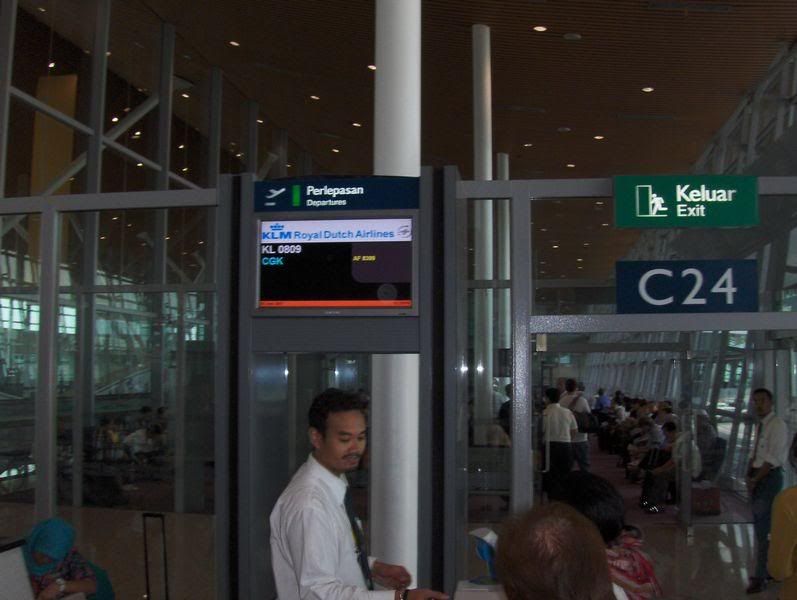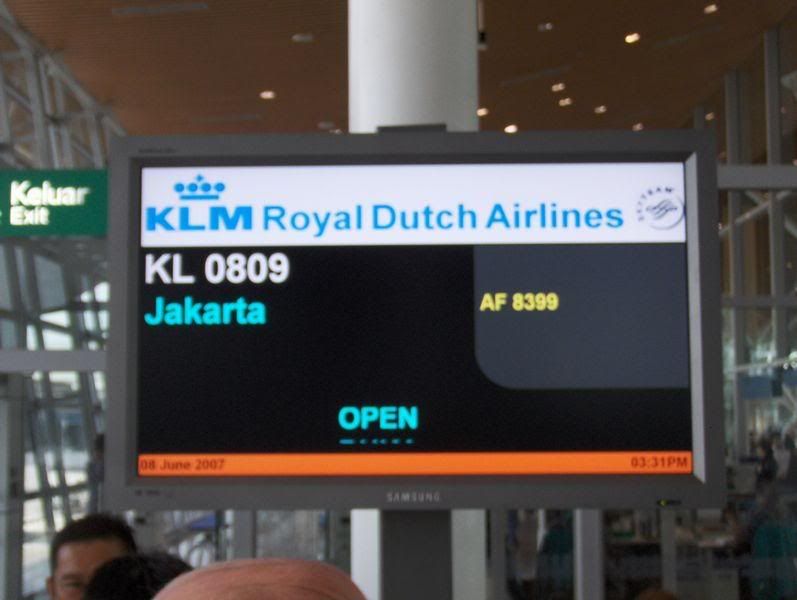 PH-BFT waiting, arrived on time from Amsterdam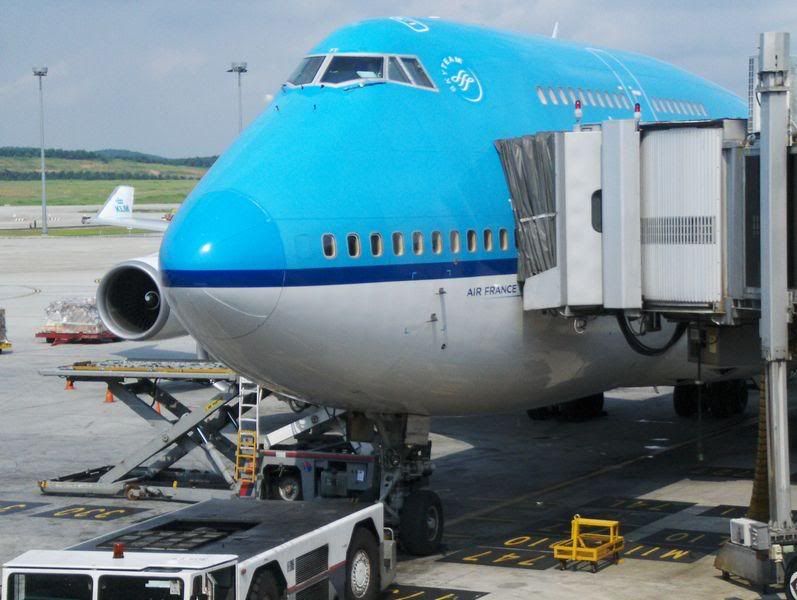 Boarding started around 20 minutes before departure, and I was glad to be in business since it looked like a full load in the back. A friendly purser greeted me at the door and directed me towards the stairs to the upper deck. Row 77 is undoubtedly the best in World Business Class on KLM B747s, plenty of legroom in this exit row.
Legroom in 77A
PH-BFT was fitted with the old WBC seats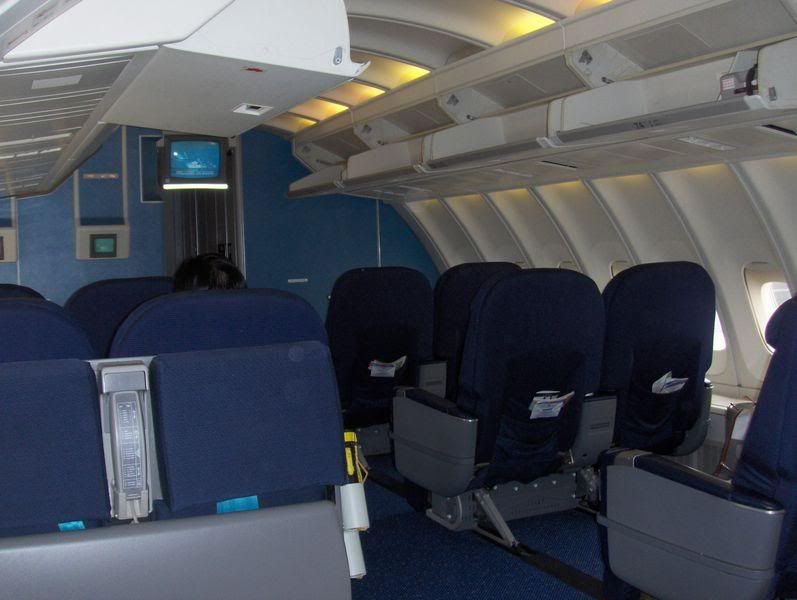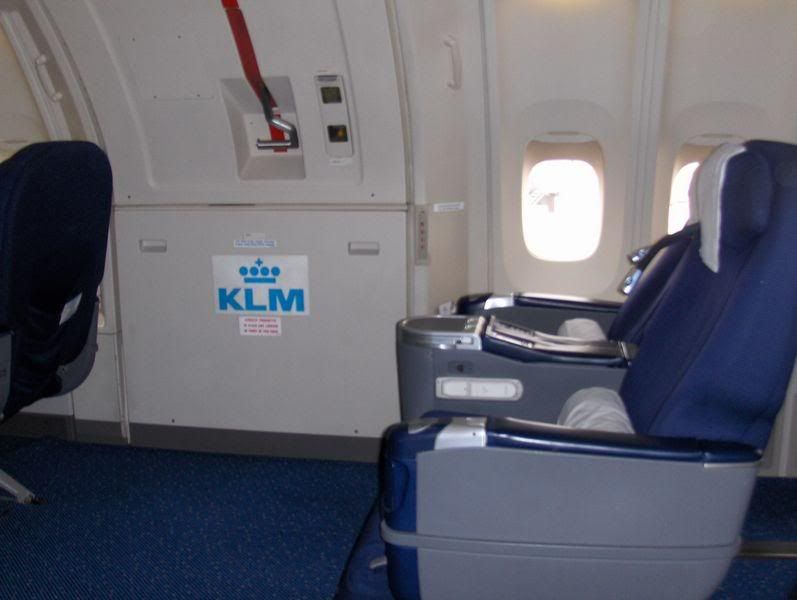 Soon after I settled into my seat, drinks were offered by a friendly F/A.
Safety card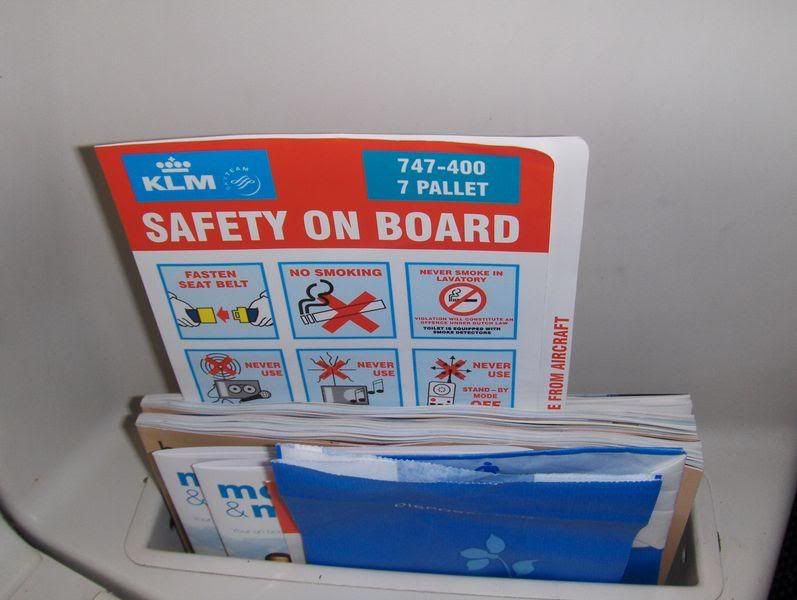 I like the idea of posting the registration on the exit door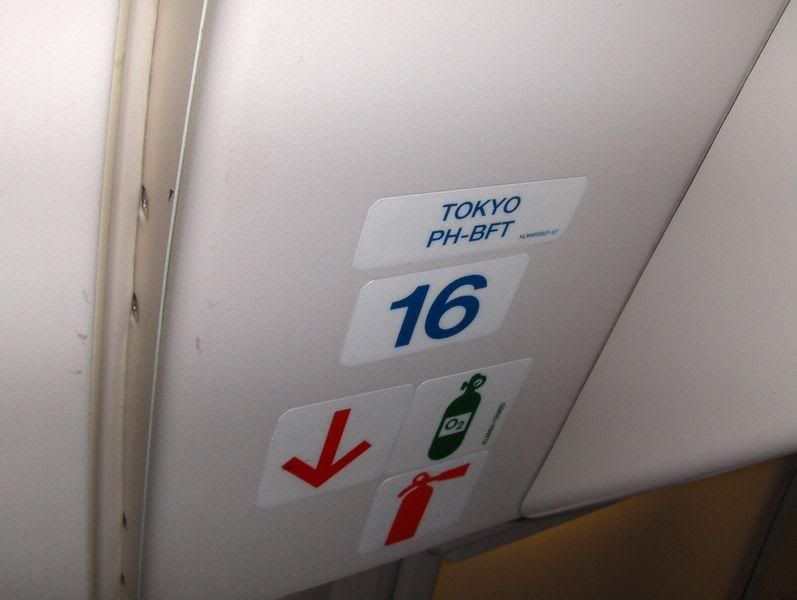 Menus and amenity kits were handed out for this short flight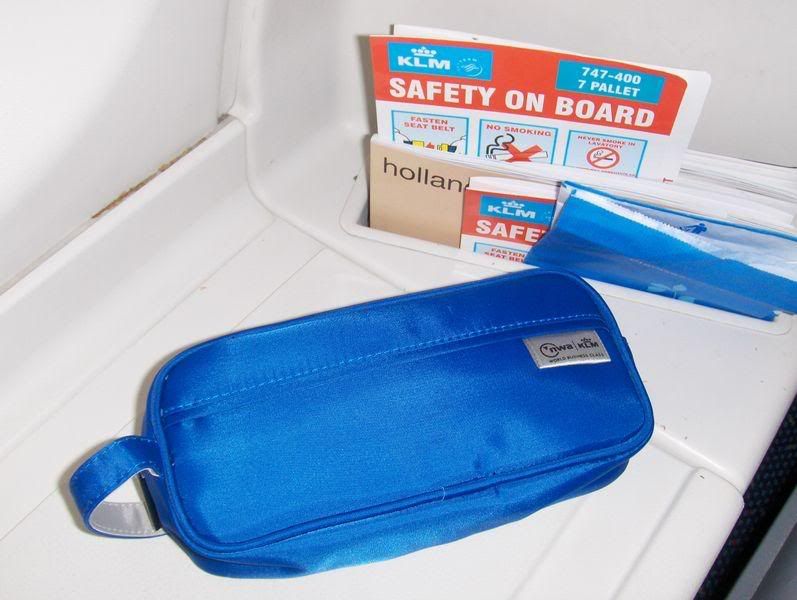 Noise-cancelling headset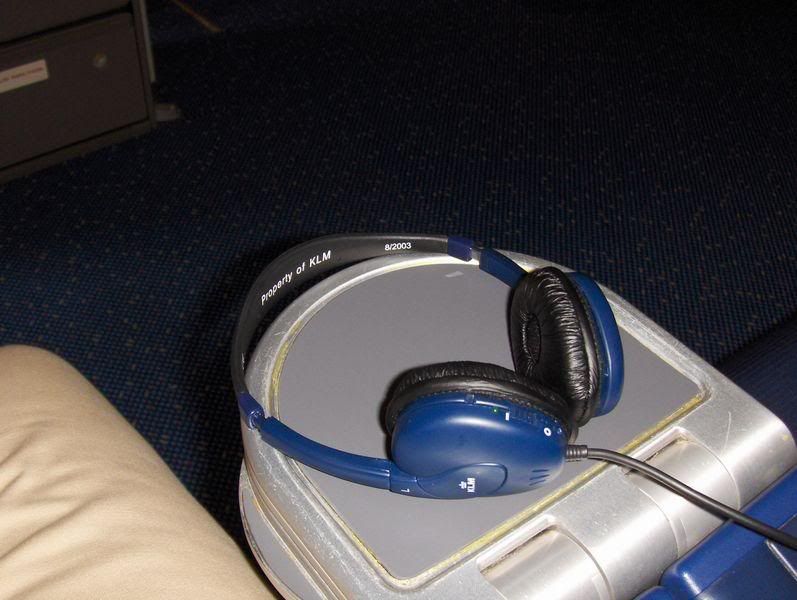 Poor photo of a MH 747 and some 727 in the background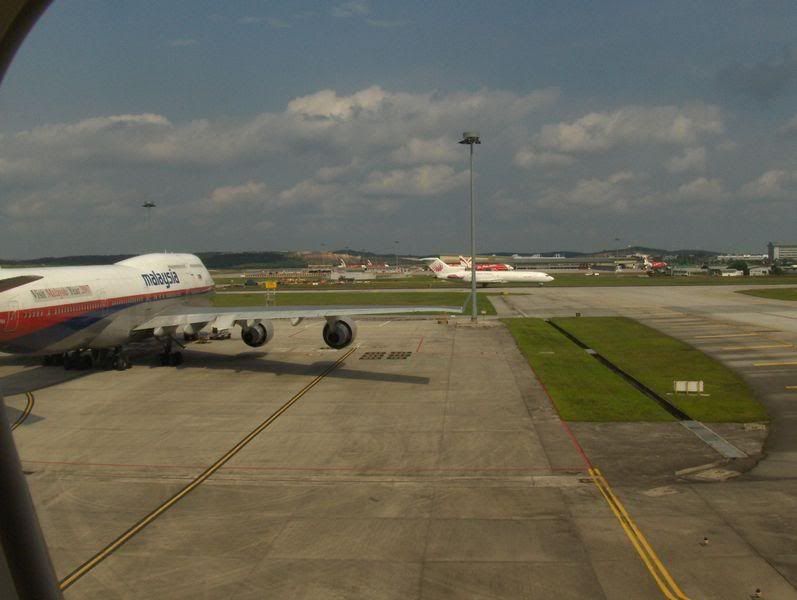 We were pushed back roughly on time, and obviously took off without delay considering KLIA is more or less a ghost town during most of the day. A powerful takeoff given the short 2-hour flight down to Jakarta Soekarno Hatta.
View after takeoff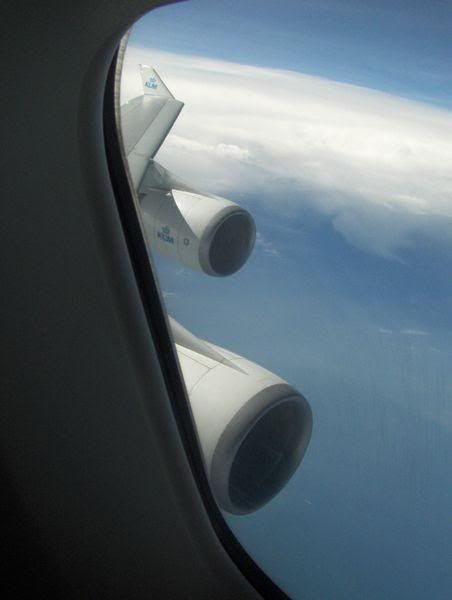 Service started with the usual drinks and nuts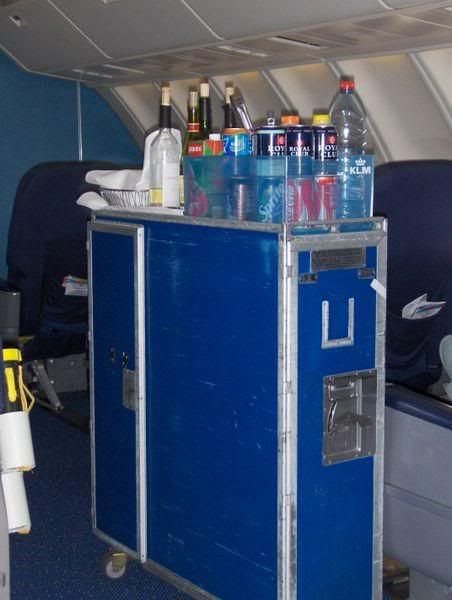 Champagne and sparkling water for me
There was a menu for this flight, but I can't seem to find it. See the return part for menu pictures. I didn't expect a menu or anything edible to eat, so I was surprised to get a decent 4-course meal on this short flight. One-tray service though.
Meal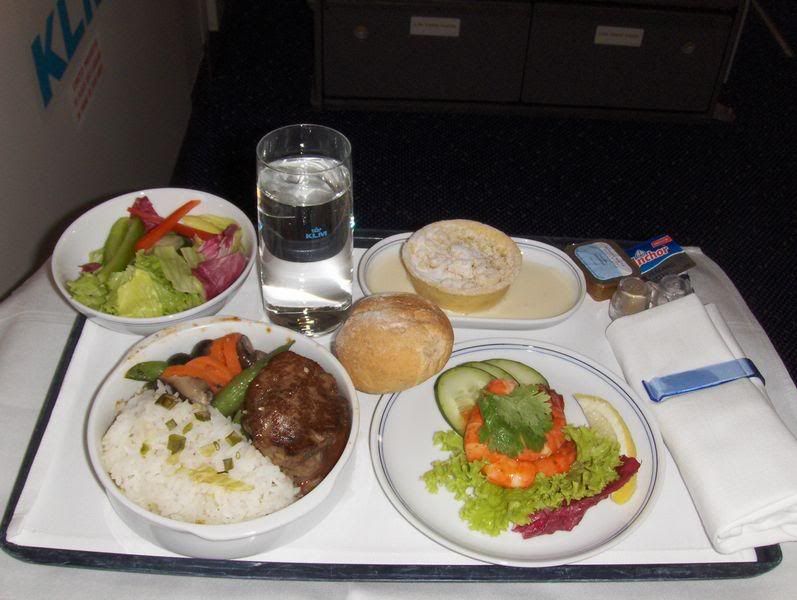 Excellent prawn appetizer
Steak-overcooked and dry unfortunately
Dessert with Baileys and coffee
Crew did a good job refilling drinks, definitely no complaints there.
The old seats have a small PTV that I find useless as it's not AVOD, so I just kept it on the airshow channel. Not long after the meals were cleared away, the classic houses were handed out to WBC passengers. Definitely happy to get it on such a short flight.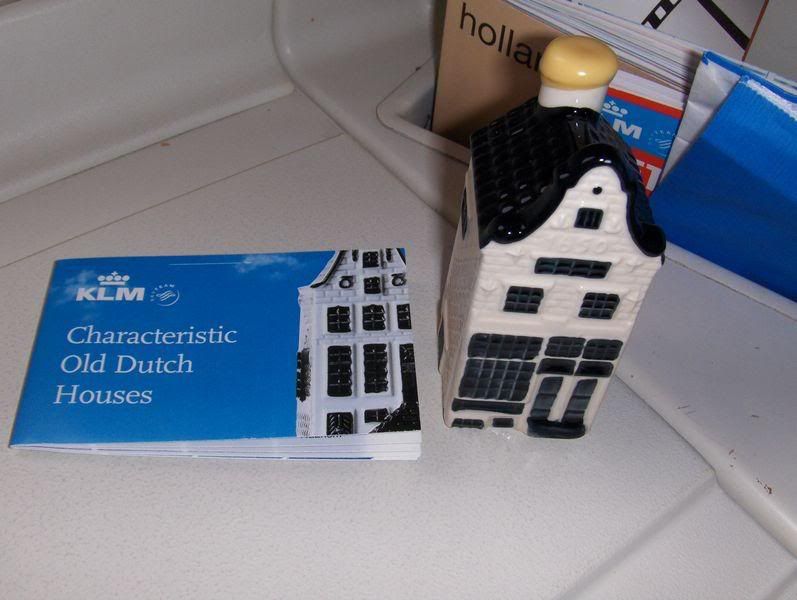 Time for another champagne, and after that we were already on descent into Jakarta.
Views on approach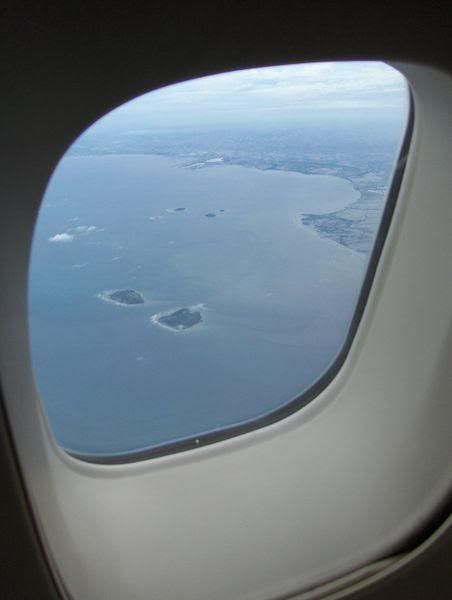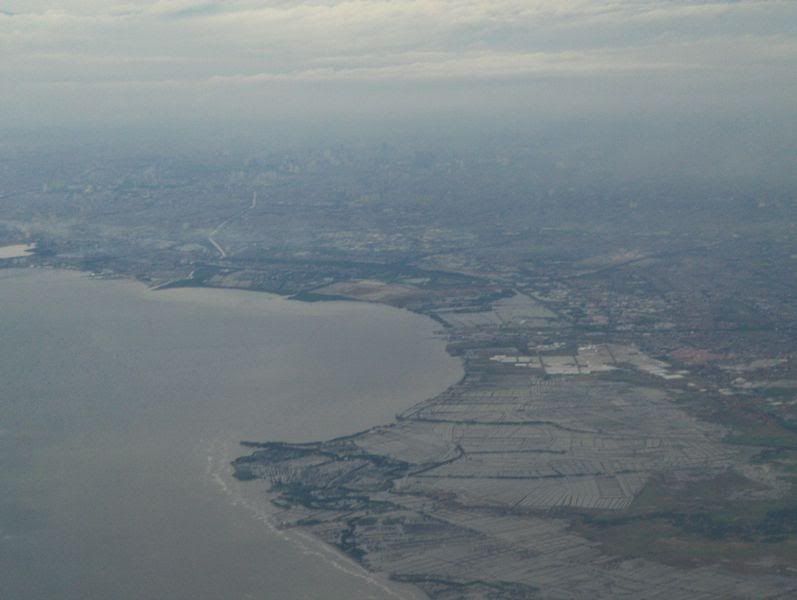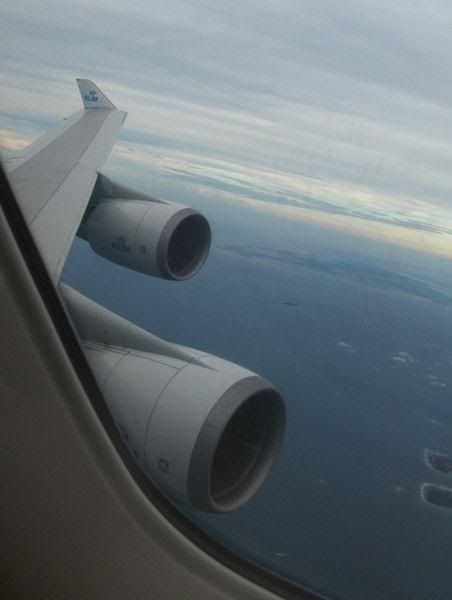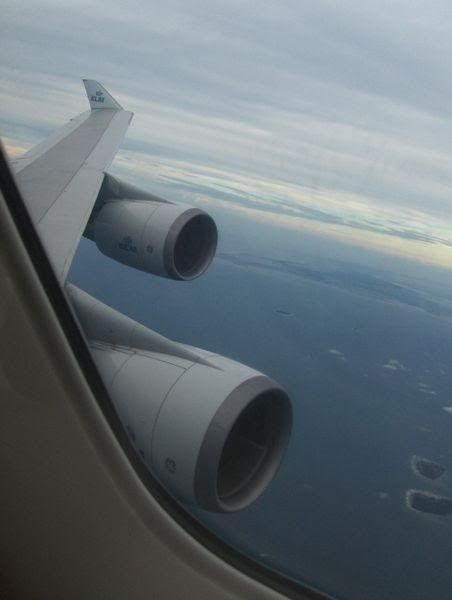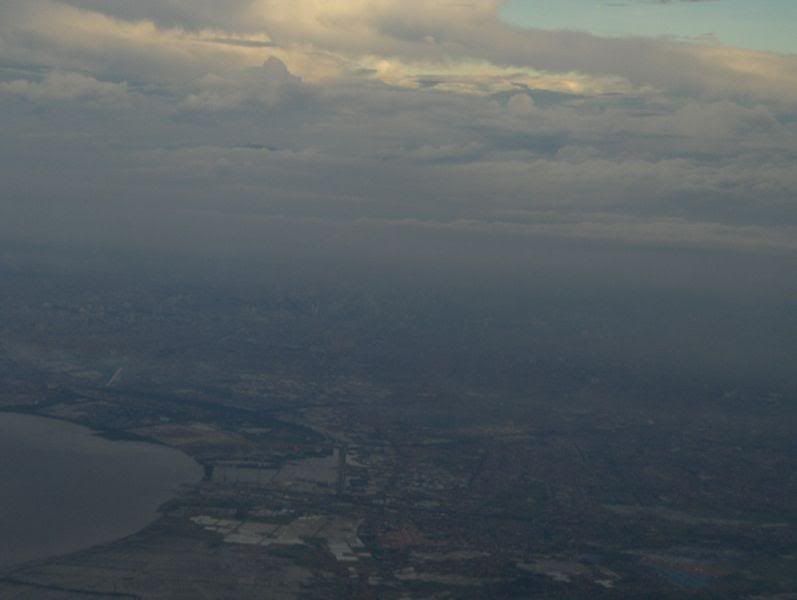 Soekarno Hatta airport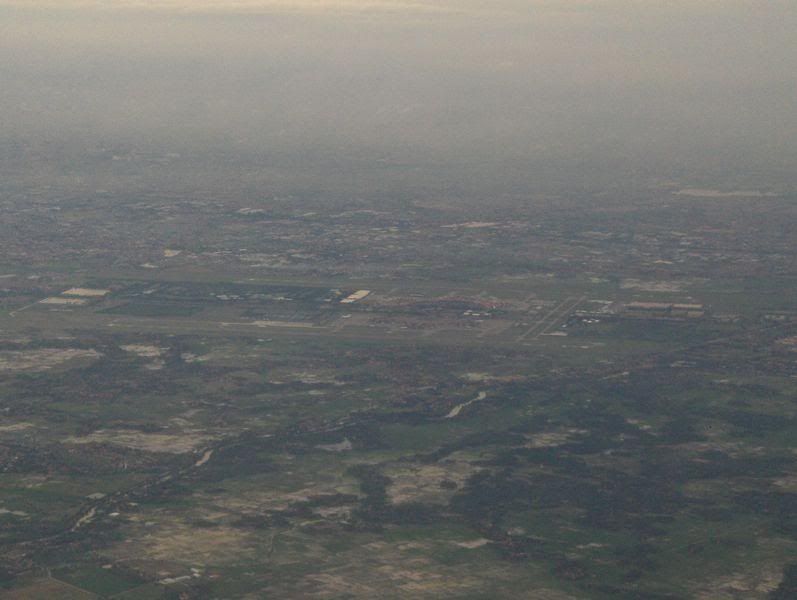 Final approach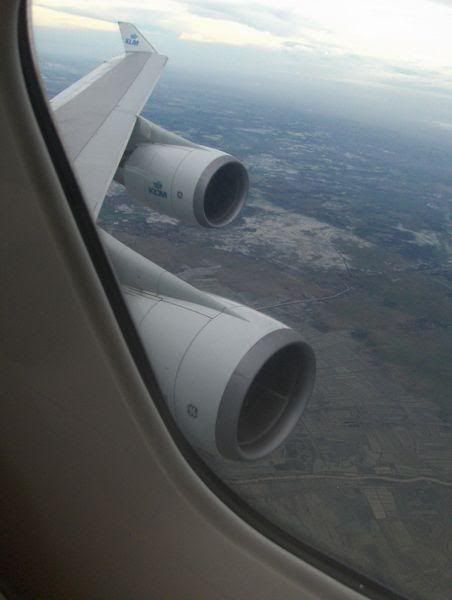 A smooth landing, and we arrived at the gate on time which is not always the case with KLM's heavy utilization of the longhaul fleet. Thanked the crew for a nice flight and headed to visa on arrival and immigration desks – honestly can't remember if there was a long wait this time or not. Neither do I remember whether I had a Golden Bird waiting or if I took an Express taxi to the JW Marriott, but traffic must have been awful given it was a Friday evening.
10 June 2007
Jakarta Soekarno Hatta (CGK/WIII) – Kuala Lumpur International (KUL/WMKK)
KLM Royal Dutch Airlines KL/KLM 810
Boeing 747-406 Mixed Configuration
PH-BFI "Jakarta"
1845-2150– On Time
World Business Class, Seat 77A (Exit Row)





Fare: EUR 227.50 (round trip)
129th Boeing 747 flight, 8th on 747-400M, 1st on PH-BFI
I arrived on Sriwijaya Air from Surabaya via Semarang in the afternoon. Again, getting confused with all these Jakarta trips, but I guess this time I headed downtown for a lunch with a fellow airliners.netter who lives in Jakarta.
Checked in for the return at around 5pm, or should I say picked up the boarding pass. My friend had secured me the exit row again on online check-in while I was in Surabaya with internet access down in the JW Marriott's executive lounge.
Deserted WBC check-in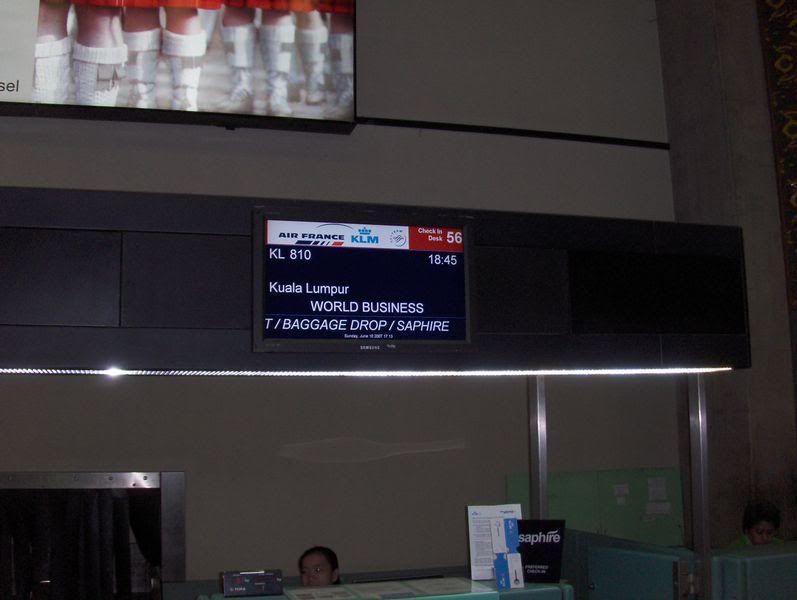 Was also given a fast track immigration pass/information slip for Kuala Lumpur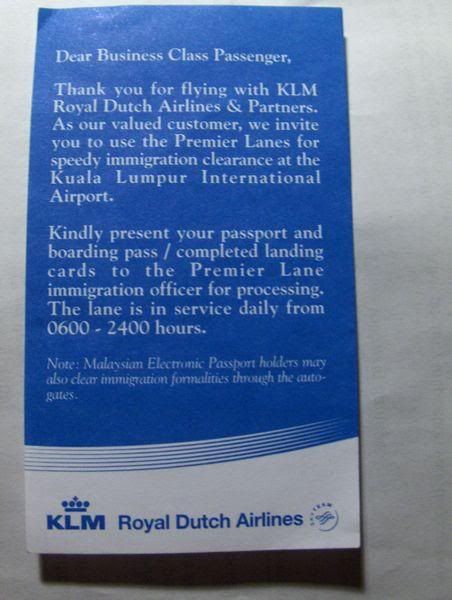 Outbound immigration was a breeze, and I was soon in the lounge whose name escapes me. KLM.com says it's the Intimakmur Suburutama lounge… All lounges in Jakarta are somewhat unmemorable; however this was one of the better ones. New looking seating, decent snacks and a full service bar. The bartender thought I would prefer Chivas Regal instead of Johnnie Walker Red and found a bottle somewhere… Smart guy.
Signage on the way to the gate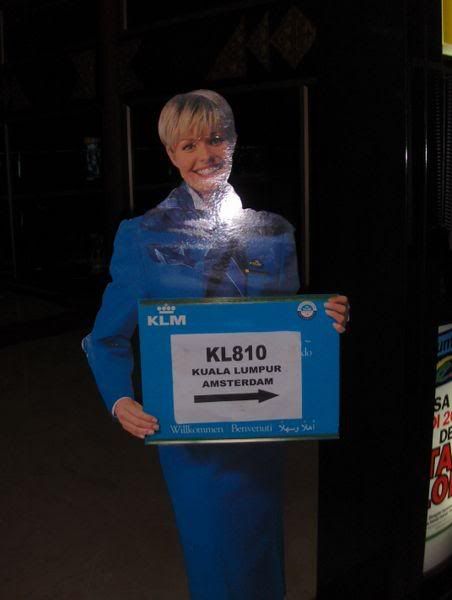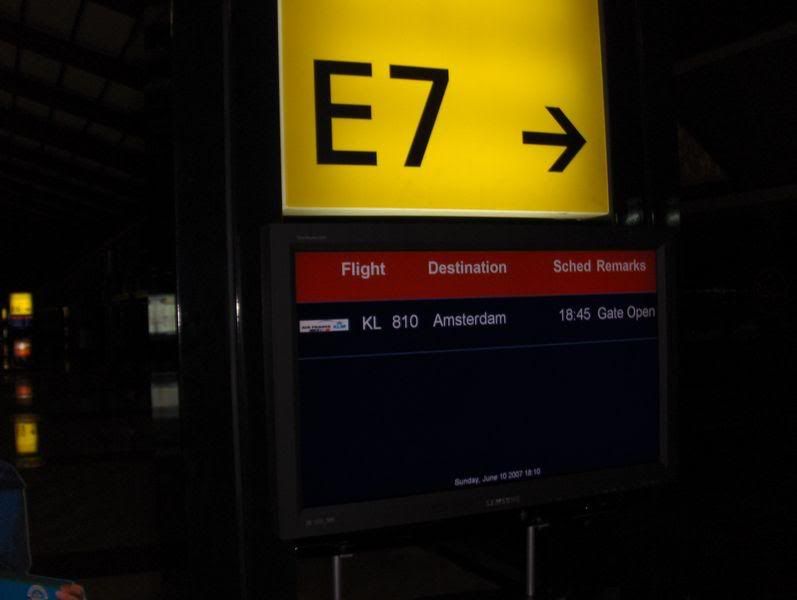 PH-BFI was waiting as I was earlier told by a reliable source. This aircraft is fitted with the new WBC seats and KLM's new AVOD system in World Business. Appropriately for this flight, foxtrot india is named Jakarta.
Again, a friendly welcome at the door and upstairs I went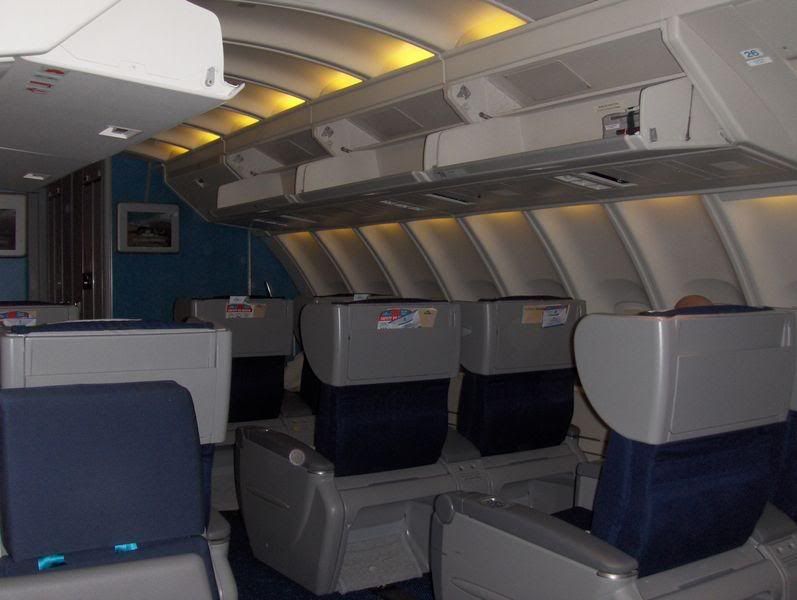 Same routine as on the KUL-CGK flight- drinks were handed out first, followed by menus. However, no amenity kits were given on this flight. Load was close to 100% in World Business. Pushback on time again, and a few minutes later we were on our way to Kuala Lumpur.
After departure
Service started with drinks and nuts, followed by dinner. Here's the menu: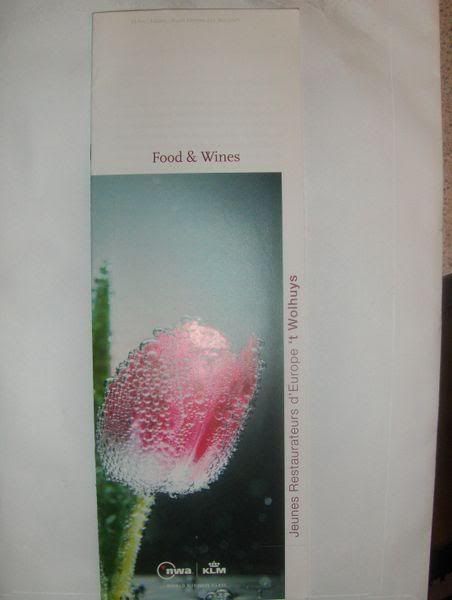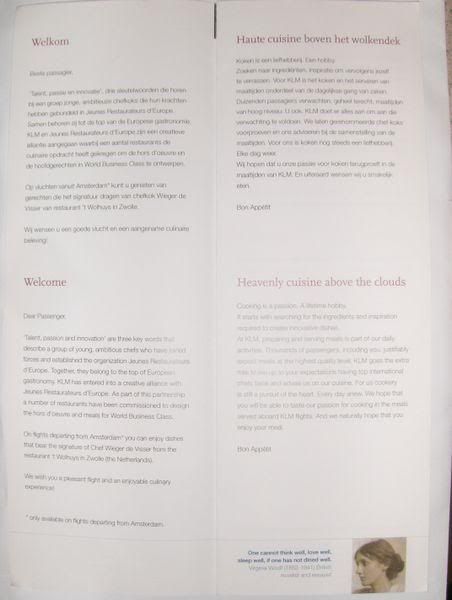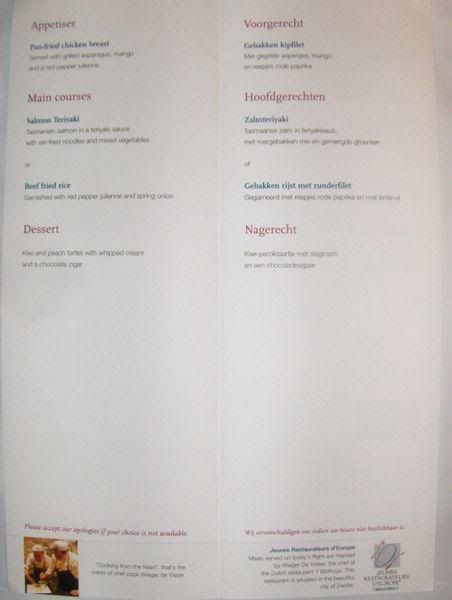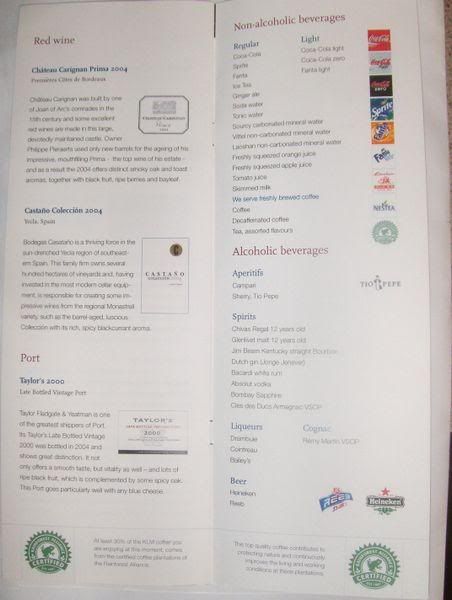 Dinner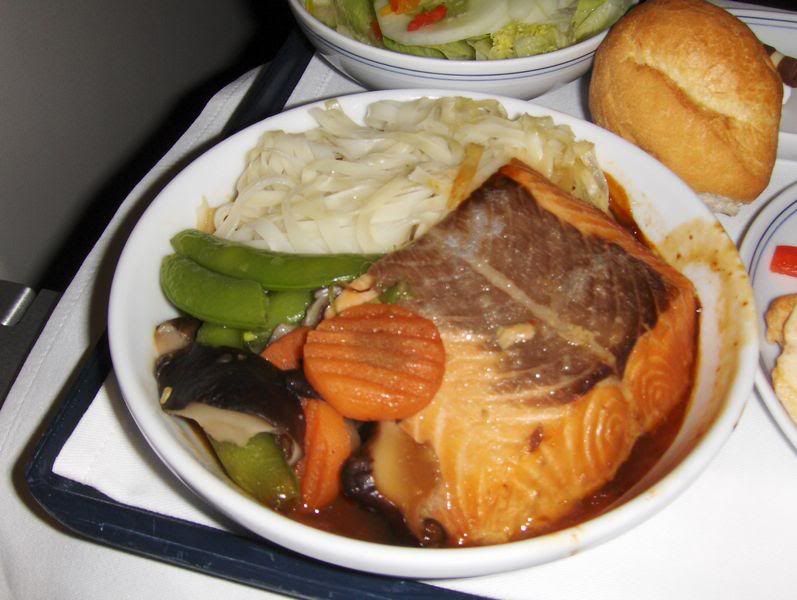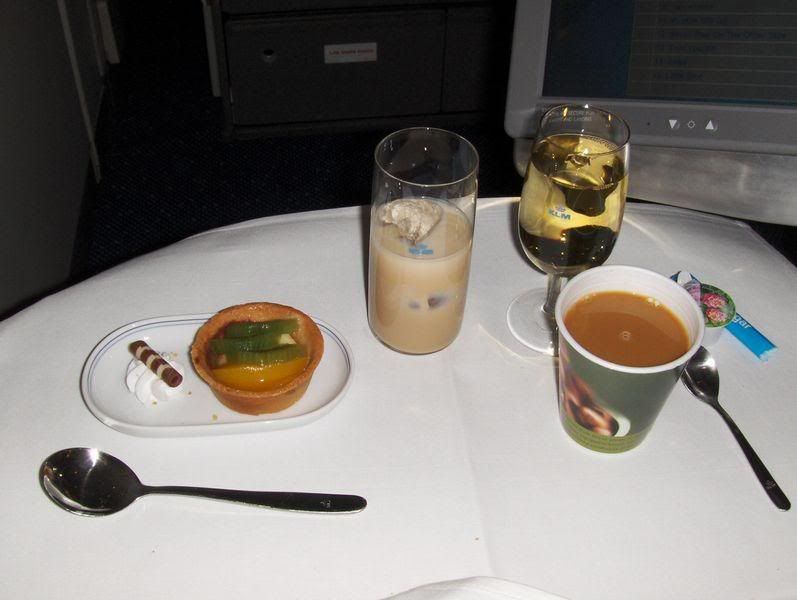 Again, crew did a good job during the meal service, and apologized for the coffee cup since they had ran out of clean porcelain ones in the upper deck galley. The salmon main course was excellent.
I didn't really get to try the rather controversial new WBC seat on this short flight, however the AVOD is excellent. Now, let's look at the seat controls and IFE.
New WBC seat controls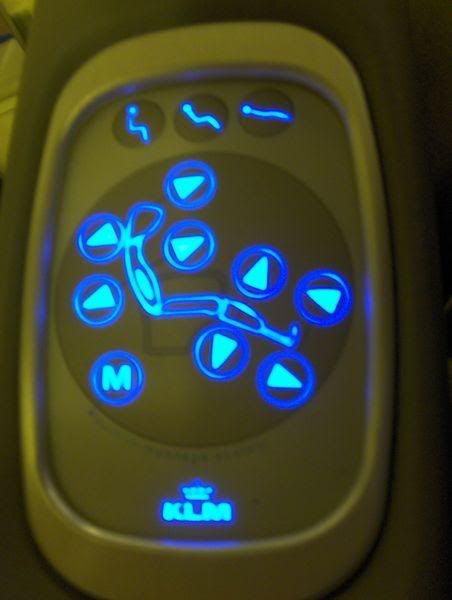 KLM AVOD System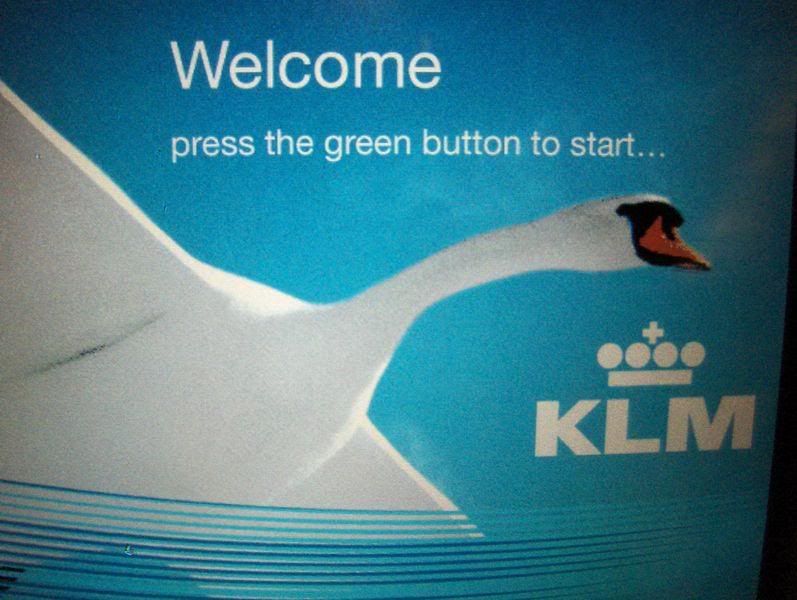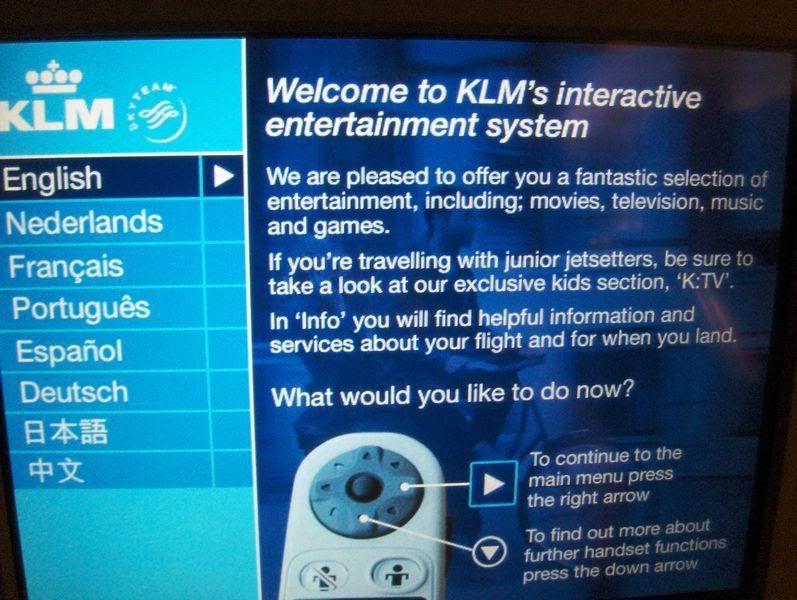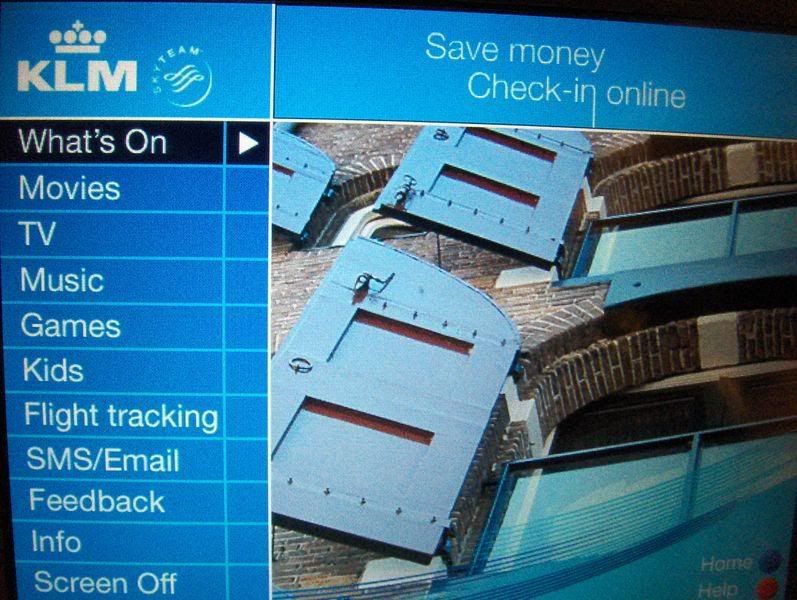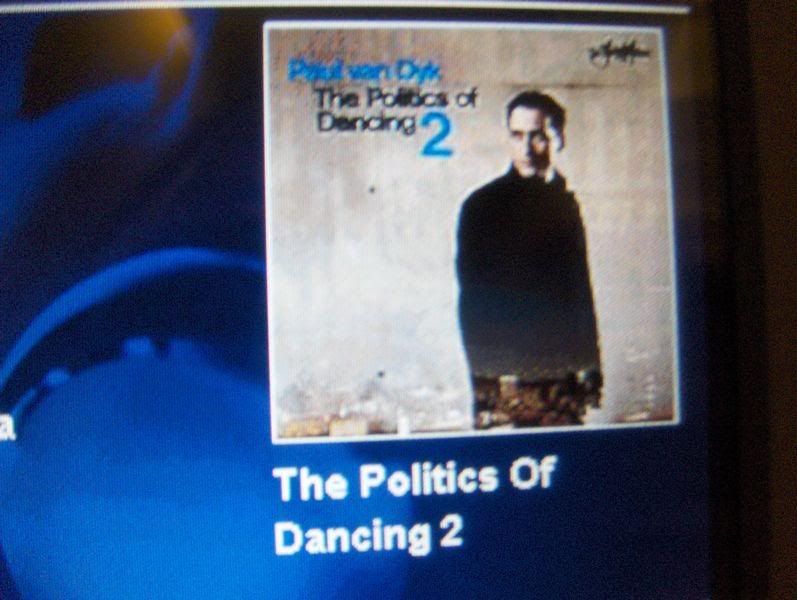 Again, the houses were handed out, a nice touch. They didn't attract any attention from security at KUL or CGK despite having some alcohol inside and these idiotic liquid restrictions in effect.
Some airshow views, it was obviously dark outside so no window shots.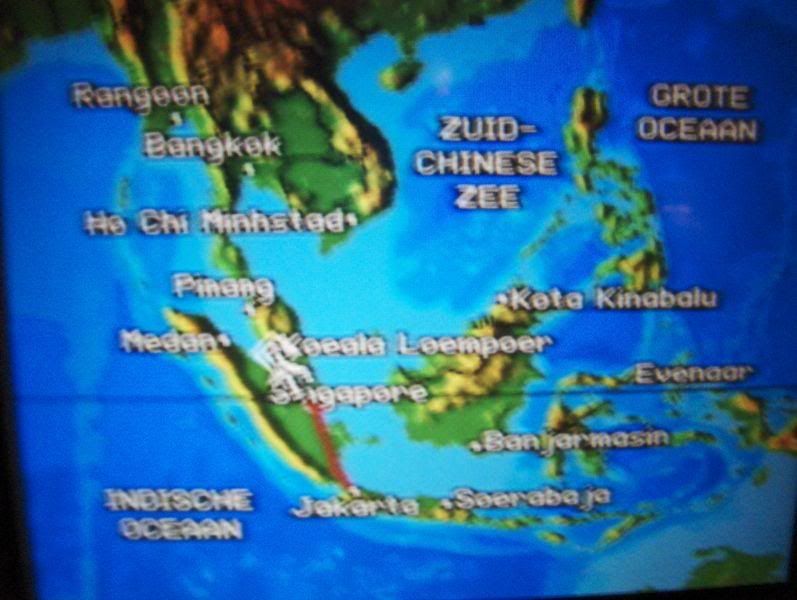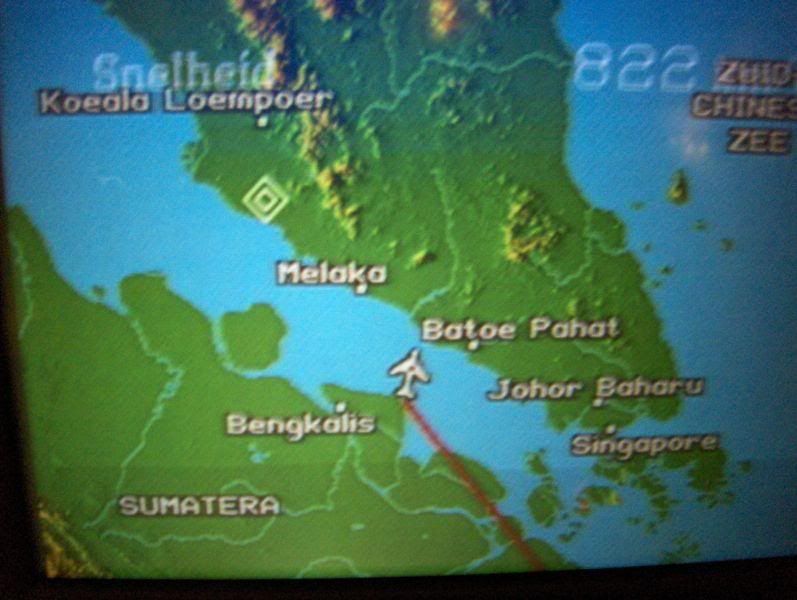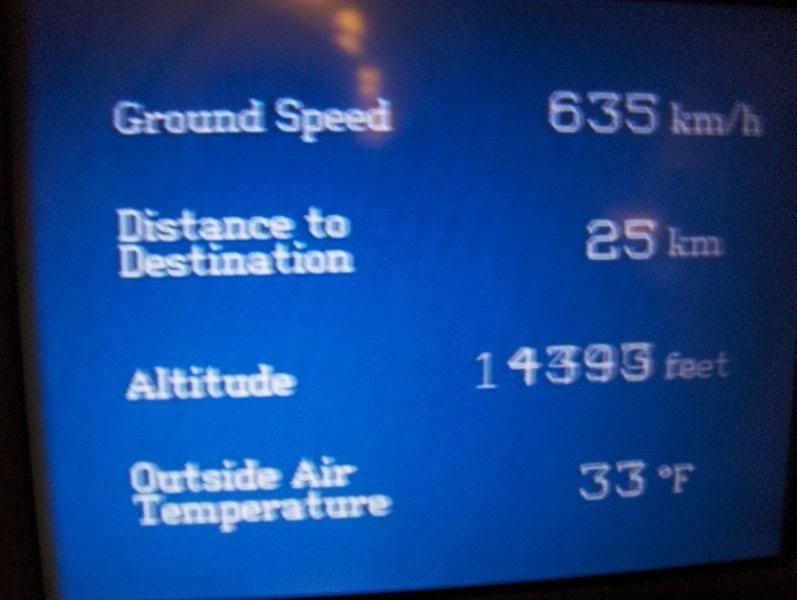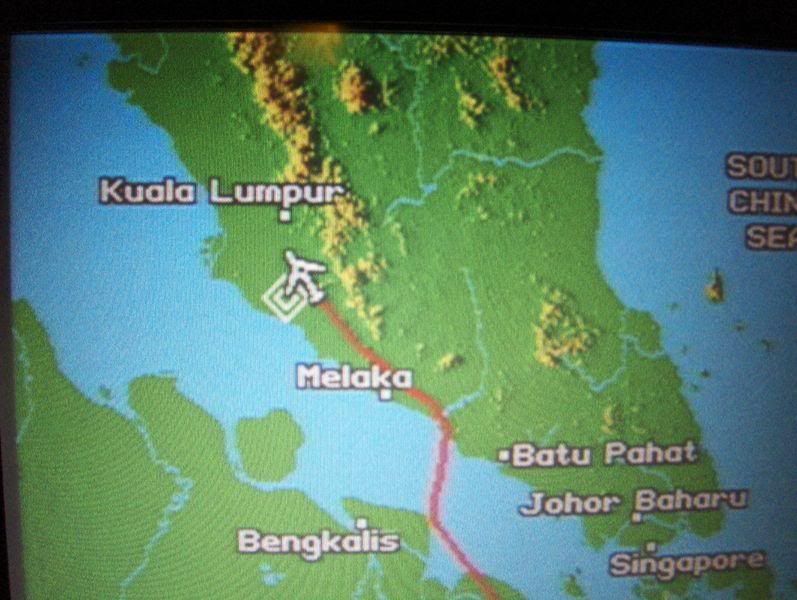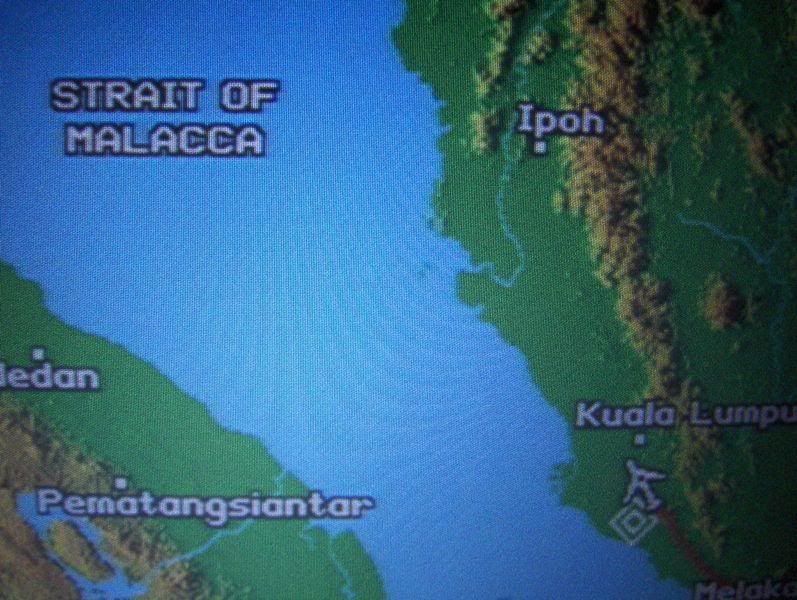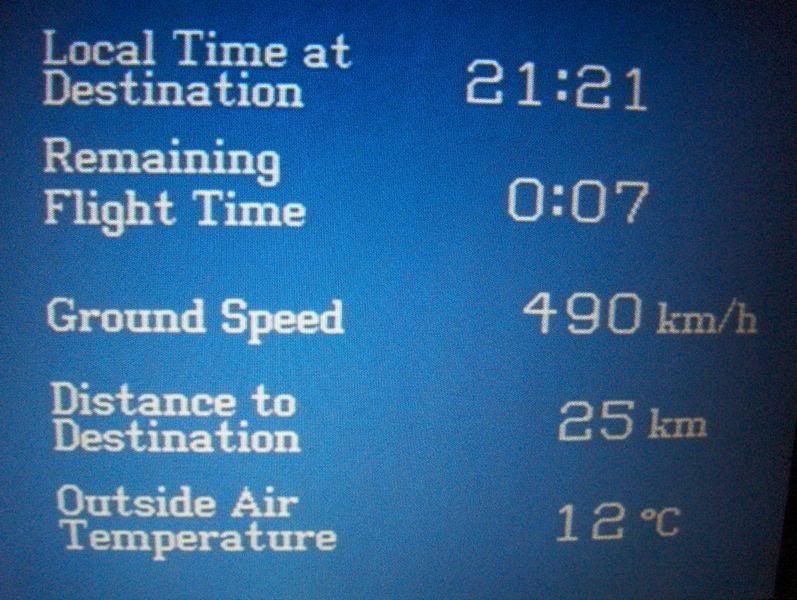 KLIA was very much deserted at this hour, and I would have breezed right through immigration even without the fast track pass. I took the Ekspres to KL Sentral as usual – this turned out to be a mistake. It was raining heavily, and many downtown areas were completely flooded. I waited 45 minutes for a taxi to take me to the Sheraton Imperial, that got me rather pissed off. Had to head out to the nearby Beach Club for some overpriced Carlsberg to calm down…
Overall I was very pleased with the KLM flights on the route, service and meals were much better than Lufthansa's dismal service and horrible food on their intra-Asia tag-ons. KLM served proper meals and had friendly crews, and the AVOD is excellent if your aircraft happens to have it. The WBC alcohol selection is rather low end though.
Hope you enjoyed.
Regards,
Lufthansa747