Brief background
I've been working for that last 3 months with Sun d'Or (a wholly owned charter subsidiary of El Al) on a migration project, and have been out to see them 3 times in Tel Aviv. Each time I go I fly on El Al, and I've indulged myself a little in selecting flights to fly on various of their aircraft (744, 763, 738). This time I need to spend the entire week in TLV, as we had a lot of work to get through, so I decided to fly home on Saturday 19th January. Because Saturday is Sabbath, there are no LY flights, but Sun d'Or (2U) operate a schedule, using their own 2 757-200's and LY aircraft available because of the Sabbath rule. Sun d'Or use exclusively LY cockpit and cabin crew (they have no crew of their own) and use LY facilities and systems for their operation.
Anyway, I had asked to be booked on 2U5097 TLV MUC on the 19th, to connect to an LH (CL) flight on to NCE. This was duly done. My opposite number at Sun d'Or has always been wonderfully hospitable and has always made special arrangements on my LY flights to let me use the lounge and assigning me exit row seats, things like that - it makes my visits to TLV very pleasant. This time she asked me (out of the blue) if I'd like to fly in the cockpit. I jumped at the chance - who wouldn't - so she said she'd see what she could organise, but not to get my hopes up as it was a special request and needed to be cleared with the captain.
On the Friday she let me know that it was looking possible, and to talk to the check-in supervisor at the airport when I got through security. I still wasn't banking on it however, as I knew there were all sorts of reasons why it might not happen.
Saturday 19th January 2008 - Ben Gurion Airport, Tel Aviv
I got to the airport at around 6:30 and was met by the VIP service that the company uses to speed things through the formalities at TLV. She took me through to security, bypassing the HUGE queue as usual, and found one of the security staff. Straight he asked me if "I was the guy who was supposed to travel in the cockpit". Wow, result ! I said I was hoping to, and so he said to wait for the security supervisor. In the meantime the Sun d'Or check-in supervisor had found us and introduced herself. Then the security supervisor arrived, he asked me a few very normal security questions (rather than the lengthy inquisition and chemical swabbing I usually get because of the Saudi, Tunisian, Moroccan etc stamps in my passport). He then said he'd been contacted by the airport security management to say that Sun d'Or had requested clearance for me to travel in the cockpit, and it had been granted (!), so as far as he was concerned, it was all OK. Second result ! I was starting to get quite optimistic about this whole venture by now, and was controlling my enthusiasm only with difficulty  
 .
I checked in (got 10A in the front row, and they blocked the two seats next to me as well - pays to be a VIP eh ?) and we went through the second layer of security (hand luggage etc) - I barely rated a second glance which again was highly unusual, normally I get the rubber glove treatment and double xray on everything - it was the easiest and quickest transit of TLV security I'd ever had. Cool.
The check-in supervisor had said to meet her at the gate (C4) at 0800 - boarding was due to begin at 0810, and she'd take me down to the plane and introduce me to the captain. I had about an hour to kill, so I rushed to the duty free to buy a camera ! I had left my camera at home this trip - it's a big Canon EOS Rebel, a great camera but a bit bulky to take on business trips. I had been thinking idly about getting a small digital just to take with on business trips, and this seemed like an excellent excuse to get one - had to take pics in case I got to sit in the cockpit ! I found a Sanyo Xacti on special offer, it seemed pretty good, so I snapped it up with a case, and went to sit down and figure out how it worked.
Once I'd got it set up I went in search of my trusty aeroplane - I found a decent view from the food court, but the windows have anti-photography dots on them, so the picture is a bit fuzzy. Here she is, 4X-EBM Boeing 757-200...
I walked down to the gate at 0800, and met the supervisor again, she boarded me and took me down to meet the crew. I stowed my bags and chatted with the purser Saul, who welcomed me aboard and told me that he'd take me to the cockpit in a little while when the flight was loaded - the cockpit crew were busy with paperwork etc. for the flight.
The flight boarded - it was a ski charter so everyone had heavy coats and lots of hand luggage, and the flight was pretty full - 206 seats sold out of 215. Everyone boarded quickly and got everything stowed more or less. Just after they closed the doors, Saul called me into the forward galley and let me into the cockpit. The captain and the first officer were extremely welcoming, it was really nice actually - I was worried about being an annoyance, but they were really great, made me feel right at home. I sat in the jumpseat on the right, behind the FO, they showed me how to strap in with the 4-point harness thing, we talked about the work I was doing with Sun d'Or, where I was going, etc. I asked if I could take pictures, and they said absolutely (although the FO said if I sold them to a magazine his agent would demand 10%  
)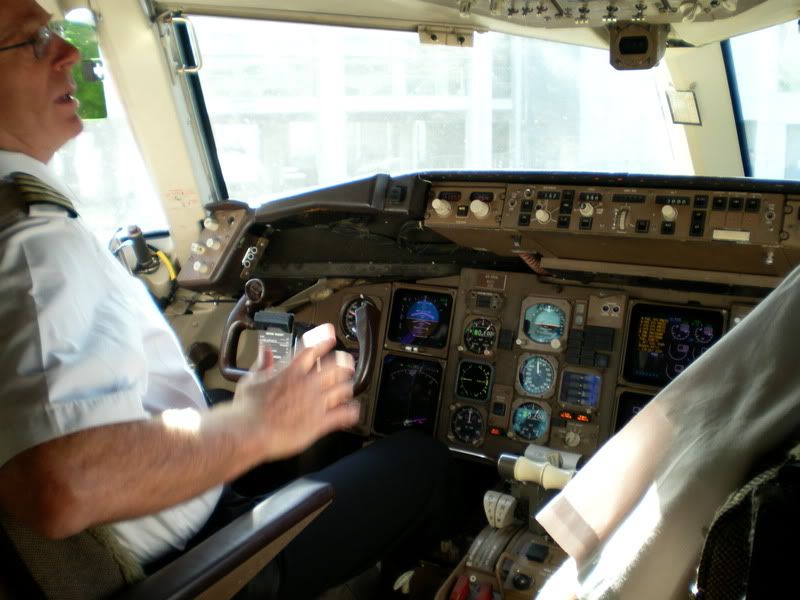 Then they got ready for pushback, lots of button pushing etc - and checking the flight plan...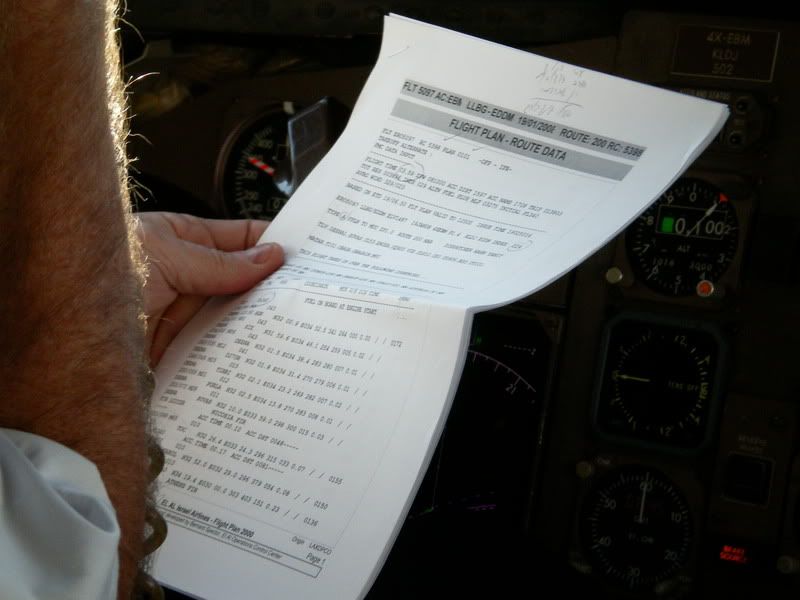 We pushed back and were given taxi clearance to runway 26 - this is the runway miles away past the military apron, you have to taxi down next to the main runway, round the end of the main runway, then up a long taxiway to the end of 26.
We taxied past the other Sun d'Or 757 4X-EBT that was going (I think) to Breschia in Italy (VBS) on another ski charter.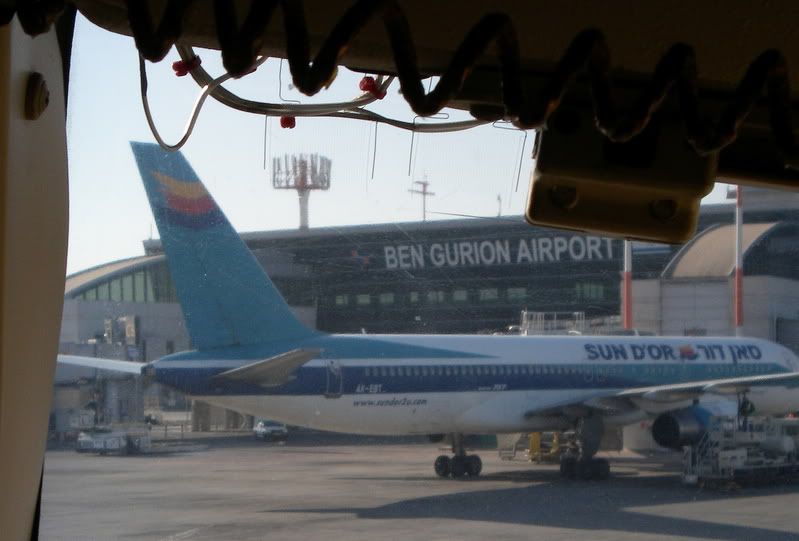 We taxied past lots of parked up LY aircraft and a BA 767 (unusual, the flight is usually operated by a 777, I don't know if the 777 for TLV had been taken back after the loss of G-YMMM)
Up past the military apron, lots of very elderly Arava's and a cannibalised C130, then a long row of active C130's.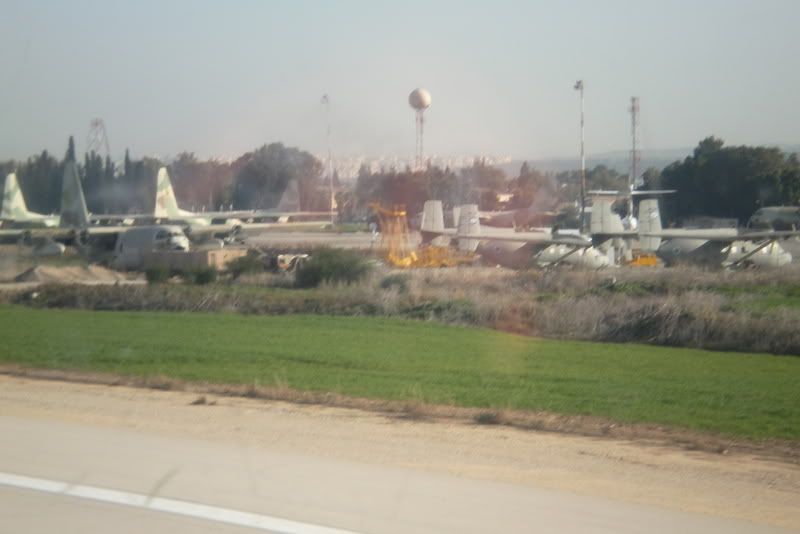 We taxied straight onto the runway and took off - I'd taken off in the cockpit of very small aircraft before (Islanders and Cessna's mostly), but it is very different in a big jet. The runway really rushes at you, and there is a real push in your back as the aircraft lifts off - it was amazing ! (the video is very crap, I had to compress it but you get the general idea)
We turned slight north of west over Tel Aviv (I could see the Sheraton, where I'd been staying), then cleared the coastline almost immediately, handing over to Tel Aviv airspace control - we reached our first cleared altitude of FL80, then were handed over to Nicosia. They cleared the flight to FL220, and then straight up to FL340. The climb was smooth and uninterrupted, the captain spent the first half hour of the cruise showing me all of the instrumentation and controls - I knew the basics (I didn't want to seem completely ignorant !) but of course all the detail was new to me. He showed me the flight management computer, how it was working out the most economical speed for the aircraft to fly at. He showed me the 3 autopilots (the one on the left was working at the time) and adjusted the settings to show me how the horizontal and vertical navigation worked, and how the autothrottle worked - SO much better than MS FlightSim ! He showed me the navigation computer, and the waypoints they'd programmed in, and where the waypoints and airport VOR's showed up on the screen - you could see Paphos, Antalya and later on Athens came up.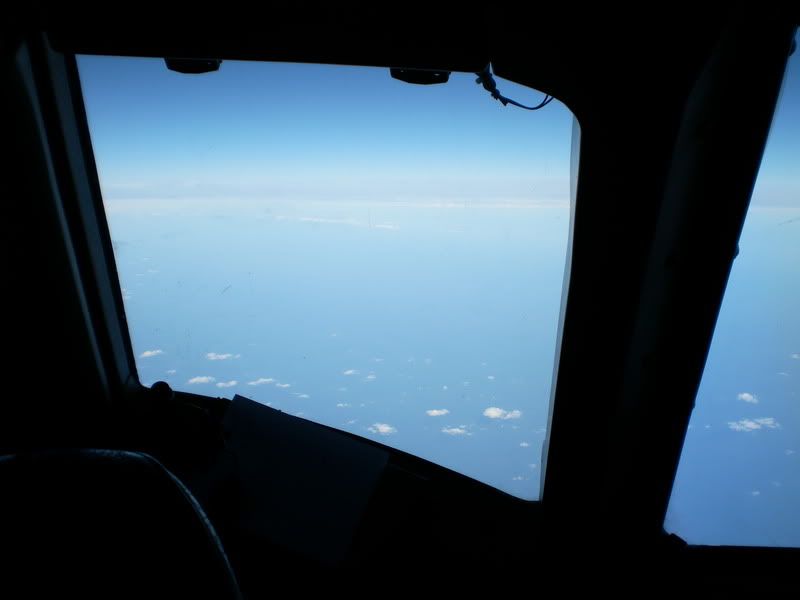 The track was direct to Rhodes, then Athens, then across Greece to the Adriatic, straight up the Italian coast, across the Alps and approach into MUC from the south-east.
I learned loads - I don't think I could actually operate a 757, but I know where all the buttons are now. It was great to watch them working, I knew the theory of what goes on in a cockpit, but to see it in action, the cross checking, the confirmation of the commands and the acknowledgment between the aircraft and ATC, it was all very controlled and professional. At one point Nicosia requested us to climb to FL350 to avoid crossing traffic at the same altitude, the captain suggested a request for FL360, so the FO radio'd that back to ATC who confirmed FL350 then FL360 - so the Captain adjusted the autopilot altitude setting and up we went. All very simple.
This is me in the cockpit jumpseat - I look a bit "stunned bunny" but I was having a great time, I promise ! I think I was worried that the flash would go off and annoy them.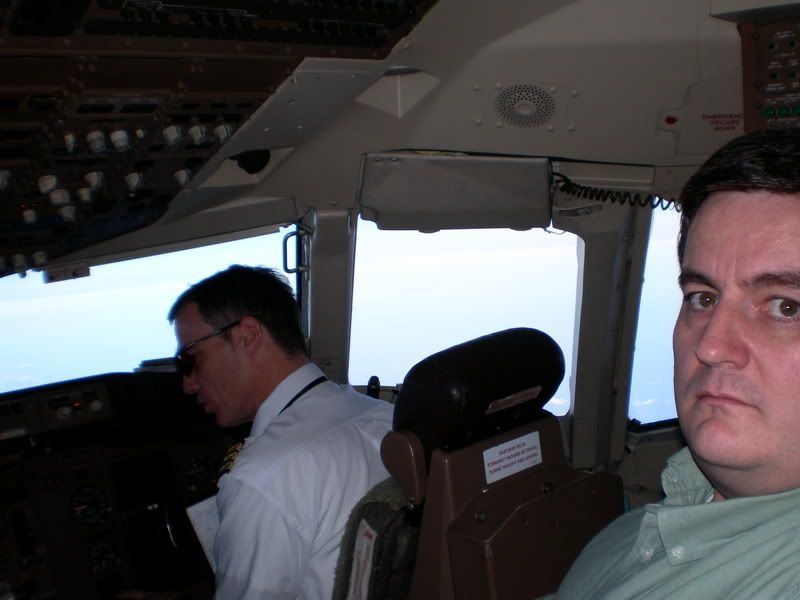 I went back to the cabin at that point, to have my breakfast and a short nap (I'd been up very early). Breakfast was pretty good, a kind of hot tortilla with a mixture of stir-fried peppers and tomatoes with lubna cheese. I had been asked to taste-test it earlier in the week at the Sun d'Or offices and I had given it the JGPH1A Personal Seal of Approval - pretty yummy. It came with a roll, butter and some really tasty strawberry jam, a fromage blanc and some cottage cheese (which I skipped, not a fan), and I had a cup of tea with it. We had reached the Aegean at this point, and were flying over Santorini - I tried to take some pictures but the camera had real trouble focussing through the window.
We flew up across Greece, over the new bridge at Patras and up the coast over Corfu, then crossed the Adriatic to Italy. I snoozed for a bit at this point - there was a movie on but it had Russell Crowe in  
 .
I woke up just as we crossed over the coastline into northern Italy, you could see the Alps in the distance, very snowy indeed. There were scattered clouds much lower down. Saul came to call me at that point to go back into the cockpit. In the cockpit there was a third guy, he introduced himself, he's the relief pilot for the return flight, as the crew waits in Munich to take the return flight back to TLV. He was sitting in the other jump seat, high up behind the captains chair. I sat myself back down and the relief captain told me what was going on - we were just crossing out of the control of Padua and onto Munich, over the Alps.
We were cleared to start our descent, initially to FL240. The relief captain explained that coming in over the Alps meant you couldn't do a single descent but came down in steps. He told me about how the clouds were mostly low-level, caused by a high-pressure system that was holding them in place, and that the landing at MUC might be tricky because of a strong wind, but that the wind was almost straight down the runway at 250 degrees (the runway we were to use is was 26L).
We descended into the top layer of clouds - this was pretty wierd from the cockpit, like diving into water, I actually caught my breath !
We continued almost due north between the cloud layers, descending in stages. When we descended below FL100 the relief pilot told me we had to be quiet now, so I was just watching and trying to guess what was going on. The captain used the speed brake to kill the speed and descended more quickly. We cleared the last cloud layer at about FL60 (I think it was), and turned slowly towards the west until the localiser beacon was detected - I think it came up on the navigation computer as a blue semi-circle (maybe it was something else). We could see the airport clearly ahead, and it was getting bumpier in the wind. The captain flew the landing himself, and it was bumpy in places but he kept it straight as a die. The undercarriage came down (I finally got to see "three greens"  
) then the flaps, then the voice called "one thousand".
(I apologise for the quality of this video as well, I had to compress it to get it to load on youchoob.)
The roll out seemed very short, and there were no thrust reversers I'm pretty sure - we exited the runway pretty quickly and were instructed to take exit Sierra 4 to the parking stand.
We passed a few aircraft as we taxied - A Finnair A319
Security was present but discreet...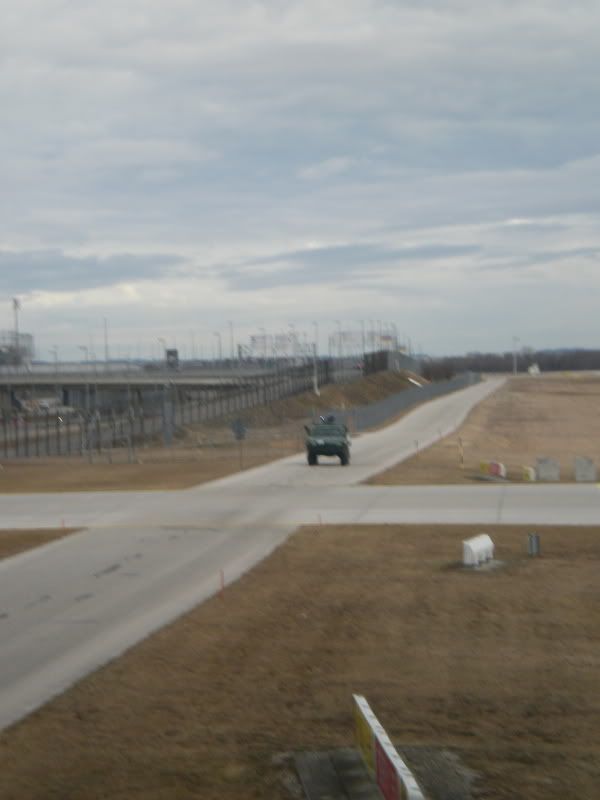 As we taxied round onto the parking stand we passed...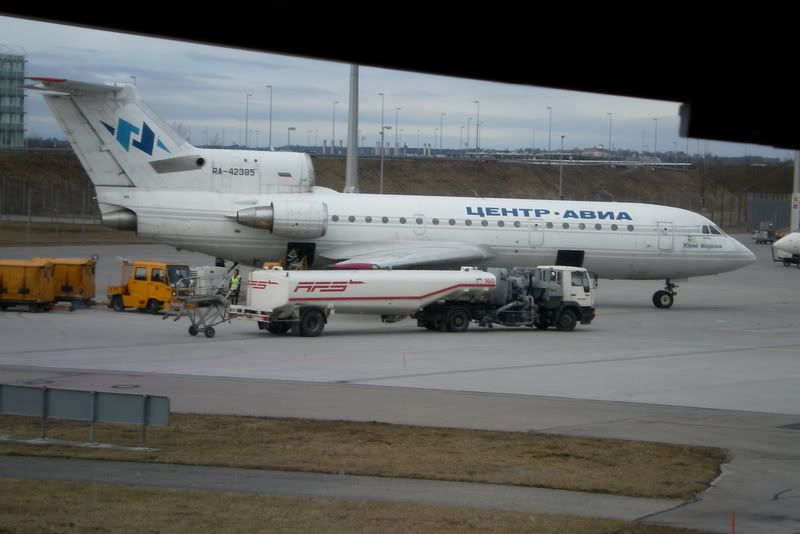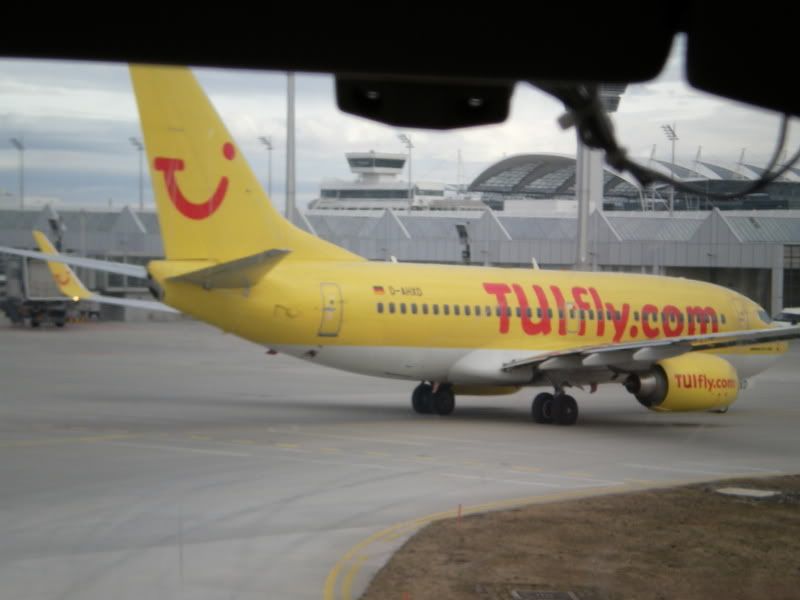 We turned onto our stand, one of the remote jetway units across from Terminal 1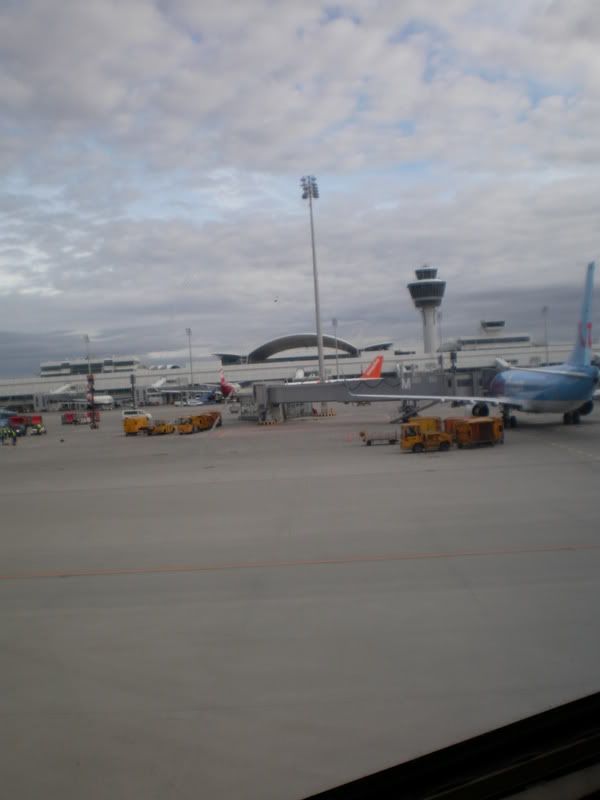 As we came on stand, the stand's parking detection system was activated - it knew we were a 752, and tracked the nosewheel as it moved up, showing a series of lights so that we stopped exactly on the right spot.
I thanked the Captain, the FO and the relief captain profusely for the amazing experience - it really was a highlight. One gets very jaded about flying, especially as I now get to fly pretty frequently, and it seems a shame that it sometimes feels like just another day at the office. This flight kind of rekindled my enthusiasm for flying again, maybe that seems a bit corny but it really did. The landing was genuinely exciting, I got a real kick out of it, and I enjoyed that.
I disembarked after thanking Saul the purser as well, he'd gone out of his way to make the flight enjoyable as well, they whole team were really great. For the first time in ages I didn't want to get off the plane ! But I had a connecting flight to catch (sigh).
Bye bye 4X-EBM...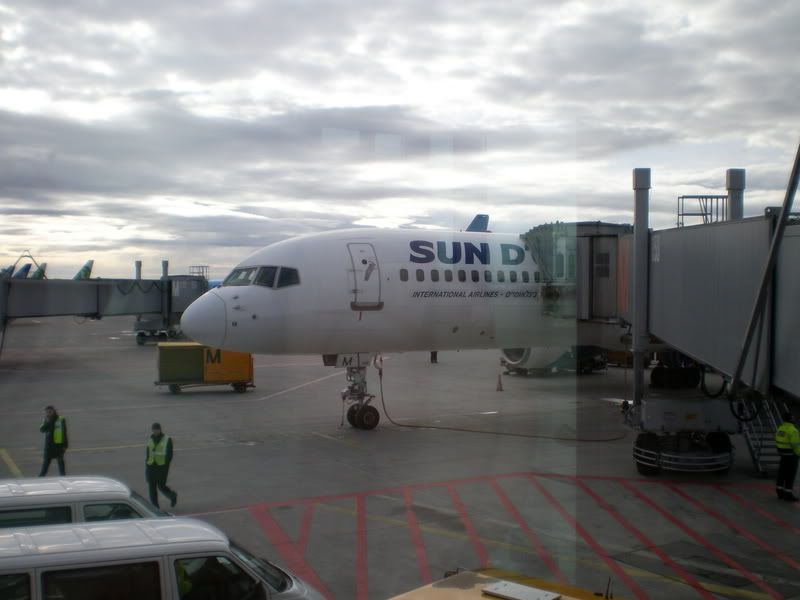 I'd like to add again my thanks to everyone at Sun d'Or (especially Sandra) for making this not only possible, but a genuinely unique and thoroughly enjoyable experience. I shall treasure the memory.
[Edited 2008-01-20 13:49:52]