The World's Highest-Density Twin-jet: HND-ITM on ANA 777-300
Intro
ANA's 777-300 - the world's highest-density twin-jet - and Osaka Itami Airport (ITM) are featured in part 5 of my Japan Trip Report series. All users who want to read more about the background of the tour (see report no.1) or want to have a look at the other parts only need to click here:
MUC To Nagoya: Finnair E170 & (Old) "New" A340
(by
PlaneHunter
Nov 15 2007 in Trip Reports)
Oddities & Okinawa: JTA 734 & JAL 744D(Domestic)
(by
PlaneHunter
Dec 3 2007 in Trip Reports)
Rocketing To Tokyo: FUK-HND On JAL (ex-JAS) 777
(by
PlaneHunter
Dec 15 2007 in Trip Reports)
Kobe For 1 Hour: 767-Quickie On ANA & Skymark
(by
PlaneHunter
Dec 31 2007 in Trip Reports)
Toyoko-Inn Haneda Otorii Honkan
After two nights it was time to say goodbye to the Toyoko-Inn Haneda in the early morning (see hotel rating in report no.4). Views from the room: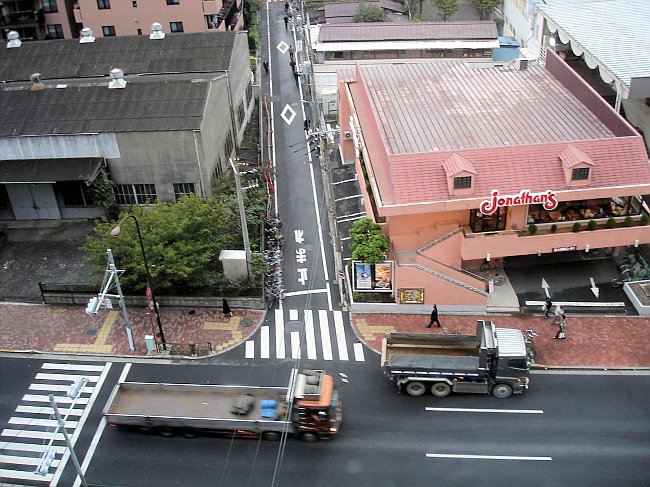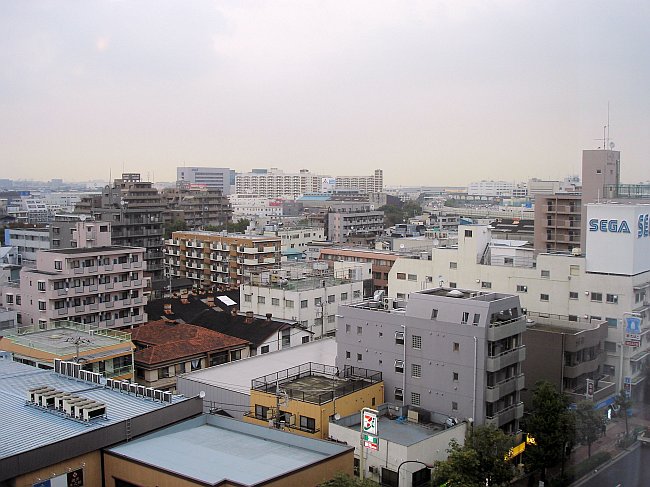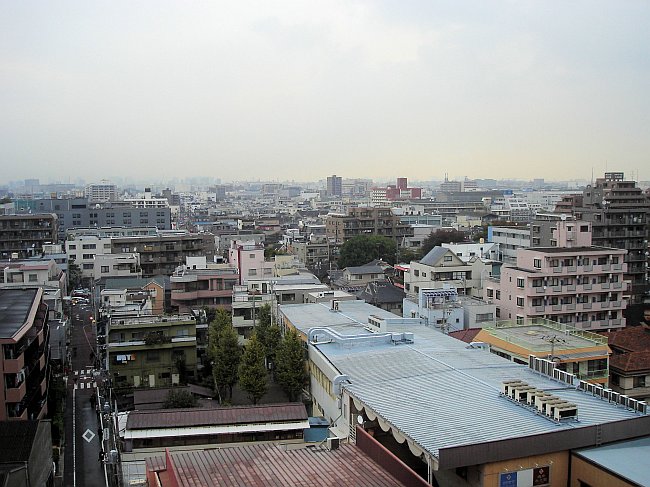 Friday, 02 November 2007
Tokyo (HND) - Osaka (ITM)
ANA - All Nippon Airways, NH019
10:00-11:05 (10:03-11:09)
Flying time: 00:50 (hrs)

Boeing 777-381
JA754A (s/n 172), delivered in 10/1998
Economy Seat 61J
Fast Check-in
The shuttle bus ride to Haneda Airport took less than 10 minutes. There was also a group of young ladies in the bus - apparently JAL flight attendant trainees who had fun with learning aviation-related English words. We entered the same check-in area as I did the day before and didn't have to wait more than five minutes. Again a very kind welcome, a kind treatment and after three minutes we got our boarding passes. We didn't ask for a possible upgrade this time as we wanted to try the dense Eco seating on this bird. Pokemon characters help to check-in with kids: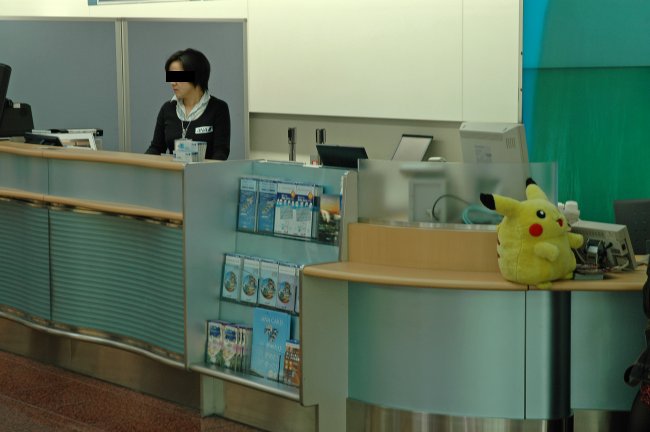 Picture by Satchmo
We had plenty of time left so we stayed at the Terminal 1 observation deck for a while before returning to Terminal 2. No lines at the security checkpoint and the well-known friendly officers again - this time bowing and smiling happily after receiving my belt for a check...
The 524-Seat Twin-jet: World Record
Gate 62 was used for our service to Itami today, just a short walk from gate 59 I had had for the Kobe flight. As planned, a 777-300 was being prepared at the gate. JA754A is one of seven 777-300 (non-ER) in the ANA fleet - all of them equipped with
524 seats
(C21Y503). That's the world's highest density configuration on a twin-jet.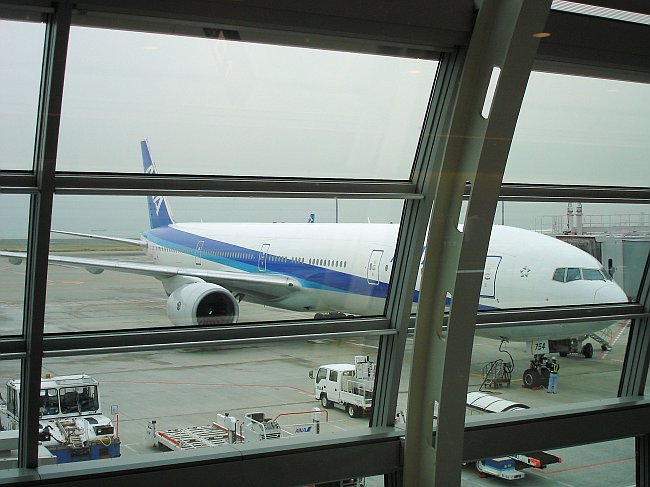 Flight information chart: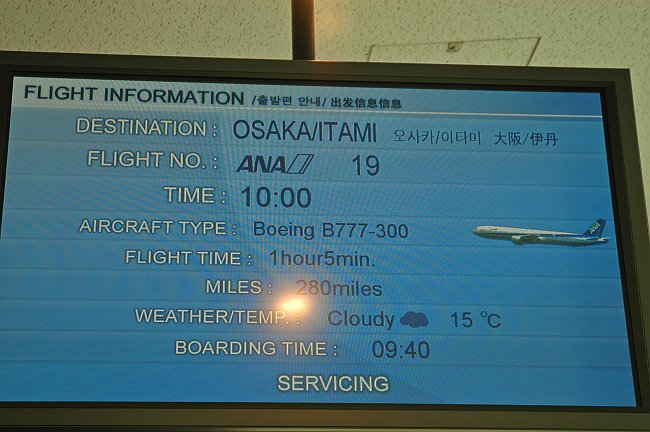 Picture by Satchmo
"Thank you for Boarding"
The gate was packed with business travellers who quickly went in line after boarding was started. We waited for a while and just when I was ready to hand out my boarding pass, an ANA agent signaled I should wait - one of the ANA premium pax heading to the entry had the precedence. Then, very friendly F/As welcomed us on board, this time even saying:
"Thank you for boarding"
.
Cabin Comfort & IFE
By walking through the cabin I estimated the load at some 70-80 percent. Overhead screens were used for front camera views (takeoff and landing) and TV features, headphones were available for audio features. Cabin in 3-4-3 configuration (taken later in the flight):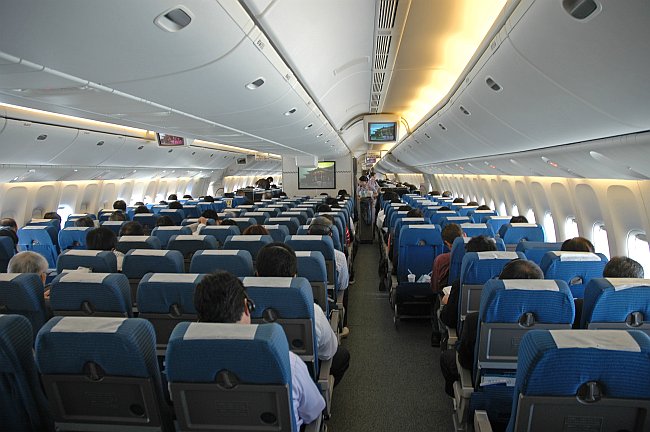 Picture by Satchmo
Old-style standard seats on the 777 - in contrast to the new slimline seats on the 767: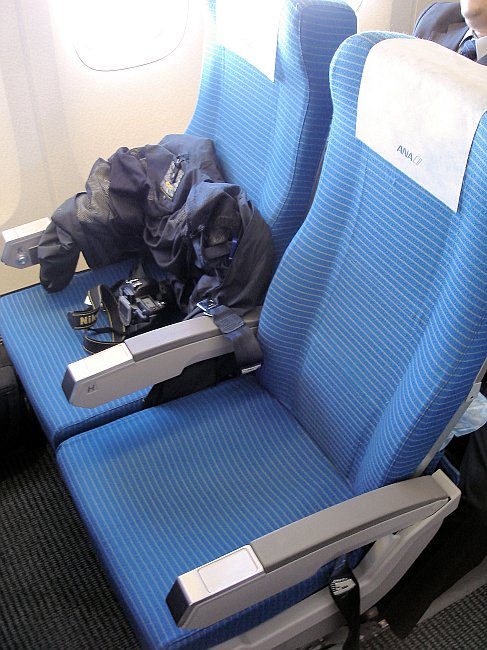 Seat pitch absolutely sufficient for that short flight - I didn't feel cramped at all: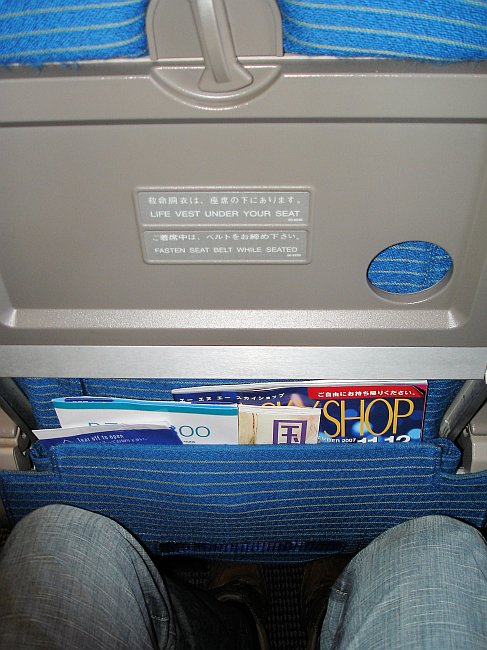 Powerful Takeoff
JA754A was pushed back three minutes after 10:00, with sister-ship JA753A parked on the right: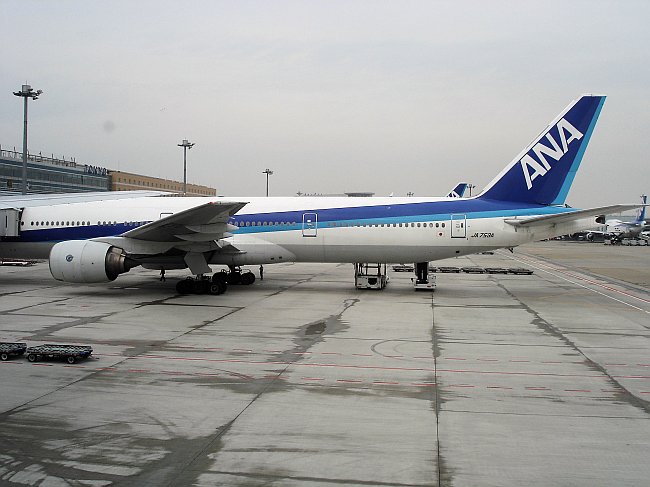 We entered runway 34R eleven minutes later and JA754A started its powerful and short takeoff roll. This time we were adequately seated on the right side for the sharp right turn: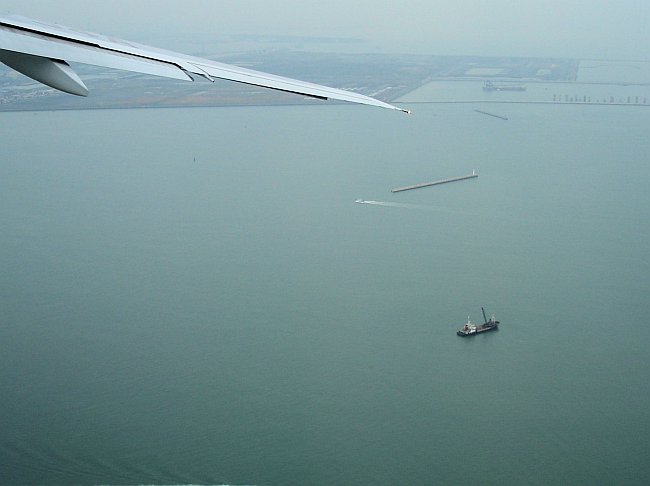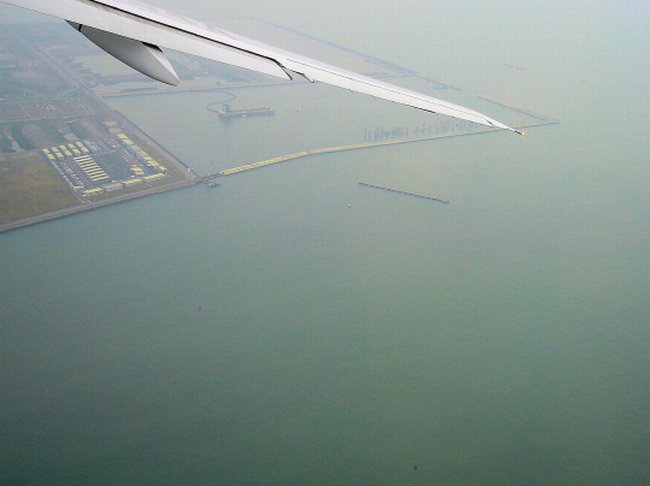 Not surprisingly, the 777 climbed quickly to cruise altitude. Thick clouds under a beautiful blue sky: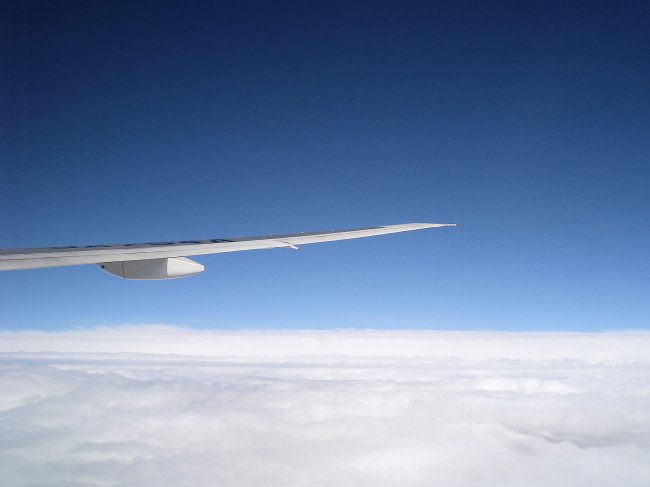 Drink Service
I ordered a tasty coffee with extra sugar - exactly what you need for a long spotting day.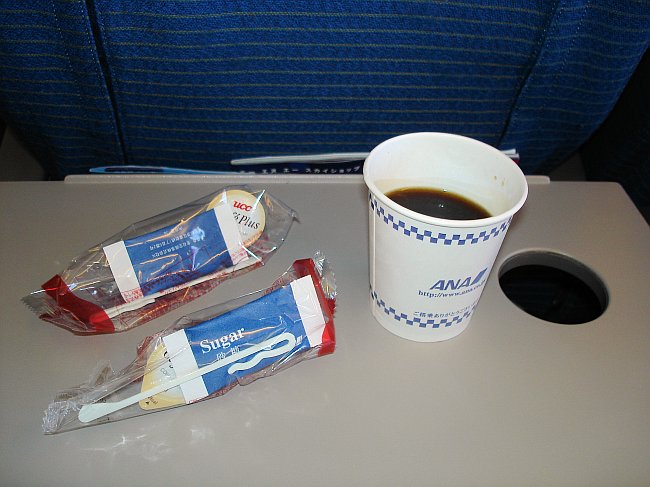 Approach
After some 35 minutes in the air we already started descending, passing through the clouds...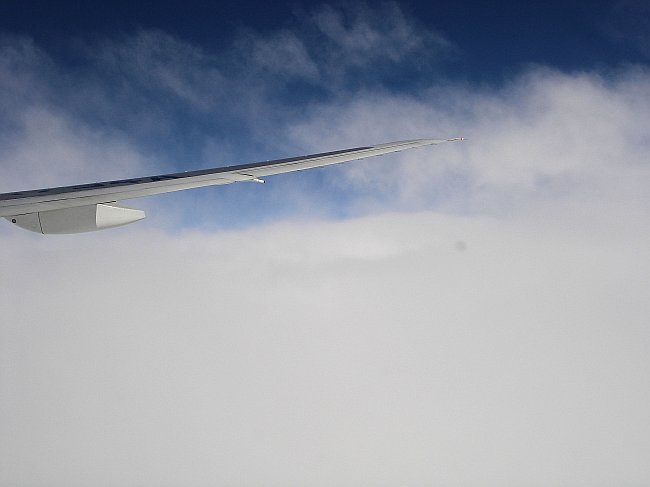 ...and "diving" into an impressive "sea of houses" for landing at an airport completely surrounded by residential areas: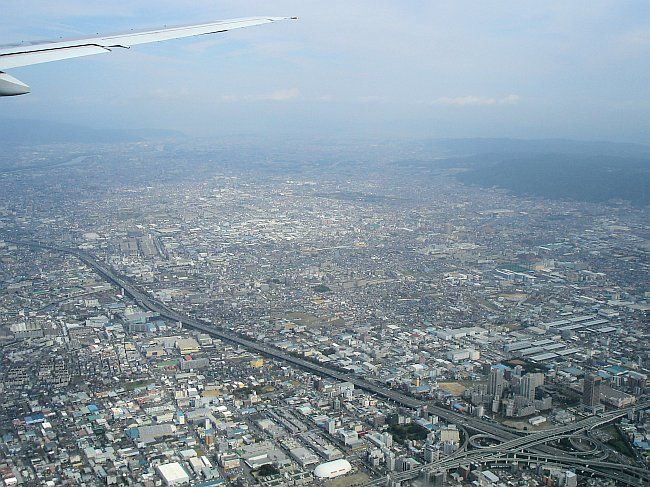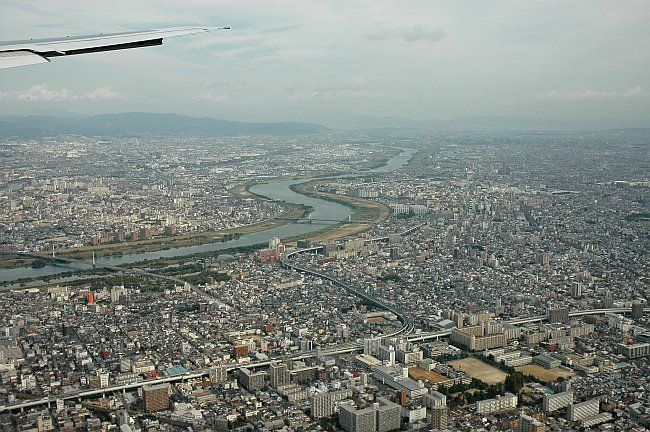 Picture by Satchmo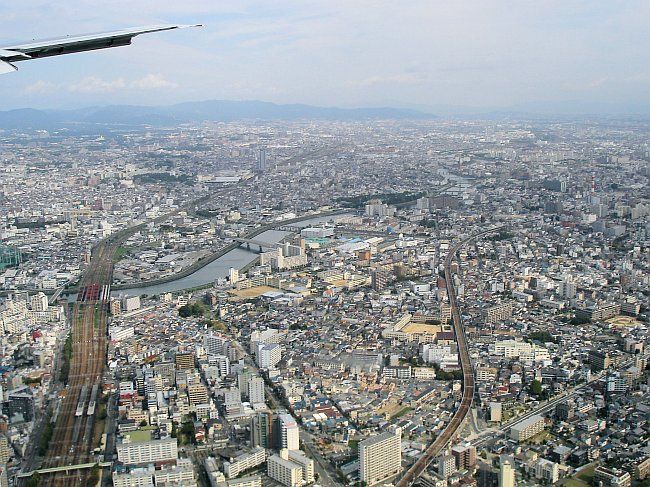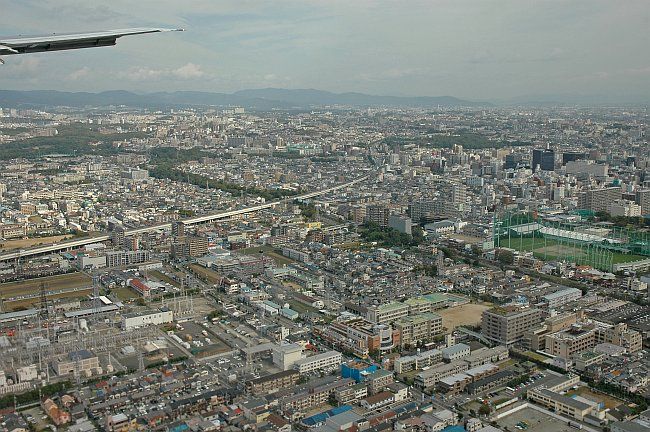 Picture by Satchmo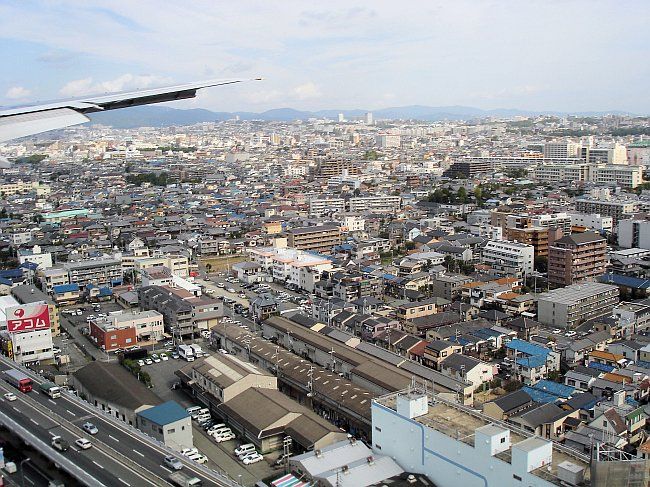 We touched down at runway 34L and arrived at the gate at 11:09 - four minutes behind schedule.
Wingtip check by a ramper: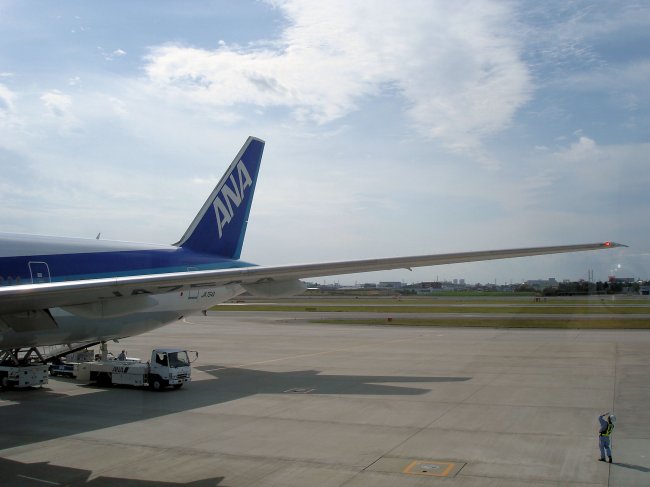 Osaka-Itami Airport
Even though the airport is officially designated as "Osaka International Airport", the scheduled air traffic is entirely domestic. Kansai International Airport took over Osaka's international traffic when it opened in 1994. Both Kansai (27 miles away) and Kobe Airport (16 miles away) are competitors for domestic traffic.
The area around ITM is densely populated which has resulted in protests against the airport over the years. In 1981 the Japanese Supreme Court of Japan ordered the government to pay damages to residents and impose limits on operating hours. There were even plans to close the airport following the opening of Kansai, but the idea was dropped due to economic reasons. Effective from April 2006, aircraft with more than two engines have been banned by the government.
Spotting Facilities
With roughly 17 million passengers per year, ITM is not among the busiest airports in Japan. The variety of airlines and aircraft is limited, but it's a good place to catch the smaller types such as DHC-8-400s, CRJs or Saab 340s. However, what makes Itami such an enjoyable airport is the fantastic observation deck (free of charge). Many green spaces, small trees, colorful flowers and wooden planks provide for a special, somehow cozy atmosphere which you hardly find elsewhere.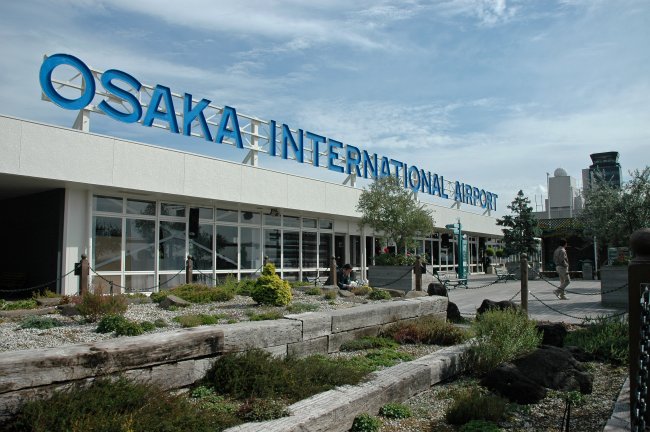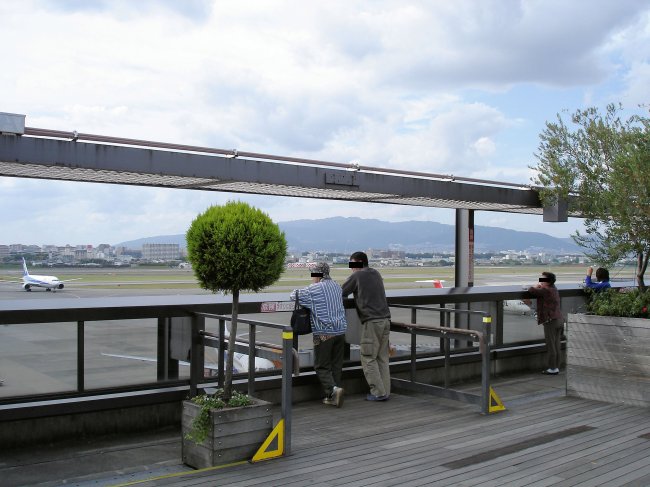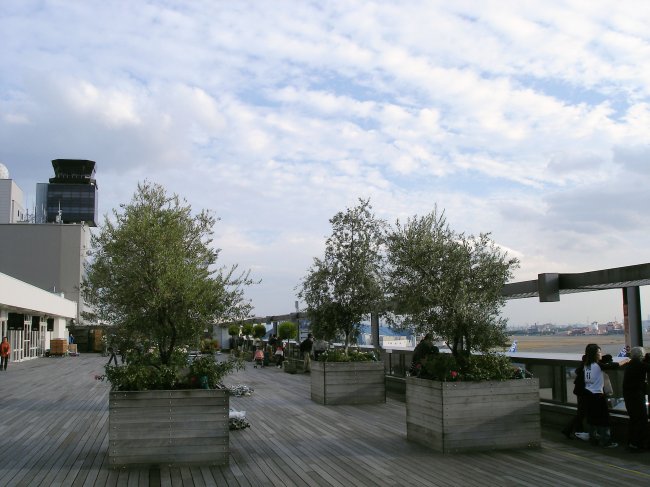 Satchmo's
and
PlaneHunter's
luggage and equipment - strategically placed next to drink vending machines. I can only recommend to try the Minute Maid grape juice.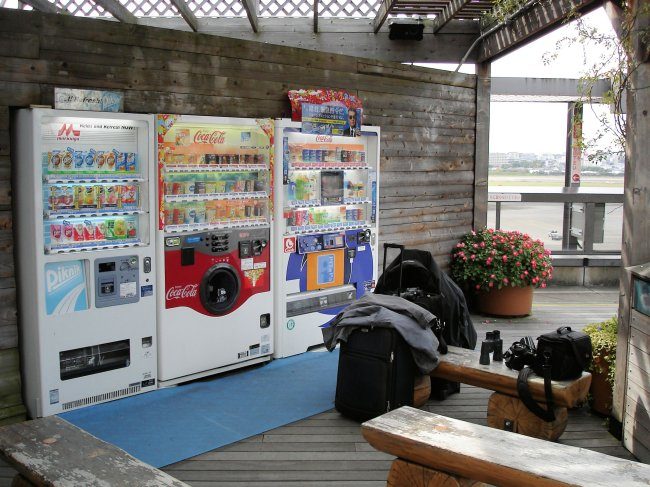 The "ANA side"...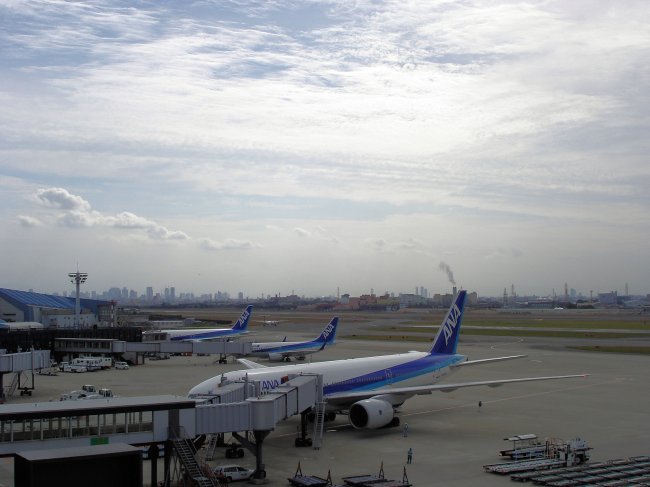 ...with JA754A still parked at the gate...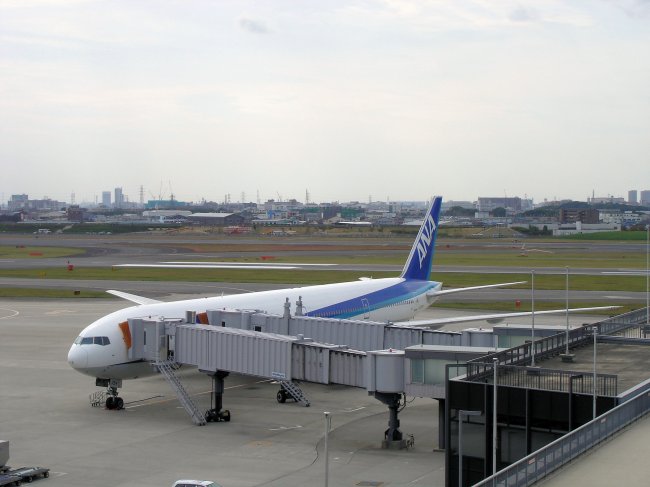 ...and the "JAL side" of the airport: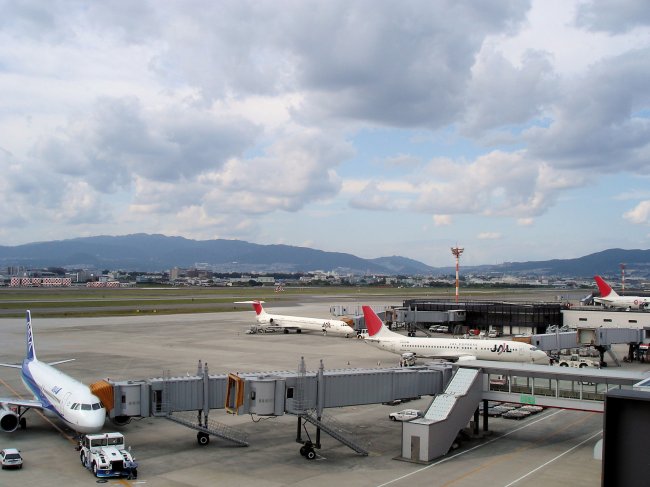 Food Plaza!
It's not just the observation deck itself which makes Itami so attractive in my opinion - I was also impressed by the wide range of restaurants, shops and an outstanding bakery in the terminal hall. What a giant food plaza! Here's what I bought at a restaurant and took to the observation deck: pieces of chicken breast, rice and fresh slices of ginger. Very tasty and rather cheap (some five Euro).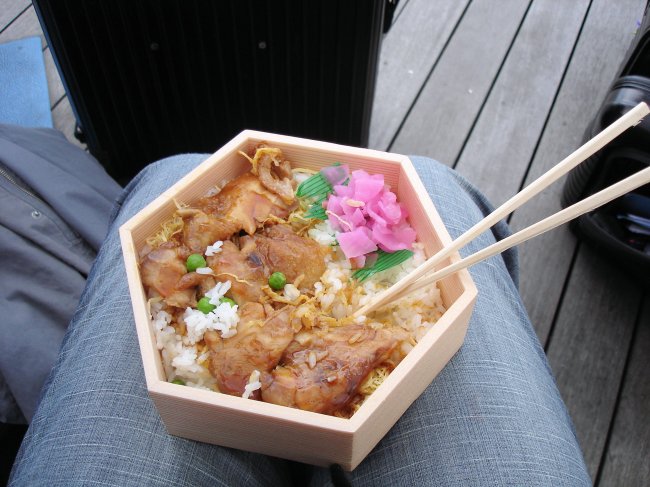 Viewing Park
Taking pictures can be difficult with the facing sun in the afternoon, so Satchmo took a bus and moved over to the other side of the airport where you can also find a large viewing park.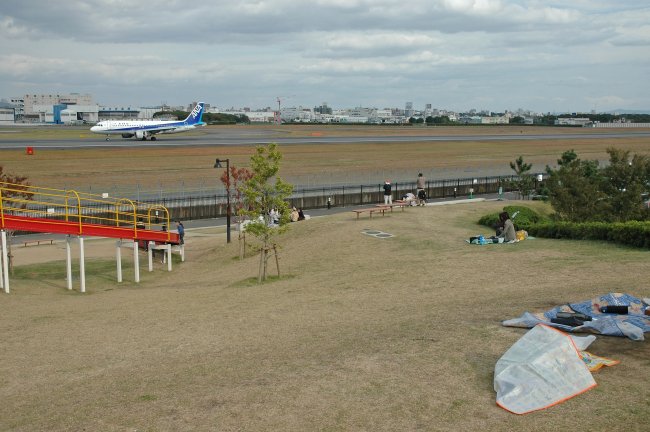 Picture by Satchmo
Picture by Satchmo
Evening Hours
Traffic can be low sometimes but it gets more busy in the late afternoon. Here's JA754A again - being towed to its gate for a late afternoon departure to Haneda. Interestingly, it had been parked at a remote position all day after our arrival in the morning. Actually, no other 777-300 has arrived during our stay.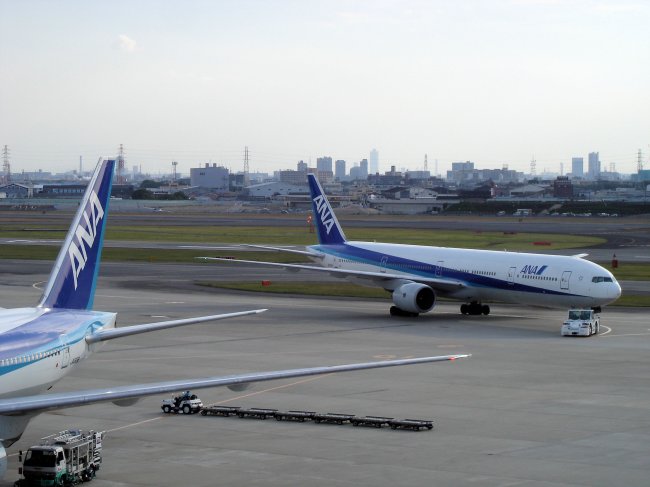 JA754A being prepared for takeoff under a pink sky:
An ANA 763 taking off during sunset - time to say goodbye for us: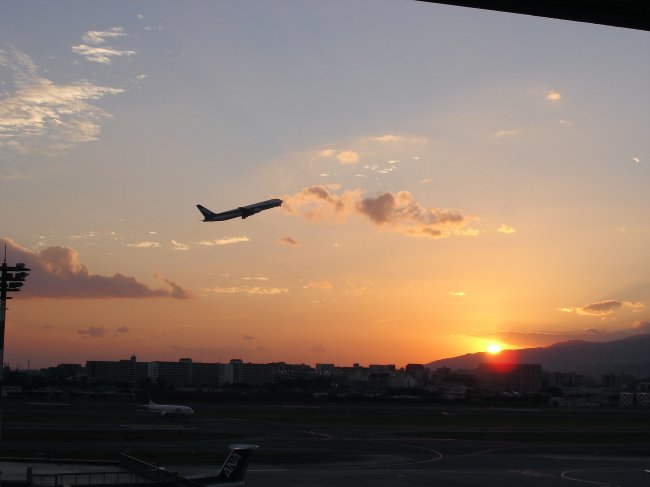 Journey to Kansai
We bought tickets for the next available bus service to Kansai Airport and enjoyed a journey through Osaka's dense evening traffic. After some 90 minutes we arrived at Kansai, decided to buy a reasonably-priced box of Sushi for dinner and took the shuttle bus to the Kanku Hineno Station Hotel located on the mainland. Fresh and tasty Sushi: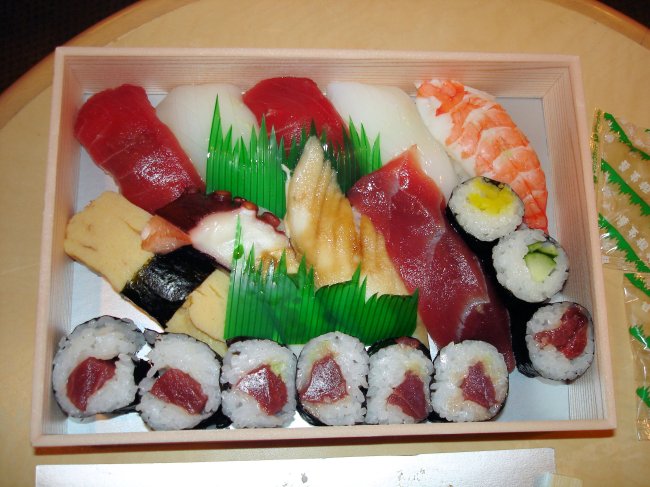 Conclusion
Flying
ANA
was a true pleasure again: friendly and efficient staff on the ground and in the air, clean cabin, sufficient seating comfort. I even got 417 M&M miles for that short (and cheapest available) flight - not bad considering that you only get 125 miles for similar LH short-haul flights. After finishing my series of Japan domestic flights I really can't say which is my favorite carrier - I would fly all of them again, ANA, JAL and Skymark. In the end it depends on the fare and the aircraft type...
Next report: KIX-HEL-MUC on Finnair MD-11 and A320
Best Regards,
PlaneHunter