Here's another report from me… This time a round trip on Thai Airways Royal First class from Bangkok to Sydney. Famous for its inconsistency, on a good day you can enjoy top notch cabins with great service while on a bad day you'll fly on ancient junk with indifferent crews. I experienced both on this trip.
05 June 2007
Bangkok Suvarnabhumi (BKK/VTBS) – Sydney Kingsford Smith (SYD/YSSY)
Thai Airways International TG/THA 995
Boeing 747-4D7
HS-TGZ "Phimara"
0045-1245 – On Time
Royal First Class, Seat 1A




126th Boeing 747 flight, 95th on 747-400 all pax, 3rd on HS-TGZ
Online check-in revealed the dreaded fact that Thai had once again downgraded my flight from a 7443 configuration to the awful old 7442 configuration. No other options were available this close to departure, so that's what I had to take. In Royal First it's somewhat tolerable but I can only imagine what went through the minds of the Royal Silk (business) passengers sitting in their awful old seats…
I arrived at Suvarnabhumi around 8pm as I wanted to try the new Royal Orchid Spa. After confirming that I was in F, a TG porter escorted me to the serene surroundings of Royal First check-in, separated by walls from the rest of the check-in area. I relaxed in a sofa while somebody processed the paperwork, and then escorted me through fast track immigration and with the electric cart to the Royal First lounge.
Lounge entrance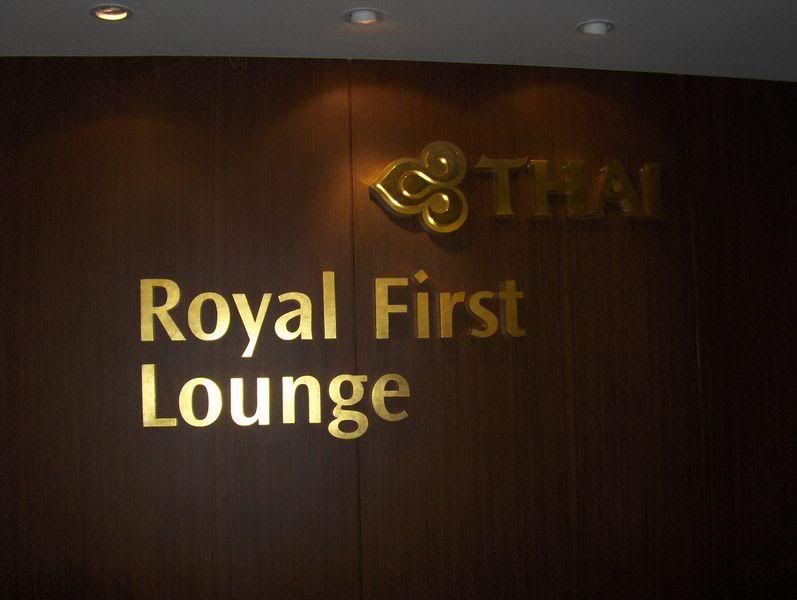 Ordered some Moet&Chandon and Perrier first, and made an appointment for the full Thai massage at the spa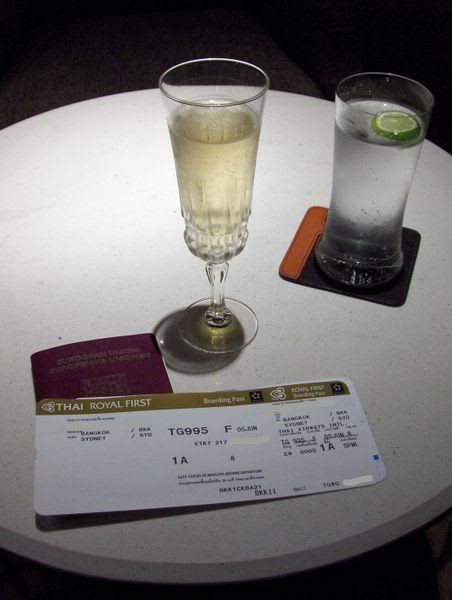 New style F boarding pass
Feeling hungry – ordered some noodles with prawns and club sandwiches, tasty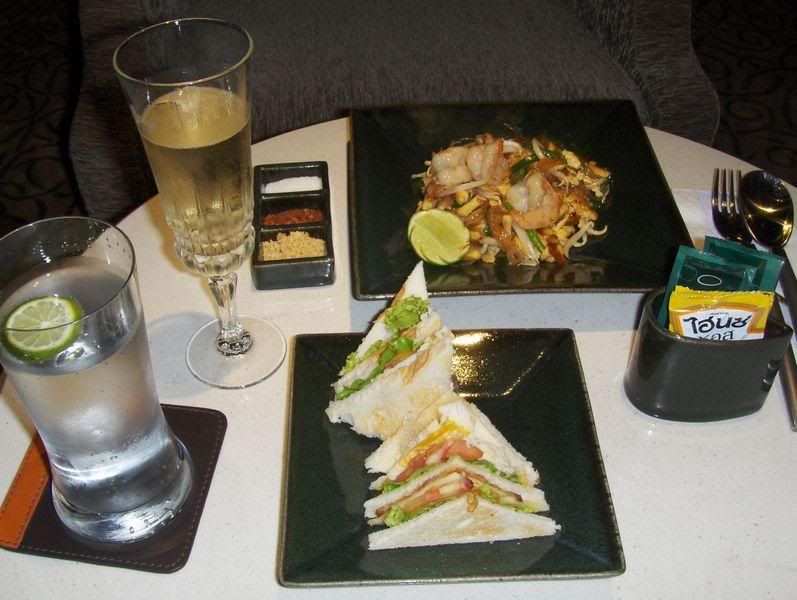 The spa was not busy, so I got my appointment at 10pm. Spa entrance.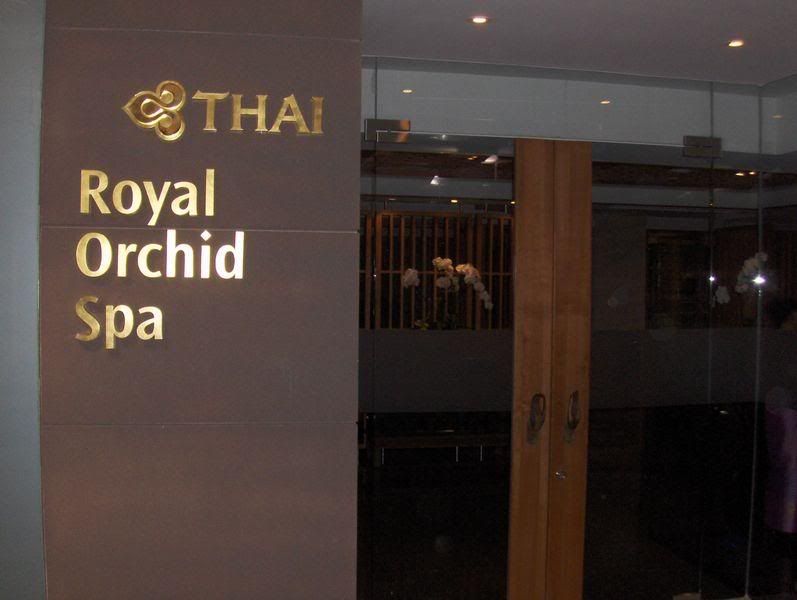 Inside the Royal Orchid Spa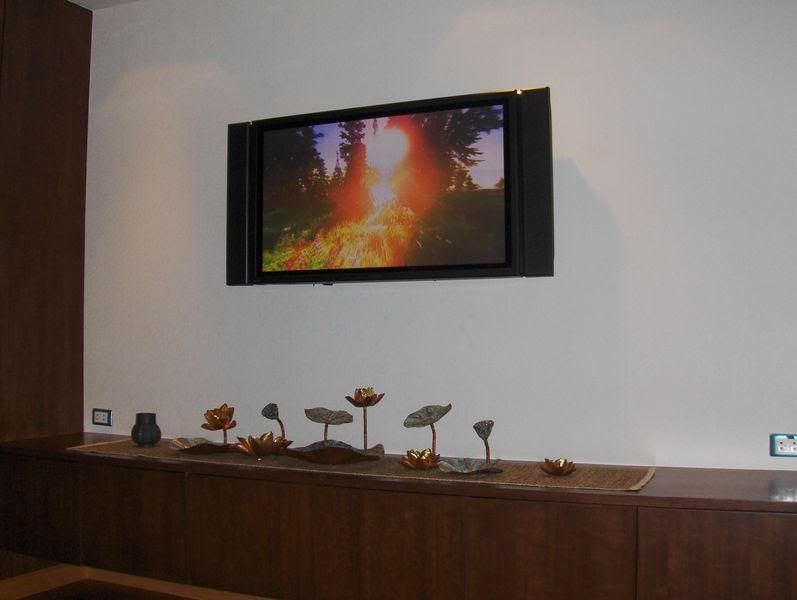 Jacuzzi tub in the massage room, didn't get to use it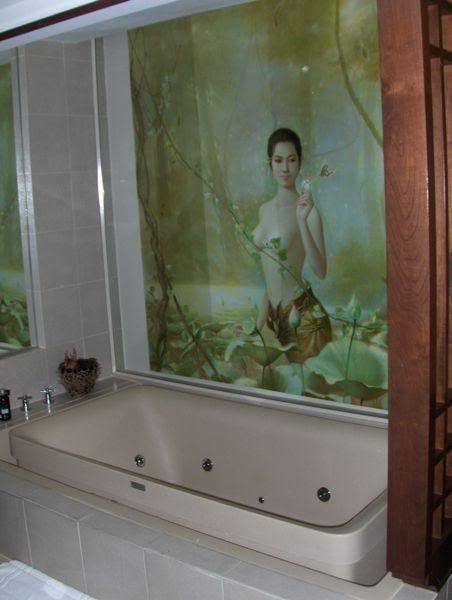 Massage table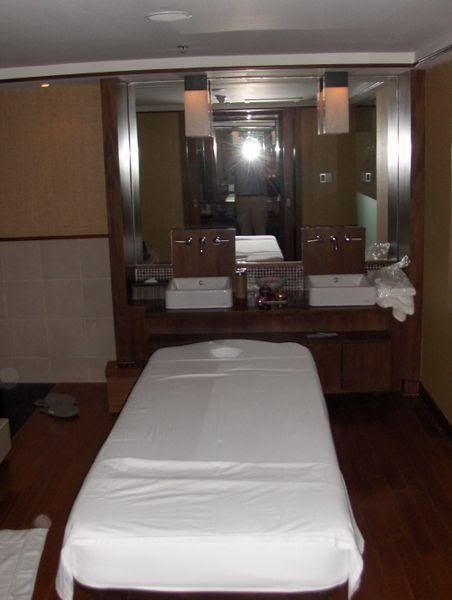 Shower area, L'Occitane toiletries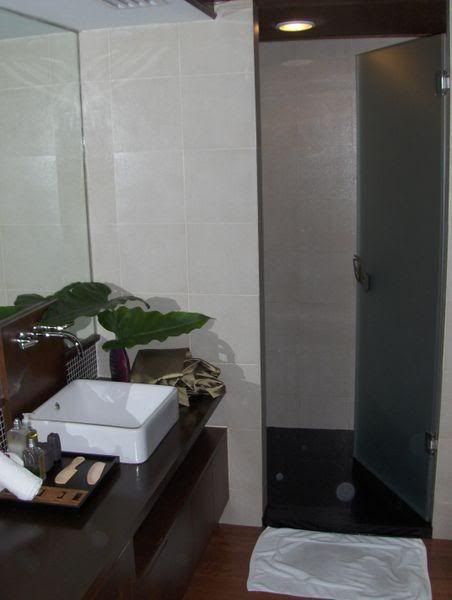 The massage was excellent, a huge step up from the basic neck etc stuff done at Don Muang F lounges. I then headed back to the F lounge, and sat at one of the semi private rooms with flat panel TVs. No English programs available at that point, hope that is corrected by now.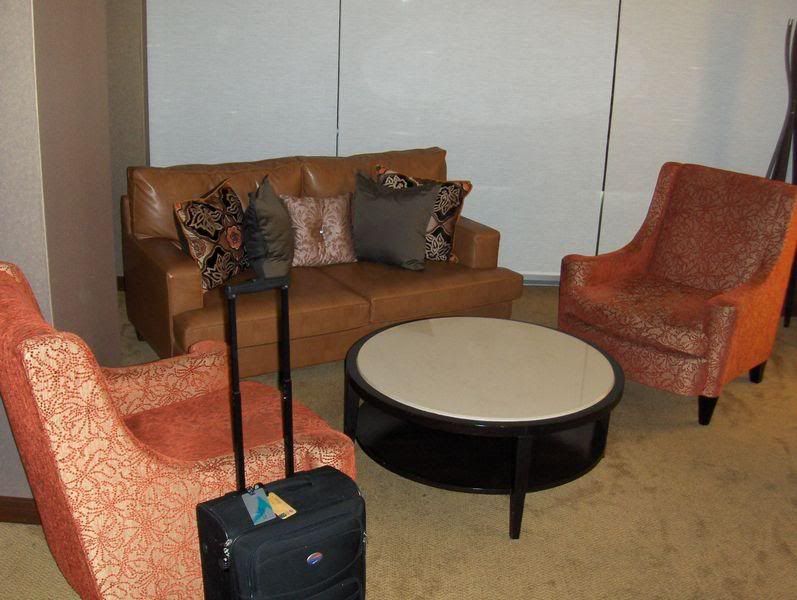 Some sandwiches, flushed down with more Moet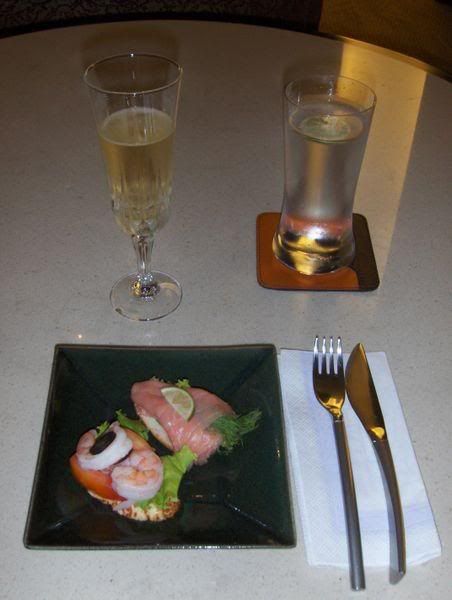 At around 0030, an agent escorted me to an electric cart and drove me to the E concourse for boarding. Distances are huge, so that was appreciated. Escorted through security as well, and what did I see? HS-TGZ waiting, the same bad surprise as on my BKK-HKG two months earlier that was supposed to have the new seats as well… Ground services for F are top notch in BKK, can't fault anything really.
F class electric cart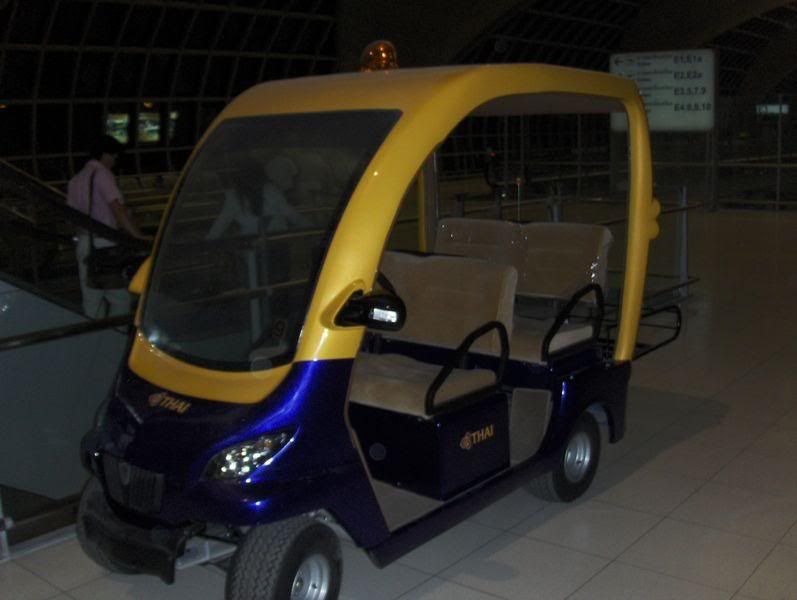 Gate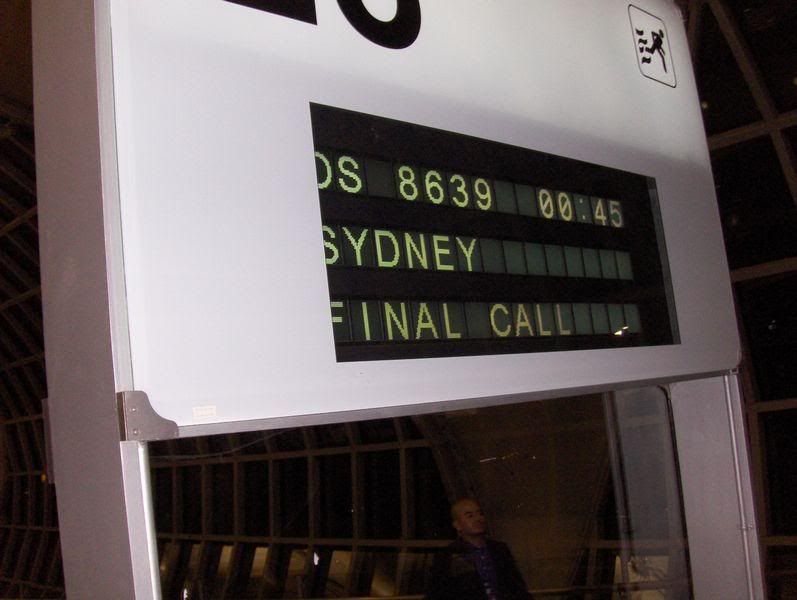 Was greeted by the crew and escorted to my seat 1A. The load was light, around 5 pax out of 14 seats. However, the seats are extremely narrow for F, and worn out to the point that you can feel some metal bars behind your back. I'd rather have the thick and plush even older seats that they had on the B747-300 and most 747-400s before the retrofit. This product is simply business class standard nowadays.
The usual pre-flight routine followed – drinks, hot towels, menus, amenity kits, pyjamas.
Dom Perignon 1999, not poured at seat and not refilled before I asked, again business class service standard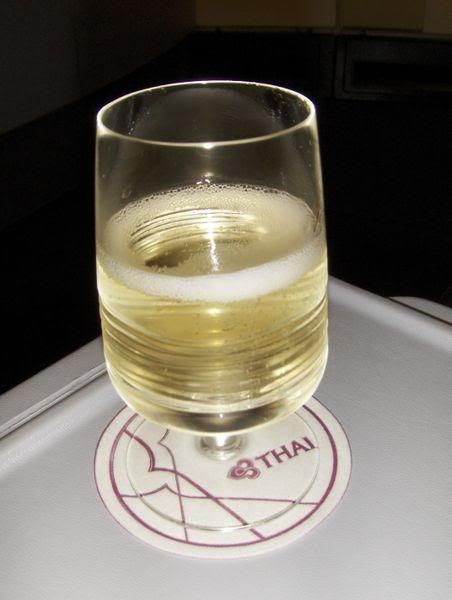 Seats 1J/K, I was the only one in row 1
Legroom is fine in row 1, much worse in other rows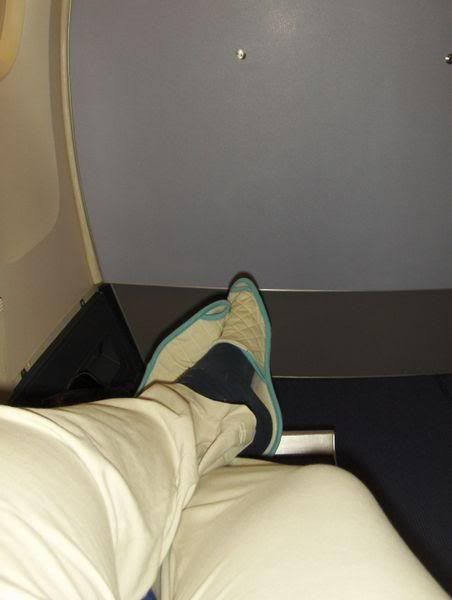 Menu and amenity kit, Hermes Eau D'Orange Verte products. Decent but nowhere near SQ or EK F kits.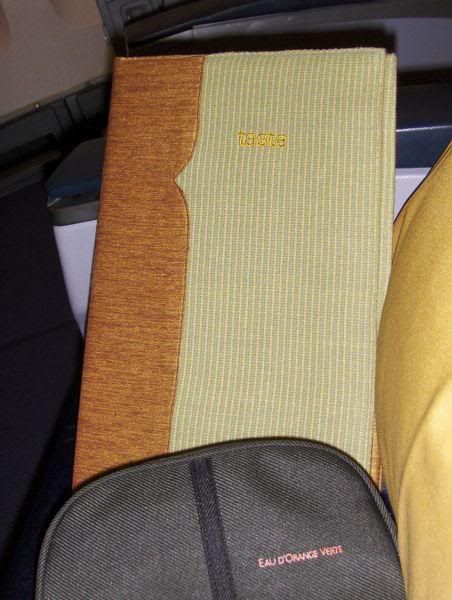 We were pushed back roughly on time for the overnight flight down to Sydney. Cabin was prepared for departure but nobody bothered to collect my empty champagne glass despite the low load in F. The usual noisy takeoff in the 747 nose followed, the nose gear noise could really scare some nervous flyers when hearing it first time.
Service started with drinks, but no canapés were offered. Johnnie Walker Blue Label and Perrier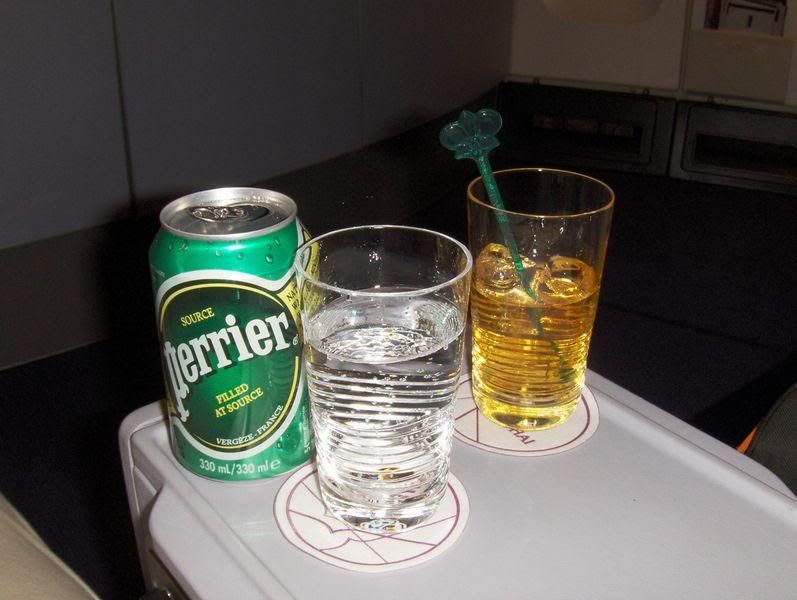 Supper service followed, no canapés or salad seems to be the difference compared to full lunch or dinner. Sadly caviar is gone from Royal First. Here's the menu: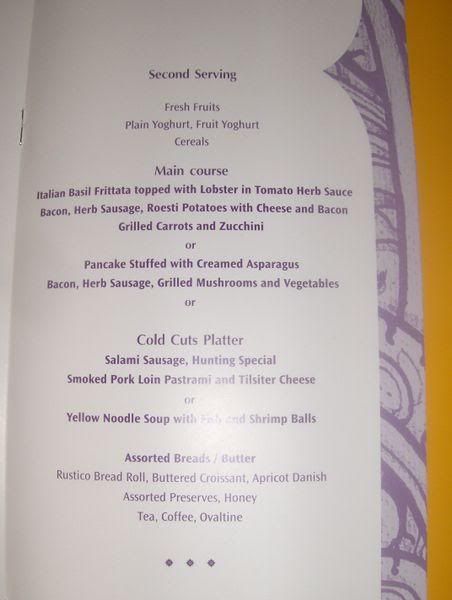 I had pre-ordered the Lobster Thermidor from Thai's Supper Royal menu, and it was loaded thankfully. Instead of specific codes for these meals like on SQ, agents need to specify just SPML and add a comment like "lobster". The agent who ordered my meals clearly had never done so before but thankfully both showed up.
Meal service was rushed and a complete service failure on part of the crew. Drinks were not refilled unless asked and they completely forgot my soup. To make matters worse, one simply plonked it down onto my table without any apologies after I had finished the main course. Being careless enough not to follow meal orders in a First cabin with 35% load factor is more or less unacceptable.
Starter – pretty nice and has lobster as well although not in the menu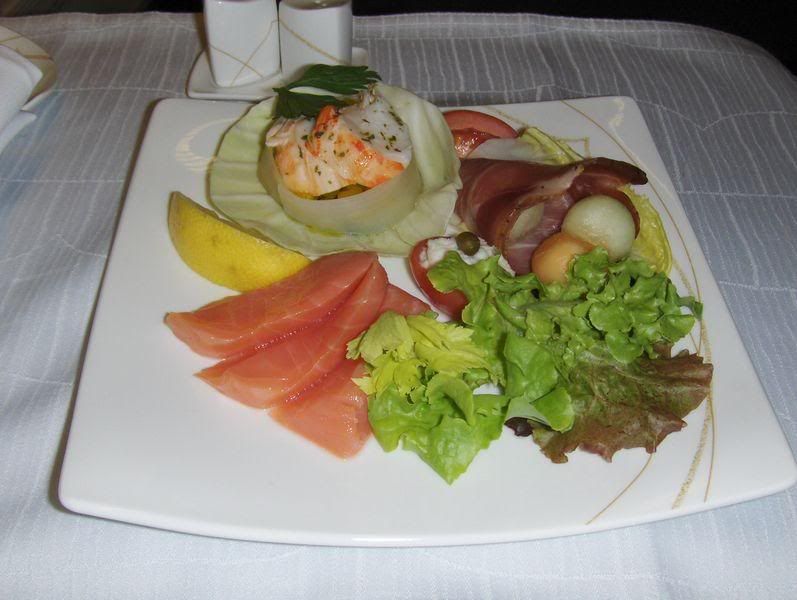 Table setup
Old TG logo on the butter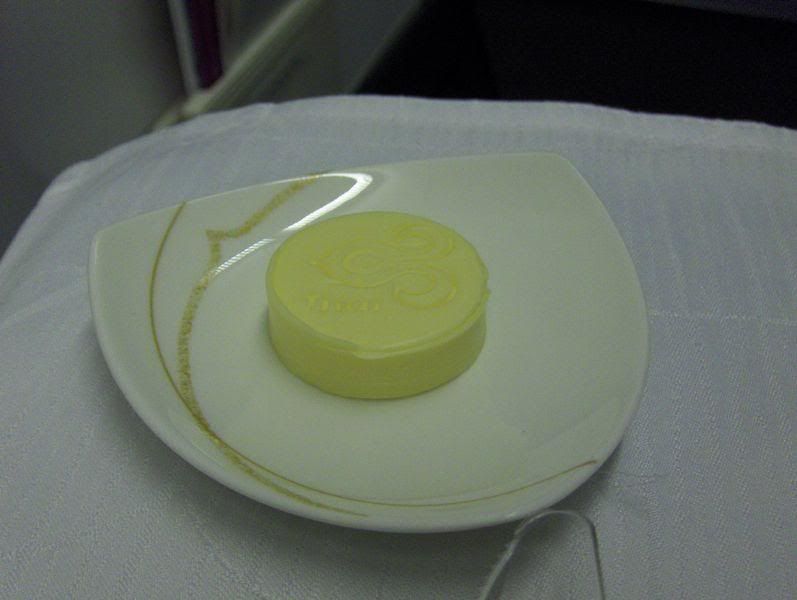 Lobster thermidor – pretty good this time. Somehow TG seems to overcook them always, but this one wasn't too dry.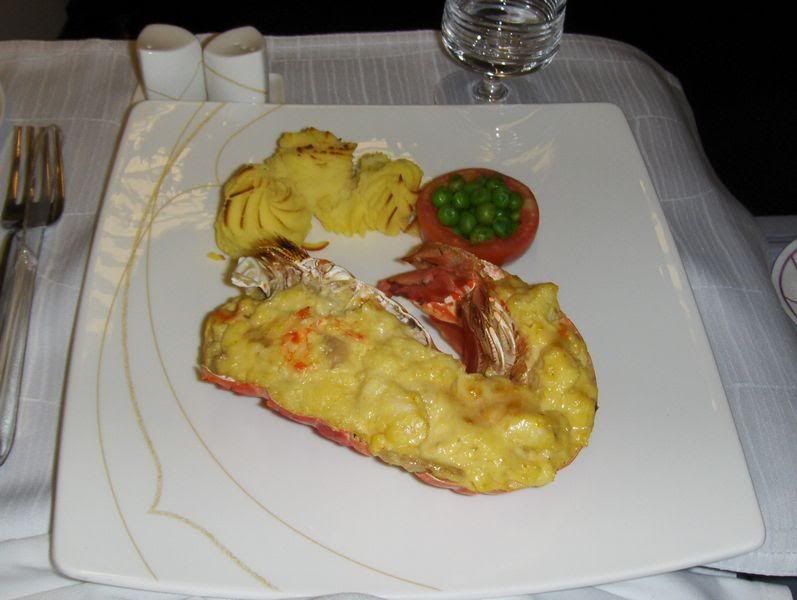 The soup they forgot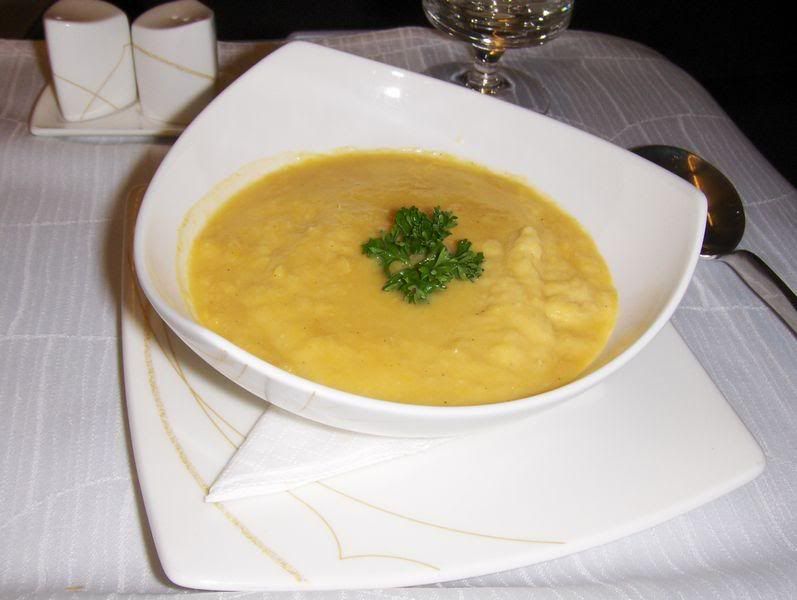 Cheese, accompanied by Warre's Warriot port and some more Dom of course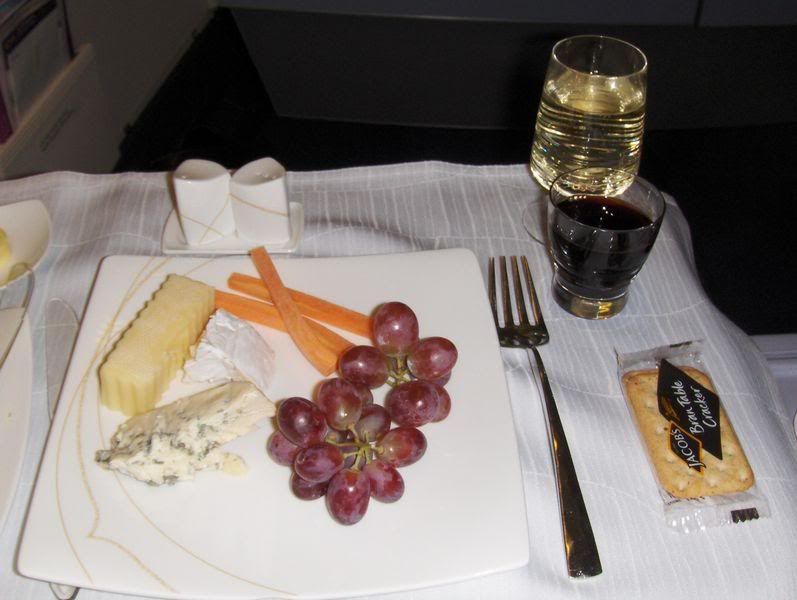 Dessert – poor. Drinks great – Hennessy Paradis Extra and Dom Perignon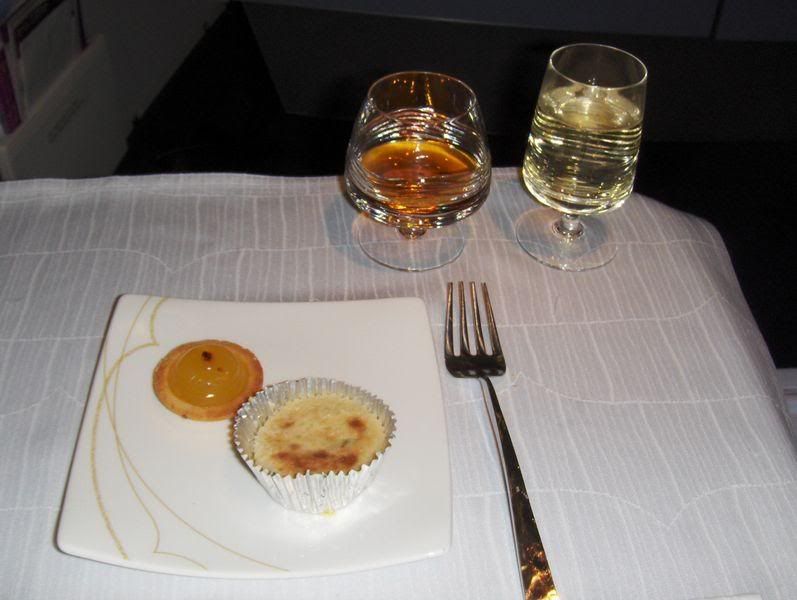 I called it a night after this nice meal and even better drinks. The Elle Homme PJs are pretty nice, and the seat is fully flat, just very narrow. On par with BA's now old Club World, I haven't tried the NNCW yet. But no matter how you put it, the seat is more like a business class seat than a F seat nowadays.
I woke up about an hour out of Sydney and was promptly served breakfast. I wouldn't normally bother, but for lobster I'll wake up…
The hideous plastic cup shows up again instead of a proper bowl
Large main course, tasty lobster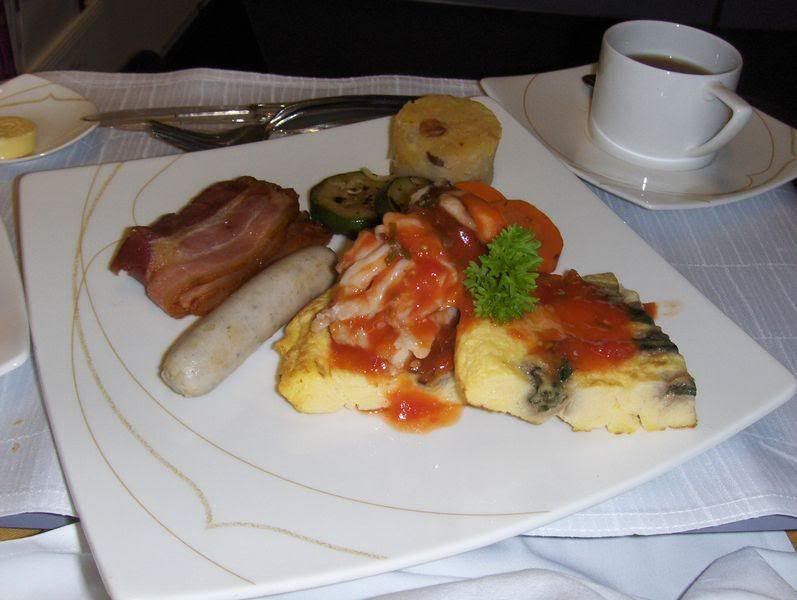 Had more Dom of course during and after breakfast.
The old configuration 747s have small non-AVOD PTVs in F and C only. I put on the airshow as we had already started descent into Sydney Kingsford Smith.
Interesting sticker, even has the mechanic's name on it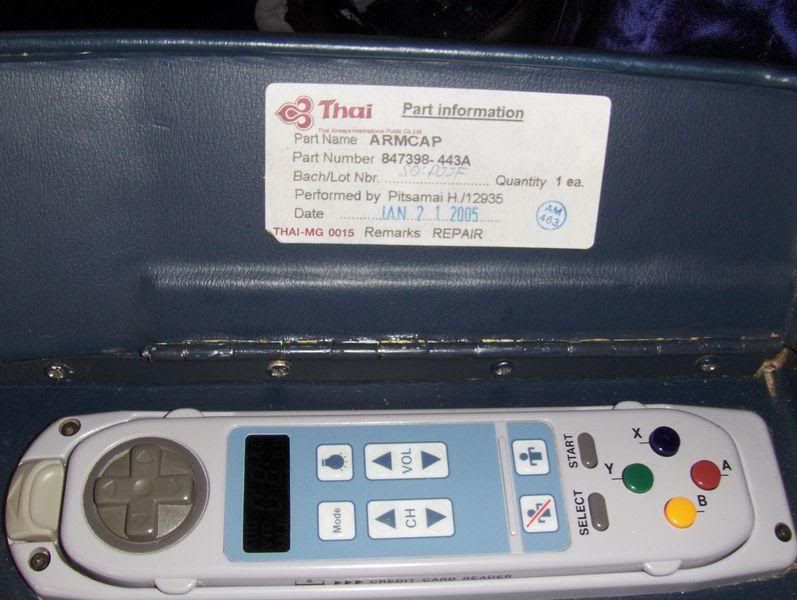 Typical Thai 747 bulkhead with temple images
The approach was great with superb views of the city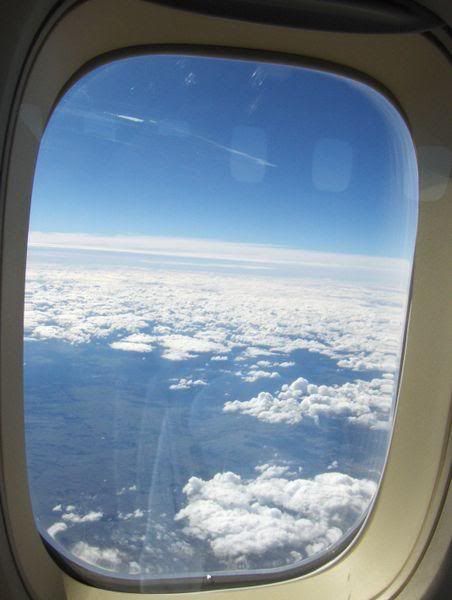 Passing a small airport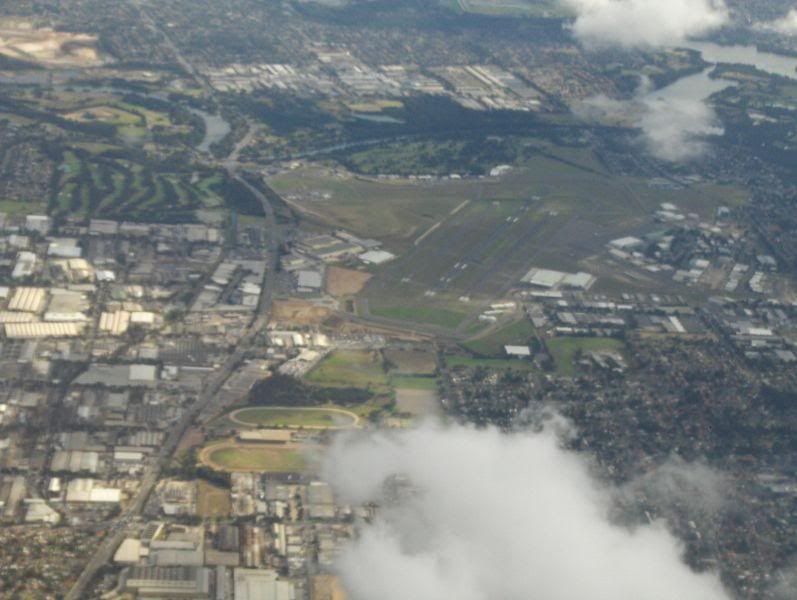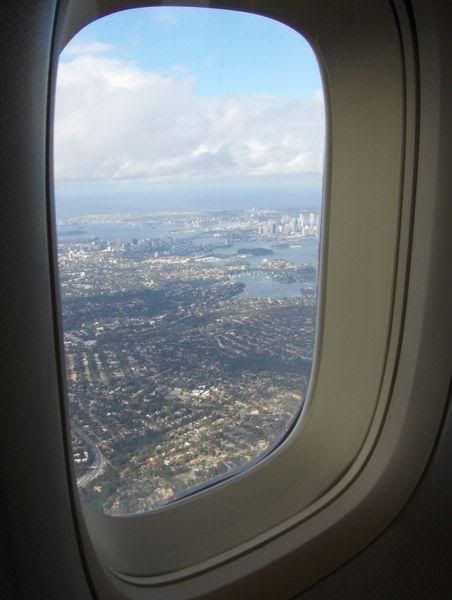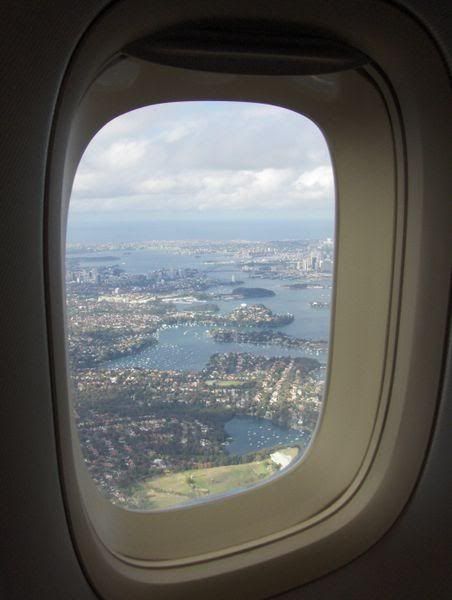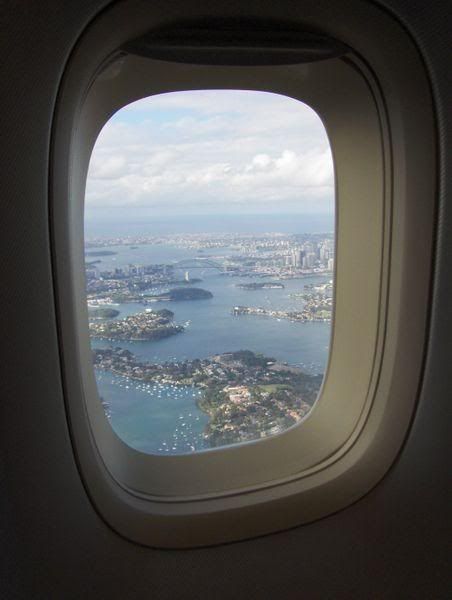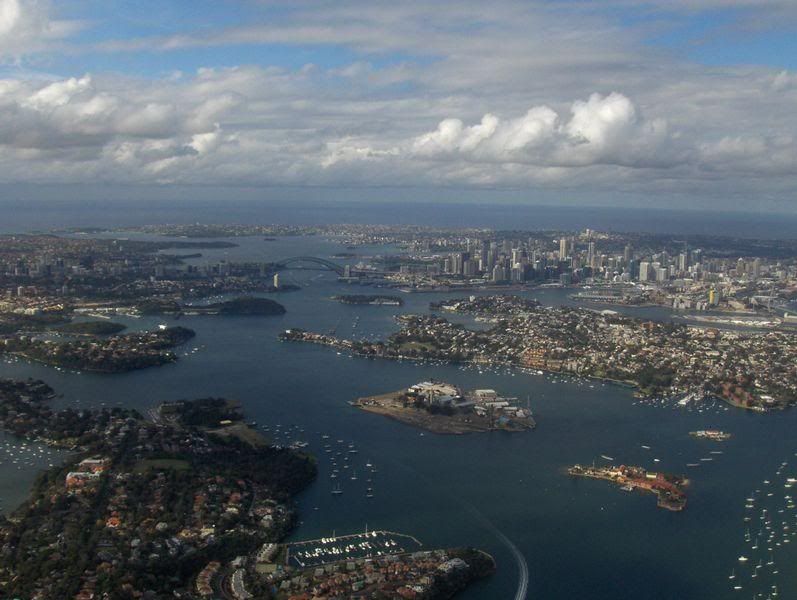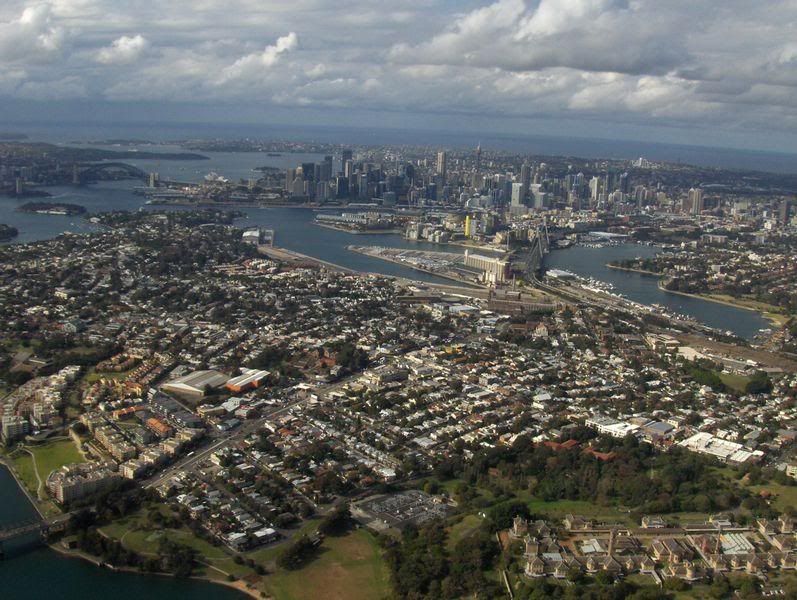 Final approach
Qantas Domestic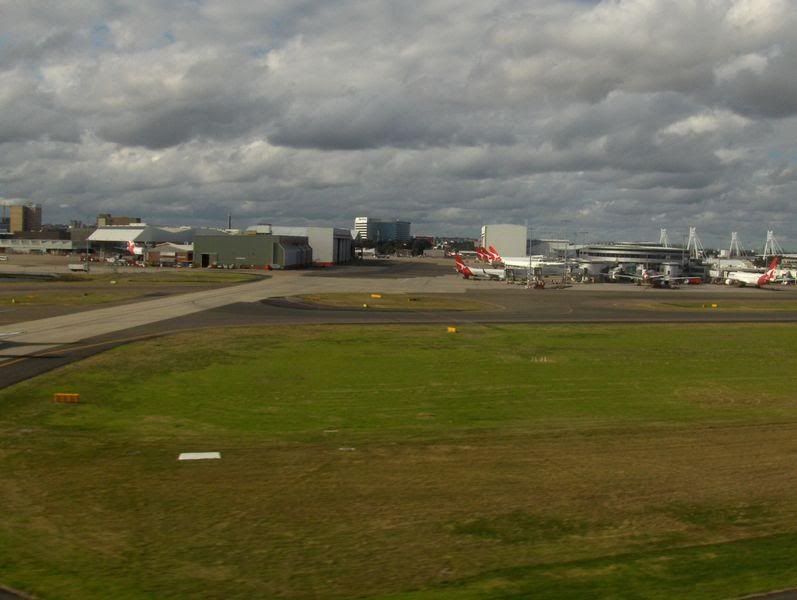 Sydney tower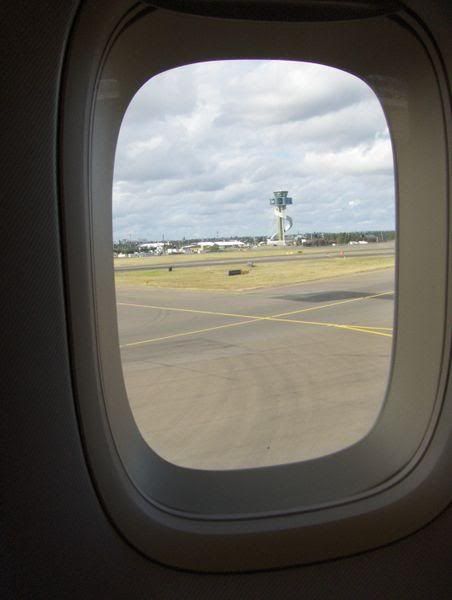 Views during taxi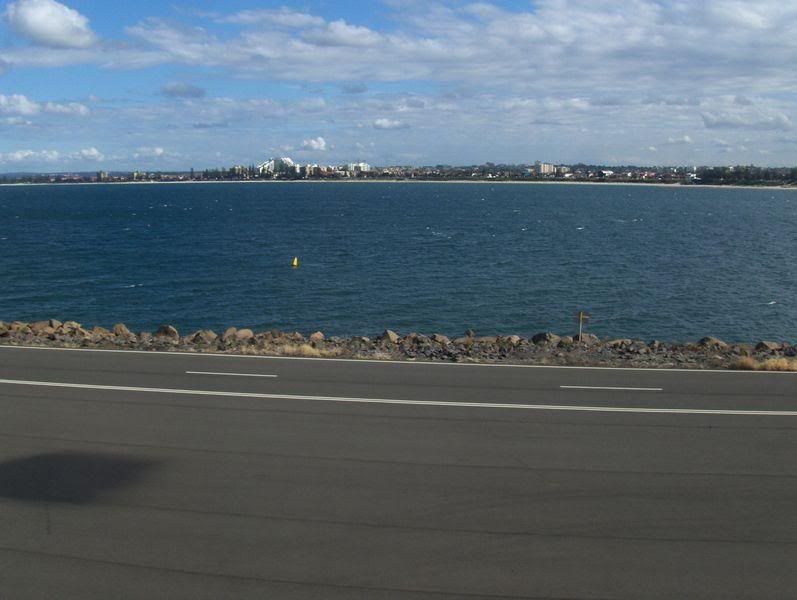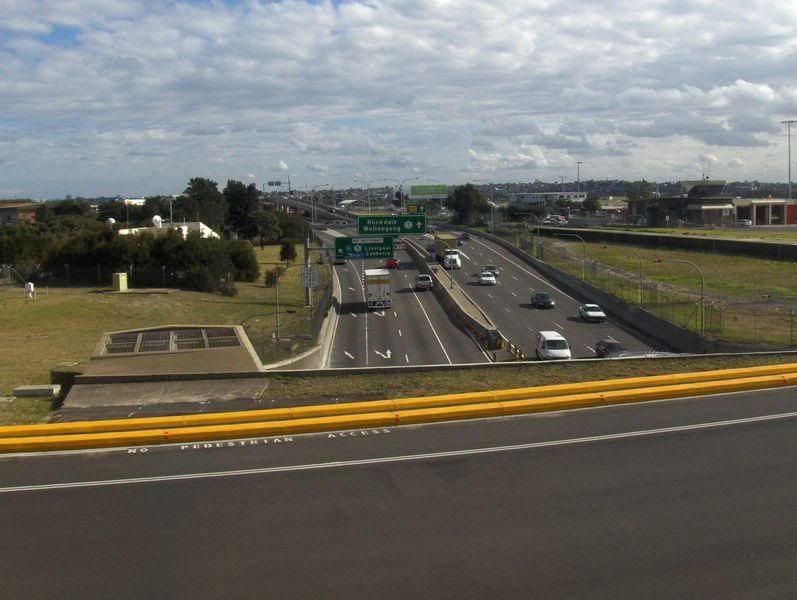 Immigration and customs were completely deserted, got my stamp in a matter of minutes, but customs again wanted to perform a search in the third degree. These officers seem to be addicted to hassling passengers coming from certain destinations… Never had these searches arriving from Hong Kong, but odds are you'll be searched when arriving from BKK/MNL/CGK.
Took the train to Circular Quay after the customs search.
Marriott Sydney Harbour at Circular Quay
I was planning to stay at The Westin, but got a much better deal at the Marriott so chose this one. It's not worth the regular rates though, a nice hotel but Westin/Shangri-La etc are significantly nicer in Sydney.
Executive Suite living room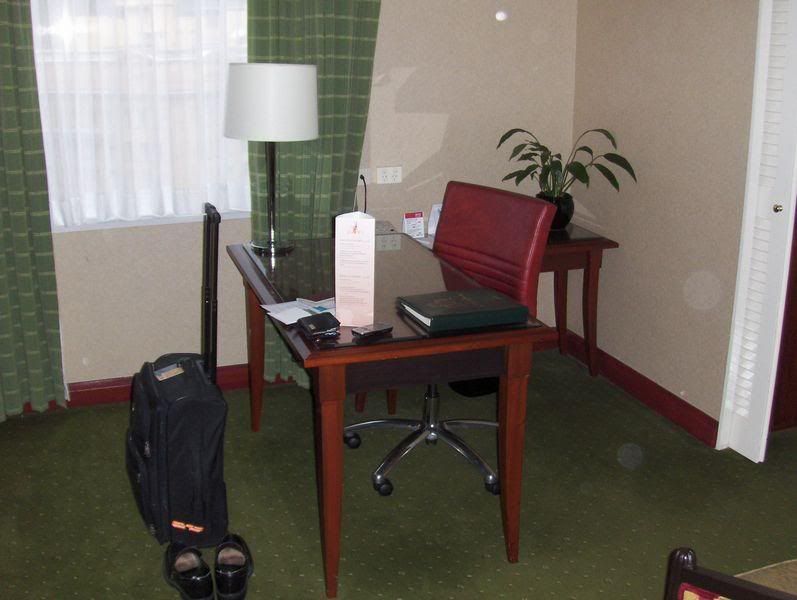 Bedroom, new Marriott Revive bedding which is great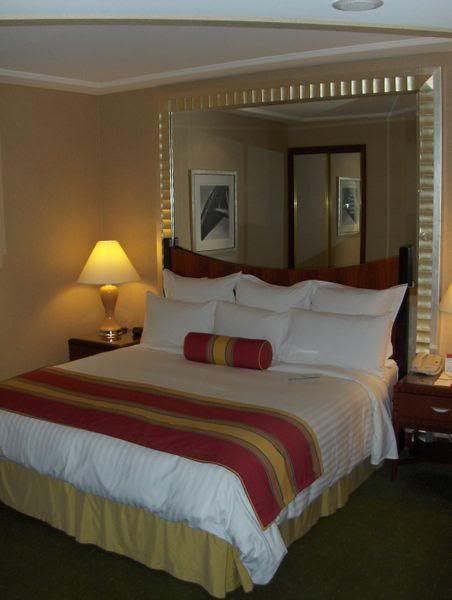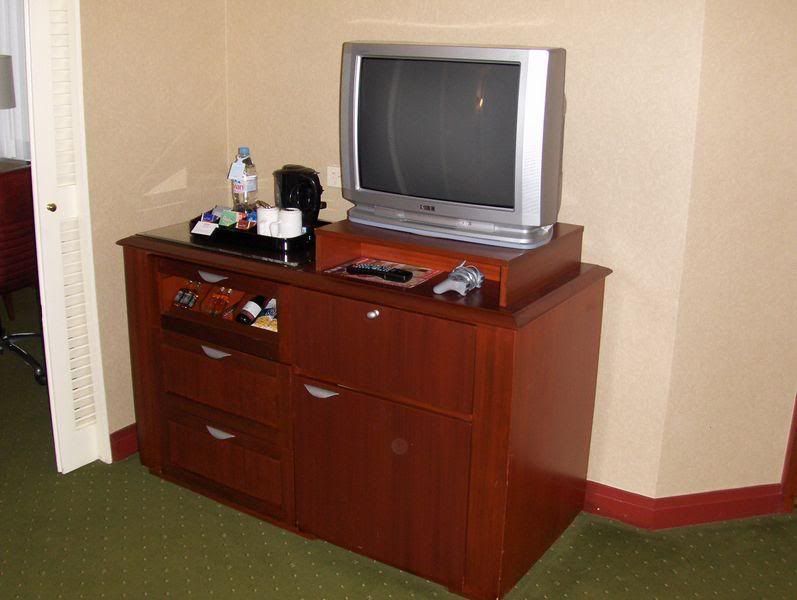 Bathroom – the tiles are hideous
Welcome gift – I chose a bottle of Australian sparkling wine and mixed ice cream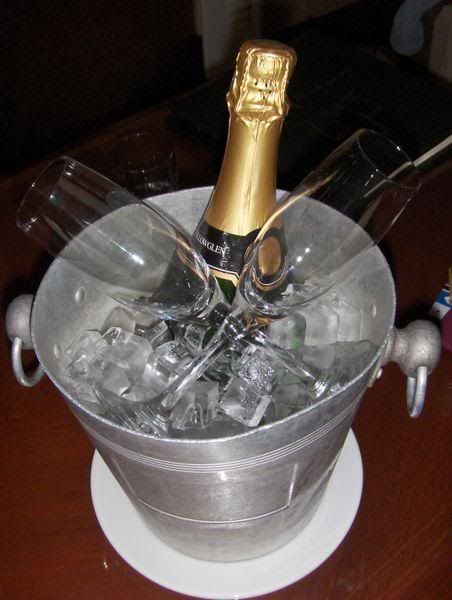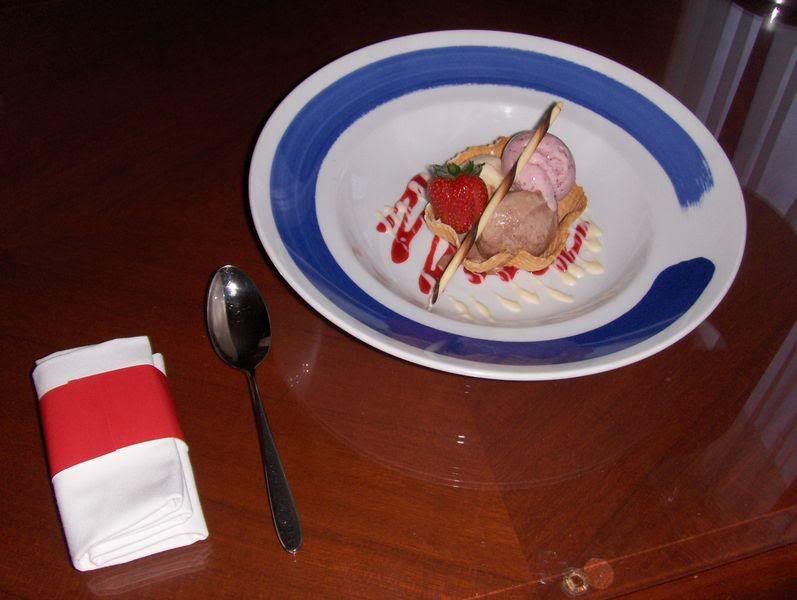 I had the pleasure of meeting the legendary Sam Chui during my stay, and we also had lunch at the Marriott before I left. A rather good lunch buffet they have, although obviously not as good as the superb spread offered at Westin Grande Sukhumvit and JW Marriott amongst others in Bangkok.
I asked for only a 1pm late check-out as a Platinum, and somebody called me at 1.10pm to ask if I was still in the room – a pretty bad way to say goodbye to a Plat member if you ask me.
06 June 2007
Sydney Kingsford Smith (SYD/YSSY) – Bangkok Suvarnabhumi (BKK/VTBS)
Thai Airways International TG/THA 996
Boeing 747-4D7
HS-TGH "Chaiprakarn"
1620-2245 – On Time
Royal First Class, Suite 1A




127th Boeing 747 flight, 96th on 747-400 all pax, 2nd on HS-TGH
I took the train back to the airport as well, since the Circular Quay station is basically next to the hotel. The lines at TG check-in were long, but there was nobody at the Royal First Class counter. The agent was rather friendly, and confirmed my lobster meal and assigned seat 1A. She also told me to use the Air New Zealand lounge. I noticed an interesting memo behind the counter – basically it instructed agents to accept 25/40/50kg of baggage for Y/C/F without overweight charges.
I then went through passport control and security, both of which were quick and painless. Next stop – Singapore Airlines SilverKris Lounge. Unfortunately, the First Class side was being renovated, so I headed straight to the Air NZ lounge. It's a nice facility, but unfortunately there is no separate F class side. This seems to be a common problem in SYD – F class deserves an F class lounge no matter what. Also Air Tahiti Nui only uses QF Club business for F pax in SYD.
Old style Royal First boarding pass
Views from NZ lounge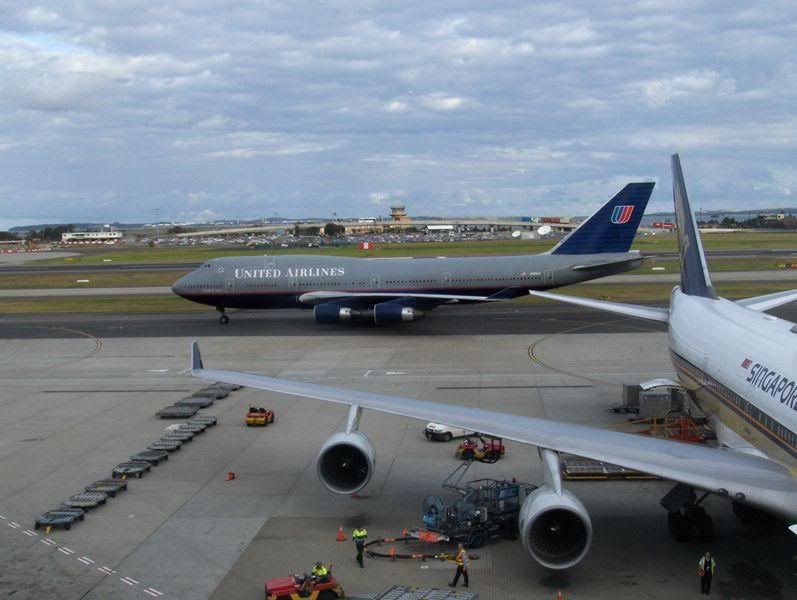 I had a couple of glasses of sparkling wine, but not much to eat, anticipating the full dinner onboard. However, there is a rather good selection of cold snacks in the Air New Zealand Lounge.
Priority boarding was enforced properly, and my timing leaving the lounge was perfect. Walked straight onboard, and was greeted by a cheerful f/a who escorted me to my suite 1A onboard HS-TGH. Thankfully, it was the new configuration as scheduled.
New style Royal First Class suites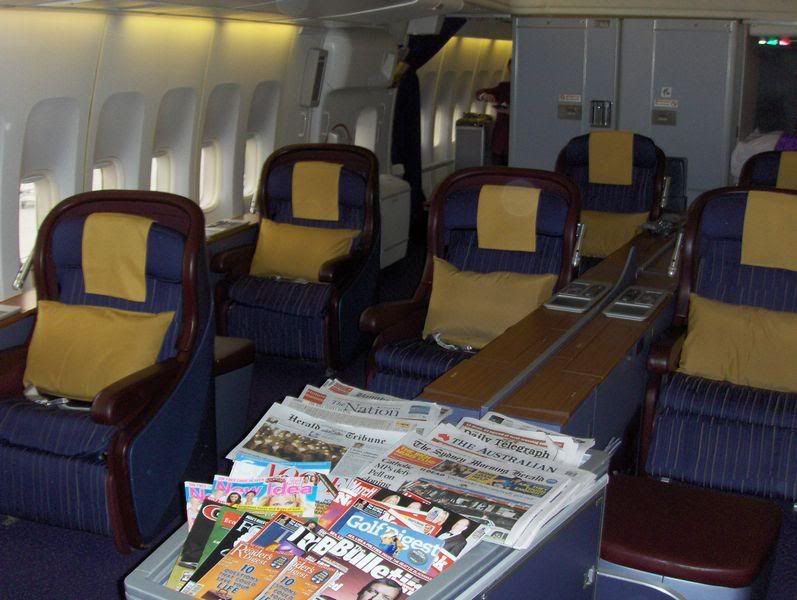 The seats are pretty nice, although privacy isn't great. BA F and SQ's 747 Suites offer more privacy actually. TGH is the oldest 747 in TG fleet, and the rest of the cabin is showing its age despite the new seats, wall panels, lavatories etc. Lavatories stocked with Bvlgari products as always in TG F.
In no time at all, a glass of Dom appeared, and it was refilled at all times
Menus (note different "bamboo" cover), PJs, amenity kits and hot towels were obviously offered as well. Also got a copy of the Bangkok newspapers and CNN Traveller Asia Pacific.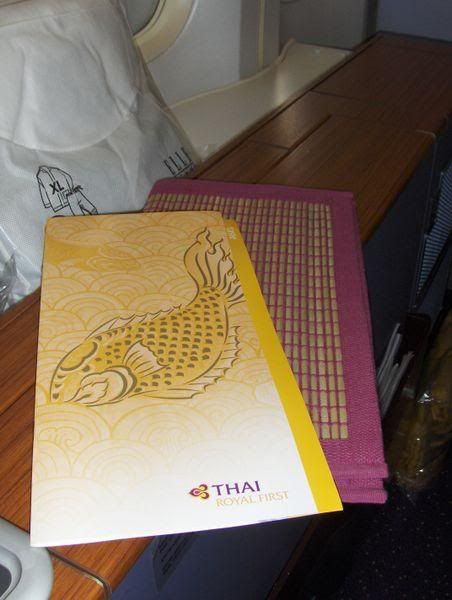 The new AVOD IFE on this plane has a funny idea about Sydney's location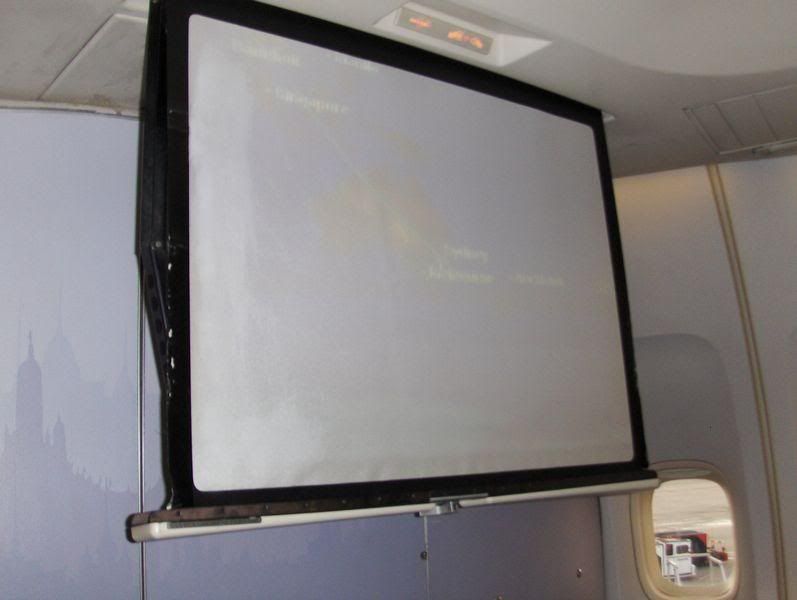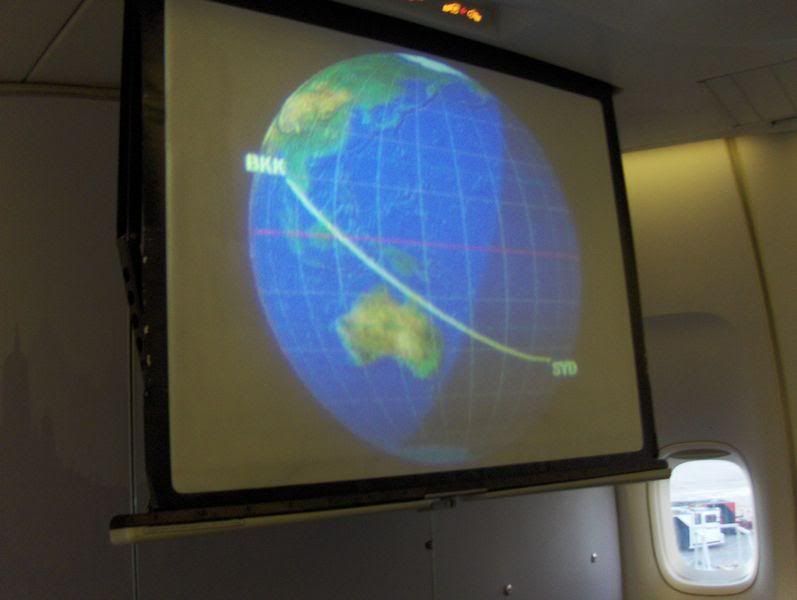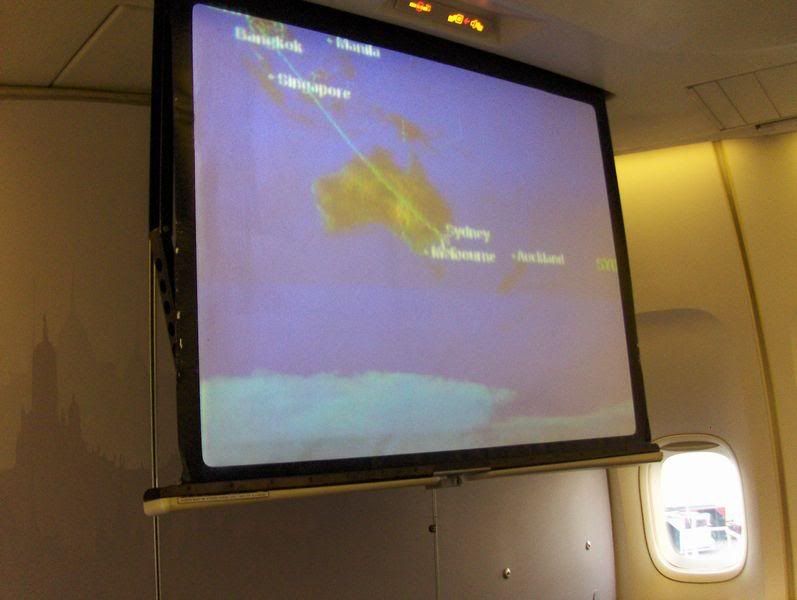 Pushback was on time, and we took off from runway 16R, the same one used for landing the day before
Views after takeoff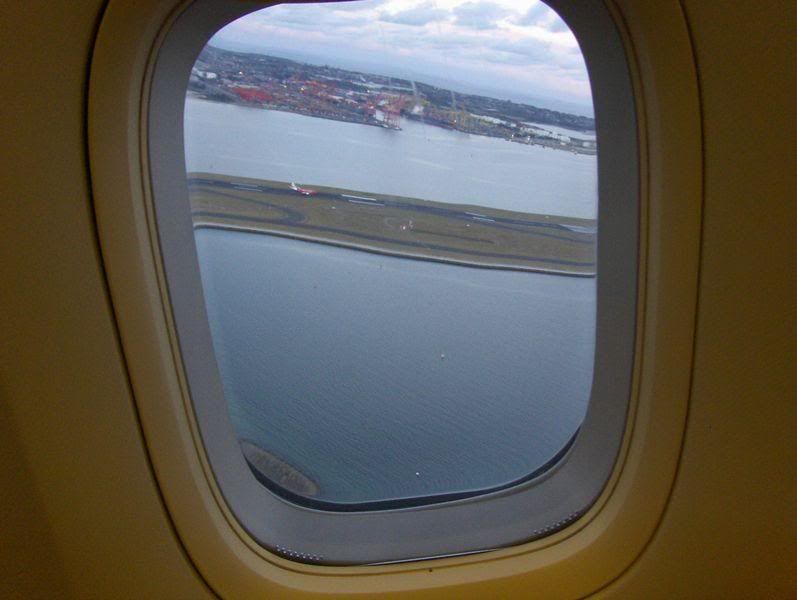 Service started promptly after the seatbelt signs went off, and was frankly great throughout the flight.
Plenty of great drinks on this cart – Hennessy Paradis Extra, Johnnie Walker Blue Label, Chivas Royal Salute etc.
I opted for the Blue Label as well as Perrier. Accompanied by some nuts.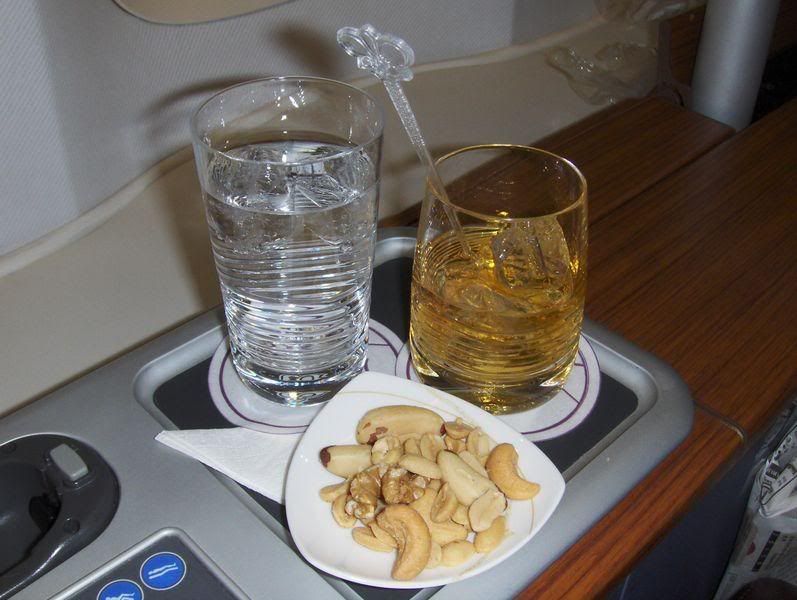 Next course – canapés
Table setup – I believe these ridiculously small tablecloths have now been replaced by large ones.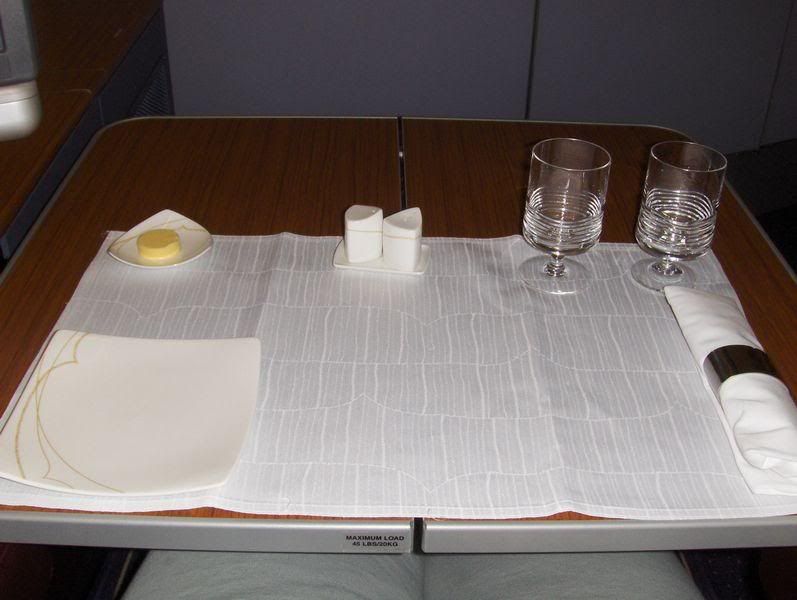 Starter platter – not bad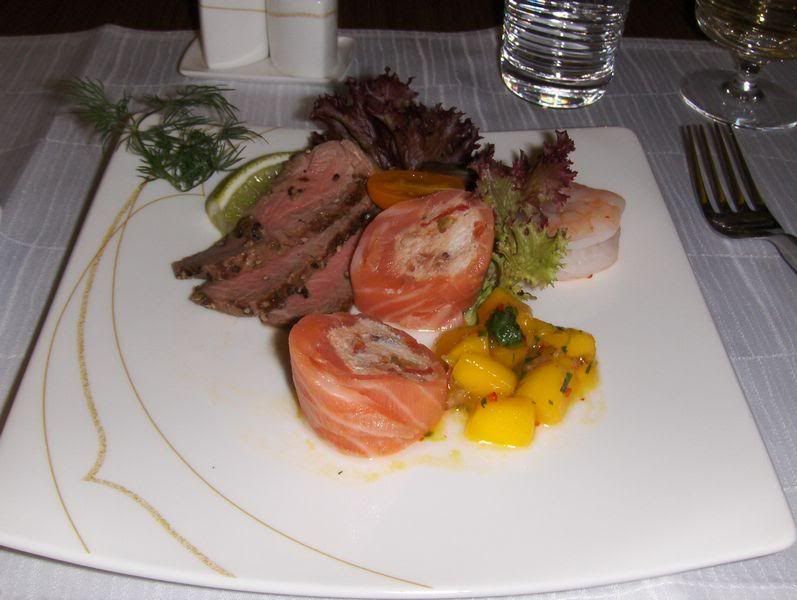 Garlic bread
Salad –very small. Choice of two dressings poured at your seat.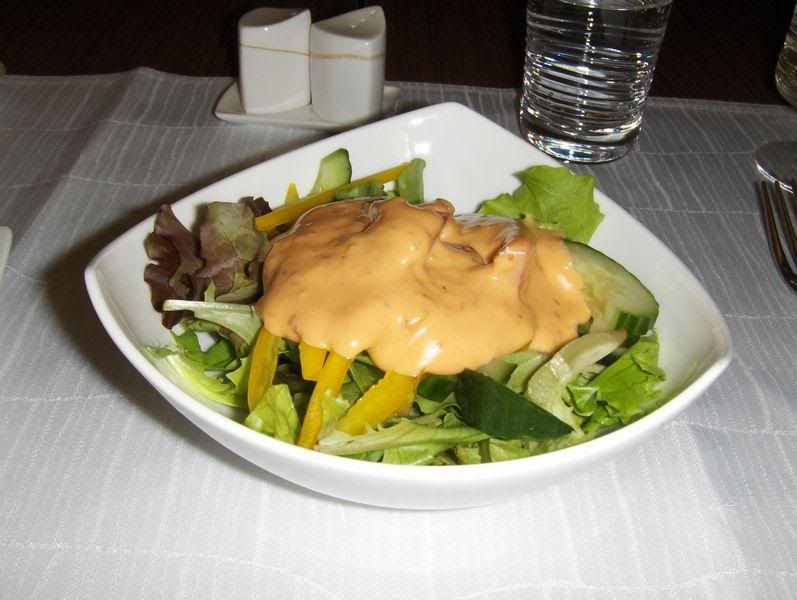 During the extravagant dinner, the sun is starting to set
The lobster dish offered out of Sydney on TG. Tasted absolutely fantastic, much better than the ex-BKK lobster thermidor.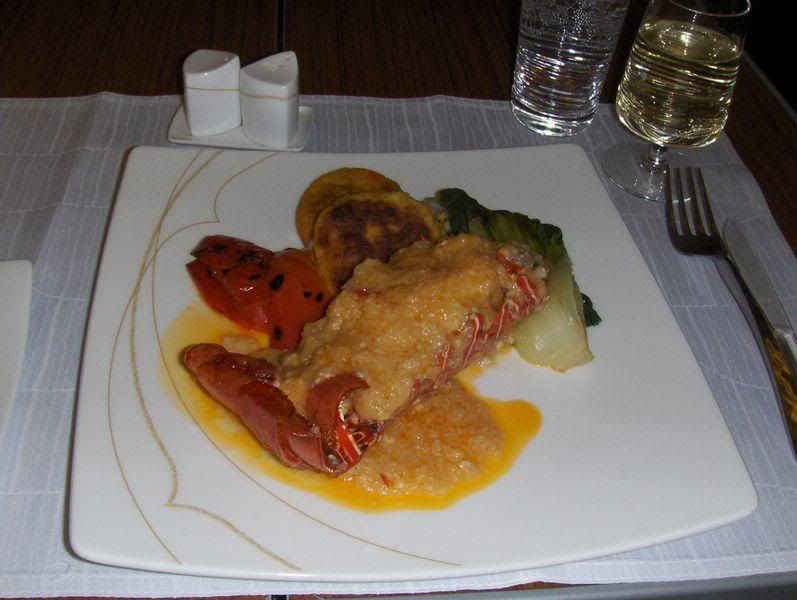 The cheese cart…
…and my selection from it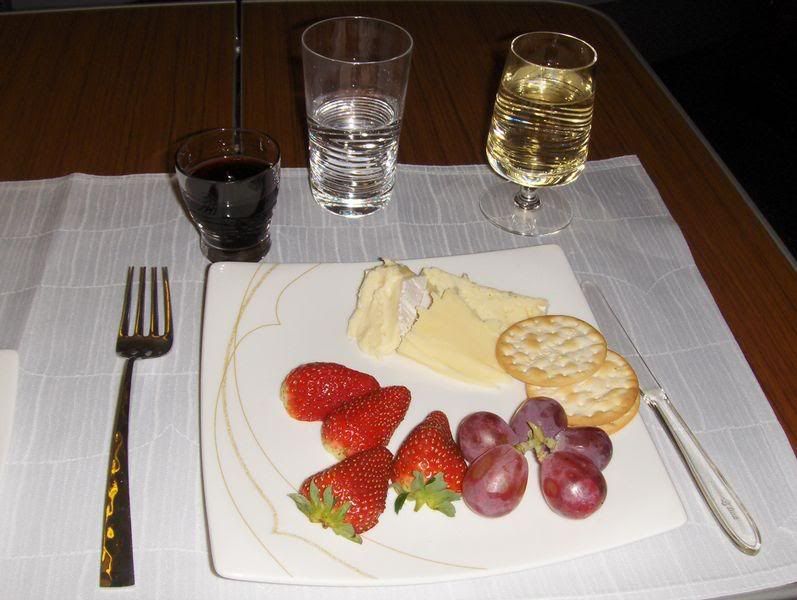 Getting dark outside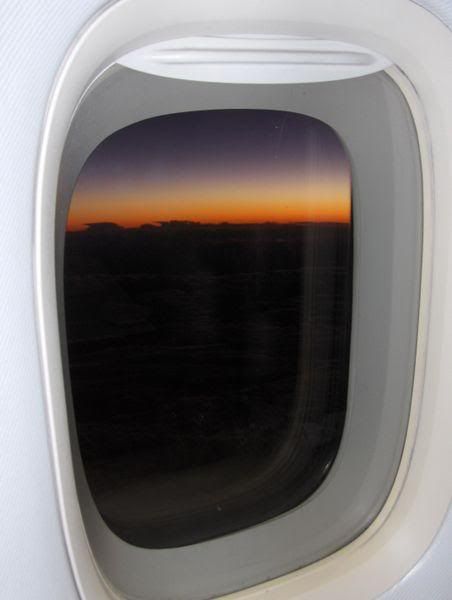 Dessert
Plenty of fine drinks were consumed during this 6-course dinner, and the crew was very attentive with refills.
After dinner, I decided to watch some movies on the AVOD system, can't remember which ones. They ran out of Dom at some point, but I was happy to switch to Veuve Cliquot La Grande Dame 1996 after that. Another superb champagne, so time was spent watching movies and enjoying plenty of it. Ahhh, the First Class life.
Another hot meal was served about 1.5 hours before landing. I seem to have misplaced the menu of this flight, but suffice to say the choices were utterly unimpressive. But I had already secured a lamb main course from the dinner service, the f/a was only too happy to serve me the lobster for dinner and keep one of the regular main courses for the second meal. Great service.
Table setup for second meal, and the starter (tasty soup)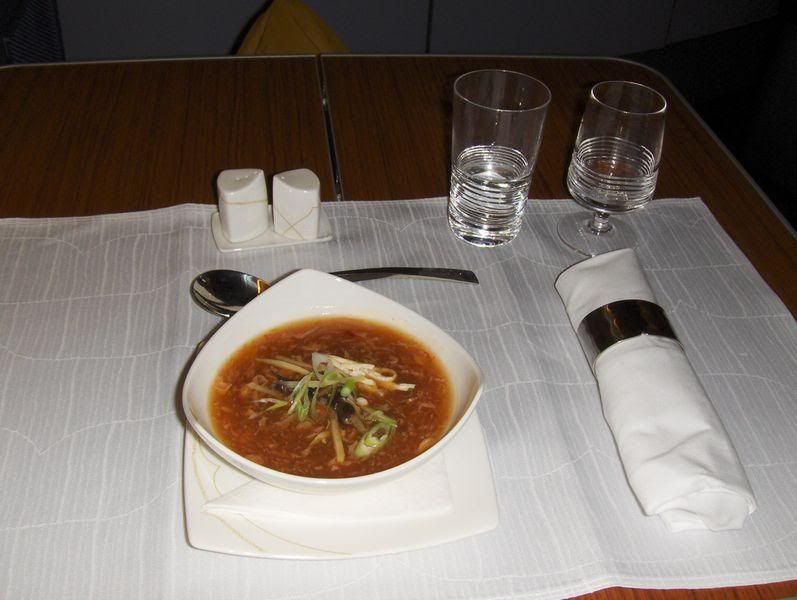 Excellent lamb main course, glad I arranged it instead of taking one of the unimpressive actual choices for this meal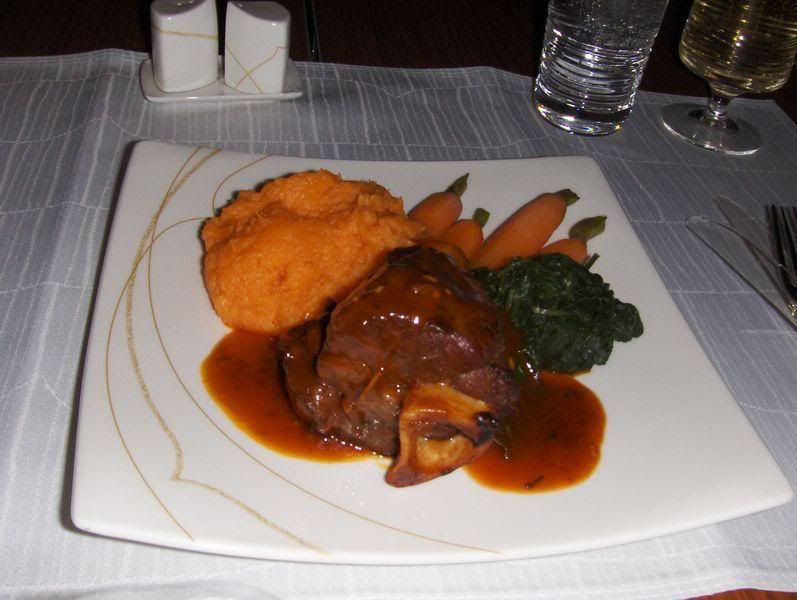 Dessert, naturally enjoyed with some Hennessy Paradis Extra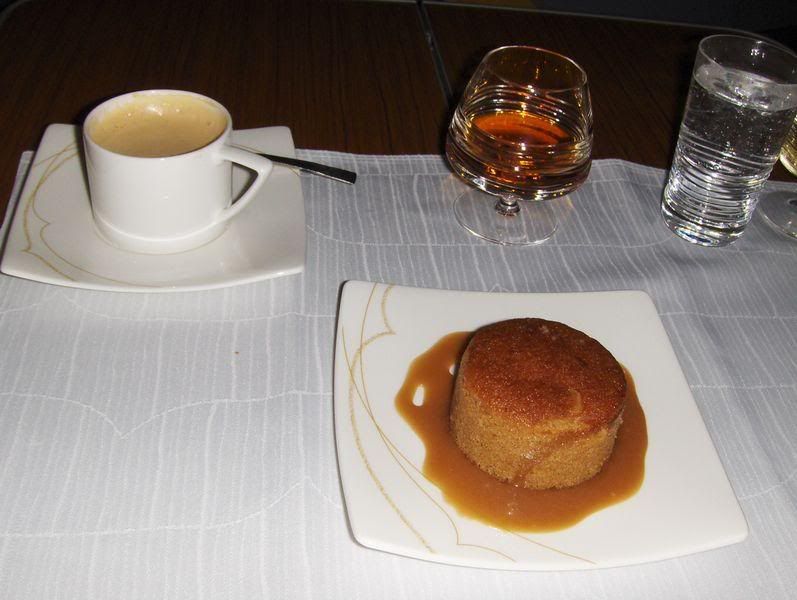 Sadly this great flight was quickly coming to an end, we started our descent into Suvarnabhumi at around 10pm, and landed around 10 minutes early at 10.35pm. I thanked the crew for a great flight, and the carts were waiting. A quick ride to the diplomatic passport counters, and a couple of minutes after exiting the aircraft, I was already in a taxi going home.
Ride to passport control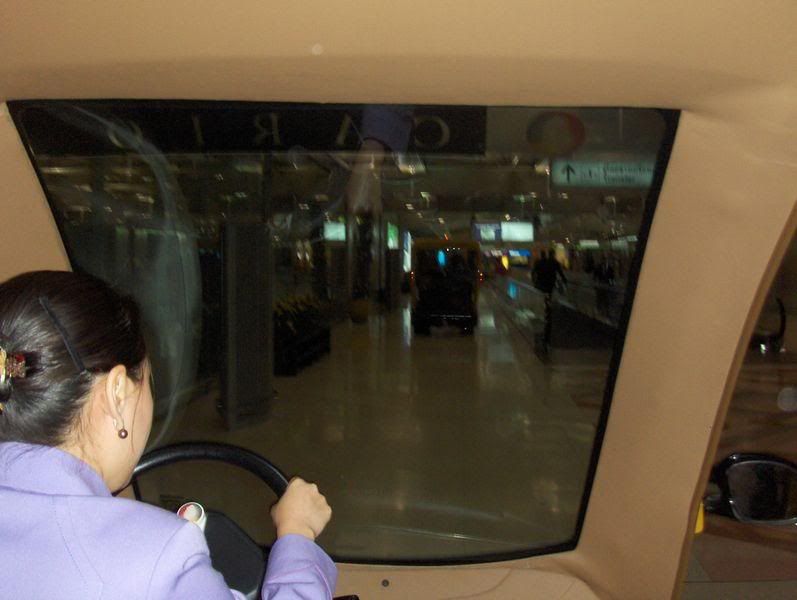 The BKK-SYD flight was disappointing to say the least, but the return was one of my best flights so far. That's sadly what TG normally offers, a highly inconsistent product.
Hope you enjoyed.
Regards,
Lufthansa747