My trip begins at Leeds where I am based and the nature of the trip is an interview for a place at Flight Training Europe. I am booked on the 0805 train to London King's Cross in First class. This is all uneventful apart from the faulty boiler we had resulted in no more hot drinks after Wakefield, not a very good situation for a morning train full of business passengers on their way to the city. To add insult to injury, there was no hot food being served as the chef had not hot water to wash his hands, but the woman across from me managed to blag some toast. When I reached Kings Cross, I took the tube to Paddington and decided to splash out on a ticket on the Heathrow Express. Consequently, I arrived at Heathrow in good time.
LHR-MAD
BA464
1310-1630 Scheduled
1310-1627 Actual
Club Europe
Seat 4A
G-BNWC
I arrived at the zone R check in at LHR's terminal 1 at 1130 for my 1310 flight to Madrid. I was greeted by a smart and smiling young woman who was friendly and efficient. She checked my itinerary and then proceeded to make a phone call. I was slightly concerned when she said "there is an amusing comment on Mr Yip's file and was wondering what I should do with it?" This seemed a rather bizarre statement so when she hung up I asked her if there was anything the matter with my booking to which she replied no and that there has simply been an aircraft change so you are no longer in 7A. She asked if it was ok to move me and of course it was fine. She moved me and gave me a boarding pass for 4A. She also gave me a boarding pass for my MAD-XRY flight and after asking her politely if there was a window seat available, kindly changed the boarding pass for a new one for seat 3A. I was very concerned about my baggage situation and contemplated what I was going to do for the entire train journey. If I checked it in, I would be in serious problems if anything were to happen and my baggage got lost as I was only staying in Jerez for 2 nights and my suit and laptop were safely inside. It was small enough to be carried aboard but was VERY heavy and I neglected to bring my shoulder strap. I explained this to the check in clerk and she sympathised explaining that it was small enough to be carried on if I was really concerned. As well as this, she studied the transfer time that I faced at Madrid and explained that my 2 hour wait would be sufficient for the bag to be safely transferred across. I decided to check it in and asked her kindly to put a priority tag on it. She also advised me that I can ask the Iberia staff at Madrid to check on the status of the bag. After waving goodbye to my luggage and thanking the very helpful check in clerk I wondered through an almost empty security and onto the terraces lounge in T1.
The lounge was rather empty and I found my usual place on the mezzanine level. Not long to wait so I grabbed an apple juice, 2 small croissants (leftovers from the breakfast period but I have a strong and serious addiction to these delicate little pastries!) and found my book. Not long after, my flight was called for boarding at gate 37 so a short walk down the terminal to gate 37 loomed ahead where a bus would take us to our aircraft.
Throughout the bus journey, I eagerly searched for what sort of aircraft the flight was changed to and was suddenly hit by the first surprise of the trip to find that we arrived at a 767-300 G-BNWC. Pleasantly surprised, I boarded by door L2 and was welcomed on board by the cabin services director who looked at my boarding pass and bizarrely said "Good morning Sir, just here on the left and you're going to like it today". Mystified by this last comment, I turned the corner and my face lit up. I was so shocked that I succumbed to airport brain syndrome and walked right past my seat at 4A looking stupid with a big smile on my face. Finally, after finding my seat correctly, I settled into my flat bed Club World seat and started to continue where I left off in my book. I was distracted by more astonished passengers who were puzzled at the sight and obviously had never been on a long haul Club World flight before. One passenger even said "it just looks wrong!" The crew were similarly disorientated and started giving some passengers a guided tour of their new seat whilst sounding equally fascinated. Due to the light load and the vast number of seats, the load in Club was very favourable with each passenger having their own pair of seats to themselves, apart from a pair of businessmen travelling together in 4HK.
Chocks were off on time and we taxied from the gate on the north pier to runway 27L, the runway where last week's drama occurred. Incidentally, I caught a glimpse of the ill fated 777 by the maintenance hangar. The damage to the wing and fuselage by the gear was substantial and pictures can be found below. Upon lining up I could also see the tracks made by the aircraft in the grass.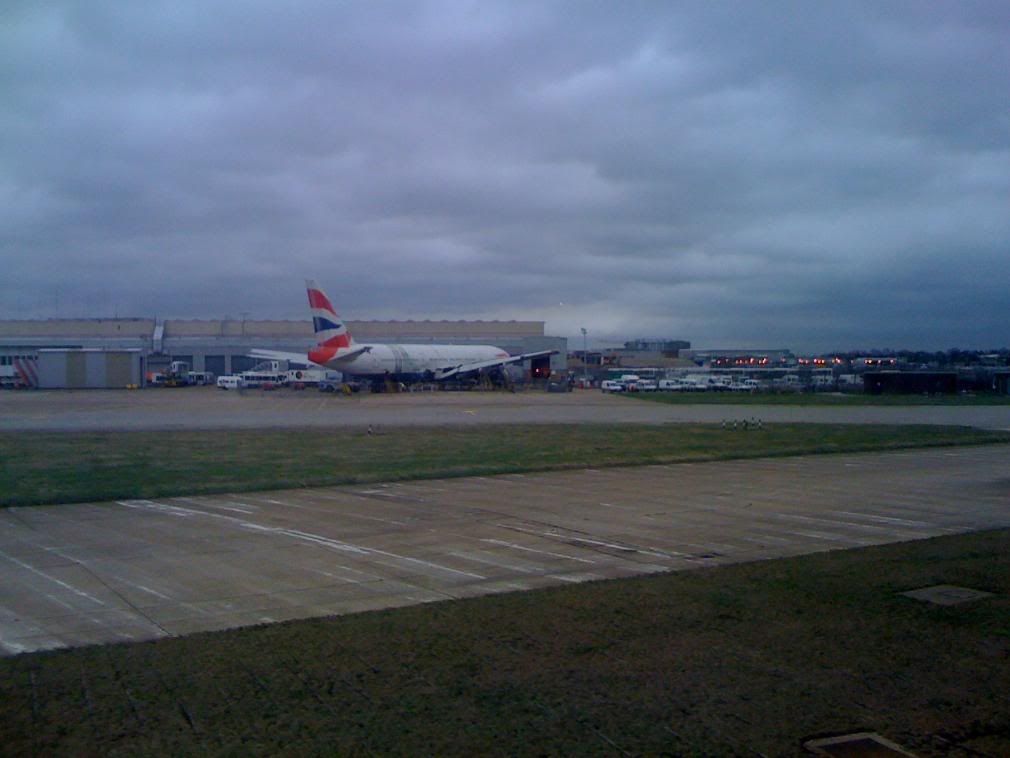 A light load meant a powerful take off and climb to our cruising altitude of 41000ft. Service began with a refreshing hot towel and after that we settled in nicely with drinks. I chose a nice red wine recommended by the CSD and found it to be rather nice. It turned out to be a nice Cotes Du Rhone accompanied by the usual pretzel affair, both sour cream and chive and salsa packets were issued to Club passengers. I also decided to try and see if the in flight entertainment was working. Sadly it wasn't and I was disappointed that I would be unable to keep track of the flight on the air show. Lunch was then served by the crew, beginning on the right side of the aircraft at the back working towards the front. Then back down the left aisle from the front to the back, therefore I was the last to be served. The passenger across the aisle in 4D was served second as the absence of a passenger in 4E meant that he was served when the crew were doing the right side of the aircraft. I overheard the choices as being a chicken biryani or a prawn salad. Eventually the crew served me last and gave me my options explaining that the biryani was slight spicy and the prawn salad can with a nice dressing (can't actually what the dressing was). I chose the biryani which was nice and full of flavour. It was accompanied by a mint yoghurt dressing and a cheese and fruit tray. The cheese was a combination of nice mature cheddar and some pretty average brie. I finished my meal and the crew took the tray leaving me my Lily O Brien's chocolates, my coffee and the remainder of my red wine. Not long after, I decided to walk to the bathroom and saw the World Traveller Plus cabin behind the Club cabin which was empty. I did consider that they could have been very tight-fisted and put us in the WT Plus cabin as those seats are far superior to the Club Europe seats that all of us were expecting and it would still be a kind of upgrade.
Some inflight pics: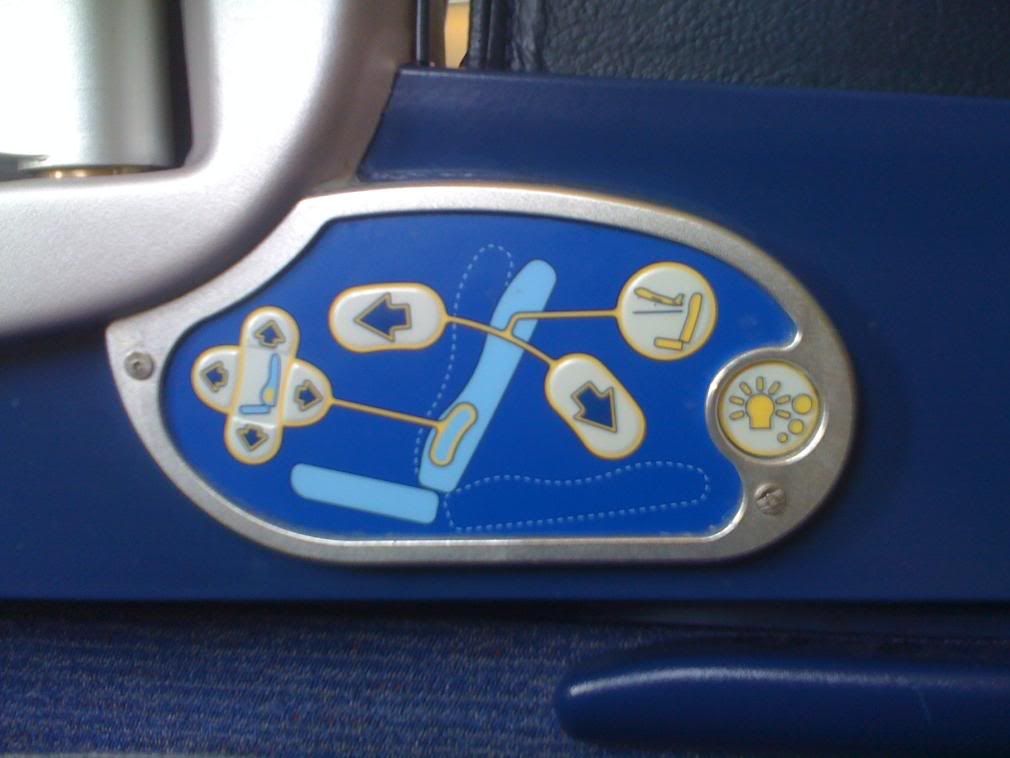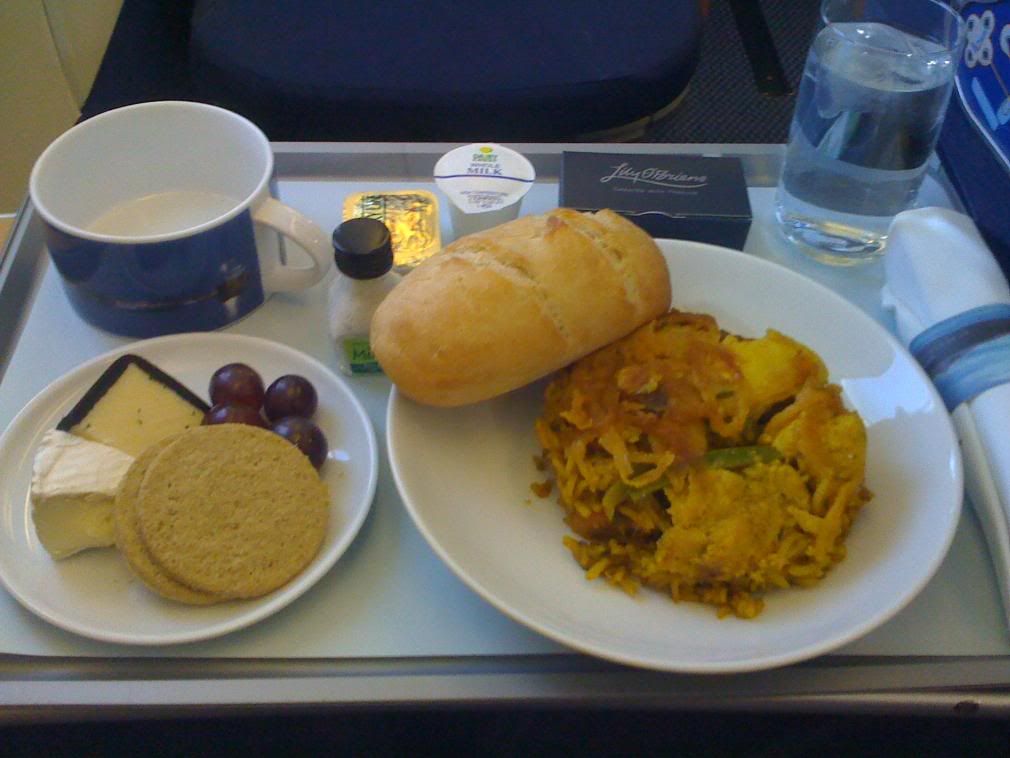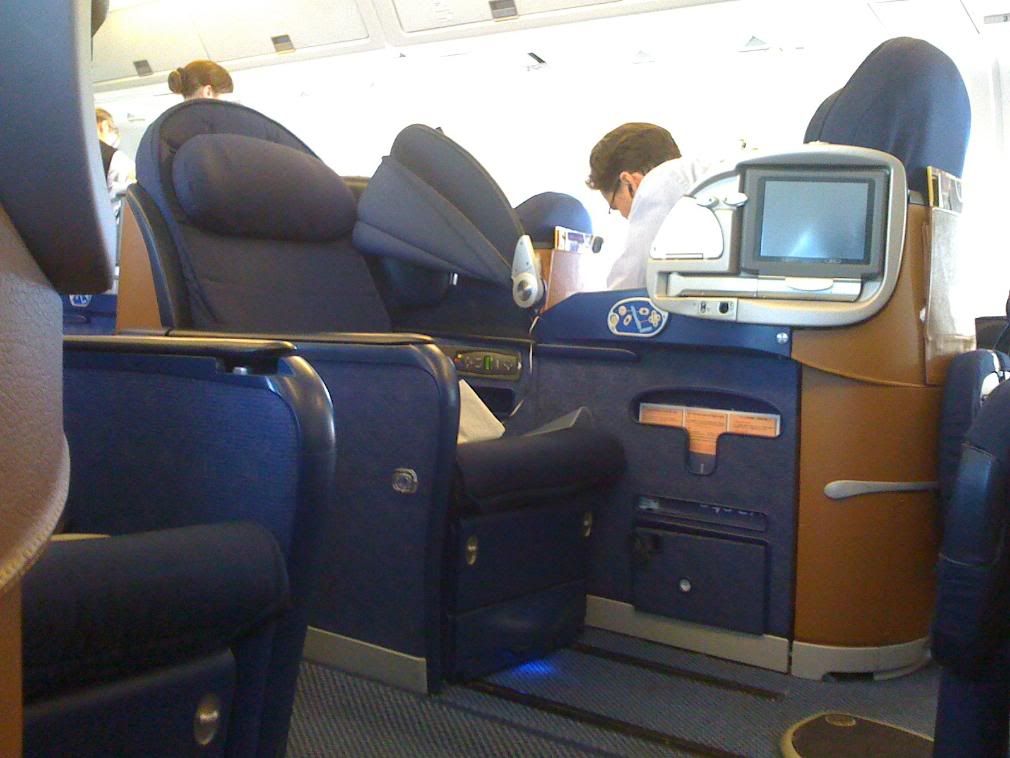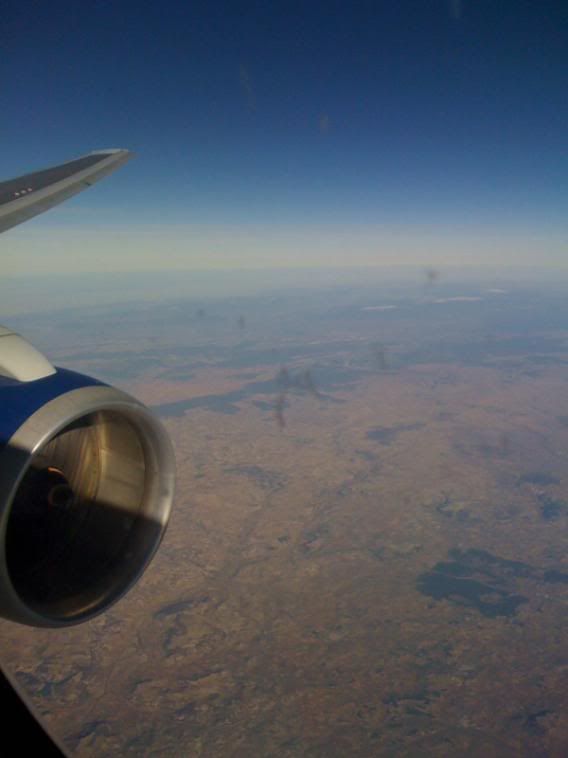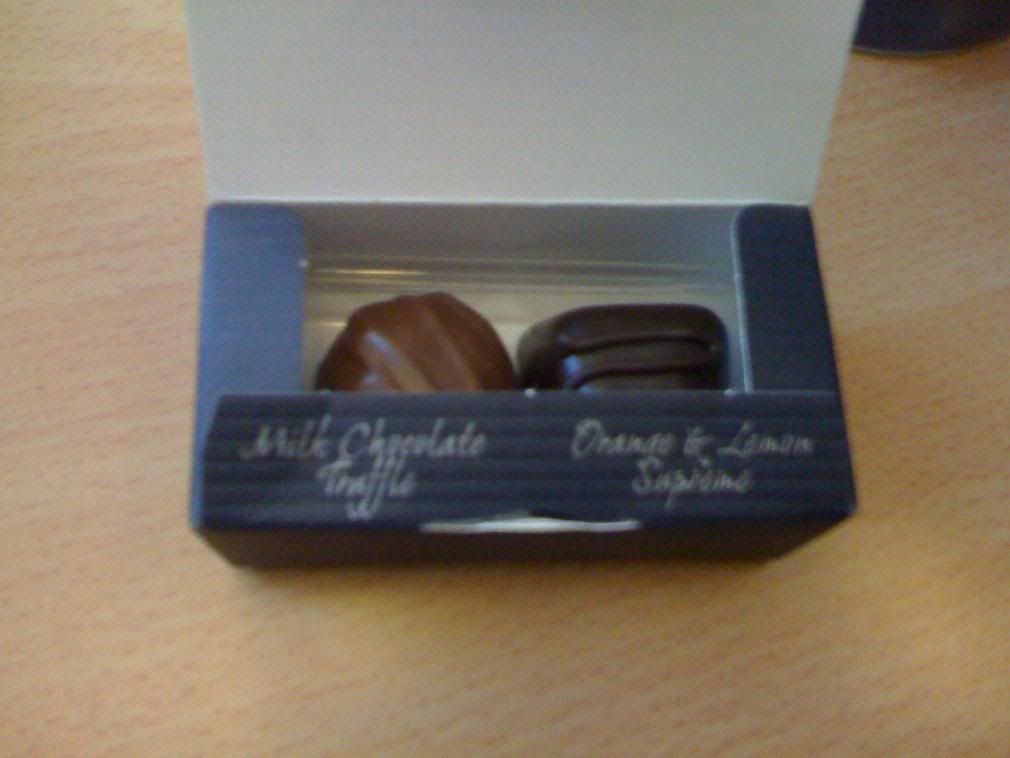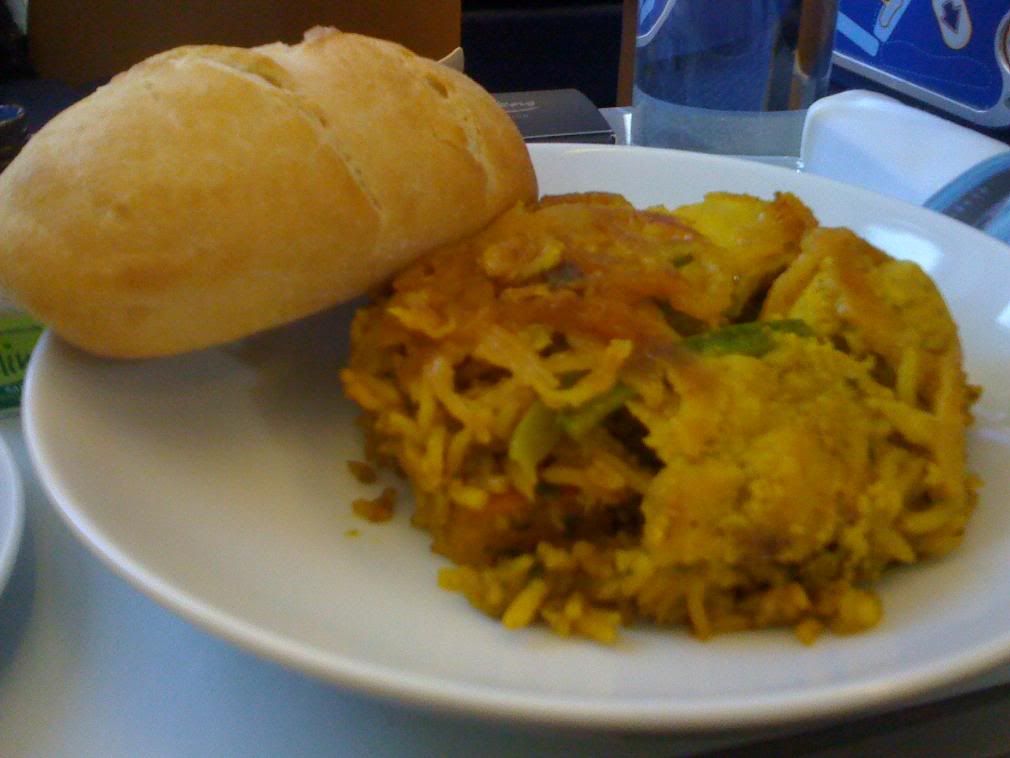 I also found it amusing that the safety card showed the B767-300ER that we were on to have raked wingtips...nerdy I know!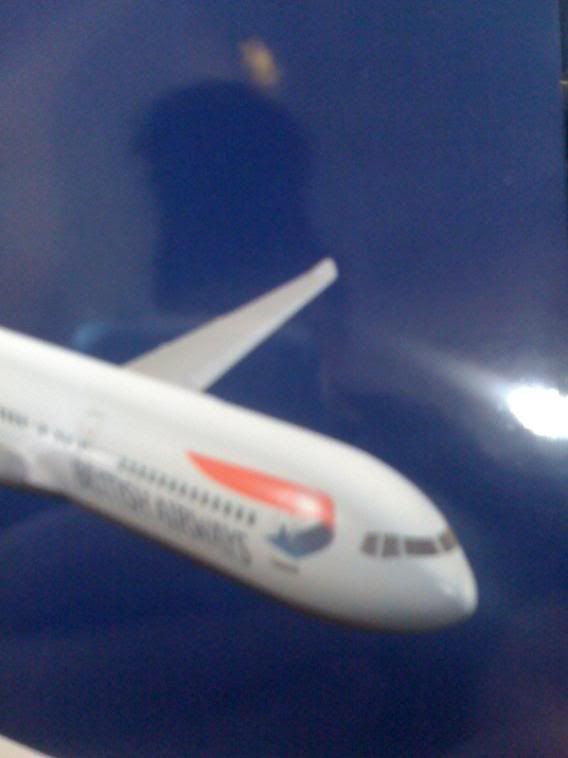 We arrived on time at Madrid Barajas airport and taxied to a gate at terminal 4S. During the short taxi, the number 1 engine was shut down and the taxi in was primarily on the number 2 engine.
Once completely stopped, the absence of anyone in the World Traveller Plus cabin meant that passengers in the world traveller (euro traveller) cabin rushed into Club in anticipation of an early exit. I made the short unmanned train journey to the main terminal and took the lift 2 floors up to departures to pass through security and managed to find the Iberia VIP lounge for the short wait for my flight to Jerez.
MAD-XRY
IB168
1830-1930 Scheduled
1850-1945 Actual
Business Class
Seat 3A
EC-H??
The lounge at MAD was very pleasant and airy with no ceiling, reminding me of the BA and CX lounges at HKIA. There was plenty of room available and was stocked with the usual collection of alcohol and small snacks. I decided to ask at the lounge reception if they could track down my bag to see if it had made the connection and it turns out that it had, a load off my back and I could now relax and see the last leg of my journey out with no worries safe in the knowledge that I wouldn't have to desperately buy a new suit for my interview at the airport!
Boarding was hectic and the queue for the flight reached the shops in the middle of the terminal at gate J54. Eventually the flight was called and the queue began to filter down. There was no priority boarding for business class, which was my first disappointment. Boarding passes were checked and we were held up once again in another queue for the aircraft where most people were waiting on the finger and the queue went as far back as the gate itself. This queue lasted about 15-20 minutes and passengers were clearly getting frustrated. 3 crew members then appeared moving in the opposite direction of the queue with 3 wheelchairs, therefore giving an explanation as to the root cause of the hold up. Boarding was completed slowly as passengers struggled with their luggage consequently blocking the aisle. Eventually I saw my disappointing seat at 3A and found that the middle seat had not been converted into an armrest as advertised and there was no evidence that this was business class apart from the covers on the headrest which had a Business class label. Seat pitch seemed to be fine at the usual 33-34". Despite this, there were only 4 of us in Business so it was quiet and no one apart from me was sat in row 3.
The flight left 20 minutes late and we taxied to runway 36R. Take off was powerful after which we climbed and made a left turn to the south to settle into our cruising altitude for the short 1 hour flight. The cabin crew served business class passengers with a drink, of which I chose lemonade and a snack tray of 2 sandwiches (smoked salmon and pickle and feta cheese with sun dried tomatoes), a date and a prune. These were all brought to me and placed on the middle table which slid in a horizontal axis towards the aisle giving indication that the seats were meant to be wider. I believe economy passengers had no service at all? I heard nothing from any passengers and saw no evidence of a trolley so I'm basing my assumption on that.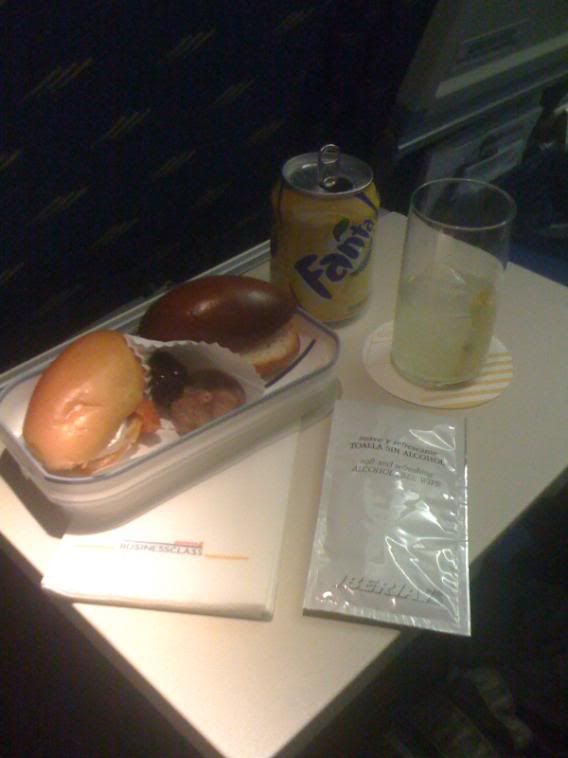 The landing into Jerez was smooth with much of the approach being pitch black apart from a few roads here and there.
We disembarked by steps at the front and rear doors and my baggage was collected quickly and was among the first to arrive for a change. (Clearly the priority tag has some meaning in Jerez!) Thankful of the BA check in clerk at LHR for her help and with my bag safely in my straining hand, I made my way out of the unmanned customs department and found my next connection for the short trip across the airport to the Flight Training Europe campus.
Overall, the trip was a long one and I was shattered at the end of it. The flight with BA was the highlight of the journey with the unexpected 'upgrade' to Club World, complemented with a high standard of service and friendly crew that I expect from BA. My first flight with Iberia proved to be a disappointing experience, even if it is for an hour flight. Boarding was a mess and the seats in Business class proved to be nothing different from the seats I saw in economy. Maybe my return will better. On another note, the 'book' that I refer to in this report is 'Air Babylon' by Imogen Edward-Jones and Anonymous and is highly recommended as a light read with amusing scenarios and witty banter. I highly recommend it if you haven't read it already! Incidentally I got offered a place at Flight Training Europe and will post the return sector if there is anything interesting to say about it!
Flight Training Europe in the early hours of the morning: