I was sitting at home Saturday afternoon bored... and had nothing to do. I have the rest of the month off and I decided that instead of just sitting around at home that I needed to go do something. So dlnet kept me occupied for a little bit as I decided I needed to travel somewhere. Finally after searching a few different European cities Dublin came across... it was wide open and seemed like a good place to go.
I listed myself for DL176 ATL-DUB and then DL177 DUB-ATL returning same day. I wanted to spend time in DUB but I am saving money for my trip to CPT in October so I decided against staying overnight.
I live in Marietta so the drive took me 75S to 285. The drive is just about a half hour with no traffic... thankfully no problems. I pulled into Wally Park (my companies employee lot) and boarded the bus. I got to the airport around an hour and a half prior to our 8:45pm departure. I checked in at the kiosk and swiped my passport then went to the crew line. I did not take any pictures of the ATL-DUB flight so I will make it short.... all of the pics are on the return leg.
ATL-DUB
Jan 27, 2008
DL176
Sch Dep: 8:45p
Actual: Just past 9ish....
Sch Arr: 9:30a
Acutal: On Time
Seat: 5G
Eqp: 763
Shortly before boarding the agent called myself and the other passanger up to check our passports and gave us our boarding passes. A few moments later they opened up boarding. This 763 had the boarding door just after the Business Elite cabin... I believe these are ex-Gulf Air planes? Another funny thing about this plane is that it had the updated coach cabin with the new leather seats but the business cabin had not yet been updated... weird.
The FAs were walking through the cabin offering Champagne or Orange Juice along with newspapers. I took the OJ and we also had bottles of water in our seats. They then passed out the noice canceling headsets which I declined as I had my own pair. Boarding finished quickly - our delay was caused because they had to taxi the plane over from ops, we departed out of the T gates in ATL.. outside of the norm.
The in-flight coordinater (Lynne) came around and introduced herself to everyone and passed out the dinner menus. We had the option of Rib Tips, Grouper, Grilled Chicken, or Cheese Stuffed pasta... I chose the pasta. After take off they passed out warmed nuts and I took a Diet Coke. Soon after they passed out the linens and dinner service began:
Appetizer: Salmon and goat cheese with tomato.... and there was chicken and something else.. I forget.. I did not remember to take the menu with me off this leg.
Starters: Lobster Bisque Soup or Salad... I had the Lobster Bisque... EXCELLENT. It was great, they also passed out warmed onion rolls our whole grain. I went with the whole grain.
Dinner: The Pasta... was served hot and they gave me parmesean cheese to complete the dish. I had with a rum and diet.
Fruit, Cheese, Dessert: Naturally I chose the Sundae.. we had the option of Strawberry or Hot Fudge.. I did hot fudge with whipped cream and nuts. It also came with a Pirouline Cookie. It was excellent and I had coffee to wash it down with.
Dinner service was finished just before we got to NYC. I fell asleep once over the atlantic and woke up just as breakfast started. We had the option of a Breakfast Quesadilla or Cereal... I took the cereal since I was still full from dinner. It came with a fruit plate Cheese Danish or Crescent.
Soon enough our decent started, it was beautiful and sunny as we flew down the Irish coastline and turned back towards DUB, we landed on 28 and soon were at the gate. I was off and through customs within 5 minutes.
OKAY- sorry I shortened that up as much as I could. Now is where all the pictures begin.
I checked in with no hassles and was through security a short while later. I was surpised at how easy Dublin was. I made the mistake of going down to the departure gate too soon. I was upset! I had no idea that we pre-cleared customs in DUB, and there was nothing but a coffee shop down at the gate.
DUB-ATL
Jan 28, 2008
DL177
Sch Dep: 11:20am
Actual: 11:13am
Sch Arr: 3:30pm
Acutal: 3:38pm
Seat: 4G
Eqp: 763
Boarding was done fast but our IFC was obviously rushed. I think that any FA can agree boarding is one of the most stressful times prior to closing the door. A man had marched up to her and demanded that he be upgraded... she said no. So he went to another FA and asked her, well she found out that he was asking the other FA the same thing and she got pretty upset with him... telling him that if anyone was going to upgrade him it is up to her and that she already told him no. Then walked away rolling her eyes. My immediate thoughts were.. "this is going to be a loooong flight".
The other FAs were busy passing out champagne, oj, or mimosa's. Along with the noise canceling headsets. I took OJ: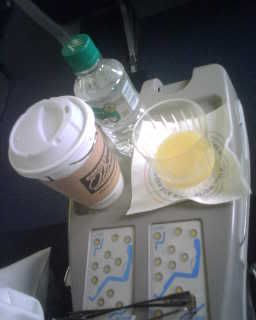 A CO 75 going to EWR: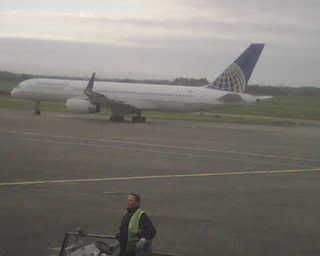 After the boarding door had closed she walked around the cabin introducing herself and passing out the lunch menus: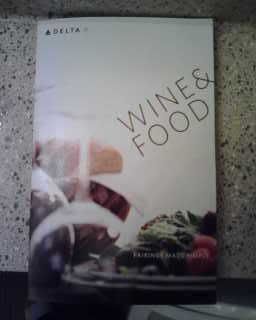 Here is a view of the wing from my seat just prior to pushback: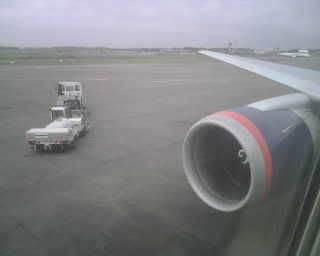 We waited ofr a Luxair 737 to taxi in and then we pushed back: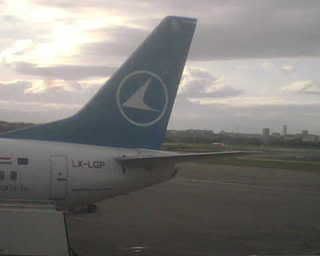 Our taxi out was quick and we were no.2 for departure behind a Ryanair 738: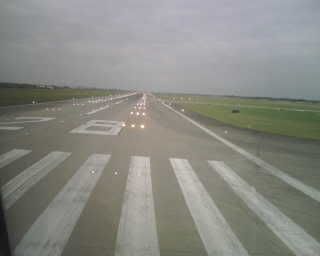 The FAs passed out warmed nuts once again, and I took another diet coke.
APPETIZER
Antipasti Platter
Featuring Italian salami, grilled long-stem artichoke, Kalamata olives and grilled bell peppers: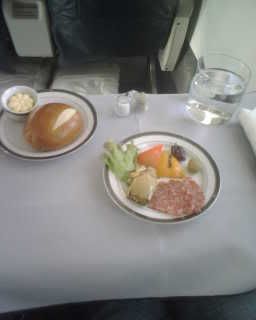 They also passed out bread and I took the pretzel roll.
STARTERS
Mixed Garden Salad
with tomatoes and daikon, served with garlic and sour cream dressing or olive oil and balsamic vinaigrette.
Carrot and Ginger Soup
I skipped the soup or salad, and went immediately for the main course
MAIN COURSE
Tender Lamb Chops
enhanced by a pomegranate glaze, accompanied by rice pilaf with cherries and sauteed green beans.
Roasted Breast of Chicken
with goat cheese and red pepper pesto crust, served with polenta and ratatouille.
Seared Cod Fillet
accented by tomato and olive ragout, accompanied by potato galattes and sauteed leeks.
Penne Pasta in Vegetable Bolognese Sauce
tossed with arugula, fresh mozzarella and mushrooms.
My first choice was actually the cod but naturally they didn't have any. Which I thought was odd since there were only 14 people in Business (2 nonrevs). So I went with the pasta and also had a whole grain roll: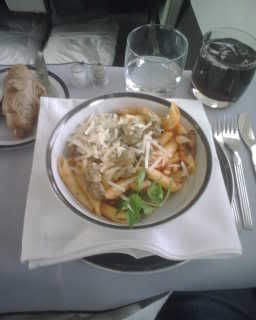 FRUIT, CHEESE, DESSERT
Sliced Fresh Seasonal Fruit
Fine Cheeses
selected to perfetly complement one another in flavor and texture, offered with grapes.
All Natural Vanilla Ice Cream Sundae
with your choice of sauces, whipped cream and chopped nuts, garnished with a Pirouline cookie.
Once I was done with my main course one of the FAs in my section asked me if i wanted Fruit, Cheese, a Sundae or all three... we both kinda laughed and I once again took the sundae with black coffee (coffee not pictured.. i apologize):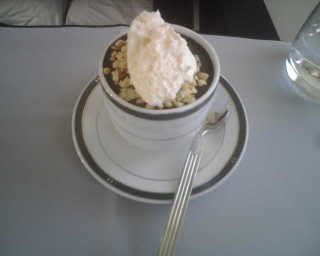 This is where I dozed off for a few hours. I woke up as the IFC was passing the cart through the cabin with fruit, chips, chocolates, or cheese and fruit. She gave me a few chocolates: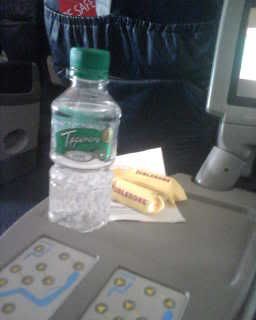 The view was beautiful: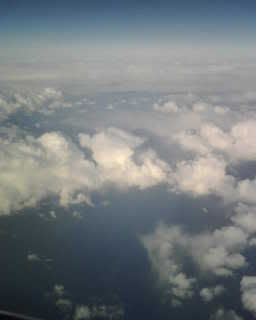 I got up and talked to the FAs, Sue and Denise that were in my section had both been with Delta over 30 years. We chatted for a few minutes and then they went to take a break. The IFC came back and was doing an inventory and her and I started talking. I asked her how long she had been with Delta and she replied "Too long, it's time to retire". It was a joke... she smiled and obviously her mood had lightened up quite a bit since departure. We talked actually for quite a while about her family and her commute. She bids DUB since she has family and friends there. It was then time for her to go take a break so I went back to my seat and passed out again.
Everytime I woke up on both flights I had a bottle of water sitting on my arm rest which is a great touch. No matter if I had started one or not there was always a full one sitting on the arm rest.
We also had amenity kits on the flights: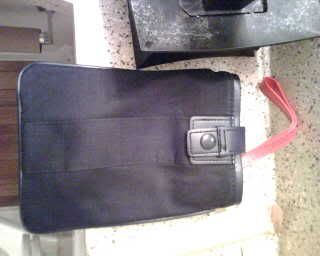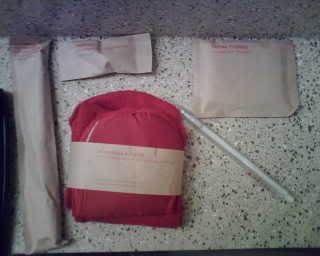 The amenity kit came with a toothbrush/paste, socks, eyeshades, facial tissues, ear plugs and a pen.
I once again woke up just past the DC area.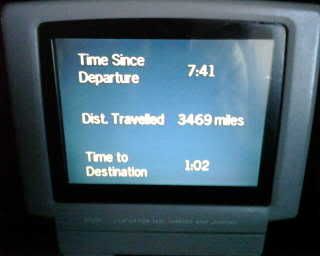 brrrrr....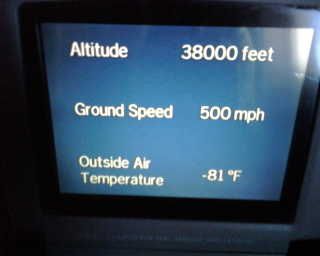 It was time for lunch and the FAs begain passing out linens again:
Lunch was one of two choices:
Grilled Cheeseburger
garnished with lettuce and tomato, served with Red Bliss potato salad
Chicken Caesear Salad
accompanied by bread sticks and fresh fruit
Warmed Cookies
Since I had business elite in Oct from BRU-JFK and had the salad I chose the cheeseburger. I do not normally eat red meat since it will give me an upset stomach but it sounded good for some reason... I don't know.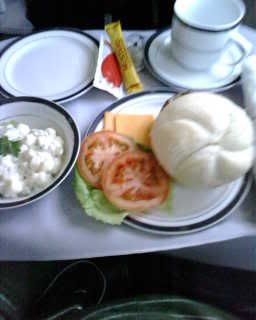 It was actually very good, and the potato salad was the perfect side dish.
Shortly after they passed out the freshly baked cookies and I naturally took it with black coffee: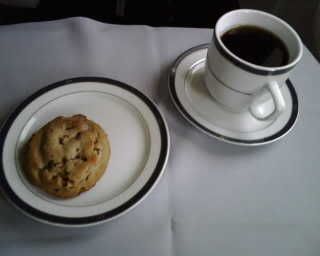 The IFC came over to check on me and asked if I wanted more but I declined as I was so full. By the time lunch had ended we were already descending into ATL... and a short while later we were on the ground. Customs in ATL was a breeze since we had precleared in Dublin and I was in my car going home less than an hour after we got to the gate.
I hope you guys enjoyed my trip report, I start a 3 day trip this Friday and I am thinking of writing a crew report. Let me know if anyone would be interested.
-Travis