Feedback always appreciated.
Trip Report: 039
Flight Category: Y-ISR (See Report End)
Date: 04-Oct-07
SDT/SAT/Delay: 0215/0440/00:55 hrs
Flight:
Continental/Continental Miconesia CO/CS 892
, 283 miles
Routing: ROR-YAP
Aircraft: 738
Seat: Economy, 14F
I > Background:
Ok, I am back! After taking a sabbatical from trip reports for 5 months, here is the first installation from a series of trip reports. Mid-August to mid-November 2007 saw the craziest of my travel plans. 69 flights totalling 175,028 kms on 35 airlines, visiting 49 airports in 34 countries in all 6 continents. And, here is the best part … all of them were part of a 4 month break from life … pure vacation, and pure food for the mind, body, and soul. Together, they mounted to 21/2 round-the-worlds that was truly insane. As usual, all long haul flights were on Business or First Class; short haul was on Economy Class.
I believe this will be the first TR on Continental Airlines (Co MIKE) flight connecting Koror (ROR) in the small tiny country of Palau with Yap (YAP) in the small tiny federated republic of Micronesia. The reason for the trip was simple – I am fascinated by small island nations and really wanted to go to these northern Pacific island nations. And, I was PLEASANTLY surprised with both nations. Palau is definitely more touristy. Yap on the other hand has some great diving and is completely off the map. YAY for me! My ideal kinda place
.
II > Pre-Flight:
a) Before Airport:
Continental (aka, or formerly known as Continental Micronesia – CO Mike) rises from its Guam hub to be the only regular link to many small island nations (all former U.S. territory) and current U.S. protectorates. They also link some of these places with major CO destinations such as HKG, NRT, HNL, etc. They also have a fascinating links out of GUM to DPS and DRW. If anyone has an insight on the passenger mix on those flights, please do share.
Booking was done through the excellent Continental website at
http://www.continental.com/
. The e-ticket was displayed on the screen as well as emailed to me. I tremendously appreciated the opportunity to chose my seat, and the subsequent opportunity to modify both reservation and seat assignment. The only thing I did not like … the price of the damn ticket. It was EXPENSIVE!
b) At Airport:
Palau's sole international airport is at Koror. It's a rather modest terminal and Continental is the largest operator with flights to GUM, YAP, and MNL. The airport is uncluttered and a breeze (literally) to fly through.
The flight to Yap, with continuing service to GUM was one of the two Continental flights that evening. Let me tell you that I seriously started becoming nocturnal as all these Pacific island countries have flights departing between 2 and 4am. Uugh. Anyway, check-in was a breeze at the Continental Elite desk and I soon received my exit row 14F seat. The agent was an absolute charmer and she was super delighted at having met someone from Liechtenstein. Apparently, they don't get many of us travelling to these countries
. Anyway, after collecting my boarding pass and paying the rather steep departure tax, I proceeded through immigration to a large waiting area for my flight to be called. The waiting area is pretty decent. There were 2 CO flights – one non-stop to GUM (inbound from MNL), and the other via YAP to GUM. There was a mad rush at boarding and a lot of passengers seem confused when the non-stop was first called to board. The agent had to make several announcements regarding the flight number and that this was the non-stop.
When my flight was called, there was a mad rush to board. I found it very strange given how laid back Palau (and the Pacifics in general) is. I might have to expand the concept of "ILBST" to include the Pacifics
. Anyway, boarding is super unique at ROR. You go out of the boarding get, via an open corridor to a boarding bridge. Thankfully, the flight had a super low load and I was soon onboard and being greeted by the FA's. Load was a bare 20%.
Airport - External:
(Palau's international airport)
Check-in:
(Departure area)
(Check-in. Continental had the counters to the far left. One dedicated line for Skyteam Elite and First passengers)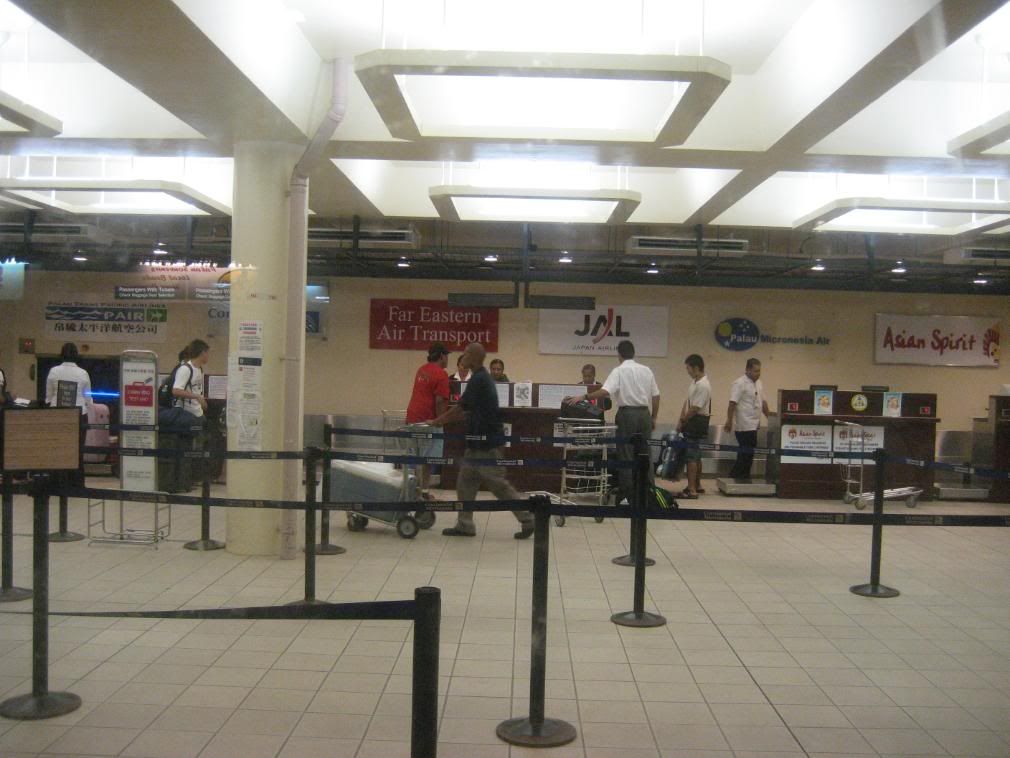 Airport - Internal:
NONE
Scenes of the tarmac:
(Taken earlier. Cebu Pacific ferries migrant laborers to Philippines and back. I was surprised with the aircraft choice.)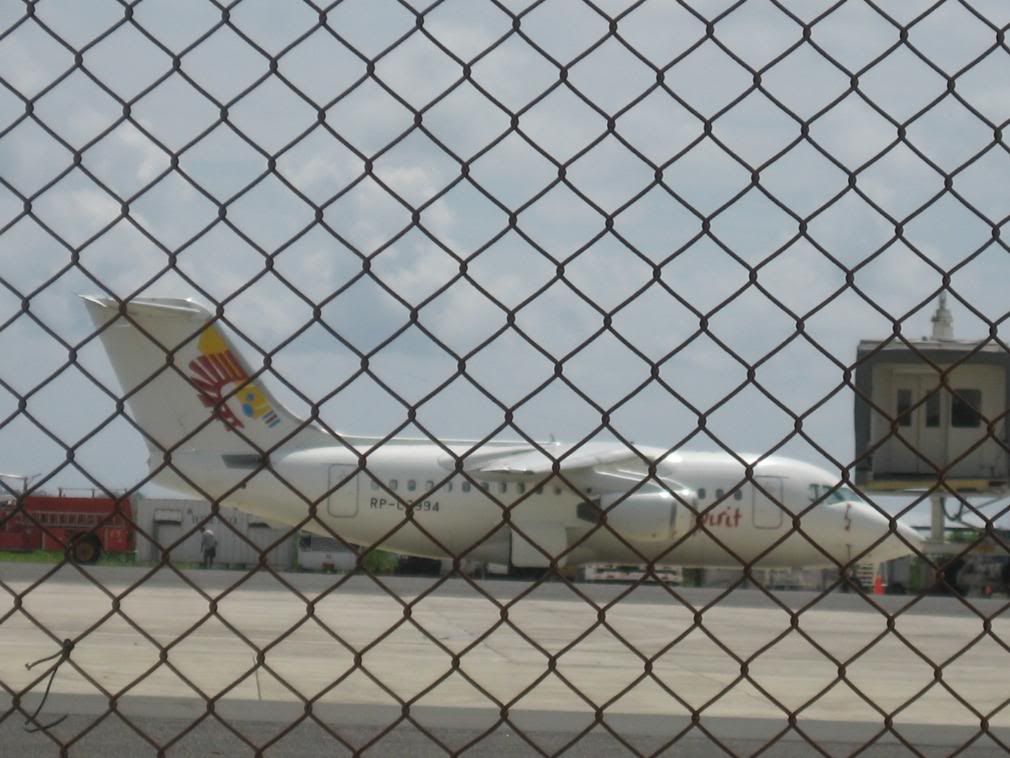 Lounge
NONE
Boarding:
(Boarding area lounge)
(Zoo of a boarding process)
III> In-Flight:
a) Service Schedule + Impressions:
Quick drinks and peanut service.
b) Aircraft + Seats:
Continental's Y seats were just about industry standard. I am not a big fan of the fabric they use as it feels dirty and worn out. However, above average recline and slight above average recline compensated a bit for the same. The overall aircraft was clean, and I did appreciate the pillow on seats for the short sector.
Aircraft:
(One of the few times when there are 2 aircrafts on the tarmac at ROR)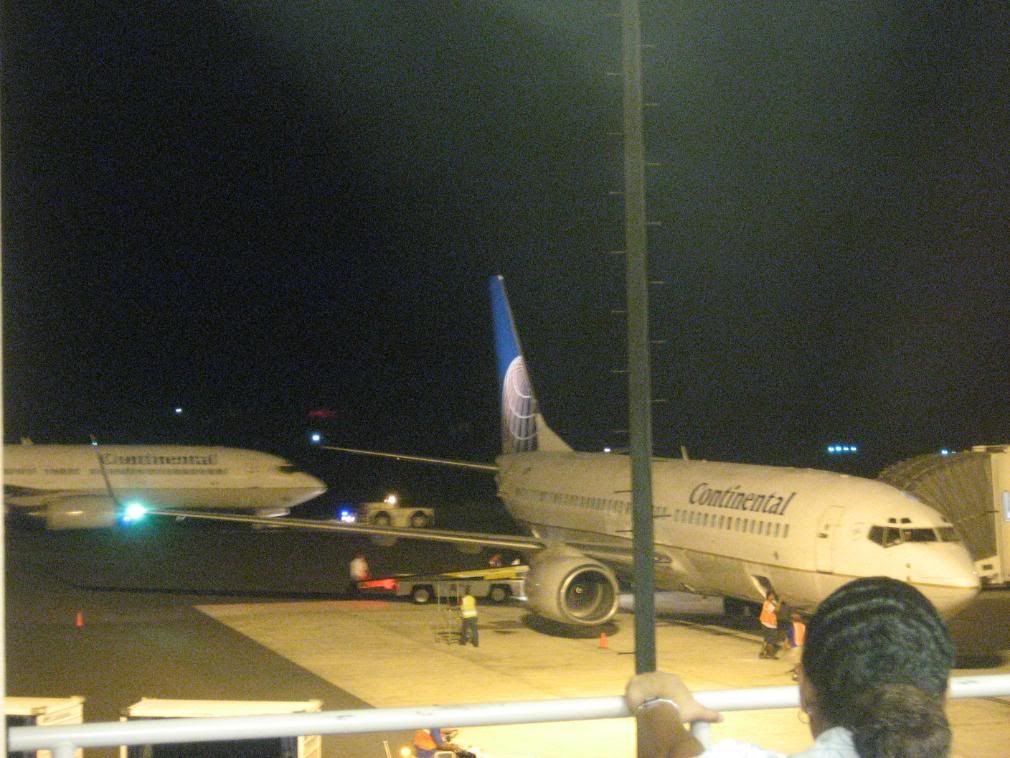 Views from Aircraft:
NONE
Seat Leg-Room:
(Generous Exit seating)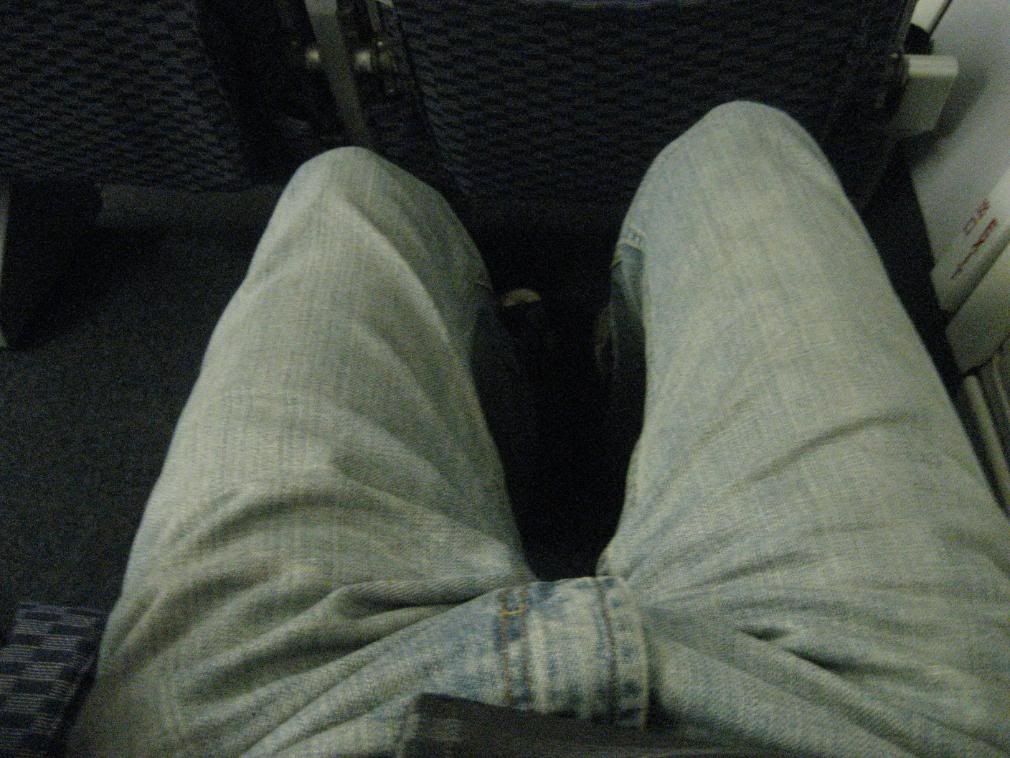 Seat Recline + Angle View: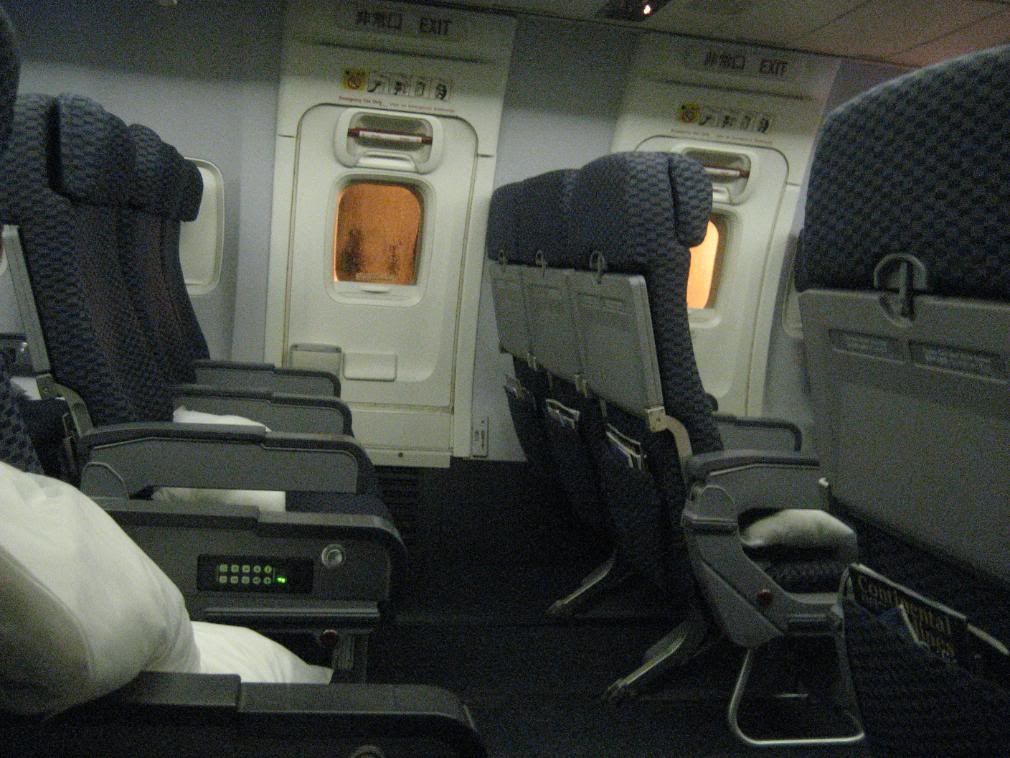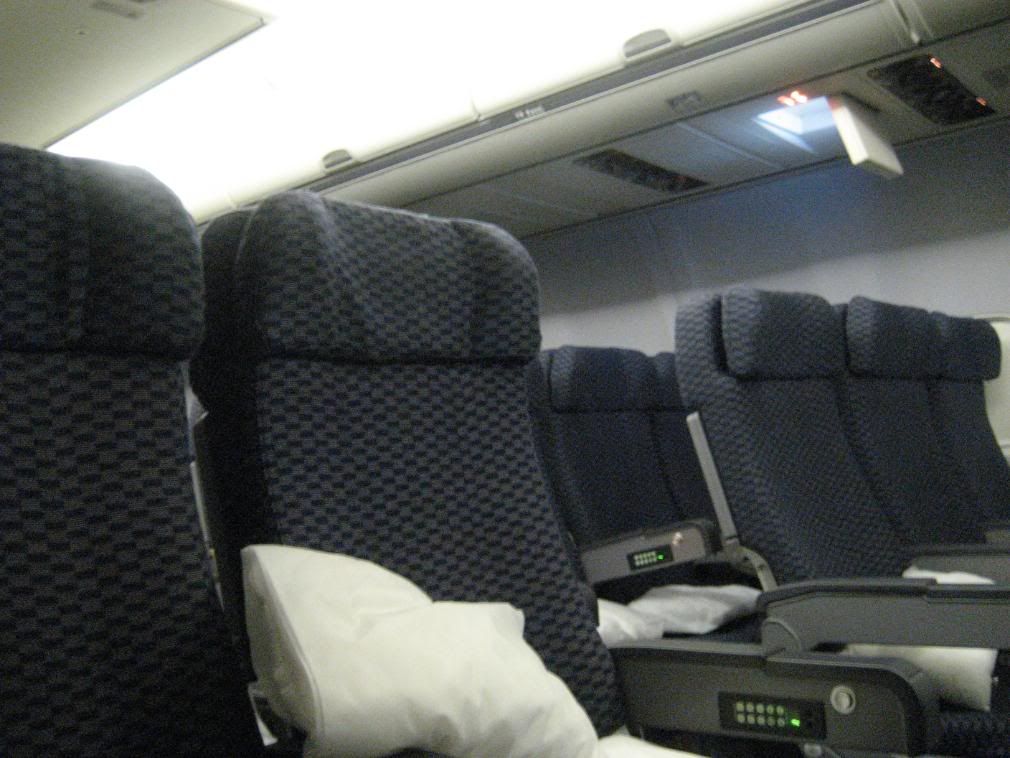 Cabin: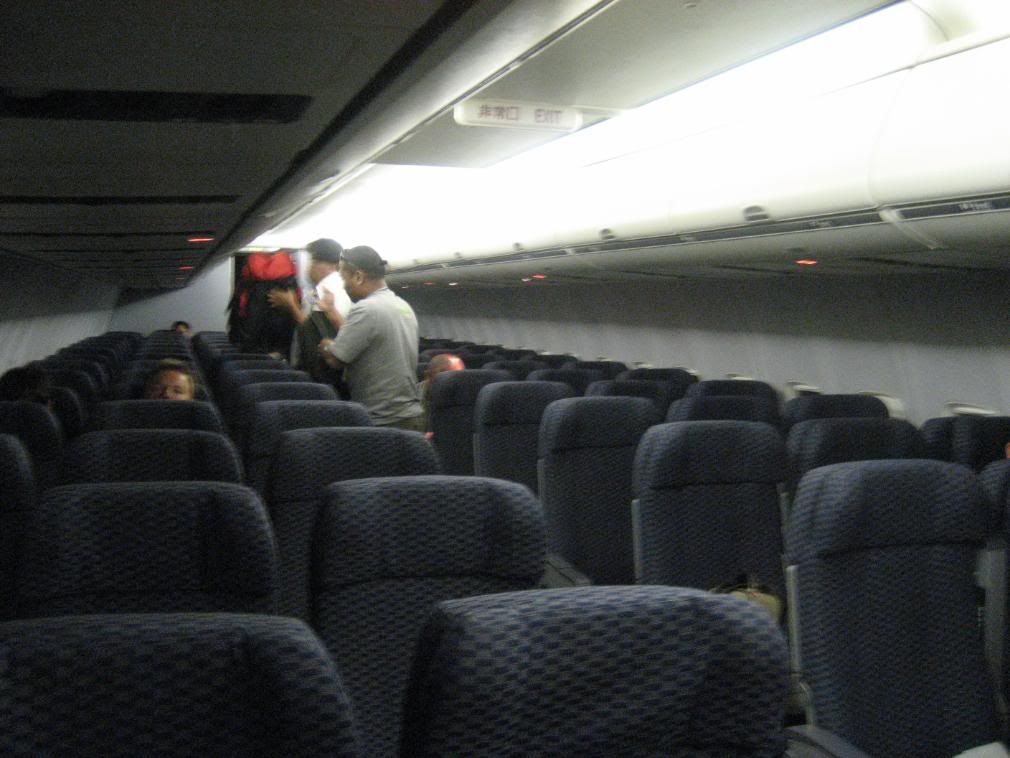 c) Meal + Beverage:
I knew I was not in India anymore (where, a 169 mile flight leads to huge meals) as the service consisted of the standard peanut and some drinks – where I opted for Diet Coke.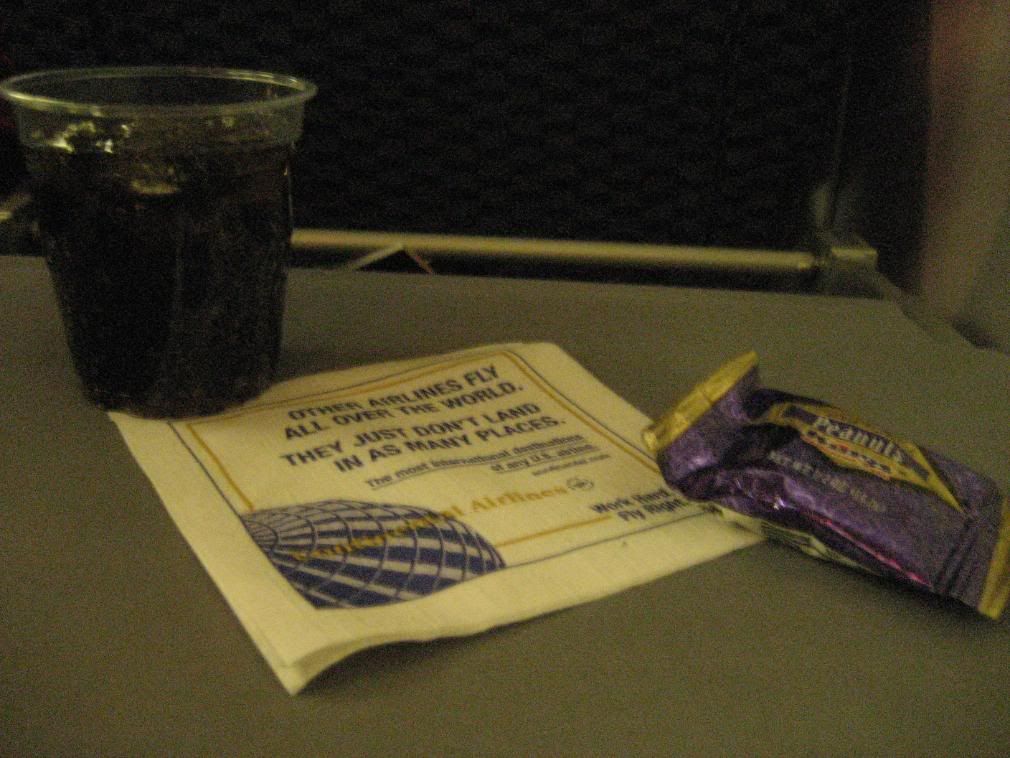 d) Inflight Entertainment:
Even though there were TV screens (not individualized of course), there was nothing shown except the safety demonstrations. In-flight magazine included Continental's regular system magazine and an Oceania supplement.
(In-flight magazines, Boarding Passes, etc.)
e) Crew:
Perhaps it was the time of the hour, but the crew was hardly ever there. Even during the boarding process, they were either in the front or back galley allowing boarding passengers to fend for themselves. I don't think I saw a single crew smile during any point of the service.
IV> Post-Flight:
Yap is the only airport I have been to where immigration lines form on the tarmac. Quick immigration later, bags were ready to be picked up.
(You wait at the tarmac before immigration lets you in)
(Tarmac. Yap is the land of the stone money – and hence the stone money in the shot)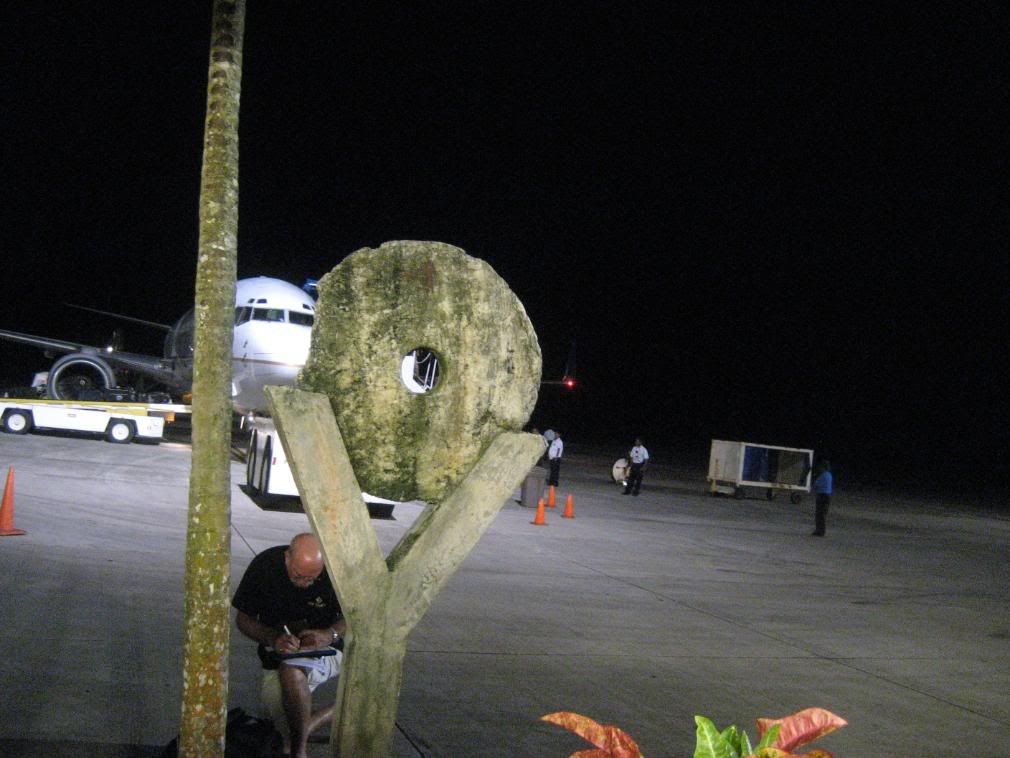 (Arrivals – outside Yap terminal)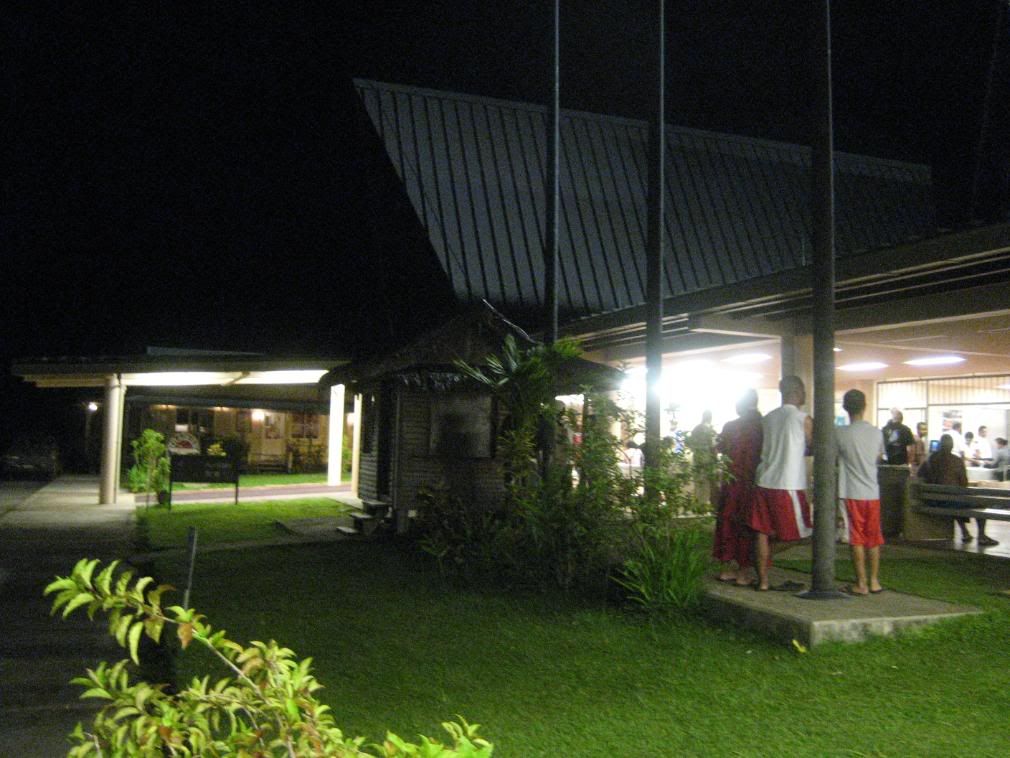 V> Impressions + Scores:
Short flight with no real expectation. While for such occasions, I expect to be transported from A to B, a friendlier crew would have led to a far more memorable experience. Given other options, I would not hesitate to look at them. A mediocre performance at the very best.
1.0 > RESERVATION: 10.0
2.0 > CHECK-IN: 9.0
0.5 > LOUNGE: N/A
0.5 > BOARDING: 5.0
2.0 > SEAT: 6.0
0.5 > AIRCRAFT OVERALL AMBIENCE: 7.0
1.0 > IFE: 5.0
2.0 > CREW: 5.0
2.0 > FOOD: 4.0
0.5 > BEVERAGES: 5.0
0.5 > A.KITS + OTHER FREEBIES: 5.0
0.5 > DISEMBARKATION: 8.0
1.0 > ON-TIME RECORD: 9.0
WEIGHTED OVERALL IMPRESSION (WOI): 6.44
(Pre-flight WOI of all reviews: 6.39)
* Weighted Overall Impression (WOI) aligns scores with what matters most. Weights are indicated alongside each category.
(Scores are based on comparison with other airlines in THAT class of service – No comparison of Y vs. F for example)
VI> Other Trip Reports:
PREMIUM:
8.56:
Paramount Airways (38): BLR-MAA: 09/2007
8.11:
Aeroflot (33): MOW-DEL: 09/2007
8.02:
Delta Airlines (24): JFK-CDG: 08/2007
7.82:
Singapore Airlines (06): EWR-SIN: 09/2006
6.93:
Delta Airlines (18): SEA-JFK: 11/2006
6.81:
Air Canada (17): ICN-YYZ: 10/2006
6.70:
KLM: EBB-AMS: 08/2007
5.75:
Singapore Airlines (16): CCU-SIN: 10/2006
4.42:
Air France: CDG-JNB (25): 08/2007
ECONOMY: Long + Medium:
7.38:
Avianca (01): BOG-LIM: 07/2006
6.26:
Jet Blue (21): CUN-JFK: 02/2007
6.06:
Air Canada (04): YYZ-YVR: 09/2006
5.89:
USA 3000 (19): PUJ-BDL: 01/2007
5.46:
TAP Air Portugal (23): OSL-LIS: 05/2007
ECONOMY: Short
8.24:
Kingfisher (14): IXA-GAU: 10/2006
7.87:
Indian (34): BOM-MAA: 09/2007
7.72:
Alliance Air (13): CCU-IXA: 10/2006
7.57:
Indian Airlines (10): DEL-CCU: 09/2006
7.23:
West Jet (03): YYC-YVR: 09/2006
7.15:
JetLite (37): BOM-GOI: 09/2007
6.70:
Spice Jet (09): CCU-DEL: 09/2006
6.58:
Air Tran (02): EWR-MDW: 08/2006
6.44: Continental/Continental Micronesia (39): ROR-YAP: 10/2007
6.33:
Kenya Airways (29): NBO-BJM: 08/2007
6.31:
Indigo (15): GAU-CCU: 10/2006
6.22:
Air Link Swazi (28): MTS-JNB: 08/2007
6.22:
Air India (36): HYD-BOM: 09/2007
6.13:
Adam Air (07): SIN-CGK: 09/2006
6.00:
Transairways (27): INH-MPM: 08/2007
5.95:
Air Canada (05): ALB-YYZ: 09/2006
5.85:
SAS Norge (22): OSL-AES: 05/2007
5.81:
LAM Mozambique (26): JNB-MPM: 08/2007
5.69:
Air Deccan (12): IXZ-CCU: 10/2006
5.67:
Rwanda Air Exp (30): KGL-NBO: 08/2007
5.07:
Go Air (35): MAA-HYD: 09/2007
4.96:
Valuair (08): CGK-SIN: 09/2006
4.74:
Fly 540 (31): MYD-LAU: 08/2007
4.33:
Viva Aerobus (20): ELP-MTY: 02/2007
4.11:
Air Sahara (11): CCU-BOM: 09/2006
(Note on Codes: Y – Economy, J – Business, F – First :: I/D – International/Domestic :: SR/MR/LR – Short/Medium/Long Haul)
VII> Other Pictures:
It has now become customary to share some images of the place I went to, and some other related aviation pictures. Hope everyone enjoys!
(Yap Airport check-in)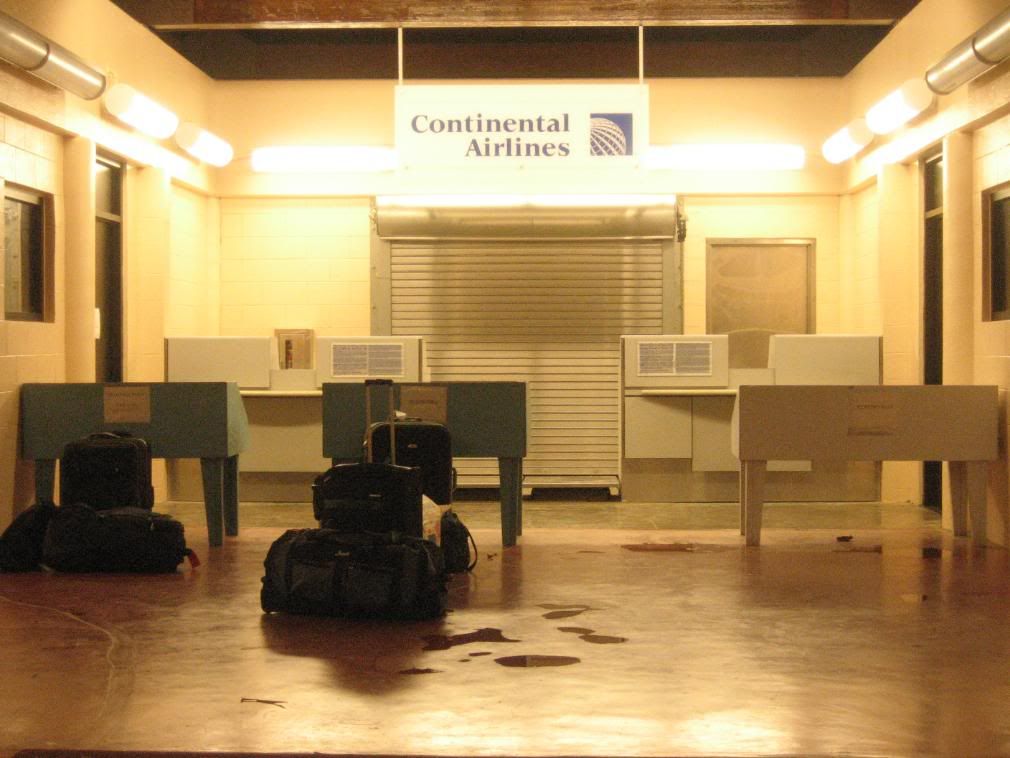 (Entire Yap area check-in area)
(Looks like a jail doesn't it? Well, beyond the bars is the arrival area. Then beyond the second bar is the immigration booth leading to the tarmac)
(Yap departure lounge)
(Exquisite beach at the Pan Pacific Hotel, Palau)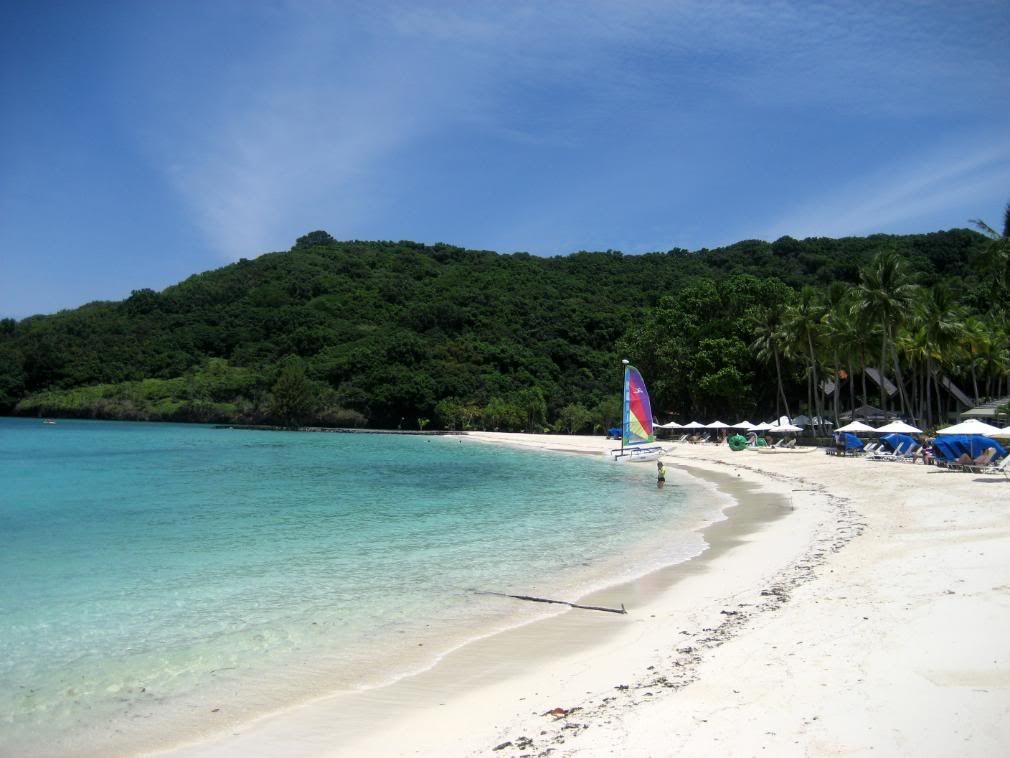 (A new capital is being built for Palau)
(At the end of Palau's brand new road, I find this hut)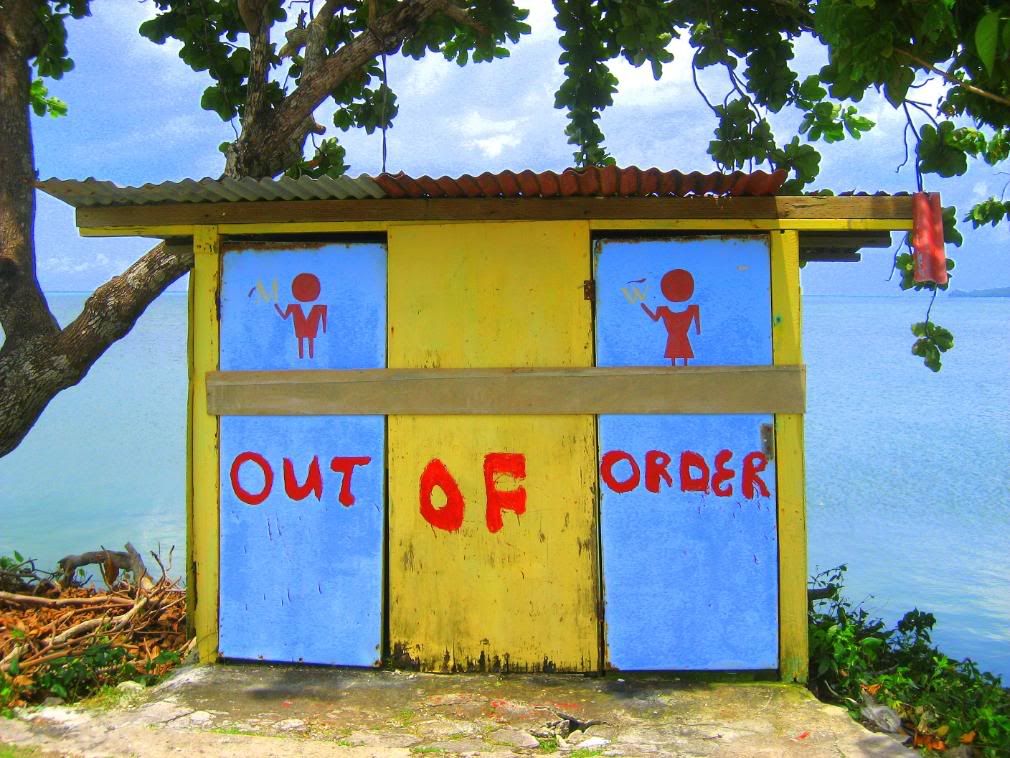 (Through the dense jungle, you can trek to an amazing waterfall. Through the trek you find surreal things like this abandoned secret Japanese railroad – I sort of felt like I was on LOST discovering all these random things from another era)
(Amazing waterfall – the rush of water while showering underneath was truly memorable)
(Sign, Palau)
(My cabana in a remote part of Yap)
(Another view of my cabana – there was NO one else on the entire island. My kind of paradise … not the pseudo crap we find in many "tourist" areas)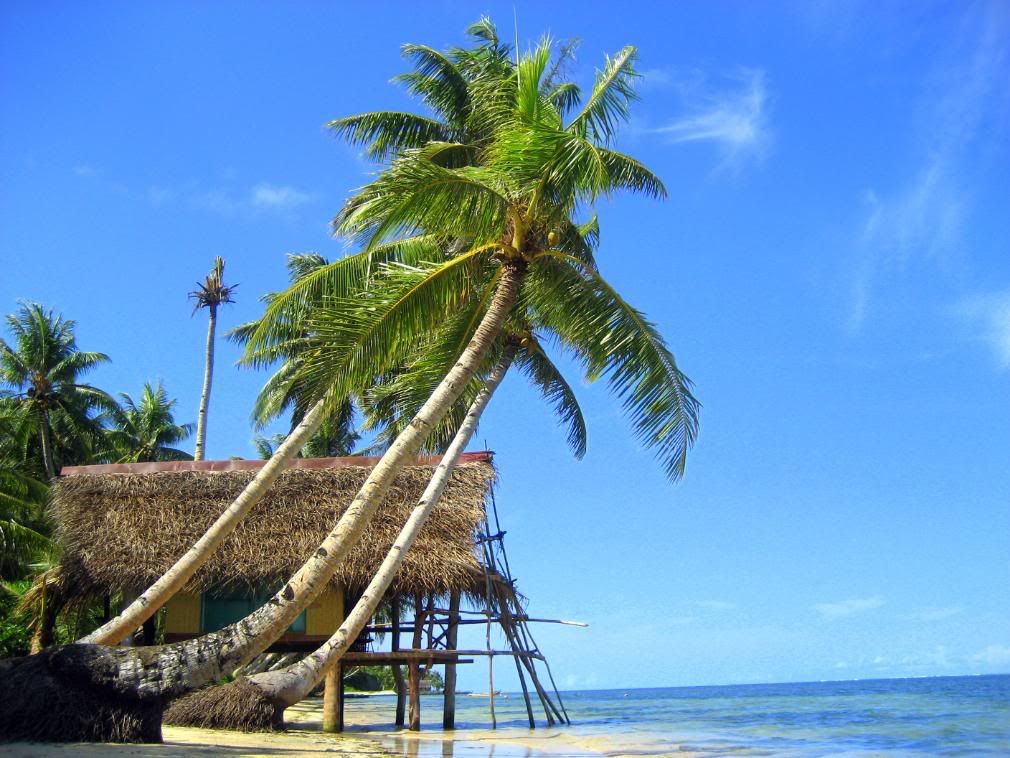 (Paradise)
(Yap delicacy – sea turtle meat…)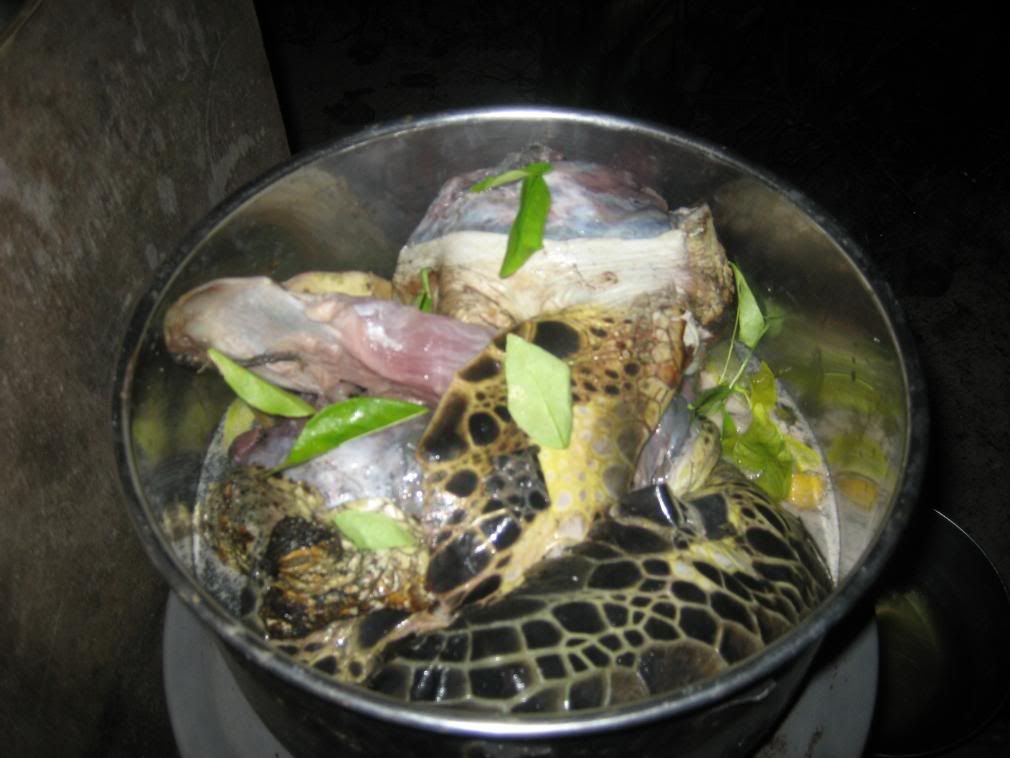 (Yap sunset … absolutely perfect)
(Random airline "junk" collected on trip)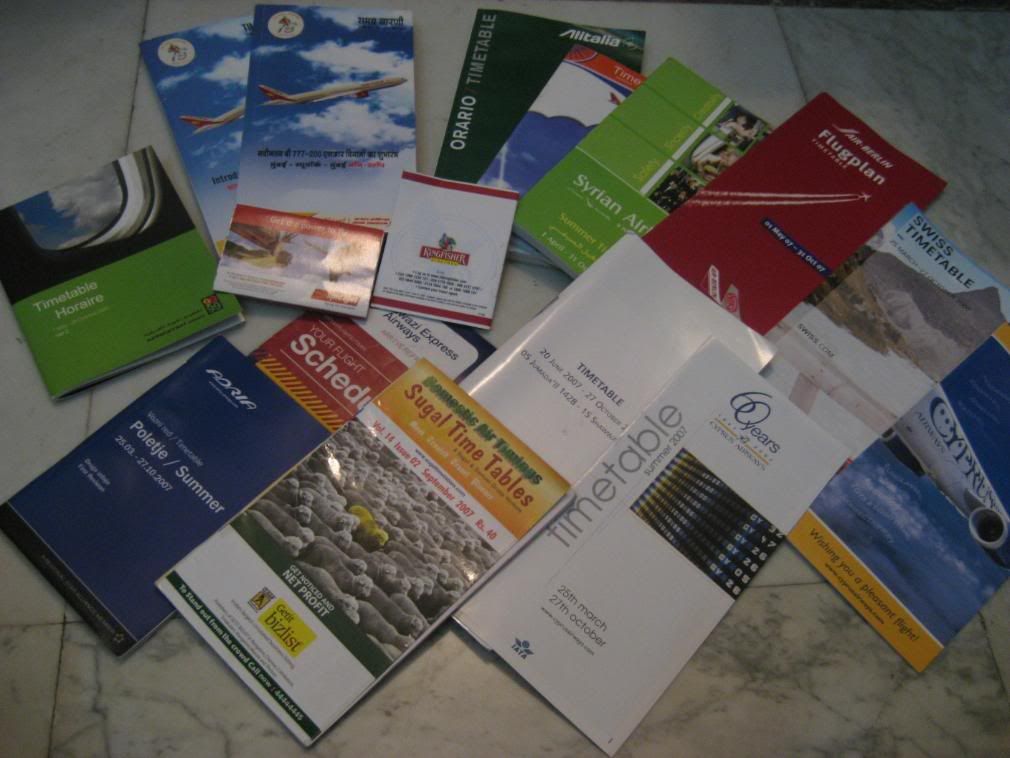 (Flew Jet Airways on CCU-BKK … no trip report, but impressed with the food and presentation)
(Also impressed by probably the most generous pillows in any Y class in the world)
(BKK – what's up with the missing road?)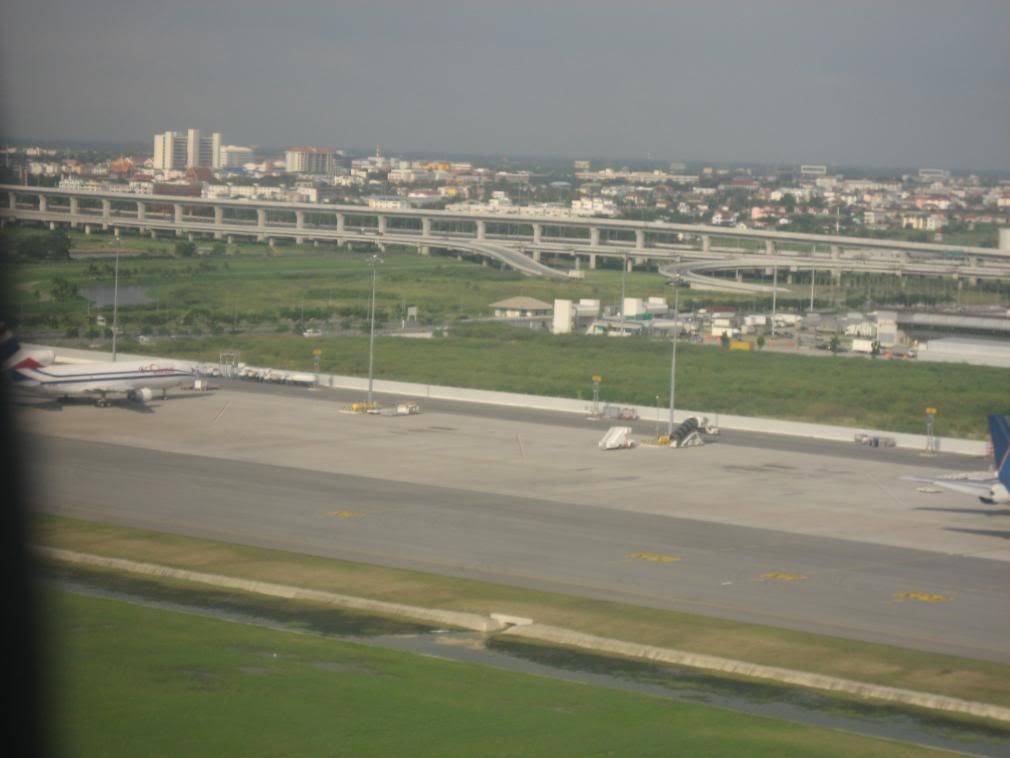 (BKK Airport at Suvarnabhumi)