Departure NW 50 on 1/29
A/C A330-300
Seats 1A & 1B
Departs DTW- 21:20
We got to DTW at around 19:20 and checked in with the skycap curbside, and headed direct to the main Worldclub. Not to much to write about there.
Boarding was called for @ 20:30 but but didn't start until 20:45. The load was very light tonight and WBC was only about 1/3 full and Y was pretty empty.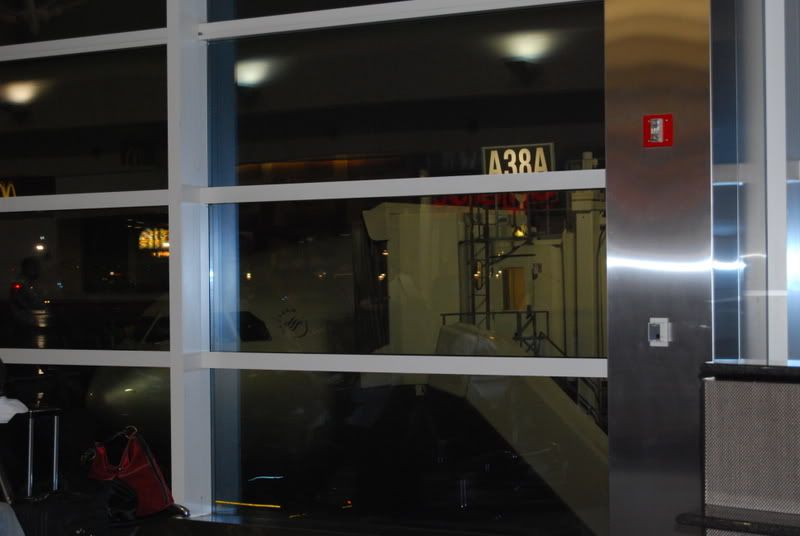 After we boarded Mr. Clipper and I both had the mineral water instead of champagne or O.J.
We departed DTW right on schedule and had no wait what so ever to get airborne.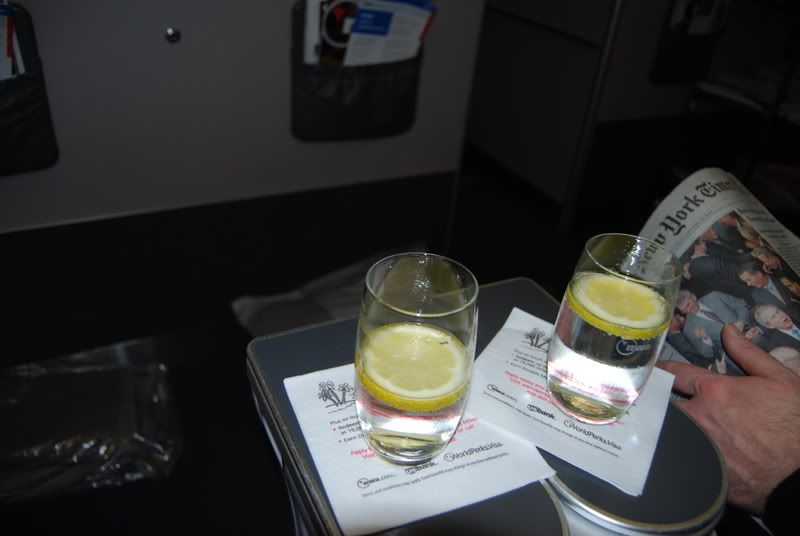 Since this flight departs after 9 PM the dinner service is a little condensed and not served in courses (save for the starters) as on the earlier flights.
Smoked salmon salsa and hungarian caraway cheese spread served with mini toasts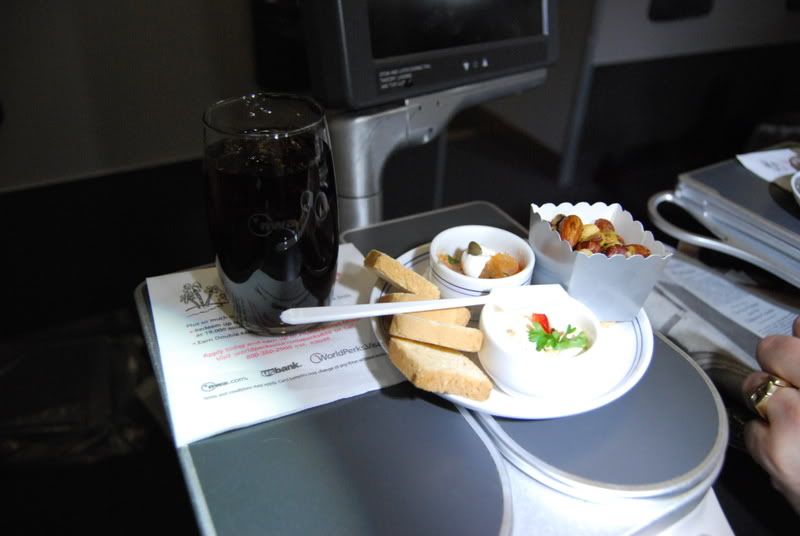 Salad of mixed greens with yellow squash, roasted potatoes and sliced roma tomoatoes
Beed tenderloin with shitake mushroom crust
roasted carrots, turnips and red skin mashed potatoes
I had the steak and Mr. Clipper had the Mediterranean halibut with garlic butter, asparagus couscous, grilled red pepper and onions.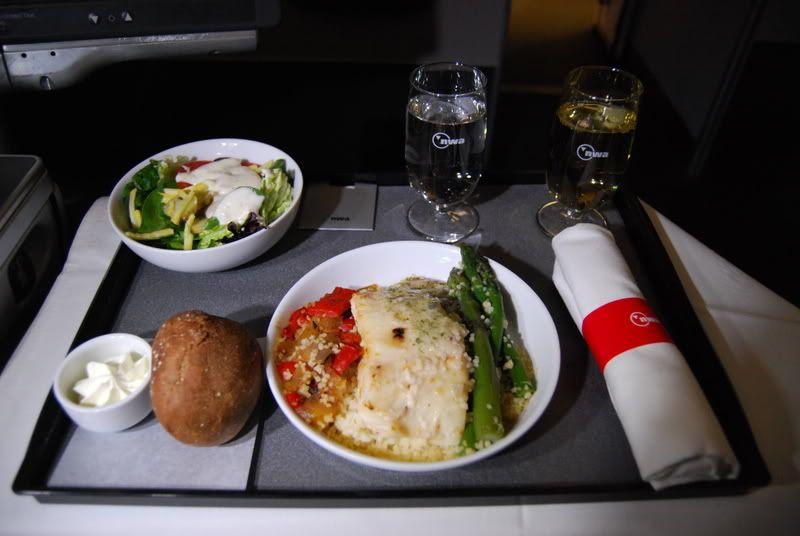 Warmed chocolate lava cake with vanilla ice cream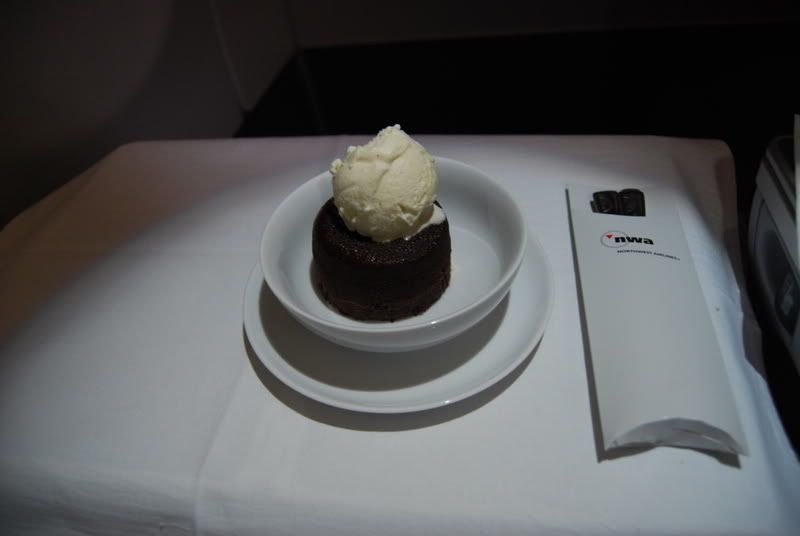 The Entertainment system on this bus caused the purser a number of problems, and had to be rebooted 3 times before it started working
. I didn't even bother to watch. I tried sleep, but over Greenland the weather started to turn rough outside and we were tossed around a bit for about 30 minutes. After that I slept until over the Irish coast.
Breakfast was fresh fruit and warm breads.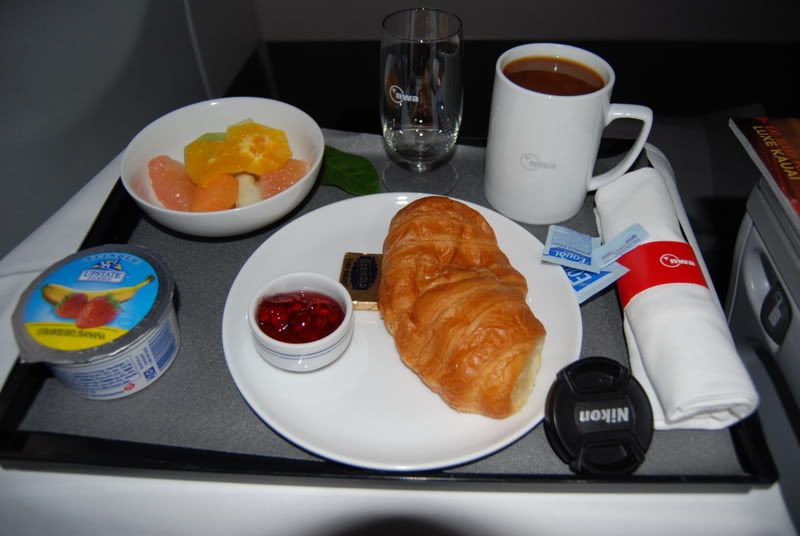 We arrived in CDG about 1/2 hour early, and were parked at a gate with a jetway which was a nice change!
As far as I am concerned CDG is still a mess and the trek to the "D" departure area was a pain.
The NW crew did a great job, and it was a pleasure. The food on the other hand was pretty poor, and needs a little work. The steak was just bad.
Part 2 CDG-VIE and Vienna to follow.