I was super excited to be flying Continental on an international longhaul flight, especially EWR-TLV, which I have wanted to fly on Continental for a while. I have been curious for years to see what it was like in terms of loads, extra security, etc etc as there are not too many trip reports of it here on Airliners.net.
I was flying to TLV was on Continental 84, the 3:50 PM departure from EWR. It was my first time flying out of Terminal C since around 2000, though I flew El Al EWR-TLV-EWR last year:
http://www.airliners.net/discussions/trip_reports/read.main/92739
So I arrived at EWR around 1PM. I found the check-in line for TLV passengers (and for several other cities). There was no line when I arrived there, so I checked-in within a few minutes, by which time a line had started forming. After checking-in, the agent told me to put my suitcase in a large pile that was building off to the side. She said that TSA had not started screening the bags yet but not to worry. I did what she said and left my suitcase there, which caused me some concern as anyone could have literally walked up and stolen it. But alas that did not happen and the bag made it to TLV.
After I was all checked in, I explored Terminal C a bit before going through security. I was pleasantly surprised by Terminal C. It was bustling and felt like a true global hub, something that no terminal at JFK feels like (Delta and American each come close, but are nothing by comparison). In particular, I really enjoyed the wing of the terminal where my flight departed from (Gate 138). It was light and airy but also modern. The other two wings of the terminal felt a lot more dark and dingy--I assume these are the older parts of the terminal--and could use additional lighting. But overall I enjoyed the terminal--it had good shops and food choices, etc.
It came time to go to Gate 138 for my flight. As I expected since I have heard this from some people, flights going to TLV have a special security area around the gate. I saw that a special barrier had been put up around the gate area with signs saying that it was a closed area for security reasons. I got on a short line of people waiting to get into the gate area. The extra security consisted of some typical underpaid American security agents wanding you and searching your handbags. After this, you had to go to the gate agents to have your passport checked and boarding pass marked. When I did this, I also asked if it was possible to switch to a window seat (I had unsuccessfully tried to switch several times in the days before the flight). Sure enough, seat 28L was open. I was familiar with this seat because I had managed to switch into seat 28A for my return flight and had even posted a threat on Airliners.net asking if 28A was a good seat. So I happily took 28L and went to sit down.
The Continental crew started arriving, which was exciting. They looked like a jolly and experienced group. I started talking to one of the F/As who told me that the EWR-TLV runs usually attract F/As with a lot of seniority because of the high-amount of paid hours for a 3-day trip. This particular one told me that he flies mostly TLV runs because he loves laying over in Tel Aviv.
At about 3:00, our 777 was towed to the gate. A few days before the flight I messaged a fellow A.netter who told me which CO 777 was scheduled to operate my flight, and sure enough, N74007 was our bird. After she was towed to the gate, the crew boarded. It seemed pretty tight time wise to first tow the aircraft to the gate at 3:00 for a 3:50 flight, and sure enough we were delayed for about 30 minutes. Boarding began, and the agents announced that meals were still being loaded in BusinessFirst, so they asked coach passengers to board first.
Entering the aircraft, I was surprised by the lack of a greeting. Rather the F/A simply looked at my boarding pass and only told me which aisle to go down. I saw the F/A who I had been chatting with checking some carts in the galley and continued down to my seat. 28L was perfect for me in that it was right over the wing. I did not mind the lack of recline as I generally try to be respectful and not recline my seat, especially on long flights, but I was not crazy about having the bathroom right behind me.
We pushed back around 4:30. It was a nasty day in NYC with rain, clouds, etc. So I was very surprised when we taxied to the runway and took off immediately. I had been expecting a ~45 minute or longer wait given that fact that it was a NYC airport, that there was inclement weather, and that it was during the peak of the Holiday season. But I did not complain! Taking off on the 777 is always a treat, especially on 777s with GE engines.
We had a pretty smooth climb and before long it was already dark out. The purser/ISM came on to tell us that the livemap was not working properly and that he was going to reset the system which would take approximately 20 minutes. He did so, but it did not fix it as the livemap didn't work for our entire flight, which was a disappointment.
A drink service came around fairly quickly. A few minutes later, they began the dinner service. The choices were chicken with vegetables or beef with pasta. I had the beef, which was quite good although the portion was tiny. It was nice having full metal silverware for a change too. The dinner service was promptly followed by another drink service.
I guess the F/As were taking a long time to collect the meal trays, so quite a few passengers started putting their meal trays on a cart that was parked behind the middle part of row 28. Well a few minutes later an F/A came past and found a dozen if not more meal trays just thrown on top of a cart. Since I was sitting close by, I could hear her mumbling under her breath about how some passengers made such a mess.
Anyhow I fell asleep for 2 hours or so, and then stretched my legs. Two friends and I were standing behind 28 D/E/F when that abovementioned F/A who was mumbling under her breath informed us in the nastiest way possible that we should not stand there out of respect for the people in 28 D/E/F trying to sleep. Fair enough, except that those folks were awake and watching a movie, and she could have asked us nicely without being condescending and rude. This F/A would soon become a joke in my section of the cabin in a few hours.
Here is a photo of the cabin after the lights were turned off...I always love dark cabins on longhaul flights...it's very peaceful and relaxing.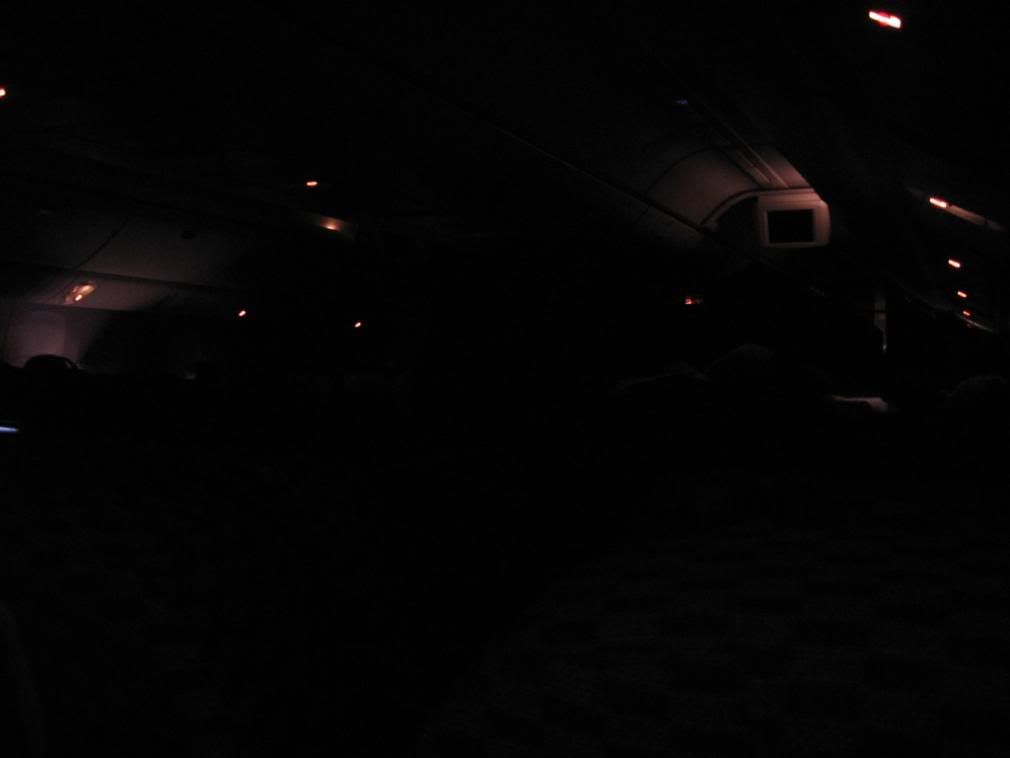 The rest of the flight was nice, though I wish I had the map to know where we were. Sunrise somewhere over Europe: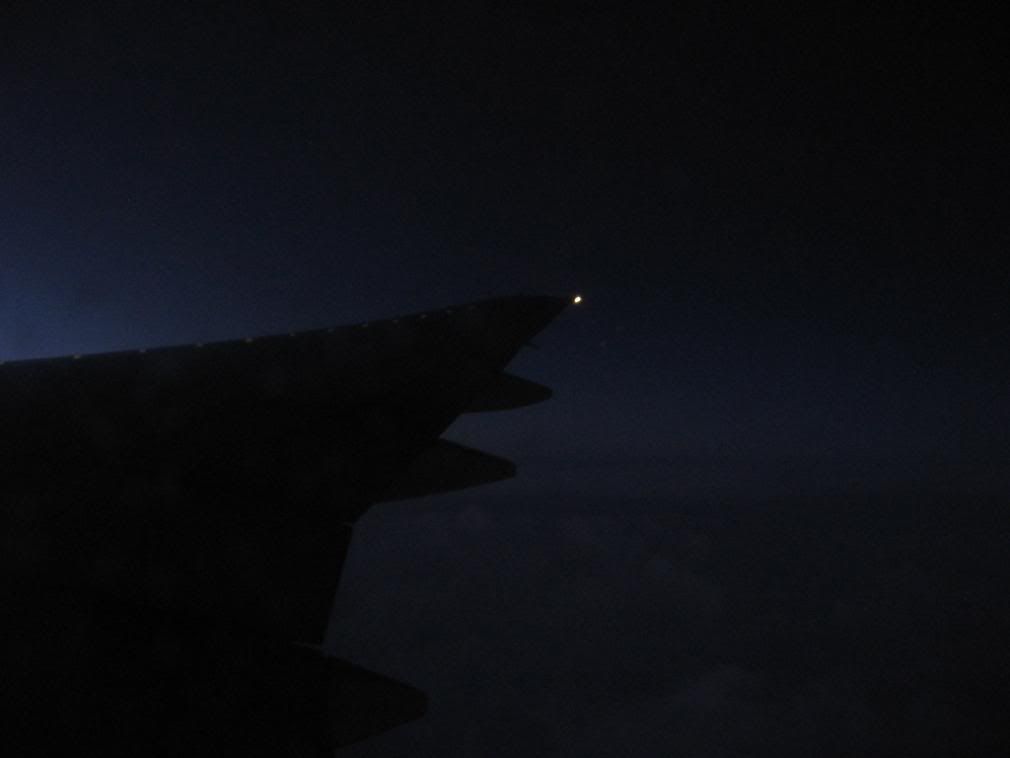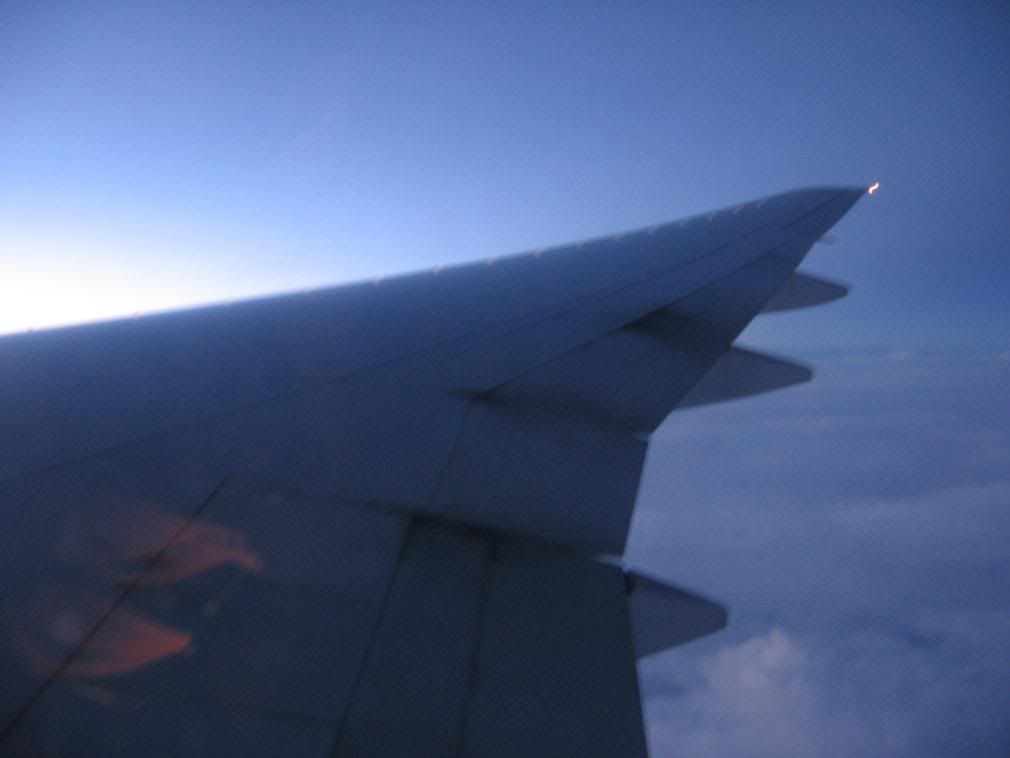 About an hour outside of TLV, breakfast was served. The choices were eggs or cereal. The same F/A I mentioned above was serving my section. She was only giving croissants to passengers who ordered the eggs, and not to those like myself and many around me who ordered the cereal. So when two young F/As serving drinks followed past, they both laughed and rolled their eyes when they found out that a lot of passengers had not been served croissants, and were asking for them. In fact, I heard one of those F/As go up to the nasty one and ask why she had not served everyone croissants. She replied that passengers eating cereal no longer received croissants, to which the F/A told her she was wrong. Anyhow the result was that the other two F/As had to go back down the aisle with a bag of croissants serving whomever had not gotten one.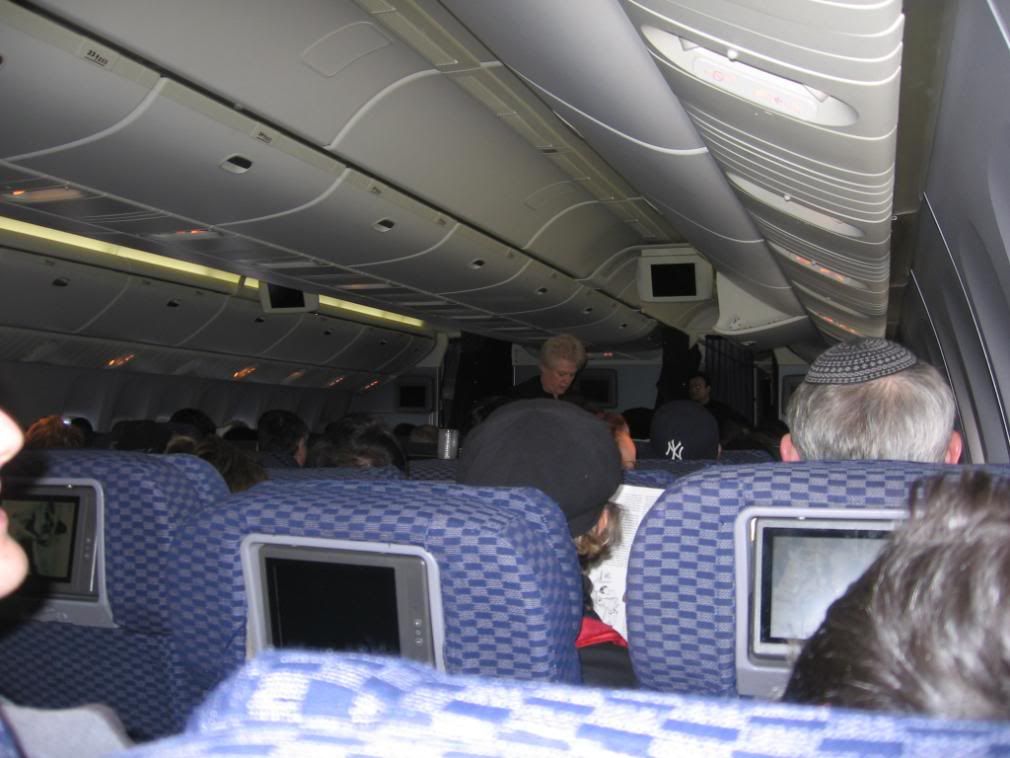 Other passengers around me had noticed the nasty demeanor of the F/A who refused to give us croissants. In fact, the two younger F/As even joked about it. One of my friends jokingly asked one of them something like "what's with that lady?," to which one of the F/As laughingly replied "Oh there's a lot wrong with her." It was nice to see some young personable F/As...
About 1 hour to 1.5 hours outside of TLV, we flew over some beautiful mountains...since the livemap was not working, I did not know where we were: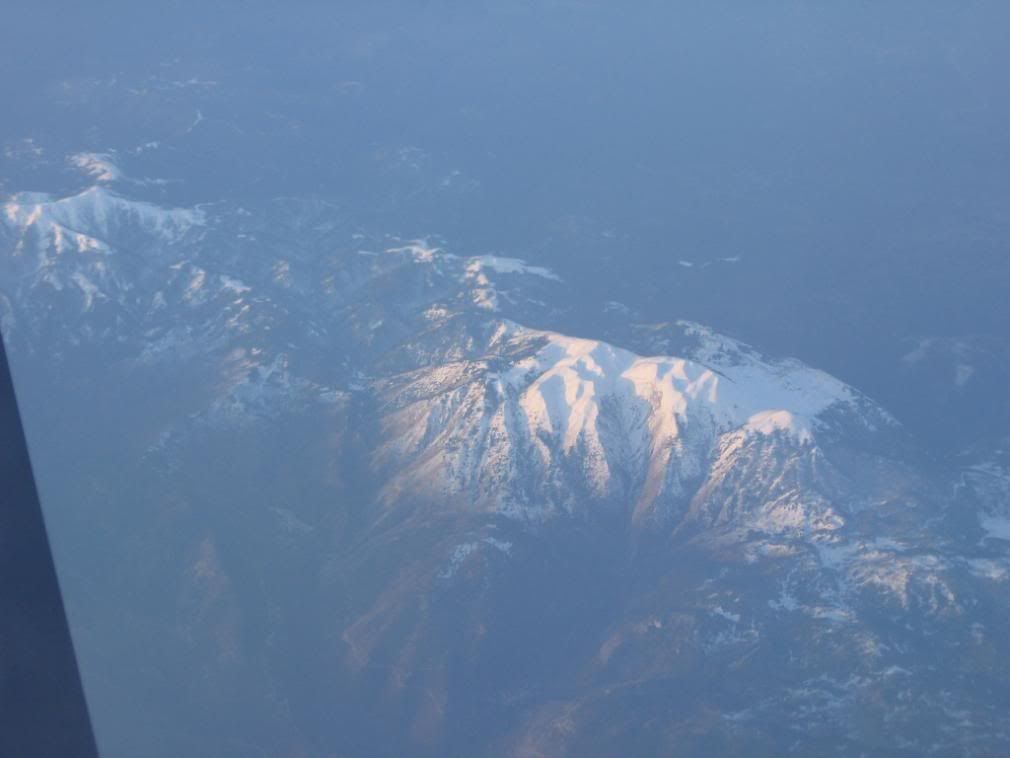 Any guesses/ideas?
We had a beautiful approach over TLV with the Mediterranean sparkling beneath us, followed by a smooth landing. Terminal 3 at TLV is great to fly into and out of. We were through Immigration and had our bags within 25-30 minutes.
So in conclusion, I enjoyed the flight, despite the one nasty F/A. All of the other F/As were quite nice, and the service was good for a longhaul flight.
Some photos of the descent over TLV, the landing, and the airport: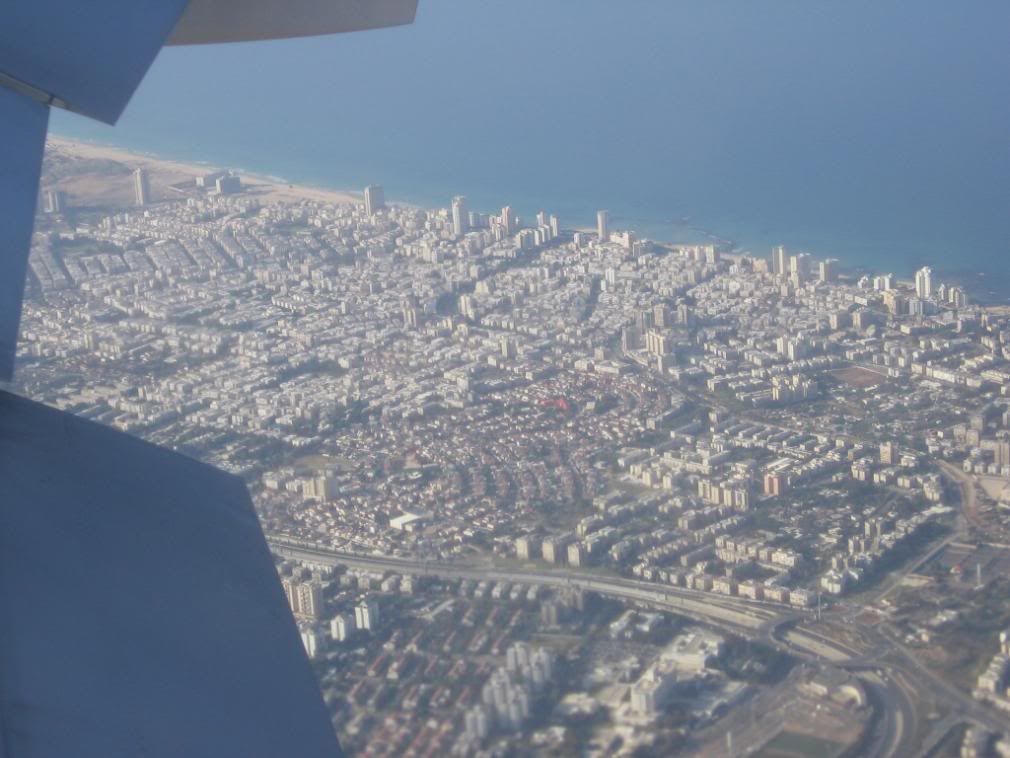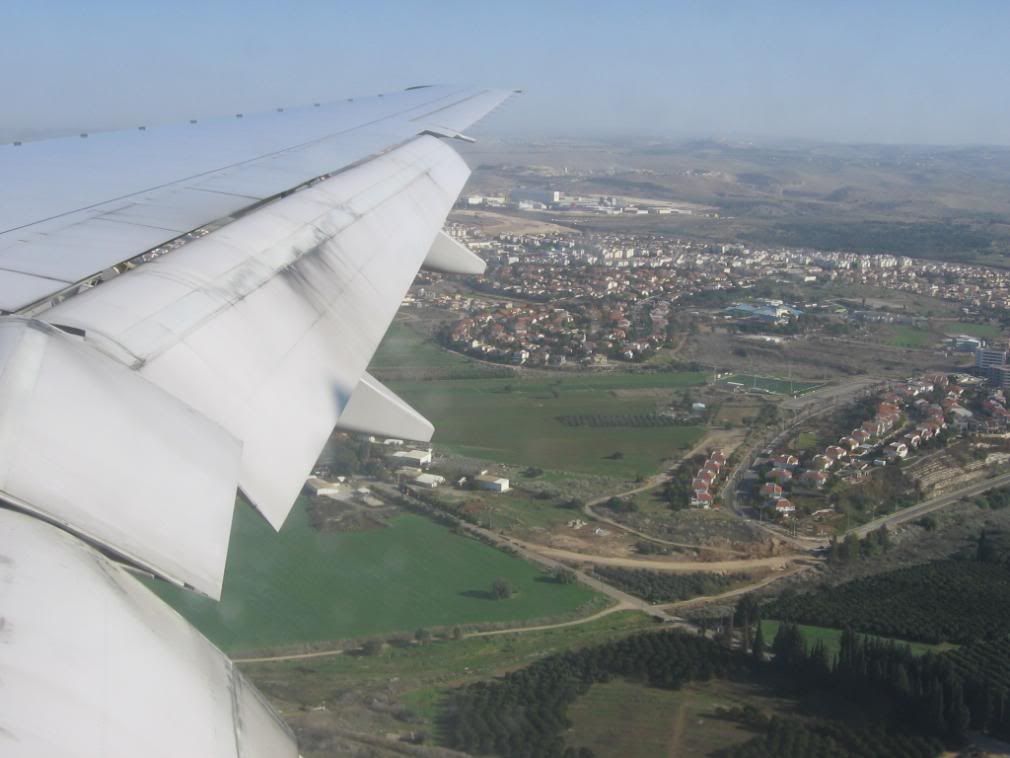 Nice 707 in this shot: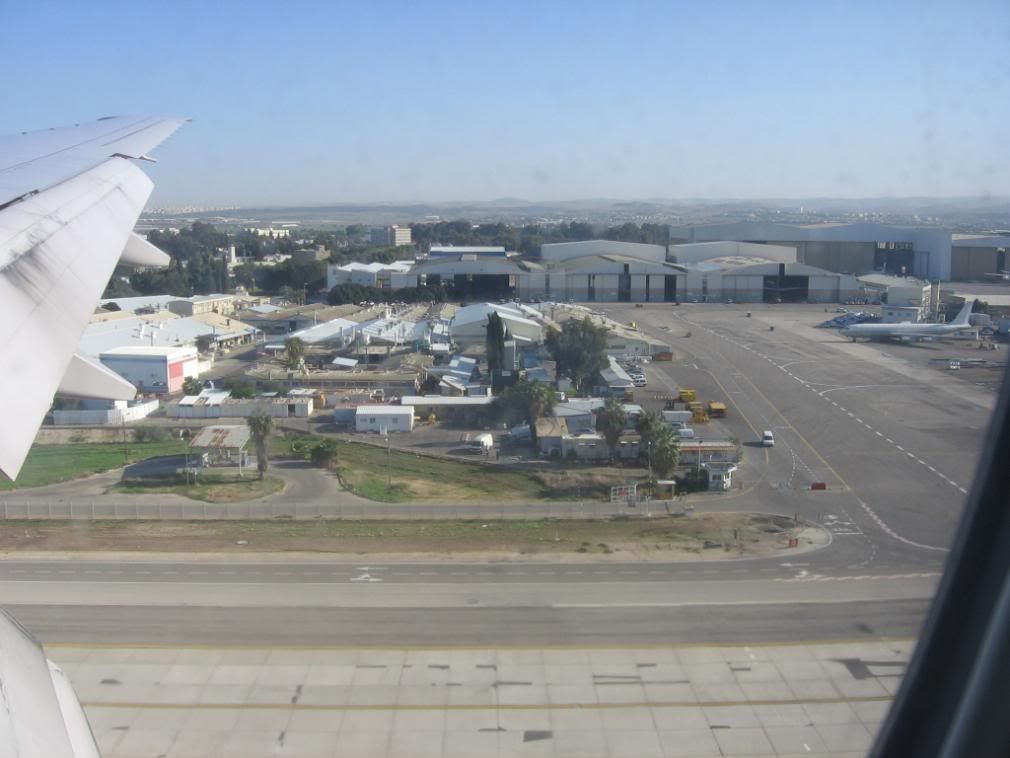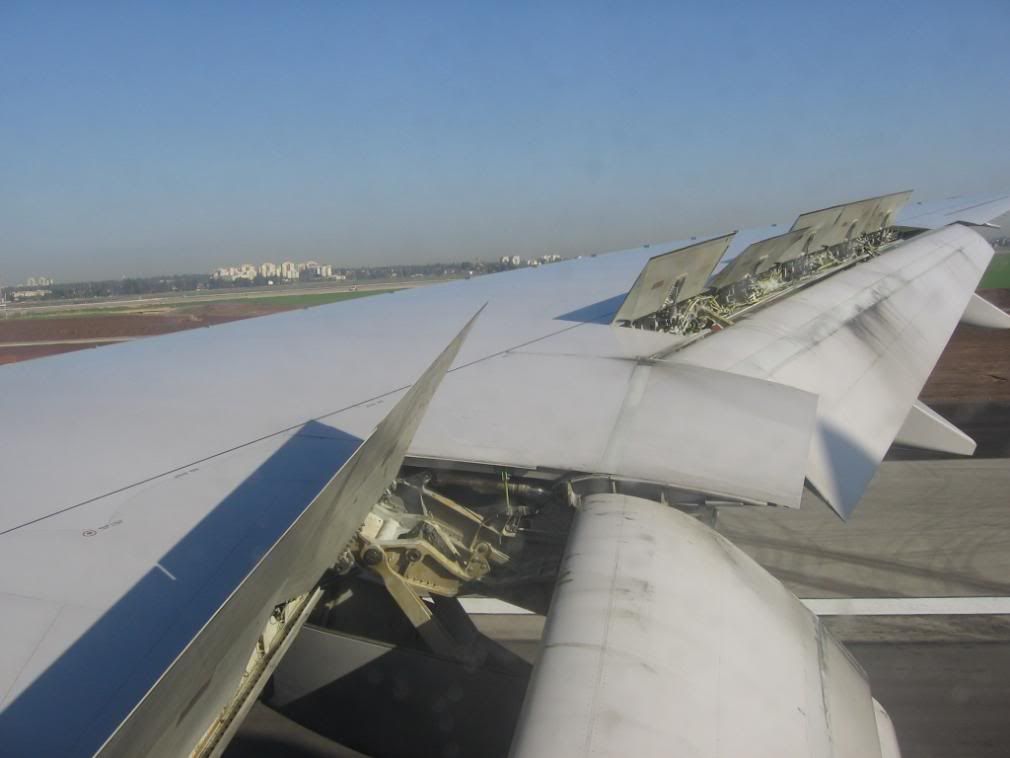 This wing sure is impressive!: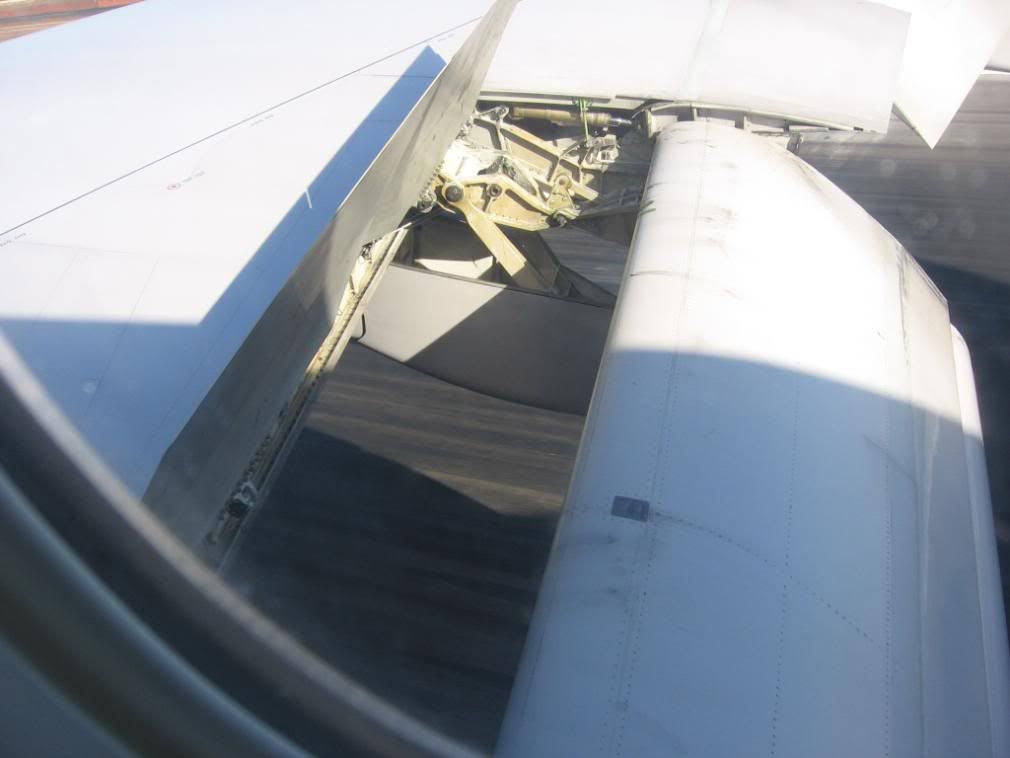 Terminal 3: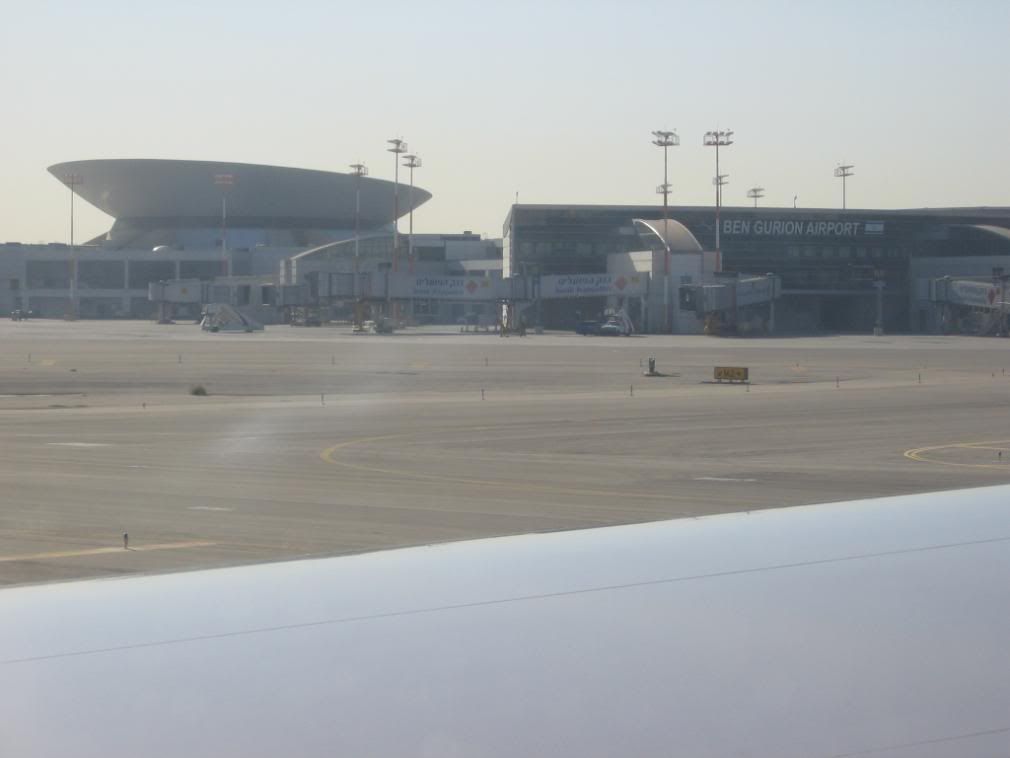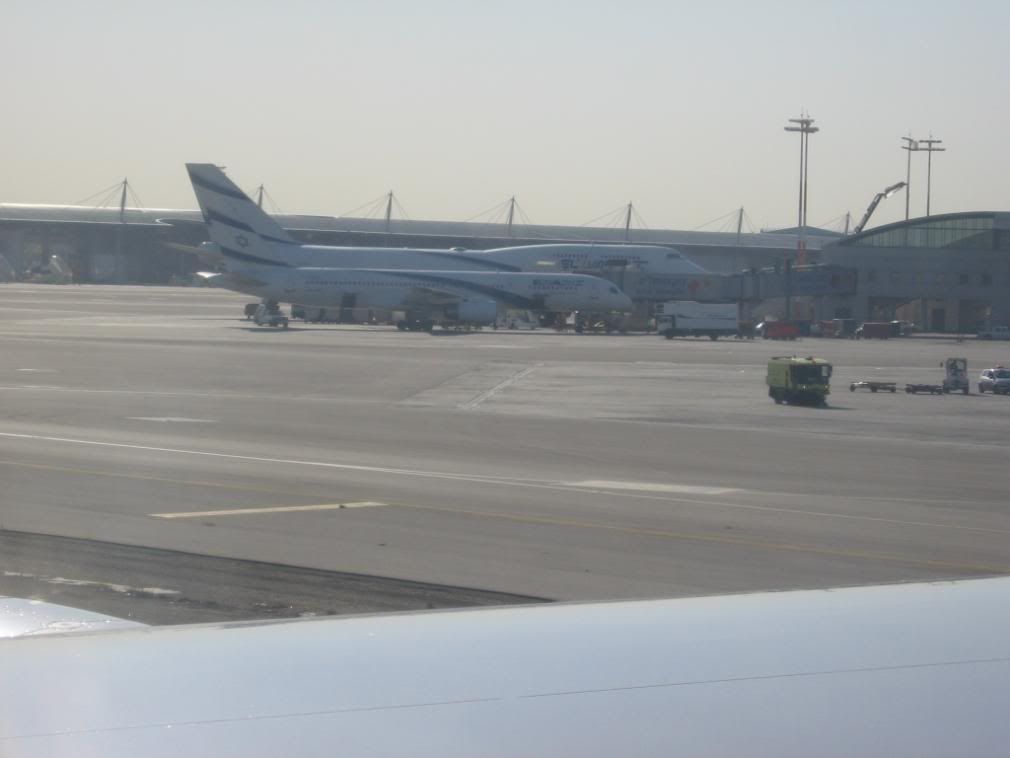 Here are some non-aviation photos from my trip:
Tel Aviv skyline: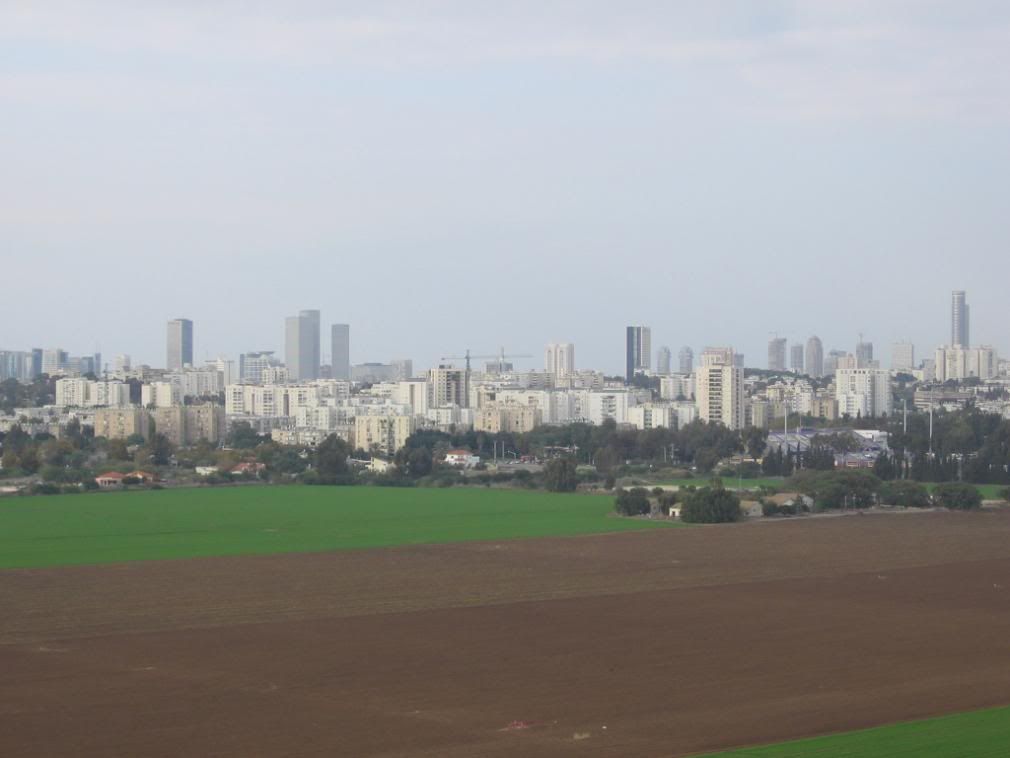 The view from the balcony at my hotel: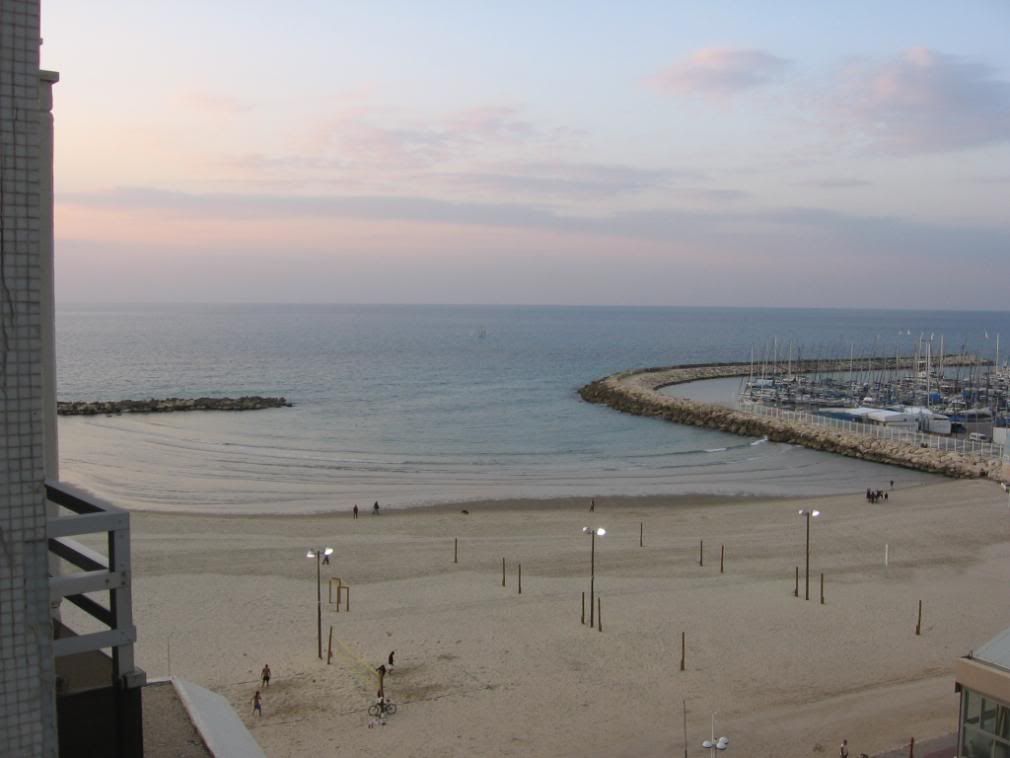 Sunset from the hotel lounge: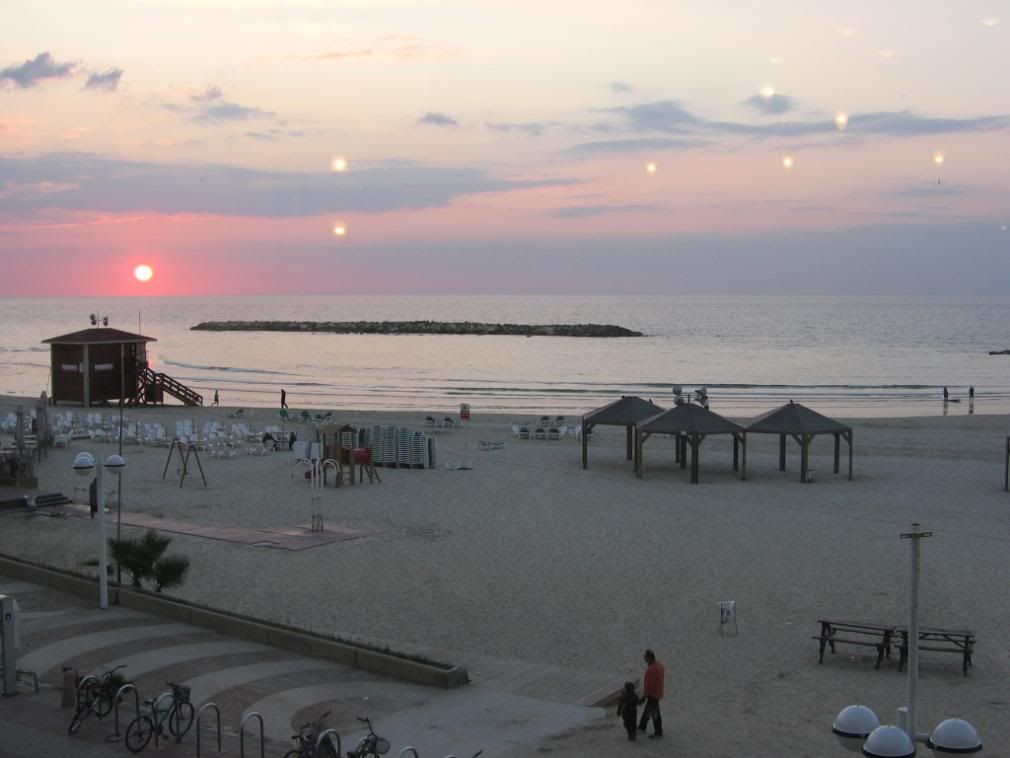 A view of the Mediterranean from the top of the hotel on a cloudy day: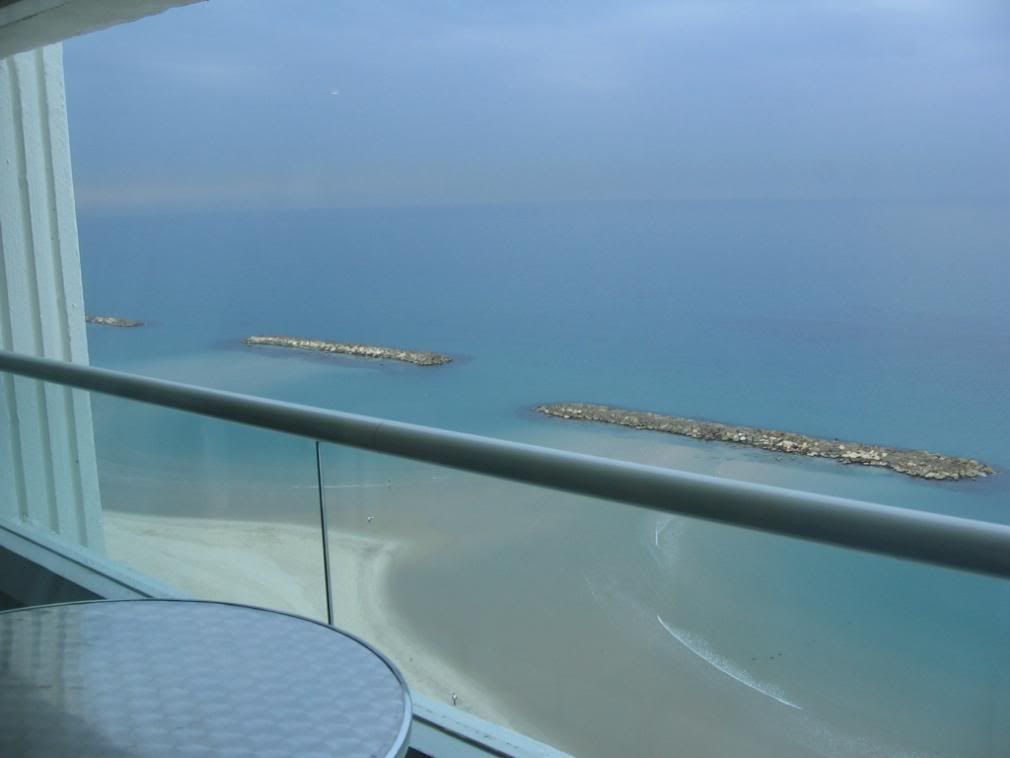 Looking up the coastal strip from the hotel: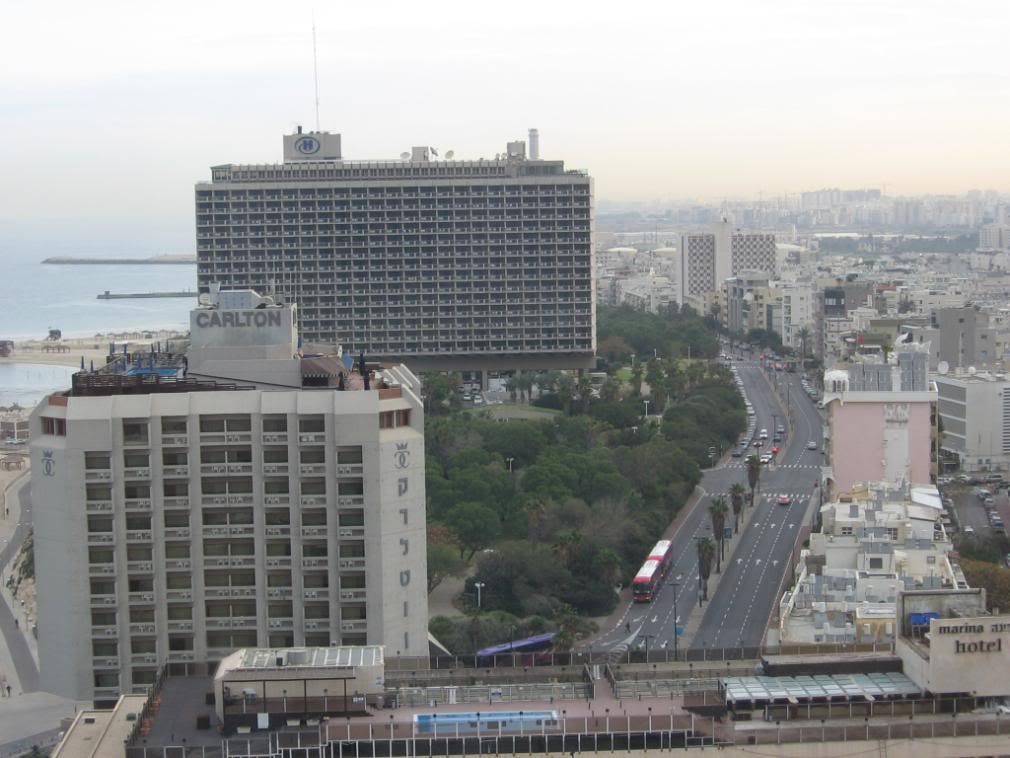 A lot of construction going on in Tel Aviv:
Tel Aviv beach: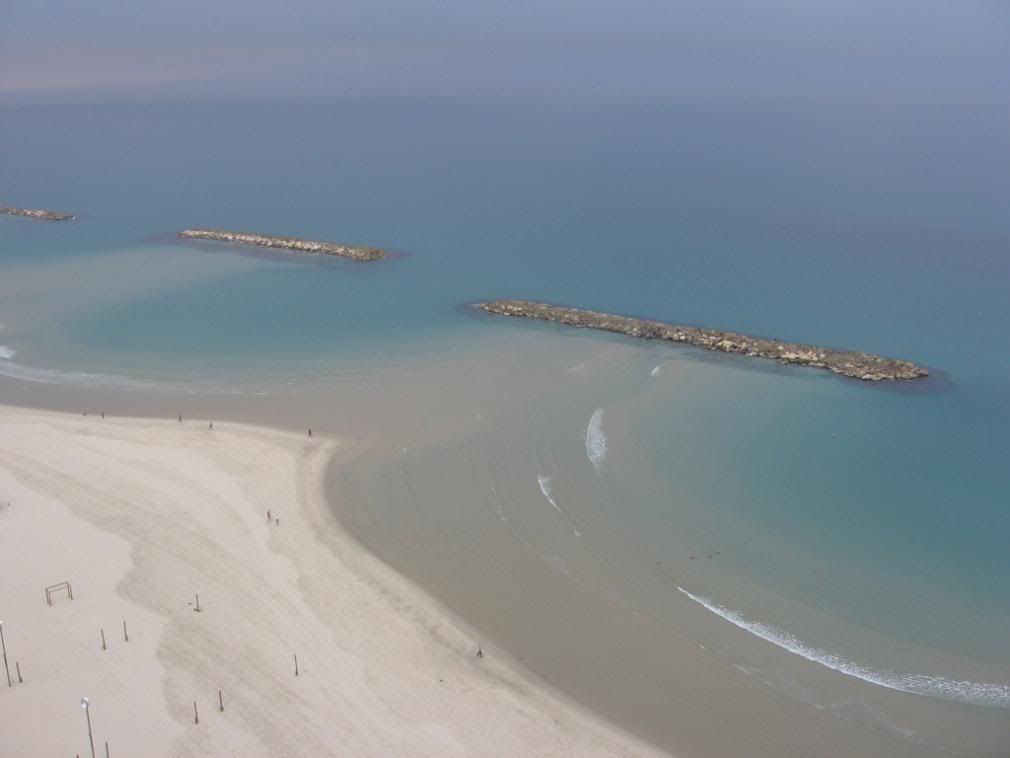 View of the Old City of Jerusalem, with the Dome of the Rock clearly visible:
The Jerusalem Hills from my hotel roof: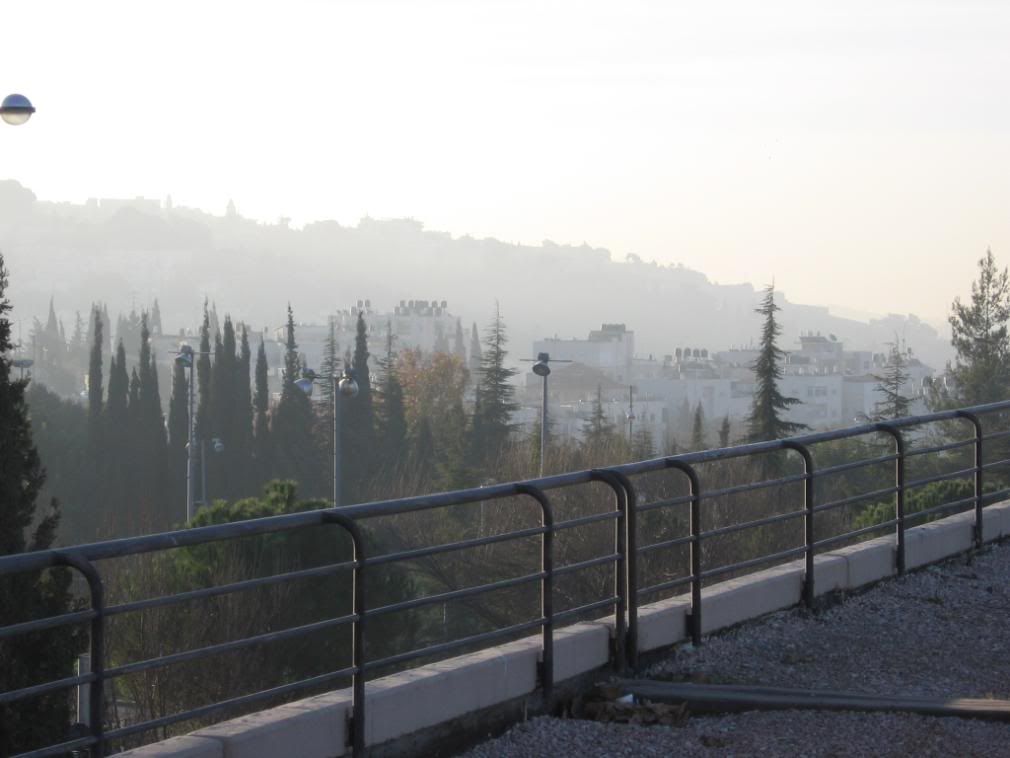 Dusk in Jerusalem: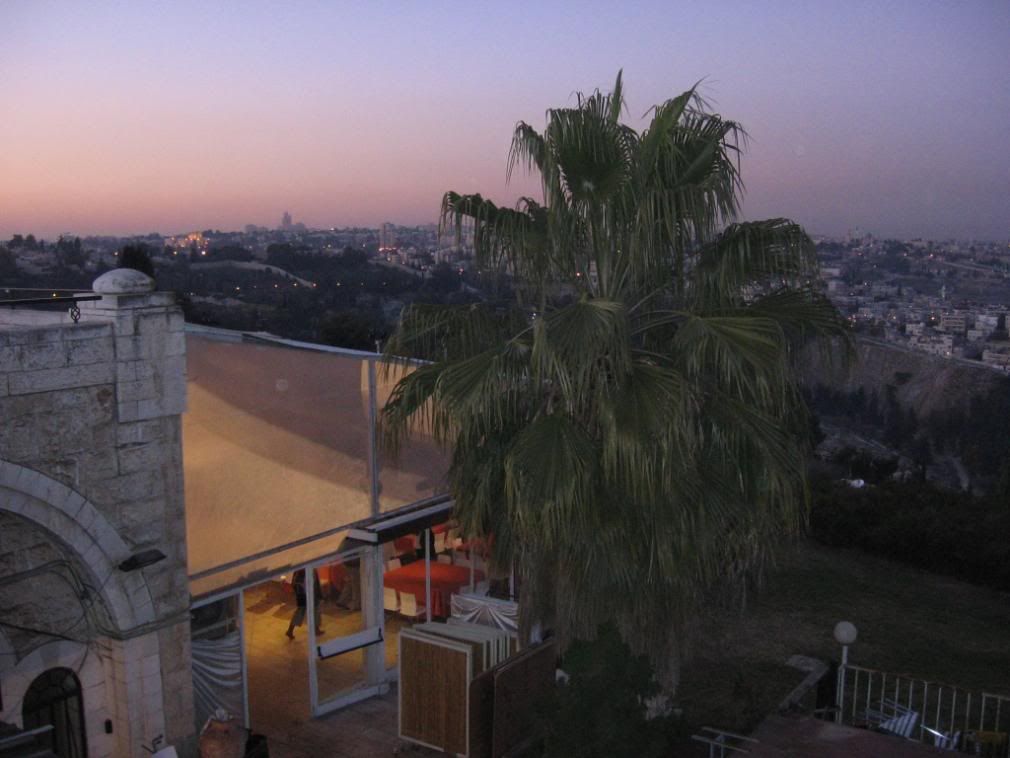 For my return flight, I was scheduled on CO 91, the 11:50 PM departure from TLV. I arrived at TLV around 8:30 PM. The security line near the Continental check-in counters was not too long, especially compared to those near the El Al counters.
Once again I was reminded why Israeli security is the best in the world. Every passenger is interviewed individually. Since I was part of a group, we were all put in one special line. The security agents pulled out several random members of our group and took them aside to question them about the details of our trip. When it came time for my interview, two or three security guys descended upon me and asked me several questions regarding the trip. After this, I went to have my bags scanned. After that, some passengers were sent to check-in while others, including me, were sent to an adjacent counter for further examination. At the counter, several Israeli security agents opened my bags and just browsed through it casually, asking additional questions. On their computer, they had the scanned image of my bag from the machine. They gave me the all clear, put stickers on my bags, and so I went to the Continental check-in counters.
Photos from the airport:
El Al checkin: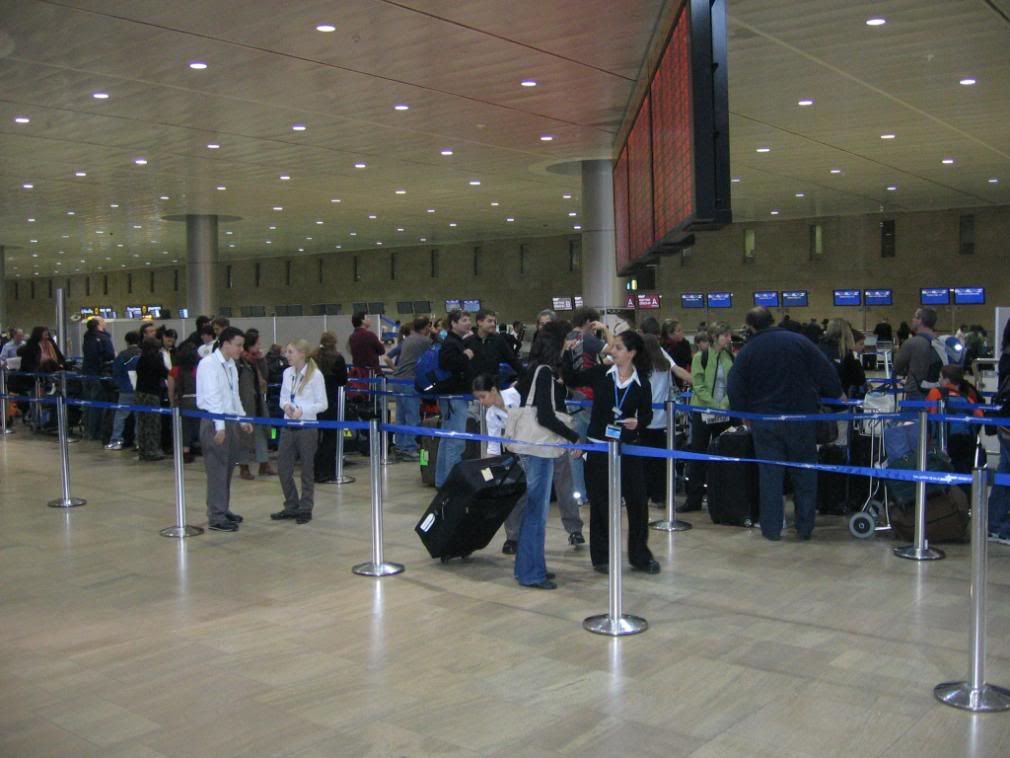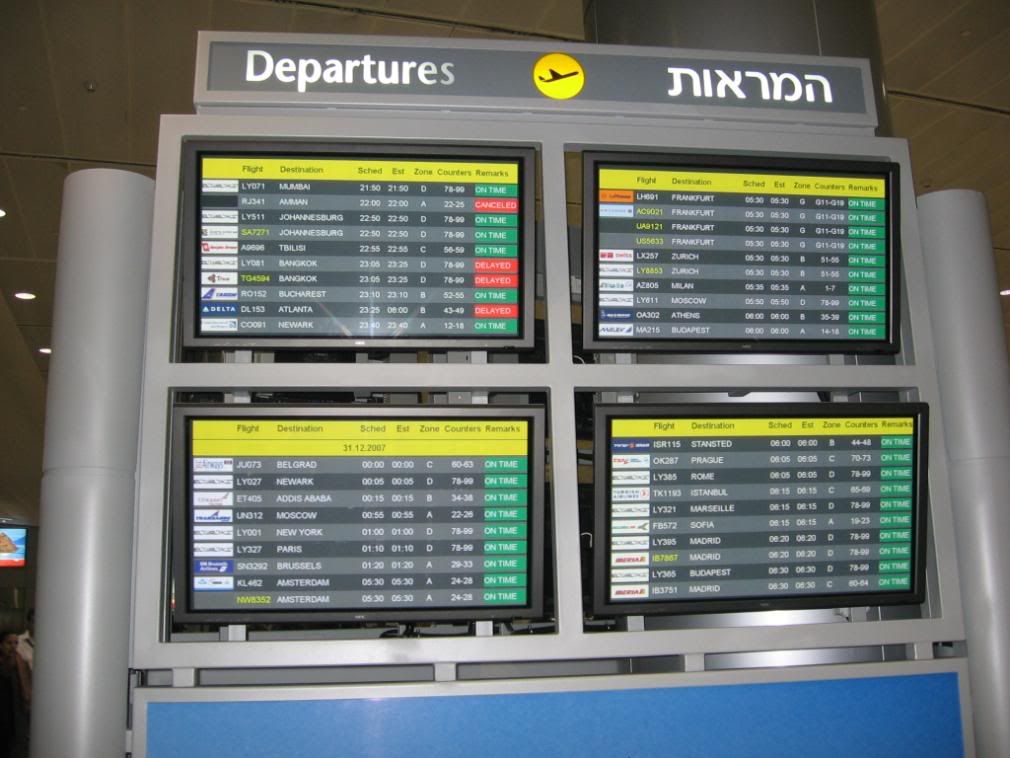 The Departures board:
I met a very friendly agent who asked me if I would be interested in being bumped to the next flight. They were offering a $500 voucher, a night in a hotel, and a seat on the morning flight to EWR ~12 hours later (or the night flight 24 hours later). I was very tempted to take the offer, but I wanted to fly home with my friends so I declined it. I proceeded to go through security and immigration, and before long was at the gate. The entire concourse was empty minus the CO flight to EWR, which was a bit surprising. I saw several of the F/As arriving and sitting down at the coffee bar/restaurant.
The inside of the terminal before the security checkpoint: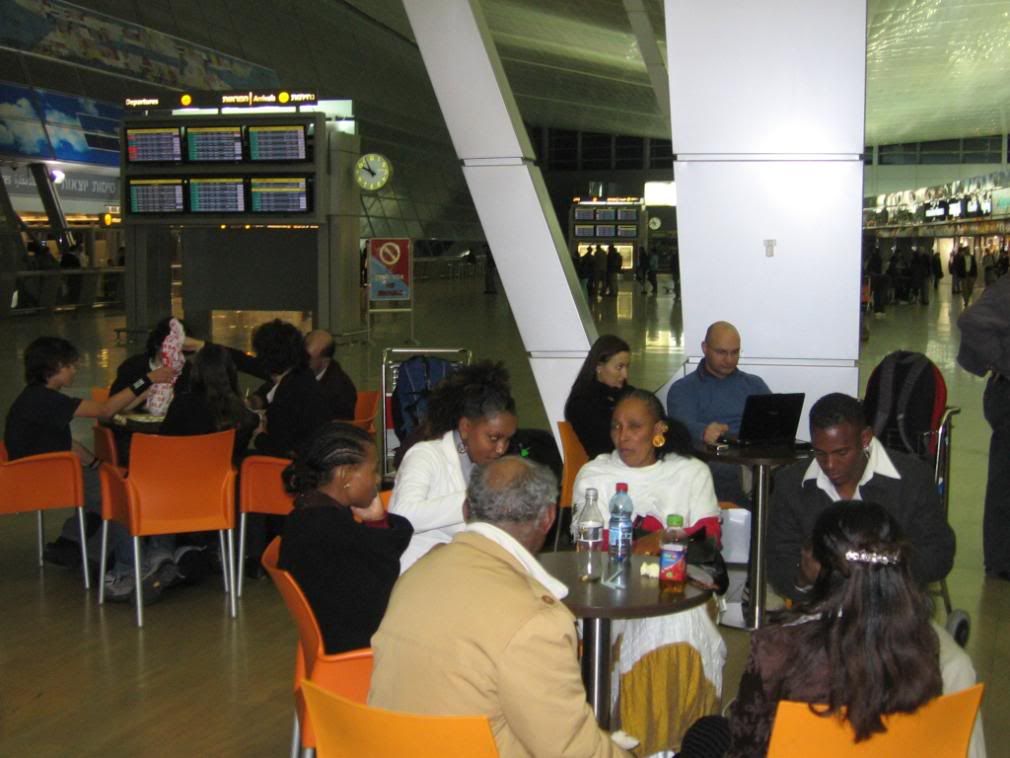 Past security, in the center of the terminal where several concourses intersect: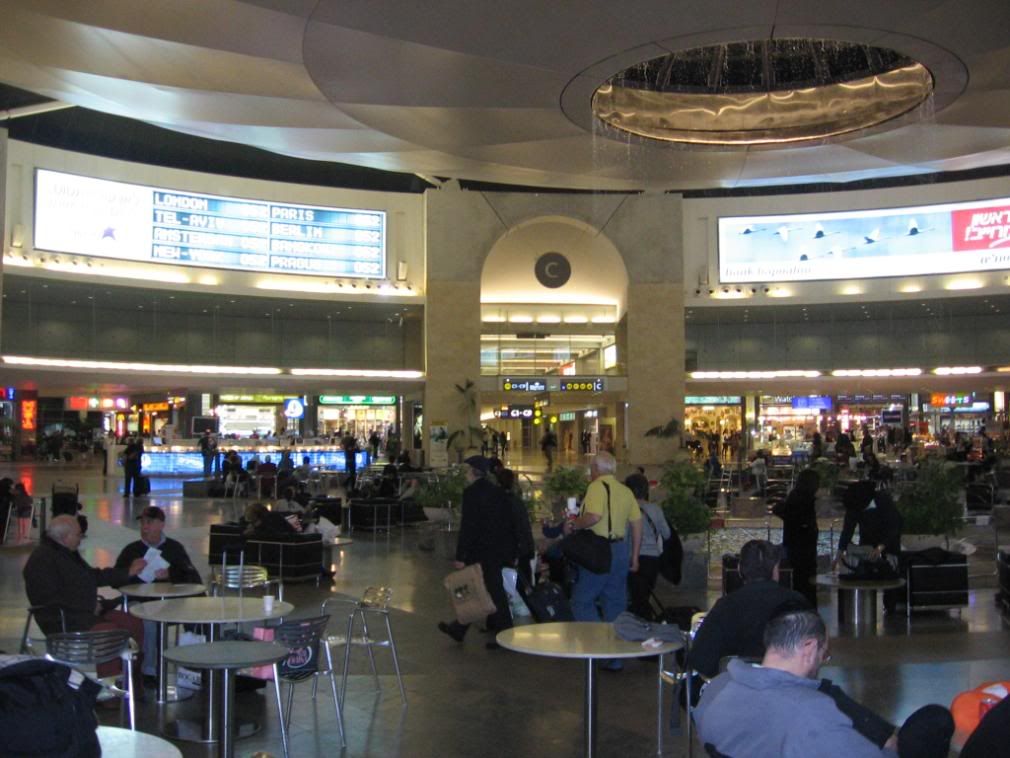 The 777 that took us back to New York: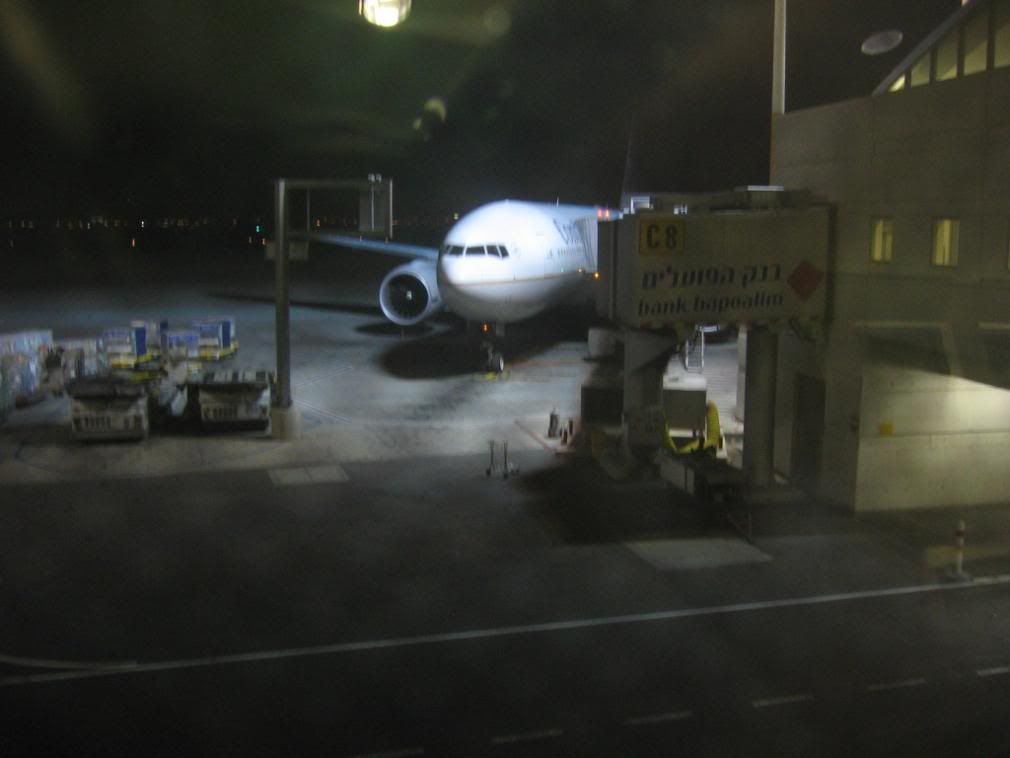 Our lovely F/As sitting before they boarded: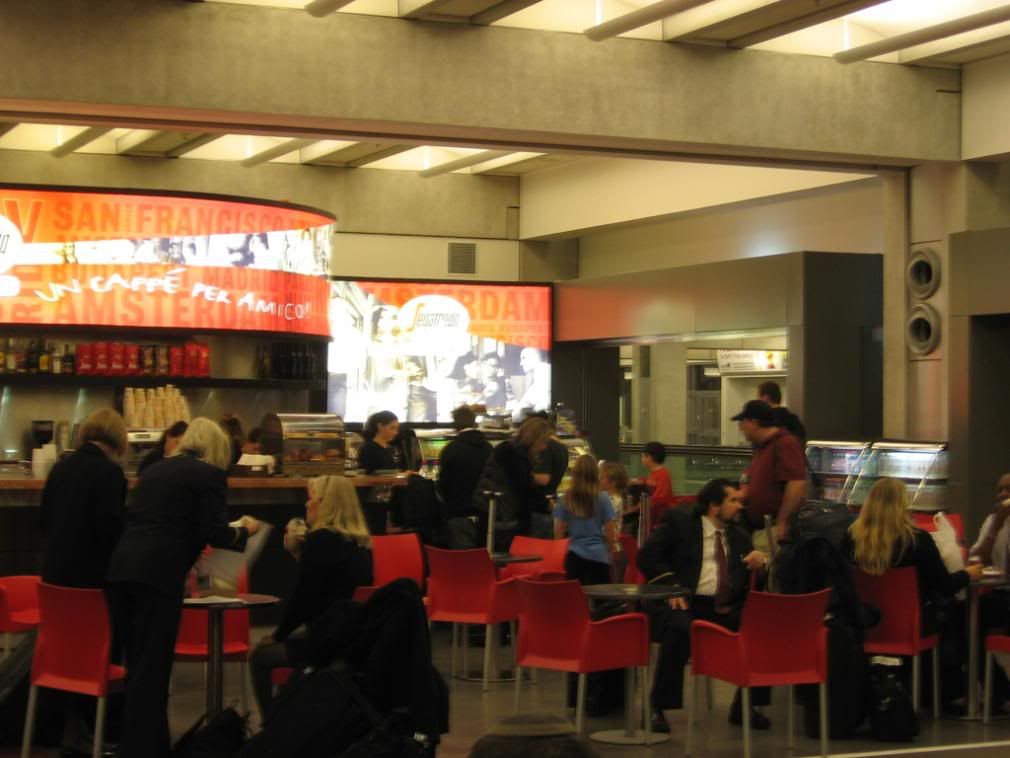 Boarding began on schedule, and this time I received a pleasant "Good evening" upon entering the aircraft.
Passengers boarding: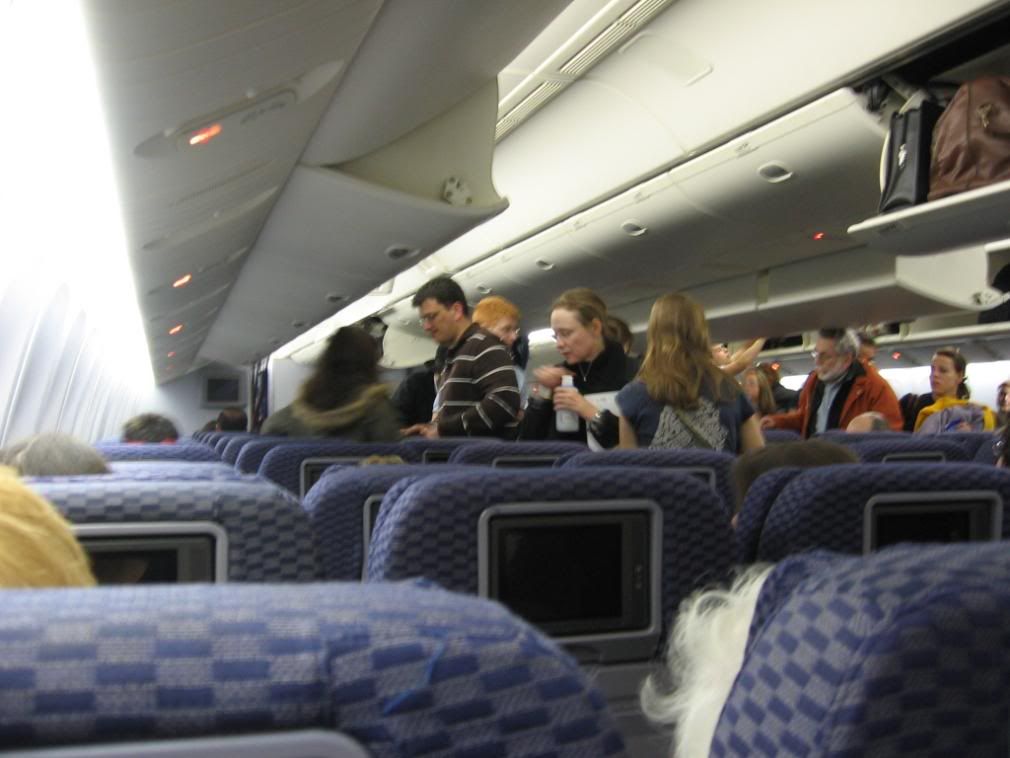 Looking out over the wing and tarmac: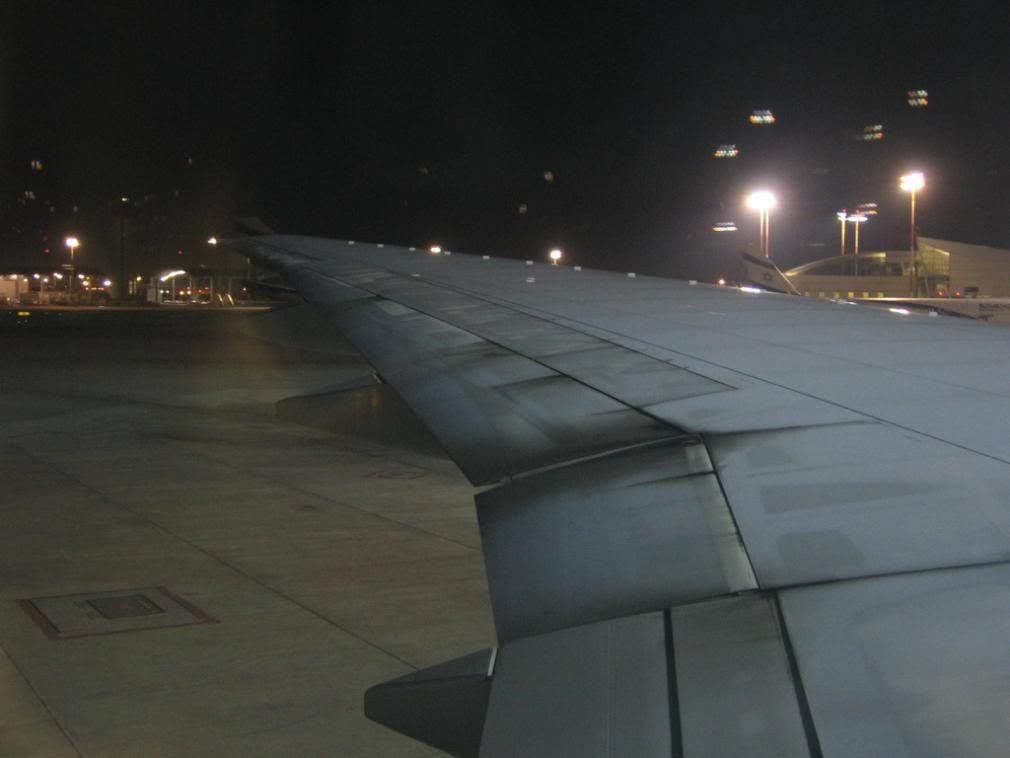 The Captain came on and gave a really nice welcome. He told us the details of our flight path, told us when to expect some rough air, and more. He also mentioned that due to extremely strong head winds over the Atlantic, the flight would be longer than scheduled today. We pushed back a few minutes early and began to taxi, when the pilot came on to tell us that they had a "flashing light" in the cockpit and wanted to return to the gate to be safe. We turned around and headed towards the gate, but stopped short of it. We sat there for about 30 minutes while some maintenance crew inspected the avionics compartment. Since we were not at the gate, I assume they entered through the nose gear? Anyhow, the pilot came back on to tell us that it was all fixed but that they needed another few minutes to do some calculations to determine whether we would have enough fuel to fight the heavy headwinds or if we would have to top off the fuel tanks. A few minutes later we began to taxi to the runway, so I guess we had enough fuel!
Ten or so minutes later, we rocketed into the air and headed over the Mediterranean. A short time later, we were over Istanbul which I got a great view of from my window seat. Dinner was served, and consisted of beef lasagna or chicken with "red sauce," which was ok but nothing special. A friend of mine jokingly asked an F/A if we were going to have enough gas to make it to New York, and the F/A replied "If you eat the dinner we will"! I'm glad F/As still have a sense of humor! After dinner, I fell asleep for about 6 hours and woke up well over the Atlantic. I stretched my legs for a few times during the flight.
Approaching Istanbul:
Over Istanbul:
After I woke up, somewhere over the Atlantic Ocean:
The cabin mid-flight: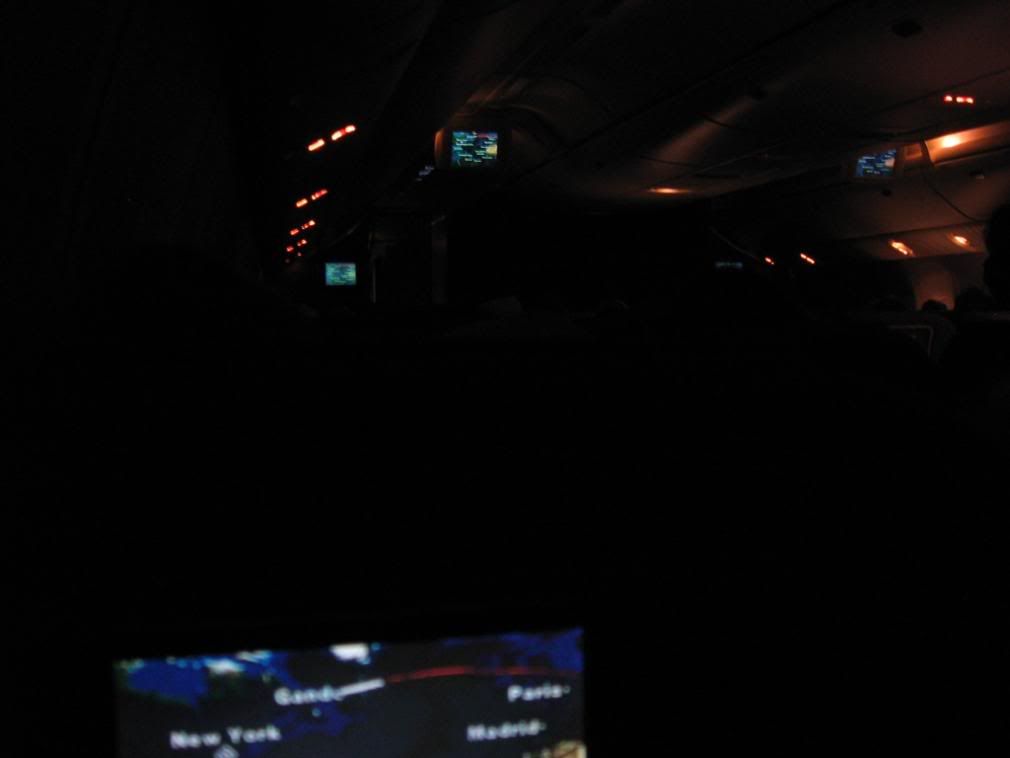 At one point, there were 4 people including myself standing in the back. A F/A from Switzerland (he was wearing a Swiss flag and had a clear Swiss accent) came over and rudely announced that "too many people are standing here" and told two of us to return to our seats. I guess every CO international flight has one rude F/A! Other than him, every F/A on this flight was great, even better than the flight here.
Time passed pretty quickly on this flight. Before long, breakfast was served and consisted of a choice of an omelet or quiche. I had neither and just snacked on a warm bagel instead. The headwinds were getting rather strong around this time--I noticed that it shot up from about 40 MPH for most of the flight to around 160 MPH for the last few hours of the flight. A lady two rows in front of me was clearly nervous about flying and asked an F/A about the longer flight. The F/A went out of his way to comfort her. He told her how he has known the pilots for years, and that she should only be nervous if he was nervous since he had been flying for years. At the end he smiled and added that his sister worked for GE who makes the engines so she really shouldn't worry. An hour or so later, I noticed the purser/ISM comforting this woman and trying to explain to her why the aircraft had changed altitude several times (she said something about optimal wind paths); She offered to call the captain to ask if it would make the passenger feel better. I thought both these F/As exemplified professionalism in a very dignified manner.
Our wonderful purser/In-flight Service Manager: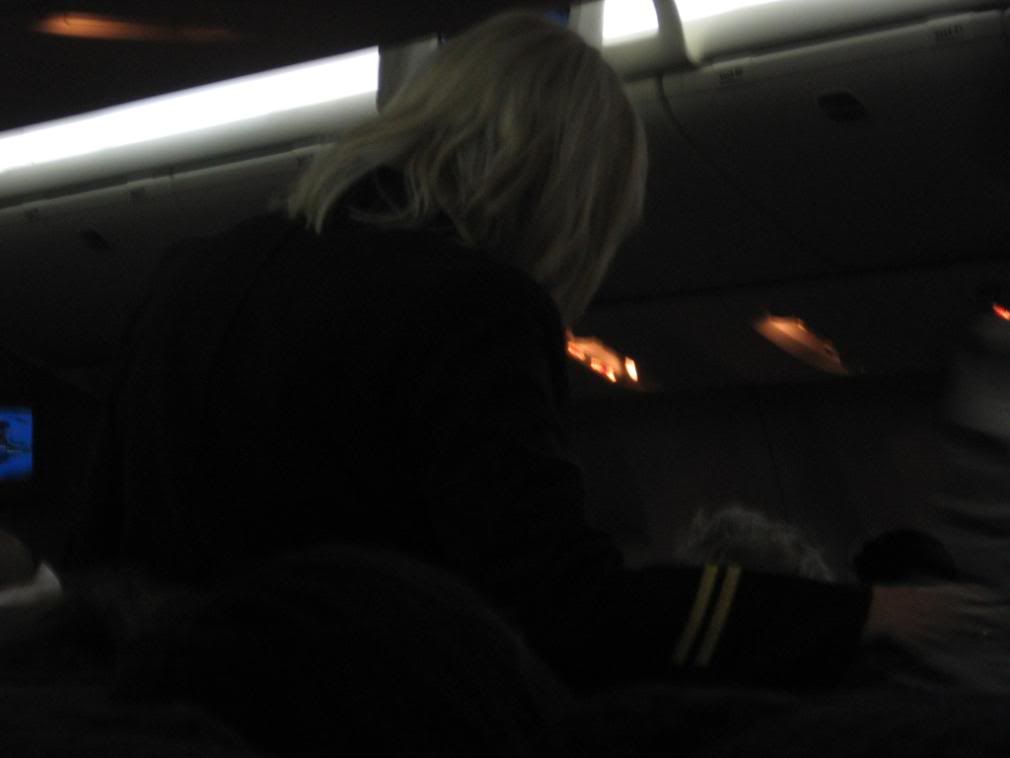 I think the two stripes make her look very elegant...
After the breakfast service, a lot of people were roaming around in coach. In this regard, it reminded me of El Al where people walk around more freely and the F/As don't even try to keep everyone in their seats! This was perhaps the most major difference between El Al and Continental on this NYC-TLV run. On Continental it feels like any other flight; on El Al it feels like a circus (but in a good way, that anyone flying El Al to Israel in coach can attest to).
Our Purser and another F/A clearing breakfast trays: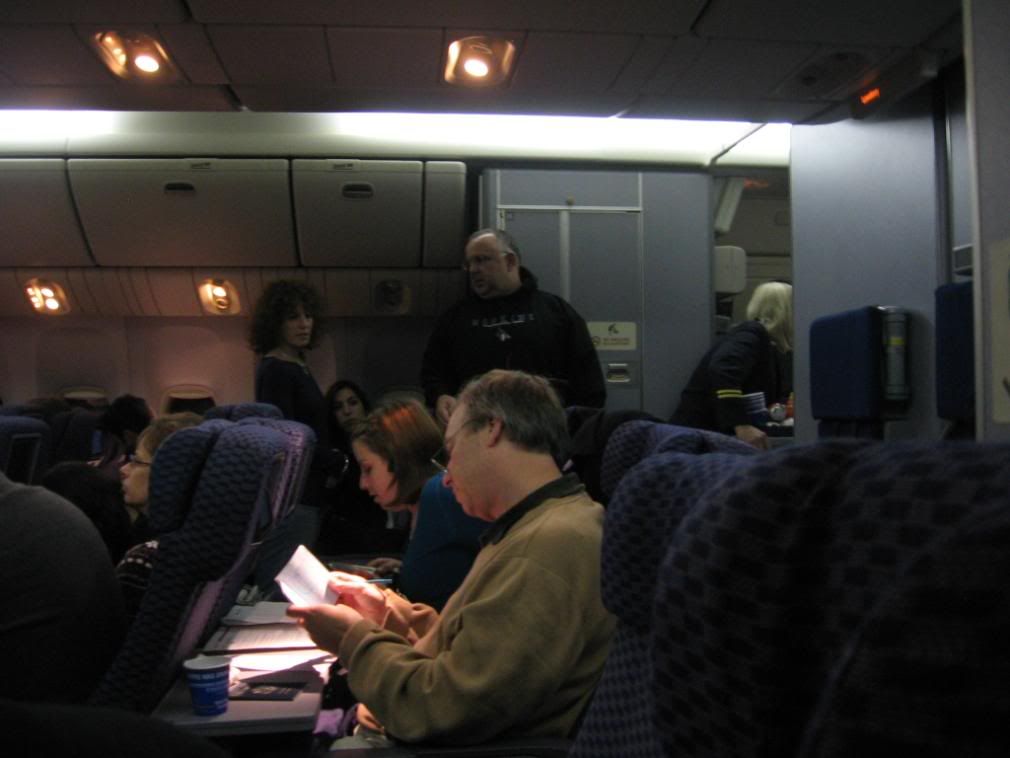 Home sweet home, only we were over New Jersey!!!!:
We had a few bumps but an otherwise a nice decent into EWR. The captain came on as we started our descent and started his talk with "Good morning campers," which I thought was rather nice. We pulled into Gate 121 a few minutes after a smooth landing, but a little over an hour late (scheduled in at 4:45, arrived at 6AM). Several passengers were very worried about making their connections. I thought it was a bit ridiculous as I knew immigration and customs could not take more than an hour, and I guessed that most people did not have super tight connections but I might have been wrong.
As we were pulling up to the gate, the purser/ISM came on and gave a really wonderful farewell address. She asked those passengers with tight connections to raise their hands, and asked them to ask their neighbors for a New Years gift of letting them exit the aircraft first. It was just done in a really sweet manner. At the end, she wished everyone a joyous holiday season, a prosperous New Year, and for God to bless everyone, which was a nice touch.
At the gate at EWR: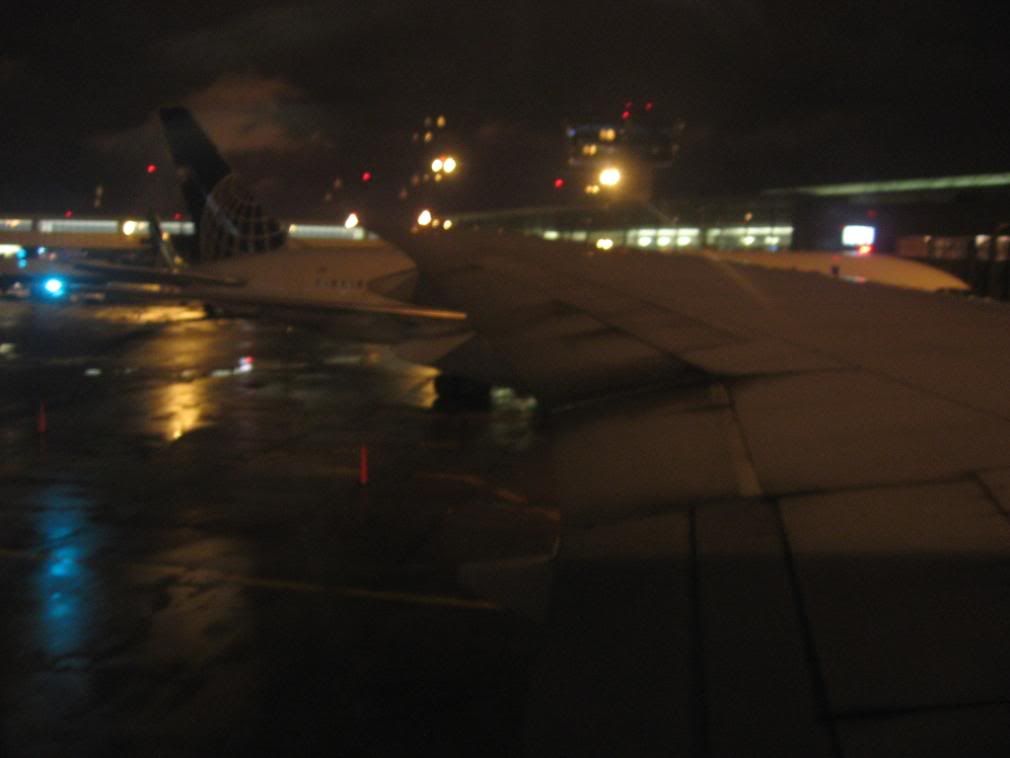 As I waited to exit the aircraft, I overhead two F/As having a conversation with some passengers. A passenger asked about the TLV flights--if they were popular, if the F/As liked flying them, etc. Both F/As laughed out loud when the passenger asked if the flights were usually full--they both replied at the exact same time that the flights always go out full, both the day and the night flights. As to the question about the F/As flying to TLV, one of them replied that although she was old (she looked around 45), she did not have enough seniority to regularly fly the TLV runs. One of the F/As also mentioned that TLV and Delhi are Continental's two most profitable flights, and that Beijing is not doing as well as it was at first--not sure how true all of these statements are, but I guess the front-line folks are pretty good at gauging it. Exiting the aircraft, I noticed that we had indeed been on N37018, which I had known we were scheduled for. However, I wasn't sure because I could not see the registration from the window at TLV.
Walking to immigration, I chatted with one of the first officers. I asked him if it was true about TLV being among the most profitable, and he replied that it is one of the few very profitable flights. My friend who I was walking with asked him why that was, and he gave a weird answer but then basically said he wasn't sure why it was. I asked him if he liked flying to TLV and he perked up and told me that he loved it--he said that they stay at a wonderful hotel right on the beach, and that they had great 30 hour layovers! He added that he had just been windsurfing in the Mediterranean earlier in the day, and that he tried to fly to TLV once a month.
Anyway from Gate 121, it was short walk to immigration. A line started forming, and I guess I was just in the right place at the right time for a lady instructed me to go to a booth reserved for crew since there were no crew members on that line at that moment. So I essentially did not have to wait at all, and was through immigration within two minutes. I had to wait about 10 minutes for my bag but was then on my way. The only unpleasant part about EWR was the insanely long cab line (about ~15 minutes outside in the freezing cold weather).
Overall, I was very happy with Continental's service on this important and prestigious route. I would not hesitate to fly them again, and since they do such a booming business on EWR-TLV, I have no doubt that I will fly this route with Continental again sometime in the future. My only complaints were the one "sour apple" F/As in each flight. Other than those two, the crews were wonderful and were the kind you would hope for on a longhaul international flight with a major global airline. Kudos to Continental for two great flights!