On the Alitalia-Crew-Shuttle to Roma
Hello, dear readers,
welcome to my premiere story 2008.
Nearly two months with biz travel only, far enough
time for another leisure ride.
I was in Rome for several times before, but never visited the Vatican Museums.
Therefore I´ve researched the web and recognized that January is the month with the lowest visitor numbers.
So, we will see if it´s true!
(1.)
Thursday, 31.01.2008
STR (Stuttgart-Echterdingen) - MXP (Milan-Malpensa)
Duration: 55 minutes
Service Alitalia AZ 449 operated by Alitalia Express EMB-145 I-EXML
Scheduled: 07.10 // 08.15
Actual: 07.50 // 08.45
Gate: 331 Seat: 10A
Loadfactor: Near 100%
Fare: 37,51 EUR per leg
History:
08.05.2003: Delivered to AZ Express
Flight no.7 on the EMB145 and the first on this machine
The wheather forecast for Rome was ok, temperature around 15 degrees, partly cloudy, my departure airport shows some
freezy snow showers, I´ve do not check Milano, my connecting airport, it seems a mistake this time.
Online check-in for AZ flights from Germany was only possible from FRA and TXL, that means an earlier ride to STR
to secure good seats.
At the airport around 06.00 am, more than an hour till departure.
Two counters open, only one other pax in front.
The nice girl there checked me in as pax no. 15 for the first flight of the day, generously I´ve told her that the exit seat
will be no problem for me!. Fixed. She also gave me the boarding pass for flight no. 2, no. 3 and no. 4 was not possible.
No time to wait at T3 security, some walking around and at the boarding gate, Terminal 3 on the upper level at around 06.40 am,
the scheduled boarding time. Boarding started finally late at around 07.00 am, down the stairs to the groundlevel.
From my own experiences, the first flight of the aircraft today, late boarding, more time wo wait in the bus, that seems like a problem.
STR, early morning: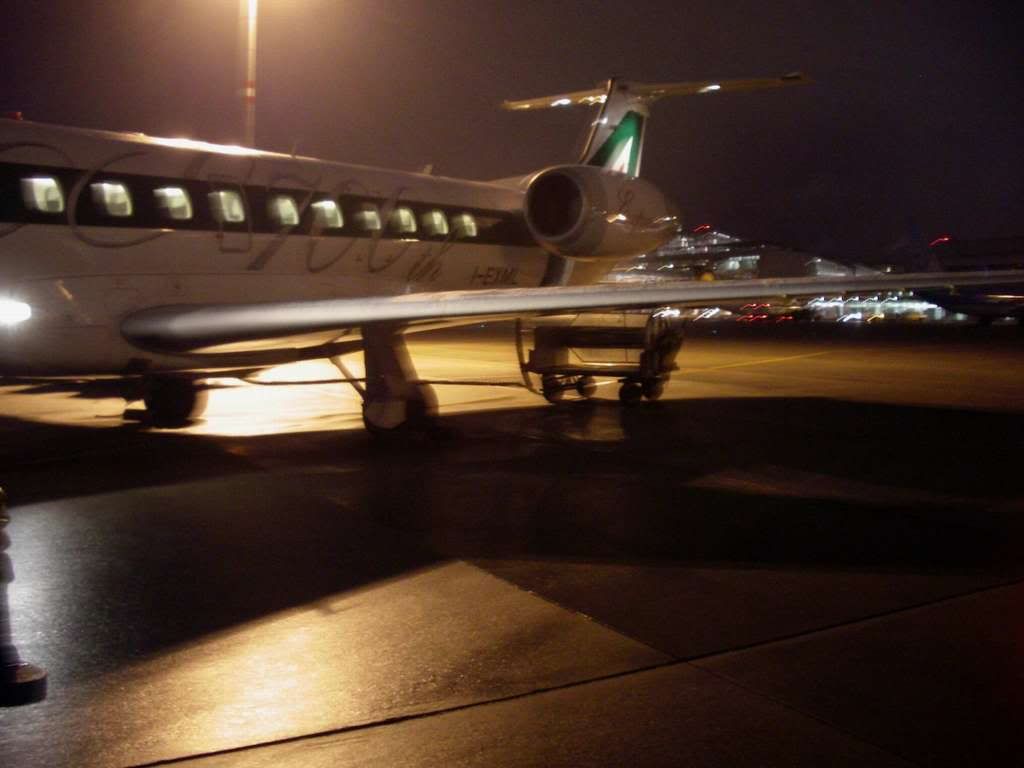 Close up: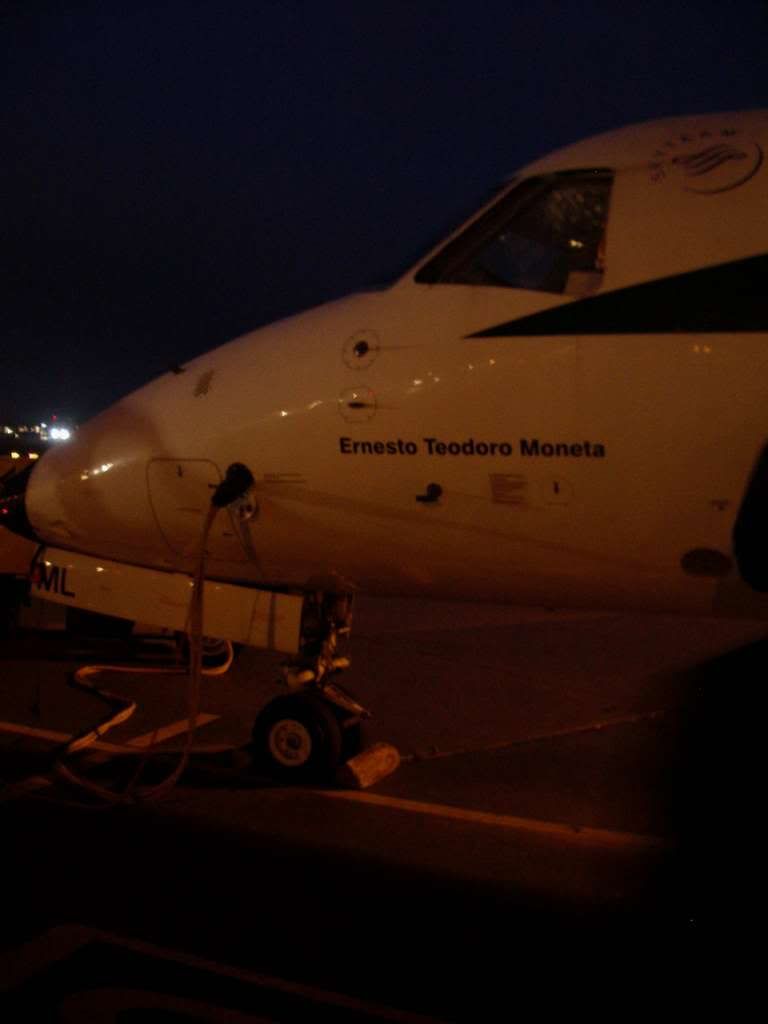 Immediatelly after I´ve settled down in my seat, the Captain was on the speakers, the cockpit crew was Italian and told us
a long and detailed story in italian. From my low italian knowledge, I´ve understand "nebbia" (fog), holding at Malpensa, 20 "minuti" (minutes).
He told us in english that there was heavy fog at Malpensa, the airport was open, but with limited operations and we had to wait for two
hours till departure. The mostly german pax are not amused. 20 minutes or two hours?. Somewhat important around my trip today.
Around 25 minutes later, he was again on the phone and told us that we will go for departure immediatelly.
We taxied down to the entrance for runway 25. No deicing, or the plane was earlier deiced.
There is a small platform where the two taxiways merged near the entrance, we nearly turned around, breaks set, engines spooled up.
Nice, so I´ve thought, my first experience around a departure from the taxiway!.
I´am not sure about it, but I think they need more hot air from the engines to secure the wings from icing.
After two or three minutes we turned around again, entered the runway and departed without another stop.
The route lead us over ZRH directly to Malpensa. No more informations from the flightdeck.
The flight itself was calm. Only some mountain peaks above the clouds.
Sea of clouds: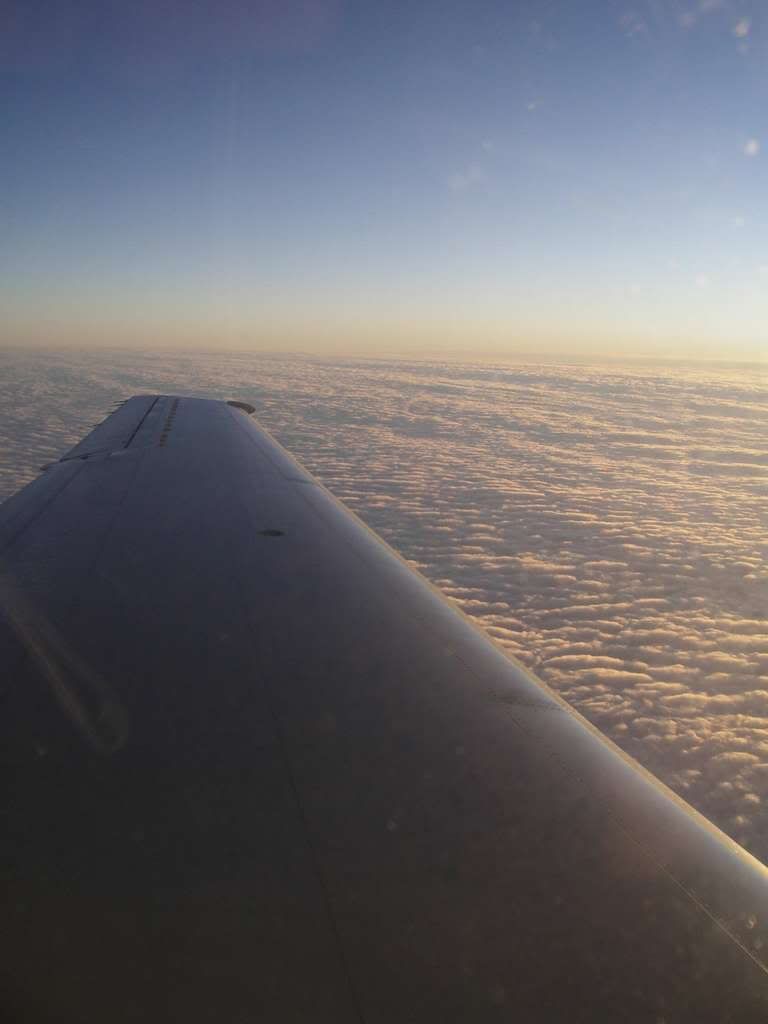 One very friendly, ever smiling middle aged female does the service, good job.
The plane fitted with bright grey leather seats, clean, but well used.
Newspapers, a snack and free drinks.
We glided down in the clouds, nothing to see, the captain announced five minutes till touchdown, nothing to see at all.
And only seconds before we reached the ground was the runway visible, nothing else, no airport-lights or else.
According to the signs, it was runway 35L. The FA announced 8.45 am, 30 minutes till my next flight.
Foggy Malpensa:
No. 700:
Deboarding by bus and a slowly drive to the terminal.
A quick view to the monitors, will I catch my connecting flight?.
Boarding was announced on the screens and it was not my first time at MXP, no running, ok I´ve walked faster than usual.
Up the stairs, around the corner, the next stairs down and I was one of the last to board the flight.
(2.)
Thursday, 31.01.2008
MXP (Milan-Malpensa) - FCO (Rome-Fiumicino/Leonardo da Vinci)
Duration: 1 hour
Service Alitalia AZ 1027 operated by A321 I-BIXI
Scheduled: 09.15 // 10.35
Actual: 09.50 // 10.50
Gate: A 53 Seat: 26D changed to 26F
Loadfactor: Around 80%
History:
07.06.1994: Delivered to AZ
Flight no.9 on the A321 and the first on this machine
Boarding was done by bus, one or two other's operated earlier.
What me really surprised was the load in my bus and later also in the plane.
It seems these flights are operated as crew shuttles with some spare seats for regular pax.
Its free till now for AZ crew to proceed between FCO and MXP.
We are some 30 to 40 pax in the bus and only four or five regulars between me.
The same in the bus beneath.
Boarding I-BIXI, note the tapes:
And again:
I had sequence no. 128, no window seats left = 26D.
E and F remained empty, IMO some pax missed their connections from delayed incoming flights.
So I´ve changed to 26F. Not the best decision today, more later.
Two male, two female FA´s, all friendly.
Also a delay on these flight according to the wheather conditions.
The machine fitted with green fabric seat´s. Not in the best conditions, well used.
It was not possible to fix my seat in the upright position.
Departure from runway 35R in direction Parma/Florence to Rome.
Again free snacks and beverages on offer.
Absolutely no comments from the cockpit around the whole flight.
The FA´s placed an Indian women at 26D, it seems she had some problems.
Let me say, I will decline flying if that experience happens more often to me, she puked two times inflight
and once more on the ground at FCO while we waited for deboarding, poor lady.
But, also these situation survived without further problems till now.
Calm flight. Touchdown on runway 16L with some 15 minutes delay.
El Al operated by North American Airlines: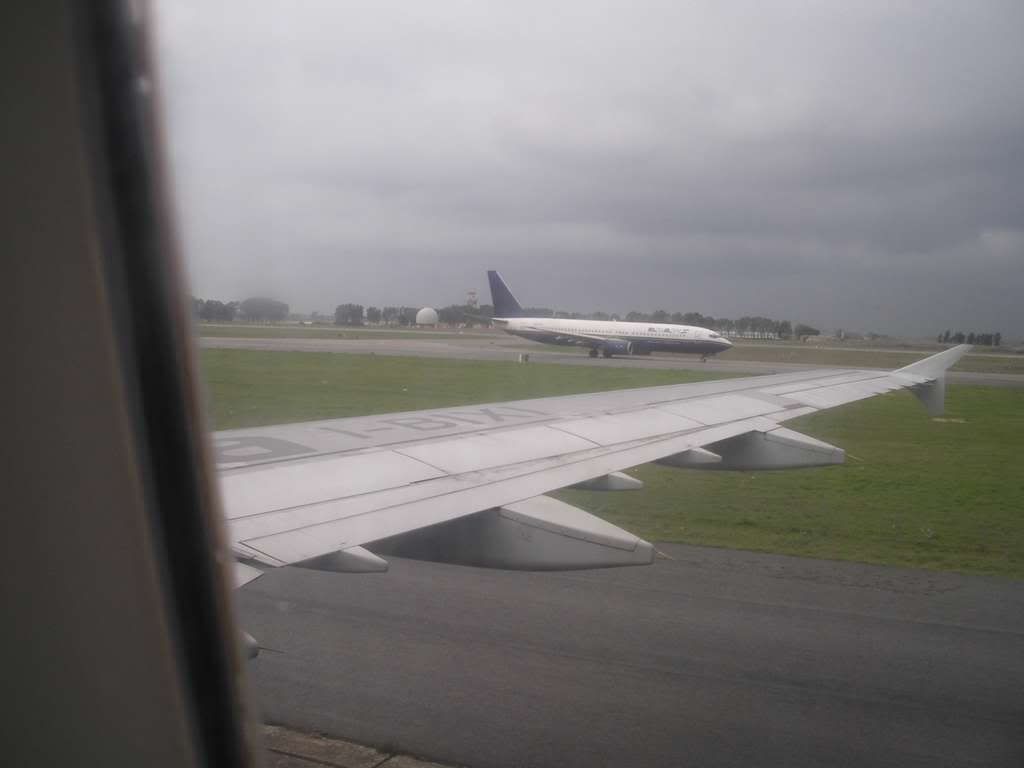 Departure Brussels Airlines: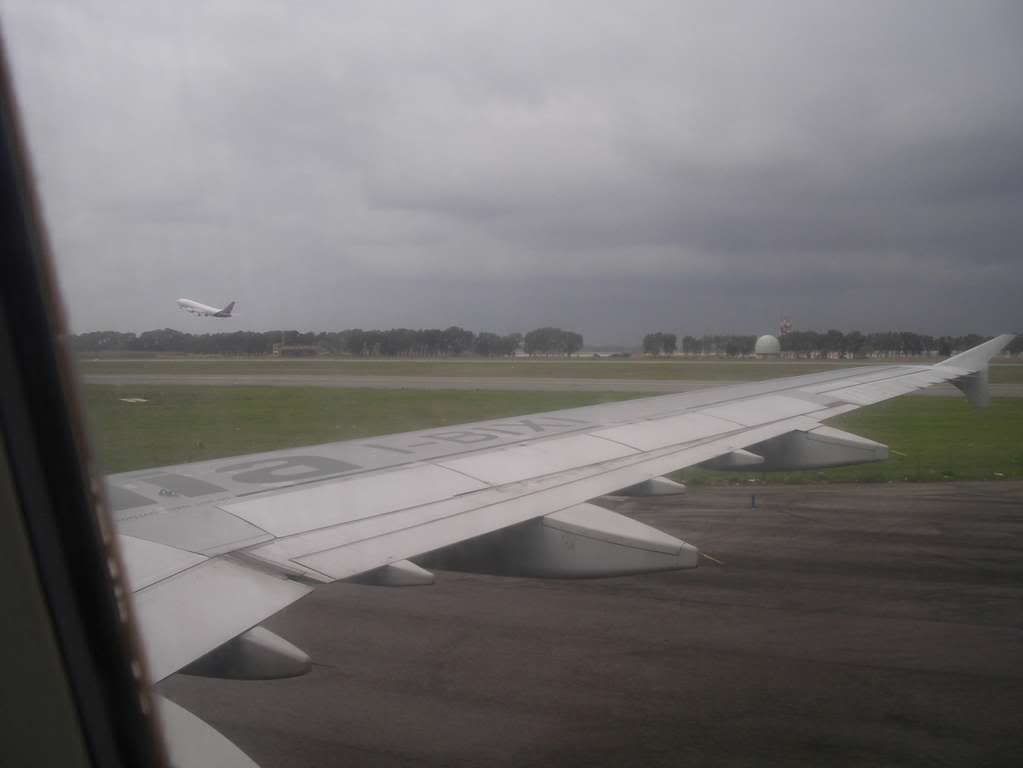 Air Italy B767:
I-BIXI at the gate: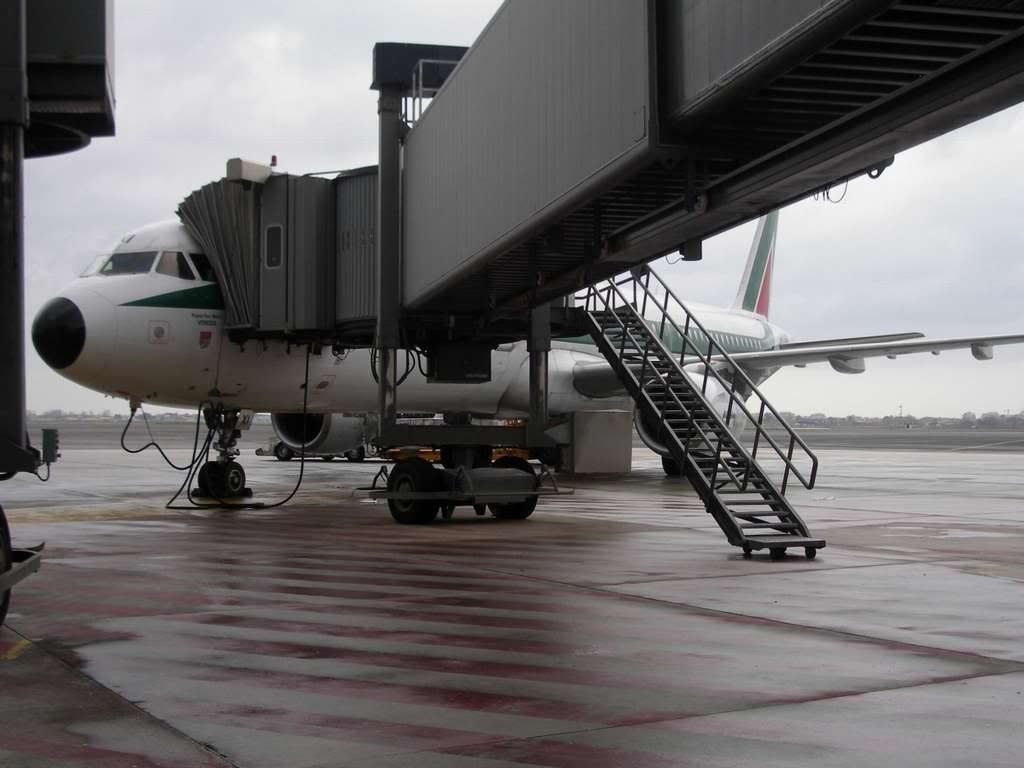 Docked at a finger gate at the non schengen area, that means through the finger and down the stairs where a bus waited
and drove us to the Schengen arrivals.
Only some minutes later I´ve entered the train station, where the next train to the city, not the expensive Lenaordo Express,
departed soon.
Changed to the subway at Roma-Tuscolana and was at the museums entrance only a bit later than expected.
The information was not bad, no time to wait at the cashier, not that much visitors, no time to wait for entrance to the
Capella Sistina. All in all an impressive and highly recommendable experience for all of us with some interests in culture.
Some impressions:
At the entrance: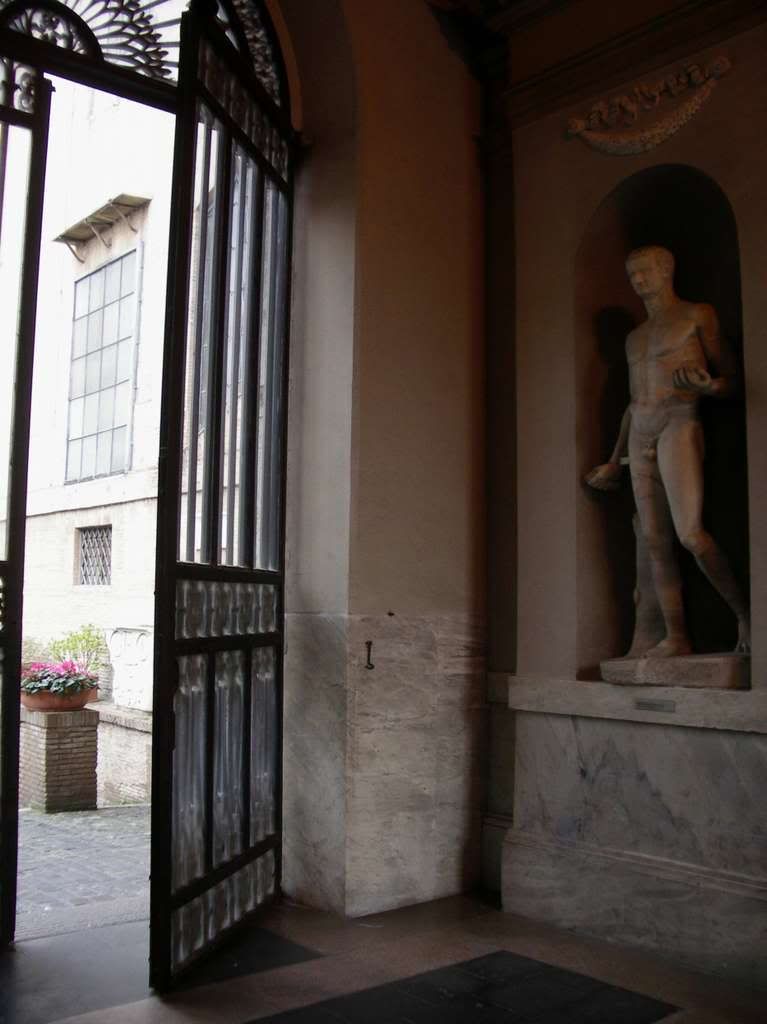 Up the stairs:
Impressive: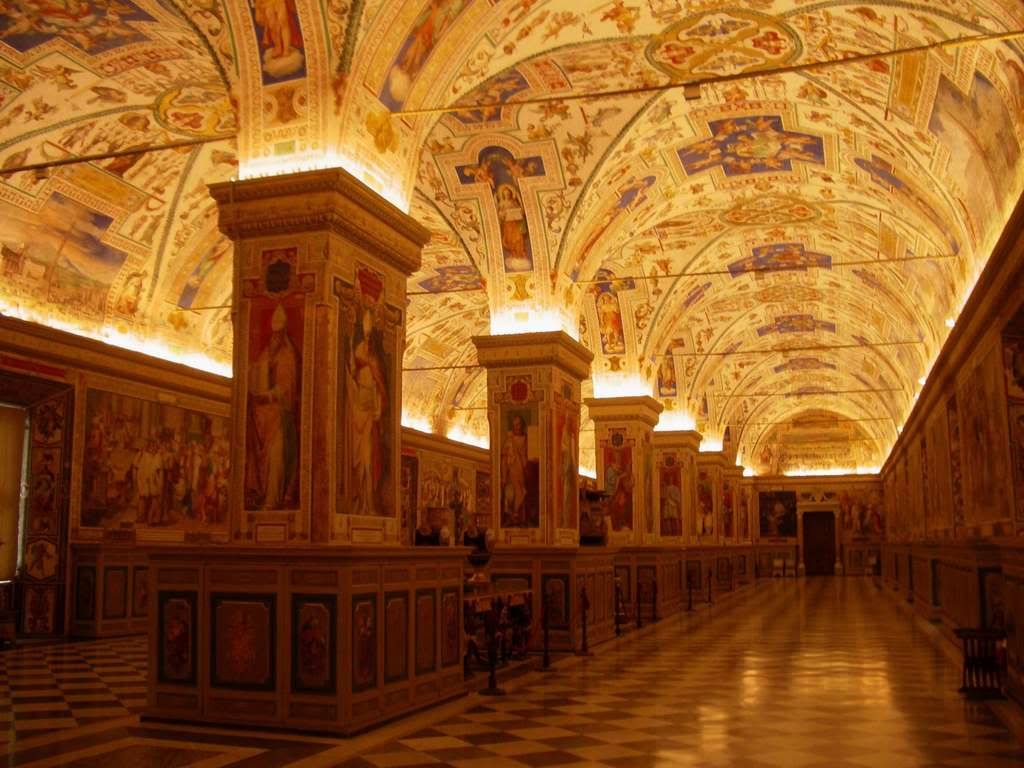 Once more: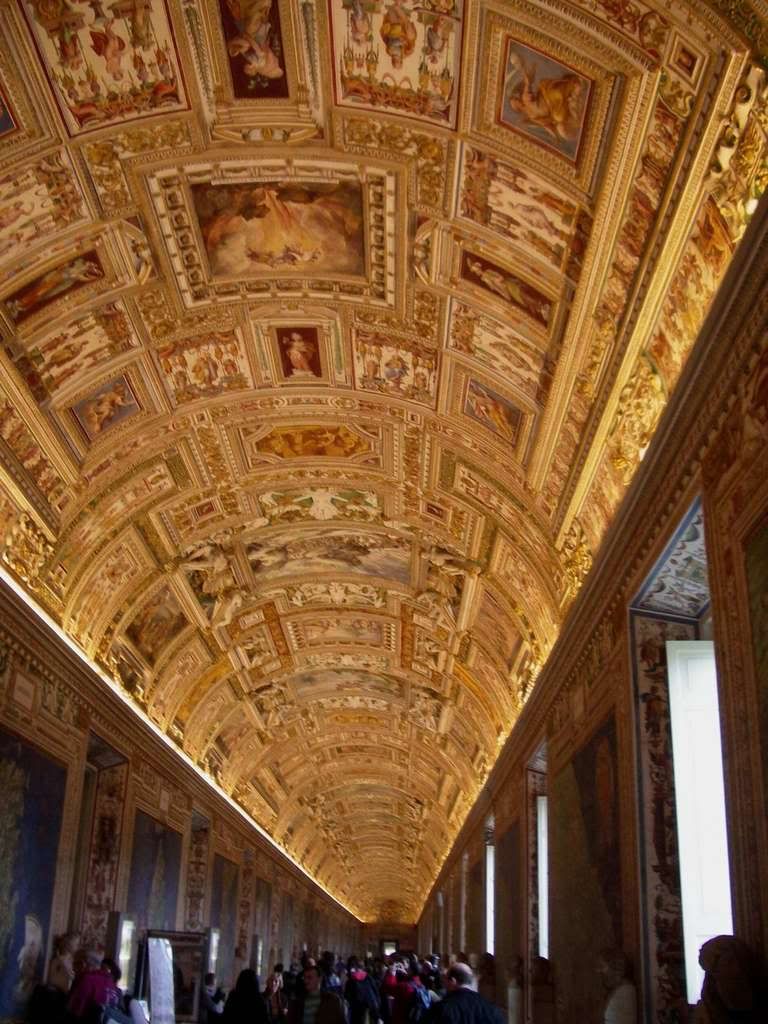 And finally: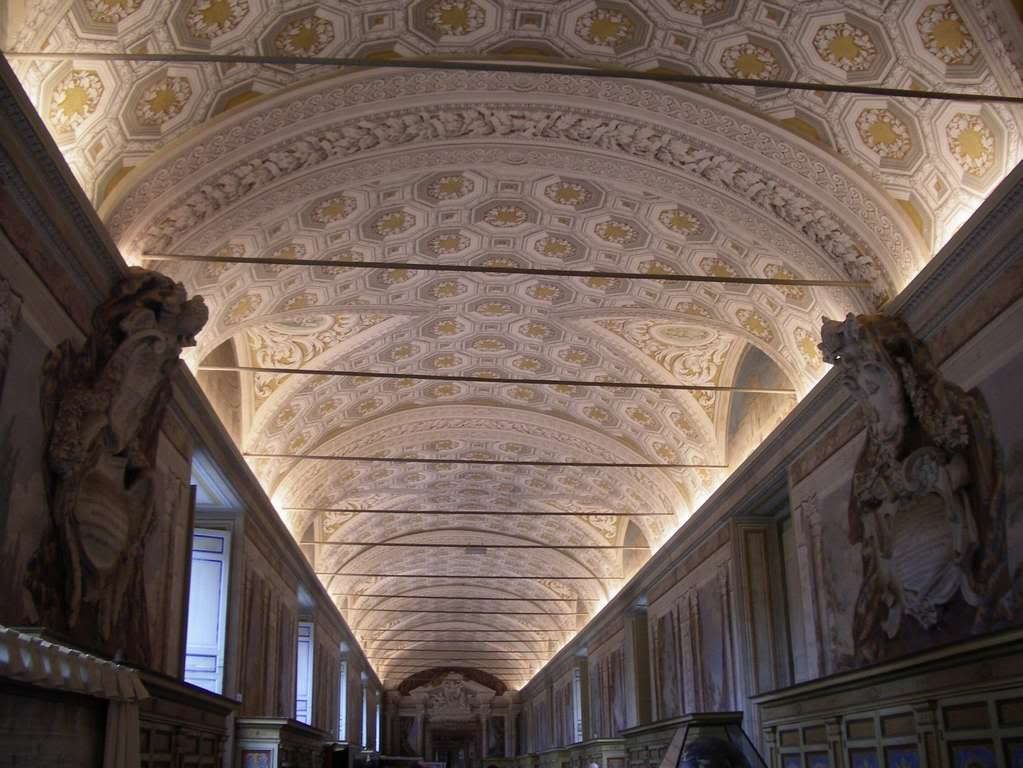 The same way back to the airport later.
3.)
Thursday, 31.01.2008
FCO (Rome-Fiumicino/Leonardo da Vinci) - MXP (Milano-Malpensa)
Duration: 1 hour
Service Alitalia AZ 1046 operated by MD82 I-DATF
Scheduled: 16.15 // 17.35
Actual: 17.00 // 18.00
Gate: B06 Seat: 32L
Loadfactor: 100%
History:
02.06.1994: Delivered to AZ
Flight no. 7 on the MD82 and the first on this machine
Back at FCO a bit short, at around 3.15 pm, one hour prior to departure and I was not checked in.
I´ve decided to use the self service machines, entered my ticket number and name and secured
with sequence no. 125 the last window seat with a real window view directly beneath the engine.
Only some minutes at the security and at the gate with time enought prior to boarding.
A real finger gate this time.
Three male, one female as FA´s, ok, but not especially friendly.
These plane was fitted with oldfashioned spacious fabric seats, comfortable. The best impression
till now today.
Have a look at the delivery dates from I-BIXI above and I-DATF and think about it, when you speak the next time
about oldie style planes.
Detailed informations from the captain during boarding.
Engine seat, towing I-BIXI: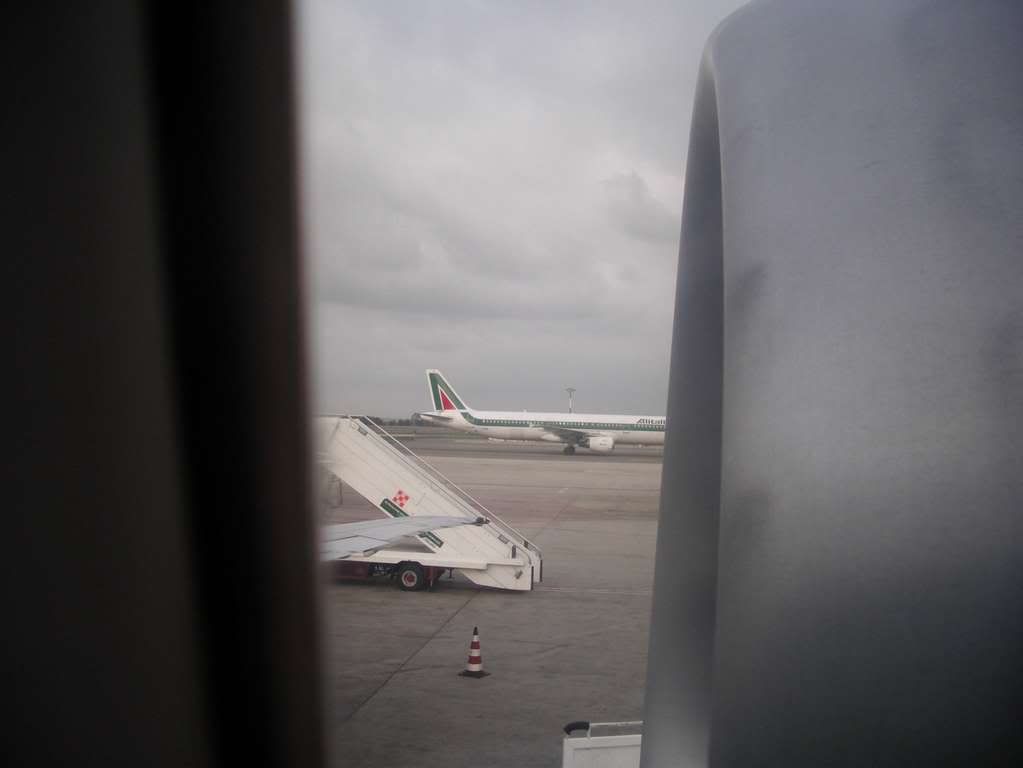 IMO the flight was overbooked and they had to secure the checked bags of the volunteers, it needs some time
to identifiy and offload it.
Departure from runway 25, we entered at the shorter entrance, taken over some other waiting planes.
Real powerful, I like these MD´s.
More detailed informations from the FO inflight.
Again snacks and beverages for free.
We´re cruising along the coastline northernbound at 26.000 feet.
Coastline:
Arrival at MXP again on runway 35L another calm flight.
Not that much pix from these flight. The plane was not visible from the Terminal at FCO and a nice AZ FA seated next to me
was not happy with me doing photos. But we had a nice conversation inflight, so it was acceptable.
Again lots of AZ staff on these service.
The captain thanked us for flying AZ in a friendly way on the ground at MXP and was at the door during finger deboarding.
So a good chance to catch a "office" pic.
I-DATF:
Two hours to go at nightly MXP now.
4.)
Thursday, 31.01.2008
MXP (Milan-Malpensa) - STR (Stuttgaart-Echterdingen)
Duration: 55 minutes
Service Alitalia AZ 452 operated by Alitalia Express EMB-145 I-EXME
Scheduled: 20.25 // 21.30
Actual: 20.35 // 21.30
Gate: A26 Seat: 14A
Loadfactor: Near 100%
History:
30.06.2000: Delivered to AZ Express
Flight no. 8 on the E-145 and the first on this machine
Not that much to do or view there, so I walked a bit around and was back at the gate ontime for another late boarding.
The morning delays running around the whole day.
Bus boarding again. Sequence no. 10.
Another new EMB-145 for my log.
Nightly boarding at MXP: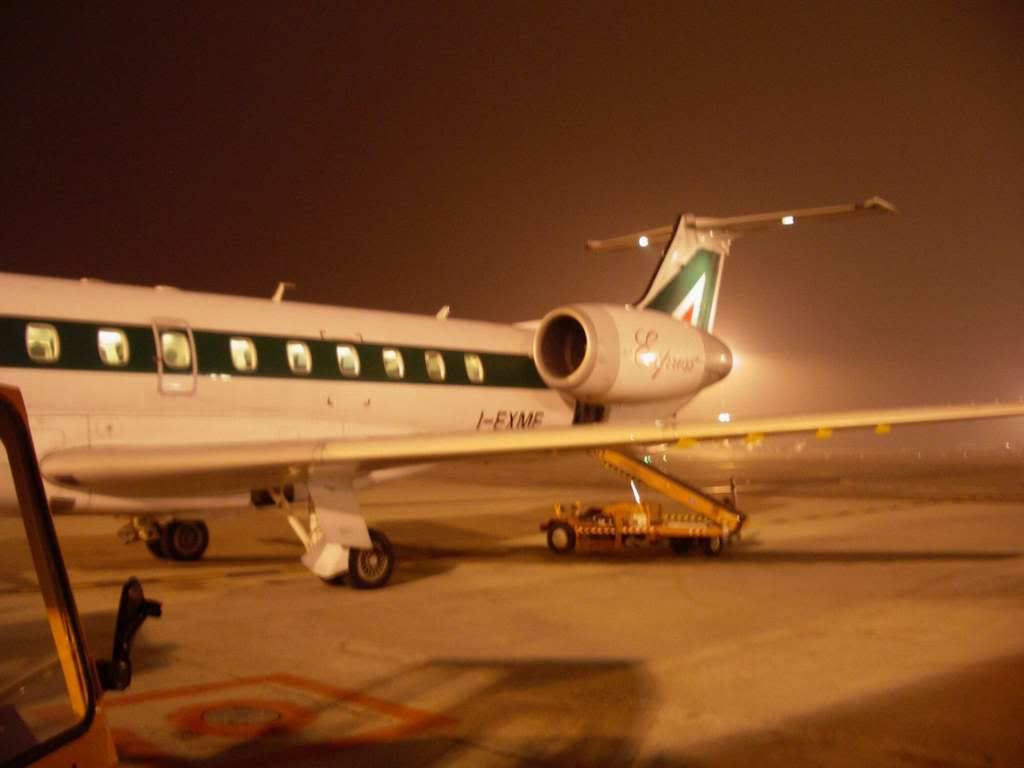 One friendly female welcomed me.
These plane was also fitted with the bright grey leather seats, but seems overall in better conditions than I-EXML.
The captain welcomed us after boarding and explained the delay with the holding operations at MXP today, as expected.
Departure from runway 35 R, no more inflight informations.
These time a real tasty sandwich, a carpaccio tramezzini, delicious, and free drinks.
Approach into STR was great, nightly, clear sky, we´re passing the airfield southern side on a low level, all the red flashing lights
at the Weidacher Höhe and the runway clearly visible, turned sharp into approach for 25 and landed perfectly ontime back
at cold and freezy STR airport.
Time for my opinion now:
Flying on AZ was a positive experience, away from all that Loco-style operations nowadays.
The staff was friendly, service was absolutely acceptable for me on short european flights,
delays, ok happened from time to time, but no realproblems around my schedule.
The loads are real good, how much money they´ve earned with these crew shuttle flights, I don´t know.
We will see whats going on further there with AZ, I will fly them again if it´s possible.
Comments welcome,
Markus (FLIEGER67)