Date: January 30, 2008
All Nippon Airways NH 001
KIAD-RJAA
Boeing 777-381ER
Registration: JA732A
Seat: 23K
View Large
View Medium


Photo © Montague Smith-WorldWide Aviation Photos
View Large
View Medium


Photo © David James Clelford [Airplane-Pictures]
After an incredible 3 week vacation back in my homeland, the United States, while visiting my family and friends, duty calls and I had to go back to work. This is my return flight back to Japan and it all started on January 30, 2008.
I was scheduled to be on All Nippon Airways flight 1 which operates the Boeing 777-300ER from Washington Dulles to Tokyo-Narita, a 14 hour flight.
The night before my trip, I was happy, but yet, sad. The happy part, I love flying on aircraft especially widebodies and international flying. The sad part was leaving my friends and family back home. So, trying to adjust the time difference, I decided to stay up all night. The flight was schedule to depart Dulles at 11:20 AM local. I planned on leaving my Arlington home at 8:00 AM while my father agreed to drive me to the airport. However, things became a mess. At 6:00 AM, I decided to check the flight status online. According to All Nippon, the flight was now scheduled to depart at 16:00 because the inbound aircraft left Tokyo 5 hours late. I do not know what the delay was. I got a bit nervous as I had to connect and make my Shinkansen train up north since our arrival time now to Tokyo is 20:05 instead of our scheduled 15:25, plus one day. My father woke up and I let him know and we agreed to leave the house at 11:00 AM. I made several calls to Japan to my work to let them know about my situation and that I was going to spend a night in Tokyo. However, I was granted two extra days off work. Okay, I took care of that.
My next thought was my friend, Montague Smith who was on my flight to Tokyo, but he had a connection to Singapore that he would miss. So I shot him an email about the delay. So, the time came, and off we went to the airport. The traffic was fine on I-66 and the Dulles Toll road was empty but with a few commercial traffic. My father dropped me off at the departure area and I said my goodbyes.
It's now 11:40 AM, and amazingly no was in line at the All Nippon check in. I figured everyone else didn't know about the delay so they came earlier, I thought. I checked in, my bag was also checked and the ANA agent notified me that the flight was late. She also asked if I wanted to switch to United flight 803 which operated from Dulles to Tokyo nonstop and I said okay, depending on the loads. I also learned that my friend Montague was on the United flight since it also operates to Singapore. Several minutes, the agent came by and said that the United flight was full and that the gate was also closed, so I had no choice and stick to my itinerary, since I wanted to get to Tokyo earlier. No biggie.
At that time, the security lines were minimal. Another reason to get there early is to beat the European afternoon rush. After passing security, I thought since United 803 was still at the gate, I decided to walk to gate C1, where it was parked. Apparently the gate area was empty and she was ready to go, along with another United 777 to Beijing. I went back to Concourse C mobile lounge shuttle and took the one to Terminal A and walked to the walkway from terminal A meets with terminal B and watched Monty's flight pushed back and took off. So long, buddy while we had a great time in Tokyo.
1:00 PM rolled by, then it was 2:00 PM, I got a caramel frappe from Starbucks and watched the Air France 777-300 flight from Paris came in the gate. Bonjour! 2:20PM rolled by and the ramp crew were outside awaiting for the beautiful 777-300. After a few minutes, the majestic ANA bird taxied by and came rolling in to the gate. As I looked at the gate area, I was wondering where all the passengers are at. Perhaps they were on United 803.
It took an hour and 20 minutes from deplaning, cleaning the aircraft while they announced boarding. Boarding was called at 3:40 PM and according to my eyes, their has got to be only 50 passengers or so. I entered the cabin and got to my seat, 23K, window seat, located in the small section in economy class, behind the premium economy class, and the plus is I had the WHOLE row to myself. So sleeping would be no problem for me or getting up every hour and not having to annoying the other passenger. The boarding process only took 20 minutes!! And we were already pushing back from our gate, B39.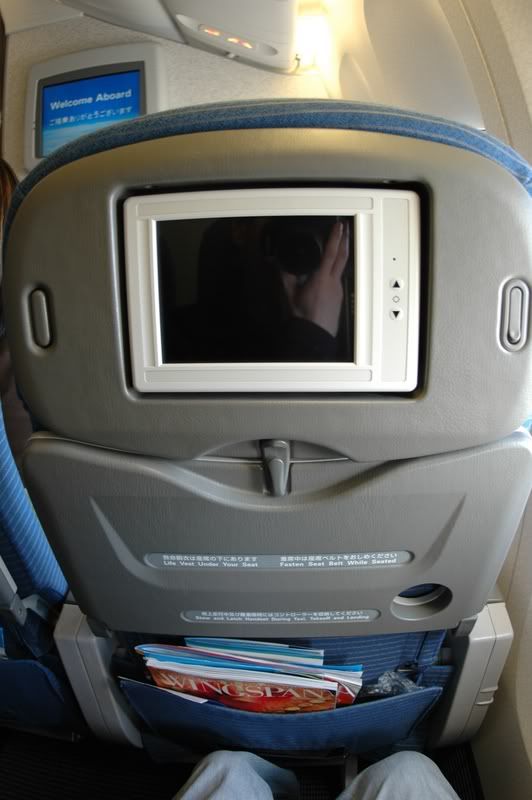 After pushback, the awesome GE90 engines were started. Wow, were they LOUD. I've been on many 777 flights, but my first on the 777-300, but these were the loudest. We then taxied to runway 30, taxi time took 10 minutes and in no time, we were rolling down the runway and lifted the clear skies of Northern Virginia. After takeoff, we made a 45 degree right turn and fly on a northern track to Pennsylvania. We climbed initially to FL210, thus increasing to FL320. The coolest feature on All Nippon is the camera mounted on the aircraft that you could see outside forward and downward to the ground. The captain turned that feature on while we were taxiing, takeoff, lift off, to cruise and landing.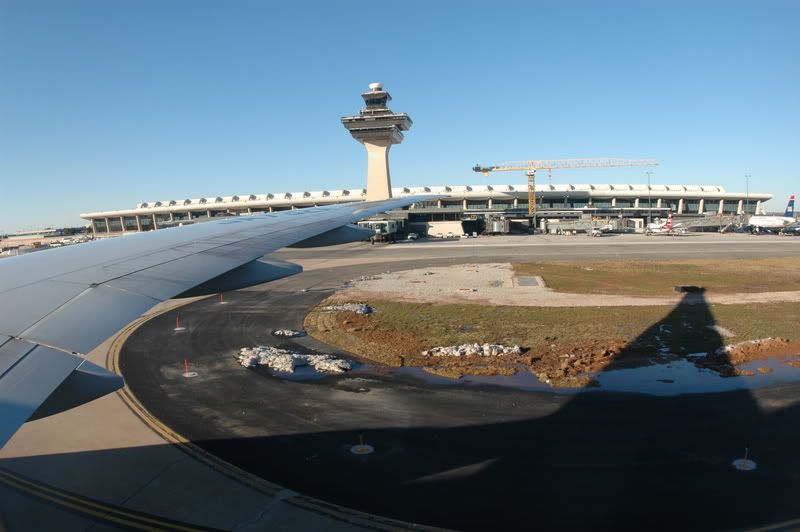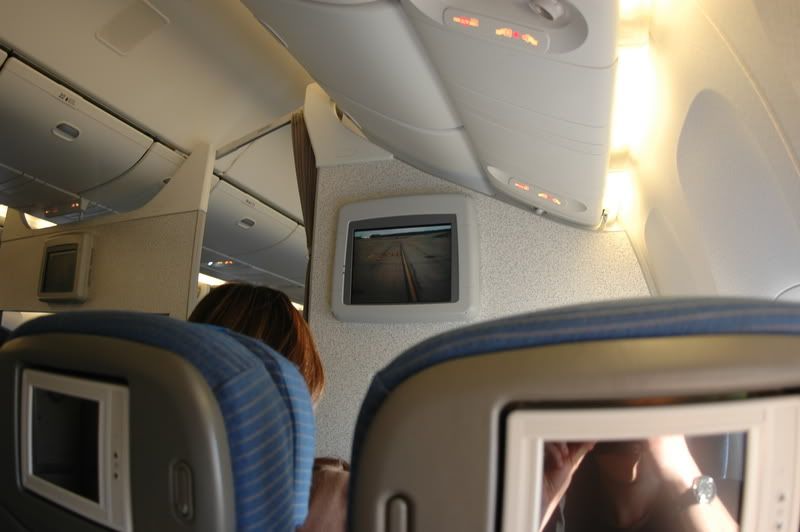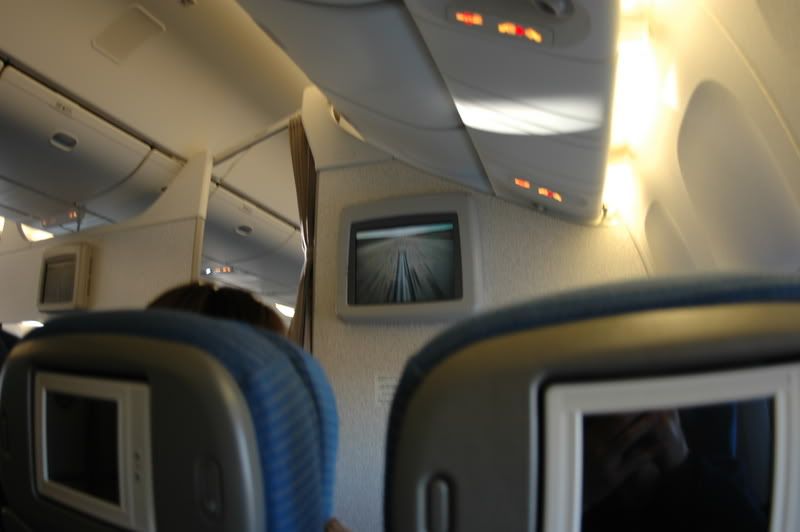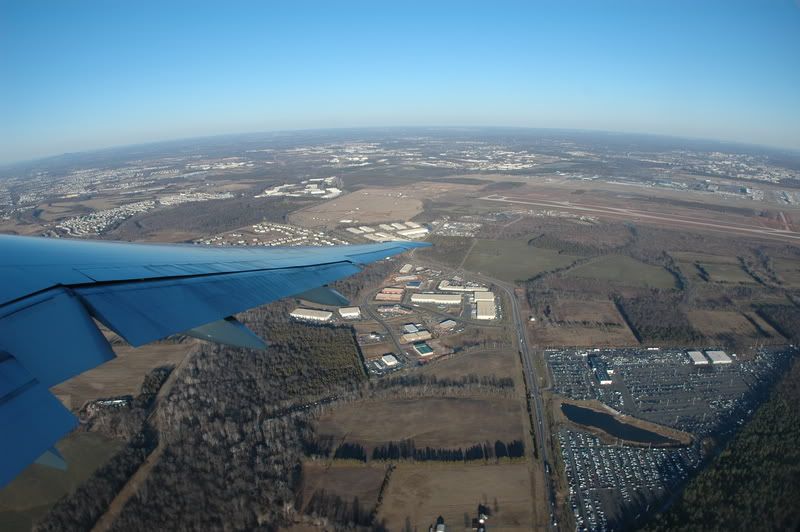 About 45 minutes into our flight, lunch/dinner was served. The selection was either Japanese chicken or Rice porridge. I optioned for the chicken along with red wine. The in-flight entertainment was available. There were many selections such as On-Demand movies, TV shows, Music, Games, Business and News, Arrival Info, Sky Map and Camera, ANA Info, and a Service Guide. The movies, I thought were a bit outdated and the TV shows were more of documentary and travel channels compared to regular shows on TV. The camera was nice until it got too dark to see. After dinner, the sun was nearly gone, it was almost time for bed for me since I was up all night. I used all three seats as a bed and slept peacefully for 6 hours.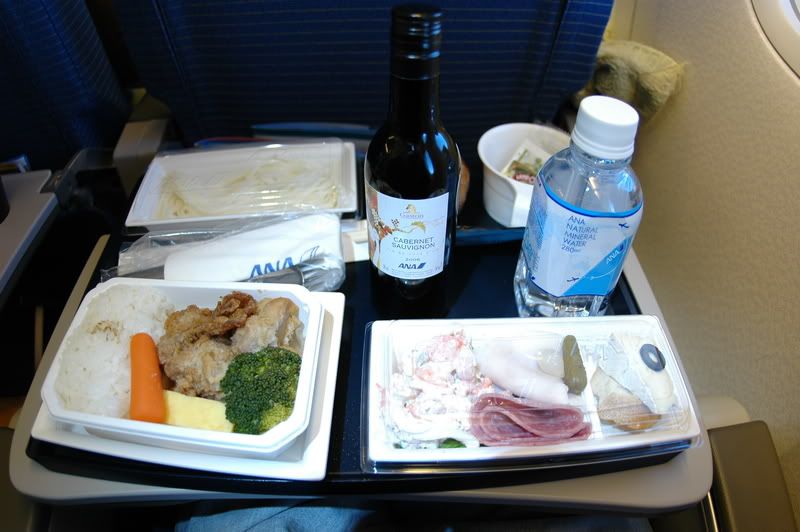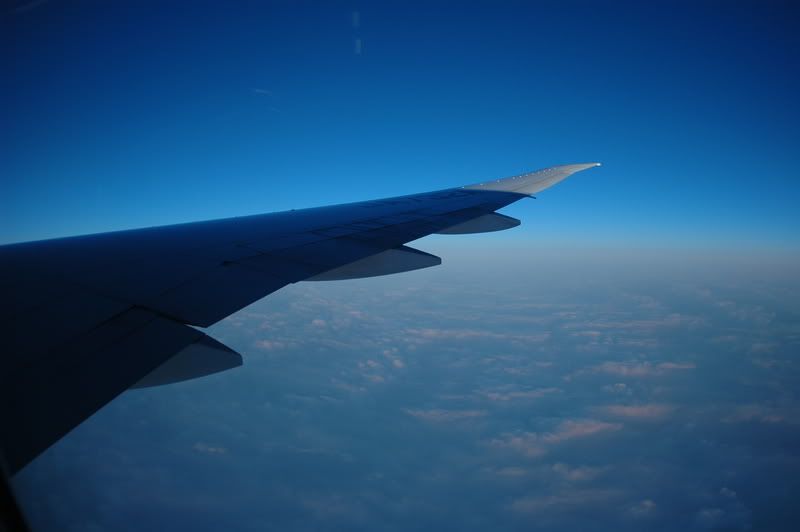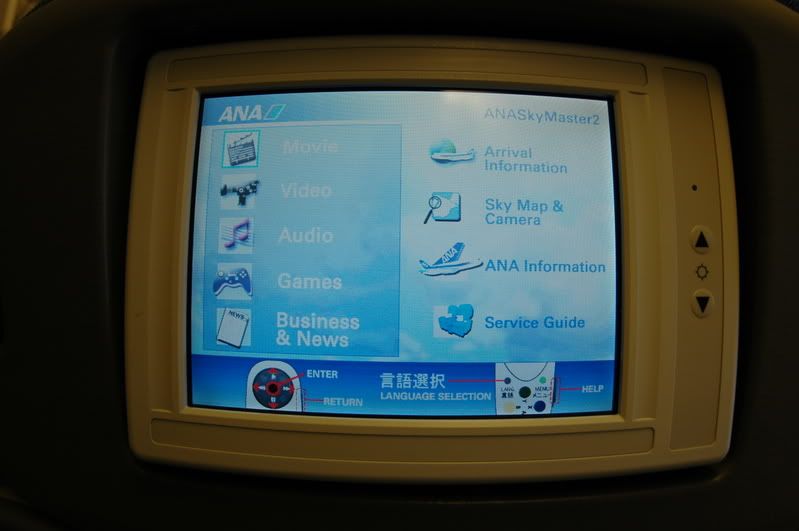 Since I lost track of time, the cabin lights were on as the flight attendants were passing sandwiches to the passengers. I ended up eating half of it along with a cup of apple juice. The service was far superb. The flight attendants will come by every 5-10 minutes with water, hot green tea, coffee, and ask everyone if everything is okay. We were now over the northern part of Alaska and I took another nap, this one being shorter, for about 3 hours.
Once again, the cabin lights were back on and I woke up. This is our 2nd meal service during the flight, our last dinner. I had shrimp pasta, along with red beans, fruits, two Milano cookies, and a bottle of cold water. Again, the crew were going through the cabin with hot green tea and coffee. After our 2nd meal, we basically had about an hour and a half left until we arrive in Tokyo. We were now scheduled to arrive at 19:20, and according to our delay, we were hauling butt at point our ground speed was 550 mph, which isn't bad with a headwind. We were now along the east coast of Japan entering our descent to Tokyo, from FL360. This is when I started thinking if I should save money and stay at the airport overnight and catch the 7 am train or should I get a hotel. I decided I didn't want to spend 12 hours in the airport and at this point, I'll get a hotel near the airport. We were now making our final approach into Tokyo-Narita aiming for a runway 34L landing. The weather was a bit chilly, light scattered clouds, but dark. Cabin service ended, and the IFE was turned off. On the big screen TV, the camera was turned on and we could see the runway lights from 10 miles away and we gently settled on the ground.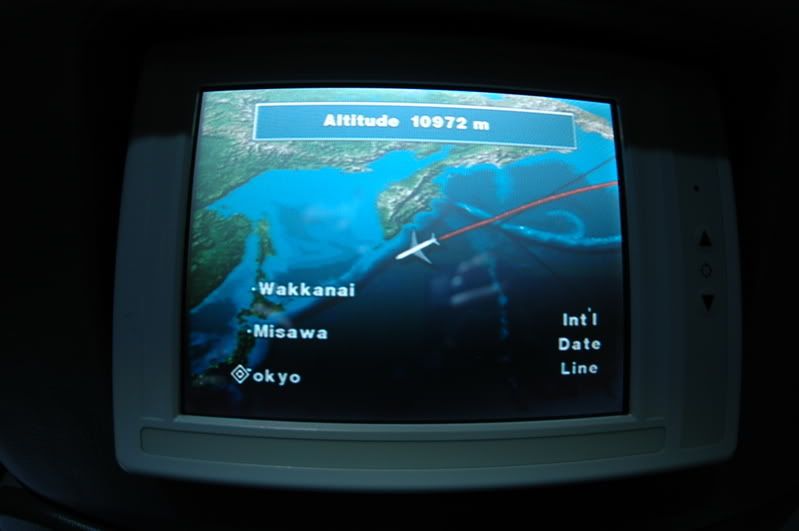 Despite the 5 hour delay, we arrived in Tokyo 4 hours late, where the local time is 19:30. About half of the passengers were connecting through Tokyo to China, but ANA took care of them. All Nippon is an amazing airline and I hope to continue to fly them to/from Japan and the United States for the next two years.
Regards,
Kevin
[Edited 2008-02-02 09:37:28]