Hi Everyone!
This TR will cover my recent trip from Monterey, California to Hong Kong, via San Francisco. To recap, this was one leg of a larger trip over the holidays, which took me on the following route: DCA-PHL-SFO, MRY-SFO-HKG-MNL-MPH-MNL-HKG-ORD-DCA. I've already posted a TR, "DCA-PHL-SFO (with pics)" for the first leg. So moving on in chronological order, it's now time to head westbound over the Pacific. Hope you enjoy!
December 27, 2007
MRY-SFO (Monterey Peninsula-San Francisco Intl.)
UA 5558 (operated by Skywest)
Departure: 08:48
Arrival: 09:29
Actual Flight Time: 0:22
Aircraft: EMB-120
Registration: N289YV
Seats: 7B/7C
Load Factor: 80%
SFO-HKG
UA 869
Departure: 11:54
Arrival: 18:45 (next day)
Actual Flight Time: 14:30
Aircraft: Boeing 747-422
Registration: N180UA
Seats: 42J/42K (Economy Plus)
Load Factor: 100%
After a great couple of days with my girlfriend and her family in Monterey, she and I were ready to depart on our long-awaited trip to Asia. We awoke at 6:00 am on the morning of our flight, finished packing our bags, and headed for Monterey's small airport. We arrived at the check-in counter at 7:30 am—plenty of time in order to make our 8:45 flight. We quickly printed our boarding passes at United's self-serve kiosk, and as we had carry-on bags only, proceeded directly to the security check. The line was short and we were through in no time. My girlfriend was a little disappointed though, as her favorite security guard, whom she has literally seen at MRY since she was a baby, wasn't there that day. Hopefully he had a much-deserved day off. Anyway, we were through security with a full hour to spare before our scheduled departure.
It was a pretty slow morning at this small airport, so there wasn't much of an opportunity for spotting. All I could see from the boarding area were a few light twins and some Cessnas. We mostly passed the time reading.
Our inbound aircraft, coming from LAX, arrived behind schedule at 9:00 am. Turnaround was quick, though, and we began boarding around 9:15. I had never before flown on an EMB-120 and was very excited to be on a new type. Before heading out the terminal door, I grabbed a quick shot of the aircraft.
We were welcomed on board by the lone flight attendant and took our seats on the right-hand side, 7B and 7C. A few minutes later the boarding door closed, the prop started spinning outside my window, and we taxied out to the end of RWY 28L.
The take-off roll was very fast and we climbed out quickly. I snapped a couple pics of the beautiful, shiny engine cowling as we powered out over the beach.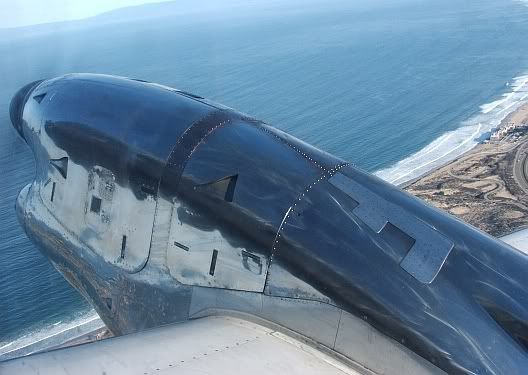 We pulled a right-hand turn and pointed the nose north in the direction of San Francisco, before leveling off at our cruising altitude of 6,000 ft., which seemed rather low. But then again, this was an extremely short flight. I grabbed a few more pics as we sped over Monterey Bay.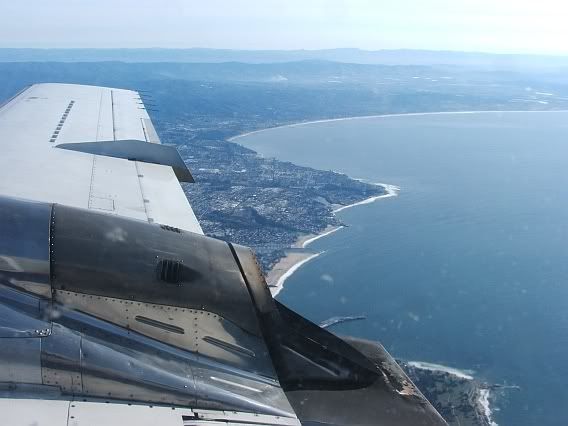 The flight attendant came on the loudspeaker and announced that because of the short duration of the flight, there would be no beverage service. He also listed the gate information for everyone's connecting flight in SFO (with about 25 pax on board, some of whom were traveling together, he only had to list about 10 connecting flights). He also asked that everyone remain seated at the gate upon arrival in order to let one group of passengers deplane first, as they had a rather tight connection given the delay in leaving Monterey.
We continued on and crossed back over terra firma on the north side of Monterey Bay. From there, we cruised over the mountains south of San Francisco before beginning our descent.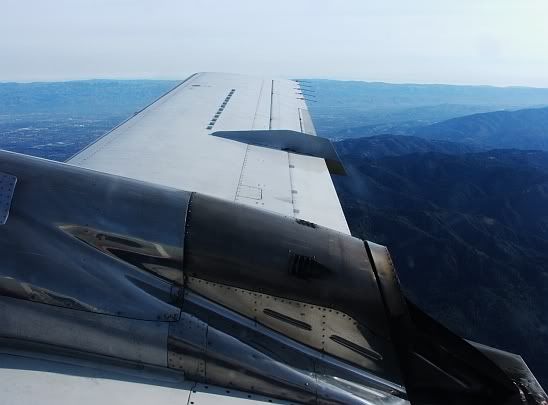 Before long, we were once again over the water—this time San Francisco Bay. We pulled a gradual left turn to line up for the approach to RWY 28R at SFO.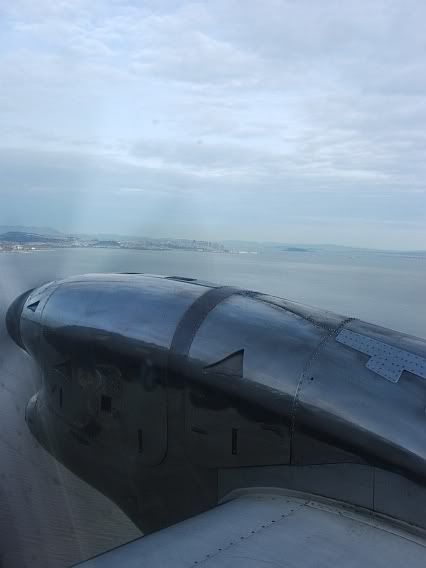 And shortly thereafter, we were over the threshold.
Taxi in was quick, and with the aircraft parked and the props stopped, the flight attendant opened the boarding door. As requested, everyone sat still to let the hurried passengers off first. And with that, my first flight on the EMB-120 was over. I really enjoyed flying on this great little aircraft.
After deplaning, we caught the shuttle bus over to the international terminal. The shuttle operates within the secure area of the airport, though, so fortunately we did not have to go back through security at the international terminal. We saw the lines there and they looked long!
We had about an hour to spare before boarding began, so we ate at a little sushi restaurant near our gate. After that, I walked around and did a little spotting, while my girlfriend hung out at the gate and read her book. I also grabbed a few shots of the monstrous 744 that was about to carry us across the Pacific. It's such an overwhelmingly large aircraft (I've yet to see the A380, but can't wait), and ours had a little extra character—notice the mismatched nosecone still bearing the old paintjob!
When boarding began, we headed for the coach class door (1st and Business board through a different door) and we were among the first in the economy cabin. On the way to our seats, one of the flight attendants stopped to compliment me on my blazer, and then asked if I would like him to hang it up for me. I said yes and thanked him, and he then jokingly asked if I would like it dry-cleaned during the flight, as well. I said yes and he said he'd see what he could do. My attitude is this: even though the level of service in coach has declined so much in recent years, I always appreciate it when a flight attendant goes just a little out of his or her way, or cracks a joke, or shows some personality. It's the little experiences like that that make me want to come back and fly that airline again. Over the last few years, United, more and more, has earned my business and for the most part I've been very happy with them.
Anyway, with my jacket hung, we took to our seats, 42 J and K on the right hand side. Another UA 744, still full sporting the old colors, was parked next to us and I grabbed a pic. I later realized that my girlfriend and I had flown from FRA-IAD on that same plane, N121UA, a month and a half earlier.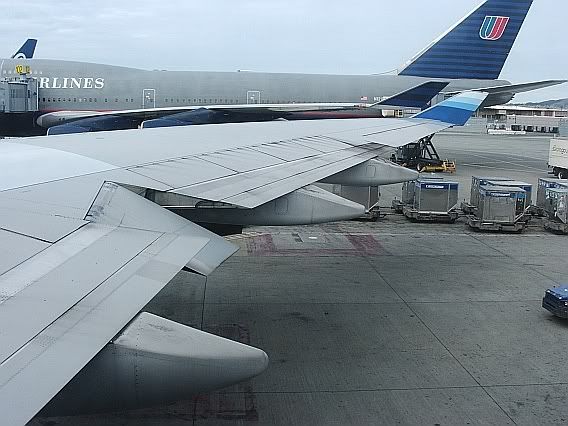 Boarding was complete after 30 minutes or so, and we pushed back and began taxiing out to RWY 28R. I've noticed that from a passenger's perspective, 747s feel even more massive during taxi, especially when watching those gigantic wings stretch far beyond the parameters of the taxiway. We certainly seemed to pick our way slowly through the turns as we lumbered toward the runway. We held short at the end of 28L as a LH 744 arrived after many hours on the wing from FRA.
With the Germans on the ground, we taxied into position on 28R and began our long take off roll. I didn't time it, but it seemed to take forever to become airborne. Once in the air, we climbed out slowly over the neighborhoods west of the airport.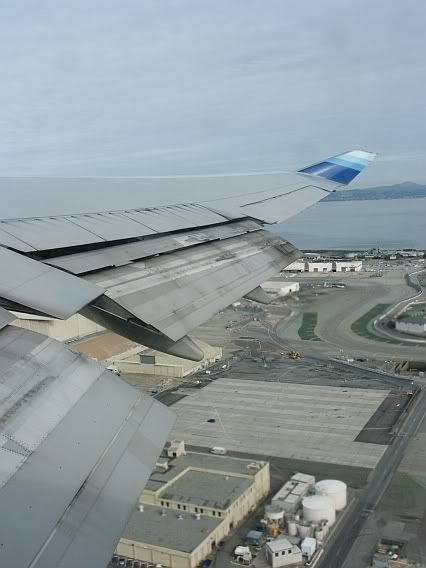 The aircraft banked to the right, pointing the nose to the northwest. I snapped a pic of the lovely City by the Bay.
And soon, the Golden Gate Bridge came into view.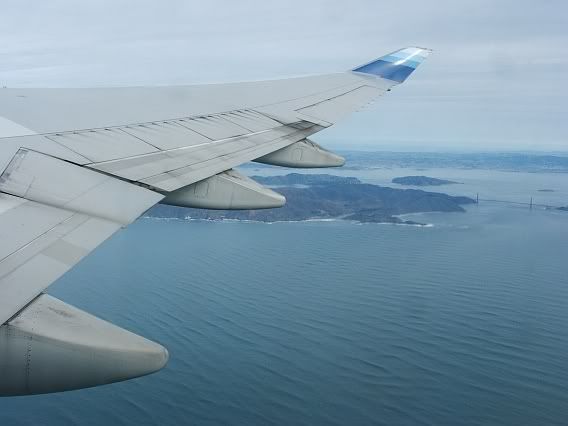 We continued our slow climb out over the Pacific. A half hour or so after takeoff, the flight deck announced we were level at our initial cruise altitude, FL280, and that due to especially strong headwinds, our flight time would be a little longer than usual—14:47 from takeoff to touchdown. With that announcement, there was a collective sigh that was heard throughout the coach cabin. Beverage service started a few minutes later, followed by lunch. I had meatloaf and mashed potatoes, along with some cabernet sauvignon. My girlfriend had teriyaki chicken. Sorry, I didn't take any pics of the inflight faire. I did grab some pics of the massive wing as we cruised along, though.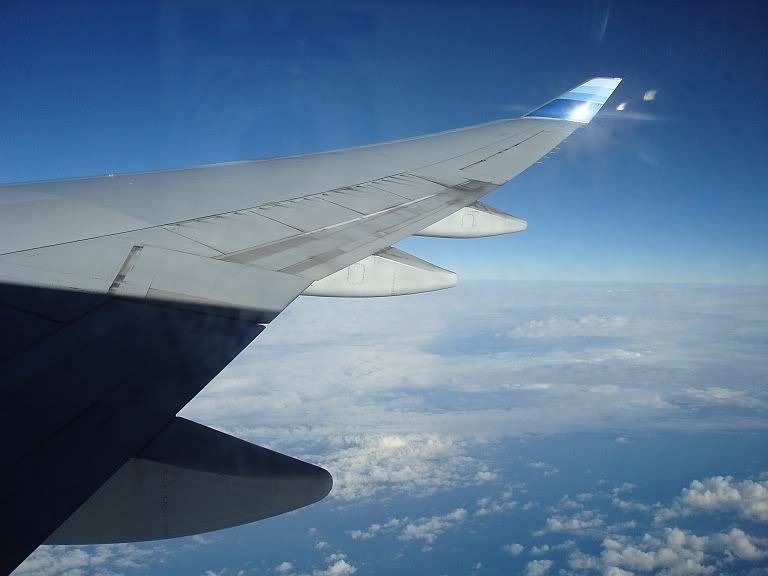 As we got farther north, the winter light grew softer and the shadow on the wing migrated farther toward the winglet.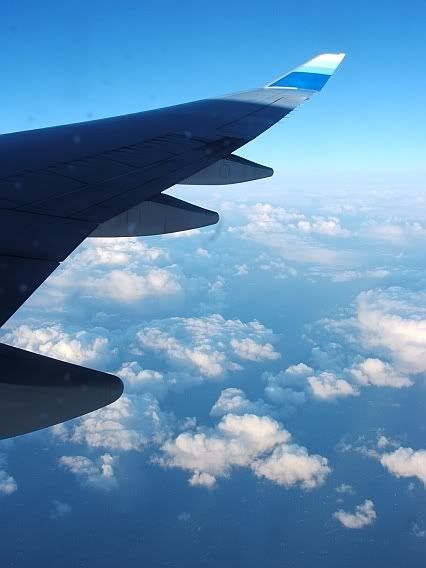 My girlfriend watched a couple of the movies and I read. And the hours and time-zones slipped away behind the wing.
About 7 hours into the flight, snack service began. It consisted of instant noodles, a shortbread cookie, and I got a Tsingtao beer to wash it all down. I'm not sure I'd call the noodles delicious, but they sort of hit the spot.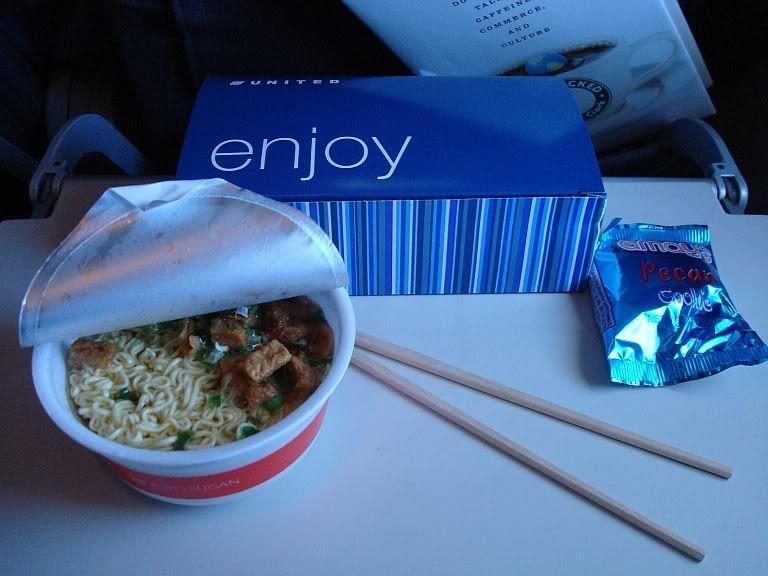 And the flight continued on…and on…and on…and on… You get the point. It sort of put things in perspective when I realized that this long trans-pacific flight was basically the equivalent of taking off from the U.S. east coast, flying non-stop to London or Paris, turning around in mid-air without landing, and heading back to the States. I love flying, but even I will admit that this one got a little long at times! After 9 or so hours of flying, we were still far off the northeast coast of Japan.
We continued on and the sky gradually grew darker as night caught up to us from behind. The soft light of dusk provided some pretty views of the clouds and the wing.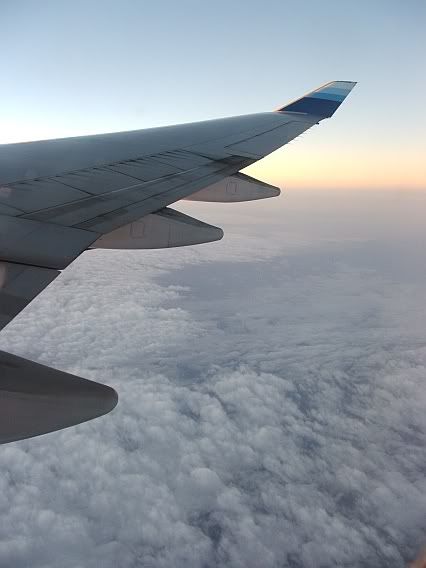 An hour and a half before landing, we were given our final meal and beverage service. For the life of me, I cannot recall what the meal was—my apologies. I suppose by that point I was a bit delirious from many hours on the wing!
Finally, we began our descent and the flight deck came on and announced the weather in Hong Kong, told us we'd be on the ground in about 25 minutes, and let everyone know that those on the left side would be treated to some great views of downtown Hong Kong as we made our approach. Too bad, as we were on the right side. I didn't see much out the window until we were almost over the threshold of the runway. We finally touched down on RWY 25R after 14:30 in the air. We had made up a little bit of time based on the earlier prediction of 14:47.
We taxied to the gate, the engines spooled down, and the aircraft slowly emptied out. I grabbed a shot of a neighboring UA 744.
Fortunately, I remembered to ask for my jacket and the flight attendant went and grabbed it for me from the closet. We finally deplaned and entered the terminal, exhausted but happy to be able to move around again. We only had 3 hours in Hong Kong before our Cathay flight to Manila. But I'll save that flight for another TR, which I'll post as time permits. For now, I hope you all enjoyed this, and thanks so much for reading! Take care and all the best!