Hello, dear reader;
My first flights in 2008 are going to be reported here. Almost 4 weeks ago since my last flights were done on OS, now the day had come to take my risks again by planning 4 flights on 4 different carriers. It's always a challenge, but I can already say that I've made it again
January 28, 2008 (Monday)
Living close to the airport, the bus at 05.45am was early enough for me to catch my first leg of the day. It will start on transavia.com (HV). The day before I already used internet check-in to secure my seat. I got a PDF file containing my boarding pass, which I duly printed.
Although, after my arrival at Schiphol Airport, I proceeded first to the self service check-in machine to obtain a normal style boarding pass, which I prefer to use. I usually keep the small slip in my files for future reference
.
Lines for security were really long this morning. Only 2 entrances were opened (out of 5 !), so the airport was not showing her best service. It took me 30 minutes to proceed the queue and security/x-ray was done in a minute. No time for a pitstop at Starbucks today, I immediately proceeded towards my assigned gate in the C-concourse: C12.
Not many passengers waiting in this area. One female groundstaff waiting to start the boarding process. I walked around a bit and noticed my aircraft on the tarmac. I was a bit surprised to see a B737 series 800. To be honest I expected this flight to be on the smaller –700 series, so it was a little bit of bad luck. I still never flew on a B737-700 with blended winglets, and I thought this would be the day to fly one… Of course, the B737-700 in general is already well covered in my personal log
.
Boarding started soon after, and it went all pretty smooth and fast. I was welcomed by a younger male flight attendant and the female purser. Later I found out that this younger boy was on a familiarisation flight, during his training. I was sitting in the front, and took my window seat at 04F.
AMS-MAD
Flight No.:
HV 5201
Date:
28JAN08
STD:
0735
ATD:
0733
STA:
1005
ATA:
1010
A/C:
Boeing 737-800(WL)
Reg No.:
PH-HZB
Seat:
04F – Economy Class
My 30th ride on the B737-800, but the first on this particular machine.
View Large
View Medium


Photo © Bartosz Bujak
After boarding, the purser counted all passengers. There was a bit of confusion and the groundstaff came inside the cabin. A small conversation between the ladies was easy to follow, and I heard the load was (only) 90 passengers in total. This makes the load factor to be 48,3 %.
Not the best load, and maybe common for this route. HV will discontinue this route from end of March 2008.
The middle seat of my row remained empty. A Spanish lady was sitting on the aisle seat. A comfortable start of the day I thought. Doors closed timely, pushback was ahead of schedule. Well done! Some pre-information from the flightdeck mentioning the expected flighttime of 2:20 hours.

Seatpitch on transavia.com
During start-up, a safety demonstration video was playing on the drop-down panel above every 4 rows. Spoken language is Dutch, with English subtitles. We taxied to runway 24, the one in South-West direction, and following a heavy B747-400 Freighter of Great Wall Airlines from P.R. of China.
I saw the B747 using full runway length to get airborne, so apparently this let us wait for several minutes to avoid the turbulence. Takeoff was powerful, not too long rolling, and airborne time at 07:43am.
Soon after takeoff we found our way through the skies, large layers of clouds below us. Views to the ground were rather impossible. About 20 minutes inflight the menu was distributed, called 'Flyer'. In this small booklet you'll find prices on the food and beverage service. Also headphones were on sale for 3,-- Euros, making it possible to listen to the entertainment system (music channels, and 1 video-channel for the main screens).
I decided to buy a Nescafé Cappucino, price EUR 2,50. Taste was good, but of course too expensive for some instant coffee.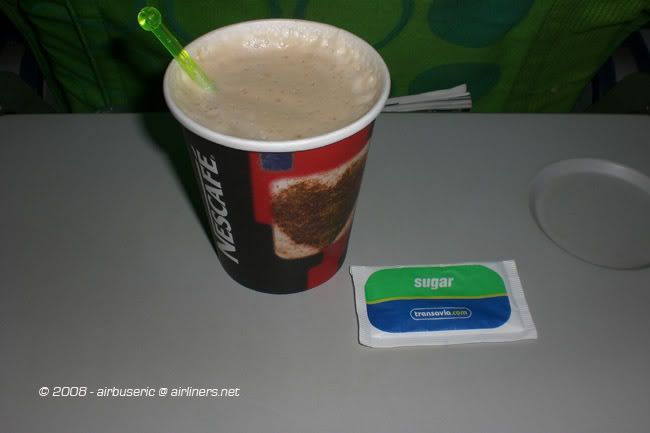 EUR 2.50 for this cappucino
In the seatpocket was also the inflight magazine 'Wings', in handsome tabloid size. Additionally a Ski Magazine. This was an extra offer, I guess mainly for the flights operating to INN, SZG, GNB and PUF. Of course also the safety card and disposal bag were in the pocket.
Flight was rather uneventful. On the videoscreens a movie, Ratatouille (animated-adventure), was playing for the duration of the flight.

Cabinview on transavia.com
Some other traffic was seen over France, we were quite close to a SK A321, which was probably heading to the Canaries. Routing was over Bordeaux (visible) and Pamplona towards Madrid.
The sky got more clear after the Pyrenees mountains were passed and we started decending into MAD. Interesting landscape below us. I've never been to this part of Spain, so I was looking outside the window all the time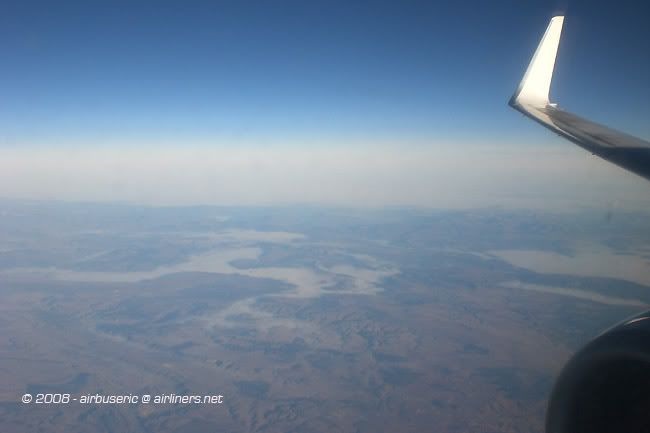 Enroute AMS-MAD, on PH-HZB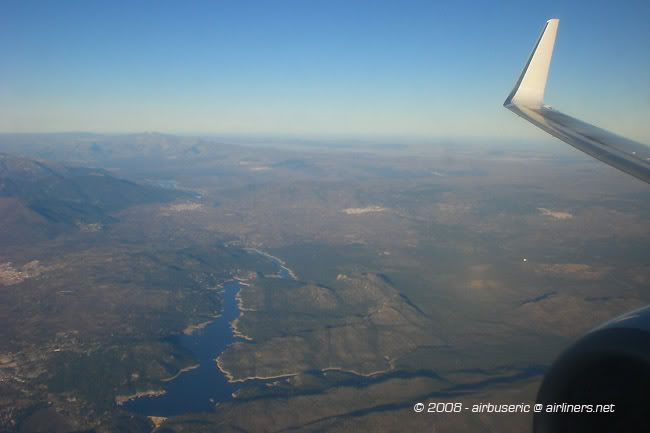 Approaching closer to Madrid
A lot of turning on final approach, and when we got closer to the ground, I decided to film the landing: