I had always wanted to fly on a DC9, and since I am in the USA now for 6 weeks, this was the ideal opportunity to do so. After a little research and asking for ideas in the airliners.net forum, I decided to do MDW-DTW-IND-DTW-ORD which gave me 4 airports and 4 DC9s of 2 different types (-30 and -50), all in one day for 144 USD, which is a nice deal especially since the nice USD exchange rate, making it less than 100 EUR.
The trip took place on Sunday, January 27th 2008. Early in the morning, at 5.30, I had a taxi pick me up at the Chicago Youth Hostel and the friendly driver took me to MDW in only 20 minutes. There was no useful public transport option as the direct subway line doesn't operate that early and with the bus it would have taken me longer than one hour which would have involved a transfer.
At MDW, I went to the self check-in kiosk. I was really glad that this machine printed the boarding passes for all 4 legs without asking stupid questions about the reason for my trip. What I found a bit funny is that I didn't get a single SSSS on any boarding pass - during my current trip around North America, which involves lots of one-way flights, I get SSSS on every single flight. But it seems like the TSA didn't consider my one-day trip, which at its core was a round-trip to IND with only a 1 hour stay there, suspicious at all. I will never understand the sense of air traffic security regulations.
With my four boarding passes, I went to the MDW security, which was a breeze as nobody else was flying at 6 am on a Sunday. I walked around the deserted terminal for a while and then waited at the gate for a few moments.
MDW terminal
There were only about 10 people in the waiting area, and I was wondering where everybody else was. Would they be in the lounge and show up at the last minute? Nope: This was it, only 10 pax this morning. Boarding was called on-time and the first of my 4 flights was about to begin.
1/27/2008
Flight: NW 1410
Aircraft: DC9-30
Registration: N9337 (not sure - this is what I saw from the terminal window)
Seat: 19A
The check-in lady issued me a new boarding pass with seat 7F because she thought that I might want to avoid the noise of the engines in the back. I boarded through the jetbridge and was surprised to see a quite modern-looking cabin, although the overhead bins looked quite worn out with lots of scratches.
Since the purpose of the trip was to experience the DC9 and its sound is one of the unique parts about it, I ignored my new boarding pass sat down on seat 19A. Here's my first impression:
Note the Southwest tail in the window!
Legroom was rather tight. But all my flights were around one hour or less, so why complain. Boarding was completed quickly, everybody sat where they wanted and the door was closed. Pushback, and then came what I had anticipated: The engines were started up. An enormous noise broke the silence, and I was looking out of the window to see the engine begin rotating. To my surprise, nothing was moving. So I thought that we would taxi on the other engine only. When we stopped at the runway, I still didn't see any rotation of the engine, and then I figured out that the rotation took place behind the first set of blades, unlike most modern engines I had seen before. Off we went, down the runway with a loud noise and after a very short roll the aircraft rotated into the foggy air into the last phase of sunrise. Downtown Chicago came into view - an amazing sight in the haze:
Downtown Chicago in the background
Soon after, I was impressed by the ice on Lake Michigan:
Frozen Lake
Soon, the sky became cloudy and in the end completely overcast. Here's a photo of the engine which I had thought to be turned off:
Left Engine
The flight passed uneventful, the F/As came around with a round of drinks (took an OJ) and after about 40 minutes it was time for the descent. When the flaps were deployed, I was impressed by the signs of age which came into view. The wings with the flaps looked worn, but that doesn't necessarily mean that they don't serve their purpose any more.
Flaps deployed, short before landing
Landing was smooth and the thrust reverse was very loud. We then taxied past the deicing pad with some DC9s as "customers":
Deicing
When we approached the terminal, it became quite clear - despite the fog - which airline rules DTW:
NW planes at the terminal
Before docking at the gate, I spotted this NW A319 which was just starting up its engines with lots of smoke:
NW A319 engine start-up
I deplaned through the jetbridge and was inside DTW's modern terminal, to be precise the main part of it. There's also a midfield dock which can be reached through this amazing tunnel, which reminded me of FRA:
The tunnel connecting the terminals. The color keeps changing, and there's some music in the background.
Here's a pic of the terminal with the ExpressTram's track to the right: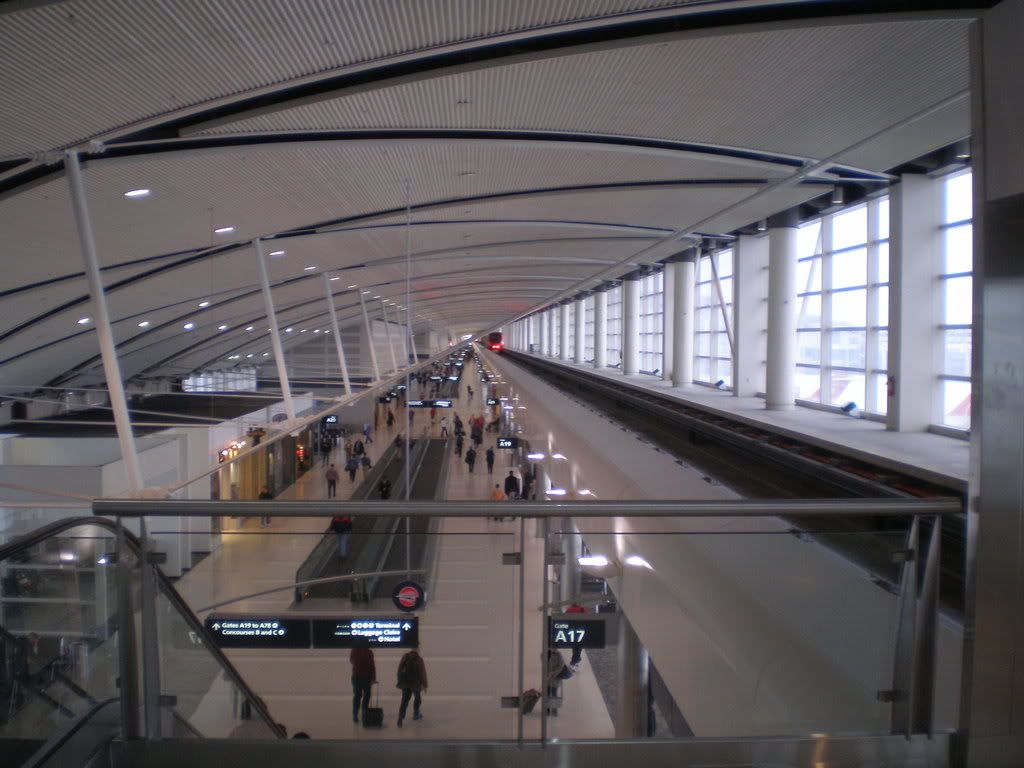 Terminal with train inside
Of course, I took a ride on the train and then I had about three hours to kill before the next flight. I ended up walking around, between the terminals, taking the train again, looking out of the windows, sitting and relaxing... One thing I didn't like about DTW: The news stands had mainly some boring magazines and local newspapers, as well as USA Today. There was no Wall Street Journal (of course it was a Sunday, but usually you'll find the weekend edition) or any other larger newspaper.
After having killed three hours, it was time for the next flight.
Flight: NW 1583
Aircraft: DC9-30
Registration: N1334U (again not sure - this is what I saw from the terminal window)
Seat: 20A
The interior was the same (it was, in fact, the same on all 4 planes I flew on today). There were more pax on board this time, maybe 75% LF, and the rest was quite similar - boarding was finished quickly, doors closed, pushback, engines on and a rather long taxi to the runway. The only difference was that I sat one row further to the back, which meant even more noise and a restricted view as the engine was right next to the window.
Line-up on the runway:
Off we went, into the fog again
I fell asleep after the initial climb and woke again to see a sunny IND area below. After a smooth descent, I realized that this would be a less busy airport.
Touchdown at IND
We taxied past a US Postal Service terminal which probably wakes up at night and a Beechcraft facility with some King Airs parked on its apron. After deplaning, I was glad to see that this plane went to another place within the next half hour which meant that I'd get a different one for my return flight to DTW. I was even hoping for a DC9-40, as the online seat map had shown two more rows for this flight.
I had a look at IND's terminal - to be precise the NW area - and decided to go out of the airside and check out what was landside. I had a look at the departure screens to see whether the name "Indianapolis International Airport" was justified - well, there was one flight going to Cancun, the rest was domestic...
Check-in area - sorry for the bad quality
After walking up and down a bit, I went through security again and wandered around the NW gate area for a while. I was amazed to see an iPod vending machine:
Vending machine offerind iPods and other electronic stuff
Then I saw the plane for my next flight, which was unfortunately another -30. Boarding was announced, and this flight turned out to be quite full.
Flight: NW 1452
Aircraft: DC9-30
Registration: N925US
Seat: 19A
Basically, this was quite the same experience as the last two legs, except that it was a bit less exciting as it was nothing new any more. We taxied past what seems to be a new terminal for IND, not long before completion:
New IND terminal?
After takeoff, I was amazed by the flat, boring landscape below. Here's an example:
Boring landscape
Then, one of these strange residential areas came into view:
Residential area, built from scratch
And then nothing. After a while, there was another small town in the middle of nowhere:
Small town, surrounded by nothing
Then came clouds again, and the thick layer indicated that DTW couldn't be far. And so it was, descent began, and another landing at the foggy DTW completed leg three.
Spoilers deployed after touchdown
Again, I had three hours to kill - I ended up setting my cellphone's alarm clock function and slept in a seat at a deserted gate. In the meantime, the sun set and when I woke up, it was dark outside and time to go to the gate, which was already filled with passengers. This time, it was a DC9-50, but I knew that before.
Flight: NW 1177
Aircraft: DC9-50
Registration: unknown
Seat: 25A
Since I was tired, it was dark and there was nothing really new about this flight, I didn't take any more pictures. I even forgot to note the registration. After I had settled in my seat, I fell asleep, only woke up for a moment during takeoff and came back to life short before landing at a busy ORD airport. Deplaning, a rather long walk, and then I took the subway back downtown - and I was glad to be in bed that night, after a long day of flying and hanging around at DTW.
In the end, the whole trip felt a bit like an all-you-can-eat buffet: at the beginning, you can't wait to begin, but in the end, you've had enough. That's what it was like to go flying DC9s all day. But I didn't regret having done this, and the price wasn't that high to feel bad, either.
Thanks for reading, comments and criticism welcomed.