Hey everyone,
I wasn't initially going to write up a trip report for these two flights, but since China Airlines is featured so irregularly here, i thought it could be of some interest. I've never flown China Airlines before as I usually take SQ to TPE with a stopover in SIN. My mum's a frequent flyer with CI and since we would be travelling together, it would make sense to take the same flight.
Background:
I was returning to Taiwan (where I was born) for the first time in 4 years. As I'd grown up in that time, I was looking forward to really exploring Taipei and getting to know the place of my birth! As I mentioned, this wasn't supposed to be a trip report, so most of my pictures come towards the end of the second flight when I was trying to use up my camera battery.
CI054 (China Airlines)
15 January, 2008
Brisbane International Airport (BNE) - Taipei Taoyuan International Airport (TPE)
Scheduled Departure: 10:15am
Actual Departure: 11:00am
Scheduled Arrival: 5:00pm
Actual Arrival: 5.20pm

Aircraft: Airbus A330-300 (Sorry, no registration)
Economy Class
Seat 23A (window)
My dad dropped my mum & I off at Brisbane International at around 8am - there was a fair amount of traffic on the way as it was rainy and most cars were travelling slower. The China Airlines check-in counter was open and staffed, but the line was filled right up to the back and was not moving. We'd later hear that they had computer glitches which delayed check-in. Check-in was done by Qantas staff and two China Airlines supervisors in uniform. We already had our seats pre-booked when we paid for our tickets at the travel agent and so merely completed security questionnaire, checked our baggage and made our way downstairs. All in all, it took around 1 hour to get through the check-in line.
Brisbane International has become very cluttered since the last time I travelled from there – every inch of space was dominated by duty free and fast food restaurants. We past through customs and security very quickly (no line-up), but I was a little disappointed to see the gate area has been blocked with duty free shops – and prevents viewing of the tarmac area. Our flight was departing from Gate 82 – which is on the right hand side temporary extension which is still being renovated. Parked at Gate 83 was a JAL Boeing 747-400 which had been delayed due to technical problems. Further down the right hand side extension was a lone Qantas A330-300, which would soon be joined by another, presumably from Singapore.
Japan Airlines B744 – delayed by technical problems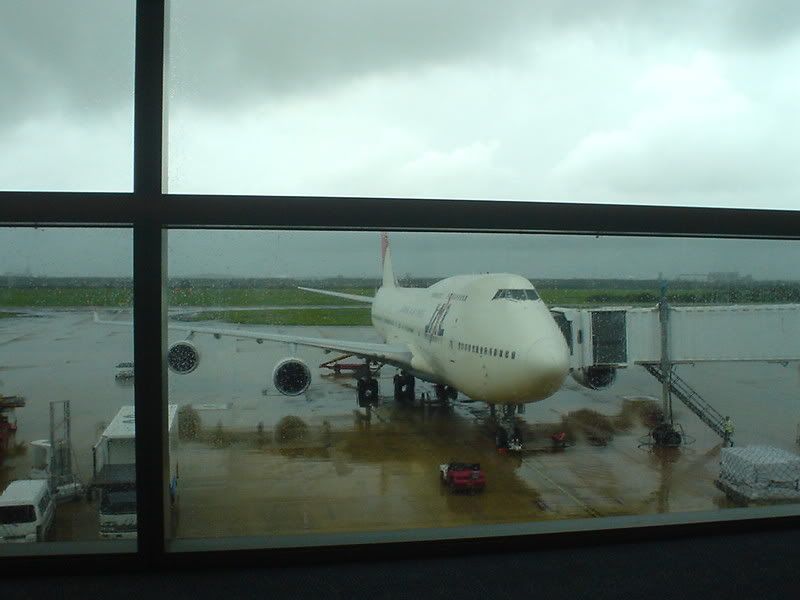 Announcements were made at the gate to advise of a delay due to check-in computer glitches, and we were kept informed. Eventually, pre-boarding, priority boarding and allocated boarding announcements were made, and I was boarding by 10:15am. We presented passports and boarding passes at the gate upon boarding (anybody know why we need passports there?) and were welcomed aboard by a China Airlines steward and stewardess.
First impressions were great: the cabin looked fresh, not entirely new but still very clean, a pillow and blanket was placed on the seat and the Economy seat comprised of a decent sized PTV (with AVOD), a latch which opens to show a mirror, and presumably a glasses or glasses case holder. A quick flip through the inflight entertainment magazine "Sky Couch" impressed me with it's range of movies (more than I had expected), CDs, games and documentaries. Interestingly, the SkyMap also has camera features – a forward view and a downward view – which were switched on straight after the safety video. The seat itself had built-in lumbar support (felt like air as it was flexible) and a footrest capable of a few positions – as well as a manual rotating massage feature.
View from the Economy Class seat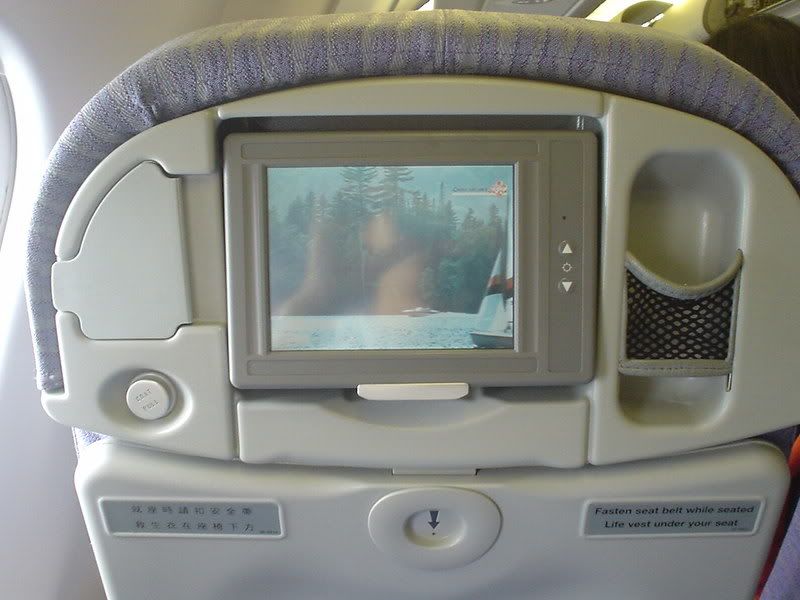 CI were playing Chinese pop music as boarding music and showing scenes from around the world on the PTVs. This flight was extremely full – later on in the flight, I would only count a few spare seats in both Economy cabins. It seemed at check-in that many Australians were now using CI to connect to the US and south-east Asia. I asked the flight attendant in English if I could have a set of earphones (as I saw others using earphones already) – she was a bit flustered and eventually answered "I'm just looking for them now" – I made a mental note to speak Mandarin for the rest of the flight – better me being flustered than her!
Rainy day at BNE – two Qantas A330-300s can be seen out of the window.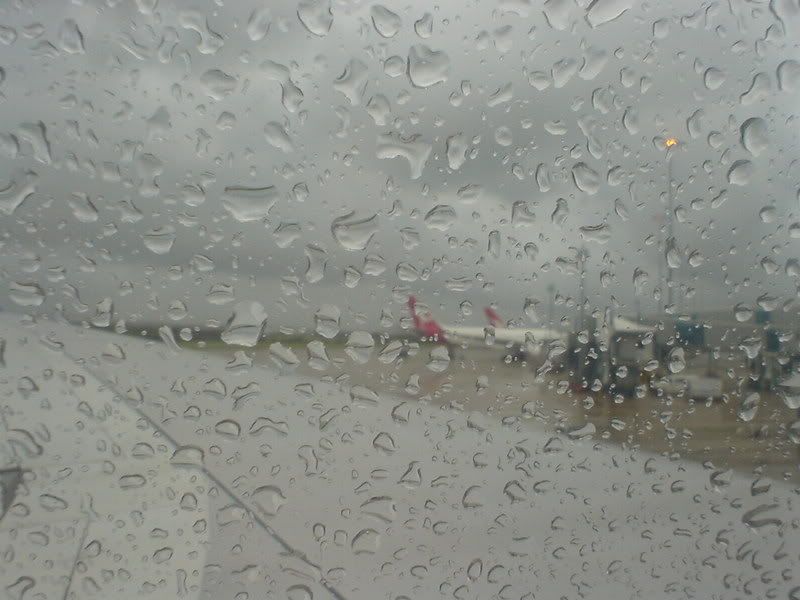 We taxied to the runway and waited for another aircraft to land before taking-off towards Moreton Bay (Runway 19?). It was really cool to watch the take-off from both the window and the forward camera. This was also my first time on the A330 and I noticed it had a slow take-off – but the aircraft was so quiet and graceful. There wasn't much to see as Brisbane was cloudy – we encountered some turbulence on our way up. Eventually, captain announced to the crew 10,000 feet, and after a short time, he turned off the seat belt sign. The captain introduced himself and spoke about our route to Taipei, the time we were expected to arrive and apologised for the delay – he spoke in both Mandarin and English. He said he would talk to us again shortly before our arrival in Taipei. The chief flight attendant introduced herself, introduced Fantasy Sky (the IFE), and announced that lunch would be served soon after a bar service with "your choice of drink".
I'm so sorry I didn't take any pictures for the rest of this flight – I was watching a documentary before the meal, and afterwards they asked passengers to pull down the window so they could dim the lights. I watched an interesting documentary about how they built The Forbidden City in Beijing while they prepared the bar service – mixed nuts and crackers with a drink (I had a Coke). Soon afterwards, lunch was served. There were no menus or hot towels, so when the flight attendants arrived, they asked if we would like "Chicken rice" or something else (sorry I forget, but I believe it was a Western option). The portions were good for me – maybe not quite enough for people with big appetites. It was presented beautifully on nice red crockery. The chicken rice was served with a salad (and dressing), a pudding, warm bread roll and some pickled vegetables. I had a Sprite for a drink. On CI, they don't give you the whole can unless you request it (they use regular size cans, not the half-sized cans) – but luckily for us, as my mum & I both had a Sprite, the flight attendant put the rest of the can onto my mum's tray as she was walking away.
After the meal service was cleared away, lights were dimmed and we were asked to close the windows. As I was tired, I turned on an album that I liked and dozed off to sleep for an hour or so. After I awoke, I watched "Heartbreak Kid" for the second time and it was hilarious again – however, they cut out the raunchy sex scenes on Fantasy Sky. Towards the end of the movie I got thirsty, so after a toilet stop, walked towards the back galley were two stewardesses were chatting. They were very nice – and told me I could help myself to anything in the galley – but one stood up and got me a Coke and two cups with ice anyway. Through the flight, call bells were answered promptly, and a water run was done at least once. I watched the rest of the movie before watching SkyMap for a little bit. It was a pity I couldn't look out the window as it was so sunny. After a while, I started on another movie – Nanny Diaries – which was alright. Halfway through that movie, a snack was served. I had heard the A330-300 only has enough galley space for one warm meal – and that seems to be the case as the snack was a well-presented lunchbox of sandwiches, fruit cake and juice. Nice food!
Eventually, the captain announced that we would be descending soon and gave us details of our arrival. I spent most of the time watching either camera or SkyMap. The landing was a little scary as we encountered a lot of turbulence and had little visibility out of the window. We touched down in Taipei at 5.20pm Taiwan time (7:20pm Brisbane time) after around 8 hours 20 minutes in the air. The last time I'd flown this route was with EVA (before they had PTVs) and PTVs sure do make a difference! This flight, while not short, didn't feel long. We disembarked through the forward left door and thanked the crew on our way out. For some reason, we disembarked at Terminal One and were guided over to Terminal Two on foot. Perhaps we had missed our slot? One thing that still hadn't changed was the attitude of the Immigration officers. They don't acknowledge you when you say hi (Ni Hao) and stare coldly at you when you say thanks (Xie Xie). I mean, shoot, just cause you're stuck in a dead end job looking for terrorists..
In Taipei
Taipei is a beautiful city – rich with culture and entertainment. It really is a night city – where shops are open late and you never feel unsafe. Traffic is a little scary at first as Taiwanese have very little regard for road rules. The Taipei MRT (Mass Rapid Transport) is a gem and provides easy connections to all the districts in the city. My pick of places to go would be: East Side (Dong Chu), Ximending (for shopping & food), Shilin Night Market, and the new Xinyi District (where Taipei 101 is located).
Taipei is a city on the move – all the new developments are kept in clean condition and all have English translations. Definitely worth a visit! The weather was very cold – apparently influenced by the snow storms occurring at the time in China. Average temperature would have been around 11-15 degrees Celsius (cold for Taipei winter).
During my stay, I also went to some cities in South Taiwan such as Kaohsiung, Donggang, Shimen and Tainan. We took the Taiwan HSR (High Speed Rail) – which was fast (travels up to 300kph), clean and efficient. In Taiwan's south, the temperature was much warmer – sitting around 25 degrees Celsius.
If anybody would like to see photos of me in Taipei, I'd be more than happy to post them.
CI053 (China Airlines)
31 January, 2008
Taipei Taoyuan International Airport (TPE) - Brisbane International Airport (BNE)
Scheduled Departure: 9:45pm
Actual Departure: 10:00pm
Scheduled Arrival: 8:30am
Actual Arrival: 8:45am

Aircraft: Airbus A330-300 (Registration: B-18308)
Economy Class
Seat 25K (window)
After just over two weeks in Taiwan, it was time to leave the Republic of China and return to Australia. Our specific airport cab arrived at 6:30pm – I felt sad as we drove past the neighbourhood we stayed in. I had really grown to love Taipei in the short period I had stayed there. We arrived at Taoyuan Airport (formerly Chiang Kai-Shek International Airport) at around 7.30pm.
Me standing outside Terminal Two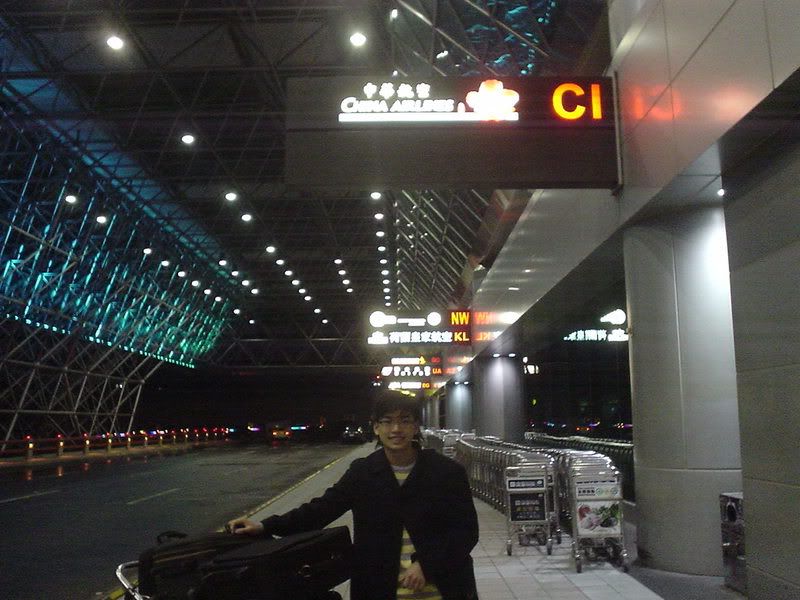 Nice lighting show outside the terminal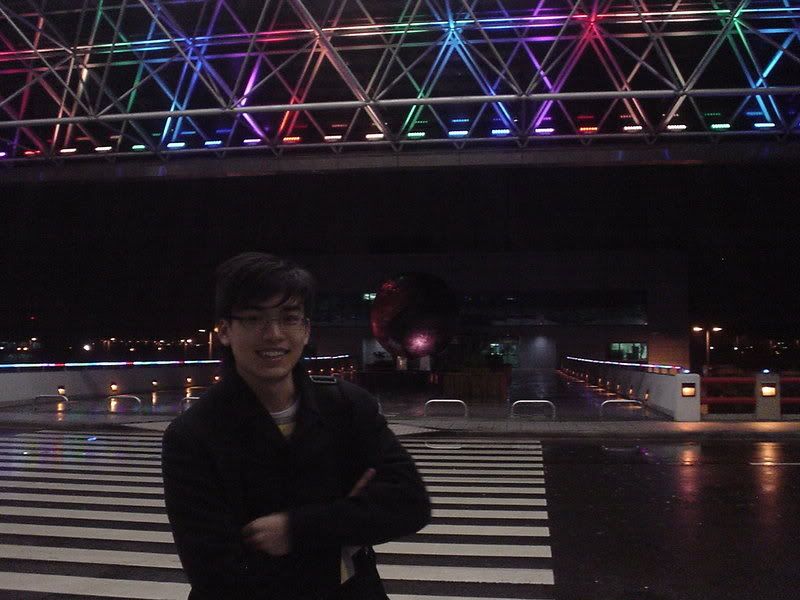 The Check-in level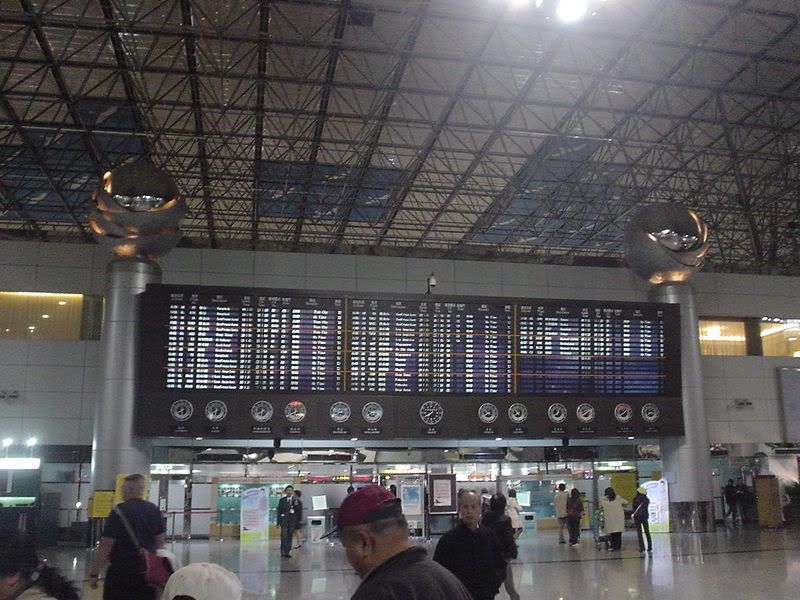 We lined up at the nearest check-in desk, which hadn't opened yet, but would service CI flights to Vancouver and Brisbane. We got through the line fairly quickly and during check-in were informed that our combined baggage was overweight. The limit is 20kg per person, and we were carrying around 26kg per person. We decided to carry one of the bags onto the flight along with my laptop and small bag. The check-in agent was very friendly and efficient, and once again, our seating had already been pre-assigned. You gotta love the China Airlines uniform.. so classy: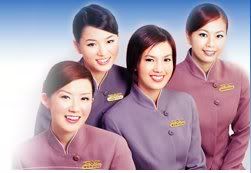 Immigration authorities were rude again.. I originally lined up after my mum, but seeing several desks free, I moved over to the next one. The immigration guy ignored me for a while as he was reading his book. He then looked up, glanced over at my mum and asked "Weren't you over there before?". I told him there were so many desks available, and that I could go back if he would prefer. He ignored me and stamped my passport – ignoring me still when I said thank you.
After security (where we didn't have to remove the laptop from the bag), which we got through very quickly, we headed upstairs to where the foodcourt is. It's currently being upgraded and extended. We decided to have a final bowl of beef noodles before leaving Taipei. Eventually, it was nearly 9pm and so we slowly wandered towards the gate (D2), browsing through a bookstore on the way. The gate lounge was already full, but it seemed many people didn't know there was a second part closer to the boarding gate. I noticed around half of the passengers were Westerners, which was great to see. It seems China Airlines is doing good business! Our flight was completely full save perhaps 5 seats in economy.
After pre-boarding and priority boarding, allocated boarding was called at 9.30pm. The aerobridge was absolutely freezing down towards the end as it seemed the Taipei night was growing colder. We were greeted onboard by a steward and stewardess and directed to our seats. Being in 25J & K, we were in the second last row of the first economy cabin. The flight attendants welcomed us onboard in English and Mandarin and there was one stewardess standing in our row welcoming passengers. She quickly moved to the row in front. We stored our luggage and took a seat. Outside, it was rainy and we were parked next to two China Airlines Boeing 747-400s bound for San Francisco and Los Angeles if I remember correctly. The plane was decorated with red stickers for Chinese New Year, the boarding music was Chinese New Year music, and the PTVs showing traditional scenes from Chinese new year.
PTV showing Chinese New Year messages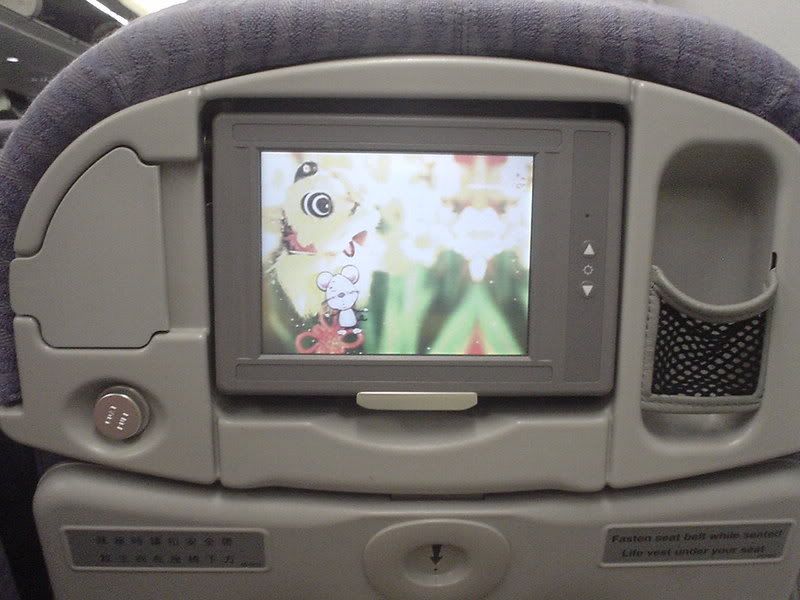 A family of four boarded shortly after us – with the mum and dad sitting directly in front of us. The mum, in particular, was a … how shall I say… bogan. Big time! The type that wears thongs, tells the flight attendant rudely "You're in our seat!", requests anything onboard that's free, reclines the seat fully for the entire flight, questions the food being served and everything the flight attendant does. Oh, and the best part… She also sang very loudly "I come from a land down under… Where the food doesn't make you chunder!" immediately after landing, to the embarrassment of her family. It doesn't bother me usually, but when I'm privy to her obnoxious conversation for nearly 9 hours, I was happy to be free of her. Immediately on boarding, she requested water as she "felt sick" despite the flight attendants being obviously busy with other things. The water was served, and to her credit she responded "thank you very much!".
We were welcomed aboard with a pre-recorded announcement during boarding as well as the flight attendant announcement after everybody had gotten onboard. The safety demonstration was played (and largely ignored) while we were pushed back and taxied to the runway. Before we reached the runway, the crew turned on each of the reading lights individually if they spotted you reading, which I thought was a nice touch. The lights were soon dimmed and we accelerated on the runway. Another slow take-off, but felt quite rocky as the wind was blowing like crazy outside. We encountered a lot of turbulence on the way up due to the storm clouds.
After reaching 10,000 feet and then cruising altitude, the captain welcomed us onboard and gave us some details of the flight. Again this was done in Mandarin and English. The chief stewardess than announced the commencement of a meal service (no bar service due to the time of night) as well as the inflight entertainment system. Headsets were distributed and I was soon watching a documentary on Cleopatra as the trolleys entered the aisles. Gotta love the AVOD! System worked flawlessly. As the food trolley was still a few rows away from us, a steward and stewardess pushed their trolley into our cabin and began serving our area. The choice for dinner was either Pork Rice or Seafood Pasta. My mum & I both chose the Pork Rice which was interesting, and served with a Chinese mushroom salad, warm bread roll and a bland cheesecake. For drink, I was served a cup of Coke. Again, portions were good for me, especially at that time of night. Following the dinner service, Chinese tea & Coffee were served. The bogan lady in front of me asked for milk with her Chinese tea and was told "later" – to which she responded "what do you mean later?". Eloquent! She was soon given milk and sugar by the coffee stewardess, just before the tea stewardess returned with some milk. I'm not sure how the chinese tea would've tasted with milk and sugar though!
During this time, we encountered some minor turbulence. A pre-recorded turbulence announcement was made, and seatbelt sign was kept on for the next few hours over the South China Sea. The chief stewardess had told us earlier that if we would like to avoid being disturbed, it would be best to fasten our seatbelts over our blankets when sleeping. I thought this was nice.. I found it very difficult to sleep at first and so watched "The Mask" from Fantasy Sky's Classics collection just as the lights were being dimmed. After the movie, I went to the toilet then tried to sleep but this was uncomfortable with the bogan lady's seat resting in my lap and my seat's inability to recline because the guy behind me was fast asleep and had his legs pushed into the seat. I decided to watch a documentary on a Taiwanese pop singer called A-Mei which was quite interesting. During the documentary, the lady in front of me pushed the call button which was quickly answered. While the FA was there, I asked for a Sprite. The flight attendant soon brought back a can of sprite and cup of ice served on a tray. I checked to see if duty free sales had passed while I was away, and she said it would happen after breakfast.
After the documentary, I drifted in and out of sleep between 3:30am – 5am Australian time. It was one of the most uncomfortable! The type where you think you're just tossing and turning, but then look down at your watch and find that it's been an hour or so. At 5am, I decided I couldn't sleep any longer with the lights turned back on, and went to the toilet, where there was a line. I couldn't believe how much my feet had swollen – it felt like my shoes were two sizes too small! After doing my business and washing my face, I returned to my seat. The flight attendants were starting to serve breakfast, so I switched on Ratatouille while I was waiting. Eventually breakfast was delivered to us from staff behind us – in the same style lunchbox as our inbound flight. The breakfast was unheated and consisted of two sweet tofu-skinned sushi, some cold Japanese soba noodles and a juice popper. Interestingly, the flight attendant serving the row in front asked "Would you like some dessert?" when serving breakfast (I suppose because the sushi was sweet?) to which Mrs. Bogan replied "Did you just say dessert?". She made all sorts of criticisms of the food ("Why does it have to be Asian?") while she looked at it, but after tasting the sushi, yelled loudly at her sons across the aisle: "This omelette is really good! You gotta try it! Trust me, it's good!". Interesting catering choice of CI – I think it might have been better if they served a cold sandwich out of TPE and a choice of Hot Western & Chinese options for breakfast.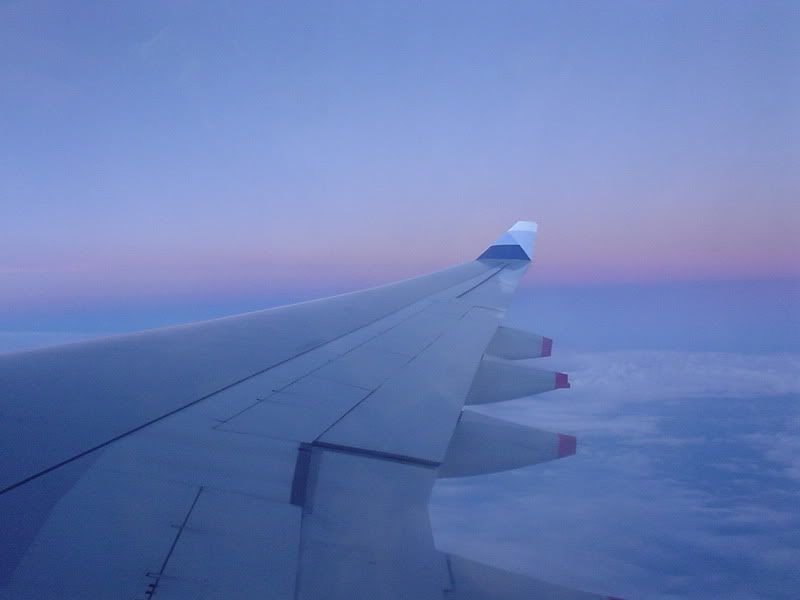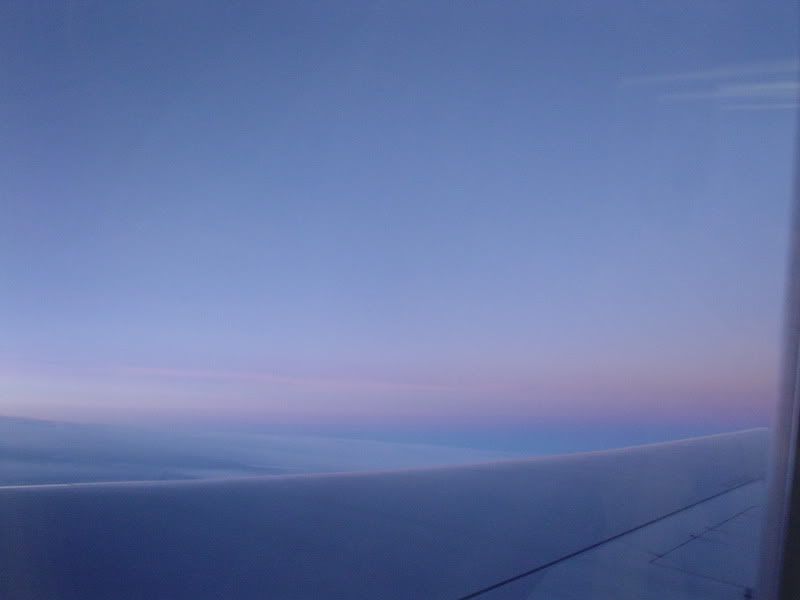 By this time, the sun had risen and we were all treated to a great view out of the windows. After breakfast, Chinese tea and coffee were served again, followed by duty free. I bought Herpa plane models of a CI A330 and 738. After getting towards the end of Ratatouille, I decided to switch the movie off and watch the SkyMap and front camera for the rest of the flight. Descent into Brissy always seems to take ages as you can see the ground for so long before you actually touch down. The captain came over the speakers informing us of descent and thanking us for flying with China Airlines.
Cabin Shot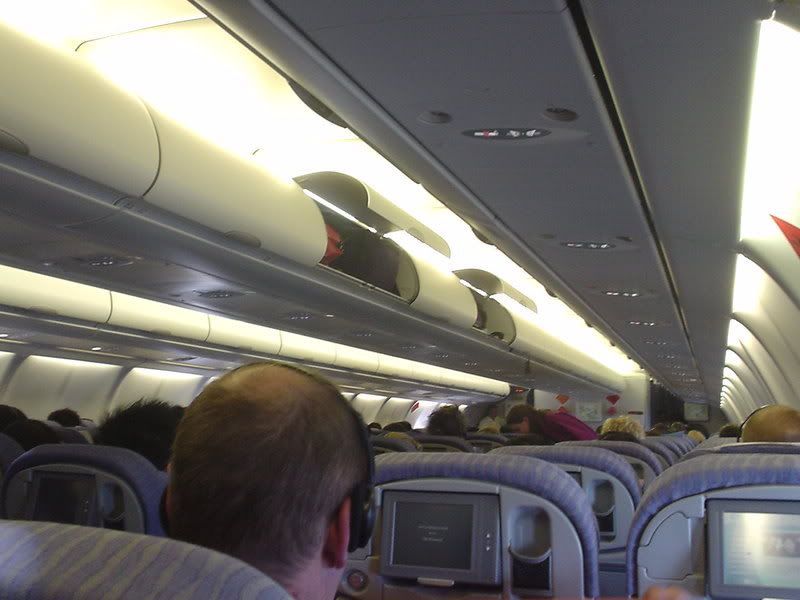 Flying over regional Queensland
The cabin was prepared for landing and we flew over Moreton Bay, giving us beautiful views of the Pacific Ocean. We eventually turned back and landed via Moreton Bay. The touch-down was very, very smooth and we slowed down very quickly.
Turning off the runway in Brisbane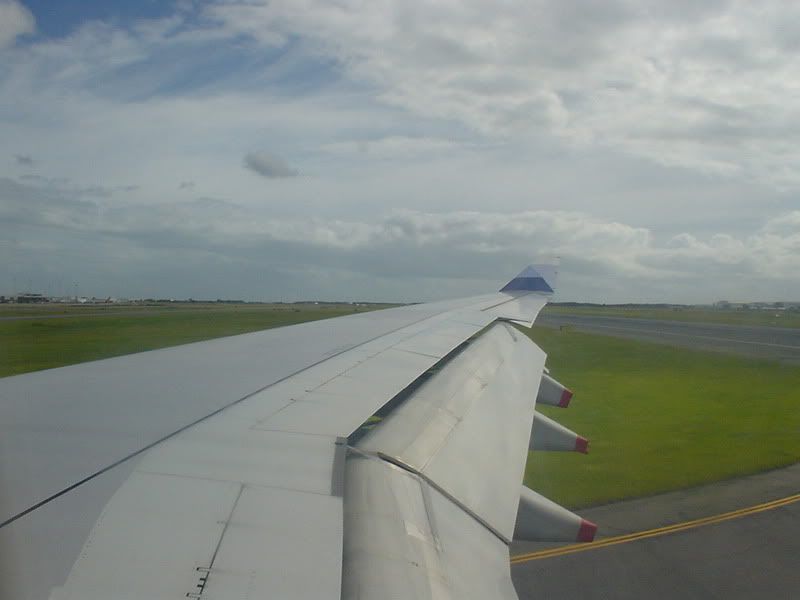 The stewardess welcomed us to Brisbane and apologised for the delay, despite only being 15 minutes behind schedule. We taxied to the gate and parked next to a Qantas 767-300ER which had just arrived earlier from Tokyo and Cairns.
Brisbane International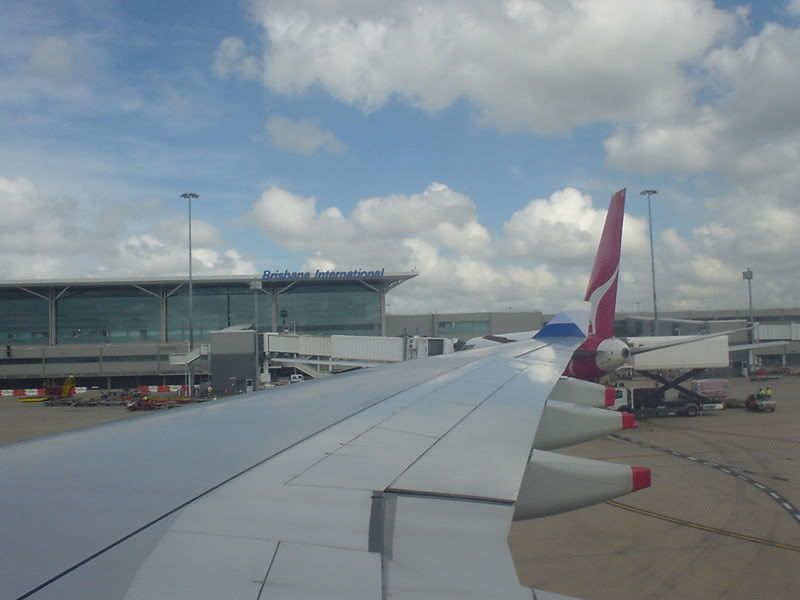 Qantas, Singapore Airlines, Emirates & Jetstar all parked on the stand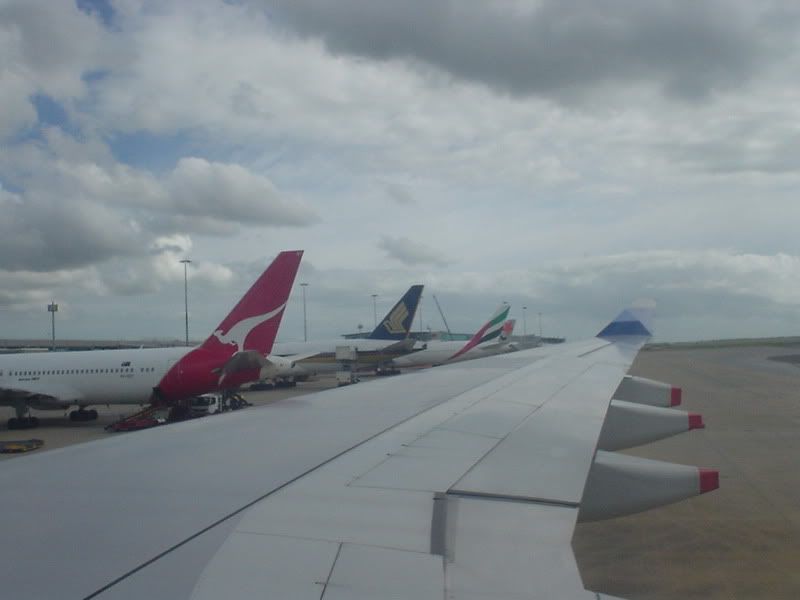 Parked at the gate!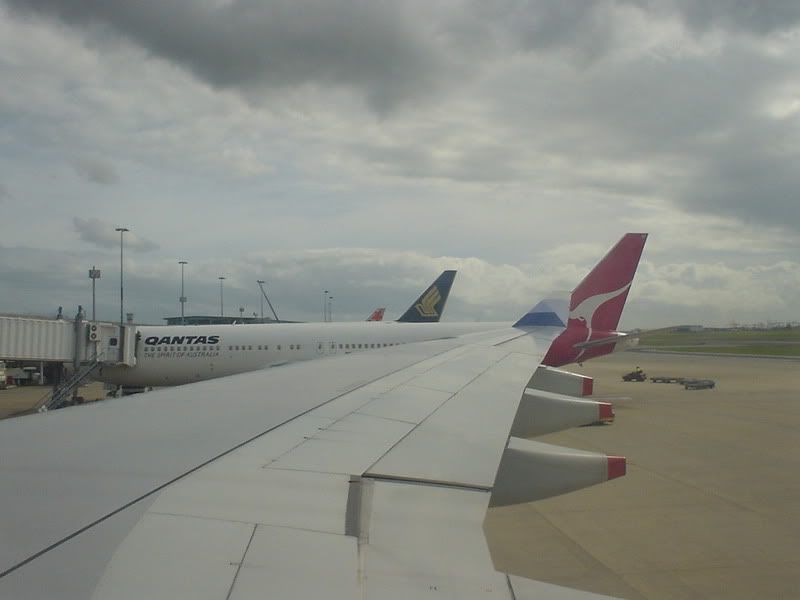 We deplaned after a short time in the aisles and made our way through immigration (which had a lineup but was friendly and efficient), baggage collection and Quarantine. I was so surprised at how close all three were to each other – it really had been a long time since I've past through Brisbane International. Staff standards were very high and there were plenty of staff on hand to answer questions. Brisbane arrivals is starting to look tired though and could do with a refurbishment. I couldn't care less though, as I was home!!
Verdict
I would regard China Airlines in the category of the best airlines I've flown – Singapore Airlines and Qantas included. If it weren't for their unfortunate safety record, I'd choose to fly them without a moment's hesitation. Their price to Taipei from Brisbane is on the same level as EVA Air (BR) – we purchased our tickets for just over $1,300AUD each. I've heard that their service standard is higher than EVA and more international, but I haven't flown EVA since 2000. English standard of the flight attendants fluctuates (particularly in announcements) – but service is unwaveringly good and helpful. I would definitely recommend China Airlines.
Thanks for reading! Comments are appreciated.
Cheers
Johann (QantasAirways)