Hello again fellow nuts,
thought I could share my last trip with you which I made just for fun and which contains some 1st-time-experiences for me. It is nothing really extraordinary in terms of routing or carrier, nevertheless some filler in my flight log. Here we go - enjoy!
Last week, after some very busy months, I had four days off. To take advantage of that and also to reward myself for all the busy days I decide to make a trip just for fun. this trip should add at least a new type of aircraft and/or carrier to my log. I'm so bored about all these A32x's and B73x's so that I went for a special aircraft this time. It was the ATR-series and after looking for some routes it was clear for me that I would combine it with Air Dolomiti. I heard a lot of good things about them and they have the ATR-52 as well as the -72 series in the fleet.
Normally these two points (new aircraft and new airline) would make my day, but surprisingly I had the luck of some more 'goodies' during this trip. More about that later!
To catch an Air Dolomiti flight and an ATR aircraft would mean to fly to a destination in Northern Italy or to MUC. Here they operate almost all flights to Northern Italy for Lufthansa and also some other destinations in the neighbouring countries. At the first stage of planing I went for FRA-VRN-MUC-FRA routing. I dropped that, because I found out some more interesting stuff.
The day of my travel LH scheduled an A330-300 between FRA and MUC, so I had to take advantage of that! I rescheduled myself and decided to fly FRA-MUC-PRG instead. As I would arrive in the afternoon at PRG there is hardly any time to visit the city. Instead of flying directly back to FRA I add another subtype of the ATR's into my log. OK is also a strong operator of this type and they had evening flights to HAM, TXL and DUS with the ATR-52-500. I forgot to mention that EN operates on the MUC-PRG run and deploys the ATR-72-500. With that routing I would kill two birds with one stone.
My final routing for that day was FRA-MUC-PRG-HAM-FRA operated with following aircrafts:
LH 966 FRA-MUC Airbus A330-300 D-AIKH
LH3272 MUC-PRG Aeropatiale ATR 72-500 I-ADLW
OK 544 PRG-HAM Aerospatiale ATR 42-500 OK-KFM
LH 027 HAM-FRA Airbus A300-600 D-AIAT
Here we go...
Flight: LH 966 FRA-MUC
Aircraft: Airbus A330-300 / D-AIKH
Seat: 43A
STD/STA: 1015/1115
OFF/ONB: 1014/1128
ATD/ATA: 1027/1120
I checked in the day before and also double-checked if the 333 is still scheduled for this flight. The FRA-MUC route is known for last-minute aircraft changes. Fortunately it still showed D-AIKH which joined the fleet in 2005. I made my way home, checked the weather and the battery of my cam and went to sleep.
The next morning for any reasons I woke up very early. After having a shower I switched on the computer and connect to flightstats.com to see if the 333 is still shown as equipment. You can see I'm very doubtful about that. Lucky enough on several sites it still showed this type.
I took my things and took the train to the airport. Arrived at the airport exactly one hour prior to departure the gate was already open and shown as A12. It had changed overnight.The queues for security check were very short so I went through in no time.
At the gate I saw D-AIGV standing which would mean an equipment change from A333 to A343. Of course I would take that too, but I checked the terminal monitors and D-AIGV was the aircraft for LH400 to JFK which departs from gate A52 and which is located exactly one level above. For our flight the A333 and indeed D-AIKH was standing on an outside position.
Boarding started ontime and the standby monitor still showed me on the waiting list. After having a free coffee at the gate and going through the newspapers we all standby passengers got a seat. Along with me 8 others were flying as non-revenue's. I got 46A and went for boarding.
After the usual morning airport sightseeing tour we arrived at the aircraft. It was standing in front of the cargo terminal next to some other A330's and A340's. The guys were also preparing these aircrafts so you couldn't miss the conclusion: too much traffic, small airport, no apron space, therefore they have to use the cargo apron to park the aircrafts in the morning departure bank and therefore a lot of longhaul flights get a bus gate which is I think unique for FRA
Anyway, we approached our A333 and I boarded through the back door. Two friendly F/A's welcomed us, turned to the left and 'BAAAAM', WTF is that!?!?!?!? Some shiny new monitors in every seat welcomed us as well! Yeah - strike!
I wasn't aware of the fact that D-AIKH is one of the recently refitted A330-300's with the very new PTV's in every seat. I was as pleased as Punch and also the other passengers were very surprised. You have to know that on the FRA-MUC route 80% of the passengers are frequent flyers (FTL, SEN, HON) so they are used to regular short-haul equipment. You couldn't miss the wonder in their eyes too and I think for one moment they forgot their whole business
I made myself comfortable into my seat and as the flight was not full the aisle seat next to me remained empty. Soon enough the captain came on PA and informed us about our departure delay due to heavy fog in MUC. We have to stay for another 30-40 minutes on the ground. But shortly before the scheduled departure time of 10:15 he came on again and gave us the good information that we can start our engines. So he did and we went off the blocks one minute ahead of schedule for a runway 18 take-off and a South departure.
The taxi to 18 is short from where we stand, but several other longhaul aircrafts (B747,A346) were in the line in front of us for take-off. We had to wait for another ten minute. Obviously the aircraft was very light, because the PIC pulled up the nose shortly after acceleration. For all of you who are familiar with FRA: we lifted-off before the viewing deck and the fire department!
We passed through the clouds and climbed to cruising altitude. The seat belt signs went off and the crew started serving drinks. Unfortunately we can't explore the new entertainment system as the crew didn't switched it on I guess. Too bad I thought, but anyway it was a short flight so I could live with that. Here are some pics of the new system:
the IFE screen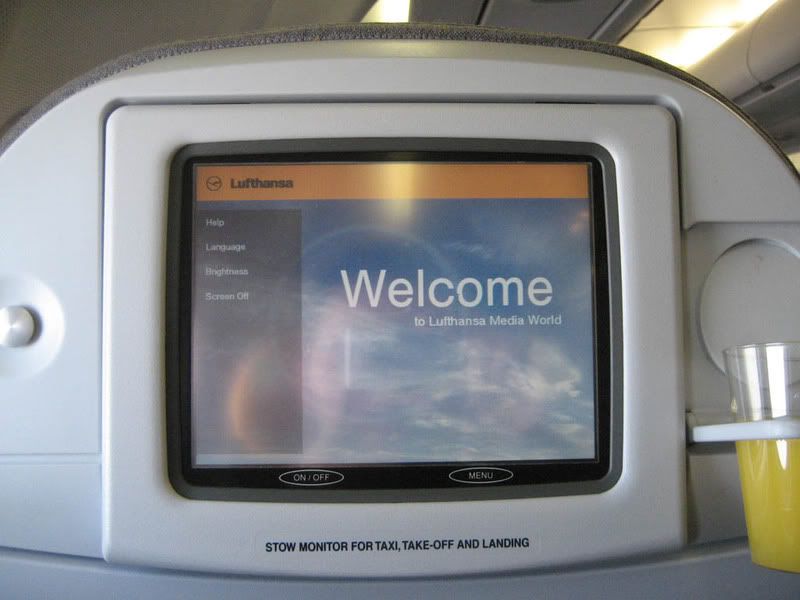 control panel of IFE
IFE box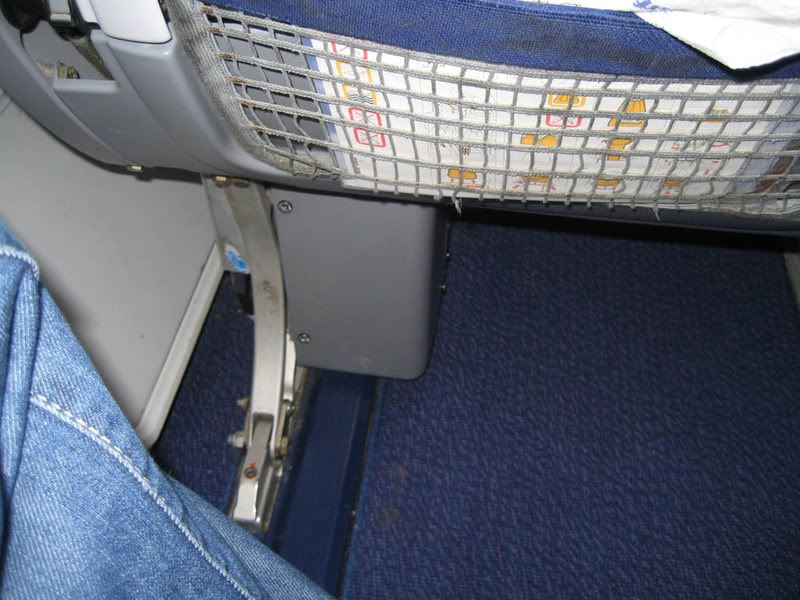 general seat pitch with IFE box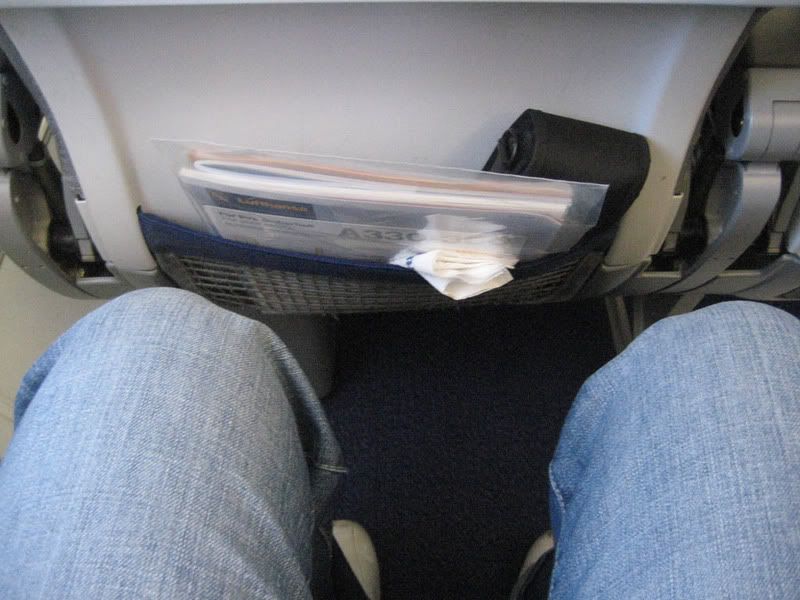 It is a touchscreen system and I suppose limited in the functions. I'm not sure but I think only movies are included, but not AVOD, so you can not select to start and stop the movie whenever you want. Also no games are included as the control panel isn't handy for that. All in all in terms of IFE nothing special like the others have, but at least PTV in every single seat which is a novelty for Lufthansa
I made three pics during cruise.
cloudy weather conditions over Hesse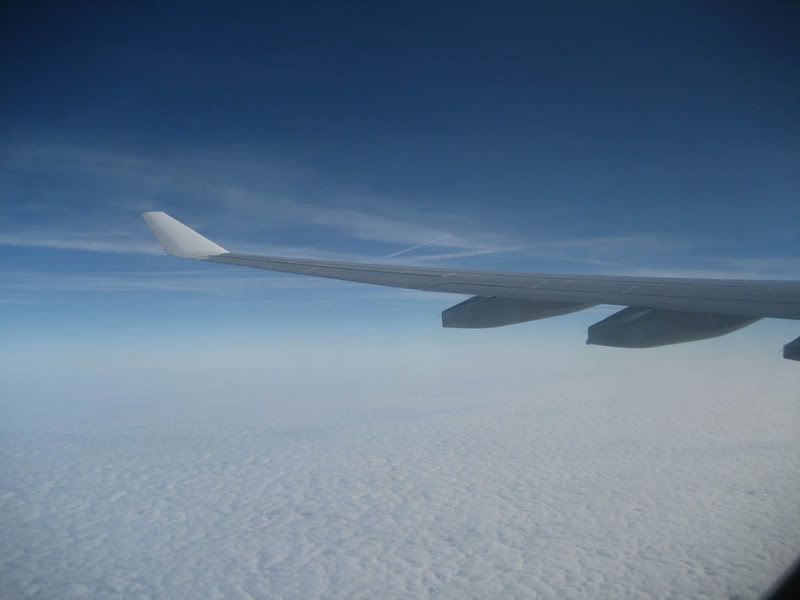 only a few clouds over Bavaria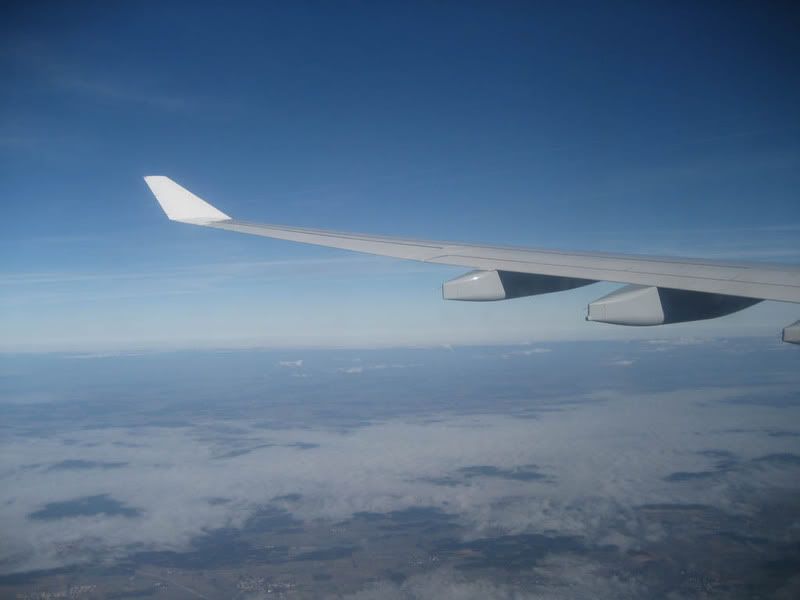 but a fog coated MUC airport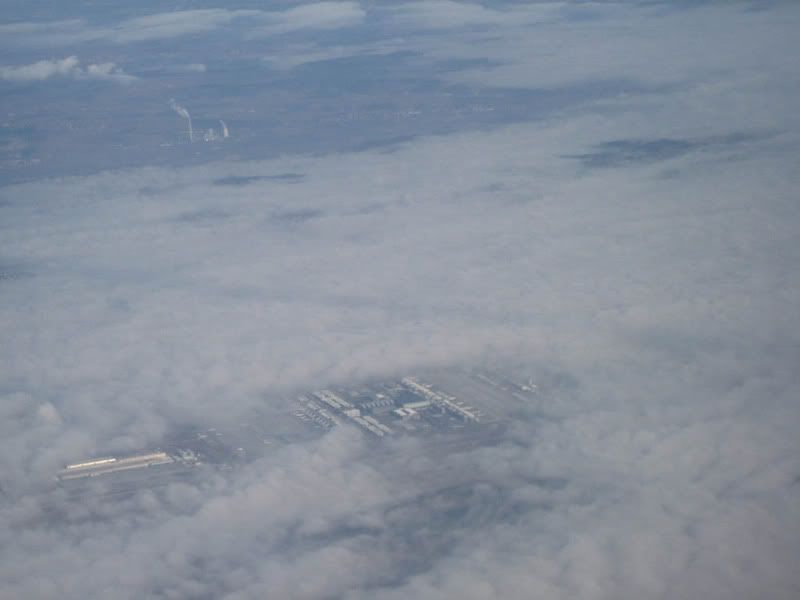 due to the fog over MUC we have to slow down already during the flight. Additionally ATC put us into holding but after only one circle we were cleared into the fog. My intention was to film the approach, but you couldn't see anything! Even on the ground the fog was so low that I could hardly figure out on which runway we landed. The taxiway signs weren't readable. I've never experienced so much fog during a flight and even on ground.
With a little delay we were on the blocks again in MUC at position 204. As 46A is almost in the back of the plane I waited until everybody deboarded to take a shoot of the cabin. There you go!
the aft part of the cabin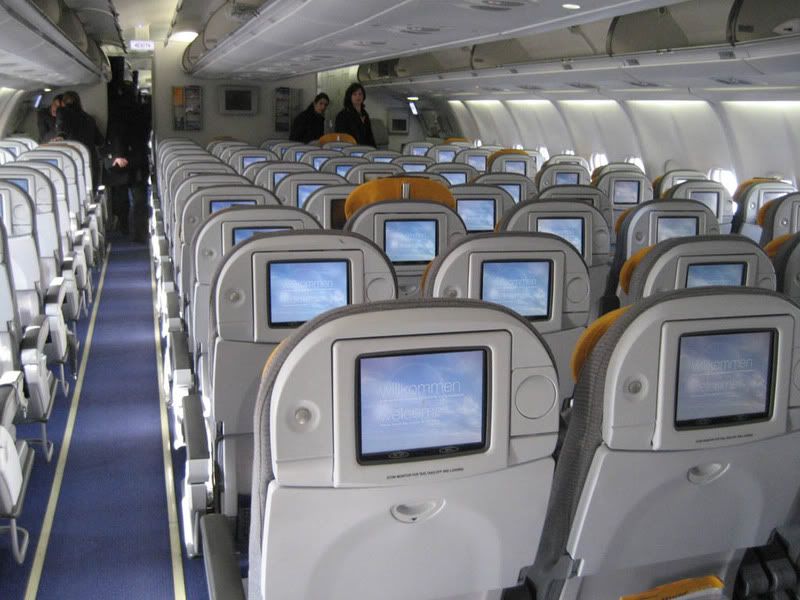 the middle part immediately after Business class section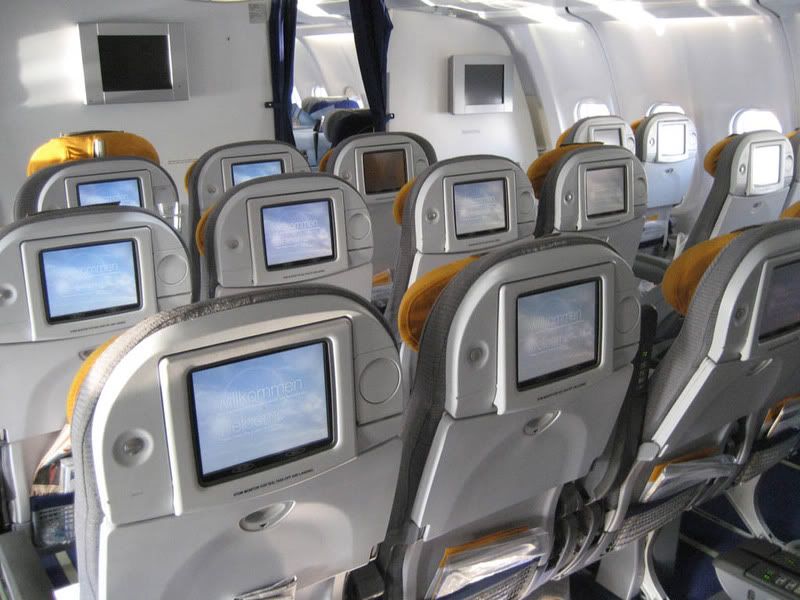 and finally our aircraft at MUC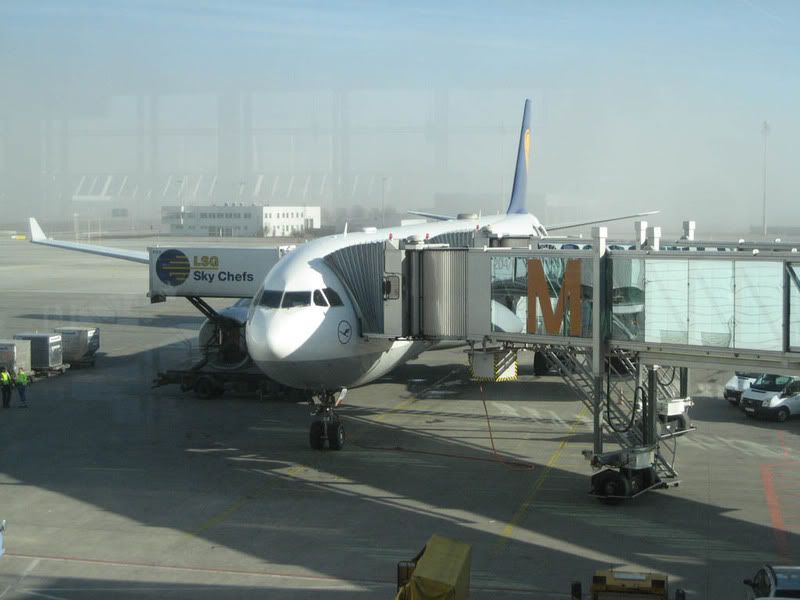 In MUC first I went out of the security area and checked in at one of the machines for my onward flight to PRG. I had to kill a little more than 4 hours. MUC was very calm during this time of the day and I like the airport very much, so I was looking forward to the 4 hours and the second flight of the day.
After hanging around for a while and going through the terminals I went to the lower level where all the shops and food areas of terminal 2 are located. There I had a lunch and guess what? Of course a Döner Kebab!
I can recommend Olivia Döner House to everybody as this is so far the best Döner I ate at any airport.
Upstairs again on the 2nd level I made these shoots.
I guess the counters dedicated for US-bound flights...
...the regular check-in desks...
...and the self-service check-in machines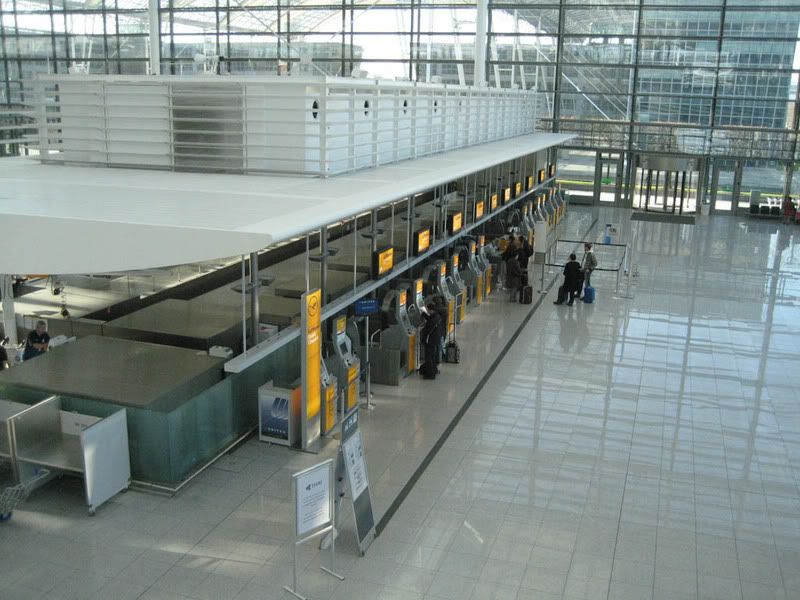 The sky was getting clear of the fog and the sun was shining. I decided to spend the remaining time on the viewing deck. The weather was good, but the traffic not at all. The most interesting aircrafts were this Star Alliance bird of SAS (for any reasons I love these *A liveries!!!)
OY-KHE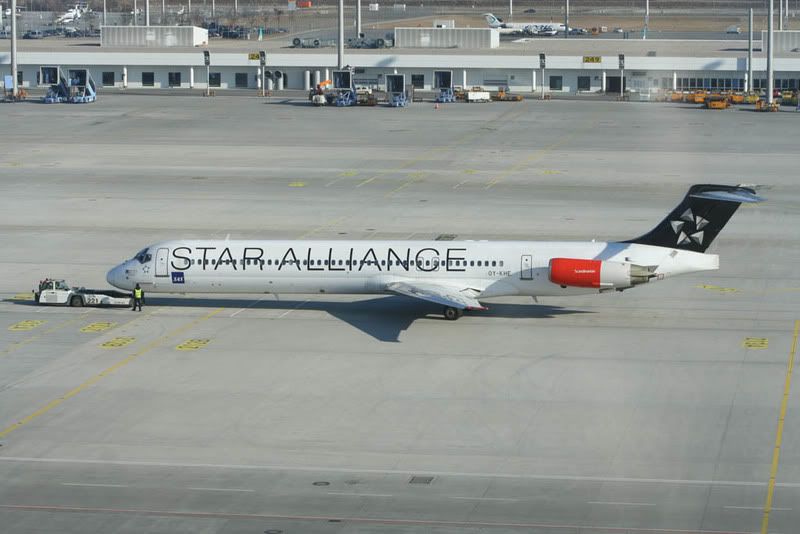 and personally for me until that day an unknown airline called KD Avia with B737-300 and Irish registration. This aircraft taxied over to terminal 1 so only this bad shoot
EI-DON in the background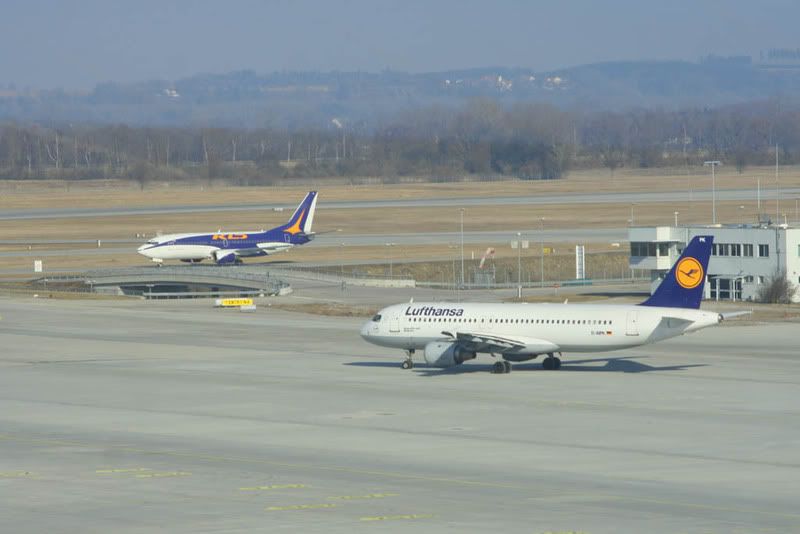 Beside these two birds only the usual blue-yellow tail traffic with only a handful operations. Did I mentioned that it was very calm that time?
I made myself comfortable and enjoyed the shining sun. It was somewhat very relaxing after all these busy days. One hour prior departure I went back again and passed the securities. Also this time nobody in front so I was through in no time again.
As it was still too early for our flight I went to 'Spazio Italia', a dedicated part on the lower level especially for all Air Dolomiti flights to Italy as well as some to Austria and Germany. A lot of enjoyable things you can find there. Just take a look on
http://www.spazioitalia.com/it/promotionalarea.html.
Thumbs up to something special like this!
Flight: LH 3272 MUC-PRG
Aircraft: Aerospatiale ATR72-212A / I-ADLW
Seat: 6C (chgd to 3D)
STD/STA: 1530/1640
OFF/ONB: 1530/1638
ATD/ATA: 1550/1635
Half an hour before departure I went to my dedicated gate to see on the standby screen that I'm the only non-rev on this flight. Some minutes later the screen showed my seat number so I showed up for boarding. This time an aisle seat was assigned in row 6. The bus took us to the apron across terminal 2 were all regional aircrafts are been prepared for their flights.
We stopped in front of I-ADLW which is the newest ATR72-500 in Dolomiti's fleet and have been delivered in 2004. Air Dolomiti names all there aircrafts after famous Opera's. Our carries the name 'La Gazza Ladra'. Next to us sistership I-ADLN was standing.
I-ADLN (Turandot di Giacomo Puccini)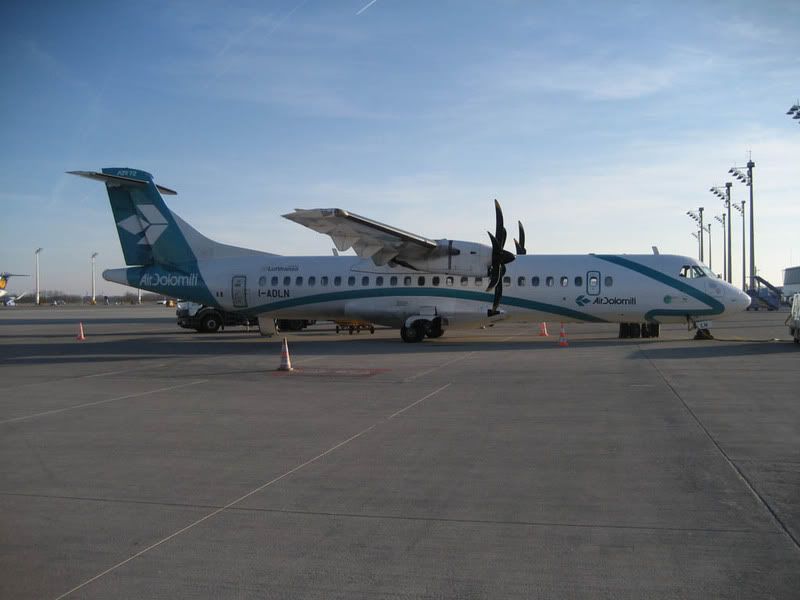 our aircraft, the guys are loading the bags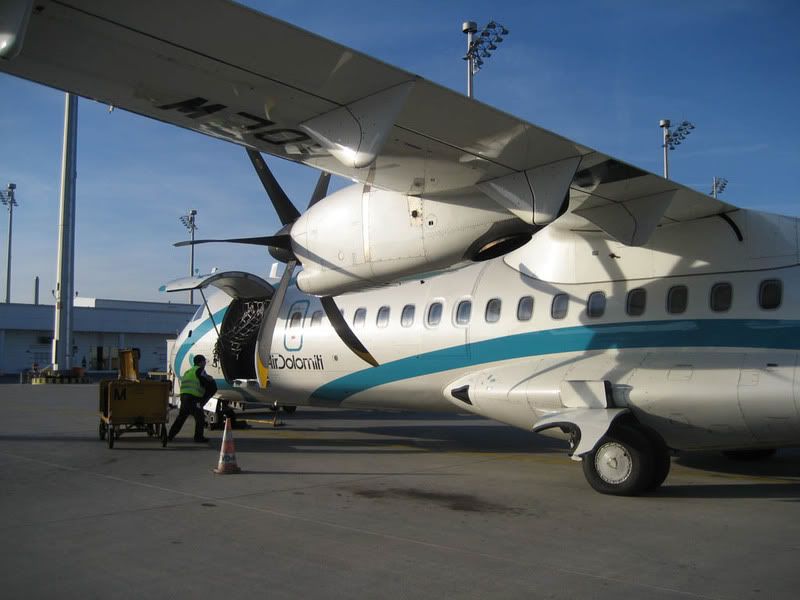 'La Gazza Ladra
great that they keep their own livery and corporate idendity and operate for Lufthansa
Shortly after me, because I was the last one to board the aircraft, they closed the door. Two attendants on this flight and both very smiling and good looking Italian girls. One of them (I think she was the leading attendant) even spokes fluently German, English and of course Italian. For sure it is a small aircraft and uncomfortable for 2m tall guys. For me it was absolute ok. The green leather seats are comfortable and the seat pitch far better than for example a CRJ200 of Cityline or BAE146 of Eurowings.
As I told you this was my very first flight with an ATR and in the aircraft I even remarked that is was also the very first one on a Turboprob. Even more I was astonished that these birds don't need a pushback truck as they taxi with their own prob power backwards.
We taxied to runway 8R and held position for a while because of incoming traffic. During this time the Captain came on PA, welcomed us and explained a lot of details of the flights in both Italian and English. Soon after it was our turn and off we went into the now very clear sky of Munich. For sure you need some earplugs as it is very noisy when they push down the throttle, but during the cruise it is ok.
The two girls first served the 3 guys in Business class. Expect an almost full flight the 3rd row remained empty so I changed my seat to this row to have a window seat. It was also ok for the FA's. They offered alcoholic and non-alcoholic beverages and I forgot to mention that they also offered some refreshing towels on the ground before departure. After the drink service everybody in Economy got a box with Italian delicious inside.
food box Air Dolomiti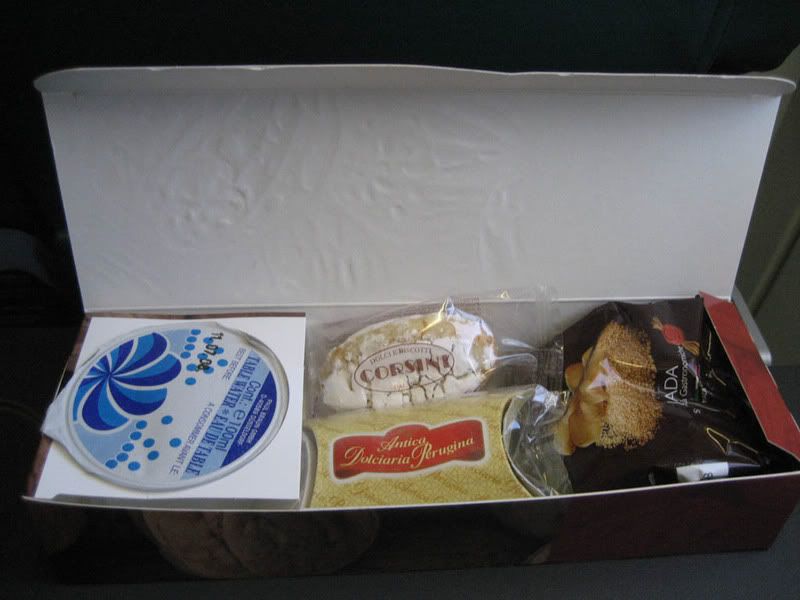 especially the small cake (I think it's called Ricciarelli) made my day!
I saw that the passengers in Business got a fruit salad served in a porcelain bowls. The remaining part of the flight was uneventful. The captain came on the PA again and explained us where we are at the moment and how long it will take for landing. By the way here is a picture of the seat pitch. As you can see, for me 1.74m man absolute ok!
seat-pitch Air Dolomiti ATR72-500
The approach to PRG was rather bumpy. The aircraft shaked a lot and sometimes the Captain had to balance the heading and altitude. Nevertheless we landed safety and ontime at PRG's 24 runway. After a short taxi to stand 35 we were onblock two minutes ahead of schedule.
Some words regarding Air Dolomiti. They are operating under the brand of Lufthansa Regional, but for sure they are far better than the other carriers (Eurowings, Cityline, Augsburg Airways, Contact Air) in terms of quality and inflight service. Sometimes only small but very special things matters. For instance the refreshing towel before departure, the snack box with Italian delicious or the alcoholic beverages such as red or white wines served in real glasses even in Economy class. This is not what I say! This is what the people and especially the frequent flyers of LH say. I just want to confirm it as I experienced and enjoyed all the same. Good job and thumbs up to Air Dolomiti again!
The bus took us to the terminal building. I went immediately upstairs to the transfer center. A nice Czech lady put me on the waiting list for the Czech Airlines flights to Hamburg which departs only 40minutes later. She also told me to went to the gate as they are closing the flight. Still with a standby boarding pass in the hand I went through another security check and downstairs afterwards. Departure gate for Hamburg was C17 and I was one of the last passengers to board the bus (at the boarding the girl gave me my boarding pass with seat number 6C again).
Please note and excuse that it was dark now so I didn't take any pictures.
Flight: OK 544 PRG-HAM
Aircraft: Aerospatiale ATR42-500 / OK-KFM
Seat: 6C
STD/STA: 1720/1855
OFF/ONB: 1710/1833
ATD/ATA: 1715/1827
The bus passed I-ADLW. The passengers for the return flight were already boarding the aircraft again. In front of OK-KFM the bus stopped. This aircraft was build and delivered to Czech Airlines in 2005 and is named after the city of Benesov located about 40km southeast of Prague. Two female flight attendants welcomed us onboard. They were also very attractive and somewhat I have the feeling that this is very common in this country
All ladies are very beautiful.
This time the Business class section was in the rear part of the aircraft as it makes more sense. The Business people could get off the plane at first. The seats were white leather seats, stylish, comfortable and looking very new. Did OK refurbished their interior in the past? I don't know. All in all compared to the ATR of EN this one looks newer. Before take-off one lady demonstrated the safety features and the other one followed in Czech and English, but unfortunately the English part was almost not understandable. I don't know if this is common for this carrier or only an exception during my flight as I've never been onboard a Czech Airlines flight, so I don't want to prejudice that. Maybe some Czech a.nuts could enlighten us?!?
Last year the AEA honored CSA for the 'Best On-Time Record in Europe' in the first half of the year 2007. This was in August and I know why, because 10 minutes ahead of schedule we left our position and taxied already to runway 24. In times of tight schedules and rotations, short turnaround times especially for regional aircrafts this is in my eyes a lot. Good job!
It was again a very noisy take-off. We soon climbed to our cruising altitude and experienced a more or less uneventful flight. As I said I've never been onboard a CSA flight therefore I didn't know what they would offer on European flights, because after the beverage service more than 20-25 minutes past when they finally served some sandwiches. At first I thought they don't serve any food. The sandwiches were absolute ok, but I needed a real meal at this time of the day.
If I'm not mistaken this was a full flight as I only explored two empty seats in Eco class. In the remaining part of the flight nothing unusual happened and we landed almost half an hour ahead of schedule at Hamburg airport.
The 4th bus ride for today. Arrived at the terminal first we went through passport control. Interesting, because along with some other European countries the Czech Republic joined the Schengen agreement. Until April '08 this is only for boarder traffic with trains or car, but not for air travel. They will follow in April and all passport controls within the Schengen area will be discontinued.
Arrived in terminal 1 I made my way to terminal 2 where all Lufthansa flights are departing in Hamburg. Again at one of the check-in machines I printed the boarding pass, went to the pharmacy (for any reasons I got a very bad headache) and passed the security afterwards.
Flight: LH 027 HAM-FRA
Aircraft: Airbus A300B4-603 / D-AIAT
Seat: 42E
STD/STA: 1935/2045
OFF/ONB: 1937/2045
ATD/ATA: 1945/2037
To be honest my headache was getting very worse so I was very pleased to got a seat on this full flight. Otherwise I would have to wait 1.5hrs for the next FRA flight. The aircraft - named after the city of Bottrop and delivered to LH in 1991 (no other operator since then!!!) - arrived late from FRA, but the handling crew managed to turn around the big bird ontime. This time only a middle seat in the aft section of the aircraft. 42 is the first row where the four middle seats become three therefore only one passenger on every of my sides.
Please excuse that I don't write a lot about this flight. It was an usual Lufthansa service with nothing special. There are a lot of Lufthansa trip reports on a.net and it was more or less the same on this flight. I also took a nap during the hour and missed the beverage service, but I won't die without the 0.1 litre Coke or Orange juice
We landed on runway 25R and the PIC demonstrated that the brakes of 'Bottrop' are working very well.
Soon after we were on the blocks again exactly on schedule. The most interesting thing on this flight was the announcement of the Purser. Normally they say "Flight Attendants - all doors in park". This time Mr. McCool said "Flight Attendants - all doors in Feierabend". I think only our German friends understand this
So you can see how eventful this flight was
All in all it was a very successful day for me. I logged two new types (AT5/AT7), two new airlines (EN/OK), an A333 on a domestic run (DAIKH), PTV's in economy, one new airport (PRG) and yet another A306 which is besides the Tripple-Seven and of course the A380 my most favourite aircraft so far.
Hope you enjoyed my report and as always all comments are very welcome!
Thanks for reading!
Regards
Ori