**WARNING-LONG TRIP REPORT MANY PICTURES**
Well, I've been reading A.net for awhile, and thought this would be the perfect time to join after this trip.
1st Trip Report, so happy reading!
December 14, 2007
Los Angeles (LAX) - London (LHR)
Virgin Atlantic #24
Depart - 9:20PM
Arrive - 3:45PM
Flight Time: 10Hr 25M
Aircraft: Airbus A346
Distance: 5442 Miles
Me & my family decided to make a trip back to the motherland (Ethiopia). This would be my 1st time ever, and 1st time for my mother since she left 37 years ago, so we had no idea what to expect. My dad went back about 10 years ago. We wanted to go via IAD and connect to Ethiopian Airlines for a more direct routing, but financially, this was cheaper. It ended up being the better choice, as if you remember, the East Coast was bogged down by a severe weather storm, that halted flights up and down the coast, while we simply flew over it.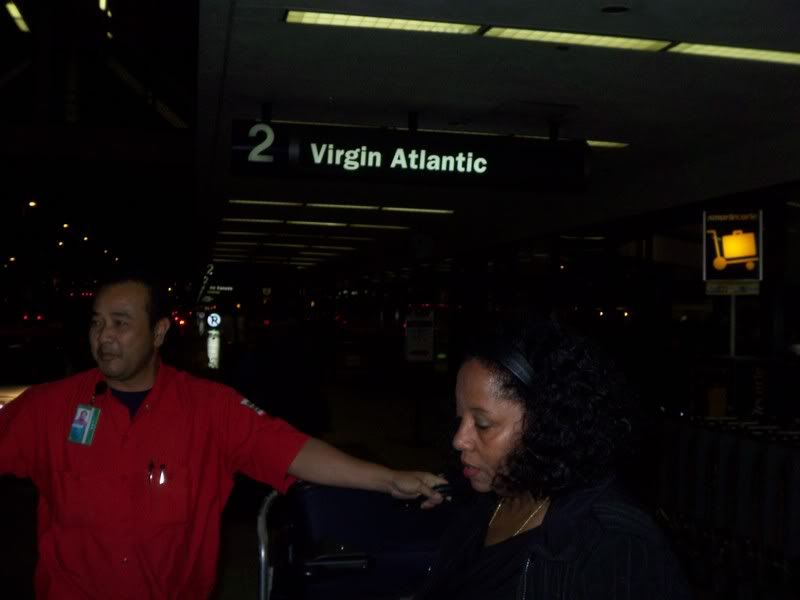 Terminal 2, LAX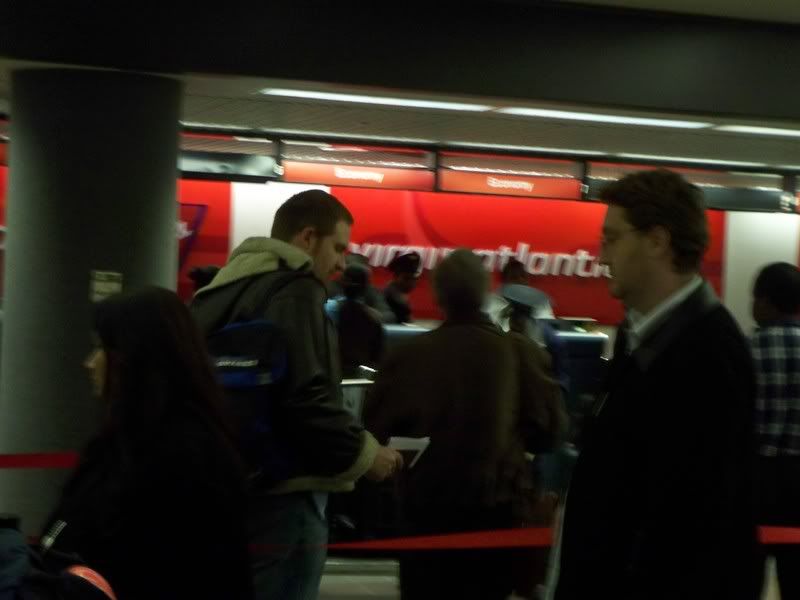 Check-In @ LAX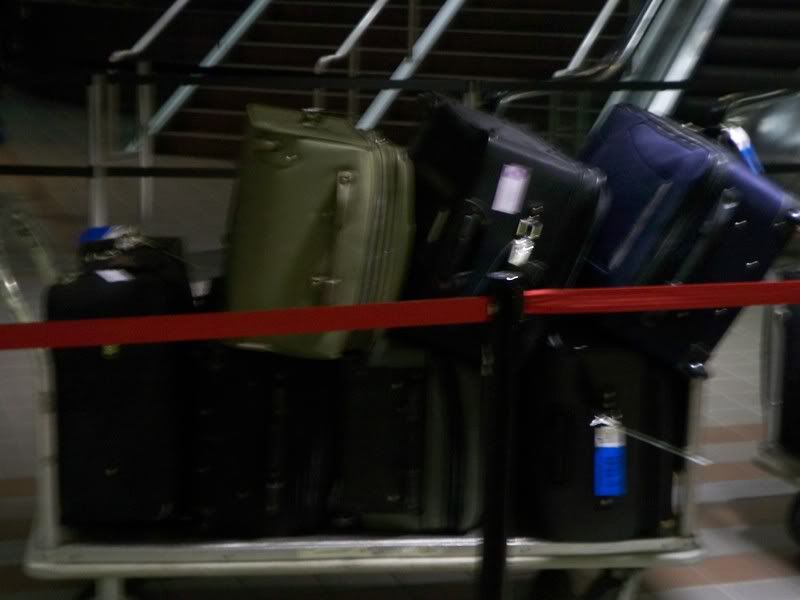 All the luggage...each definitely was over 50 pounds, plus the extra, however the check-in agent was nice and only charged us for the extra piece...$125
Unfortunately my camera died at this point, and I had no motive to dig through my carryon, which took me about 30 minutes to close since it was packed to the max.
The VPORT system on Virgin Atlantic was absolutely amazing. I started watching Superbad somewhere over the Atlantic, and could not contain myself from laughing. It was around 3AM LA time so everyone was asleep. The Flight attendant had to tell me to shut up (in a polite way) because I was disturbing other people...Sorry!!!
Heathrow Security Check
1st Problem of our trip: We were not informed that we could only take one through the security checkpoint. My mom had her carry-on & purse, my dad his briefcase & carry-on, and me with my laptop bag & carry-on. We were upset that we were not told about this in LAX, as in the US, you can take one carry-on one personal item. We were then forced to go through immigration/customs, and go to the check-in counter and check in our extra bags. This was not a problem for us considering we had 4 hours to connect, but just an additional hassle. Unfortunately, there was a Nigerian Family behind us, who had the exact same dilemma, but because they had Nigerian passports w/o the proper visas for entering, only to directly airside transit, they had to leave several carry-ons at the checkpoint. They were very upset & started to cause a commotion, but they had no choice. We have US Passports, so it was no problem entering.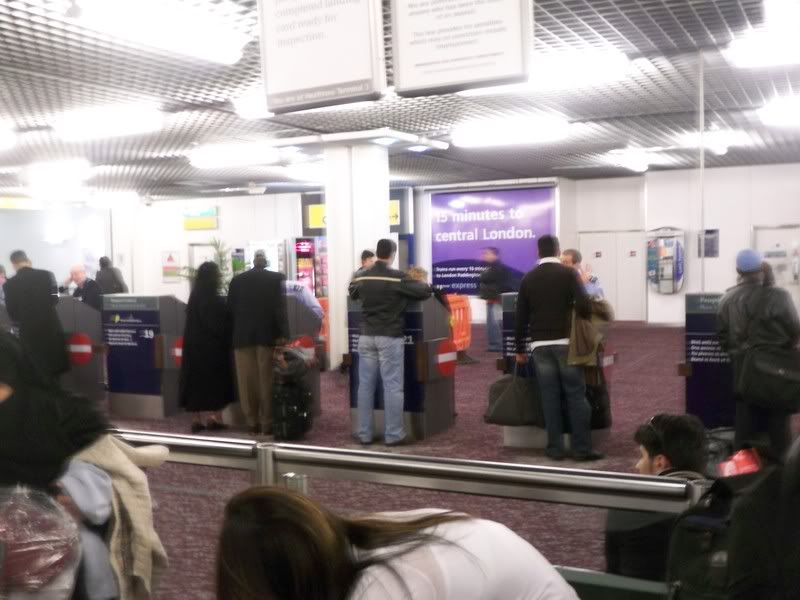 UK Immigration
Checking in our extra bags was going to be an ordeal. The economy line was enormous, so we simply went to business class. She was reluctant to check us in, but eventually took our bags, only because there was no line. Now, if you remember, we already had 1 extra bag checked in at LAX, so this would have been another couple hundred dollars. We pleaded not to pay, and she waived the fee.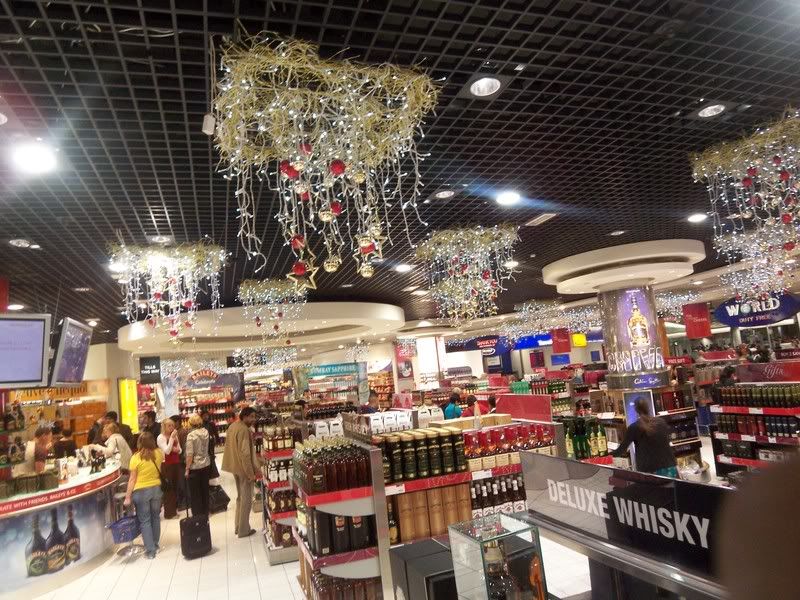 Heathrow Terminal 3, Duty Free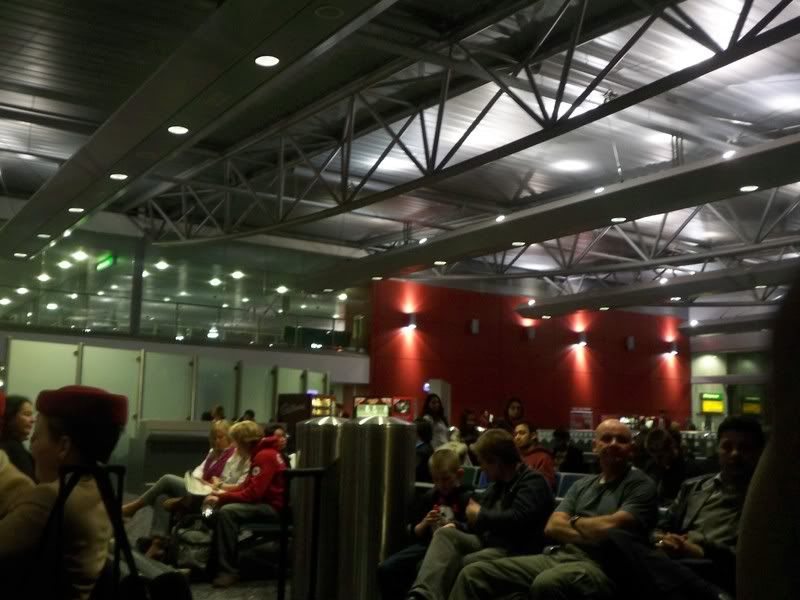 Gate w/ Emirates Flight Attendants
-I must say, I prefer this way of checking boarding cards/flyers before you enter the gate, and how each individual gate was sectioned off. The boarding process went much faster, and you know when your plane is ready to board. Last week I flew to SFO, which for the record was a mess with weather canceling several flights, and I had to sit 3 gates away because there was no space, and I could never hear when my flight was called amongst all the other flight announcements in the terminal
-Also, this section of LHR terminal 3 was very nice, and definitely newer than the rest of the old, dreary terminal we walked through. It was definitely far from the seating area by duty free if anyone knows where it is.
December 15, 2007
London (LHR) - Dubai (DXB)
Emirates #4
Depart - 8:00PM
Arrive - 6:45AM
Flight Time: 6Hr 45M
Aircraft: Boeing 777-300
Distance: 3403 Miles
All I can say for this flight is WOW. Emirates service on board is absolutely spectacular. From the moment you walk on the plane, you are courteously greeted, the flight attendants are smiling, and the warm towel service was just excellent. The food was delicious, and I had absolutely no complaints about the flight...except for the fact that we arrived an hour late...but I'll talk about that in a minute.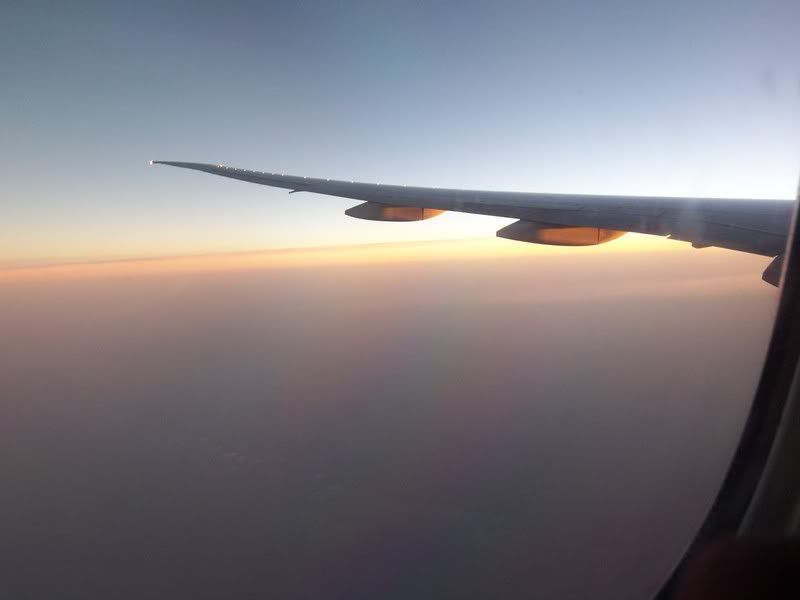 Sunrise over the Middle East
Remote Parking @ Dubai
We arrived in Dubai an hour late at 7:45AM, and with our connection to ADD leaving at 8:30AM, we were starting to get concerned. We touch down and start taxiing...and taxiing, and taxiing for what seemed like an eternity to some remote gate as you see in the picture above. Once on the buses, it was about a 10 minute ride to the terminal. In the end, we go through security and enter the terminal at about 8:10. At security some Emirates representatives were shouting out connecting gate information for various flights leaving immediately. She shouted Addis Ababa at gate 29, run now!
We emerged from security somewhere around gate 4, and if any of you are familiar with DXB, gate 4 and 29 are virtually on opposite ends of the airport. I looked on a map, and saw which way to go, and I thought it would be close. Was I wrong. It ended up being a 10 minute sprint, carrying my backpack, along with 3 cartons of my mom's duty free alcohol purchases from Heathrow. I never realized how big Dubai was until that run.
In the end, we missed our flight, and being exhausted from 20 hours of traveling as well as the marathon in Dubai made it real frustrating. So we started waiting in line at the rebooking counter, which for the record was pretty long...I guess alot of people missed their flights that day. I was next in line, when out of nowhere, 3 people, who I believe were heading to Karachi got in line next to me...actually they weren't in line, they were beside me OUTSIDE of the line. As the woman in front of me finished, and before I could walk up, the 1st of the 3 walked up and cut the line. I looked around to see if anyone else noticed, and the agent, who clearly saw, started helping him. I was annoyed by this, but simply dismissed it and waited till he finished. When he finished, I bent down to grab my backpack to move up, and before I knew it, the 2nd man was already at the counter talking to the agent.
My parents were sitting on the side laughing at me, but I was now starting to get mad. I said excuse me, but the guy did not turn around. People started looking at me as I started a commotion, but the agent was fully helping him out, and I did not want to get in trouble with authorities...I'm not in America anymore. By this time, a full line formed behind the 3rd guy to the side. I now was ready, and was not about to let him or anyone else cut. The 2nd guy was finished, and I definitely got up quickly to the counter, along with the 3rd man to my side. This man then had the nerve to say that he was next, and then I lost it and went off on him. He backed down, and I finally went about my business, while the Emirates agent sitting at the desk was just watching. In the end, we were rebooked on the same flight for the next day, and they put us up in a hotel.
An unwanted stay in Dubai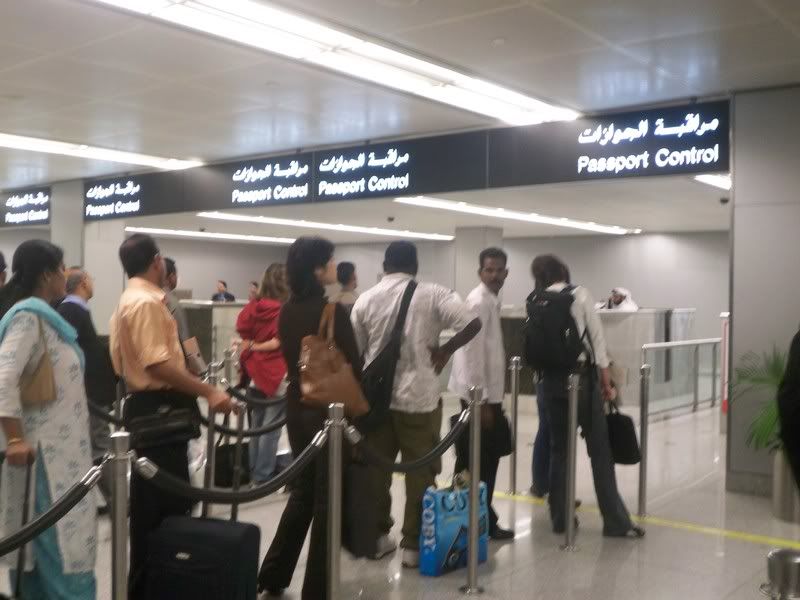 Dubai Immigration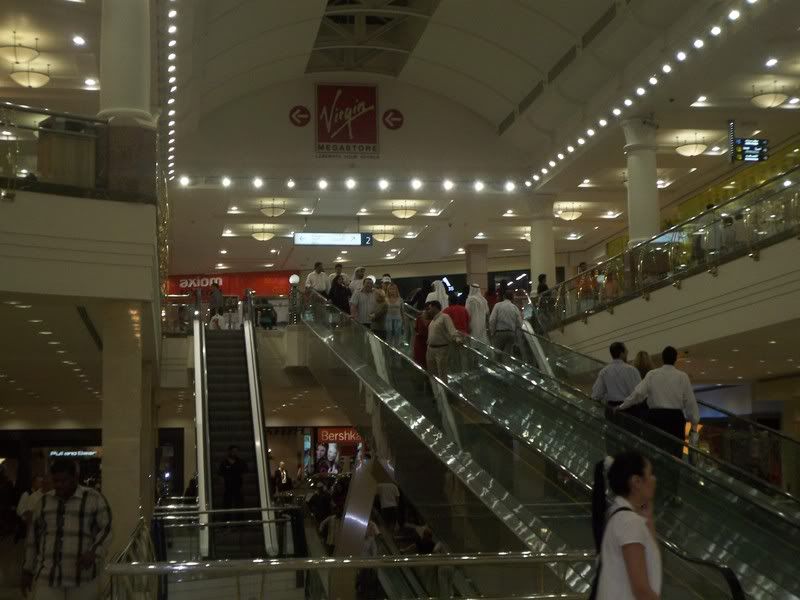 CityCentre Mall, Dubai
I must say that I was pretty amazed when I saw malls such as this. My misconceptions of the Middle East were blown away when we walked around Dubai. It felt like I was in New York...everything so clean and modern. Guess its my American ignorance huh...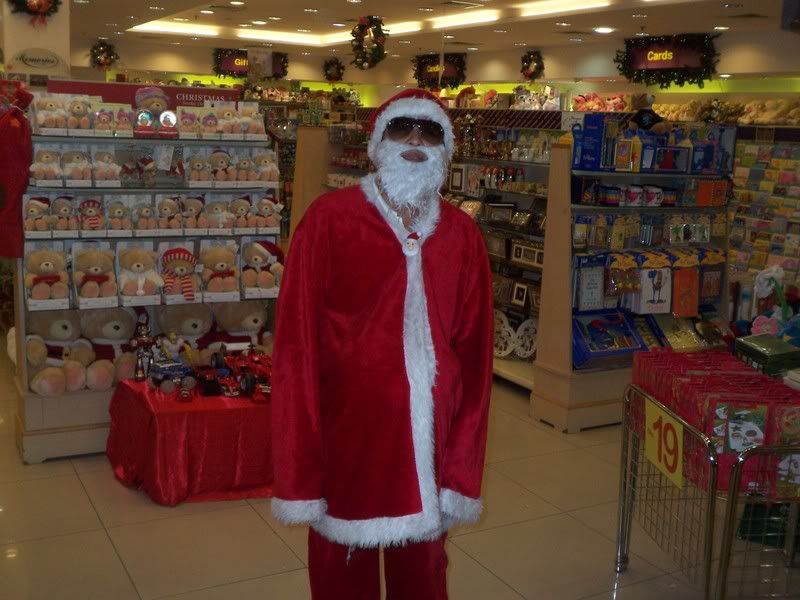 Now...I took some spectacular pictures during this trip, but this has to be one of my favorite. A Middle Eastern Santa Clause! How funny is this?!
Dubai Duty Free...really nice!
Finally, after a day delay, we're on our way to Addis Ababa.
December 17, 2007
Dubai (DXB) - Addis Ababa (ADD)
Emirates #723
Depart - 8:25AM
Arrive - 11:35AM
Flight Time: 4Hr 10M
Aircraft: Airbus A340-300
Distance: 1564 Miles
I think that DXB sticks all the African flights in this far corner of the airport. There was our flight to ADD, continuing on to Entebbe, as well as a flight to Nairobi, Dar Es Salam, and some other African destinations all grouped together. Anyway, it was also a remote gate, so another 15 minute bus ride to the aircraft. I wanted to take a picture walking up the stairs, but the mechanic wouldn't let us. Oh well..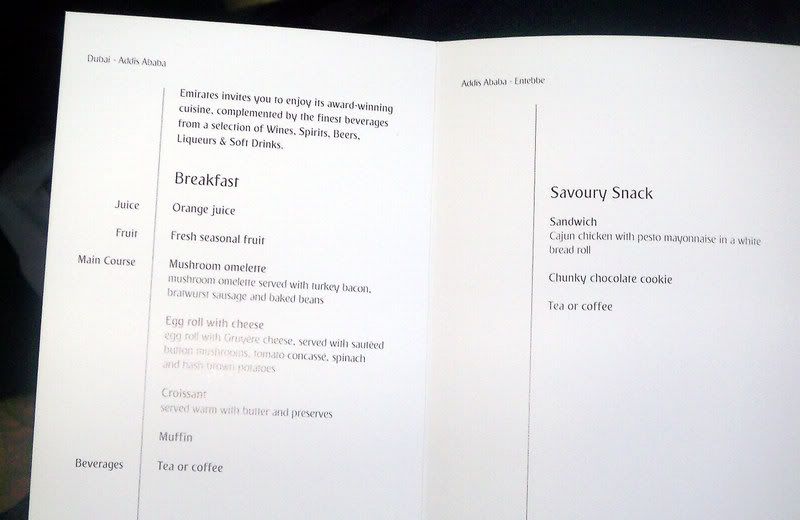 Menu...again food was delicious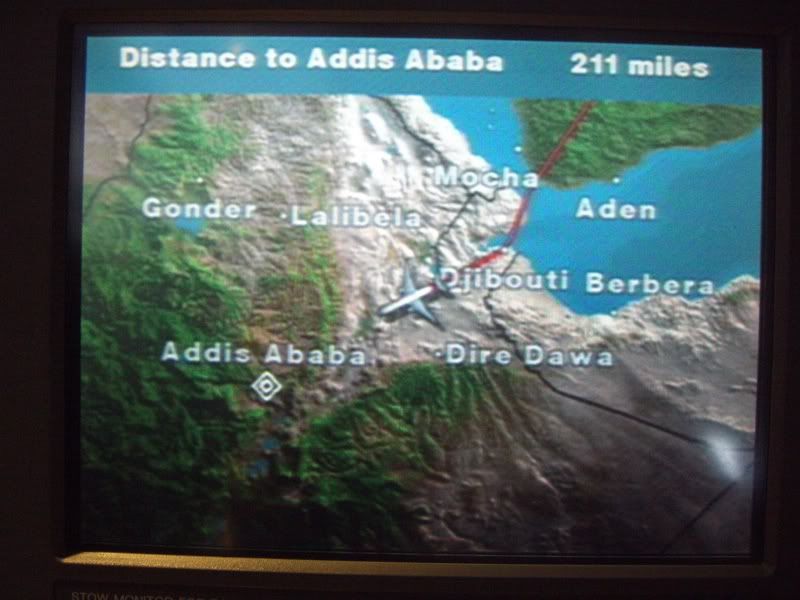 Getting close to ADD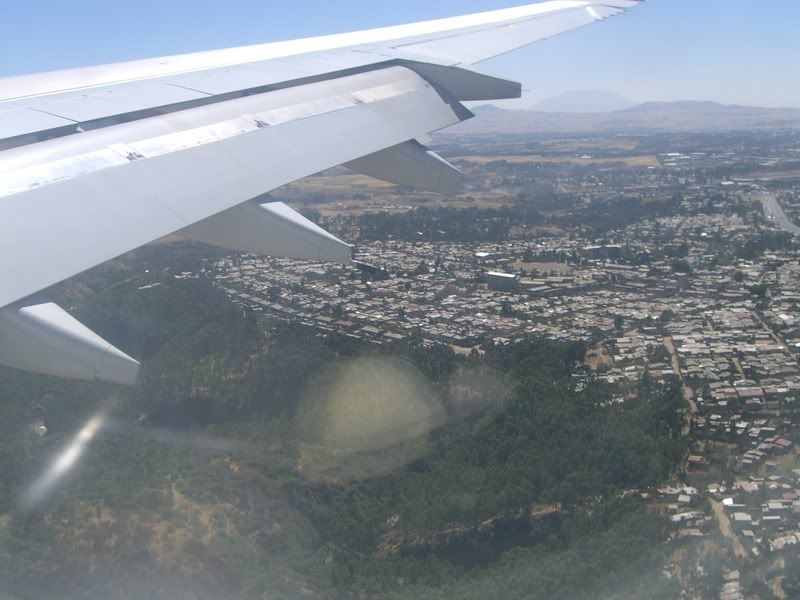 Approach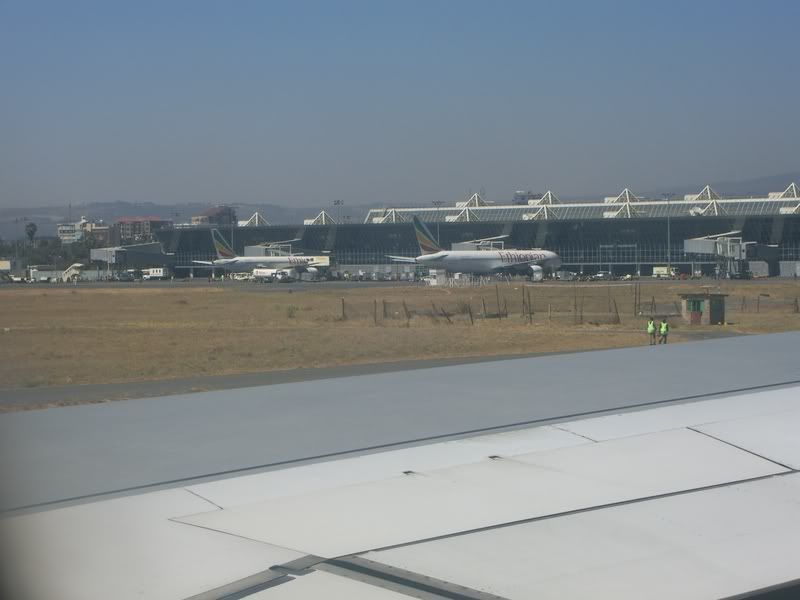 Taxiing to the Terminal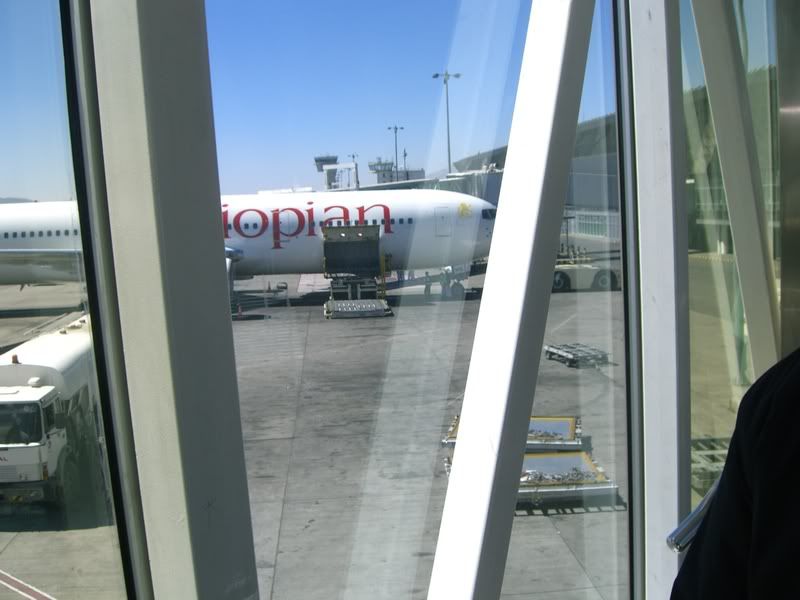 Modern Glass Jetway...nice views
I've heard a lot about how photography is restricted at ADD, but I took pictures throughout the terminal, with absolutely no one saying a word...I guess times have changed
Ethiopian Immigration...The official name is the National Intelligence & Security Service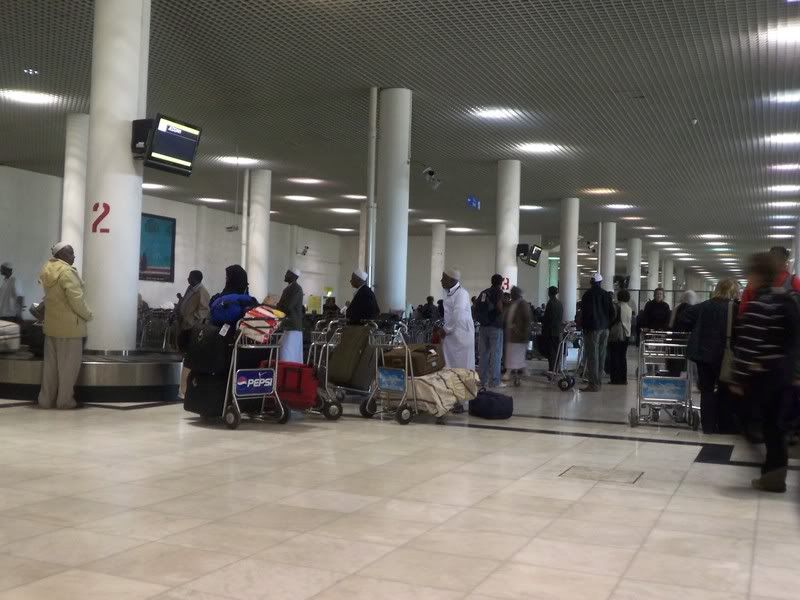 Baggage Claims
LCD Baggage Claim Screens
Again, at this point, I expected to be arriving in a shack. My parents told me all these horror stories about Bole Airport when they left however many years ago, and I prepared accordingly, setting my standards for the country low. But seriously, this terminal was CLEAN, and quite frankly, much nicer than the dump LAX T-2 was when we left.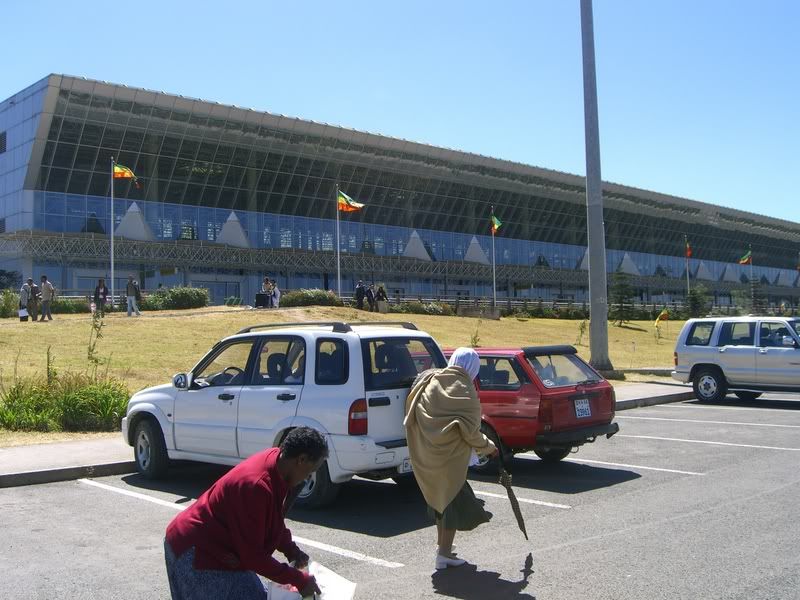 Outside of the airport
Driving through the city, again, my misconceptions of Ethiopia were blown out of the water. At the airport, next to our car was a Mercedes S600...thats a $125,000 car. I'm sitting there amazed that there are even paved roads in the country, let alone this airport...what I saw on Feed the Children & here were 2 completely separate things.
We were in Ethiopia for 3 weeks, so we decided to do the historical tour around the country. We visited Lalibella, Gondar, & Bahir Dar, which I am making a separate trip report for. In the meantime, heres a sneak peek at what's to come.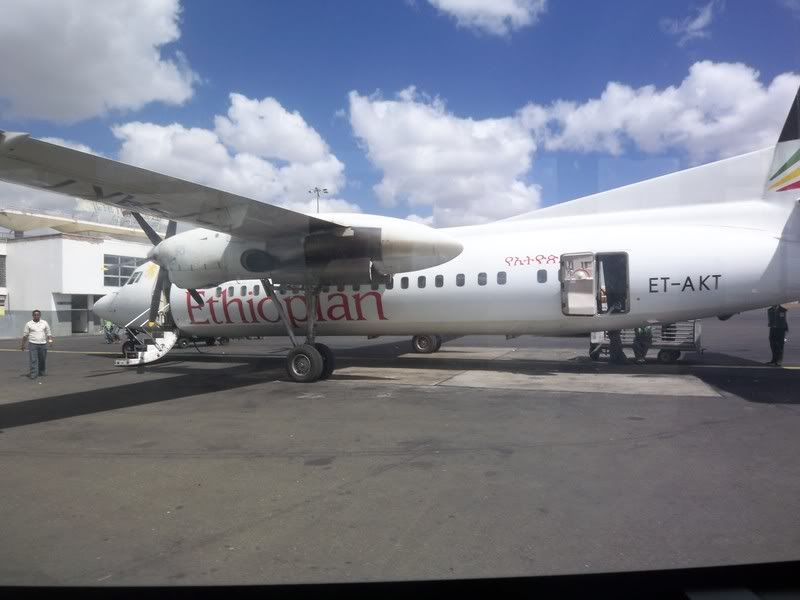 our plane to Lalibella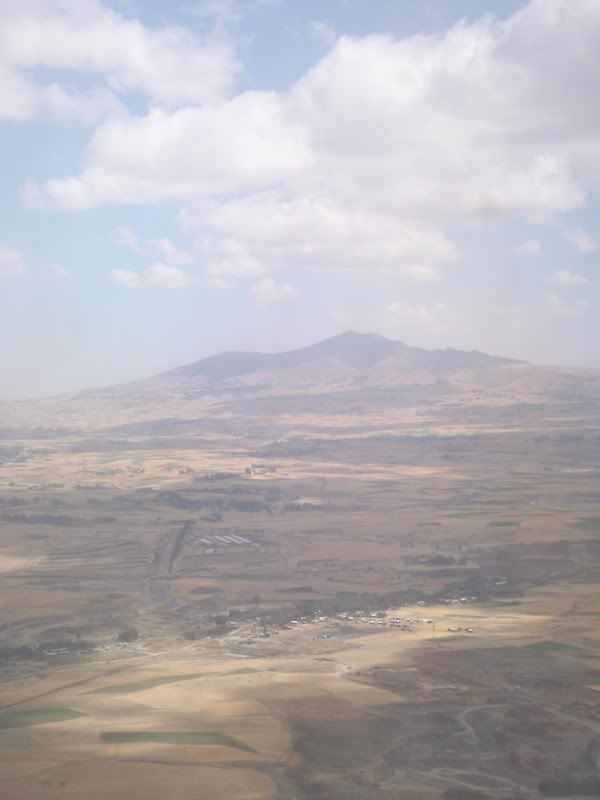 In Air from ADD-Lalibella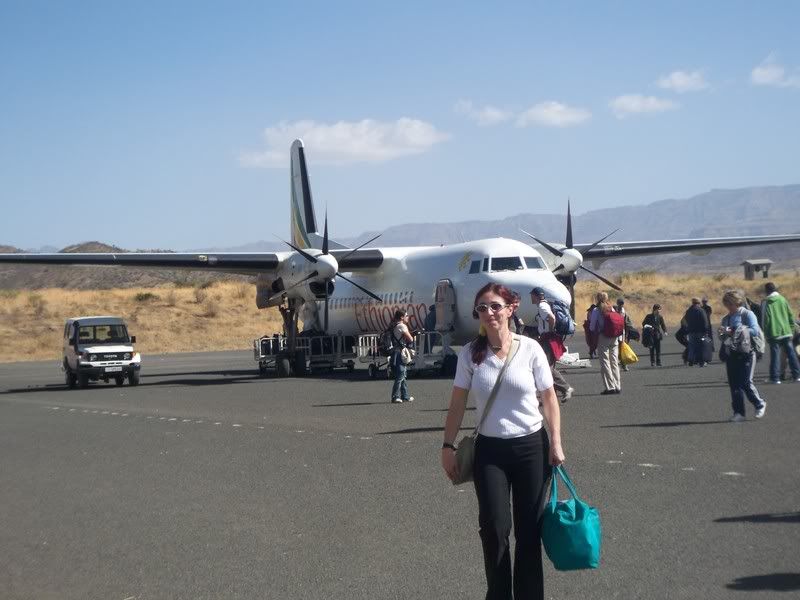 Lalibella Airport
These are some pictures from Addis Ababa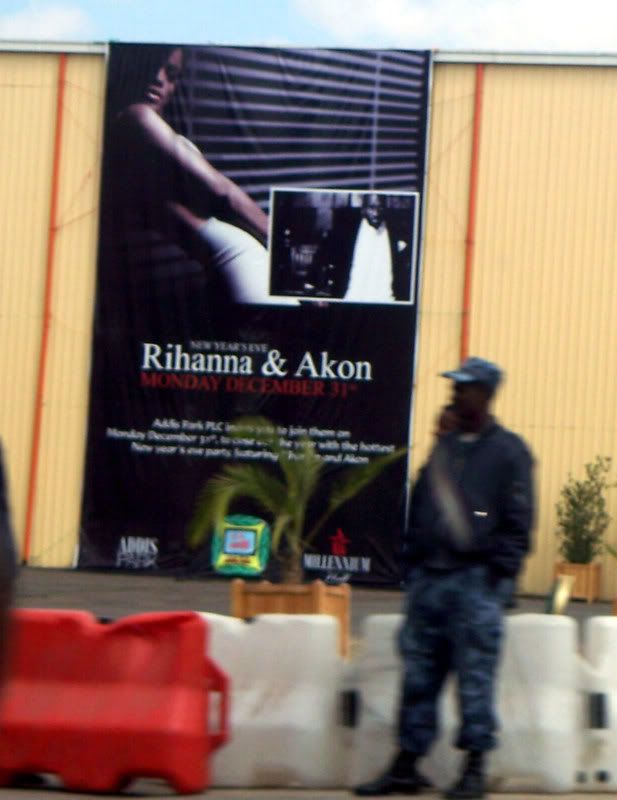 Yeah, Rihanna & Akon performed for New Year's Eve!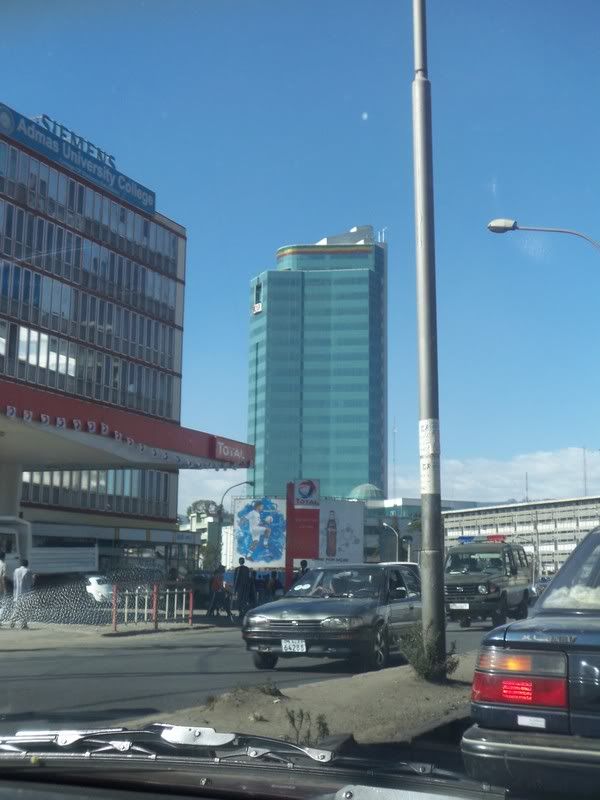 just one of the many skyscrapers of Addis Ababa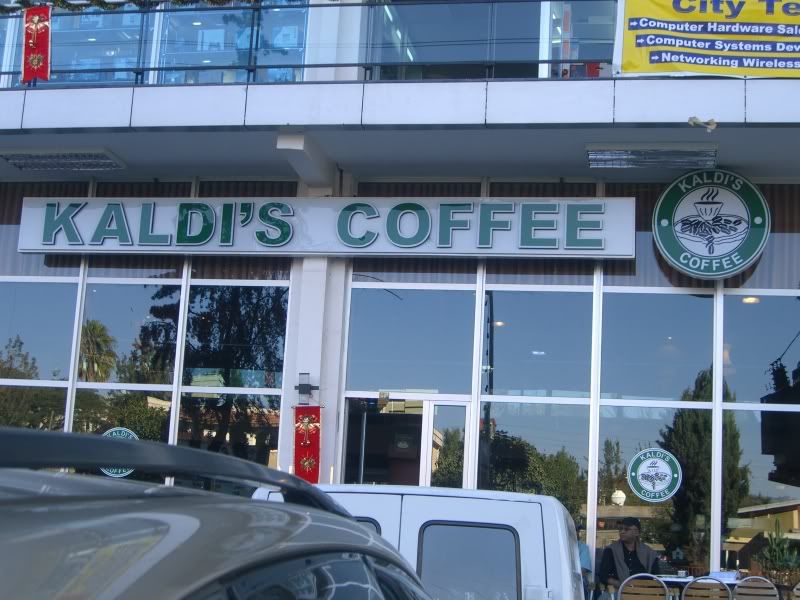 Starbucks imitation...but it was GREAT COFFEE!!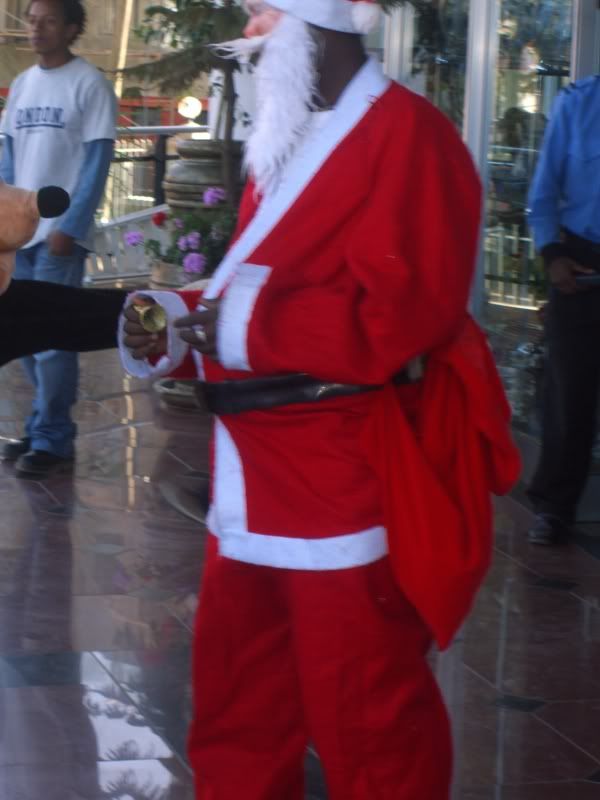 not just Dubai, ADD too. This guy at least wore a mask...but I didn't know that Santa had a black neck & black hands?!
January 4, 2008
Addis Ababa (ADD) - Dubai (DXB)
Emirates #724
Depart - 7:35PM
Arrive - 12:35AM
Flight Time: 4Hr 0M
Aircraft: Airbus A340-300
Distance: 1564 Miles
This billboard was right at the entrance to ADD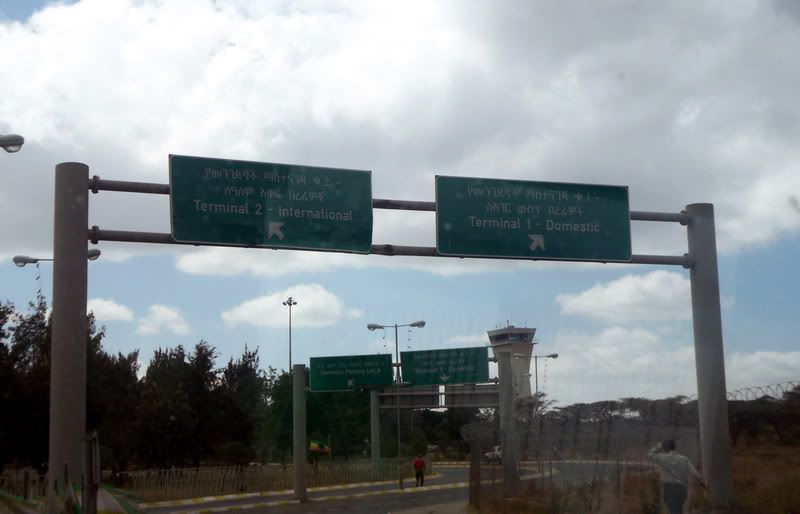 Bole Airport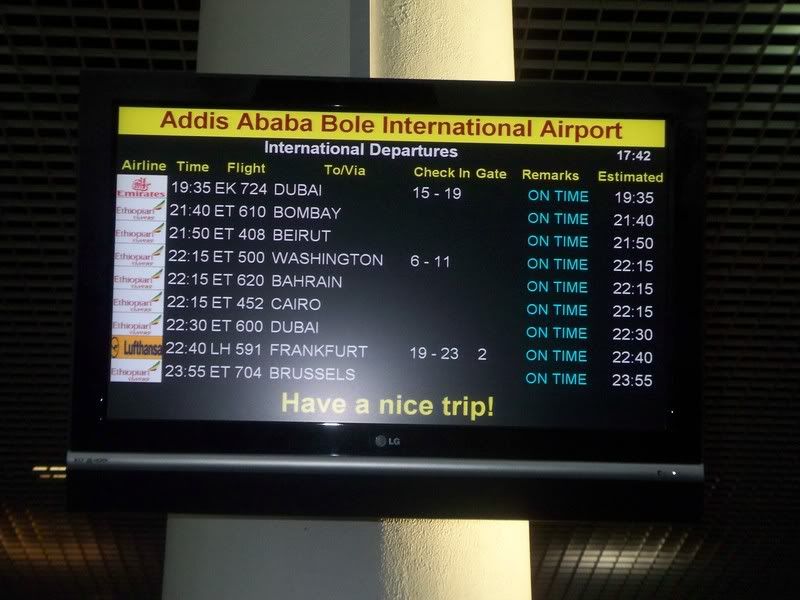 As you can see, ADD is pretty much dead until 9PM, then its extremely busy all night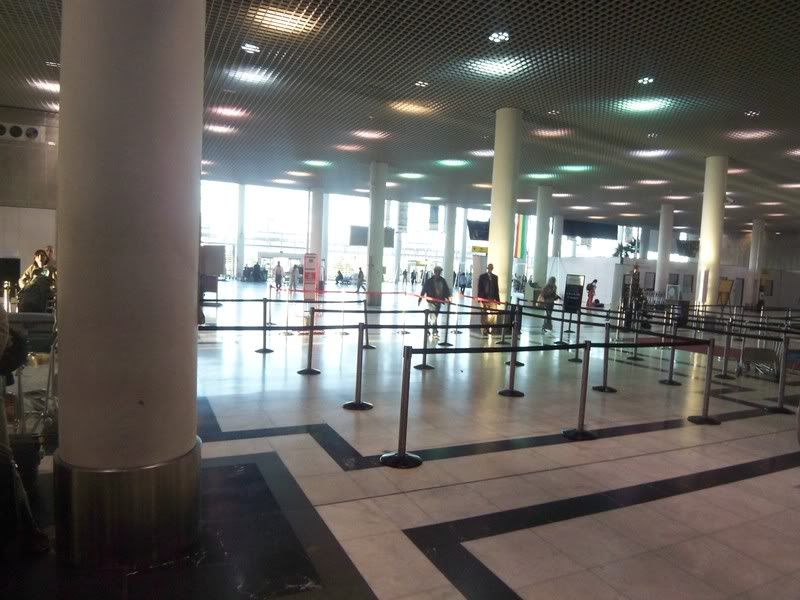 Quiet check-in area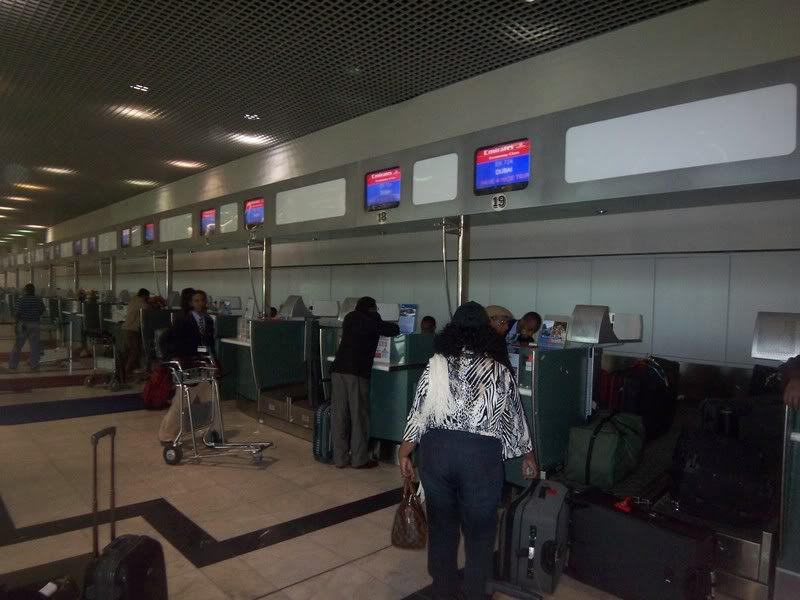 Emirates Check In
A cousin of my mother is one of the managers for Emirates at ADD, so he had us upgraded to business class, which was a nice. Also, remember how I said we would have excess baggage, considering we would be bringing gifts etc...well we ended up checking in 10 bags, which cost us over $500!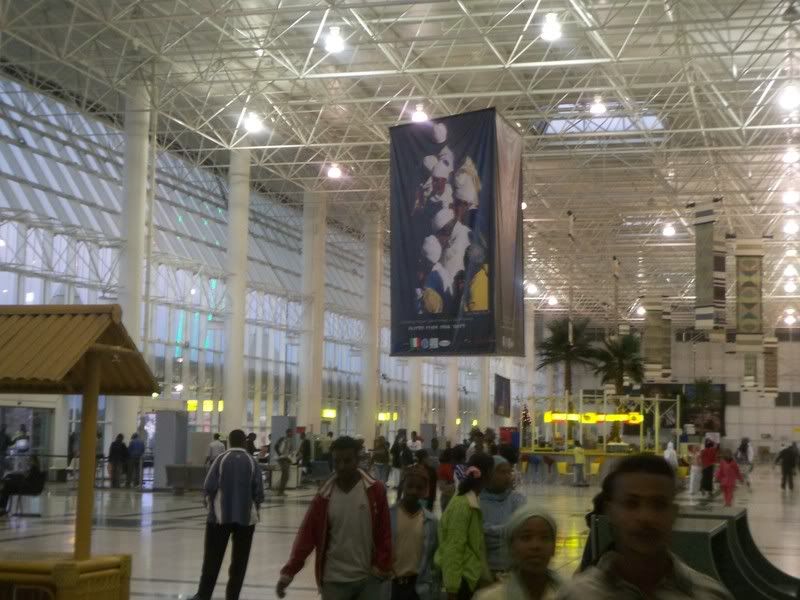 Public area of terminal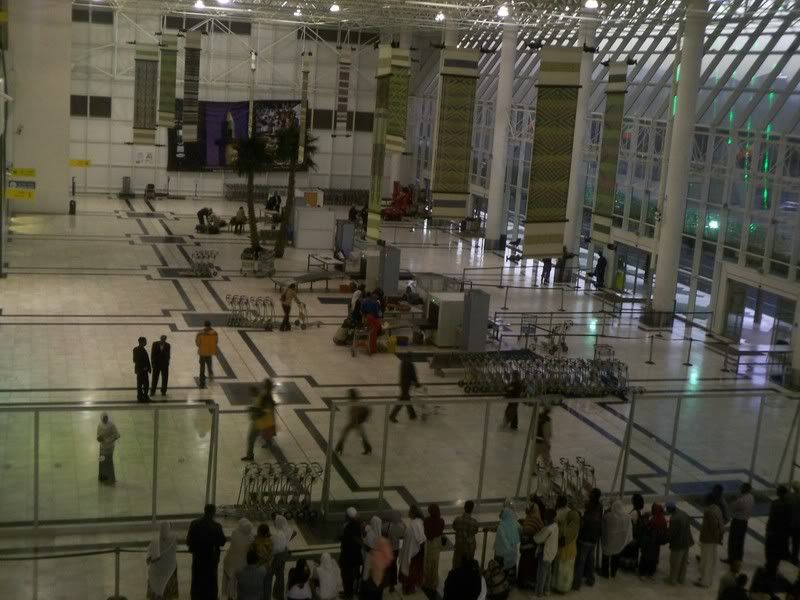 more views of terminal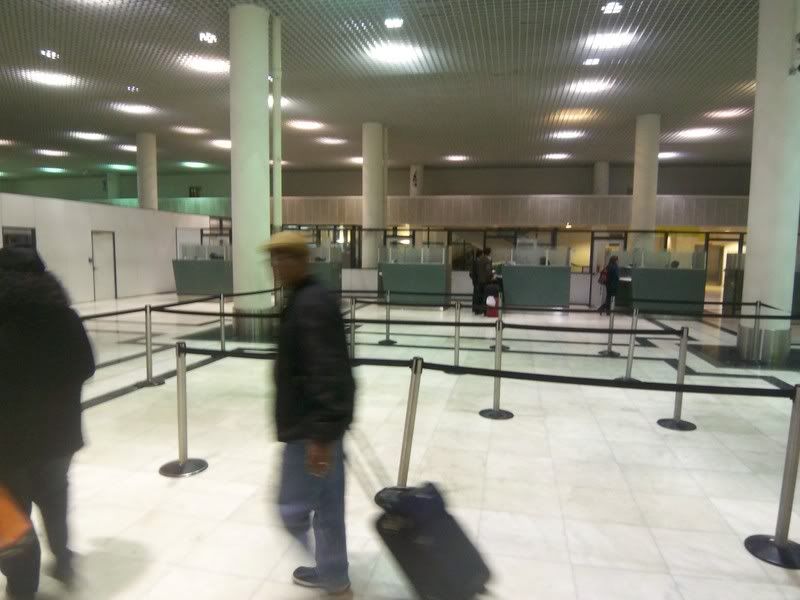 Departure Immigration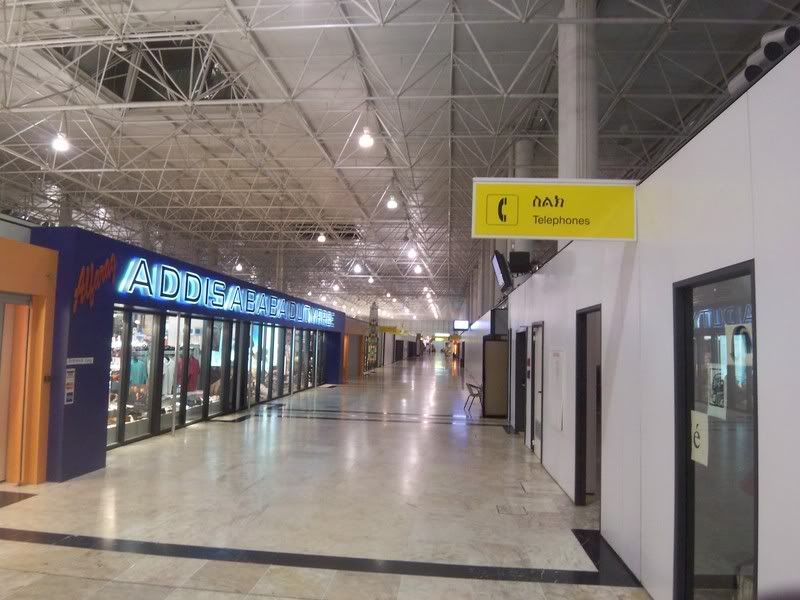 ADD Duty Free stores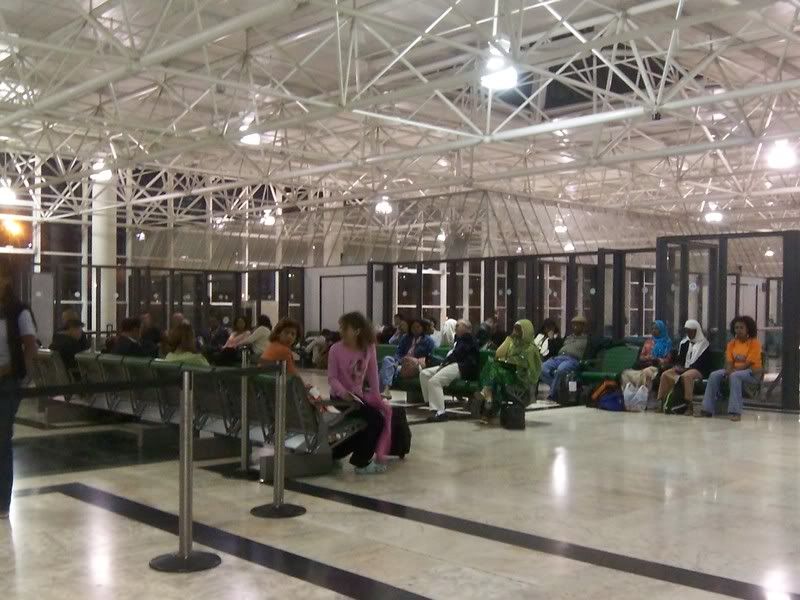 Gate 5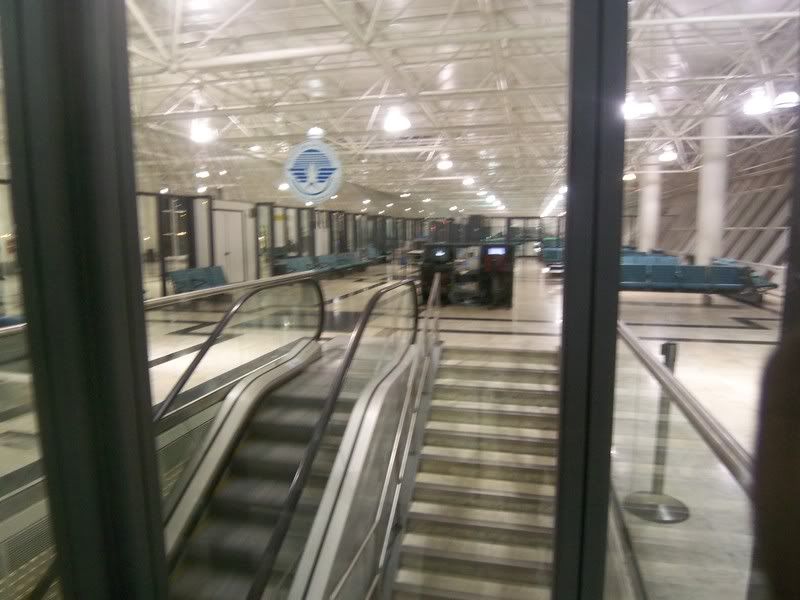 Neighboring Gate, this the gate for all remote parking departures requiring a bus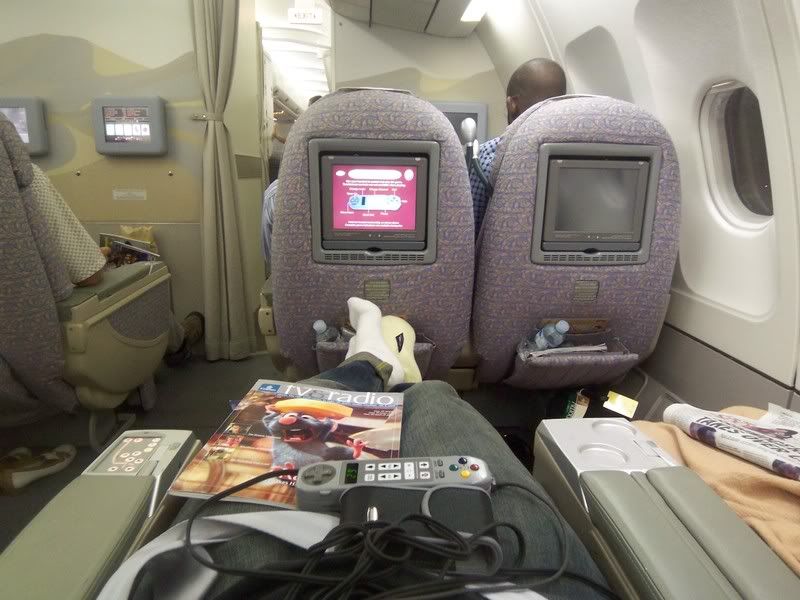 Enjoying my seat before takeoff
So we boarded & left the gate pretty much on time. I was following our taxiing on the front-video camera, and we came to a stop right before runway 25R, where I assumed that we were waiting for takeoff clearance...and waited...and waited. We waited for approximately 20 minutes, where out of nowhere, the cabin lights come on. Then suddenly the pilot emerged in our cabin, then came down my row to look out the window at the wing. We were all concerned, but then the pilot returned to the cockpit and said that everything is alright, and that we would now takeoff.
We proceeded to takeoff, and about halfway down our takeoff roll, the engines shut down. Now, I'm really scared, and a commotion started on the plane. To top it off, the pilot said something to the effect of, "Flight attendants to your emergency stations immediately." This really got everyone scared and screams of concern could be heard throughout the cabin. The flight attendants were running throughout the cabin, doing who knows what. I got my shoes on, seatbelt off, ready to bolt as soon as that door would open, but then the pilot said "flight attendants to your normal stations," which calmed down the situation.
We began to taxi back to our gate, where the pilot reported that we had a "hydraulics failure alarm" go off in one of the wings, whatever that means. He said that mechanics would have to investigate to see what was going on. After the 1st hour, the flight attendants started a meal service, so I knew we would be here for awhile.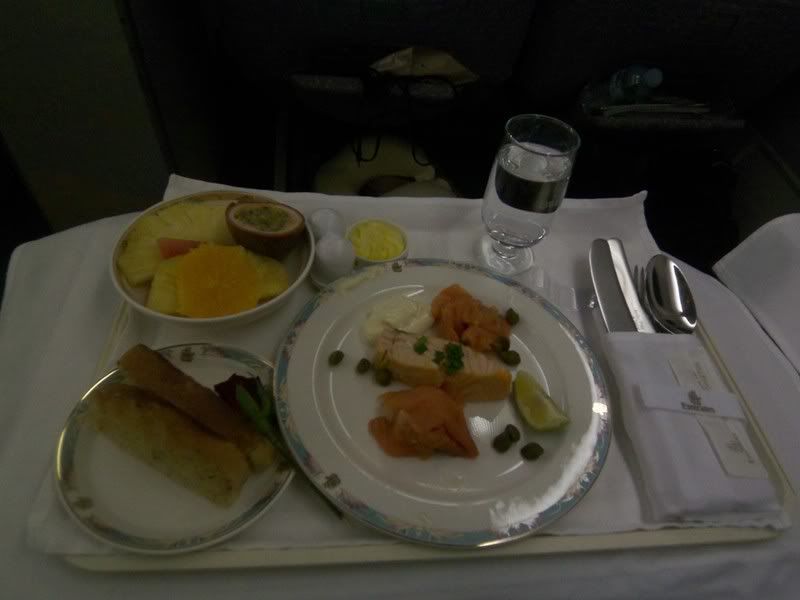 3 hours later, the pilot came on and said that there was no problem, and that we would take off now. I was still concerned, but confident that there would be no problem.
I must say, that takeoff seemed like an eternity. Watching the front video camera, I swear we almost ran out of runway, it had to be the least powerful takeoff I've ever felt, and 25L is 12,000 ft, so its not like its a short runway... the Ethiopian Fokker F50's was more stronger than this. I didn't even realize we were accelerating, but eventually, the plane slowly lifted off at the end of 25L and we were on our way to DXB
So, we took off 3 hours late, and our connection time in DXB was about 3 hr, 30 min, so we again were concerned about missing our flight. Surely enough, we arrived and sprinted from corner to corner of Dubai airport, and right as we get there, the screen at the gate changes to "gate closed" We went back to the rebooking center, and the lines were ENORMOUS this time. We realized that we had our Business class boarding pass from our upgrade in ADD, so we headed to the business class rebooking line, where she rebooked us on the same itinerary for the next day. It sucked, since I had class that monday at 8, and did not want to arrive in LAX the night before, but we had no choice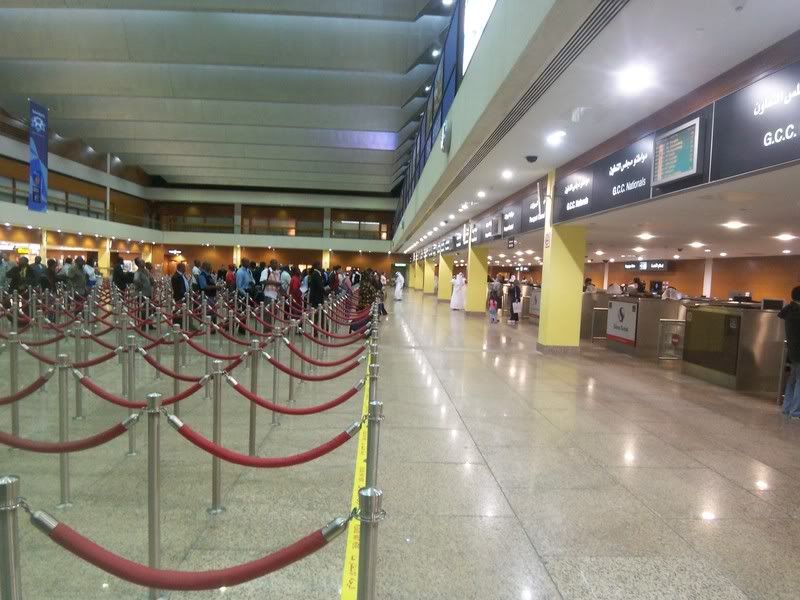 Business/First Class immigration line
We were put up in the 4 Points Sheraton Dubai, which was a nice hotel.
Dubai traffic is INCREDIBLE...and I thought LA had bad traffic!
Getting stamped out of Dubai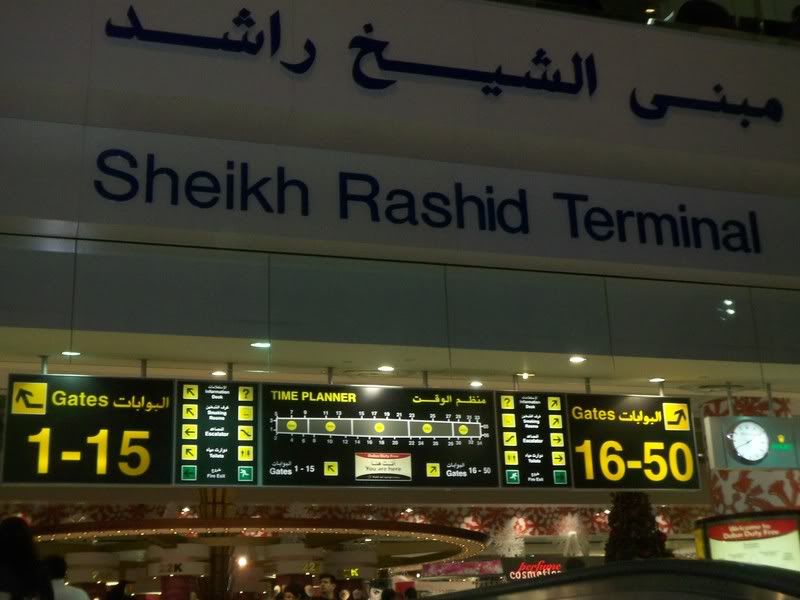 Sheikh Rashid Terminal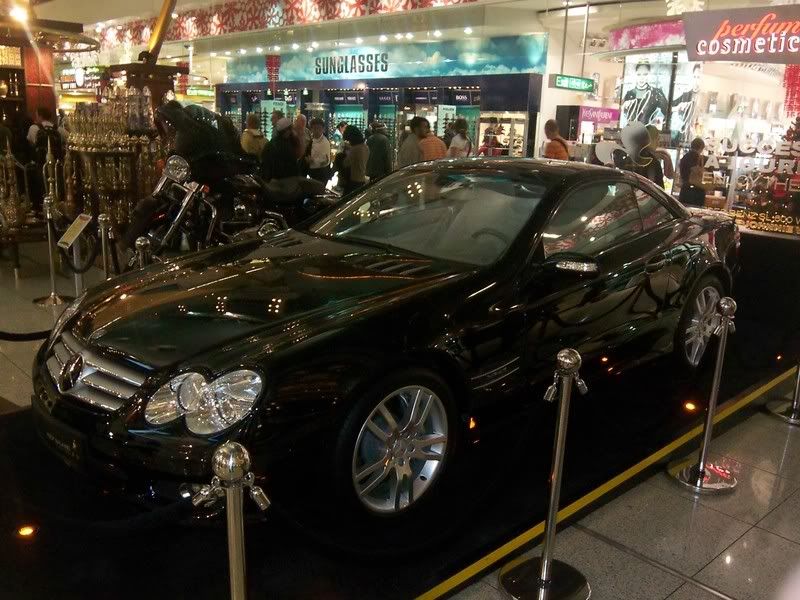 Random car in duty free
January 6, 2008
Dubai (DXB) - London (LHR)
Emirates #724
Depart - 3:10AM
Arrive - 7:10AM
Flight Time: 7Hr 55M
Aircraft: Boeing 777-300
Distance: 3403 Miles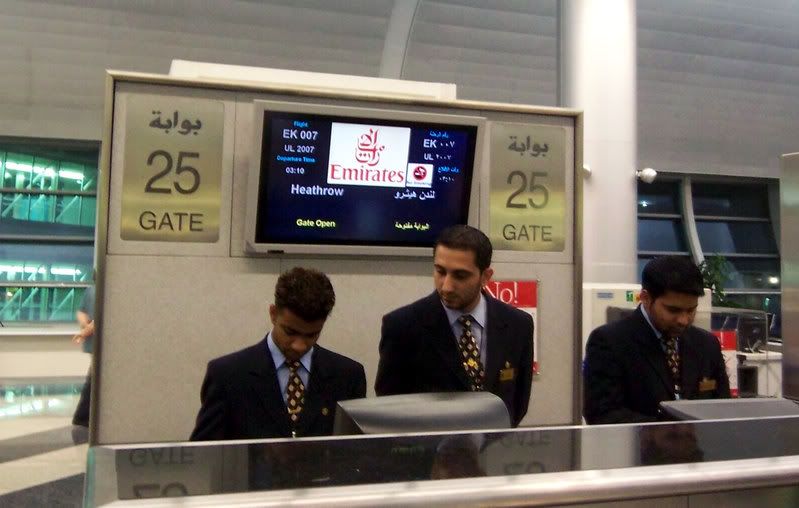 Our Gate to Heathrow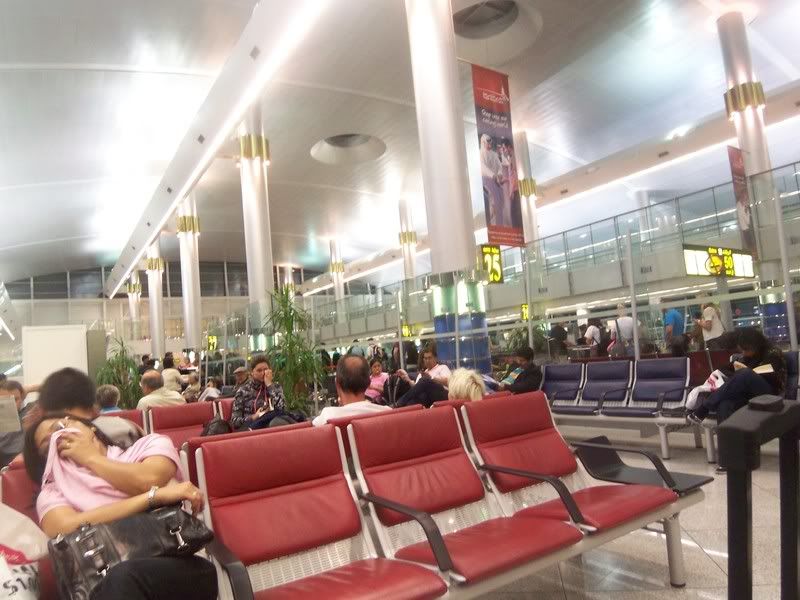 Gate Area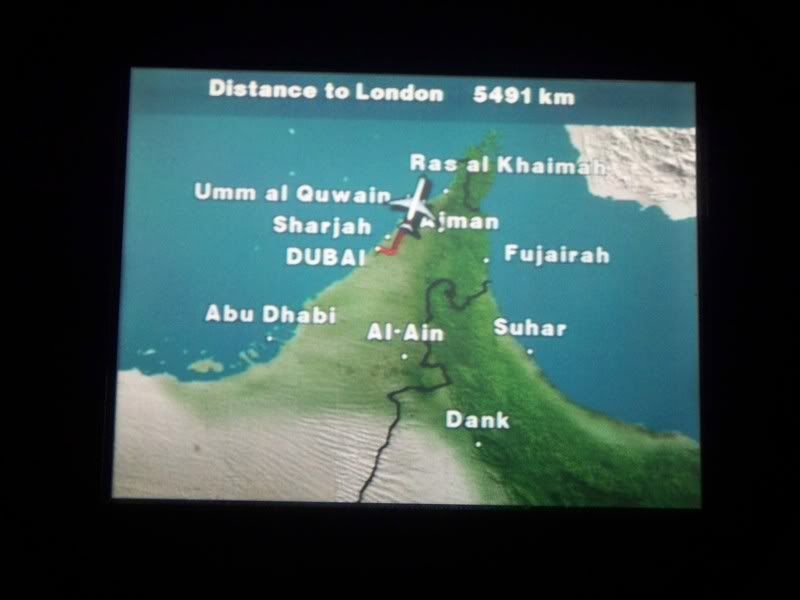 Flight Map
What a takeoff, especially compared to the A340, this was a rocket!
Flight was a red-eye and I was exhausted, so I fell asleep right after takeoff, and woke up about an hour before LHR. The Emirates ICE entertainment system was really nice.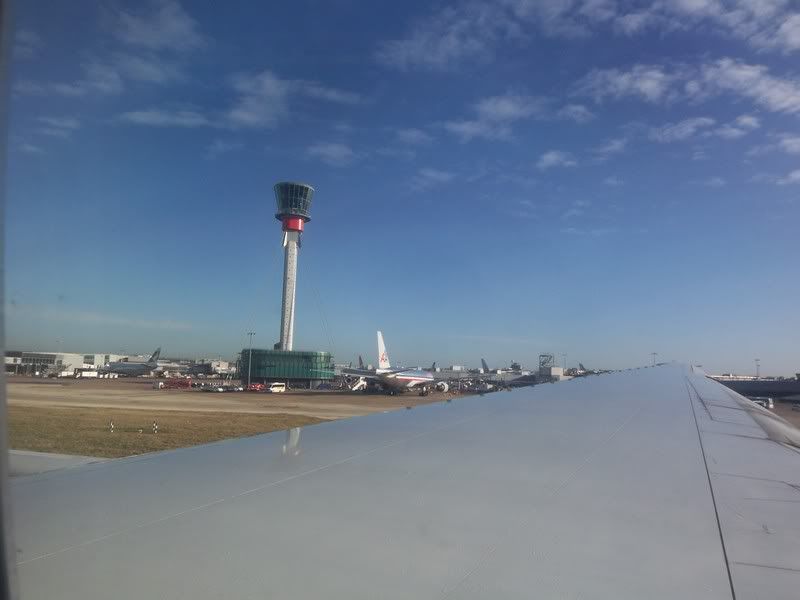 Back in London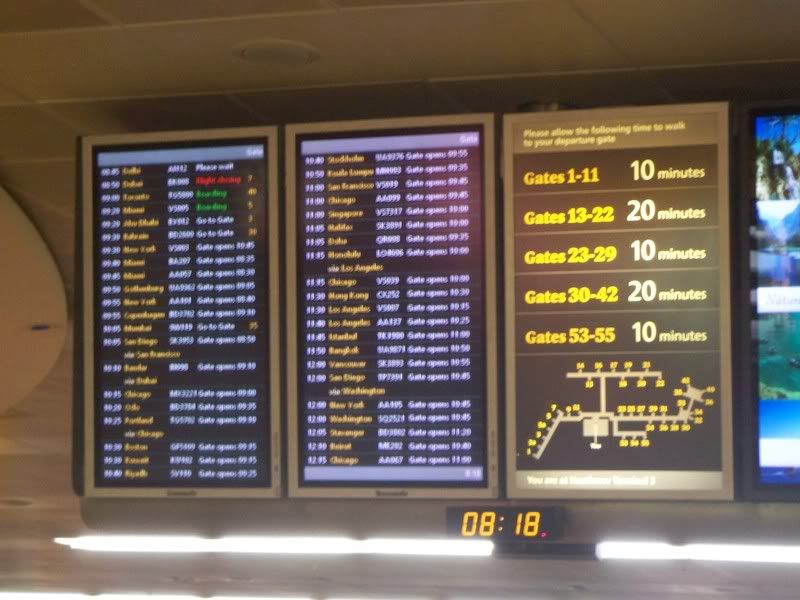 wow I HATE the way you don't know about your gate until right before you depart.
So, another screwup in our travels. Remember how I said that in Dubai, we were rebooked on the exact same itinerary, just for the next day. Well, we're waiting in the central area of Terminal 3, where we finally see the gate for Virgin Atlantic 11:30 flight to LAX. So we gather our stuff, and make our way to the gate. There was a significant line @ the gate, but we were in good time. We finally get to the front, where the agent tells us that we are not booked on the flight. We are confused, as to why that was the case. She then did some computer work, and discovered that we were actually rebooked onto American Airlines #137.
We were dumbfounded, then asked when that is departing, and she said 10 minutes after this flight, so you got to run now! Again, the gates were on different areas of LHR terminal 3, so we took off sprinting AGAIN. As we get to the gate, the agent advises us that we are too late to report to the gate and that it was closed. By now, my anger with the entire trip boiled over and I exploded. I've never been mad like that in my life, and after the agent consulted with her supervisor, decided to admit us into the gate. Emirates did not tell us that we were rebooked onto AA, she specifically said that we had the exact same itinerary, just the next day. We even still had our Virgin Atlantic paper ticket, which the agent took to get reissued to AA.
I must say I was really looking forward to traveling on Virgin to LAX. I loved their service, young hip flight attendants, good food, excellent entertainment system etc. Now I'm stuck on AA.
January 6, 2008
London (LHR) - Los Angeles (LAX)
American Airlines #137
Depart - 11:40AM
Arrive - 3:00PM
Flight Time: 11Hr 20Min
Aircraft: Boeing 777
Distance: 3456 Miles
Gate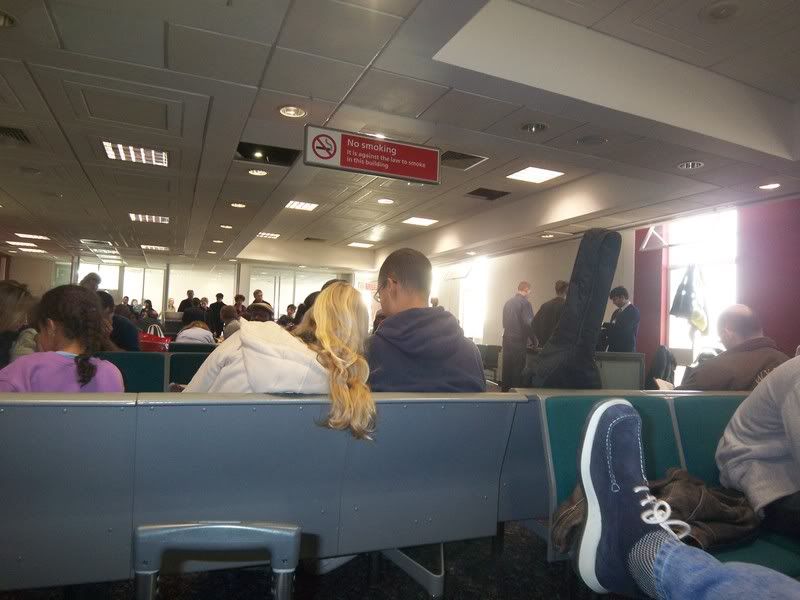 gate waiting area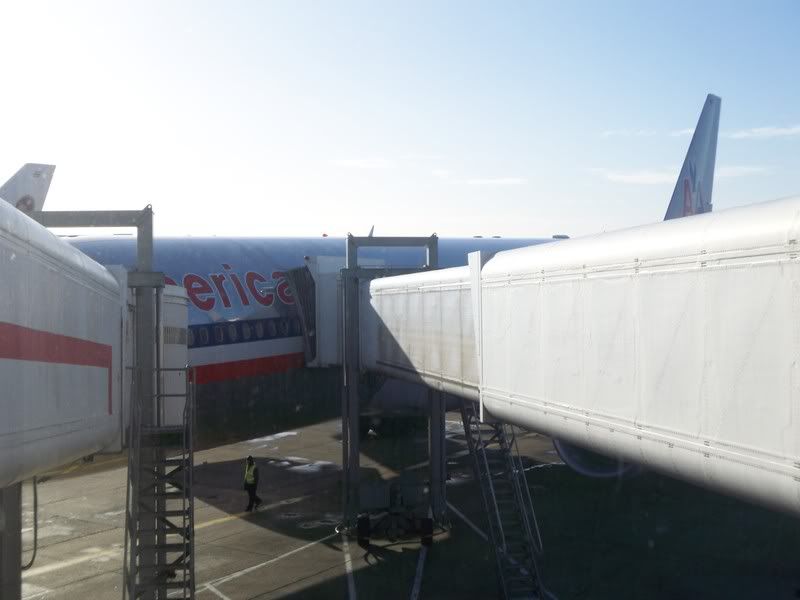 our ride home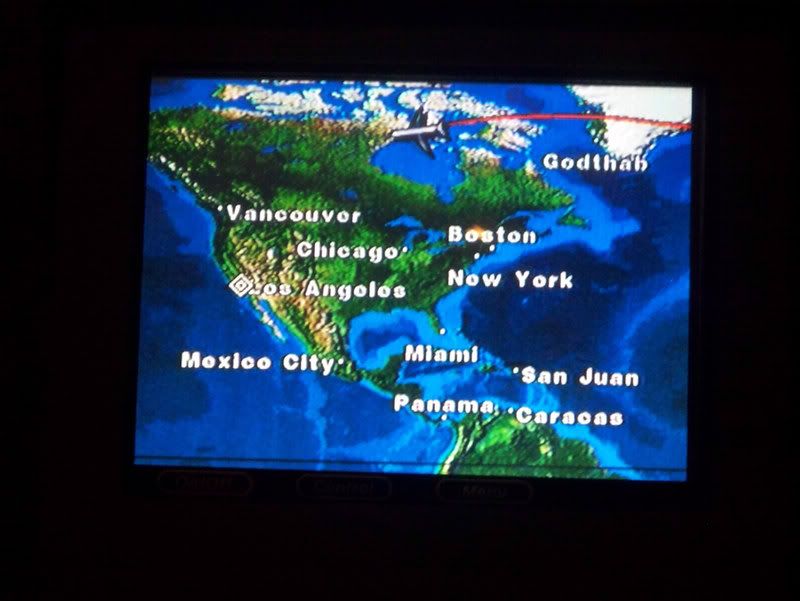 flight map
As I predicted, AA's inflight service was subpar. Coming from Emirates, where even in economy, I felt like I was pampered, AA felt like a bus. Flight attendants were aging, no greeting at the door, entertainment system was nothing compared to Emirates ICE or Virgin's VPORT, which are AVOD, but the old system that just cycles movies.
this is not food
stunning cloud patterns descending into LAX
FINALLY, LA!!!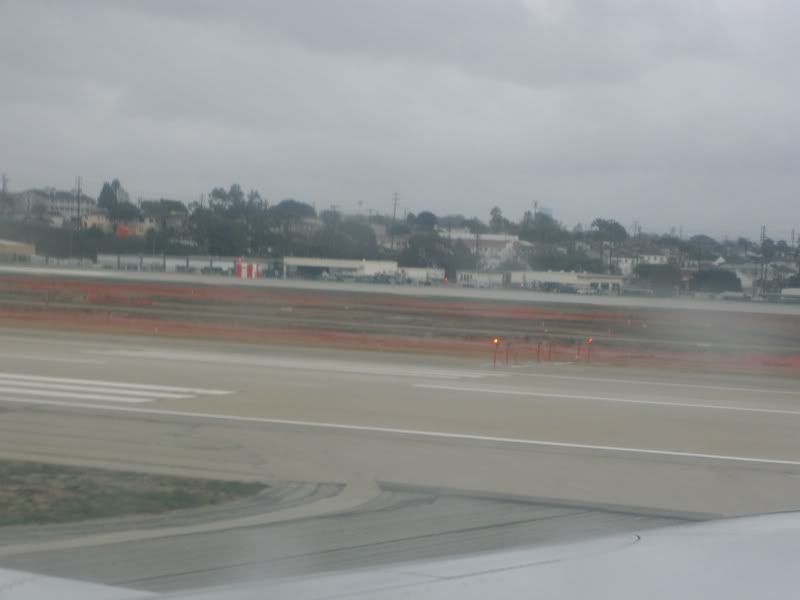 construction on one of the runways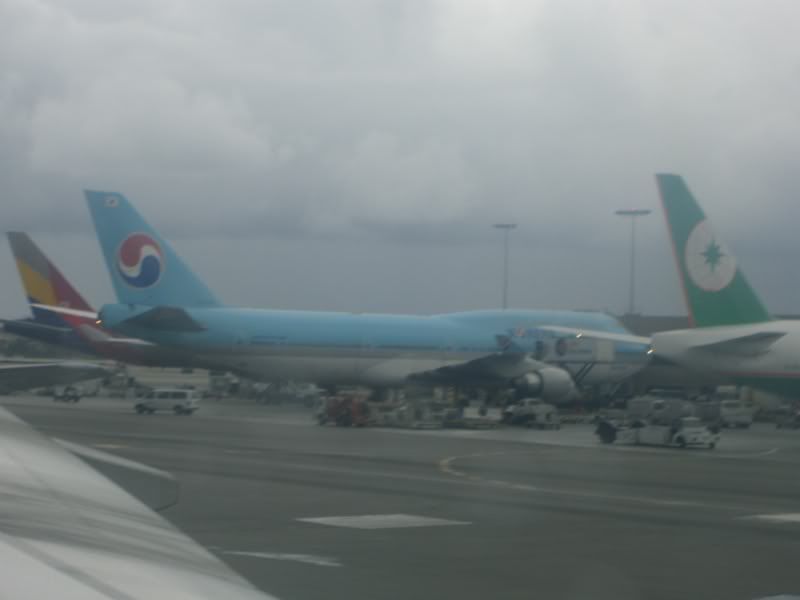 some heavy's at the tom bradley int'l terminal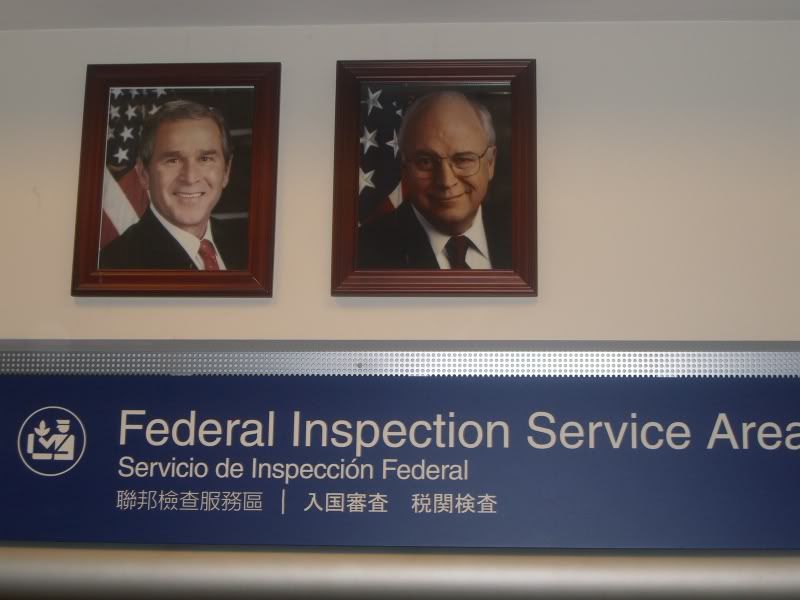 Welcome to America!
US immigration
One of our bags came was ripped open, and as it was coming down the baggage claim ramp, all of our stuff began to fall out. It was embarassing to say the least. In the midst of all this, we heard our name being paged, telling us to report to AA customer service, right before customs. Apparently, one of our bags didn't make the flight, and it would be delivered later.
Summary: Overall, Virgin was great across the Atlantic. Emirates was absolutely spectacular in the air. Seat pitch was great and the flight attendants were excellent. Ground service in Dubai was unacceptable. Sh*t happens, and you miss connections, however to not inform us that we were rebooked to AA, instead telling us that we have the same itinerary was critical, and we nearly missed our flight. AA's service was nonexistent. The food was disgusting, in-flight entertainment sub-par, and of course our destroyed suitcase in the baggage claim, although I don't know if that was AA or Emirates fault.
Suggestion if traveling to ADD, to try the ET direct flight from Washington DC / IAD, which we will be doing sometime soon.
This was my 1st trip report, so please leave comments. Thanks for making it this far!