The last true vacation my wife and I went on was back in October of 2006 on our honeymoon. After the real world set in, and the hectic days of working and flight school for me, working and online classes for my wife's masters degree, we really needed a break from the world. This trip would not have been possible had it not been for 2 of our friends, another couple who needed a vacation. They had the opportunity to get timeshare for a week, but would not have gone since airline tickets were so expensive. Working for US Airways, getting there is not our problem, but where to stay is, so both situations worked out well for all involved. After many weeks of planning and cross checking, the 2nd week of January was decided on.
Originally, we had planned on flying PHX-PHL-MAD, however, as I was keeping an eye on flights and boarding totals the week leading up to departure, I knew there would be no way we'd be able to successfully non-rev that route. After searching some European low-cost carriers, PHX-CLT-PHL-CDG on US was decided on, then CDG-MAD on Easy Jet. It would work out pretty well, since it would leave us about 7 hours in Paris to look around. I also have immediate family living in England, so a trip north was also in store for us. Enough of the fore story…..
Jan 9th
We finished packing in the evening and said goodbye to our cats and dog, ensured our neighbor had a key, and off we went to Sky Harbor. Traffic on I-10 into the city at 10 pm is non-existent, and all the way from the West valley to the employee lot took all of 15-20 minutes. A quick shuttle to Terminal 4, and our friends were waiting for us. Check-in was empty, but since we were non-revs, our bags could only be checked through to PHL. We proceeded upstairs and grabbed a sandwich to go from Paradise Bakery (my favorite sandwich stop) TSA was again non-existent and we breezed through checkpoint B. The only exciting happenings there was an elderly couple who had obviously not flown in a bit and were getting a stern talking to about liquids from a rather grumpy TSA agent. The man reached over to help the agent, when she proceeded to BLOW up at him screaming about her personal safety. Now before I get flamed, I understand you're not supposed to reach over or interfere, but it was obvious the gentlemen was confused and only trying to help….I just think the Grumpy lady could have handled the situation a little more professionally….maybe that's just me being jaded from dealing with TSA everyday going to work….I'm still upset my pudding got taken…
PHX-CLT
US Airways # 305 (HP)
Scheduled: 11:45pm-5:35am
Actual: 12:05am-5-20am
A/C: Boeing 757-200 N901AW
Load Factor: 98%
View Large
View Medium


Photo © Dave Budd - Las Vegas Spotters
We made our way down an empty concourse to B14, where it was obviously going to be a full flight. Standby seats were released about 5 minutes prior to general boarding, we were next to our spouses, and only 1 row away from each other…not too bad. Boarding the 757 took longer than normal, with carry-ons being shoved and pushed wherever there was light. We finally pushed around midnight, and a slow taxi to Runway 26 to allow the safety video time to run. Standard 757 rocket launch takeoff, and we were airborne by the end of Terminal 3. Climbout over the valley was smooth, turning South than East over South Mountain, than then the bumps began. For the next 3 hours, the inflight was fairly typical of a redeye, a few reading lights on, but mostly everyone asleep. We had been 'lucky' enough to be 2 rows from the rear of the aircraft, so what would have been bumps, felt like monster truck racing in the back. For the next 3 hours I listened to the pilots do their best to find a smoother altitude for us, the mighty Pratts winding up than down searching for smoother sailing. A reason for all this turbulence was some severely strong tailwinds, which shortened the flight to just over 3 hours. We made an extremely smooth landing into Douglas Int'l, and taxied into B10. Our flight to PHL didn't board for another hour, so we made our way to a quiet corner of the concourse and tried to catch some ZZZ's. I wandered around, grabbed a USA Today and a Starbucks, found our next flight was departing from the next door gate to our arrival, B12. I headed over to see if a gate agent had opened the flight / released seats, and got very excited when I saw we'd be on a Star Alliance livery 757. This was my first flight on any themed livery aircraft, and the Star Alliance livery is my all time absolute favorite. I don't know why, but it's super simple, and very appealing.
CLT-PHL
US Airways #1744
Scheduled: 6:40am – 7:36am
Actual: 6:30am – 7:30am
A/C: Boeing 757-200 Reg unknown
Load Factor:10%
Originally when I planned the trip, we were going to go direct to PHL from PHX in the morning, but everything filled up, and this flight was dead out of CLT. My only concern was the PHX-CLT flight, which turned out fine. Before boarding, the gate agent made an announcement that due to the extremely light load (about 40 pax total) she would need to reseat everyone who originally had assigned seats. There was some grumbling heard throughout the business travelers, but all went smoothly. Push was 10 minutes early and the taxi was pretty non-descript. We lined up on Runway 25 and made a de-rated takeoff with the light passenger load. The next hour went by relatively quickly, with the pilots pointing out the Chesapeake Bay.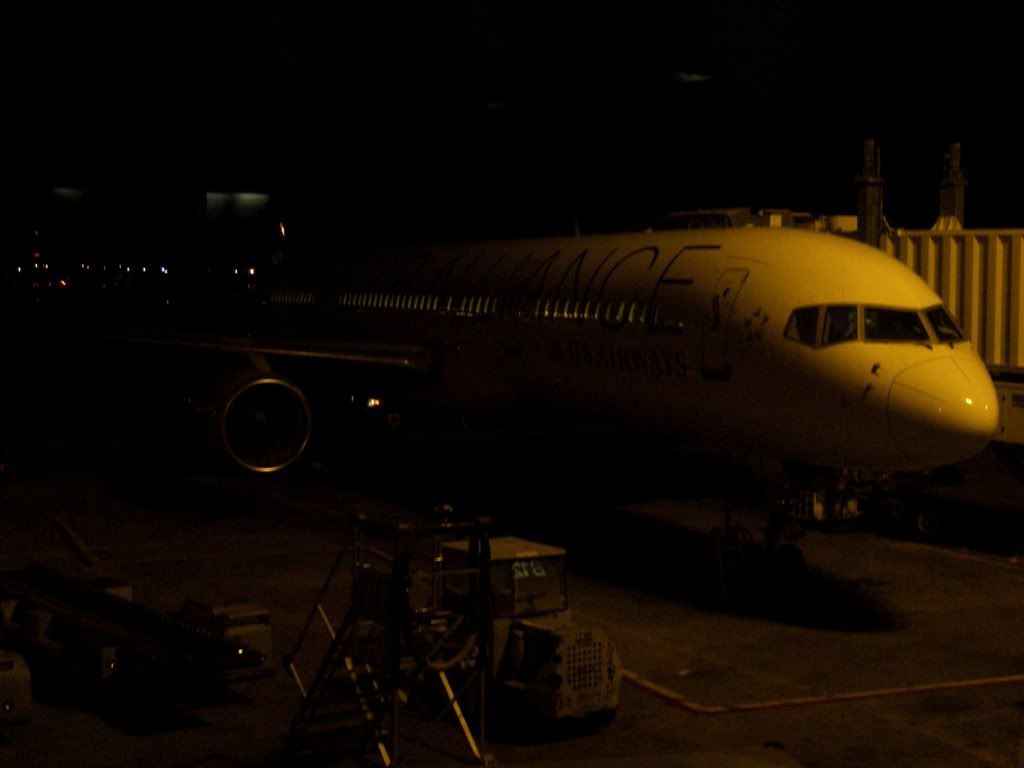 The sunrise off the right wing was spectacular, and with the absence of passengers, we were free to move around to take in the views.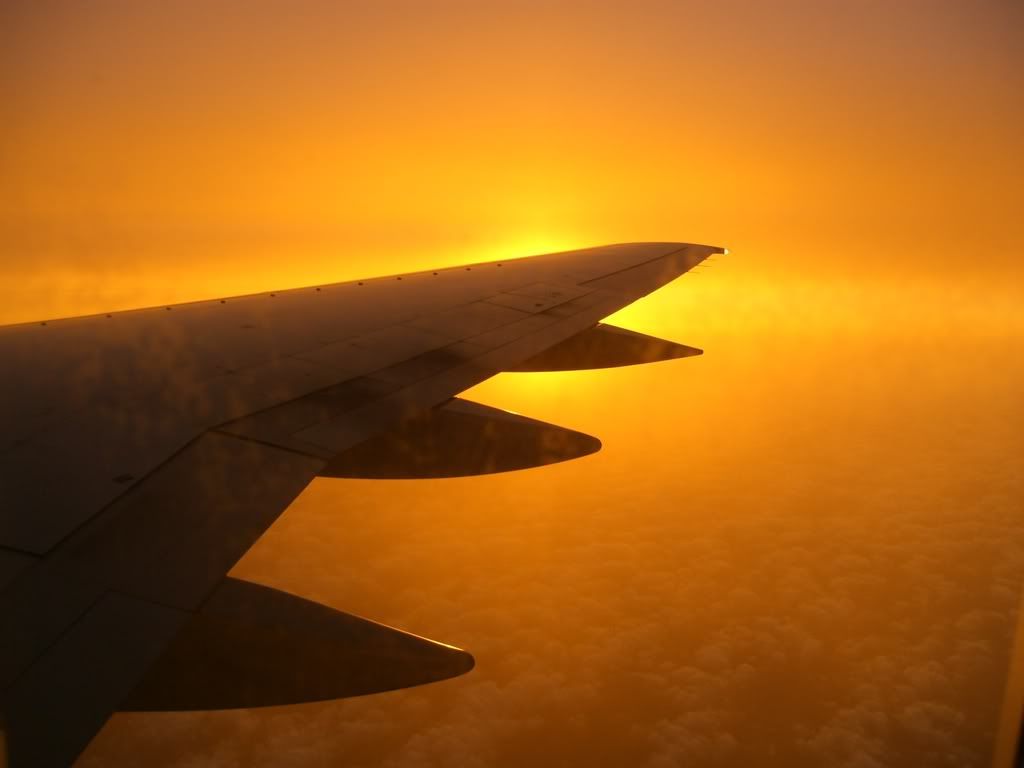 There was a pretty well defined Thunderhead to our right and below us, but I was unable to get a clear picture, it was pretty neat to see nature in action.
We descended into Philly, affording us a nice view of the airport, then a long downwind and visual approach to Runway 27R.
rollout on 27R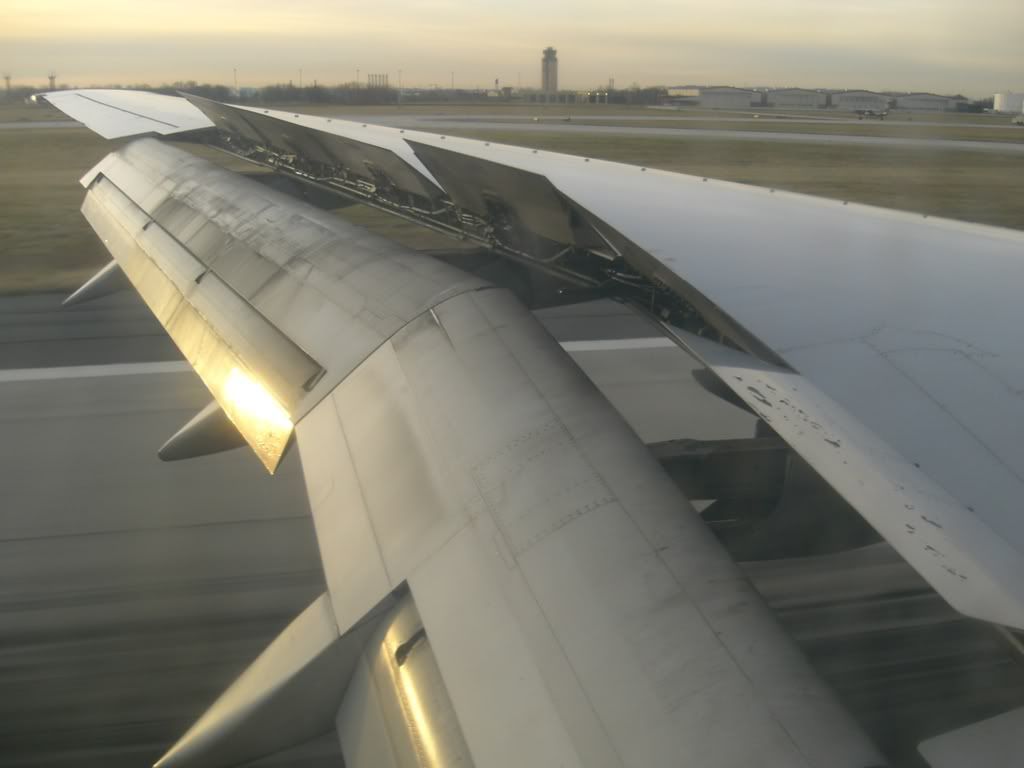 We deplaned and headed to baggage claim. Since we were nonrevs, the ticket agent in PHX wouldn't check our bag through to CDG. We reclaimed our checked bags and waited for my friend to arrive. My friend works in PHL as a Customs Agent, and had the morning off, so we toured the historical part of Philadelphia, Independence Hall, the Liberty Bell, and what not.
Liberty Bell w/ Independence Hall in the background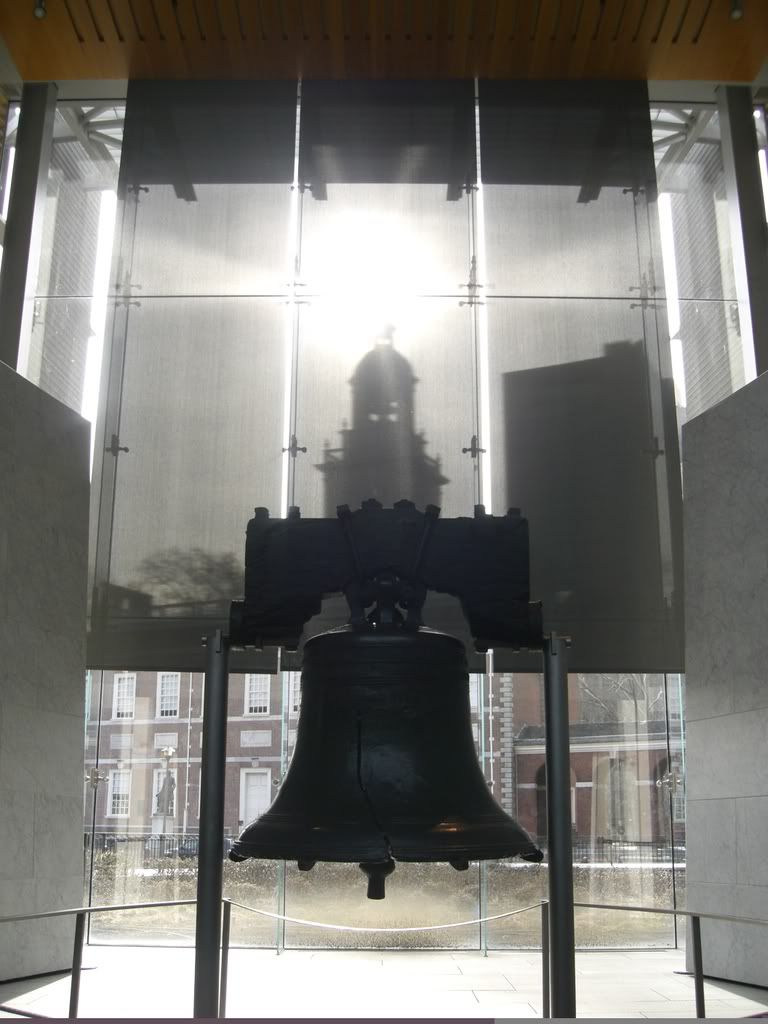 Soon enough, my buddy had to report to work, so that left us about 6 hours to kill at the airport. We went ahead and checked in to CDG. Our vacation was to Spain, but like I said, we're nonrevs, and the MAD flight was 40 people overbooked, so I changed us to CDG about 4 days out, the flight was wide open according to the ticket agent, so I started to relax. I really enjoyed the overhead art at the Int'l check in. Where it turns from a bird to an airplane, kinda reminded me of the relief art at MDW of Lake Michigan. Security was obviously empty, as all the US European flights don't begin leaving until 7 or 8 o'clock. We did some shopping at Brookstone. I bought a luggage tag that says "I heart Baggage Handlers." Since I am one, I felt it was fitting. For the next 4 hours or so, we relaxed by the window by gate A23, where our flight would be departing out of.
The A333 looks good in the new paint scheme
N278AY arrives to take us to Paris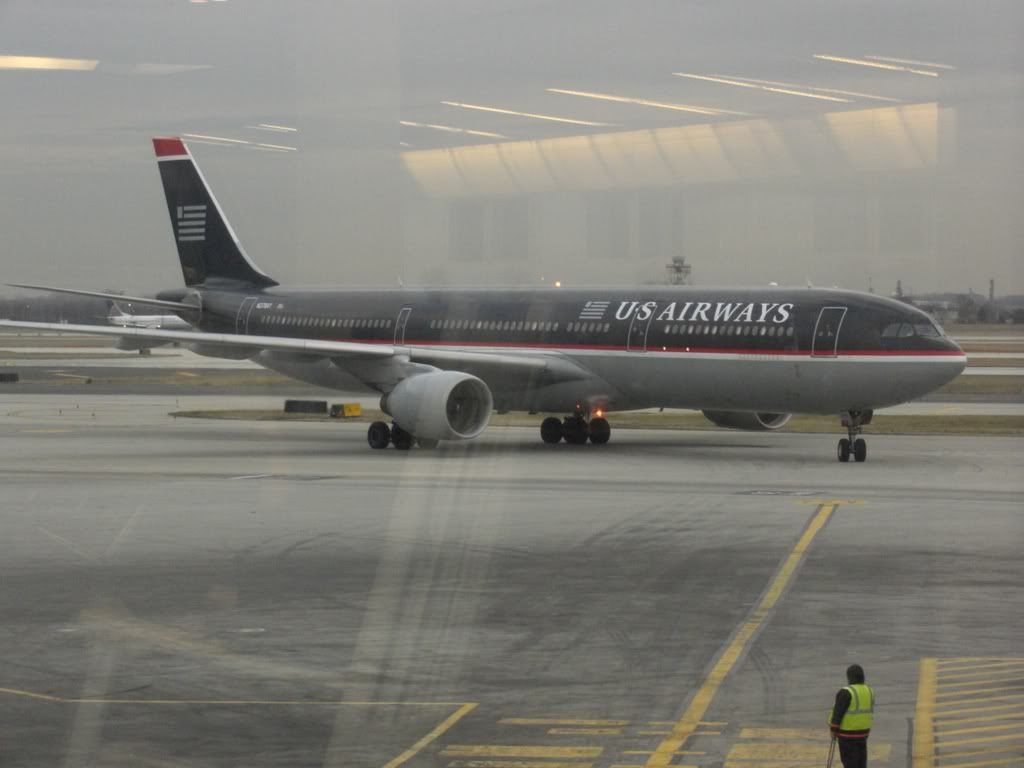 We talked, played cards, and listed to music for the most part. I hung out with my buddy when he wasn't busy, we walked around the terminal a lot catching up on old times. Finally, at around 7, we all changed into our nice clothes pursuant to US' nonrev dress code, and headed back to the gate area. The entire concourse was filing up with all the evening European departures, which kind of gave me the feeling of a free for all. Flight 754 finally called my Standby party of 4, and we approached the counter with Passports and upgrade vouchers in hand. I asked the agent if Row 1 in Envoy was available, and she replied that's where she already was putting us!! Outstanding!! Envoy Sleeper Class! For those of you who don't know. On US' A333's, all of the Envoy seats are mostly recliners, except for row 1, which is called Sleeper Class.
PHL-CDG
US Airways # 754
Scheduled: 8:45pm – 10:10am
Actual: 9:15pm – 10:15am
A/C: Airbus A330-300 N278AY
Load Factor:75% in Envoy, 60% in Coach
View Large
View Medium


Photo © Paul Spijkers
Boarding was called at 8:10, with families and Envoy, so we made our way to the door, where another Passport check was done, and down we went. It's always a great feeling when you get to turn left at the entrance to the aircraft, and we headed up to Row 1, seats C & F for my wife and I, and G & H for our friends. I wish I would have taken more pictures, but was actually starting to get tired, since I hadn't slept in almost 35 hours.
Envoy Sleeper seat 1F
Boarding was accomplished rather quickly, but due to an airstart, we were late pushing. The FA's brought us champagne, which my wife (who has only flown in 1st twice before, and only domestically on HP, proceeded to knock hers over onto my lap….no big deal, my khakis were quick to dry, and the FA's brought me a less soggy amenity bag. After pushing out of the gate, I finally relaxed. Whenever I nonrev, I never fully get comfy until we're out of the gate, I've been pulled off too many times, and especially in our seats, I was expecting a Dividend Miles customer to upgrade to a sleeper seat. A quick taxi to Runway 9L, and we blasted off into the rain filled Philly night. The first hour or so of the flight was rather smooth, then dinner service began, and then all hell broke loose. I felt so bad for our FA's who had to grab each seat as they served dinner to keep from being flung all over the cabin. At one point, our FA asked me which color wine I wanted to wear…which was quite appropriate. At that point they started filling glasses only halfway, which seemed to decrease the number of spills. I didn't get a copy of the menu, but I know my wife had the Balsamic Salmon, while I had a Beef Merlot, which was surprisingly tender and juicy, kudos to US for upgrading the product. I watched the first half of the Bourne Ultimatum while I ate dinner, then decided to get some sleep. At this point I noticed my friend having issues with his seat. In all the turbulence, the seat refused to recline or respond at all. I contacted an FA, who then contacted one of the pilots. He came back, looked at the seat, said don't touch it, left, came back about 5 minutes later, and the seat worked like a charm. I guess there is a reset switch for each seat up front, interesting. I ended up getting about 3 hours of sleep overall. We had a pretty strong tailwind, which made the flight pass by rather quickly, much to my dismay. Soon enough we were touching down at CDG, I can't remember which runway, as I was in the center…After thanking the flight crew, we made our way to passport control and customs, which consisted of walking past some uniformed agents with our bags.
We had enough time in Paris to have lunch and catch one sight, so we took the train downtown, had lunch at a nice little café about 2 blocks from Notre Dame, then visited the historic cathedral. We only had about 30 minutes to see Notre Dame, then had to rush back to CDG to catch our flight to MAD.
My wife and I outside Notre Dame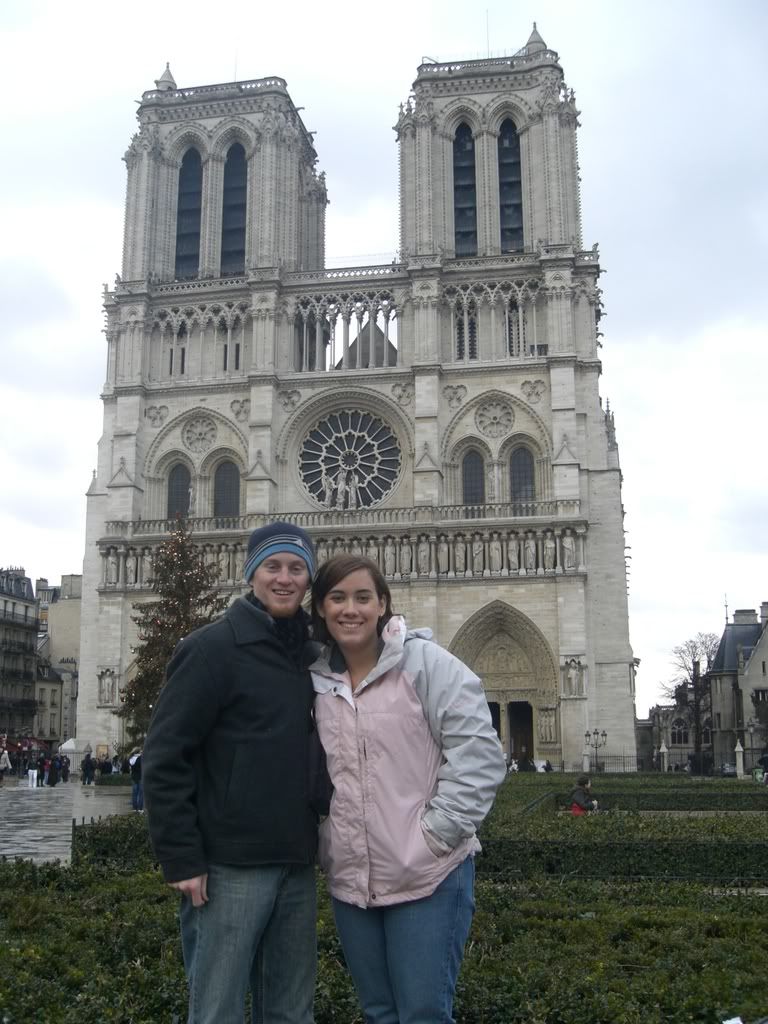 Inside the cathedral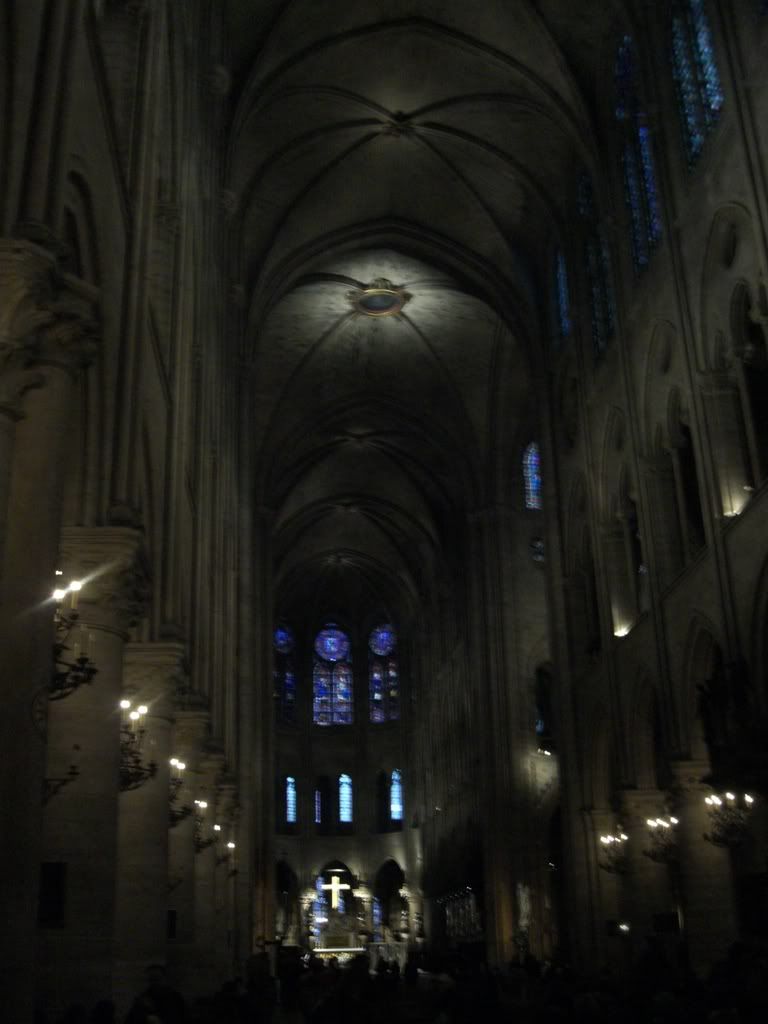 10 JAN
CDG-MAD
Easy Jet # 7904
Scheduled: 5:00pm – 7:10 pm
Actual: 5:10pm – 7:30pm
A/C: Airbus A319 Reg unkown
Load Factor:100%
We checked in and past through security, getting a few odd glances with our US Passports, though I'm not sure why, I'd think it'd be routine to see tourists. A quick purchase of something to drink, then we boarded via bus to the stand.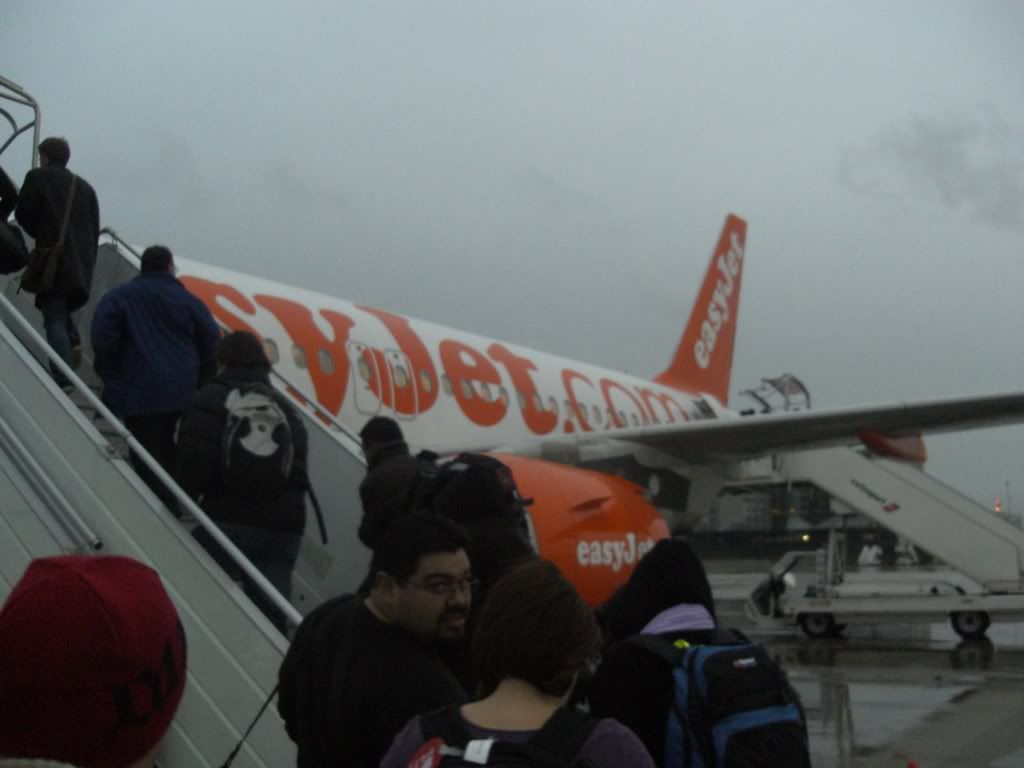 My first thought was WOW, the leg room stinks, then it was, WTH, the seat doesn't recline?! I guess when you only pay 35 Euro for the ticket, you can't complain too much, but it was an overall uncomfortable flight, though completely professional. I had debated asking an FA on boarding if there was any chance of getting to jumpseat, but thought better of it, because A.) I don't know what the JAA regs are on that, and B.)there were a lot of people behind me. Do any Europeans have any inside knowledge for the next time I'm in Europe? Because there's no way I'll ever get to Jumpseat in the US until I start flying for a regional.
We circled around the MAD area for what seemed like eons, then finally landed smoothly, though since it was dark I couldn't see which runway, and am obviously not from the area, so I couldn't even venture a guess. I remember the Terminal 2 and 3 ( I think) being on the right side, and having a relatively short taxi to the gate. Customs and Passport were again a joke, seeing how there wasn't any of either. We got our rental car and headed to the hotel.
The next day we drove the 6 hours from Madrid to Malaga, where for the next week we did day trips around Spain to cities like Seville, Grenada, Marbella, and we even did a day trip to Tangiers in Morocco. Overall, it was an amazing week of sightseeing, but I was really looking forward to England to see my family.
The 4 people on our awesome 2 week vacation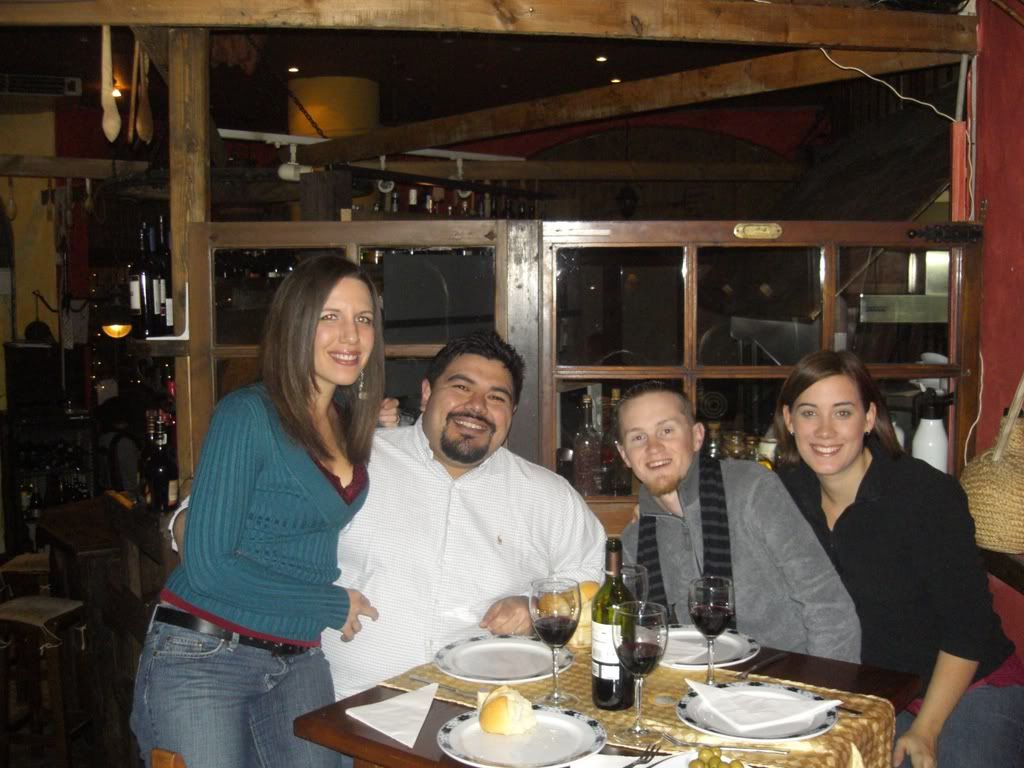 MMMM, Tapas
Sunrise over the Med from our apartment
Me on a camel in Tangiers
19 JAN
AGP-BHX
BMI Baby # 1032
Scheduled: 10:30am – 12:30 pm
Actual: 10:30am – 12:35pm
A/C: Boeing 737-300 G-TOYE
Load Factor: 75%
View Large
View Medium


Photo © Darren Wilson
Our friends dropped us off at the airport in Malaga around 8:30 am. We stood in line for our BMI Baby flight for almost 30 minutes, but finally got everything figured out. Right before we were given our boarding passes, the ticket agent picked up the phone, and while my Spanish was a bit rusty, spoke to someone that he had 2 Americans that were flying to England….I'm still trying to figure out what it was about.
Anyways, we, made our way over to security, and down to our gate, which I think was B28…though I don't remember. I watched our aircraft arrive from BHX, and soon enough boarding was called.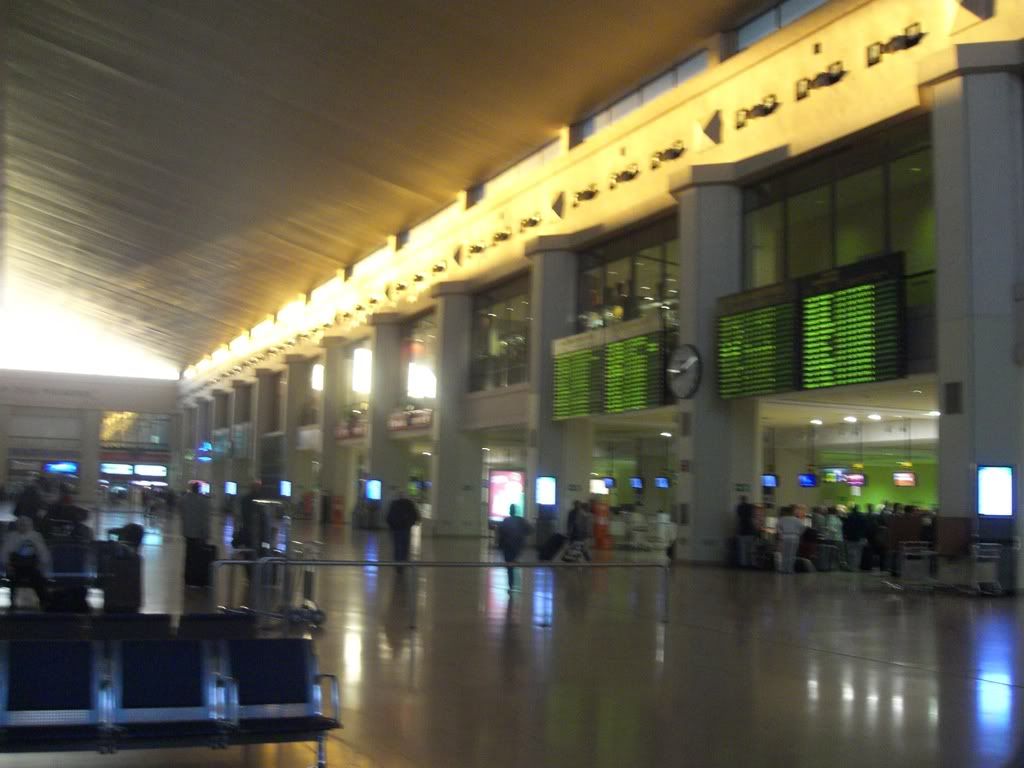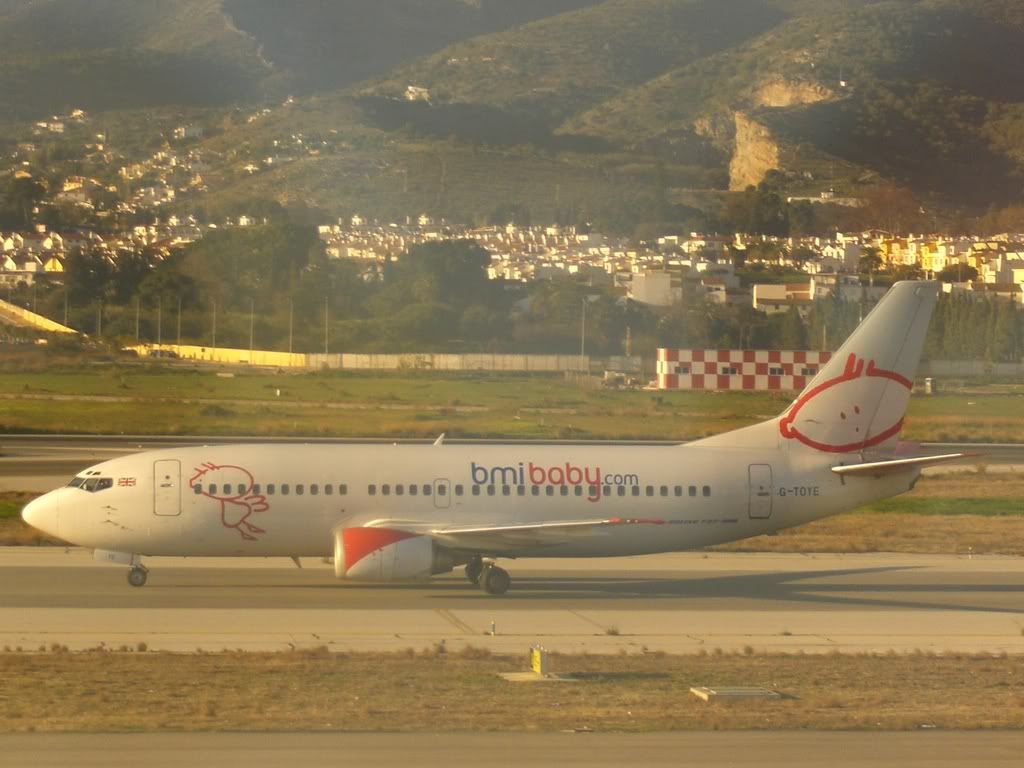 Iberia getting pushed out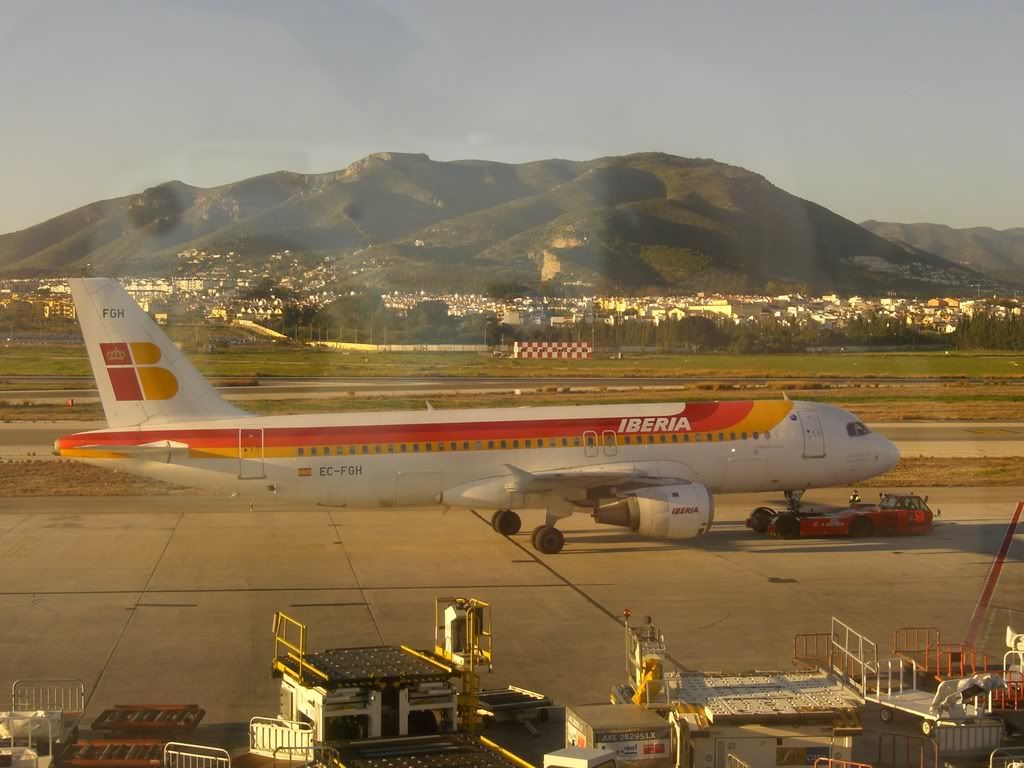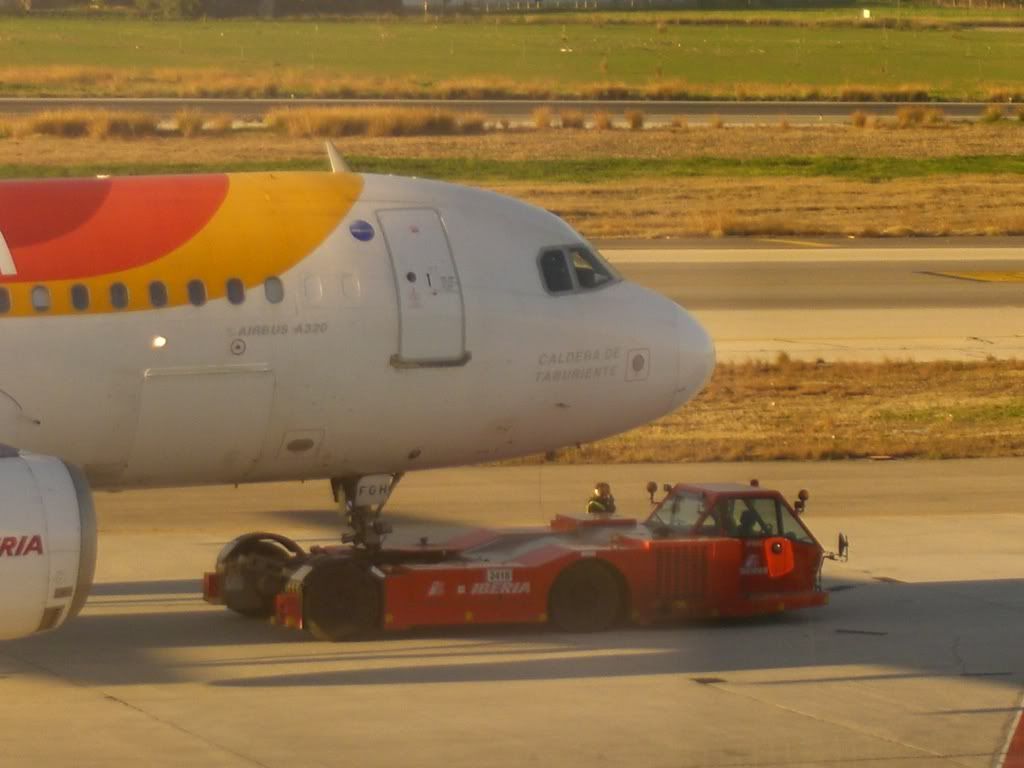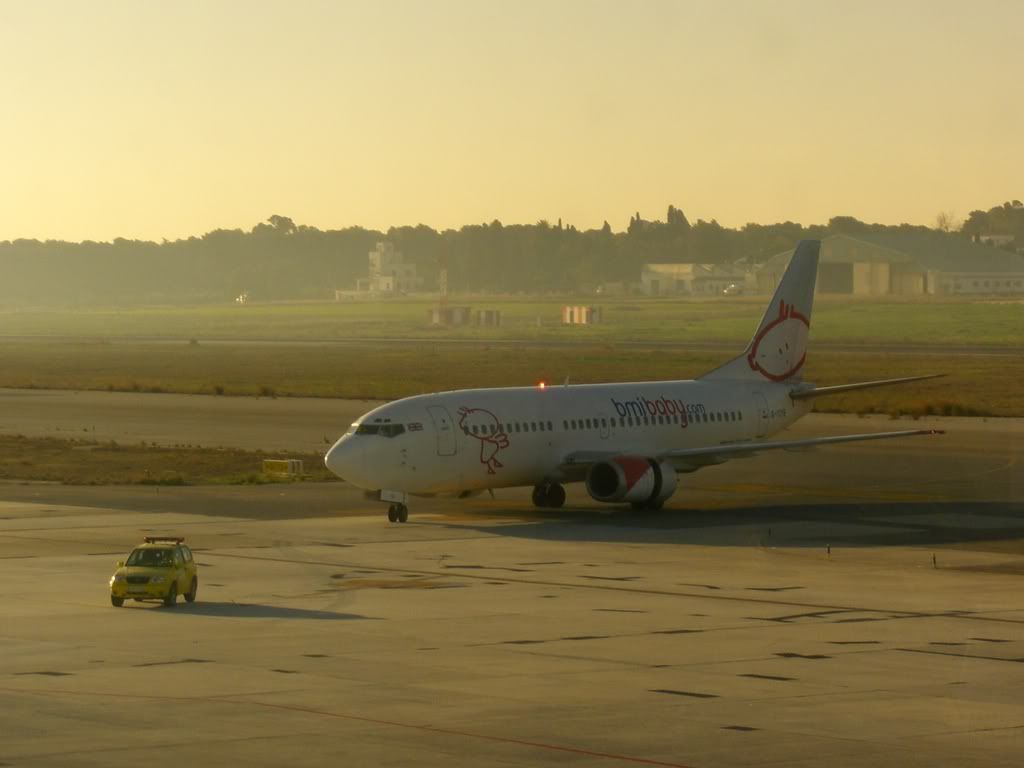 Isn't this the same aircraft Sun Country leases??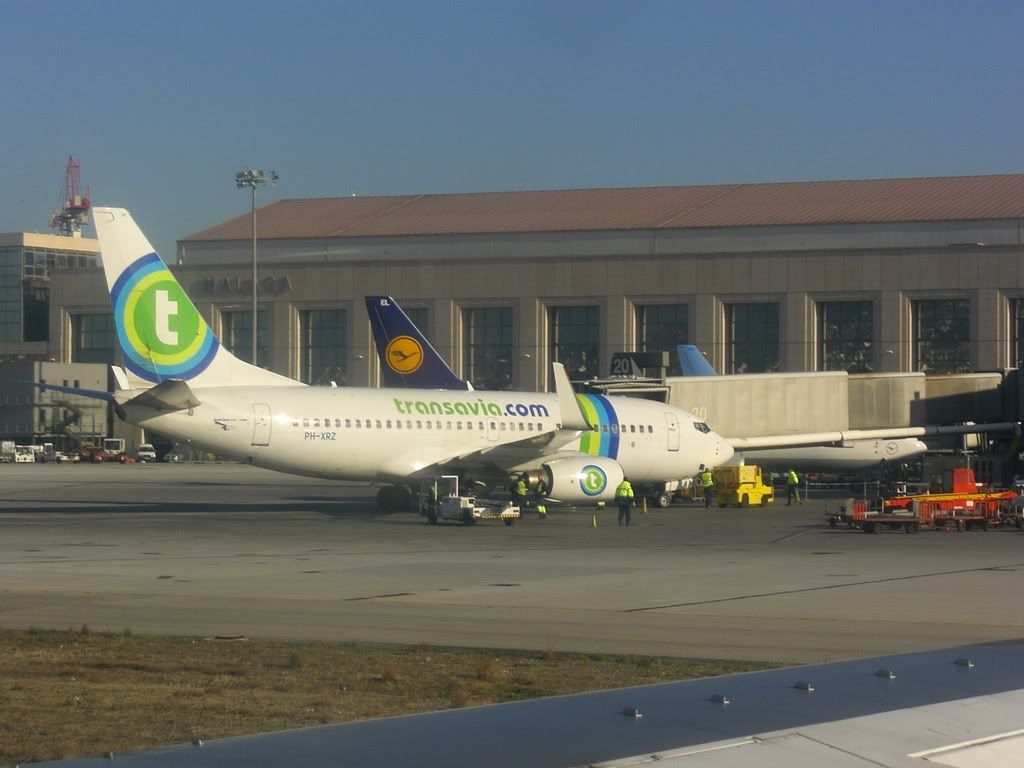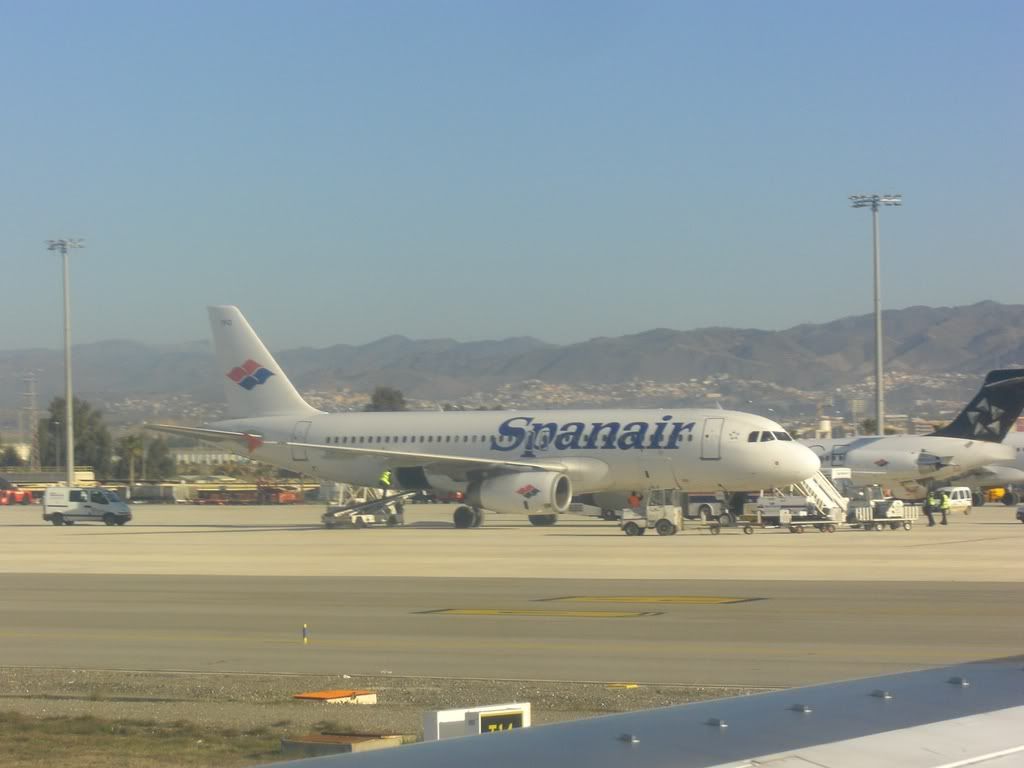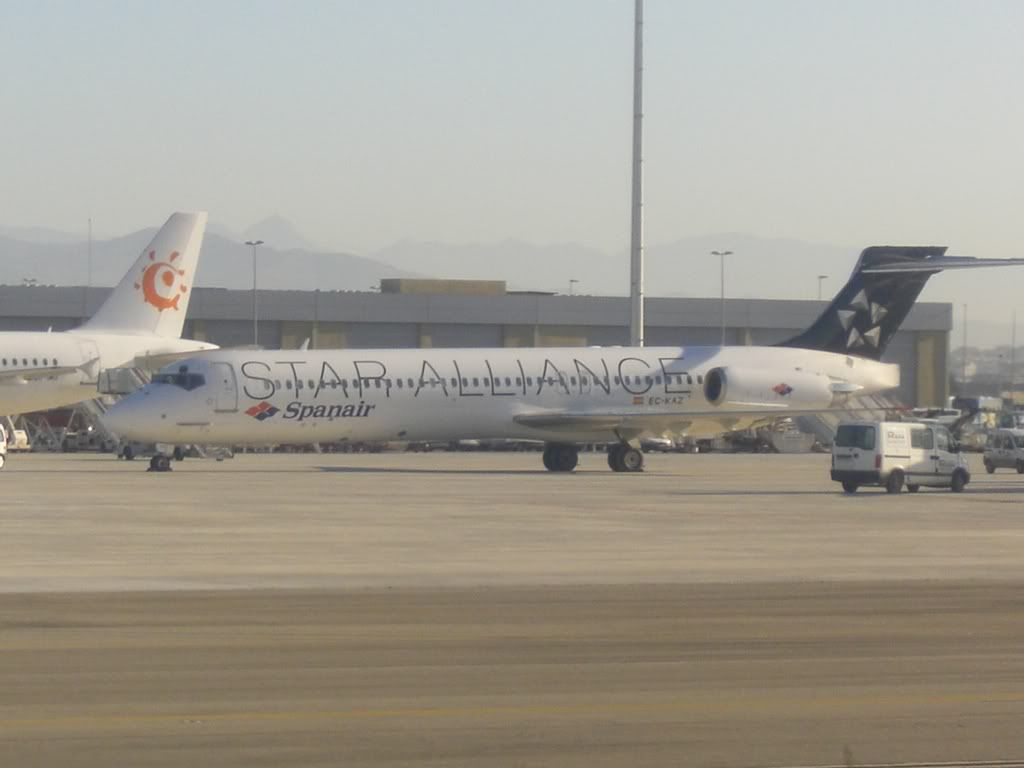 I was a bit leery about flying on BMI Baby, as I'd read a lot of negative reviews. But aside from nickel and diming you, it was a very professional flight, with adequate leg room and pitch. We taxied out past a plethora of other airlines I'm not used to seeing, so my camera was click happy. We held at Runway 13 for a U2 A319 to land, then took the active and roared off over the Mediterranean, affording us a nice view of Malaga and Benalmadena.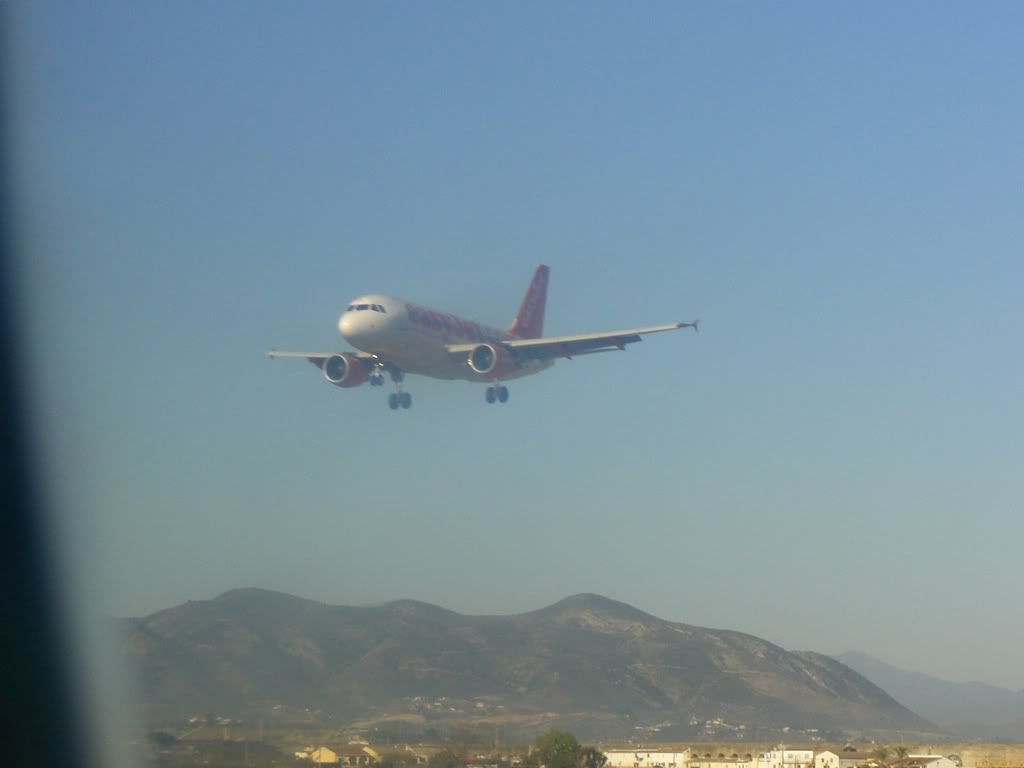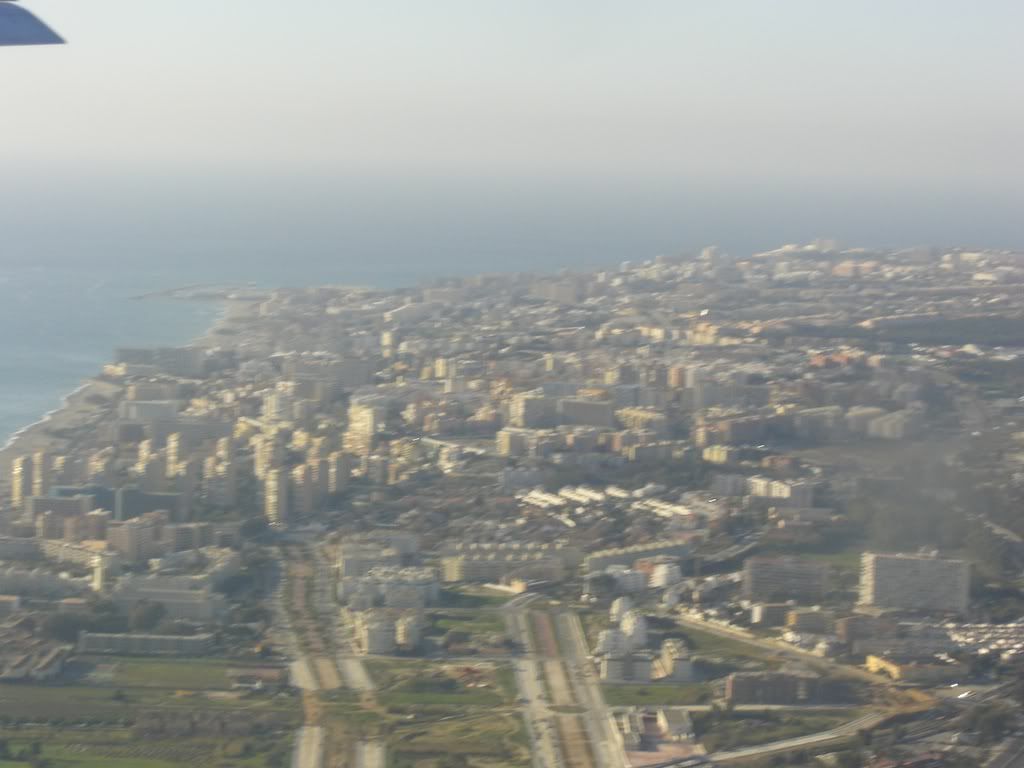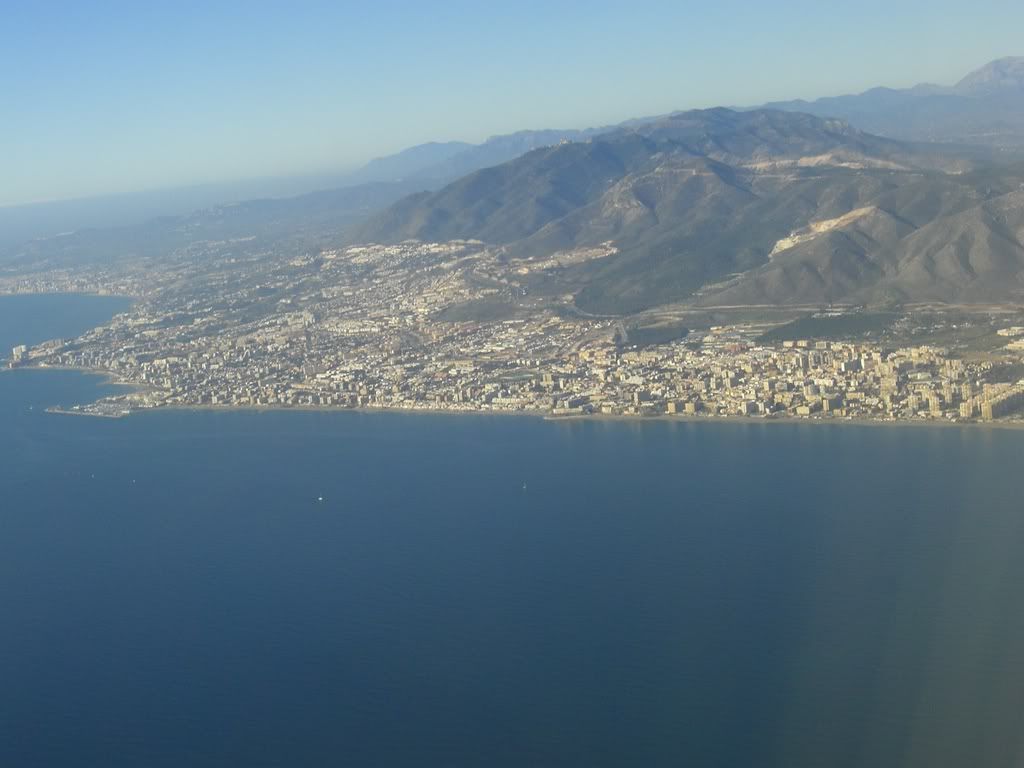 Video of Takeoff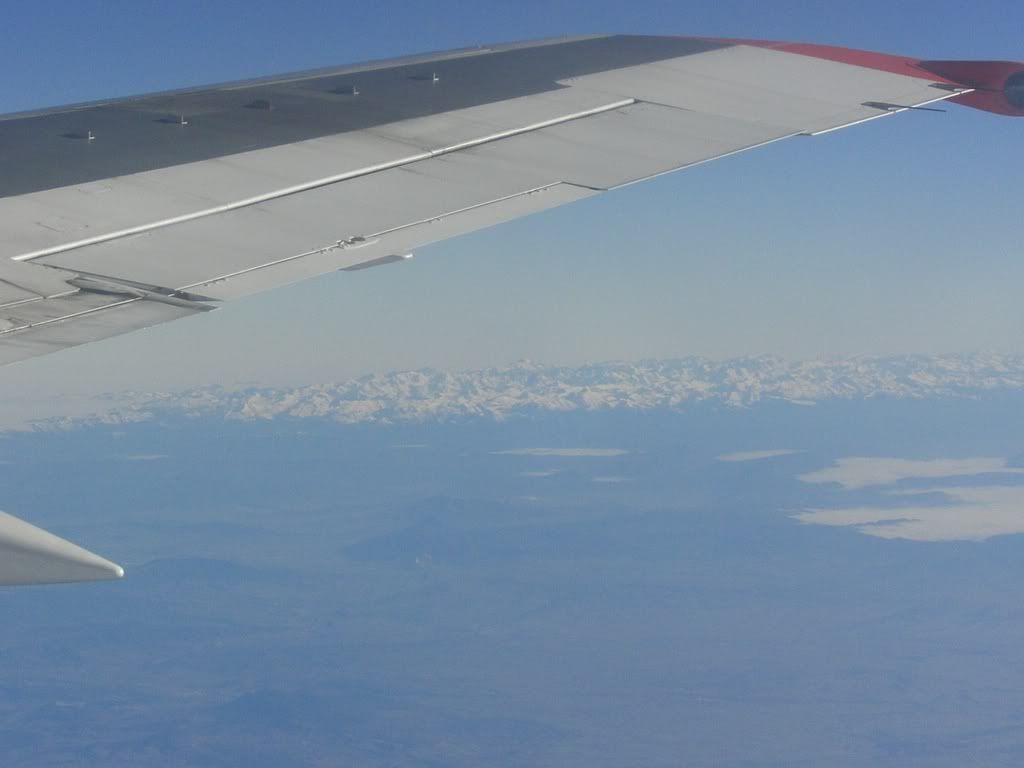 plenty of legrrom for me!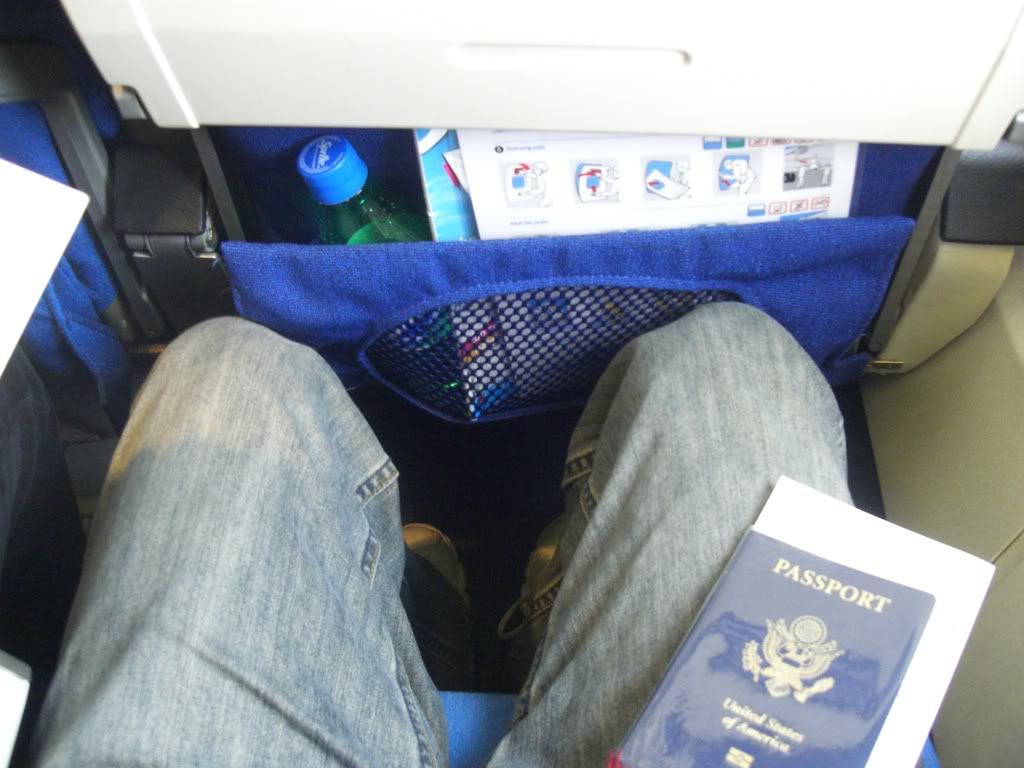 Flight was smooth, though the FO came on while we were crossing the channel and gave us a waypoint by waypoint summary of our flight and the rest of our routing…I enjoyed it, though I noticed some pax with quizzical looks. We made a number of large, lazy turns on our descent into BHX, and made a smooth landing on Runway 15, taxiing up to the gate and next to a company 737.
Vectoring for the ILS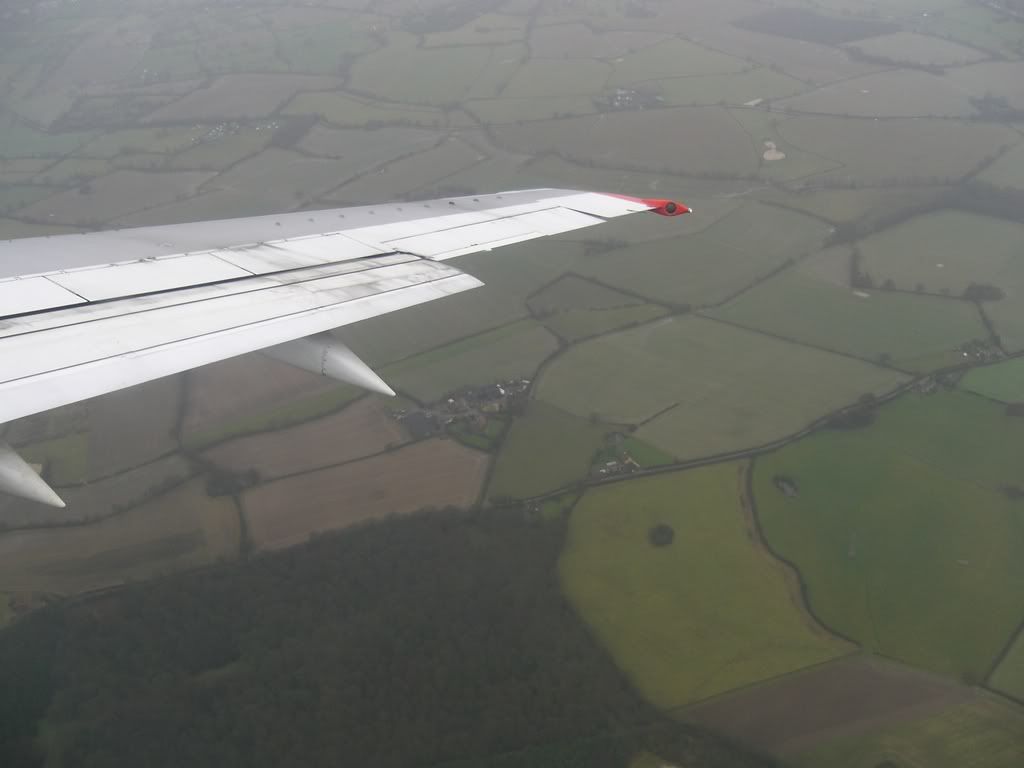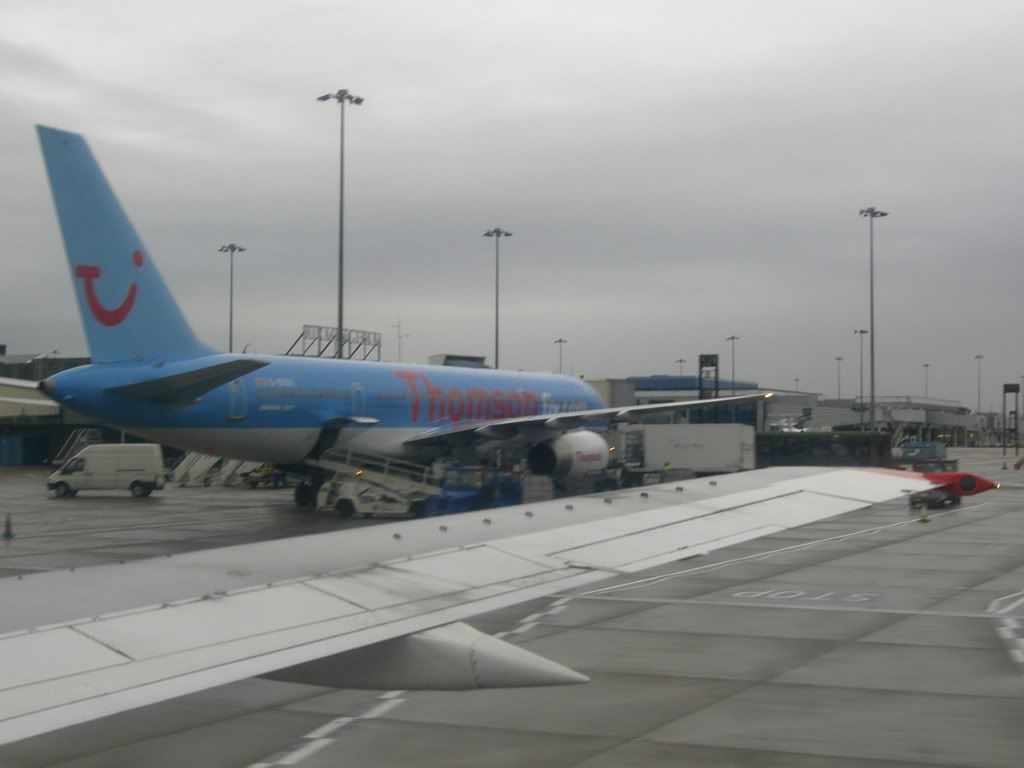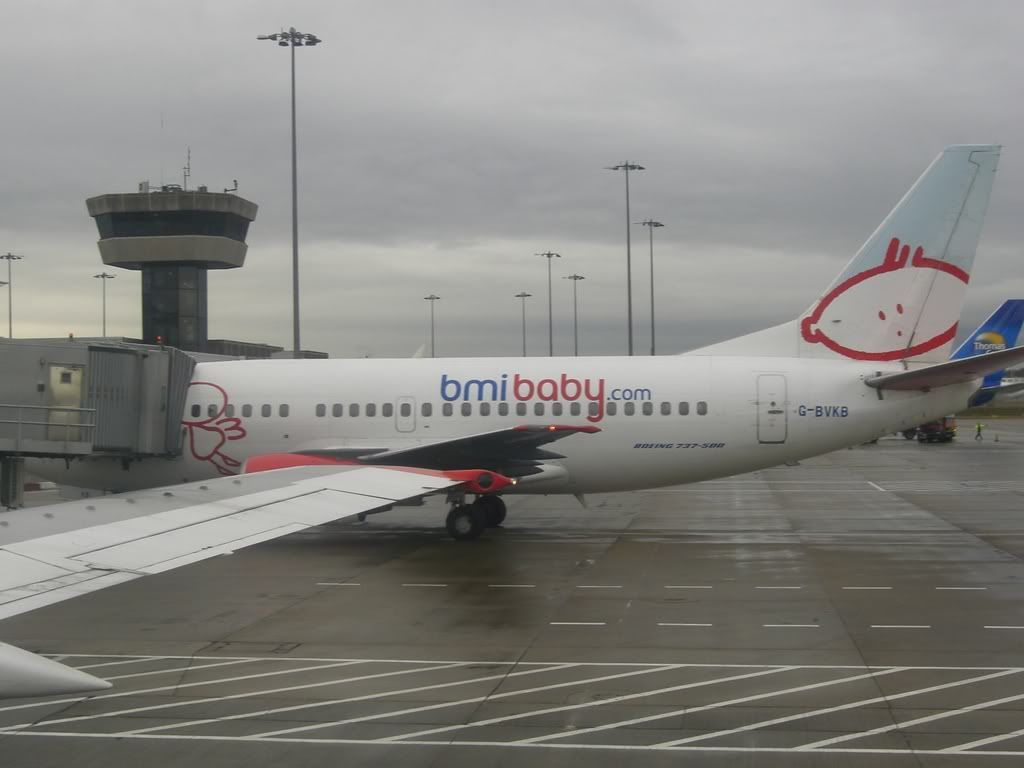 Video of landing
Passport control was absolutely packed, and it didn't help that we were the last ones from our flight to get there, as my wife had misplaced here passport and we spent 10 minutes looking for it. We were relieved however to see the sign for non-EU citizens directing us to an empty line, and a very nice Immigration officer. The whole process took maybe 10 minutes. Bags took about 25 minutes to come out, and then we headed outside, where my Aunt and Uncle were waiting for us.
We spent the next 4 days touring England, and mostly visiting family, (my Aunt, Uncle, cousins, and Grandparents whom I haven't seen for a few years) All too soon though it was time to head back to Spain to catch our flight home to the states.
23 JAN
BHX-MAD
BMI Baby # 1377
Scheduled: 10:25am – 1:55pm
Actual: 10:25am – 2:10 pm
A/C: Boeing 737-300 K-TOYE
Load Factor: 60%
We got up around 7 and headed to the airport at 8. Check in was a breeze, along with security. My wife and I had Breakfast and the restaurant on the 2nd level…I can't remember the name now. I wasn't feeling all that good and my omelet pretty much went to waste. We walked down to the waiting lounge, browsing duty free and killing time. Our flight was finally called and we headed to the gate, along with another group of pax headed to Ireland. We ground boarded, and after waiting for an older gentlemen to get his carryon "just right" in the overhead, we took our seats near the front of the aircraft. To be honest, I don't really remember most of the flight. I began writing this Trip Report on my wife's laptop, and read some of my book, but overall it was very uneventful.
Landing in MAD was another affair that consisted of lots of circling and dodging the imaginary AA guns. As we were deplaning, the plan was to meet our friends, who had gone to Barcelona while we were in England, and while walking towards the predetermined meeting place (outside customs) we noticed the US 767 to PHL was still on the ground. When we originally made plans, we were going to stay the night in Madrid and catch the PHL flight on Thursday. I figured if we could make it, let's hop this flight instead. Unfortunately, the flight was already closed and we were out of luck. We ended up having a great time during our last night in Europe, hanging out in downtown Madrid.
24 JAN
MAD-PHL
US Airways # 741
Scheduled: 12:45pm – 3:45 pm
Actual: 12:55pm – 4:00pm
A/C: Boeing 767-200 Reg unkown
Load Factor: 95% in Envoy, 40% in Coach
We got up around 8 am so we could all shower. We decided it would be easier to just grab a cab to the airport than get deal with the trains with our luggage like we did the day before. The fare only ended up being 25 Euro, so I can't complain. Check in went smoothly, with the honors being handled by Iberia employees. I asked about Envoy's availability. (That morning, my employee website showed 9 open seats in Envoy.) The ticket agent said it looked good, so she took our upgrade vouchers there, and sent us on our merry way. Security was again painless, along with Passport control. We grabbed breakfast and some freshly squeezed orange juice, then made our way to the gate (25 IIRC) When the gate agents arrived, I walked up to see how seating looked, and they said there were only 2 seats available in Envoy. I aksed them what happened, and they said that a lot of people upgraded. Well with 2 seats and 4 of us, we didn't want to split up. But my friend is a little bigger, so our wives gave us the Envoy seats, and they each got a row to themselves in the back of the aircraft. When we boarded, my seat assignment was 7A, though when I got there, it was 2 rows behind the Envoy bulkhead, I should have caught this earlier, knowing the older 767's have only 4 rows of Envoy, but I work for the West side of US Airways (HP) so this was my first flight on an East 767. I don't even know how the gate agent could think it was an Envoy seat, at first I thought she was confused and thought the aircraft was an A333, but even those aircraft only have 5 rows of Envoy. I ended up going to the back and sitting next to my wife, it wasn't all bad, I had a row to myself and got a good deal of sleep the whole flight back.
Takeoff was loud and "rattly" As we chugged down the runway, with the heavy wings bouncing up and down, it looked like the plane was trying to flap it's wings to takeoff…somewhat humorous in my mind. Lunch was served a couple hours into the flight, it was actually a very tasty chicken fettuccine dish. I watched the movie, more out of necessity to pass time then to see it. We arrived to a very cold PHL, and Passport and Customs were alive with the Food sniffing Beagles and other law enforcement canines. After clearing security again, we made our way to our next gate. On the walk there, after having so much fresh food while in Spain, the smell of all the fried stuff actually made my wife and I sick to our stomachs, kind of stressful to think that that's what we eat in America….yuck.
24 JAN
PHL-PHX
US Airways # 192 (HP)
Scheduled: 6:20pm – 9:58 pm
Actual: 6:40pm – 10:10pm
A/C: Airbus A320-232 N656AW
Load Factor:100%
View Large
View Medium


Photo © Blake Mallery
After speaking with the gate agent, I learned our flight was 100% full, and we were all issued middle seats in the aircraft. At that point, I didn't even care, as long as I got home to sleep in my bed. The flying time was announced as almost 5 hours, not the best of situations to be in seat 17E, but you make do, especially as a nonrev. The film was with The Rock as NFL quarterback and his long lost daughter finds him, not something I'd seek out, but when you don't have AVOD, it passes the time. After words I read my book and tried to sleep, but it just wasn't happening. So basically I stared at the seatback in front of me, and watched the MASH episode I'd seen a few times that month on my normal ORD-PHX flights. We arrived to a dark and deserted Sky Harbor via Runway 8 and a smooth touchdown. I ran downstairs to see what my new schedule was, and while my wife and friends waited for luggage, I took the employee bus to the parking lot to get the car and pick them up. My wife and I finally crashed at 11:30 that night, happy to be home, and in our own bed.
Thanks for reading my trip report. I forgot a lot of details as it happened a few weeks ago, but you get the general idea. As always, feel free to ask any questions, and please let me know what you think!!
Regards,
CRJ