Hello A.Netters, hope y'all enjoy!
Background:
Ahhh Christmas time, probably my favorite time of the year. One thing I've noticed about Christmas is that people either seem to be in really jolly moods, which is so in my case, or seem to be plain Scrooge like. I was in an especially great mood this year as my cousin gave birth to her first child 2 weeks before Christmas. That being so, the family decided to move the Christmas celebration to Mount. Blanchard, Ohio instead of Georgia this year, allowing for this trip report. I could have flown directly to TOL on a CRJ-200 but decided on the slightly cheaper and more interesting connection via CVG. A Win Win for me! So here she goes.
ATL-CVG:
Mom woke me up, barely, around 5:45AM morning of the flight. I'm not used to getting up this early during the school week let alone Christmas Break, but quickly gained some energy soon as the whole flying today hit me. By 6:15AM we were ready and rolling, mom works in Chamblee, and we had to stop by work to turn all the computers and what not on before she dropped me off. This would explain why I had to get up so early for a flight that wasn't schedule to leave till 11AM. My mom is one of those people that always thinks that stuff is going to take us longer than it really will resulting in always being early everywhere she goes. While this is not a bad thing, I do value my sleep time, and such an early wake-up was definitely not necessary. I do love the airport so I didn't really mind, this morning. Mom dropped me off at the Baggage Check-in around 8:15AM and I bid her farewell. Atlanta was already very busy this morning as I waited in line for about 30 minutes to check in my bag for the flight. Mind you I was at the outside check in which is in the underground drop-off. I had snot-sickles by the time I got to the counter. Check in went smoothly and I was off to Security, and o boy.........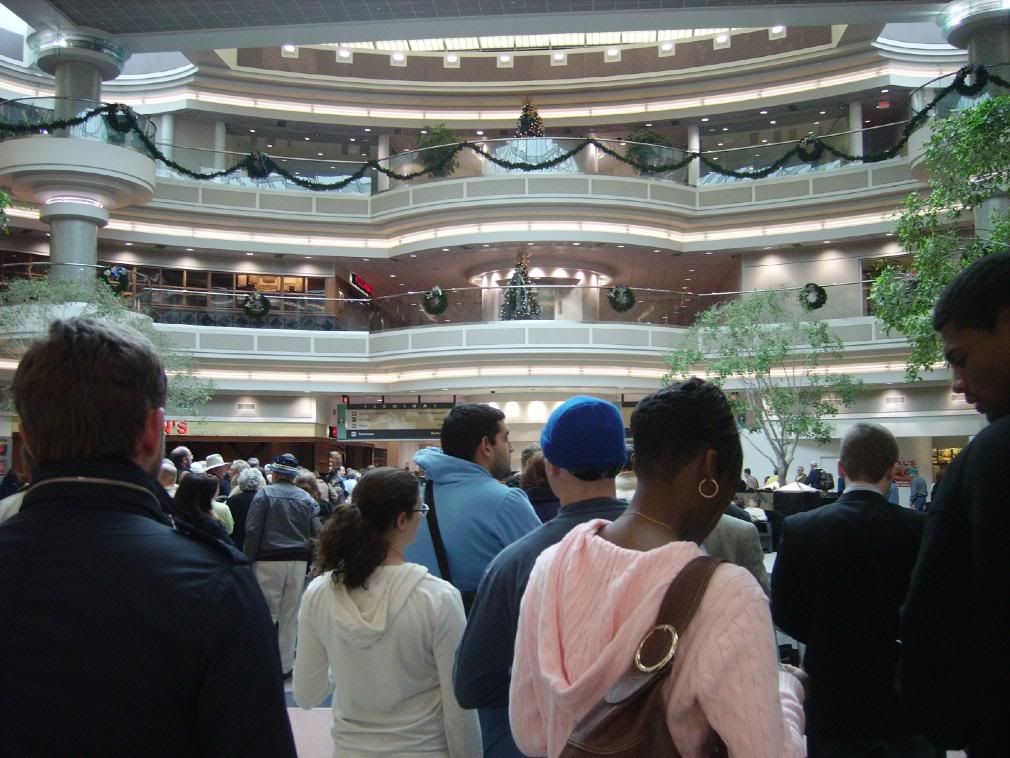 Whenever security stretches back to the Atrium in 3 lines, you know it's going to be a ruff morning. As I was debating on which of the three lines to jump I noticed a ant like scramble of passengers jogging to and past a ATL TSA Agent who was shout mumbling something to the crowd of oblivious passengers. Being nosey I walked over to hear her shouting for passengers to go to an another, shorter, line for TSA. The only other line I knew of was the First Class/Employee line so hey I was all for it. Sure enough that's where me and about 50 other people ended up. Sweet! Two people after me they roped the line off, so I considered myself lucky. With my shortcut out of the way I made it through security by 9:00AM. Next time your stuck in security make sure to pay attention, it may pay off! My flight this morning was taking off from Concourse A, but seeing I still had practically 2 hours I decided to take a stroll around the whole airport for some pictures.
Underground Walkway/Train: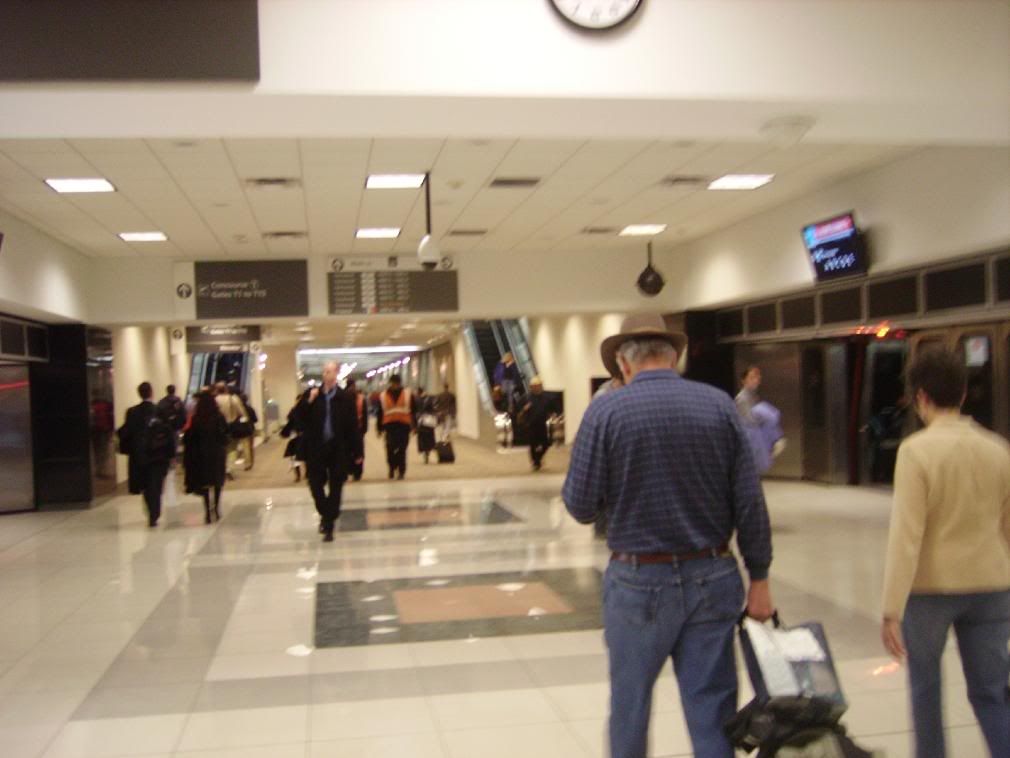 View from Concourse B food court: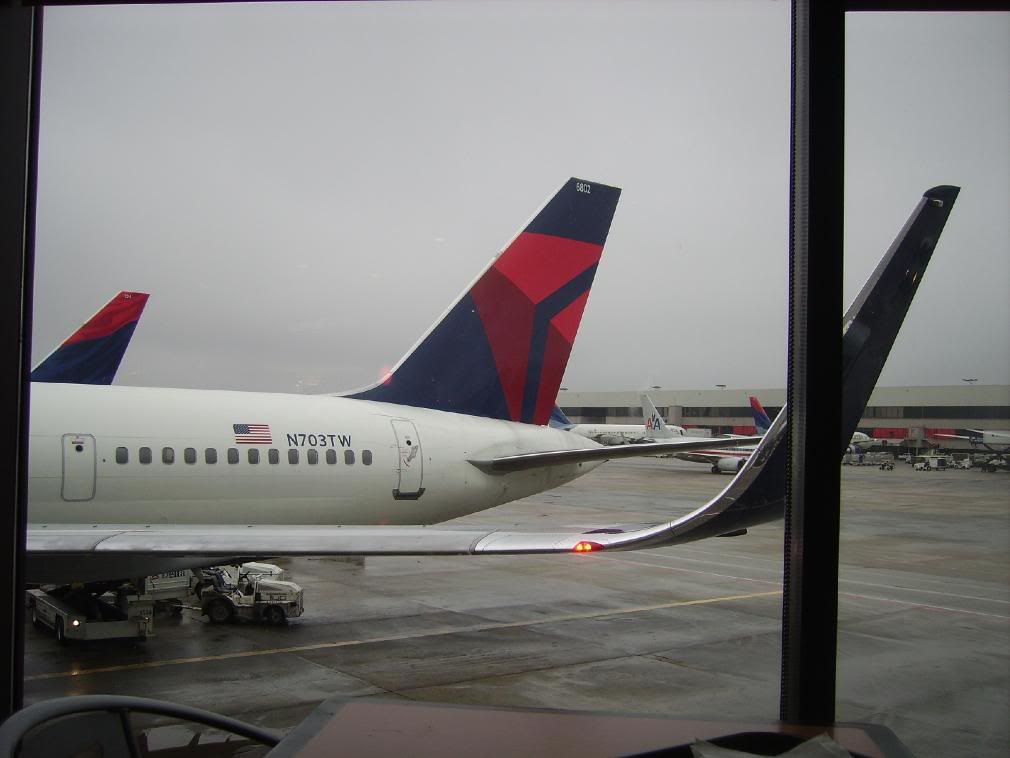 Spotting at the end of Concourse A:
Some random ramp activity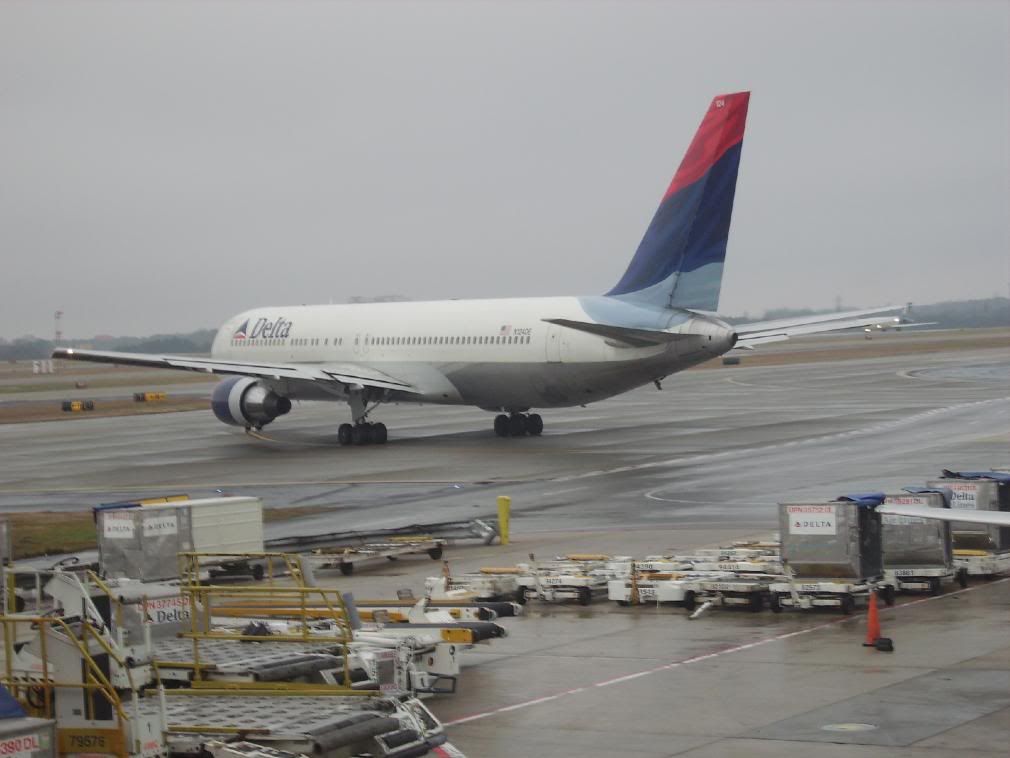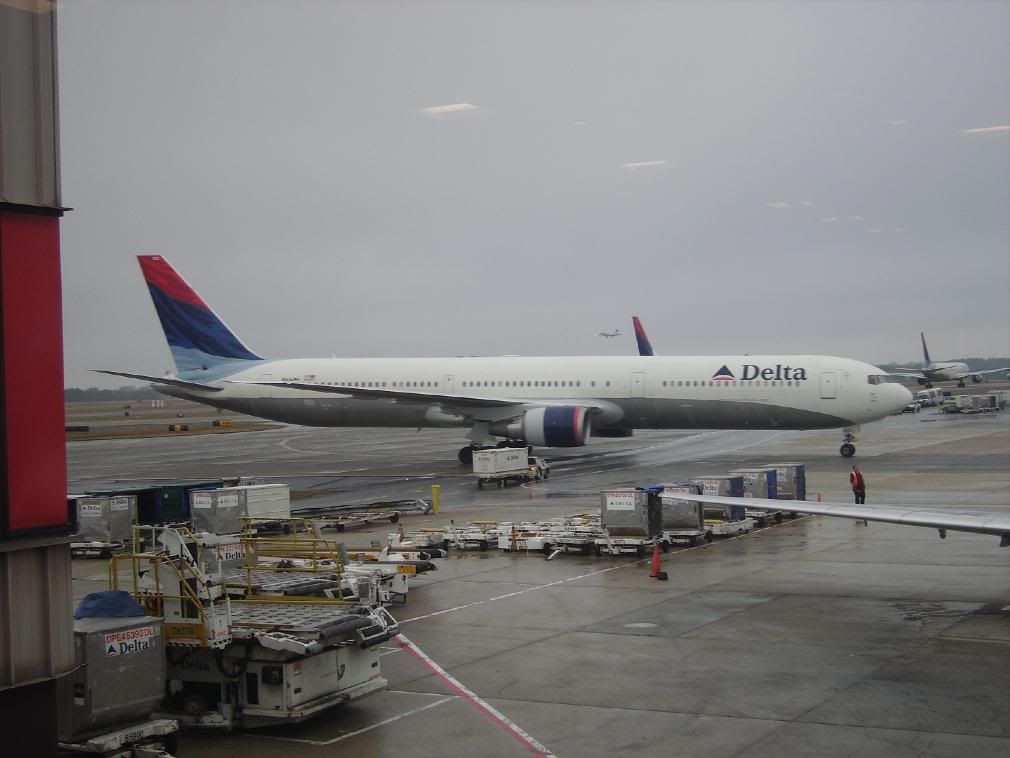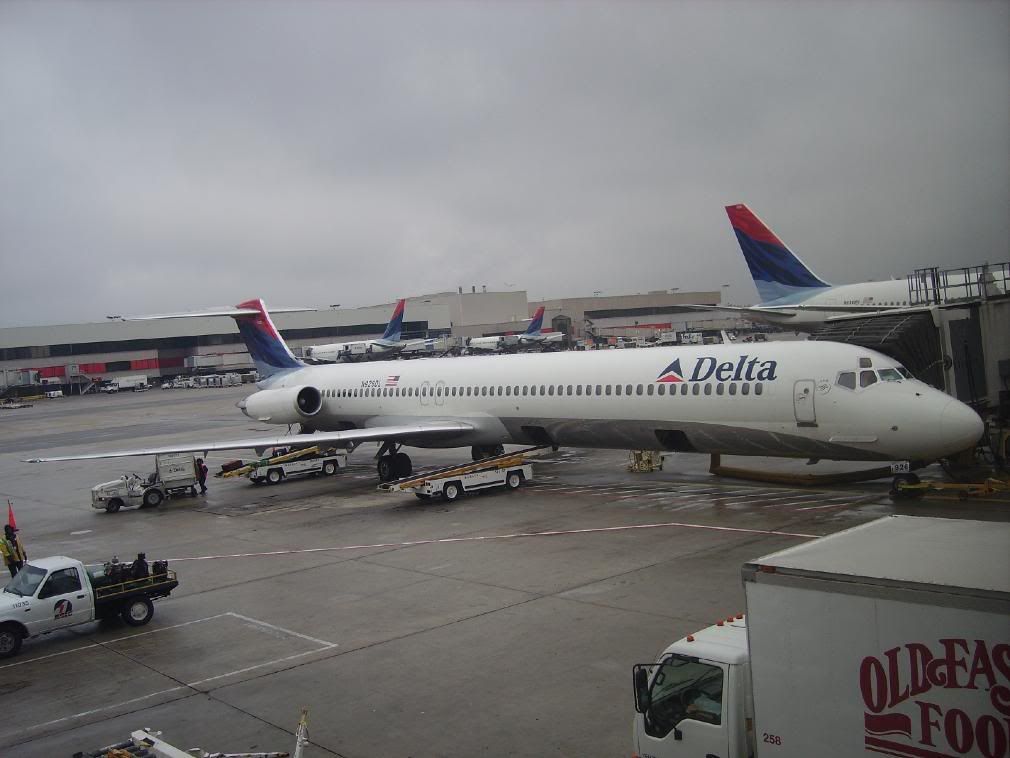 Song is still alive.....
Around 10:45 they started boarding for DL1623 to CVG leaving from Gate A09. My plane was a 757-200 in the Deltaflot Livery, Reg # N651DL. I was a little nervous as it was pretty hazy and I didn't know if flights would be backed up. Boy was I right. Our scheduled departure was 10:54, at 10:54 we were still parked at the gate. At least the load factor was only around 60%. An hey I had a whole row to myself!
My row: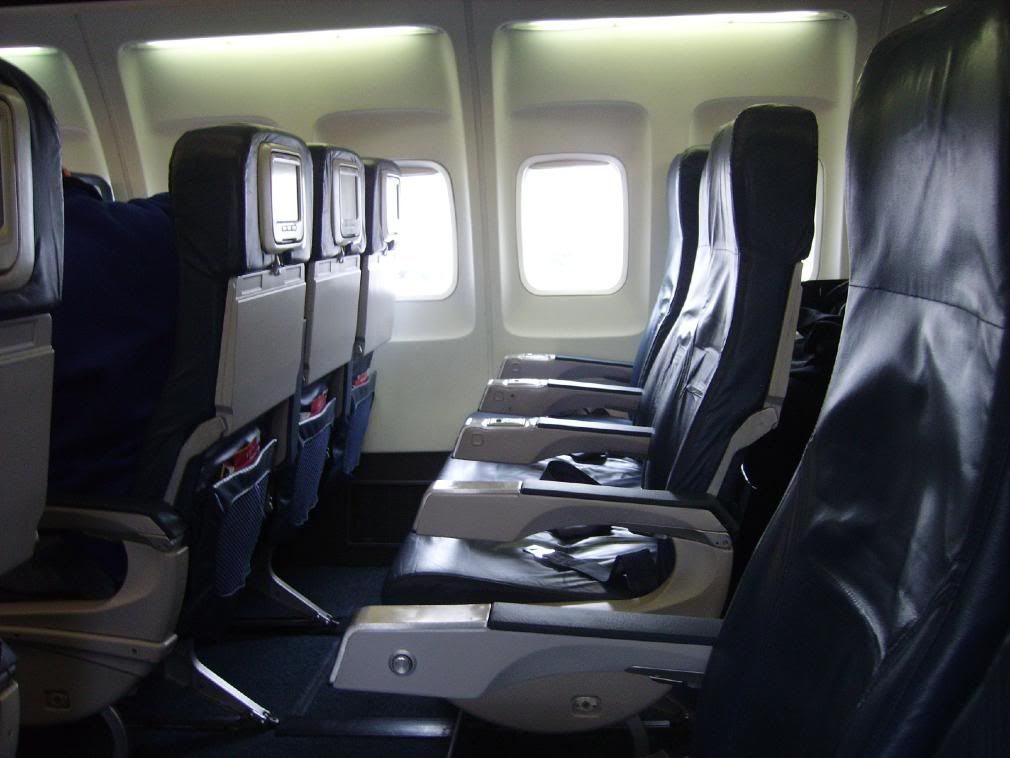 We finally pushed back from the gate at around 11:10AM.....and I was starting to get a little nervous.
Planes ahead of us at push back: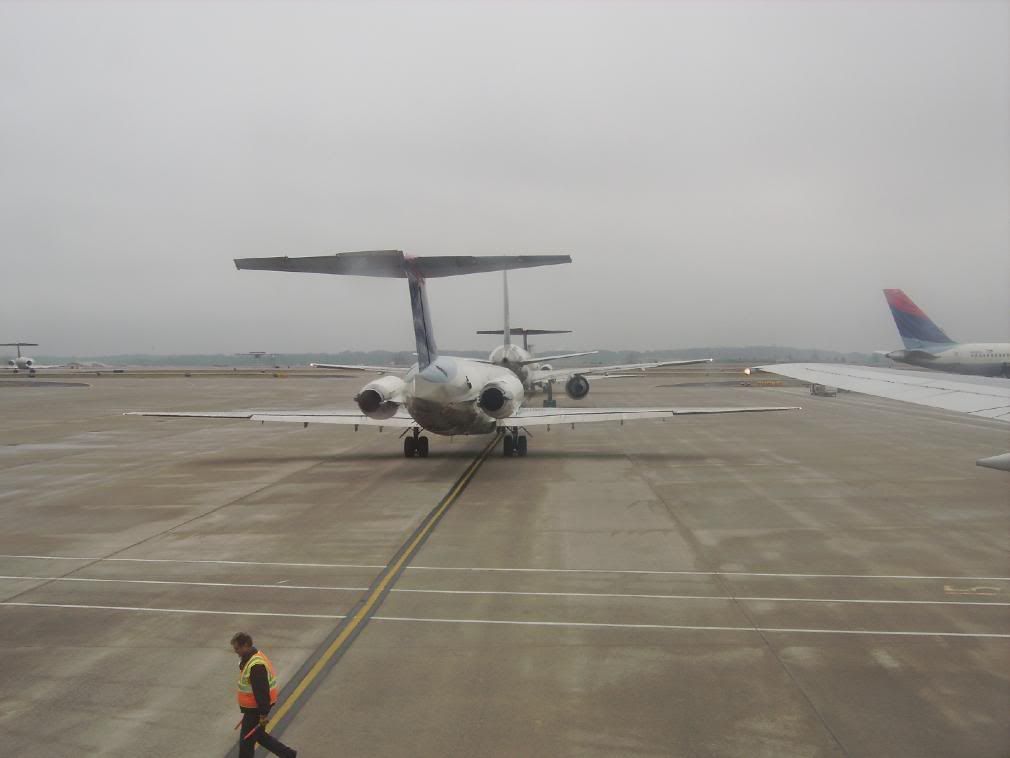 Taxi-ing out/waiting to depart. We were number 20 in line.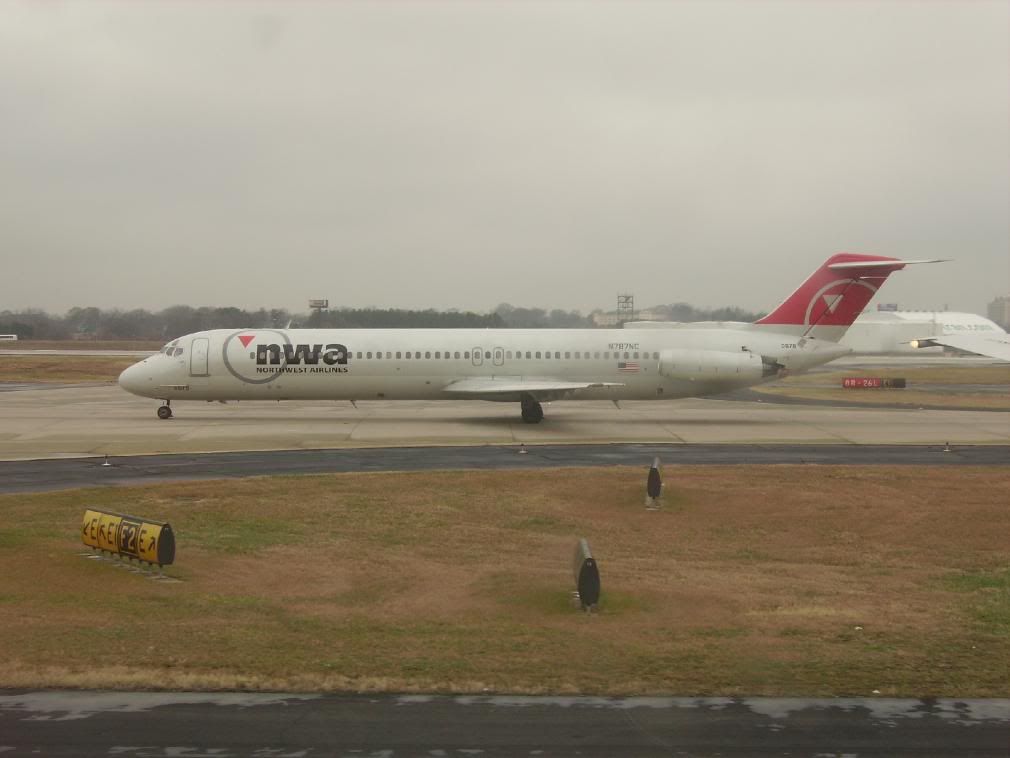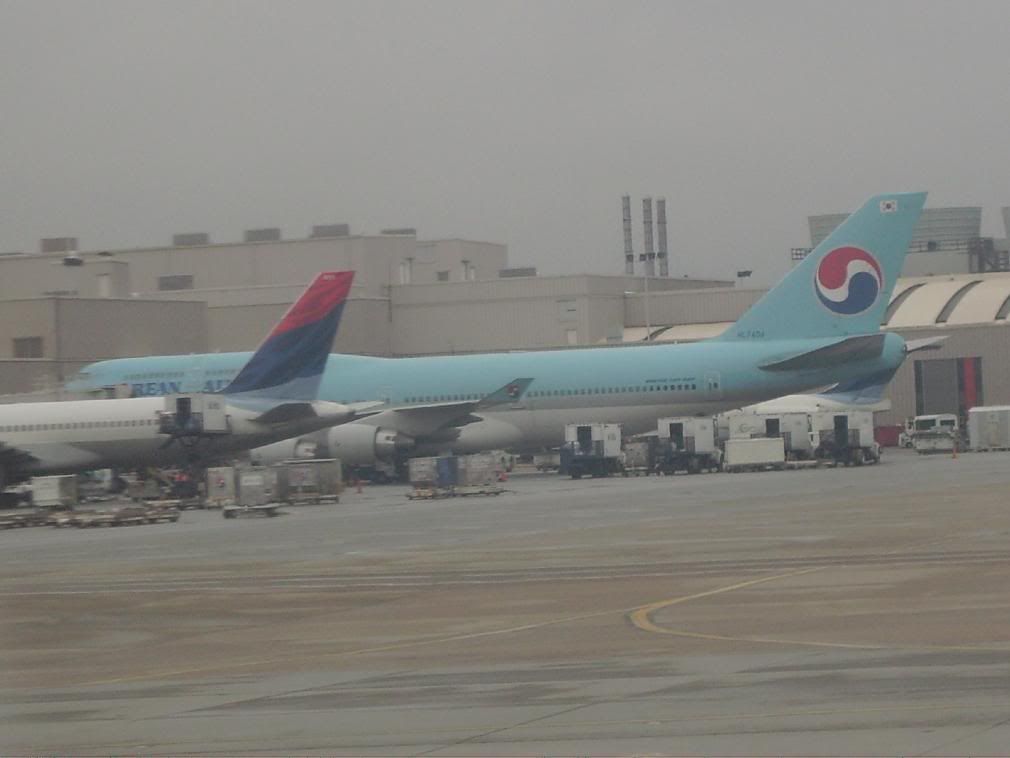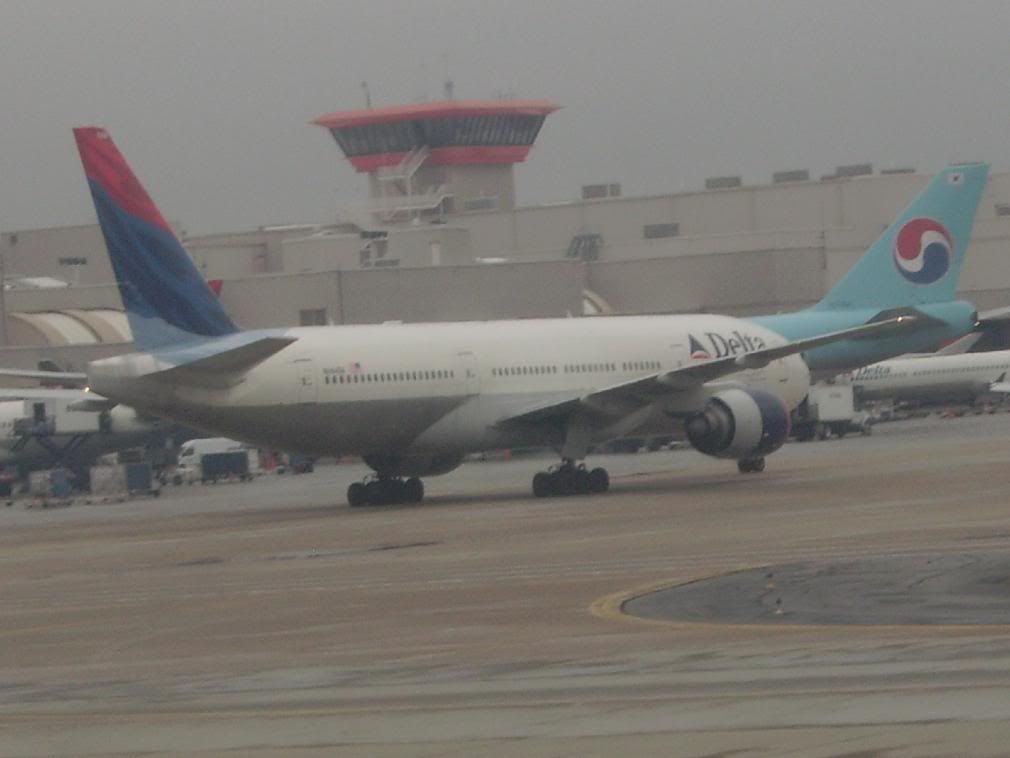 we rolled around to number 1 for take off at 11:40AM. Almost an hour late. Seeing as I had booked an Hour and 1/2 layover in CVG I was starting to get a little nervous about my connection.
Take off VId (Delta New c/s plus winglet's landing):
I was excited about the PTV's as they make a flight go by MUCH quicker! The TV channels wouldn't work in my PTV only, and seeing as I was to lazy to move 1 seat I just got spanked by other passengers on the In-flight Trivia game instead.
Picture of Cabin (Guy standing is not a F/A):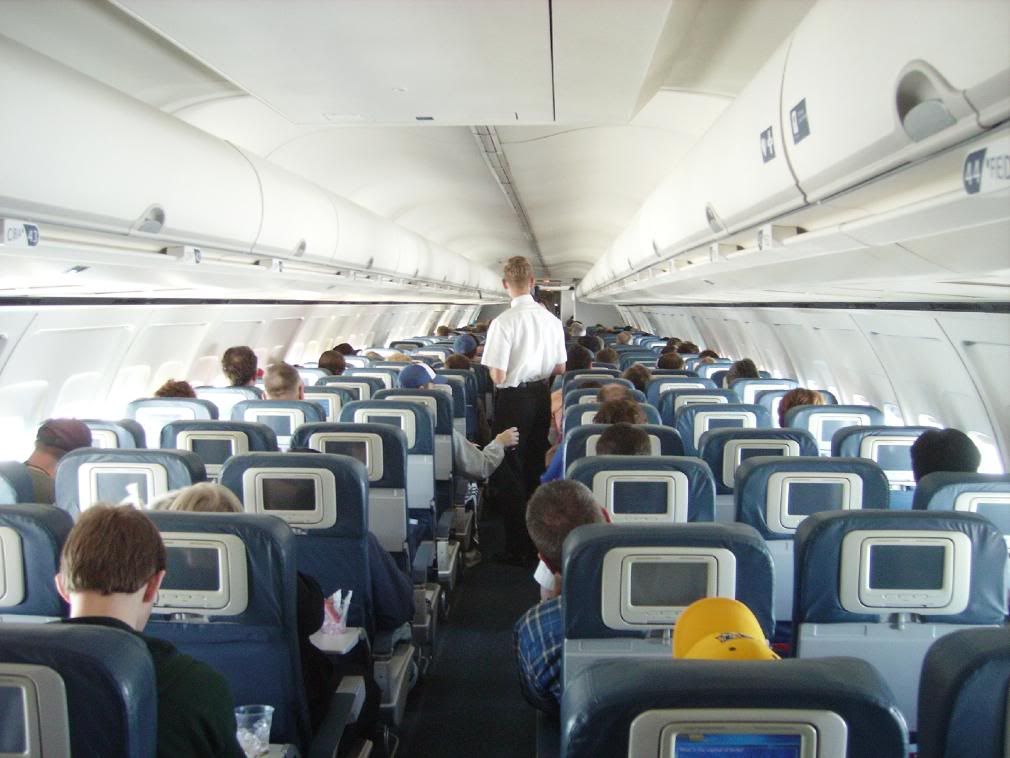 The Appellation Mountains: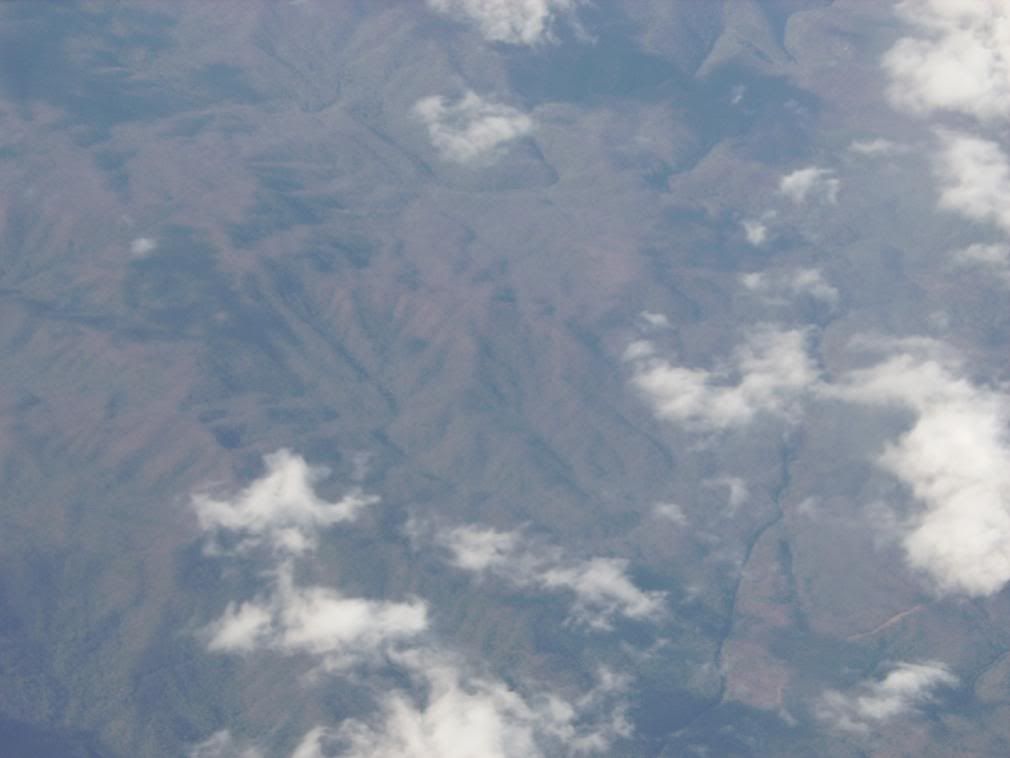 The Flight attendants were efficient and friendly throughout the flight. I didn't take a picture of the snack, as anyone whose flown Delta knows you get a choice of 1 of like 5 things from a snack basket and I got a mini water bottle. We landed at CVG around 1:10PM. my next plane was supposed to leave at 1:25 so I was still a little nervous. One prop I have to give to the Head Flight attendant was she sang us goodbye when we taxied to our gate at CVG. She was very good and I thought it was a nice touch. The guys behind me even remarked if we were flying on Southwest? His seat mate assured him we would be billed for the service later. It made me laugh. That is one thing that I have noticed on my past DL flights however, the F/A's always seem to be in a good mood!
CVG-TOL:
I literally sprinted from my gate, forget which one sorry, to gate A10. Having never flown through CVG before I didn't know if I would have to catch a train, or if I was flying out of the Comair (bus) terminal. Thankfully I wasn't and actually made it to my gate rather quickly. May I say that I loved the CVG Airport. It was clean and open, I recommend it to anyone that has a Delta connecting flight if the fare is right.
Picture of CVG: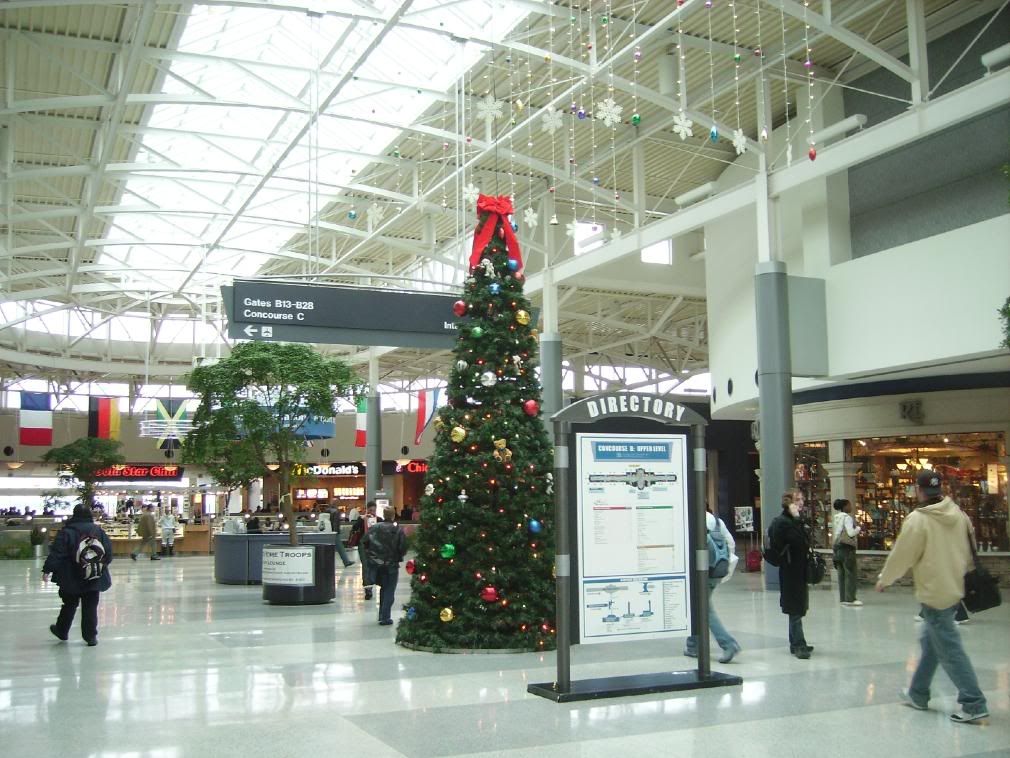 My plain at the gate: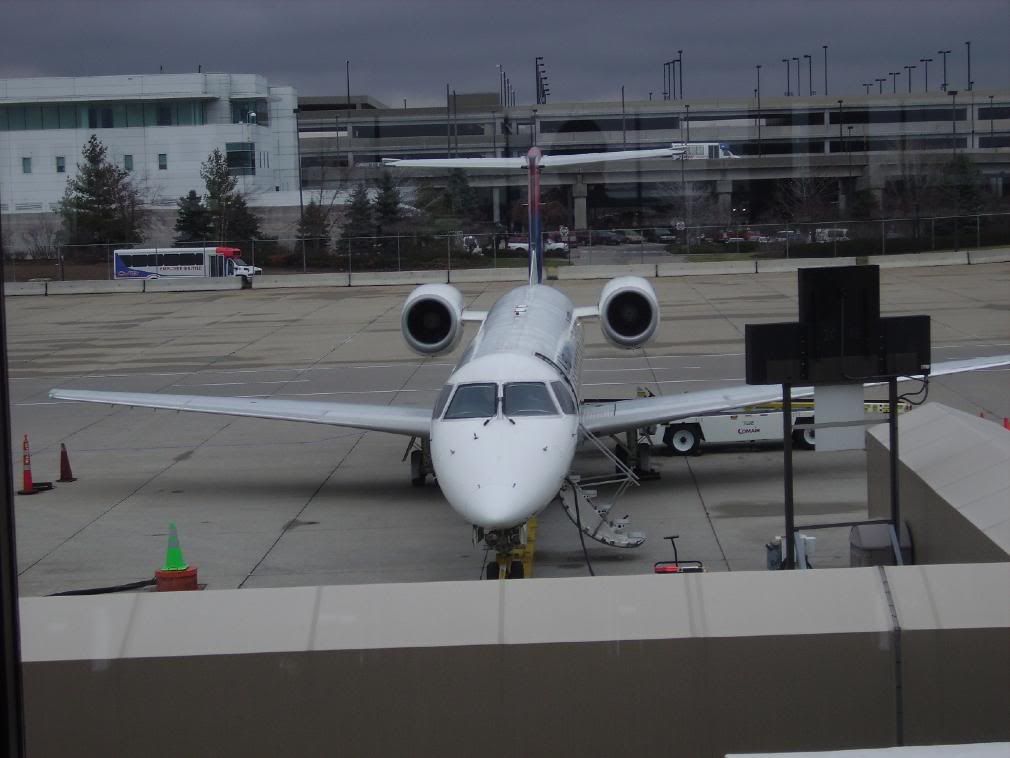 Flight DL6268 service from CVG-TOL, Reg#9837RP.
I was really quite impressed with Chautauqua Airlines, as the plane was neat and tidy, and the F/A amazing! I would say that the flight was about 80% full.
Pushback: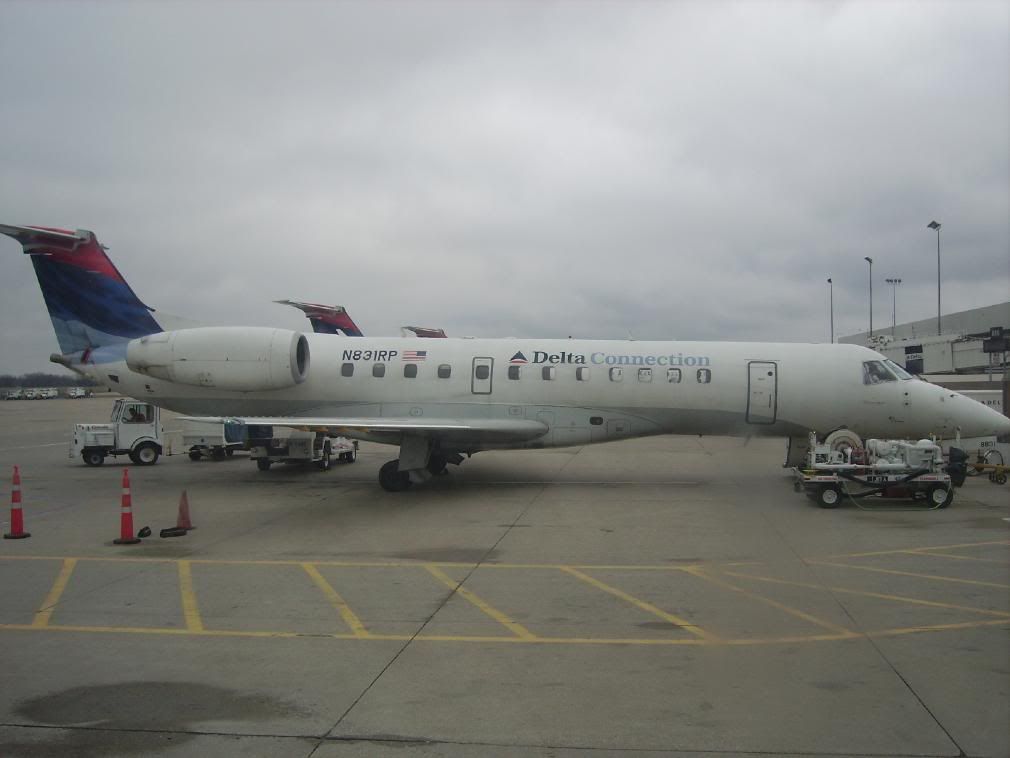 After a quick taxi. we were number 1 for take off, and off we went! Scheduled Departure: 1:25PM, Actual: 1:30PM. The little Brazilian Jets are like rockets! Since this was only a 30 minute or so hop to TOL we were served a bottle of water and crackers, by our very sarcastic and witty F/A. She made the flight really enjoyable. I guess you have to be funny when the majority of the people that take this flight are either Old (like the rest of Ohio) or Bowling Green Students.
The Ramp Action at TOL: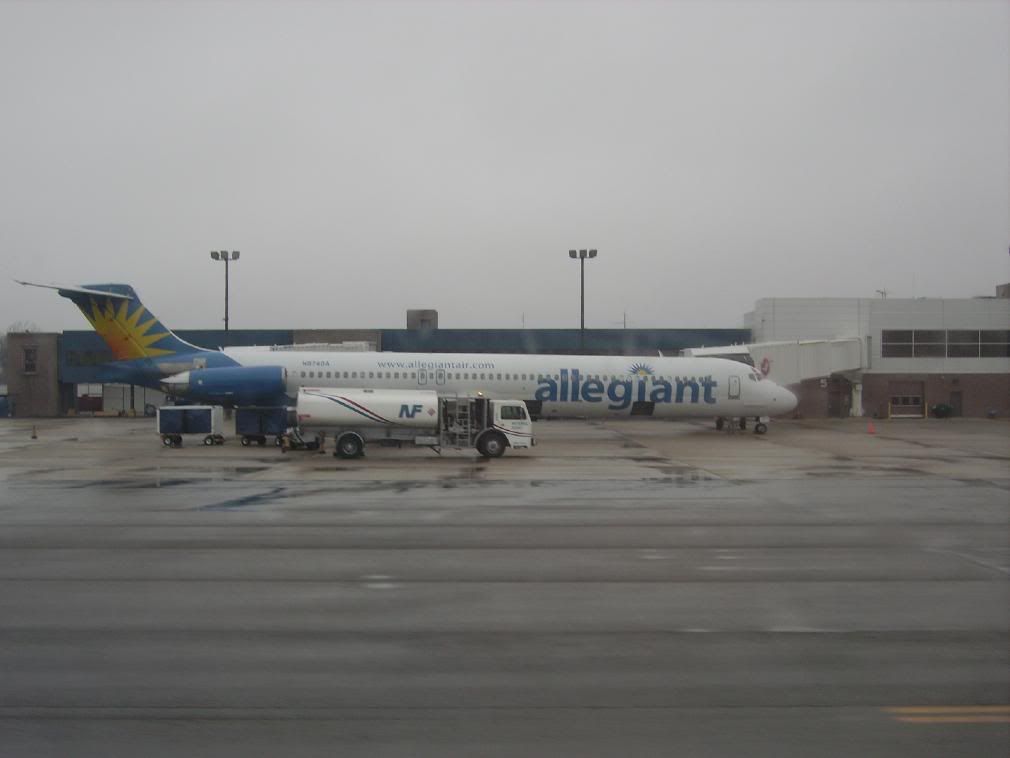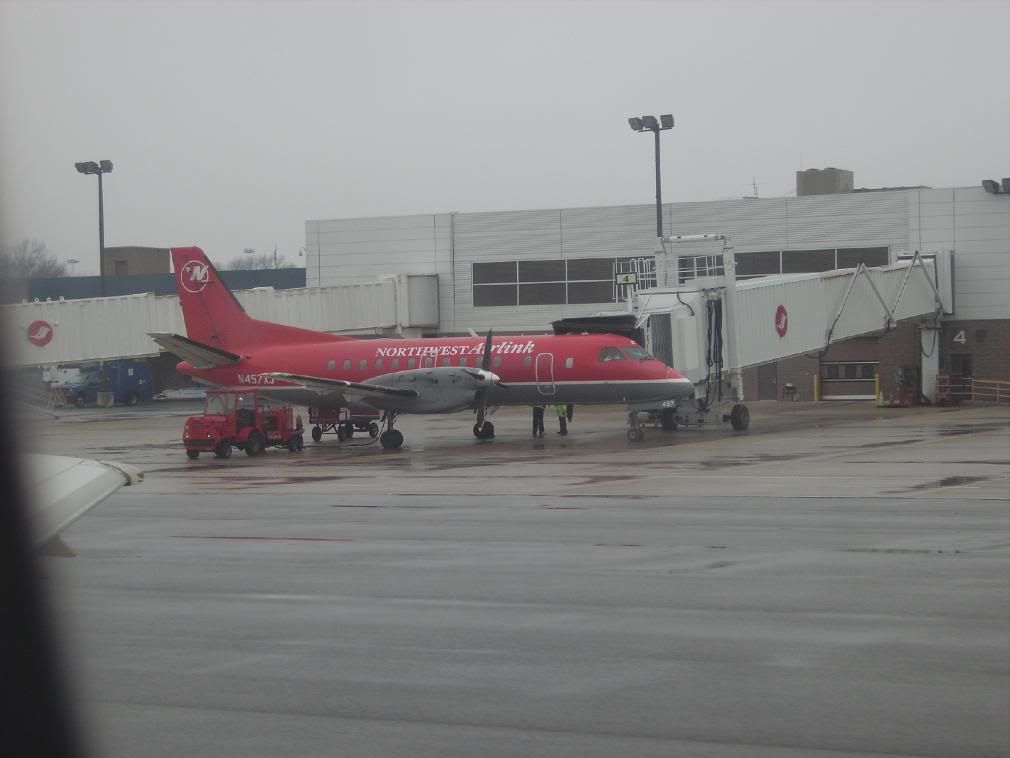 We arrived ontime, and off I was for another great Christmas with the family! Hope You enjoyed! (I will post the return trip later)
Thanks for Reading,
Brandon