Dear Readers,
After just a week it was again time to fly. This time a short overnight trip to the LH-home base in FRA for a training course at the Lufthansa Cargo Center.
A normal working day passed by, and around 16.00hrs I was brought to the terminal for an evening flight to FRA.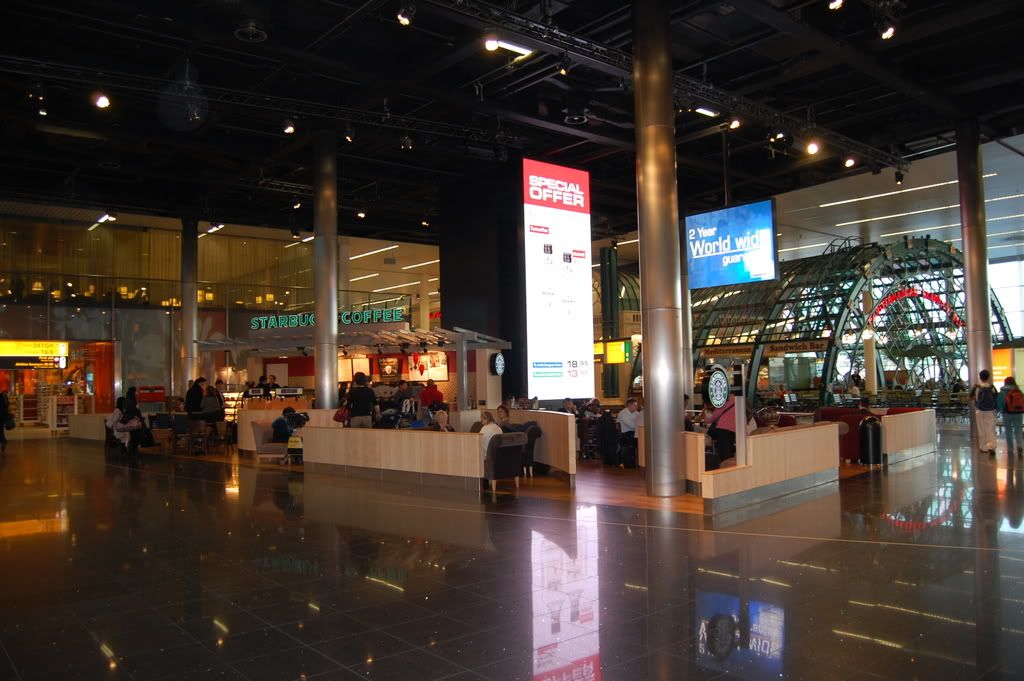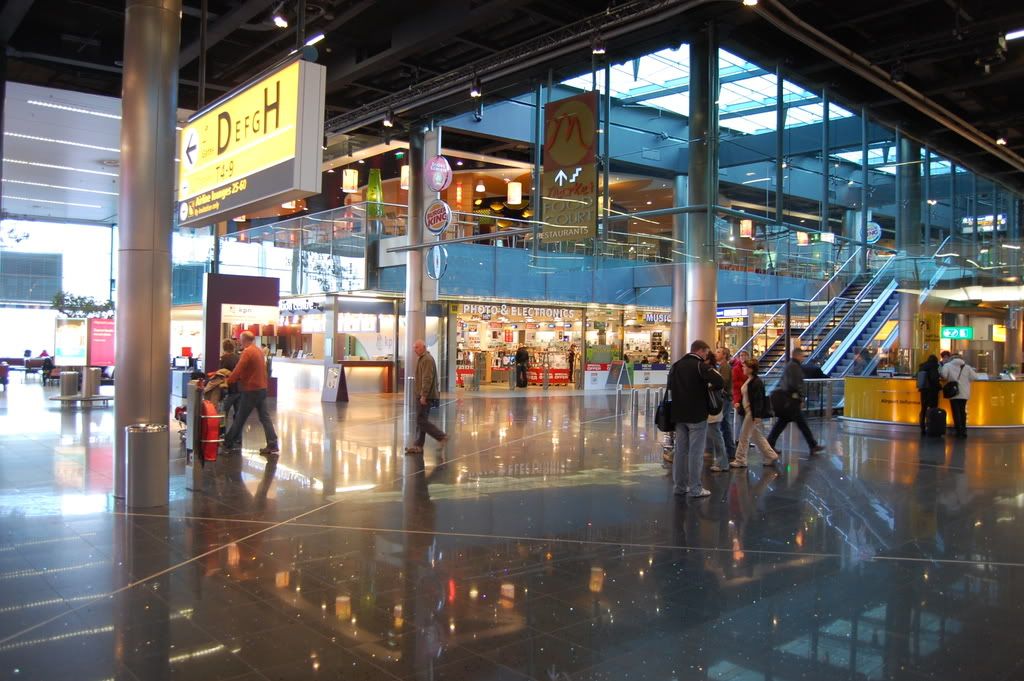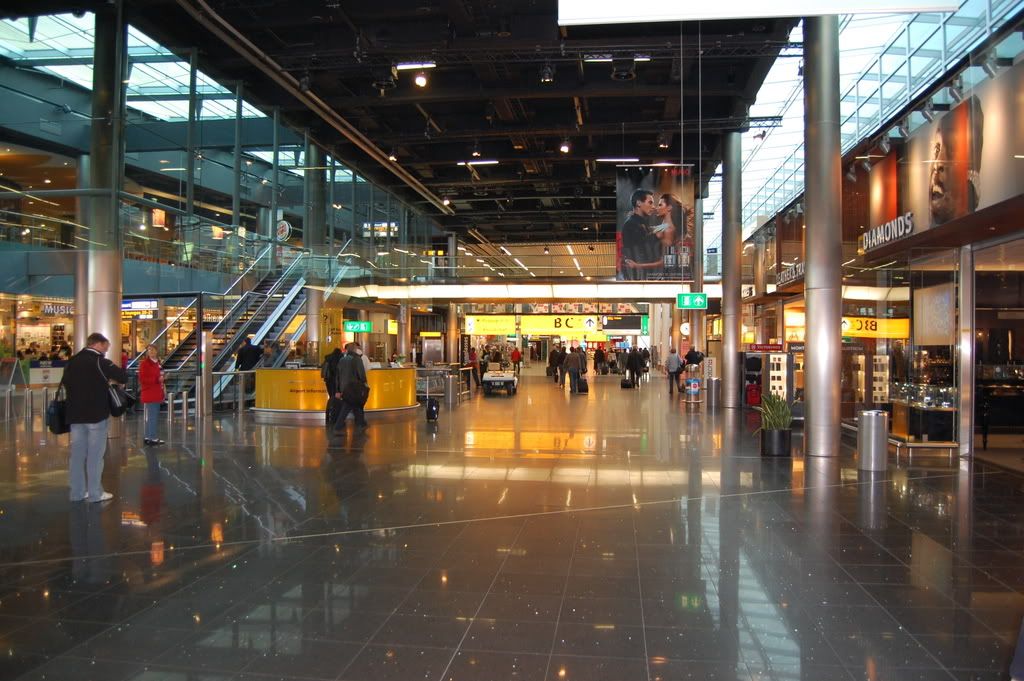 Together with a colleague we checked in via the check in machines available for LH at AMS. I selected the last available window seat on this flight, which was 21A.
Security was again a breeze, it seems to get a bit faster lately at AMS. Within 5 minutes we both passed security and we went for a cup of coffee at the sports bar located on the B-concourse. When the aircraft showed up I slowly went to the gate agent, and asked him for a window seat a bit more to the front of the aircraft. He gave me seat 7F, which was the 2nd economy row on this flight.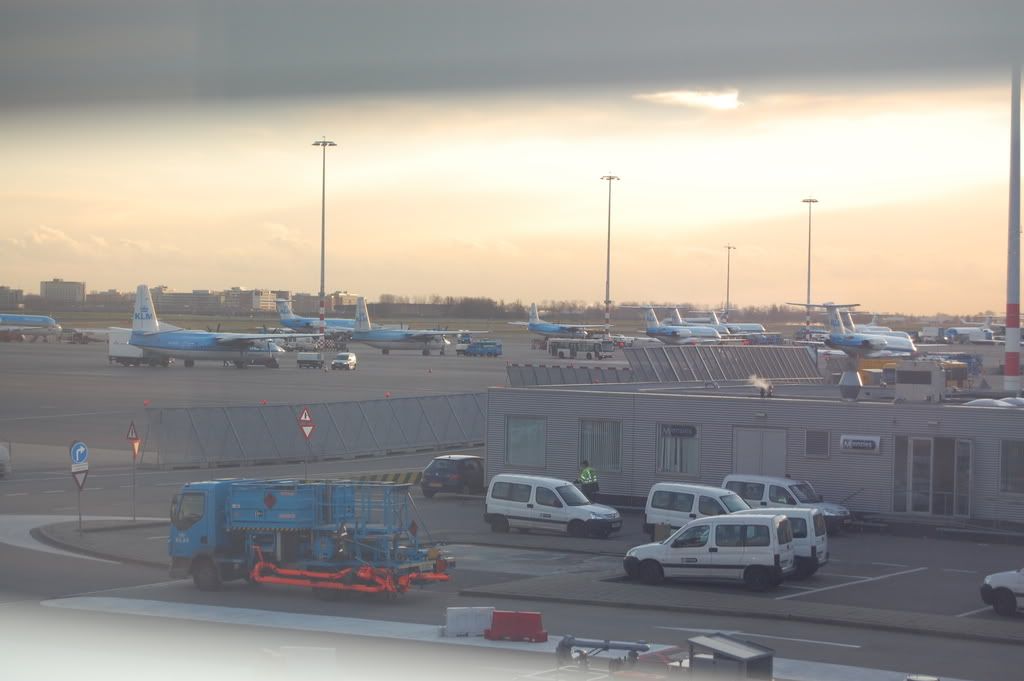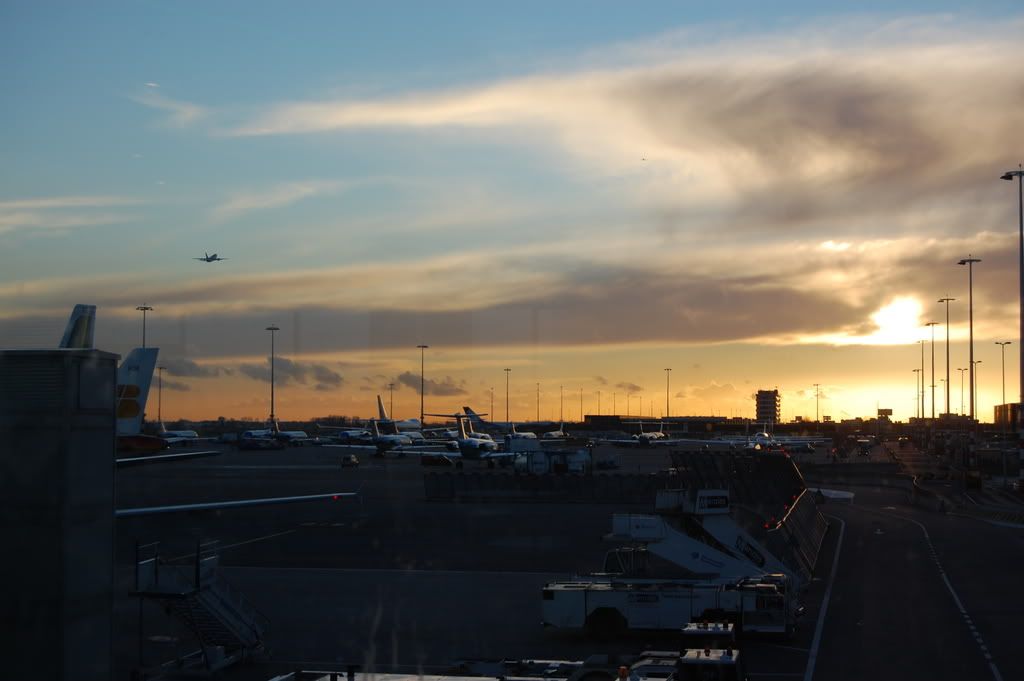 Flight : LH 4681
Stretch : AMS-FRA
Date : 04-feb-2008
Aircraft : Boeing 737-530 ( cn 24942 )
Registration : D-ABIS
Delivered : 16may 1991 to Lufthansa
Seat : 7F
Load : 95%
Gate : B09
7th flight on the 735, and the 2nd on this machine.
Before boarding started they disconnected the finger from the aircraft and the door was closed as well. 2 ground-handlers walked up to the L1 door and looked up, so I think they slammed the finger against the aircraft a bit too hard and had to check for any damage. Shortly after that the finger was connected again without further problems.
Boarding started on time and the small 737 was quickly loaded with her passengers. The crew on this flight existed of 2 male and 1 female attendants who welcomed all the passengers very friendly. Seat pitch on this bird was comfortable and I had a very clean window. Nice for some sunset pictures as I was also seated on the right side of the airplane. Pushback was commenced and we taxied to rwy 24 for a quick take off.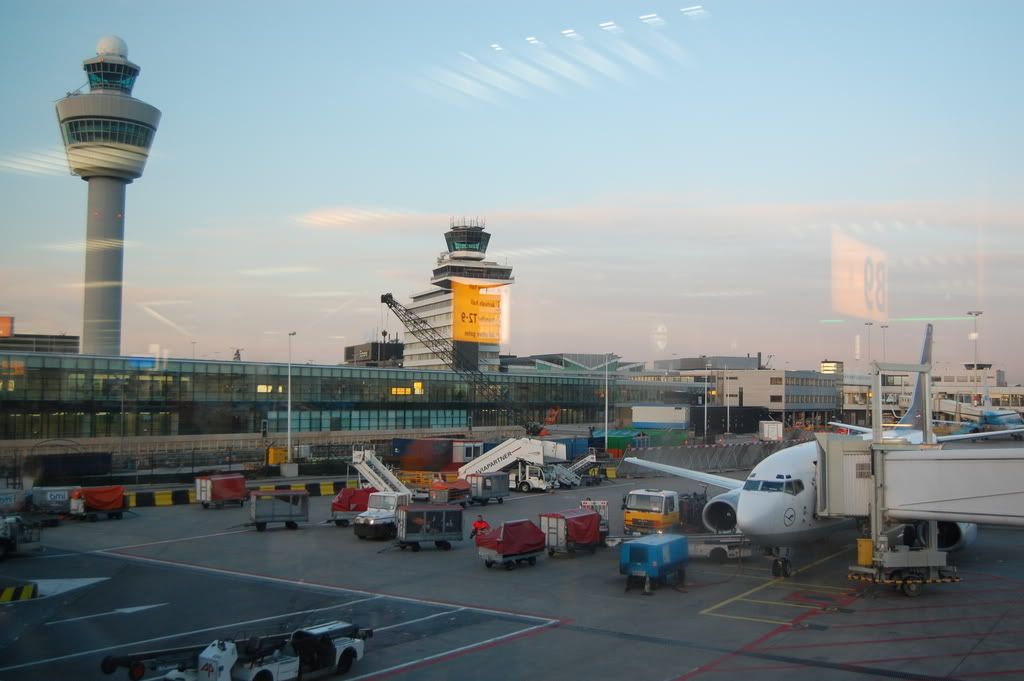 The pilot flying made a rolling start and after the wheels up we turned left towards FRA.
Sunset was again very beautiful, I just love to be on an airplane during sunset!
You can see for yourself in the pictures how it was like! Luckily the kept the landing light switched on for quite a while, which mend that taking pics was easier! Some nice effects I must say!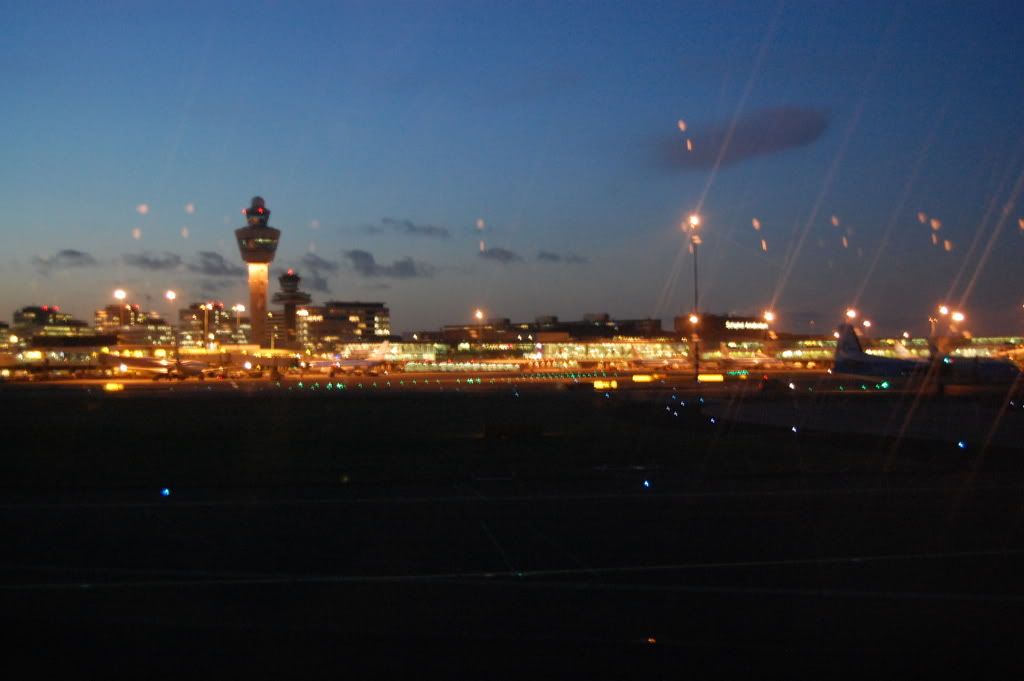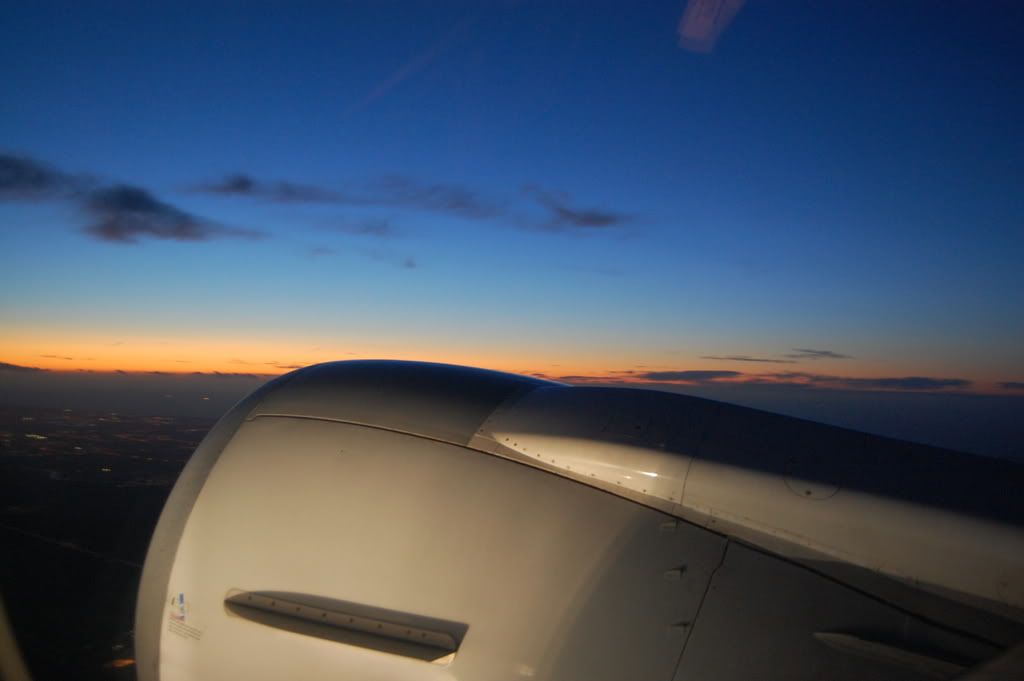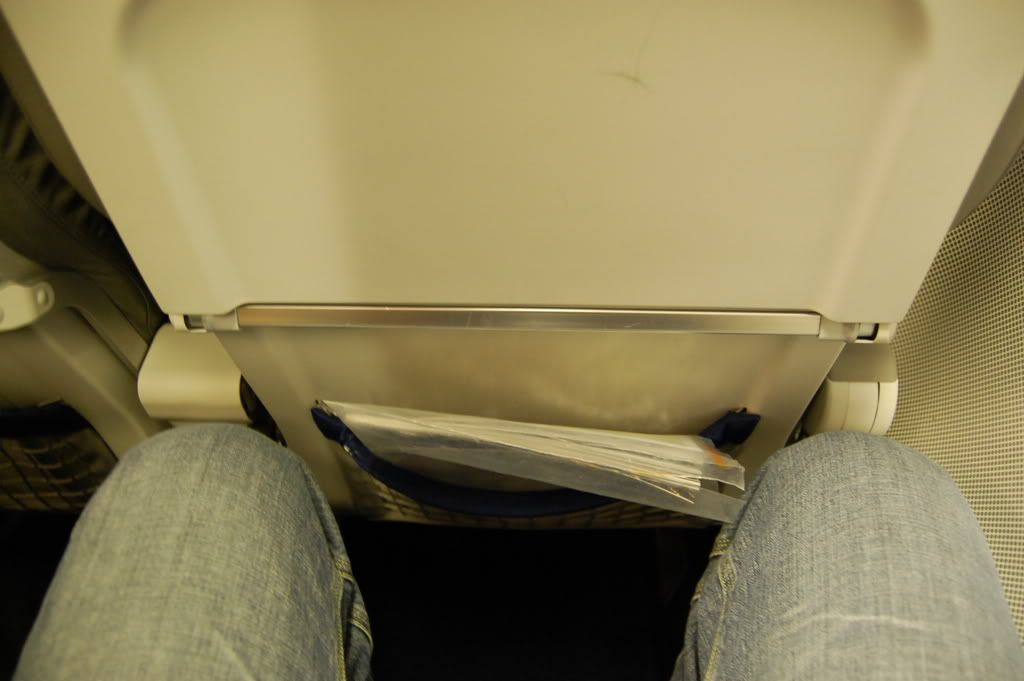 Soon we leveled out and service was started. We all received a small cheese sandwich and a choice of drinks. I chose a coke and the male purser asked if I wanted an additional hot drink. I gladly accepted a steaming cup of coffee.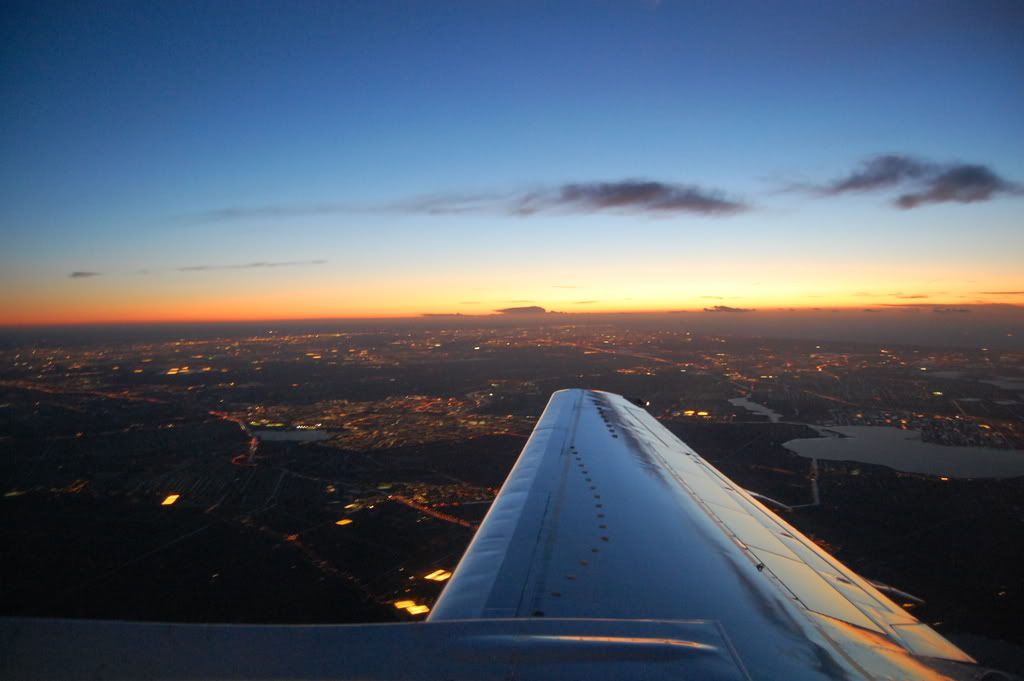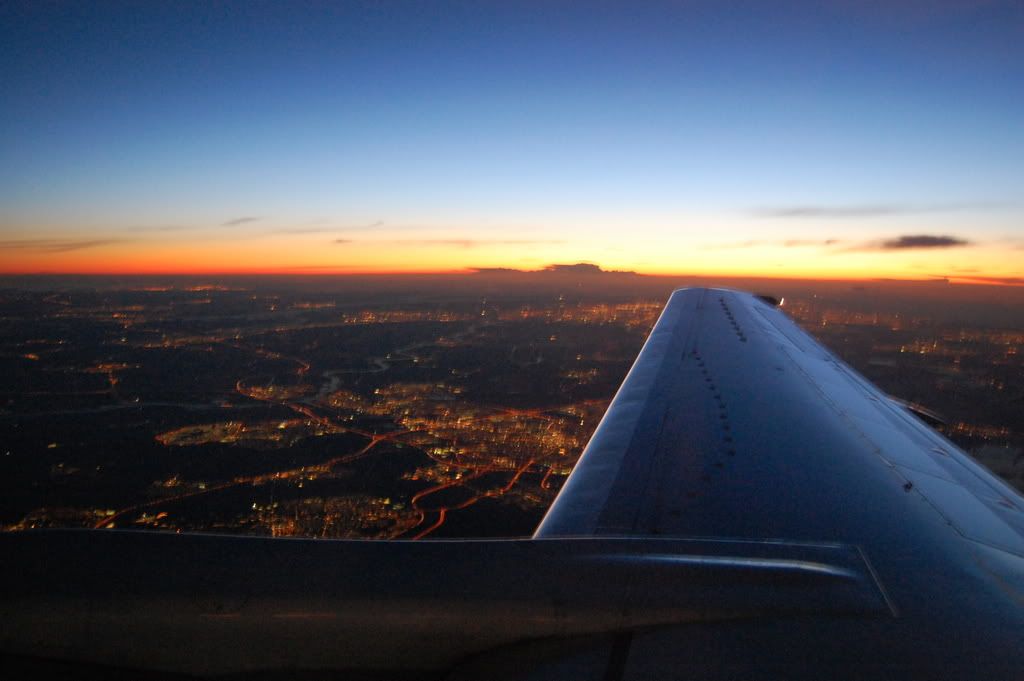 When we descended below the clouds we flew a base leg with FRA airport on our right hand side, which gave us a nice overview of the airport. Unfortunately too dark to make a nice picture.
A right turn and we landed smoothly on runway 7L. Thrust-reversers were applied and we exited the runway at about 2/3 of the total length. A quick taxi to our parking position V157, and we deboarded the plane via the stairs. A Mercedes Citaro bus was waiting for us and brought us to the arrivals hall within minutes. The nice part of being bussed to the terminal is that you get a free tour at the airport! I saw some nice birds, which we don't get to see to often. A JJ 340-500, RG 767 (nc), ANA 744, AB 738 (nc) and off course the massive amount of LH birds.
Then we walked back to the public area in FRA and found our hotel shuttle bus easily.
The hotel was the final stop for the night.
The next morning we took the shuttle bus back to the airport and changed onto the bus calling Tor25. Then our training day started.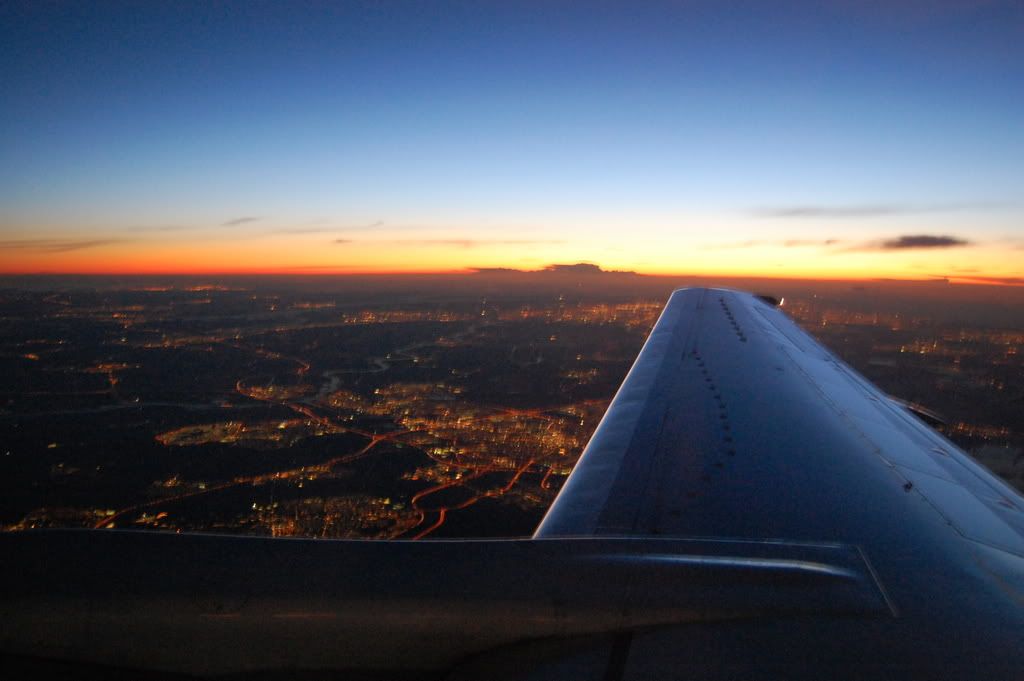 After a long day we were back at terminal 1 around 17.30hrs which was 30 minutes too late to catch an earlier flight back home. So we had enough time to go to Terminal 2 and have a meal at the McDonalds located there.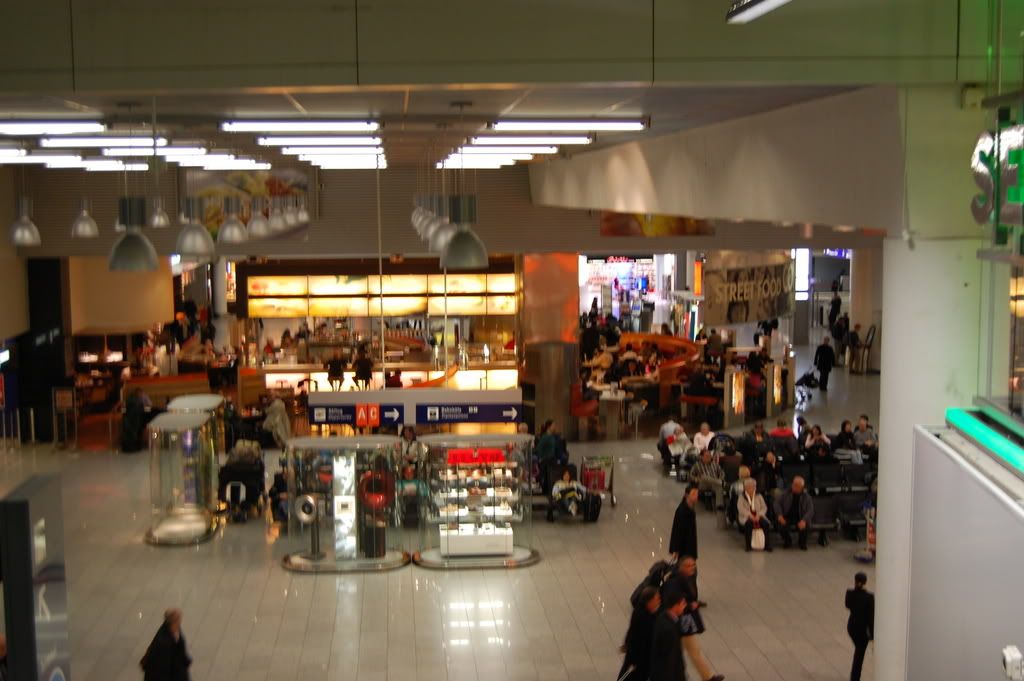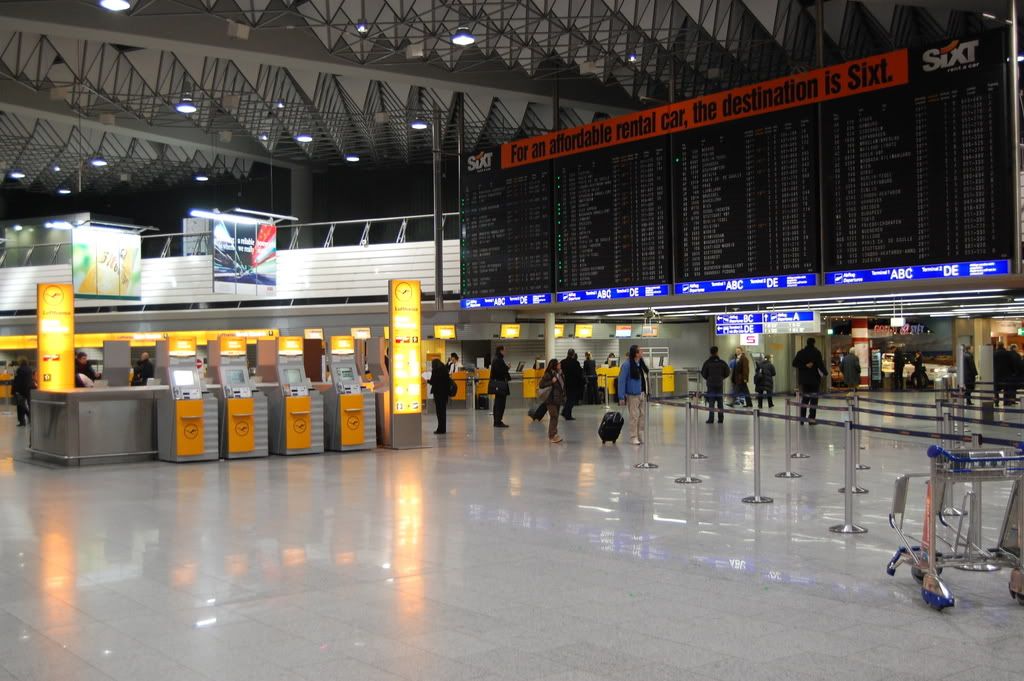 As our flight had a departure of 21.10hrs we had plenty of time to walk around the airport and do some shopping. But finally we just went to the gate A20 and waited there for our flight back.
Our aircraft showed up late coming from IST and boarding did not start before 21.30hrs.
As I knew on forehand I was awaiting an Airbus A300 for this flight.
Flight : LH 4688
Stretch : FRA-AMS
Date : 05-feb-2008
Aircraft : Airbus A300B4-605R ( cn 773 )
Delivered : 30-dec-1996 ( 1995-1996 lsd to Hapag-Lloyd )
Registration : D-AIAX
Seat : 39A
Load : 26%
Gate : A20
4th flight on the A300, and the 1st on this machine.
The ground handling managed to get the plane ready for boarding within 15 minutes which is quite quick for a wide-body aircraft, and boarding was called around 21.30hrs.
With my e-tix I could board via the scanner and just had to put the barcode printed on my ticked on the machine and I could walk up the finger. Door 1L was reserved for Business class and door 2L was for Economy class. Boarding was completed very soon as the load on this flight was really light. I wonder why LH sends the AB6 to AMS.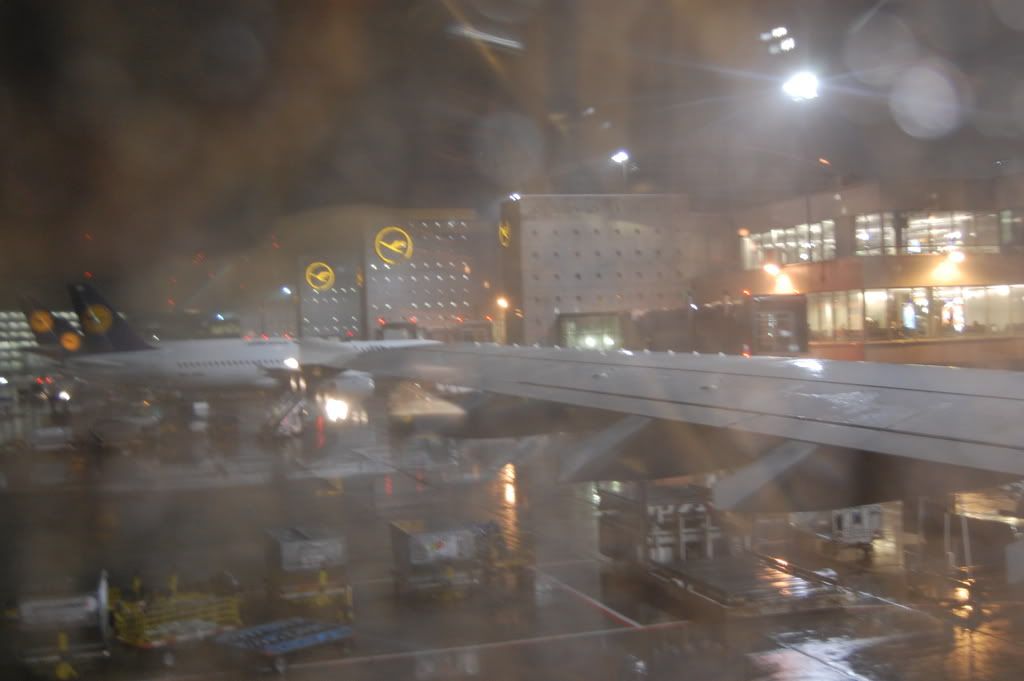 We taxied to rwy 7R and holded short for an incoming LH 321 on short final.
After the 321 passed we took our position on the runway and the engines spooled up their revs. With a short flight and a light load ( also no cargo on this flight ) I expected a rocket take off and so it happened. We used about half of the runway and we rocketed into the skies above Frankfurt.
Seat pitch on this machine was generous although the seat seemed a bit narrow.
Service existed of a bread roll with chicken and a free drink. I picked a coke and an additional coffee. As it was already dark outside I could not make nice pictures here, so that was a pity. Soon we descended to 2500ft and we flew directly over the city of Amsterdam. This gave a great view and we could see all famous buildings like the central station, Heineken Breweries, Rijksmuseum, Amsterdam Arena etc.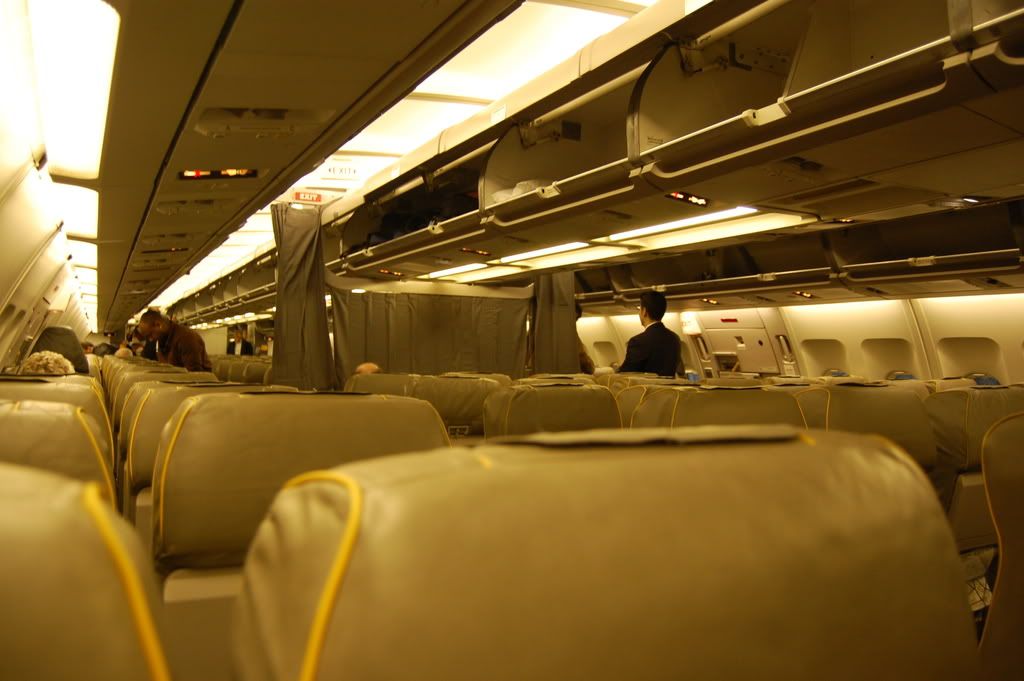 We faced some heavy turbulence during the final leg, and the pilots had to bite their teeth in the dash I think. Landing nevertheless was very smooth on rwy 24 and with the reversers applied we braked hard. We then taxied to gate B18 iso the usual B09 or B11 ( which cannot handle an AB6 ). As we had no checked luggage we could walk out straight away. Outside we were picked up by a colleague and we went home again.
It was very nice to fly the AB6 again after almost 4 years!
Overall I had a positive feeling about the flights. Both crews were friendly and did a good job. Also the aircraft were in good shape. I have to highlight that the AB6 still featured the old style grey leather seats, which got replaced in the other a/c types of the European LH fleet.
So far for now, I hoped you enjoyed the read.
Best regards,
Joost ( D-ALCE )