The large increase in the number of airlines in the Middle East market has resulted in strong advertising campaigns emphasizing their uniqueness to set themselves apart from the competition. There have been various attempts at originality such as Emirates boasting a worldwide network easily connected via the gargantuan shopping mall that is Dubai International Airport. Close rival Etihad promises to "change the way you see the world" by offering full flat seats in business class along with a world class cabin crew. Then there is Gulf Air which has no time for marketing gimmicks as they can barely keep their head above water.
Finally we have Qatar Airways, an airline that has been on my "must fly" list for quite some time. Therefore, when the opportunity came this Christmas break to fly them at a price that was much lower than any of regular Skyteam carriers, I went for it. Qatar Airways has advertised themselves as "your five star airline" which can clearly be seen in these two TV commercials below. Having flown a large number of world class airlines, I am no stranger to five star service and was intrigued to see if Qatar Airways would be able to measure up to the likes of Cathay Pacific, Malaysian, Korean or even Etihad.
Qatar Airways 201
Mumbai – Doha
Airbus A330-233 (A7-AFN)
Seat: 2K
Scheduled Departure Time: 5:45
Actual Departure Time: 6:00 (Actual take off: 6:30)
Scheduled Arrival Time: 7:00
Actual Arrival Time: 7:30
Check In:
After sailing through the rather deserted streets of Mumbai in the wee hours of the morning, I was standing in front of the terminal wishing my parents farewell at 3:30. Upon entering the terminal, I was greeted by two security lines where each passenger had their check-in bags x-rayed. Once my bag was enveloped in large Air India tape, I proceeded towards the Qatar Airways check-in counters which was no easy task thanks to the large crowds that had gathered around the Cathay Pacific and Gulf Air counters. I proceeded straight towards an empty business class counter and was greeted by a friendly agent.
"Hello sir, where are you flying to today?"
"Newark."
"Could you please fill this paper out with your latest information as it is required for all passengers traveling to the United States."
"Yes, sure."
"Sir we also have a question, it is not compulsory but a request. Today we are slightly over booked in business class, would you mind traveling in economy?"
"No thank you. I would like to stick to business class please."
"Yes sir, not a problem."
"Here are both your boarding passes to Doha and Newark along with your lounge invitation. Go down the escalator it should be right in front of you. Have a good flight."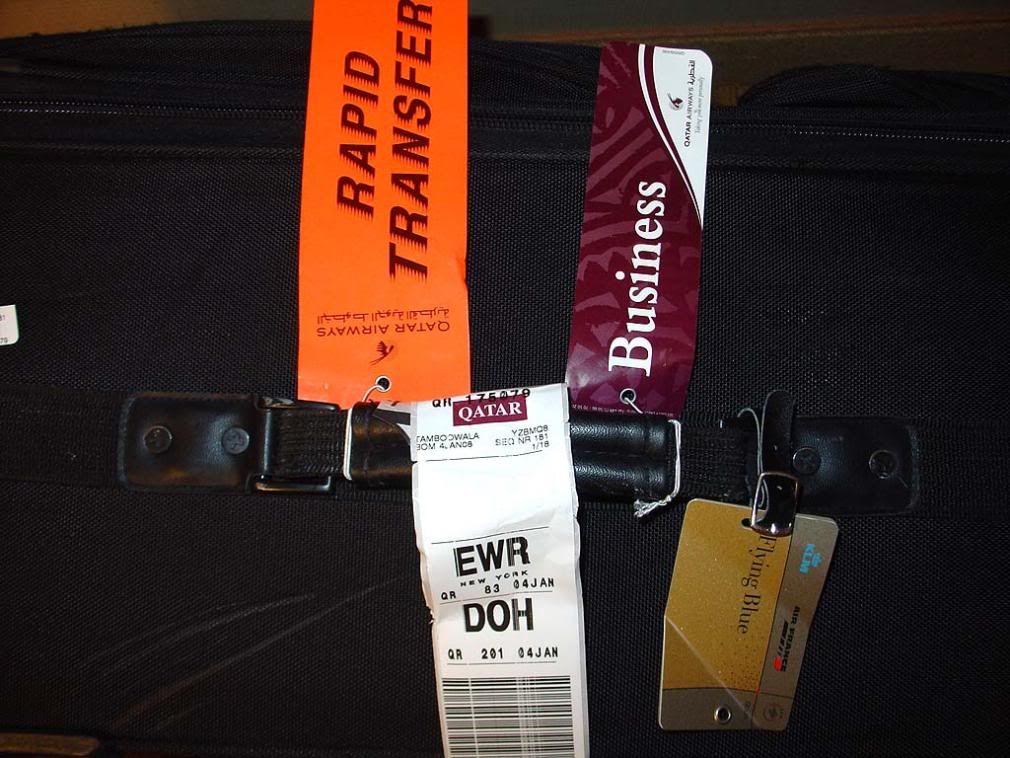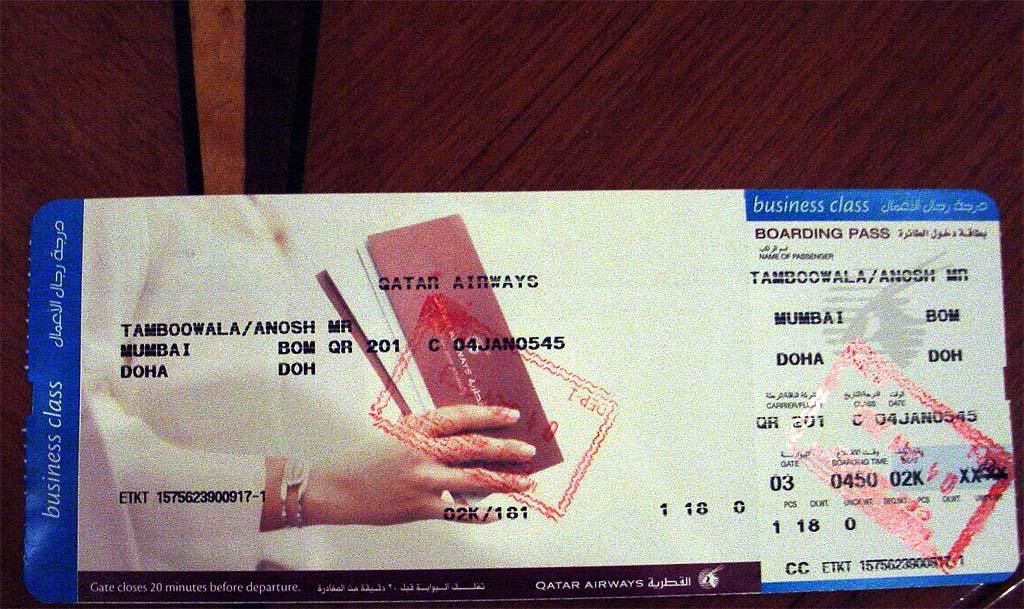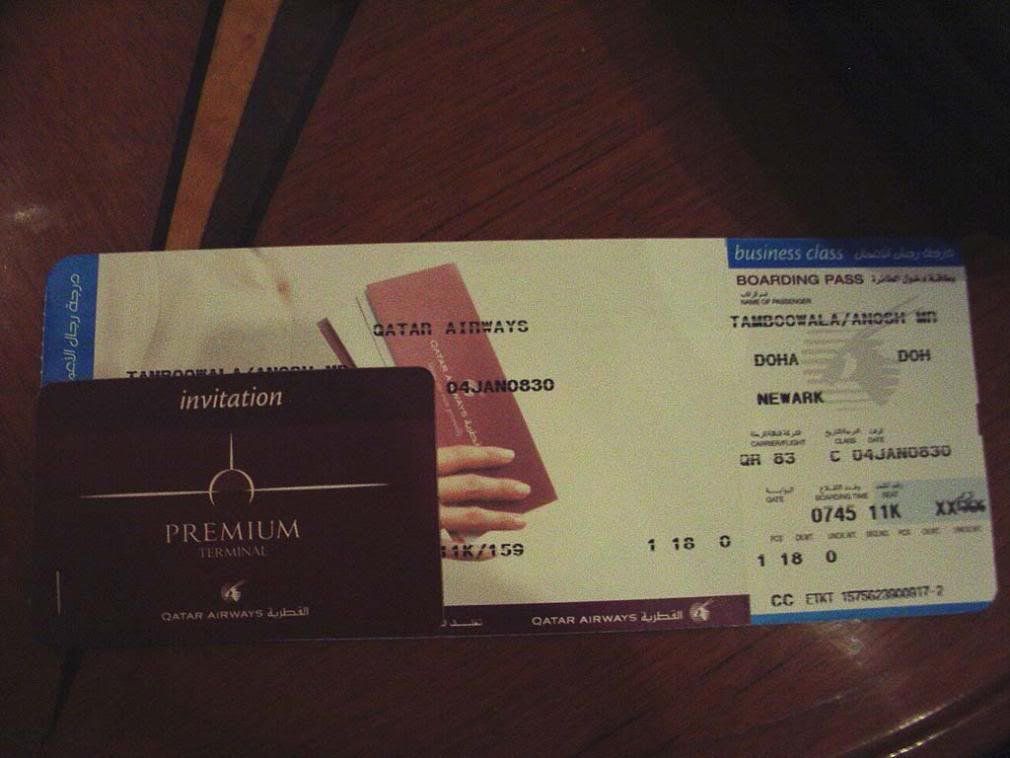 With all the paperwork in hand, I proceeded towards immigration which was a relatively quick affair today thanks to the absence of a line. A glace at the invitation revealed it to be a "Clipper Lounge" invitation which had a map on the back showing instructions on how to reach the lounge in the Air India terminal which would be virtually impossible. Thankfully, I know my way around Mumbai's airport and knew exactly where to go, but this could easily confuse many people who have limited experience with the airport.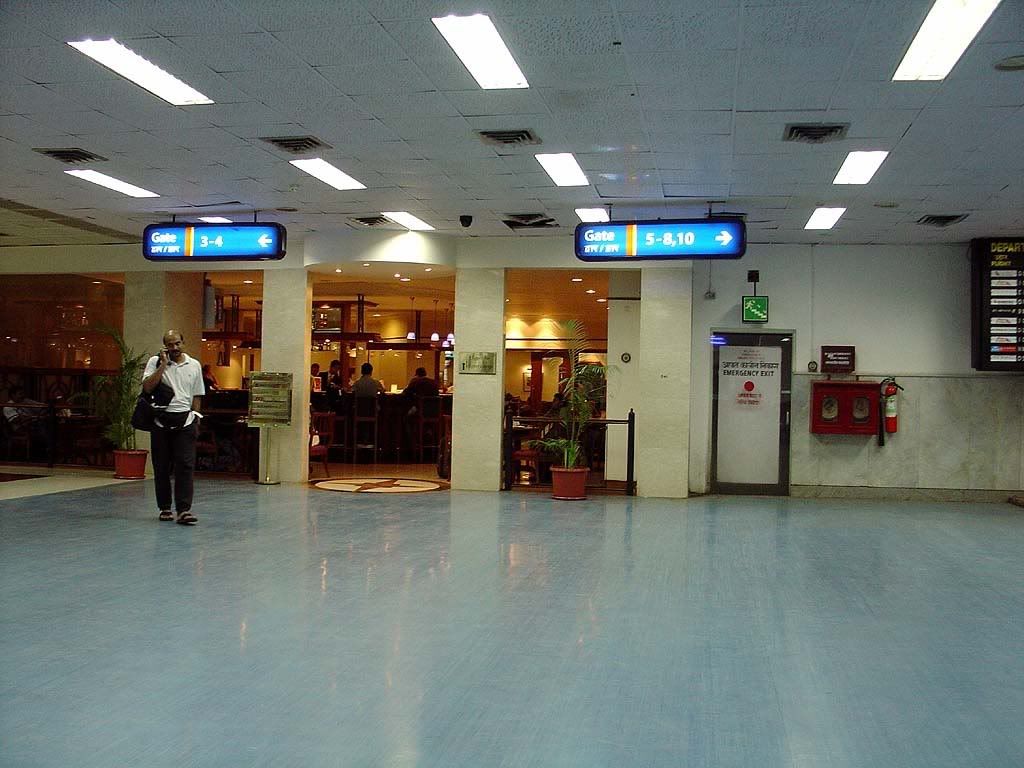 Lounge:
After handing my invitation to one of the personnel, I found an empty seat in the overfilled lounge. A quick look through the offerings yielded no difference to my last visit in August when flying Etihad. With a simple glass of orange Fanta in hand, I returned to my quiet corner seat. With nothing else to do for over an hour, I watched some TV shows on my iPod.
Boarding:
The boarding pass stated that boarding would begin at 4:50, so I decided to make my way to the gate around 4:45 where there was utter chaos as usual. Boarding announcements were made to board by row numbers and the ground staff were enforcing it rigorously. Passengers whose rows were not called, in typical Indian fashion stood in front of the glass door preventing the rest of us from getting through. Seeing the mess that was going on, I placed myself on one of the plastic chairs on the side and passed the time watching a female passenger argue with the station manager.
"What do you mean you can not give me a boarding pass to Newark? At first I was offloaded from the flight and now you want me to fly to Doha and wait?"
"Yes ma'am, the flight was oversold but we have managed to secure you a seat."
"Ok then give me a boarding pass for the next flight."
"Ma'am our printers are down, we can not do that. You will get one in Doha."
"No, I want you to give me something in writing saying I have a seat to Newark! This is ridiculous."
"Ma'am I assure you that you do have a seat!"
"I need proof, what happens if Qatar Airways changes their mind again and says I do not have a seat. I am not boarding this flight until I have something in my hand saying I am confirmed to Newark. I paid for a seat to Newark and you are going to give me that!"
"Ma'am there is nothing I can do; you have to board the aircraft now."
"No I will not! I will not board this aircraft unless you give me a boarding pass for Newark. In ten years of flying back and forth this is the first time I am having so much trouble."
"This is the way things work at Qatar Airways."
"Clearly I won't be flying Qatar Airways again!"
"That's your prerogative ma'am."
Soon enough I heard the gentleman at the door scream at the top of his lungs, "Business Class passengers may board now, only business class." A few pushes and shoves later we were all on the jetway getting ready to board this extremely full A330. At the door I was greeted by an Indian female flight attendant with a "welcome on board sir. 2K is down through the galley and up to your left."
After settling into my red burgundy seat, a steward came around with a tray of water and orange juice.
Menus were passed out just as the cabin door was closed at 5:45, our scheduled departure time.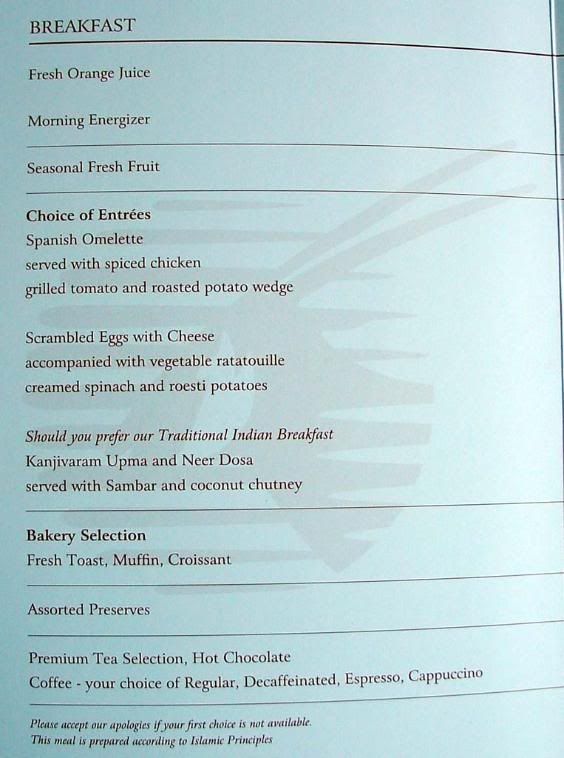 Push back commenced at exactly 6:00 with no explanation as why we were delayed. Lights were dimmed and we began to taxi out towards the runway which was lined up with narrow bodied Airbus and Boeing aircraft operated by domestic carriers. We eventually took off at 6:30, 45 minutes late which was not good news for my already tight 90 minute connection.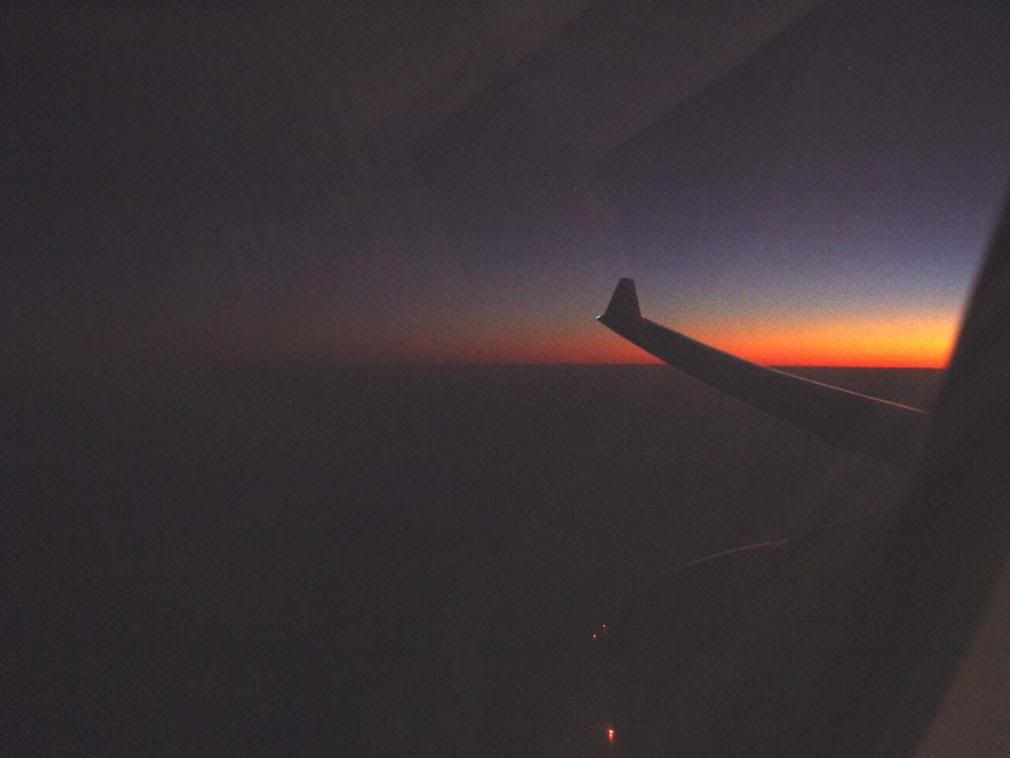 The Flight:
Immediately after the seatbelt sign was turned off an Indian male flight attendant appeared beside me to take my breakfast order.
"Sir have you decided what you would like to eat?"
"The scrambled eggs please."
"Yes sir, what would you like to drink?"
"Some tea please."
"Yes sir, with milk and sugar?"
"Yes, both. Thank you."
A short while later another India male flight attendant appeared beside me,
"Would you like a hot or cold towel sir?"
I was impressed with the fact that we got to choose between the two. Another flight attendant was following him with a tray of orange juice and strawberry juice.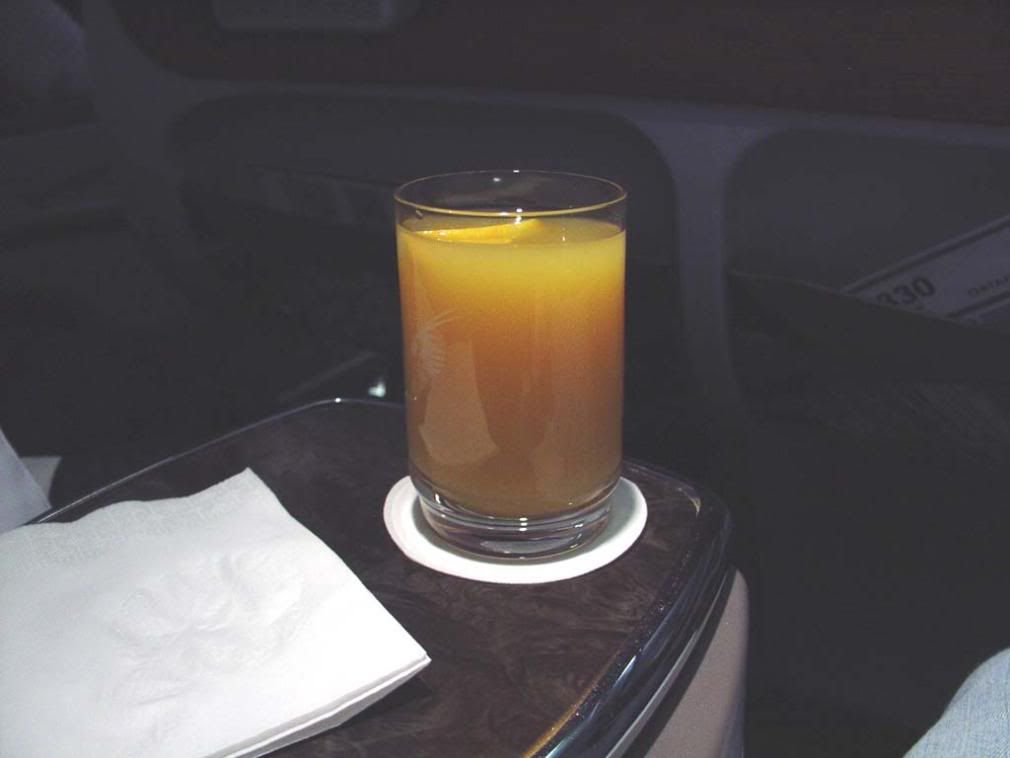 The PTV's were switched on at this point in time and as this was a non AVOD equipped aircraft, I had to settle on watching "The Nanny Diaries" which was entertaining enough to keep me from falling asleep in my eggs.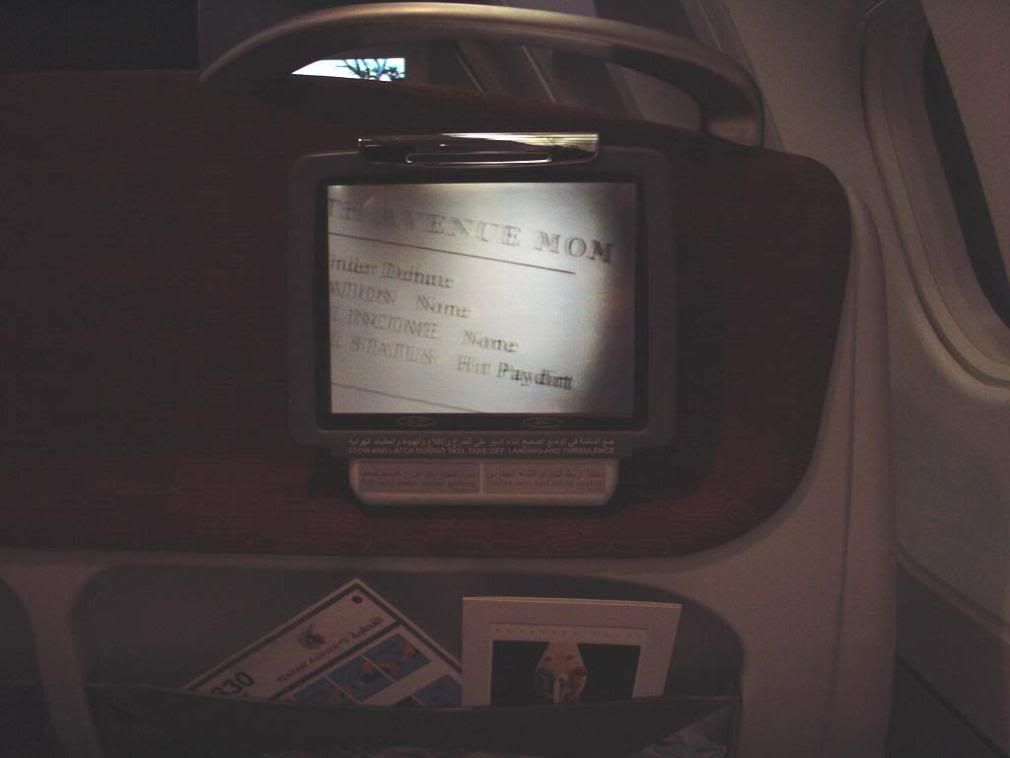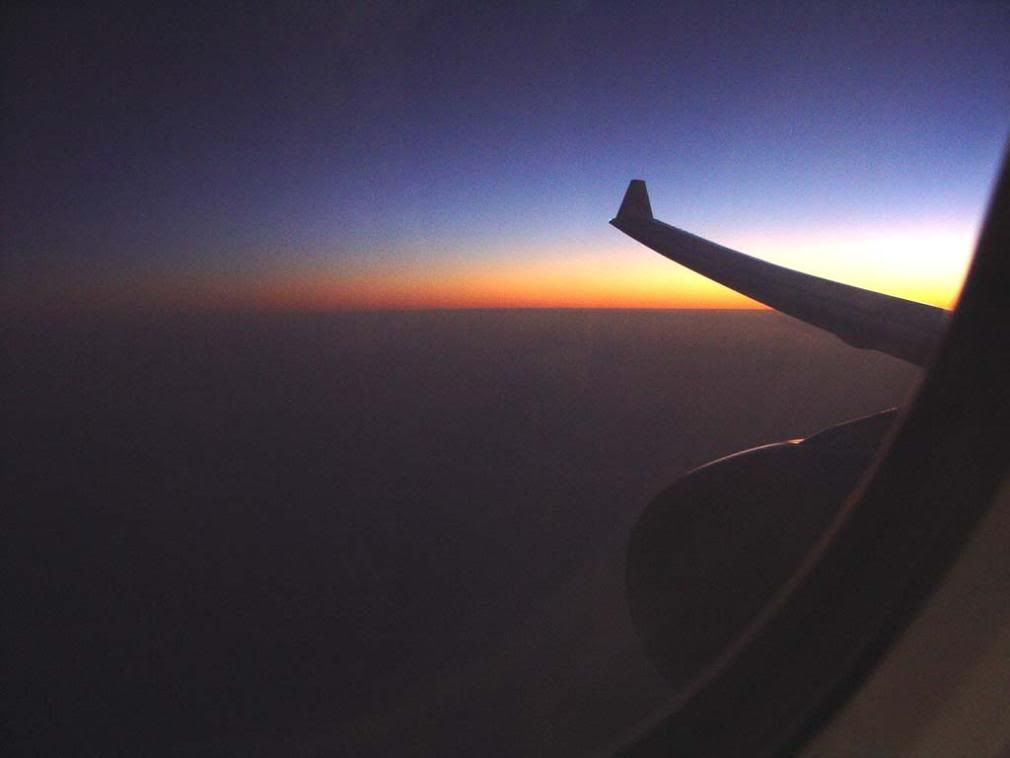 Linen was placed on our tray tables and a meal tray was presented about an hour into the flight. A breadbasket was displayed in front of me and I selected the croissant.
"You can take some more sir, we have plenty. How about some toast?"
A hot cup of tea was delivered to me a minute later by an Asian female flight attendant with two sugar cubes on the side.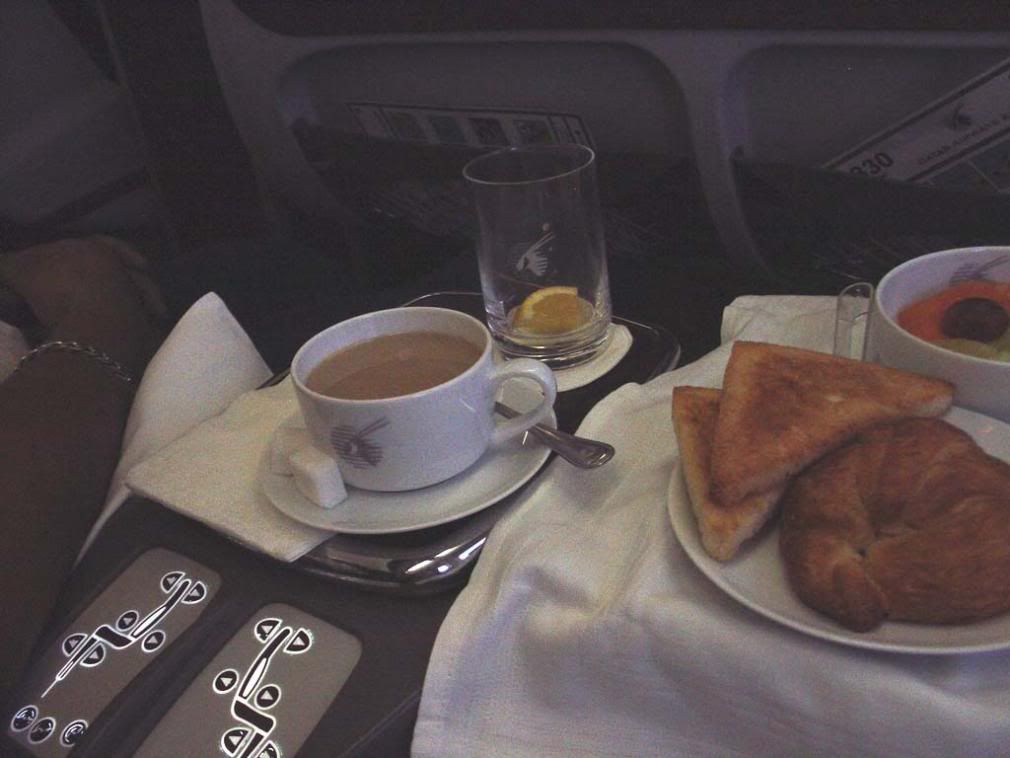 While the presentation was not that good, the quality of the food was quite decent. The fruits were fresh and chilled which is about all you can ask for these days. The eggs were warm as was the spinach, however the roesti potatoes were a little on the "crispy" side. I did not touch the vegetable ratatouille which looked and smelled rather unappetizing. The croissant was warm and nice but the toast was rather dry and rock hard. While there was plenty of butter to go around, I would have liked some jam to go with it. Overall the meal was filling and of decent quality, but there is some room for improvement.
Once the tray had been collected I reclined my seat into a cradle position and promptly feel asleep.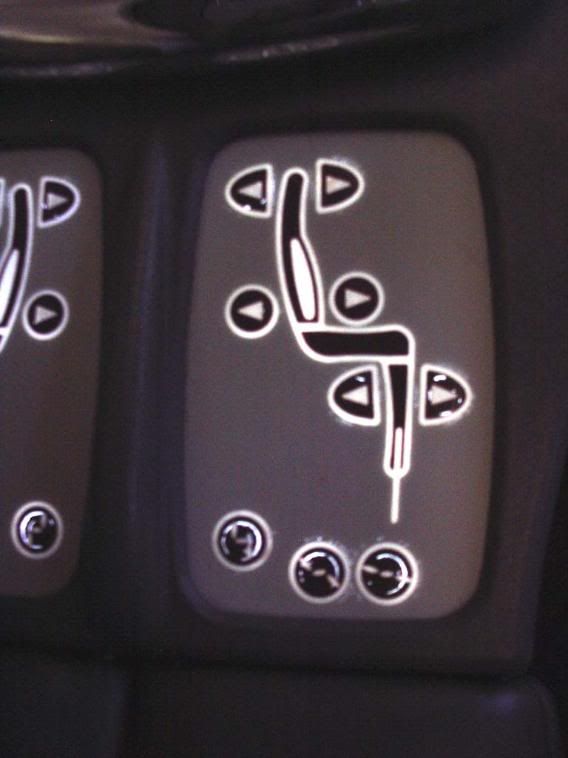 I woke up about an hour later right before the flight attendants switched on the lights and hot towels were passed around to those who were awake. A flight attendant came by and asked if there was anything I needed before landing. A glass of water was promptly placed on my armrest within seconds of the request.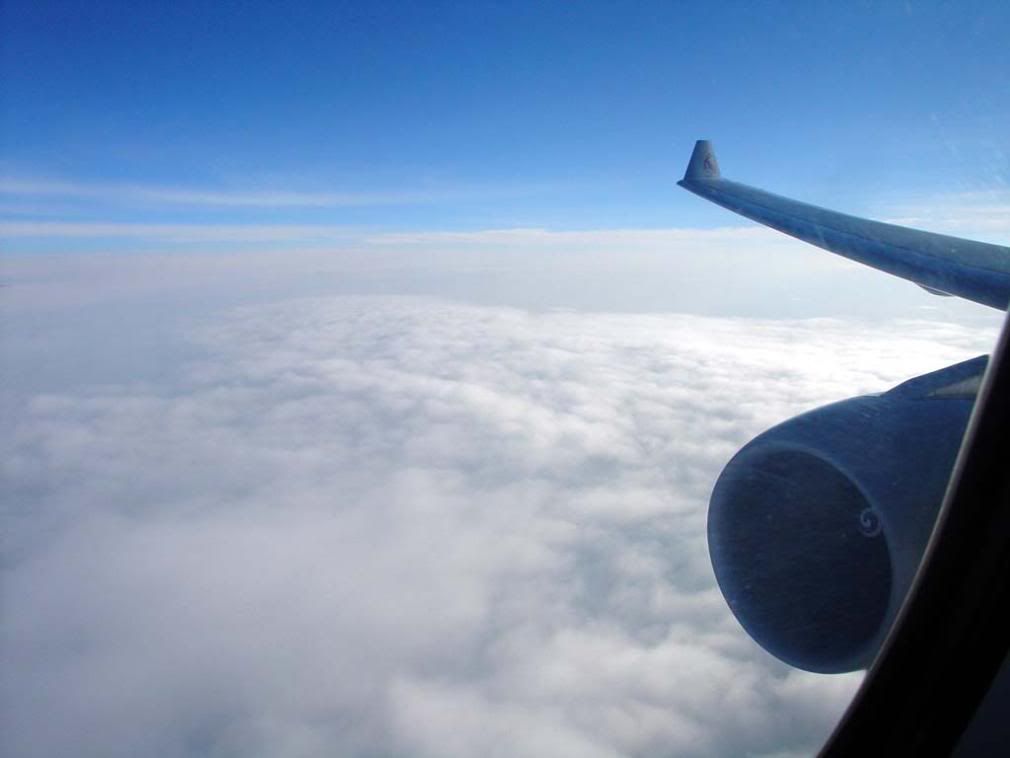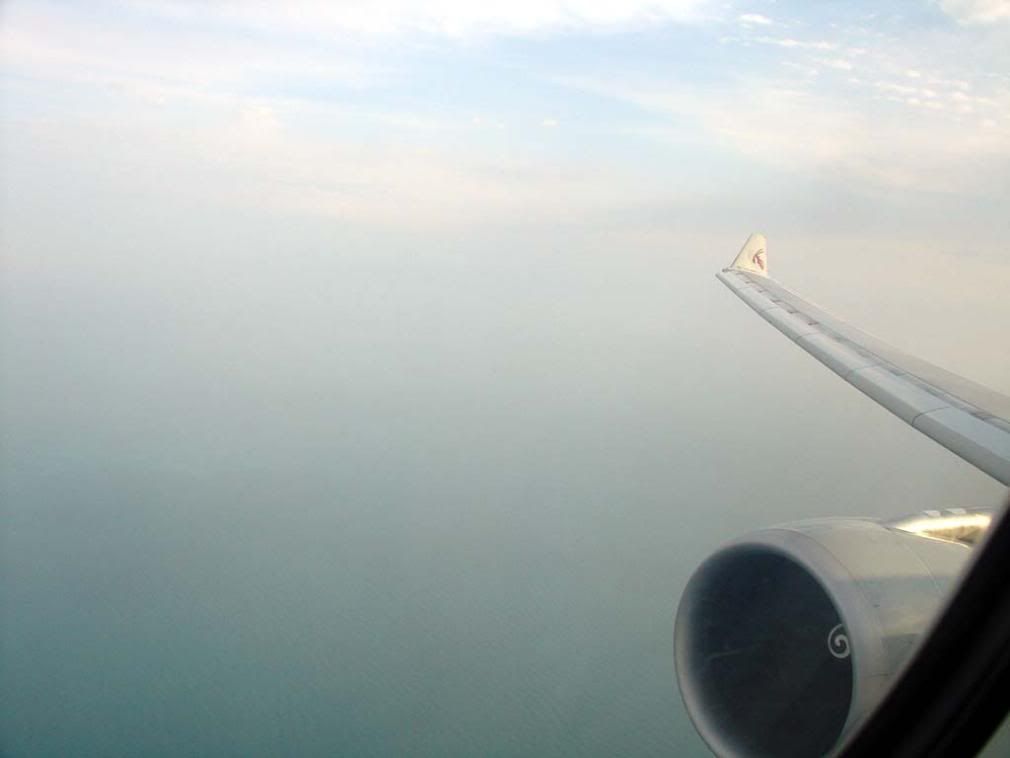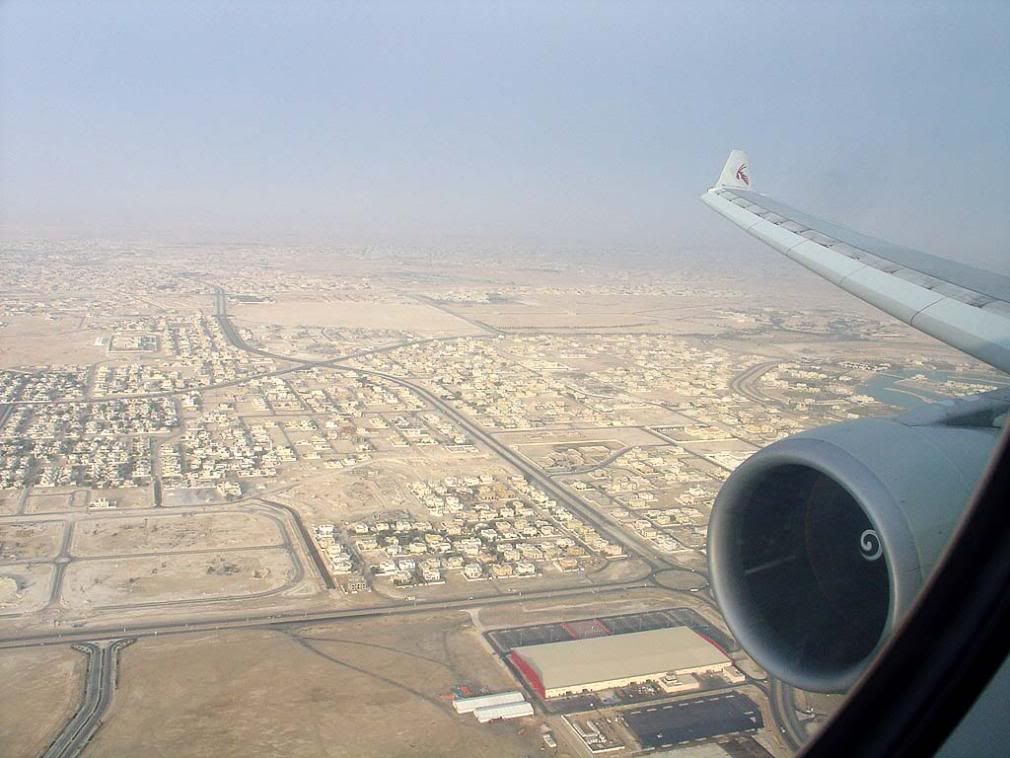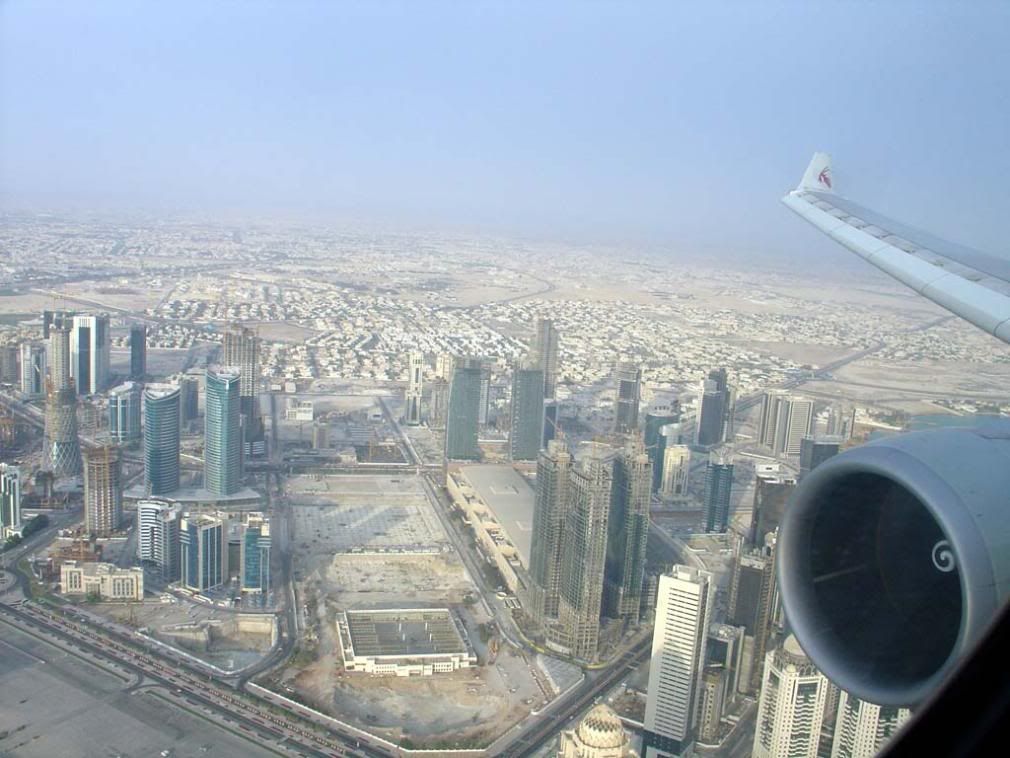 Arrival & Transit:
Touchdown was smooth and we began our taxi to the gate almost 30 minutes behind our scheduled arrival time.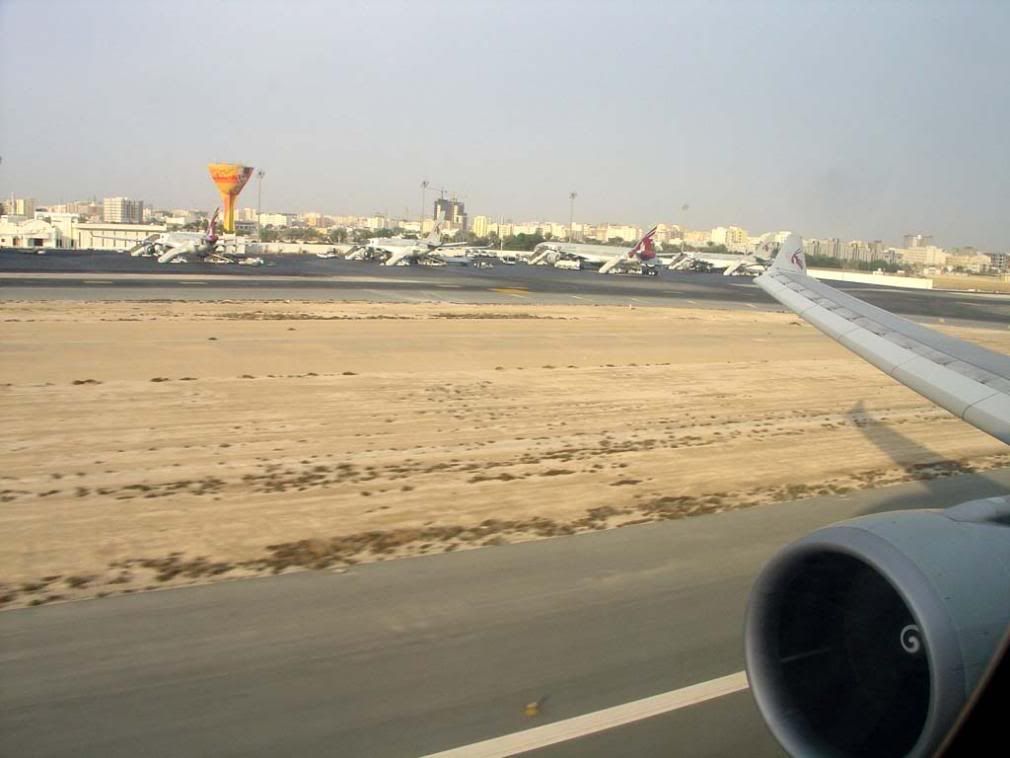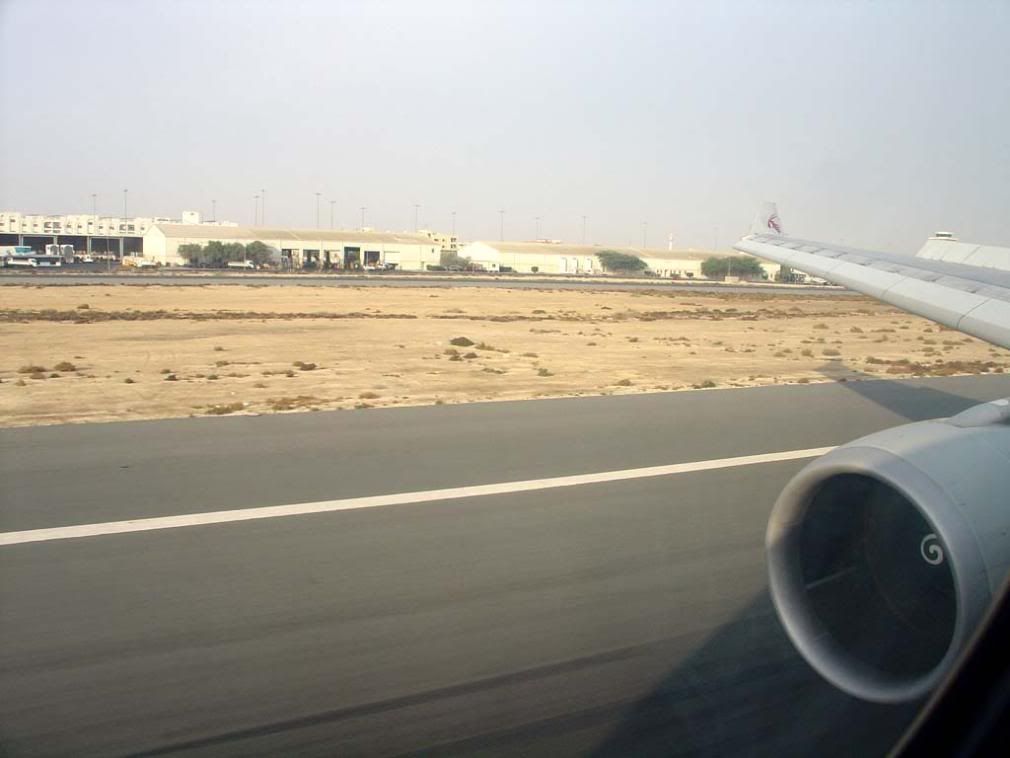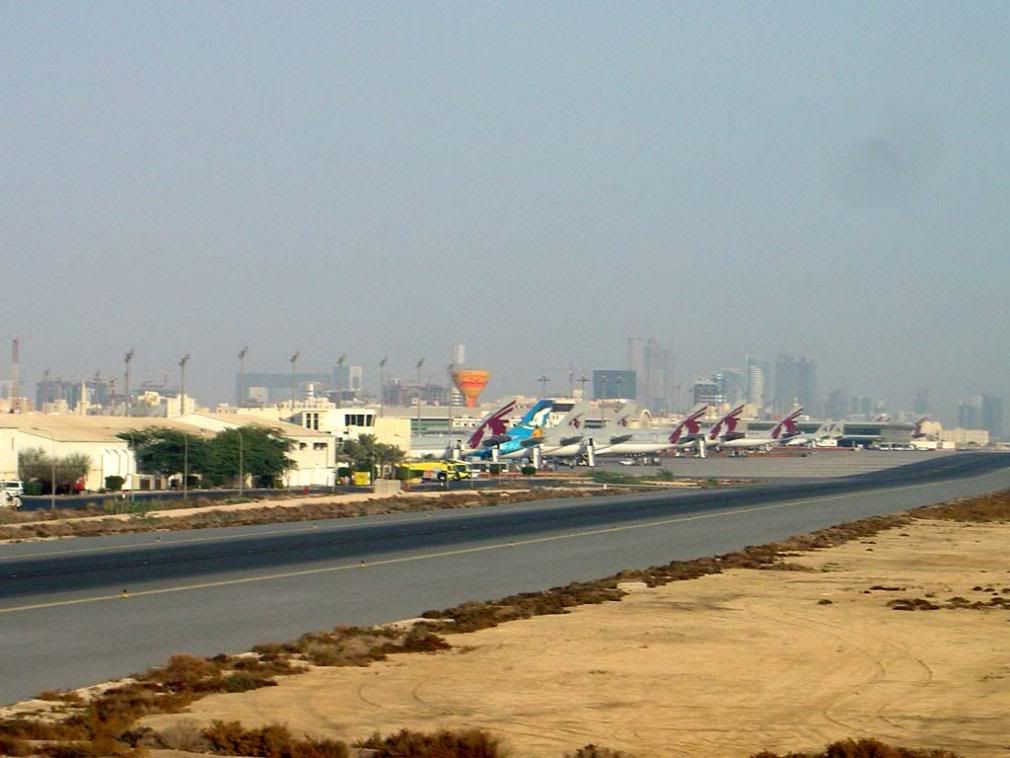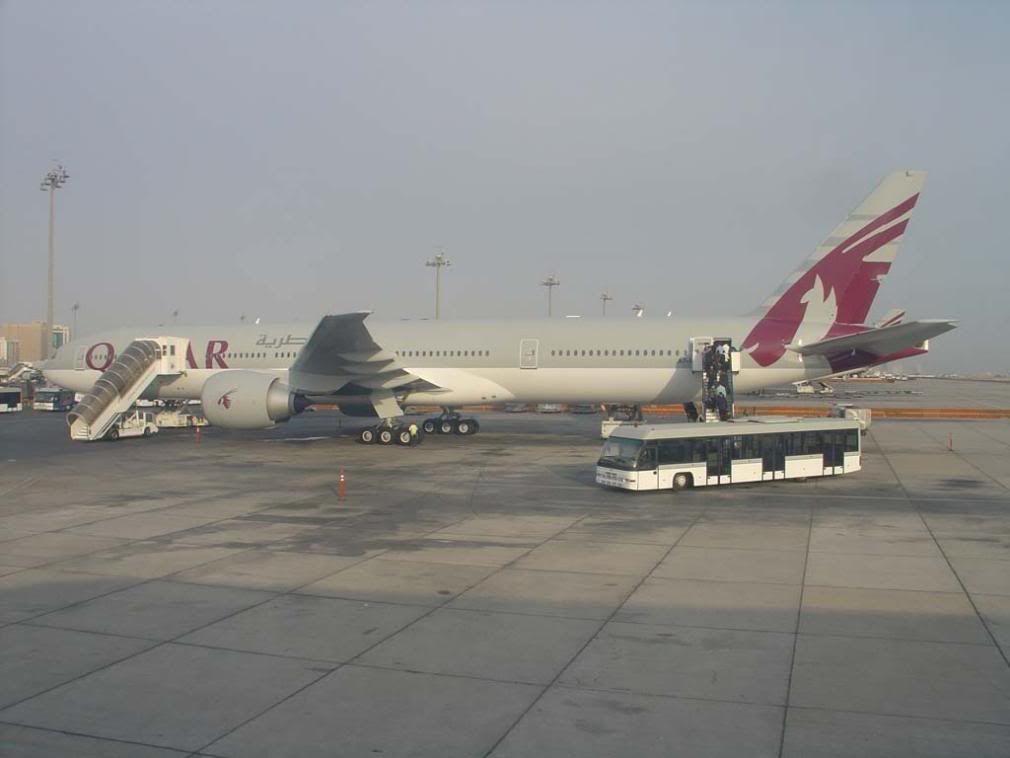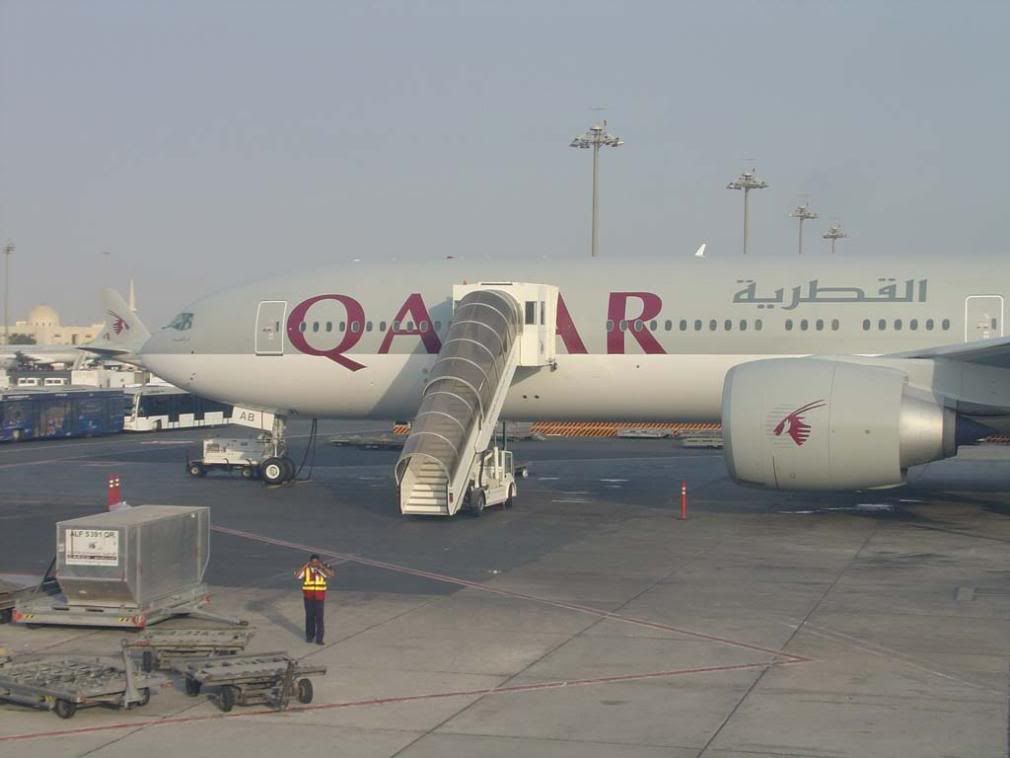 After disembarking a ground staff agent was checking boarding passes and pointed me onto a bus with all the other business class passengers. We got dropped off at the main terminal where passengers heading to Doha went straight to immigration while all connecting passengers had to go through security.
I checked with a ground staff agent how to get to the Premium terminal and was told to go through the security line. I waited for a solid 20 minutes to get through the line where everything from my belt and digital watch was removed so I could pass through without a beep. It was now 8am and with a scheduled departure time of 8:30 I headed straight to gate 14 only to be greeted by a huge line!
Part 2 Continued Below