Top & Flop - Inconsistent Finnair: KIX-HEL-MUC on MD-11 & A320
Intro
Osaka Kansai Airport as well as Finnair's MD-11 & A320 are featured in the last part of my Japan Trip Report series. All users who want to read more about the background of the tour (see report no.1) or want to have a look at the other parts only need to click here:
MUC To Nagoya: Finnair E170 & (Old) "New" A340
(by
PlaneHunter
Nov 15 2007 in Trip Reports)
Oddities & Okinawa: JTA 734 & JAL 744D(Domestic)
(by
PlaneHunter
Dec 3 2007 in Trip Reports)
Rocketing To Tokyo: FUK-HND On JAL (ex-JAS) 777
(by
PlaneHunter
Dec 15 2007 in Trip Reports)
Kobe For 1 Hour: 767-Quickie On ANA & Skymark
(by
PlaneHunter
Dec 31 2007 in Trip Reports)
The 524-Seat Twin-jet: HND-ITM On ANA 777-300
(by
PlaneHunter
Jan 21 2008 in Trip Reports)
Kanku Hineno Station Hotel
With nice rooms and friendly staff, the Kinku Hineno Hotel was not a bad choice. Various flight crews use the facility. Views from the room: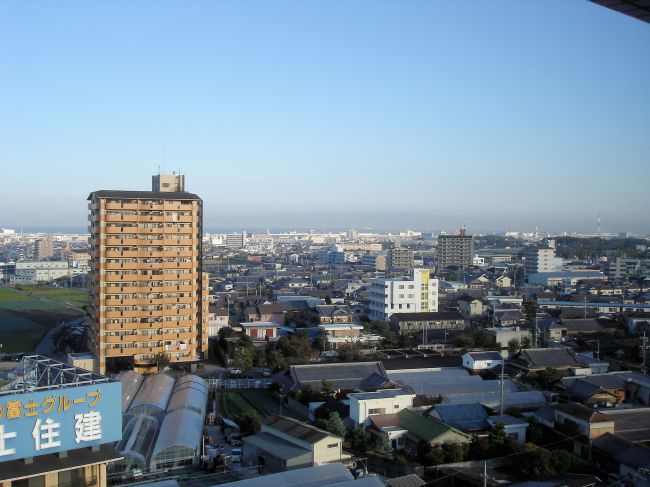 The strip of land in the water on the left is a part of Kansai Airport: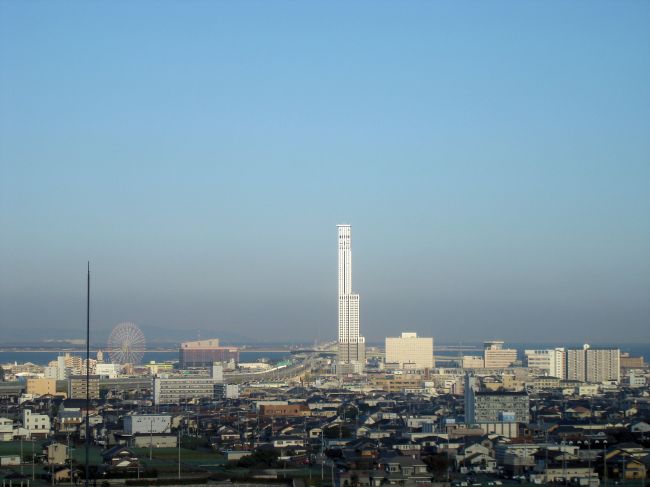 After breakfast we took the airport shuttle (15 minutes drive) and left mainland Japan more than 24 hours prior to our departure - we would spend the last night on the artificial island. Interesting buildings on the way: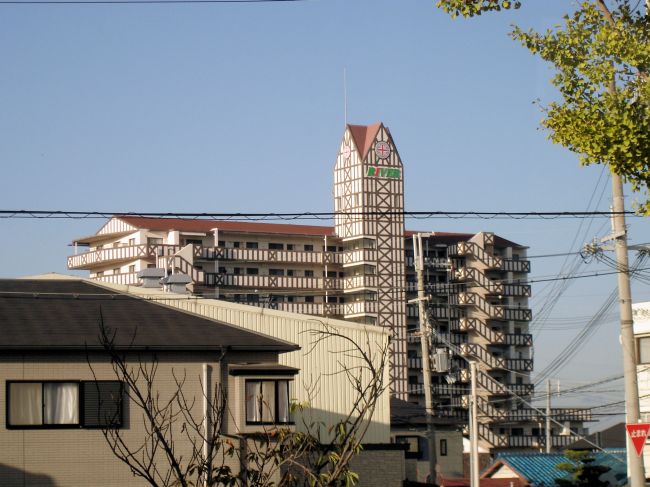 Osaka Kansai Airport
Widely known as "Kanku"" in Japanese, Kansai Airport recorded roughly 16,7 million passengers in 2006 (two thirds being international pax). The airport which opened in September 1994 had been predicted to gradually sink due to the weight of the material used for construction - but the island sank faster than expected. So the project turned out to be one of the most expensive civil works projects in modern history. The rate of sinking has fallen from some 50 cm in 1994 to 9 cm during 2006. Some USD 20 billion have been spent since plannings started in the 1960s. Many lessons were learnt during the construction process which helped to successfully complete other artificial island projects such as New Kitakyushu Airport, Kobe Airport and Nagoya Chubu International Airport.
Various widebodies, seen from the bus stop area to the left of the terminal entrance: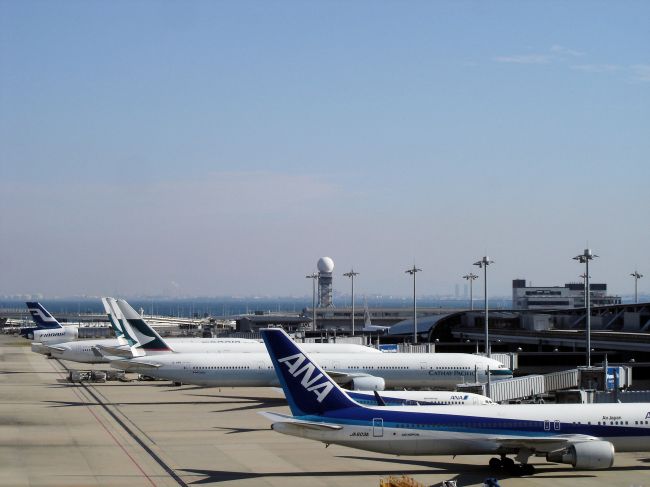 The luxurious Nikko Kansai Hotel - where we got a room for 106 Euro (including breakfast):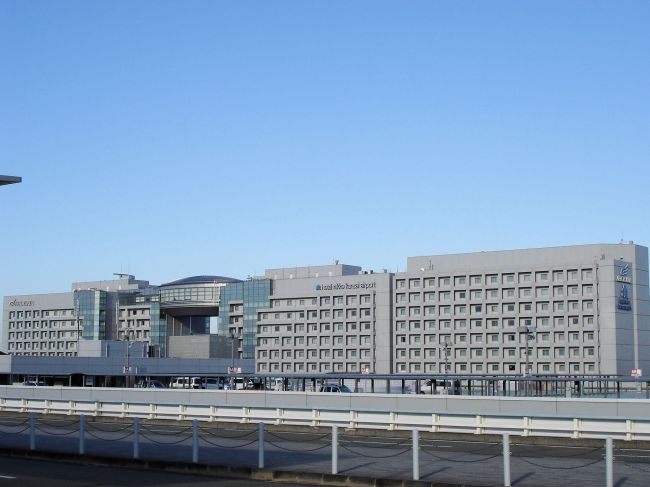 We couldn't check in yet in the morning but left all our luggage in the hall. Later when we came back we requested a room facing the new runway. However, the distance is a challenge for spotters, and movements are limited. View from the room: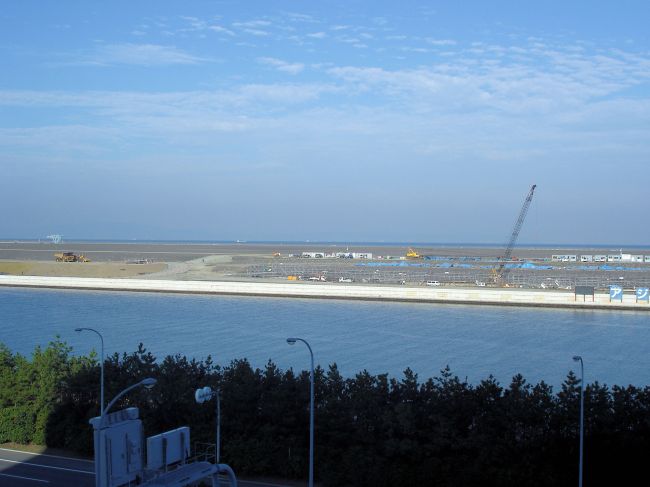 Spotting Facilities
There's a central spotting area at Kansai, called "Sky View Observation Hall" - which is a multi-building and multi-story complex just next to the beginning of runway 24L. It's open from 10:00 to 20:00 (22:00 on weekends), totally free of charge. A dedicated bus line connects the Observation Hall to the terminal and other points on the island (running every 15 minutes on weekend and every 30 minutes on weekdays, ticket price JPY100). The facility is equipped with several (modern and clean) outdoor terraces, a cafe with reasonable prices and "The Concorde Experience" - a restaurant serving airline-style meals on aircraft-style trays. There's also a museum with Concorde stuff and a fantastic shop selling all kinds of aviation-related stuff, including models, postcards, books and airline memorabilia.
It's just the location which is not ideal - perfect when aircraft land on runway 24L, but unfavorable when they land on runway 06R (as in our case). Add the facing sun to that and you wake up in the middle of a photo spotter's nightmare. At least it was ok for registration spotting. There's a wide variety of domestic and international carriers using the airport - even though spotters have to be patient in the morning when traffic can be low. In the end I logged a total of 68 new registrations - sounds not really phenomenal but KIX was the last airport on our tour which means I already had logged most domestic aircraft before.
One of the terraces: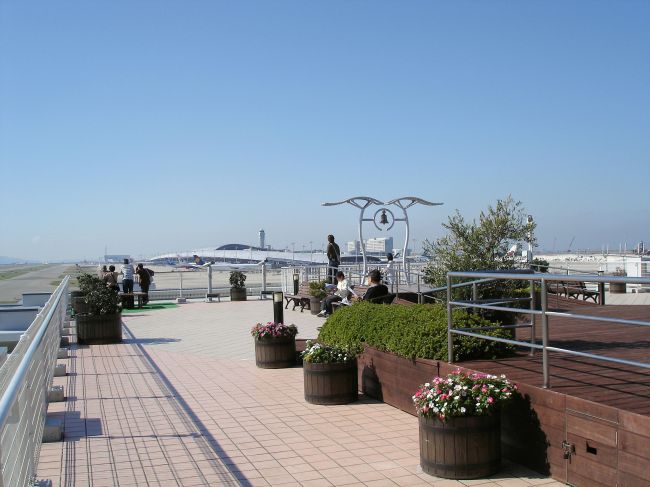 Widebody action: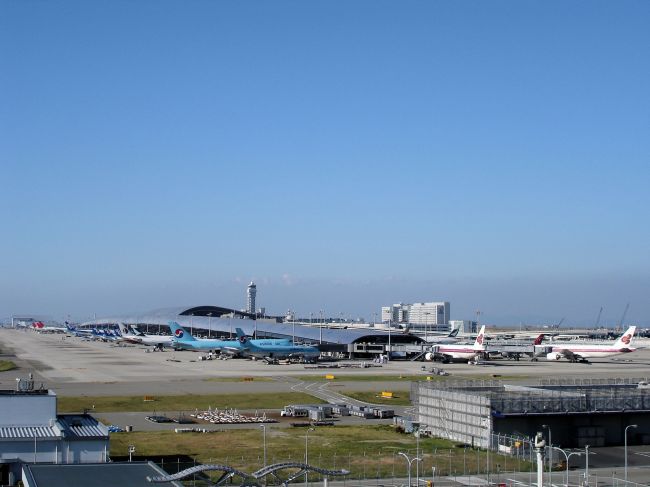 Ships involved in land reclamation work for airport expansion: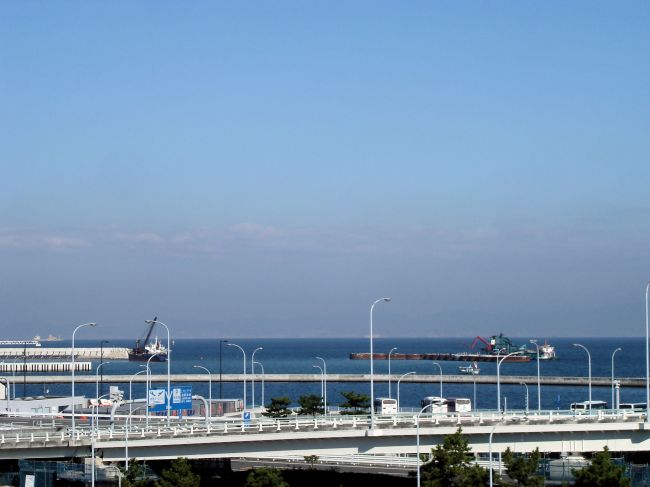 View from one terrace to another - note the number of people (even more frequented earlier in the afternoon) and the Sky Gate Bridge in the background: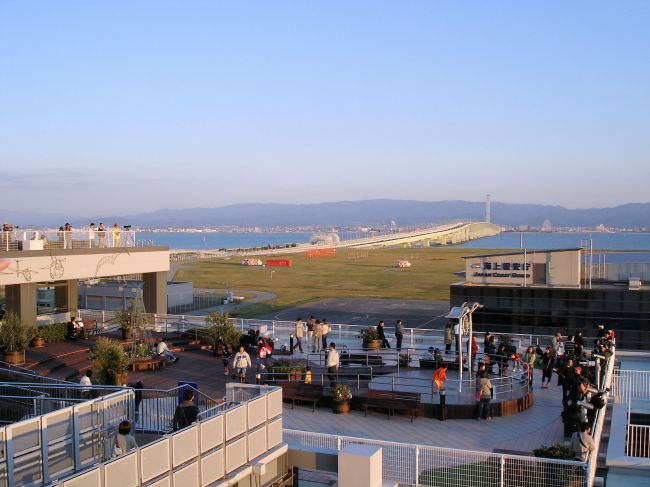 SIA 772 taking off...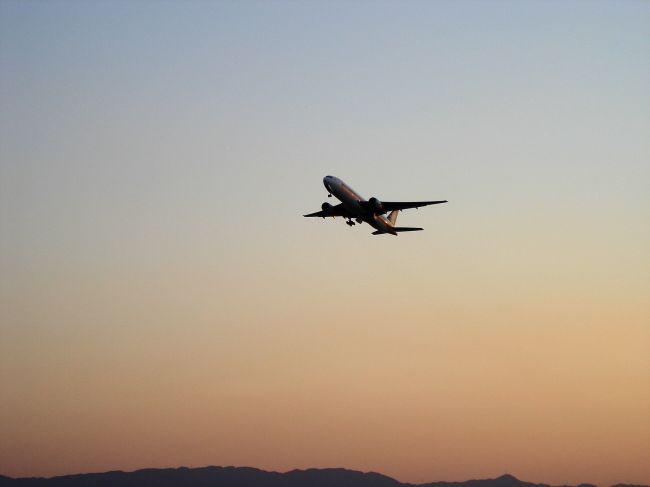 ...and climbing away: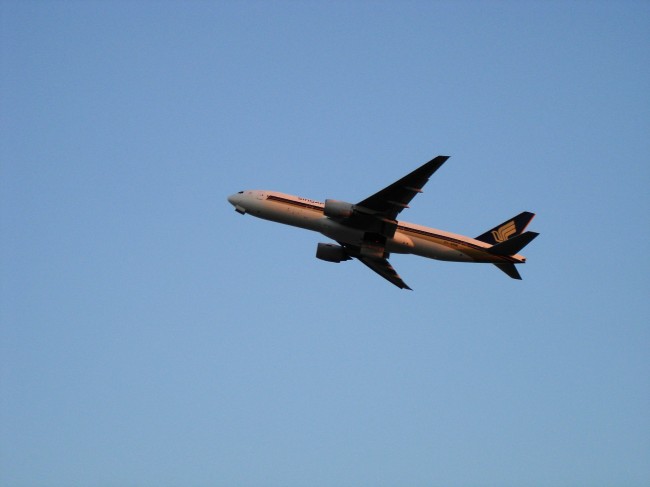 The sun disappearing behind the terminal: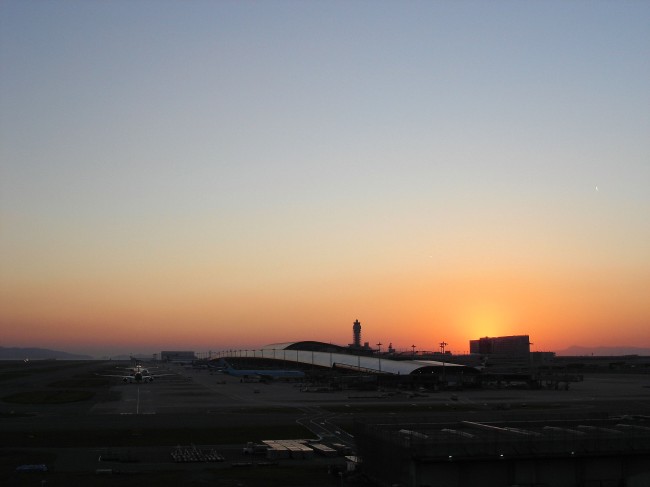 Plastic Meals
After finishing our last spotting day we had dinner in the airport's large shopping and restaurant area. Prices weren't bad, not as expensive as you would expect (some 6-10 Euro for a hot meal in a regular restaurant).
Doesn't all that look absolutely delicious?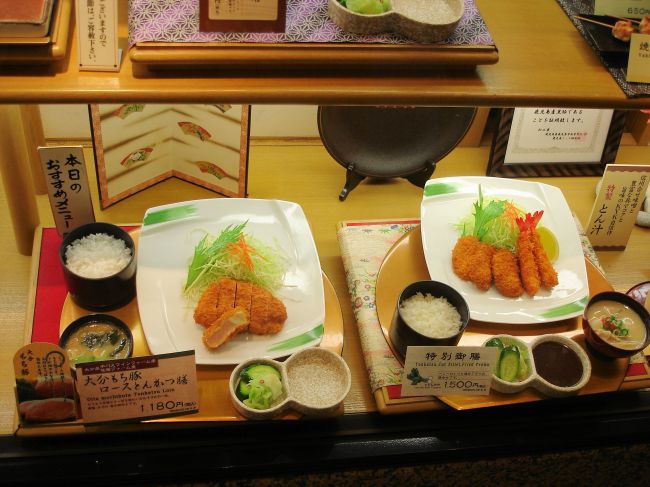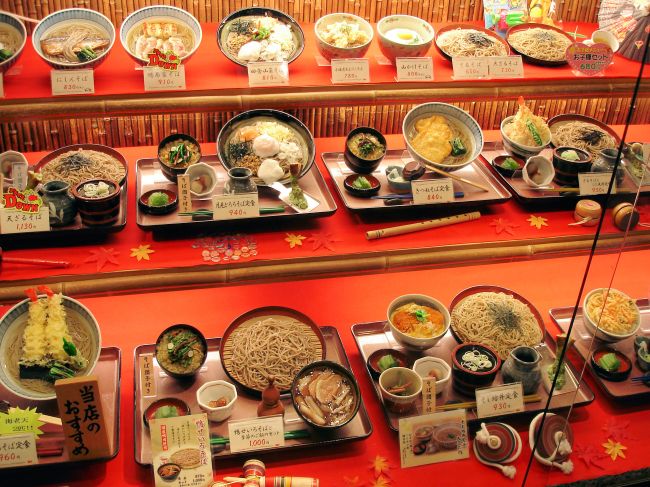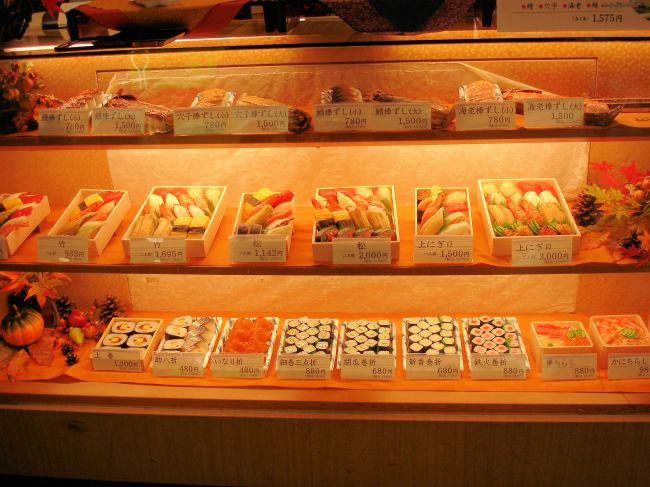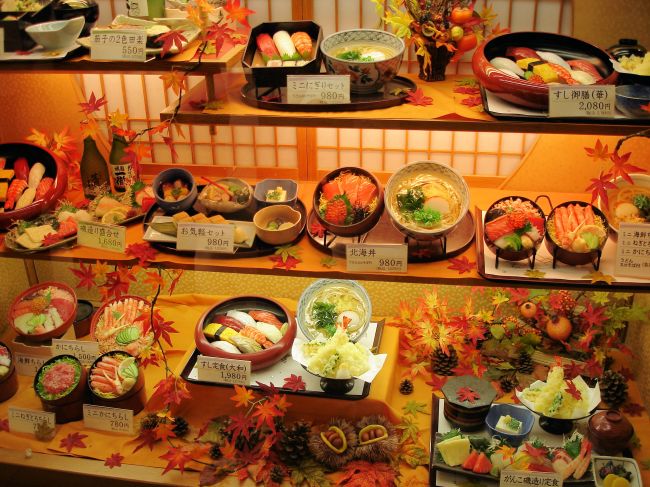 All the stuff in the windows is entirely made of plastic - including the smallest detail. That's art!
Sunday, 04 November 2007
Osaka (KIX) - Helsinki (HEL)
Finnair, AY078
12:00-15:15 (11:50-15:20)
Flying time: 10:06 (hrs)

McDonnell Douglas MD-11
OH-LGC (s/n 529), delivered in 02/1993
Economy Seat 28A
Fast Check-in
After a filling breakfast in the Nikko we checked out and walked to the Finnair check-in area. No queues, no waiting time, friendly agents had our boarding passes ready quickly. We asked for a row of two seats again, but weren't successful. At least we would be seated in the forward 3-4-2 section. View from a walkway to the check-in area: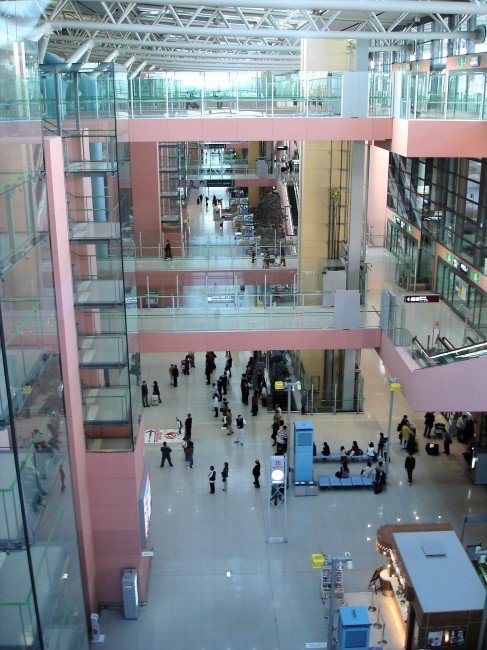 Massage Seats
Passing security wasn't a big deal either, again almost no waiting time. But after our numerous domestic sectors we were reminded of the "liquids rule" for the international flight. Before taking the train to the international terminal section we explored the domestic hall. Impressive construction: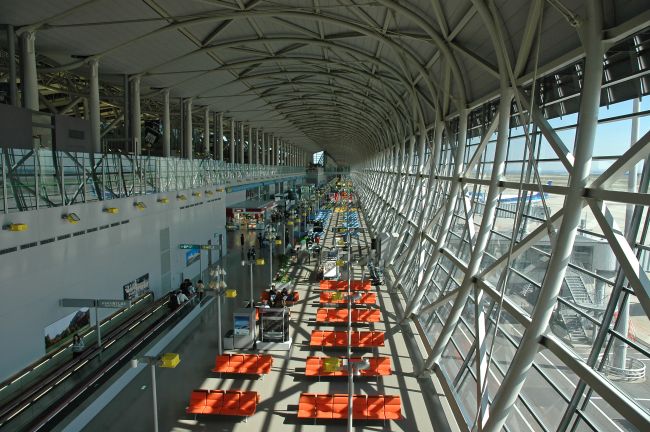 Picture by Satchmo
Very comfortable seats - with a massage program available for JPY200: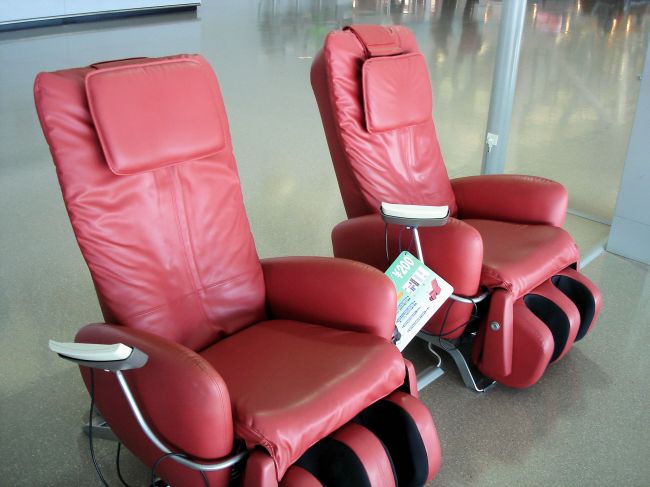 International Concourse
We had hoped to get the Santa Claus MD-11 (OH-LGG), but OH-LGC was used for the KIX roundtrip again, just like on the day before: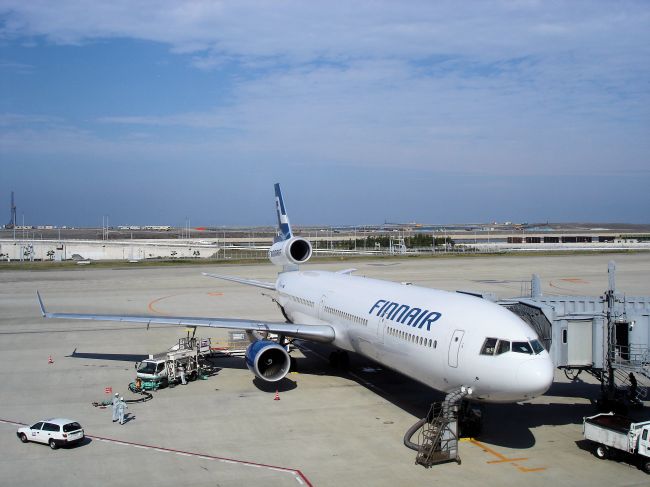 Cabin Comfort & IFE
Boarding was started early - we had just finished spending our last remaining coins. Friendly F/As welcomed us at the door and offered bottles of water. The seat cushion was a bit hard...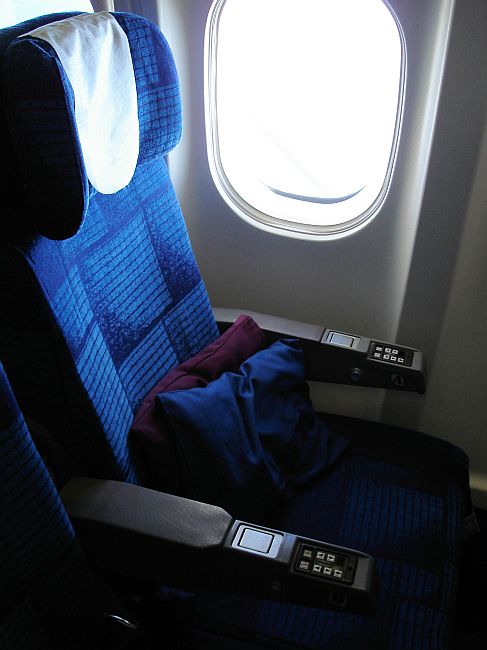 ...and pitch wasn't very generous.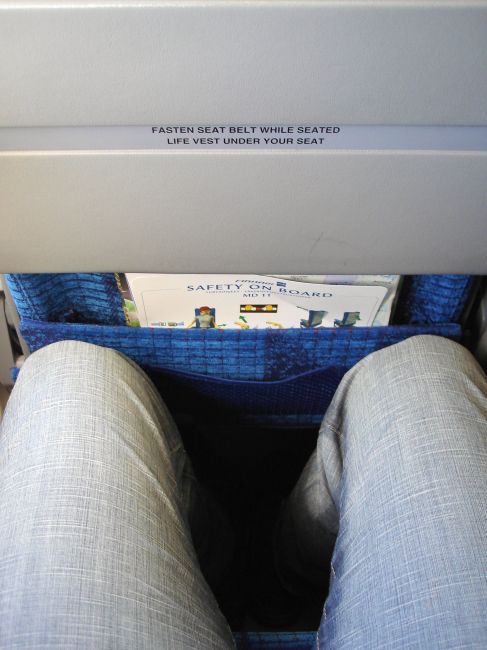 It felt very cramped in our row and we weren't pleased about the idea of spending ten hours in that plane. It must be even worse in the 3-4-3 section! After boarding was completed we noticed that two seats were empty just behind us and Satchmo decided to move to that other window seat. Then the traveller in the aisle seat also decided to move and I had the whole row for myself - not bad considering the plane's 80-90 percent load. Cabin shot (taken later in the flight):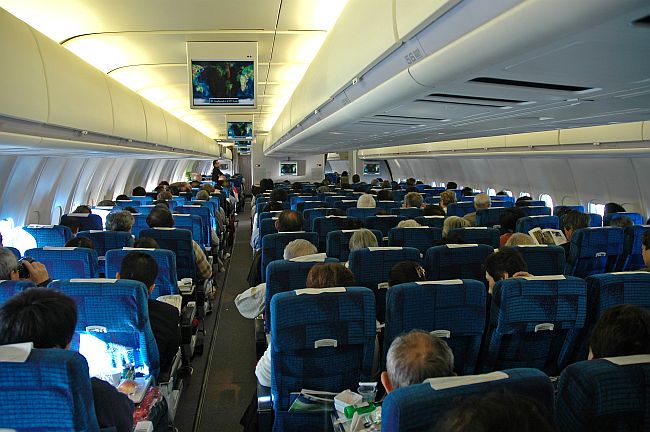 Picture by Satchmo
As expected, the IFE wasn't a delight. At least there was a monitor not far from my row. I watched the airshow when possible but didn't watch any movies or TV features and didn't check the audio programming. Interestingly - as we learned - there weren't enough headphones on the plane...
Departure
Boarding was completed quickly and we left the gate ten minutes early at 11:50: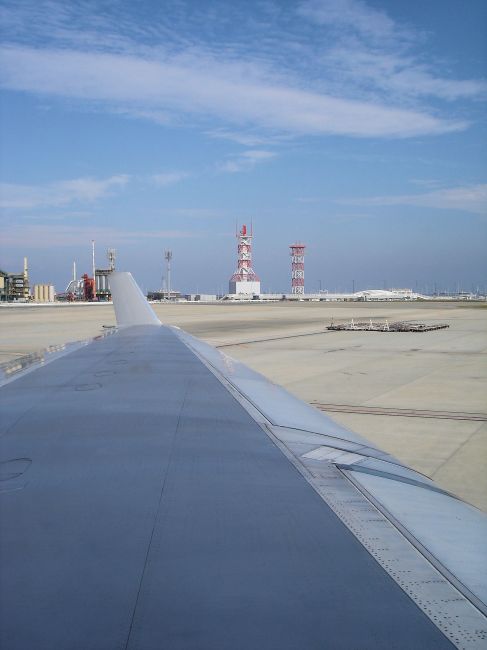 Passing the multi-story Observation Hall buildings: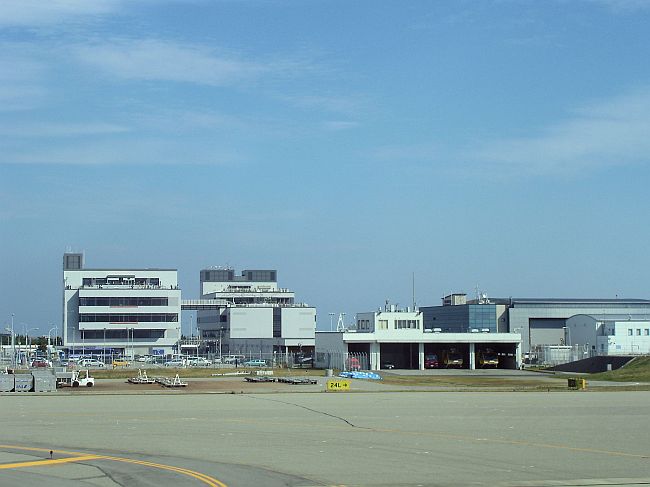 Turning onto runway 06R: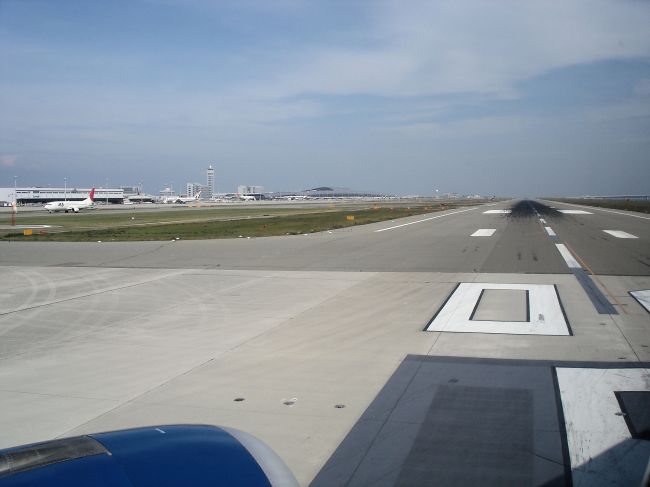 Powerful Takeoff
Comfort was limited on this bird but at least we could enjoy a powerful trijet takeoff: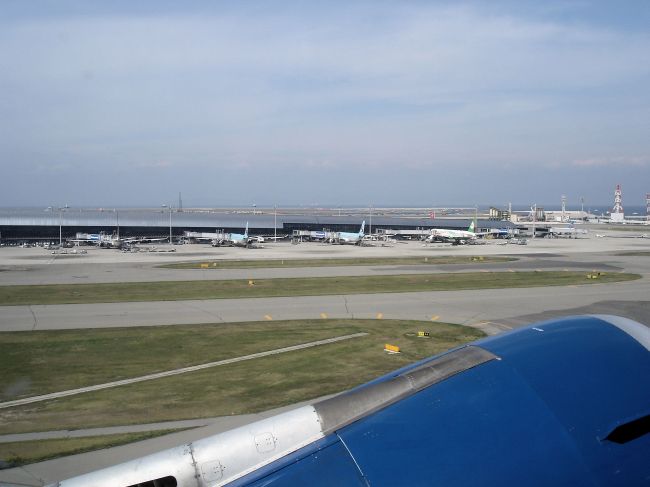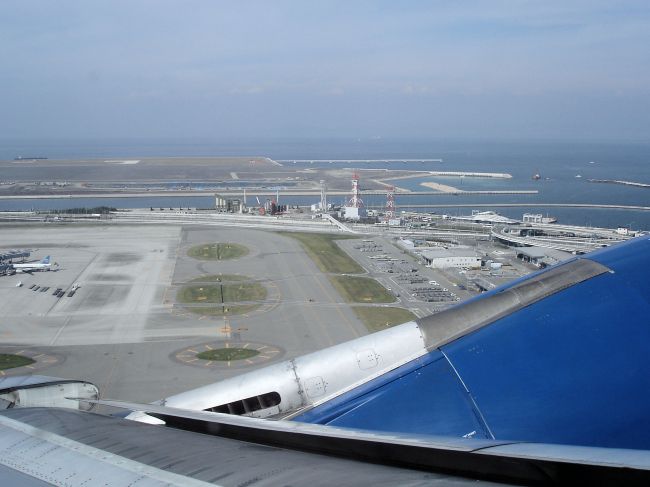 Land reclamation work around the new runway: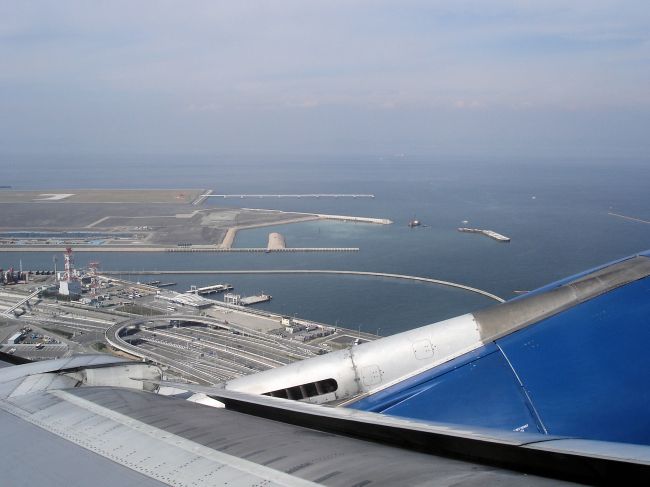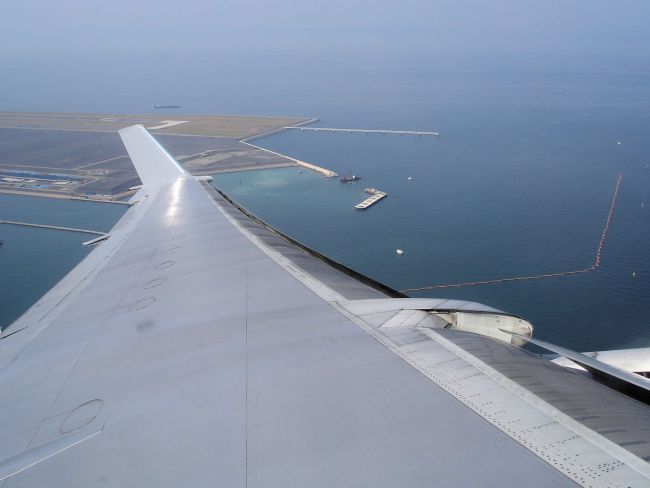 Climb
We turned left for a 360 degrees "screwdriver climb"...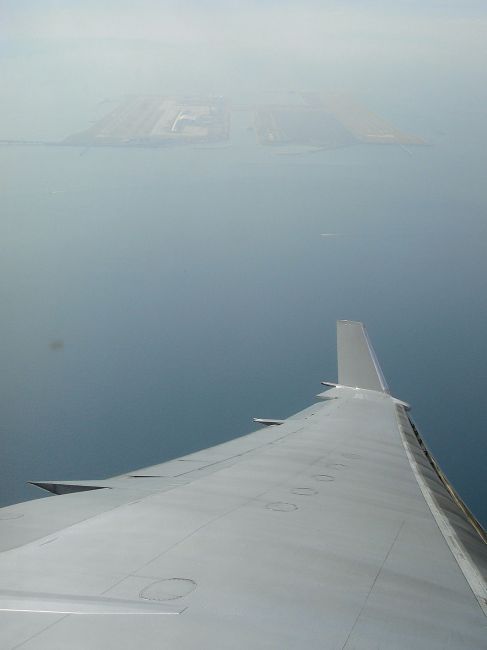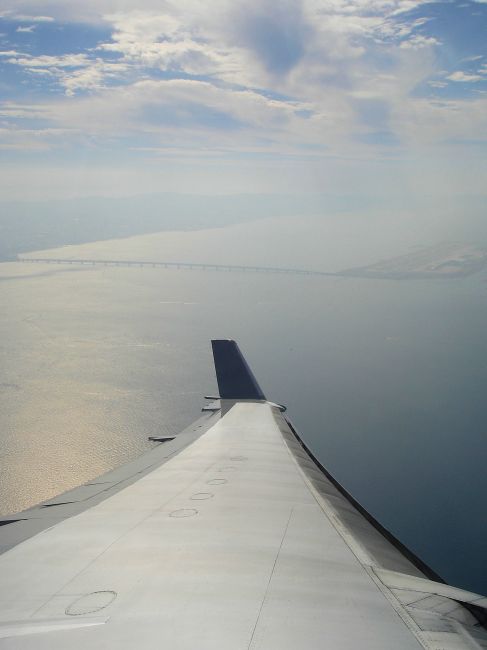 Note the airstream over the wing: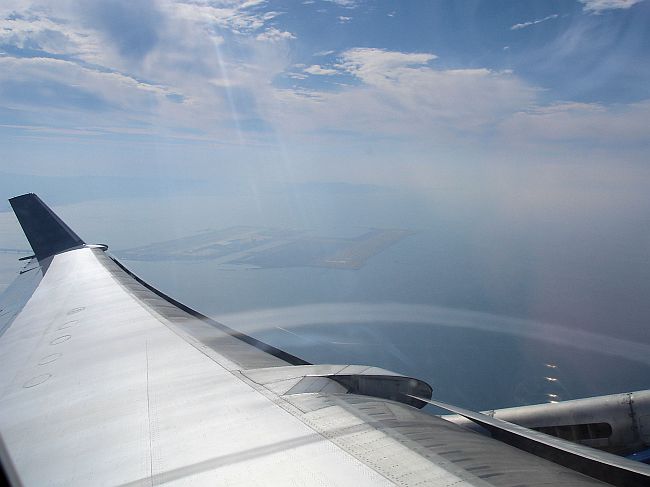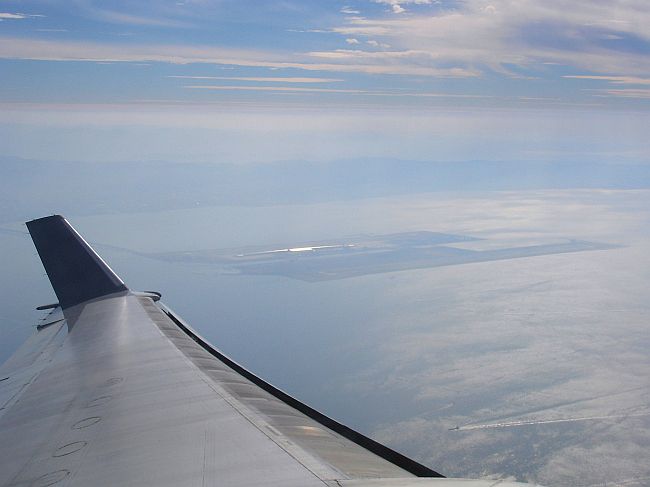 The JAL 763 which took off just behind of us: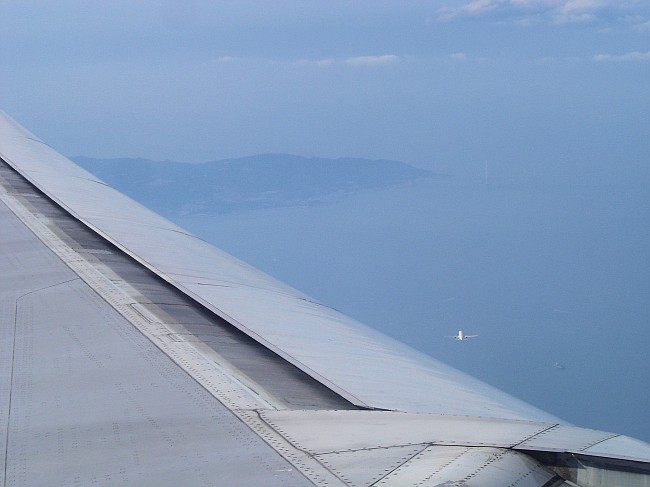 Passing the city of Kobe and Kobe Airport...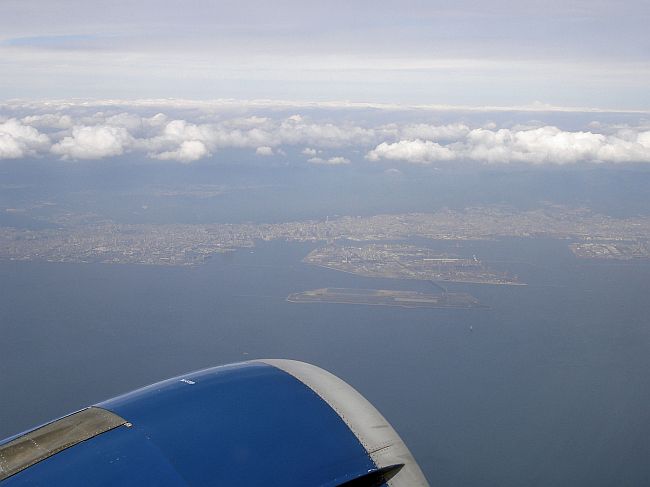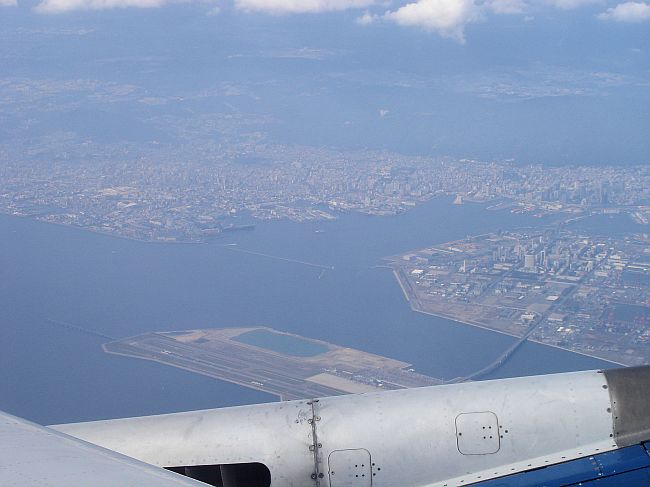 ...as well as the city of Osaka...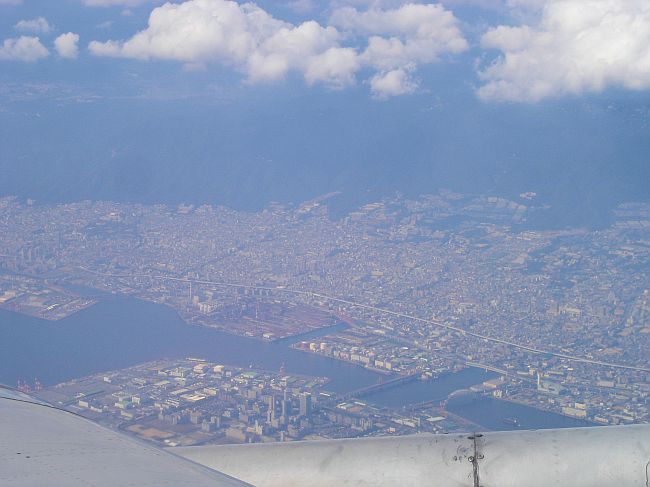 ...and Osaka Itami Airport: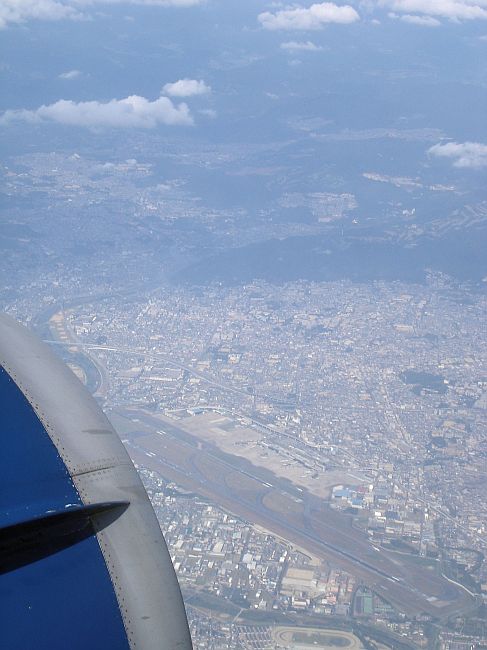 The maneuver illustrated on the map: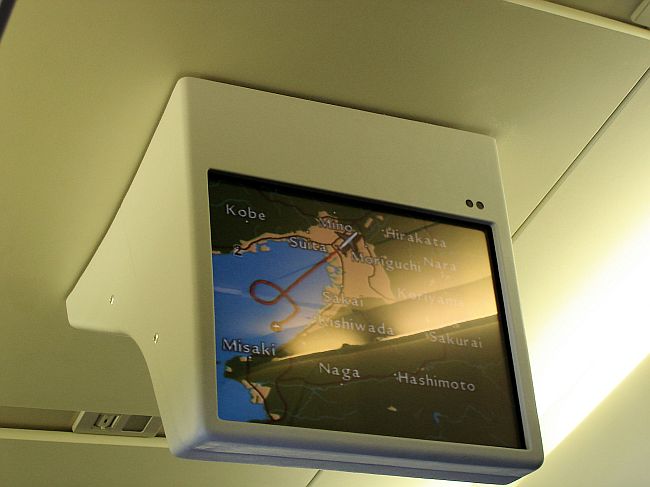 Heading northeast: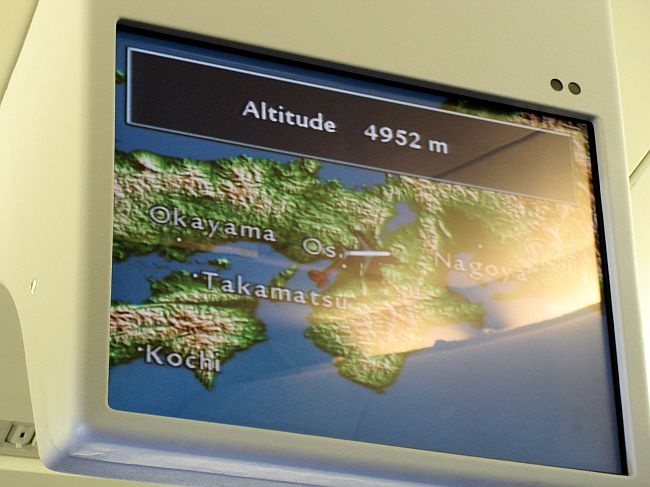 Question for locals - which city is that?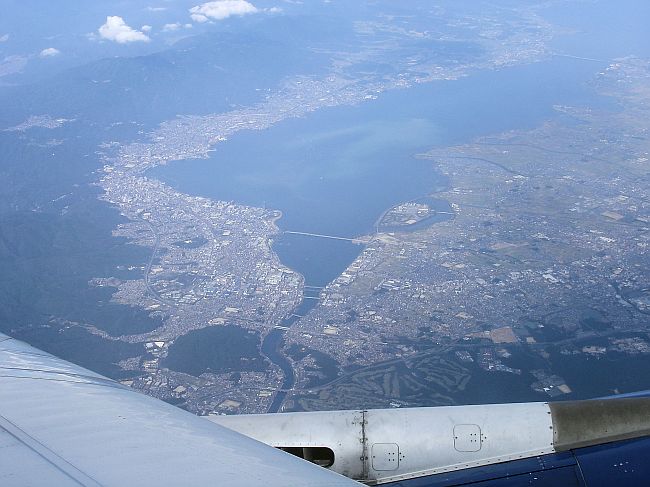 The captain informed us about the planned routing after a while, mentioning Sapporo, Yakutsk and Novosibirsk as waypoints - a bit different from flight AY079 (HEL-NGO).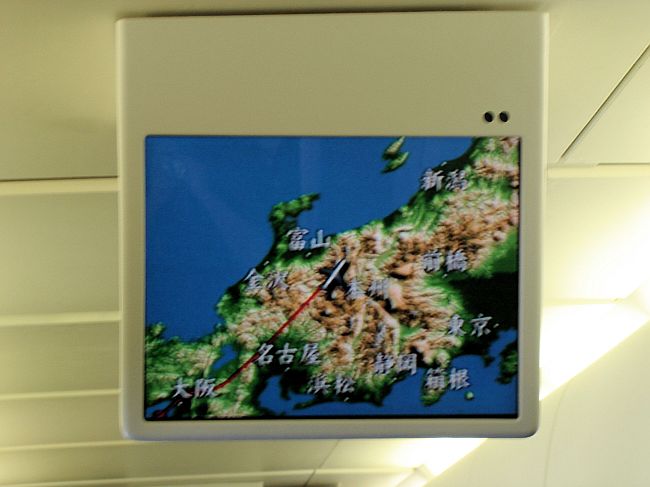 Lavatory Locked Up
While the seat covers and other items seemed to be relatively new, the lavatories were really down. One of them - just meters away - was even locked up shortly after takeoff. Judging from the constant noise we concluded that the flushing was somehow defective. Luckily, the disturbing noise disappeared after a while. Dirty lighting cover in another lavatory: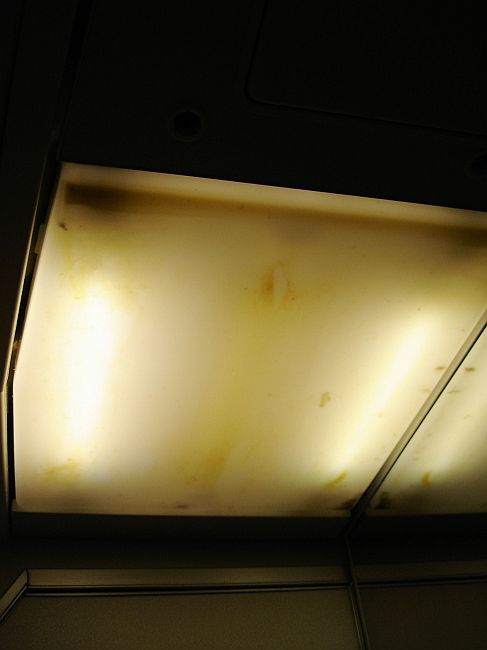 Snack
Unlike on AY079, "skybites" biscuits were served: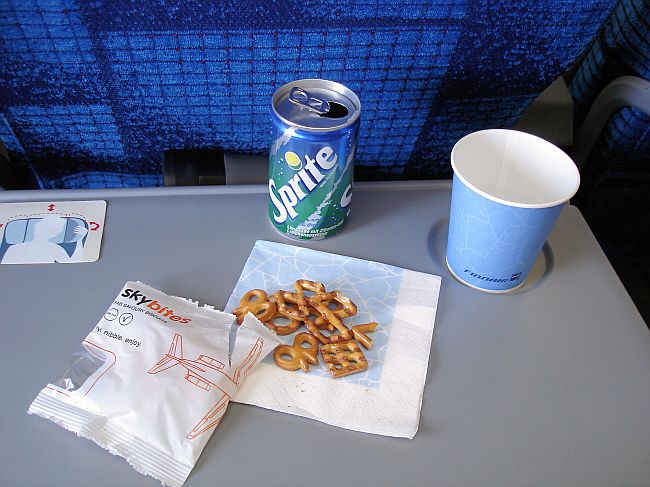 Asking = A Luxury?
One of the F/As working on my side didn't seem to be very motivated. Ok, F/As refusing to smile aren't a surprise in these days - but that lady even refused to talk. So at least once she stopped with her drinks at my row and just looked at me. My guess was I could order a drink now and yes, I was right...
Lunch = A Major Disappointment
Lunch was served about 90 minutes after takeoff - again no choice just like on AY079.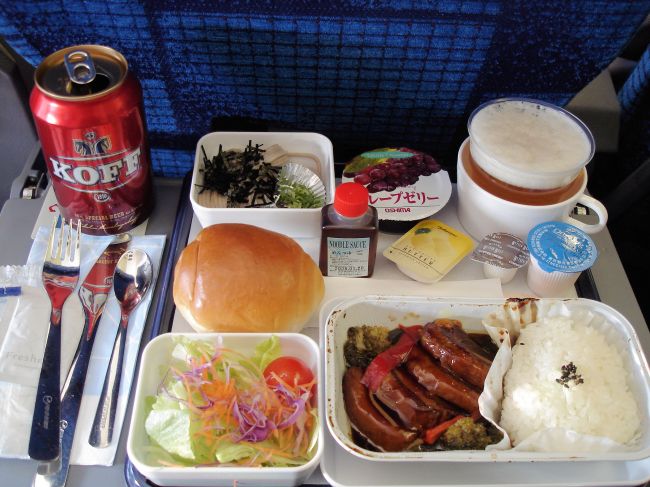 The meal was complete disappointment, with strange, squashy Japanese noodles (no, the noodle sauce didn't make it better!) and glutinous, mushy vegetables. The sauce's taste and the meat itself weren't too bad, but it wasn't fun to detach the numerous porky parts - the leftovers in that bowl didn't look dainty I can tell...
I was hoping to find a good dessert in order to forget the rest of the meal quickly, but the strange grape jelly continued the series of culinary disappointments. No thanks, Finnair - that was probably the worst inflight meal I have ever had.
Crossing Siberia: Sunset, Sunrise
While we were cruising over Siberia at 9,600 meters I decided to stretch out over three seats, trying to get some sleep...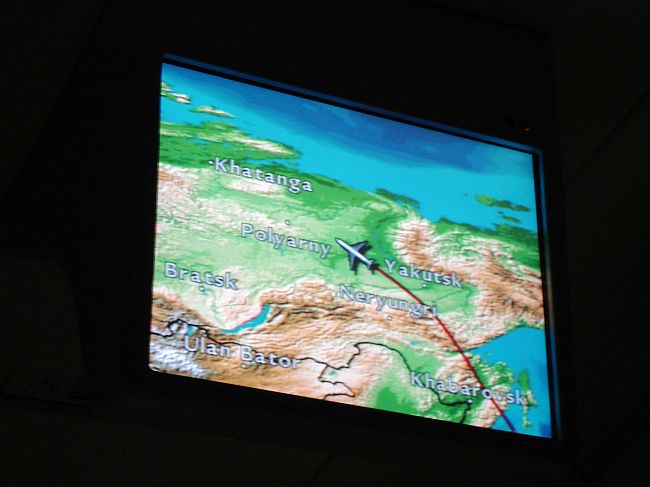 ...but I woke up again after some time and watched the play of light outside: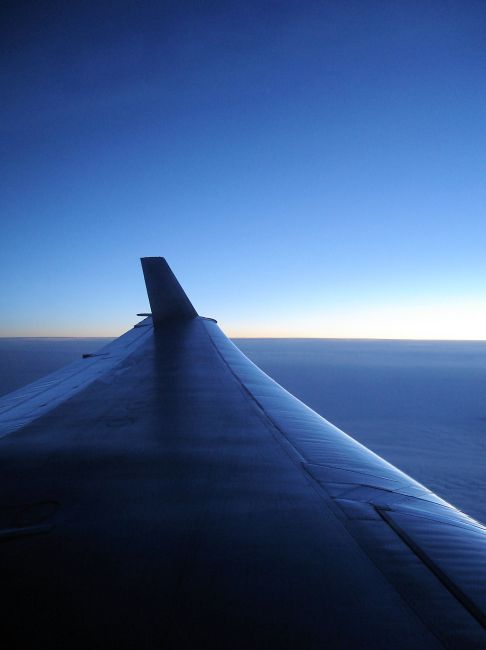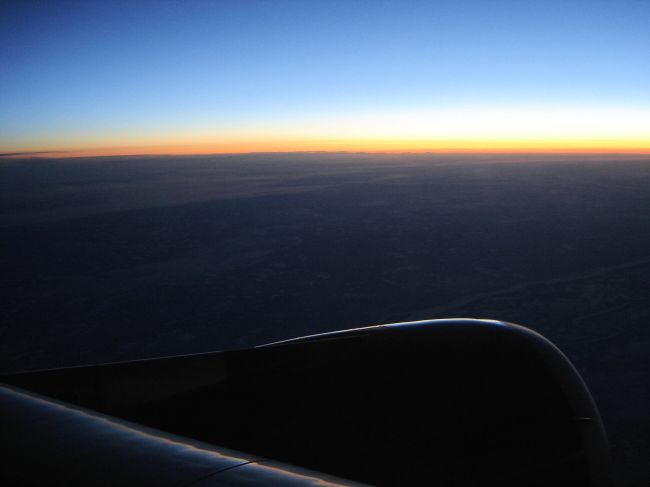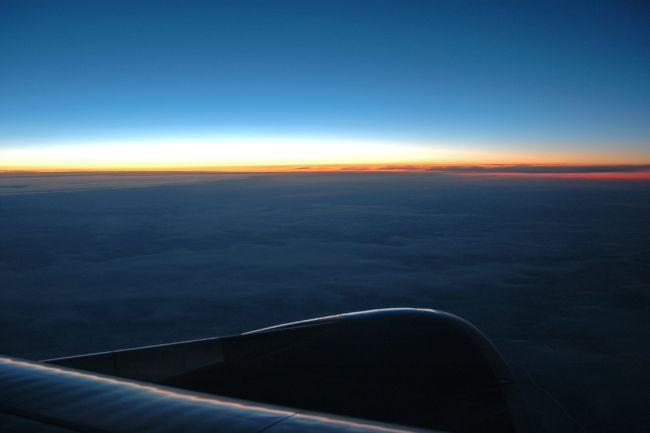 Picture by Satchmo
What a sunset: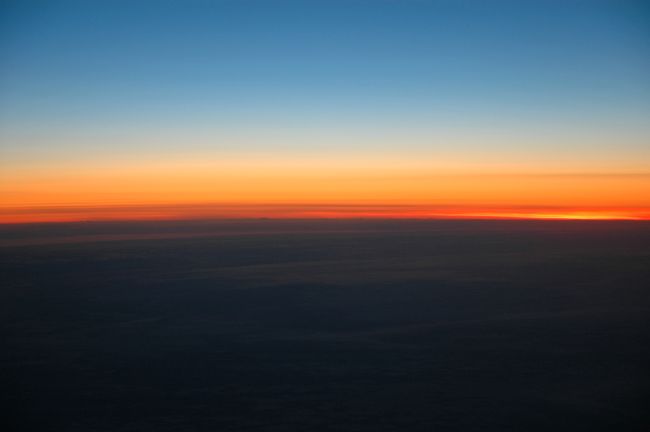 Picture by Satchmo
The light coming back again: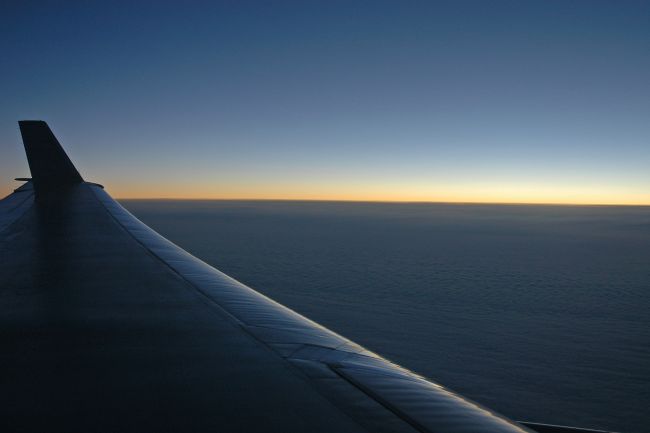 Picture by Satchmo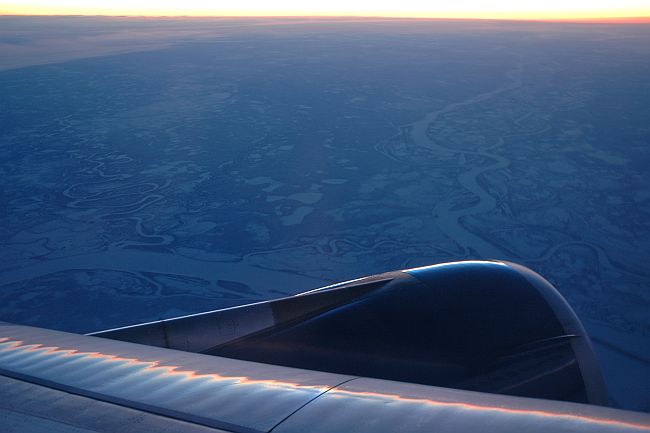 Picture by Satchmo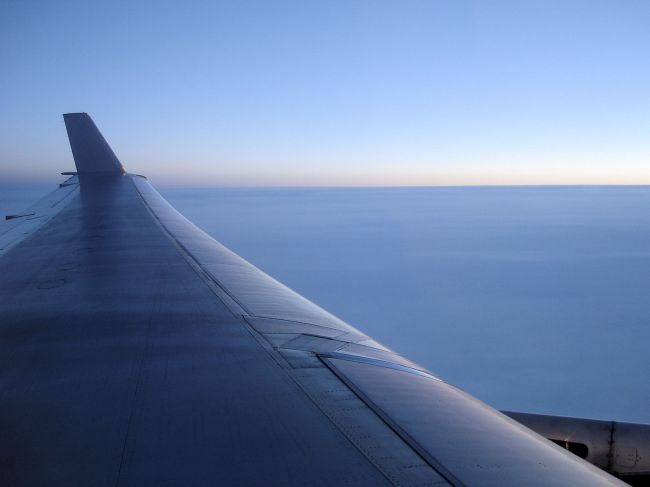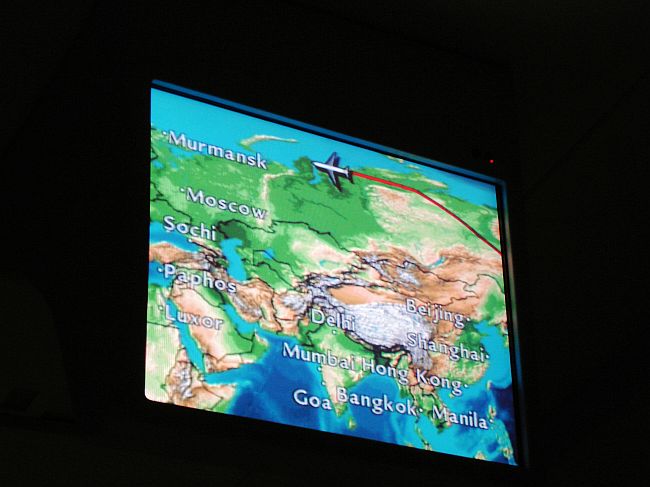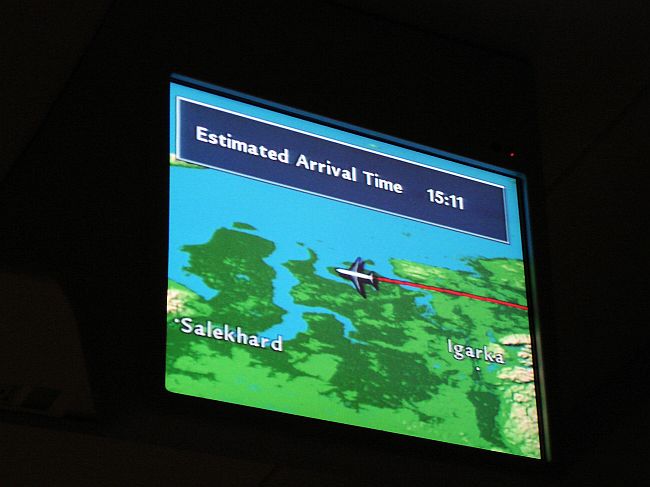 Light Meal
Two hours before landing another meal was served and I was prepared for another mean attack on my gustatory nerves - but this time I was positively surprised. The macaroni with cheese tasted quite good - though I'm still clueless about the filling of the sticky pastry. Vanilla maybe?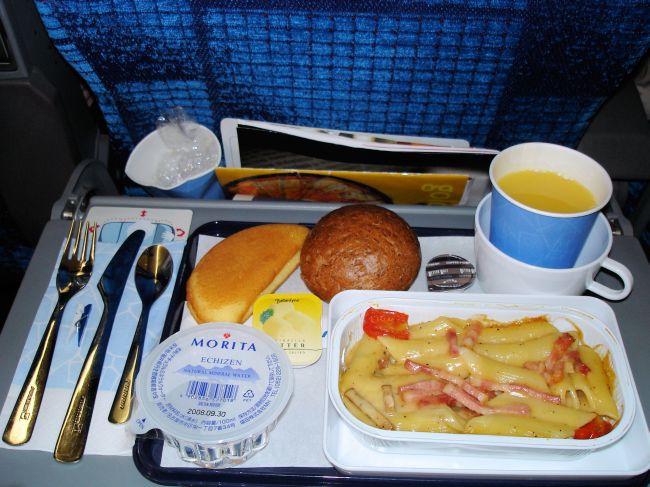 Now a question for the Finnair experts: What's the purpose of that clothespin (can be found on any tray)?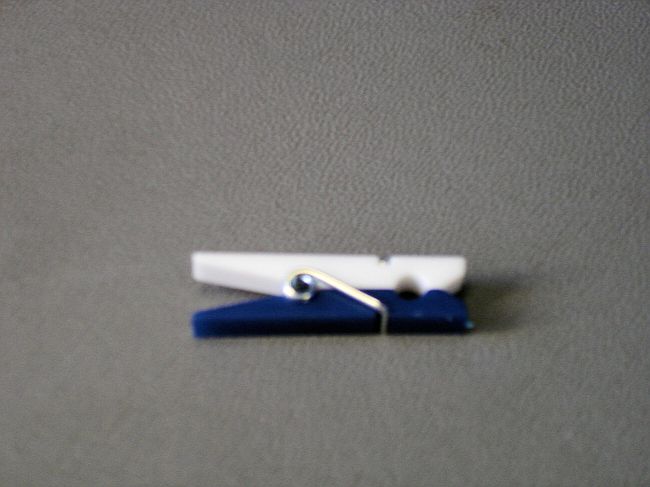 Back in the bright light again, at 10,300 meters over an ocean of clouds: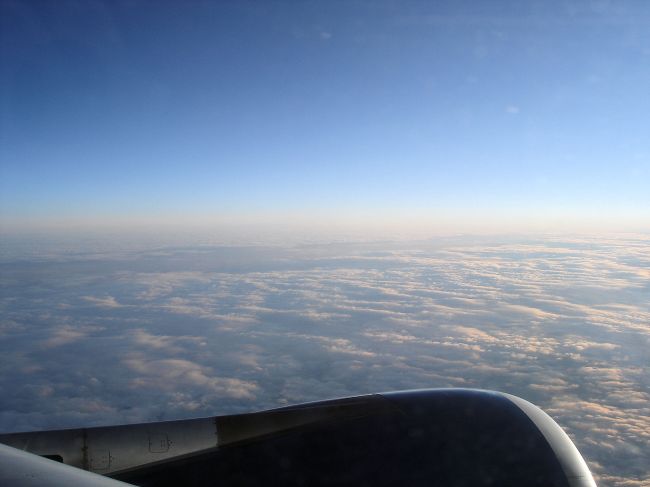 Descent...
...over Finland's beautiful landscape: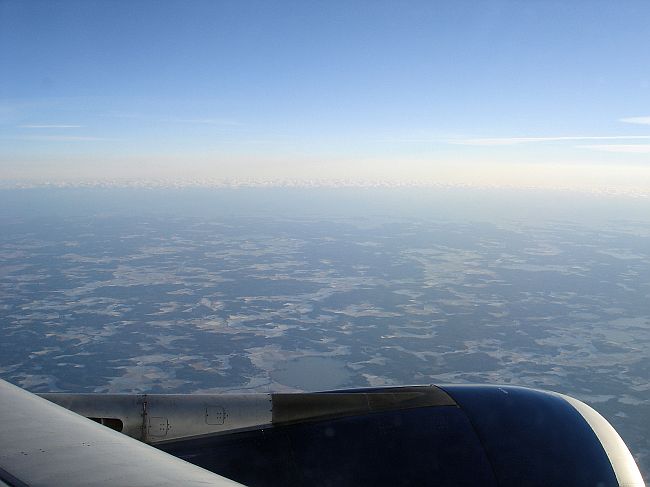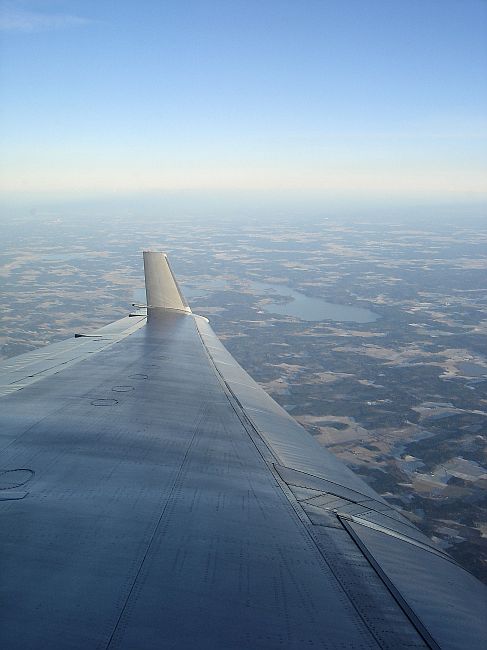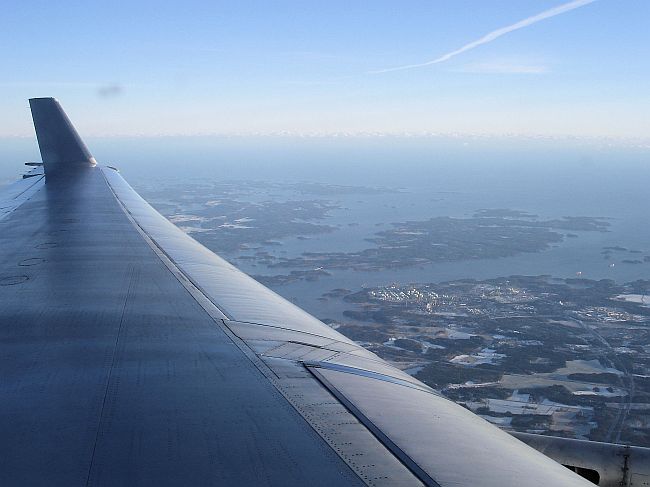 Approach over Helsinki: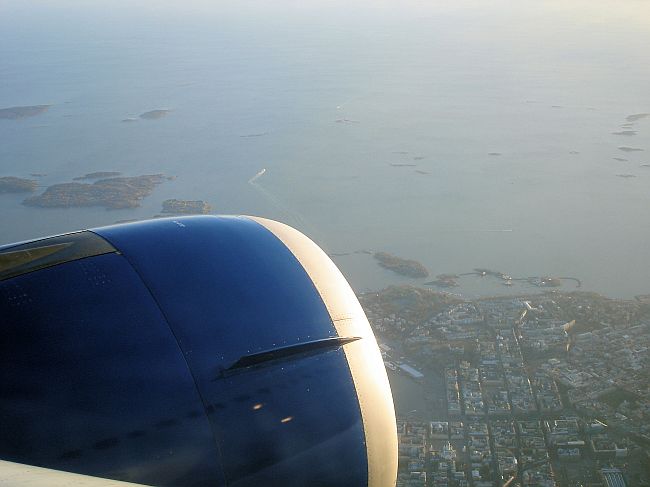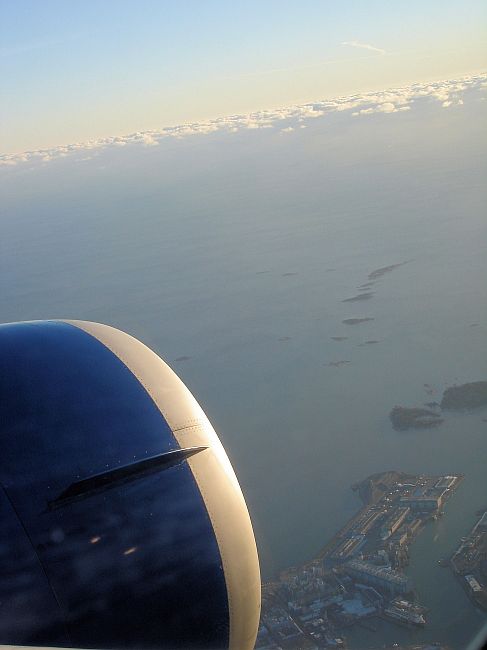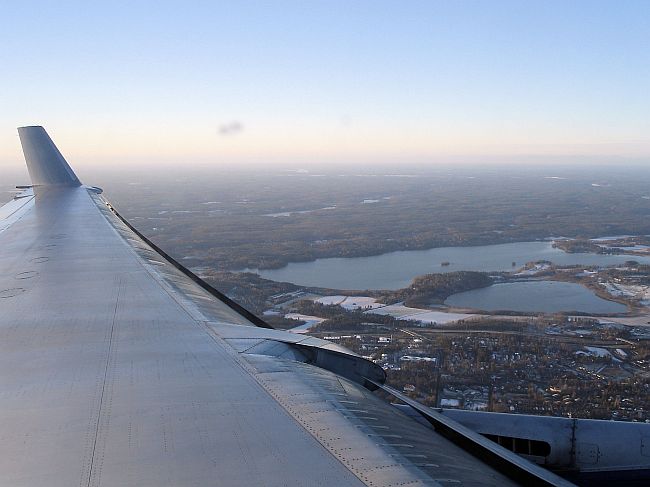 Only moments from touchdown: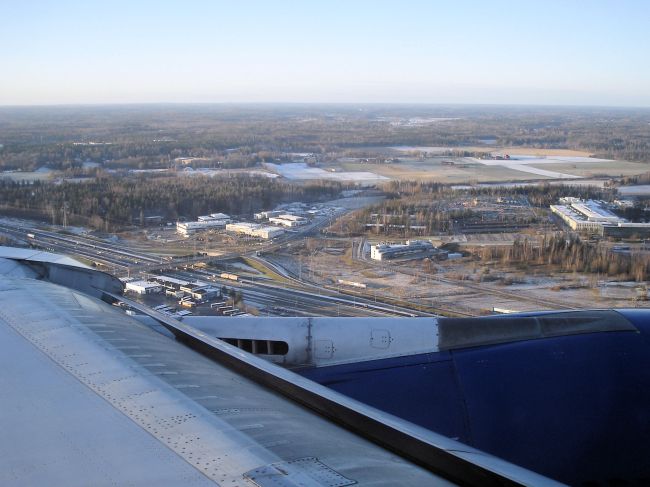 We touched down at 15:15 and quickly taxied to our gate - OH-LGG with Santa Claus just ahead: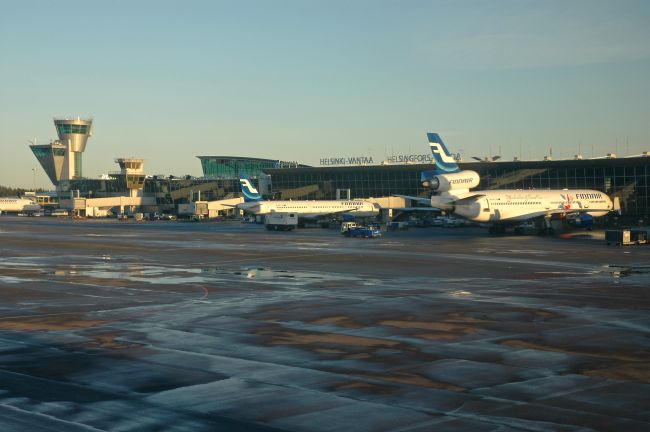 Picture by Satchmo
MD-11 tails in the late afternoon sun: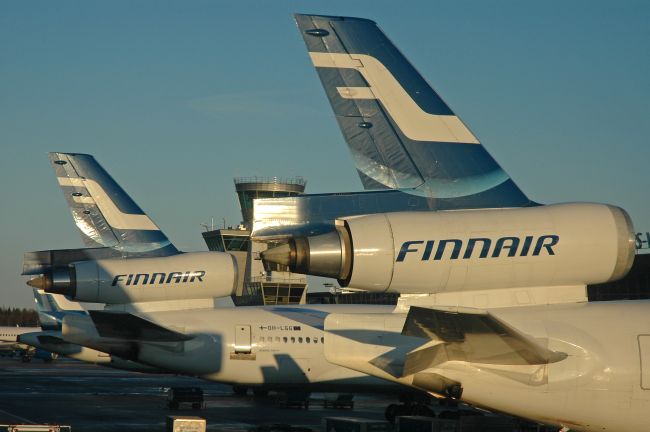 Picture by Satchmo
It took us some 20 minutes to pass through the crowded security area after arrival. We checked the gate for the connecting flight and immediately walked to the other end of the terminal which was full of transfer passengers. A short visit to a toilet confirmed that we weren't in Japan with its exceptionally clean facilities any more.
Sunday, 04 November 2007
Helsinki (HEL) - Munich (MUC)
Finnair, AY807
16:20-17:50 (16:34-17:40)
Flying time: 01:56 (hrs)

Airbus A320-214
OH-LXH (s/n 1913), delivered in 01/2003
Economy Seat 25E
Aircraft Change
The gate was crowded and I guessed right that the flight to MUC would be packed (85-90 percent). A bus brought us to a remote parking position. Afternoon rush during sunset: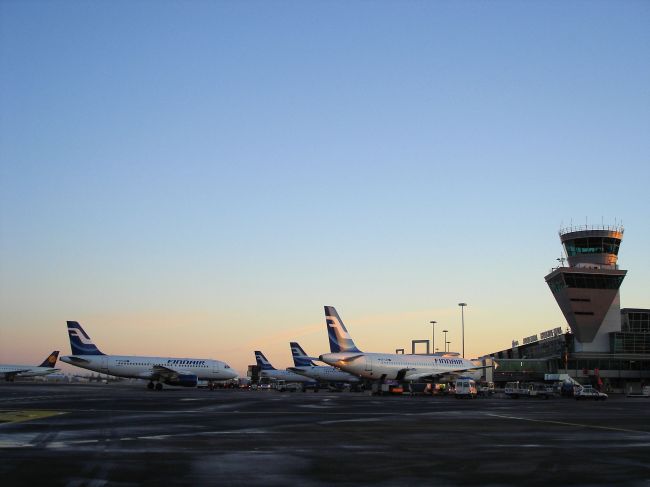 After the bus had stopped and we were walking into the Finish November frostiness we realized we wouldn't get the planned A319 but an A320. Anyway, not a big deal since we hadn't flown any Finnair A32X before. OH-LXH in the late afternoon sunlight: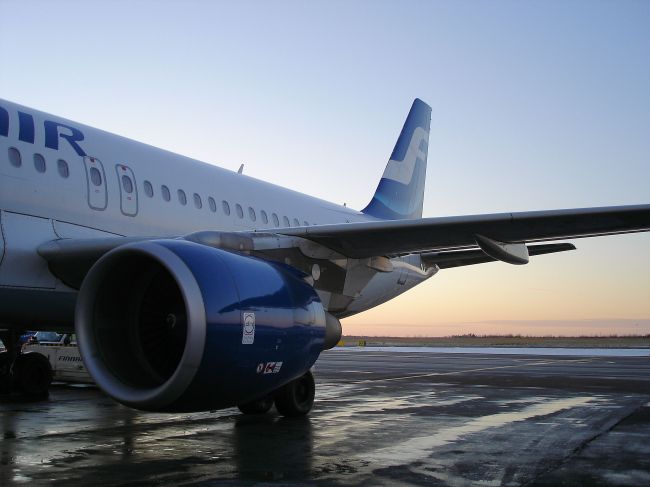 Cabin Comfort & IFE
Friendly F/As welcomed us on board and we walked down to our row. A man in the mid-30s, probably from India or Pakistan, was already sitting in the window seat. We kindly told him that we had been booked in the window seat and the adjacent middle but he didn't seem to be interested in moving at first. He double checked his boarding pass and finally took the aisle seat, with a quite grim face - which didn't become any better, especially later in the flight when we asked to pass...
Comfortable seats and sufficient pitch for a two hour flight: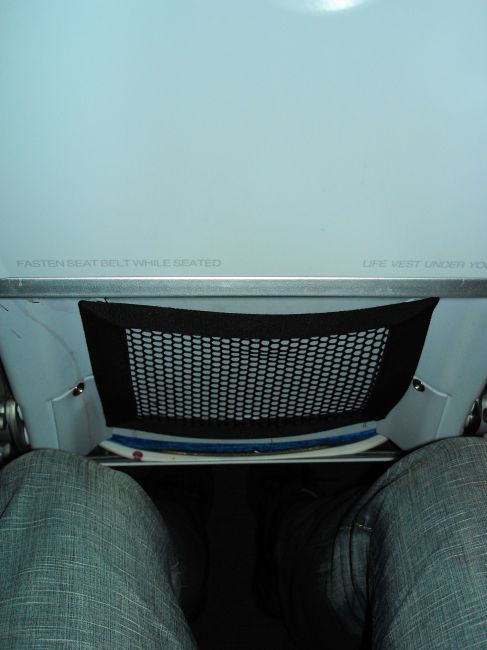 Flat fold-down screens continuously showed the airshow channel (pic taken later in the flight):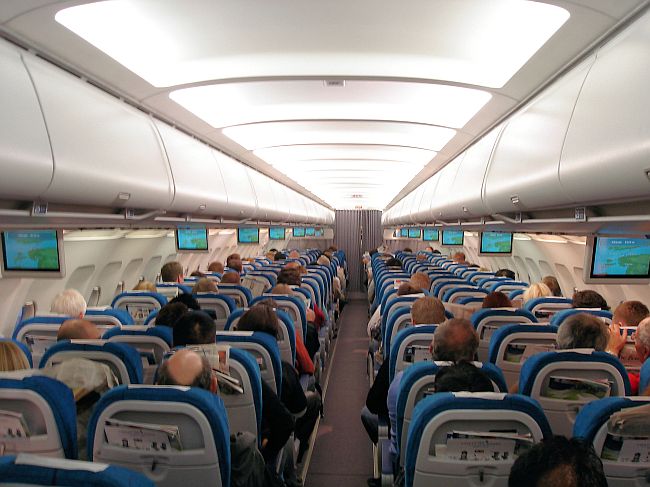 Takeoff
We left the gate a bit late at 16:34 and took off five minutes later: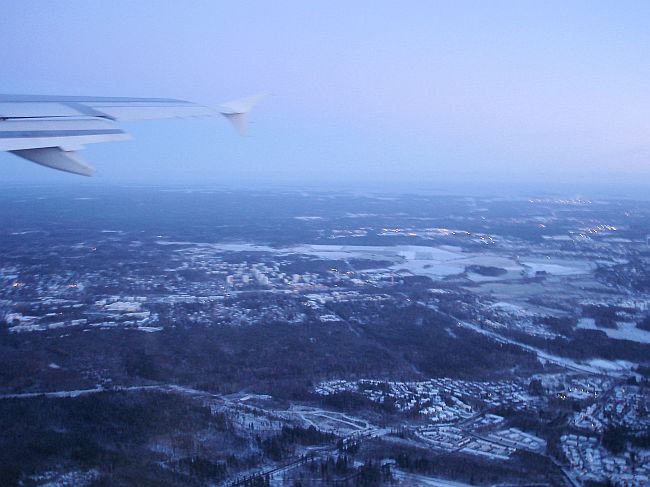 Goodbye Helsinki-Vantaa Airport: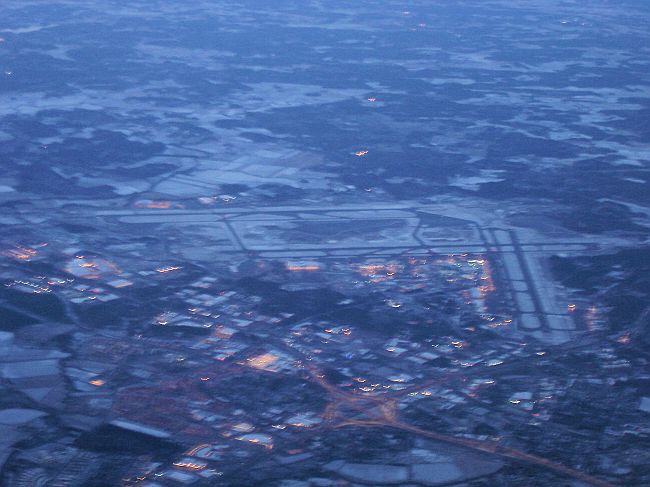 Dinner...
...was served soon (by friendly, motivated F/As) and I was very positively surprised about the delicious hot meal: "Beef Wallenberg" (mincemeat), with gravy, potatoes and crisp carrots: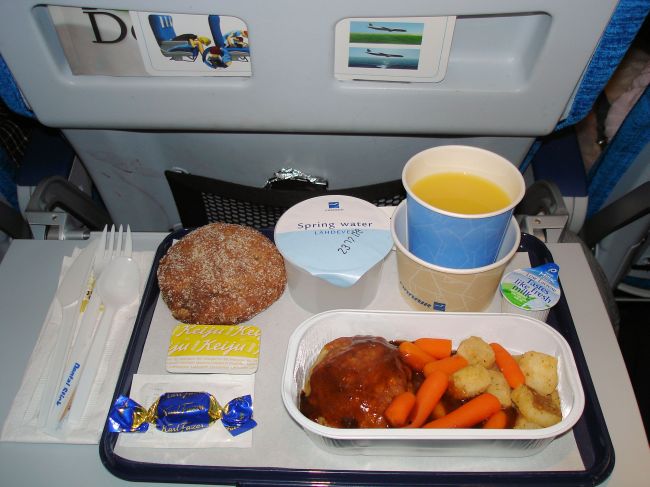 Sunset, Part 2
For the second time on this day we enjoyed a beautiful sunset, this time at 11,277 meters (37,000 feet):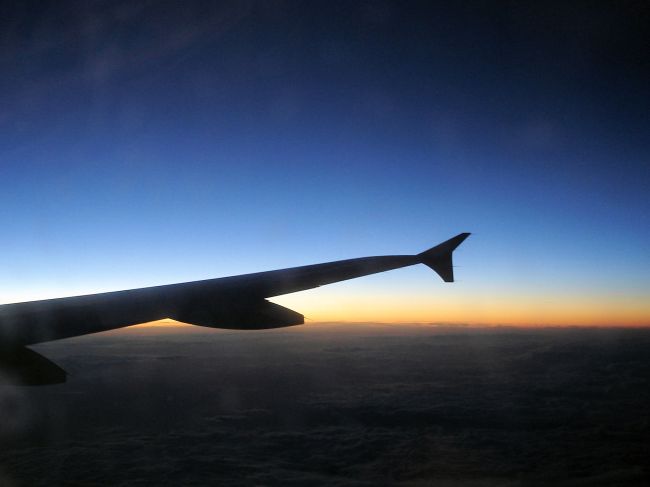 Only minutes from Bavaria - or better: The Upper Palatinate.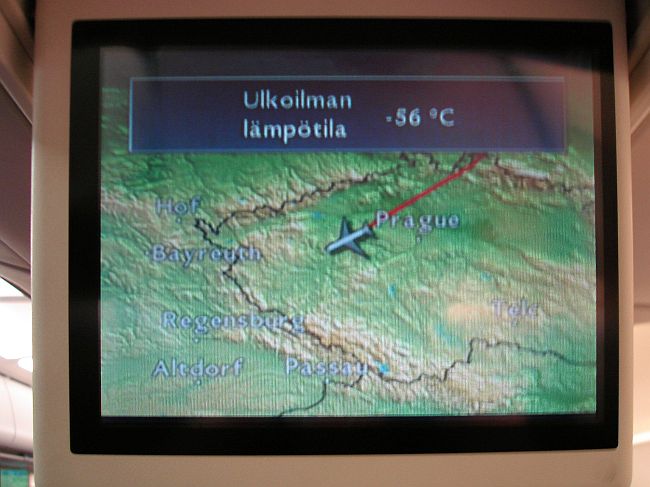 After less than two hours in the air we touched down on runway 26R at 17:35 and arrived at the gate five minutes later. Time to go home after an outstanding trip to one of the world's most fascinating countries.
Conclusion
Top and flop - that's how I would describe my
Finnair
experience. Again, the European flight was excellent with a comfortable, well-equipped cabin (TVs and airshow), friendly F/As and very good catering. In contrast, the long-haul flight was below average - cramped seating, (partly) worn cabin, "Stone Age" IFE, inconsistent crews and poor catering (e.g. food quality, charge for extra snacks). Sure, the MD-11s are on the way out, but there's still a lot which needs to be improved in order to offer a competitive product
(see the first report for more details on the HEL-NGO A340 flight)
. I wouldn't hesitate to fly Finnair on European routes again, but I'm not yearning for an AY long-haul flight any time soon...
As for Japan in general: It's THE country for any aviation enthusiast, registration spotter, photo spotter or whatever. It's not a question
if
, but
when
I go again. Just for the record: I logged a total of 537 new registrations.
Best Regards,
PlaneHunter