Hello all,
People often want to keep a special unique place all to themselves. Of course, I would like to keep this great place to myself. But what if the place is not really a secret? The place I'm referring to is Munich and the surrounding area of Bavaria, which I visited over the weekend courtesy of a $200 fare on Lufthansa. Voted the best city to live in by Monocle Magazine, I was curious to see how it fared against other urban places I have had the privilege of visiting or living in.
So, without much ado, I'd like to personally take you on a journey to a beautiful and friendly land known as Bavaria, Germany. Sure, it's got its fair share of German stereotypes (think: lederhosen, busty beer frauleins and oompa bands with silly hats), but in my opinion it's a great place to visit.
Lufthansa LH413, February 14, 2008
Newark Liberty International (EWR) to Munich Franz Josef Strauss International Airport (MUC)
Gate B63
Seat 34H, Class M (Economy)
Departure (Scheduled/Actual): 20.30/22.03
Arrival (Scheduled/Actual): 10.15*/11.12*
The after 5pm drive to Newark from downtown Manhattan was a nightmare, as usual. I waited about 30 minutes on Hudson just to enter the Holland Tunnel. At the airport, the check-in process was very smooth, Lufthansa has their own handling agents with their distinctive yellow scarves. Beyond security, Terminal B has relatively nothing to eat, so I made a beeline for the pre-security fast food chains.
At the gate was a Lufthansa plane before ours, it was an a340 bound for Frankfurt, which boarded and departed relatively quickly. An announcement was made that the Munich-bound plane would be late in arrival, and the screen above the gate agent automatically changed to a later boarding time. On the bright side, the delay gave a picture of the passenger composition, mainly German and European families and New Jersey-Long Island students bound for Italy and Spain (directly quoting one without judgment or hyperbole, who asked another, "what language do they speak in Italy?" "French, I think."). When it finally came time to board—about thirty minutes past the scheduled boarding time—the boarding process was rather chaotic, with only families with small children, First, Business and school groups getting preference on a separate line. Everyone else was pretty much left to his or her own devices.
Once on board, the friendly FA's greeted me onto the a330 cabin, which was lit very well (not too harsh, not too dim). Once seated in the almost full plane, almost everyone began exploring the IFE system, which was fully functional, even on the ground. The pullback from the gate was rather timely; however, we waited about an hour on the ground. The communication from the front was pretty good though, with the Captain keeping the passengers informed of progress in both German and English.
Once airborne, bags of mini-pretzels and drinks were served, followed by a scorching hot towel service and a rather tasty dinner (or is it that my standards are low?). After dinner, the lights were turned off, and most people went to sleep. The FA's did several drink runs through. Duty free was also performed during the twilight hours.
Off the coast of France, the FA's started another drinks service, followed by a breakfast snack box, consisting of a granola bar, a fruit cup and several other items. For the second drinks service, I was amazed that the FA's managed to remember a majority of people's previous orders, including my own. Tea and coffee were served in small paper cups as we began our descent over Bavaria. Once landed, we were Auf'd by the friendly and smiling FA's and on our way through Munich's impressive and user-friendly airport (in my opinion at least).
Lufthansa LH412, February 18, 2008
Munich Franz Josef Strauss International Airport (MUC) to Newark Liberty International (EWR)
Gate H08
Seat 27EH, Class W (Economy)
Departure (Scheduled/Actual): 15.20 (note, I wasn't paying attention to the actual time, although it was around the scheduled time)
Arrival (Scheduled/Actual): 18.40 (note, see above.)
Taking the S-bahn to the airport was very easy and quick (as an aside, I am still astonished by the honesty policy with regards to the public transportation system!). At the check-in desks, I managed to outmaneuver a large family group by reading that the counters for USA-bound destinations were around the corner. There was a bit of a scare, as the check-in agent told me that I was supposed to be on a United flight bound for Washington, D.C. (but without any form of connection back to Newark). Once the issue was sorted and security dealt with, I just walked around, admiring the shops and restaurants in the airport (and the smoker's room that was reminiscent of a clown car, with about 15 people in there). I was kind of surprised that there was a Beate Ulse outpost at the airport.
At the gate was a secondary screening process where the security powers that be took away my spezi. The boarding process was chaotic again, with a general boarding call and subsequent rush. An announcement was made that the plane was oversold and was full.
At boarding there were smiles and greetings from the pretty FA's at the door. On the way back, the catering was better, with a nice salmon choice and a Bavarian "hot dog" snack served off the coast of Newfoundland. The service was still all smiles and the FA's still managed to remember what I drank before to ask if I wanted that again. Unfortunately, for the return leg, I did not find much to watch on the IFE system since I had seen the movies I wanted to see on the way to Munich.
Overall, I found that Lufthansa was a great airline. Granted, it was my first time and I only flew two sectors, but nevertheless, I was impressed by the service. The FA's had genuine smiles and actually went out of their way to help passengers (one male FA stopped what he was doing to show the person sitting next to me how to use the IFE system). The captains also kept the passengers informed, which was nice. The food and snacks were pretty tasty, with nice presentation.
One small complaint was the entertainment. I thought the IFE choices were pretty limited, and there was a severe lack of non-German magazines onboard.
I would certainly not hesitate to take them again, especially if the price is right, and would not hesitate to go back to Munich again!
Questions, comments, concerns are appreciated.
Photos: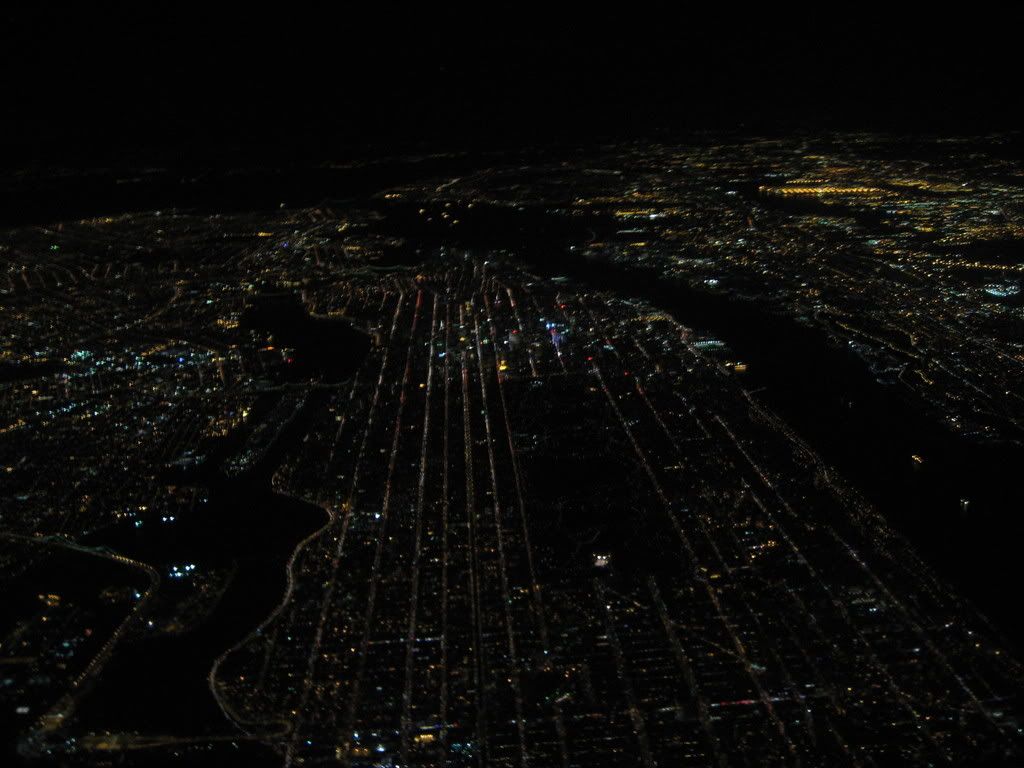 Image of Manhattan at night, you can see my apartment from here.
IFE at night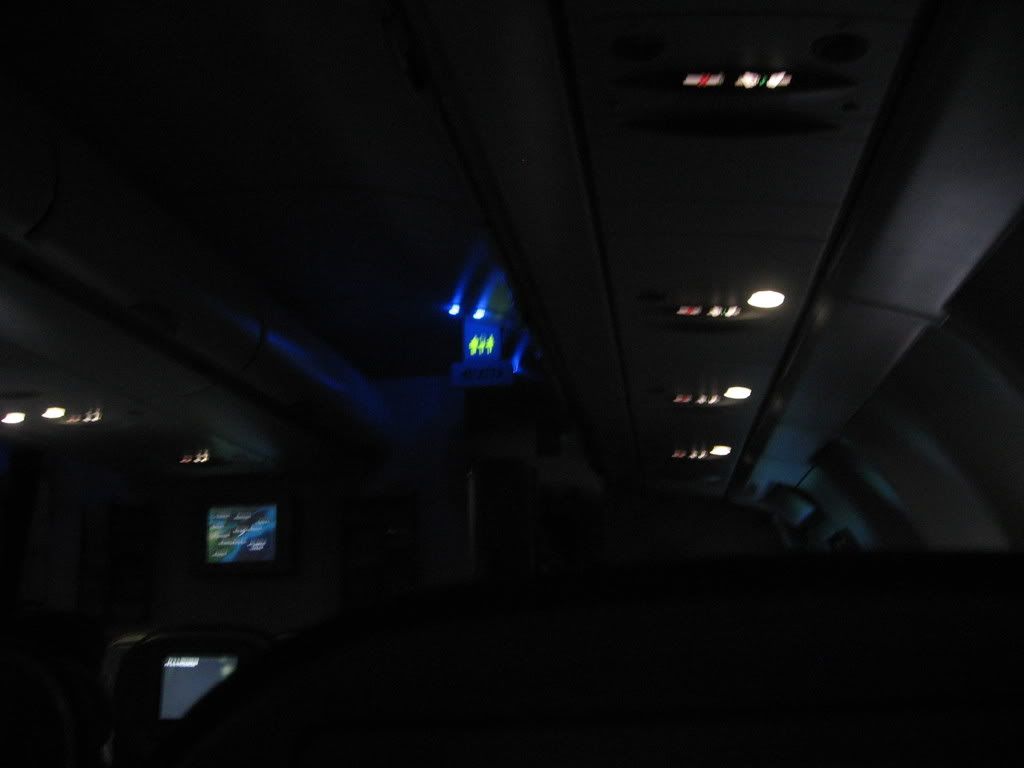 Cabin at night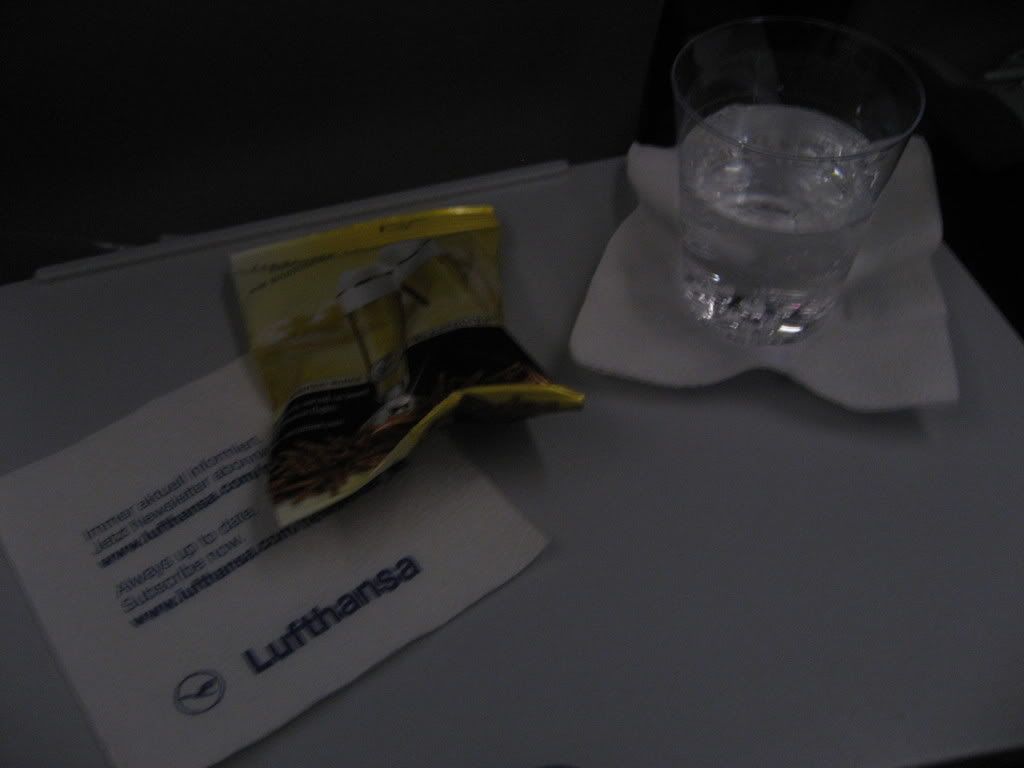 Pretzels and drink service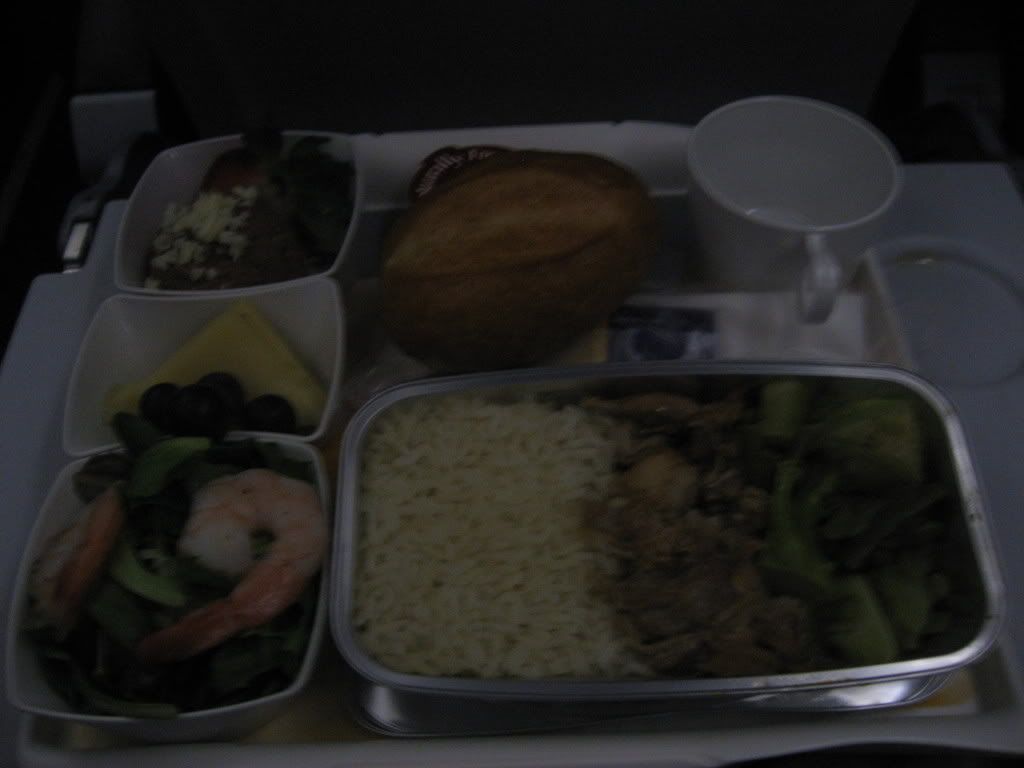 Beef with a side of broccoli, with mixed greens with shrimp, cheese and grapes, and chocolate mousse accompanying.
Pasta choice
Breakfast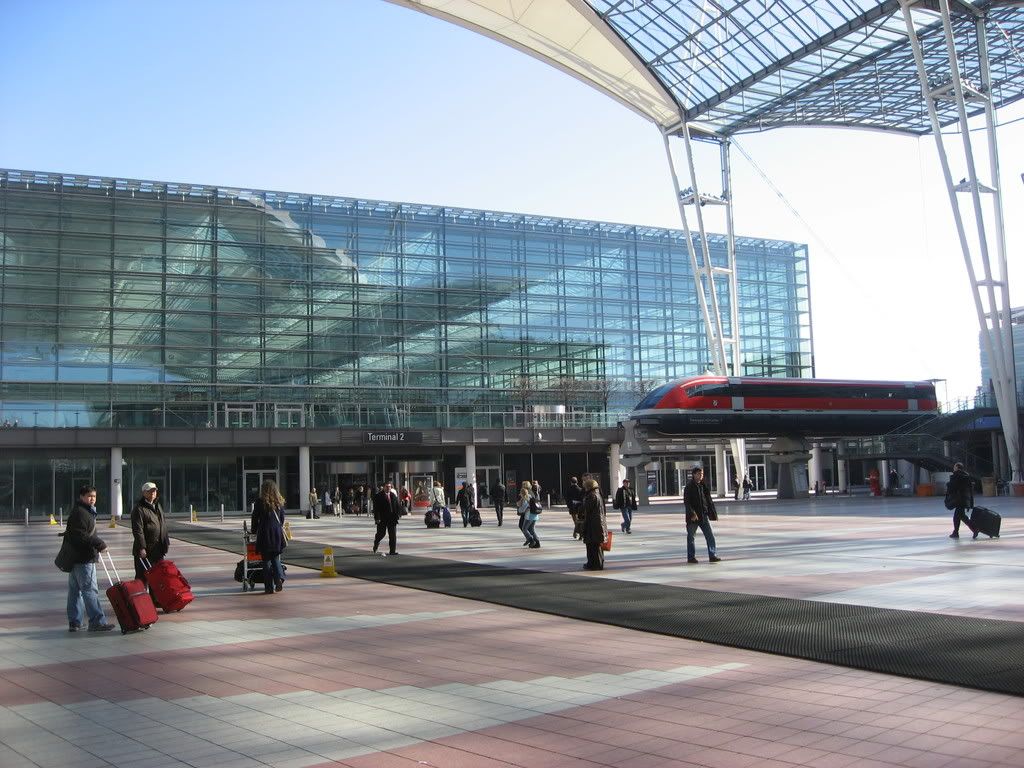 Stepping out of the S-Bahn station and future maglev train
Check-in desks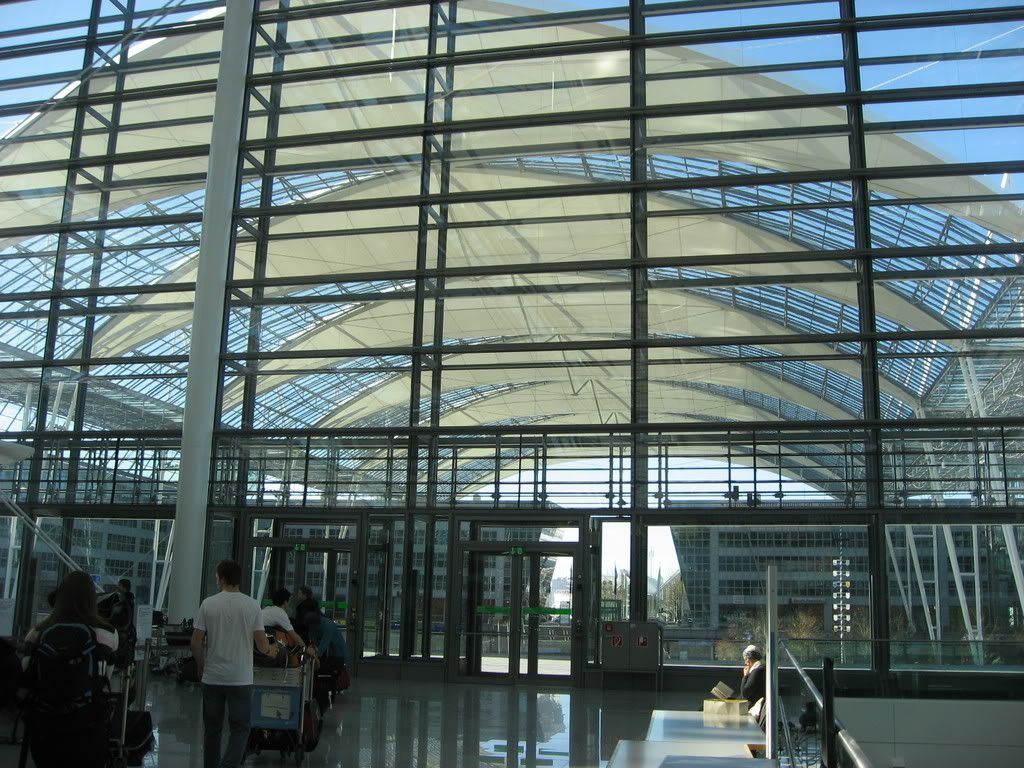 Nice roof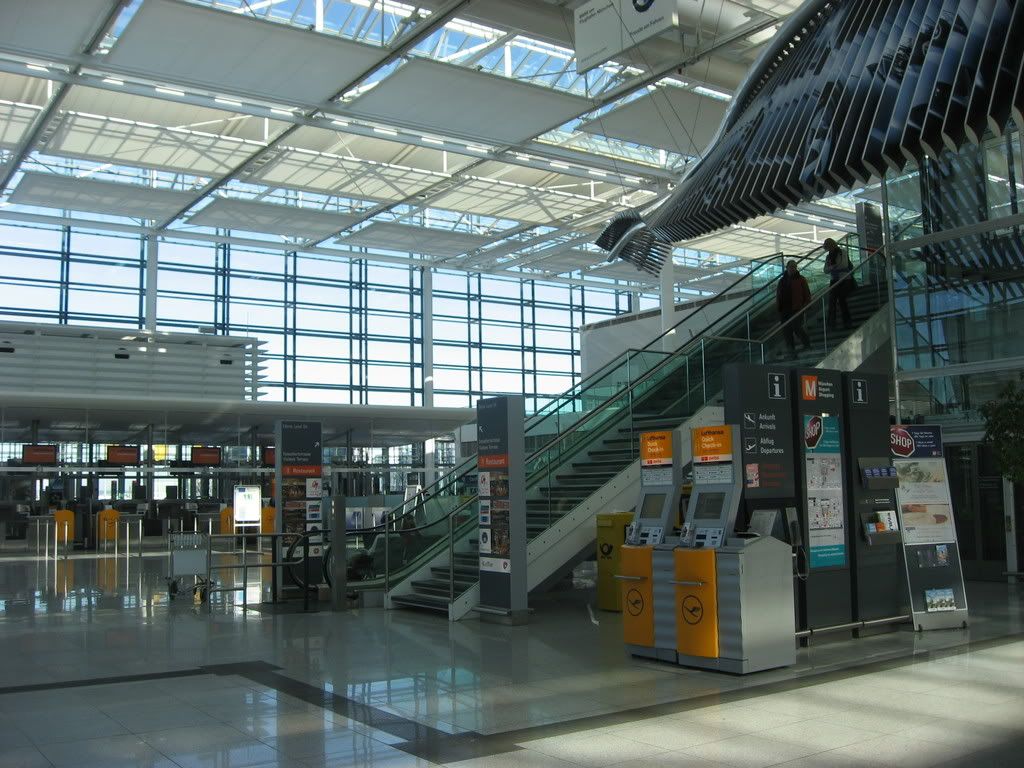 Inside terminal
So there's a sex shop in the airport...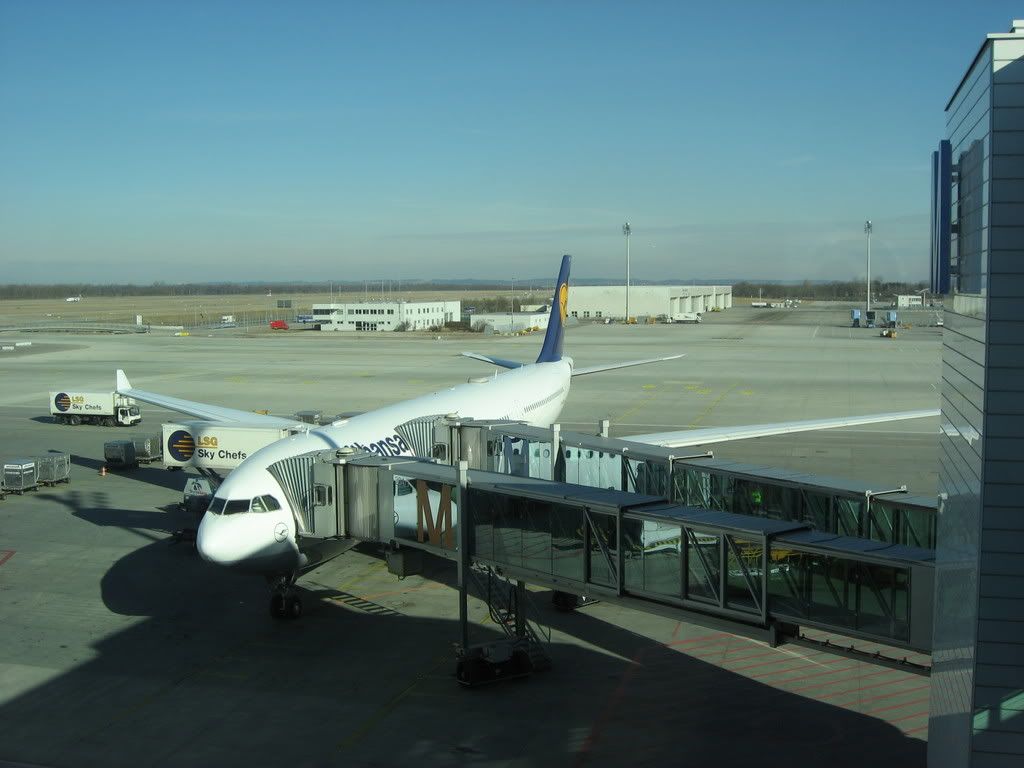 a330 bound for Newark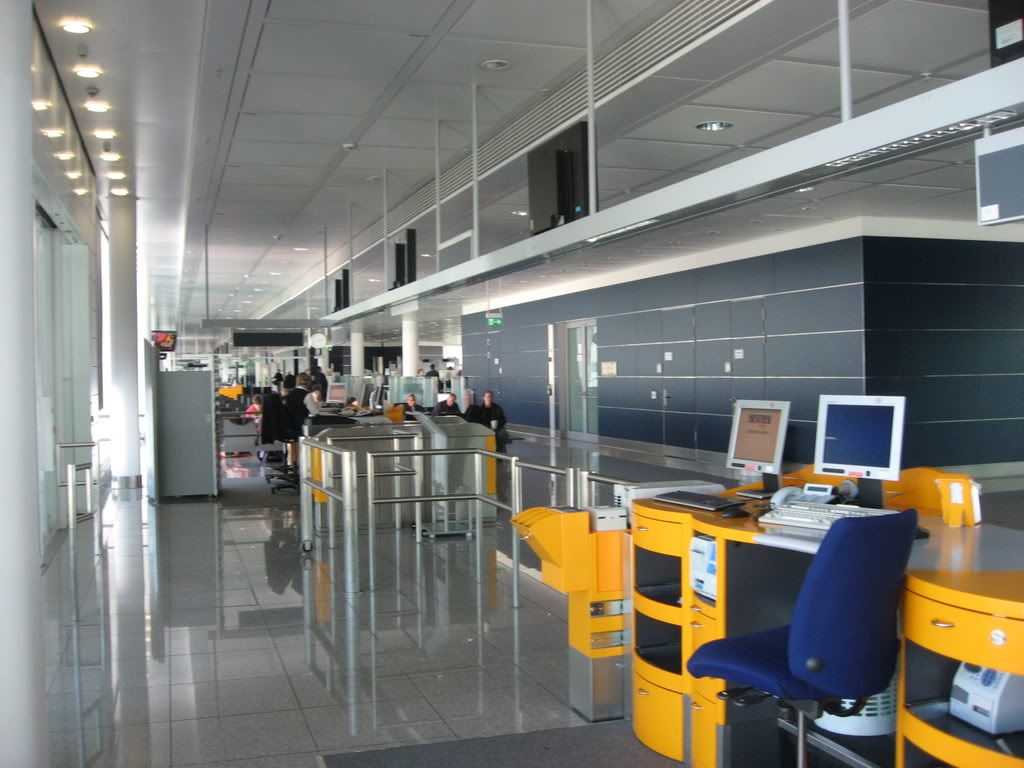 Beyond secondary screening point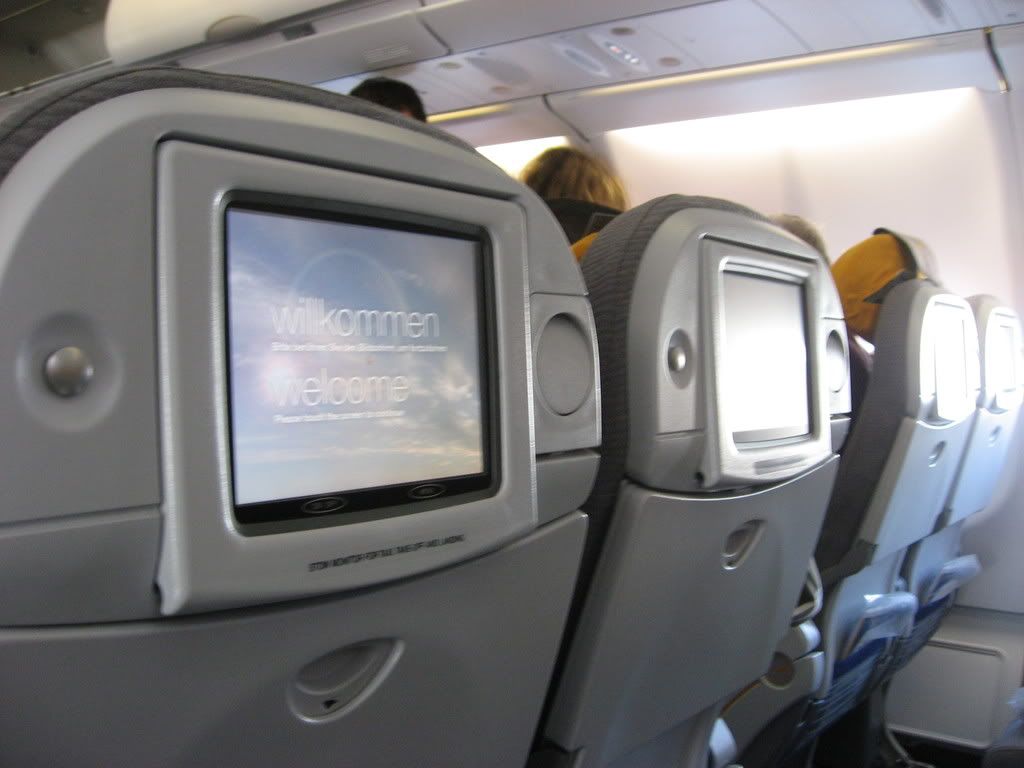 Back of seats
Seats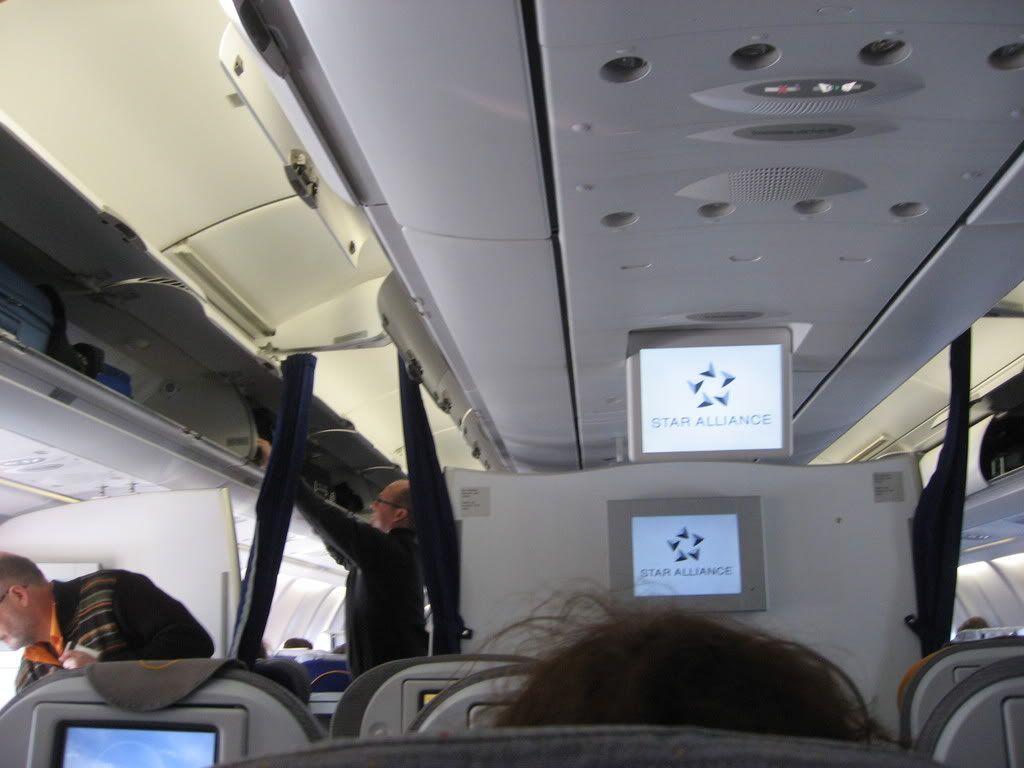 Snack and drink service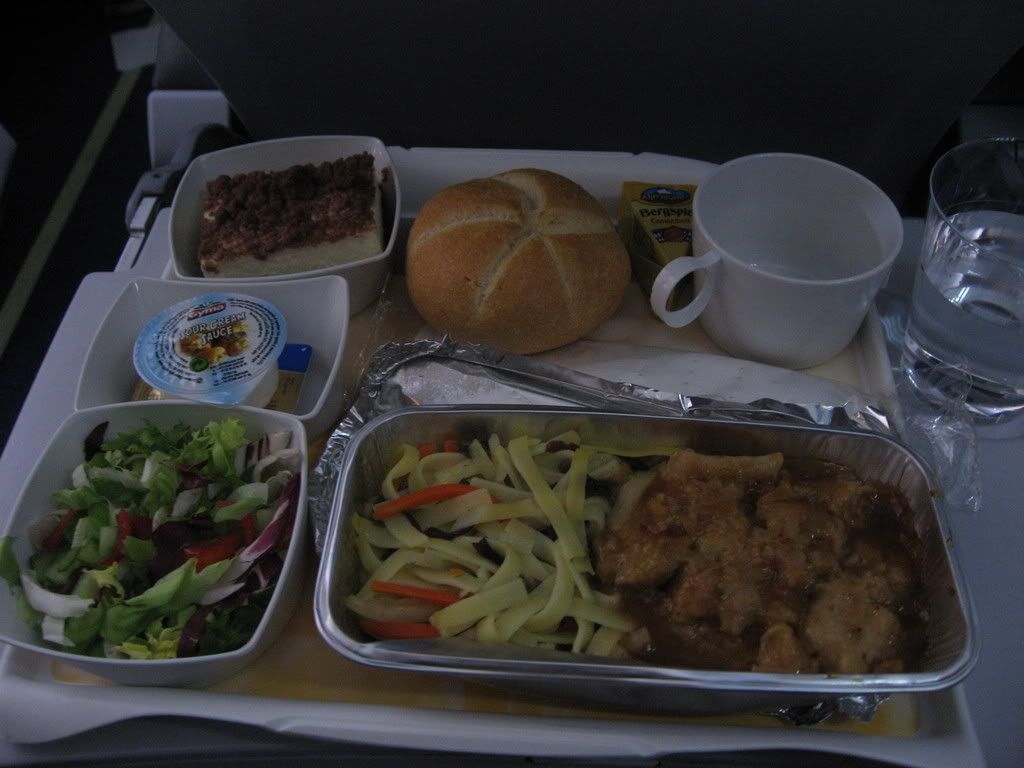 Hong Kong style chicken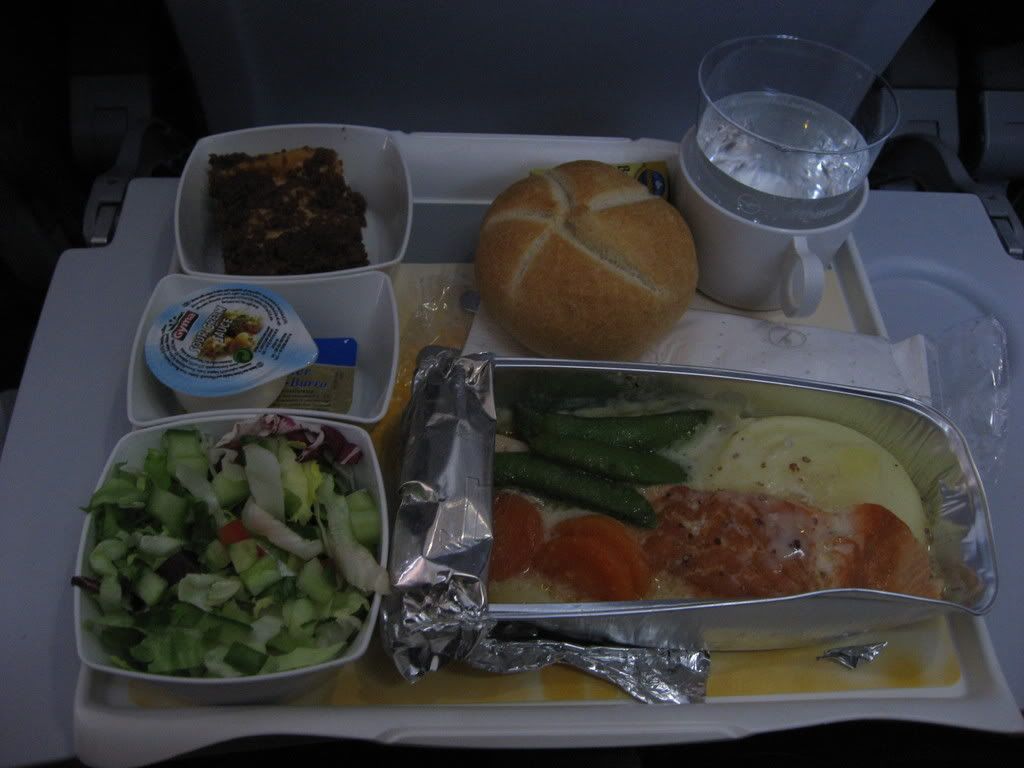 Salmon
IFE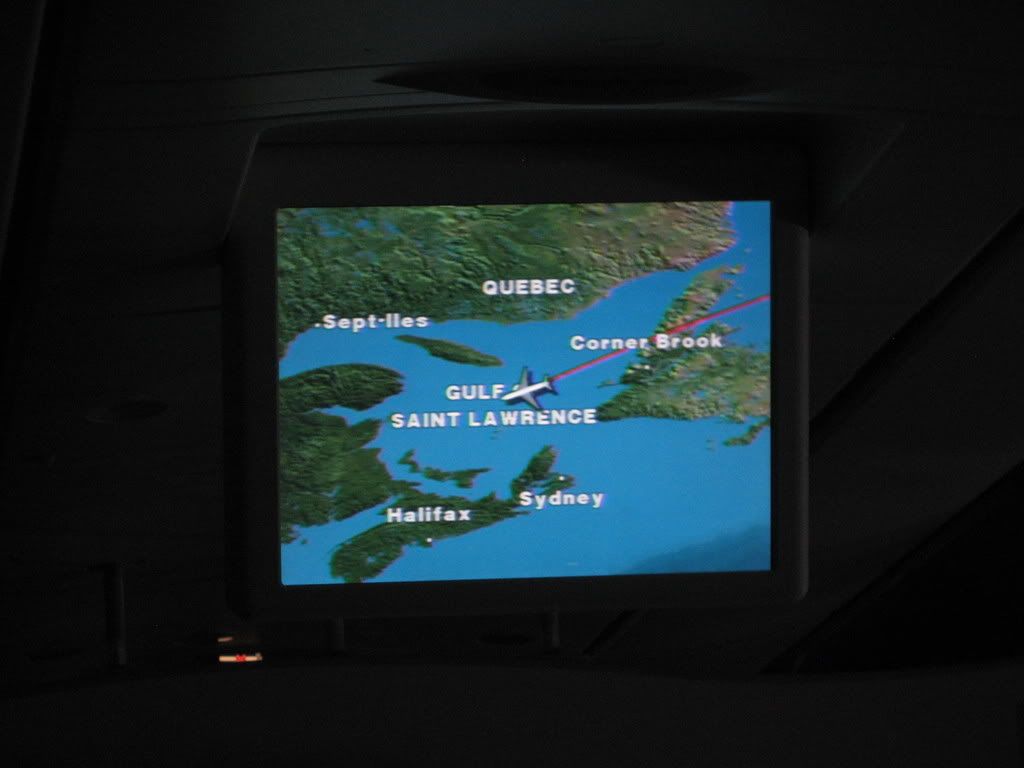 Over Canada
German Mystery Box 1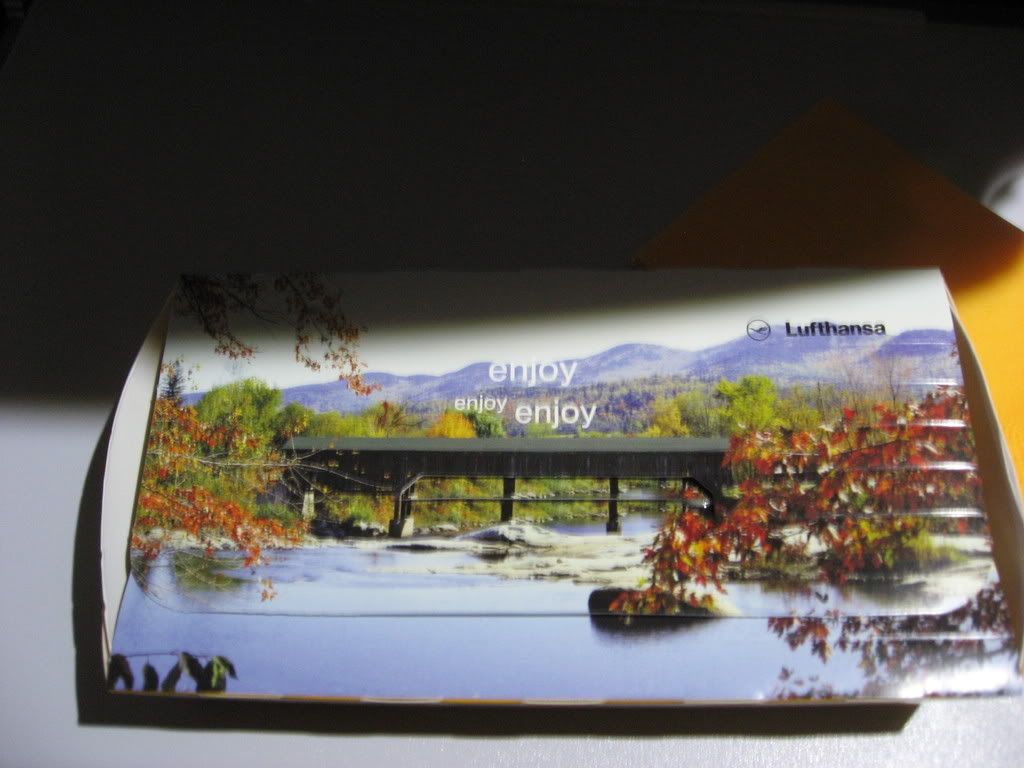 German Mystery Box 2
Bavarian "Hot Dog"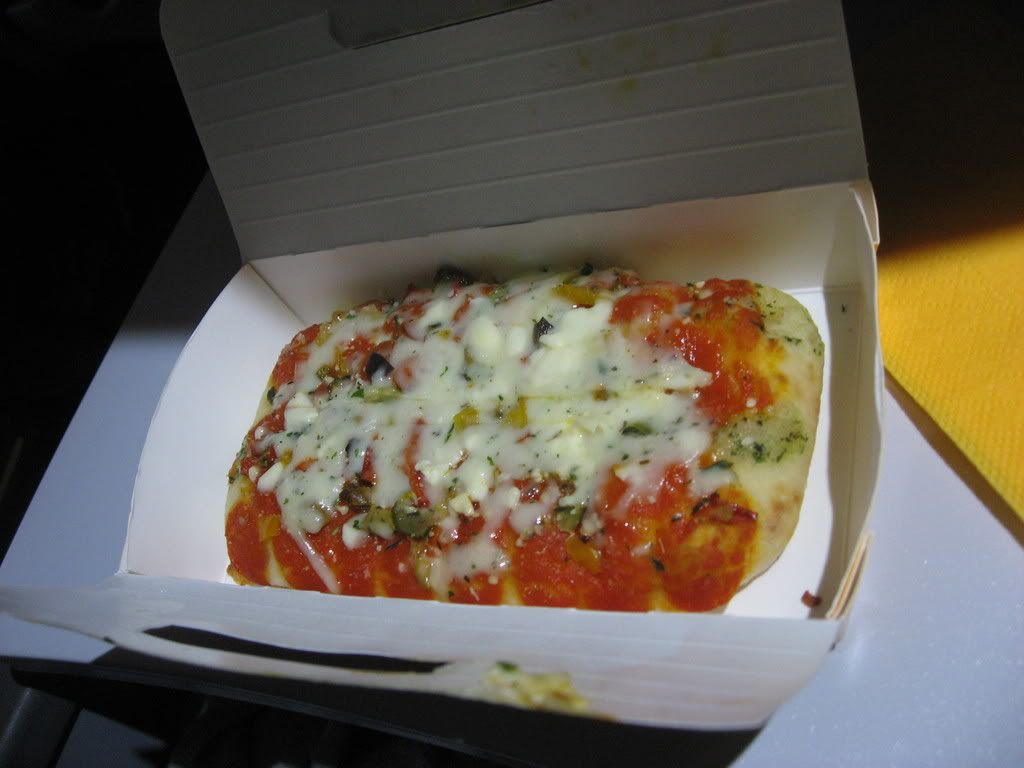 Veg. Pizza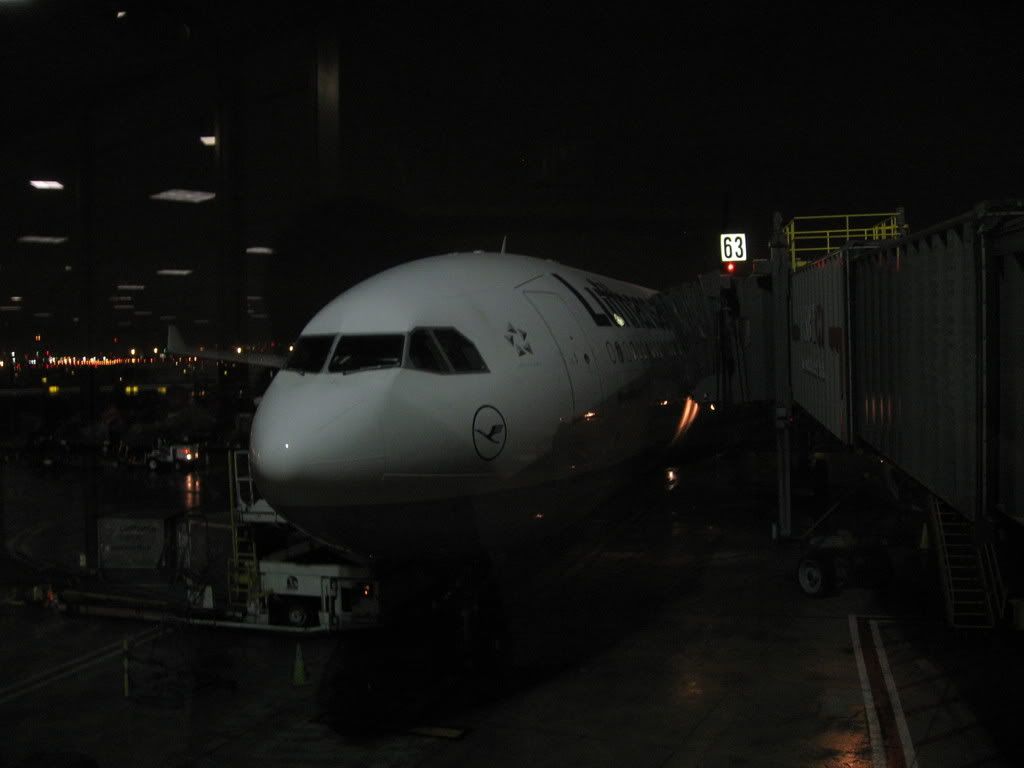 a330 at Newark
Munich pictures to follow soon.