IB169 XRY-MAD
Seat 3F
Business Class
0930-1030
I checked in about an hour before departure at Jerez's IB counter. There was only one counter open which I guess was enough as no one else was checking in. My boarding pass was given to me for the XRY-MAD flight but I was told that he could not issue me with a boarding pass for the MAD-LHR sector and he told me to find a BA counter to get my boarding pass in MAD. I was to sit in 3F at the rear of the short business class cabin. He kindly checked my bags through to LHR and informed me that the flight was on time. I passed through an empty security line and on to the departure lounge where it was relatively quiet. A quick glance at the departure board showed that my flight was the only one departing within the hour despite there being a Ryanair 737 on the apron, which seemed puzzling.
Our aircraft arrived on time and after a quick turnaround, boarding was called and a long queue formed at the gate. There was no particular order to the boarding except an elderly gentleman in a wheelchair who was boarded first via a lift on the right side of the aircraft. Once he was boarded, it was our turn. I was third in the queue so I boarded ahead of everyone else and took my place in 3F. There were 2 attendants who welcomed me on board in English which was a nice surprise, almost as if they knew I didn't speak Spanish! Once everyone was on board, we taxied to rwy 21 and took off with a powerful acceleration. After takeoff the crew leapt into service and drew the curtain separating business class and economy class. There were 4 other passengers in business class today. I was also pleased to find the new Business class seats built by Recaro. Very comfy and modern.
Service this morning was a cooked breakfast. I was initially offered some fresh orange juice and coffee. I opted for both and my orange juice was brought round. I also asked for a glass of water which was brought along promptly as well.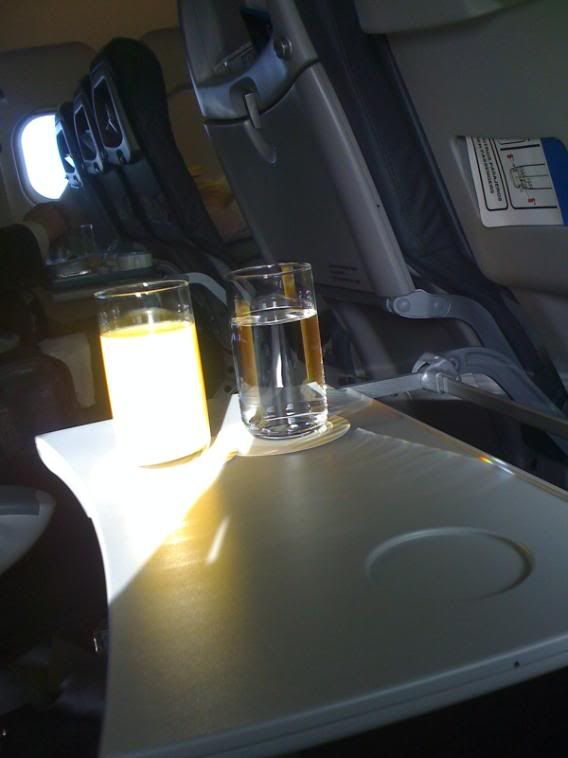 My meal was then brought which consisted of a croissant, warm roll, fresh fruit and scrambled eggs with chicken skewers and a tomato sauce. I must say, I was starving by then so it was a welcome sight. The eggs were creamy and moist and the sauce was made with fresh tomatoes and tasted good. I was impressed by the service on an hour's flight.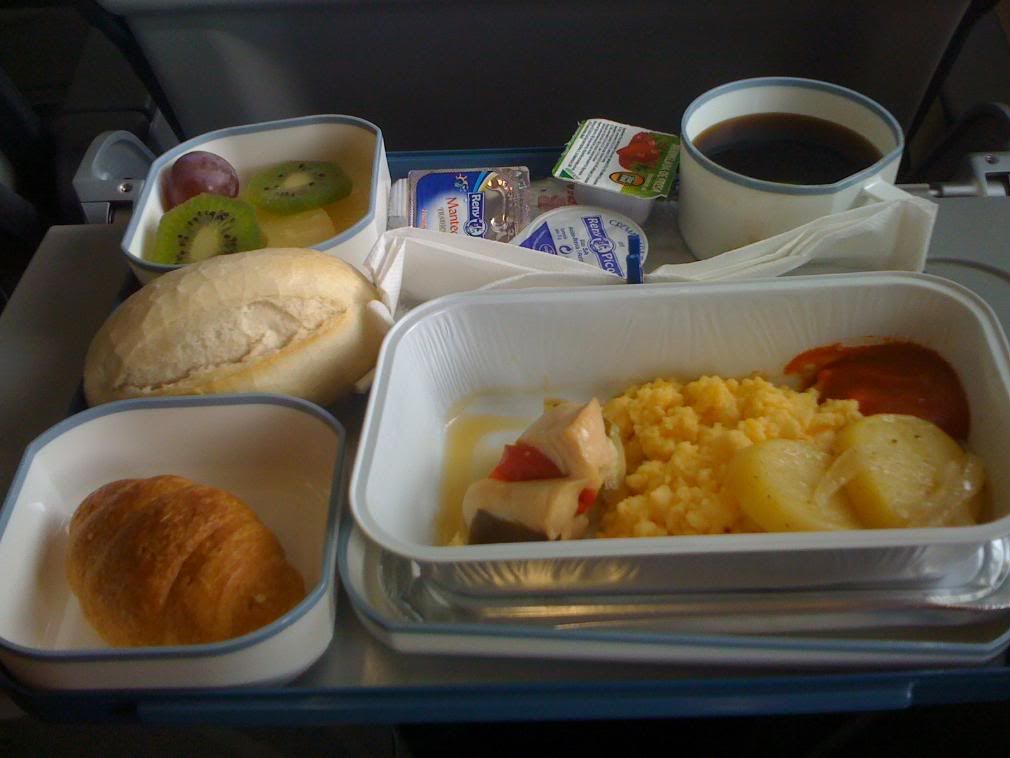 We landed in MAD on time and taxied to terminal 4. I had a small trip across to T4S but decided to go to the IB lounge to see if they would be able to print me a boarding pass for my BA flight. After about 20 minutes of phoning and speaking in Spanish, the representative at the IB counter didn't print my boarding pass but wrote it out! Eventually, it looked like a child had written it!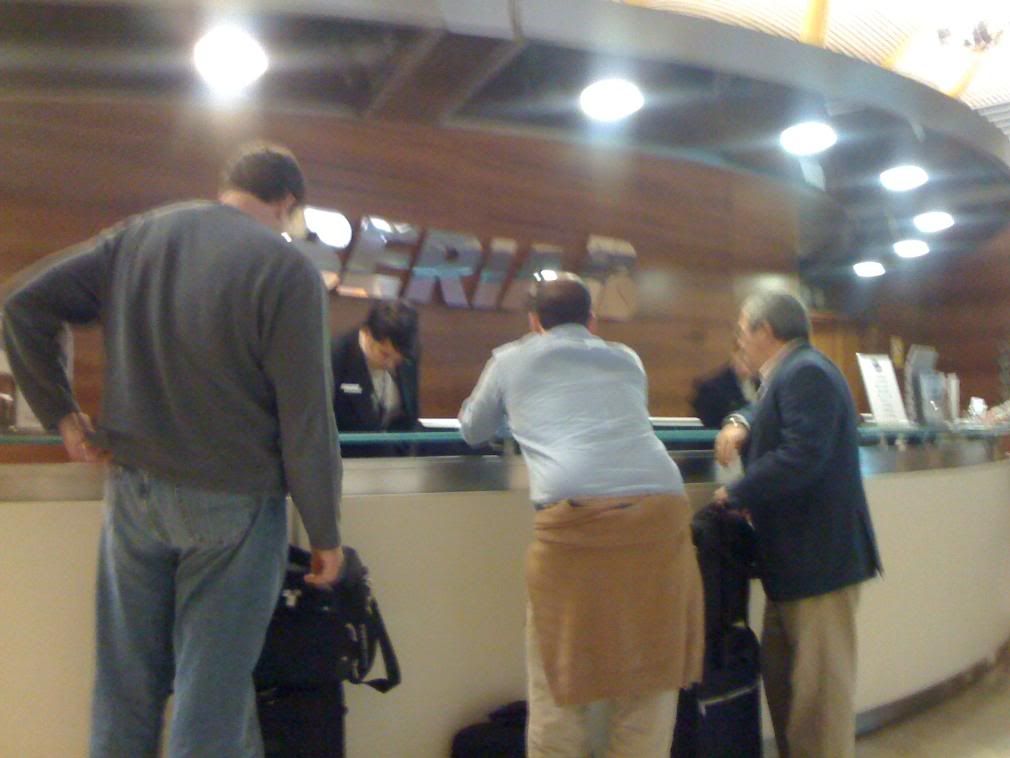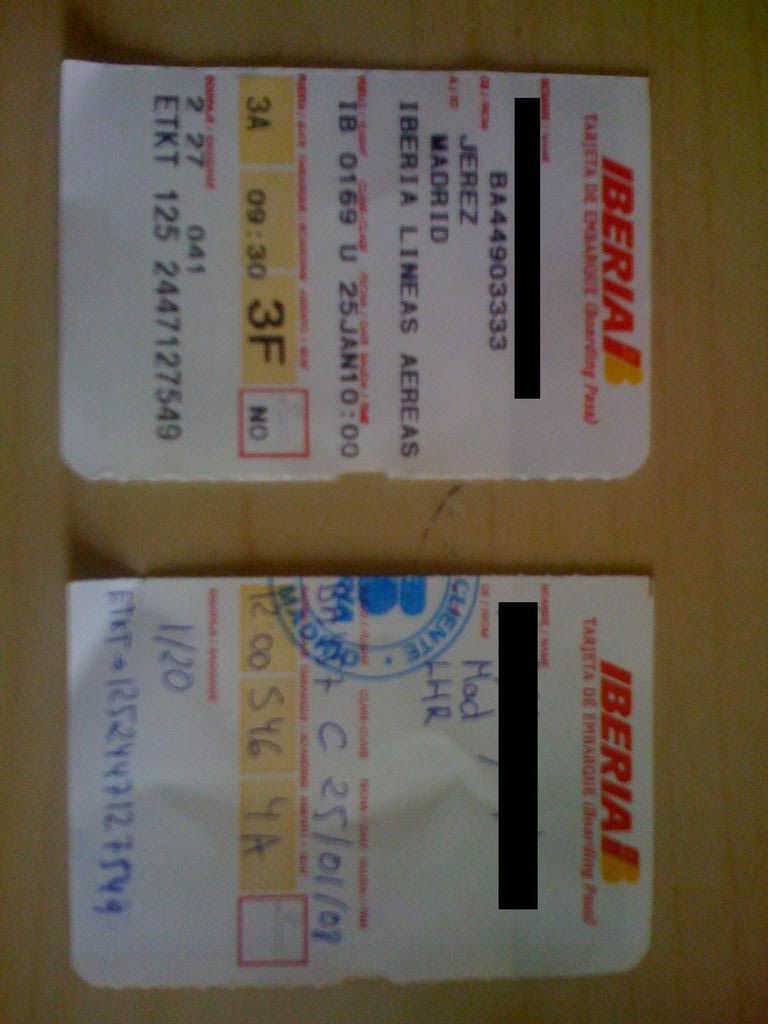 I was told that I had to make my way over to the satellite terminal and I should follow the signs for HJK gates. I was also told that there is another lounge in the satellite terminal of which I can't remember the name. I made my way on the automated people mover to the satellite terminal and passed immigration and security. Along the way, I took a photo of this unfortunately named café in the satellite terminal!
BA457 MAD-LHR
Club Europe
Seat 4A
1200-1430
Boarding commenced at the gate where our A320 was parked. There was a long queue so I made my way to the desk to ask if there was any priority boarding for Club Europe passengers. The dispatcher checked my boarding pass and passport and waved me through to board. (cheeky of me I know!) I took my place in 4A next to a business man in 4C.
This is when the trouble started. We were told of a delay of about 40 minutes due to busy traffic in London. This was not good for my short connection. During the wait, passengers made phone calls and moans and groans were heard throughout the cabin. The crew took the opportunity to serve more pre-flight drinks and hand out hot towels. My neighbour in seat 4C also moved to 5C as it was empty. We were then told that we would be able to try and improve our delay so after 20 minutes, we eventually took off and headed north for LHR. Drinks were served to begin the service. I opted for the same red wine I chose on my outbound and it was served to me with two bags of pretzels.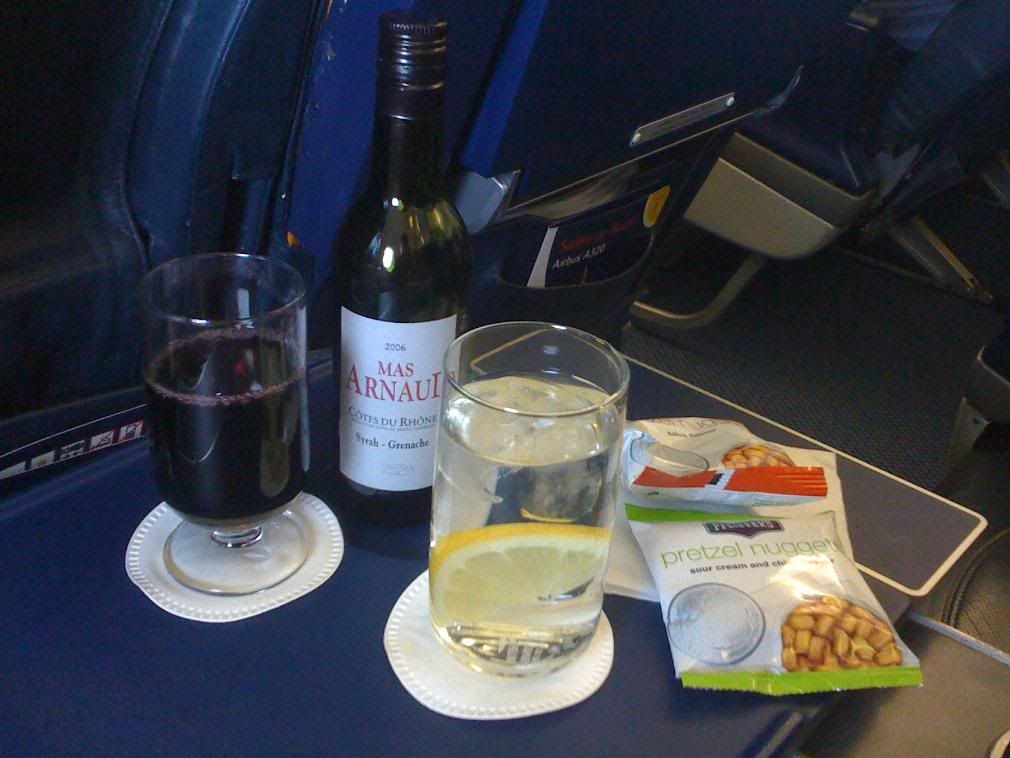 There was a choice today of prawn rice or chicken salad. I chose the prawn rice and was once again disappointed. The rice was bland and tasteless whilst the prawns were very rubbery and dry. The highlight, as always, was the bread basket with warm rolls and fresh bread. The tray also included some stilton and cheddar with biscuits to finish. Coffee and chocolates finished off the meal, and I was still hungry. We also hit some strong turbulence during the meal which resulted in spillage of my full coffee mug.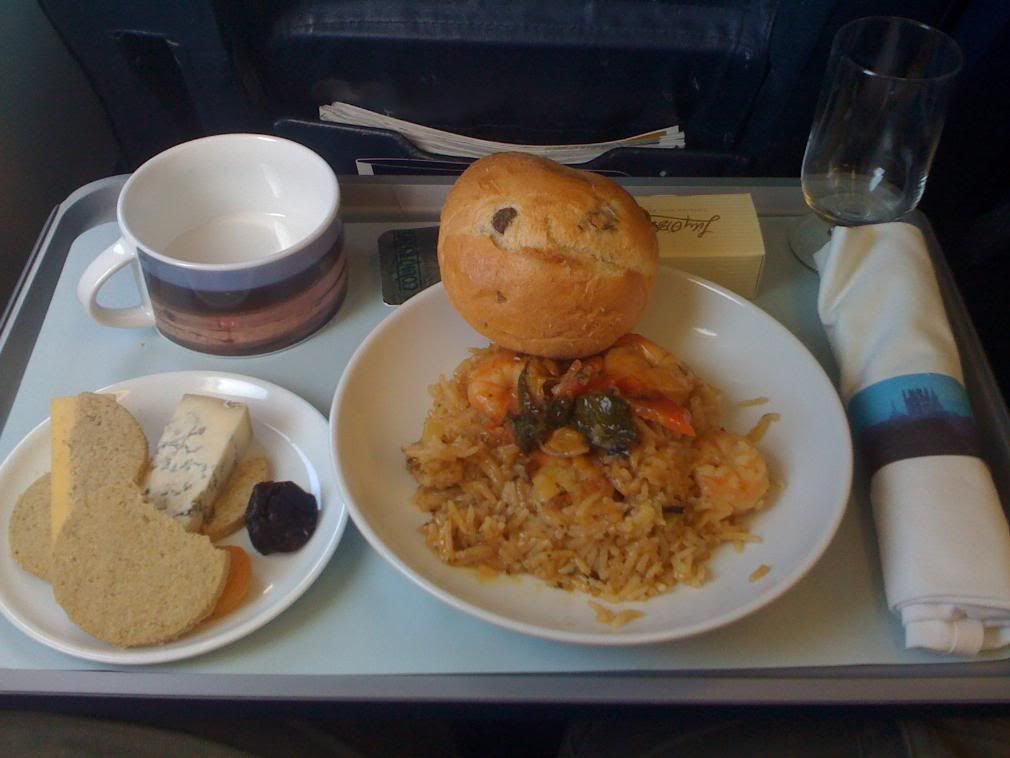 Heavy turbulence and a full mug...not a good combination!
The flight continued into French airspace and then across the channel towards London. This was where more bad news came as we were told that we would be circling over the south London to await a slot in the traffic. This lasted about 30 minutes and during which a lot of other BA aircraft could be spotted in the same holding pattern flying very close to us!
Eventually we broke out of the pattern and made a bumpy approach and landing into rwy 27L. The captain then came over the PA and informed us that the reason for our delay was strong winds of up to 50mph which was reducing the capacity at LHR as aircraft were a lot slower on the approach.
I eventually missed my train connection at Kings Cross and to top off a nightmare trip, my bag was lost and a claim form was given to me.
A very pleasant service spoilt by a delay at LHR, unfortunately a common case nowadays. Another 'bring on T5' conclusion from this trip!