This trip report is links in with
Back To Malaysia: JQ SYD-KUL Return (pics)
. No offence to Malaysians (I'm married to one!), but Kuala Lumpur is not exactly blessed with loads of interesting sights, especially on your third visit. We were on a 10 day holiday in Malaysia's main city and needed to break up our trip with a visit to somewhere else. Initially I thought of train rides to Penang (we've done this before) or along the East Coast "Jungle" railway.
After taking a look at the AirAsia website we realised that we could cheaply visit a country neither of us had visited before: if you discount a few hours in transit at Don Muang airport en route to Heathrow. So four nights in Bangkok it was!
Our day of departure started slowly with us barely making it down for the hotel breakfast, then turned into a rush with B's Mum deciding that we should go down to Petaling Street for a meal. This we did, but eventually I convinced B that we had to split from the other two and get back to the hotel for our luggage. We caught a taxi and were surprised when the driver agreed to a fare of 6RM. That was less than we paid to get there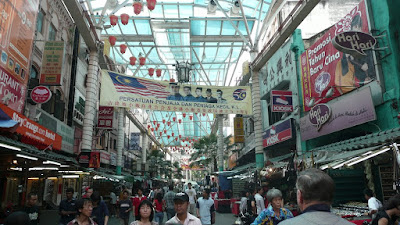 He soon regretted the fare when we became stuck unmoving at an intersection for 15 minutes. There seemed to be some sort of police action going on with many police vans visible alongside the street. By the time we arrived at the hotel the meter showed a higher figure than the one we had bargained for!
The monorail took us to KL Central station, where we caught a red AirAsia coach to the Low Cost Carrier Terminal (LCCT). Unfortunately the Airport Express train doesn't go directly to the LCCT, but the coach is much cheaper at 9RM.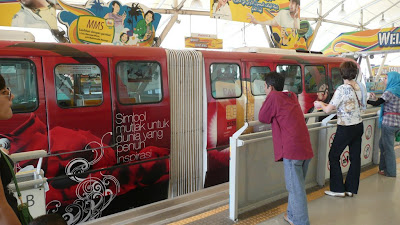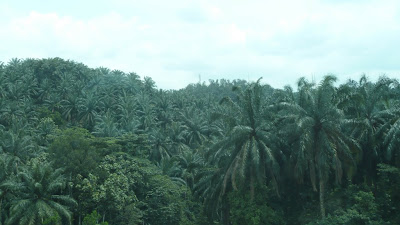 The LCCT is just a big shed, utterly unimpressive in comparison to the main terminals at KLIA. I had to laugh at the big banner advertising that KLIA was awarded "Best Airport for 2006 and 2007" with the priviso that it was for the 17 million to 25 million category. That award was definitely not given for the LCCT, but it seems that the Malaysians will trumpet
any
award received. I thought we had to arrive 2 hours early for international flights, but we couldn't check in until an hour before.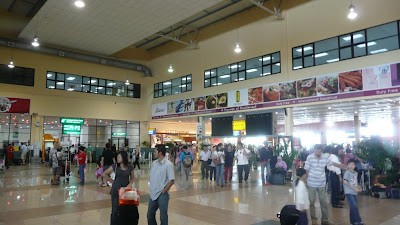 It was crowded with nowhere much to sit and only a McDonalds and Asian restaurant for food. At least once we passed through immigration there were chairs. During the check in process the ground staff did not appear to check our luggage weight nor our cabin baggage size (some foreigners were definitely carrying oversized cabin baggage).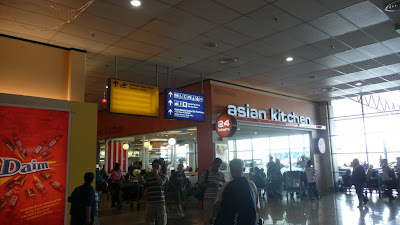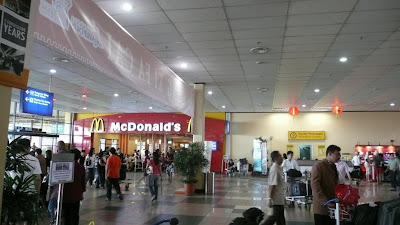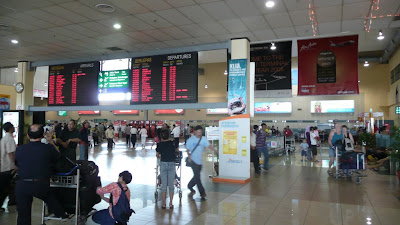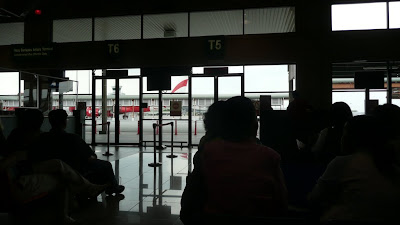 16/FEB/2008
CARRIER: AirAsia
FLIGHT: AK886
SECTOR: KUL-BKK
CLASS: Y
ETD: 16:25 (local) ETA: 17:30 (local)
AIRCRAFT: Airbus Industrie A320
When the call came to board everyone stood up and squeezed into the queue. Boarding was via a covered walkway and up airstairs. We got quite far forward and managed to outwalk the majority of the other passengers on the way to board the red and white AirAsia A320 aircraft, snagging seats in the 5th row, next to a friendly American passenger. I was pleased to be flying an A320, especially when I saw the old 737 classics that Air Asia Indonesia uses parked nearby.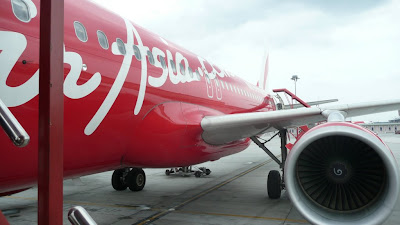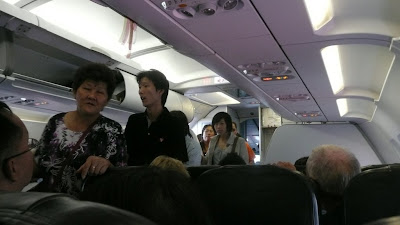 The seat pitch and width felt a bit tight, but this was only a two hour flight so I wasn't really concerned.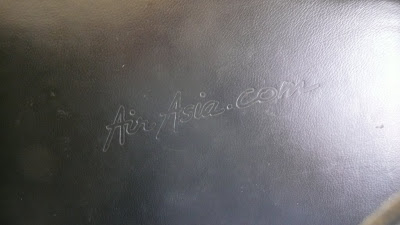 I had heard that AirAsia was consistently delayed but we actually started taxiing away early and reached Bangkok prior to our scheduled time.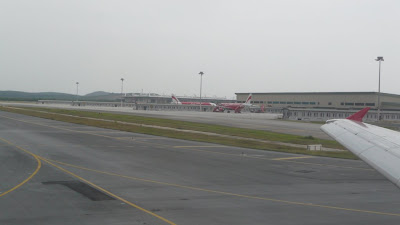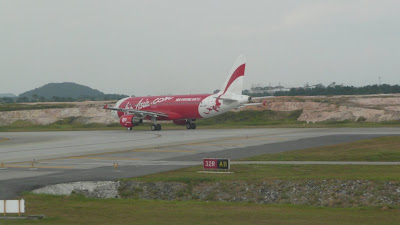 Despite the layers of smog and cloud the flight over the Malaysian countryside was actually quite interesting.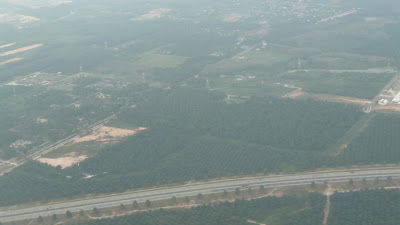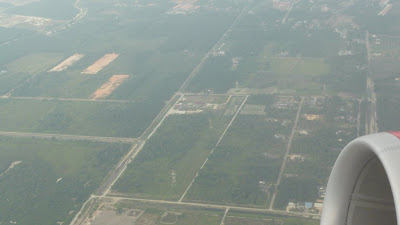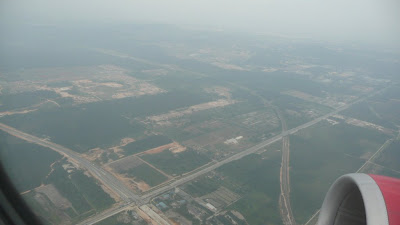 Putrajaya from above: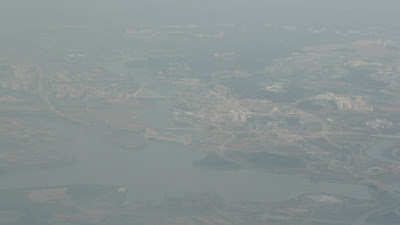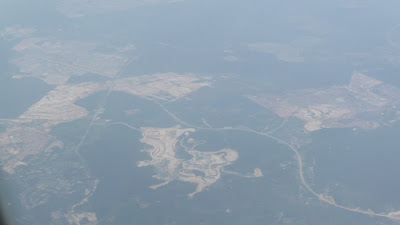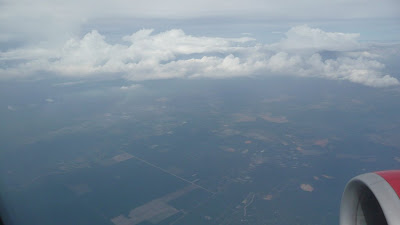 The AirAsia FA's uniforms were worryingly tight, but I suppose the unmarried amongst us would find it a turn on.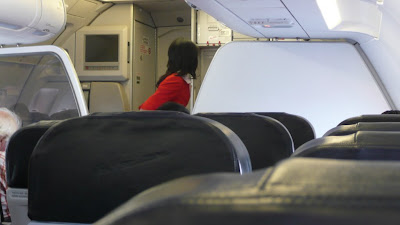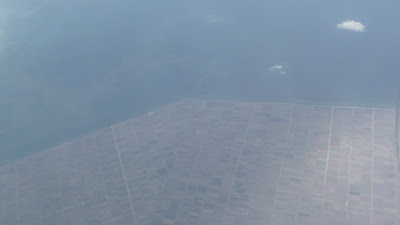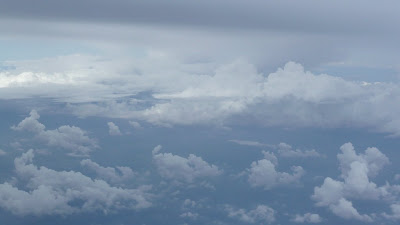 I didn't purchase anything during the meal service, nor the merchandise run that came later.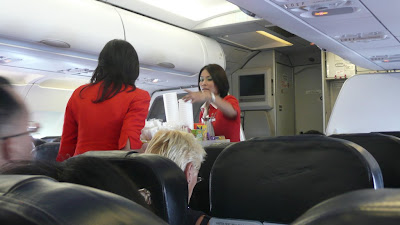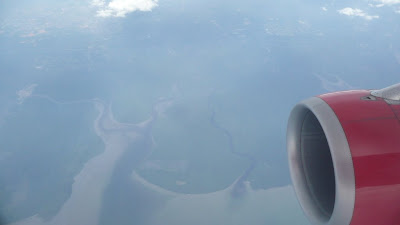 Eventually we crossed the East Coast of Malaysia and out to sea. The beaches on this side were very long. Neither of us have ever visited Malaysia's East Coast.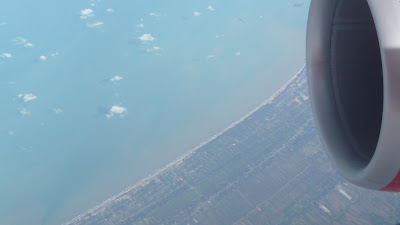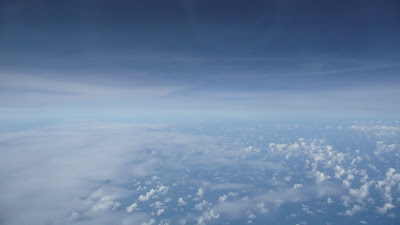 The flight was very smooth, which I was surprised about considering that this was the tropics.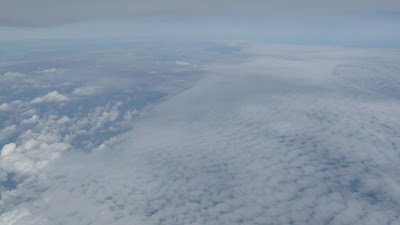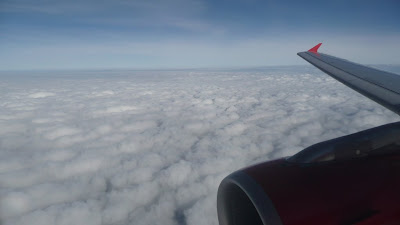 The descent into Bangkok was viewed through a veil of brown smog, giving the land a golden tinge in the evening light. I loved the view of the sun reflecting off the paddy fields and the canals.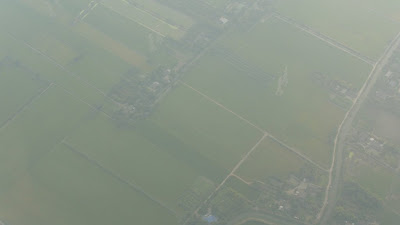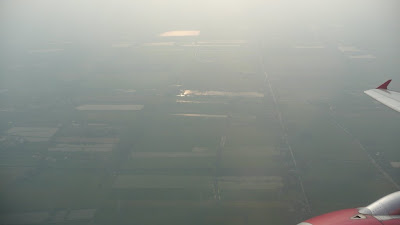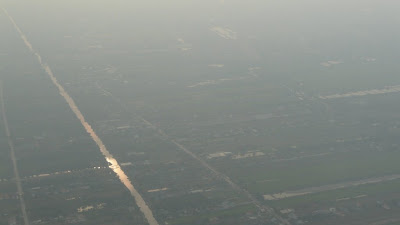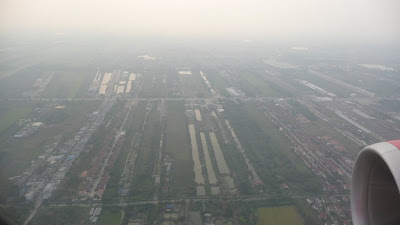 Thailand: land of the endless overpass. Airport Skyrail construction is visible on the left: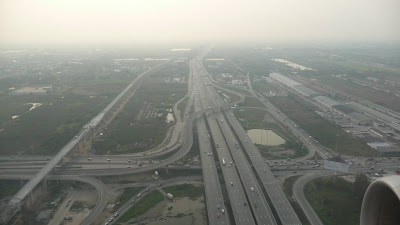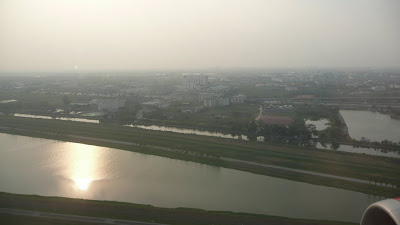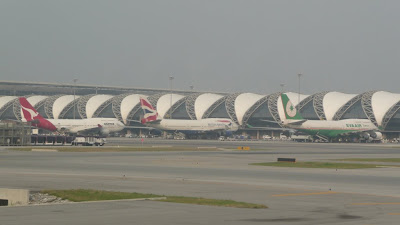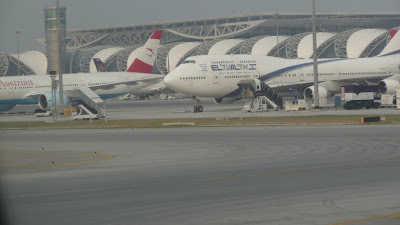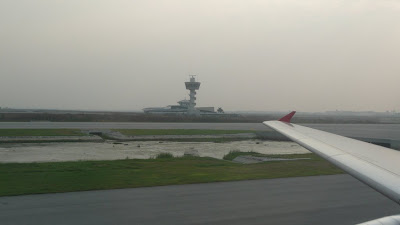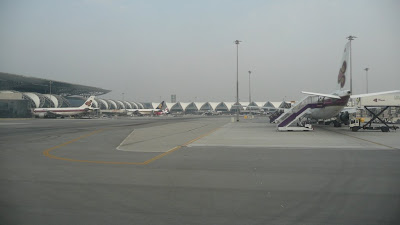 We disembarked via an aerobridge. An airport staff member directed us to an alternate set of immigration desks. Looking at the queues at the other location I'm not surprised why!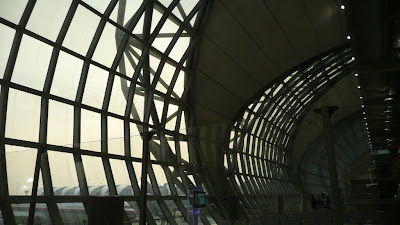 Immigration was quick, but it took us half an hour to retrieve our baggage, despite B's being first out of the conveyer.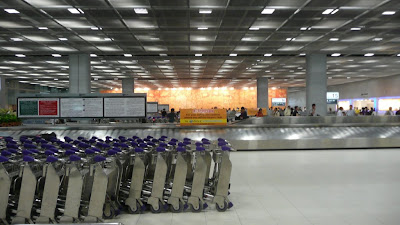 We cleared customs, then met our pre-booked hotel transfer representative at the exit gate. He lead us along escalators that actually flattened out rather than going upwards all the time.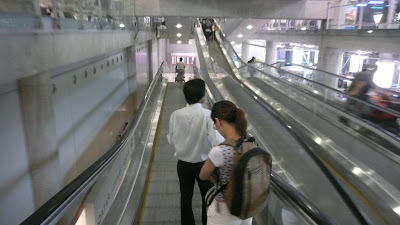 Our pickup sorted we said goodbye to the airport and drove along the freeway under a dusk sky.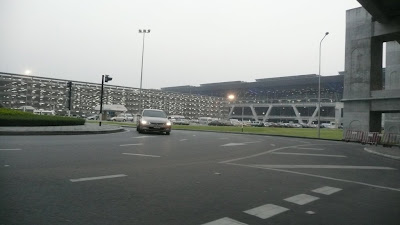 Our hotel was the very funky Siam@Siam Design Hotel at Siam Square. The location was convenient for shopping centres and the Skytrain, though it lacked traditional eating options.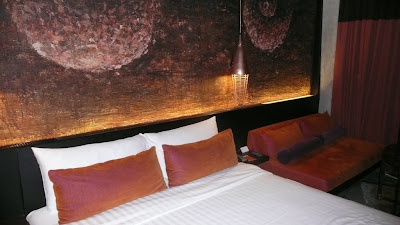 We had tonnes of fun during our time in Bangkok. On our first day we caught a taxi to tiny Wong Wian Yai station, hidden away besides a market, then a 3rd class train down the Mahachai line to its terminus at Samut Sakhon, or Mahachai. Mahachai's station was also in the centre of a bustling "wet" market, so much so that the stallholders lay out their wares for display on the tracks themselves, only moving them to allow the trains to pass. Jumping out at the terminus, we threaded our way through stalls selling small crabs, eels, tortoises and other seafood. It was too early to eat anything, though we did try some grilled chicken from a street vendor. And purchased a bag of soft coconut coated sweets which were quite delicious.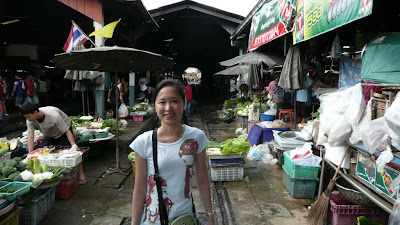 It's a really interesting ride as it takes you into the backstreets (or back canals as the case is) of Bangkok and the surrounding area. Many of the houses alongside the track were built atop the canals, bridges of concrete and wood linking them to concrete paths running atop the water.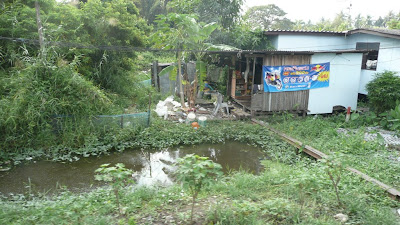 Stations were general stores accompanied by sheltered tables with chessboard centres, places for locals to sit down and eat their meals and snacks of grilled chicken and fish from the small stalls. Dogs played or slept, while inside the wooden houses mothers rocked their babies to sleep on swinging cots.
Between the towns were swamps of big-leaved elephant ears, palms and mangroves. Fields of rushes taller than the train flicked at the windows as we sped past. It was a whole other world and I was probably the only caucasian on the train. A uniformed station attendant smiled and asked me where I was going through the window of the train at one remote stop.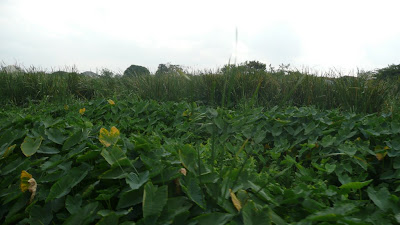 The following day was spent on a tour of the Grand Palace and the temples of Wat Phra Kaew, Wat Pho and Wat Arun. Walking through the temple grounds is like visiting a different planet where the landscape is made of gold, mosaics and ceramics and inhabited by the alien beings of stone demons, dragons and monkey guardians.
Grand Palace: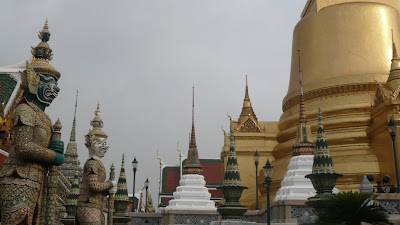 Wat Pho: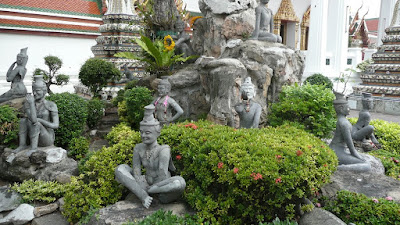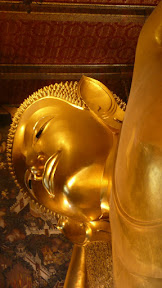 Wat Arun: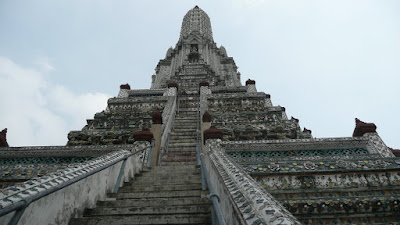 We took
over 500 photos
of the temple areas on that day. It was hot and sticky, but after dose of airconditioned shopping at MBK we dined on delicious seafood at Ngwan Lee Lang Suan. Getting there involved a Skytrain ride two stations up to Chitlom, then a kilometre's walk down a dark, but posh looking, street.
The atmosphere was like a hawker stall food court, though there was only one "stall" in a sense. We ate prawn cakes, big tasty grilled prawns split down the centre and what I think was a crab curry, though the sauce seemed mainly egg. It was all very, very good.
One last thing B wanted to do was to catch a tuk-tuk. This seemed like the best opportunity as we weren't far from the hotel, but neither of us felt like walking. However, for a long while the only tuk-tuks we saw were occupied. Finally, just as we were about to give up an empty tuk-tuk appeared and we were off racing down a main road for 60 baht (haggled).
We had booked a tour to Kachanaburi through the travel agent back in Sydney. We bounced in a bus up to the famous bridge over the River Kwai.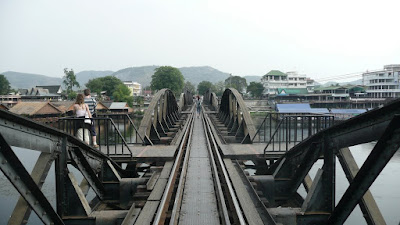 After a walk over the bridge and my first successful use of a squat toilet our next stop was to the Sai Yok Elephant Camp. Riding on the back of an elephant and interacting with the juveniles was the standout highlight of our trip. I even got headbutted and stomped on (lightly) by one of the juveniles!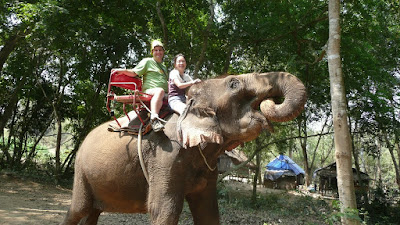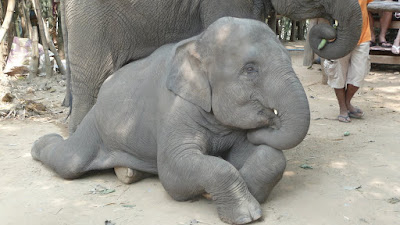 The day included a bamboo raft ride (not worth it) and a train ride along part of the "Death Railway" to Burma (worth it).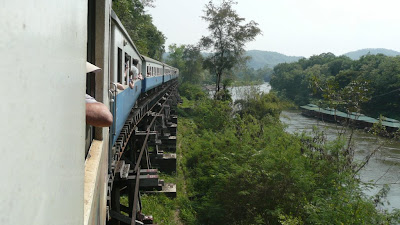 On the day of our departure back to Kuala Lumpur we made a quick visit to Jim Thompson's house, very close to our hotel. Jim Thompson was an American ex-secret agent who was responsible for bringing Thai silks to the rest of the world. In the process he became rather rich before dying mysteriously while walking in Malaysia's Genting Highlands. He brought various traditional teak houses from across Thailand and had them reconstructed and connected together next to a canal in Bangkok.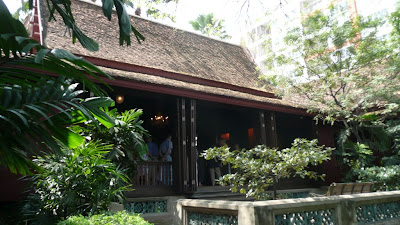 We caught a private transfer car from the hotel to the airport, paying too much for the service, but then the Baht is so cheap. Bangkok's shiny new Suvarnabhumi Airport is so much nicer than KLIA LCCT, though the check-in procedure was still very long. This time the AirAsia check-in did look at our luggage. My big backpack was just under the AirAsia luggage limit of 15kg by 600g. We had lunch at Skyloft, overlooking the runways, before making the long journey to the gate. Immigration was quite far from check-in and the queues were long. The actual gate was also far away, so plenty of time is required. Complicating matters is that AirAsia's check-in is only open about an hour before departure.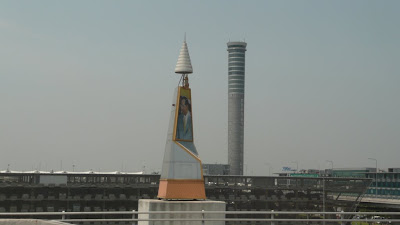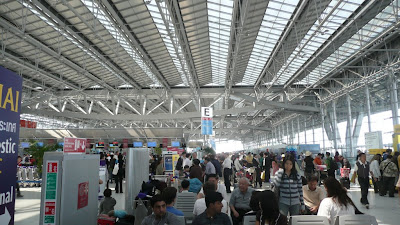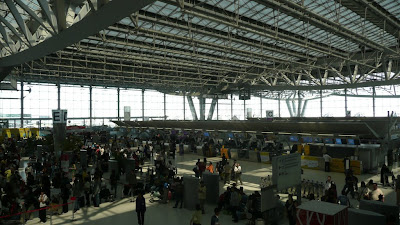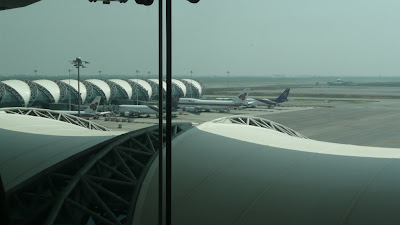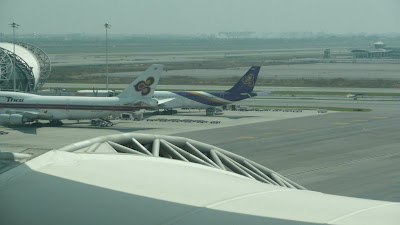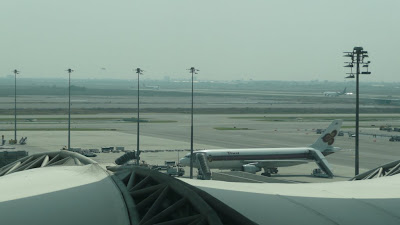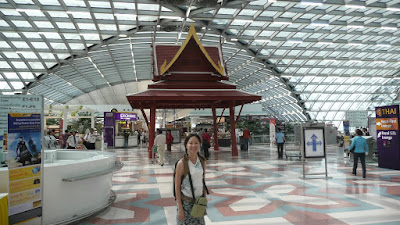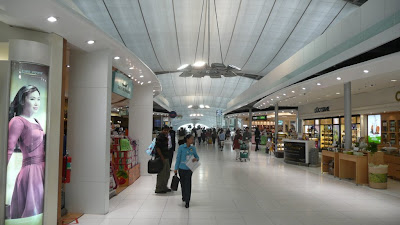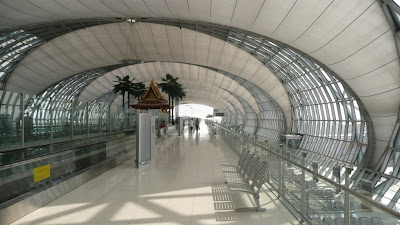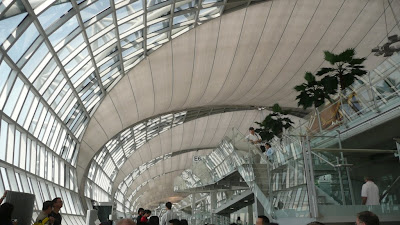 20/FEB/2008
CARRIER: AirAsia
FLIGHT: AK883
SECTOR: BKK-KUL
CLASS: Y
ETD: 15:15 (local) ETA: 18:20 (local)
AIRCRAFT: Airbus Industrie A320
There was more edginess at the gate from passengers wanting to get onboard quickly. Again it was a race to the aircraft, though this time through a jet bridge. We snagged seats in row seven, one behind our previous AirAsia flight. It was a pretty smooth and pleasant flight, although somebody started eating durian or durian sweets at one point, really stinking the cabin out. I'm not certain if the FA's did anything about it, though I did see some westerners complain. I bought a diecast model of an AirAsia A320 for 49RM, though the 1/100 plastic model looked nicer at 99RM.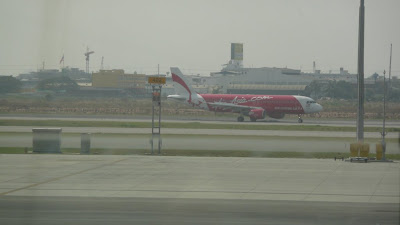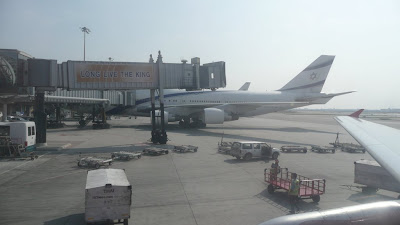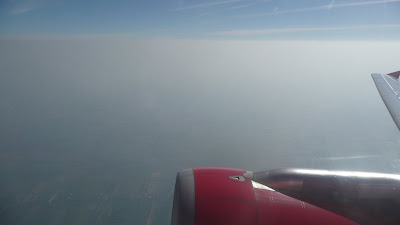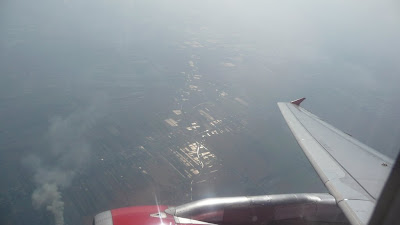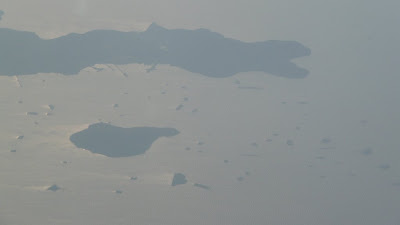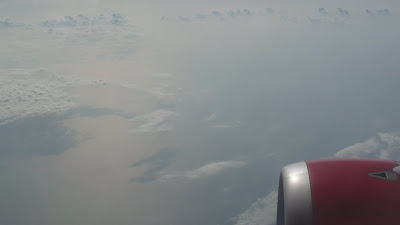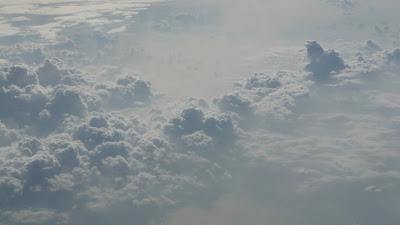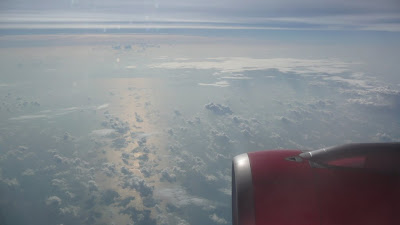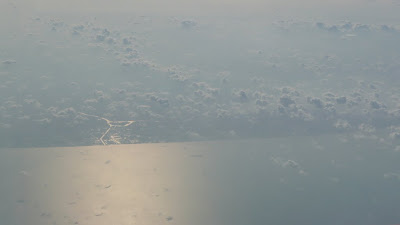 From the East coast of Malaysia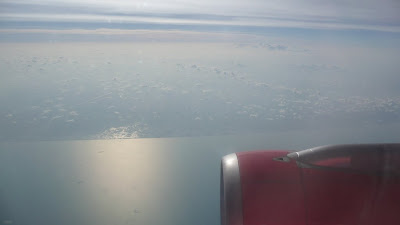 to the West coast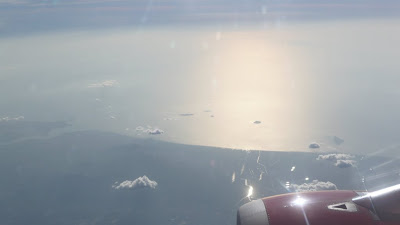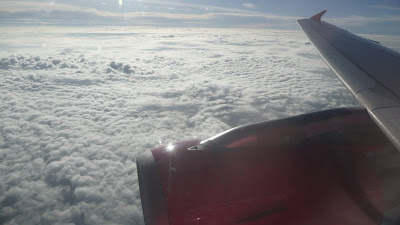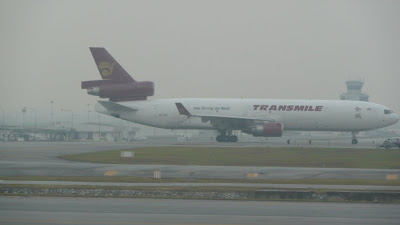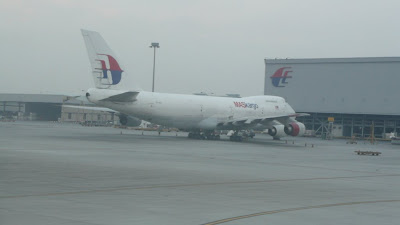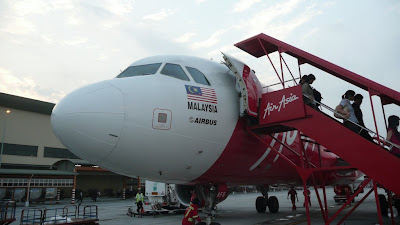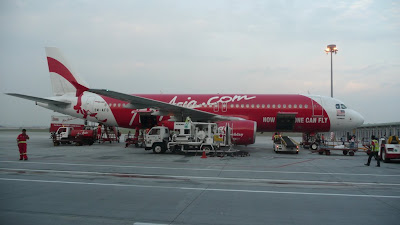 The flight was also late into KUL. B was desperate to eat, so she wanted the quickest route to our hotel. We caught the green transfer bus from the LCCT to the main KLIA terminal, from where we jumped on the KLIA Express train to the city. The transfer bus was awful. Old, dirty and with nowhere to stow our luggage. In contrast the train was clean, fast and comfortable. In future however I would just take the airport coaches the whole way, as we did on the trip out.
Our AirAsia experience was much better than expected. The boarding scrum wasn't so bad, our luggage was (somehow) under the limit and the flights weren't greatly delayed. The check-in process was, however, not so good and KLIA's LCCT is absolutely awful. I wouldn't want to take AirAsia for a long flight, but as a 2 hour shuttle between two cities it was fine.
If you want to read more about our trip there, please see my
blog
and
photo gallery
.
You may also like to read my previous trip reports as well:
Back To Malaysia: JQ SYD-KUL Return (pics)
Let's Fly Jetstar Part 2 Redux: KIX - SYD A332
Let's Fly Jetstar: SYD - KIX A330-200 (pics)
QF And AO: SYD-CNS-KIX, NRT-SYD On 767's (pics)
Just A Day Trip: QF: SYD - CBR
How Many Airlines? Adventures In China (pics)
SYD-ICN-AMS: Asiana, KLM Y Class In 2004 (pics)
Honeymoon In Paris: Flying QF1 Y Class In 2001