Flying some nearly new 737-700's to Valencia
Bienvenido, dear readers,
after a quick hop to Italy in late January
On The Alitalia-Crew-Shuttle To Roma!
(by
FLIEGER67
Feb 2 2008 in Trip Reports)
it was time for my second trip in 2008.
Valencia was the target around a triangle day of flying.
Will we catch some early spring sunrays in spain?.
Sit back and have a look!.
Wednesday, 20.02.2008
STR (Stuttgart-Echterdingen) - VLC (Valencia-Manises)
Duration: 1 hour 50 minutes
Service X3 3476 operated by Tuifly B737-700 D-AHXB
Scheduled: 11.00 // 13.15
Actual: 11.15 // 13.05
Gate: 314 Seat: 27F
Load factor: 112/148 = 75,68 %
Fare: 49,64 EUR
History:
05.04.2007: Delivered to X3
Flight no.15 on the 737-700 and the second on this particular machine
I´ve received six or seven flight time changes during the weeks prior to the trip, finally departure was some 40 minutes
after the scheduled time at booking, no problems at all for me.
Online check-in was once again my first choice around the X3 flight.
Possible from 30 hours prior to departure, it was ok and done withhin seconds the evening before the flight.
Sequence no. 39, so it seems that opportunity was well used for this service.
Surprisingly not that large traffic jams that morning, I was at the aiport at around 08.30 am, time enough for some spotting.
It was clear but rather cold, so I decided to park the car and go airside after half an hour. No time to wait at T3 security,
checked my gate, T3 upstairs.
Something "black" in the background:
Another nice background:
Arrival KLM from AMS: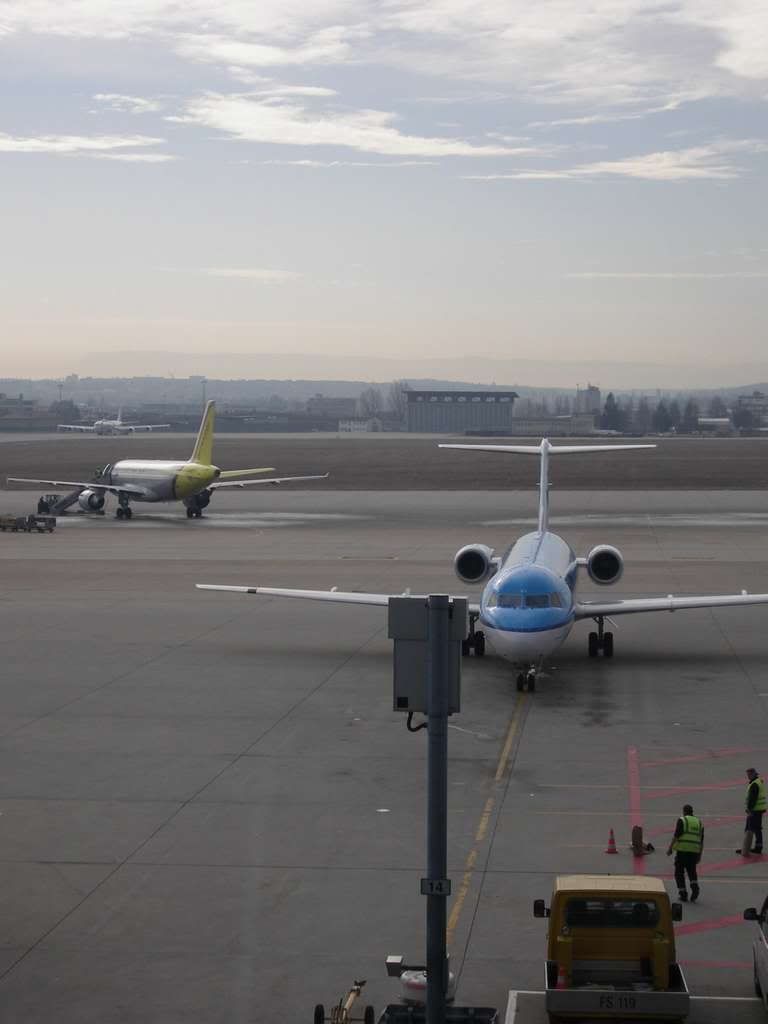 airberlin sitting on the apron:
My plane was announced 15 minutes ahead to schedule from TXL, I was at the gate and finally noticed that we had the
bus boarding way, so my machine was parked on the apron.
Boarding started finally ten minutes prior to the printed time, a real friendly middle aged female there. I was in the second bus.
Some nice pix from the bus during the apron ride.
Lufthansa by Eurowings: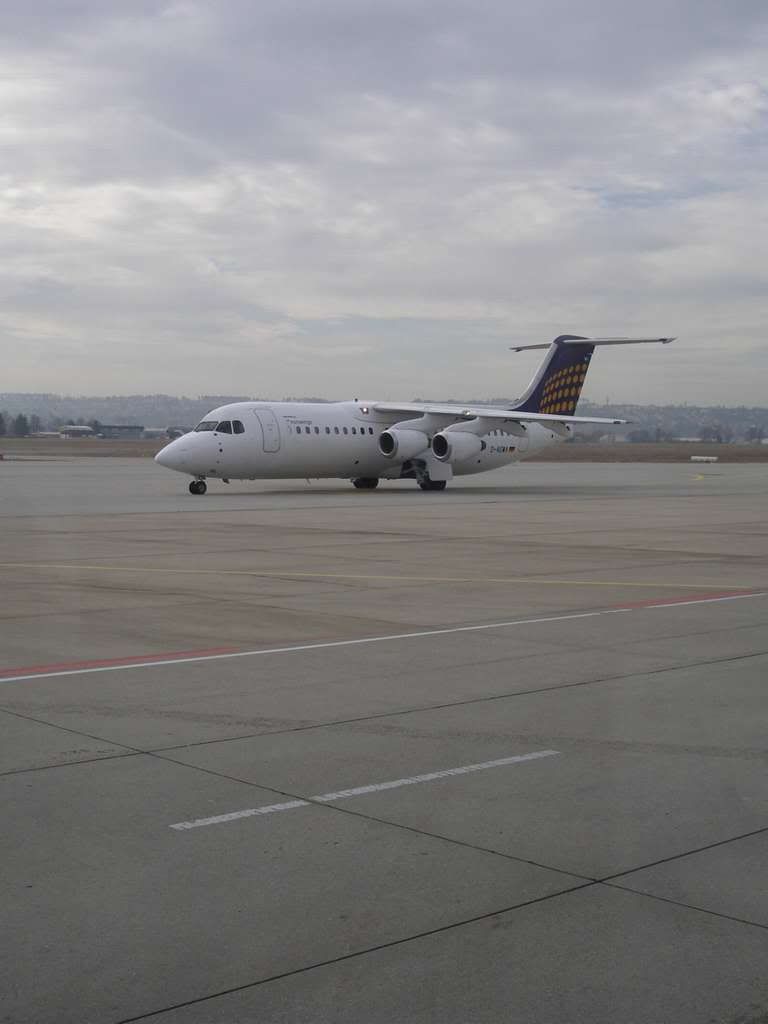 Finnair by Finncom to Helsinki: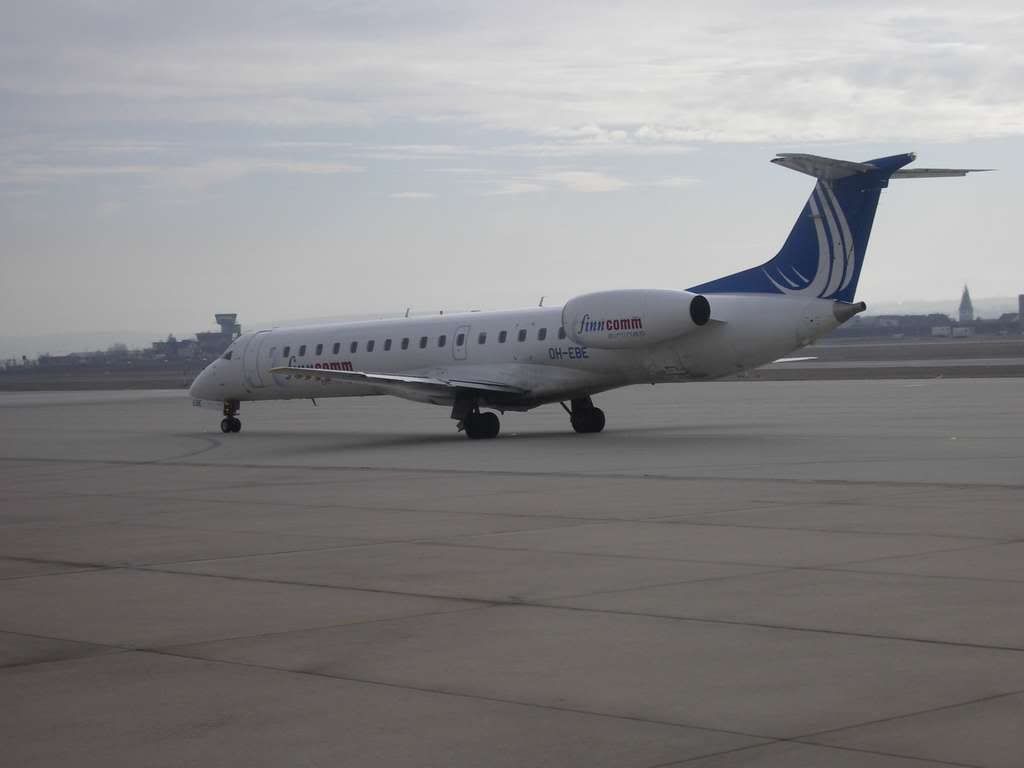 Will it be the new ´XE/´XF or the first ´XA, still missing in my log, nope, the ´XB flown late last year to OPO.
Boarding D-AHXB: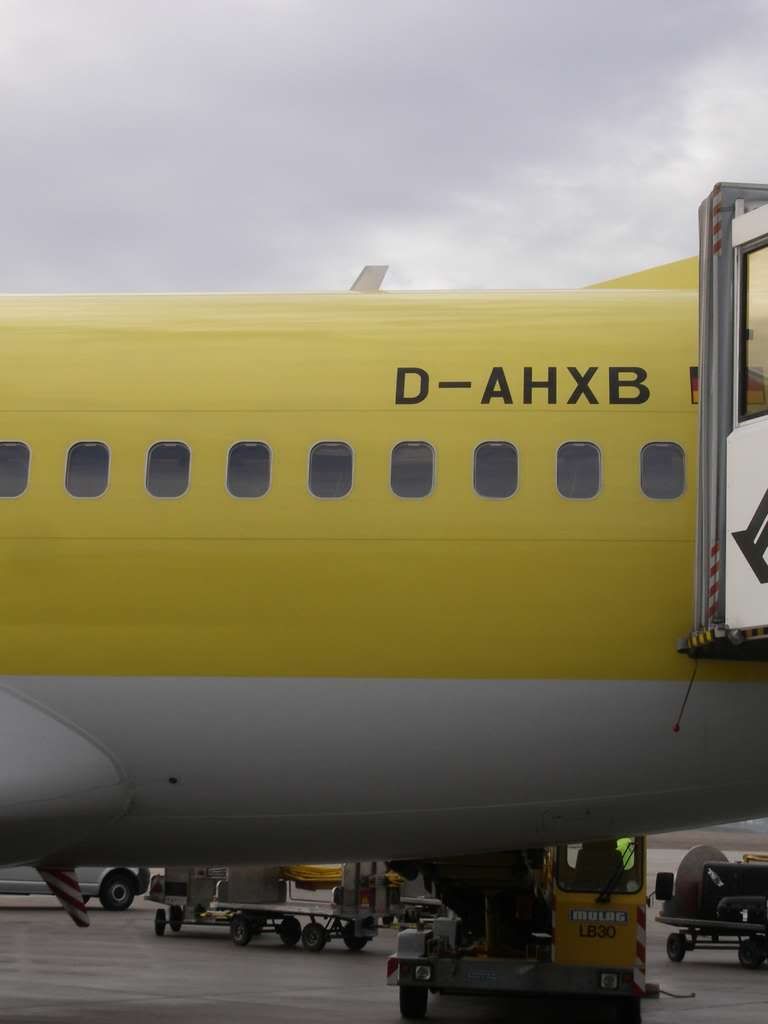 No visible biz pax on the plane, only some "younger" travellers and lot´s of retired couples.
It seems that "spend the winter at the Costa Blanca" is always popular.
Three friendly female FA´s on this service, introduced from the purserette by name.
The captain welcomed us also on the ground in a friendly way, two times more informations inflight, the flightdeck crew was from Germany.
The cabin was spotless clean, thin, modern style Recaro fabric seats, but the overall roomy feeling wasnt that good.
Departure from runway 25 after an Contact Air ATR 72 departure and an Condor A320 arrival.
Flight route today ZRH-GVA-Grenoble-MRS-BCN at 9.800 meters.
Cloudy sky during the whole route, nothing to view at all, but nevertheless a calm flight.
X3 improved their service, free newspapers and magazines and also a snack and something to drink for free.
Not bad, from my point of view.
We´ve done a seaside approach and landed well ontime on runway 30. .
The plane was parked directly in front of the terminal and we had to walk the last meters, no problem.
I´ve had a look around, if there is a spotters terrace for a final pic of my plane, but no good views at all, so time to go for the city.
VLC airport is directly connected via the subway, frequency every ten to 15 minutes, daily return 3,10 EUR.
Xativa was my stop at the historic Estacion del Norte, not far from the city hall and the city center sights withhin walking distance,
some pix.
"Estacion del Norte":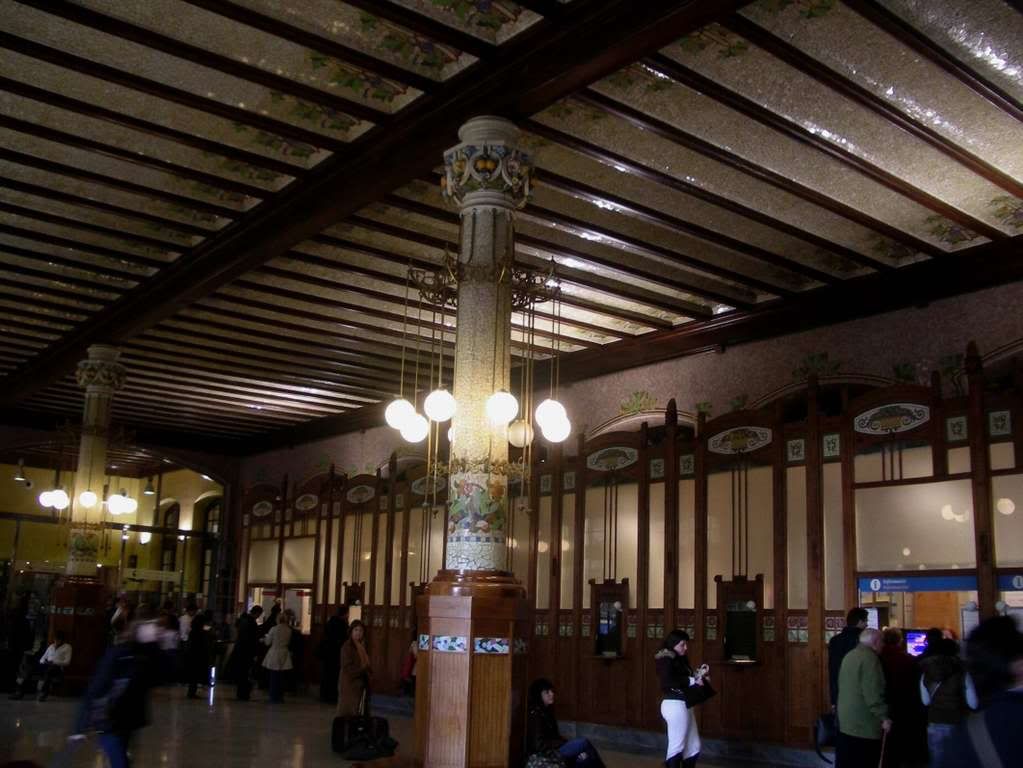 "Arena de Toros":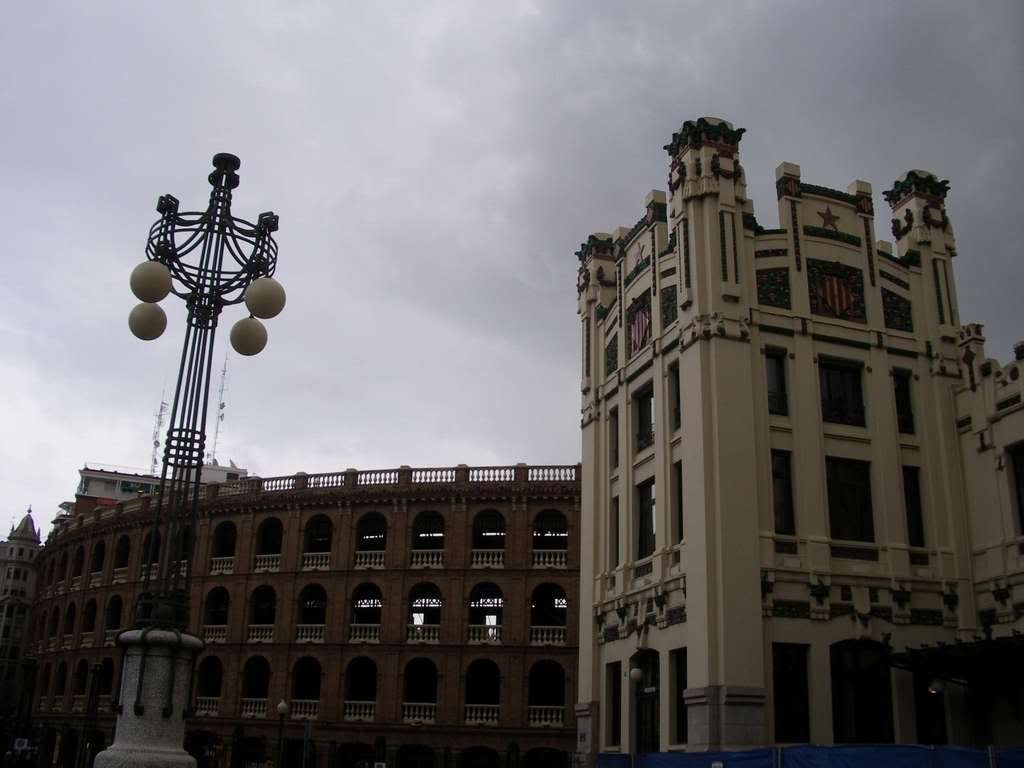 City hall: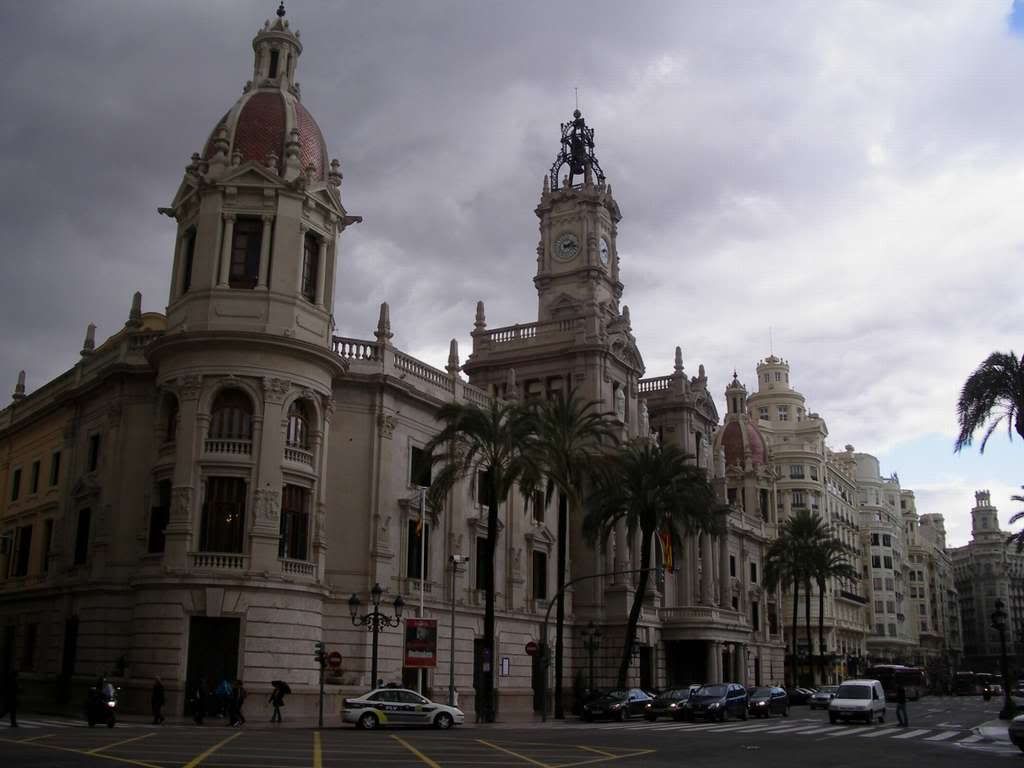 Mercado central:
"Iglesia de Los Santes Juanes":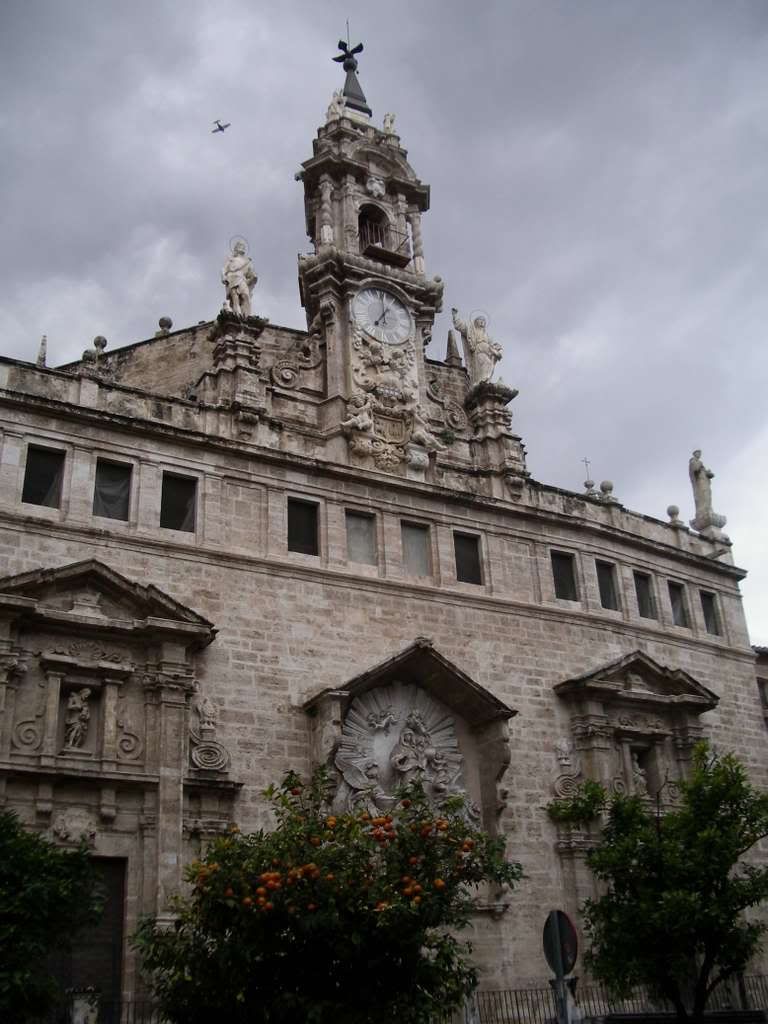 "La Lonja":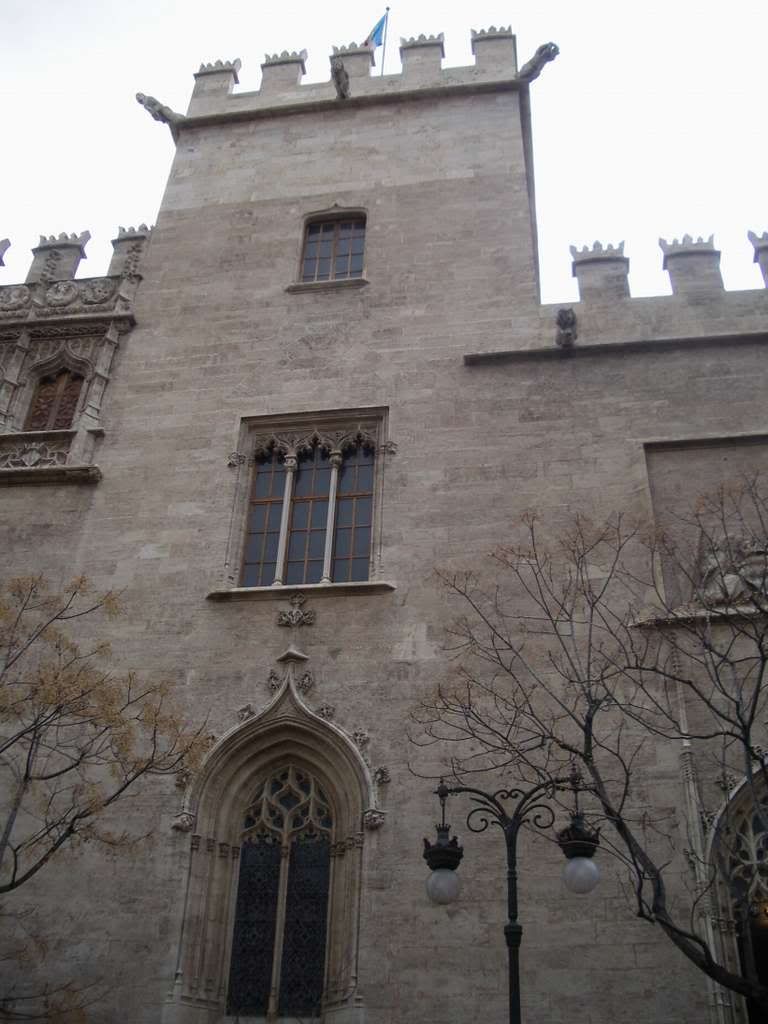 "La Lonja" again: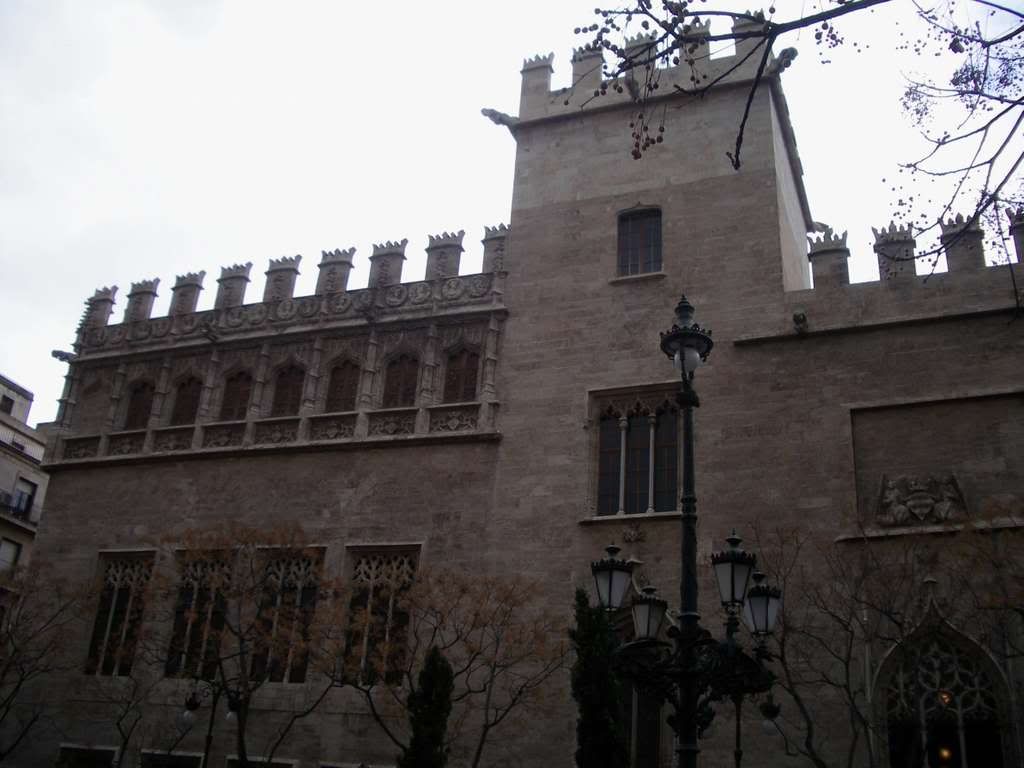 And "La Lonja" again: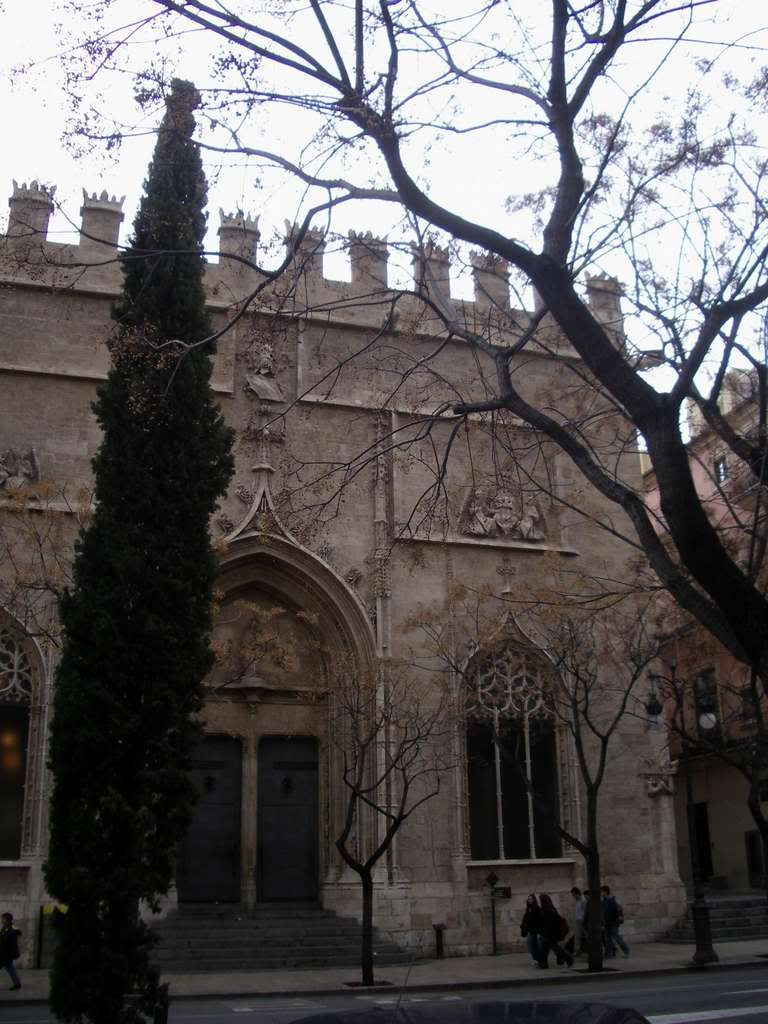 It was around 3 pm, wheather was not that good as expected, but ok no rain, when I´ve decided to look for a bus ride to the
famous architectural sites at the Ciudad de las Artes y de las Ciencas.
Entrance: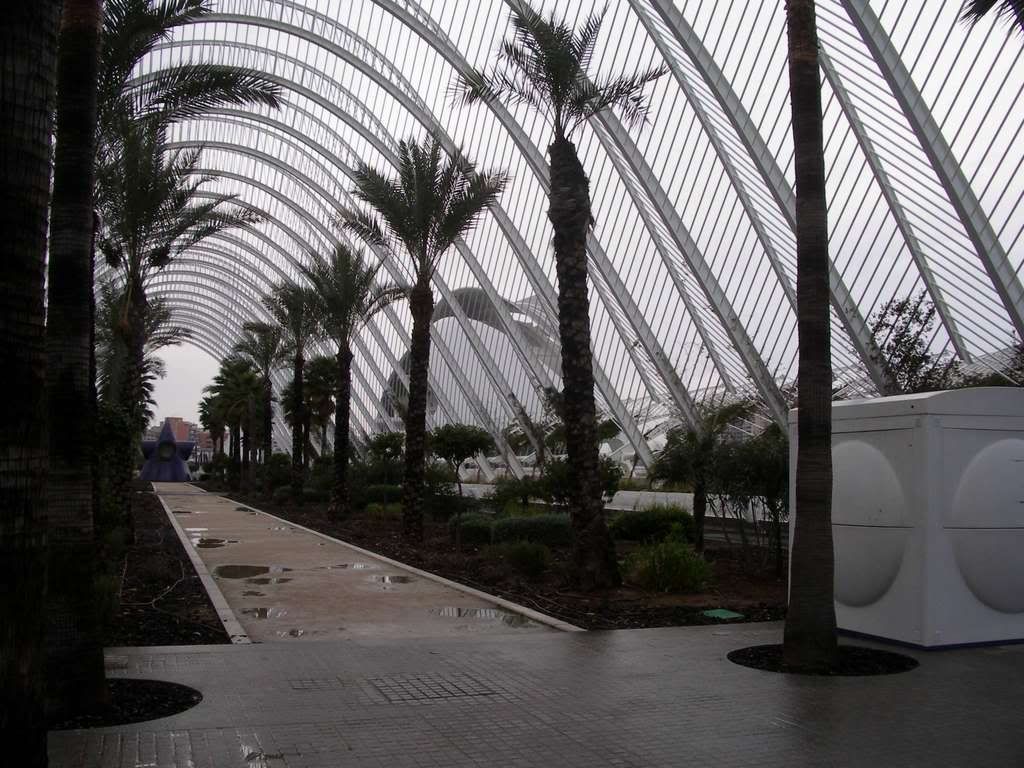 "Palau de las arts Reina Sofia":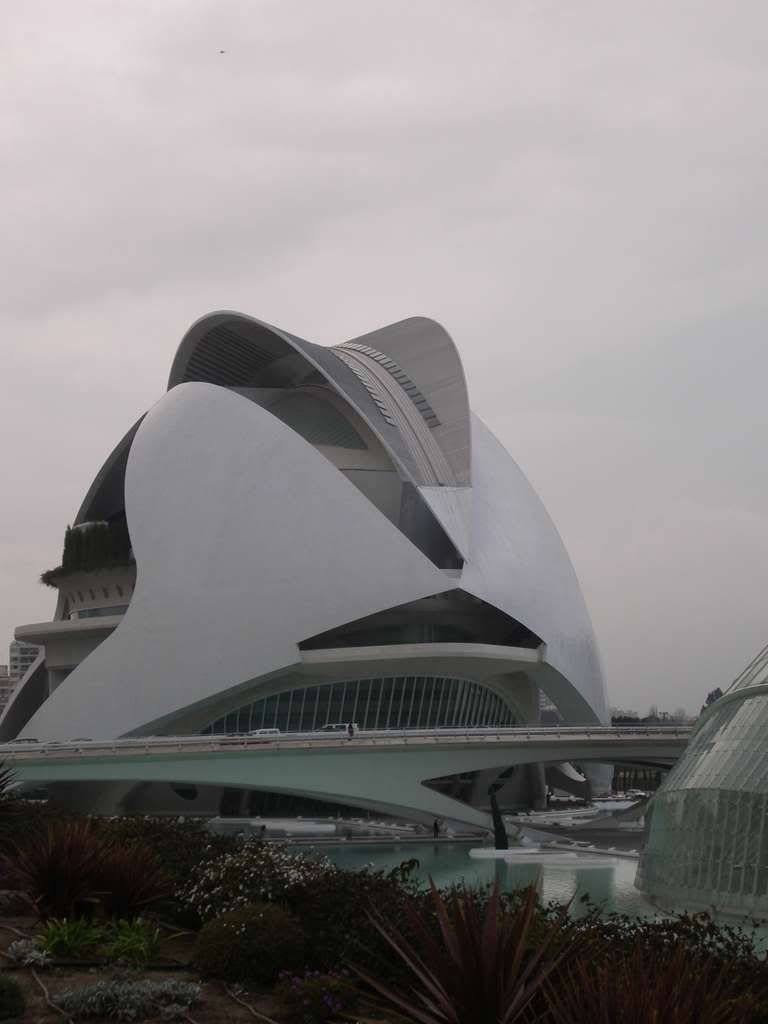 "L´hemisferic":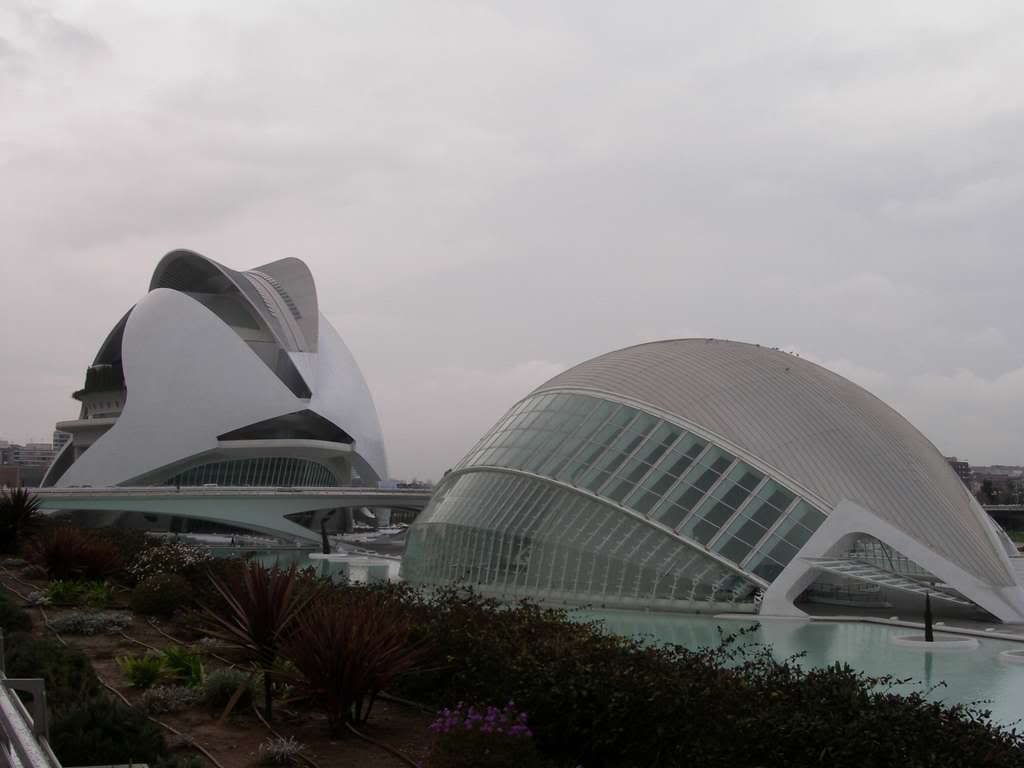 L´oceanografic: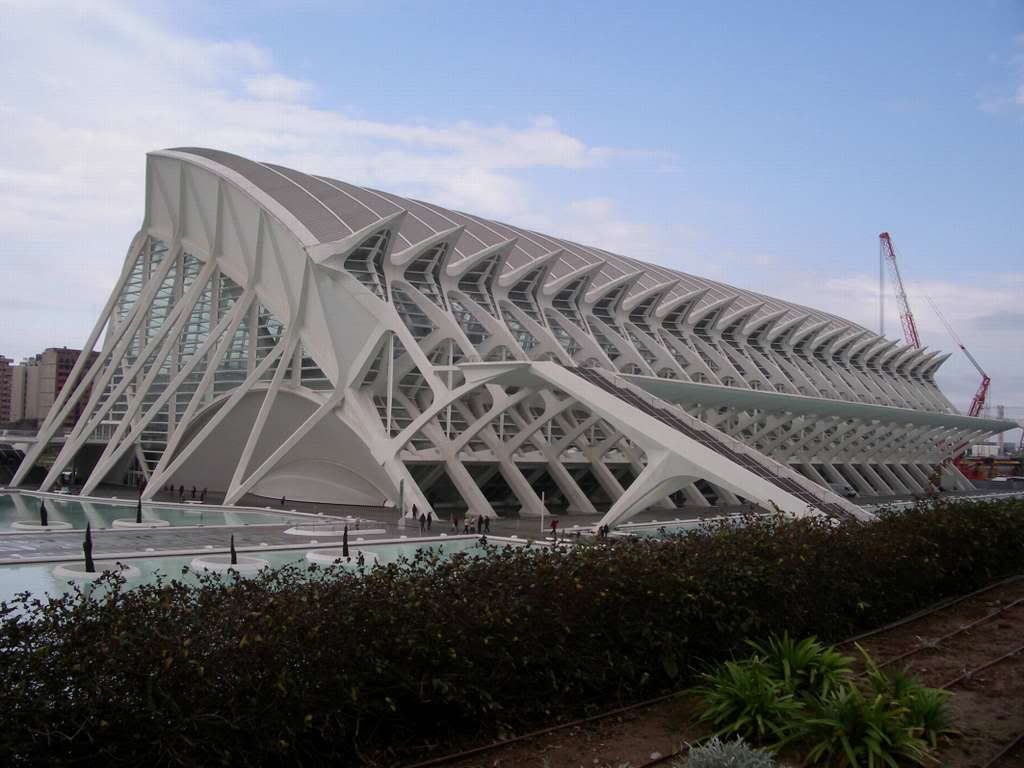 And again:
Arrived at 3.15, walked around a bit and was back at the bus stop at 4 pm, two hours prior to departure, 1,30 hours prior to boarding.
4.15 pm, no bus, at 4.30 I´ve thought about to stop a taxi, when the same bus driver arrived who shuttled me out.
4.50 pm back at Xativa station, luckily only minutes to wait and 5.15 back at the airport.
Ten minutes at the security, lots of pax around and finally at boarding time at the gate.
That was for sure the maximum time in Valencia around these trip.
Wednesday, 20.20.2008
VLC (Valencia-Manises) - PMI (Palma de Mallora-Son Sant Juan)
Duration: 30 minutes
Service AB/airberlin 1655 operated by Germania B737-700 D-ABLA
Scheduled: 18.00 // 18.50
Actual: 18.20 // 18.50
Gate: D14 Seat: 24A
Load factor: Around 90 %
Fare: 46,50 EUR
History:
07.11.2007: Delivered to Germania/airberlin
Flight no. 16 on the 737-700 and the first on this machine.
Airberlin announced online check-in for all flights the next day from 6.00 pm, in my case it was possible to check-in
at around 10.00 pm, the day before, plane changes?.
My machine was present there, when I´ve arrived, some minutes to go, time for some pix.
Boarding was then called, time to enter D-ABLA. Sequence no. 2.
At the gate:
Iberia old and new: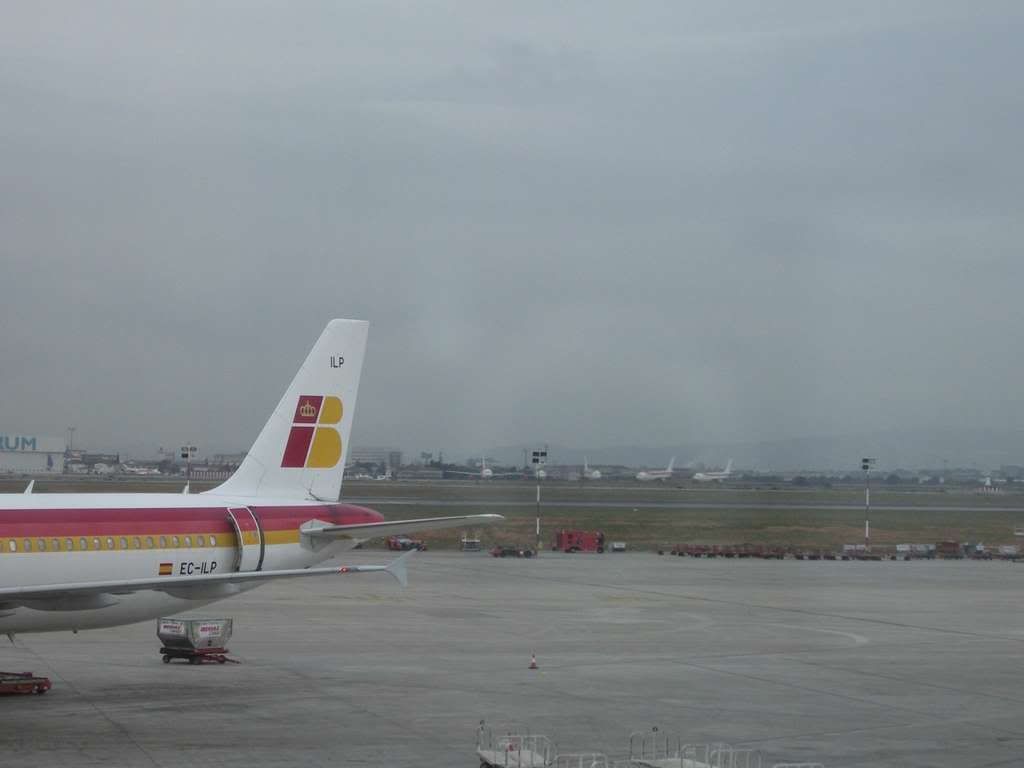 And what´s that?: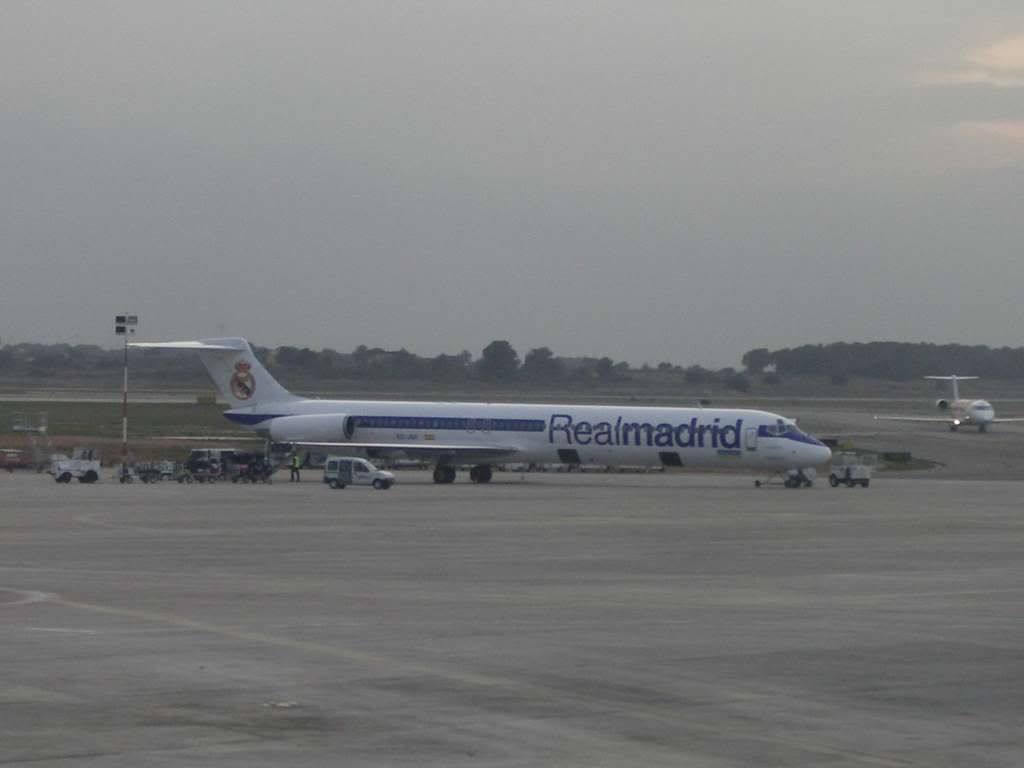 This machine was painted in full, but not the actual newest AB livery, I´ve read about "owned by AB" but I´ve also
noticed on another page that D-ABLA is owned by Germania and also operated under Germania´s AOC.
A nearly new bird, good looking in these fresh AB colours.
Clean, new looking, dark blue, stylish, Recaro leather seats, but with a much better legroom than on X3.
One male, two female FA´s on this machine, all friendly, especially the young male FA.
I´ve followed a discussion between the FA´s, eight pax gone lost and we had to wait.
Some ten minutes later, a very loud group of Spanish guys arrived and joined us.
Departure from runway 12 after an PH registered AirNostrum Dash 8 arrival.
Free newspapers and a snack box with crackers and water on this short flight.
Nevertheless friendly and detailed flight deck informations from the FO, no special waypoints on the route,
level 18000 feet. Calm flight. The cockpit crew was from Germany.
Lots of pax from spain on this flight, it seems AB is very popular there.
Arrival ontime on runway 06L at PMI.
Finger deboarding at the C area. I´ve had a short chat with the FA, he asked me if I will continue to BGY, than better stay on board!.
Wednesday, 20.02.2008
PMI (Palma de Mallorca-Son Sant Juan) - STR (Stuttgart-Echterdingen)
Duration: 1 hour, 40 minutes
Service AB 9389 operated by airberlin Airbus A 320 D-ABDN
Scheduled: 20.30 // 22.35
Actual: 20.40 // 22.20
Gate: C65 Seat: 29F
Load factor: 126/174 = 72,41 %
Fare: 46,50 EUR
History:
01.02.2007: Delivered to AB
Flight no. 37 on the A320 and the third on this particular machine.
Around one hour to spend at nightly PMI.
Time for a walk to the A area, the oldest part of PMI airport, to spot the arrivals on 06L.
Security people at the walkway forced me to a view on the screens, no A departures today, so it seems
that area was not accesible now.
Red line-up:
Ok, I´ve walked back and reached my gate, where only minutes later boarding was called, again early.
Sequence no. 3 on this flight.
Bus boarding like on all my PMI departures the last time.
A nice row of A320´s parked there, we approached and stopped beneath ´ABDN, twice flown last year!.
Newspapers and magazines at the door for free.
Boarding D-ABDN: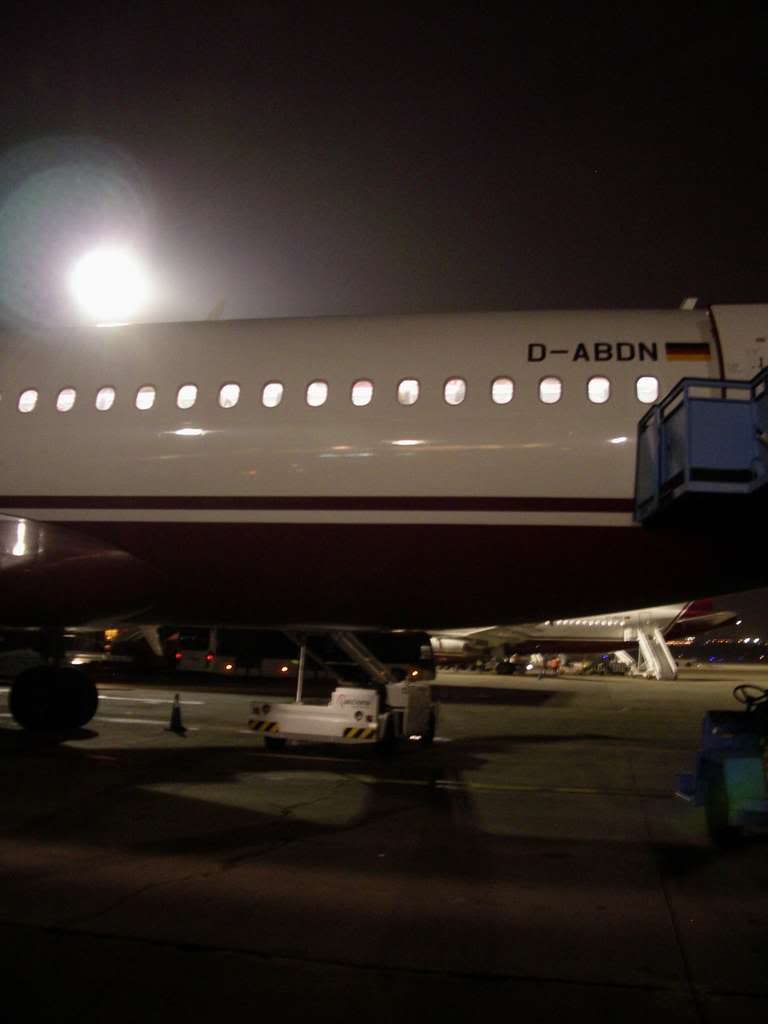 Four females on this service, ok so far.
Clean cabin, bright grey Recaro leather seates, the best overall feeling on these three flights today.
A friendly welcome from the flightdeck on the ground and once more inflight, again a German cockpit crew.
The captain informed us that we had a slot for 08.40 pm and while we are ready to go early he will call
for an immediate start.
Departure from runway 06R, an LTE A320 had to wait, in direction MAH-MRS-GVA-ZRH, level 38.000 feet.
A sandwich and drinks for free inflight.
Another calm cruise.
Arrival on runway 25 well ontime, finger deboarding this time and some minutes later on the way back home.
Conclusion:
All the flights ontime, fares acceptable,
no remarkable difference between X3 and AB nowadays, no problem to fly both airlines again.
One new plane and one new route to my log, ok so far.
And VLC:
Very interesting and with more sun, much more recommendable.
Comments welcome,
Markus (FLIEGER67)
[Edited 2008-02-24 08:57:57]