Hey Everyone,
This is my first trip report, unfortunately I only kept good record of my last flight after completeing a two month project in Europe. I was spending 7 weeks on a project in London, however I took several side trips, with flights including BOS-LHR on BA, LHR-FRA-LHR on LH, Mannheim-Munich on the Deutsche Bahn ICE-3, and STN-CIA-STN on FR. This was my first time to Europe, and I have never had such an awesome trip. I was with my best friends and we had a blast. Germany was amazing, especially seeing the town where my family was from, as well as Munich, Mannheim, Heidelberg, Worms, and Trier. The in Munich was far better than any I had in Europe (Sorry Brits, I loved the real ale, but it could't compare to the Geman lagers and Weissbier!) Rome was interesting; there was amazing food and the Colosseum and Vatican were by far the most impressive sites I've seen, however the atmosphere did not impress me, especially the street vendors. The entire city was a big tourist trap and I felt like I was in the Disney version of Italy, not the real Italy. London, where I spent 7 weeks, was unbeleivable. I would live there in a heart beat. Besides the usual sites, I took trips to Oxford, Greenwich, and Camden Town (3 hours before the fire). We stayed in Chelsea, and it sure was a treat seeing Aston Martins, Lamborghinis, Ferraris, and Porsches daily. Anyways thats the intro, now on to the trip!
Feb 23rd
BA 239
LHR-BOS
That morning we (my two friends and I) checked out of the res hall at 10am then went to the Natural History museum, which we hadn't seen yet. It was really cool, and we stayed for a few hours to kill time. My two friends were booked on BA 215, which left for Boston at 4:05, and my plan was to see if I could get standby on that flight. At 12:30 we headed to South Kensington station to catch the Picadilly line to Heathrow.
This is where the excitement? started. The train was lightly packed, so in our car was the three of us, an older couple, and a few random people. We were talking fairly excitedly, as although we were going to miss London, it was good to be going home. Anyways, as we approached Acton Town, the couple informed us that we were on the wrong train, as this one was going the other way at the split. Figures, 7 weeks of taking the Tube and on the last ride we completely zone out and didn't check to where the train was going. We get off, and wait for the next train to Heathrow. Two stops later, the sh*t hit the fan. All of a sudden, my friend is like "Where's my backpack?", which had his computer, passport, and all the important stuff. He had left it on the previous train, and it was the first really bad "oh sh*t" moments we'd had since we got there. We looked at each other, and told him to just get off at the next stop, talk to someone, and they'd radio ahead. There was no use for all of us getting off, so me and my other friend wished him luck and continued to Heathrow. We felt wicked bad, but honestly there was nothing we could do to help and it would only cause more problems if we all missed our flights.
We got to Terminal 4, and while my other friend checked in, I went to the Ticketing counter to get put on standby. After waiting in a short line, I talked to the BA rep who put me on standby for BA215, but also kept my reservation on BA239 which left shortly after 7. Then it was off to the check-in desk, who printed my out a standby card, and also tagged my two bags so I could load them up quickly. She said I'd have to check in at 315 to see if I made the flight. My friend was already through security and was waiting for me, however I had to way to contact him so instead I just sat and waited for two hours. It was then I realized I had left my passport at the desk, and sheepishly went back to retreive it where I got a mocking reprimand from the CSR. Finally at 315, I went back to the desk which now had 4 couples in front of me, all trying to go Boston. Great, I'm never going to make this flight I thought. They called each of us to separate counters, where we eached waited with our own CSR, praying that we'd be the one to make the flight. I asked the agent what the chances were, to which she replied "not good". Seconds ticked by after the flight closed to see who would make it, and finally she glanced up and smiled and said "you made it." "Do I have to sprint?" I asked, and she said "You're at gate B-1, which is a shuttle bus. I would if I were you." I was off like a gunshot, racing towards security. I got in the short line, where I wanted to punch the guy in front of me. Seriously, if you wait in the entire line, and don't realize until you get to the front that you have to take off your jacket and shoes, you should have to go to the end. Thats ridiculous. I had everything off and in a bucket within 30 seconds of getting in line, yet somehow I set the detector. I got patted down, and then let go, It must have been a button on my jeans or something. I didn't have time to put on my belt or tie my shoes, as I kept running. Luckily B-1 was closer than I thought, and holding my pants to keep them from falling down I handed my boarding pass to the agent and got on the bus. Still sweating from running I breathed a sigh of releif that I had made it.
BA215
LHR-BOS
Boeing 777-236ER
Gate B-1
G-YMMD
Sched: 4:05
Act: I forgot, pretty close to that
Arrived 6:25PM
I got out of the bus, which was parked next to a Qantas 747-400ER.
As I was walking up the stairs, I took a shot of the mighty Trent, however the glass on the airstars was pretty foggy.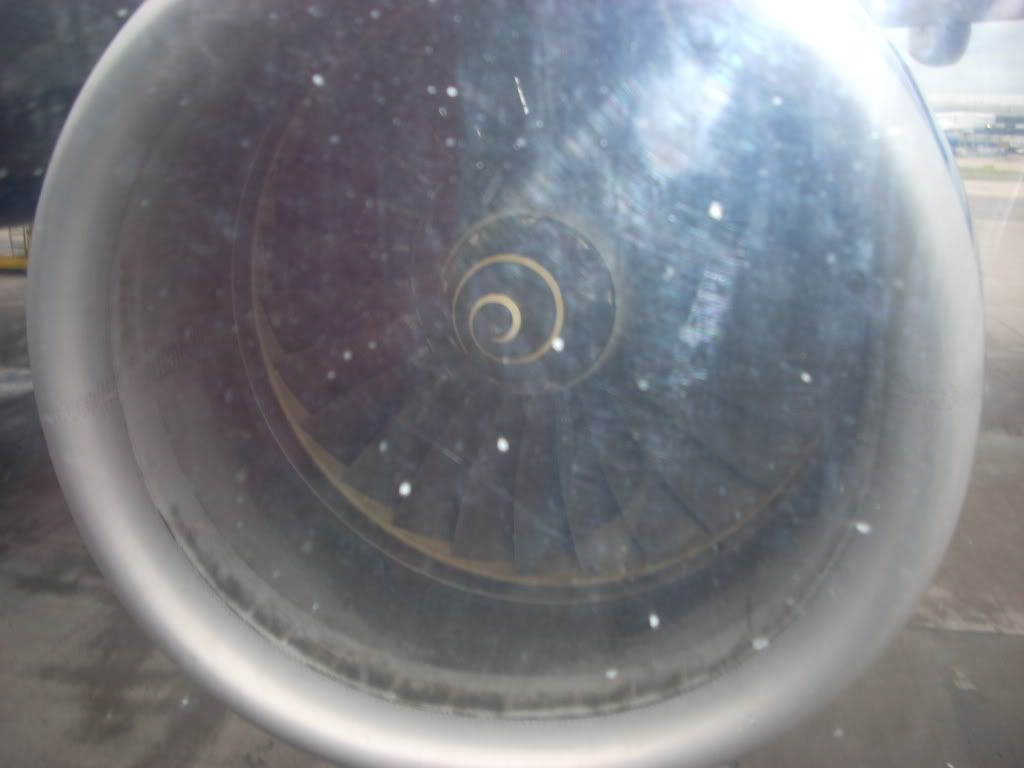 At this point I looked at my seat assignment for the first time, which was 13K. Thats seemed pretty close to the front, but there's no way she bumped me up; at the ticketing desk the guy said nothing was available in WT+, even when I offered to pay the difference. I boarded, and sure enough I was in the second row of World Traveller Plus. Score! My seatmate was an guy in his late forties, but must be prett athletic as the only thing he ate or drank were two strawberry protein shakes. I took a few shots, and was impressed with the legroom.
The Seat:
Blue/Purple fabric with a winged headrest, although it didn't like to stay up all the way. (I'm 6'4" and my head is always taller than the seat. There were controlls on the lower left for recline, lumbar support, and footrest, and a cuphold and remote on the right side. This was my only gripe with the seat: although the pitch is good, my legs hit each armrest, causing either the footrest to pop out uncommanded, or the channel on the IFE to change. Both were very annoying, and the seat was so tight it actually became painful and I had to shift. I am by no means fat, but because the armrests go straight to the floor, you're legs hit them and they cannot be raised. This made the seat seem smaller than it actually was.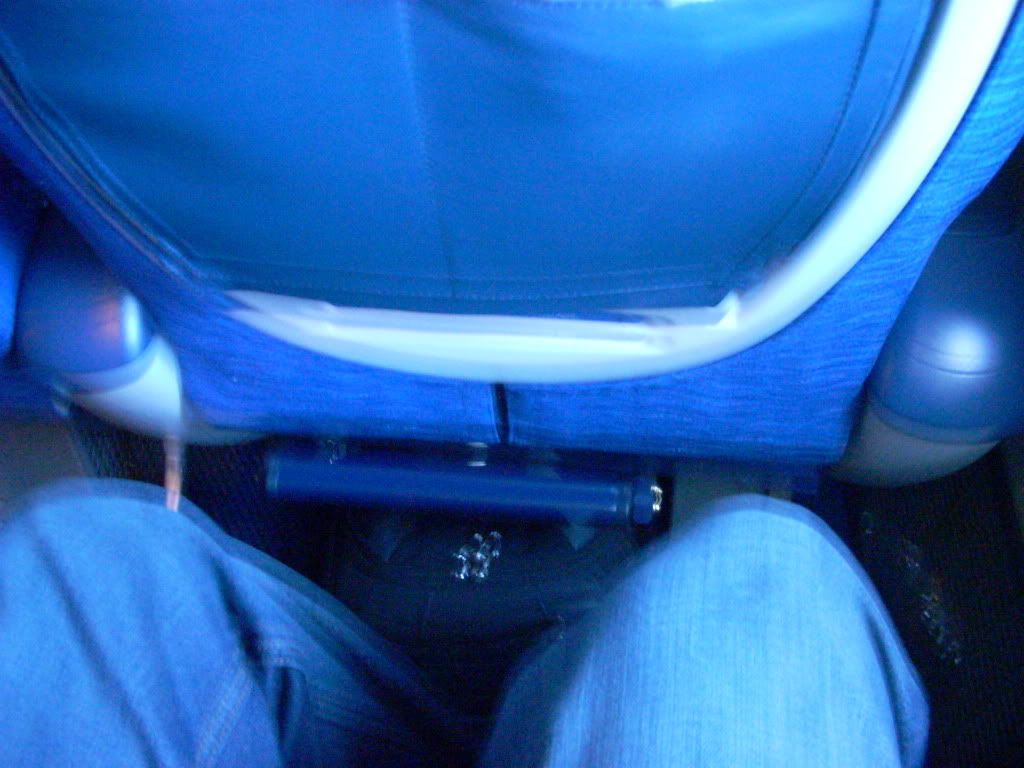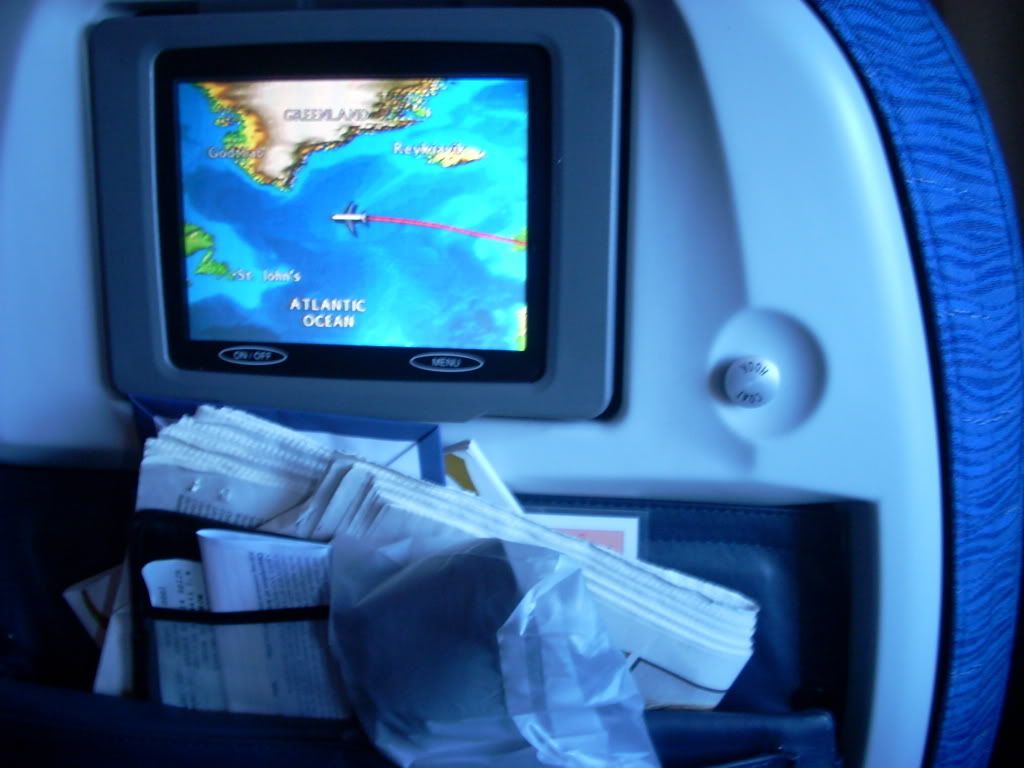 Taxi:
We pushed back and taxied out on time. I was excited/saddened to see G-YMMM sitting next to the hangar, as that was the plane I flew from BOS-LHR. It was strange, from a distance there wasn't that much damage, the only way I was able to tell it was MMM was she was sitting much lower, and as the angle changed I could see the flap damage and the gear poking through the wing. She treated my well on the way over, hopefully the cause of the crash is determined soon. Taxing took about 15 minutes, and after a brief hold, we were off.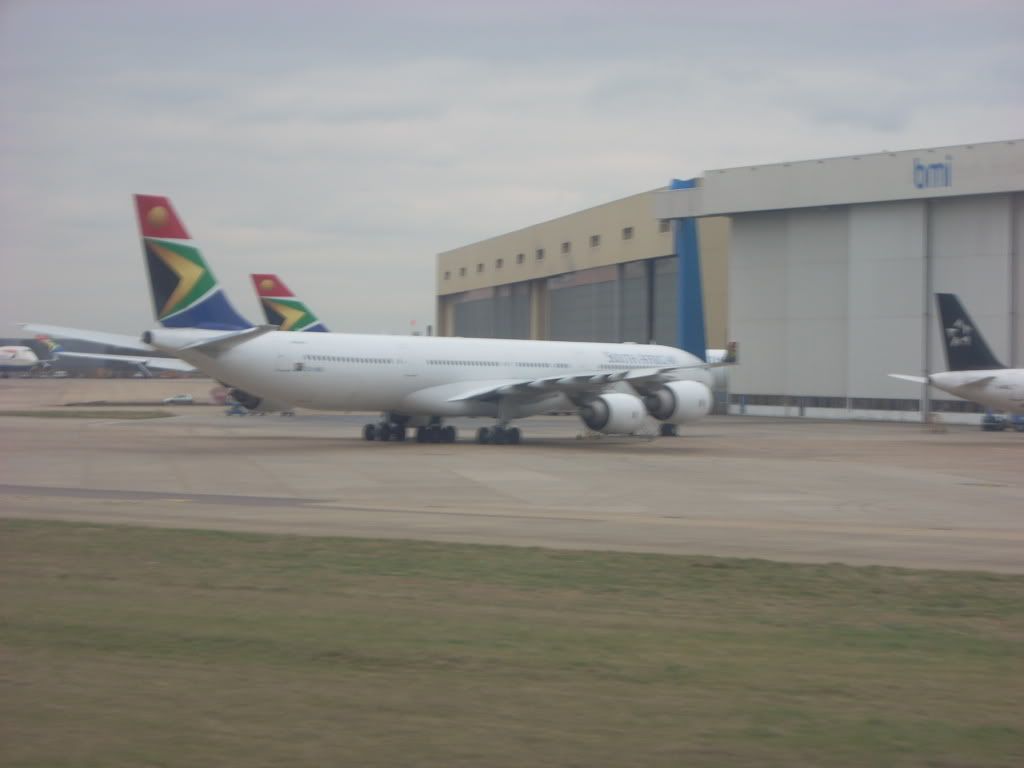 IFE
The IFE on this flight was terrible. The sound kept cutting in and out, and at some points would make such a horrible screech that you would see every one in the cabin fling their headsets off. Also, channels kept cutting in and out. I spent most of my time on the crosswords and the map and reading. I haven't tried the new Delta IFE, but assuming its like the Song version its far better than that on BA.
After the seatbelt sign was turned off, I went back to the WT cabin to see my friends, and see if they all made the flight. Sure enough, as soon as I walked behind the curtain I was greated by a big "HEEEY!!!" from both of them, who were sitting across the aisle from each other. We swapped stories, turns out my friend had left his bag at South Kensington, which was actually a lifesaver as they were able to locate it. He had to go all the way back there, but was still able to make it on time. We chatted for a while, then I went back to my seat for dinner.
Dinner choices were Bangers and Mash or Chicken Casserole. I got the chicken, and it was delicious, however whatever kind of salad they sereved was terrible. It had very fishy fish, and some sort of odd "cube-and-mayonaise" dressing. Also, I'm not a big fan of rice pudding, but I was starving so I ate it anyway. I had a cup of coffee, and watched a bit of Mr. and Mrs. Smith.
About two hours out I went to the lav and said hi to my friends again, and a sandwhich service was served. It was a chicken caesar and a cheese and tomato, but I ate them together and they were delicious, along with the grapes and lemon cake. OJ service followed, and I just watched the Canadian scenery until it got dark.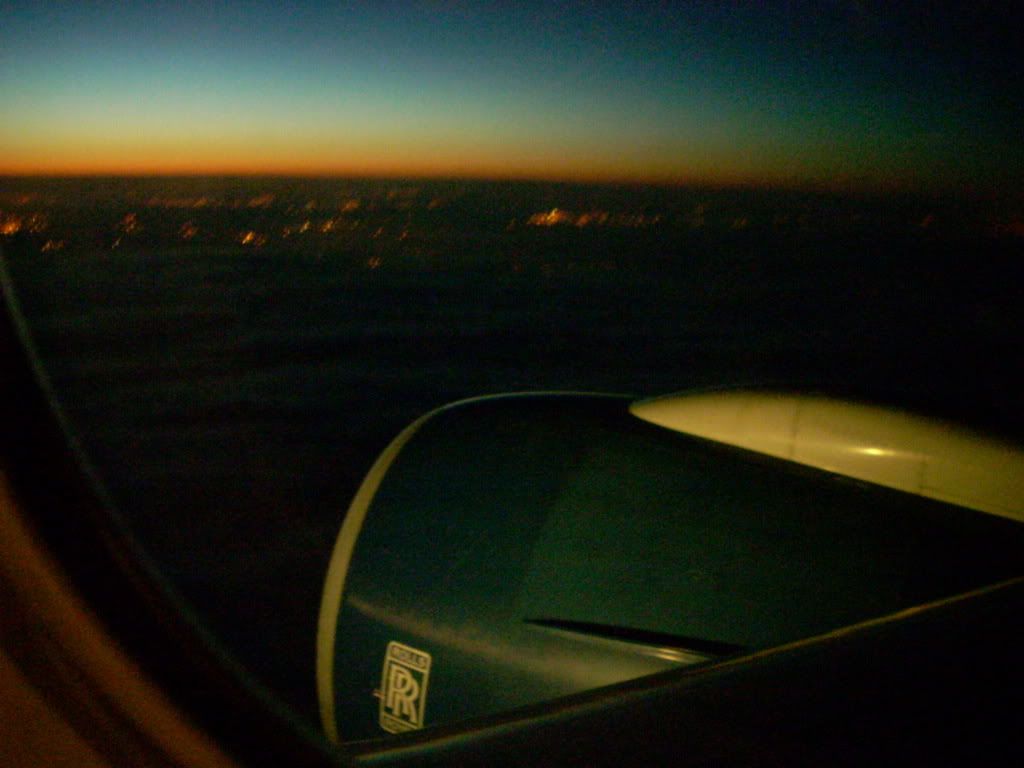 Landing:
I took a video of the landing, however its really dark and without sound when I play it on my computer, I've gotta fix that. we came in from the north and landed on 22R. After a short taxi to the gate, I got off and waited for my friends to catch up, then we went to Passport control (which was waaaay easier than everyone made it out to be) and then to pick up our bags. There was a breif delay in unloading do to the snow, but it wasn't that bad. We then breezed through customs, and were all greeted by our families in the Terminal E reception area.
I hope you enjoyed the report, I sure enjoyed the trip. Thursday I'm going to visit my girlfriend in DC, I kind of like this trip report thing so I'll try and make one of that short flight.
-WPIAeroGuy
[Edited 2008-02-24 10:36:50]