Hi Everyone!
This trip report covers the next leg of my larger trip to Asia during the recent holiday season. I posted reports on several of the legs a few weeks ago. As a refresher for those of you who may have read the earlier reports, and also for those who didn't, here's a recap of my travels between Dec. 24, 2007 and Jan. 6, 2008: DCA-PHL-SFO, MRY-SFO-HKG-MNL-MPH-MNL-HKG-ORD-DCA. I've already posted reports for the flights from DC to San Fran (see
DCA-PHL-SFO (with Pics)
(by
BZNPilot
Jan 29 2008 in Trip Reports) ), as well as from Monterey to Hong Kong (see
MRY-SFO-HKG On UA (with Pics)
(by
BZNPilot
Feb 2 2008 in Trip Reports) ). In addition, I posted a report for the MNL-MPH-MNL trip (see
Manila-Caticlan-Manila For New Years (Pics)
(by
BZNPilot
Jan 24 2008 in Trip Reports) ), which took place between the HKG-MNL and MNL-HKG legs that I'm about to report on now. My apologies for not going exactly in chronological order, but I decided to do the HKG-MNL-HKG flights in one TR, as those flights were booked on one roundtrip ticket. Hope that all makes sense. Anyway, now to the report. Thanks for reading and I hope you enjoy!
December 28, 2007
HKG-MNL
CX 905
Departure: 22:00
Arrival: 23:55
Actual Flight Time: 1:40
Aircraft: Boeing 777-367
Registration: B-???
Seats: 15A &15C (Business, left side)
My girl and I arrived in Hong Kong after the long flight from San Francisco and followed the signs to the transfer desk for Cathay Pacific, the carrier that would take us onward to Manila later that evening. When booking our tickets 5 months earlier, the economy section for this flight was already sold out (the holidays and New Years are busy, I suppose), so our only option was in Business. We also thought about Cebu Pacific, but it too was sold out, and Philippine Airlines didn't have a flight that would work timing-wise. So we "settled" for Cathay's Business Class product (life is tough, huh!). It was actually not that much more expensive, so we made the easy decision to spoil ourselves just a little. Anyway, when we arrived at Cathay's transfer desk, there was no wait at the Business Class counter, and the agent quickly checked us in and printed our boarding passes. We also received our passes to the lounge.
With our papers in hand, we proceeded through security into the main departure hall and headed directly to the lounge. We were greeted by a friendly agent at the entrance, submitted our passes, and made a beeline for the comfy leather couches. Here are a few shots…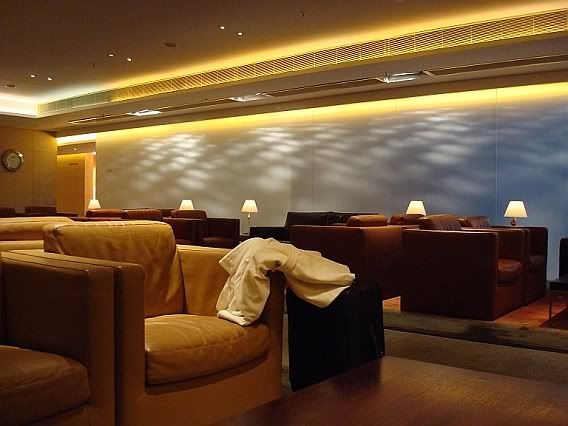 And the food and drink line-up…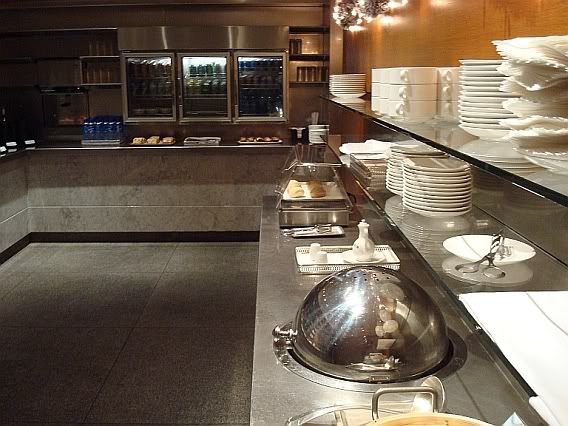 We weren't too hungry, though, so we only helped ourselves to the drink.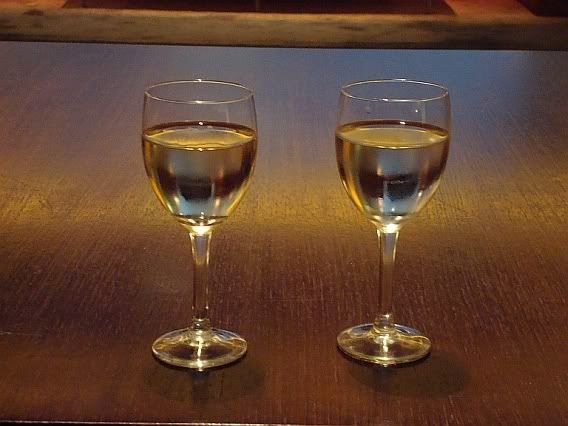 We mostly hung out, chatted and enjoyed the wine. We had about 2 hours to spare before boarding our flight to Manila, and the time passed quickly. After a couple of glasses, we noticed it was time to gather our things and head to Gate 21. I grabbed a quick shot of our boarding passes before we left for the aircraft.
Upon arriving at the gate, I immediately noticed that our A330-300 was missing its winglets!
Actually, I realized there must have been an aircraft change. Although our itinerary showed the flight as being operated with the Airbus, we were clearly about to climb aboard a Triple Seven.
Boarding was called for Business Class just a few minutes after we got to the gate, and we were soon onboard. We took our seats in15A & 15C on the left side. Sure enough, a glance at the safety card in the seatback pocket confirmed that we were indeed sitting on a 777-300. This was a pleasant surprise, as I had only flown on DL and UA 777-200s to date. Very exciting to be on the –300 version!
We were immediately offered our choice of champagne, orange juice, or water. My girl and I each took a champagne, clinked our glasses together, and sat back and enjoyed the bubbly.
Gotta love the legroom!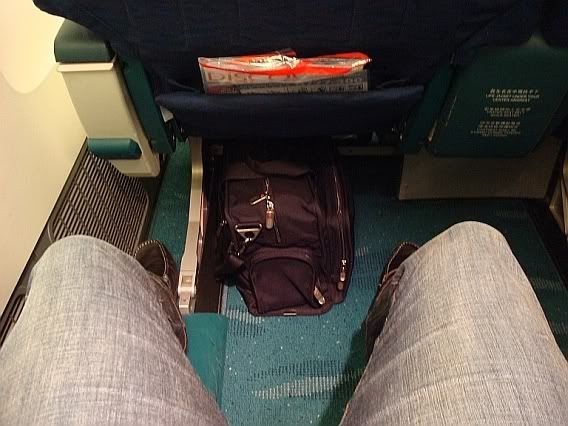 We pushed back on time right around 22:00 and made our short taxi to the end of RWY 25L. After a quick and powerful takeoff roll, we were airborne.
After the initial climb-out, the flight attendants came by and greeted us by name, based on the passenger manifest. We were also offered menus and more drinks. We each got some water and looked over the menu.
As we often do, we decided to each choose a different meal and then share them both between the two of us. That way we each have more to try.
My girl chose the curry chicken with rice and vegetables; I chose the cannelloni. She chose a chardonnay to wash it down; I chose a merlot. Cake and fresh fruit accompanied both. Of course, there was a fair amount of swapping going on, and I finished her portion anyway. I apologize for not registering more details of the menu or the exact wines we chose. I forgot to save a menu and forgot to write it all down.
Hers: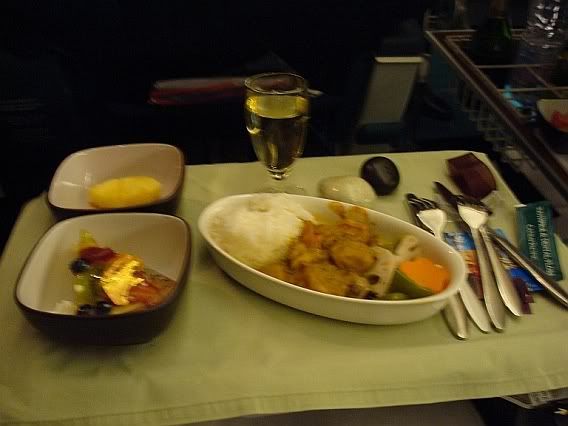 And his:
After our delicious meals, I pulled out my screen to check out the flight tracker. We were already about two-thirds the way to Manila.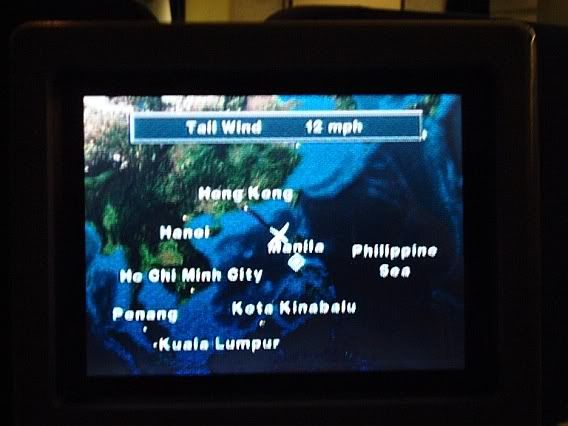 A few minutes later, the drink cart came though again. I requested coffee for desert, and my girl asked for tea. We were also offered chocolates, which we gladly accepted. It was a nice finish to the great meal.
Before long, some lights appeared out my window on the left side of the aircraft. It was my first ever glimpse of the Philippines! My girl began to get very excited, as well. Although she's dual French-American, she was born in Manila and spent the first 18 years of her life there. For her, the Philippines are home, and she was about to visit for the first time in 7 long years!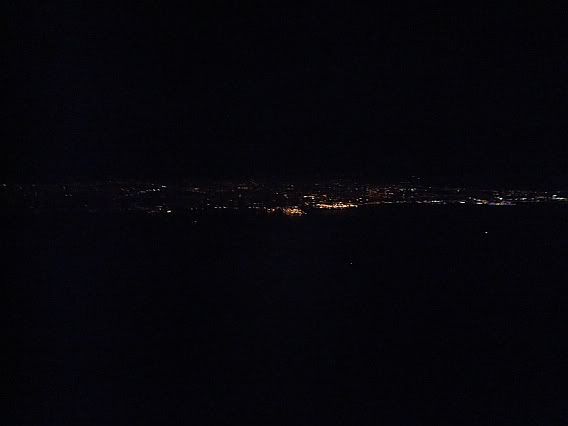 Both of us kept our eyes glued to the window as we made our descent over Manila Bay before turning back to the northeast to line up for our approach to RWY 06. It was also very cool to see the live footage of our approach from the camera mounted under the fuselage, which was projected onto the bulkhead at the front of the cabin. Even though it was nighttime, it was thrilling to watch the forward fuselage flare over the threshold in real time! Once on the ground, the camera remained on for the taxi all the way to the gate. I've only seen this feature on Air France before, and I wish more airlines, especially those in the U.S., offered it! Very cool…
Once parked and docked, we were among the first people off the aircraft. We made our way toward immigration, and after a short wait in line, were officially in the Phils. Our wonderful (but too short) stay in this beautiful country was about to begin.
Here are just a few pics from our short stay in Manila.
Fort Santiago in the walled district of Intramuros: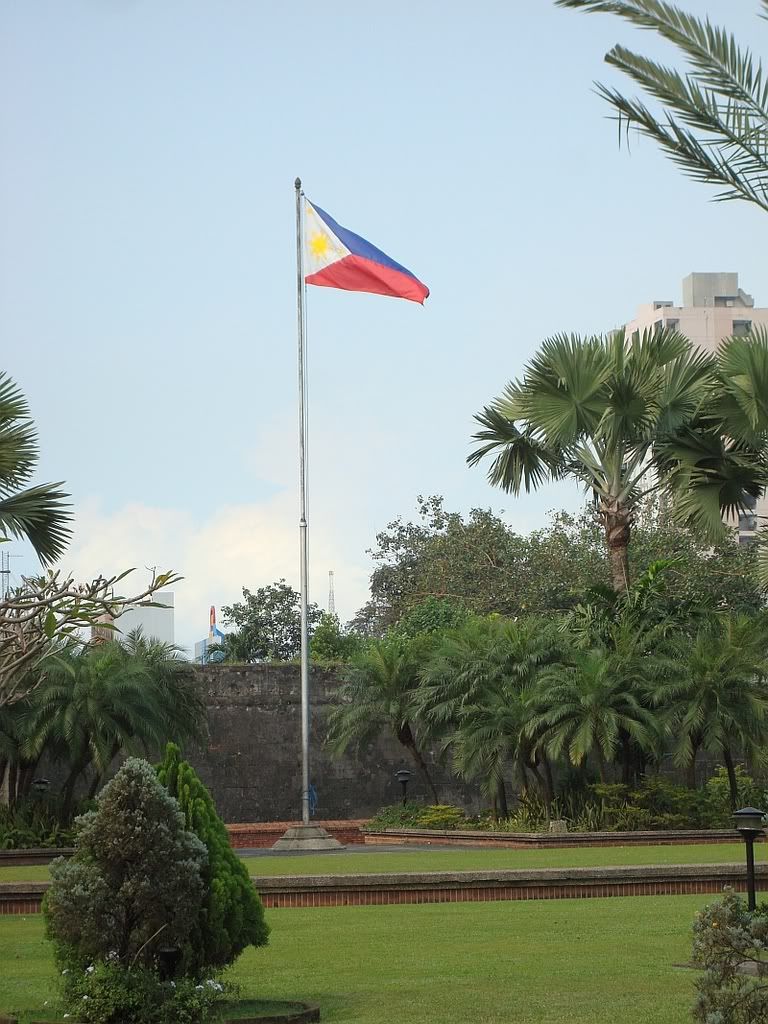 Along Manila Bay:
View from our hotel room in the business district of Makati: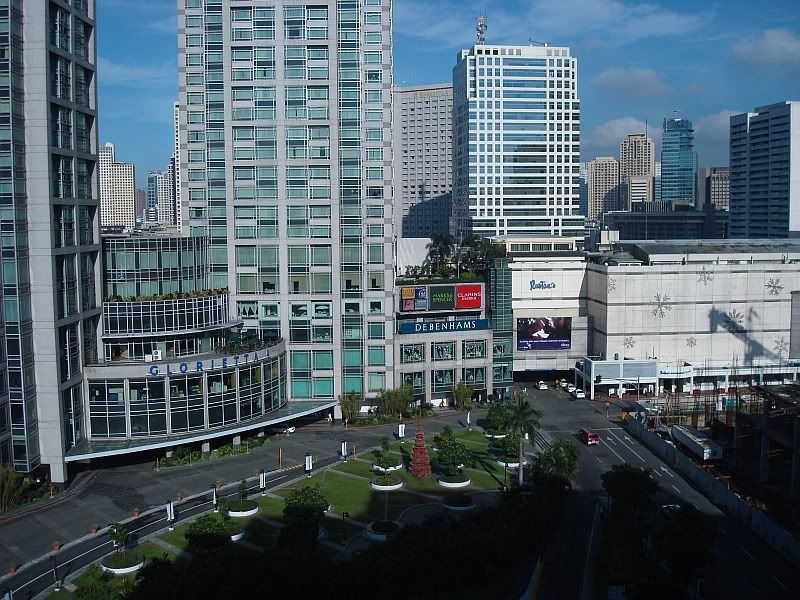 From the 30th of December to the 2nd of January, we were on the island of Boracay (recall the trip report for MNL-MPH-MNL, which I mentioned above).
January 2, 2008
MNL-HKG
CX 918
Departure: 17:45
Arrival: 19:45
Actual Flight Time: 1:30
Aircraft: Boeing 777-367
Registration: B-HNP
Seats: 15A & 15C (Business, left side)
We arrived back at Manila's domestic terminal around half-past noon after the short flight from Boracay (Caticlan). We claimed our bags and then caught the free shuttle over to the international terminal, where we arrived around 13:30 or so. I snapped a pic as the bus pulled up in front of the building.
At the front door of the terminal, we showed the printout with our e-ticket info, as well as our passports. Next, we went through the first round of metal detectors and our bags (both carry-on and soon-to-be-checked) were x-rayed. After that, we were inside the terminal and found our way to the Cathay desk. There were several agents behind the counter, but when we approached one of them, he indicated that check-in wouldn't open for another hour. With nothing much to do, we just sat on our suitcases on the floor, waiting for the time to pass. I grabbed a pic of the main check-in area.
At 15:00 the counter opened and we checked our suitcases and were given our boarding and lounge passes. We then headed for the final security checkpoint and were through within 10 minutes. Once inside the secure area, we stopped and did a little shopping at Narda's, a store with all sorts of Philippine handicrafts. With the remainder of our Pesos recycled back into the economy, we continued toward the Cathay lounge.
Food and drink at the lounge.
This lounge, by the way, was not as nice as Cathay's facilities in Hong Kong. It was older and the food wasn't nearly as plentiful or as good. Still, no real complaints…we were very happy to have a nice couch to sit on.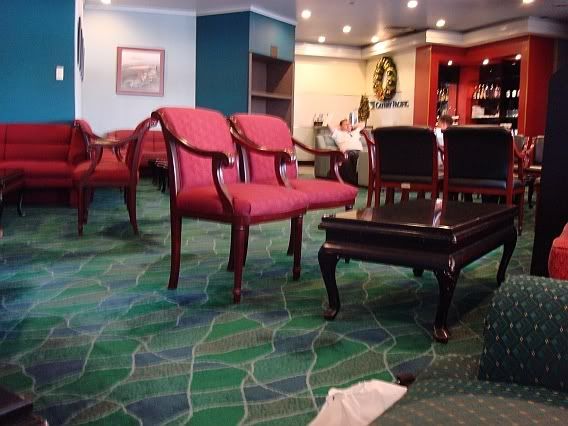 From the lounge, we also had nice views of the Makati skyline.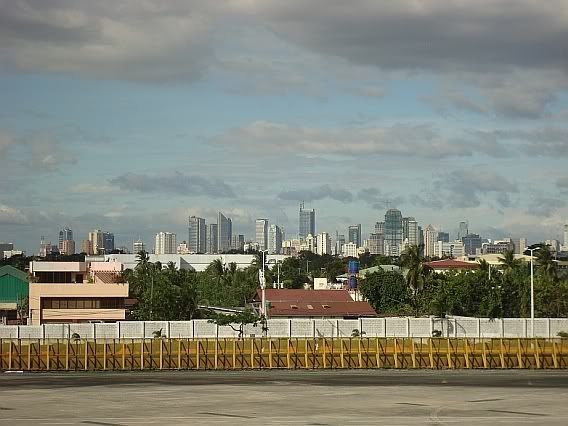 After an hour-and-a-half or so, around 17:00, we headed toward the gate to begin boarding. I grabbed a shot of a neighboring Emirates Triple Seven.
And of course, I had to get a shot of the Cathay bird about to take us to HKG. Again, it was a 773 despite the fact that our itinerary showed an A330-300.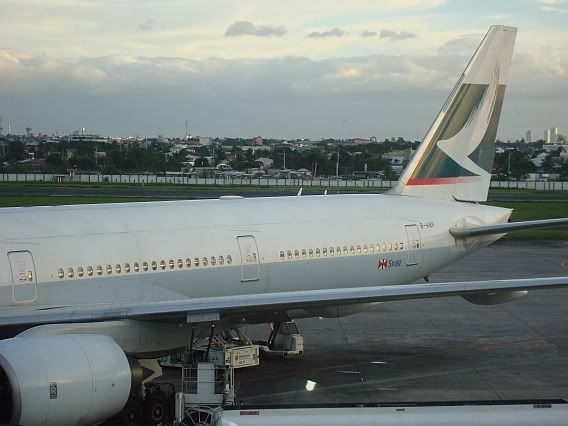 Boarding commenced shortly after we arrived at the gate, and we headed down the jetway. We took our seats, 15A & 15C, again on the left-hand side. We were soon offered champagne and newspapers, which we gladly accepted, and we settled into the comfortable seats. I read the terrible news of the violence following the elections in Kenya, followed by an interesting article on declining support for international trade (which is actually the focus of my job in D.C.).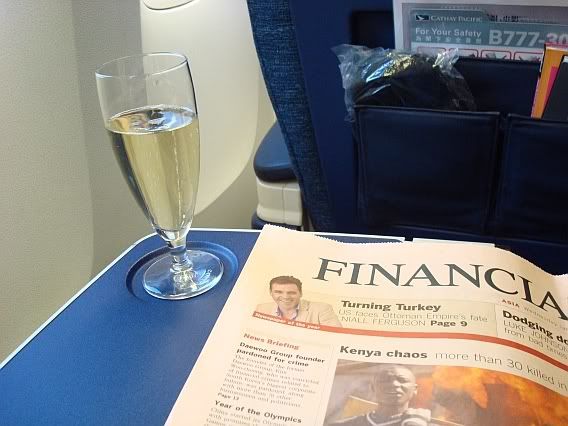 I also snapped a pic of the jetway extending from the terminal out to the boarding door, which was behind our seats.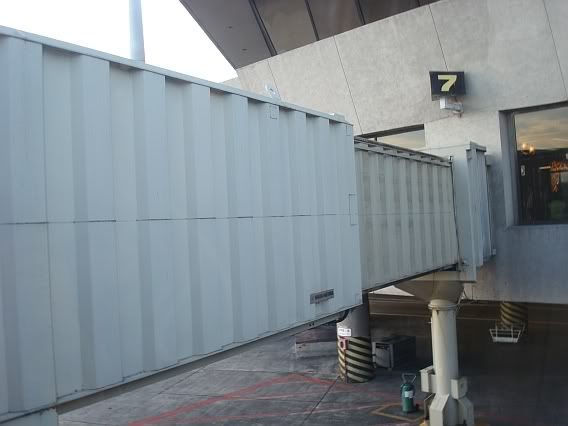 A few minutes ahead of schedule, the boarding doors closed and we pushed back. I took some more pics, including this one of the Ninoy Aquino sign on the terminal.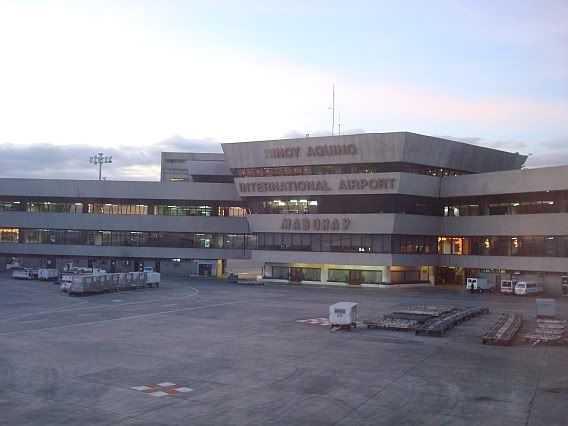 And meanwhile, the sun had slipped below the western horizon.
We taxied out to the end of RWY 06…another pic as we taxied into position.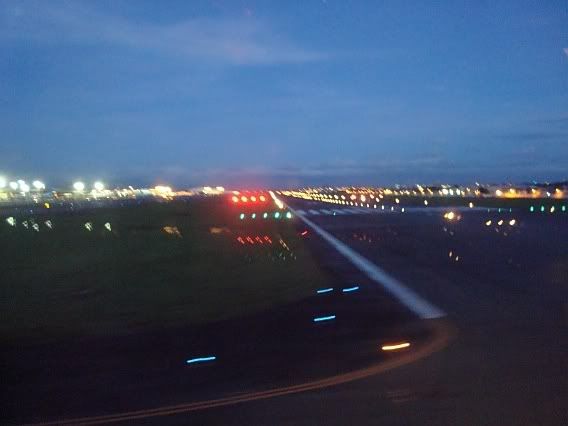 After a smooth and fast take-off roll, we rocketed into the dusk sky over Manila. A minute or so after liftoff, we banked to the left and pointed the nose to the northwest toward Hong Kong.
The view out the window was beautiful, with Manila lit up below, the bay just west of the city, and the blue and orange sky providing the backdrop. I pointed the camera as far back as I could and caught the tip of the wing on our 773.
More shots of Manila and our climbout to the northwest.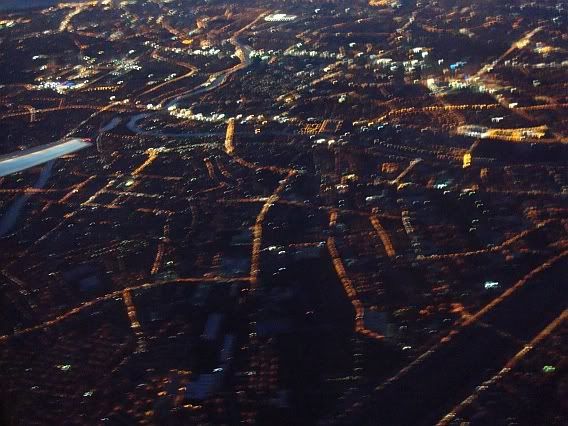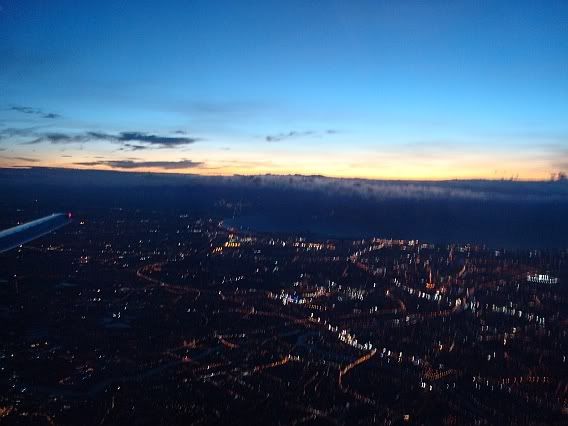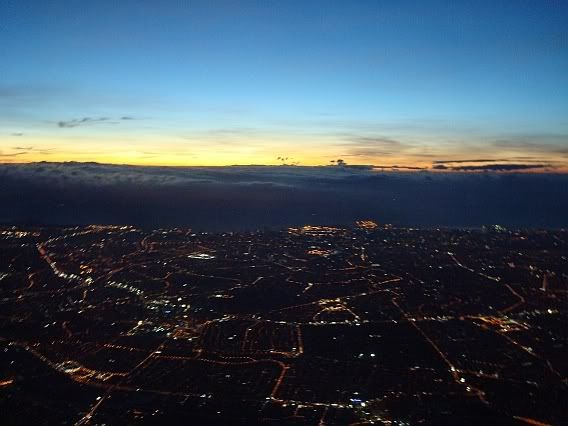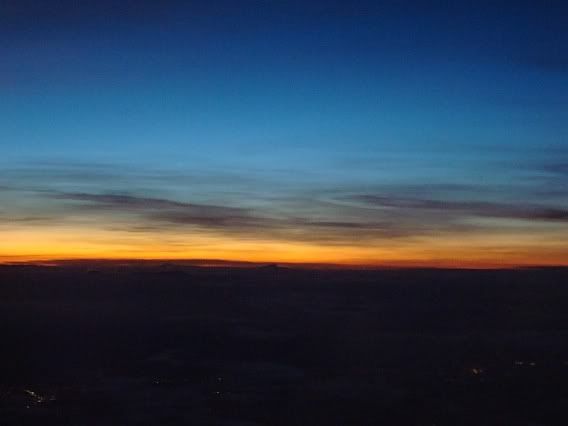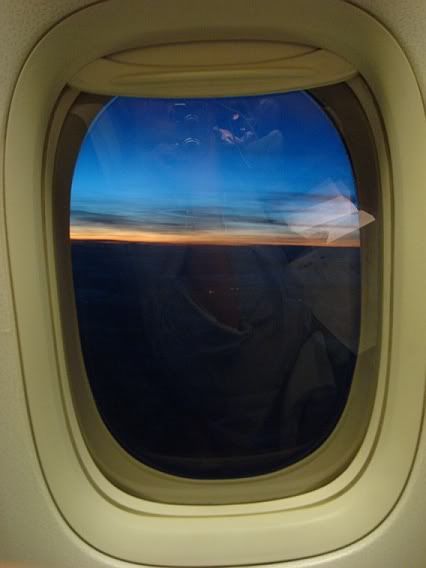 Before long, the flight attendants came by and greeted us by name as they read from the passenger manifest. We were offered menus, which was followed by the drink cart directly behind. I got a whisky on the rocks, while my girl ordered Chinese tea.
Soon, dinner was offered, and I selected the fish, which came with asparagus, carrots, and green beans. Again, sorry for the lack of detailed info when it comes to the precise nature of the menu. My meal was also accompanied by garlic bread (some of the BEST I've ever had, actually), fresh fruit, and cake for desert. I had water to drink. It was all quite good, no complaints. We didn't document with the camera which selection my girl ordered, and neither of us can recall now what she had. But she remembers enjoying hers, so all in all, we were very pleased with the quality of the menu.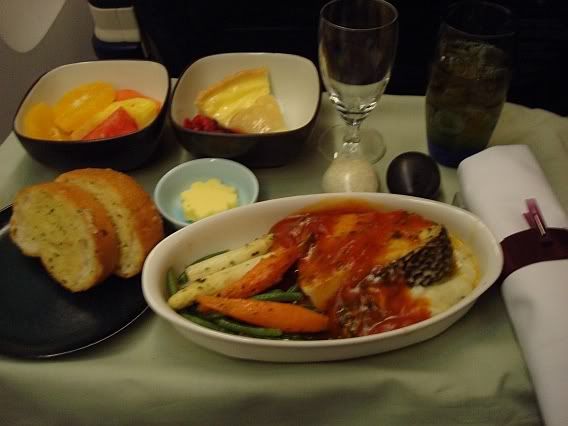 After our trays were collected, I pulled out the screen to check on our progress. We were at FL350…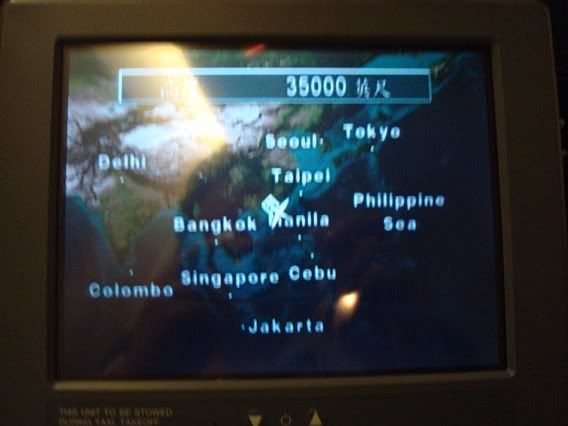 …and still had about a half hour to go 'til landing…
I got up to use the lavatory, where I discovered a flower on the wall next to the sink. It was fake, but still a nice attempt, I suppose.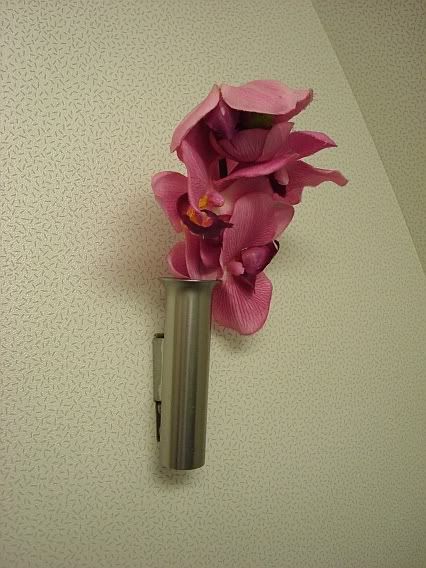 Back in my seat, the flight attendants came through again and asked if we would like something else to drink. I asked for a coffee and the FA said she would come back with it in a minute. Five minutes passed…10 minutes…followed by an announcement that we were beginning our descent into Hong Kong. So no coffee for me. Slightly annoying that she forgot, but I didn't care enough to mention it.
There wasn't much to see on the approach, as it was dark and overcast outside. We touched down on time on RWY 7L and taxied to the gate. I grabbed a shot of our larger Cathay neighbor as we pulled into the gate…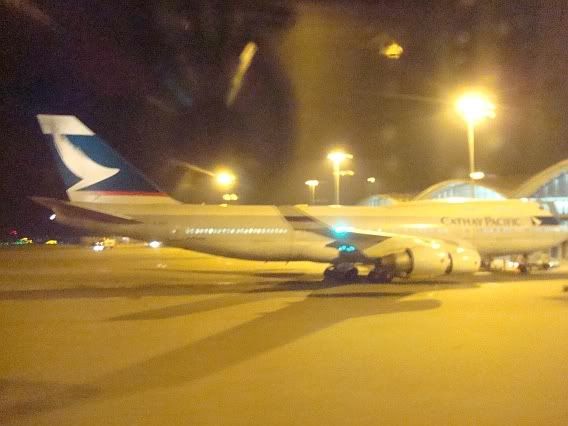 …followed by the jetway as we finished the final few feet of our journey.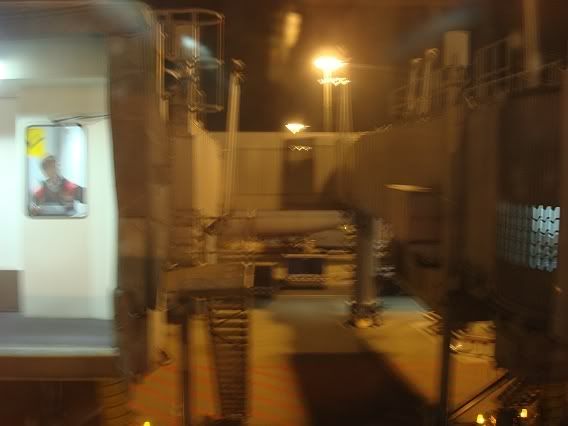 We deplaned and headed toward immigration. The lines were short and we were soon at the baggage claim, where our priority-labeled bags arrived in less than a minute. Very convenient! We made our way into the main hall of the terminal and met up with our driver. And 3 wonderful days in Hong Kong were about to begin!
I'll post the final leg home, from HKG-ORD-DCA as time permits. Until then…I hope you all enjoyed this trip report and thank you very much for reading!