My last visit to New York had been 8 years ago and I always wanted to go there again. So when I found a very good offer from Alitalia for a flight from my home airport Stuttgart (STR) via Milan Malpensa (MXP) to New York (JFK), I didn't hesitate to book. Having flown Alitalia on short-haul several times, I was curious what their long-haul product would be like. Flight price was EUR 160.00 + tax EUR 199.54, so I paid all in all EUR 359.54 for the return flight. Seat reservation in advance is possible for the long-haul flights at no charge. I chose seat 41L for both flights, a window seat in the back of the aircraft.
Saturday, 16 February 2008
Stuttgart (STR) – Milan Malpensa (MXP)
Airline: Alitalia (operated by Alitalia Express)
Flight number: AZ 449
Scheduled departure time: 07:10
Scheduled arrival time: 08:15
Type of aircraft: Embraer RJ145LR
Registration: I-EXMA "Giosué Carducci"
This aircraft was built and delivered to Alitalia Express in 2000 and was the first Embraer 145 in the fleet. It is named after Giosué Carducci (1835-1907), an Italian poet.
I arrived at Stuttgart Airport shortly after 5:00 am, about 2 hours before departure. Check-in opened at 5:10, which was two hours before departure, with two very friendly ladies of our local handling agent Stuttgart Ground Service. One of them took my luggage, entered my passport dates into the system, asked me for an address in the USA and printed my boarding passes. She then told me that we still had to wait for the Alitalia station manager before she was allowed to start check-in officially and hand out the boarding passes to me, in order to hear if there were any specials on this flight. The station manager arrived shortly after. One of the check-in agents walked over to the Alitalia office which is located opposite the check-in area, collected a flower decoration for the counters and returned with the information that there were no specials on this flight. So I got my boarding passes for STR-MXP and MXP-JFK: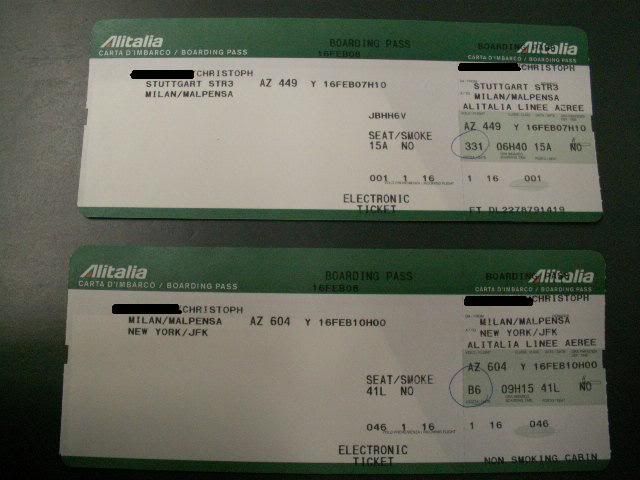 I went straight through security check to the gate area. The departure gate for this flight, number 331, was still deserted: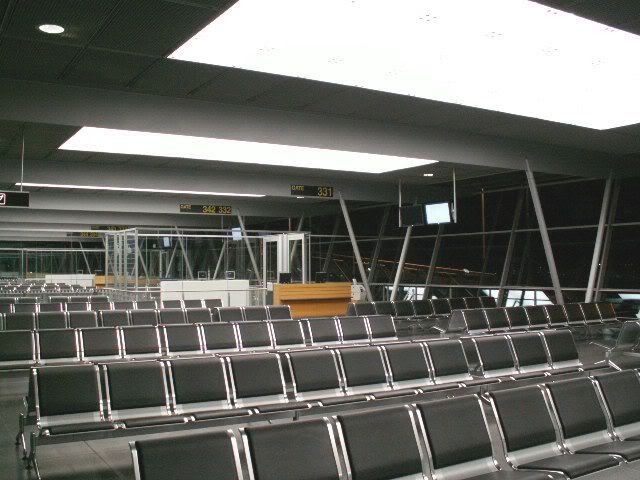 Boarding started 20 minutes before departure with the same agent that had checked me in. She wished me a pleasant flight and I walked down the stairs to the waiting bus that took us to the aircraft for this flight. I was I-EXMA, the very first Embraer 145 in Alitalia's fleet: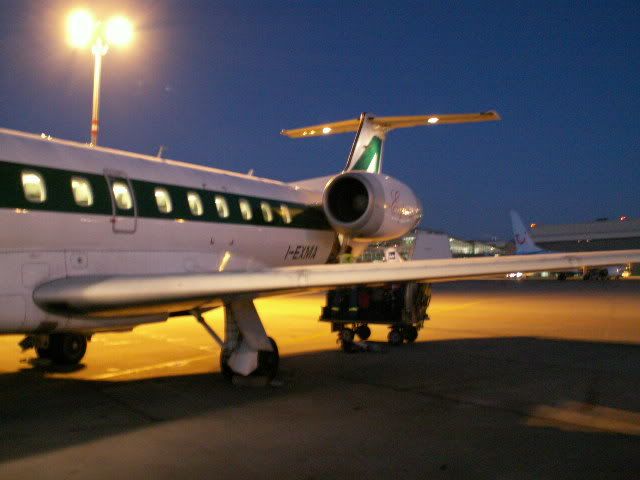 A friendly female flight attendant welcomed all passengers and offered newspapers (German and international). I took a copy of "Stuttgarter Zeitung", our local newspaper, and went to my seat number 15A. There were 28 passengers on this flight which was a load factor of 58%. As usual on the Embraer 145, all passengers were seated in the back of the aircraft while the rows in the front remained empty – or were used to stow over-sized hand luggage.
The captain made a short pre-flight announcement, and then the flight attendant demonstated the safety instructions. We were off-block at 7:05, five minutes ahead of schedule, and taxied to the de-icing position: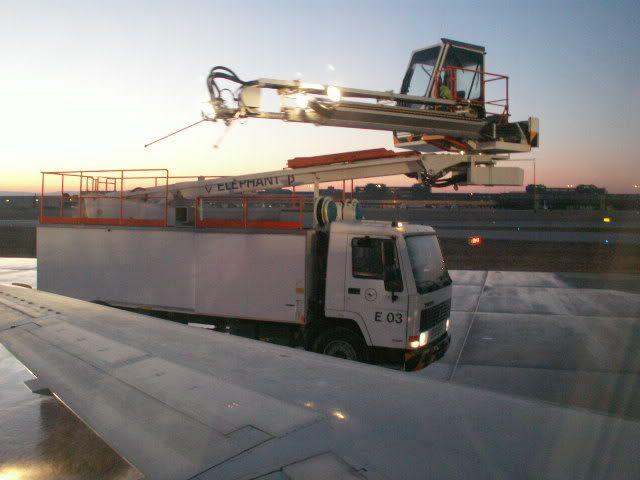 Then we went on to runway 07 where we were number five in the morning departure queue. After an LH A 320, two TUIfly B 737-700 and an LH Regional CRJ 200, it was our turn to take off in Eastern direction: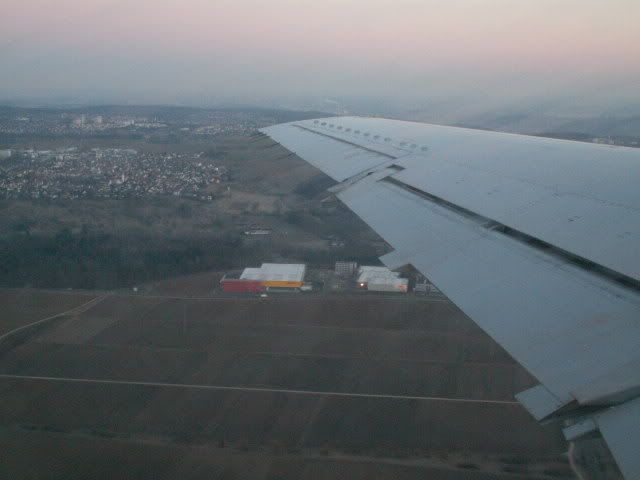 The town of Ostfildern; in the back the River Neckar and Mettingen, a suburb of Esslingen: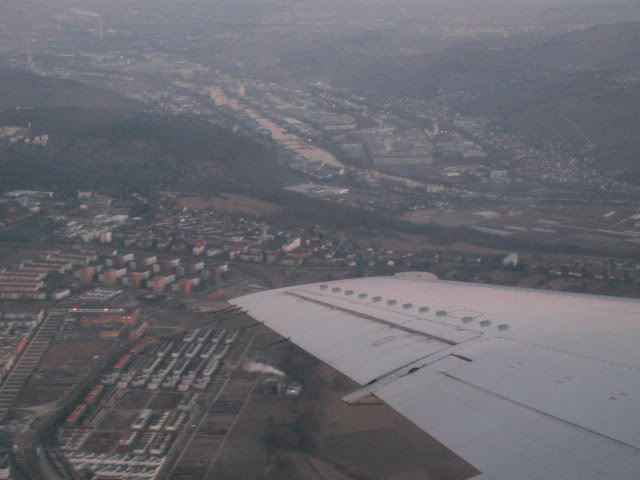 Shortly after take-off the flight attendant started food and drinks service. All passengers had the choice between a sweet or a salty snack and a drink. I had the sweet option which was a pastry with an apple filling, along with a coffee: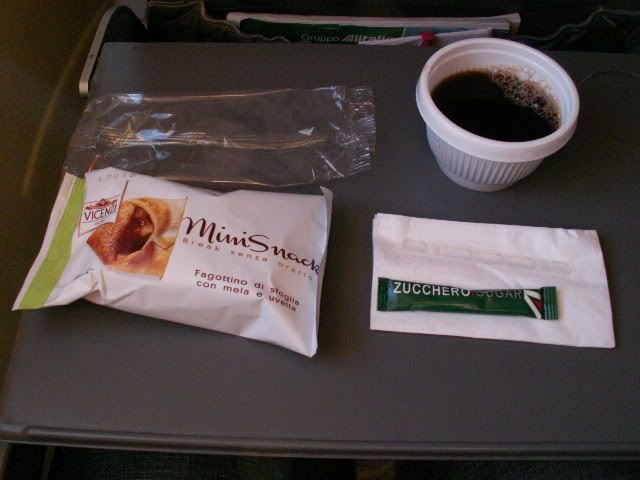 The Swiss Alps in the morning light: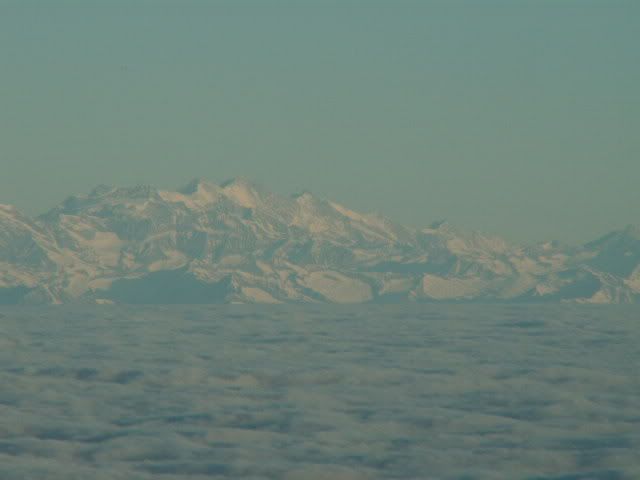 An in-flight cabin shot: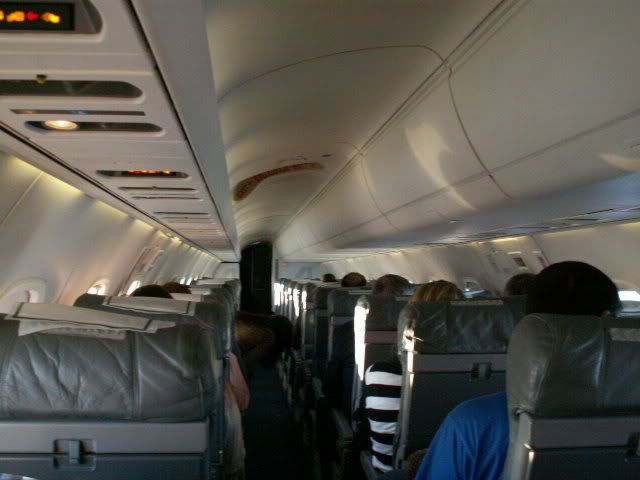 Flight time was short and soon we were on approach into MXP: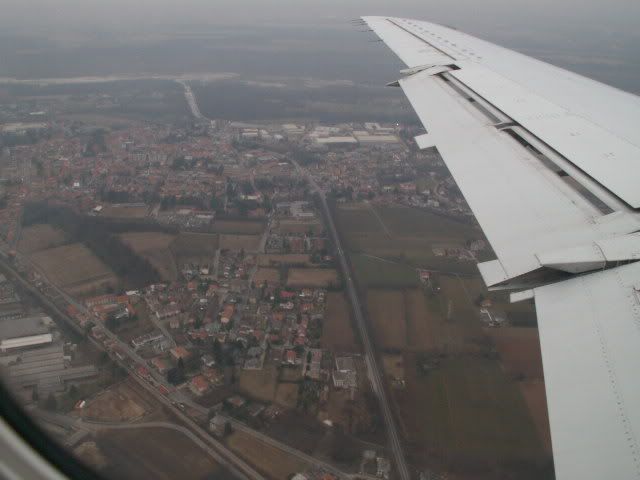 Shortly before touch-down. In the background, you can see the cargo ramp: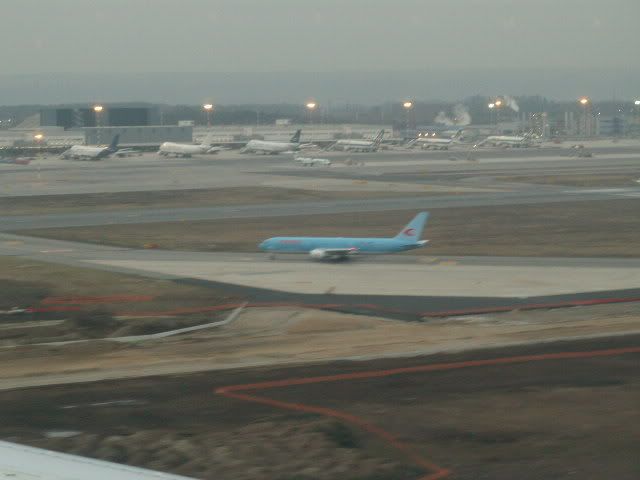 We taxied to a parking position on the apron where we were on-block just on time. Leaving I-EXMA: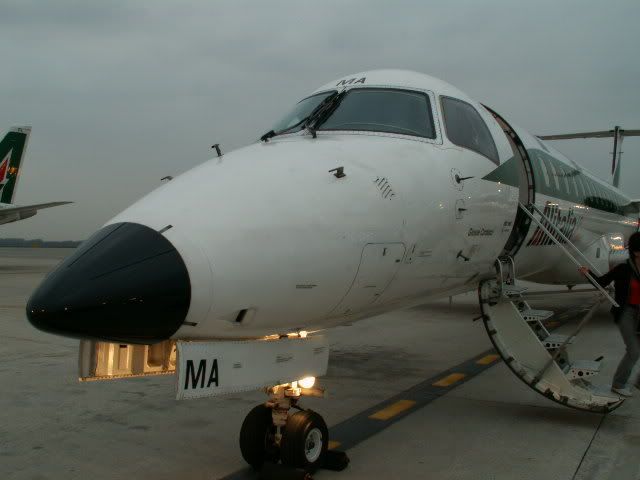 When all passengers were in the bus, I realized that our crew left the aircraft as well and closed the door from outside. Must have been a really short working day…
The bus took all passengers to the arrivals area where I followed the "transfer" signs.
Saturday, 16 February 2008
Milan Malpensa (MXP) – New York John-F-Kennedy (JFK)
Airline: Alitalia
Flight number: AZ 604
Scheduled departure time: 10:00
Scheduled arrival time: 12:50 (time difference -6 hours, so scheduled flight time was 8:50)
Type of aircraft: Boeing B 777-200 (ER)
Registration: I-DISU "Madonna di Campiglio"
This aircraft was built and delivered to Alitalia in 2002. It carries the name Madonna di Campiglio, a small town in the Italian Alps.
Alitalia's international flights at MXP are handled in the B-area of Terminal 1. I passed customs clearance quickly and made my way to gate B6 where the Triple Seven I-DISU was already waiting for its flight to New York JFK. In this picture, it is the last aircraft in the row: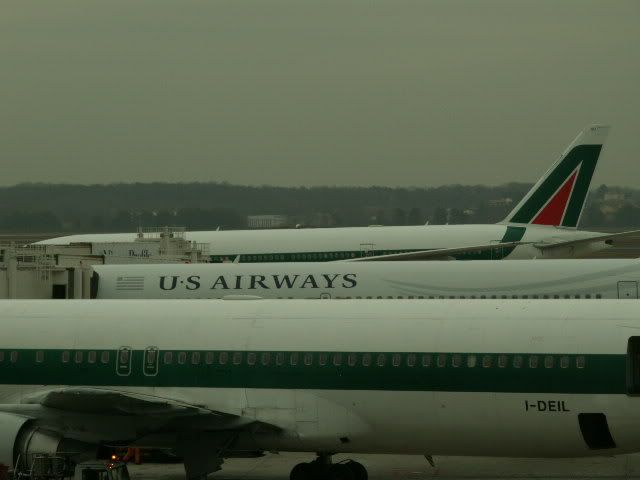 I was surprised to see that there were no additional security checks for this flight to the USA. In fact, I didn't have to pass any security check at MXP. The only thing was an additional passport check at the gate starting about 15 minutes before boarding. It was performed by a private security service. The agent had a look at my passport, entered the dates into a laptop and signed on my boarding pass. He then told me that I wouldn't need to show my passport any more, just the signed boarding pass.
Boarding started shortly after, at 9:15 which was 45 minute before departure. It was announced that status clients were allowed to board first, followed by passengers sitting in rows 31-44, then the remaining passengers. Business Class passengers could board at any time. However, nobody really cared about the regulation, and all passengers tried to get on the plane at the same time, so it was a bit of a chaos.
Italian and international newspapers were offered in the jet-bridge. Then all passengers were welcomed by a very friendly cabin crew. The majority of the cabin crew members were male on this flight. I proceeded to my window seat back in row 41 which is the third last row on Alitalia's 777. The overall impression of the cabin was positive. Configuration was 3-3-3, which I personally prefer over 2-5-2 (and of course also over 3-4-3). Seat pitch was good. There were PTV's installed in the back of every seat which had the consequence that passengers sitting on a window seat had a small metal box for the PTV-system in front of their feet instead of a footrest like on the other seats. The grey fabric seats were comfortable. However, the light colour might have been not the best choice as some of the seats looked a bit dirty. Overall cleanliness could have been a bit better for an aircraft leaving its home-base. There were crumbs on some of the seats and still some rubbish on the floor. Here is a cabin shot during boarding: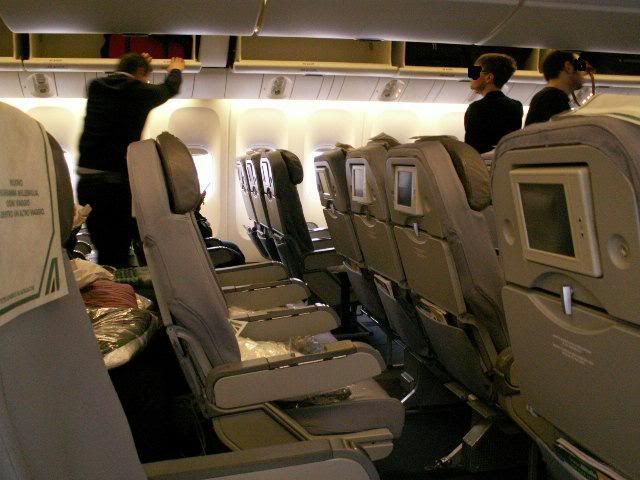 Load factor on this flight was around 90% in Economy Class. While the front part of the cabin was completely full (everybody wants to sit in the front), there were some free seats in the back. So the middle seat next to me remained empty. The aisle seat was occupied by a middle-aged American lady. The great majority of the passengers seamed to be Italian.
At our scheduled departure time, luggage was still loaded. The captain made a pre-flight welcome announcement and told us that it would take about 10 more minutes. Flight time to New York would be about 8 hours. The safety video was shown. We were off-block at 10:15 and taxied to runway 35L where we performed a very powerful take-off. Malpensa Terminal 2: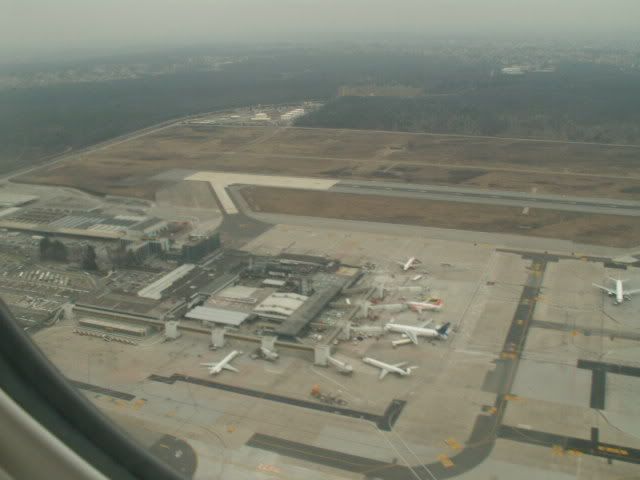 Soon we were reaching the Alps again: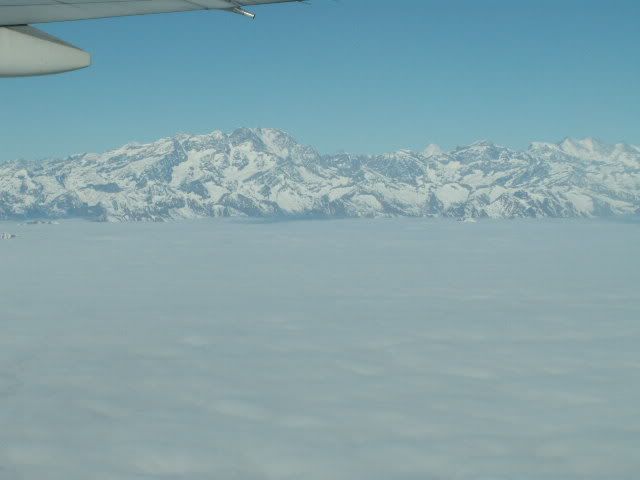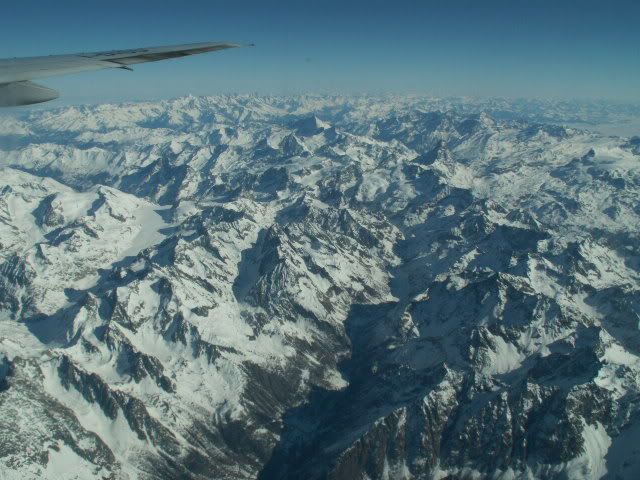 Cabin crew came through and distributed head-phones for free for the entertainment system (cheap ones without an airline logo that weren't re-collected, so you could take them with you), along with envelopes for "Change for Good" where you can give your remaining change in foreign currency to Unicef. Those envelopes were collected by the cabin crew shortly before landing.
Let me drop some words about the entertainment system. Up to that day, I had always thought that PTV was something I wouldn't really need. However, I found Alitalia's PTV-system on the B 777 really very good. It has lots of options to offer. All options are available on demand; you can stop a programme at any time and re-start it later. The explanations on the screen were available in Italian and English. There was a selection of 11 movies, among them "The Bourne Ultimatum", "Rush Hour 3", "The Simpsons Movie", "Stardust", "The Jane Austin Book Club" and others. Most of the movies were available in four different languages: Italian (well, that was clear), English (also obvious), Japanese (on the first view a bit surprising, but you have to keep in mind the Alitalia uses the B 777 frequently for flights to Japan where they serve Tokyo and Osaka), the fourth language was either Spanish or Portuguese (probably for the flights to South America). Only two Italian films were only available in Italian language. In addition to that, there were short programmes like information films about cities served by Alitalia, a news programme and a children channel. The Audio system offered a selection of about 15 different music channels of all styles that were also available on demand. Besides, there were some games for single and multi players available. A really entertaining selection. In addition to the PTV-screens in every seat, the aircraft was also equipped with central screens at the ceiling. On those screens they were showing the air-show permanently which I found a good thing: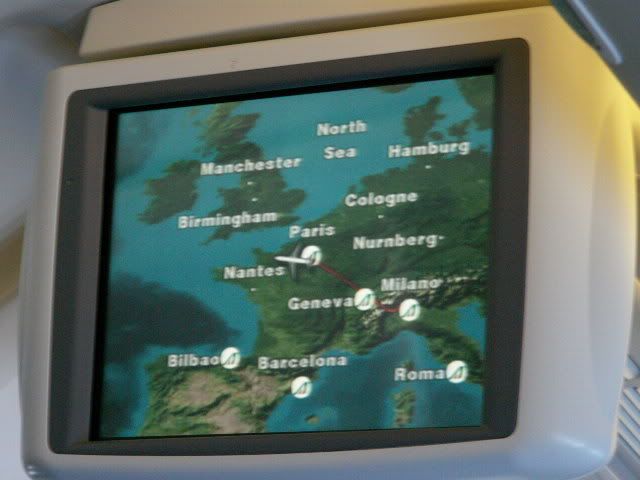 Nevertheless, you could watch the air-show on your private monitor as well. Apart from the route maps and statistical information like flight level, time to destination etc, the air-show also provided pictures and information screens about the cities we were flying by, like Zurich, Lyon, Boston and so on. Really a nice feature.
By the way: we were taking a quite Southern route on that flight which was MXP – North of GVA – Dijon – Paris - Channel Islands – then flying South of Britain and Ireland out over the Atlantic Ocean, reaching America at Newfoundland, then along the coast via Halifax and Boston to New York JFK.
The airport of Paris Orly (ORY):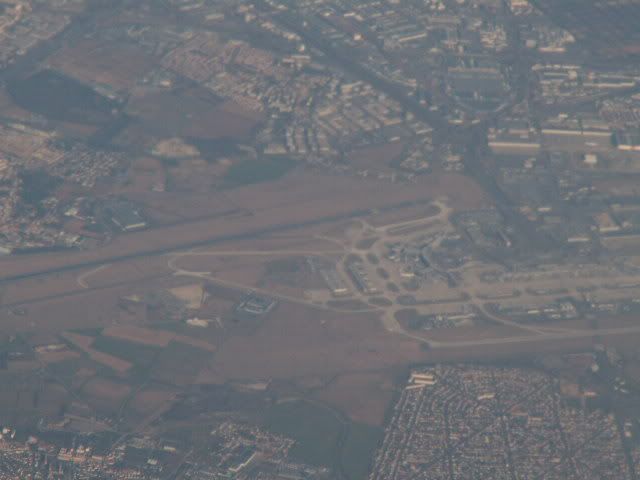 Then we were flying directly across the City of Paris: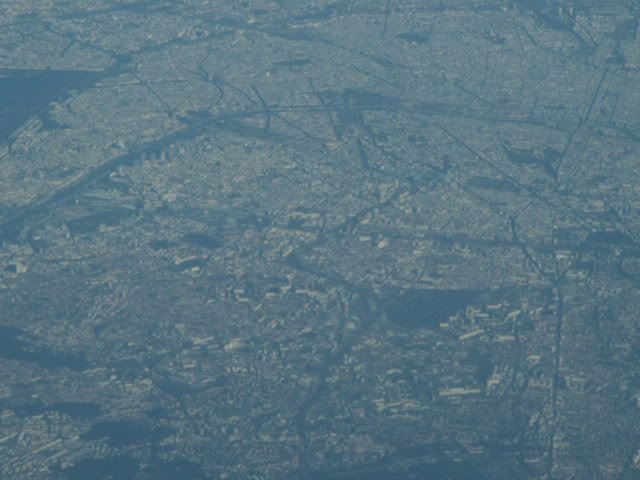 The French Atlantic coastline: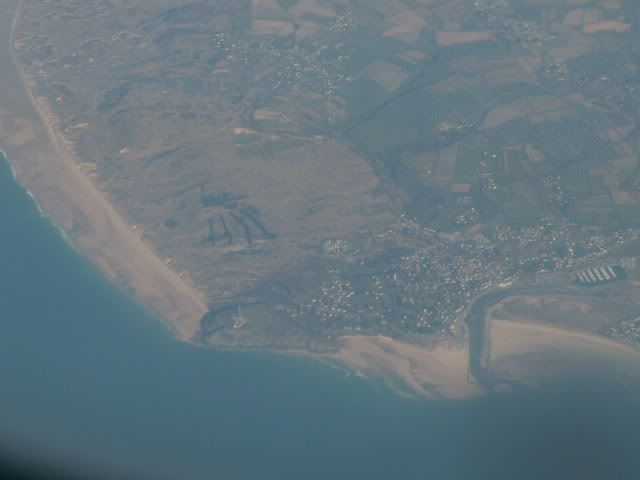 The Island of Guernsey: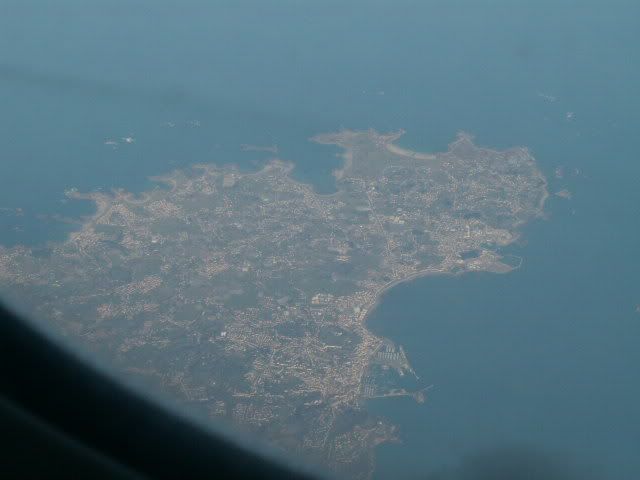 Cabin crew had already performed a first drinks service, now it was time for the meal. Choice was between chicken and fish, and the choice was available up to the last row (service had started in the front). I opted for the fish: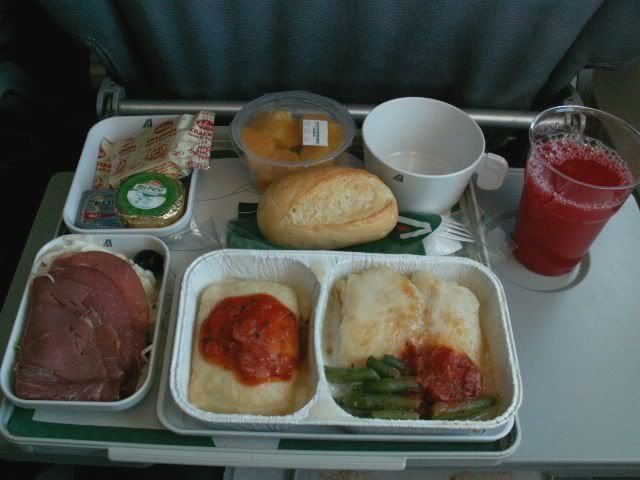 It was butterfish served with potato gratin and beans, together with a crêpe filled with champignons. Besides, there was a plate with Italian ham on mixed salad. In addition to that, there was a roll with butter and cheese, some fruits for dessert and some crackers. There was a second drinks service with the meal, followed by tea or coffee. All in all, food was really tasty – one of the best airline meals I ever got. Quantity was very good as well. After all, the Italian cuisine is world famous.
Meal trays were collected again. Soon we were out on the Atlantic Ocean: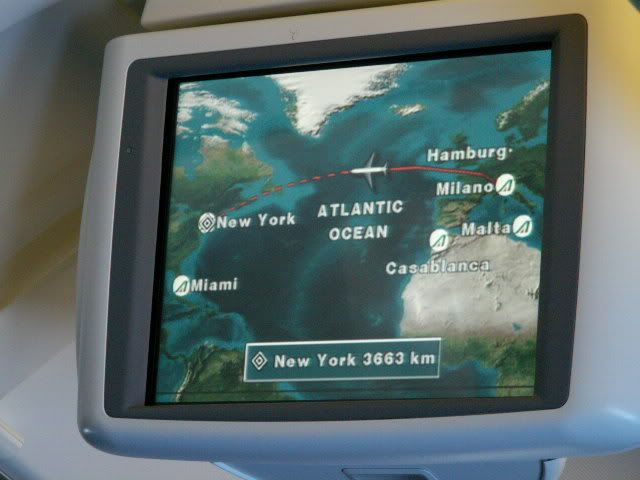 Although this was a complete day-flight, cabin crew performed something like a "night": the lights were switched off, and most passengers closed their window shades. As flying across an ocean becomes boring after some time, I watched the Simpsons Movie (in English language) and played some matches of "Who wants to be a Millionaire". I had the choice between the Italian and the English version. I chose English and found out that it was in fact the UK-version with lots of Britain-specific questions. Although I'm a real Britain-fan, I had a hard time with questions like "Which British city does a Cockney come from?" (Manchester, London, Birmingham or Glasgow). There was one more drinks service during the "quiet time" where the flight attendants walked through the rows with trays with water and Coke. All in all, the service performed by the cabin crew on this flight was really friendly and attentive with an individual touch.
After some more time of flying we reached the American continent at Newfoundland. Here, you can see some ice floes near Newfoundland. Looks cold out there, doesn't it?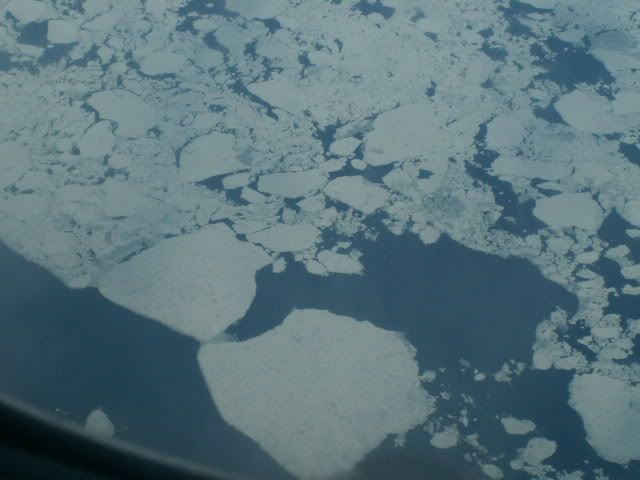 The Canadian coastline: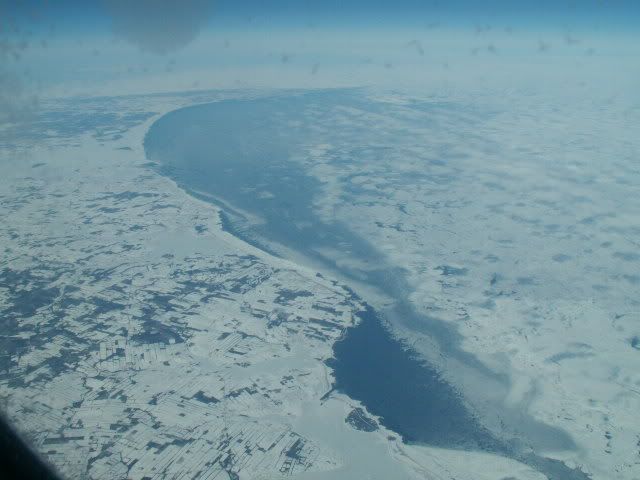 Canada is a wide country: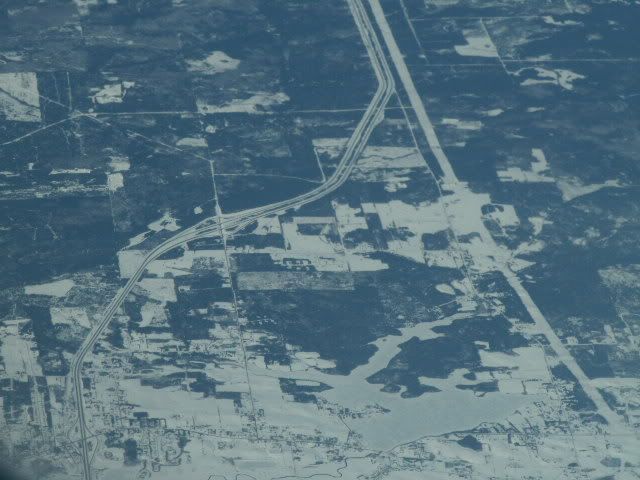 St. John on Canadian mainland, near Moncton (don't mix it up with St. John's, Newfoundland):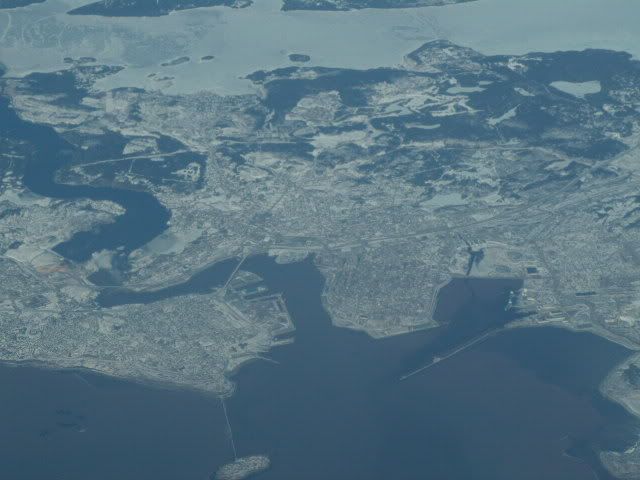 About 1:30 hours before arrival, cabin crew offered a snack service consisting of an Italian cake with a tomato and mozzarella filing, plus s small sweet cake, followed by hot and cold drinks: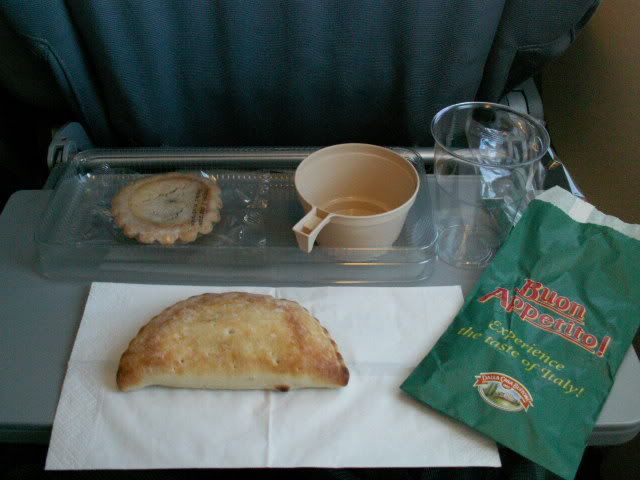 Again it was really tasty and from my point of view the right quantity for the second meal on this flight.
After the meal, the flight attendants distributed immigration forms for the United States, available in English or Italian language. Outside, it started to look a bit warmer than on the previous pictures: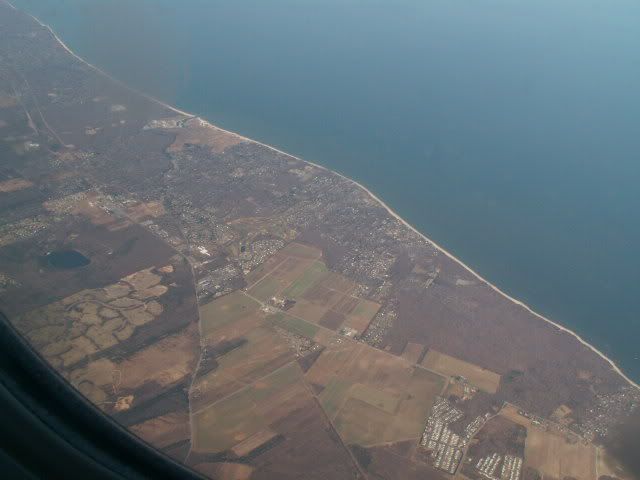 Soon we were coming closer to New York: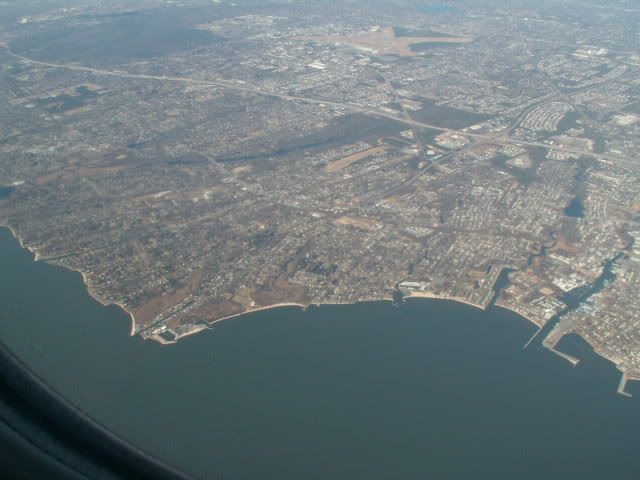 The captain came over the microphone again and informed us about the weather in New York. A bridge to Long Island: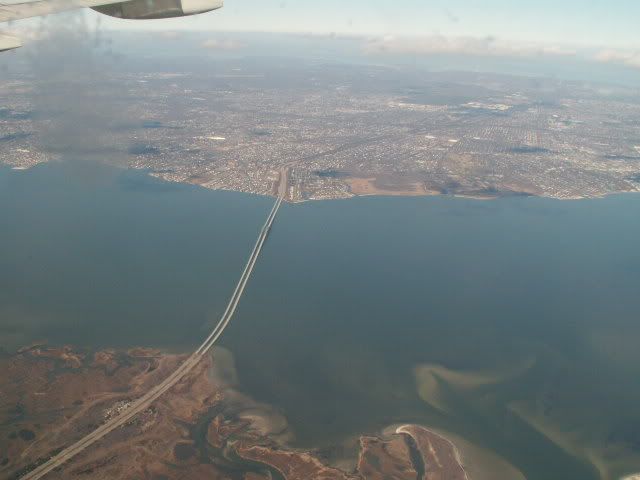 Final approach: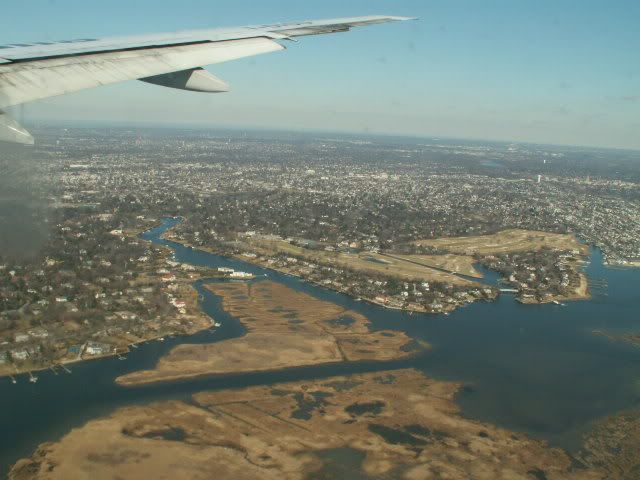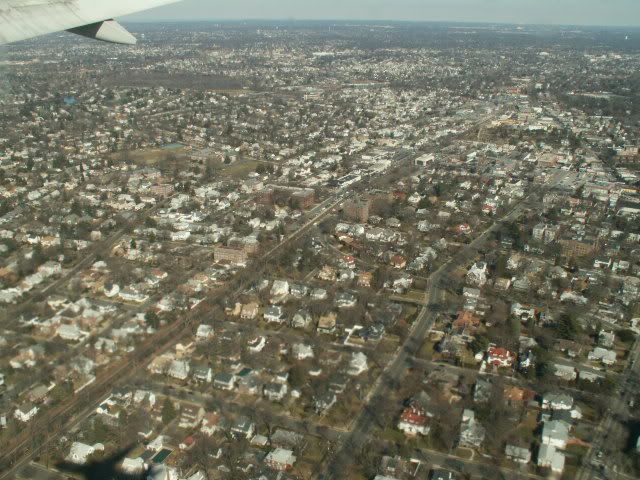 We touched down on one of the many runways at 12:30 local time. Then we taxied very slowly the long way to our gate at Terminal 1. I wondered if there were strict speed limits at JFK as the same flight crew used much more speed while taxiing at MXP. After 15 minutes driving on the ground we came to stand next to a Saudi Arabian Airlines B 747-400, still 5 minutes ahead of schedule.
On leaving the aircraft, I thanked the cabin crew for the very good service. I-DISU at the gate at JFK: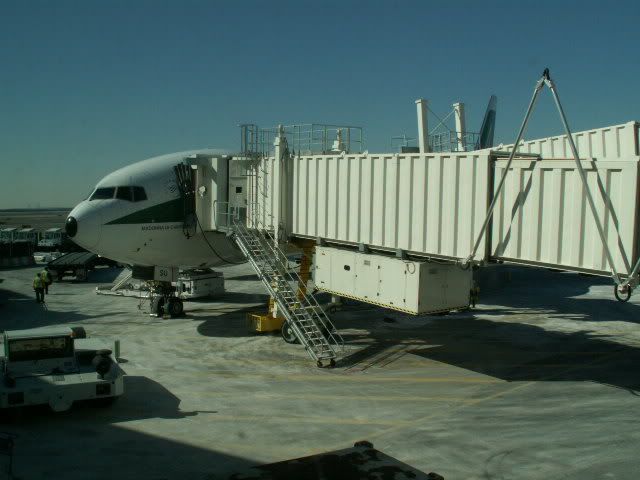 I hadn't visited the USA for 8 years and had heard horror stories about hours of waiting for immigration. None of them were true, at least for my case. I just had to queue for about 15 minutes. I guess I was lucky about the early arrival of the Alitalia flight. After us, lots of passengers from other flights like LH, AF, OA and so on arrived. Friendliness of the immigration officer was OK. I had to leave digital finger prints of all 10 fingers and was photographed. Then I collected my luggage that was already turning on the carousel. Luggage check at customs was also no problem and soon I was in a taxi on my way to my hotel in Manhattan.
New York is a really fascinating city, even on the third visit. Here are some impressions for you as well:
The Chrysler Building in the morning light: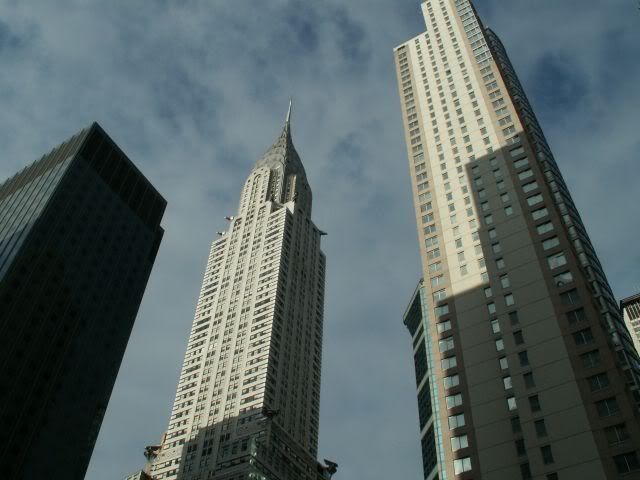 Probably one of the most beautiful station buildings in the world: Grand Central Station: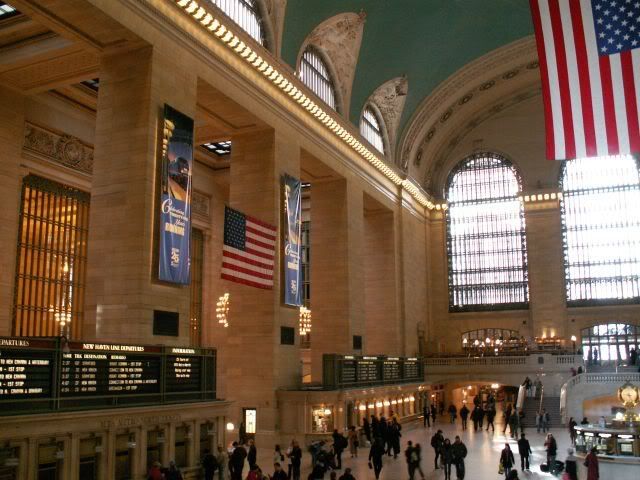 New York classic: The Statue of Liberty: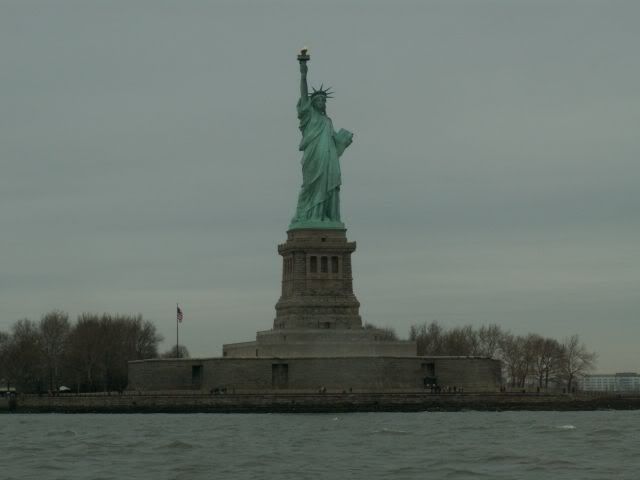 Brooklyn Bridge: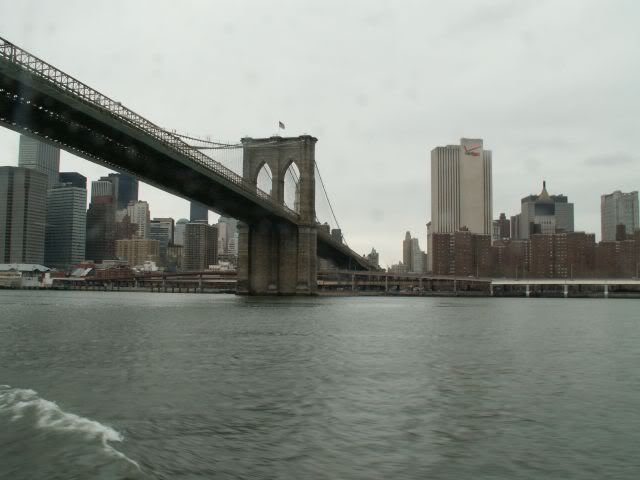 Ground Zero, where they now build the new Freedom Tower: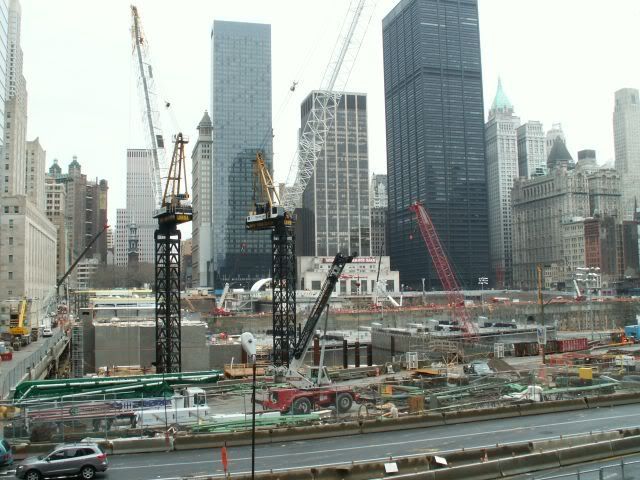 What many people don't know: there is a cable railway in New York, linking Manhattan and Roosevelt Island: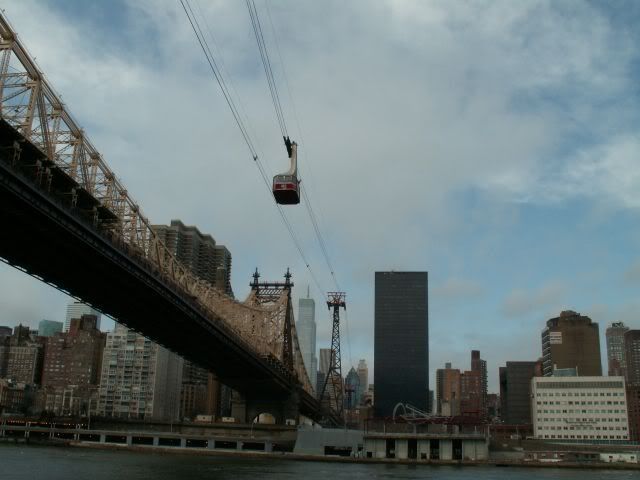 Interesting perspective: view from the cable railway: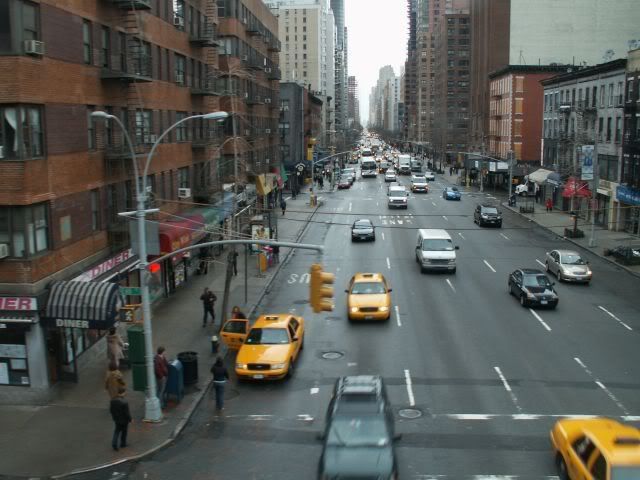 Central Park with Plaza Hotel: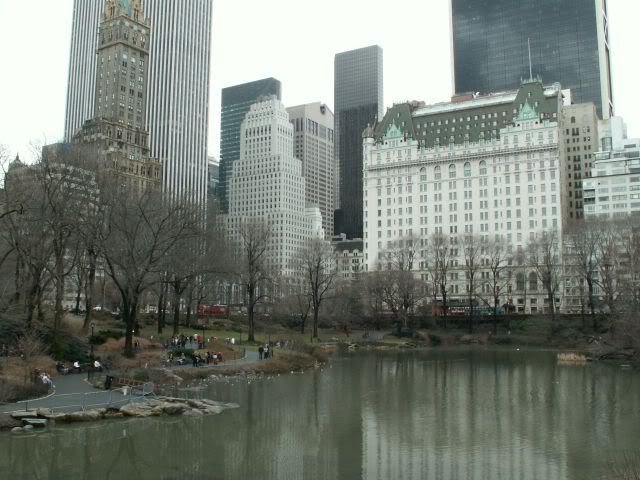 After three days in this great city, it was time to go back. This time I decided to take the Subway to get to the airport. With USD 2.00 + USD 5.00 for the AirTrain linking the Subway station with the airport, it was much cheaper than the taxi (USD 49.00 including USD 4.00 toll for a tunnel) and didn't take much more time. Besides, I was lucky that they had some problems with the AirTrain ticket readers, so everybody was allowed to ride free on that day.
The AirTrain linking two different New York Subway stations with all terminals of JFK: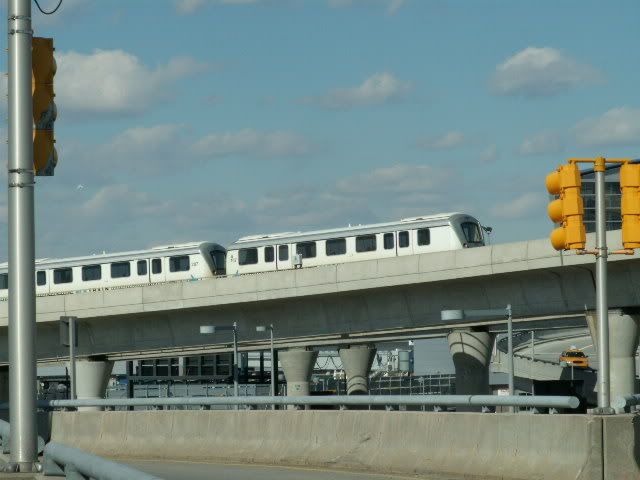 Tuesday, 19 February 2008
New York John-F-Kennedy (JFK) – Milan Malpensa (MXP)
Airline: Alitalia
Flight number: AZ 605
Scheduled departure time: 17:55
Scheduled arrival time: 07:55 (time difference +6 hours, so scheduled flight time was 8:00)
Type of aircraft: Boeing B 777-200 (ER)
Registration: I-DISA "Taormina"
This aircraft was built and delivered to Alitalia in 2002. It carries the name Taormina, a town at the East Coast of Sicily.
I arrived at JFK Terminal 1 at around noon: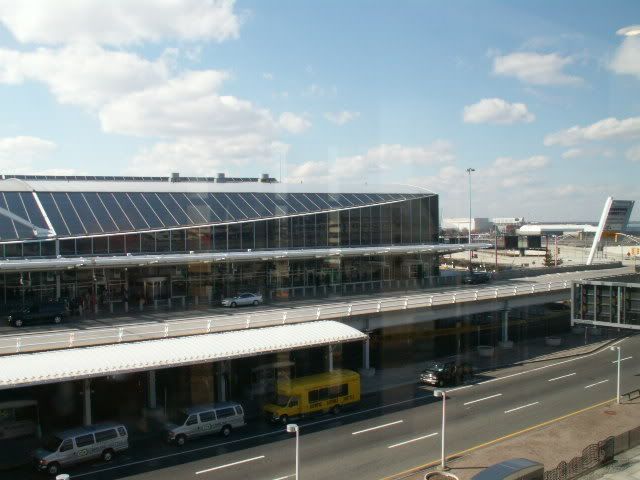 Terminal 1 handles mainly European and Asian carriers like AF, AZ, LH, OS, OA, TG, JL, KE and some others. The departure area is light and spacious. The Alitalia check-in line was still deserted: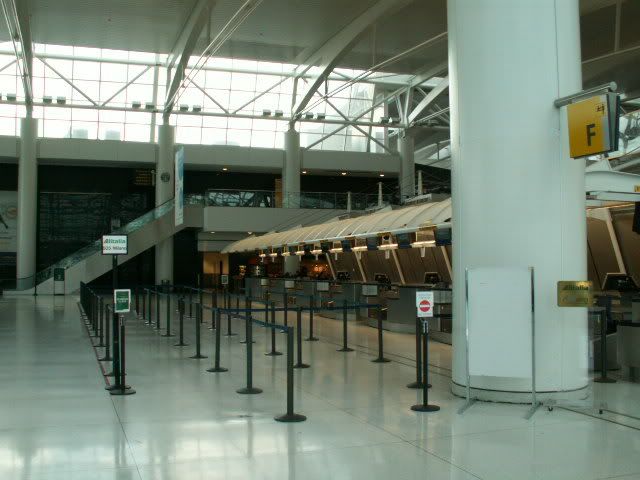 There is a food court that offers some nice views to the apron. At around 13:00, I could watch the on-time arrival of the Alitalia Triple Seven from MXP. Alitalia operates two daily flights out of JFK: one to MXP (B 777), one to FCO (B 767). Besides, they serve EWR as well, also from MXP and from FCO.
Check-in for the flight to MXP started four hours before departure and was performed by Swissport agents wearing full Alitalia uniforms. There were all in all eight counters reserved for AZ Economy Class; four of them were already staffed from the beginning. A friendly agent checked me in and handed me over my boarding passes for JFK-MXP with my pre-reserved seat number and for MXP-STR. Other than many other large airports, MXP had already fixed the departure gate for my onward flight to STR, and it was printed on my boarding pass. My luggage got tagged, and then I had to take it with me again and transfer it to a special screening area in the centre of the terminal. After screening, the security agents took the pieces of luggage back to the regular luggage belt.
I passed security check without any waiting time. The check itself wasn't stricter than at any European airport. The only thing was that everybody had to take off shoes, but that's common at airports in the UK as well.
The airside area of JFK Terminal 1 is nice with many shops and views to the apron. I-DISA "Taormina" at gate number 6, waiting for its departure to MXP: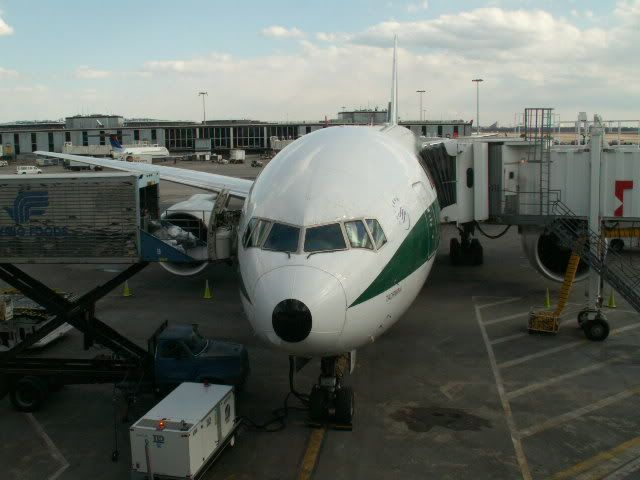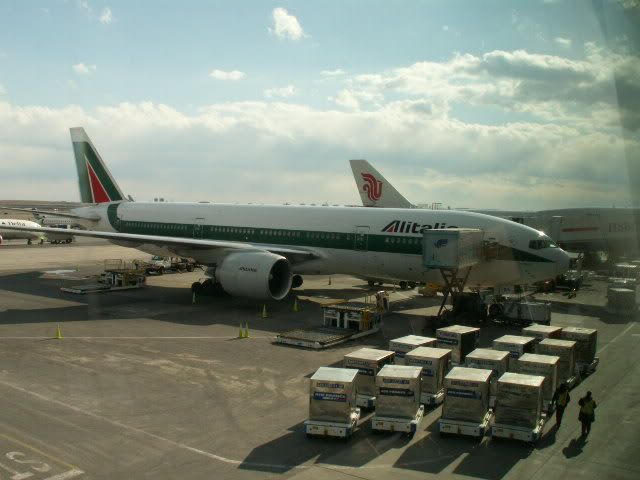 I saw the crew for this flight arriving 90 minutes before departure. Boarding started one hour before departure with three wheelchairs and some families with children, followed by all other passengers. American and Italian newspapers were offered in the jet-bridge. I had a copy of the New York Times. Then we were welcomed by the cabin crew and I took my window seat 41L, the same as on the outbound flight. Load factor on this flight was between 80 and 90%. The seat next to me remained empty. On the aisle seat there was a young American guy who moved to a free seat in the exit row when boarding was completed, so I had a row for myself. Again the majority of the cabin crew was male, but there were some more females this time as well.
Our neighbour, having just arrived from IST: Turkish Airlines A 330-200: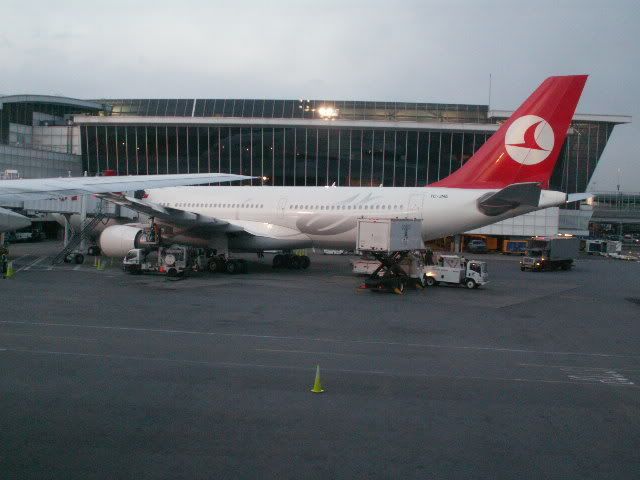 We were off-block at 17:45 which was 10 minutes ahead of schedule. The safety video was shown and we taxied to our runway. The early evening is a busy time at JFK and there was a long take-off queue. After a waiting time of 30 minutes, it was our turn to take off in Southern direction. It must haven been on runway 13L if I remember correctly. It was already completely dark outside. We had a nice view of the City of New York, and then we made a sharp left-turn towards the ocean. Due to strong tail winds, flight time to MXP would only be around seven hours.
When we had reached our flight level, cabin crew started their meal and drinks service. Choice for dinner was beef or fish. This time I opted for the beef: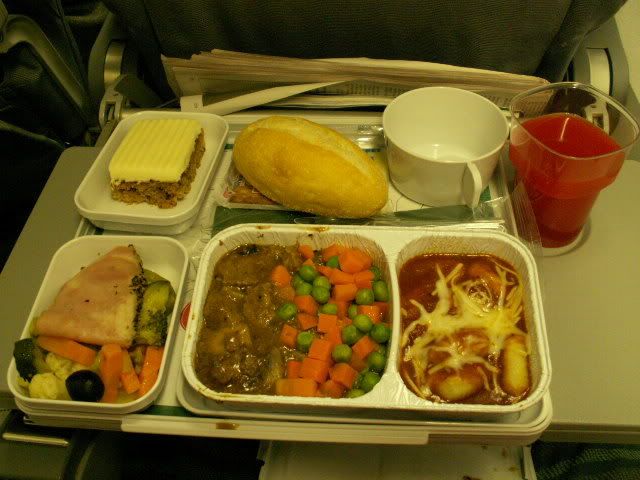 The beef was served with peas and carrots, gnocchi in tomato sauce plus a vegetable salad, a roll with butter and cheese, a cake for dessert and some crackers. I found the beef to be a bit too salty, but that's always a matter of personal taste. The vegetable salad and the cake were excellent. Quantity was very good again. Suddenly we came into heavy turbulences, and many passengers, including me, spilled parts of their drinks over the tables.
As this was going to be a night flight and I don't really sleep well on planes, I decided to stay awake this time. I had a cup of the good and quite strong Italian coffee that Alitalia serves. Shortly after dinner, the cabin lights were turned down for the night. I read a bit in the newspaper and the in-flight magazine, and then I played some more matches of "Who wants to be a Millionaire":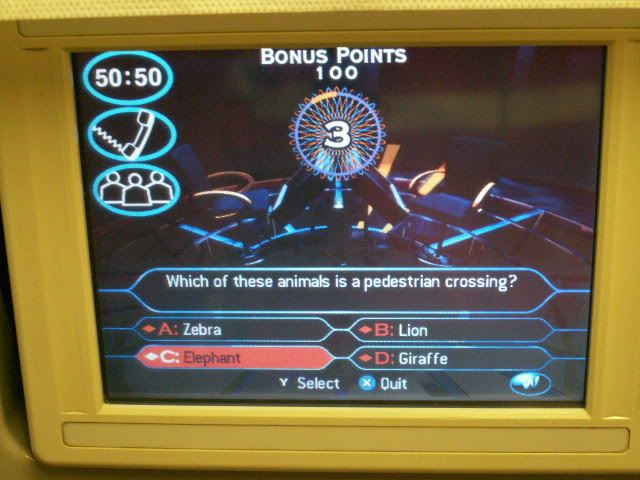 Once during night, the in-flight entertainment system stopped working for 10 or 15 minutes. At that time, I thought "wow, that's like flying LH"
Our flight route was very similar to the outbound flight:
Then I still fell asleep for an hour or so. After some more time, we reached good old Europe again: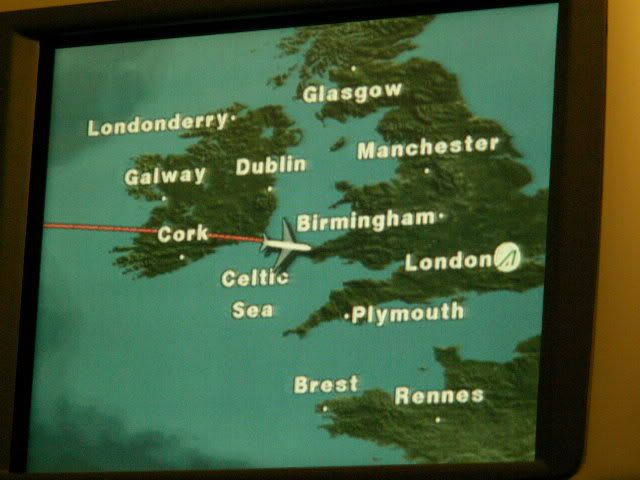 Wake-up was at 5:30 European time, about 90 minutes before landing. Breakfast was served which consisted of hot bread filled with cheese, a pastry filled with apricot jam and hot and cold drinks: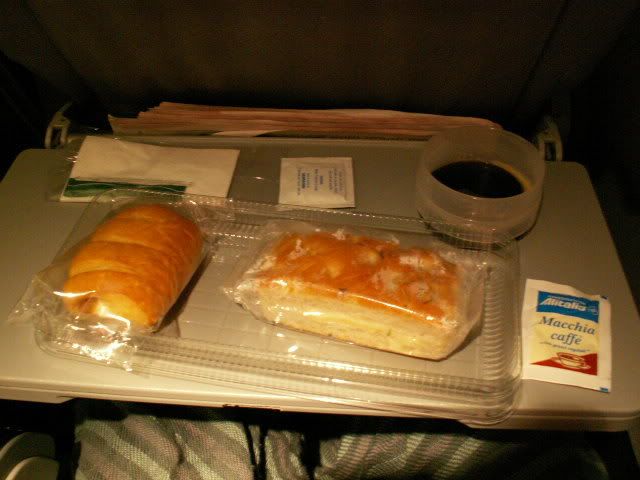 Compared to the other meals, breakfast couldn't really keep up with the high standard. The whole thing was a bit dry. Instead of a second bakery item, I personally would have preferred something fresh like some fruits or yoghurt.
The first sunlight of the day, somewhere over Switzerland: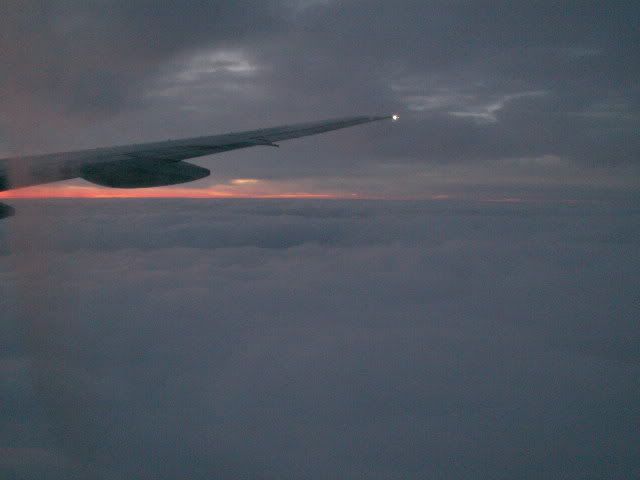 Breakfast trays were collected and soon we were approaching MXP. The weather around Milan wasn't the best at that time:
We touched down and to my surprise taxied to a remote parking position on the apron. We were on-block at 7:15 which was 40 minutes ahead of schedule. It was really impressive to leave this huge aircraft via stairs: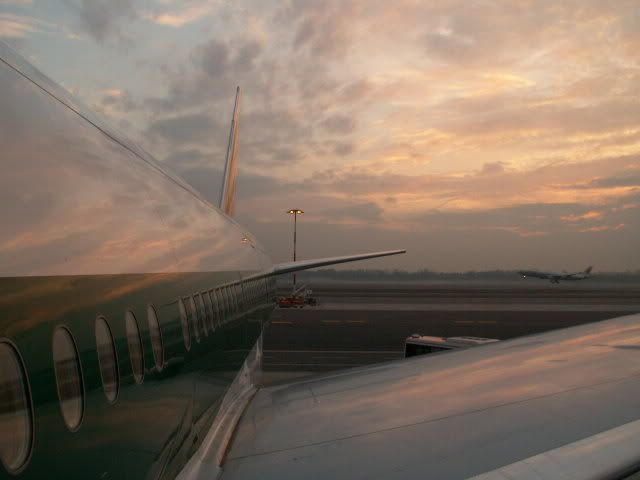 Engine close-up: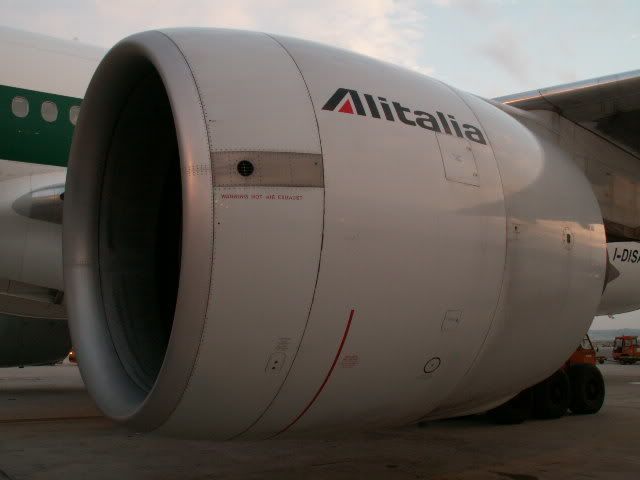 Several busses took the passengers to the international arrivals area at Terminal 1 where all transit passengers had to go through a security check before being allowed to enter the transit area. Passports and boarding passes were checked, and then I was able to proceed to the Schengen-area.
Wednesday, 20 February 2008
Milan Malpensa (MXP) – Stuttgart (STR)
Airline: Alitalia (operated by Alitalia Express)
Flight number: AZ 448
Scheduled departure time: 10:20
Scheduled arrival time: 11:25
Type of aircraft: Embraer RJ145LR
Registration: I-EXMF "Giulio Natta"
This aircraft was built and delivered to Alitalia Express in 2002. It is named after Giulio Natta (1903-1979), an Italian chemist.
Due to the early arrival, I had nearly three hours at MXP. I watched the traffic outside. The Alitalia ramp was very busy: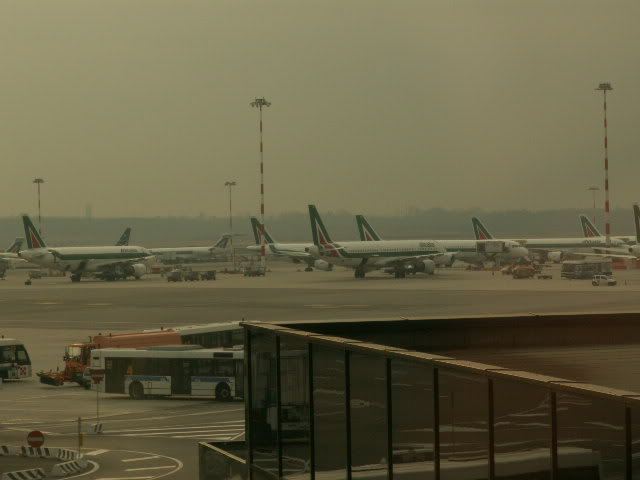 After some time, I made my way to my gate for the flight to STR which was gate number A33, a bus gate on the ground floor.
Boarding was announced 30 minutes before departure. As it was quite cold outside, passengers were asked to wait inside the terminal building while the bus was already parked outside. Then we were told to board the bus. I counted 36 passengers which was a load factor of 75%. Most of the passengers on this Wednesday morning service were German and Italian business travellers. The bus took us to our aircraft that was parked on the apron. Lots of large pieces of hand luggage were left outside for "delivery at aircraft".
The Embraer 145 I-EXMF: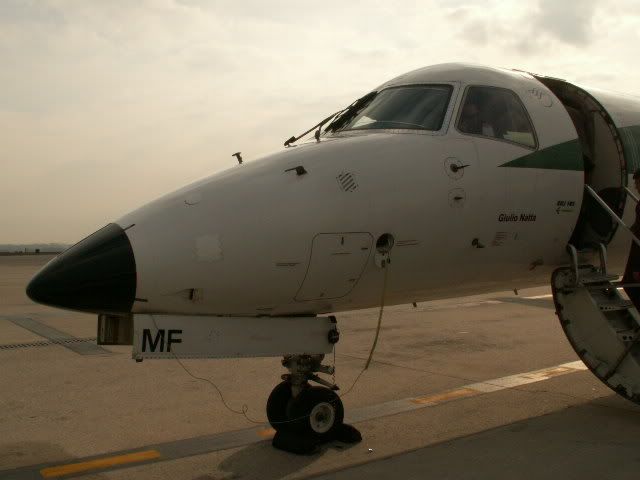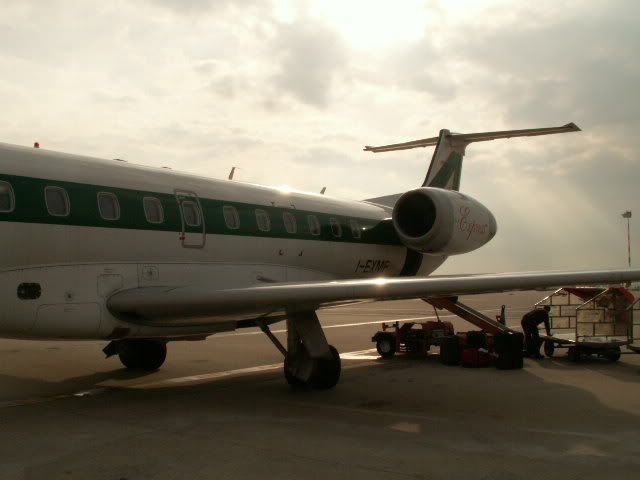 A very friendly and attentive female flight attendant welcomed all passengers. I took my seat 5A, a single seat on the left side of the cabin. We were off-block just in time and taxied to runway 35R where we took off without any waiting time: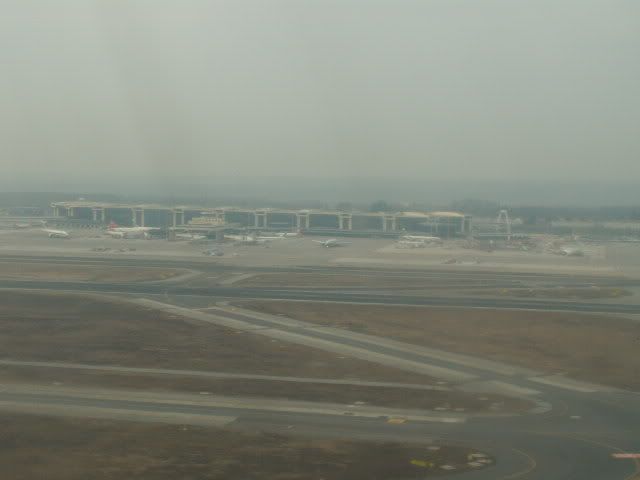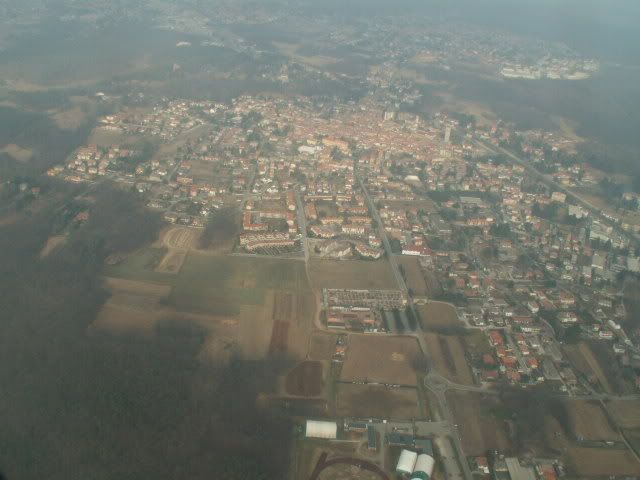 Soon we reached the Alps again: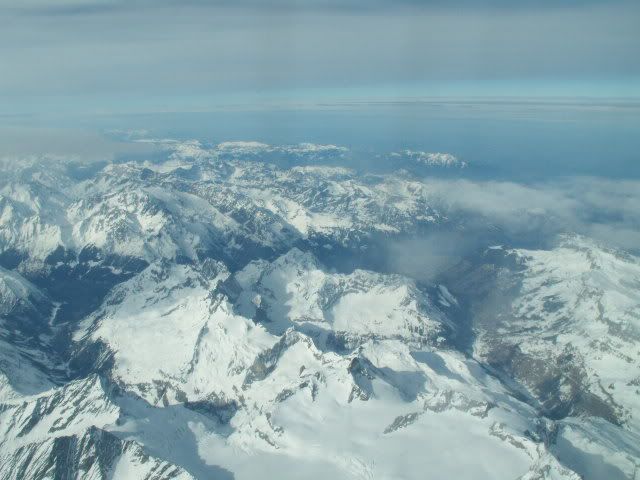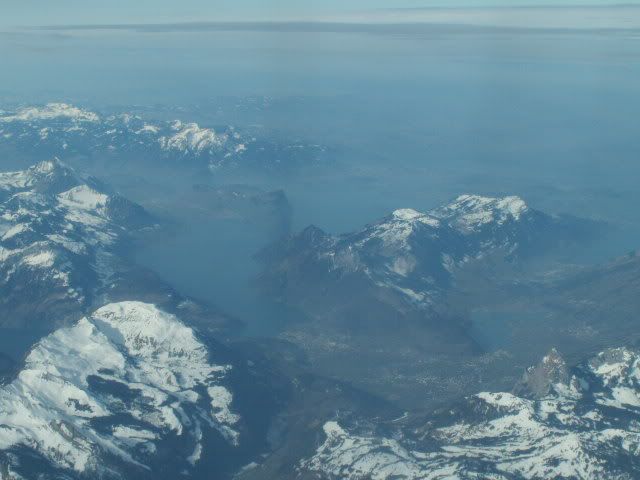 The flight attendant came through the cabin with food and drinks service. The selection was the same as on STR-MXP four days ago. I had the sweet pastry again, and an orange juice. Due to the short flight time and the quite high load factor, the flight attendant had to hurry a bit to serve all passengers in time. However, she always remained extremely friendly and tried to perform the best possible service.
Lake Zurich: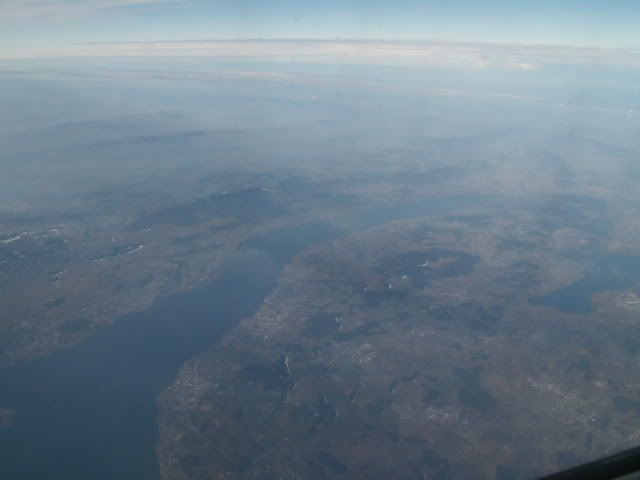 Zurich Airport (ZRH):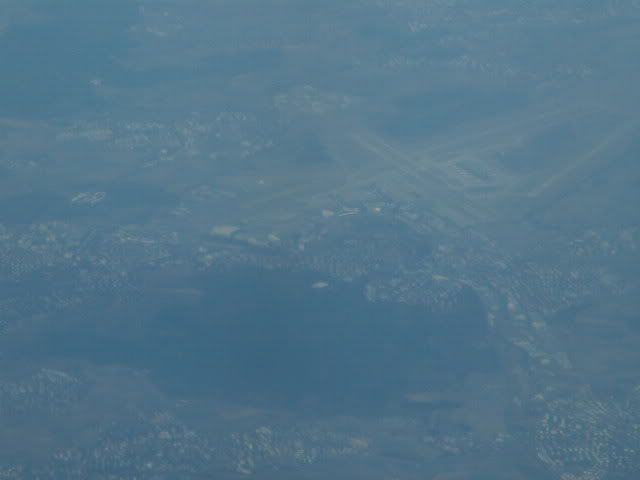 The Black Forrest: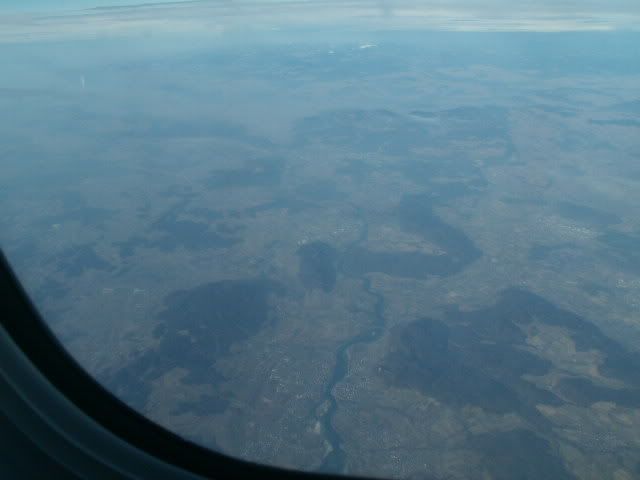 On approach into STR again: The Neckar Harbour at Plochingen: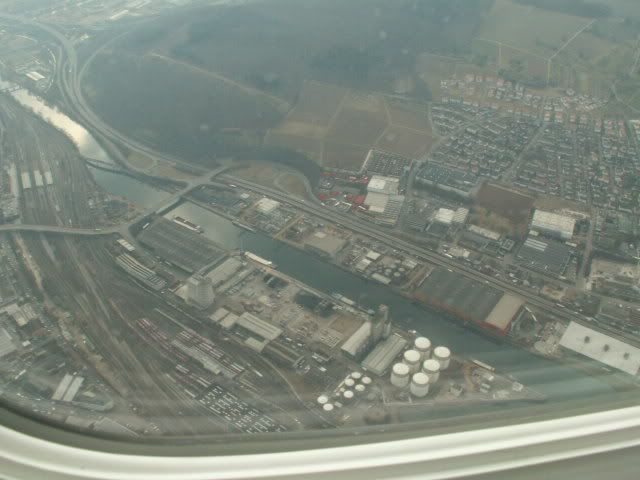 Final approach: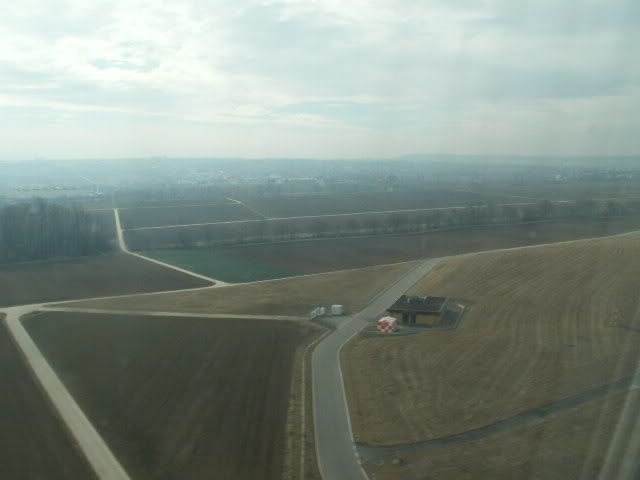 We touched down on runway 25 and taxied to our parking position on the apron. The flight attendant welcomed us to Stuttgart, told us the actual time (which was the same as in Milan) and informed us that we had arrived 10 minutes ahead of schedule. Because of that, we should all relax and stay in our seats until the fasten seat belt-signs were switched off. Needless to say that nobody followed the advice…
A bus took all passengers to the arrivals area of Terminal 3 where luggage arrived quickly. A bit later, I was on a train taking me home.
Conclusion:
Alitalia's long-haul product really impressed me. Four out of four flights arrived on time (or even ahead of schedule), cabin service was really friendly and attentive and meals were definitely above average. The cabin of the B 777 is modern and comfortable and the in-flight entertainment is very good as well. And all that was offered for a very good price. I would definitely fly Alitalia again, on long-haul and on short-haul.
Thanks for reading my report. Questions and comments are always appreciated.
Regards
Christoph