LHR-ZRH-DUB-LHR, LX and BD
While I was back in Europe from China, I decided to tag along on a skiing organized by my sister and a group of her friends. My dad came along too. Return flights from London to Zurich were pricing out more expensive than flights going back to Dublin, so we decided to include a weekend down in Co.Tipperary seeing family before coming back to the UK.
London Heathrow (LHR) – Zurich (ZRH)
27th January 2008
LX 317 (Swiss)
0850 - 1135 (Scheduled), 1h45m
0911 - 1130 (Actual), 1h19m
Economy
Airbus 321, HB-IOL
Terminal 2 was eerily quiet this Sunday morning. There was just one person queuing for the 0850 flight to Zurich, with most other check in areas being similarly deserted. We were given our assigned seats promptly, and our bags tagged, and sent on their way. Departures was also quiet, with only about five people ahead of us for security. I left my dad at the IRIS scanning booth, and went to have breakfast in the Lufthansa lounge (a rather mean selection of cereal and croissants).
Early morning Heathrow
Lufthansa Lounge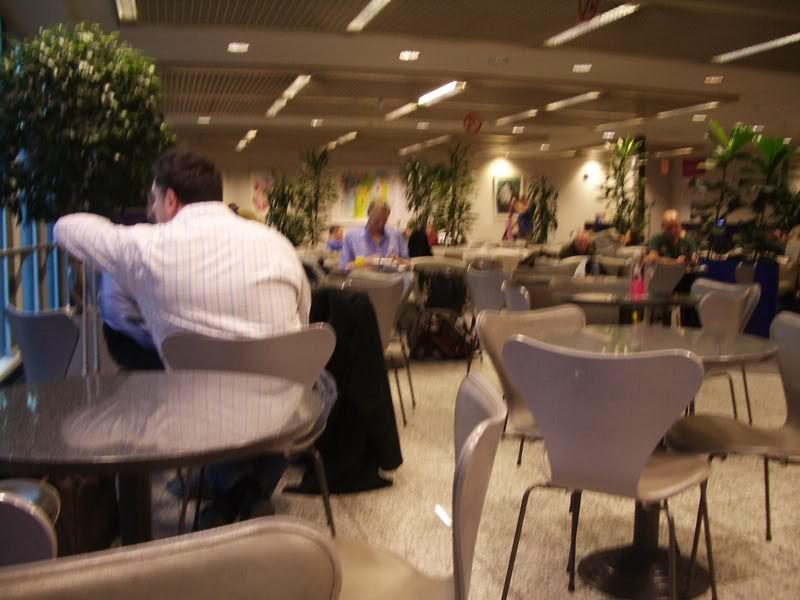 Arrival from Stuttgart
Boarding started a little late at 0835, although it was done sequentially, in a very ordered manner. Despite there not being many people in the terminal, the flight was jam-packed in economy. The aircraft had the new slim line seats.
Terminal One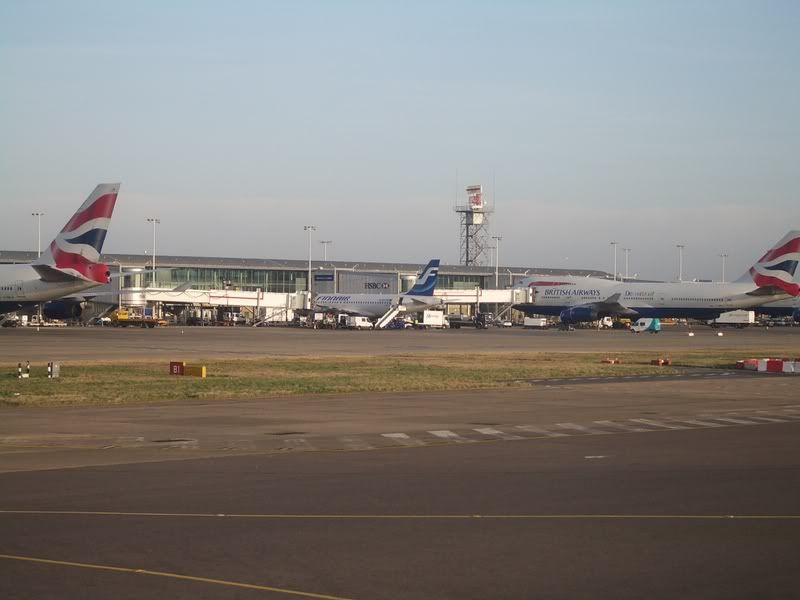 There wasn't much of a queue for the runway. I saw the BA 777 that went off the end of the runway a few weeks earlier, but didn't manage to get a photo of it unfortunately. The sun was shining, and the views over London after take off were stunning.
M25 crossing the Thames
Breakfast was very underwhelming – a choice of drinks and a blueberry muffin. It's lucky I had already eaten in the lounge.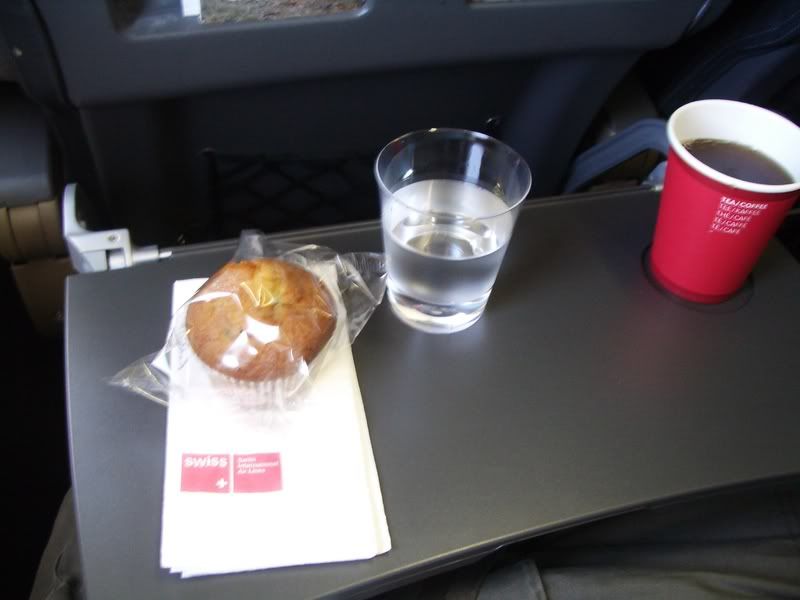 Cloud cover started once we were over the Belgian coast, but it cleared up slightly once we reached the Swiss border.
The Belgian Coastline
There were some really stunning views over the Alps which were bathed in sunlight.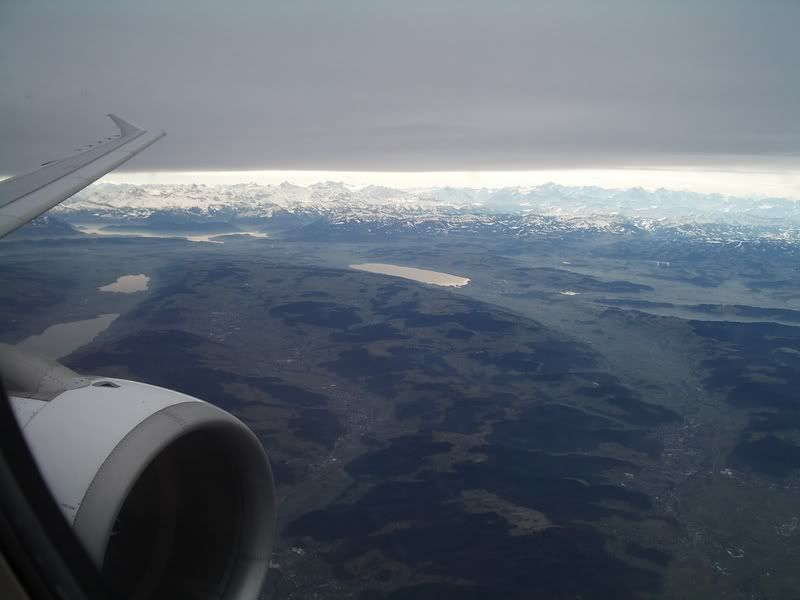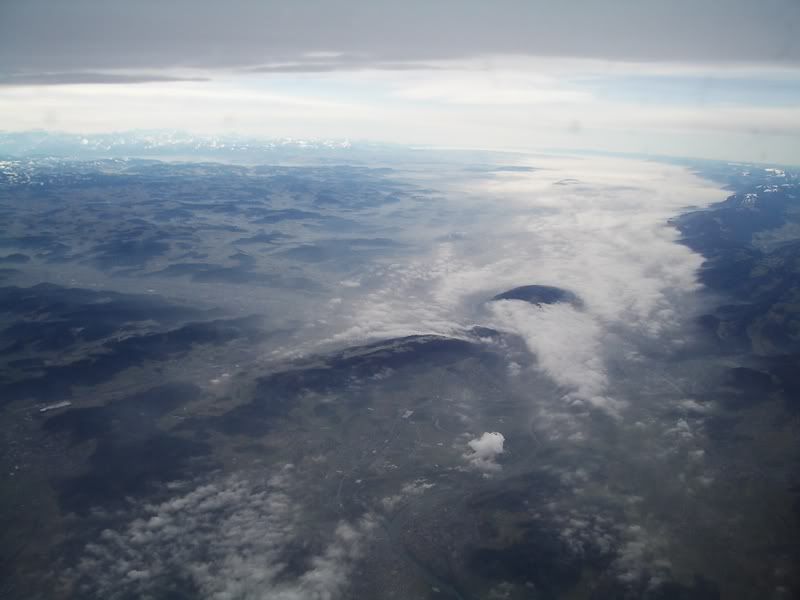 We landed a few minutes early, and within half an hour, we were on a train heading for Zurich station.
My sister flew the day after us from Edinburgh via Heathrow, and suffered delay after delay due to the fog in London (of which there was none when we left). She landed hours late, and without her bags (they arrived about 30 hours after she arrived). It's funny how our journey though Heathrow was perfect and hers was a disaster. After four days skiing (in Laax (not LAX), brilliant resort, great snow and weather), and another in Zurich, it was time to head on to Dublin.
Laax
Zurich (ZRH) – Dublin (DUB)
1st February 2008
LX 400 (Swiss)
0940-1100 (Scheduled), 2h20m
0952-1056 (Actual), 2h04m
Economy
Airbus 319, HB-IPS
We got a train from Zurich, arriving at 0817, plenty of time before the flight. We tried to check in at the station check in area, but were advised to go to the main departure area as we had already checked in online. The queues upstairs were quite big, even at the Business desk.
Immigration was quick with only a few people in front of us, and I was soon in the Swiss Lounge's Long Bar, the longest attended airport bar in the world. It was a bit early to be drinking as heavily was I was last summer (see my Albania and Macedonia trip report), so I just had a sparkling water and some Swiss chocolates. The walk to the gate wasn't far. The A gates at Zurich seemed to be used by Star Alliance short haul, with a LH B737 to Hamburg and a SK MD80 to Stockholm on either side of us.
Boarding started at 0910 as indicated on the boarding passes, and thankfully, the flight wasn't full, so we had an empty seat between us. We taxied past terminal E where an SIA B773ER was parked, along with some Swiss A340s, a Thai A340 and a selection of American carriers (AA, UA, CO and DL, all which seemed to be B767).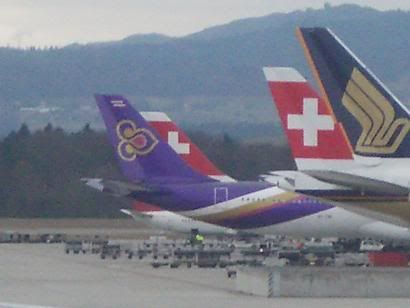 The airport, Zurich and the Alps
Breakfast was exactly the same except that the muffin was apple and cinnamon this time – I'm really not overawed by Swiss' morning offerings. Austrian's breakfasts are far superior.
Onboard
Moving Map
The cloud cover was constant all the way to the English coastline when we were offered brilliant views over Southern England. The clouds started up again over Wales, and only dissipated on finals into a very cold and blustery Dublin. It was the first time I have ever seen snow in Ireland, covering the tops of the hills to the south of the city.
Irish Coast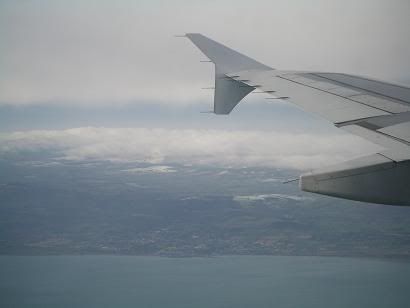 Welcome to Ireland!
Luxair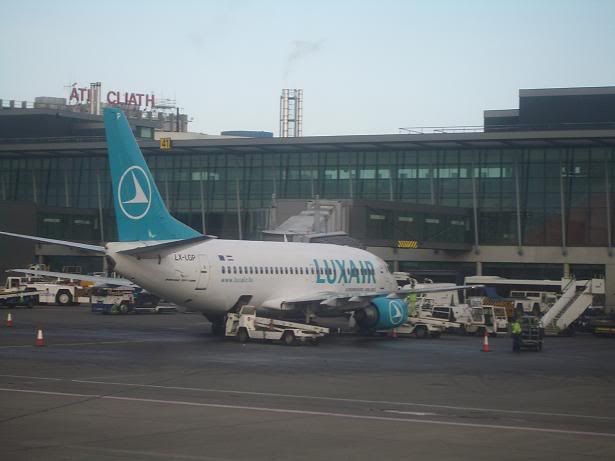 After a slow taxi to the terminal, we finally docked next to an AA B767, a BD A321 and a Luxair B737 on Pier C. Immigration was quick, and we were soon headed to the mess that is the M50.
Snow on the hills of Tipperary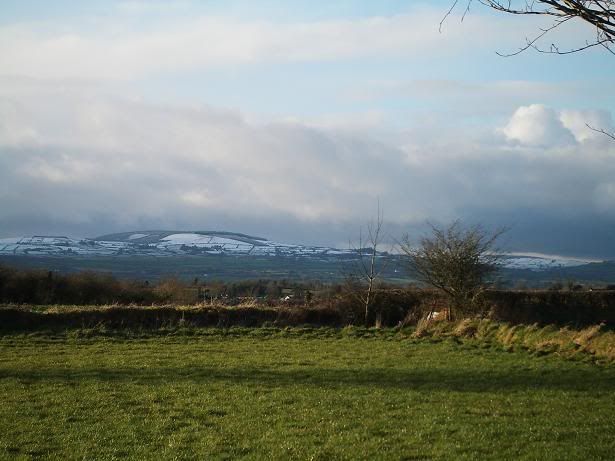 Dublin (DUB) – London Heathrow (LHR)
3rd February 2008
BD 130 (British Midland International bmi)
1740-1905 (Scheduled), 1h25m
1755-1913 (Actual), 1h23m
Economy
Airbus 321
As always, we left three hours to drive up to Dublin from Tipperary, along with a 2 hour check in cushion, as you can never tell what Sunday traffic can be like in Ireland. For whatever reason, there was just about no traffic on the road, and we made it in just over two hours, a new record. We thought that we'd just have to have a very long late lunch before getting our 1945 flight back to London. However, just as we were walking from the car hire drop down to the terminal, a BD flew overhead on approach giving us the idea of trying to get on the earlier flight. We ran into the terminal and over to the deserted BD check in area. We inquired about the earlier flight, and were directed to the sales desk. There, a very bored looking woman reluctantly hung up on the obviously personal phone call she was on, and changed us onto the earlier flight for no cost (and without any conversation whatsoever). Great result!
We went back to the check in desk, and our bags were tagged 'Priority' (they came out last in London), and we were given seats in the last row (the only window seat left). We went through security (not much of a queue), and by the time we had reached the gate, we only had five minutes to wait before boarding started.
I was pretty surprised to turn left when entering the plane and seeing the business class cabin taking up nearly half the plane, and long haul 2x2 seats fitted. The economy seats too were long haul, with PTVs fitted in all the seats. Unfortunately, they were not activated during the flight (not even the moving map).
The flight was probably about 90% full, but we still had three seats to ourselves, and they were pretty comfortable. The cabin crew were very friendly but they were also the largest FAs that I'd ever seen – some of them could barely fit down the aisles.
Takeoff was a bit behind schedule just as dusk was falling. Despite the flight not being full, the crew only managed to get to the back of the cabin with their pay-service as the seat belt signs were illuminated. The snacks for sale were all a bit pricey, so we didn't buy anything.
We landed a few minutes late, and taxied past the Irish Terminal, heading instead for a normal international gate in Terminal One. Irish flights, although international, are treated like UK domestic flights. As a result of this, we were bussed over to the Irish terminal. The first bus was full, so we had to wait on the tarmac for the next bus, which was pretty cool.
We seemed to be the only arrival at the time, so the arrivals hall was empty except for us. Despite the priority tags, our bags came out near the end, but at least they made it.
Original flights:
BD 132 (British Midland International bmi)
1945-2105 (Scheduled), 1h20m, Airbus 321
All the flights we took were very good value, and were on time or early. In-flight catering was a bit of a let down on Swiss – I was expecting a bit more. Even though I paid much less for the BMI leg, I got nearly five times as miles for that flight.